Divisive Thai ex-PM vows to return from exile after polls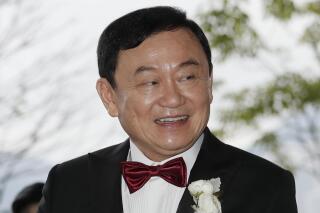 BANGKOK (AP) — Thailand's self-exiled former prime minister said Tuesday he wants to return home by July, making his declaration less than a week before the country heads to polls in which his daughter is a frontrunner.
Thaksin Shinawatra tweeted for the second time this month that he would like to come home to see his grandchildren. He said he is prepared to face justice, including several convictions on charges including abuse of power and corruption.
"I have made a decision that I'll go home to raise my grandchildren by this July, before my birthday. Please excuse me. It's been nearly 17 years that I have to be away from my family. I'm already old," he said.
Thaksin, 73, was a populist prime minister when he was ousted by a military coup in 2006.
He fled Thailand to escape a prison term in several criminal cases, which he decried as politically motivated. The government of his sister, Yingluck Shinawatra, was also toppled in a 2014 coup led by the current prime minister and candidate in the May 14 election, Prayuth Chan-ocha.
If Thaksin follows through on his pledge to return before his birthday on July 26, he could face at least a decade behind bars. Thaksin is a popular but divisive figure in Thai politics, and there are concerns that his return could be destabilizing.
In his tweet, Thaksin said he won't be a burden to his daughter's Pheu Thai Party.
"I'll enter the legal process, and the day I return will still be in a period of Gen. Prayuth's interim government. All of this is my own decision from my love and bond with my family, my homeland, and our master," he said. It was unclear whom he was referring to as the master, but it could be a reference to Thailand's king, who is revered by his people.
Paetongtarn Shinawatra, Thaksin's youngest daughter, has consistently topped opinion polls as a favored prime minister candidate. The residual popularity of her billionaire father, especially among poor and working-class Thais, is a major factor behind her rise.
After she gave birth to a baby boy this month, Thaksin tweeted that he would like to come home to see his grandchildren, ending the tweet with "See you soon." It prompted Paetongtarn to play down the significance of the message, saying it was just a natural expression of a grandfather who was "very happy and excited."
In 2013, Yingluck's government, largely seen as Thaksin's proxy, had floated a proposal for a political amnesty bill that could allow Thaksin to escape imprisonment. It triggered a series of protests which turned violent, eventually leading to the coup in 2014.
"I am my dad's daughter, always and forever, but I have my own decisions," Paetongtarn said during one of her Pheu Thai's campaign rallies.