Gobert, Wolves get past punch; big man still has back injury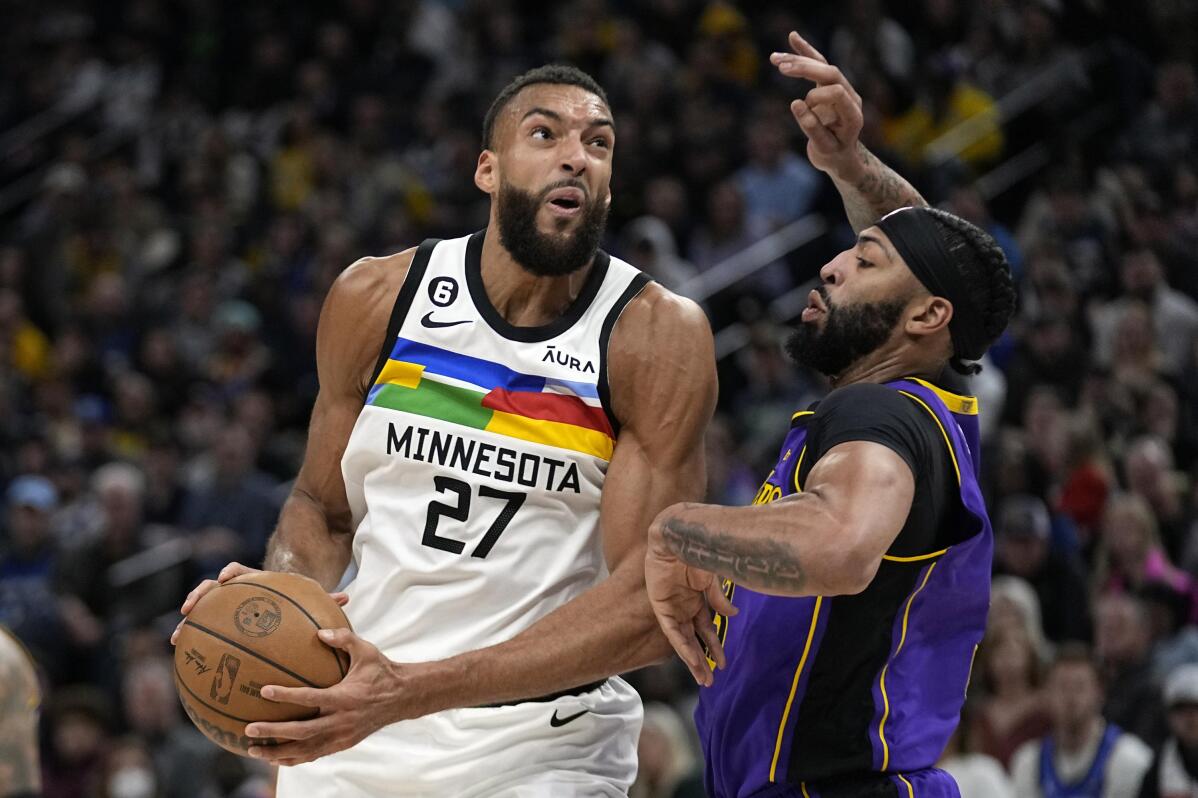 1 of 3

|
Minnesota Timberwolves center Rudy Gobert works toward the basket while defended by Los Angeles Lakers forward Anthony Davis during the first half of an NBA basketball game Friday, March 31, 2023, in Minneapolis. (AP Photo/Abbie Parr)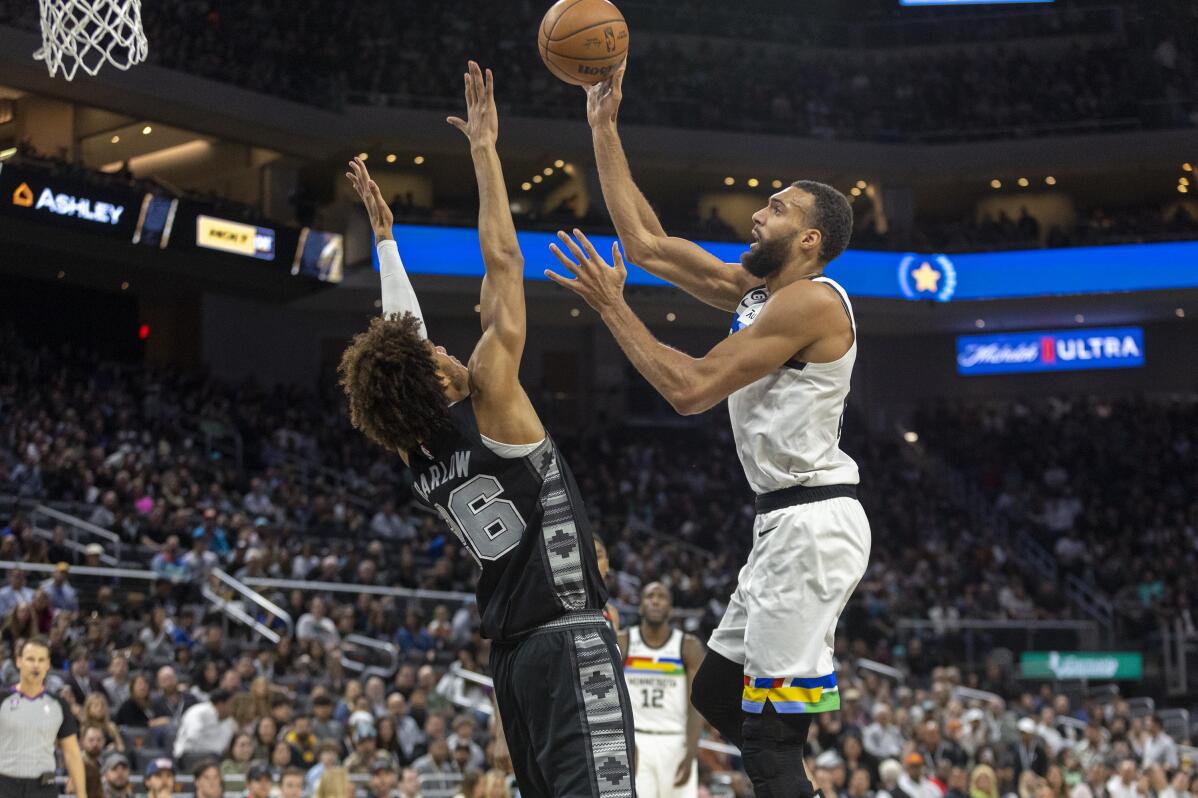 2 of 3

|
Minnesota Timberwolves center Rudy Gobert, right, shoots over San Antonio Spurs forward Dominick Barlow, left, during the first half of an NBA basketball game, Saturday, April 8, 2023, in Austin, Texas. (AP Photo/Stephen Spillman)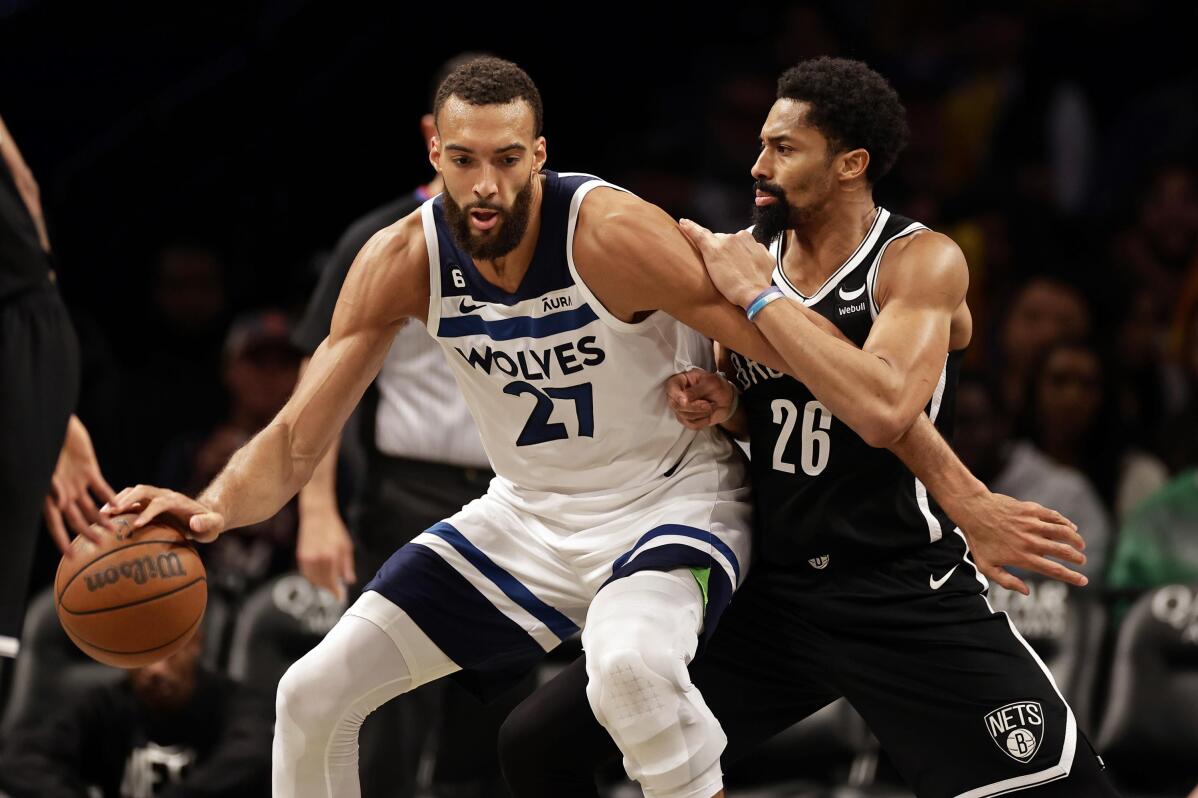 3 of 3

|
Minnesota Timberwolves center Rudy Gobert (27) drives to the basket against Brooklyn Nets guard Spencer Dinwiddie during the second half of an NBA basketball game, Tuesday, April 4, 2023, in New York. (AP Photo/Adam Hunger)
Gobert, Wolves get past punch; big man still has back injury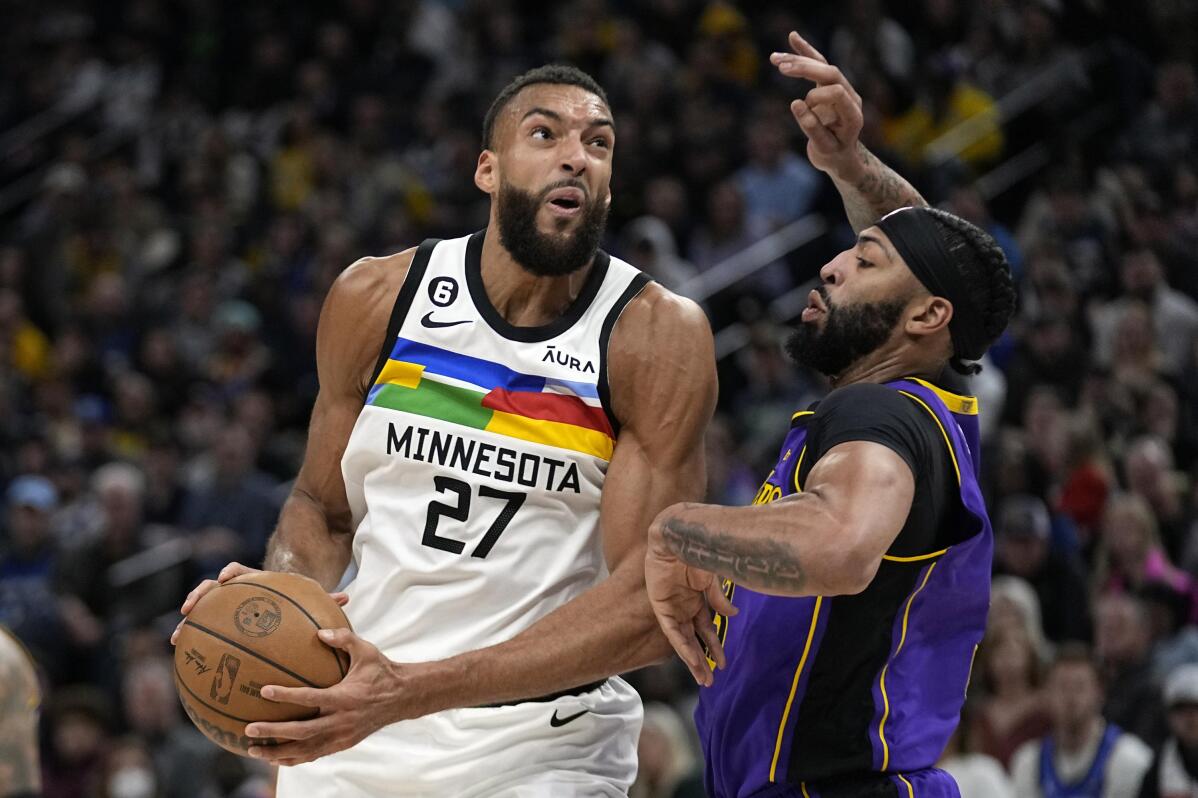 1 of 3

|
Minnesota Timberwolves center Rudy Gobert works toward the basket while defended by Los Angeles Lakers forward Anthony Davis during the first half of an NBA basketball game Friday, March 31, 2023, in Minneapolis. (AP Photo/Abbie Parr)
1 of 3
Minnesota Timberwolves center Rudy Gobert works toward the basket while defended by Los Angeles Lakers forward Anthony Davis during the first half of an NBA basketball game Friday, March 31, 2023, in Minneapolis. (AP Photo/Abbie Parr)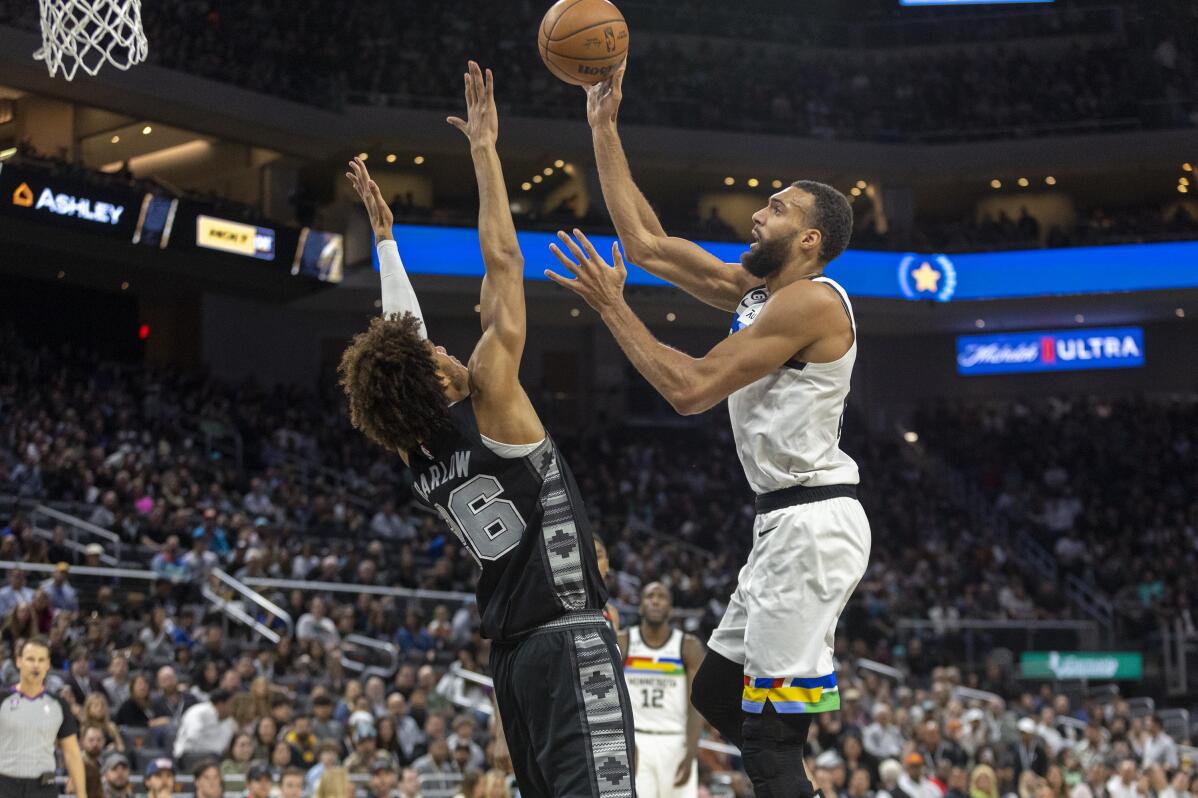 2 of 3

|
Minnesota Timberwolves center Rudy Gobert, right, shoots over San Antonio Spurs forward Dominick Barlow, left, during the first half of an NBA basketball game, Saturday, April 8, 2023, in Austin, Texas. (AP Photo/Stephen Spillman)
2 of 3
Minnesota Timberwolves center Rudy Gobert, right, shoots over San Antonio Spurs forward Dominick Barlow, left, during the first half of an NBA basketball game, Saturday, April 8, 2023, in Austin, Texas. (AP Photo/Stephen Spillman)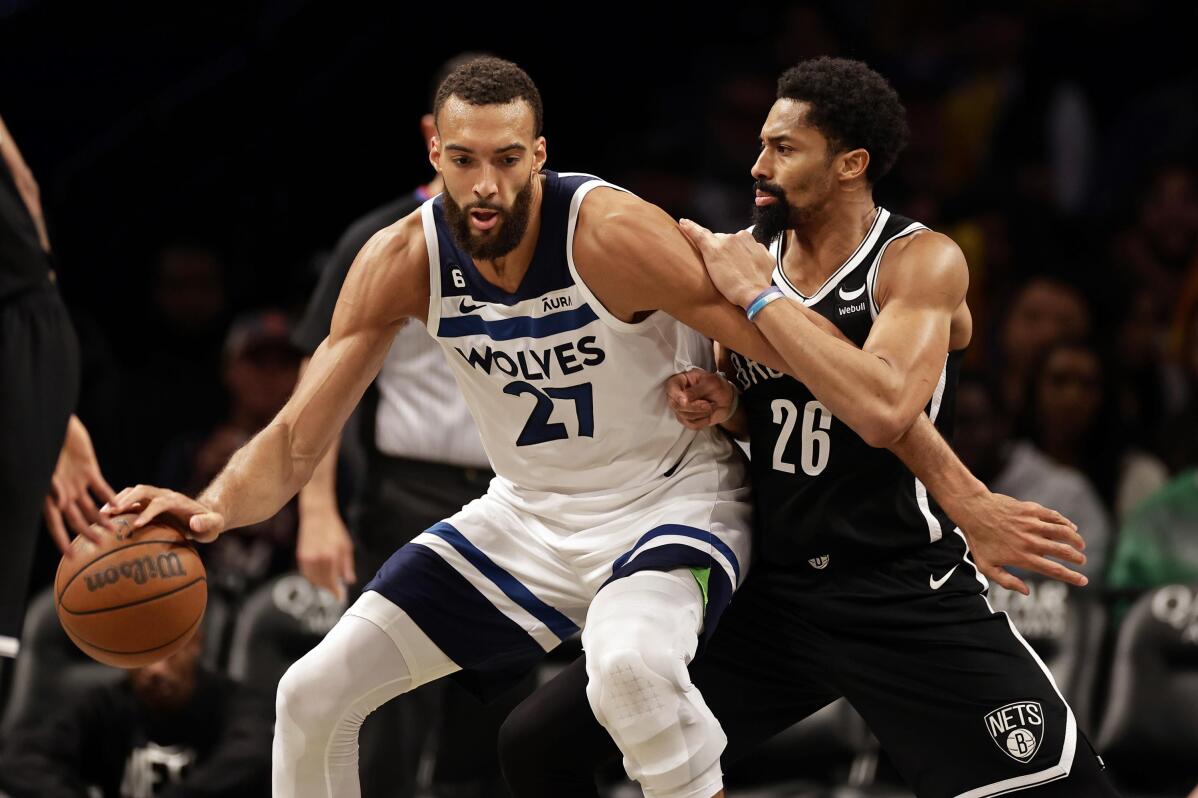 3 of 3

|
Minnesota Timberwolves center Rudy Gobert (27) drives to the basket against Brooklyn Nets guard Spencer Dinwiddie during the second half of an NBA basketball game, Tuesday, April 4, 2023, in New York. (AP Photo/Adam Hunger)
3 of 3
Minnesota Timberwolves center Rudy Gobert (27) drives to the basket against Brooklyn Nets guard Spencer Dinwiddie during the second half of an NBA basketball game, Tuesday, April 4, 2023, in New York. (AP Photo/Adam Hunger)
MINNEAPOLIS (AP) — Rudy Gobert rejoined the Minnesota Timberwolves Thursday after a team-imposed suspension for their first play-in game, but lingering back trouble has compromised his status for the second one.
Gobert was dismissed from the arena Sunday after throwing a punch at teammate Kyle Anderson in an argument in the huddle during a timeout in the second quarter of Minnesota's final regular-season game. The Wolves kept him home as punishment when they traveled to Los Angeles and lost 108-102 in overtime to the Lakers Tuesday after blowing a 15-point lead.
Speaking to reporters Thursday for the first time since the public fight, Gobert said he probably wouldn't have been healthy enough to play the Lakers anyway. He's aiming to return Friday when the Wolves host Oklahoma City in their last chance to make the playoffs, but there's no guarantee.
"Still pretty sore, still not moving like I would like to be able to move, but small progress every day," said Gobert, the three-time NBA Defensive Player of the Year award winner.
The Wolves said the air had long been cleared before Gobert rejoined them on the floor Thursday.
"We both apologized to each other and you move on. That's life," Gobert said. "It's different when you have millions of people all watching videos and have an opinion on things that happened, but that we can't control. What we can control is the respect that we have for each other and our relationship."
Anderson's sentiment was the same in interviews after the game Sunday and Tuesday before the Wolves faced the Lakers.
"I still love Kyle. He's still my brother. I tell people, 'Sometimes you fight with your family. Sometimes you fight with people that you have a lot of love and respect for,'" Gobert said. "It's life. No one is perfect. Mistakes happen and then you grow and you move on."
After the Wolves paid a steep price — in players and first-round draft picks — to acquire Gobert in a trade with Utah last summer, the 7-foot-1 native of France has had a frustrating debut in Minnesota. He's struggled to fit in as a second big man in the offense with Karl-Anthony Towns and get on the same page with the guards.
The Wolves will be without at least one starter, Jaden McDaniels, because of a broken hand that occurred after he punched a wall in the tunnel near the bench out of frustration during the same game when Gobert struck Anderson in the upper chest. One of their top reserves, Naz Reid, is out with a broken wrist.
"Obviously our goal was to be at the top of the West," Gobert said. "But you have adversity, you have things that doesn't go how you want them to go, and it's part of life."
Gobert's back trouble had him listed as questionable for that game against New Orleans on Sunday when he lost his cool. Coach Chris Finch said he looked "a little tight" in practice Thursday.
"We'll keep working on it," Finch said.
Will Gobert play?
"I hope so. I really can't say," Finch said. "But we haven't ruled him out."
___
AP NBA: https://apnews.com/hub/NBA and https://twitter.com/AP_Sports