Olympics delayed as Europe, US struggle with surging virus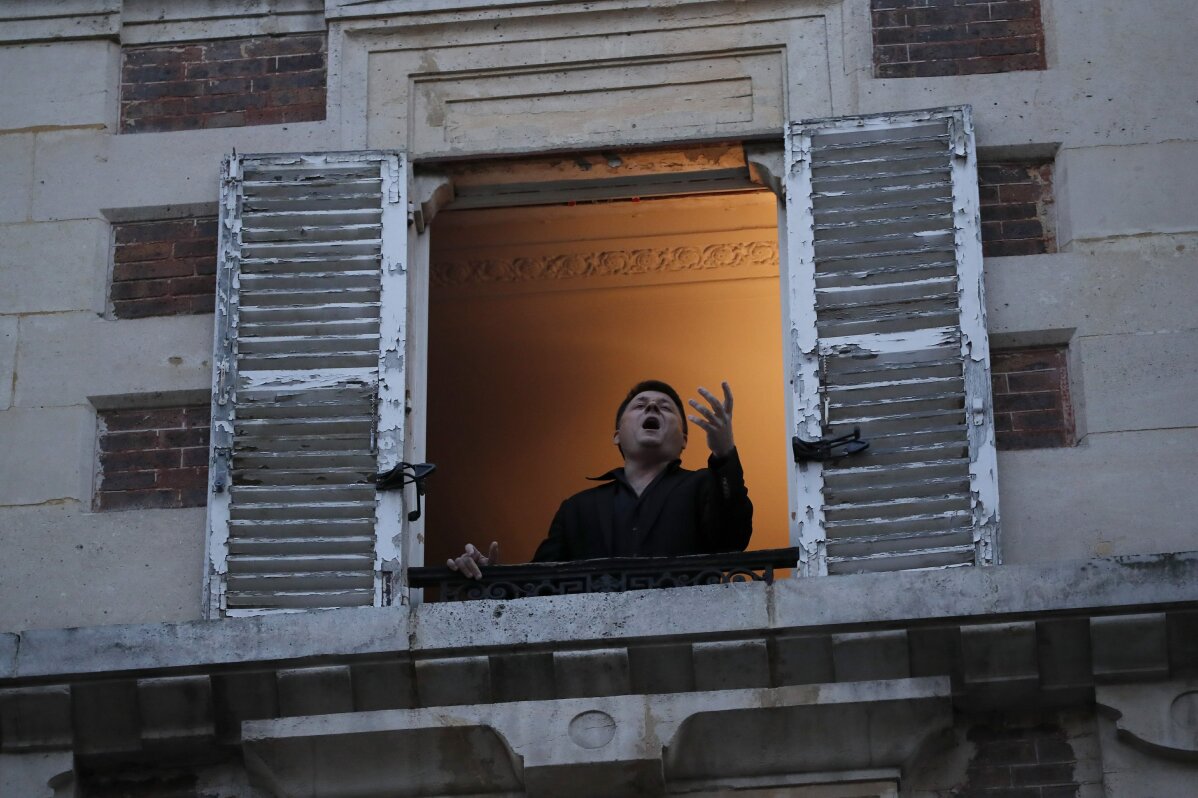 1 of 20

|
French tenor singer Stephane Senechal sings from his apartment window in Paris, Tuesday, March 24, 2020. French President Emmanuel Macron urged employees to keep working in supermarkets, production sites and other businesses that need to keep running amid stringent restrictions of movement due to the rapid spreading of the new coronavirus in the country. For most people, the new coronavirus causes only mild or moderate symptoms. For some it can cause more severe illness, especially in older adults and people with existing health problems. (AP Photo/Francois Mori)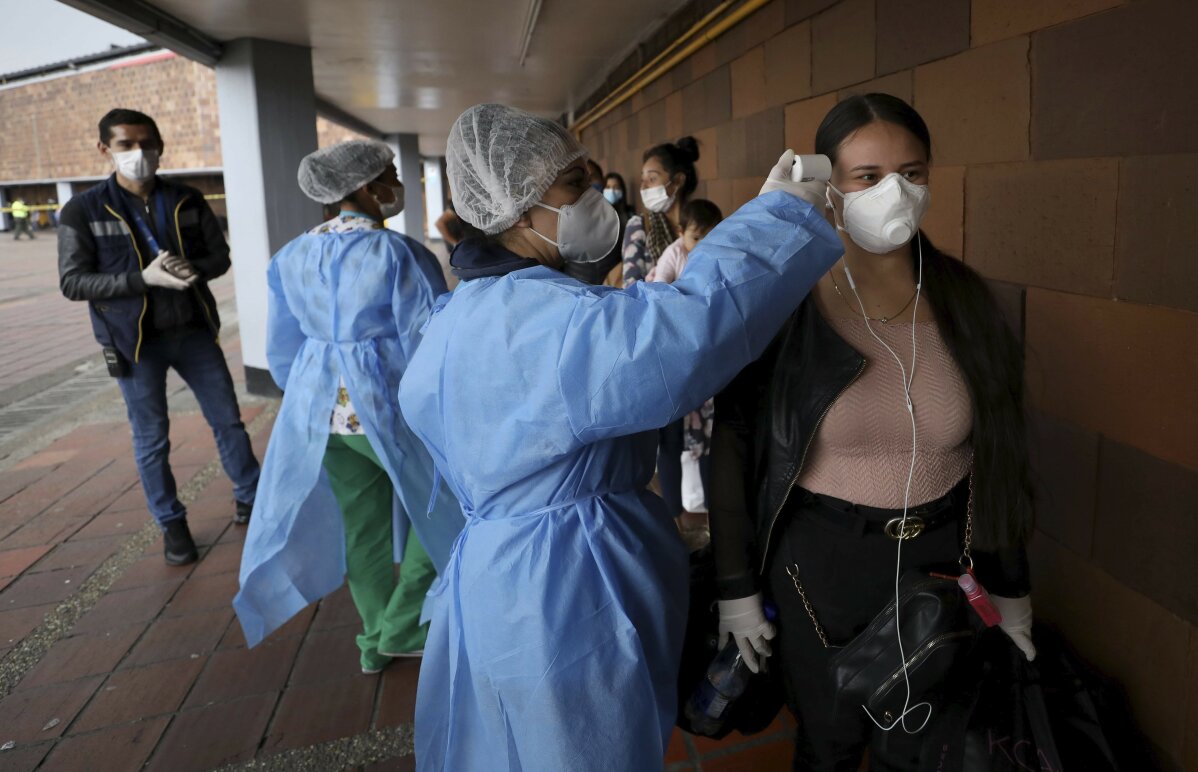 2 of 20

|
A nurse takes the temperature of a woman, outside the main bus terminal in Bogota, Colombia, Tuesday, March 24, 2020. The government announced a nationwide lockdown starting Tuesday to fight the spread of new coronavirus, putting strict restrictions on residents' movements, but emphasized it will guarantee the continuation of local agriculture and food distribution. (AP Photo/Fernando Vergara)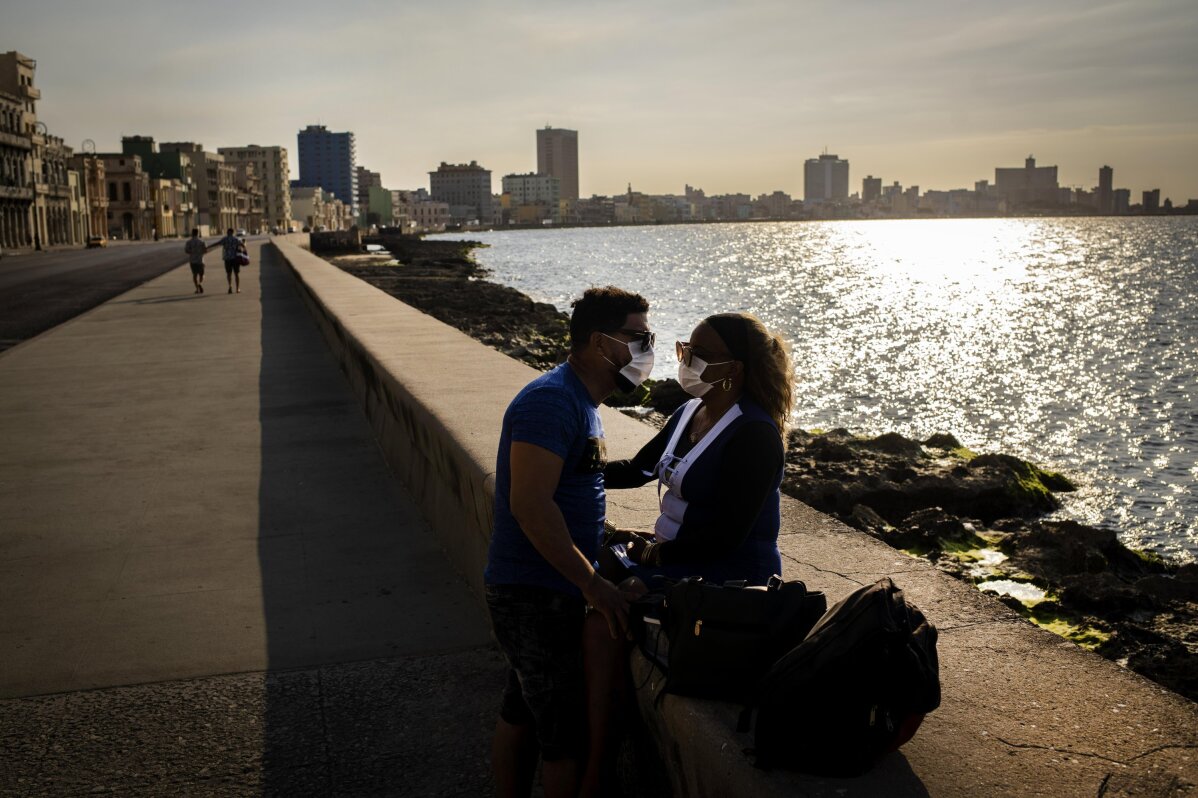 3 of 20

|
A couple wearing masks as a precaution against the spread of the new coronavirus, spend the afternoon at the malecon in Havana, Cuba, Monday, March 23, 2020. The vast majority of people recover from the COVID-19 disease. (AP Photo/Ramon Espinosa)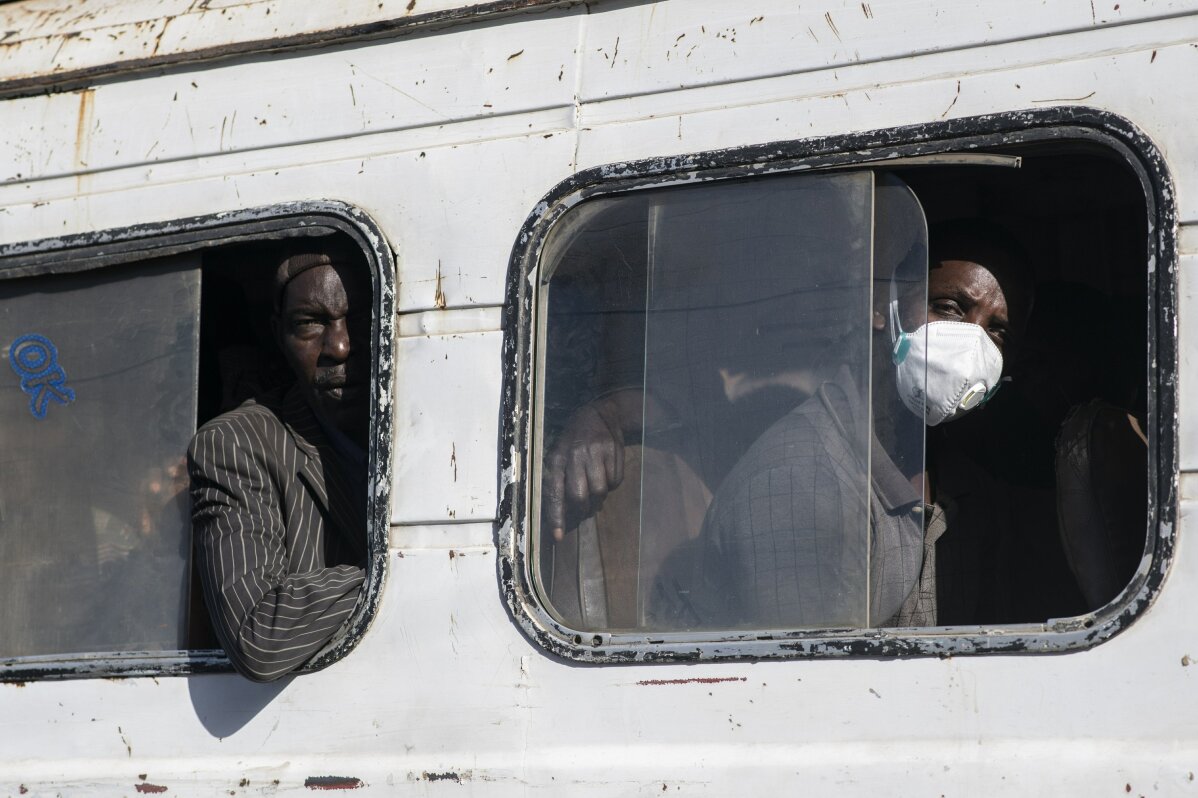 4 of 20

|
Travelers, some wearing a protective mask, take a bus from the Colobane Bus Station in Dakar, Senegal, Tuesday March 24, 2020. The transport Ministry has announced a limit to the number of passengers in the bus to prevent the risk of contamination by the Coronavirus. The highly contagious COVID-19 coronavirus can cause mild symptoms, but for some it can cause severe illness including pneumonia that may force admission to hospital. (AP Photo/Sylvain Cherkaoui)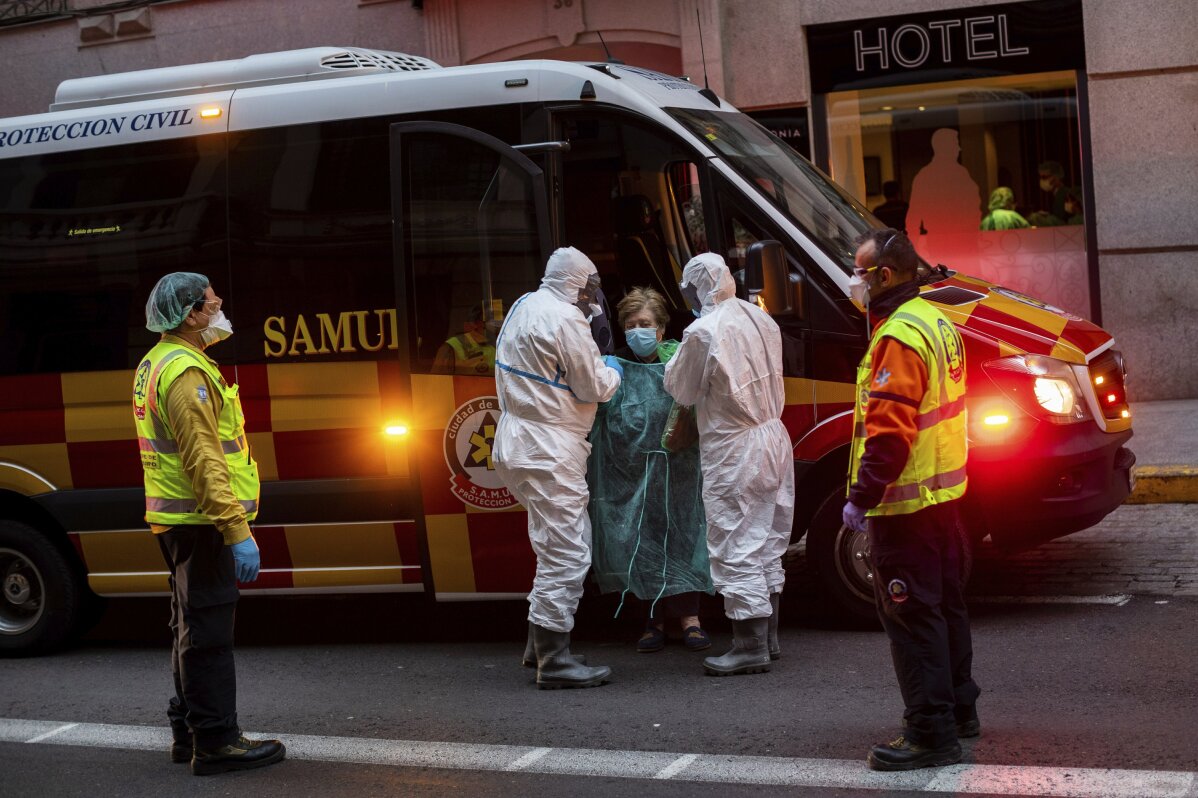 5 of 20

|
A patient, center, is transferred to a medicalised hotel during the COVID-19 outbreak in Madrid, Spain, Tuesday, March 24, 2020. For most people, the new coronavirus causes only mild or moderate symptoms. For some it can cause a more serious illness. (AP Photo/Bernat Armangue)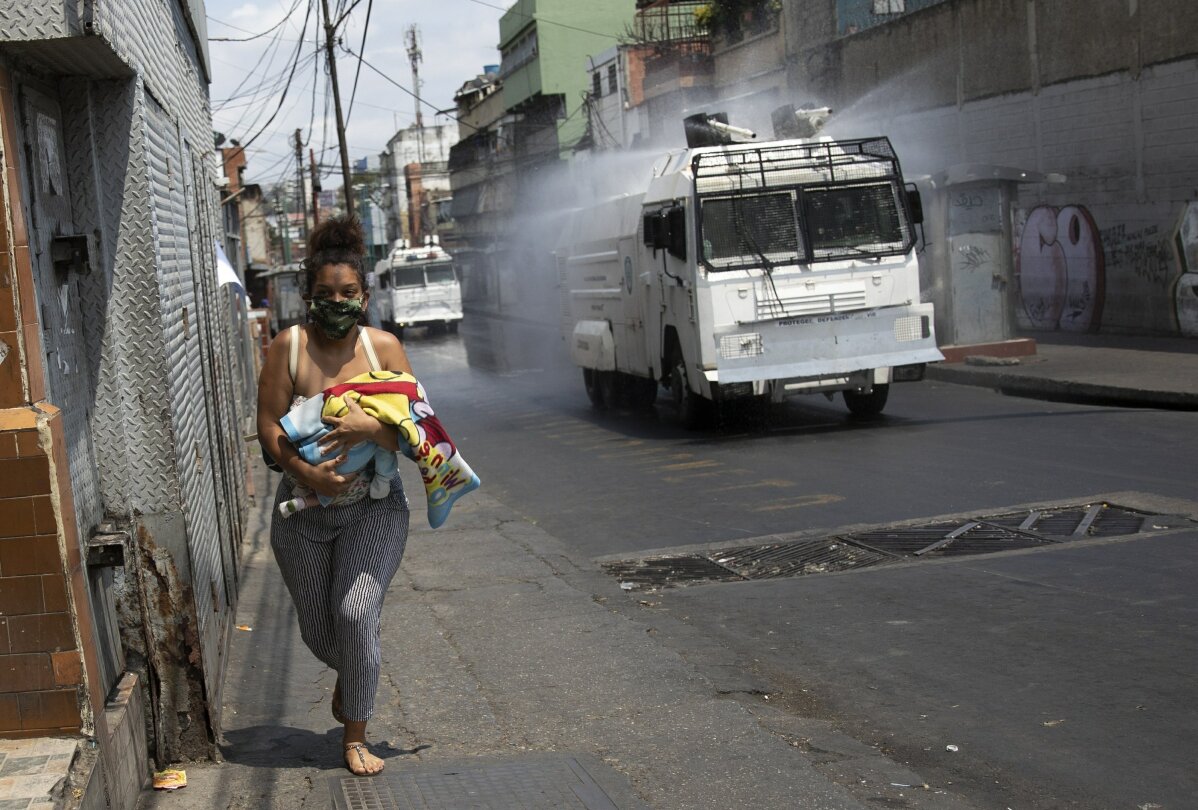 6 of 20

|
A woman runs carrying her baby as a Bolivarian National Guard water cannon sprays disinfectant as a preventive measure against the spread of the new coronavirus. in the Catia parish in Caracas, Venezuela, Tuesday, March 24, 2020. President Nicolas Maduro has ordered the entire nation to stay home under a quarantine aimed at cutting off the spread of the new virus, calling it a "drastic and necessary measure." (AP Photo/Ariana Cubillos)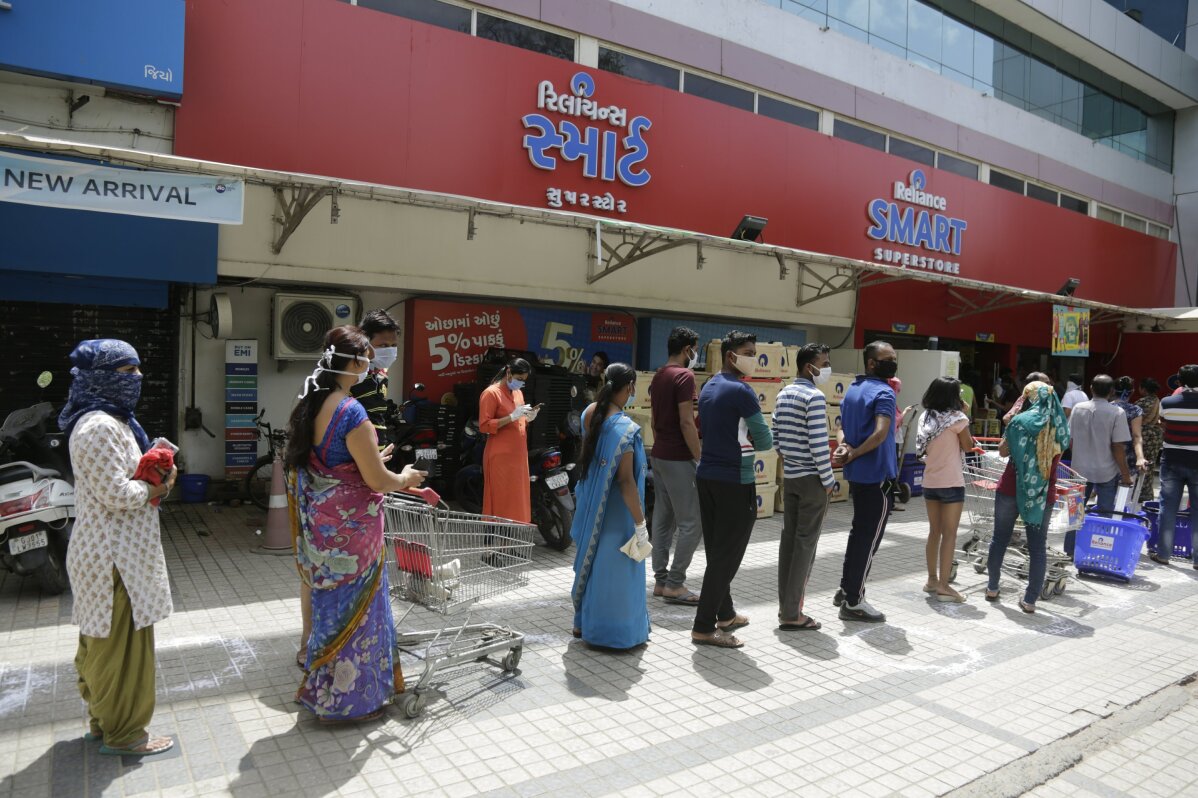 7 of 20

|
Indians stands in queue outside a store to purchase essential items during lockdown as a precautionary measure against COVID-19 in Ahmedabad, India, Tuesday, March 24, 2020. For most people, the new coronavirus causes only mild or moderate symptoms. For some it can cause more severe illness. (AP Photo/Ajit Solanki)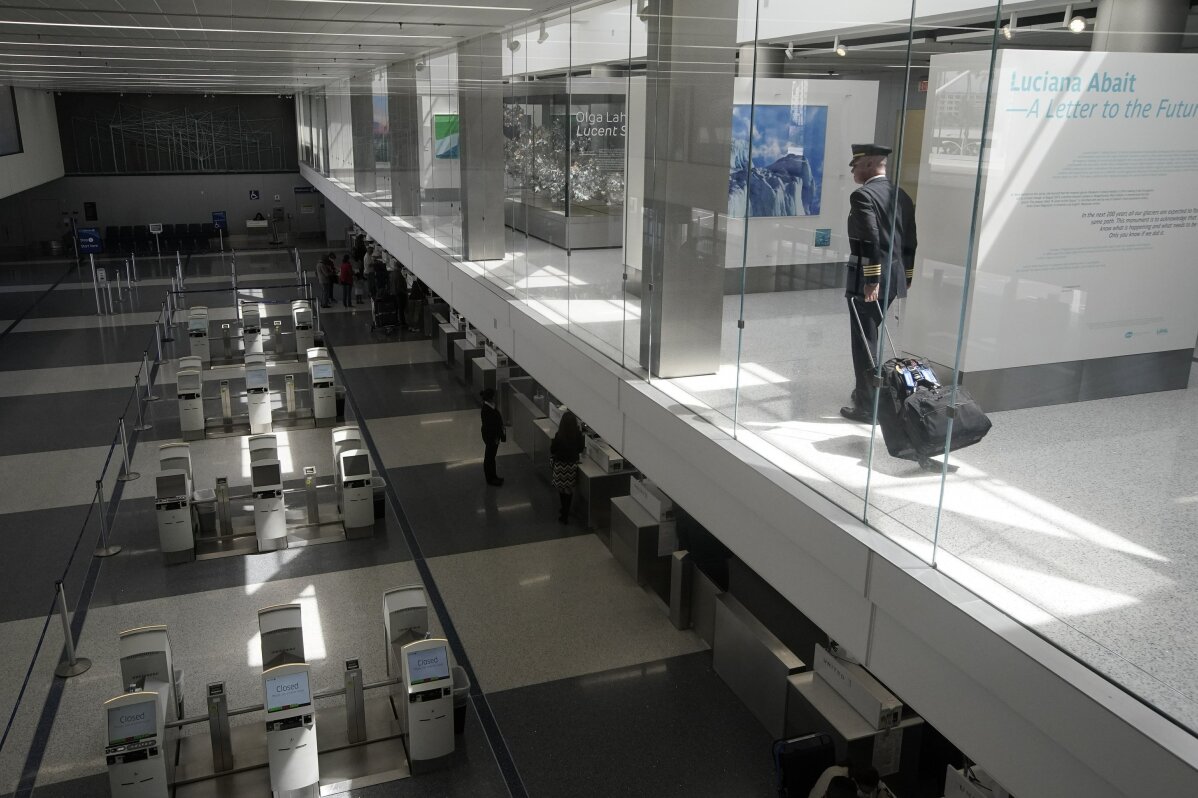 8 of 20

|
A pilot looks over sparse crowds at a check-in counter at the United terminal at Los Angeles International Airport, Tuesday, March 24, 2020, in Los Angeles. (AP Photo/Chris Carlson)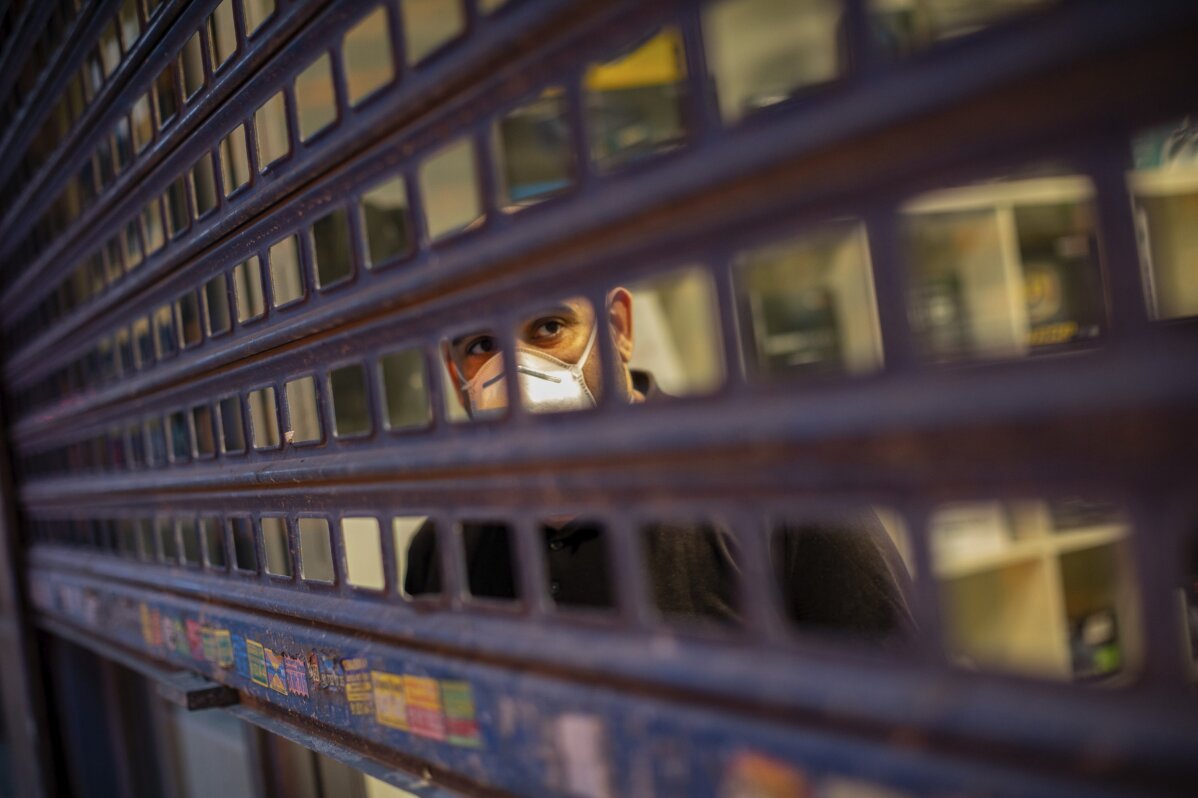 9 of 20

|
A man, wearing a face mask due the coronavirus outbreak, looks from behind a gate in downtown Madrid, Spain, Tuesday, March 24, 2020. More than 1.5 billion around the world have been told to stay in their homes. For most people, the new coronavirus causes only mild or moderate symptoms. For some it can cause a more serious illness. (AP Photo/Bernat Armangue)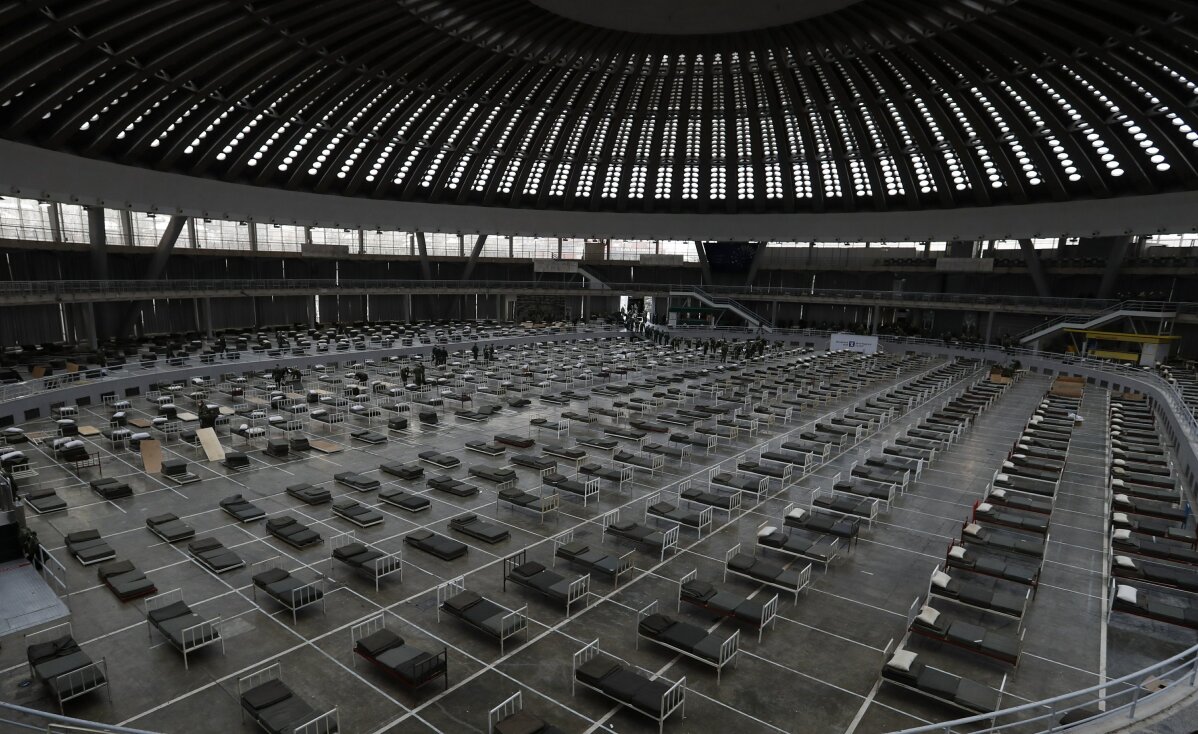 10 of 20

|
Serbian soldiers set up beds for treatment of possible COVID-19 infected patients inside of the Belgrade Fair, Serbia, Tuesday, March 24, 2020. For most people, the new coronavirus causes only mild or moderate symptoms. For some it can cause more severe illness. (AP Photo/Darko Vojinovic)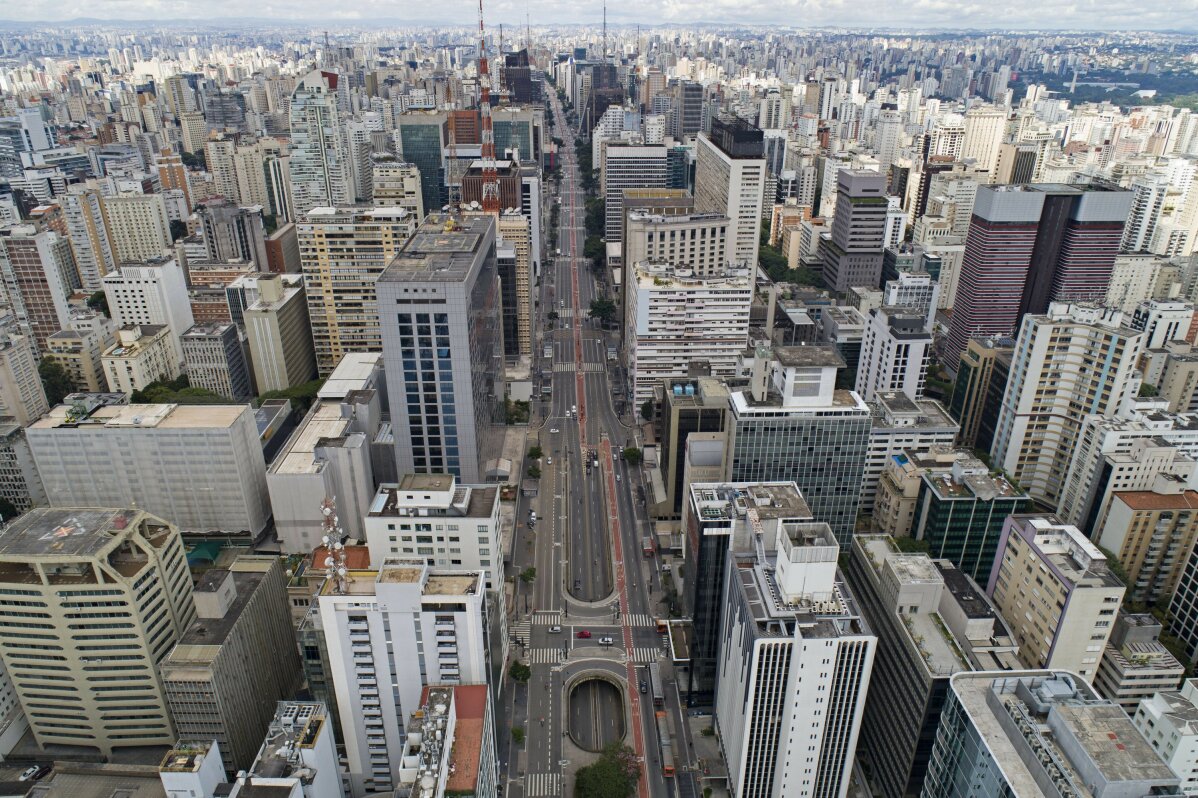 11 of 20

|
An aerial view of the almost empty Paulista Avenue, one of the city's most important financial center, on the first day of quarantine to help stop the spread of the new coronavirus in Sao Paulo, Brazil, Tuesday, March 24, 2020. (AP Photo/Andre Penner)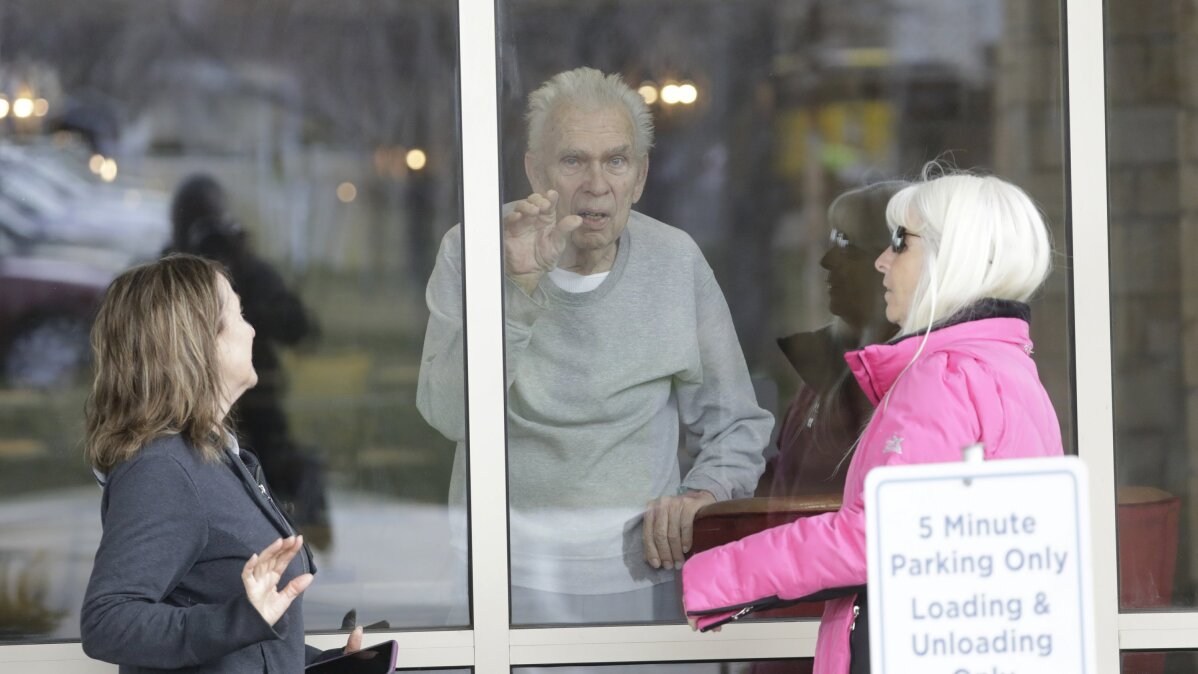 12 of 20

|
Kaye Knighton, 86, receives a visit from his daughter-law Darla Knighton, left, and Debbie Atkins, right, at the Creekside Senior Living Tuesday, March 24, 2020, in Bountiful, Utah. Window visits help seniors connect to families despite coronavirus restrictions. (AP Photo/Rick Bowmer)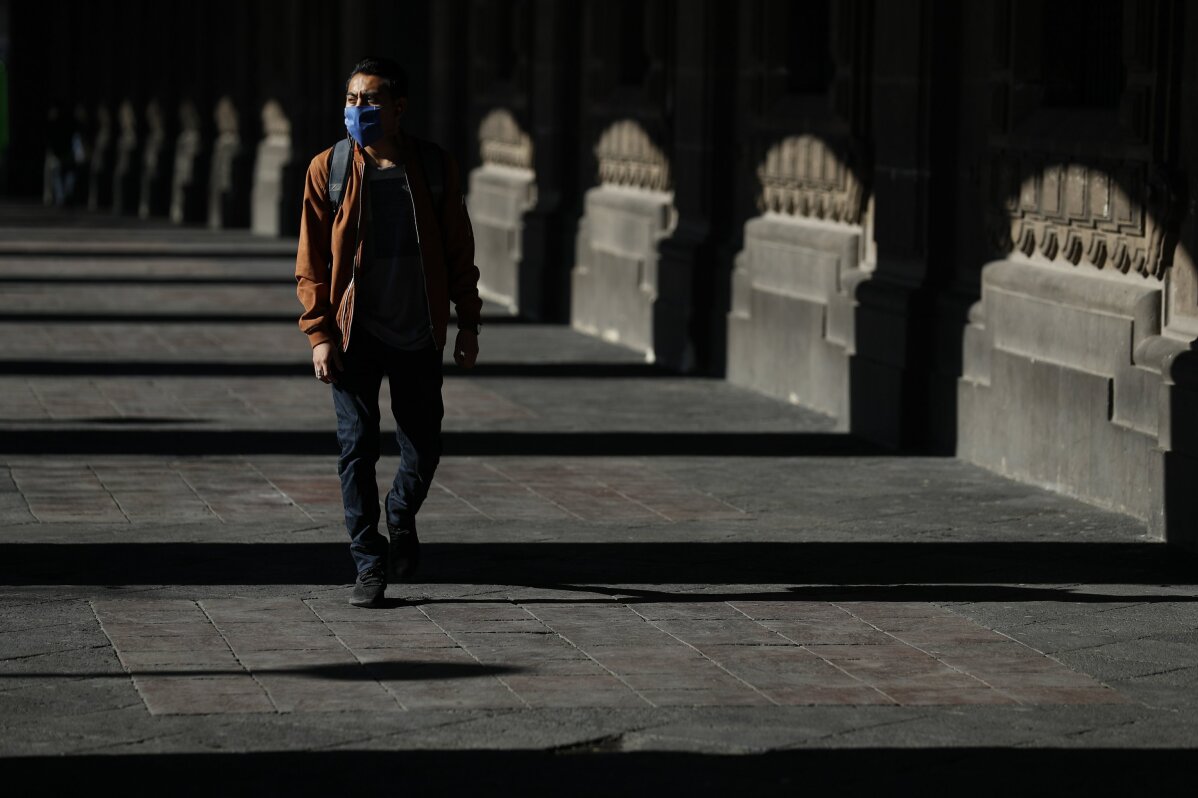 13 of 20

|
A man wearing a face mask walks through the colonnade of a government building in central Mexico City, Tuesday, March 24, 2020. Beginning Monday, Mexico's capital shut down museums, bars, gyms, churches, theaters, and other non-essential businesses that gather large numbers of people, in an attempt to slow the spread of the new coronavirus. (AP Photo/Rebecca Blackwell)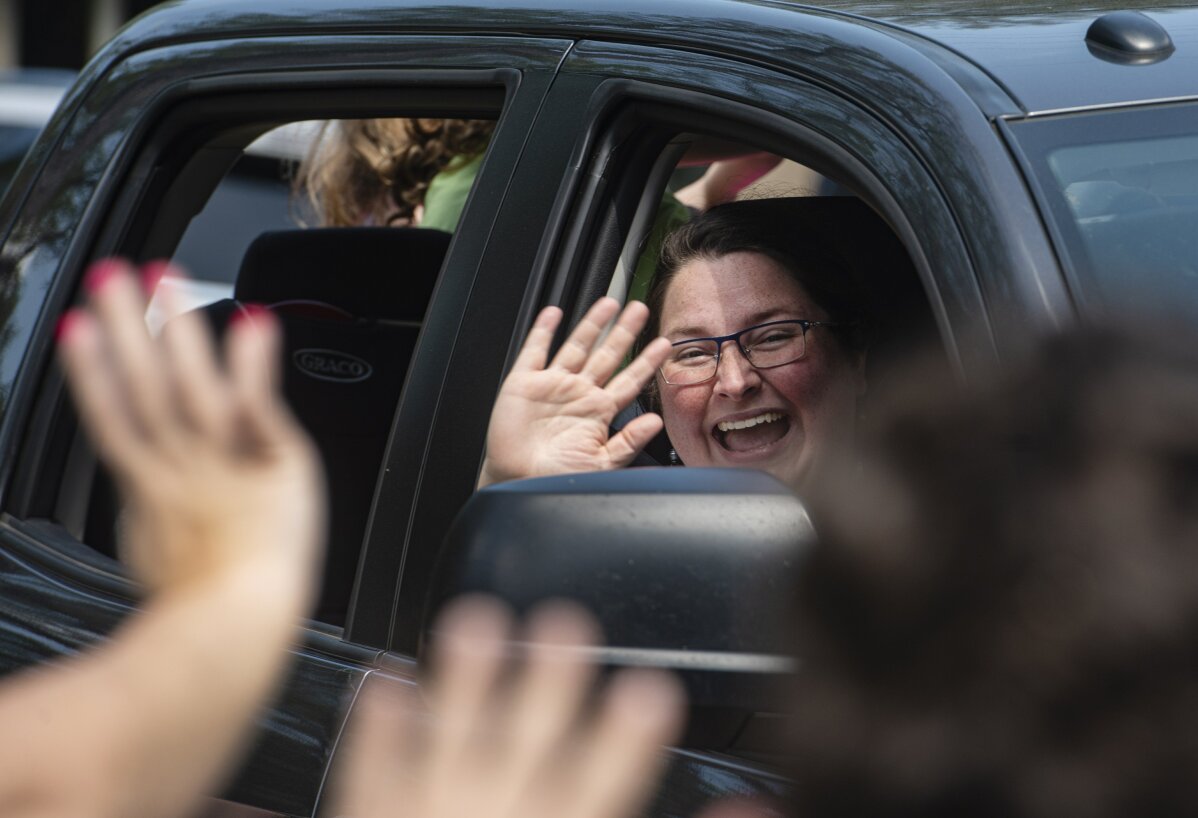 14 of 20

|
Andy Woods Elementary School teacher Rachel Diaz smiles and waves as she rides in a car passing by the houses of her students during a teachers parade in Tyler, Texas on Tuesday, March 24, 2020. Due to the spread of the corona virus, the Tyler Independent School District has transitioned to online learning, so the parade was a way for the students to see their teachers in person while staying at home. (Sarah A. Miller/Tyler Morning Telegraph via AP)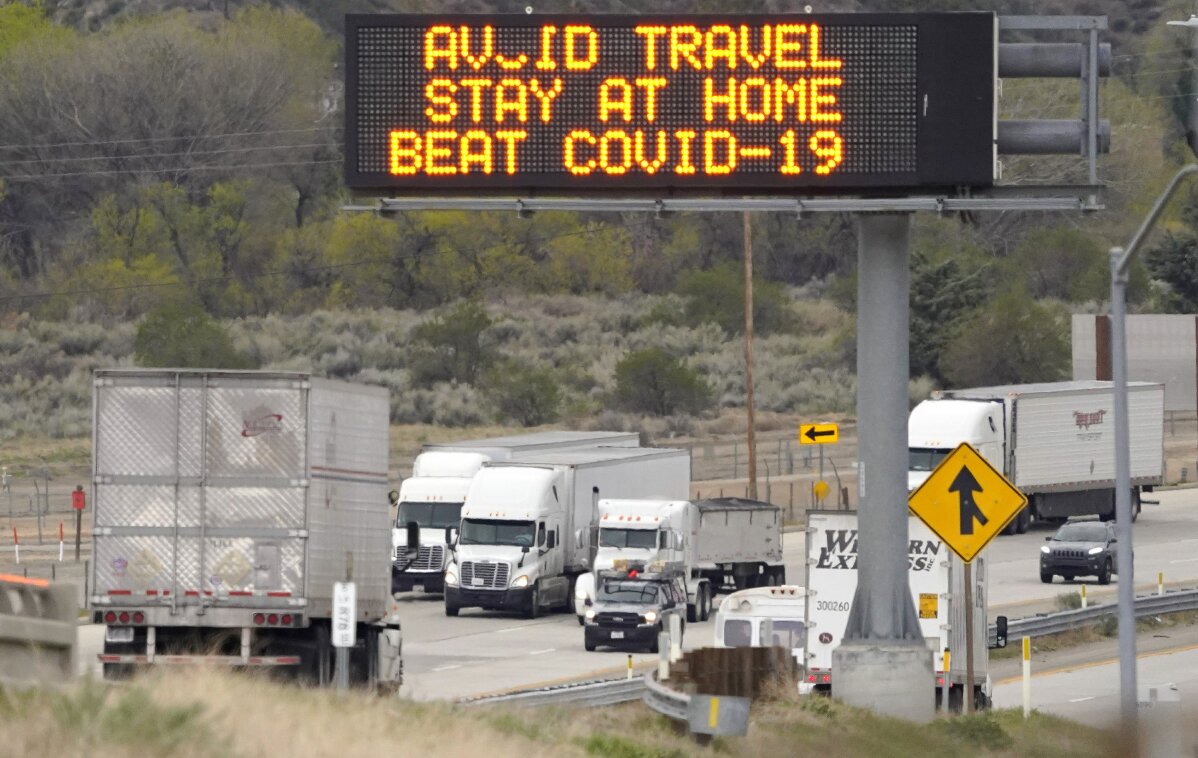 15 of 20

|
Semi trucks drive by a freeway sign along Interstate 5 that urges people to stay at home due to the COVID-19 outbreak on their way toward Los Angles, Tuesday, March 24, 2020, in Gorman, Calif. (AP Photo/Mark J. Terrill)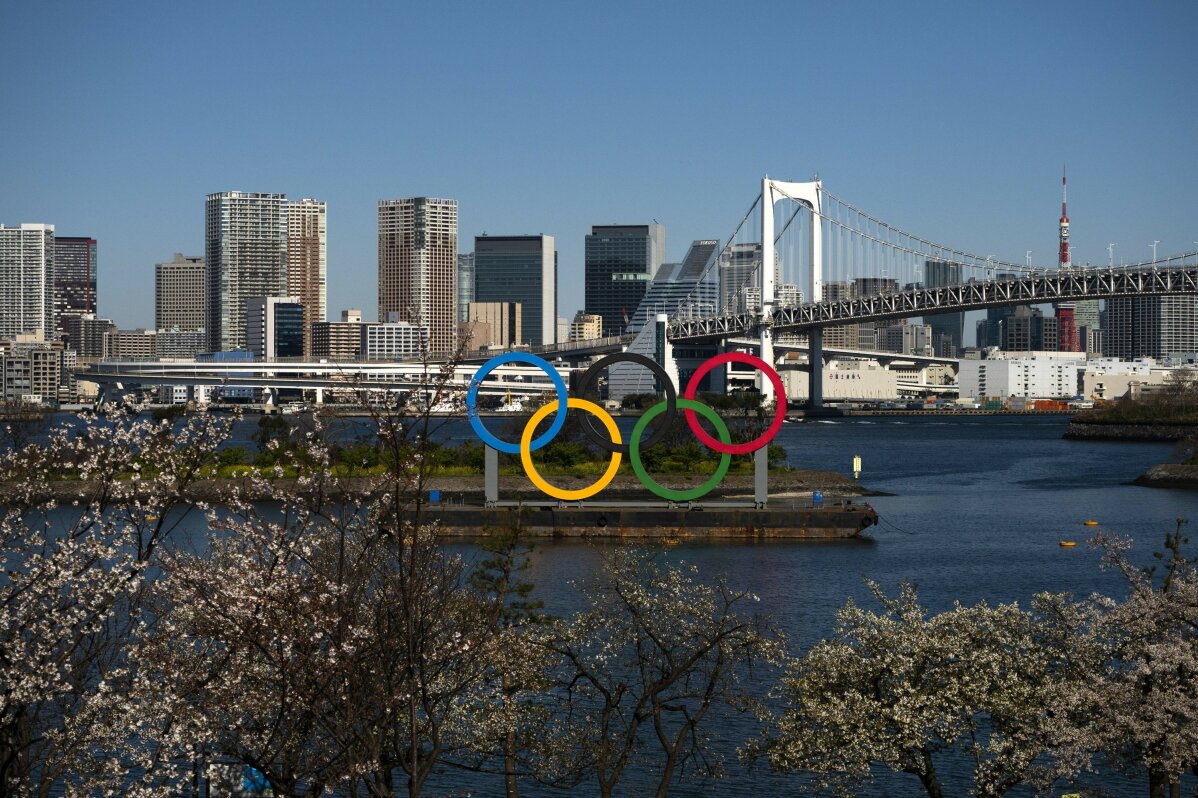 16 of 20

|
A barge carrying the Olympic rings floats in the water Wednesday, March 25, 2020, in the Odaiba section of Tokyo. Not even the Summer Olympics could withstand the force of the coronavirus. After weeks of hedging, the IOC took the unprecedented step of postponing the world's biggest sporting event, a global extravaganza that's been cemented into the calendar for more than a century. (AP Photo/Jae C. Hong)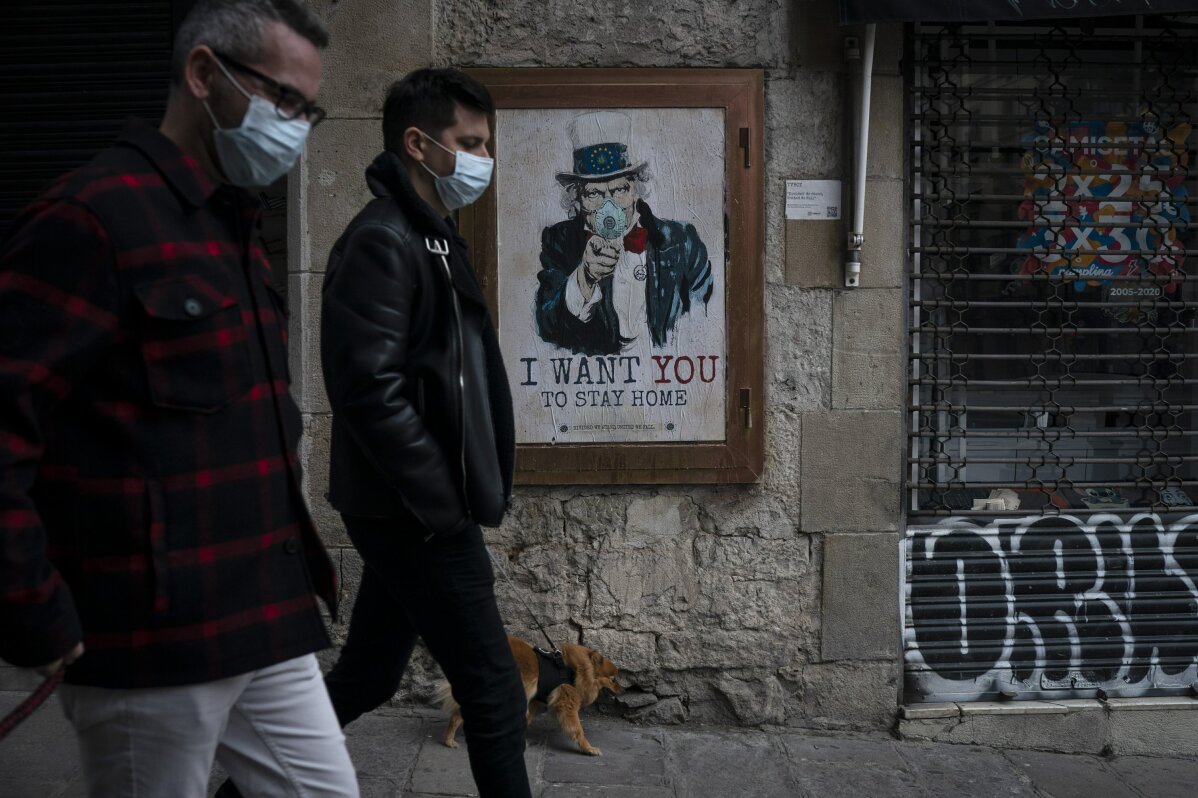 17 of 20

|
People walk past a poster that reads 'I want you to stay home', by artist TvBoy amid a lockdown in Barcelona, Spain, Tuesday, March 24, 2020. More than 1.5 billion around the world have been told to stay in their homes. For most people, the new coronavirus causes only mild or moderate symptoms. For some it can cause a more serious illness. (AP Photo/Felipe Dana)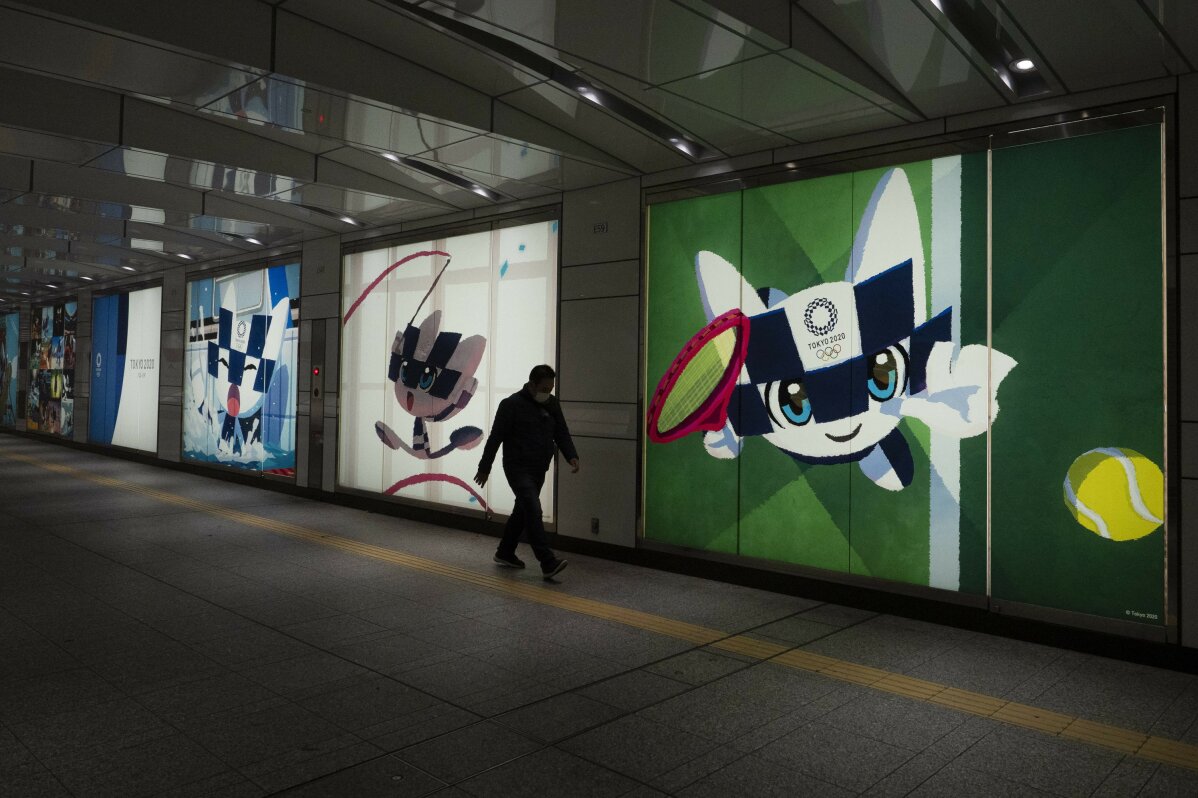 18 of 20

|
A man walks past large displays promoting the Tokyo 2020 Olympics in Tokyo, Tuesday, March 24, 2020. IOC President Thomas Bach has agreed "100%" to a proposal of postponing the Tokyo Olympics for about one year until 2021 because of the coronavirus outbreak, Japanese Prime Minister Shinzo Abe said Tuesday. (AP Photo/Jae C. Hong)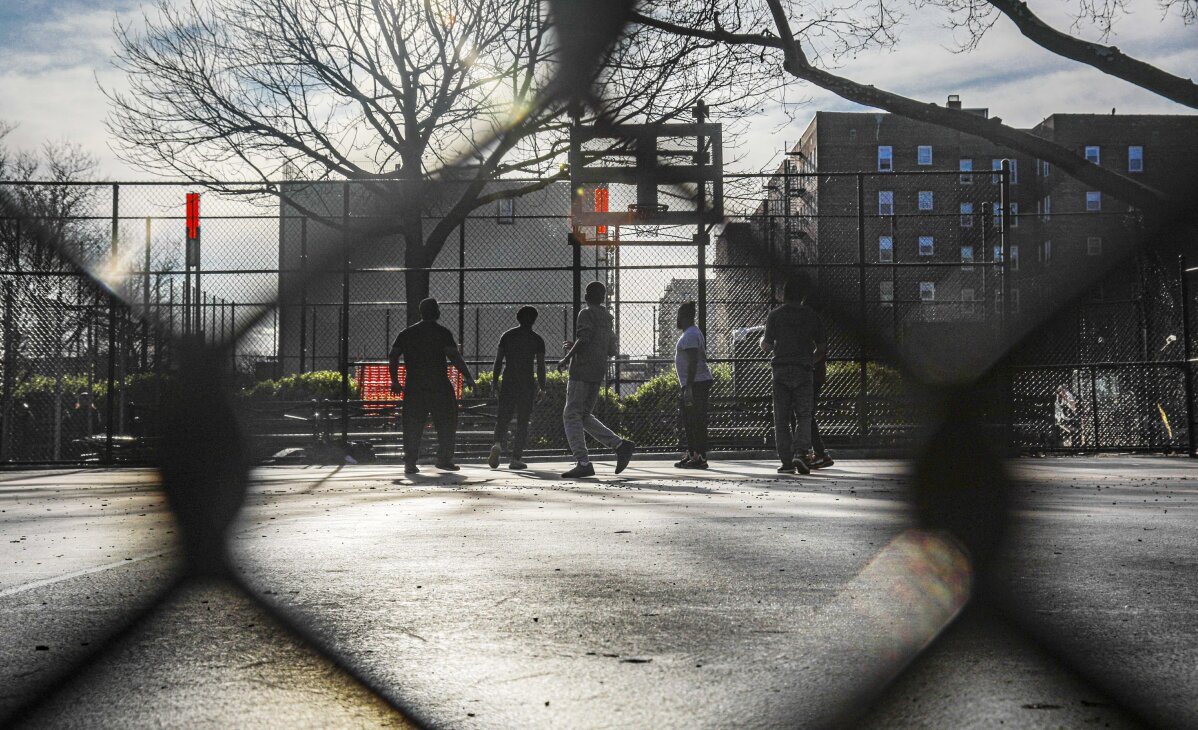 19 of 20

|
People play basketball in Brooklyn's Hamilton Metz Field on Tuesday, March 24, 2020, in New York. Mayor Bill de Blasio said that the NYPD and other city agencies would be out in force at parks to warn and educate people who fail to maintain social distancing during the coronavirus outbreak. (AP Photo/Bebeto Matthews)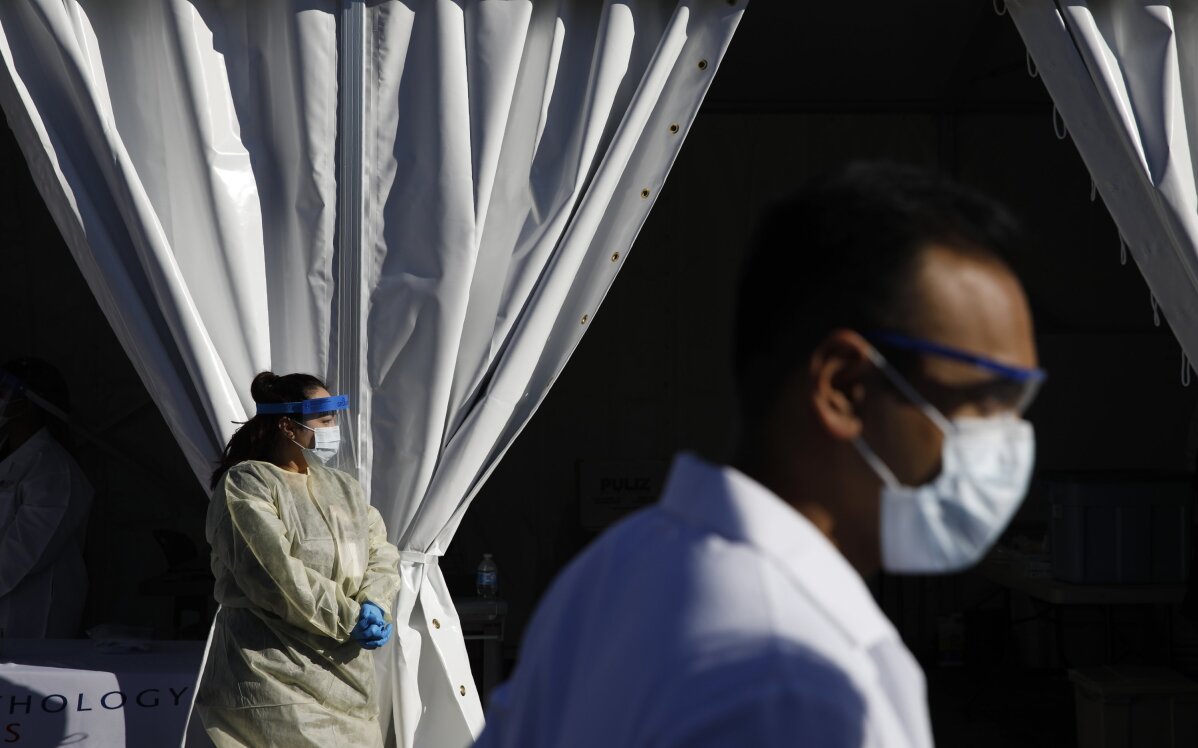 20 of 20

|
Health care workers with the UNLV School of Medicine wait in personal protective equipment for patients at a drive thru coronavirus testing site Tuesday, March 24, 2020, in Las Vegas. UNLV Medicine, the clinical arm of the UNLV School of Medicine, started conducting COVID-19 testing by appointment for people who meet the Centers for Disease Control and Prevention guidelines. (AP Photo/John Locher)
Olympics delayed as Europe, US struggle with surging virus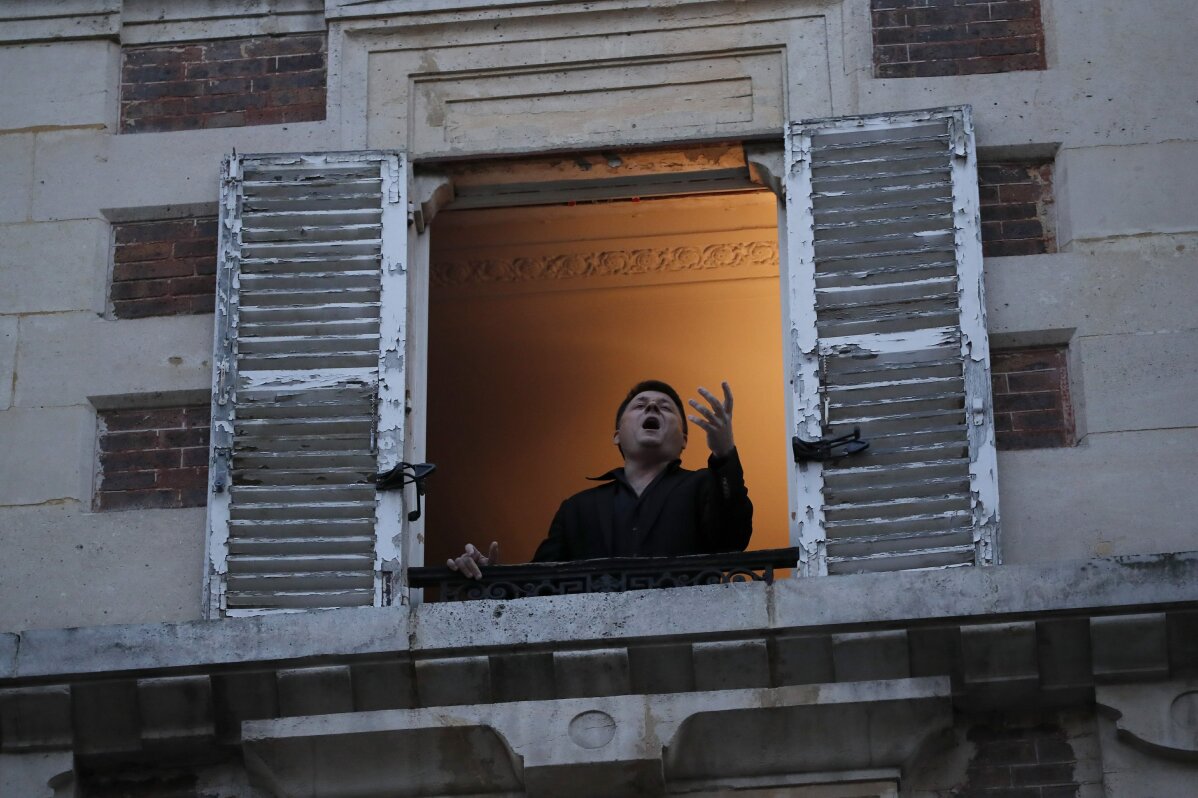 1 of 20

|
French tenor singer Stephane Senechal sings from his apartment window in Paris, Tuesday, March 24, 2020. French President Emmanuel Macron urged employees to keep working in supermarkets, production sites and other businesses that need to keep running amid stringent restrictions of movement due to the rapid spreading of the new coronavirus in the country. For most people, the new coronavirus causes only mild or moderate symptoms. For some it can cause more severe illness, especially in older adults and people with existing health problems. (AP Photo/Francois Mori)
1 of 20
French tenor singer Stephane Senechal sings from his apartment window in Paris, Tuesday, March 24, 2020. French President Emmanuel Macron urged employees to keep working in supermarkets, production sites and other businesses that need to keep running amid stringent restrictions of movement due to the rapid spreading of the new coronavirus in the country. For most people, the new coronavirus causes only mild or moderate symptoms. For some it can cause more severe illness, especially in older adults and people with existing health problems. (AP Photo/Francois Mori)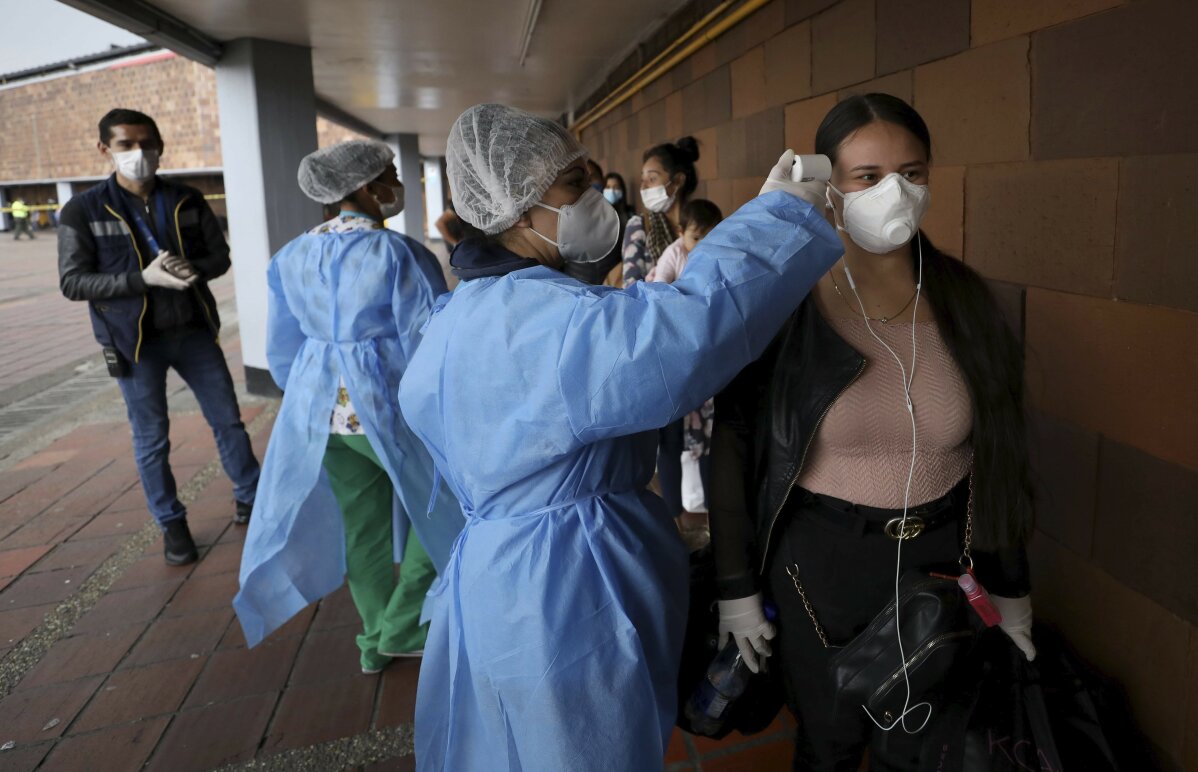 2 of 20

|
A nurse takes the temperature of a woman, outside the main bus terminal in Bogota, Colombia, Tuesday, March 24, 2020. The government announced a nationwide lockdown starting Tuesday to fight the spread of new coronavirus, putting strict restrictions on residents' movements, but emphasized it will guarantee the continuation of local agriculture and food distribution. (AP Photo/Fernando Vergara)
2 of 20
A nurse takes the temperature of a woman, outside the main bus terminal in Bogota, Colombia, Tuesday, March 24, 2020. The government announced a nationwide lockdown starting Tuesday to fight the spread of new coronavirus, putting strict restrictions on residents' movements, but emphasized it will guarantee the continuation of local agriculture and food distribution. (AP Photo/Fernando Vergara)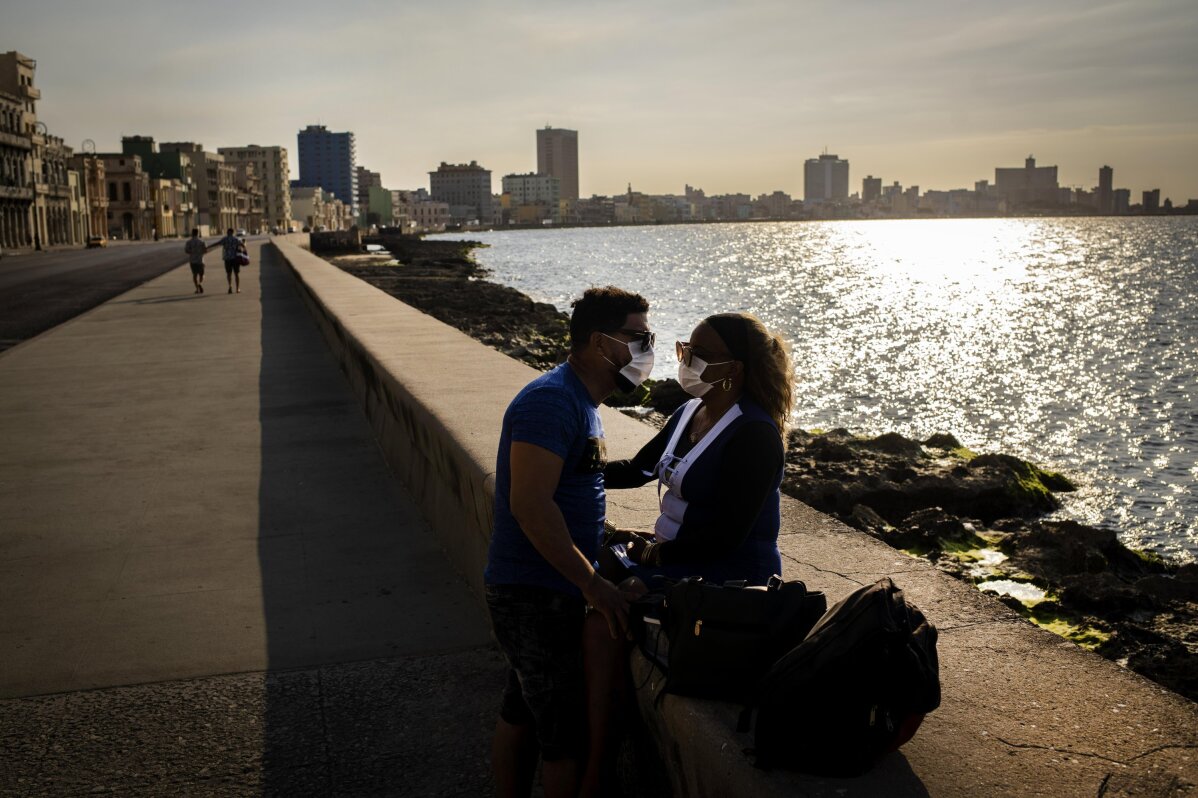 3 of 20

|
A couple wearing masks as a precaution against the spread of the new coronavirus, spend the afternoon at the malecon in Havana, Cuba, Monday, March 23, 2020. The vast majority of people recover from the COVID-19 disease. (AP Photo/Ramon Espinosa)
3 of 20
A couple wearing masks as a precaution against the spread of the new coronavirus, spend the afternoon at the malecon in Havana, Cuba, Monday, March 23, 2020. The vast majority of people recover from the COVID-19 disease. (AP Photo/Ramon Espinosa)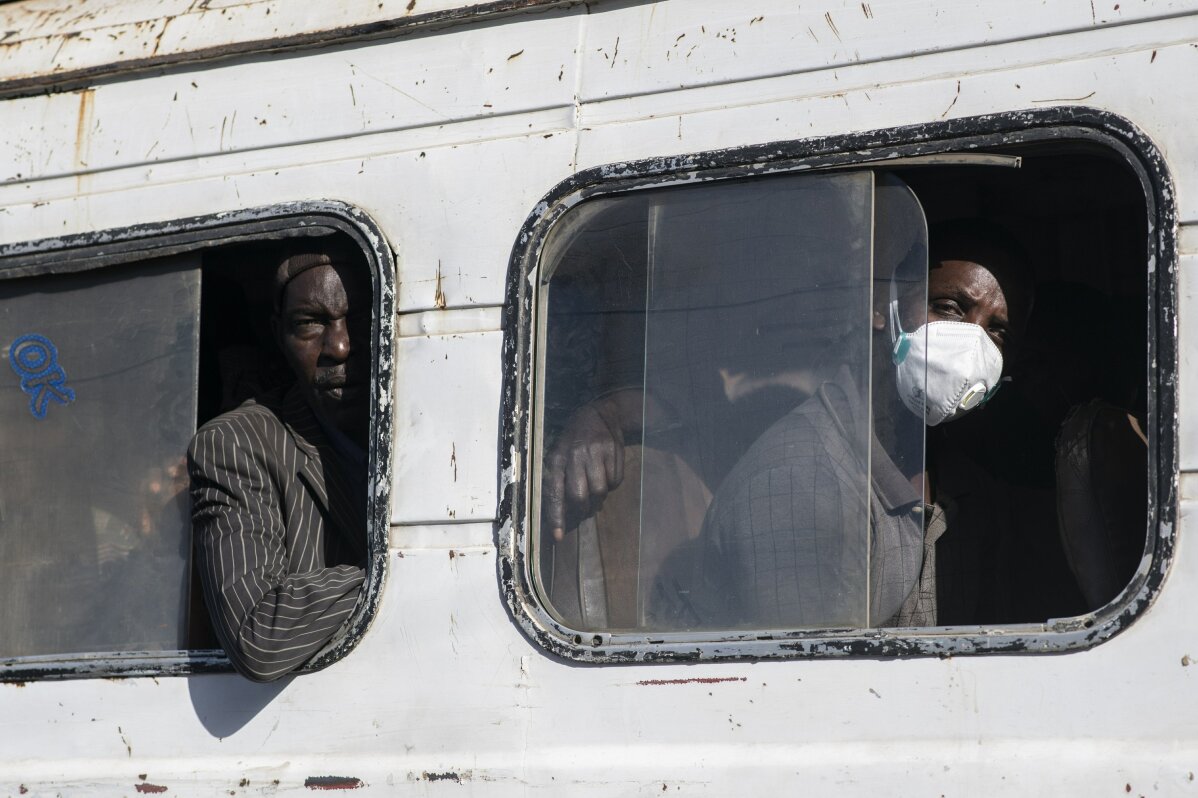 4 of 20

|
Travelers, some wearing a protective mask, take a bus from the Colobane Bus Station in Dakar, Senegal, Tuesday March 24, 2020. The transport Ministry has announced a limit to the number of passengers in the bus to prevent the risk of contamination by the Coronavirus. The highly contagious COVID-19 coronavirus can cause mild symptoms, but for some it can cause severe illness including pneumonia that may force admission to hospital. (AP Photo/Sylvain Cherkaoui)
4 of 20
Travelers, some wearing a protective mask, take a bus from the Colobane Bus Station in Dakar, Senegal, Tuesday March 24, 2020. The transport Ministry has announced a limit to the number of passengers in the bus to prevent the risk of contamination by the Coronavirus. The highly contagious COVID-19 coronavirus can cause mild symptoms, but for some it can cause severe illness including pneumonia that may force admission to hospital. (AP Photo/Sylvain Cherkaoui)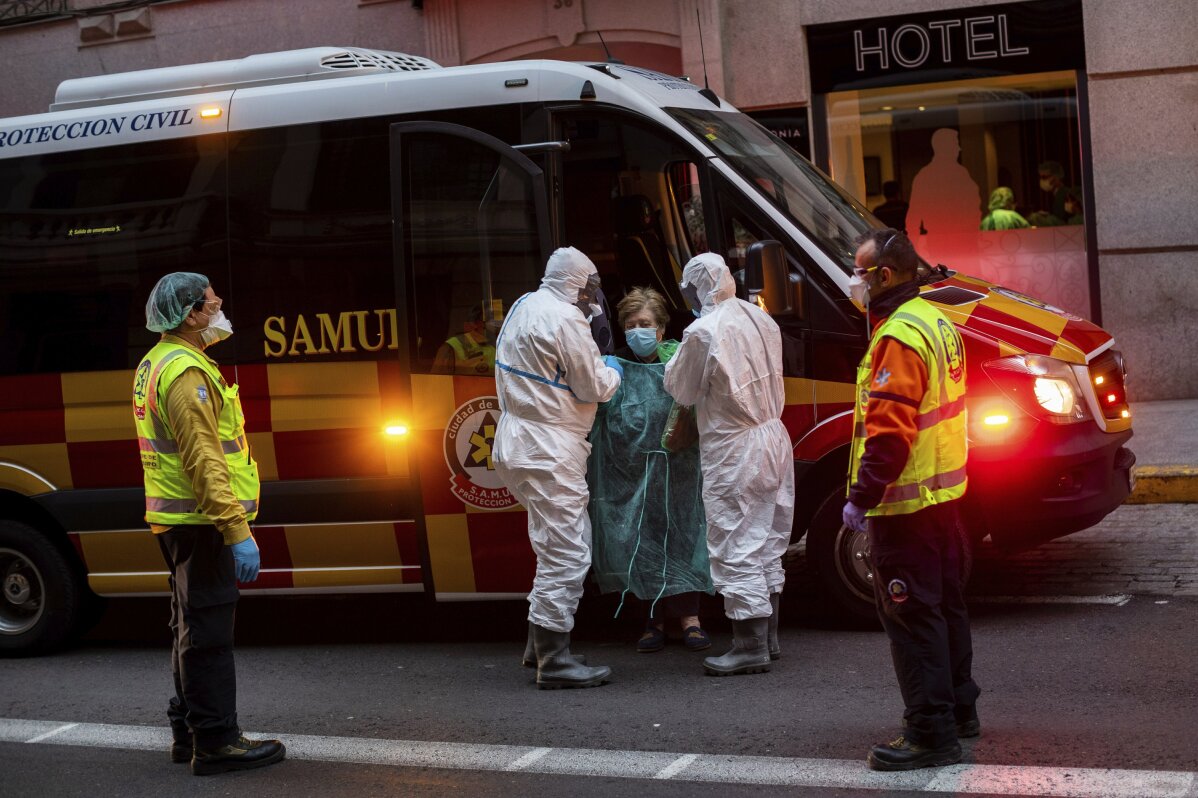 5 of 20

|
A patient, center, is transferred to a medicalised hotel during the COVID-19 outbreak in Madrid, Spain, Tuesday, March 24, 2020. For most people, the new coronavirus causes only mild or moderate symptoms. For some it can cause a more serious illness. (AP Photo/Bernat Armangue)
5 of 20
A patient, center, is transferred to a medicalised hotel during the COVID-19 outbreak in Madrid, Spain, Tuesday, March 24, 2020. For most people, the new coronavirus causes only mild or moderate symptoms. For some it can cause a more serious illness. (AP Photo/Bernat Armangue)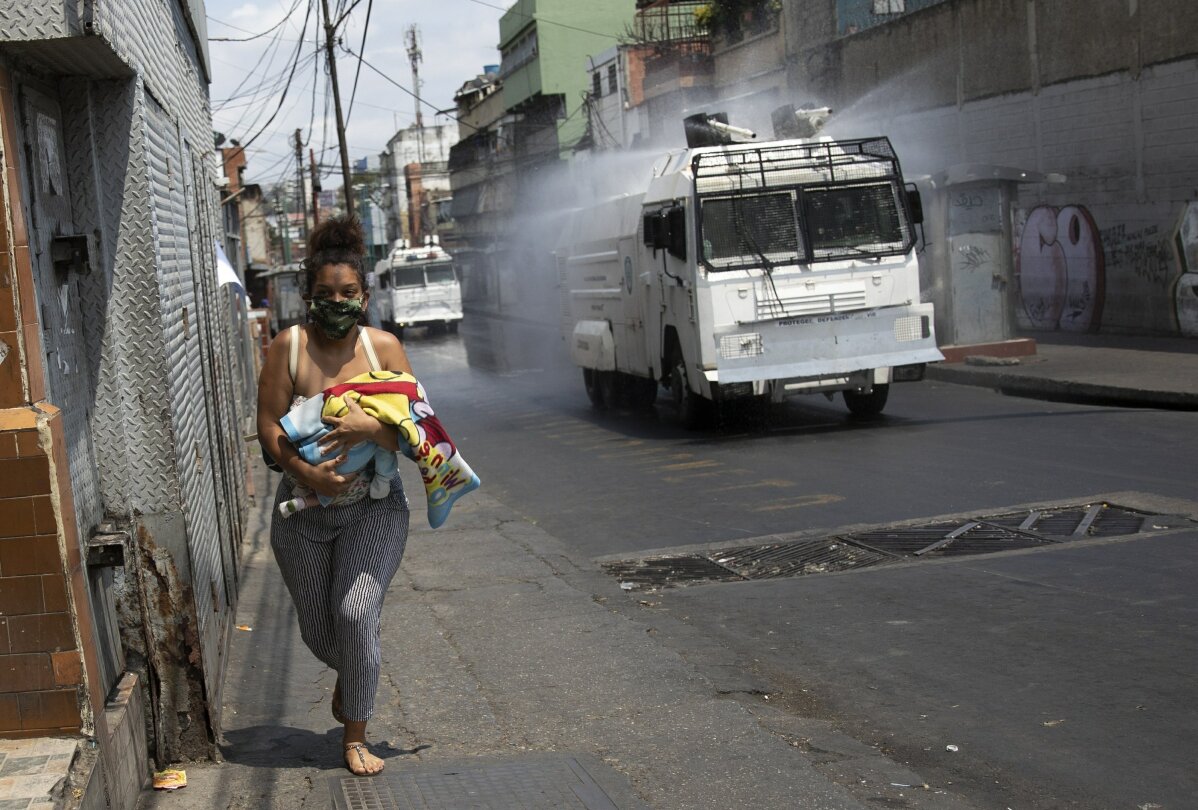 6 of 20

|
A woman runs carrying her baby as a Bolivarian National Guard water cannon sprays disinfectant as a preventive measure against the spread of the new coronavirus. in the Catia parish in Caracas, Venezuela, Tuesday, March 24, 2020. President Nicolas Maduro has ordered the entire nation to stay home under a quarantine aimed at cutting off the spread of the new virus, calling it a "drastic and necessary measure." (AP Photo/Ariana Cubillos)
6 of 20
A woman runs carrying her baby as a Bolivarian National Guard water cannon sprays disinfectant as a preventive measure against the spread of the new coronavirus. in the Catia parish in Caracas, Venezuela, Tuesday, March 24, 2020. President Nicolas Maduro has ordered the entire nation to stay home under a quarantine aimed at cutting off the spread of the new virus, calling it a "drastic and necessary measure." (AP Photo/Ariana Cubillos)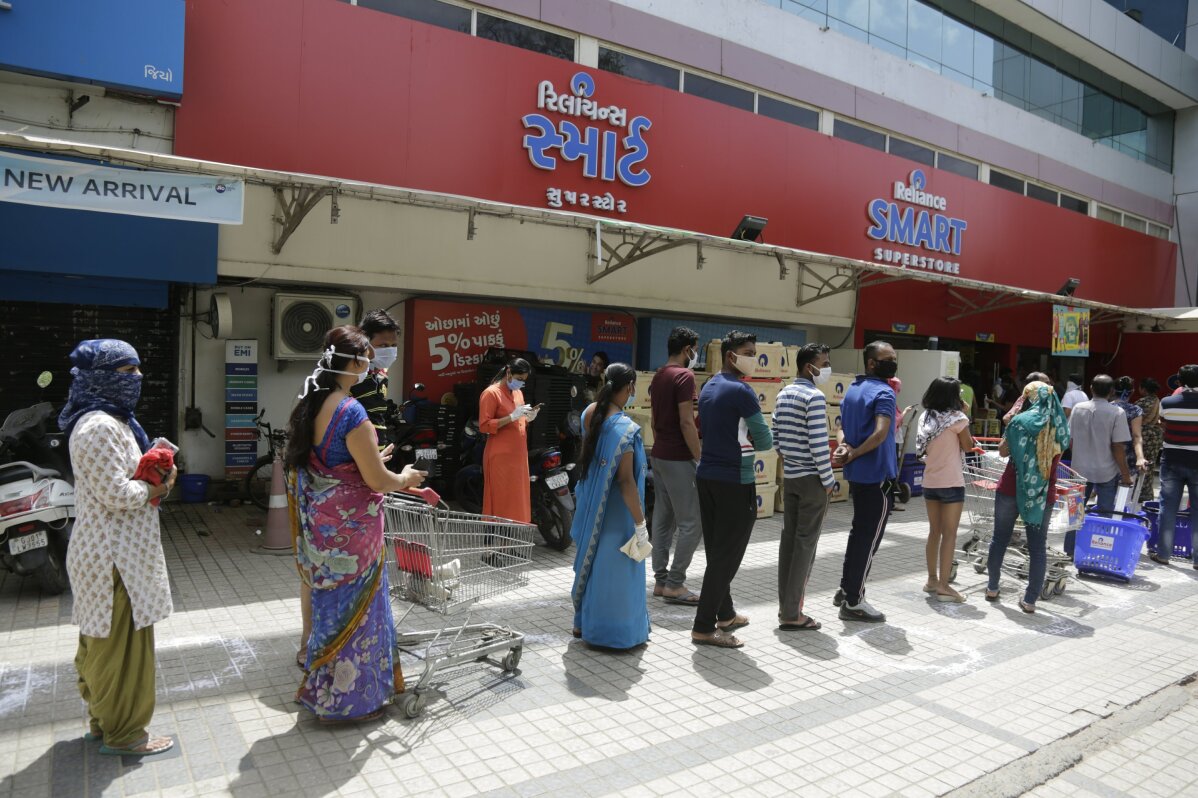 7 of 20

|
Indians stands in queue outside a store to purchase essential items during lockdown as a precautionary measure against COVID-19 in Ahmedabad, India, Tuesday, March 24, 2020. For most people, the new coronavirus causes only mild or moderate symptoms. For some it can cause more severe illness. (AP Photo/Ajit Solanki)
7 of 20
Indians stands in queue outside a store to purchase essential items during lockdown as a precautionary measure against COVID-19 in Ahmedabad, India, Tuesday, March 24, 2020. For most people, the new coronavirus causes only mild or moderate symptoms. For some it can cause more severe illness. (AP Photo/Ajit Solanki)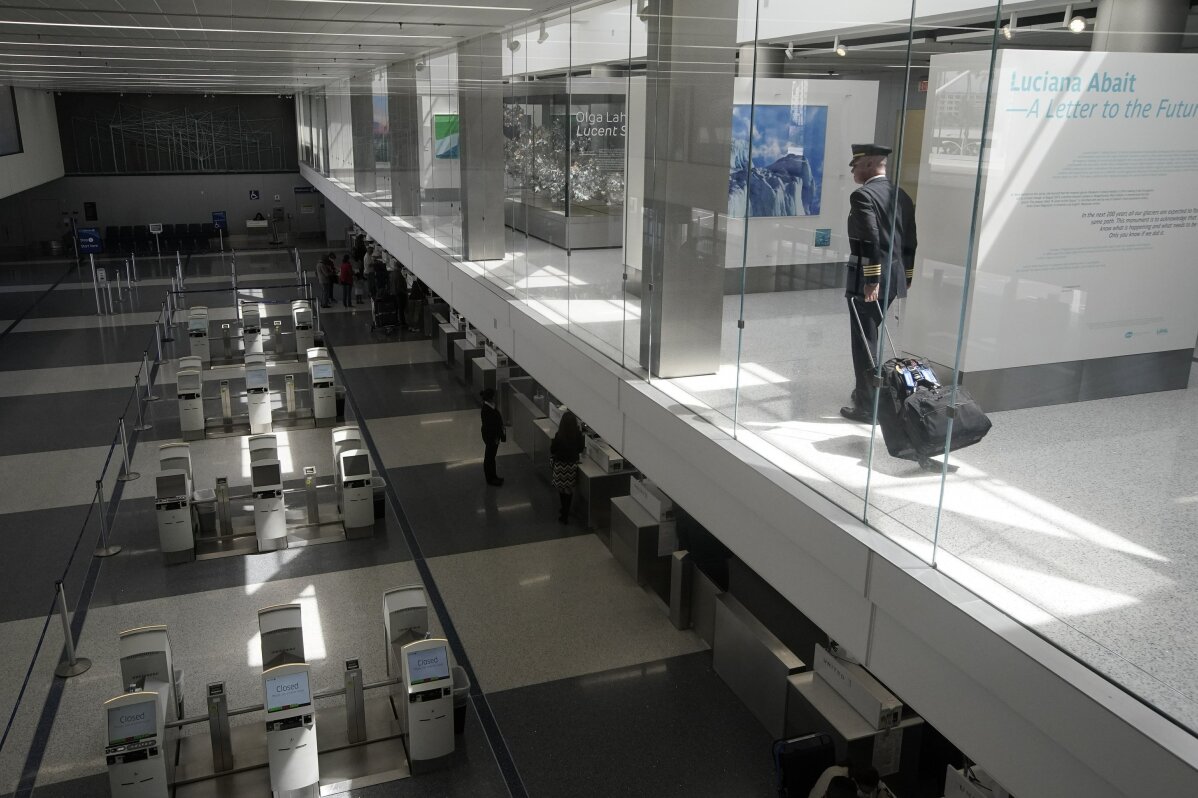 8 of 20

|
A pilot looks over sparse crowds at a check-in counter at the United terminal at Los Angeles International Airport, Tuesday, March 24, 2020, in Los Angeles. (AP Photo/Chris Carlson)
8 of 20
A pilot looks over sparse crowds at a check-in counter at the United terminal at Los Angeles International Airport, Tuesday, March 24, 2020, in Los Angeles. (AP Photo/Chris Carlson)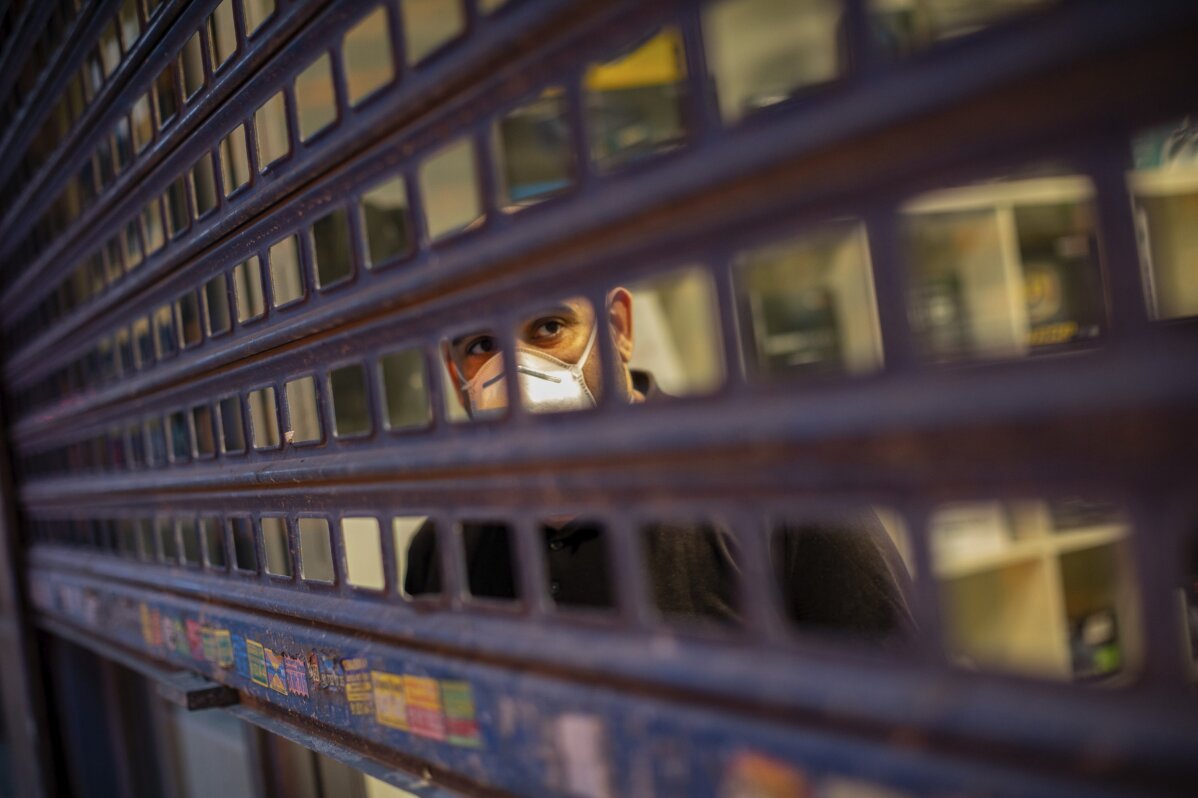 9 of 20

|
A man, wearing a face mask due the coronavirus outbreak, looks from behind a gate in downtown Madrid, Spain, Tuesday, March 24, 2020. More than 1.5 billion around the world have been told to stay in their homes. For most people, the new coronavirus causes only mild or moderate symptoms. For some it can cause a more serious illness. (AP Photo/Bernat Armangue)
9 of 20
A man, wearing a face mask due the coronavirus outbreak, looks from behind a gate in downtown Madrid, Spain, Tuesday, March 24, 2020. More than 1.5 billion around the world have been told to stay in their homes. For most people, the new coronavirus causes only mild or moderate symptoms. For some it can cause a more serious illness. (AP Photo/Bernat Armangue)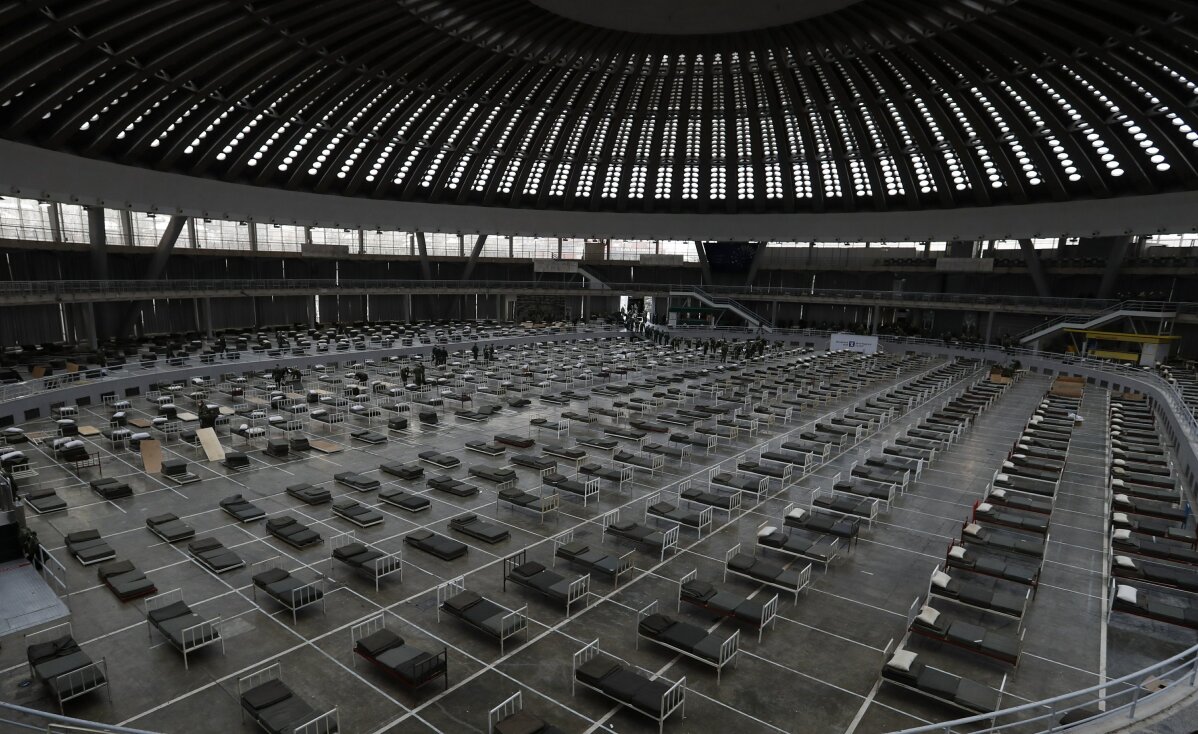 10 of 20

|
Serbian soldiers set up beds for treatment of possible COVID-19 infected patients inside of the Belgrade Fair, Serbia, Tuesday, March 24, 2020. For most people, the new coronavirus causes only mild or moderate symptoms. For some it can cause more severe illness. (AP Photo/Darko Vojinovic)
10 of 20
Serbian soldiers set up beds for treatment of possible COVID-19 infected patients inside of the Belgrade Fair, Serbia, Tuesday, March 24, 2020. For most people, the new coronavirus causes only mild or moderate symptoms. For some it can cause more severe illness. (AP Photo/Darko Vojinovic)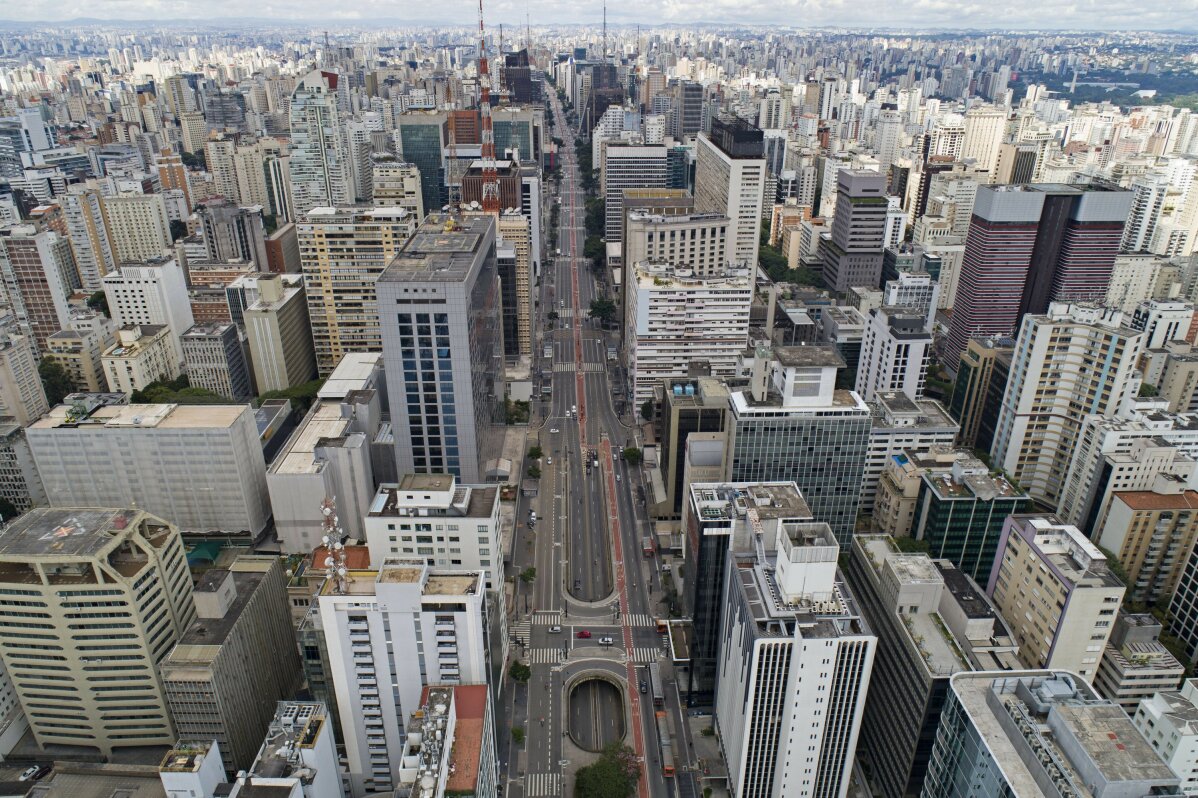 11 of 20

|
An aerial view of the almost empty Paulista Avenue, one of the city's most important financial center, on the first day of quarantine to help stop the spread of the new coronavirus in Sao Paulo, Brazil, Tuesday, March 24, 2020. (AP Photo/Andre Penner)
11 of 20
An aerial view of the almost empty Paulista Avenue, one of the city's most important financial center, on the first day of quarantine to help stop the spread of the new coronavirus in Sao Paulo, Brazil, Tuesday, March 24, 2020. (AP Photo/Andre Penner)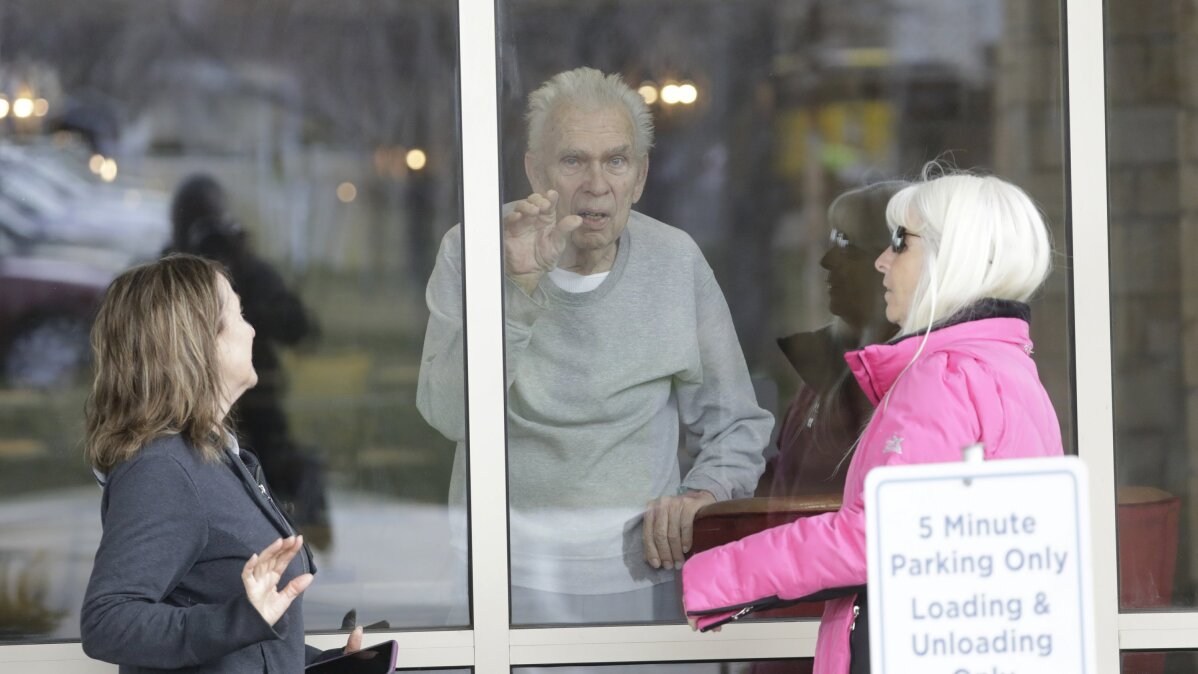 12 of 20

|
Kaye Knighton, 86, receives a visit from his daughter-law Darla Knighton, left, and Debbie Atkins, right, at the Creekside Senior Living Tuesday, March 24, 2020, in Bountiful, Utah. Window visits help seniors connect to families despite coronavirus restrictions. (AP Photo/Rick Bowmer)
12 of 20
Kaye Knighton, 86, receives a visit from his daughter-law Darla Knighton, left, and Debbie Atkins, right, at the Creekside Senior Living Tuesday, March 24, 2020, in Bountiful, Utah. Window visits help seniors connect to families despite coronavirus restrictions. (AP Photo/Rick Bowmer)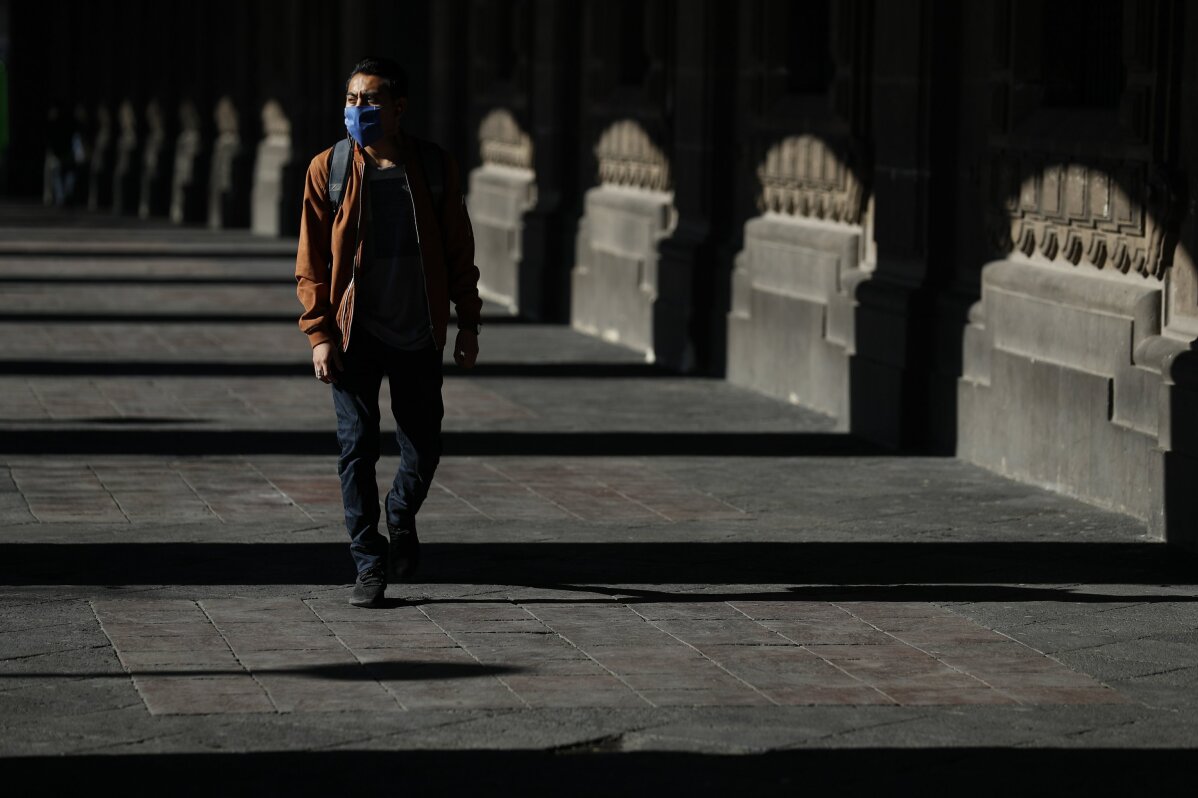 13 of 20

|
A man wearing a face mask walks through the colonnade of a government building in central Mexico City, Tuesday, March 24, 2020. Beginning Monday, Mexico's capital shut down museums, bars, gyms, churches, theaters, and other non-essential businesses that gather large numbers of people, in an attempt to slow the spread of the new coronavirus. (AP Photo/Rebecca Blackwell)
13 of 20
A man wearing a face mask walks through the colonnade of a government building in central Mexico City, Tuesday, March 24, 2020. Beginning Monday, Mexico's capital shut down museums, bars, gyms, churches, theaters, and other non-essential businesses that gather large numbers of people, in an attempt to slow the spread of the new coronavirus. (AP Photo/Rebecca Blackwell)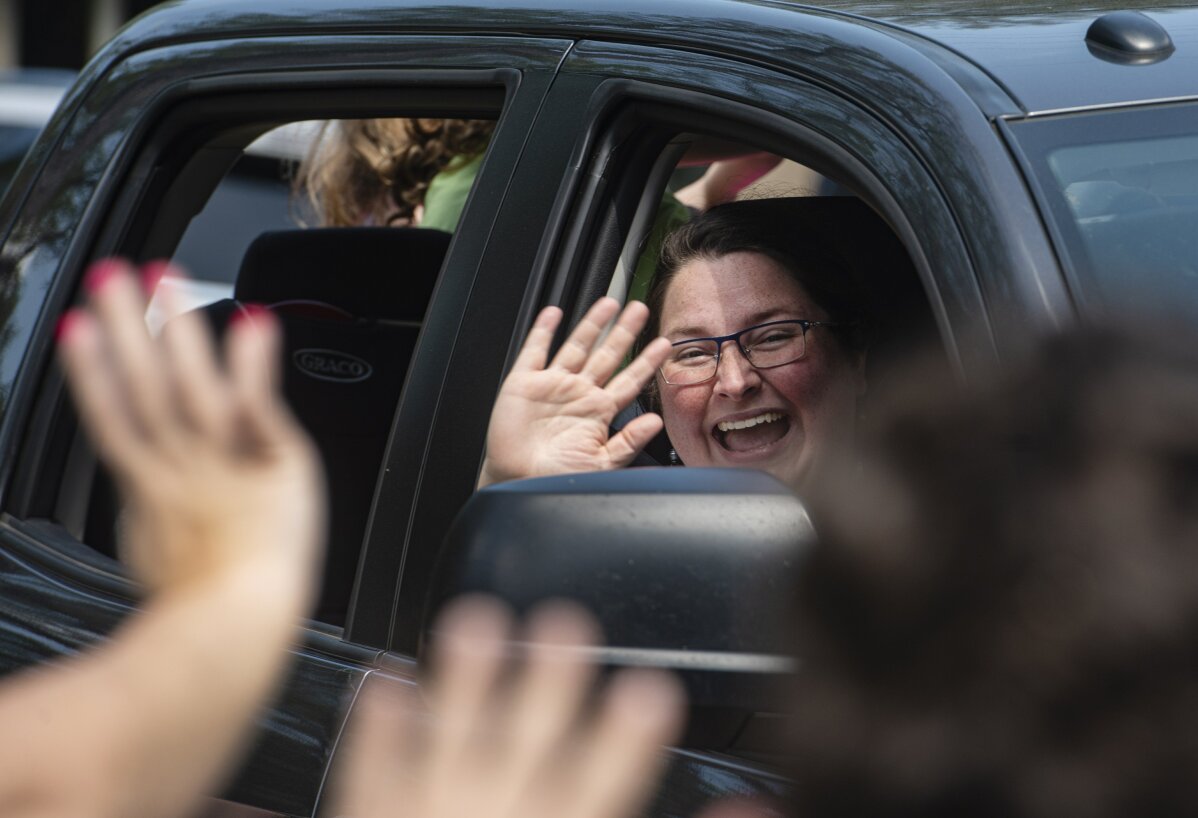 14 of 20

|
Andy Woods Elementary School teacher Rachel Diaz smiles and waves as she rides in a car passing by the houses of her students during a teachers parade in Tyler, Texas on Tuesday, March 24, 2020. Due to the spread of the corona virus, the Tyler Independent School District has transitioned to online learning, so the parade was a way for the students to see their teachers in person while staying at home. (Sarah A. Miller/Tyler Morning Telegraph via AP)
14 of 20
Andy Woods Elementary School teacher Rachel Diaz smiles and waves as she rides in a car passing by the houses of her students during a teachers parade in Tyler, Texas on Tuesday, March 24, 2020. Due to the spread of the corona virus, the Tyler Independent School District has transitioned to online learning, so the parade was a way for the students to see their teachers in person while staying at home. (Sarah A. Miller/Tyler Morning Telegraph via AP)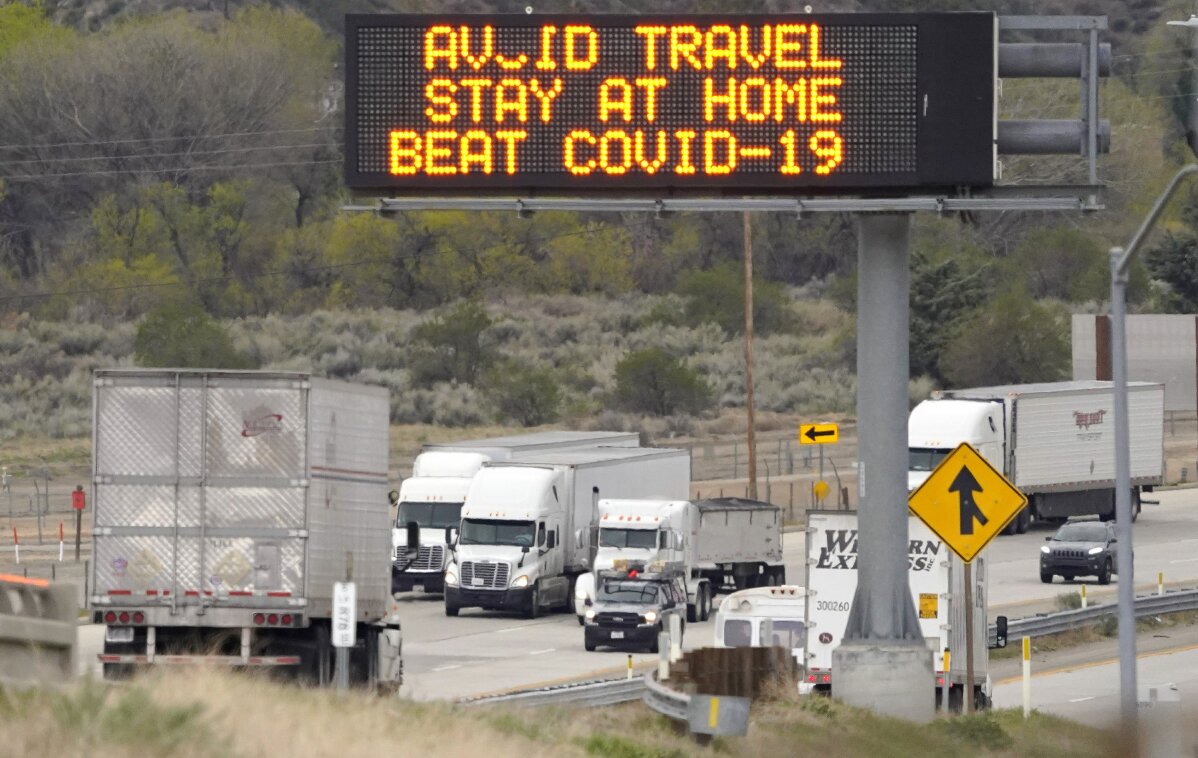 15 of 20

|
Semi trucks drive by a freeway sign along Interstate 5 that urges people to stay at home due to the COVID-19 outbreak on their way toward Los Angles, Tuesday, March 24, 2020, in Gorman, Calif. (AP Photo/Mark J. Terrill)
15 of 20
Semi trucks drive by a freeway sign along Interstate 5 that urges people to stay at home due to the COVID-19 outbreak on their way toward Los Angles, Tuesday, March 24, 2020, in Gorman, Calif. (AP Photo/Mark J. Terrill)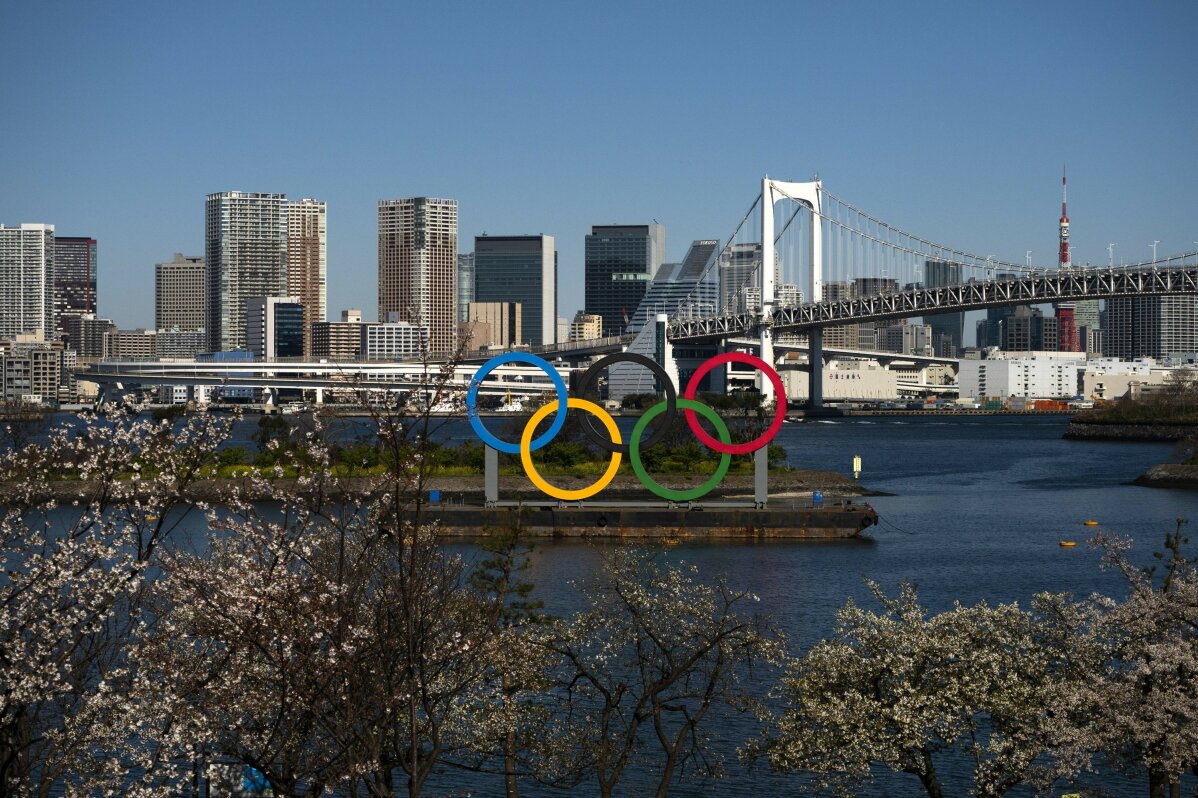 16 of 20

|
A barge carrying the Olympic rings floats in the water Wednesday, March 25, 2020, in the Odaiba section of Tokyo. Not even the Summer Olympics could withstand the force of the coronavirus. After weeks of hedging, the IOC took the unprecedented step of postponing the world's biggest sporting event, a global extravaganza that's been cemented into the calendar for more than a century. (AP Photo/Jae C. Hong)
16 of 20
A barge carrying the Olympic rings floats in the water Wednesday, March 25, 2020, in the Odaiba section of Tokyo. Not even the Summer Olympics could withstand the force of the coronavirus. After weeks of hedging, the IOC took the unprecedented step of postponing the world's biggest sporting event, a global extravaganza that's been cemented into the calendar for more than a century. (AP Photo/Jae C. Hong)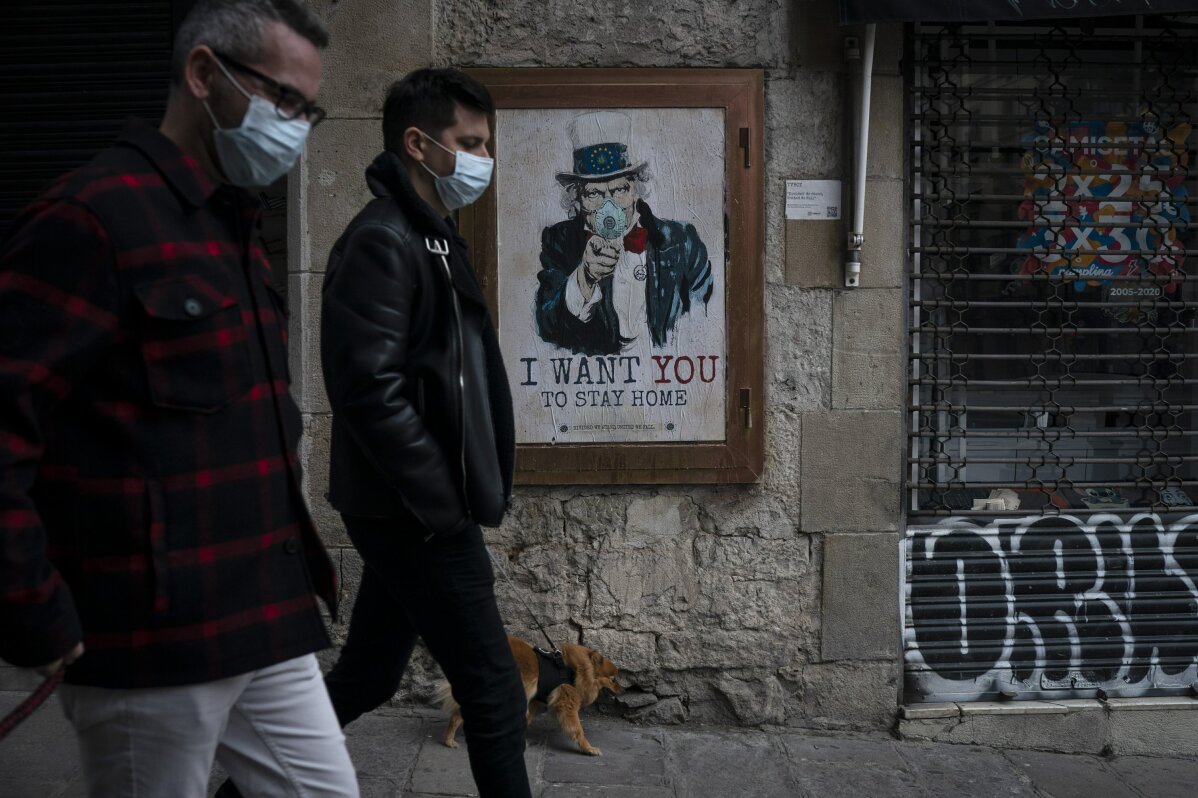 17 of 20

|
People walk past a poster that reads 'I want you to stay home', by artist TvBoy amid a lockdown in Barcelona, Spain, Tuesday, March 24, 2020. More than 1.5 billion around the world have been told to stay in their homes. For most people, the new coronavirus causes only mild or moderate symptoms. For some it can cause a more serious illness. (AP Photo/Felipe Dana)
17 of 20
People walk past a poster that reads 'I want you to stay home', by artist TvBoy amid a lockdown in Barcelona, Spain, Tuesday, March 24, 2020. More than 1.5 billion around the world have been told to stay in their homes. For most people, the new coronavirus causes only mild or moderate symptoms. For some it can cause a more serious illness. (AP Photo/Felipe Dana)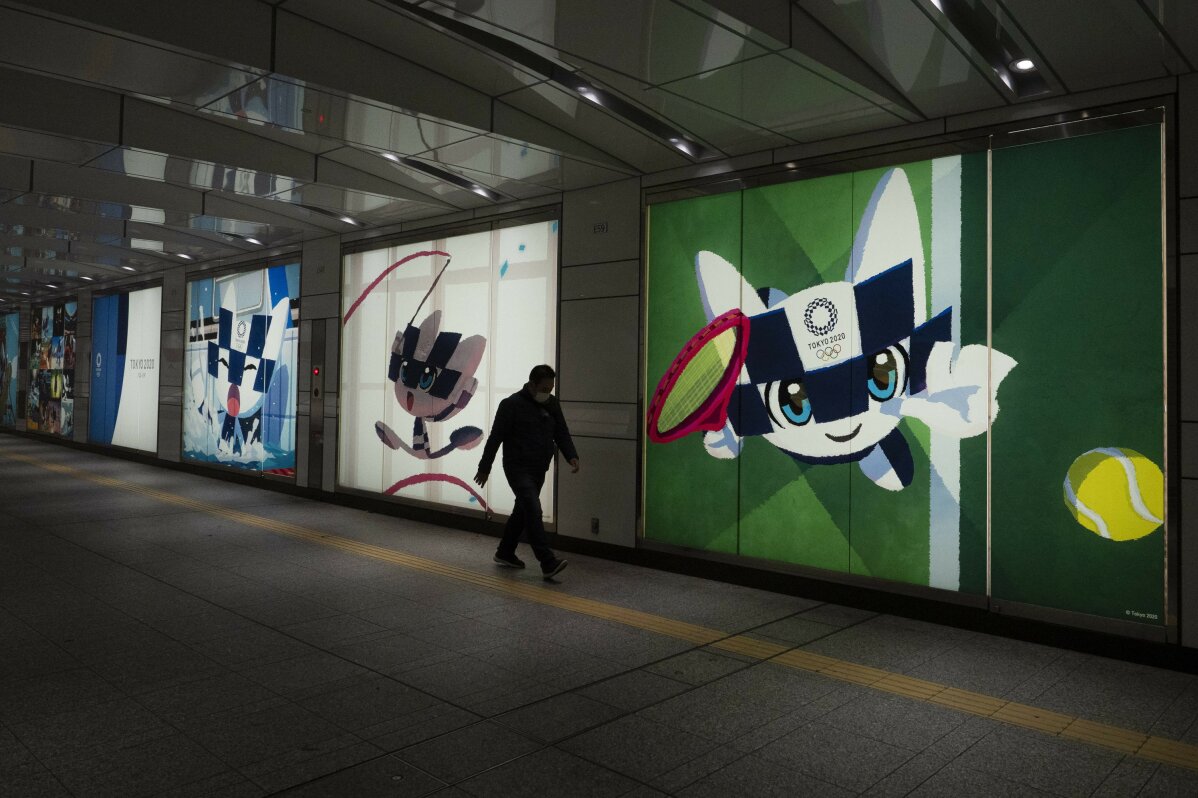 18 of 20

|
A man walks past large displays promoting the Tokyo 2020 Olympics in Tokyo, Tuesday, March 24, 2020. IOC President Thomas Bach has agreed "100%" to a proposal of postponing the Tokyo Olympics for about one year until 2021 because of the coronavirus outbreak, Japanese Prime Minister Shinzo Abe said Tuesday. (AP Photo/Jae C. Hong)
18 of 20
A man walks past large displays promoting the Tokyo 2020 Olympics in Tokyo, Tuesday, March 24, 2020. IOC President Thomas Bach has agreed "100%" to a proposal of postponing the Tokyo Olympics for about one year until 2021 because of the coronavirus outbreak, Japanese Prime Minister Shinzo Abe said Tuesday. (AP Photo/Jae C. Hong)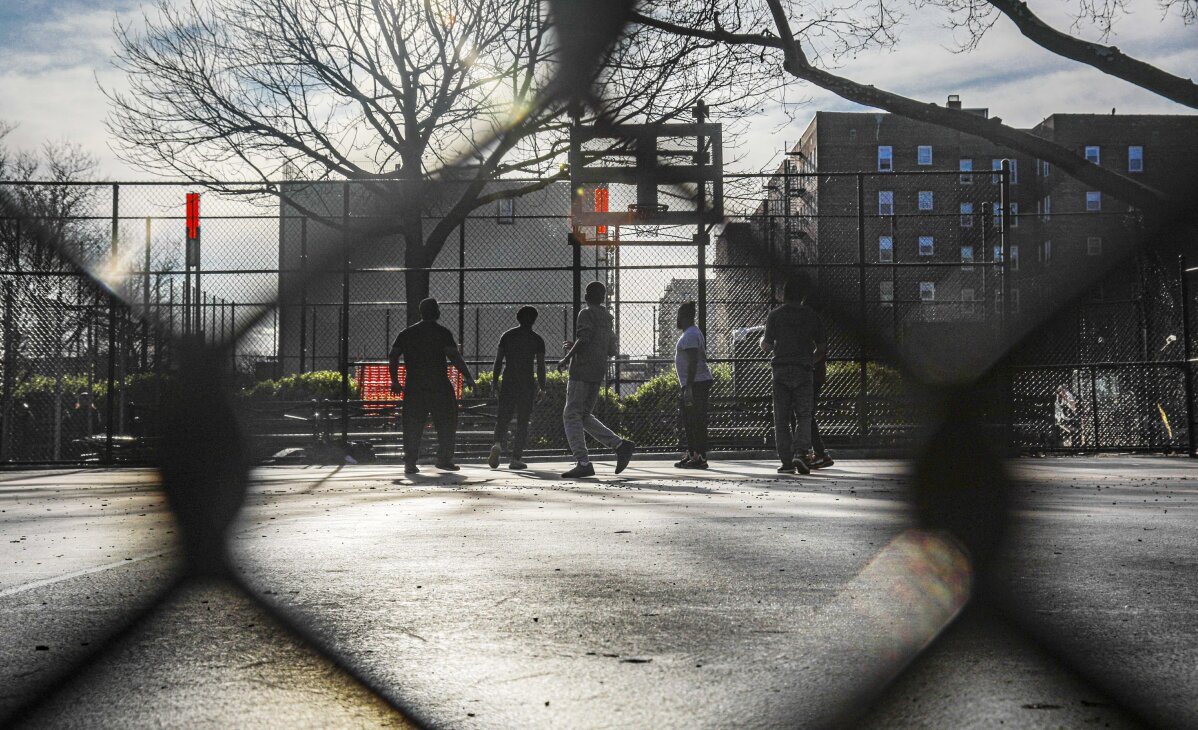 19 of 20

|
People play basketball in Brooklyn's Hamilton Metz Field on Tuesday, March 24, 2020, in New York. Mayor Bill de Blasio said that the NYPD and other city agencies would be out in force at parks to warn and educate people who fail to maintain social distancing during the coronavirus outbreak. (AP Photo/Bebeto Matthews)
19 of 20
People play basketball in Brooklyn's Hamilton Metz Field on Tuesday, March 24, 2020, in New York. Mayor Bill de Blasio said that the NYPD and other city agencies would be out in force at parks to warn and educate people who fail to maintain social distancing during the coronavirus outbreak. (AP Photo/Bebeto Matthews)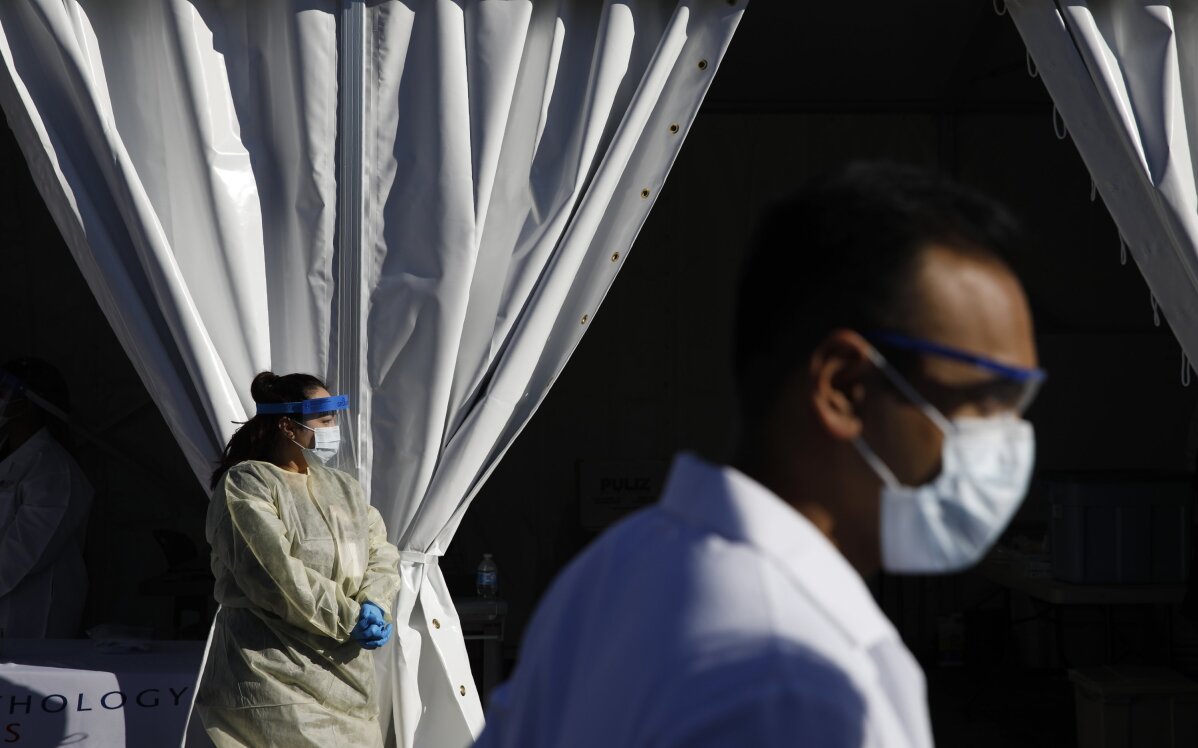 20 of 20

|
Health care workers with the UNLV School of Medicine wait in personal protective equipment for patients at a drive thru coronavirus testing site Tuesday, March 24, 2020, in Las Vegas. UNLV Medicine, the clinical arm of the UNLV School of Medicine, started conducting COVID-19 testing by appointment for people who meet the Centers for Disease Control and Prevention guidelines. (AP Photo/John Locher)
20 of 20
Health care workers with the UNLV School of Medicine wait in personal protective equipment for patients at a drive thru coronavirus testing site Tuesday, March 24, 2020, in Las Vegas. UNLV Medicine, the clinical arm of the UNLV School of Medicine, started conducting COVID-19 testing by appointment for people who meet the Centers for Disease Control and Prevention guidelines. (AP Photo/John Locher)
NEW YORK (AP) — The Tokyo Olympics were postponed a year as coronavirus deaths and infections surged in Europe and the U.S. on Tuesday, with New York warning it is about to get hit by a "bullet train." Stocks soared after Washington lawmakers said they were close on a nearly $2 trillion deal to help businesses and ordinary Americans pull through the crisis, but talks dragged on over some sticking points.
Around the globe, India, with 1.3 billion people, or one-sixth of the Earth's population, ordered the biggest lockdown in the world. A flicker of hope that Italy might be turning the corner faded after officials reported an increase in new cases and deaths. And Spain had so many bodies it commandeered an ice rink to store them.
More than 420,000 people worldwide have been infected and over 18,900 have died, according to a running count kept by Johns Hopkins University.
In New York City, one of the biggest hot spots, authorities rushed to set up thousands of hospital beds for potential victims. The number of cases is doubling every three days, threatening to swamp the city's intensive care units in the weeks ahead, Gov. Andrew Cuomo said. The state has recorded more than 200 deaths, or one-third of the U.S. total.
"One of the forecasters said to me: 'We were looking at a freight train coming across the country,'" the governor said. "We're now looking at a bullet train."
Cuomo proposed the country send thousands of ventilators to New York City — the metropolitan area needs 30,000 of them, he said — and demanded that President Donald Trump use wartime authority to force manufacturers to produce them.
"People said it's a war. It is a war. Then act like it's a war!" Cuomo said.
Trump has invoked the Korean War-era Defense Production Act to deter hoarding but has been reluctant to use it to force companies to produce medical supplies. Vice President Mike Pence said on Fox News that 2,000 ventilators have been shipped to New York and 2,000 more will be sent Wednesday.
Dr. Deborah Birx, who's coordinating the U.S. coronavirus response, told reporters that people leaving New York City should quarantine themselves for two weeks.
The International Olympic Committee postponed the 2020 Tokyo Olympics until the summer of 2021 at the latest, acting on the recommendation of Japan's prime minister. That could be a heavy economic blow to Japan and could upset athletes' training regimens, perhaps costing some of them a shot at a medal.
Still, some competitors were relieved.
"A huge decision but I think the right one for sure," British sprinter Adam Gemili said on Twitter. "Time to regain, look after each other during this difficult period and go again when the time is right!"
In Washington, top congressional and White House officials said they expected to reach a deal soon on a package to shore up businesses and send relief checks to ordinary Americans of $1,200 per person or $3,000 for a family of four. While the two sides have resolved many issues in the sweeping package, talks continued on the final details.
Earlier, the optimism sent stocks soaring around the world. On Wall Street, the Dow Jones Industrial Average surged more than 2,100 points, or 11.4%, for its best day since 1933.
With Americans' lives and livelihoods hanging in the balance, Trump said he hoped to reopen the country in less than three weeks.
"I would love to have the country opened up and just raring to go by Easter," he said during a Fox News virtual town hall.
Later, at a briefing with reporters, Trump said public health officials and economists were "working to develop a sophisticated plan to open the economy as soon as the time is right — based on the best science, the best modeling and the best medical research there is anywhere on earth."
With infections in the U.S. exceeding 50,000, including more than 690 deaths, public health experts have warned that failing to maintain social distancing would balloon infections to the point the health care system would be overwhelmed and many more people would die.
In one of the outbreak's first celebrity deaths, Terrence McNally, the Tony-winning playwright whose credits included "Kiss of the Spider Woman," "Ragtime," "Love! Valour! Compassion!" and "Master Class," died in Florida of complications from the virus at age 81, his representative said. McNally was a lung cancer survivor who lived with chronic inflammatory lung disease.
Spain, meanwhile, registered a record one-day increase of nearly 6,600 new infections and a leap of more than 500 in the death toll, to almost 2,700.
The country started storing bodies in an ice rink converted to a morgue until they could be buried or cremated. Also, army troops disinfecting nursing homes discovered elderly people living amid the corpses of suspected coronavirus victims. Prosecutors opened an investigation.
Spain's interior minister said police have arrested more than 900 people for defying the government's order to stay home.
As health care workers worked around the clock, they also struggled with scarce supplies.
"All over the country, you see examples of workers inventing homemade suits using plastics," said Olga Mediano, a lung specialist at a hospital in Guadalajara, a city outside Madrid. "The protective suits are fundamental because without health workers, we won't be able to do anything."
Relatives of elderly people and retirement-home workers were fearful.
"We live in anguish. We have no information whatsoever," said Esther Navarro, whose 97-year-old mother has Alzheimer's and is at a home in Madrid with coronavirus cases.
In Italy, a jump in the number of new deaths and cases over the last 24 hours dashed hopes fed by two days of declines. The 743 deaths reported Tuesday pushed Italy's toll past 6,800, by far the highest of any country.
"Woe to whoever lets down the guard,'' Health Minister Roberto Speranza said. "Now, more than ever, the commitment of everyone is needed."
In a distinct shift in the crisis, some 85% of new infections are coming from Europe and the United States. In fact, Chinese authorities ended a two-month lockdown in Hubei province, where the outbreak began, though it's still in effect in the hard-hit city of Wuhan until April 8.
World Health Organization spokeswoman Margaret Harris said cases around the world are expected to increase "considerably."
In Britain, confusion rippled through the country after Prime Minister Boris Johnson ordered a three-week halt to all nonessential activity.
The government told most stores to close, banned gatherings of three or more people and said everyone apart from essential workers should leave home only to buy food and medicine or to exercise. But photos showed crowded trains on some London subway lines.
London Mayor Sadiq Khan tweeted: "Ignoring these rules means more lives lost."
For most people, the coronavirus causes mild or moderate symptoms, such as fever and cough that clear up in two to three weeks. For some, especially older adults and people with existing health problems, it can cause more severe illness, including pneumonia and death.
Elsewhere around the world, Indian Prime Minister Narendra Modi decreed a "total lockdown" of the country for 21 days. India has reported about 500 cases.
"To save India and every Indian, there will be a total ban on venturing out of your homes," Modi said.
Neighboring Pakistan ordered its railways shut down as infections climbed past 900.
The Philippine Congress approved a bill declaring a national emergency and authorizing President Rodrigo Duterte to launch a huge program and tap private hospitals and ships to help as the outbreak takes hold. The country reported more than 550 cases.
In contrast to other European countries, Germany offered some hope that it has flattened the exponential spread of the virus, which has infected some 30,000 people. The death toll was relatively low at about 130, and Germany has even taken in patients from France and Italy for treatment.
Chancellor Angela Merkel's government approved a massive aid package to counter the economic fallout, offering more than 1 trillion euros ($1.1 trillion) to tide over small companies and entrepreneurs and pump capital into bigger companies.
___
Rising reported from Berlin. Associated Press reporters around the world contributed to this report.
___
Follow AP coverage of the virus outbreak at https://apnews.com/VirusOutbreak and https://apnews.com/UnderstandingtheOutbreak