First Tokyo Olympic bribery verdict ends with no jail time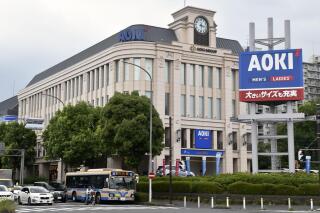 TOKYO (AP) — The first verdicts in the sprawling Tokyo Olympic bribery scandal were handed down Friday in Tokyo District Court, where defendants were found guilty but avoided jail time.
The scandal has sullied the Olympic brand and has forced the northern Japanese city of Sapporo to reconsider its bid to host the 2030 Winter Olympics. It was the favorite before the scandal broke.
The founder of Aoki Holdings, a manufacturer of affordable suits for businessmen, was found guilty of handing over 28 million yen ($209,000) in bribes to an official of the Tokyo Olympic organizing committee in return for being chosen as a sponsor that outfitted the Japanese team.
Hironori Aoki, former chairman at Aoki, and two other Aoki officials — including his brother — were found guilty but avoided jail time. Their penalties were suspended for four years for the founder, and for three years for the others.
Prosecutors had asked for a prison term of two years and six months for Aoki, and shorter terms for the others.
The verdict in Tokyo District Court is the first from a series of trials unfolding in recent months over the alleged bribery led by Haruyuki Takahashi, a former executive at the giant Japanese advertising company Dentsu.
"The bribes extended over (more than) two years and constituted a significant amount (of payments), damaging the public trust toward the Games," Kenji Yasunaga, the presiding judge, said.
Although the defendants claimed they were not fully aware of the bribery rules about public officials, "their acts are seriously malicious," he added.
The organizing committee members, as quasi-public officials, are forbidden from accepting money or goods from those seeking favors.
Court proceedings have painted Takahashi as the central figure in awarding Olympic sponsorships.
Takahashi was also arrested, but his trial is yet to begin. Those receiving bribes are generally given harsher verdicts in Japan than those paying them.
The 2020 Tokyo Olympics, postponed for a year because of the COVID-19 pandemic, raised more than $3 billion from more than 60 local sponsors. This was at least twice as large as any previous Olympics, with Dentsu acting as the marketing agent for the Games.
The scandal has ensnared many of Japan's top companies including Sun Arrow, which made the Olympic and Paralympic mascots Miraitowa and Someity.
In one of the bribery trial sessions, Shinichi Ueno, president of ADK Holdings, Japan's third-largest advertising agency, acknowledged guilt and apologized for the troubles he had caused.
Ueno told the court earlier this month that Dentsu dominated the sponsorship deals, and so his company ADK had little chance to make much money.
Ueno said he reluctantly went along, mainly to be on the good side of Takahashi, because Takahashi told him he was having problems finding sponsors. Ueno said he did not know he was breaking the law.
Yoshikazu Taniguchi, a former executive at Daiko, another ad company, is asserting his innocence in his bribery trial. He has been charged with paying 15 million yen ($112,000) in bribes to Takahashi.
While not contesting the payments, Taniguchi told the court he was a mere "messenger pigeon," he didn't know Takahashi was considered a public official, and he considered the money as consulting fees.
Separately, event promotion and marketing companies, including Dentsu, are being charged with bid-rigging related to the Tokyo Olympics. Those charges center around companies and individuals illegally colluding in assigning contracts for the Games, and test events that came before the Games.
Dentsu was also being investigated by French prosecutors for alleged bribes paid to IOC members when Tokyo was picked as Olympic host in 2013 ahead of Istanbul and Madrid.
___
Yuri Kageyama is on Twitter https://twitter.com/yurikageyama
___
Follow Japan-based AP Sports Writer Stephen Wade on Twitter at http://twitter.com/StephenWadeAP
___
AP sports: https://apnews.com/hub/apf-sports and https://twitter.com/AP_Sports