Review: 'The Trackers' tells a vivid, post-Depression tale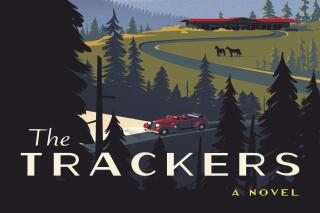 "The Trackers" by Charles Frazier (Ecco)
The characters that populate Charles Frazier's new novel "The Trackers" are all searching for something.
The narrator, Val, has journeyed from Virginia to Wyoming in 1937 to paint a mural in a post office as part of the Works Progress Administration, one of FDR's projects to employ artists in the wake of the Great Depression. His local hosts are a wealthy rancher, John Long, and his wife, Eve. Long aspires to the U.S. Senate and Eve, before she met him, rode the rails as a transient and sang in a swing band.
The book's plot accelerates when Eve disappears and Long enlists Val to find out where she went and why. The landscape shifts from Wyoming to Florida to Seattle to San Francisco as Val travels the country, searching for Eve and revealing secrets that will change everything between the trio.
Frazier deftly blends an historical perspective throughout his fictional tale. The legacy of the Great Depression and America's efforts to advance beyond it are omnipresent — from the ramshackle "Hoovervilles" populated by knife-wielding homeless teens to the gleaming new airport in Tampa, where Val flies hoping to learn something about Jake, a young man Eve may or may not have married during her rail-riding days.
Even though it's set 86 years ago, there are moments that are eerie in their echoes of the present. Here's Val talking to his cab driver in Florida, a Cuban American who he fears "believed all the ... pull-yourself-up-by-your-bootstraps … about education and effort being the sure path to a better life ... in New York and the other wealth centers of the nation, they use those convenient dreams to mash lower classes flat and build personal fortunes. They slap their knees laughing at the naivete, wipe their asses on trust and ignorance."
But just when you think Val is too cynical after living through the Great Depression, he finds Eve at a nightclub in San Francisco. It's her story — and Val's connection with her — that sparks hope and sets in motion the novel's climax.
There's a lot more worth savoring in "The Trackers," including reflections on the meaning of art, the mythos of the American West, and what it really takes to start again. But Val is our narrator and after a transcontinental adventure, the book satisfyingly ends where it began, with Val working on his mural in Dawes, Wyoming, adding a couple final details to complete the painting.