An anti-trans Kansas law doesn't prevent birth certificate changes, the governor argues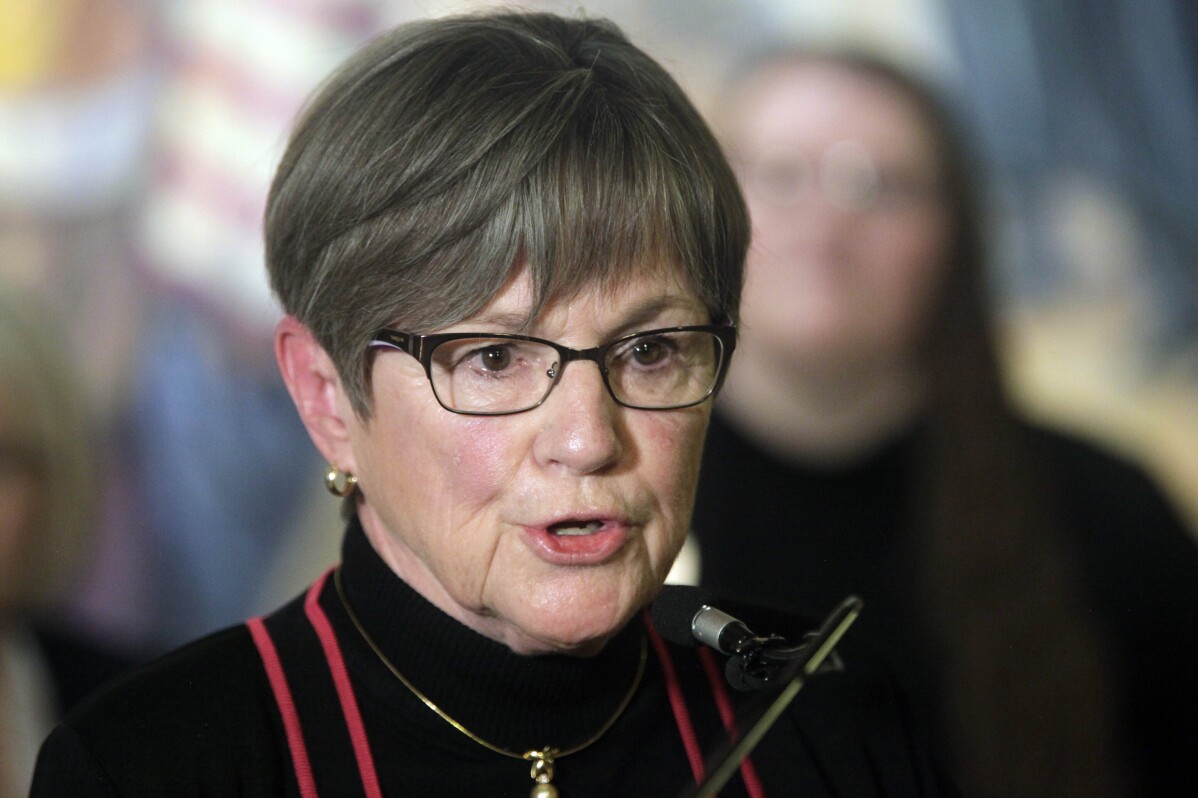 1 of 2

|
FILE - Kansas Gov. Laura Kelly speaks during a rally for teachers and education funding, April 25, 2023, at the Statehouse in Topeka, Kansas. The Democratic governor declared Thursday, June 29, that the state will keep allowing transgender residents to alter their driver's licenses and birth certificates, despite a new law aimed at preventing it. (AP Photo/John Hanna, File)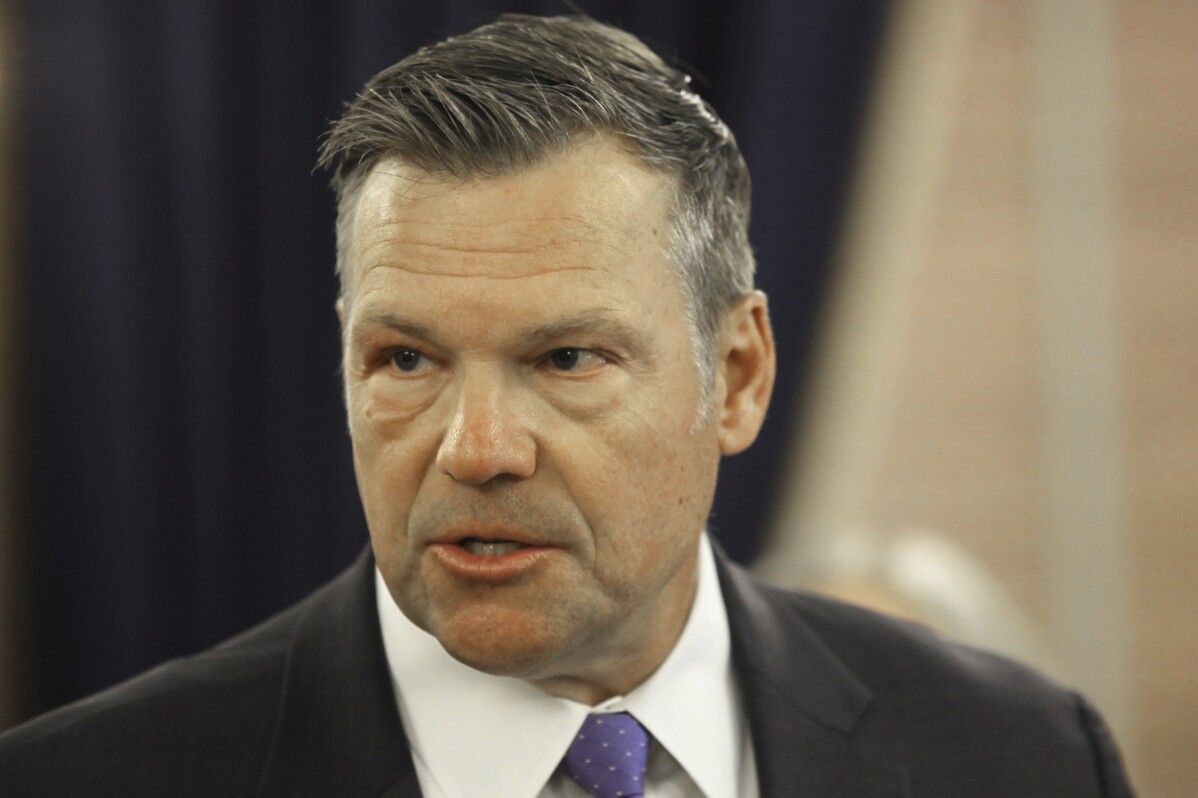 2 of 2

|
Kansas Attorney General Kris Kobach answers questions during a news conference about a new state law that defines male and female in state law so that transgender people can't change their driver's licenses and birth certificates to reflect their gender identities, Monday, June 26, 2023, at the Statehouse in Topeka, Kansas. The number of people making those changes jumped more than 300% this year ahead of the new law taking effect. (AP Photo/John Hanna)
An anti-trans Kansas law doesn't prevent birth certificate changes, the governor argues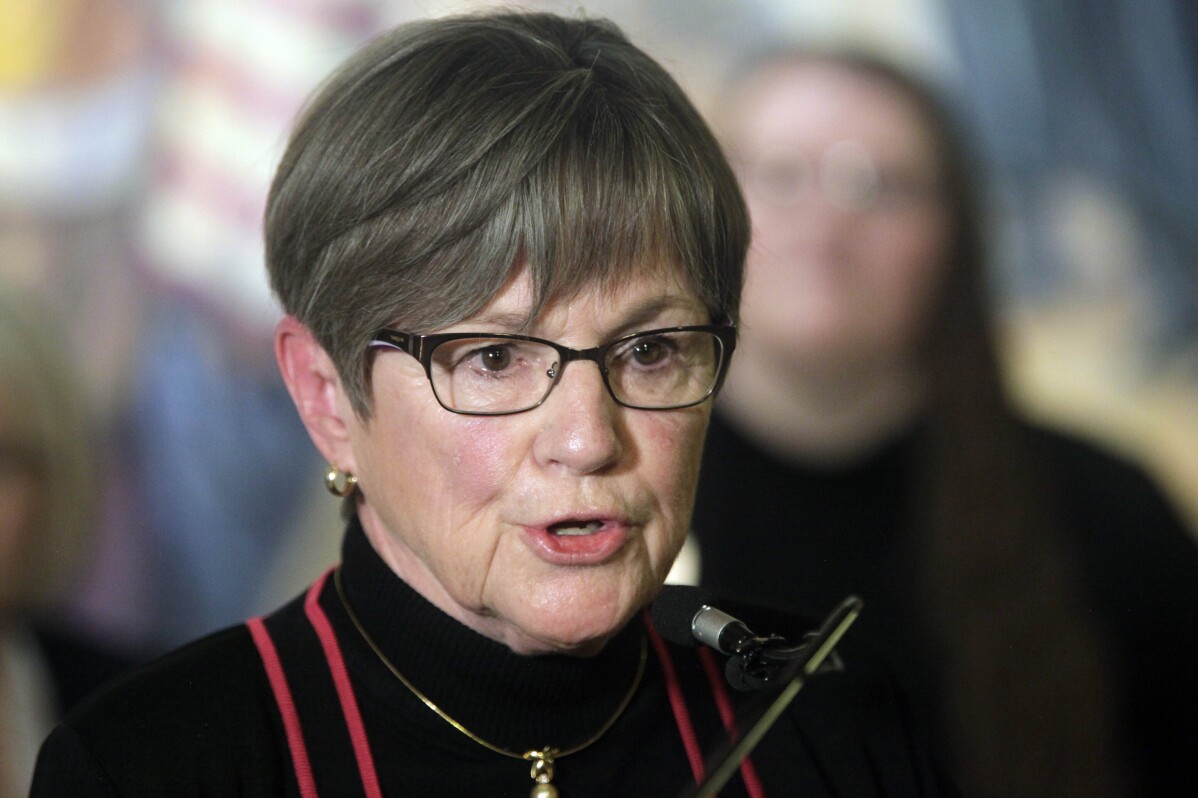 1 of 2

|
FILE - Kansas Gov. Laura Kelly speaks during a rally for teachers and education funding, April 25, 2023, at the Statehouse in Topeka, Kansas. The Democratic governor declared Thursday, June 29, that the state will keep allowing transgender residents to alter their driver's licenses and birth certificates, despite a new law aimed at preventing it. (AP Photo/John Hanna, File)
1 of 2
FILE - Kansas Gov. Laura Kelly speaks during a rally for teachers and education funding, April 25, 2023, at the Statehouse in Topeka, Kansas. The Democratic governor declared Thursday, June 29, that the state will keep allowing transgender residents to alter their driver's licenses and birth certificates, despite a new law aimed at preventing it. (AP Photo/John Hanna, File)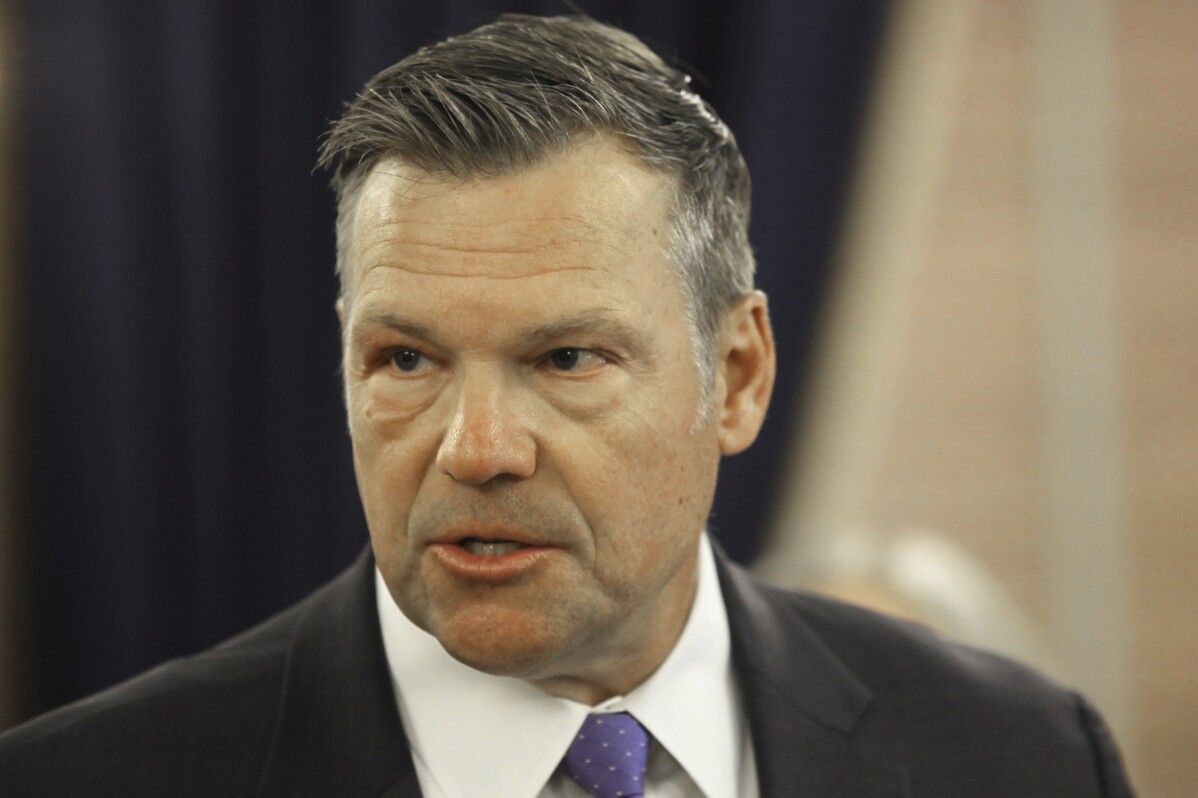 2 of 2

|
Kansas Attorney General Kris Kobach answers questions during a news conference about a new state law that defines male and female in state law so that transgender people can't change their driver's licenses and birth certificates to reflect their gender identities, Monday, June 26, 2023, at the Statehouse in Topeka, Kansas. The number of people making those changes jumped more than 300% this year ahead of the new law taking effect. (AP Photo/John Hanna)
2 of 2
Kansas Attorney General Kris Kobach answers questions during a news conference about a new state law that defines male and female in state law so that transgender people can't change their driver's licenses and birth certificates to reflect their gender identities, Monday, June 26, 2023, at the Statehouse in Topeka, Kansas. The number of people making those changes jumped more than 300% this year ahead of the new law taking effect. (AP Photo/John Hanna)
TOPEKA, Kan. (AP) — The Democratic governor in Kansas is defending changes in the sex listings on transgender people's birth certificates in a federal court filing arguing that continuing the changes doesn't violate a new state law rolling back transgender rights.
An attorney for Gov. Laura Kelly's office also argued in the filing this week that the new Kansas law is discriminatory and "represents a willful failure of the Kansas Legislature" to protect people's rights. It took effect July 1 and defines male and female based on a person's sex assigned at birth for any other state law or regulation, barring legal recognition of transgender people's gender identities.
The state's Republican attorney general, Kris Kobach, argues that the new law prevents the state health department, which issues birth certificates, from changing the sex listing while also requiring it to undo past changes.
The issue is in federal court because of a lawsuit filed in 2018 over a previous no-changes policy. Kelly's administration settled that lawsuit, and a judge's order enforcing the settlement requires the state to allow transgender people to alter their birth certificates. More than 900 people have done so over the past four years.
Kobach last month asked a federal judge to lift the requirement — and make Kansas among only a few U.S. states that don't allow birth certificate changes. The original lawsuit named only three health department officials as defendants, so Kelly's office filed a request Wednesday for permission to file written "friend of the court" arguments. The judge has not yet ruled on Kelly's request.
Ashley Stites-Hubbard, an attorney for Kelly, argued that Kobach's opinion about the law is "nothing but a political grandstanding that promotes discrimination and violence against the transgender community."
"It is hard to fathom how legislation that made the discrimination worse, not better, warrants relief," Stites-Hubbard wrote.
Montana, Oklahoma and Tennessee don't permit transgender people to change their birth certificates. Montana and Tennessee also don't allow changes in the sex listing on driver's licenses.
Kobach is attacking birth certificate changes in federal court while also attacking changes in the sex listings on driver's licenses in a state-court lawsuit.
In the birth certificates case, Kobach argued in a filing last month that Kelly agreed to the settlement before "any definitive legislative statement on the matter."
"But now that the Legislature has spoken, the agency is bound to execute the law as written," Kobach said. The Republican-controlled Legislature enacted the new law over Kelly's veto.
In the governor's filing, Stites-Hubbard acknowledged that a specific section of the new state law says that in its data, the state must identify people as "either male or female at birth." But, she argued, the law doesn't specifically prohibit recording a change in gender identity or amending a birth certificate.
"Thus, there is nothing preventing any state data set from BOTH identifying an individual as male or female at birth and also identifying them accurately later — that is to reflect their true sex, consistent with their gender identity," Stites-Hubbard wrote.
___
Follow John Hanna on Twitter: https://twitter.com/apjdhanna