Montana governor supports transgender minor health care ban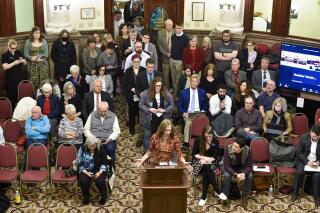 HELENA, Mont. (AP) — Montana's Republican governor indicated Monday he would sign a bill to ban gender-affirming medical care for transgender minors, but he suggested changes to make it clear that public funds could not be used to pay for surgery or hormone treatments for youth diagnosed with gender dysphoria.
"I share your profound commitment to protect Montana children from invasive medical treatments that can permanently alter their healthy, developing bodies," Gov. Greg Gianforte wrote in a letter to the legislative leaders offering his amendments.
Gianforte said he had met with transgender youth and adults, understands that their struggles are real and said his "heart goes out to them." However, he wrote, treatments with hormones or surgery should wait until they are adults, arguing the science around puberty-blockers, cross-sex hormones and surgical procedures "is unsettled and continues to evolve."
Opponents of the bill argue hormone treatments, and in some cases, surgery, are evidence-based care and can be life-saving for someone with gender dysphoria — the clinically significant distress or impairment caused by feeling that one's gender identity does not match one's biological sex.
Opponents also noted that treatments such as puberty-blockers and breast-reduction surgery would still be legal for minors who are not suffering from gender dysphoria, a difference they argue is unconstitutional.
Gianforte's proposed amendments, which are supported by Republican bill sponsor Sen. John Fuller, would also add a "necessarily binary" definition of male and female to the legislation.
His proposed amendments would make it clear that Medicaid or the state Children's Health Insurance Plan would not cover puberty-blockers, cross-sex hormones or surgical procedures. His letter said the bill, as passed, wasn't clear that it banned coverage for hormonal treatment.
The bill goes back to the Legislature for its consideration of the proposed amendments. The bill passed on a mostly party-line vote in the Republican controlled Legislature.
Lambda Legal, the American Civil Liberties Union and the ACLU of Montana have said they will take legal action if the bill becomes law.
The legislation does not prohibit noninvasive care to treat gender dysphoria, such as social affirmation or psychotherapy, Gianforte noted in his letter to Senate President Jason Ellsworth and House Speaker Matt Regier.
At least 13 states have enacted laws restricting or banning gender-affirming care, and three states have banned or restricted such care via regulations or administrative orders. Federal judges have blocked enforcement of the laws in Alabama and Arkansas. Missouri's attorney general issued an emergency ban last week that limits treatments for adults.