Wolves damage Tottenham's top-4 hopes with 1-0 win in EPL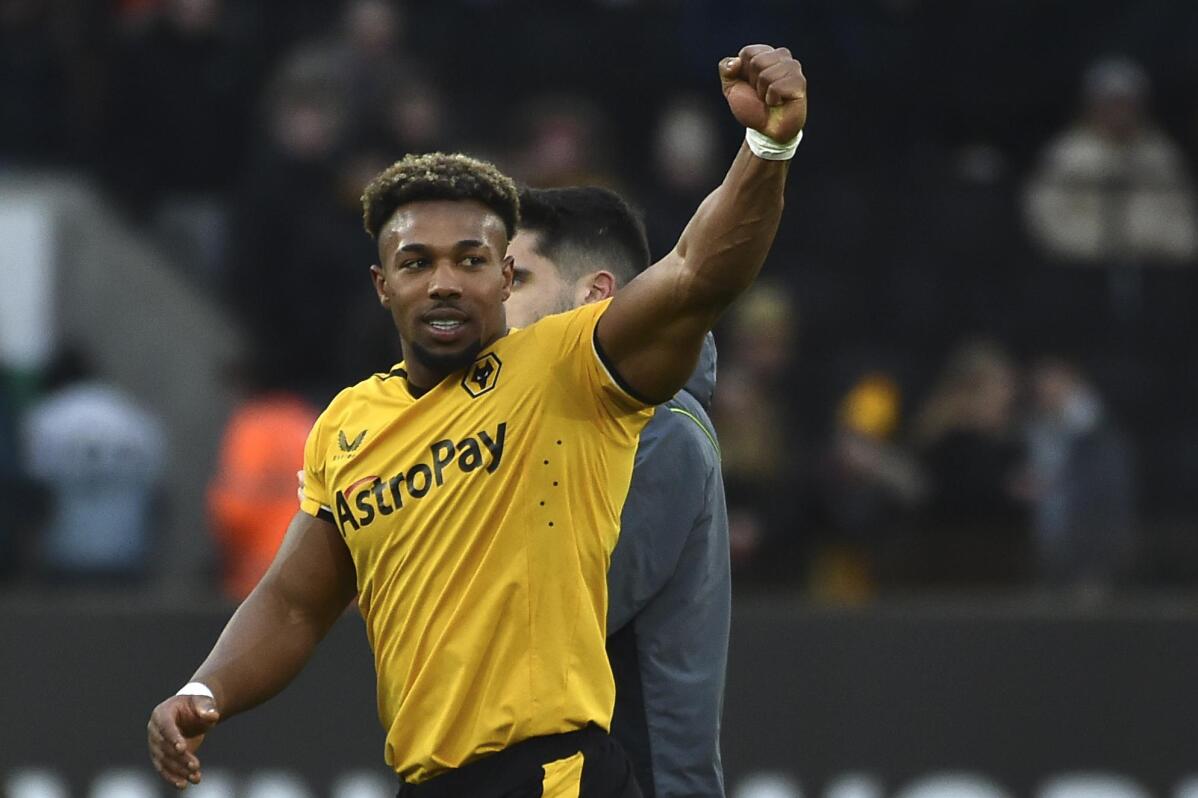 1 of 7

|
Wolverhampton Wanderers' Adama Traore leaves the field at the end of the English Premier League soccer match between Wolverhampton Wanderers and Tottenham Hotspur at Molineux stadium in Wolverhampton, England, Saturday, March 4, 2023. (AP Photo/Rui Vieira)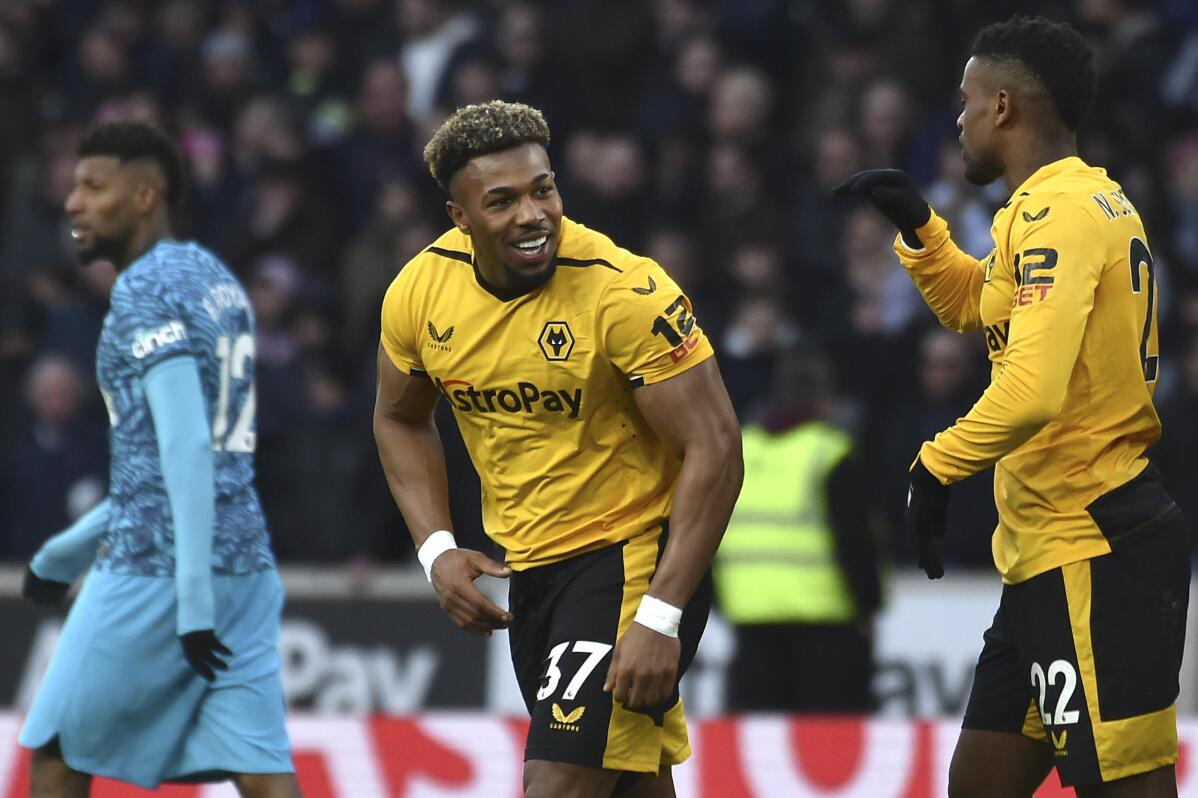 2 of 7

|
Wolverhampton Wanderers' Adama Traore, centre, celebrates after scoring his side's opening goal during the English Premier League soccer match between Wolverhampton Wanderers and Tottenham Hotspur at Molineux stadium in Wolverhampton, England, Saturday, March 4, 2023. (AP Photo/Rui Vieira)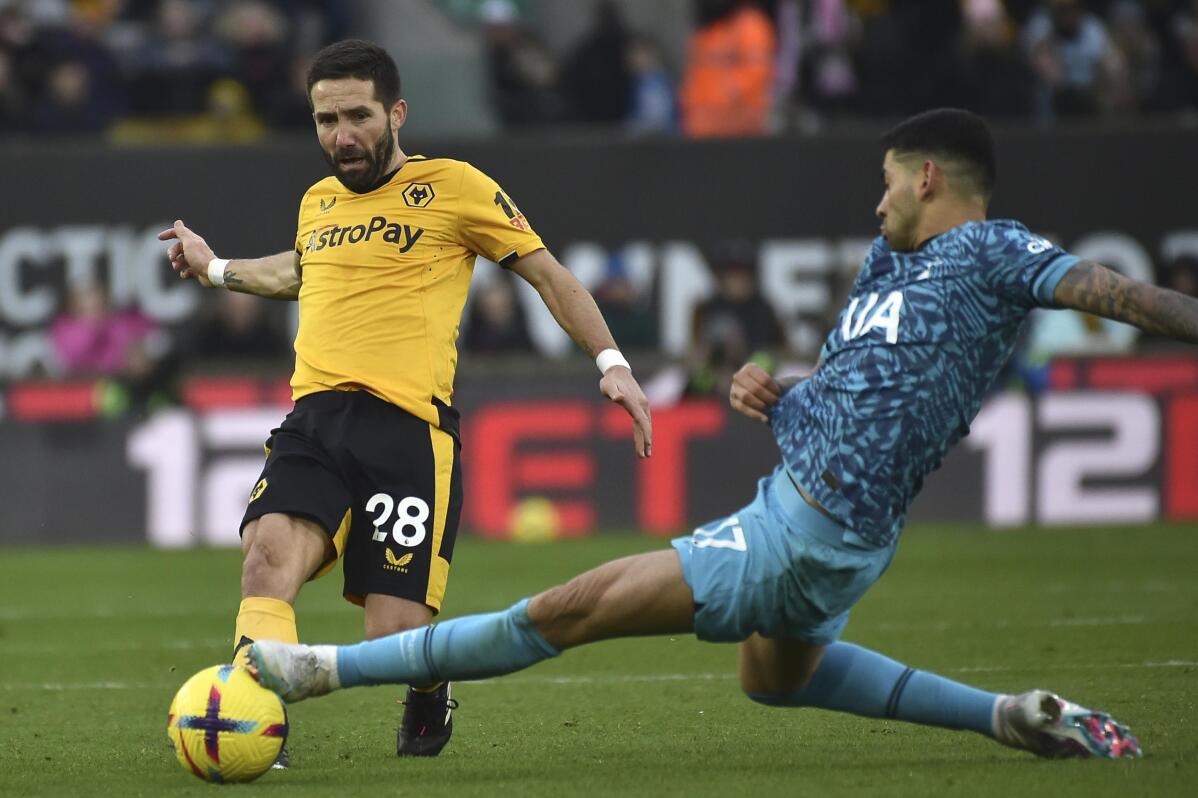 3 of 7

|
Wolverhampton Wanderers' Joao Moutinho, left, challenges for the ball with Tottenham's Cristian Romero during the English Premier League soccer match between Wolverhampton Wanderers and Tottenham Hotspur at Molineux stadium in Wolverhampton, England, Saturday, March 4, 2023. (AP Photo/Rui Vieira)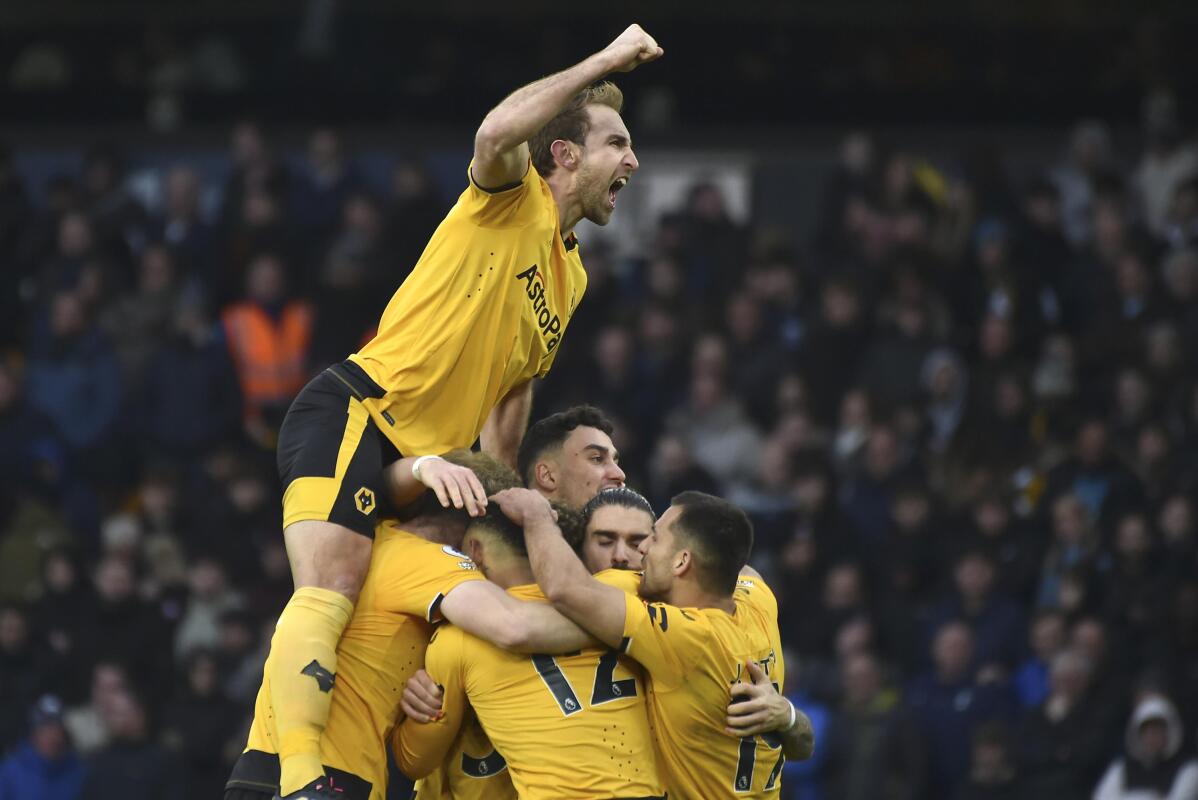 4 of 7

|
Wolverhampton Wanderers players celebrate after Wolverhampton Wanderers' Adama Traore scored his side's opening goal during the English Premier League soccer match between Wolverhampton Wanderers and Tottenham Hotspur at Molineux stadium in Wolverhampton, England, Saturday, March 4, 2023. (AP Photo/Rui Vieira)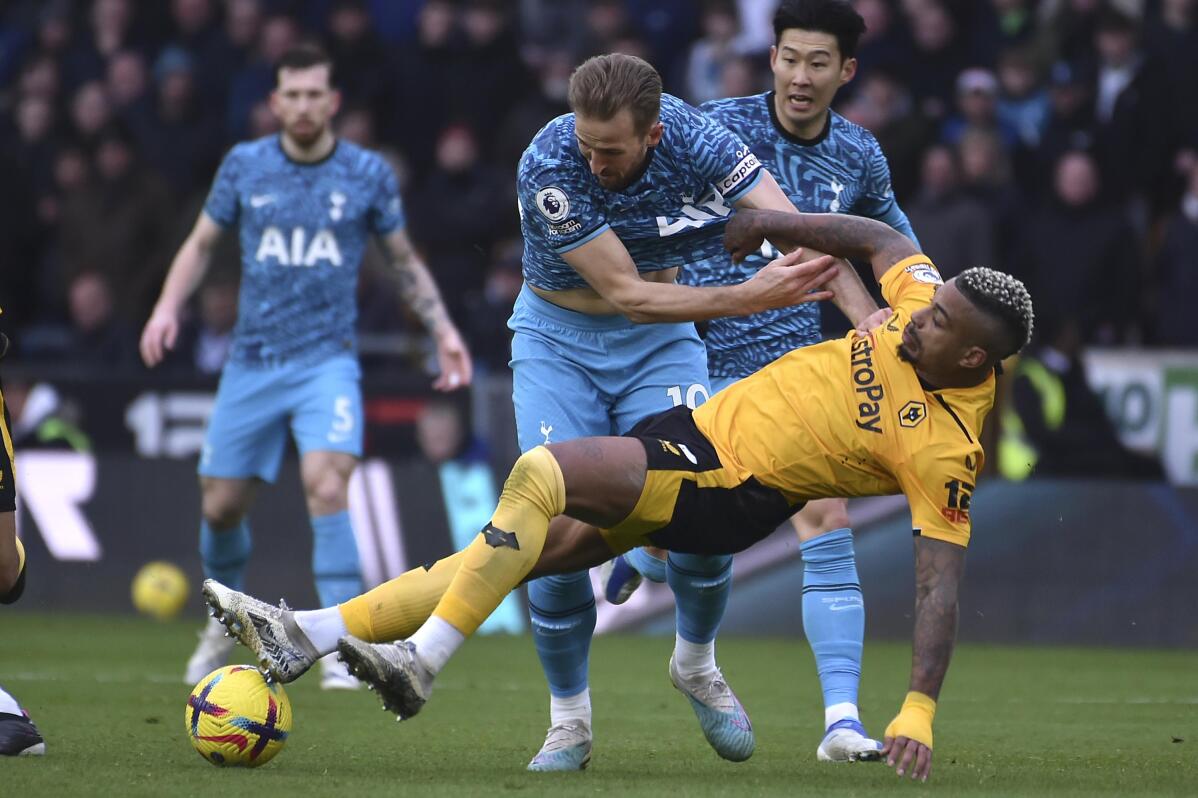 5 of 7

|
Wolverhampton Wanderers' Mario Lemina, right, challenges for the ball with Tottenham's Harry Kane during the English Premier League soccer match between Wolverhampton Wanderers and Tottenham Hotspur at Molineux stadium in Wolverhampton, England, Saturday, March 4, 2023. (AP Photo/Rui Vieira)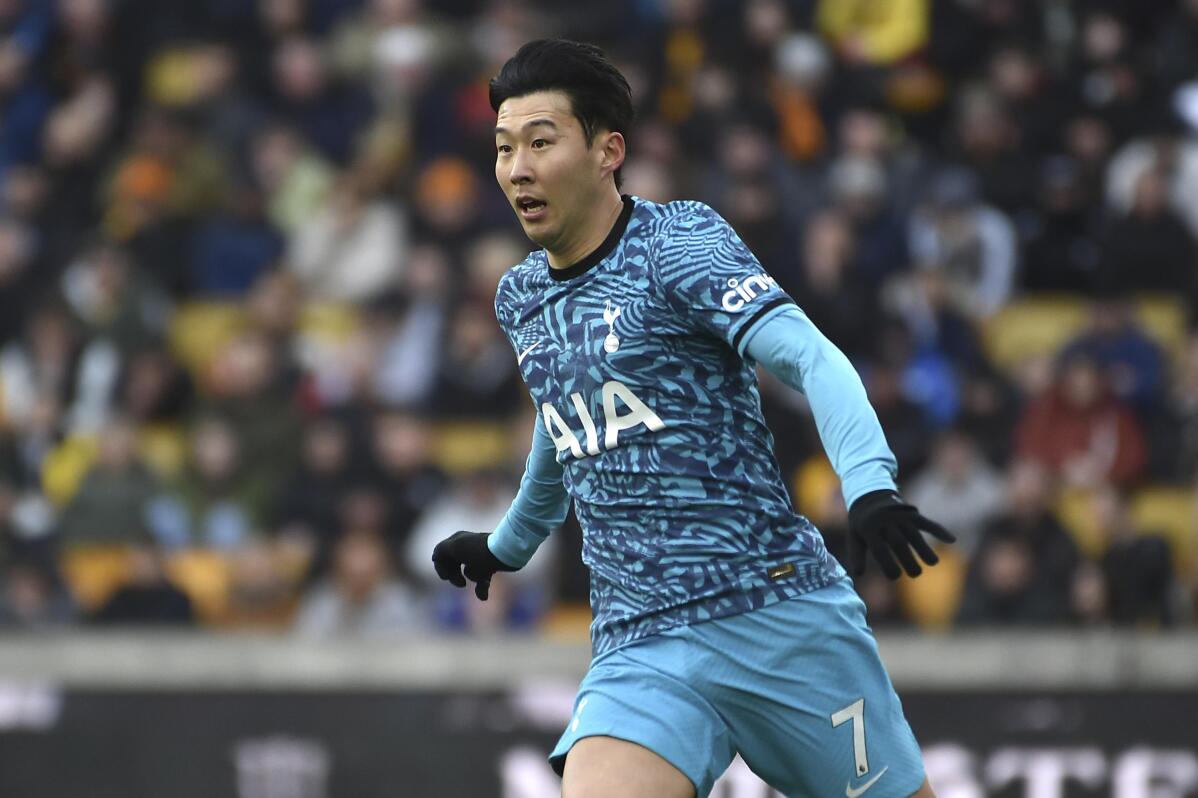 6 of 7

|
Tottenham's Son Heung-Min in action during the English Premier League soccer match between Wolverhampton Wanderers and Tottenham Hotspur at Molineux stadium in Wolverhampton, England, Saturday, March 4, 2023. (AP Photo/Rui Vieira)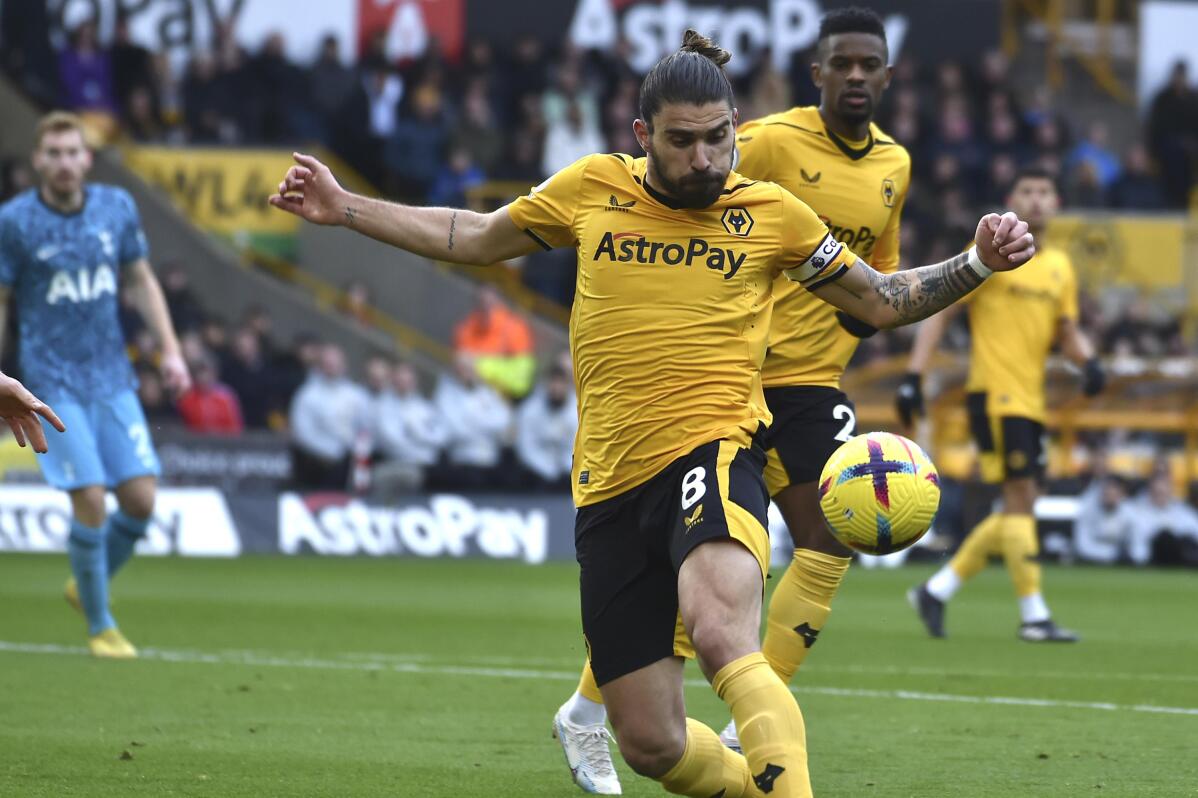 7 of 7

|
Wolverhampton Wanderers' Ruben Neves, centre, in action during the English Premier League soccer match between Wolverhampton Wanderers and Tottenham Hotspur at Molineux stadium in Wolverhampton, England, Saturday, March 4, 2023. (AP Photo/Rui Vieira)
Wolves damage Tottenham's top-4 hopes with 1-0 win in EPL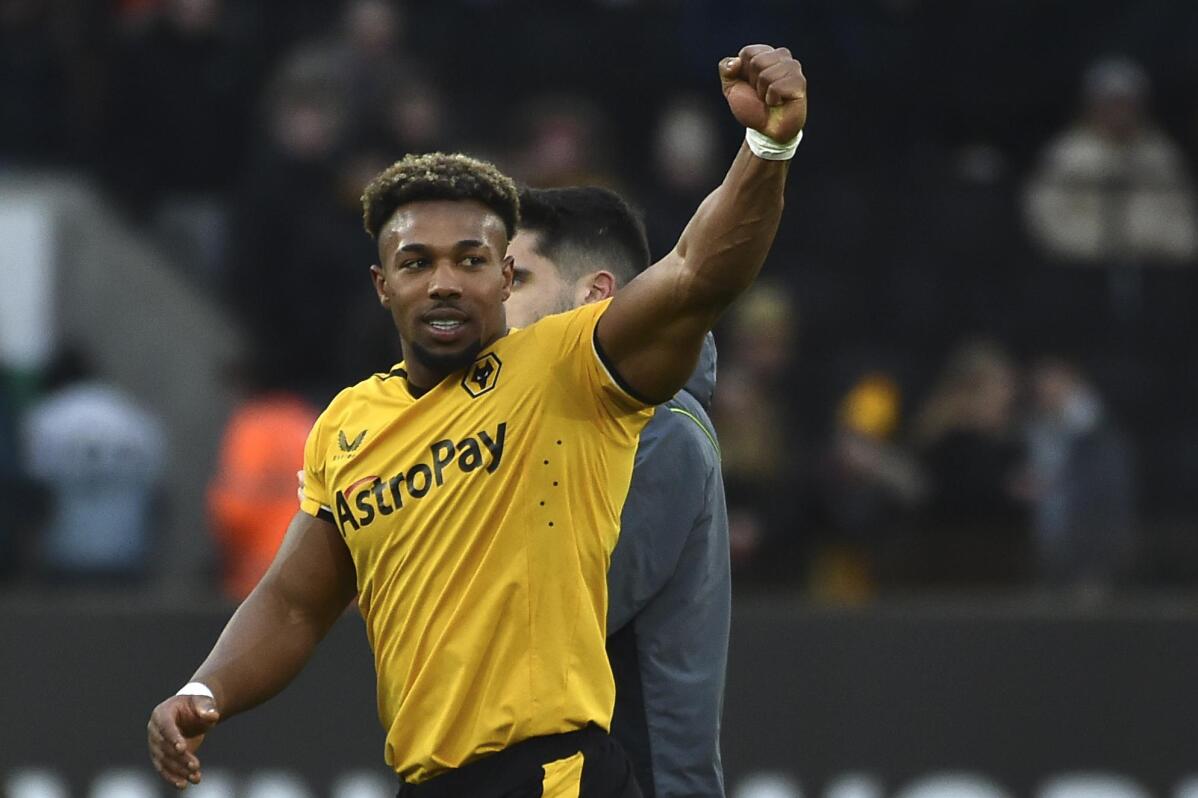 1 of 7

|
Wolverhampton Wanderers' Adama Traore leaves the field at the end of the English Premier League soccer match between Wolverhampton Wanderers and Tottenham Hotspur at Molineux stadium in Wolverhampton, England, Saturday, March 4, 2023. (AP Photo/Rui Vieira)
1 of 7
Wolverhampton Wanderers' Adama Traore leaves the field at the end of the English Premier League soccer match between Wolverhampton Wanderers and Tottenham Hotspur at Molineux stadium in Wolverhampton, England, Saturday, March 4, 2023. (AP Photo/Rui Vieira)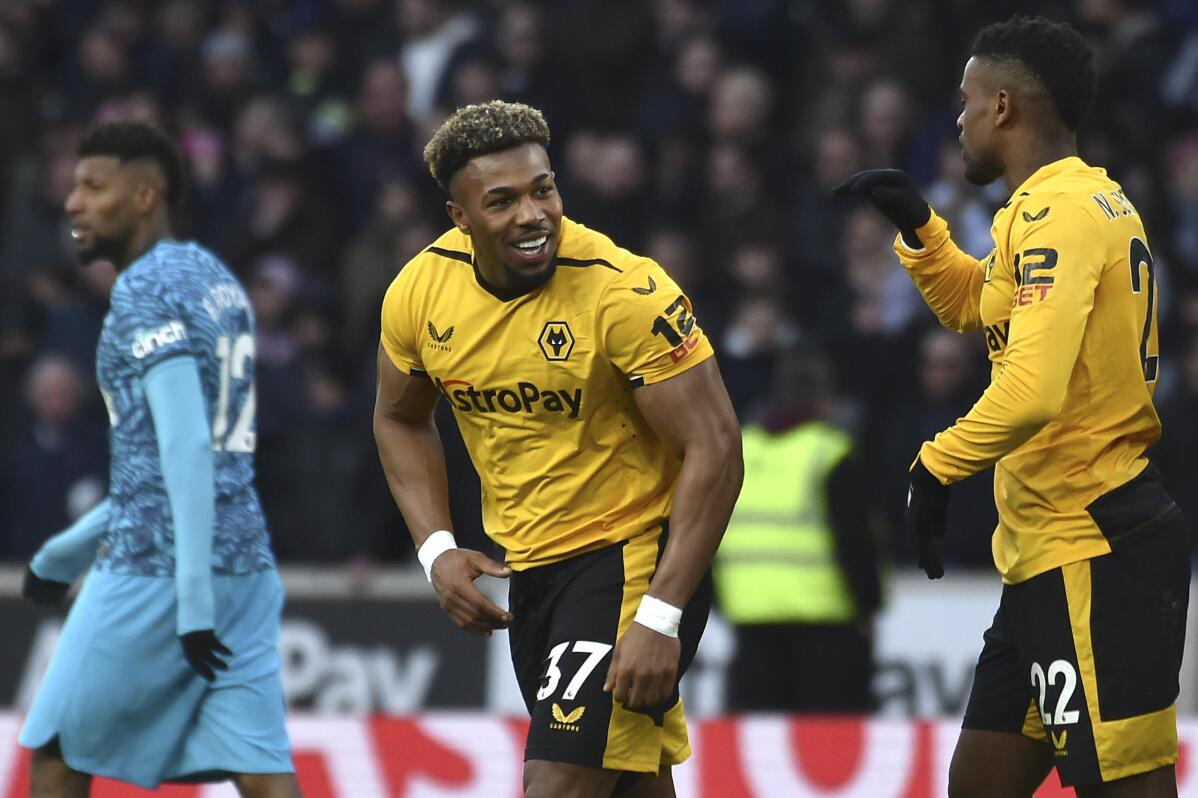 2 of 7

|
Wolverhampton Wanderers' Adama Traore, centre, celebrates after scoring his side's opening goal during the English Premier League soccer match between Wolverhampton Wanderers and Tottenham Hotspur at Molineux stadium in Wolverhampton, England, Saturday, March 4, 2023. (AP Photo/Rui Vieira)
2 of 7
Wolverhampton Wanderers' Adama Traore, centre, celebrates after scoring his side's opening goal during the English Premier League soccer match between Wolverhampton Wanderers and Tottenham Hotspur at Molineux stadium in Wolverhampton, England, Saturday, March 4, 2023. (AP Photo/Rui Vieira)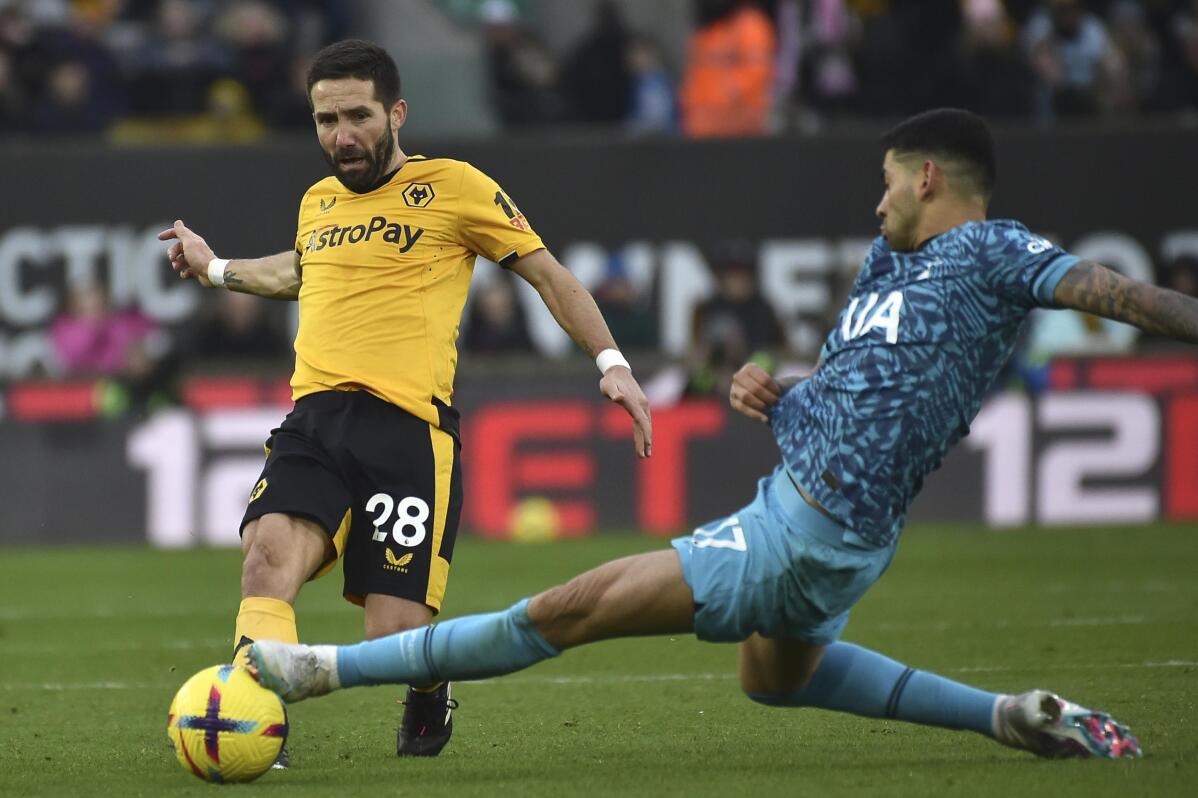 3 of 7

|
Wolverhampton Wanderers' Joao Moutinho, left, challenges for the ball with Tottenham's Cristian Romero during the English Premier League soccer match between Wolverhampton Wanderers and Tottenham Hotspur at Molineux stadium in Wolverhampton, England, Saturday, March 4, 2023. (AP Photo/Rui Vieira)
3 of 7
Wolverhampton Wanderers' Joao Moutinho, left, challenges for the ball with Tottenham's Cristian Romero during the English Premier League soccer match between Wolverhampton Wanderers and Tottenham Hotspur at Molineux stadium in Wolverhampton, England, Saturday, March 4, 2023. (AP Photo/Rui Vieira)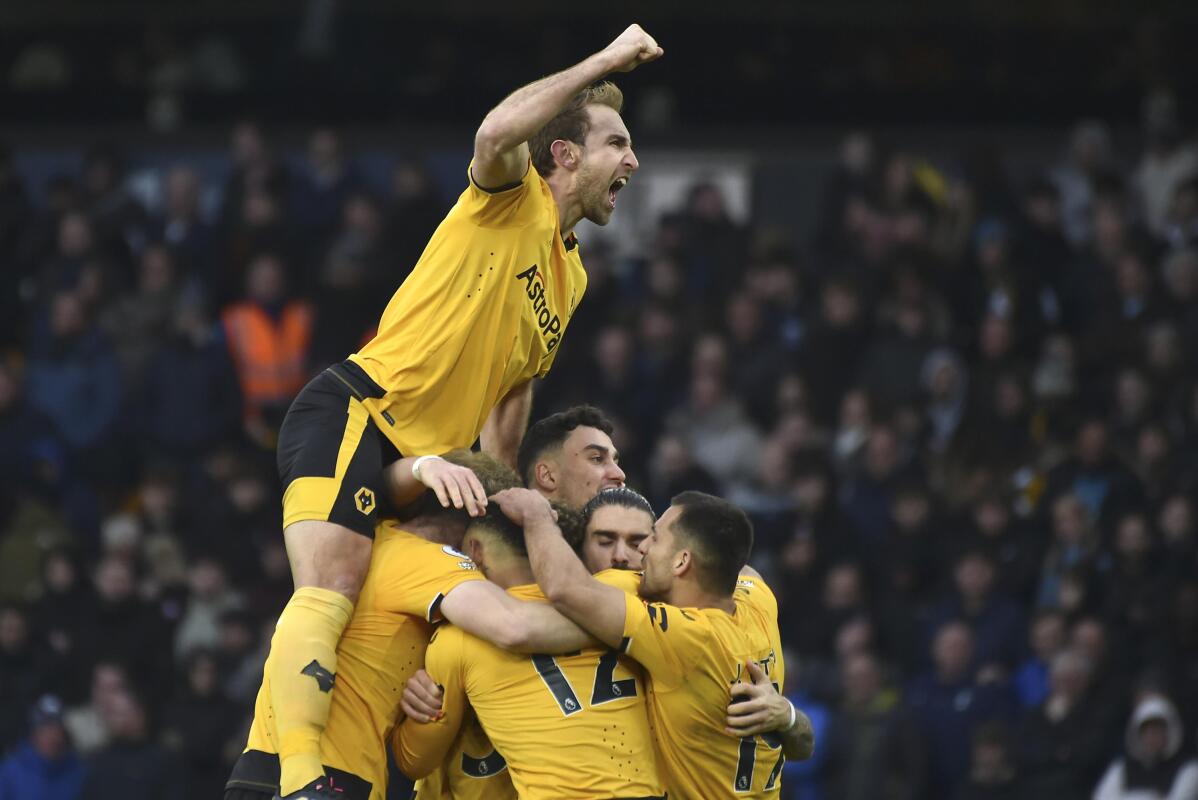 4 of 7

|
Wolverhampton Wanderers players celebrate after Wolverhampton Wanderers' Adama Traore scored his side's opening goal during the English Premier League soccer match between Wolverhampton Wanderers and Tottenham Hotspur at Molineux stadium in Wolverhampton, England, Saturday, March 4, 2023. (AP Photo/Rui Vieira)
4 of 7
Wolverhampton Wanderers players celebrate after Wolverhampton Wanderers' Adama Traore scored his side's opening goal during the English Premier League soccer match between Wolverhampton Wanderers and Tottenham Hotspur at Molineux stadium in Wolverhampton, England, Saturday, March 4, 2023. (AP Photo/Rui Vieira)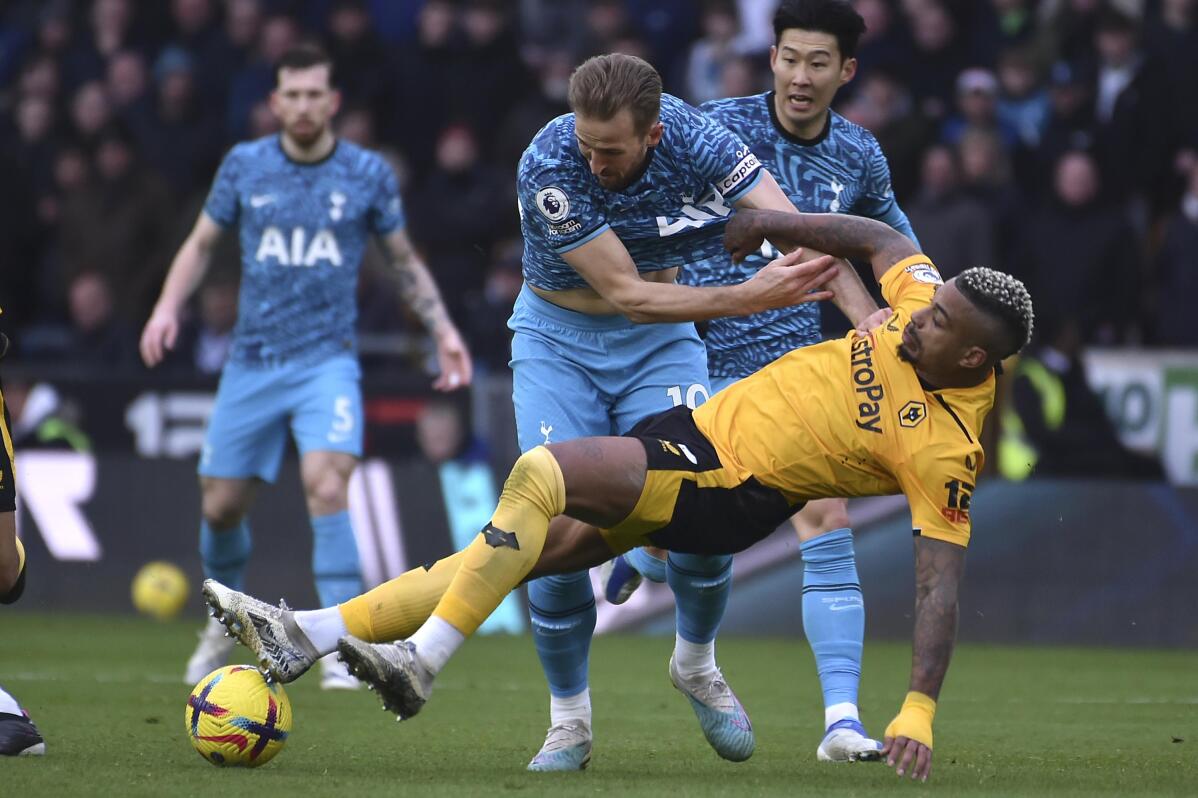 5 of 7

|
Wolverhampton Wanderers' Mario Lemina, right, challenges for the ball with Tottenham's Harry Kane during the English Premier League soccer match between Wolverhampton Wanderers and Tottenham Hotspur at Molineux stadium in Wolverhampton, England, Saturday, March 4, 2023. (AP Photo/Rui Vieira)
5 of 7
Wolverhampton Wanderers' Mario Lemina, right, challenges for the ball with Tottenham's Harry Kane during the English Premier League soccer match between Wolverhampton Wanderers and Tottenham Hotspur at Molineux stadium in Wolverhampton, England, Saturday, March 4, 2023. (AP Photo/Rui Vieira)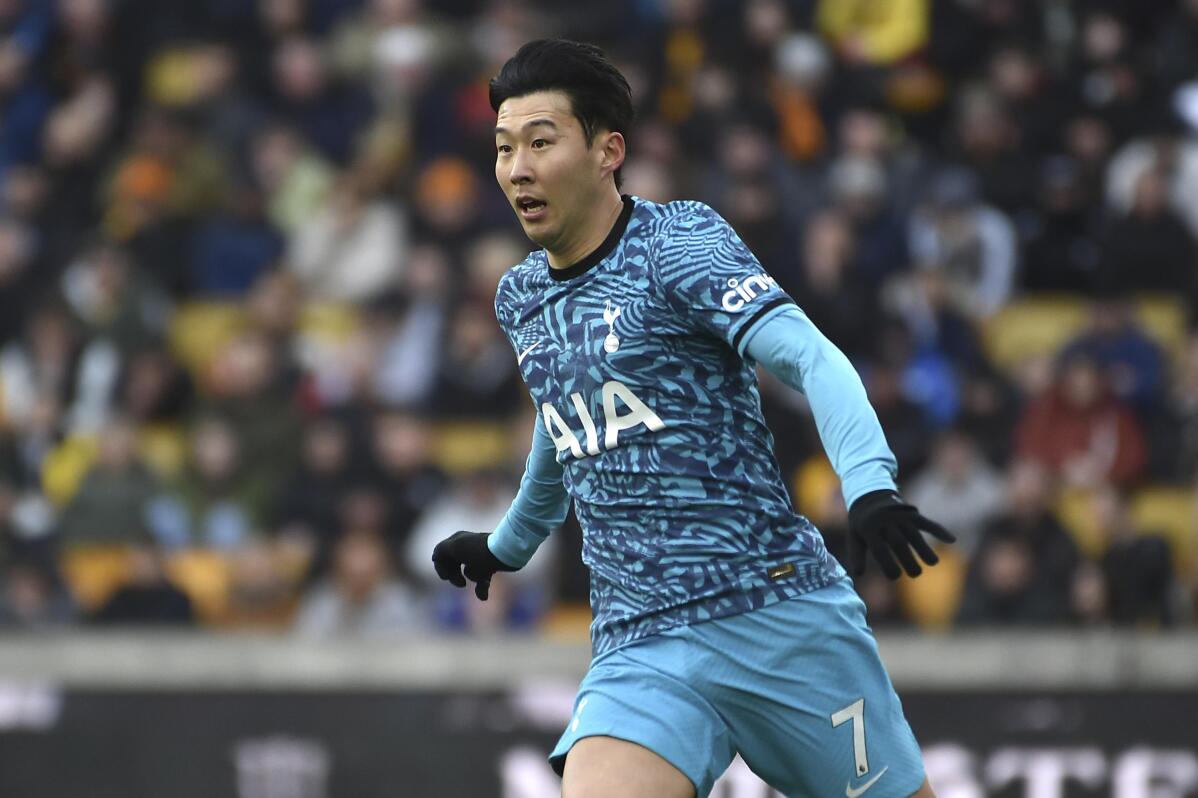 6 of 7

|
Tottenham's Son Heung-Min in action during the English Premier League soccer match between Wolverhampton Wanderers and Tottenham Hotspur at Molineux stadium in Wolverhampton, England, Saturday, March 4, 2023. (AP Photo/Rui Vieira)
6 of 7
Tottenham's Son Heung-Min in action during the English Premier League soccer match between Wolverhampton Wanderers and Tottenham Hotspur at Molineux stadium in Wolverhampton, England, Saturday, March 4, 2023. (AP Photo/Rui Vieira)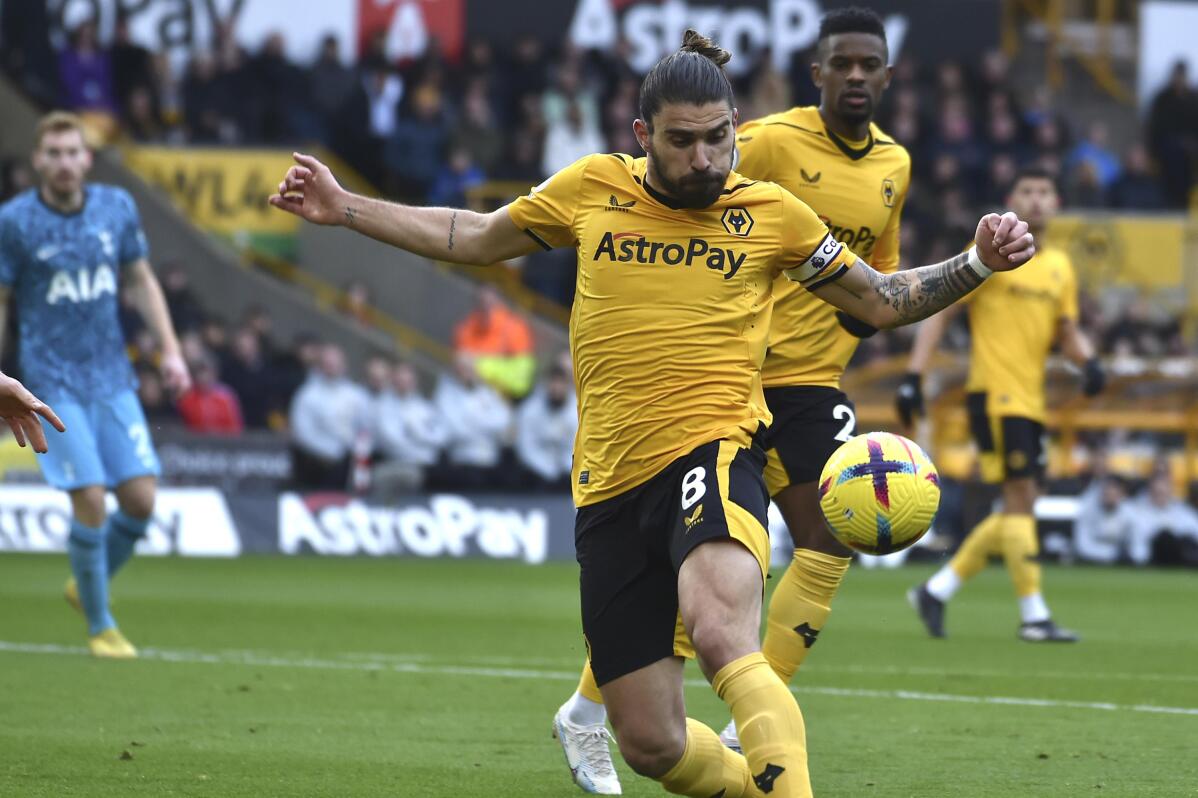 7 of 7

|
Wolverhampton Wanderers' Ruben Neves, centre, in action during the English Premier League soccer match between Wolverhampton Wanderers and Tottenham Hotspur at Molineux stadium in Wolverhampton, England, Saturday, March 4, 2023. (AP Photo/Rui Vieira)
7 of 7
Wolverhampton Wanderers' Ruben Neves, centre, in action during the English Premier League soccer match between Wolverhampton Wanderers and Tottenham Hotspur at Molineux stadium in Wolverhampton, England, Saturday, March 4, 2023. (AP Photo/Rui Vieira)
WOLVERHAMPTON, England (AP) — Wolverhampton boosted its survival hopes and delivered a damaging blow to Tottenham's Champions League ambitions in a 1-0 win in the English Premier League on Saturday.
Adama Traore scored in the 82nd minute for his first goal since October to lift Wolves six points clear of the relegation zone.
Pedro Porro and Son Heung-min hit the crossbar for Spurs, who sank to a disappointing defeat on the eve of manager Antonio Conte's return after recovering from gallbladder surgery.
Tottenham stayed in fourth place but gave the teams below hope in the race for Champions League qualification. Newcastle in fifth and Liverpool in sixth place both have two games in hand.
Victories over West Ham and Chelsea hauled Spurs into the Champions League spots but a scrappy defeat at Molineux showed their fragility, days after an FA Cup exit at second-tier Sheffield United.
After three winless games, fears grew that Wolves would be sucked back into the drop zone but a gutsy victory gives them further breathing space.
A negative was striker Diego Costa being carried off on a stretcher after landing awkwardly after 28 minutes.
___
More AP soccer: https://apnews.com/hub/soccer and https://twitter.com/AP_Sports