Catching up: Judge's grab, Tanaka, Bird lift Yanks in Game 3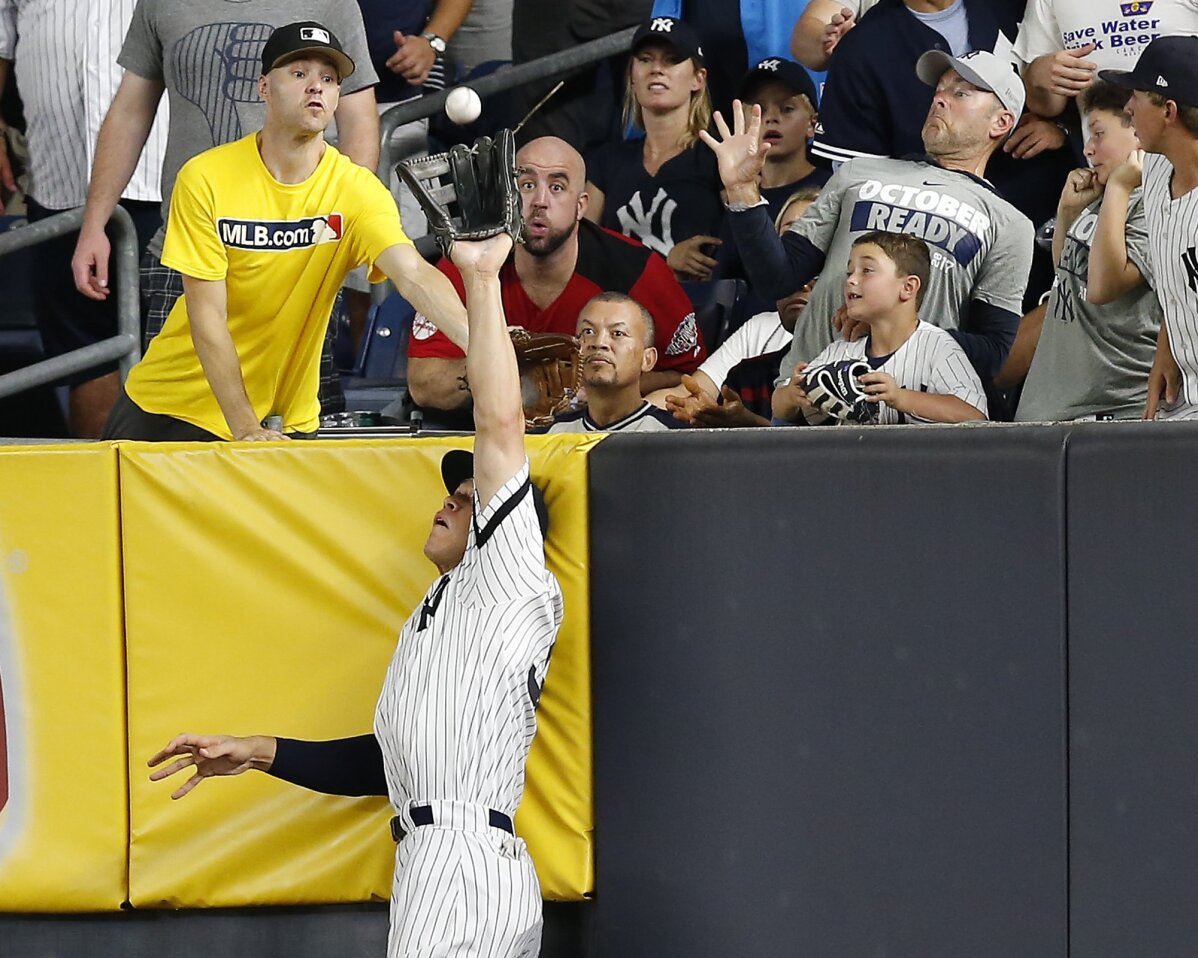 1 of 7

|
New York Yankees right fielder Aaron Judge makes a catch at the wall on a line drive hit by Cleveland Indians' Francisco Lindor during the sixth inning in Game 3 of baseball's American League Division Series, Sunday, Oct. 8, 2017, in New York. (AP Photo/Kathy Willens)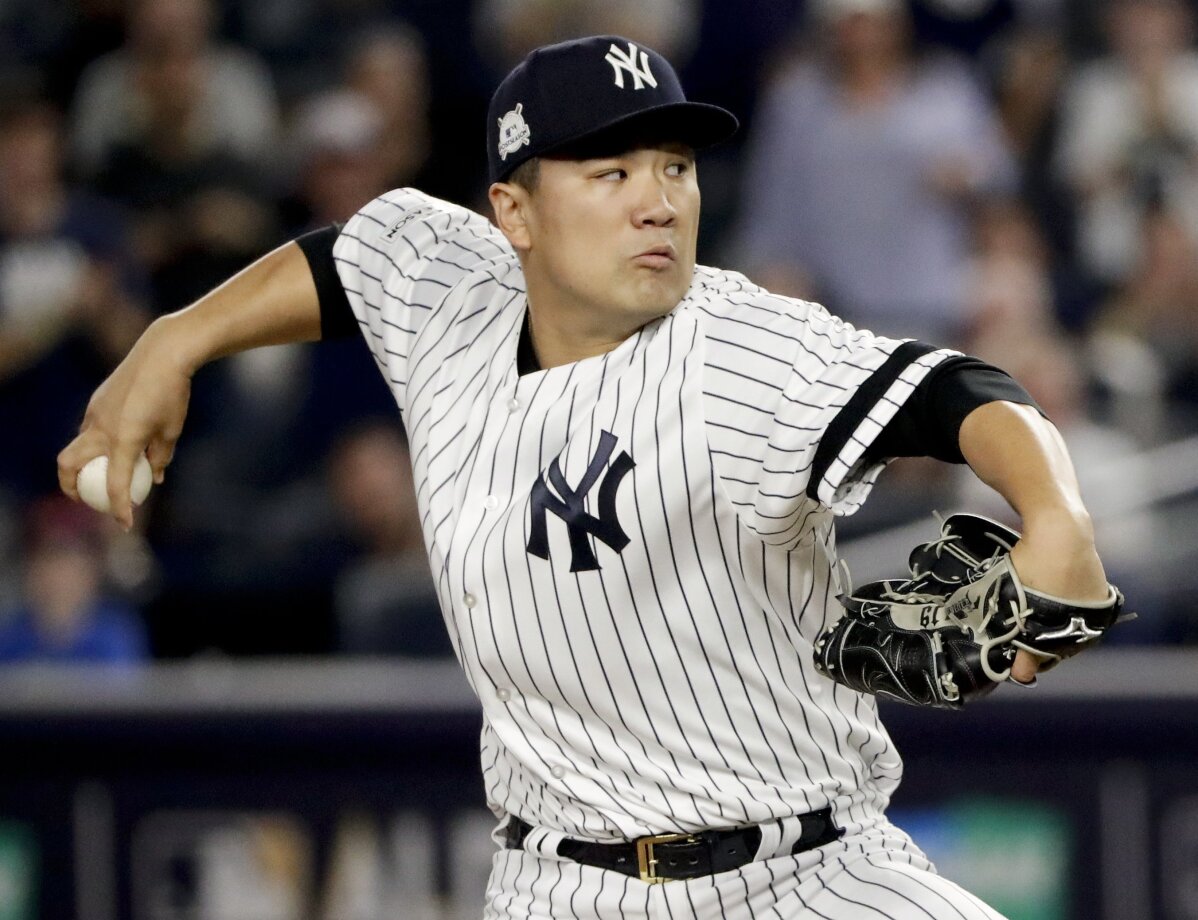 2 of 7

|
New York Yankees pitcher Masahiro Tanaka (19) delivers against the Cleveland Indians during the first inning in Game 3 of baseball's American League Division Series, Sunday, Oct. 8, 2017, in New York. (AP Photo/Frank Franklin II)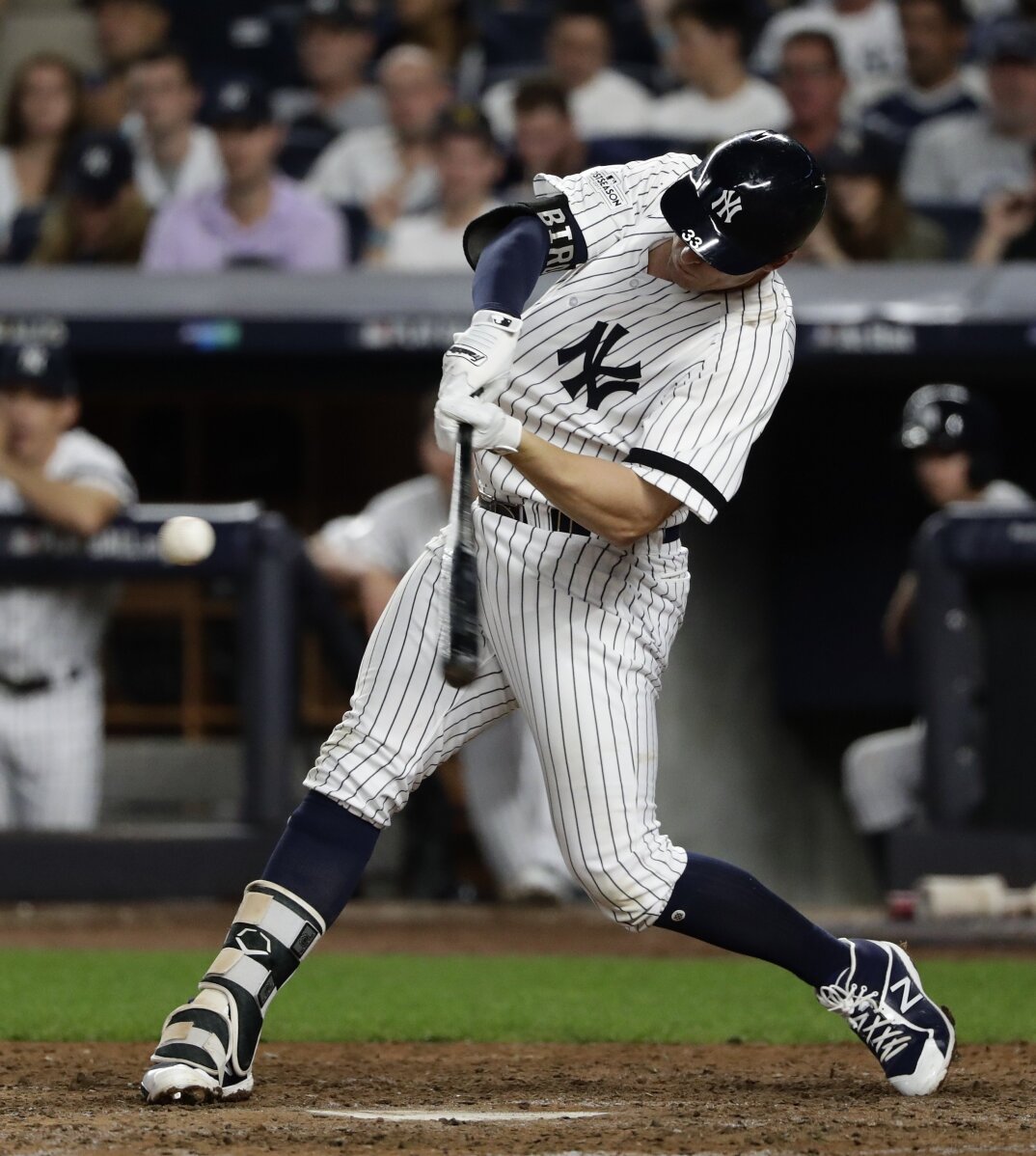 3 of 7

|
New York Yankees' Greg Bird connects for a solo home run against the Cleveland Indians during the seventh inning in Game 3 of baseball's American League Division Series, Sunday, Oct. 8, 2017, in New York. (AP Photo/Frank Franklin II)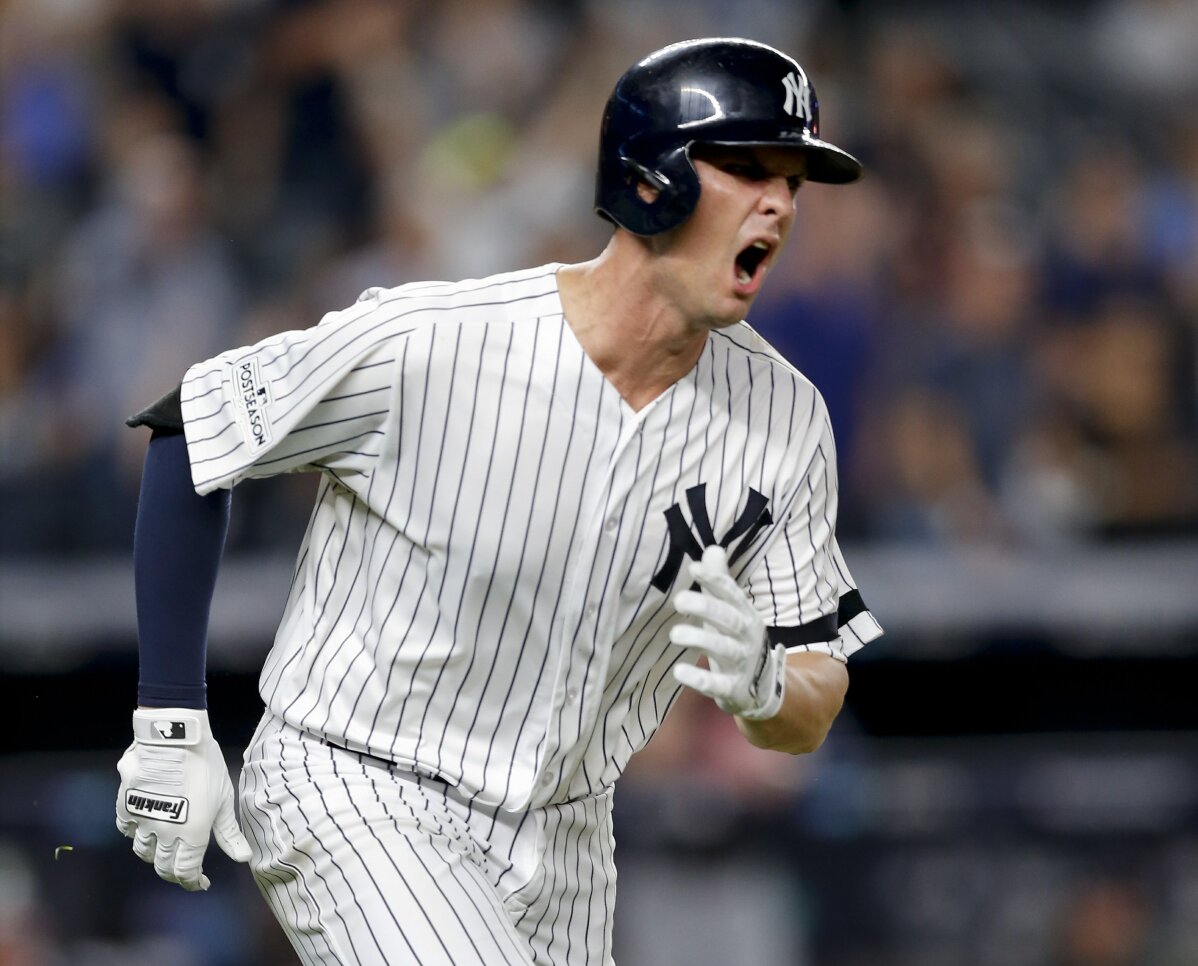 4 of 7

|
New York Yankees' Greg Bird reacts after hitting a solo home run against the Cleveland Indians during the seventh inning in Game 3 of baseball's American League Division Series, Sunday, Oct. 8, 2017, in New York. (AP Photo/Kathy Willens)
5 of 7

|
Cleveland Indians pitcher Andrew Miller, center, hands the ball to manager Terry Francona as he leaves the game during the seventh inning in Game 3 of baseball's American League Division Series against the New York Yankees, Sunday, Oct. 8, 2017, in New York. (AP Photo/Frank Franklin II)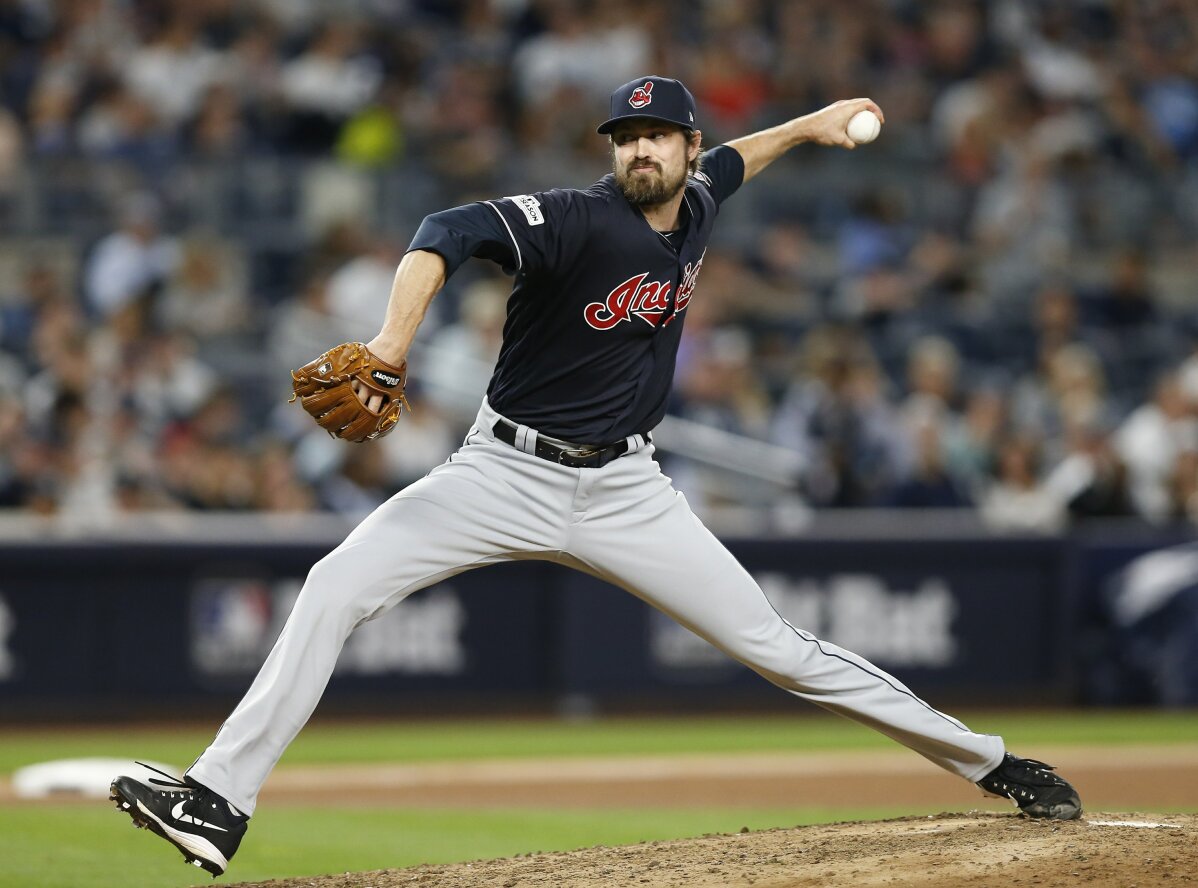 6 of 7

|
Cleveland Indians pitcher Andrew Miller delivers against the New York Yankees during the seventh inning in Game 3 of baseball's American League Division Series, Sunday, Oct. 8, 2017, in New York. (AP Photo/Kathy Willens)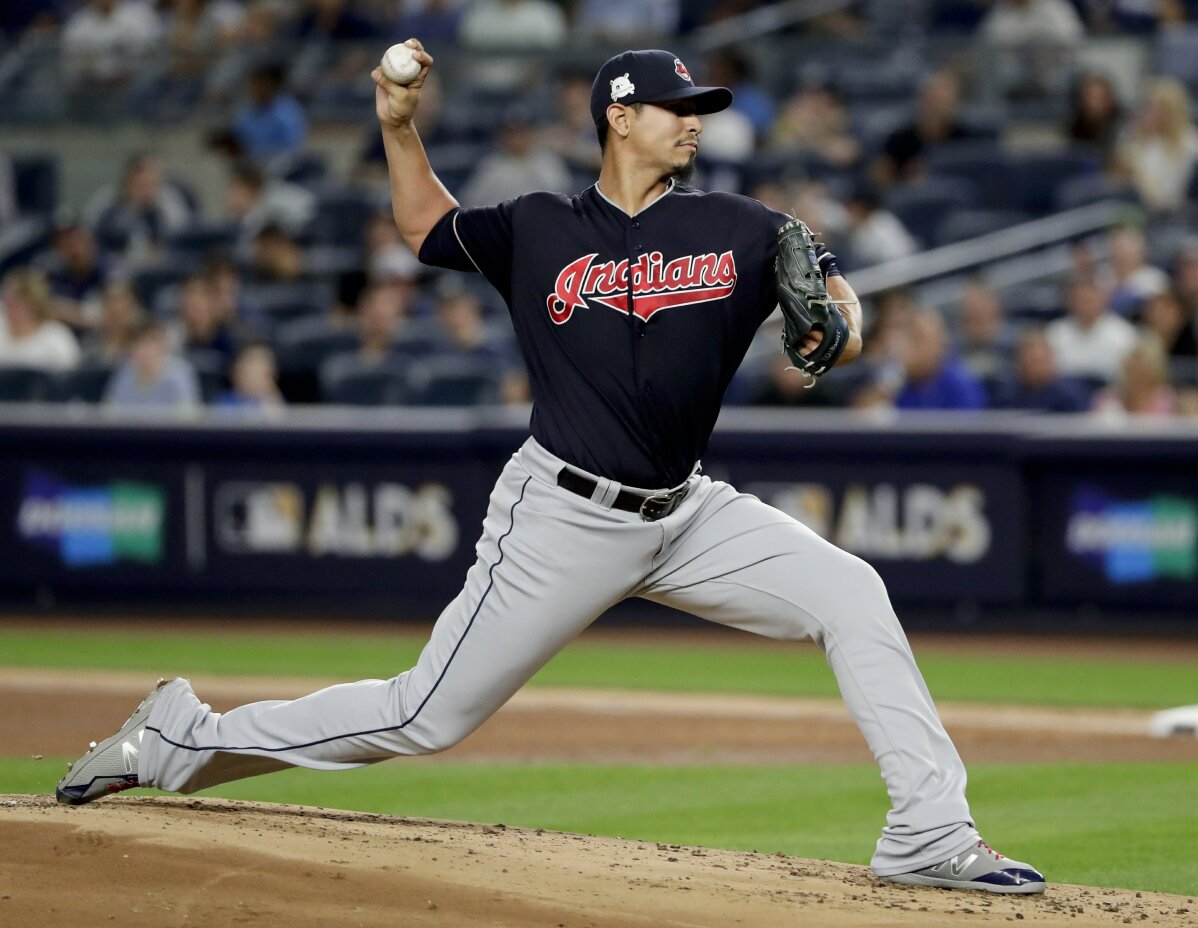 7 of 7

|
Cleveland Indians pitcher Carlos Carrasco (59) delivers against the New York Yankees during the first inning in Game 3 of baseball's American League Division Series, Sunday, Oct. 8, 2017, in New York. (AP Photo/Frank Franklin II)
Catching up: Judge's grab, Tanaka, Bird lift Yanks in Game 3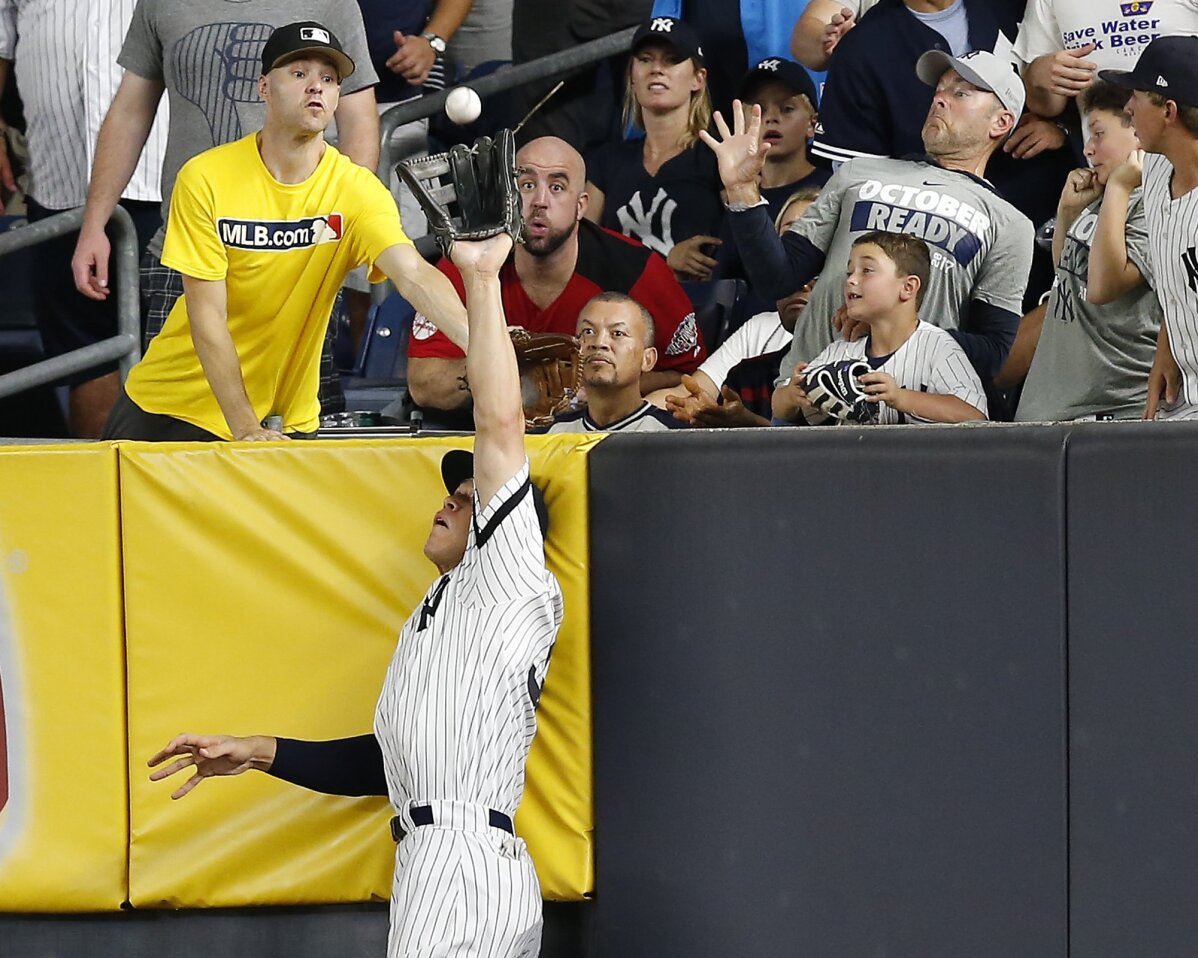 1 of 7

|
New York Yankees right fielder Aaron Judge makes a catch at the wall on a line drive hit by Cleveland Indians' Francisco Lindor during the sixth inning in Game 3 of baseball's American League Division Series, Sunday, Oct. 8, 2017, in New York. (AP Photo/Kathy Willens)
1 of 7
New York Yankees right fielder Aaron Judge makes a catch at the wall on a line drive hit by Cleveland Indians' Francisco Lindor during the sixth inning in Game 3 of baseball's American League Division Series, Sunday, Oct. 8, 2017, in New York. (AP Photo/Kathy Willens)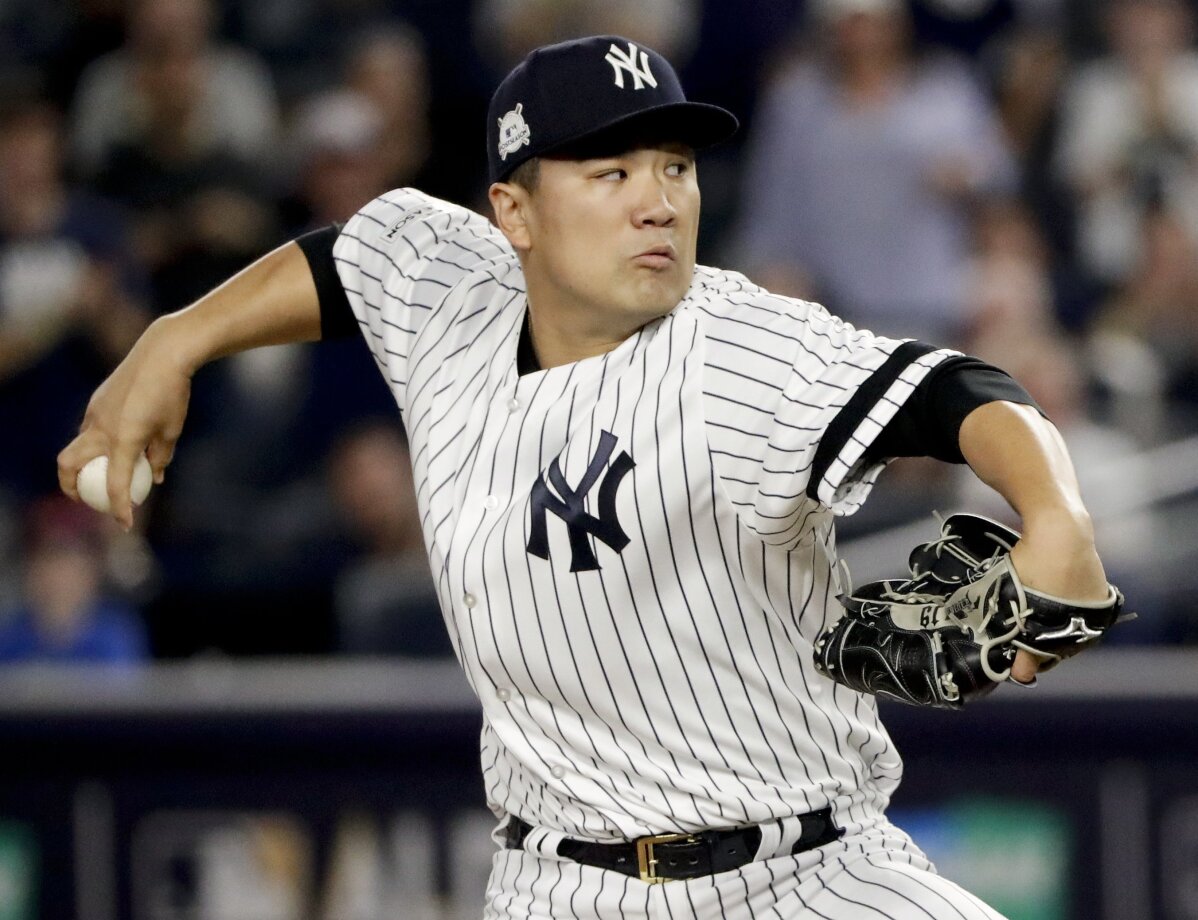 2 of 7

|
New York Yankees pitcher Masahiro Tanaka (19) delivers against the Cleveland Indians during the first inning in Game 3 of baseball's American League Division Series, Sunday, Oct. 8, 2017, in New York. (AP Photo/Frank Franklin II)
2 of 7
New York Yankees pitcher Masahiro Tanaka (19) delivers against the Cleveland Indians during the first inning in Game 3 of baseball's American League Division Series, Sunday, Oct. 8, 2017, in New York. (AP Photo/Frank Franklin II)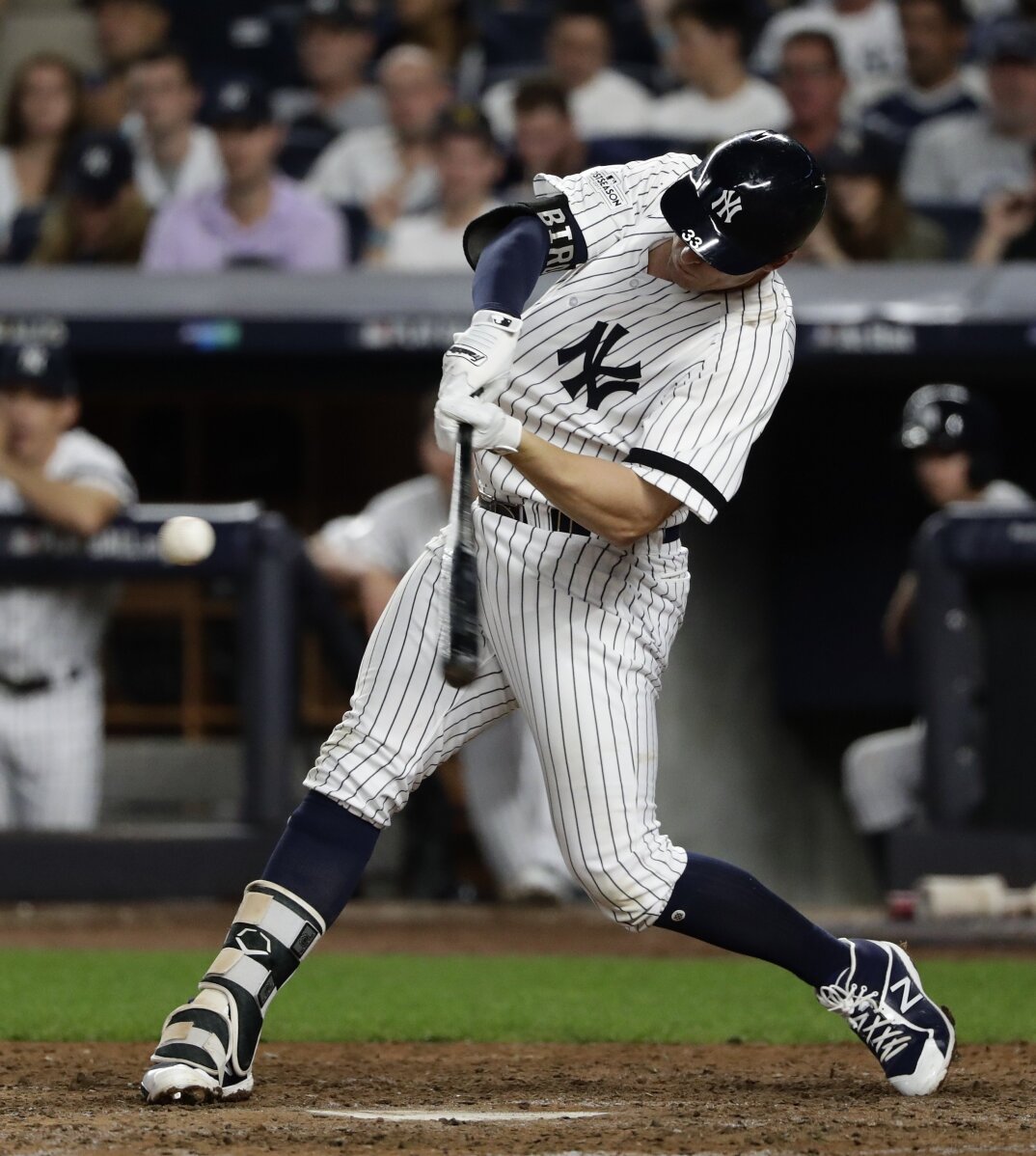 3 of 7

|
New York Yankees' Greg Bird connects for a solo home run against the Cleveland Indians during the seventh inning in Game 3 of baseball's American League Division Series, Sunday, Oct. 8, 2017, in New York. (AP Photo/Frank Franklin II)
3 of 7
New York Yankees' Greg Bird connects for a solo home run against the Cleveland Indians during the seventh inning in Game 3 of baseball's American League Division Series, Sunday, Oct. 8, 2017, in New York. (AP Photo/Frank Franklin II)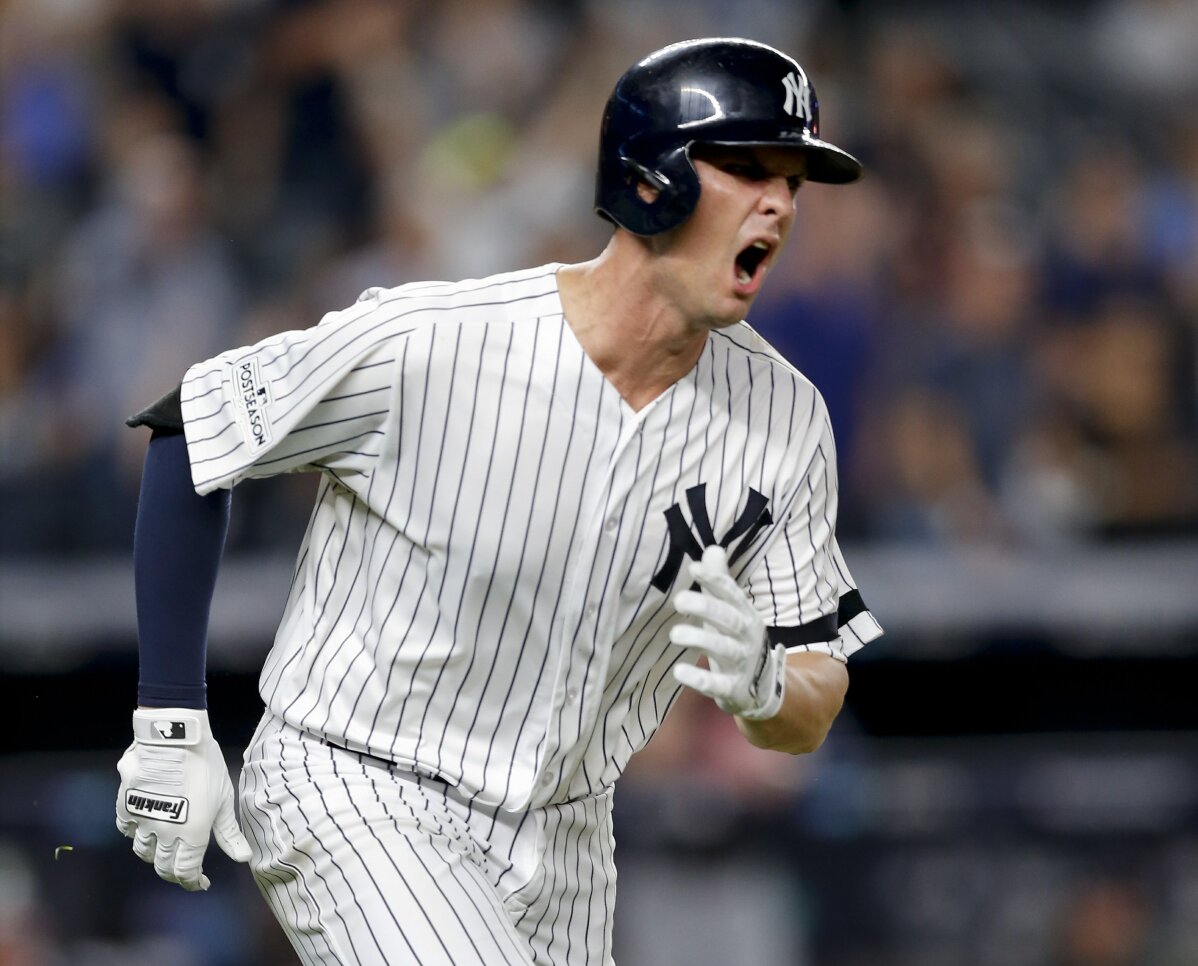 4 of 7

|
New York Yankees' Greg Bird reacts after hitting a solo home run against the Cleveland Indians during the seventh inning in Game 3 of baseball's American League Division Series, Sunday, Oct. 8, 2017, in New York. (AP Photo/Kathy Willens)
4 of 7
New York Yankees' Greg Bird reacts after hitting a solo home run against the Cleveland Indians during the seventh inning in Game 3 of baseball's American League Division Series, Sunday, Oct. 8, 2017, in New York. (AP Photo/Kathy Willens)
5 of 7

|
Cleveland Indians pitcher Andrew Miller, center, hands the ball to manager Terry Francona as he leaves the game during the seventh inning in Game 3 of baseball's American League Division Series against the New York Yankees, Sunday, Oct. 8, 2017, in New York. (AP Photo/Frank Franklin II)
5 of 7
Cleveland Indians pitcher Andrew Miller, center, hands the ball to manager Terry Francona as he leaves the game during the seventh inning in Game 3 of baseball's American League Division Series against the New York Yankees, Sunday, Oct. 8, 2017, in New York. (AP Photo/Frank Franklin II)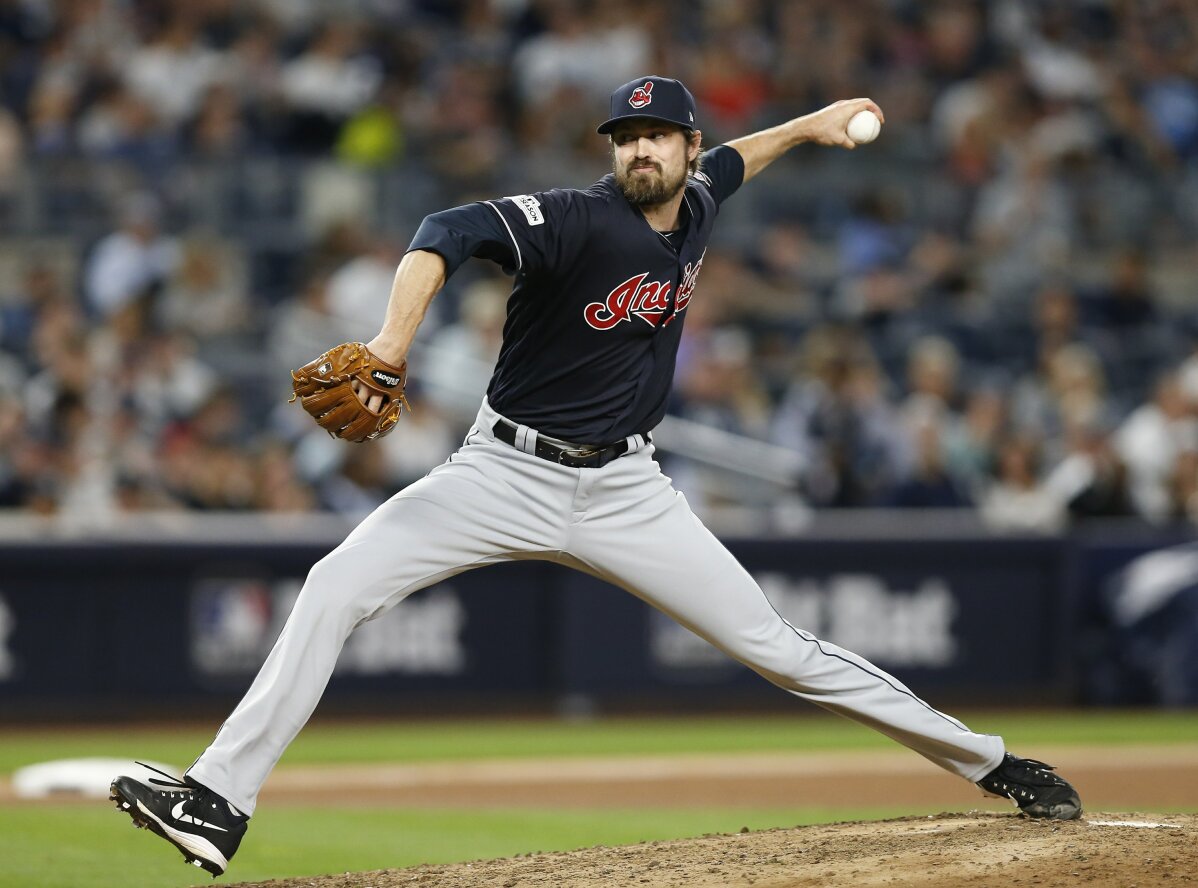 6 of 7

|
Cleveland Indians pitcher Andrew Miller delivers against the New York Yankees during the seventh inning in Game 3 of baseball's American League Division Series, Sunday, Oct. 8, 2017, in New York. (AP Photo/Kathy Willens)
6 of 7
Cleveland Indians pitcher Andrew Miller delivers against the New York Yankees during the seventh inning in Game 3 of baseball's American League Division Series, Sunday, Oct. 8, 2017, in New York. (AP Photo/Kathy Willens)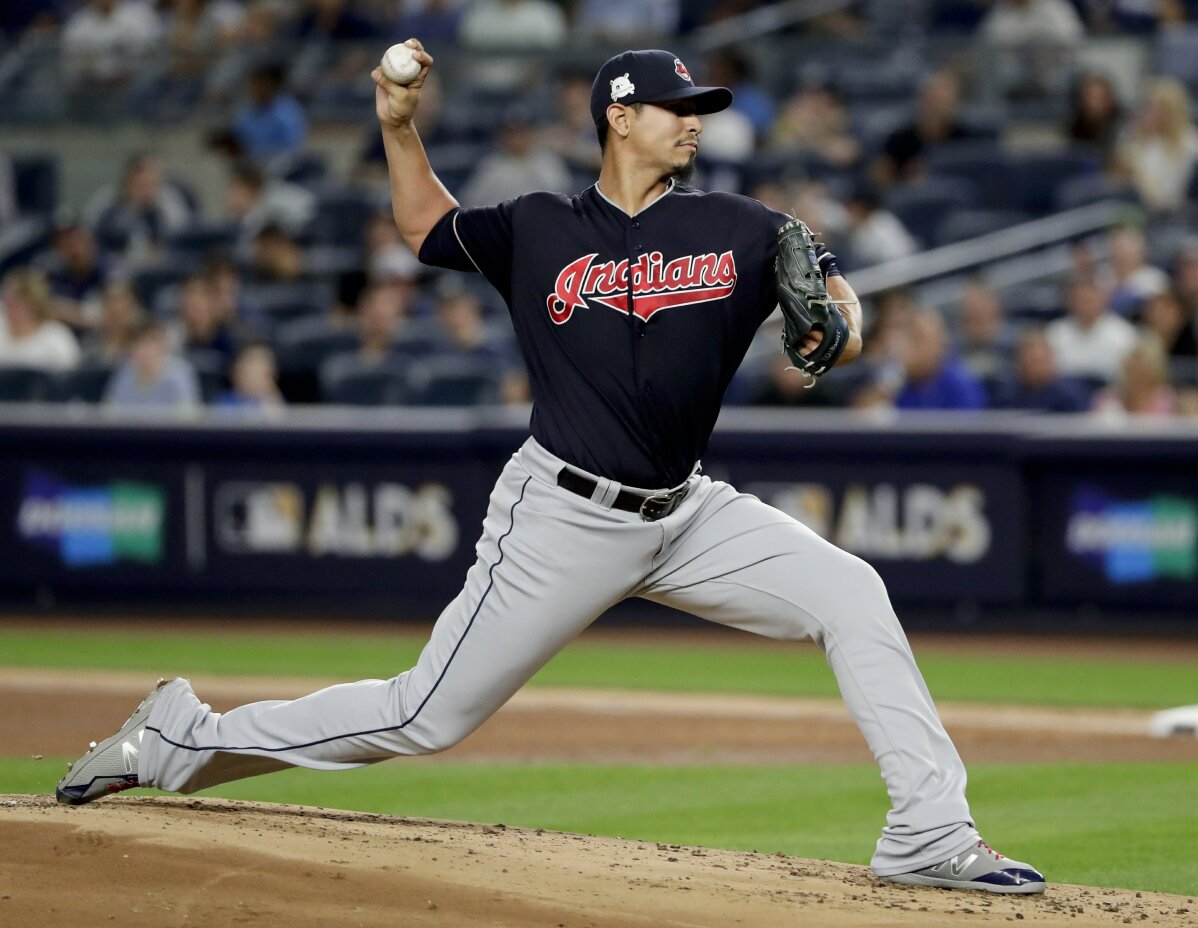 7 of 7

|
Cleveland Indians pitcher Carlos Carrasco (59) delivers against the New York Yankees during the first inning in Game 3 of baseball's American League Division Series, Sunday, Oct. 8, 2017, in New York. (AP Photo/Frank Franklin II)
7 of 7
Cleveland Indians pitcher Carlos Carrasco (59) delivers against the New York Yankees during the first inning in Game 3 of baseball's American League Division Series, Sunday, Oct. 8, 2017, in New York. (AP Photo/Frank Franklin II)
NEW YORK (AP) — Good thing for Masahiro Tanaka and the Yankees that Aaron Judge is 6-foot-7.
Judge reached high and prevented a home run to save Tanaka's seven-inning gem, Greg Bird homered off relief ace Andrew Miller, and New York edged the Cleveland Indians 1-0 Sunday night in Game 3 to extend their AL Division Series.
"He was brilliant," Yankees manager Joe Girardi said about Tanaka. "He gave us everything we needed."
Aroldis Chapman got a five-out save as the wild-card Yankees avoided a three-game sweep by the defending AL champions. With two on in the ninth, Chapman struck out cleanup hitter Jay Bruce before Carlos Santana flied out to end it.
Game 4 is Monday night at Yankee Stadium, with young ace Luis Severino scheduled to start for New York. Cleveland will go with Game 1 winner Trevor Bauer on three days' rest, though there's rain in the forecast.
"I consider this normal rest for me. I enjoy pitching on short (rest)," Bauer said. "If I could draw it out, personally, this is how I'd pitch every time."
New York got a splendid performance from Tanaka in an old-fashioned October pitching duel with Cleveland starter Carlos Carrasco. Tanaka received a big boost when Judge robbed Francisco Lindor of a two-run homer in the sixth.
Bird came through with the huge hit New York had to have when he connected against Miller leading off the seventh. The first baseman was fired up as he greeted happy teammates in the dugout.
Sidelined by injuries most of the past two seasons, Bird also went deep in Game 2.
"I'm not ready to be done playing and I don't think the rest of the team is," he said.
New York rebounded after blowing a five-run lead Friday during a 13-inning loss in Game 2 that led to heavy criticism of Girardi, booed Sunday night by the home crowd during pregame introductions.
"Not the first time," Girardi said, acknowledging it's no fun to hear catcalls. "I kind of expected it."
This was the Yankees' first 1-0 postseason victory since Game 3 of their 2001 ALDS against Oakland, when Derek Jeter's backhanded flip beat Jeremy Giambi to the plate for a crucial, memorable out.
Judge's grab was the big defensive play Sunday. With a runner on first in a scoreless game, Lindor lofted a sixth-inning drive toward the short right-field porch at Yankee Stadium. Judge backed up to the wall and barely needed to jump to extend his glove above the fence and make the catch, just to the right of the auxiliary scoreboard.
"Who better to reach up there and grab it than him?" Bird said.
The sellout crowd of 48,614 roared and Judge flashed a bright smile. It was the first time the rookie slugger had robbed an opponent of a home run and the first time Lindor had ever been so denied, according to ESPN Stats & Info.
"I had to do something," said Judge, who is 0 for 10 with eight strikeouts in the series. "I wasn't obviously making any contact at the plate, so you've got to make an impact on the game somehow and luckily I was able to do it on defense."
Tanaka tipped his cap in appreciation and held Cleveland down until he was done. The right-hander, beaten 3-0 by Dallas Keuchel and the Houston Astros in the 2015 AL wild-card game, struck out seven, walked one and allowed three hits.
He whiffed three of his first four batters and was aided by two double plays.
"That's the best performance that I've seen from him," Girardi said.
The biggest test for Tanaka came in the fourth, after Jason Kipnis' one-out triple glanced off the thumb of Judge's glove in deep right field and rolled away.
Tanaka beared down and fanned No. 3 batter Jose Ramirez and Bruce, then turned to shout and slapped his mitt in excitement.
"I came here to pitch in these type of games," Tanaka said through a translator.
Bruce, a big star in the first two games, struck out all four times up while batting fourth in place of injured slugger Edwin Encarnacion, who sat out after leaving Game 2 with a sprained right ankle.
Michael Brantley filled in for Encarnacion as the designated hitter and went 0 for 2 with a walk.
Tanaka delivered under pressure in his second career playoff start. After going 13-12 with a 4.74 ERA during an inconsistent season, he was pitching on eight days' rest but looked plenty sharp.
In his previous outing, he struck out a career-high 15 over seven scoreless innings in his final regular-season start against Toronto.
Carrasco matched Tanaka into the sixth.
The 18-game winner gave up three hits and three walks in 5 2/3 innings. Also helped by two double plays, he struck out seven and was lifted with the bases loaded.
Miller retired Starlin Castro on a popup to end the inning.
"That's two of the better starting performers you're going to see," Indians manager Terry Francona said.
RARE BIRD
Bird joined Dodgers rookie Cody Bellinger as the only left-handed hitters to homer off Miller this season. "Just threw the wrong pitch in the wrong spot," Miller said. "It stinks. I mean, I'm the guy who lost the game."
STREAK SNAPPED
Cleveland had won six straight ALDS games, one shy of the 2009-11 Yankees for the longest such streak.
SERIOUS CHEESE
Chapman struck out four. He threw 28 of 34 pitches at 100 mph or more, topping out at 104 mph on a pitch Ramirez fouled off.
TRAINER'S ROOM
Indians: Encarnacion is day to day, Francona said. He did not expect the slugger to be available off the bench in this one. ... Ramirez fouled a ball off his right leg in the fourth. He was checked by a trainer but stayed in the game. ... Francona said he had his entire bullpen available after Friday's 13-inning victory.
Yankees: Dellin Betances wasn't used after throwing 35 pitches in two-plus innings and taking the loss in Game 2. Before the game, Girardi said he wasn't sure if the big right-hander would be available.
UP NEXT
Indians: Bauer struck out eight in 6 2/3 innings of two-hit ball during a 4-0 win in the series opener last Thursday. "I think he'll be just fine," Francona said. Josh Tomlin was initially penciled in to start a potential Game 4, but he tossed two hitless innings in relief Friday and was the Game 2 winner.
Yankees: Severino got only one out in the wild-card game against Minnesota last Tuesday, but New York's lineup and bullpen bailed him out.
___
More AP baseball: https://apnews.com/tag/MLBbaseball