Trump loses last bid to keep key evidence out of rape trial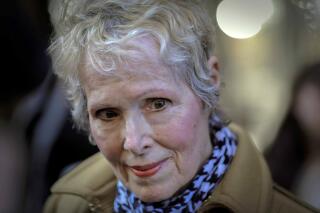 NEW YORK (AP) — Former President Donald Trump's effort to keep key evidence out of his civil rape trial next month was rejected by a federal judge Monday.
Judge Lewis A. Kaplan in Manhattan ruled that key witnesses will be allowed to testify and misogynistic remarks Trump made about women in 2005 when he apparently didn't realize he was being recorded can be played for a jury that will hear quarter-century-old rape allegations made by a former magazine columnist.
A trial in the case filed by E. Jean Carroll is scheduled to start April 25. Carroll and Trump are expected to testify.
Carroll said in a 2019 memoir that she was raped by Trump in the mid-1990s in a dressing room at Bergdorf Goodman, an upscale Manhattan department store. She said a chance encounter filled with lighthearted banter turned violent when they entered a small room while teasing one another about who would try on a piece of lingerie.
Trump has repeatedly insisted he never met Carroll at the store and that he didn't know who she was. During an October deposition, he misidentified a decades-old photograph of her as one of his ex-wives.
In the deposition, Trump was dismissive of Carroll's claims, saying: "Physically she's not my type."
Kaplan had previously ruled that taped remarks Trump made in an "Access Hollywood" tape could be used in a defamation case Carroll brought against him before she filed a rape claim against him in November, when a temporary law took effect allowing adult rape victims to sue their abusers, even if attacks happened decades ago.
He also ruled that two women who made sexual abuse claims in circumstances similar to those alleged by Carroll could testify at trial.
The Access Hollywood tape was revealed just weeks before Trump won the November 2016 presidential election.
In the tape, he said that sometimes when he sees beautiful women: "I just start kissing them. It's like a magnet. Just kiss. I don't even wait." And he added that, "When you're a star, they let you do it. You can do anything," including grabbing women between their legs.
Afterward, he issued a rare apology, saying the comments were "locker room banter" caught on a hot mic.
Lawyers for Trump and Carroll had agreed that the defamation claim, made in a separate lawsuit, could be tried along with the rape claim, but the judge rejected that proposal Monday, saying the defamation lawsuit could be tried separately or not at all if the Justice Department successfully replaces Trump as a defendant with the United States.
In an order Monday, Kaplan ruled specifically that he would allow the "Access Hollywood" tape and testimony by two other women who say Trump attacked them sexually to be included in next month's trial, repeating his rulings from the defamation case.
"There is no reason, and Mr. Trump has made no persuasive argument, for me to rule differently," he wrote.
He also said he will allow testimony from two individuals who worked at the department store at the time of the alleged rape to testify, even though Trump's lawyers objected, saying they hadn't been notified in a timely fashion of the testimony and hadn't had a chance to depose the witnesses.
The judge said lawyers for Carroll had notified them of the witnesses in a timely fashion.
Roberta Kaplan, a lawyer for Carroll, declined comment. A lawyer for Trump did not immediately respond to a request for comment.