Twins reinstate Farmer 4 weeks after hit by pitch in face, demote Miranda to Triple-A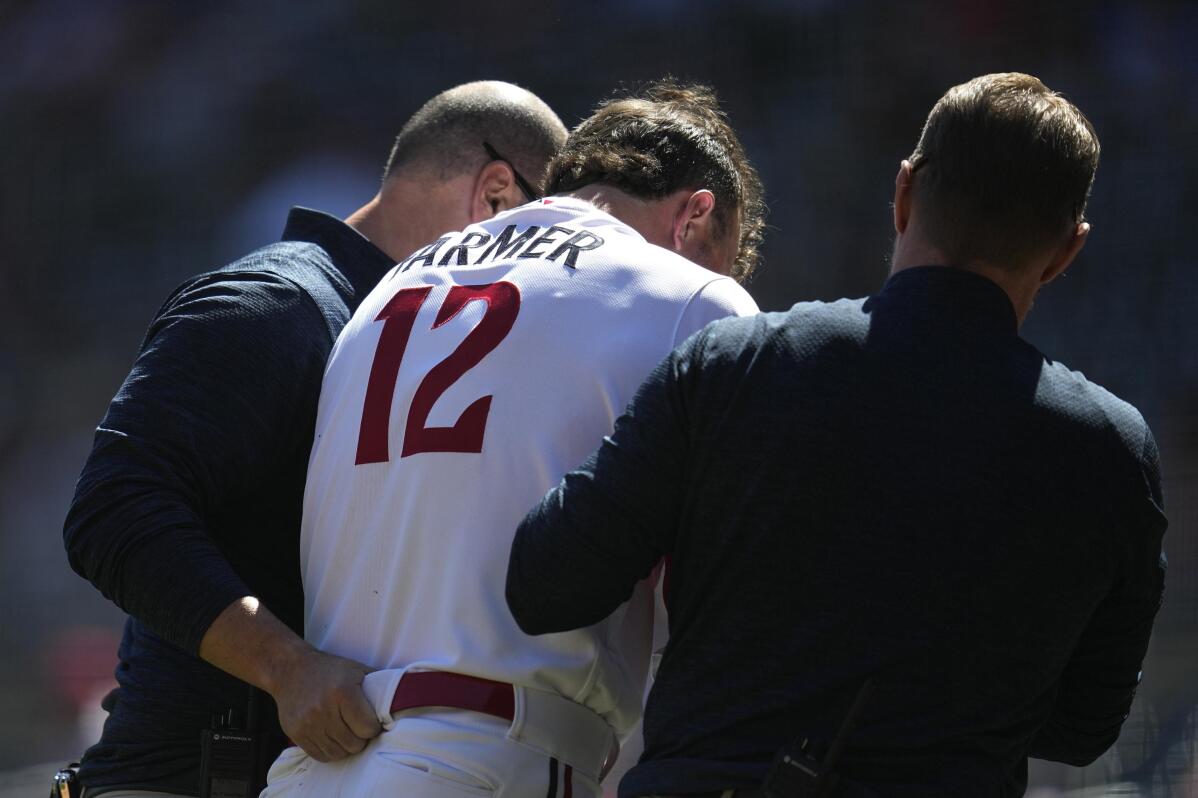 1 of 2

|
Minnesota Twins' Kyle Farmer exits the game with trainers after being hit in the head by a pitch during the fourth inning of a baseball game against the Chicago White Sox, Wednesday, April 12, 2023, in Minneapolis. (AP Photo/Abbie Parr)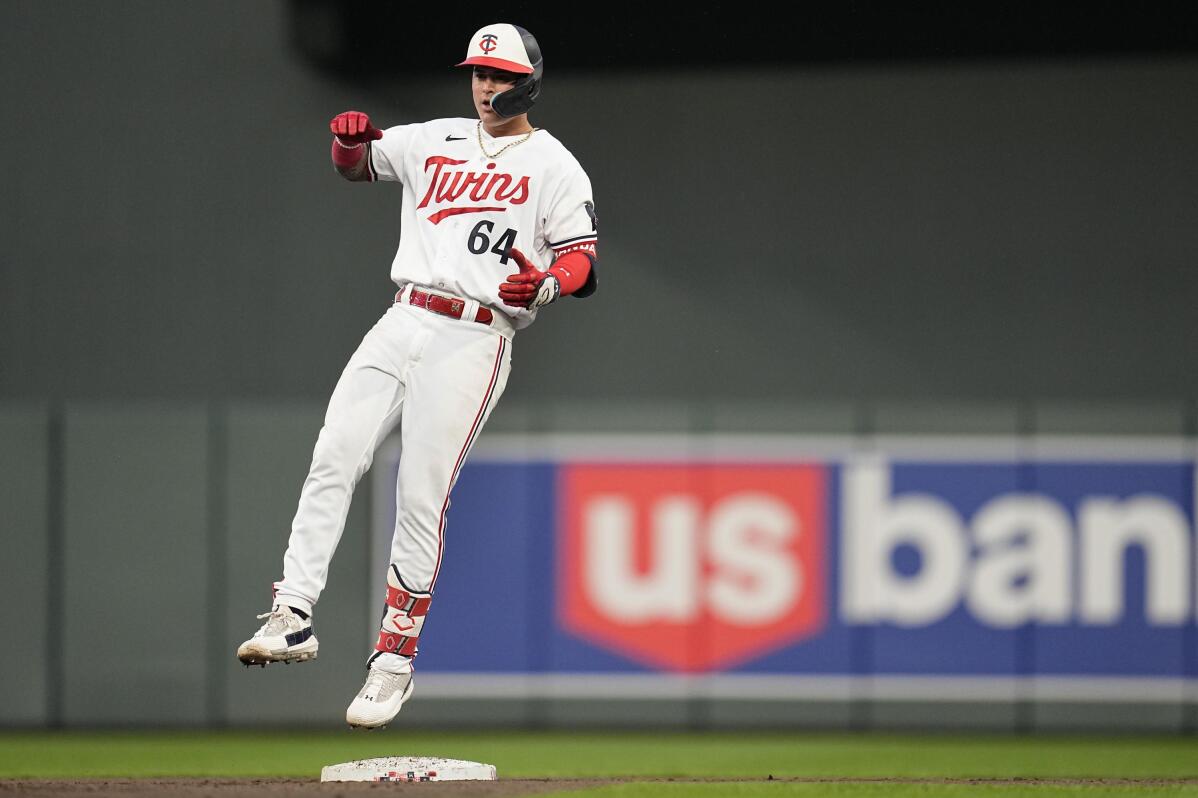 2 of 2

|
Minnesota Twins' Jose Miranda (64) celebrates after hitting a RBI-double during the fourth inning of a baseball game against the San Diego Padres, Tuesday, May 9, 2023, in Minneapolis. (AP Photo/Abbie Parr)
Twins reinstate Farmer 4 weeks after hit by pitch in face, demote Miranda to Triple-A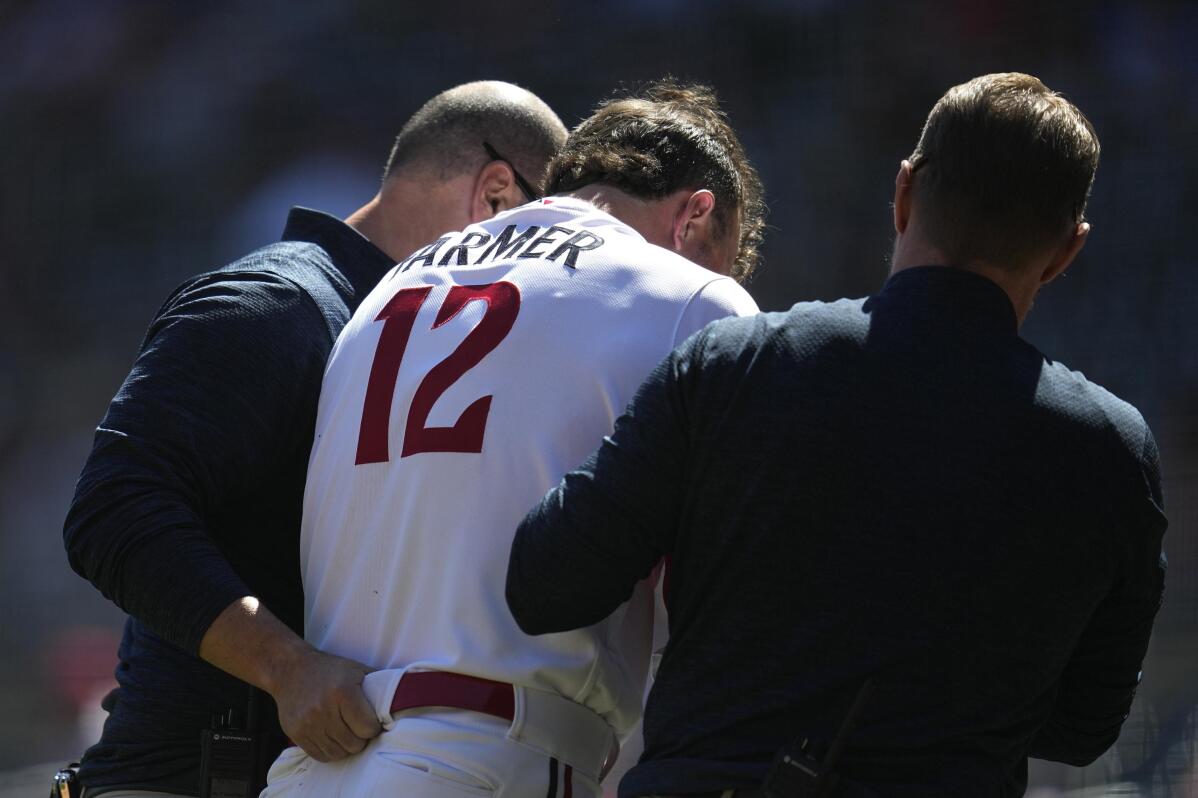 1 of 2

|
Minnesota Twins' Kyle Farmer exits the game with trainers after being hit in the head by a pitch during the fourth inning of a baseball game against the Chicago White Sox, Wednesday, April 12, 2023, in Minneapolis. (AP Photo/Abbie Parr)
1 of 2
Minnesota Twins' Kyle Farmer exits the game with trainers after being hit in the head by a pitch during the fourth inning of a baseball game against the Chicago White Sox, Wednesday, April 12, 2023, in Minneapolis. (AP Photo/Abbie Parr)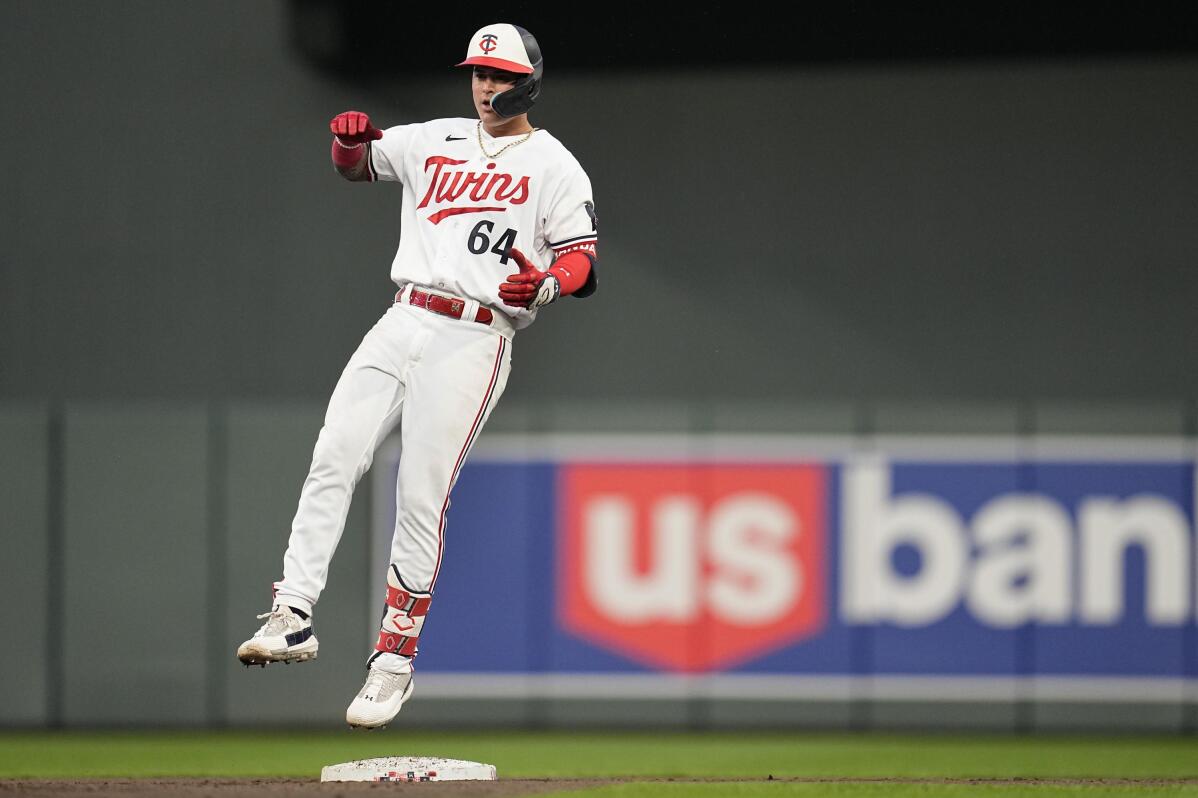 2 of 2

|
Minnesota Twins' Jose Miranda (64) celebrates after hitting a RBI-double during the fourth inning of a baseball game against the San Diego Padres, Tuesday, May 9, 2023, in Minneapolis. (AP Photo/Abbie Parr)
2 of 2
Minnesota Twins' Jose Miranda (64) celebrates after hitting a RBI-double during the fourth inning of a baseball game against the San Diego Padres, Tuesday, May 9, 2023, in Minneapolis. (AP Photo/Abbie Parr)
MINNEAPOLIS (AP) — The Minnesota Twins returned infielder Kyle Farmer from his rehab assignment and reinstated him from the injured list on Wednesday, four weeks after he was hit by a pitch in the face and needed oral surgery.
Third baseman Jose Miranda was sent to Triple-A St. Paul to make room for Farmer before Minnesota's game against the San Diego Padres.
Farmer missed 24 games while recovering physically and mentally from the errant 92 mph fastball thrown by Chicago White Sox right-hander Lucas Giolito that caused a laceration around his lower lip and knocked four teeth out of alignment. The 32-year-old Farmer, who is in his first season with the Twins, went 4 for 13 with two doubles and a home run in four games of his rehab assignment with St. Paul.
"I would say there are both physical and mental hurdles that he's had to clear to get to this point already, and that he'll still clear," manager Rocco Baldelli said. "And I think he's in a good place to do all of that. I think he looks good, feels good. Nothing that we saw on the field, from anyone that watched him, no one said there was any tentative movements or anything they saw that was worth noting."
Farmer played shortstop and second base before his injury, but the demotion of Miranda likely means he will fill in some at third base as well. The Twins also have Donovan Solano and Willi Castro on their bench to play the hot corner.
Miranda had a strong rookie year in 2022 with 25 doubles, 15 home runs and 66 RBIs with a .268 batting average in 125 games while playing primarily at first base. This season, the 24-year-old from Puerto Rico is hitting just .220 in 35 games with a .593 OPS. He is 3 for 25 with no walks in seven games in May.
"Certainly not the easiest of decisions," Baldelli said of Miranda. "But Jose, right now, I think is in a place where he could use a good resetting, both offensively and defensively, to find the best version of himself. We've seen this guy really good before. We know what he's capable of."
The Twins were last in the major leagues in batting average (.219) entering their game on Wednesday.
___
AP MLB: https://apnews.com/hub/MLB and https://twitter.com/AP_Sports