UBS brings back Ermotti as CEO with Credit Suisse deal ahead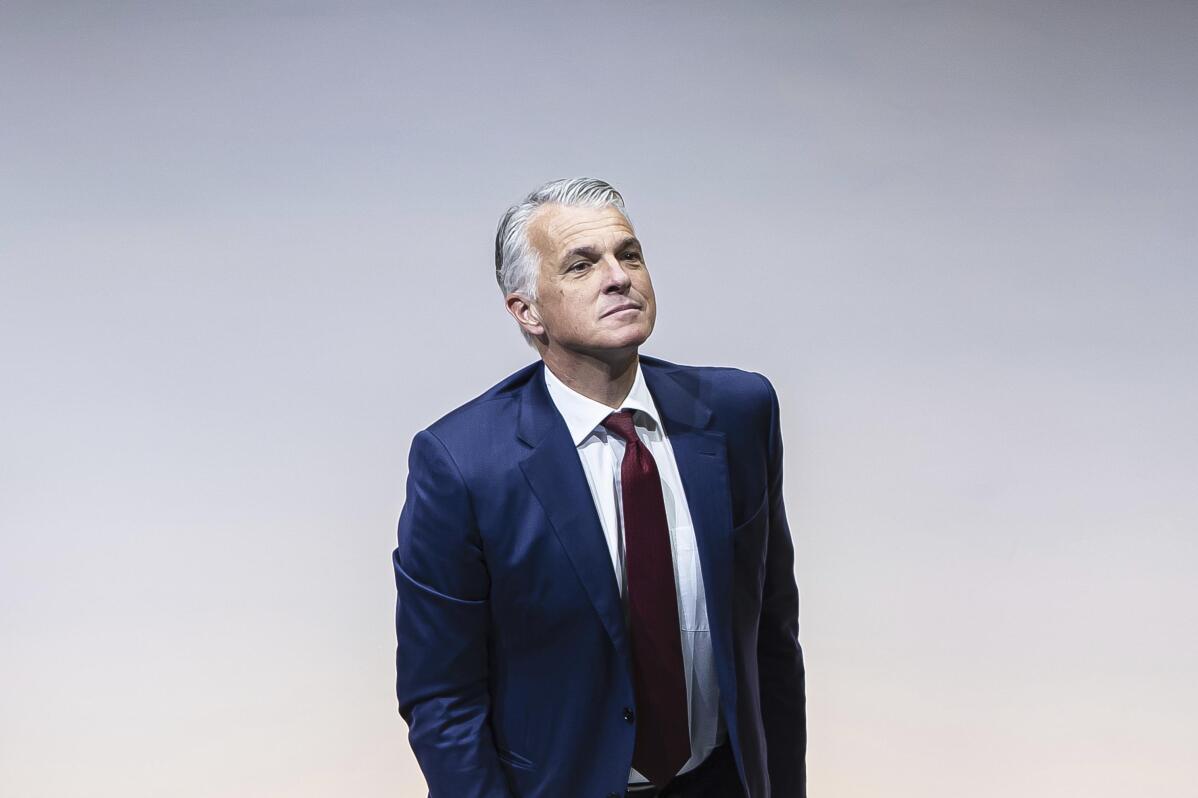 1 of 10

|
Newly appointed Group Chief Executive Officer of Swiss Bank UBS Sergio Ermotti arrives for a news conference in Zurich, Switzerland Wednesday, March 29, 2023. (Michael Buholzer/Keystone via AP)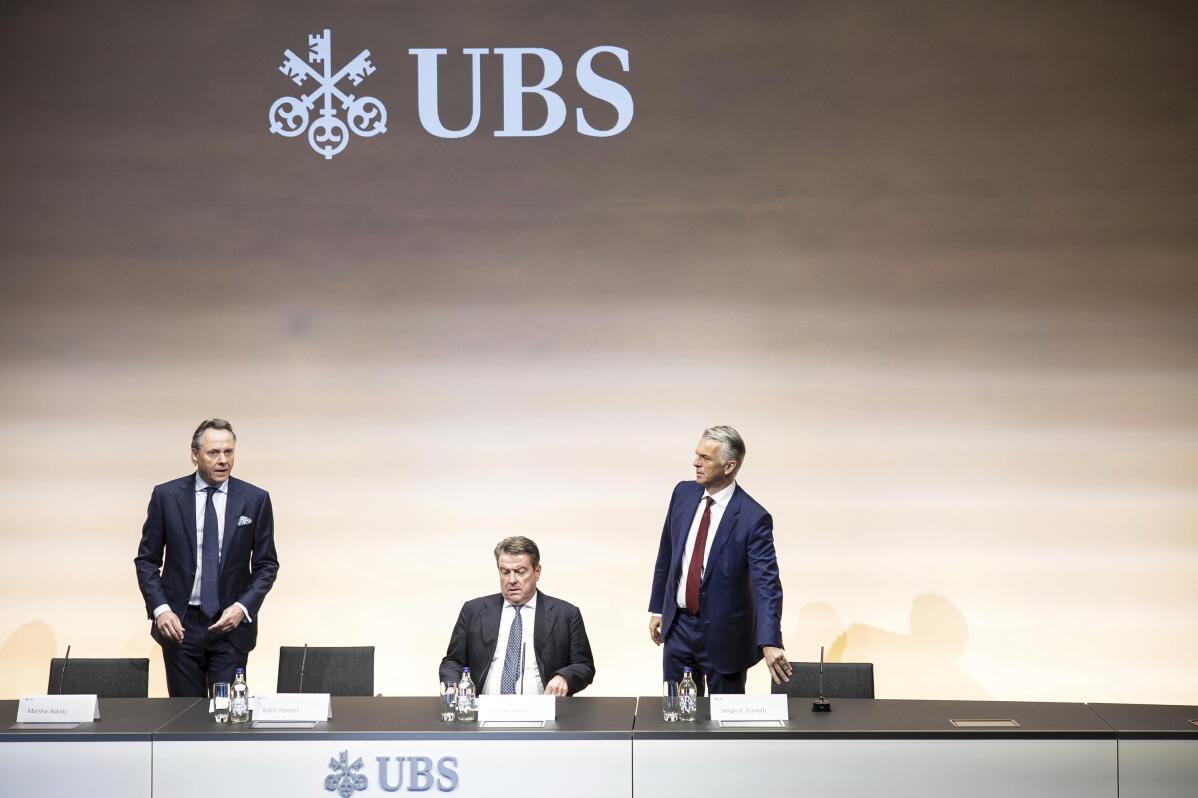 2 of 10

|
Newly appointed Group Chief Executive Officer of Swiss Bank UBS Sergio Ermotti, right, UBS Chairman Colm Kelleher, center, and outgoing CEO Ralph Hamers attend a news conference in Zurich, Switzerland Wednesday, March 29, 2023. (Michael Buholzer/Keystone via AP)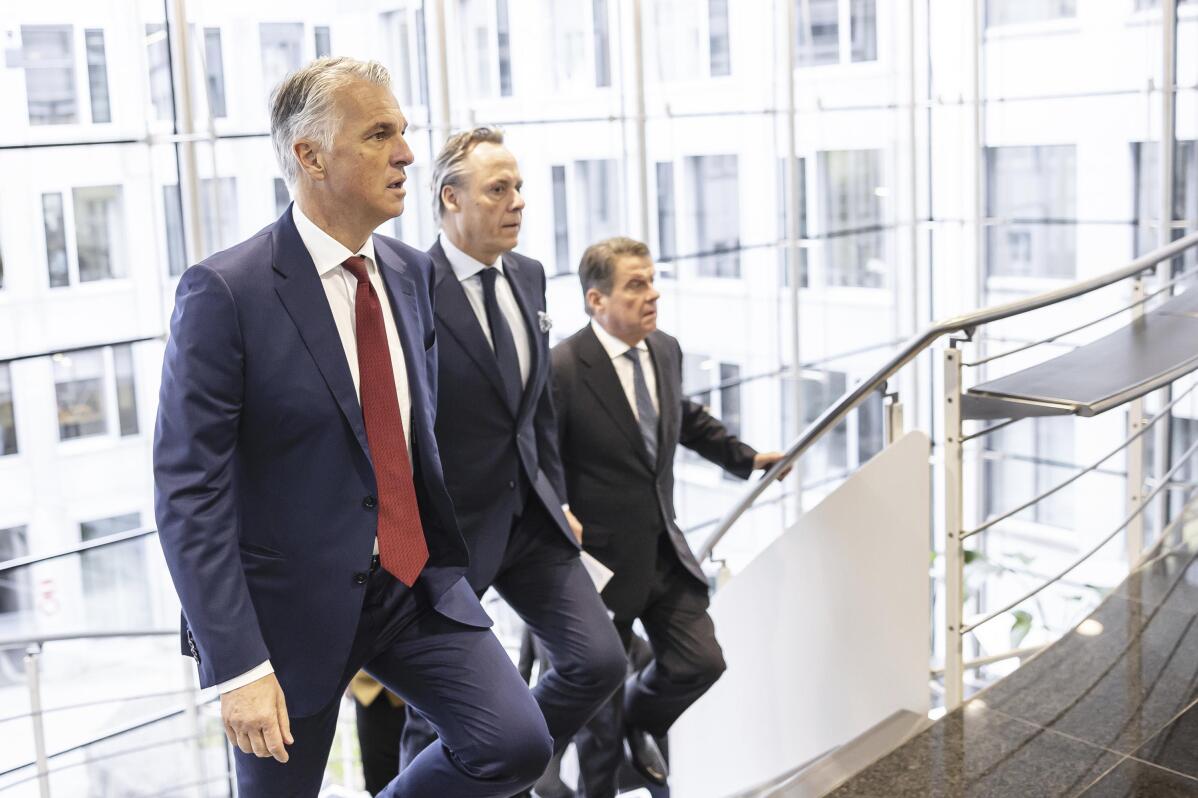 3 of 10

|
Newly appointed Group Chief Executive Officer of Swiss Bank UBS Sergio Ermotti, left, outgoing CEO Ralph Hamers, center, and UBS Chairman Colm Kelleher, right, arrive for a news conference in Zurich, Switzerland Wednesday, March 29, 2023. (Michael Buholzer/Keystone via AP)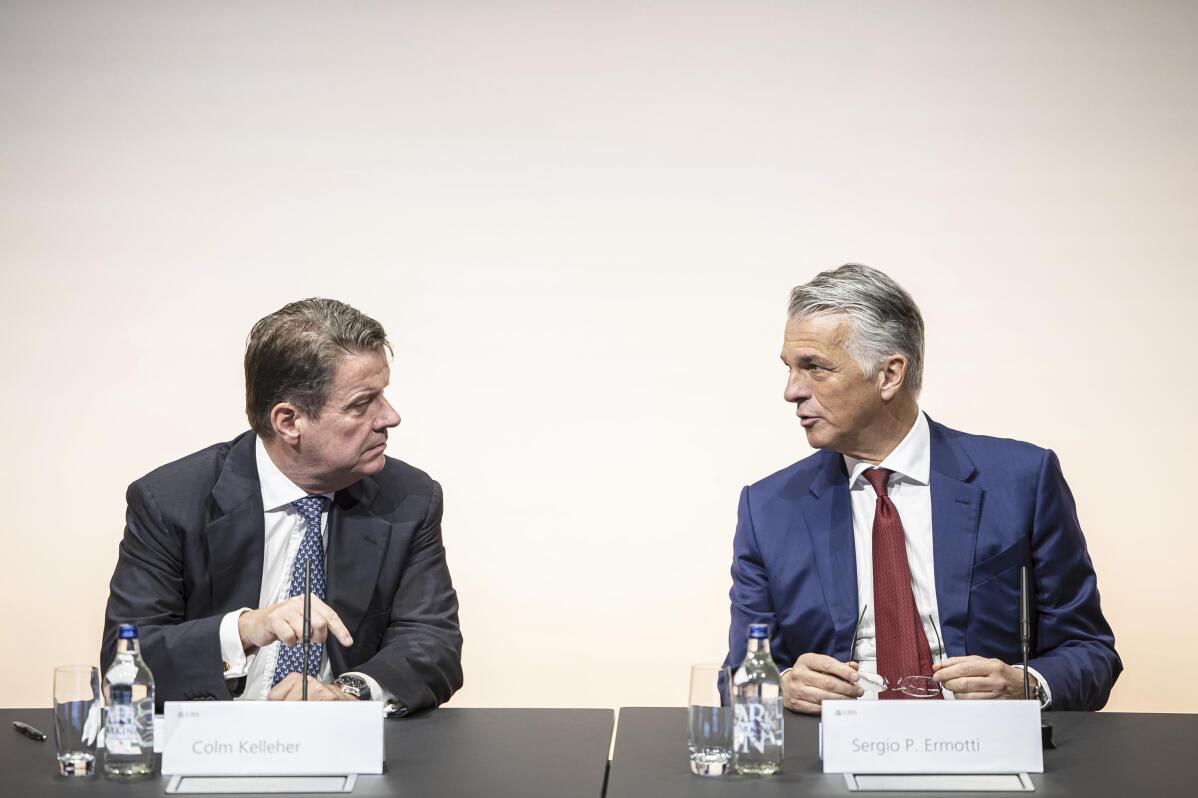 4 of 10

|
Newly appointed Group Chief Executive Officer of Swiss Bank UBS Sergio Ermotti, right, UBS Chairman Colm Kelleher, left, speak during a news conference in Zurich, Switzerland Wednesday, March 29, 2023. (Michael Buholzer/Keystone via AP)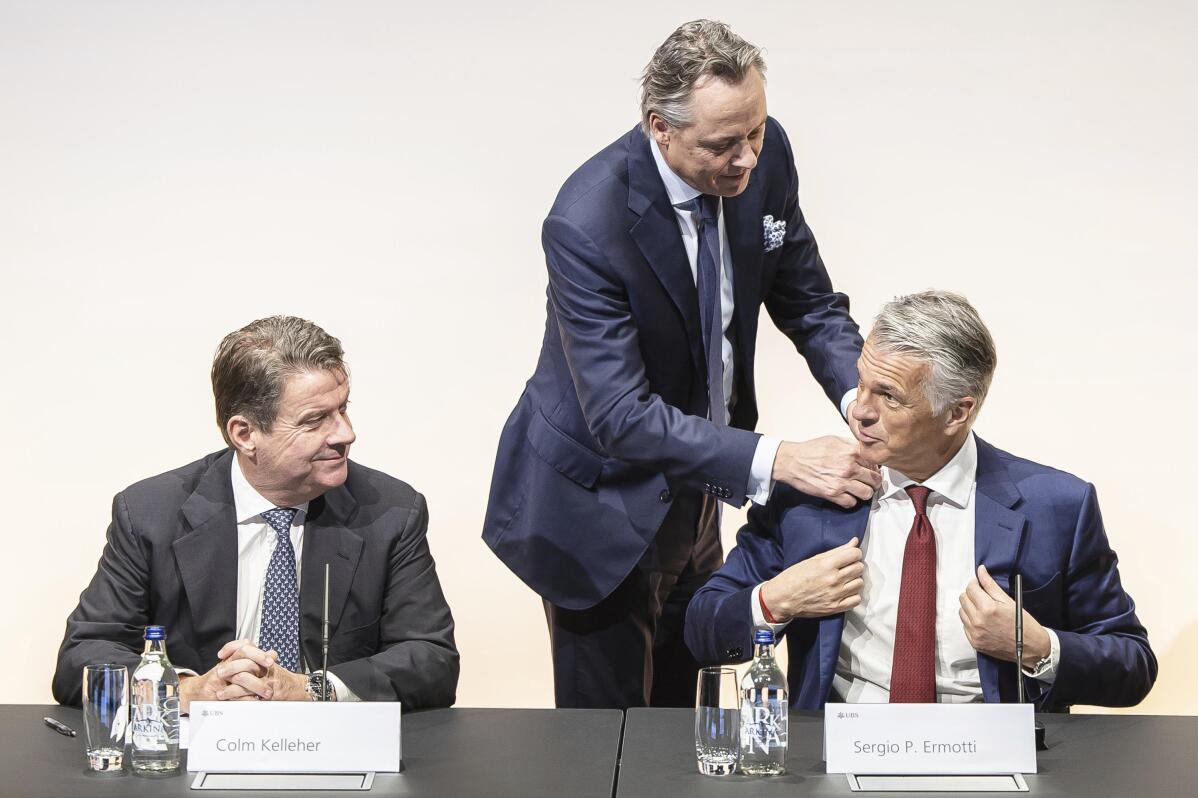 5 of 10

|
Newly appointed Group Chief Executive Officer of Swiss Bank UBS Sergio Ermotti, right, outgoing CEO Ralph Hamers, centre, and UBS Chairman Colm Kelleher, left, arrive for a news conference in Zurich, Switzerland Wednesday, March 29, 2023. (Michael Buholzer/Keystone via AP)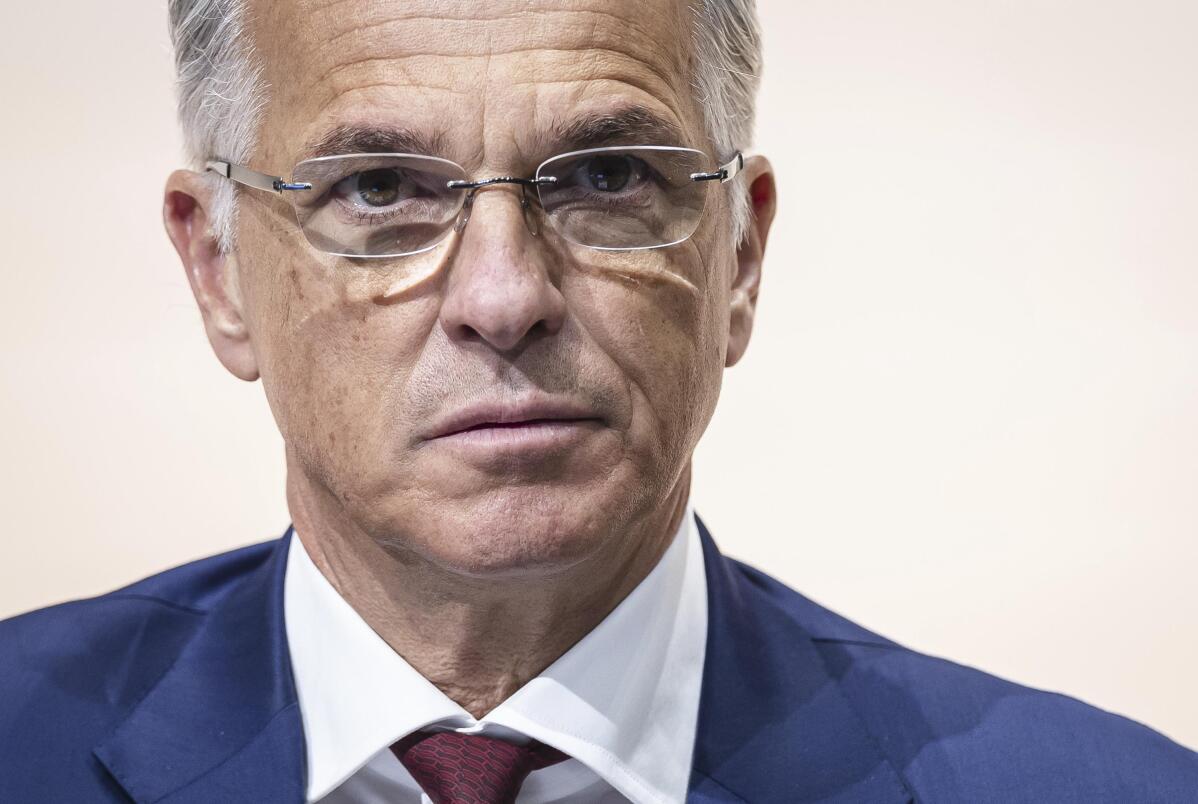 6 of 10

|
Newly appointed Group Chief Executive Officer of Swiss Bank UBS Sergio Ermotti attends a news conference in Zurich, Switzerland Wednesday, March 29, 2023. (Michael Buholzer/Keystone via AP)
7 of 10

|
Newly appointed Group Chief Executive Officer of Swiss Bank UBS Sergio Ermotti attends a news conference in Zurich, Switzerland Wednesday, March 29, 2023. (Michael Buholzer/Keystone via AP)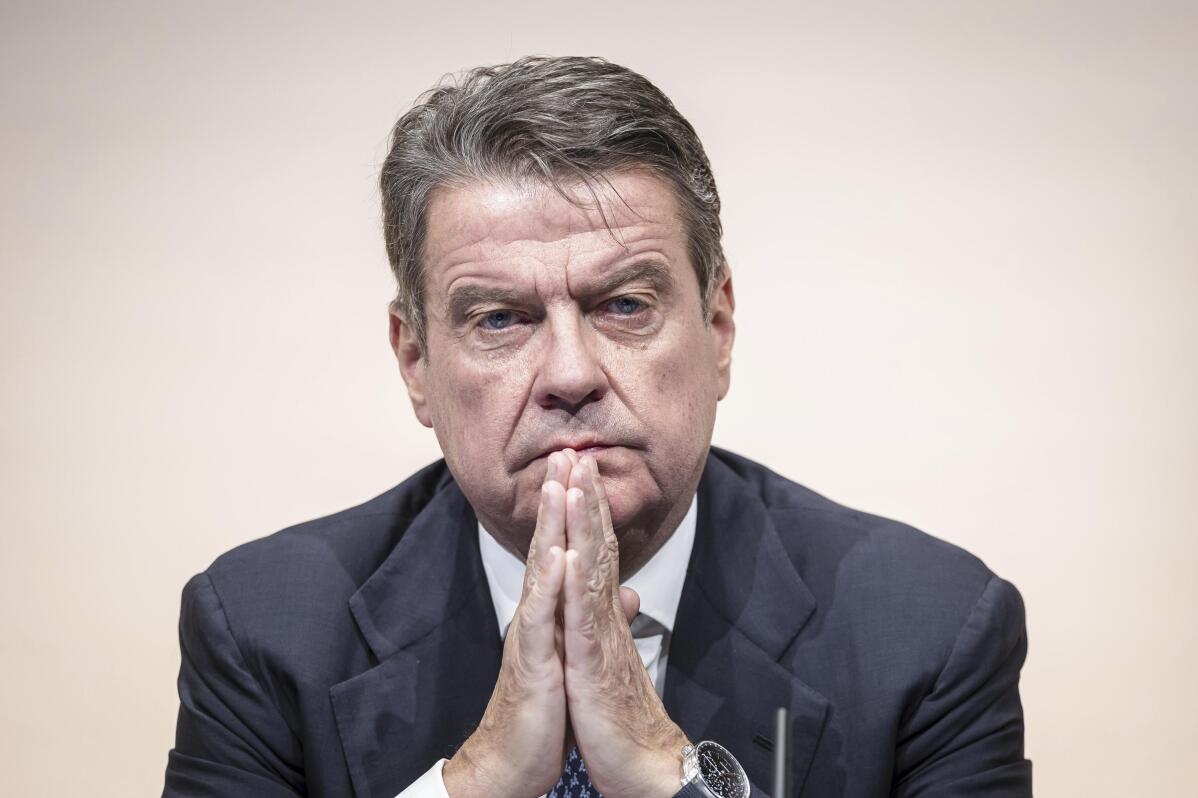 8 of 10

|
UBS Chairman Colm Kelleher attends a news conference in Zurich, Switzerland Wednesday, March 29, 2023. (Michael Buholzer/Keystone via AP)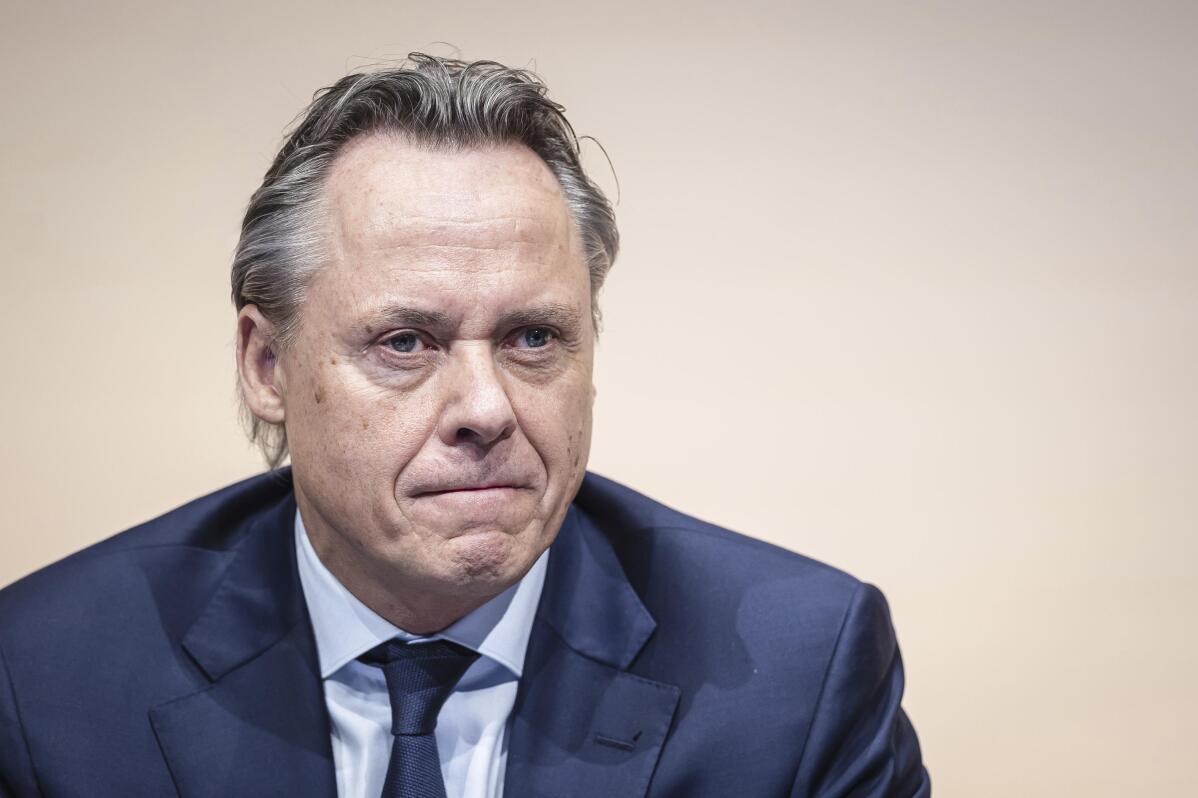 9 of 10

|
Outgoing UBS CEO Ralph Hamers attends a news conference in Zurich, Switzerland Wednesday, March 29, 2023. (Michael Buholzer/Keystone via AP)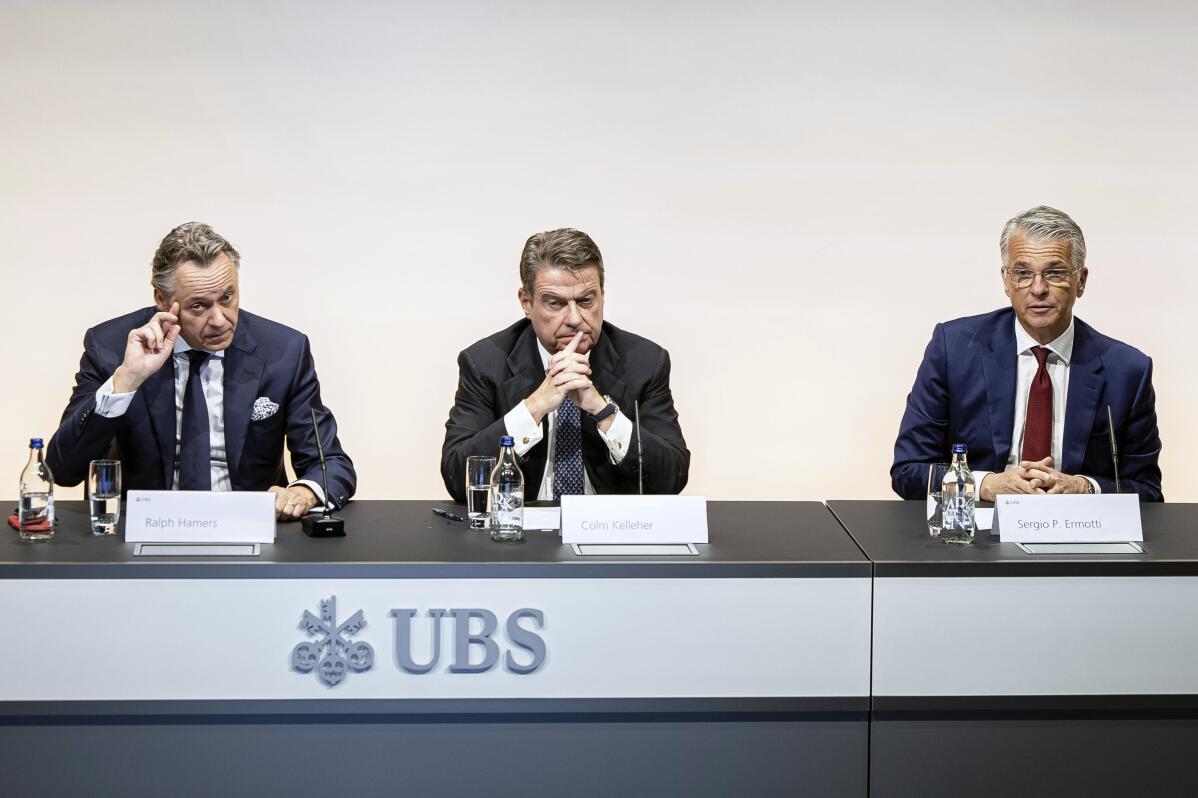 10 of 10

|
Newly appointed Group Chief Executive Officer of Swiss Bank UBS Sergio Ermotti, right, UBS Chairman Colm Kelleher, center, and outgoing CEO Ralph Hamers attend a news conference in Zurich, Switzerland Wednesday, March 29, 2023. (Michael Buholzer/Keystone via AP)
UBS brings back Ermotti as CEO with Credit Suisse deal ahead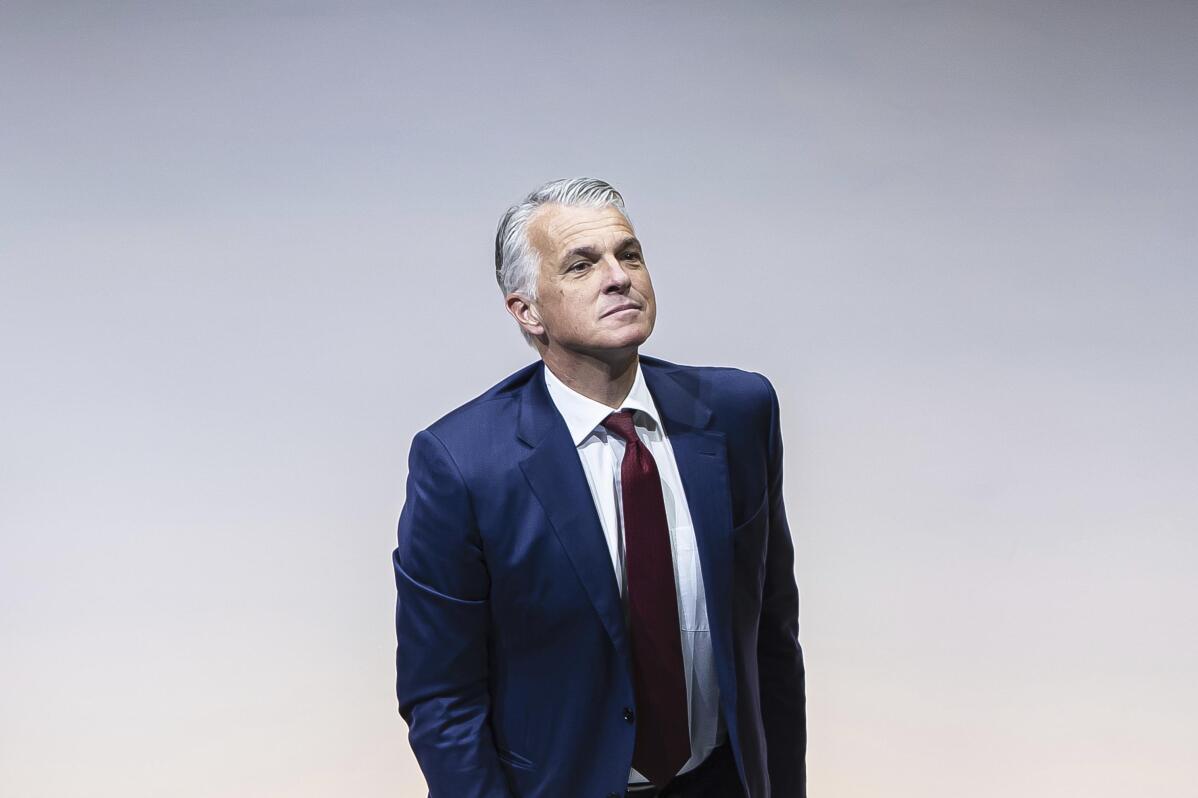 1 of 10

|
Newly appointed Group Chief Executive Officer of Swiss Bank UBS Sergio Ermotti arrives for a news conference in Zurich, Switzerland Wednesday, March 29, 2023. (Michael Buholzer/Keystone via AP)
1 of 10
Newly appointed Group Chief Executive Officer of Swiss Bank UBS Sergio Ermotti arrives for a news conference in Zurich, Switzerland Wednesday, March 29, 2023. (Michael Buholzer/Keystone via AP)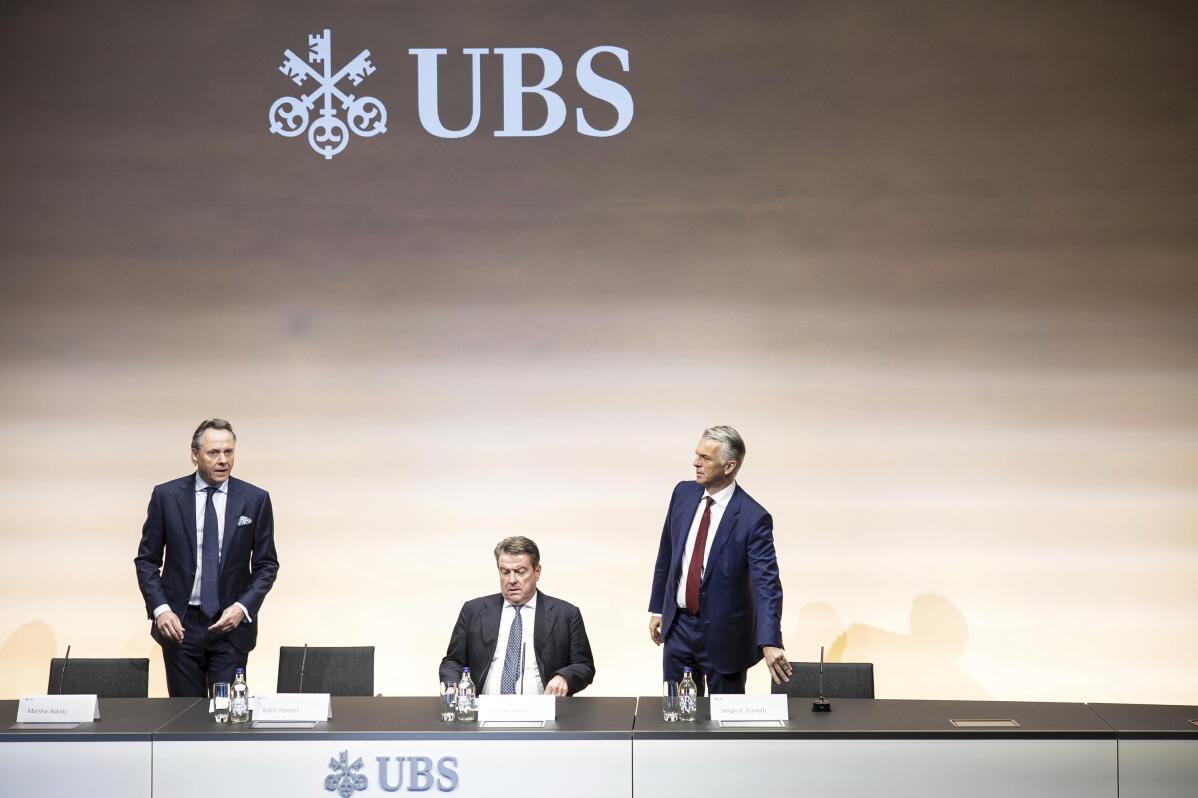 2 of 10

|
Newly appointed Group Chief Executive Officer of Swiss Bank UBS Sergio Ermotti, right, UBS Chairman Colm Kelleher, center, and outgoing CEO Ralph Hamers attend a news conference in Zurich, Switzerland Wednesday, March 29, 2023. (Michael Buholzer/Keystone via AP)
2 of 10
Newly appointed Group Chief Executive Officer of Swiss Bank UBS Sergio Ermotti, right, UBS Chairman Colm Kelleher, center, and outgoing CEO Ralph Hamers attend a news conference in Zurich, Switzerland Wednesday, March 29, 2023. (Michael Buholzer/Keystone via AP)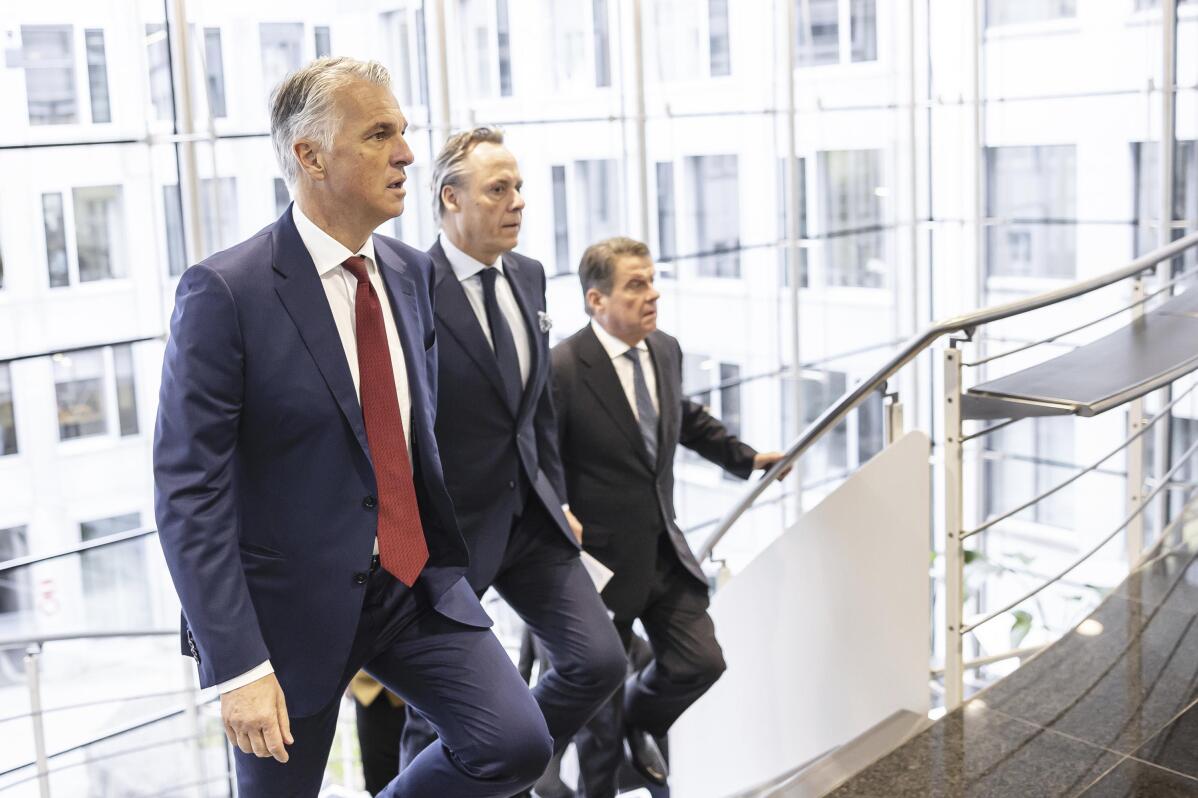 3 of 10

|
Newly appointed Group Chief Executive Officer of Swiss Bank UBS Sergio Ermotti, left, outgoing CEO Ralph Hamers, center, and UBS Chairman Colm Kelleher, right, arrive for a news conference in Zurich, Switzerland Wednesday, March 29, 2023. (Michael Buholzer/Keystone via AP)
3 of 10
Newly appointed Group Chief Executive Officer of Swiss Bank UBS Sergio Ermotti, left, outgoing CEO Ralph Hamers, center, and UBS Chairman Colm Kelleher, right, arrive for a news conference in Zurich, Switzerland Wednesday, March 29, 2023. (Michael Buholzer/Keystone via AP)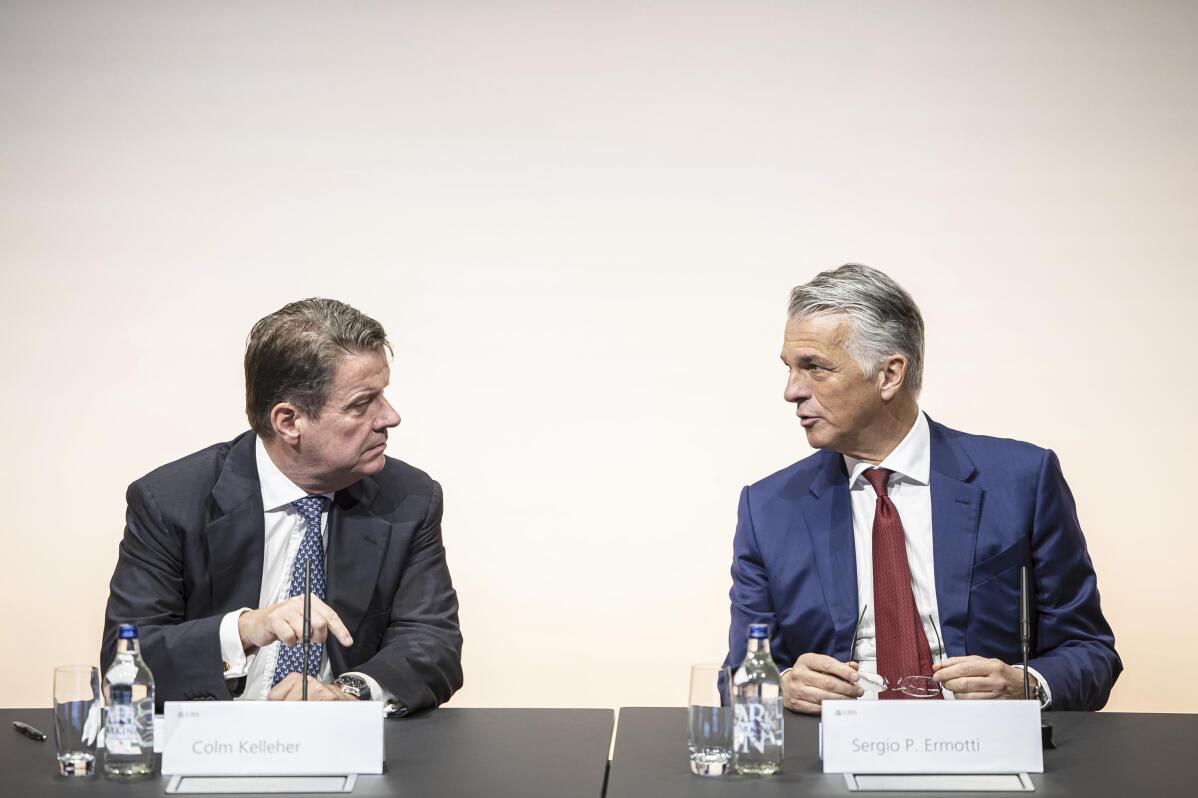 4 of 10

|
Newly appointed Group Chief Executive Officer of Swiss Bank UBS Sergio Ermotti, right, UBS Chairman Colm Kelleher, left, speak during a news conference in Zurich, Switzerland Wednesday, March 29, 2023. (Michael Buholzer/Keystone via AP)
4 of 10
Newly appointed Group Chief Executive Officer of Swiss Bank UBS Sergio Ermotti, right, UBS Chairman Colm Kelleher, left, speak during a news conference in Zurich, Switzerland Wednesday, March 29, 2023. (Michael Buholzer/Keystone via AP)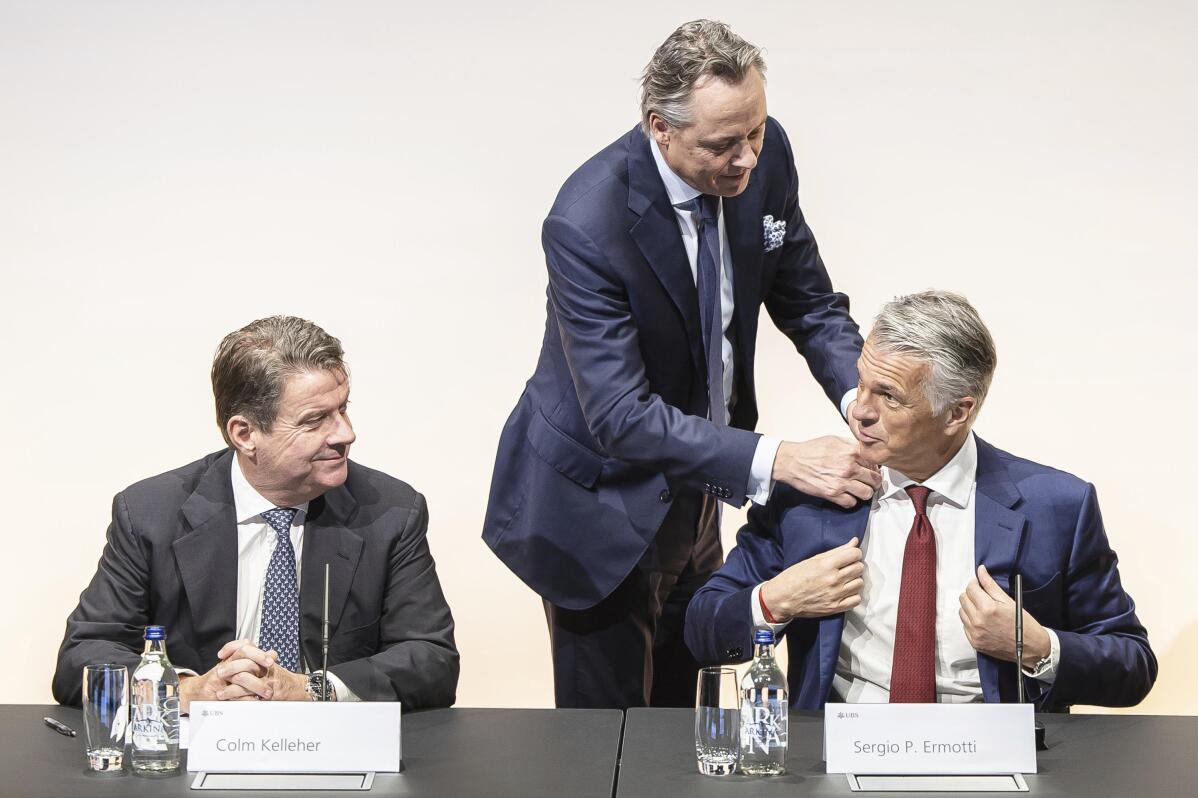 5 of 10

|
Newly appointed Group Chief Executive Officer of Swiss Bank UBS Sergio Ermotti, right, outgoing CEO Ralph Hamers, centre, and UBS Chairman Colm Kelleher, left, arrive for a news conference in Zurich, Switzerland Wednesday, March 29, 2023. (Michael Buholzer/Keystone via AP)
5 of 10
Newly appointed Group Chief Executive Officer of Swiss Bank UBS Sergio Ermotti, right, outgoing CEO Ralph Hamers, centre, and UBS Chairman Colm Kelleher, left, arrive for a news conference in Zurich, Switzerland Wednesday, March 29, 2023. (Michael Buholzer/Keystone via AP)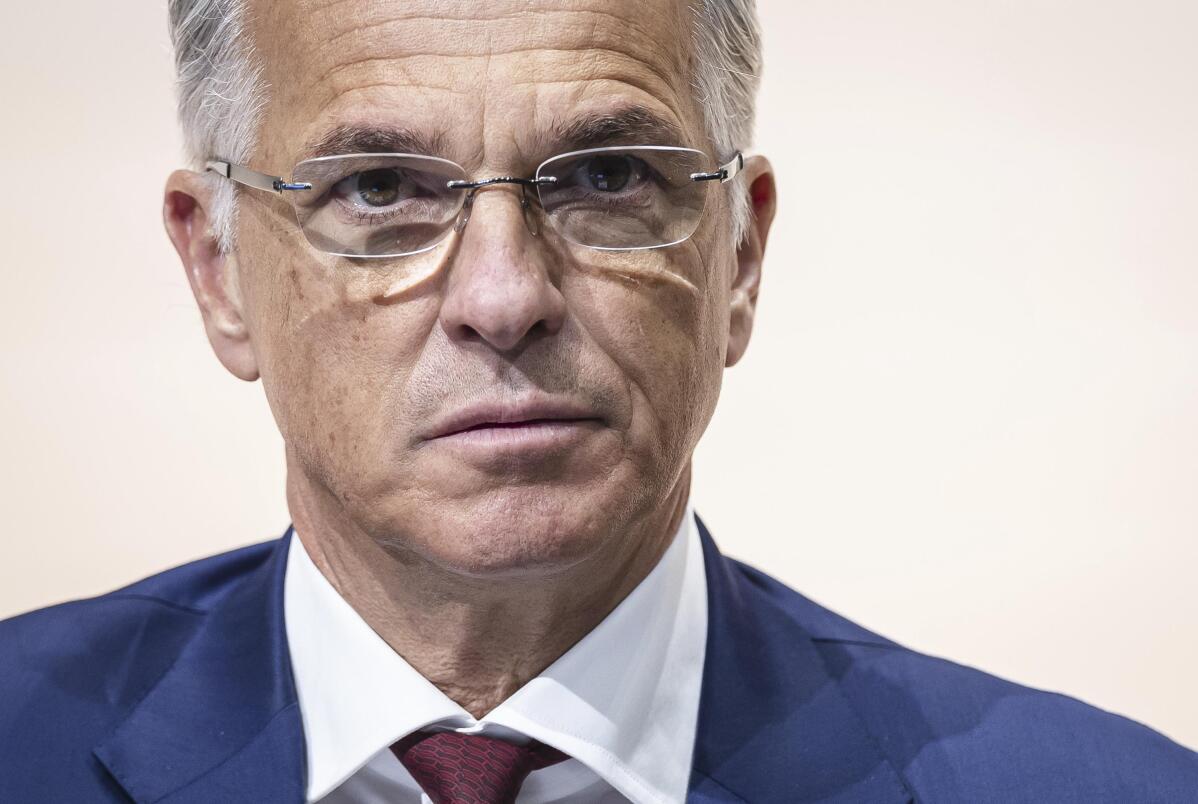 6 of 10

|
Newly appointed Group Chief Executive Officer of Swiss Bank UBS Sergio Ermotti attends a news conference in Zurich, Switzerland Wednesday, March 29, 2023. (Michael Buholzer/Keystone via AP)
6 of 10
Newly appointed Group Chief Executive Officer of Swiss Bank UBS Sergio Ermotti attends a news conference in Zurich, Switzerland Wednesday, March 29, 2023. (Michael Buholzer/Keystone via AP)
7 of 10

|
Newly appointed Group Chief Executive Officer of Swiss Bank UBS Sergio Ermotti attends a news conference in Zurich, Switzerland Wednesday, March 29, 2023. (Michael Buholzer/Keystone via AP)
7 of 10
Newly appointed Group Chief Executive Officer of Swiss Bank UBS Sergio Ermotti attends a news conference in Zurich, Switzerland Wednesday, March 29, 2023. (Michael Buholzer/Keystone via AP)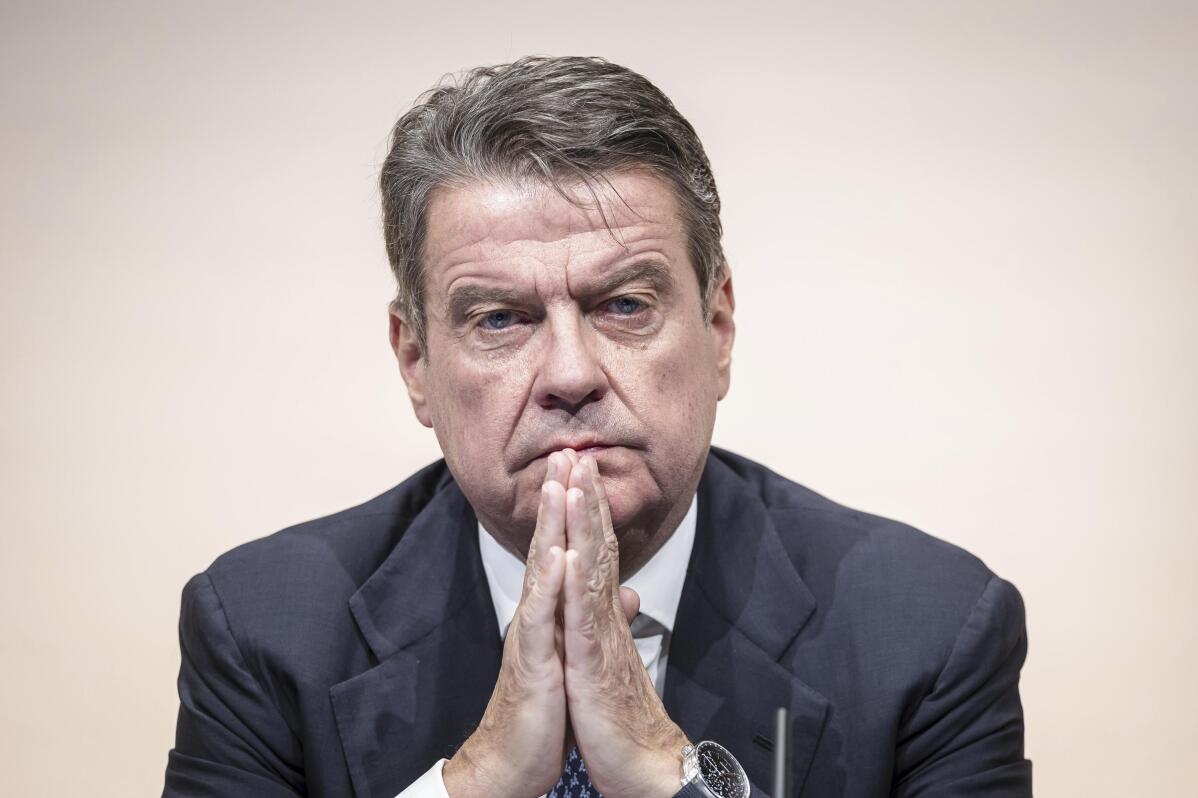 8 of 10

|
UBS Chairman Colm Kelleher attends a news conference in Zurich, Switzerland Wednesday, March 29, 2023. (Michael Buholzer/Keystone via AP)
8 of 10
UBS Chairman Colm Kelleher attends a news conference in Zurich, Switzerland Wednesday, March 29, 2023. (Michael Buholzer/Keystone via AP)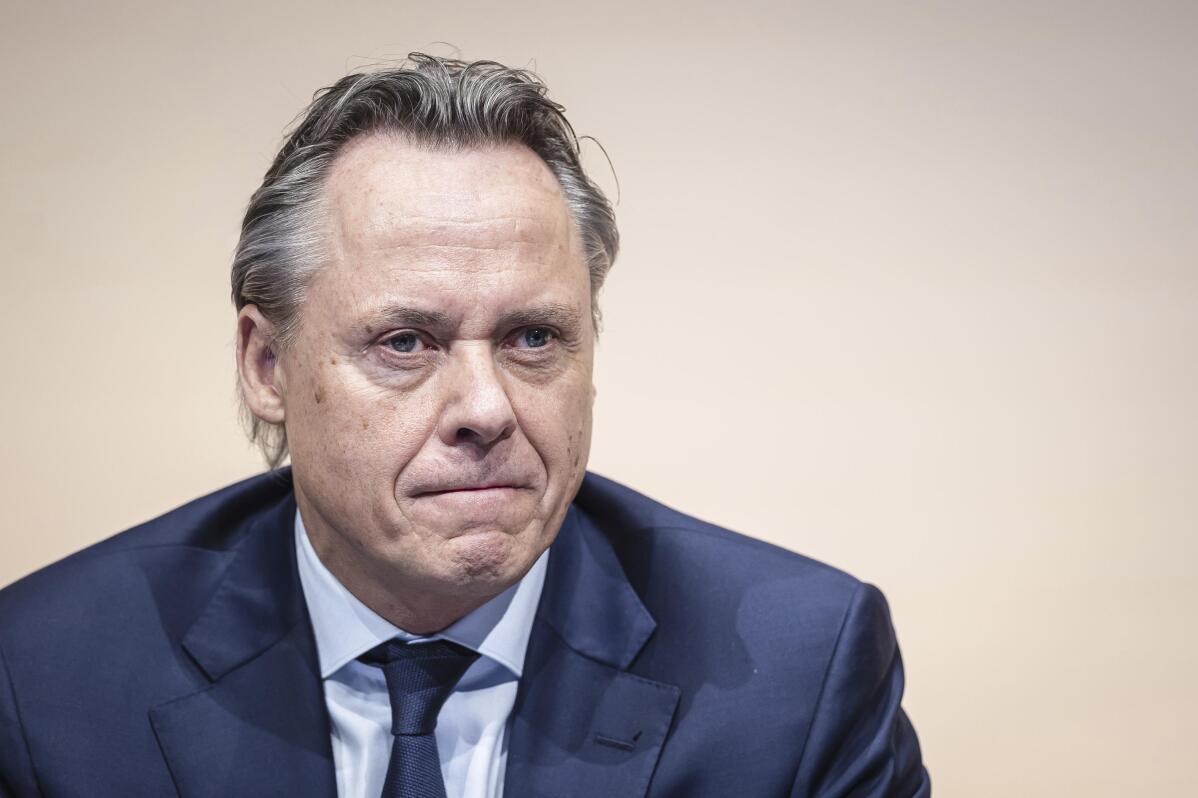 9 of 10

|
Outgoing UBS CEO Ralph Hamers attends a news conference in Zurich, Switzerland Wednesday, March 29, 2023. (Michael Buholzer/Keystone via AP)
9 of 10
Outgoing UBS CEO Ralph Hamers attends a news conference in Zurich, Switzerland Wednesday, March 29, 2023. (Michael Buholzer/Keystone via AP)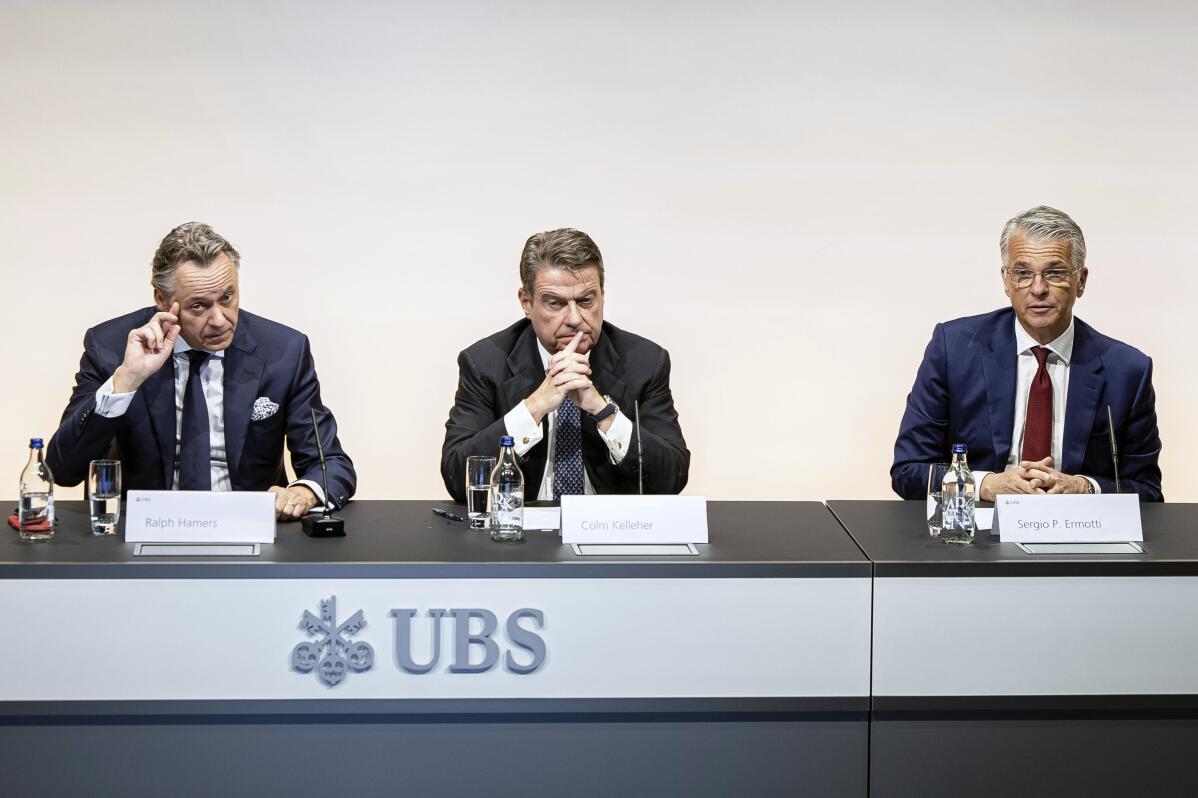 10 of 10

|
Newly appointed Group Chief Executive Officer of Swiss Bank UBS Sergio Ermotti, right, UBS Chairman Colm Kelleher, center, and outgoing CEO Ralph Hamers attend a news conference in Zurich, Switzerland Wednesday, March 29, 2023. (Michael Buholzer/Keystone via AP)
10 of 10
Newly appointed Group Chief Executive Officer of Swiss Bank UBS Sergio Ermotti, right, UBS Chairman Colm Kelleher, center, and outgoing CEO Ralph Hamers attend a news conference in Zurich, Switzerland Wednesday, March 29, 2023. (Michael Buholzer/Keystone via AP)
GENEVA (AP) — UBS said Wednesday that it's bringing back former CEO Sergio Ermotti to lead the Swiss bank as it executes a government-orchestrated plan to take over struggling rival Credit Suisse.
Ermotti, who was the bank's top executive for nine years and led a turnaround following the 2008 global financial crisis, will take over next Wednesday from CEO Ralph Hamers.
Hamers took up the job in November 2020 and will remain at UBS during a transition period "to ensure a successful closure of the transaction and a smooth handover," the bank said in a statement.
"Whilst Ralph was capable of doing the job, we felt that Sergio was better suited to navigating these things," Chairman Colm Kelleher said on a conference call, alluding to the UBS board decision. "I cannot reemphasize how big this deal is in terms of financial history and financial engineering that's required."
UBS credited Ermotti, who is now chairman of insurer Swiss Re, for having "cut its footprint" and changing the culture of the bank — and it pointed to his experience in bringing big financial institutions together.
Ermotti, who hails from the southern, mostly Italian-speaking Swiss region of Ticino, acknowledged that "coming back to manage this situation is a challenge" but felt "a sense of call-of-duty aspect" to return.
Plus, he said he had contemplated a tie-up like the one with Credit Suisse while previously in the top job, and it would be a bit of a "contradiction" for him not to accept the post "to basically execute on what I believe was the right next move for UBS."
Kelleher said he called Ermotti "to explore the possibility of this" a day after the emergency takeover deal was settled on March 19, which involved Swiss regulators, the federal government and top executives at both banks.
"This is is the biggest single financial transaction since 2008. That brings significant execution risk," Kelleher said.
The hastily arranged, $3.25 billion deal for Credit Suisse aimed to stem the upheaval in the global financial system after the collapse of two U.S. banks and jitters about long-running troubles at Credit Suisse led shares of Switzerland's second-largest bank to tank and customers to pull out their money.
Swiss authorities urged UBS to take over its smaller rival after the central bank's plan for Credit Suisse to borrow up to 50 billion francs ($54 billion) failed to reassure investors and customers. The Swiss executive branch passed emergency measures to bypass shareholder approval.
Uncertainties still lie ahead, including a U.S. Senate committee report released Wednesday that says Credit Suisse violated a plea agreement with U.S. authorities by failing to report secret offshore accounts that wealthy Americans used to avoid paying taxes.
UBS said it assessed outstanding lawsuits and investigations as part of the Credit Suisse acquisition and expects the deal to be beneficial for shareholders. It says it's working to close the sale and get approval from regulators in the coming weeks or months.
Hamers, the outgoing CEO, said UBS executives want to ensure "a digestible transaction" in terms of risk. He said there were plans to "manage down the investment bank" at Credit Suisse because many of the activities were not central for UBS.
UBS leaders announced no immediate plan about job cuts linked to the deal.
Swiss lawmakers and academics have raised concerns that the deal could create an unwieldy Swiss banking behemoth, while UBS executives said regulatory issues loom internationally before the deal can close.
Ermotti suggested he didn't view "too big too fail" concerns as a problem.
"I do think that scale and size is not a problem if it is focused and well-managed," he said. "For me, the debate nowadays is not 'too big to fail' but 'too small to survive' — and we want to be a winner."
Many Credit Suisse customers have expressed regret at the looming disappearance of a 167-year-old bank that has been a pillar of Switzerland's renowned banking and financial industry.
Shares of UBS and Credit Suisse closed up 3.7% and 4%, respectively, on the Swiss stock exchange — though European bank stocks overall ended higher.