No. 19 UCLA women beat No. 21 Arizona in Pac-12 tourney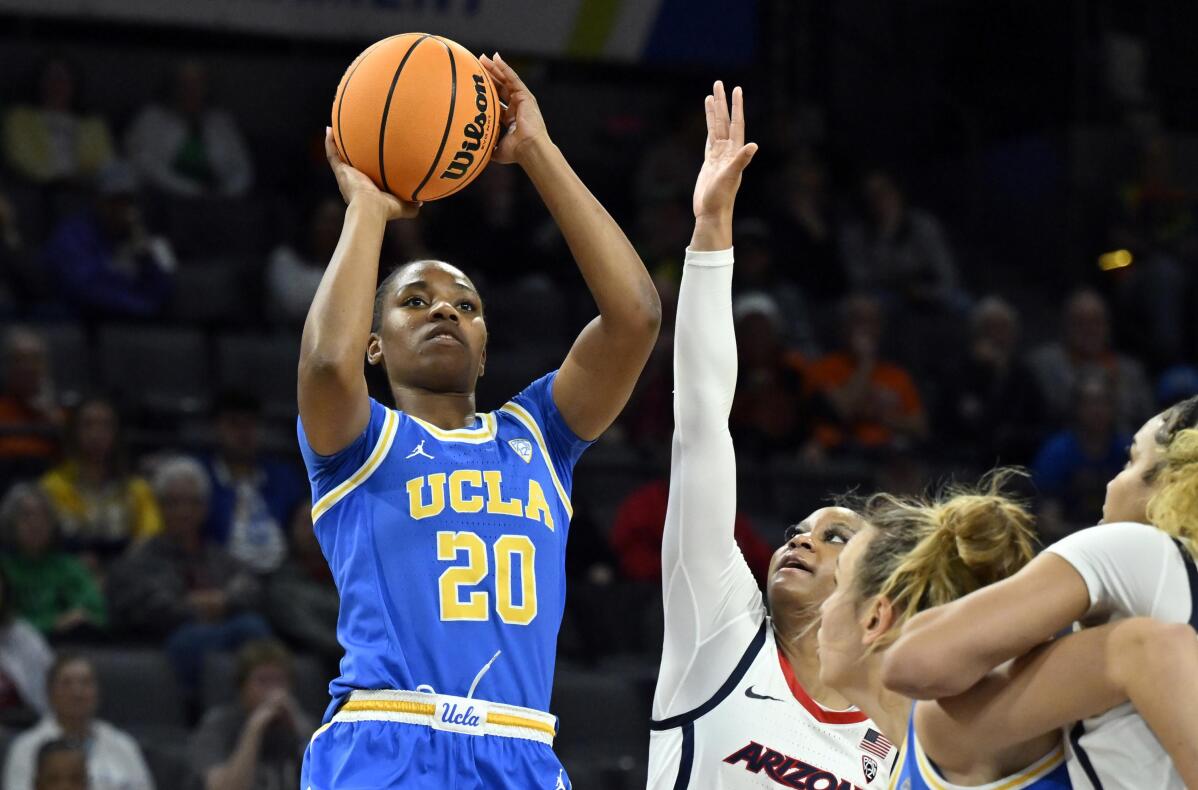 1 of 10

|
UCLA guard Charisma Osborne (20) shoots against Arizona during the first half of an NCAA college basketball game in the quarterfinal round of the Pac-12 women's tournament Thursday, March 2, 2023, in Las Vegas. (AP Photo/David Becker)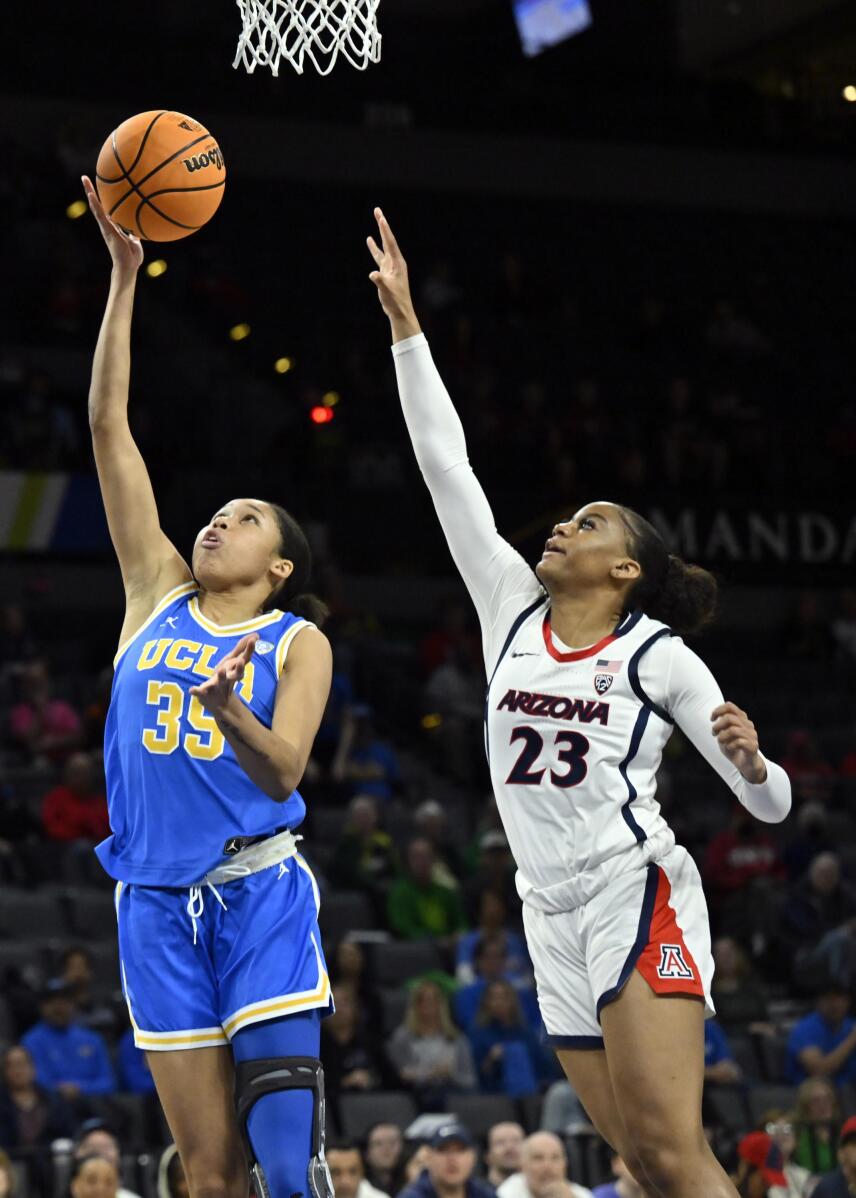 2 of 10

|
UCLA guard Camryn Brown (35) shoots against Arizona guard Lauren Fields during the first half of an NCAA college basketball game in the quarterfinal round of the Pac-12 women's tournament Thursday, March 2, 2023, in Las Vegas. (AP Photo/David Becker)
3 of 10

|
UCLA guard Londynn Jones (3) drives against Arizona guard Helena Pueyo during the first half of an NCAA college basketball game in the quarterfinal round of the Pac-12 women's tournament Thursday, March 2, 2023, in Las Vegas. (AP Photo/David Becker)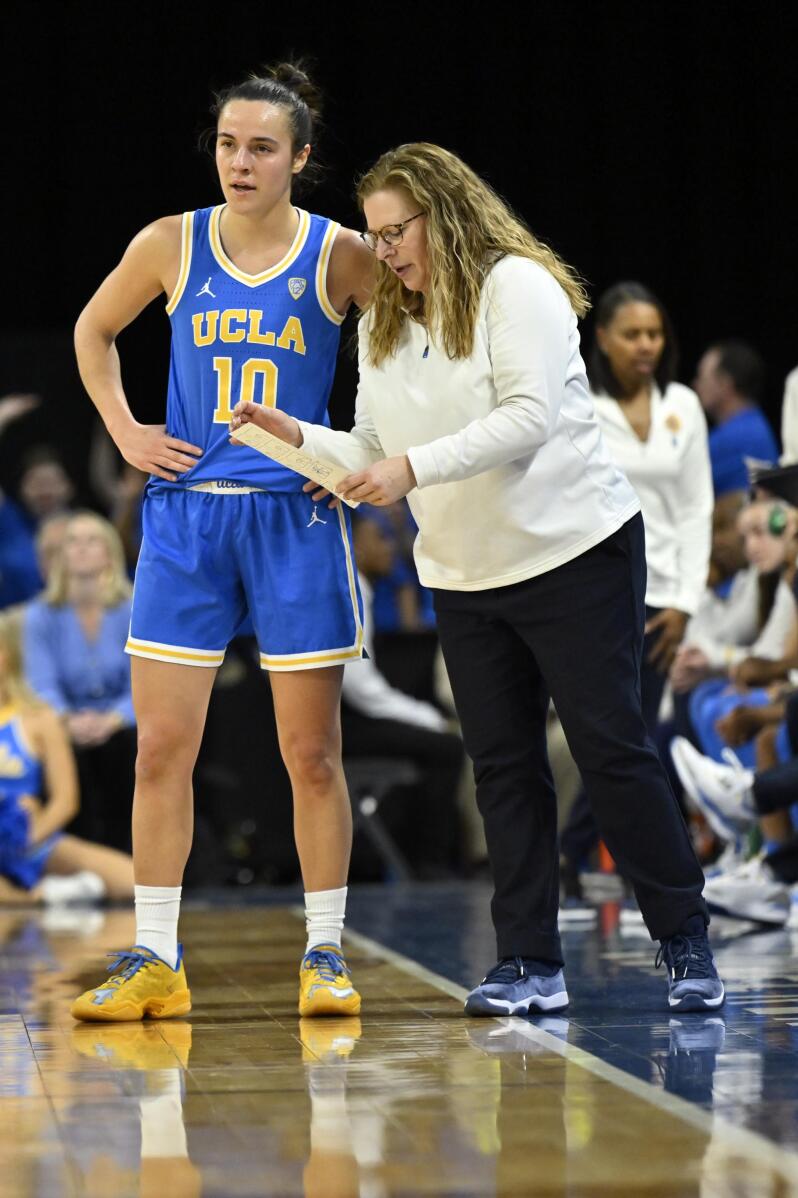 4 of 10

|
UCLA guard Gina Conti (10) and head coach Cori Close talk during a timeout during the first half of an NCAA college basketball game against Arizona in the quarterfinal round of the Pac-12 women's tournament Thursday, March 2, 2023, in Las Vegas. (AP Photo/David Becker)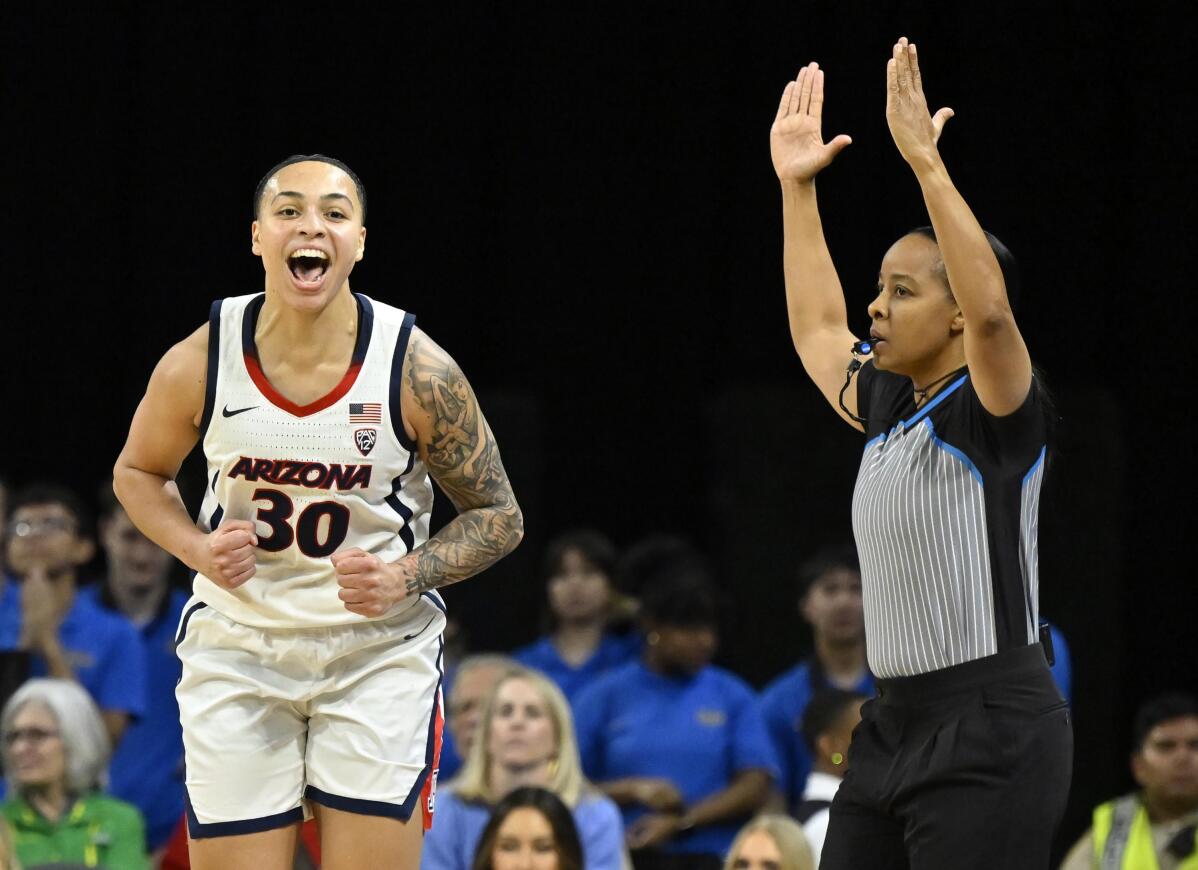 5 of 10

|
Arizona guard Jade Loville (30) reacts after a three-point basket during the first half of an NCAA college basketball game against the UCLA in the quarterfinal round of the Pac-12 women's tournament Thursday, March 2, 2023, in Las Vegas. (AP Photo/David Becker)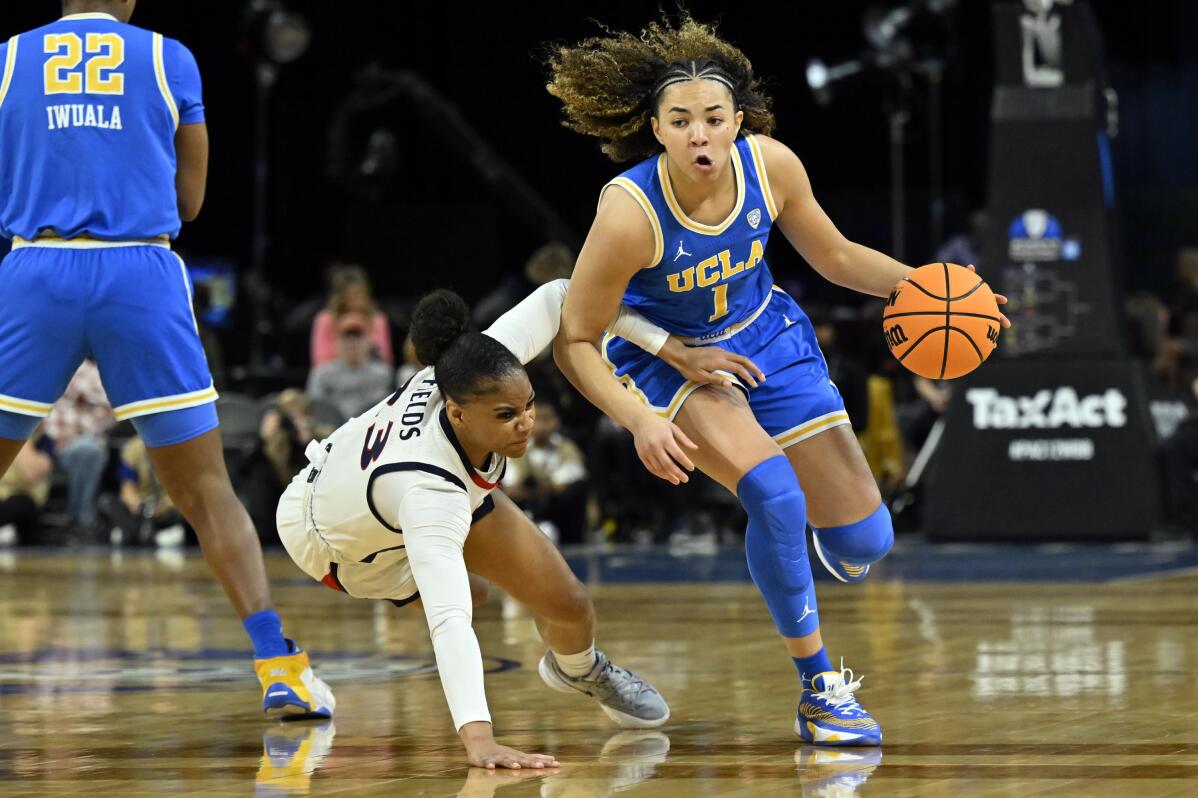 6 of 10

|
UCLA guard Kiki Rice (1) drives against Arizona guard Lauren Fields during the first half of an NCAA college basketball game in the quarterfinal round of the Pac-12 women's tournament Thursday, March 2, 2023, in Las Vegas. (AP Photo/David Becker)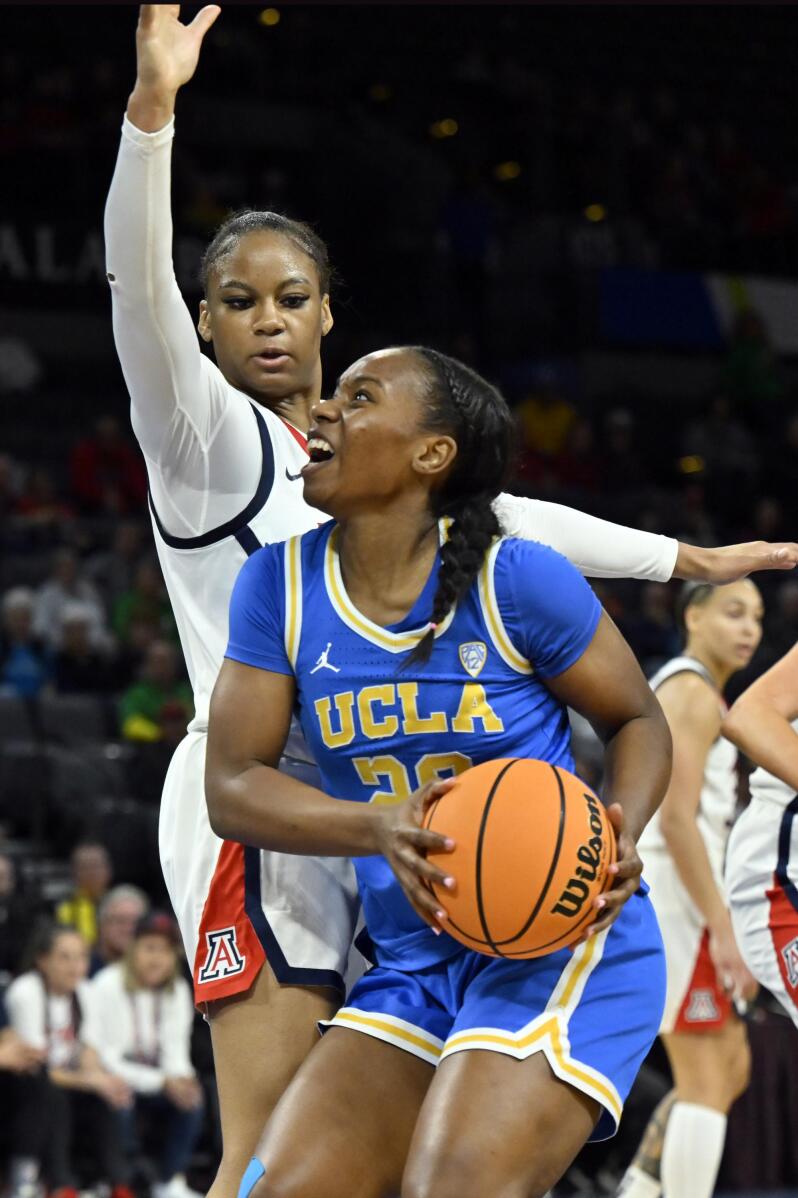 7 of 10

|
UCLA guard Charisma Osborne (20) looks to shoot against Arizona guard Lauren Fields, top, during the first half of an NCAA college basketball game in the quarterfinal round of the Pac-12 women's tournament Thursday, March 2, 2023, in Las Vegas. (AP Photo/David Becker)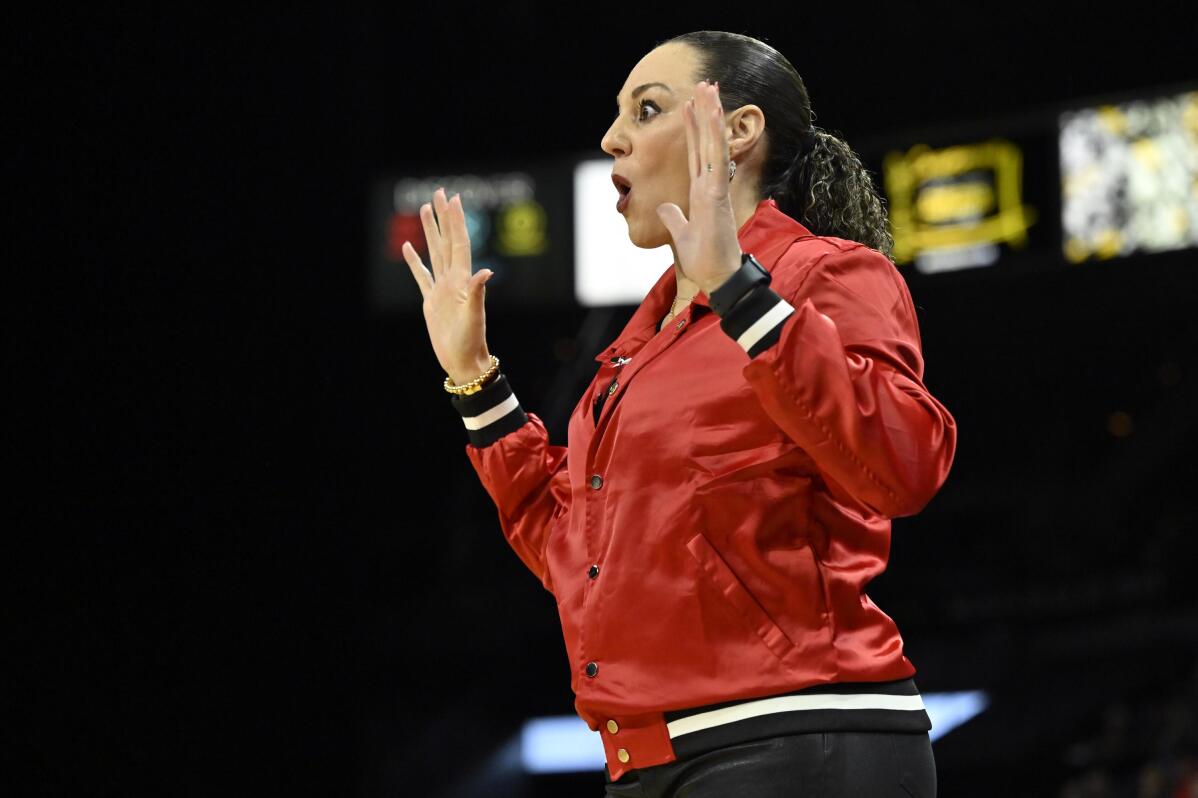 8 of 10

|
Arizona head coach Adia Barnes gestures on the sidelines during the first half of an NCAA college basketball game against UCLA in the quarterfinal round of the Pac-12 women's tournament Thursday, March 2, 2023, in Las Vegas. (AP Photo/David Becker)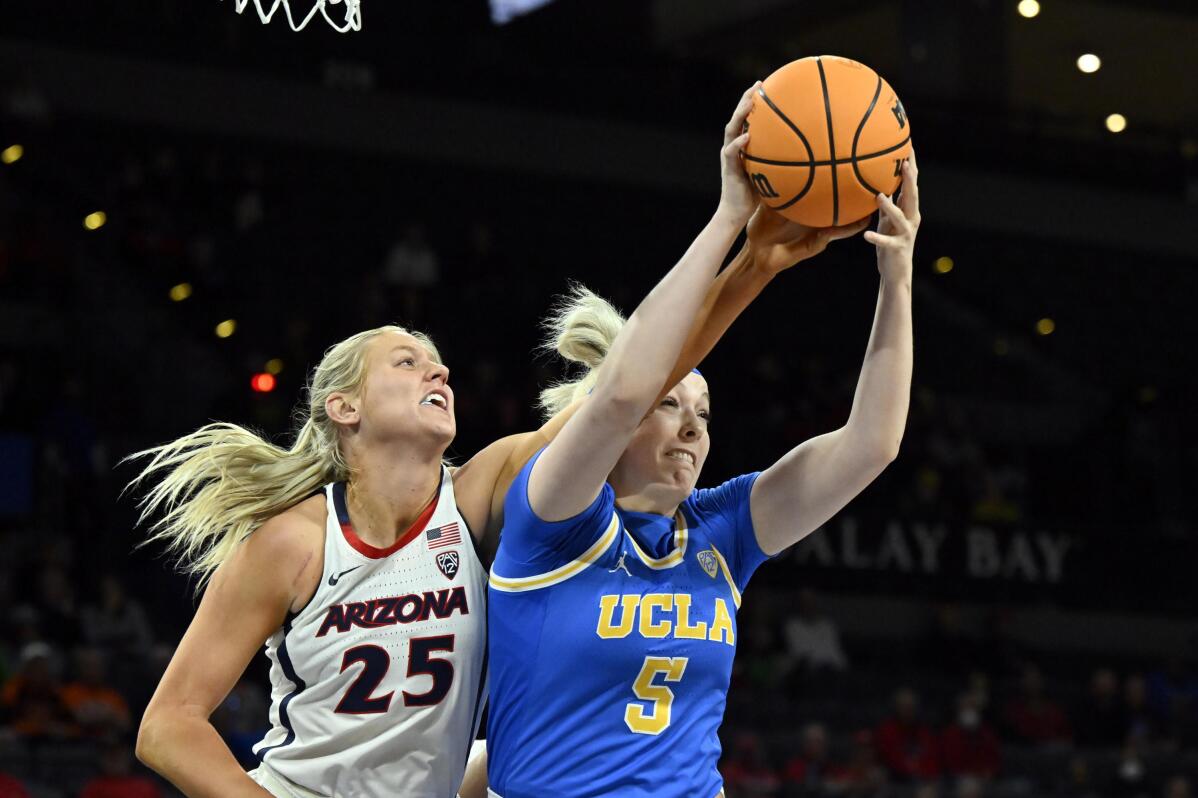 9 of 10

|
Arizona forward Cate Reese (25) defends against UCLA forward Brynn Masikewich during the first half of an NCAA college basketball game in the quarterfinal round of the Pac-12 women's tournament Thursday, March 2, 2023, in Las Vegas. (AP Photo/David Becker)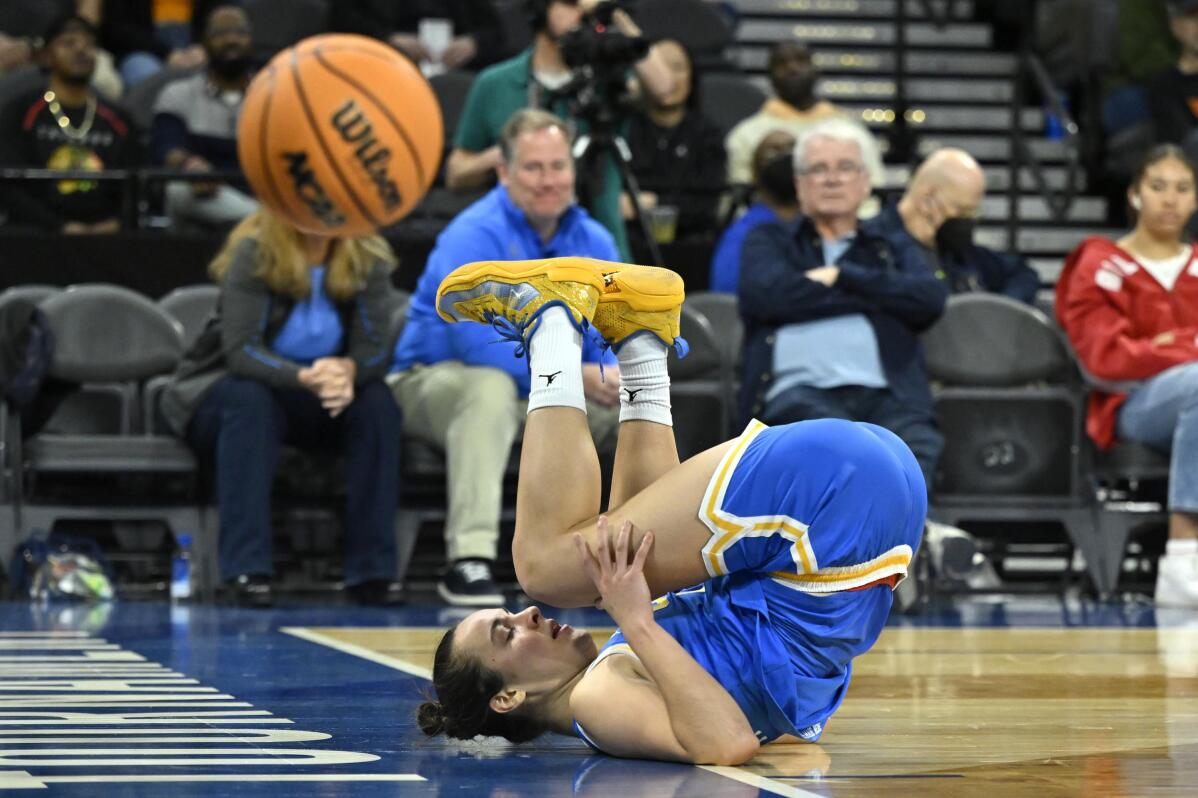 10 of 10

|
UCLA guard Gina Conti rolls on the court after a shot attempt against Arizona during the first half of an NCAA college basketball game in the quarterfinal round of the Pac-12 women's tournament Thursday, March 2, 2023, in Las Vegas. (AP Photo/David Becker)
No. 19 UCLA women beat No. 21 Arizona in Pac-12 tourney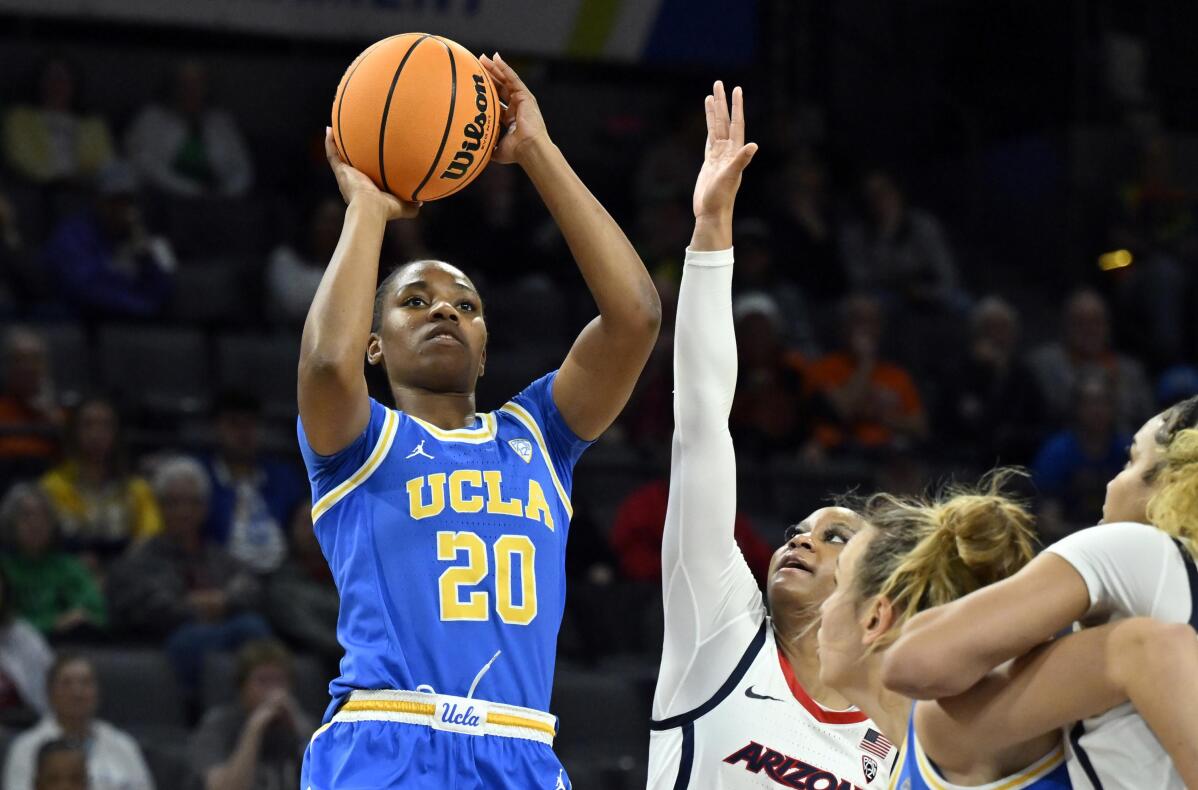 1 of 10

|
UCLA guard Charisma Osborne (20) shoots against Arizona during the first half of an NCAA college basketball game in the quarterfinal round of the Pac-12 women's tournament Thursday, March 2, 2023, in Las Vegas. (AP Photo/David Becker)
1 of 10
UCLA guard Charisma Osborne (20) shoots against Arizona during the first half of an NCAA college basketball game in the quarterfinal round of the Pac-12 women's tournament Thursday, March 2, 2023, in Las Vegas. (AP Photo/David Becker)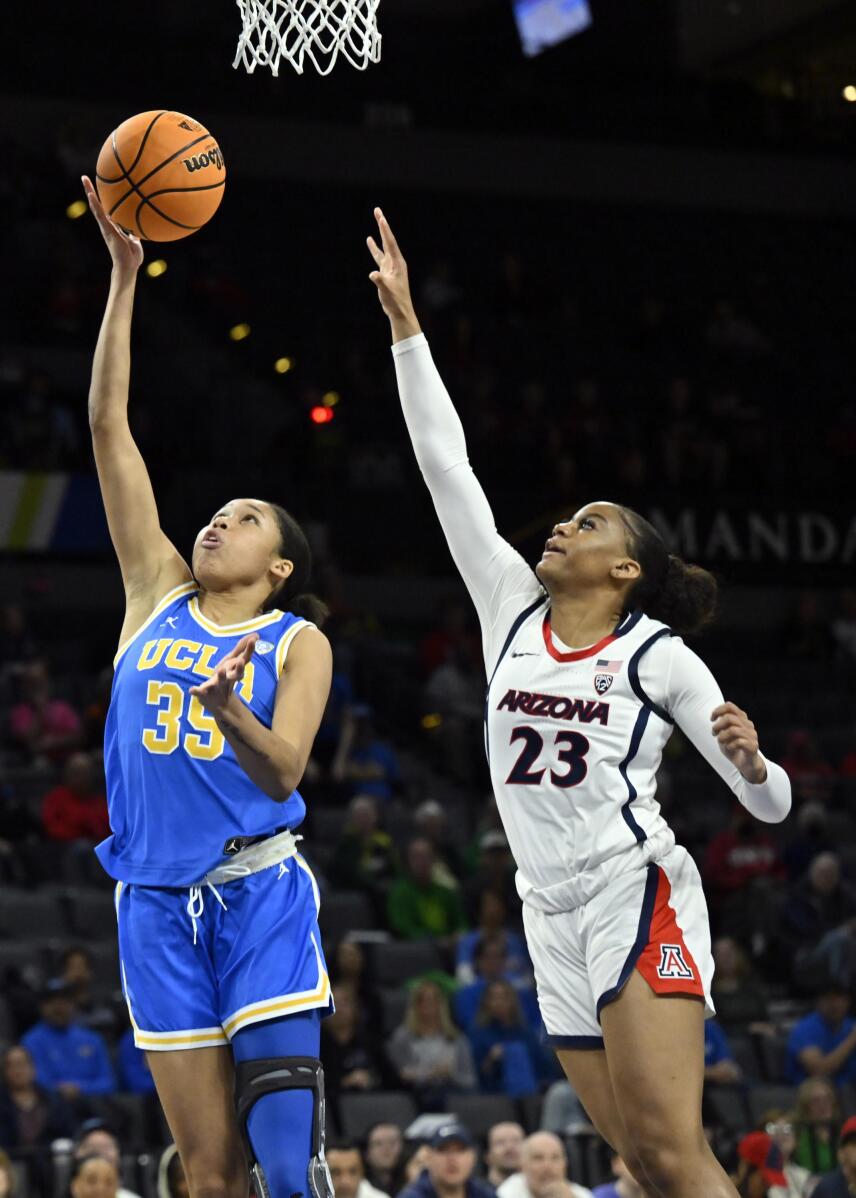 2 of 10

|
UCLA guard Camryn Brown (35) shoots against Arizona guard Lauren Fields during the first half of an NCAA college basketball game in the quarterfinal round of the Pac-12 women's tournament Thursday, March 2, 2023, in Las Vegas. (AP Photo/David Becker)
2 of 10
UCLA guard Camryn Brown (35) shoots against Arizona guard Lauren Fields during the first half of an NCAA college basketball game in the quarterfinal round of the Pac-12 women's tournament Thursday, March 2, 2023, in Las Vegas. (AP Photo/David Becker)
3 of 10

|
UCLA guard Londynn Jones (3) drives against Arizona guard Helena Pueyo during the first half of an NCAA college basketball game in the quarterfinal round of the Pac-12 women's tournament Thursday, March 2, 2023, in Las Vegas. (AP Photo/David Becker)
3 of 10
UCLA guard Londynn Jones (3) drives against Arizona guard Helena Pueyo during the first half of an NCAA college basketball game in the quarterfinal round of the Pac-12 women's tournament Thursday, March 2, 2023, in Las Vegas. (AP Photo/David Becker)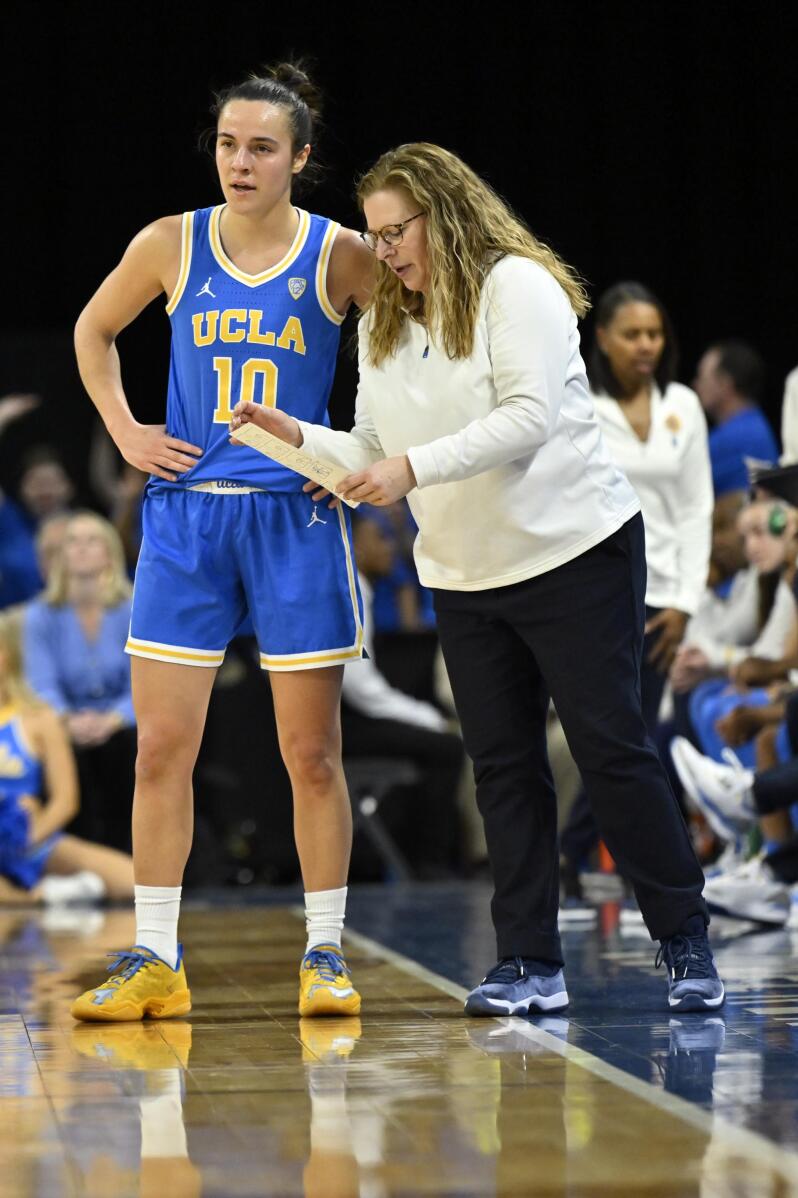 4 of 10

|
UCLA guard Gina Conti (10) and head coach Cori Close talk during a timeout during the first half of an NCAA college basketball game against Arizona in the quarterfinal round of the Pac-12 women's tournament Thursday, March 2, 2023, in Las Vegas. (AP Photo/David Becker)
4 of 10
UCLA guard Gina Conti (10) and head coach Cori Close talk during a timeout during the first half of an NCAA college basketball game against Arizona in the quarterfinal round of the Pac-12 women's tournament Thursday, March 2, 2023, in Las Vegas. (AP Photo/David Becker)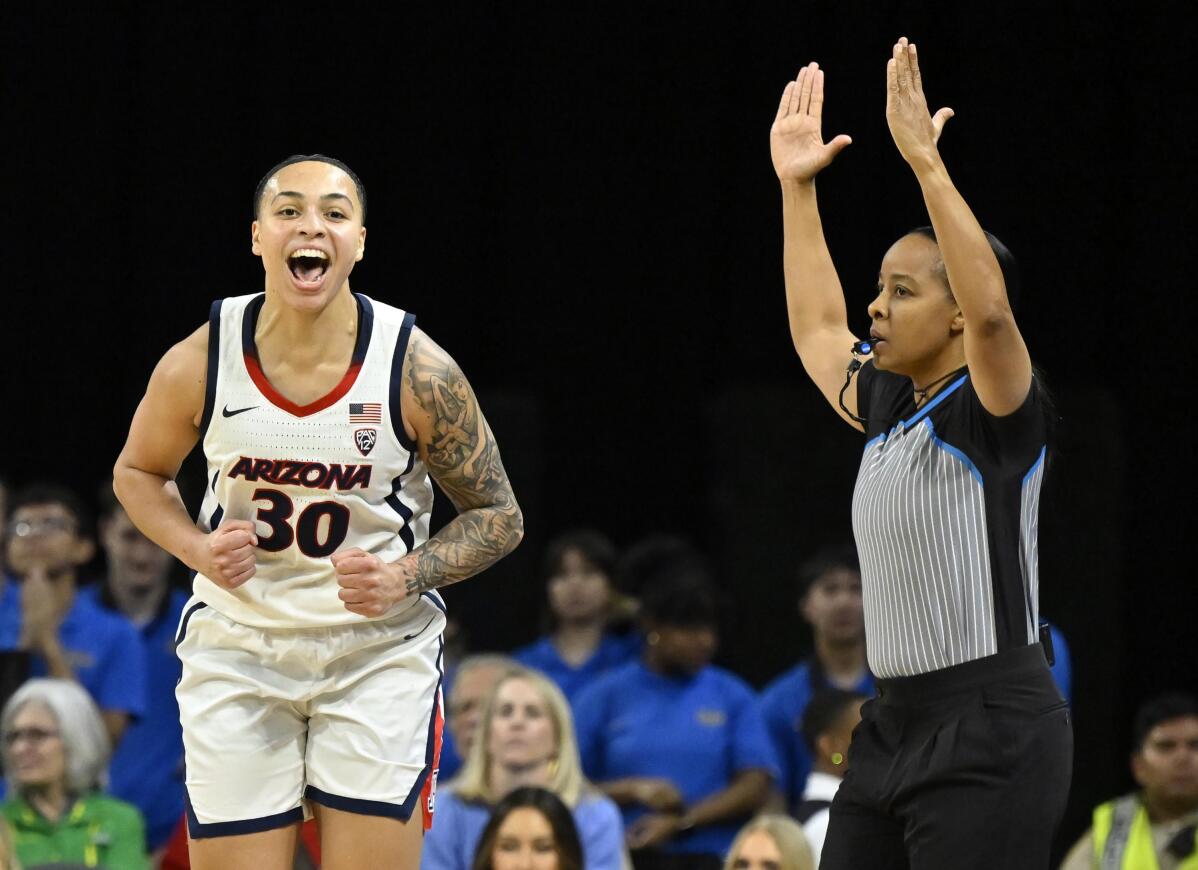 5 of 10

|
Arizona guard Jade Loville (30) reacts after a three-point basket during the first half of an NCAA college basketball game against the UCLA in the quarterfinal round of the Pac-12 women's tournament Thursday, March 2, 2023, in Las Vegas. (AP Photo/David Becker)
5 of 10
Arizona guard Jade Loville (30) reacts after a three-point basket during the first half of an NCAA college basketball game against the UCLA in the quarterfinal round of the Pac-12 women's tournament Thursday, March 2, 2023, in Las Vegas. (AP Photo/David Becker)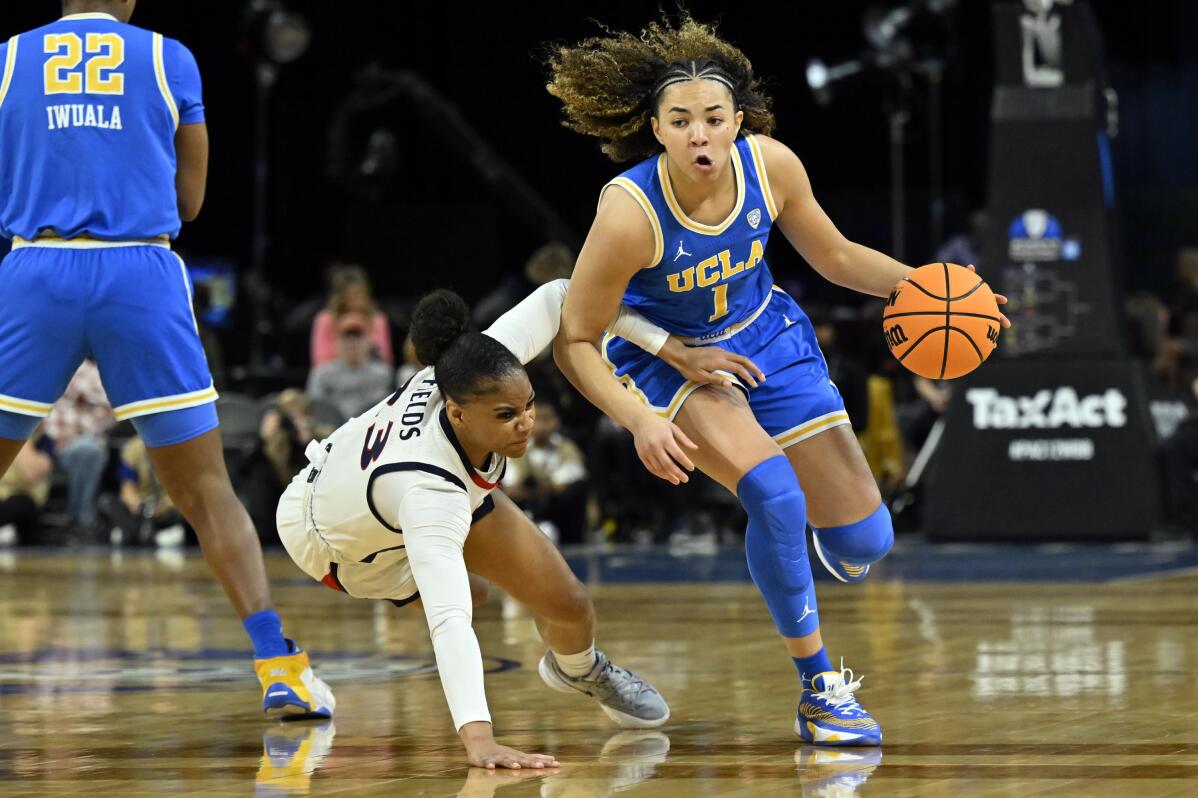 6 of 10

|
UCLA guard Kiki Rice (1) drives against Arizona guard Lauren Fields during the first half of an NCAA college basketball game in the quarterfinal round of the Pac-12 women's tournament Thursday, March 2, 2023, in Las Vegas. (AP Photo/David Becker)
6 of 10
UCLA guard Kiki Rice (1) drives against Arizona guard Lauren Fields during the first half of an NCAA college basketball game in the quarterfinal round of the Pac-12 women's tournament Thursday, March 2, 2023, in Las Vegas. (AP Photo/David Becker)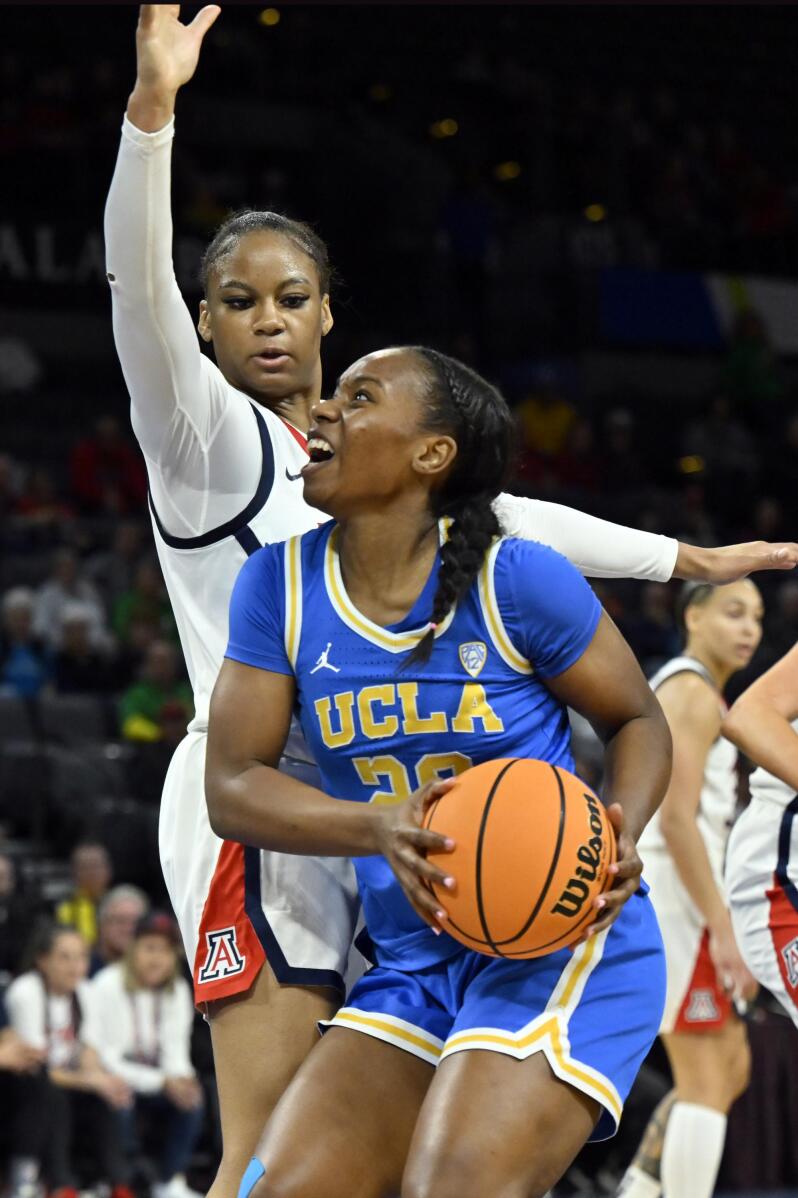 7 of 10

|
UCLA guard Charisma Osborne (20) looks to shoot against Arizona guard Lauren Fields, top, during the first half of an NCAA college basketball game in the quarterfinal round of the Pac-12 women's tournament Thursday, March 2, 2023, in Las Vegas. (AP Photo/David Becker)
7 of 10
UCLA guard Charisma Osborne (20) looks to shoot against Arizona guard Lauren Fields, top, during the first half of an NCAA college basketball game in the quarterfinal round of the Pac-12 women's tournament Thursday, March 2, 2023, in Las Vegas. (AP Photo/David Becker)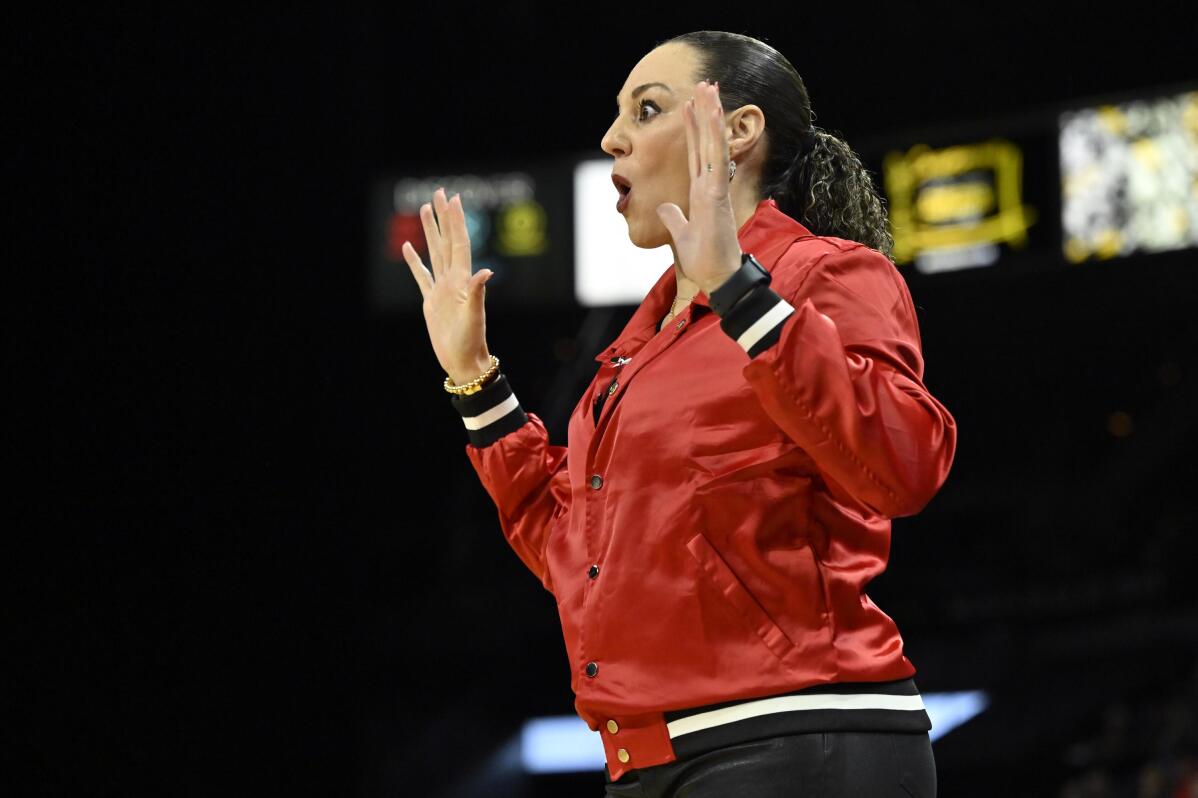 8 of 10

|
Arizona head coach Adia Barnes gestures on the sidelines during the first half of an NCAA college basketball game against UCLA in the quarterfinal round of the Pac-12 women's tournament Thursday, March 2, 2023, in Las Vegas. (AP Photo/David Becker)
8 of 10
Arizona head coach Adia Barnes gestures on the sidelines during the first half of an NCAA college basketball game against UCLA in the quarterfinal round of the Pac-12 women's tournament Thursday, March 2, 2023, in Las Vegas. (AP Photo/David Becker)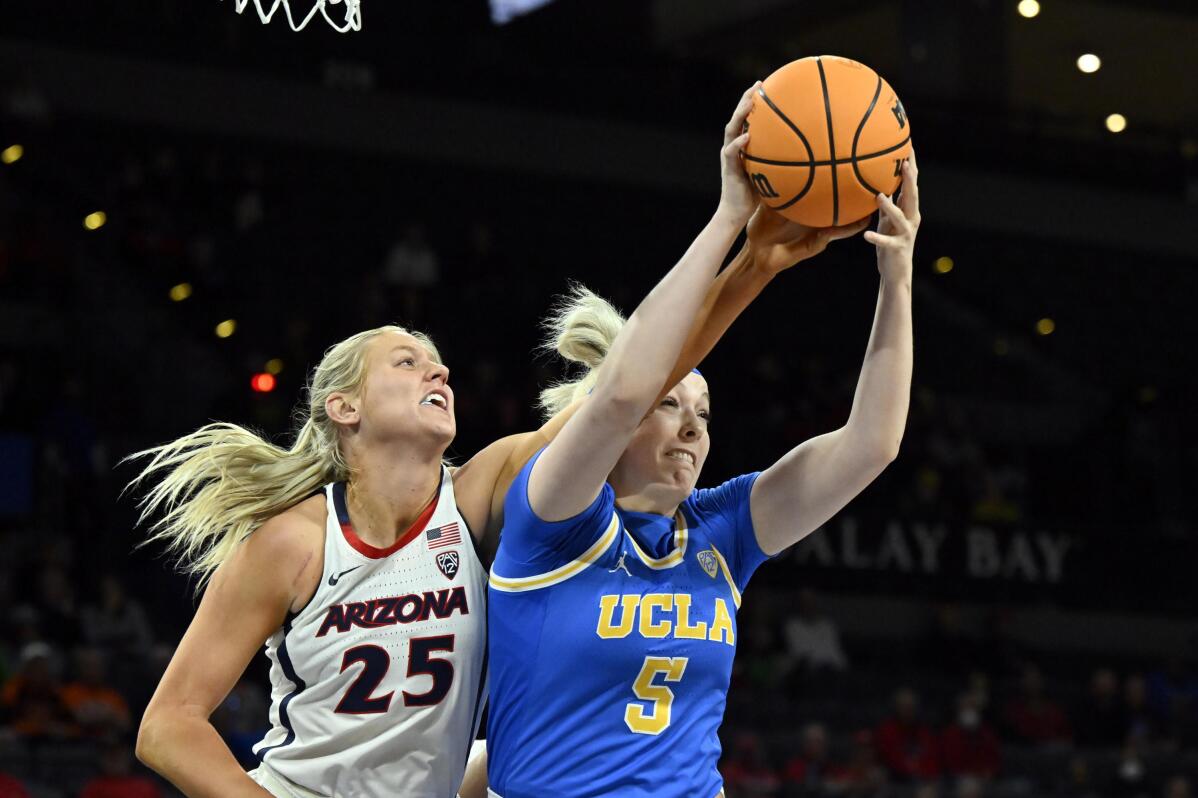 9 of 10

|
Arizona forward Cate Reese (25) defends against UCLA forward Brynn Masikewich during the first half of an NCAA college basketball game in the quarterfinal round of the Pac-12 women's tournament Thursday, March 2, 2023, in Las Vegas. (AP Photo/David Becker)
9 of 10
Arizona forward Cate Reese (25) defends against UCLA forward Brynn Masikewich during the first half of an NCAA college basketball game in the quarterfinal round of the Pac-12 women's tournament Thursday, March 2, 2023, in Las Vegas. (AP Photo/David Becker)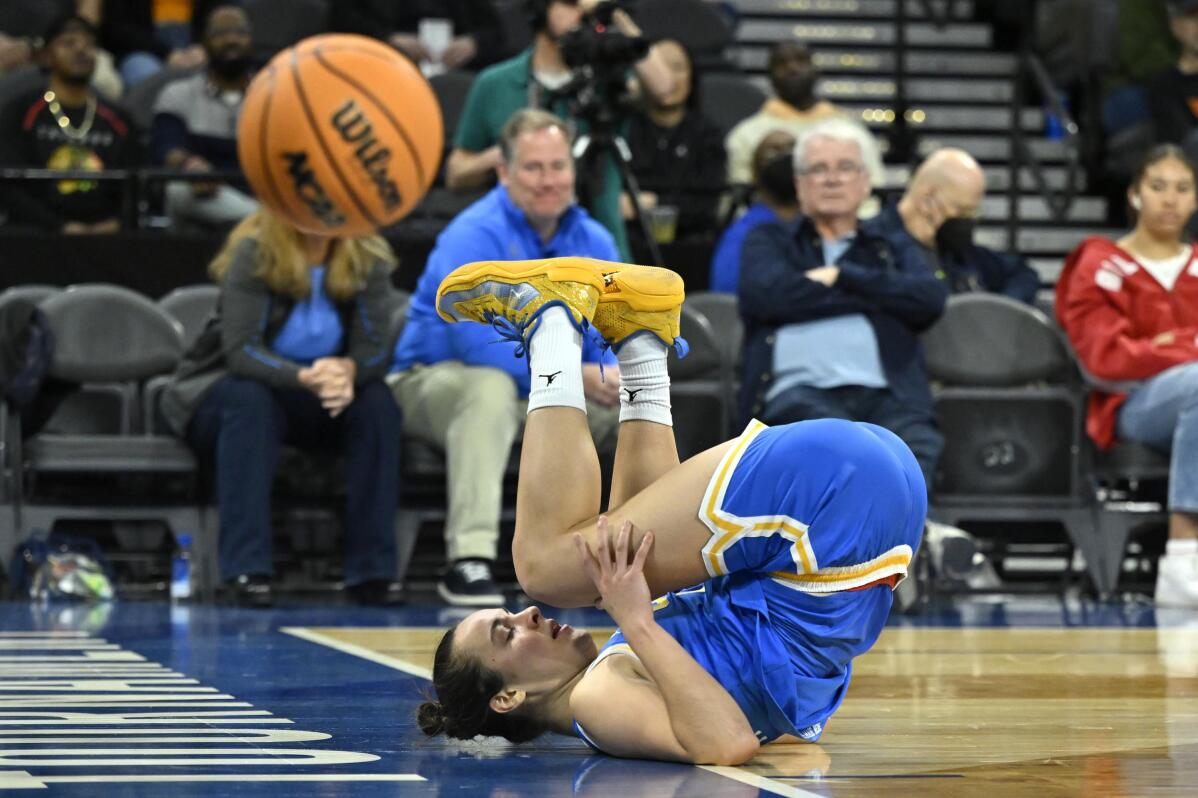 10 of 10

|
UCLA guard Gina Conti rolls on the court after a shot attempt against Arizona during the first half of an NCAA college basketball game in the quarterfinal round of the Pac-12 women's tournament Thursday, March 2, 2023, in Las Vegas. (AP Photo/David Becker)
10 of 10
UCLA guard Gina Conti rolls on the court after a shot attempt against Arizona during the first half of an NCAA college basketball game in the quarterfinal round of the Pac-12 women's tournament Thursday, March 2, 2023, in Las Vegas. (AP Photo/David Becker)
LAS VEGAS (AP) — Emily Bessoir had 18 points and 13 rebounds for her first career double-double, Charisma Osborne also scored 18 points and No. 19 UCLA beat No. 21 Arizona 73-59 on Thursday in the Pac-12 Tournament.
UCLA, a No. 5 seed, advances to the semifinals on Friday after handing Arizona its first three-game skid of the season.
Londynn Jones made her only 3-pointer with 5:18 left in the third quarter to put UCLA ahead 47-35 and the Bruins led by double figures the rest of the way. Arizona only made two field goals in the third quarter — both in the opening three minutes.
Bessoir made two 3-pointers to start the fourth quarter and Gina Conti added another 3 to give UCLA a 17-point lead with 7:30 left. The Bruins didn't make another field goal but connected on 11 of 12 free throws to secure it.
Senior Camryn Brown added a career-high nine points with six rebounds and four assists for UCLA (24-8). Kiki Rice also scored nine points and dished out seven assists. The Bruins outrebounded Arizona 46-27 for a 17-4 advantage in second-chance points.
Bessoir was coming off a 17-point, five 3-pointer performance in an overtime victory over Arizona State in a tournament opener.
Shaina Pellington, Lauren Fields and Jade Loville each scored 10 points for Arizona (21-9). Cate Reese struggled from the floor, going 0 for 6 from the field, but she went 9 of 10 at the free-throw line and grabbed nine rebounds.
___ AP women's college basketball: https://apnews.com/hub/womens-college-basketball and https://apnews.com/hub/ap-top-25-womens-college-basketball-poll and https://twitter.com/AP_Top25