UK's diverse communities ambivalent about king's coronation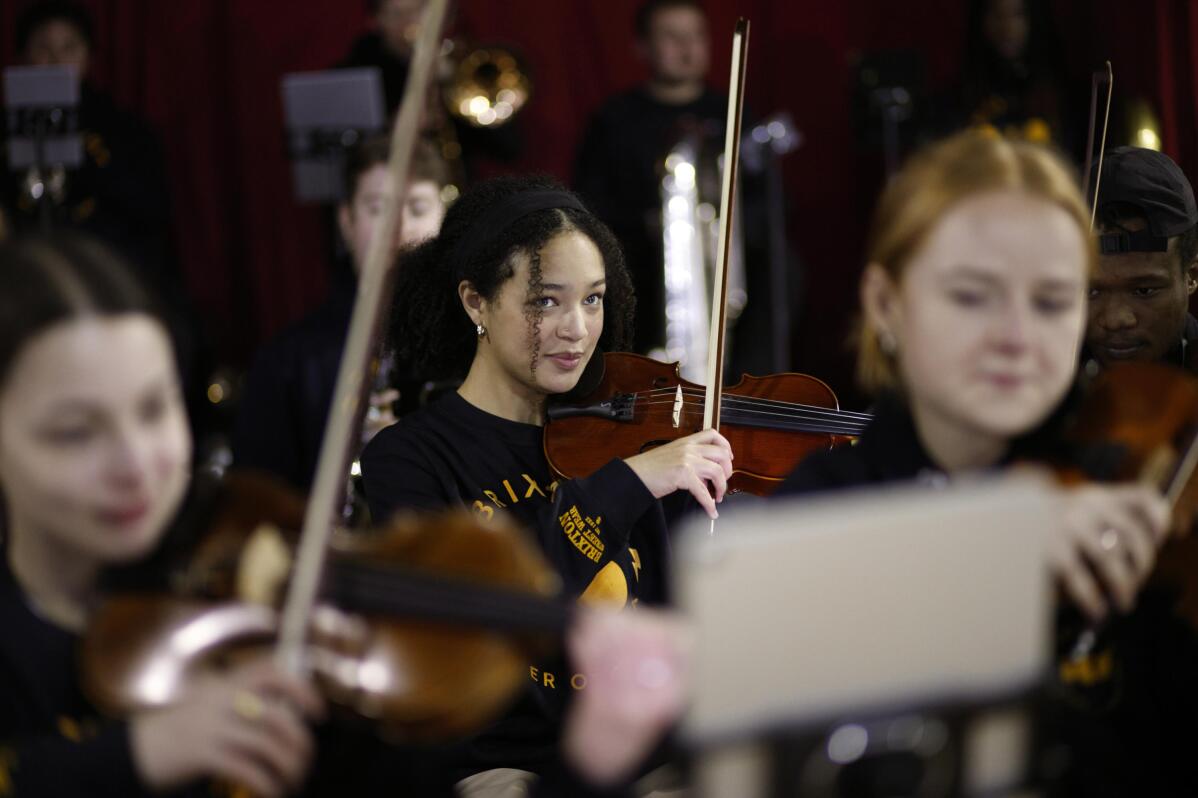 1 of 12

|
Violinist Adrianna Forbes-Dorant, 17, takes part in a rehearsal with the Brixton Chamber Orchestra for coronation weekend performances in London, Friday, April 21, 2023. Britain's diverse communities will come together to mark King Charles III's coronation. In south London's Brixton, musicians plan to parade through the streets entertaining crowds with a carnival set mix of Gospel, jazz, grime, disco and rap. In west London's Southall, known as "Little India," British Indians will party with Punjabi song and dance. (AP Photo/David Cliff)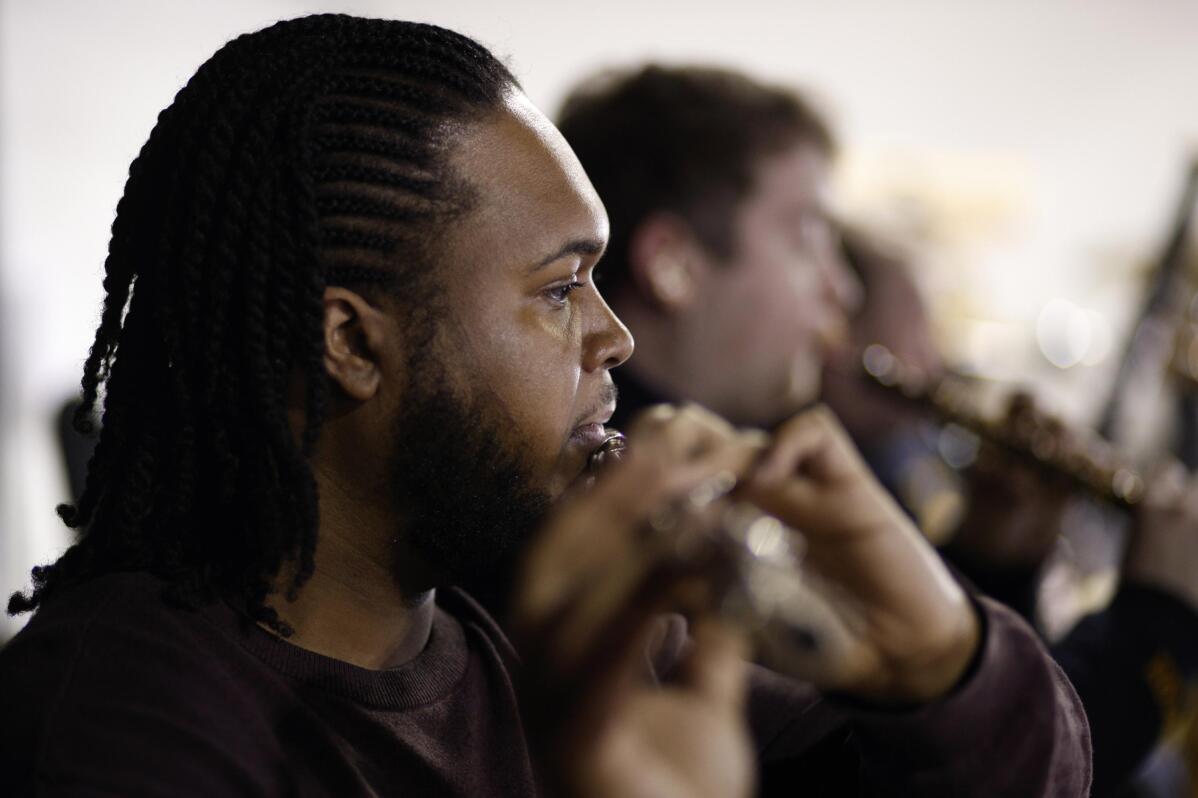 2 of 12

|
Flutist Deronne White, 25, takes part in a rehearsal with the Brixton Chamber Orchestra for coronation weekend performances in London, Friday, April 21, 2023. Britain's diverse communities will come together to mark King Charles III's coronation. In south London's Brixton, musicians plan to parade through the streets entertaining crowds with a carnival set mix of Gospel, jazz, grime, disco and rap. In west London's Southall, known as "Little India," British Indians will party with Punjabi song and dance. (AP Photo/David Cliff)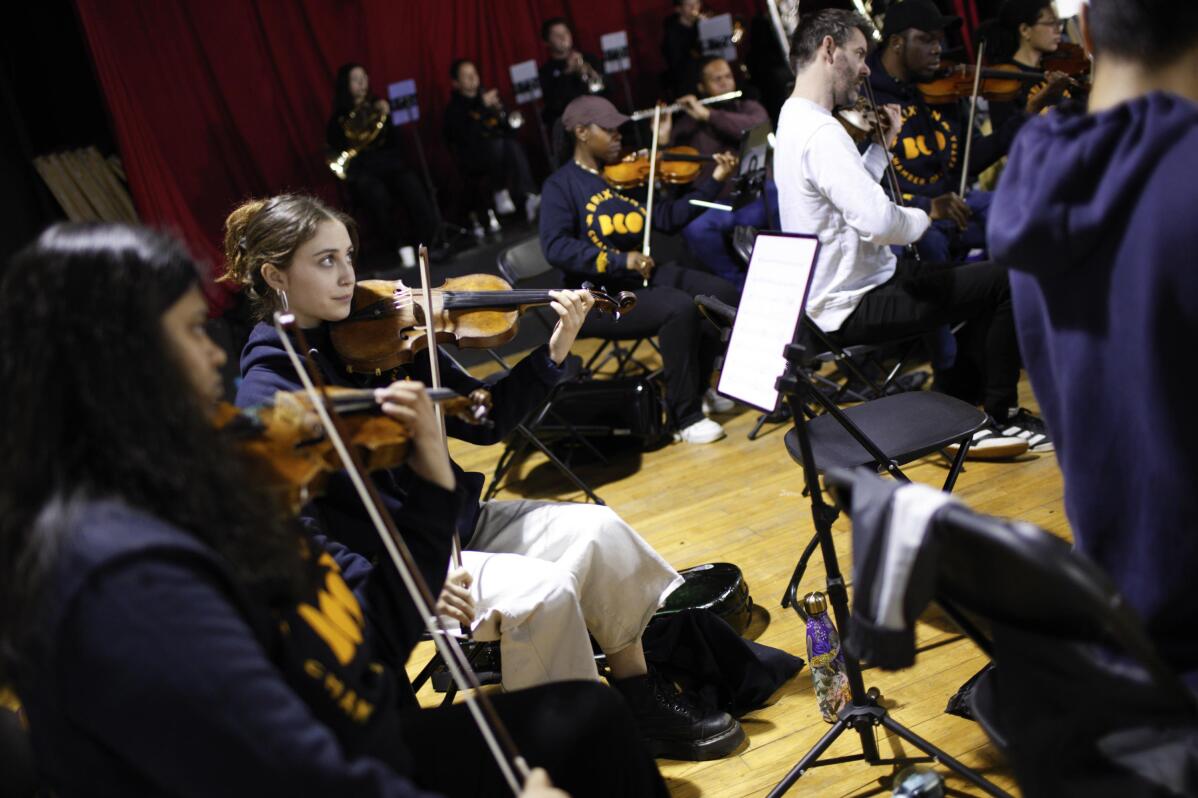 3 of 12

|
Members of the Brixton Chamber Orchestra rehearse for coronation weekend performances in London, Friday, April 21, 2023. Britain's diverse communities will come together to mark King Charles III's coronation. In south London's Brixton, musicians plan to parade through the streets entertaining crowds with a carnival set mix of Gospel, jazz, grime, disco and rap. In west London's Southall, known as "Little India," British Indians will party with Punjabi song and dance. (AP Photo/David Cliff)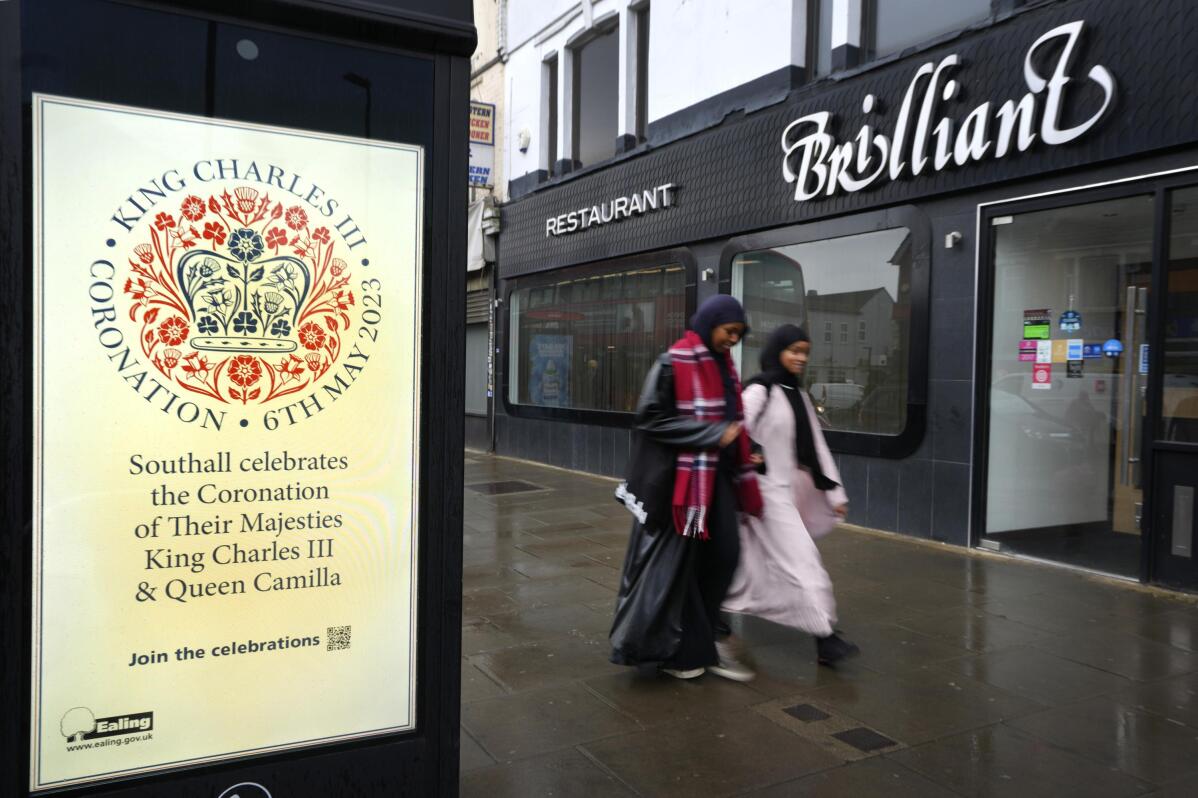 4 of 12

|
An advert for the upcoming coronation of Britain's King Charles outside Brilliant restaurant in Southall in London, Thursday, April 27, 2023. Across London, Britain's diverse communities will come together to mark King Charles III's coronation. In south London's Brixton, musicians plan to parade through the streets entertaining crowds with a carnival set mix of Gospel, jazz, grime, disco and rap. In west London's Southall, known as "Little India," British Indians will party with Punjabi song and dance. (AP Photo/Kirsty Wigglesworth)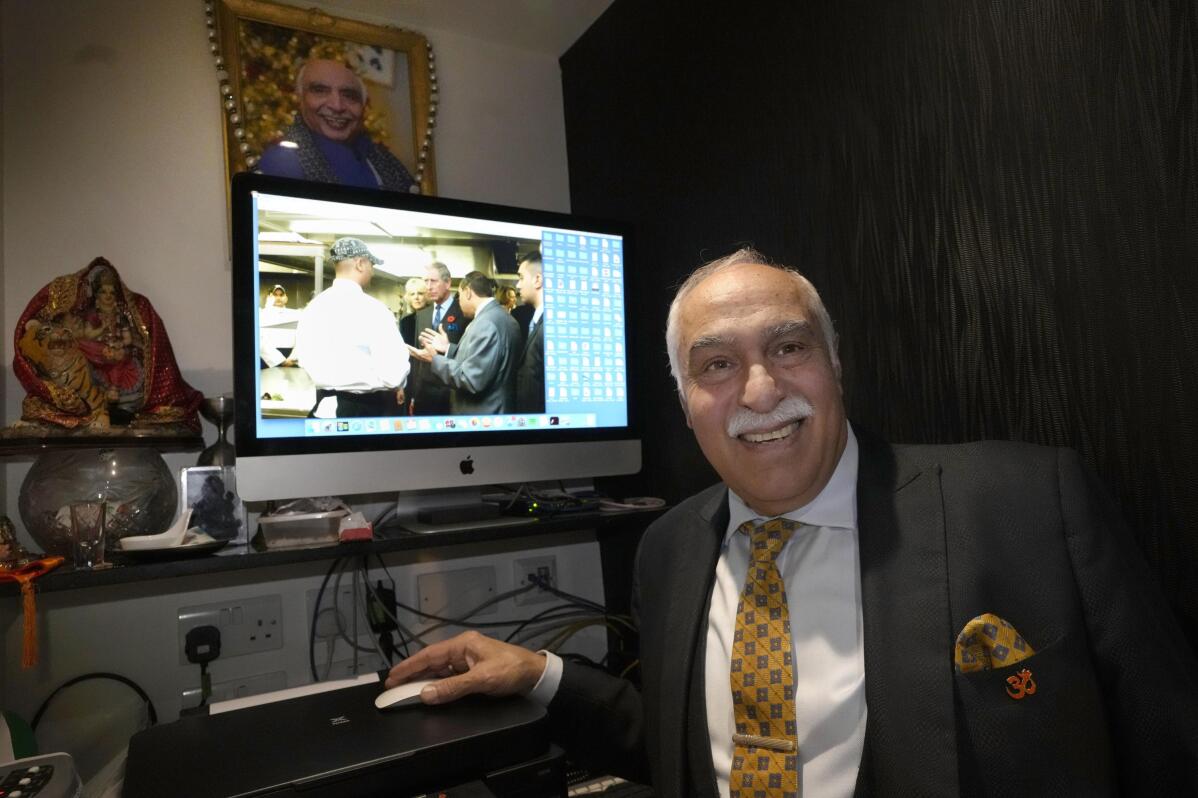 5 of 12

|
Gulu Anand, who owns Southall's Brilliant curry house and has cooked for King Charles III several times over the years when he visited the neighborhood, displays a photograph of Charles in his restaurant in London, Thursday, April 27, 2023. Across London, Britain's diverse communities will come together to mark King Charles III's coronation. In south London's Brixton, musicians plan to parade through the streets entertaining crowds with a carnival set mix of Gospel, jazz, grime, disco and rap. In west London's Southall, known as "Little India," British Indians will party with Punjabi song and dance. (AP Photo/Kirsty Wigglesworth)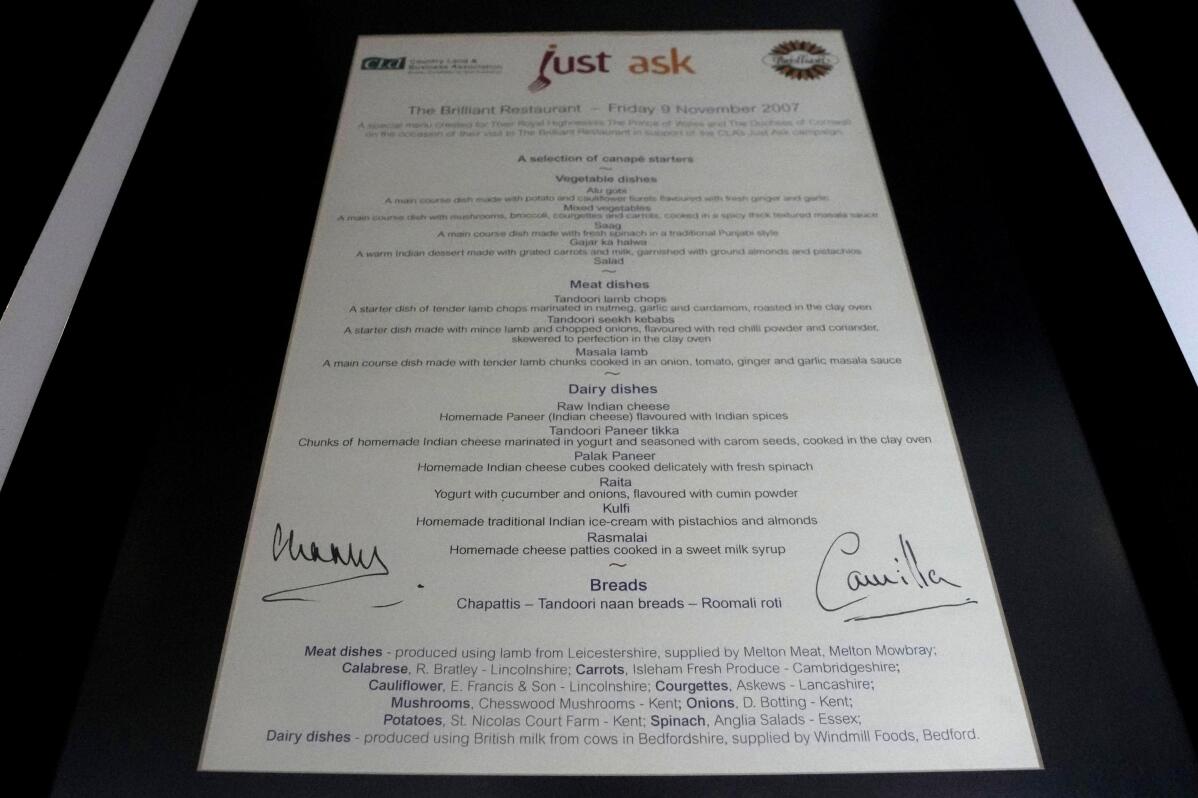 6 of 12

|
A menu signed by Britain's King Charles III and Camila Queen Consort is displayed at Brilliant restaurant in Southall in London, Thursday, April 27, 2023. Across London, Britain's diverse communities will come together to mark King Charles III's coronation. In south London's Brixton, musicians plan to parade through the streets entertaining crowds with a carnival set mix of Gospel, jazz, grime, disco and rap. In west London's Southall, known as "Little India," British Indians will party with Punjabi song and dance. (AP Photo/Kirsty Wigglesworth)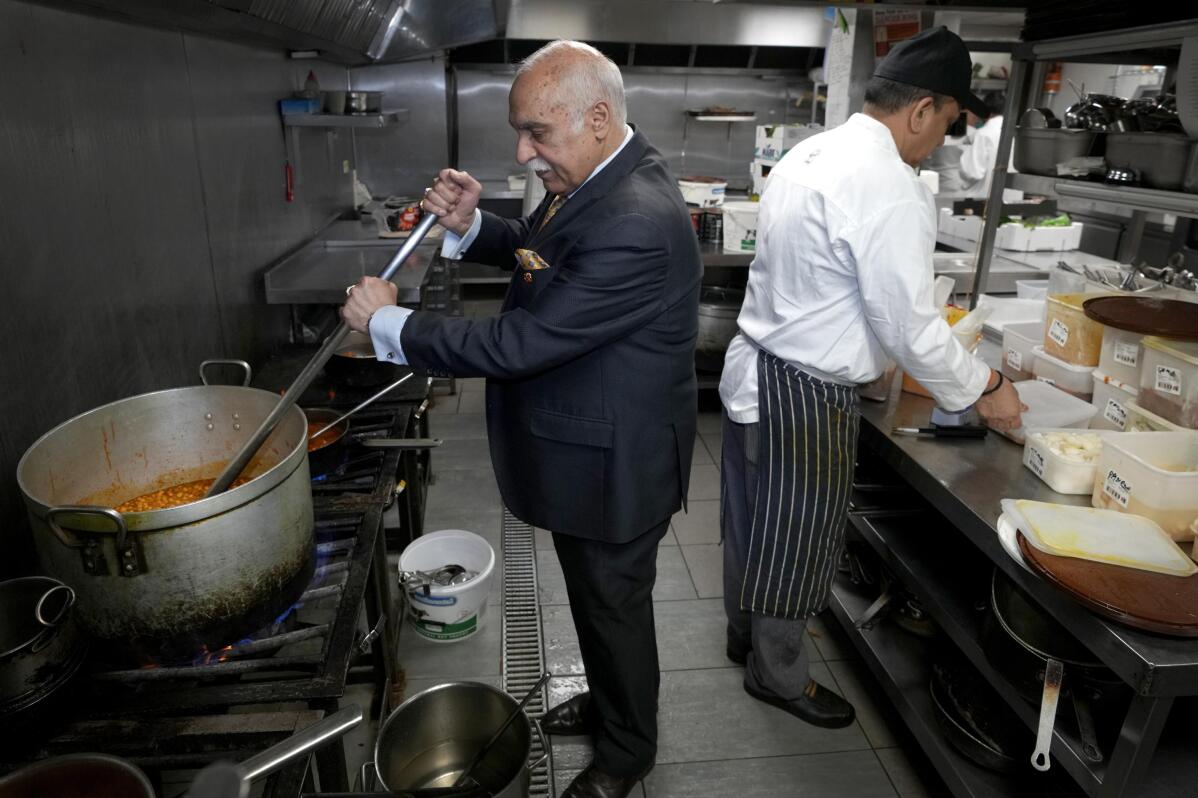 7 of 12

|
Chef Sunil Kumar, right, and Gulu Anand, left, who owns Southall's Brilliant curry house and has cooked for Charles several times over the years when he visited the neighborhood works in the kitchen in his restaurant in London, Thursday, April 27, 2023. Britain's diverse communities will come together to mark King Charles III's coronation. In south London's Brixton, musicians plan to parade through the streets entertaining crowds with a carnival set mix of Gospel, jazz, grime, disco and rap. In west London's Southall, known as "Little India," British Indians will party with Punjabi song and dance. (AP Photo/Kirsty Wigglesworth)
8 of 12

|
Members of the Brixton Chamber Orchestra, led by conductor Matthew O'Keefe, rehearse for coronation weekend performances in London, Friday, April 21, 2023. Britain's diverse communities will come together to mark King Charles III's coronation. In south London's Brixton, musicians plan to parade through the streets entertaining crowds with a carnival set mix of Gospel, jazz, grime, disco and rap. In west London's Southall, known as "Little India," British Indians will party with Punjabi song and dance. (AP Photo/David Cliff)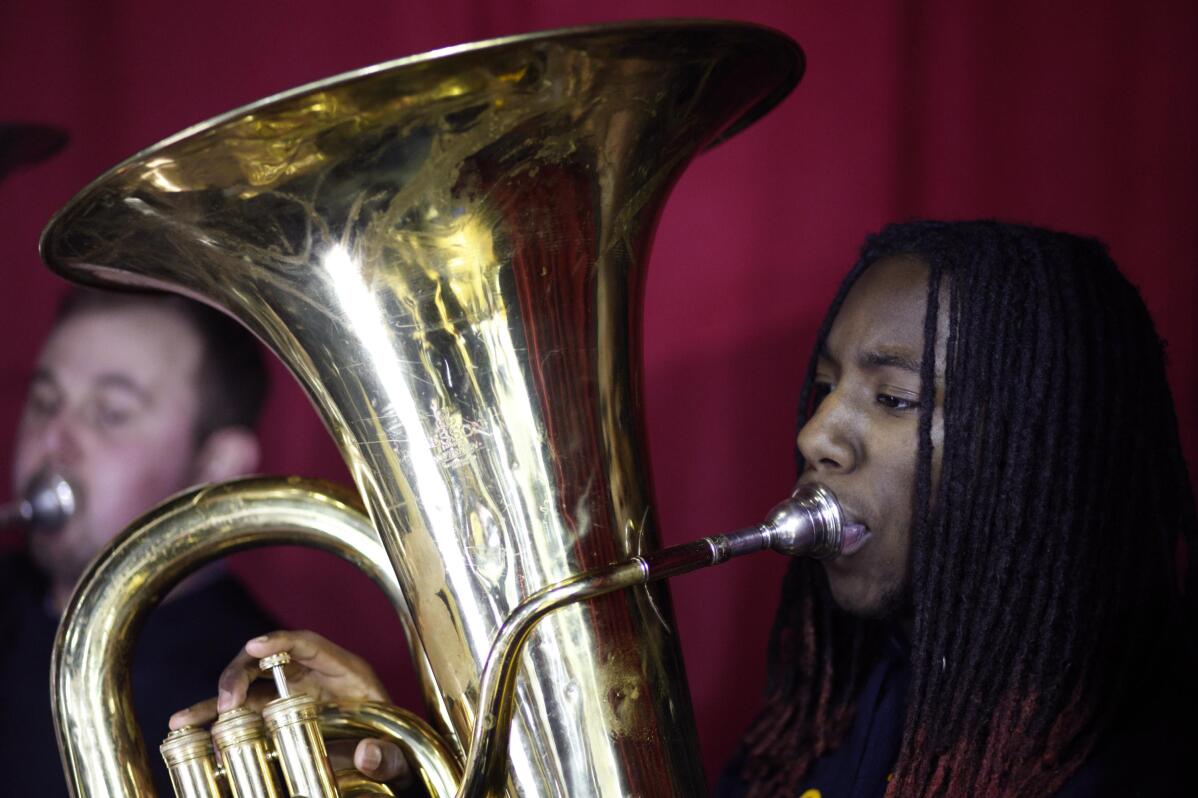 9 of 12

|
Tuba player Teigan Hastings, 17, takes part in a rehearsal with the Brixton Chamber Orchestra for coronation weekend performances in London, Friday, April 21, 2023. Britain's diverse communities will come together to mark King Charles III's coronation. In south London's Brixton, musicians plan to parade through the streets entertaining crowds with a carnival set mix of Gospel, jazz, grime, disco and rap. In west London's Southall, known as "Little India," British Indians will party with Punjabi song and dance. (AP Photo/David Cliff)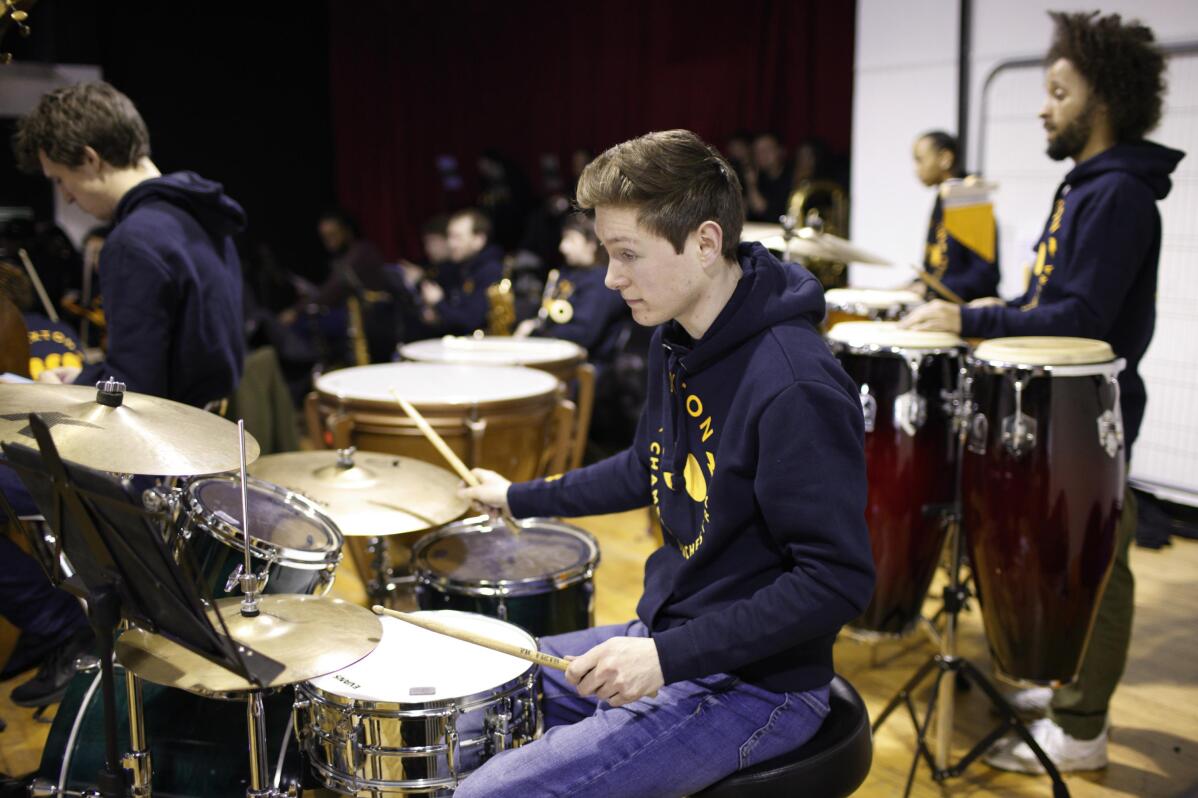 10 of 12

|
Percussionist Ben Quilter, 23, takes part in a rehearsal with the Brixton Chamber Orchestra for coronation weekend performances in London, Friday, April 21, 2023. Britain's diverse communities will come together to mark King Charles III's coronation. In south London's Brixton, musicians plan to parade through the streets entertaining crowds with a carnival set mix of Gospel, jazz, grime, disco and rap. In west London's Southall, known as "Little India," British Indians will party with Punjabi song and dance. (AP Photo/David Cliff)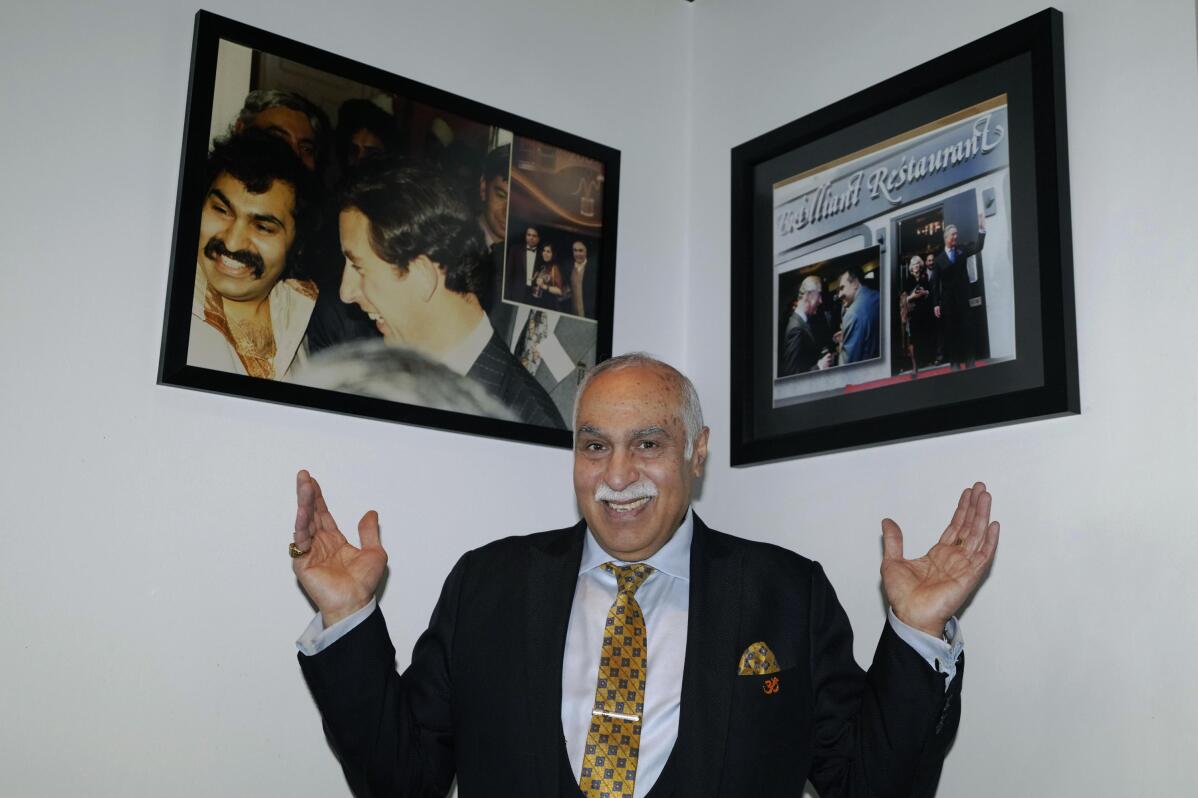 11 of 12

|
Gulu Anand, who owns Southall's Brilliant curry house and has cooked for King Charles III several times over the years when he visited the neighborhood, displays photographs of Charles in his restaurant in London, Thursday, April 27, 2023. Across London, Britain's diverse communities will come together to mark King Charles III's coronation. In south London's Brixton, musicians plan to parade through the streets entertaining crowds with a carnival set mix of Gospel, jazz, grime, disco and rap. In west London's Southall, known as "Little India," British Indians will party with Punjabi song and dance. (AP Photo/Kirsty Wigglesworth)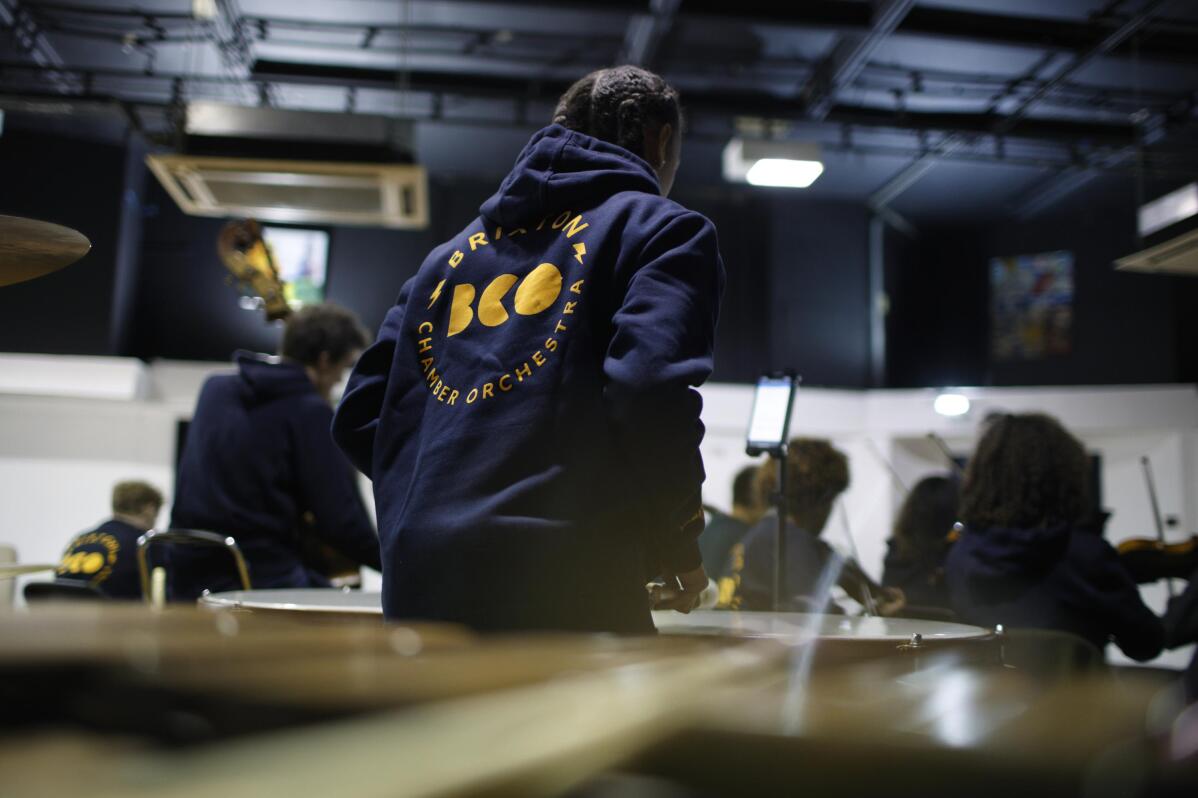 12 of 12

|
Members of the Brixton Chamber Orchestra rehearse for coronation weekend performances in London, Friday, April 21, 2023. Britain's diverse communities will come together to mark King Charles III's coronation. In south London's Brixton, musicians plan to parade through the streets entertaining crowds with a carnival set mix of Gospel, jazz, grime, disco and rap. In west London's Southall, known as "Little India," British Indians will party with Punjabi song and dance. (AP Photo/David Cliff)
UK's diverse communities ambivalent about king's coronation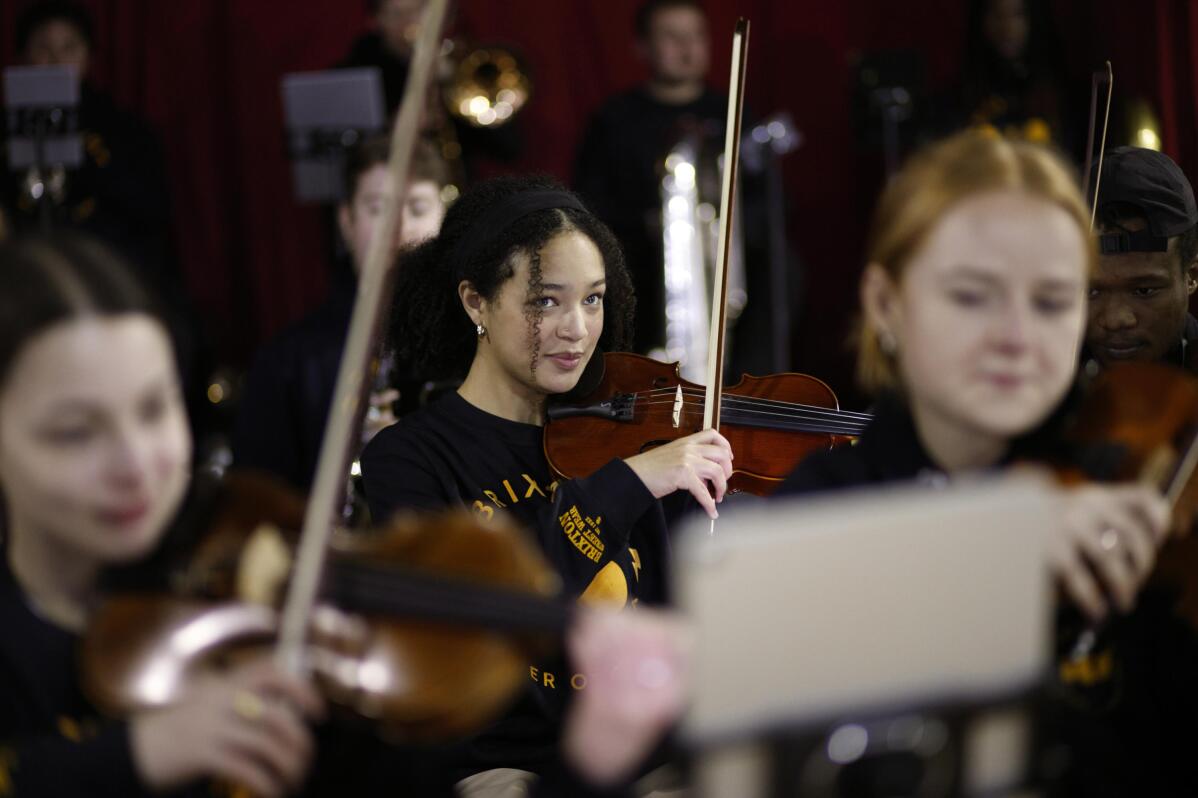 1 of 12

|
Violinist Adrianna Forbes-Dorant, 17, takes part in a rehearsal with the Brixton Chamber Orchestra for coronation weekend performances in London, Friday, April 21, 2023. Britain's diverse communities will come together to mark King Charles III's coronation. In south London's Brixton, musicians plan to parade through the streets entertaining crowds with a carnival set mix of Gospel, jazz, grime, disco and rap. In west London's Southall, known as "Little India," British Indians will party with Punjabi song and dance. (AP Photo/David Cliff)
1 of 12
Violinist Adrianna Forbes-Dorant, 17, takes part in a rehearsal with the Brixton Chamber Orchestra for coronation weekend performances in London, Friday, April 21, 2023. Britain's diverse communities will come together to mark King Charles III's coronation. In south London's Brixton, musicians plan to parade through the streets entertaining crowds with a carnival set mix of Gospel, jazz, grime, disco and rap. In west London's Southall, known as "Little India," British Indians will party with Punjabi song and dance. (AP Photo/David Cliff)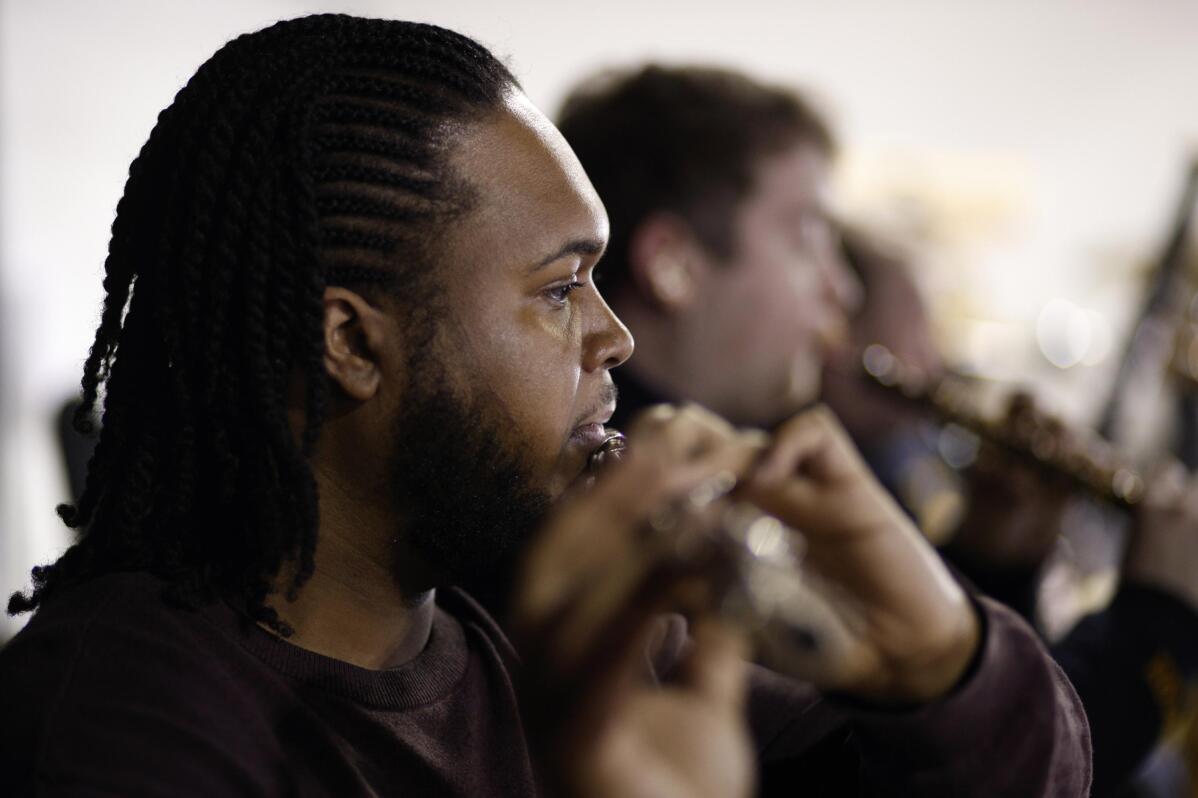 2 of 12

|
Flutist Deronne White, 25, takes part in a rehearsal with the Brixton Chamber Orchestra for coronation weekend performances in London, Friday, April 21, 2023. Britain's diverse communities will come together to mark King Charles III's coronation. In south London's Brixton, musicians plan to parade through the streets entertaining crowds with a carnival set mix of Gospel, jazz, grime, disco and rap. In west London's Southall, known as "Little India," British Indians will party with Punjabi song and dance. (AP Photo/David Cliff)
2 of 12
Flutist Deronne White, 25, takes part in a rehearsal with the Brixton Chamber Orchestra for coronation weekend performances in London, Friday, April 21, 2023. Britain's diverse communities will come together to mark King Charles III's coronation. In south London's Brixton, musicians plan to parade through the streets entertaining crowds with a carnival set mix of Gospel, jazz, grime, disco and rap. In west London's Southall, known as "Little India," British Indians will party with Punjabi song and dance. (AP Photo/David Cliff)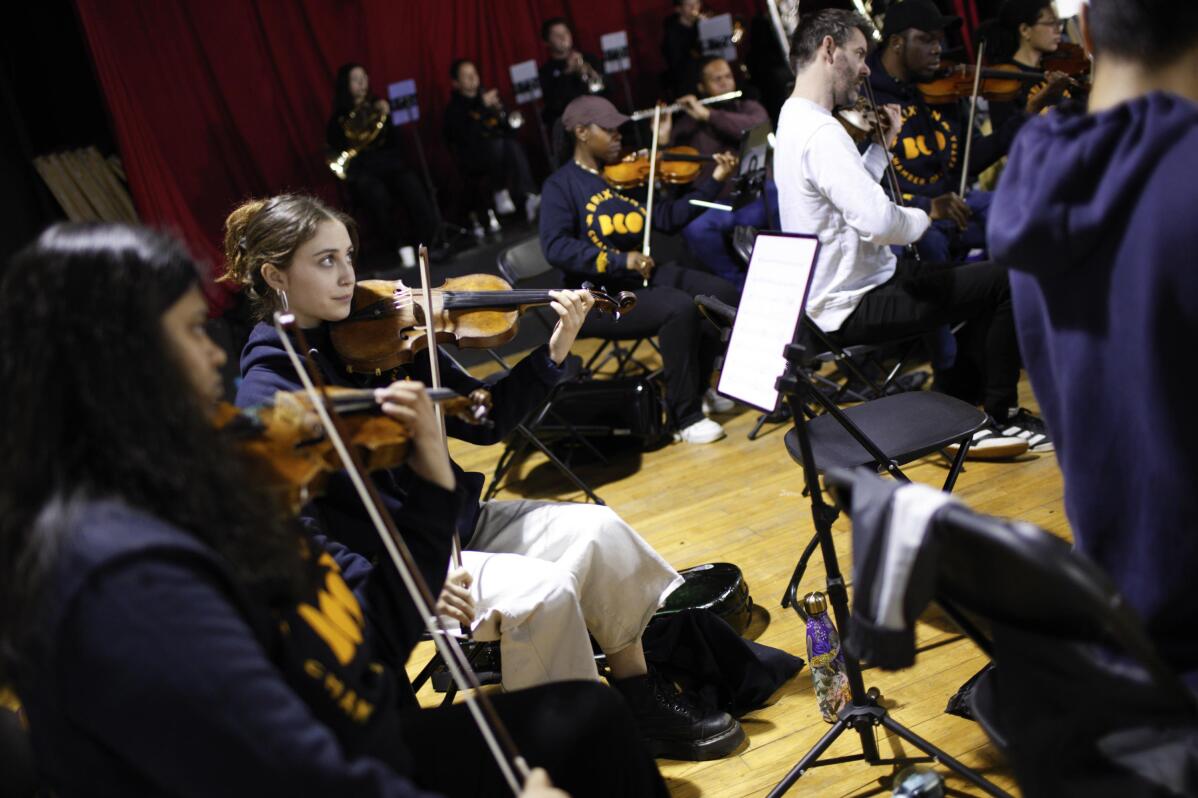 3 of 12

|
Members of the Brixton Chamber Orchestra rehearse for coronation weekend performances in London, Friday, April 21, 2023. Britain's diverse communities will come together to mark King Charles III's coronation. In south London's Brixton, musicians plan to parade through the streets entertaining crowds with a carnival set mix of Gospel, jazz, grime, disco and rap. In west London's Southall, known as "Little India," British Indians will party with Punjabi song and dance. (AP Photo/David Cliff)
3 of 12
Members of the Brixton Chamber Orchestra rehearse for coronation weekend performances in London, Friday, April 21, 2023. Britain's diverse communities will come together to mark King Charles III's coronation. In south London's Brixton, musicians plan to parade through the streets entertaining crowds with a carnival set mix of Gospel, jazz, grime, disco and rap. In west London's Southall, known as "Little India," British Indians will party with Punjabi song and dance. (AP Photo/David Cliff)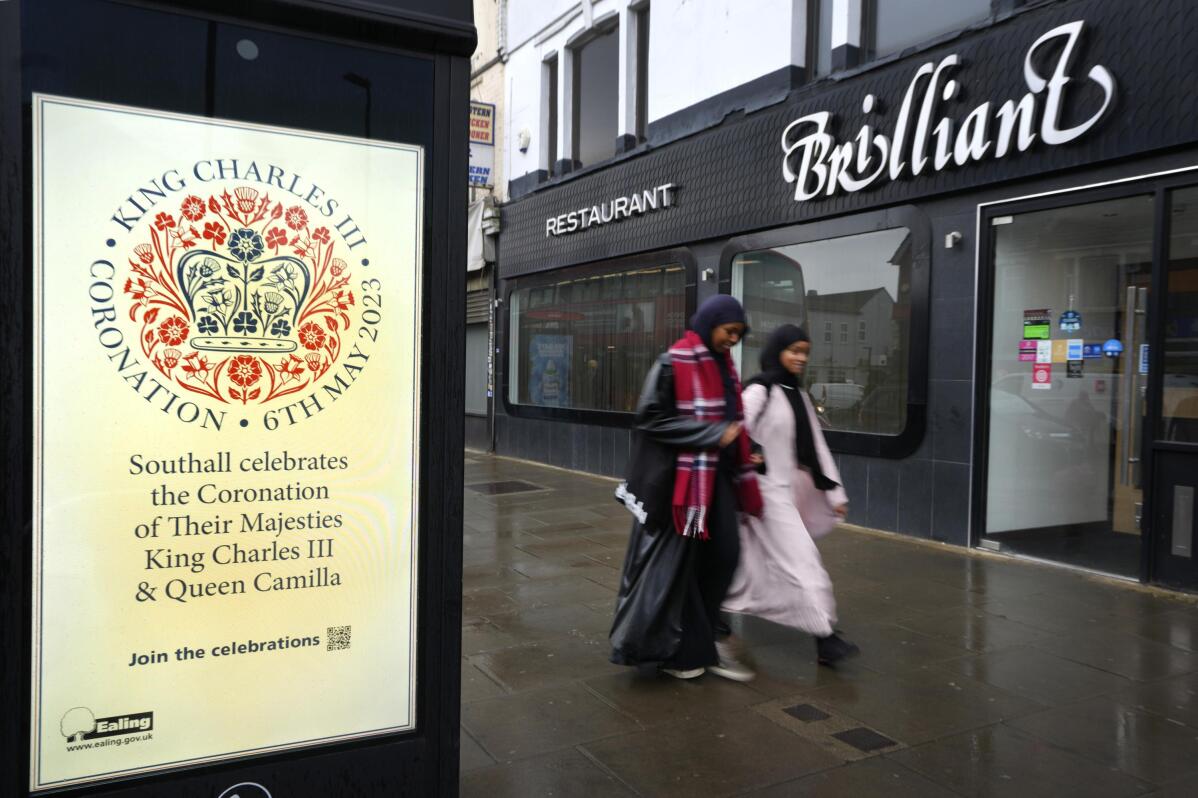 4 of 12

|
An advert for the upcoming coronation of Britain's King Charles outside Brilliant restaurant in Southall in London, Thursday, April 27, 2023. Across London, Britain's diverse communities will come together to mark King Charles III's coronation. In south London's Brixton, musicians plan to parade through the streets entertaining crowds with a carnival set mix of Gospel, jazz, grime, disco and rap. In west London's Southall, known as "Little India," British Indians will party with Punjabi song and dance. (AP Photo/Kirsty Wigglesworth)
4 of 12
An advert for the upcoming coronation of Britain's King Charles outside Brilliant restaurant in Southall in London, Thursday, April 27, 2023. Across London, Britain's diverse communities will come together to mark King Charles III's coronation. In south London's Brixton, musicians plan to parade through the streets entertaining crowds with a carnival set mix of Gospel, jazz, grime, disco and rap. In west London's Southall, known as "Little India," British Indians will party with Punjabi song and dance. (AP Photo/Kirsty Wigglesworth)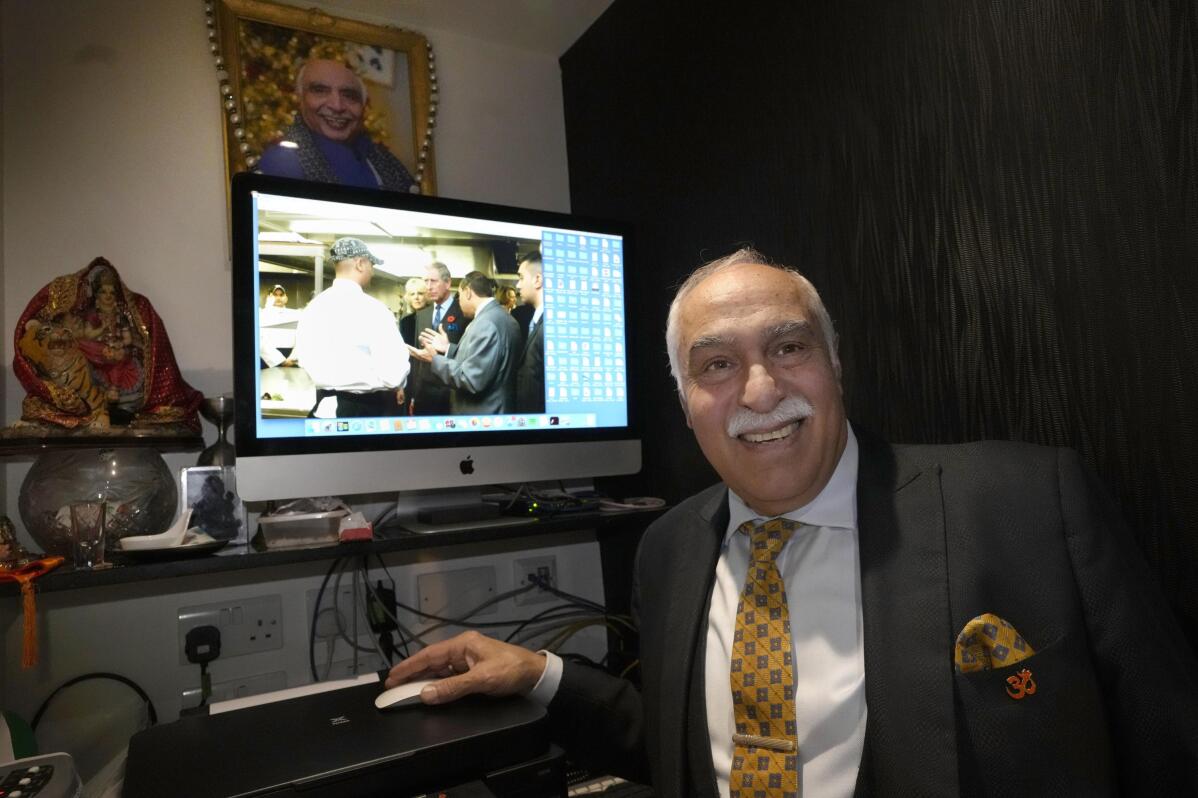 5 of 12

|
Gulu Anand, who owns Southall's Brilliant curry house and has cooked for King Charles III several times over the years when he visited the neighborhood, displays a photograph of Charles in his restaurant in London, Thursday, April 27, 2023. Across London, Britain's diverse communities will come together to mark King Charles III's coronation. In south London's Brixton, musicians plan to parade through the streets entertaining crowds with a carnival set mix of Gospel, jazz, grime, disco and rap. In west London's Southall, known as "Little India," British Indians will party with Punjabi song and dance. (AP Photo/Kirsty Wigglesworth)
5 of 12
Gulu Anand, who owns Southall's Brilliant curry house and has cooked for King Charles III several times over the years when he visited the neighborhood, displays a photograph of Charles in his restaurant in London, Thursday, April 27, 2023. Across London, Britain's diverse communities will come together to mark King Charles III's coronation. In south London's Brixton, musicians plan to parade through the streets entertaining crowds with a carnival set mix of Gospel, jazz, grime, disco and rap. In west London's Southall, known as "Little India," British Indians will party with Punjabi song and dance. (AP Photo/Kirsty Wigglesworth)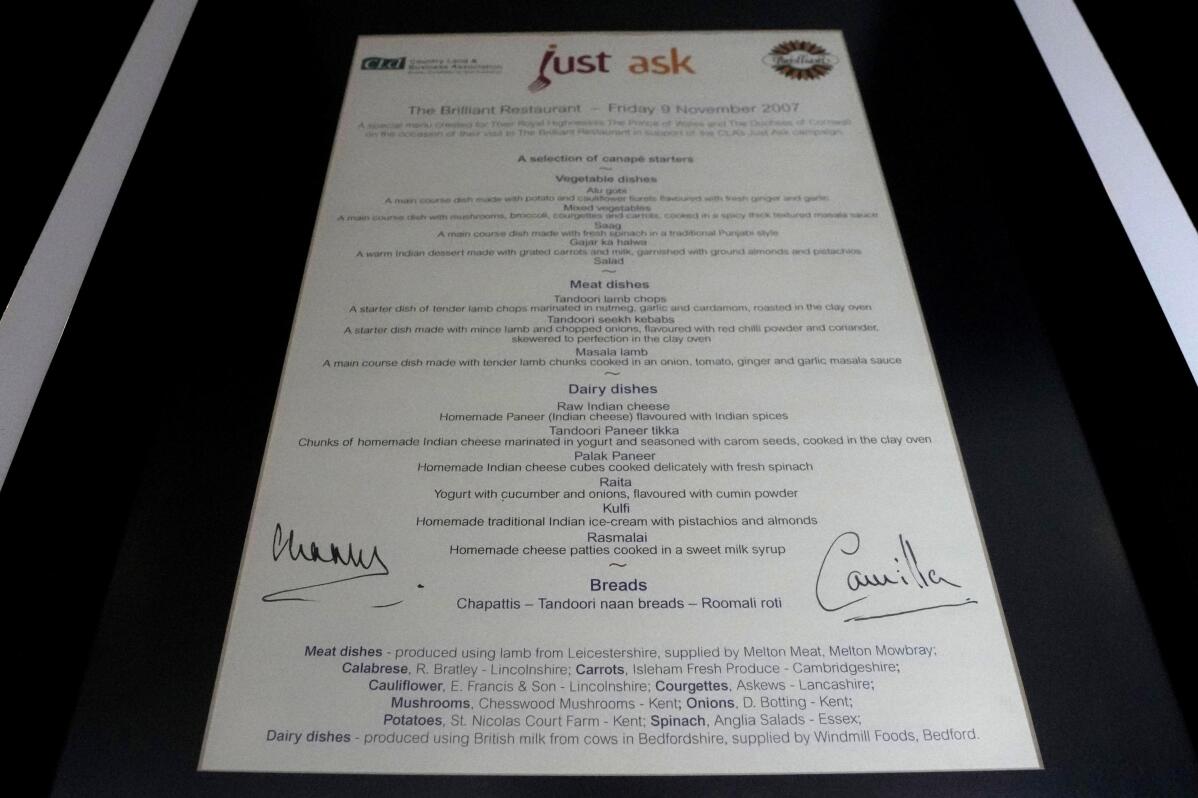 6 of 12

|
A menu signed by Britain's King Charles III and Camila Queen Consort is displayed at Brilliant restaurant in Southall in London, Thursday, April 27, 2023. Across London, Britain's diverse communities will come together to mark King Charles III's coronation. In south London's Brixton, musicians plan to parade through the streets entertaining crowds with a carnival set mix of Gospel, jazz, grime, disco and rap. In west London's Southall, known as "Little India," British Indians will party with Punjabi song and dance. (AP Photo/Kirsty Wigglesworth)
6 of 12
A menu signed by Britain's King Charles III and Camila Queen Consort is displayed at Brilliant restaurant in Southall in London, Thursday, April 27, 2023. Across London, Britain's diverse communities will come together to mark King Charles III's coronation. In south London's Brixton, musicians plan to parade through the streets entertaining crowds with a carnival set mix of Gospel, jazz, grime, disco and rap. In west London's Southall, known as "Little India," British Indians will party with Punjabi song and dance. (AP Photo/Kirsty Wigglesworth)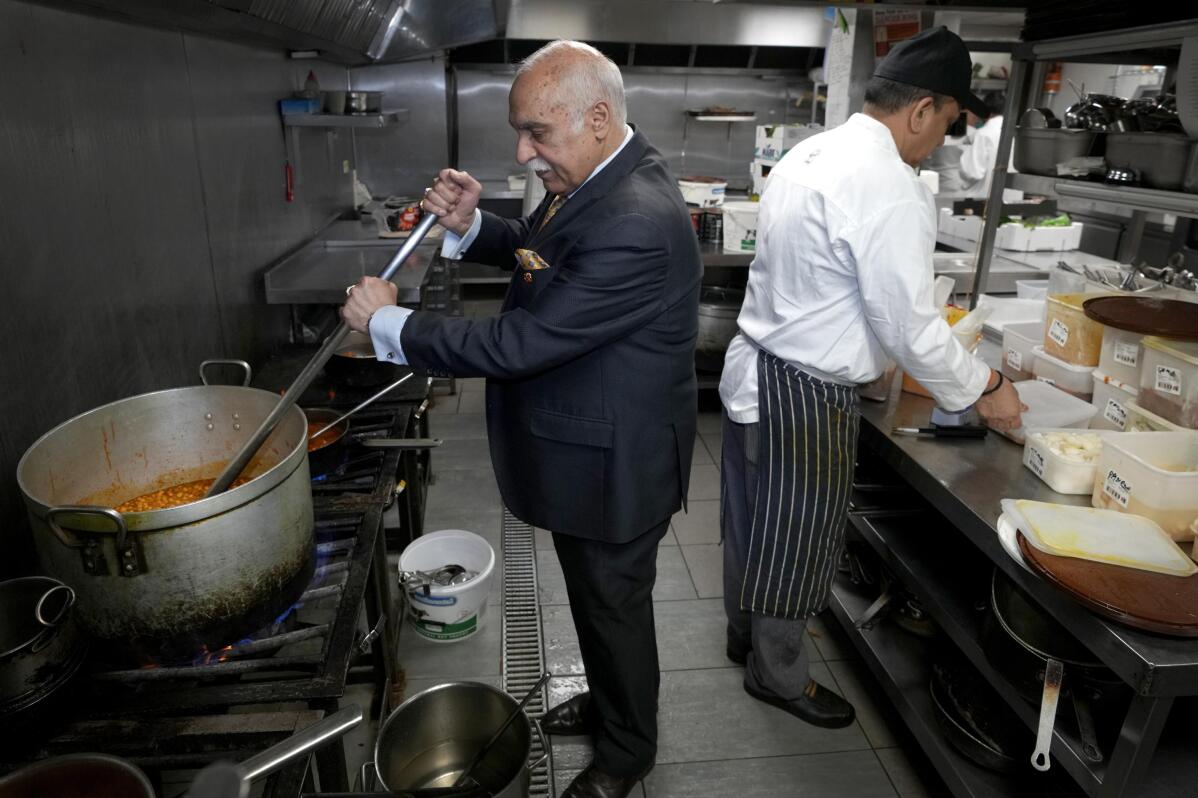 7 of 12

|
Chef Sunil Kumar, right, and Gulu Anand, left, who owns Southall's Brilliant curry house and has cooked for Charles several times over the years when he visited the neighborhood works in the kitchen in his restaurant in London, Thursday, April 27, 2023. Britain's diverse communities will come together to mark King Charles III's coronation. In south London's Brixton, musicians plan to parade through the streets entertaining crowds with a carnival set mix of Gospel, jazz, grime, disco and rap. In west London's Southall, known as "Little India," British Indians will party with Punjabi song and dance. (AP Photo/Kirsty Wigglesworth)
7 of 12
Chef Sunil Kumar, right, and Gulu Anand, left, who owns Southall's Brilliant curry house and has cooked for Charles several times over the years when he visited the neighborhood works in the kitchen in his restaurant in London, Thursday, April 27, 2023. Britain's diverse communities will come together to mark King Charles III's coronation. In south London's Brixton, musicians plan to parade through the streets entertaining crowds with a carnival set mix of Gospel, jazz, grime, disco and rap. In west London's Southall, known as "Little India," British Indians will party with Punjabi song and dance. (AP Photo/Kirsty Wigglesworth)
8 of 12

|
Members of the Brixton Chamber Orchestra, led by conductor Matthew O'Keefe, rehearse for coronation weekend performances in London, Friday, April 21, 2023. Britain's diverse communities will come together to mark King Charles III's coronation. In south London's Brixton, musicians plan to parade through the streets entertaining crowds with a carnival set mix of Gospel, jazz, grime, disco and rap. In west London's Southall, known as "Little India," British Indians will party with Punjabi song and dance. (AP Photo/David Cliff)
8 of 12
Members of the Brixton Chamber Orchestra, led by conductor Matthew O'Keefe, rehearse for coronation weekend performances in London, Friday, April 21, 2023. Britain's diverse communities will come together to mark King Charles III's coronation. In south London's Brixton, musicians plan to parade through the streets entertaining crowds with a carnival set mix of Gospel, jazz, grime, disco and rap. In west London's Southall, known as "Little India," British Indians will party with Punjabi song and dance. (AP Photo/David Cliff)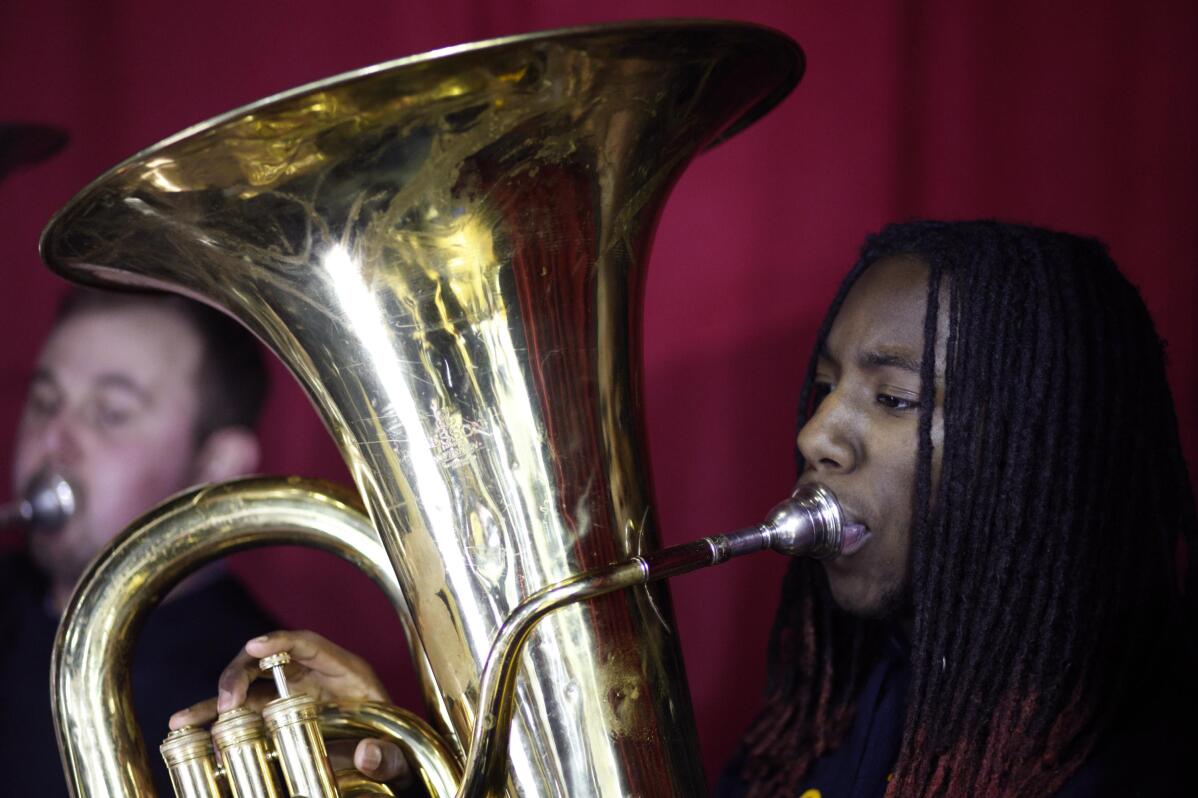 9 of 12

|
Tuba player Teigan Hastings, 17, takes part in a rehearsal with the Brixton Chamber Orchestra for coronation weekend performances in London, Friday, April 21, 2023. Britain's diverse communities will come together to mark King Charles III's coronation. In south London's Brixton, musicians plan to parade through the streets entertaining crowds with a carnival set mix of Gospel, jazz, grime, disco and rap. In west London's Southall, known as "Little India," British Indians will party with Punjabi song and dance. (AP Photo/David Cliff)
9 of 12
Tuba player Teigan Hastings, 17, takes part in a rehearsal with the Brixton Chamber Orchestra for coronation weekend performances in London, Friday, April 21, 2023. Britain's diverse communities will come together to mark King Charles III's coronation. In south London's Brixton, musicians plan to parade through the streets entertaining crowds with a carnival set mix of Gospel, jazz, grime, disco and rap. In west London's Southall, known as "Little India," British Indians will party with Punjabi song and dance. (AP Photo/David Cliff)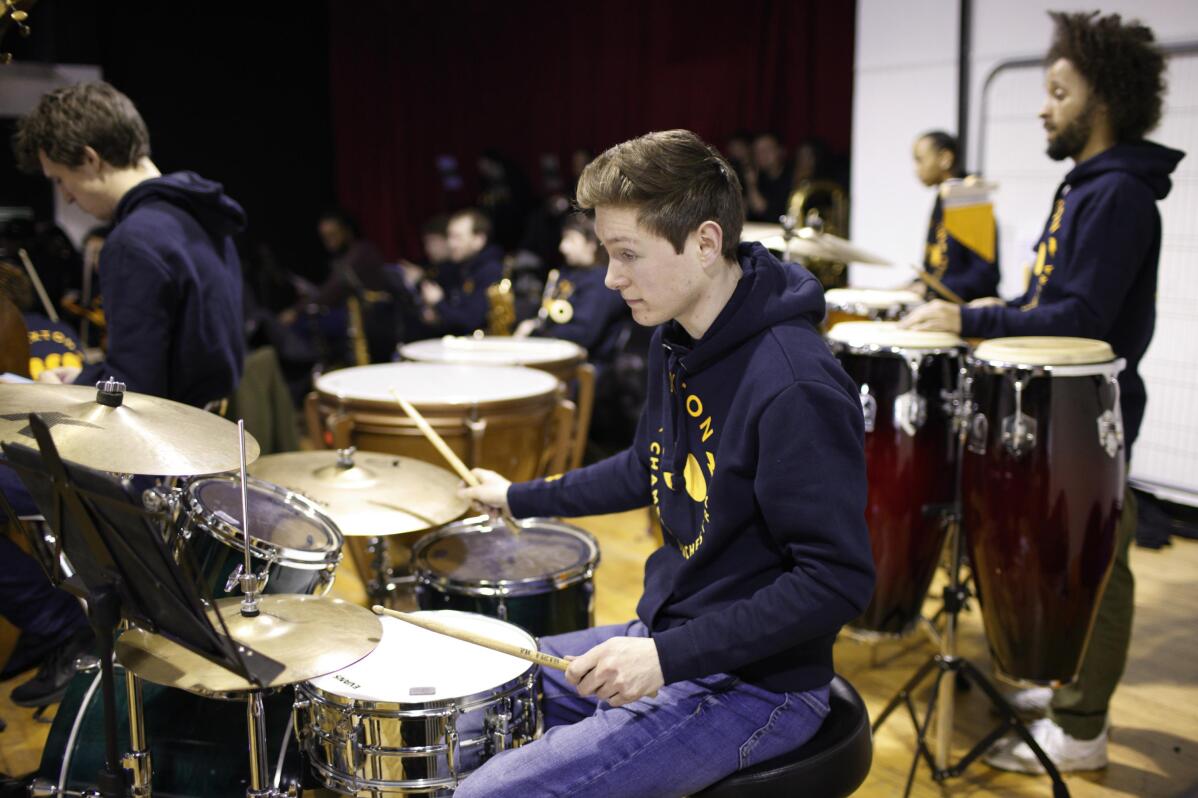 10 of 12

|
Percussionist Ben Quilter, 23, takes part in a rehearsal with the Brixton Chamber Orchestra for coronation weekend performances in London, Friday, April 21, 2023. Britain's diverse communities will come together to mark King Charles III's coronation. In south London's Brixton, musicians plan to parade through the streets entertaining crowds with a carnival set mix of Gospel, jazz, grime, disco and rap. In west London's Southall, known as "Little India," British Indians will party with Punjabi song and dance. (AP Photo/David Cliff)
10 of 12
Percussionist Ben Quilter, 23, takes part in a rehearsal with the Brixton Chamber Orchestra for coronation weekend performances in London, Friday, April 21, 2023. Britain's diverse communities will come together to mark King Charles III's coronation. In south London's Brixton, musicians plan to parade through the streets entertaining crowds with a carnival set mix of Gospel, jazz, grime, disco and rap. In west London's Southall, known as "Little India," British Indians will party with Punjabi song and dance. (AP Photo/David Cliff)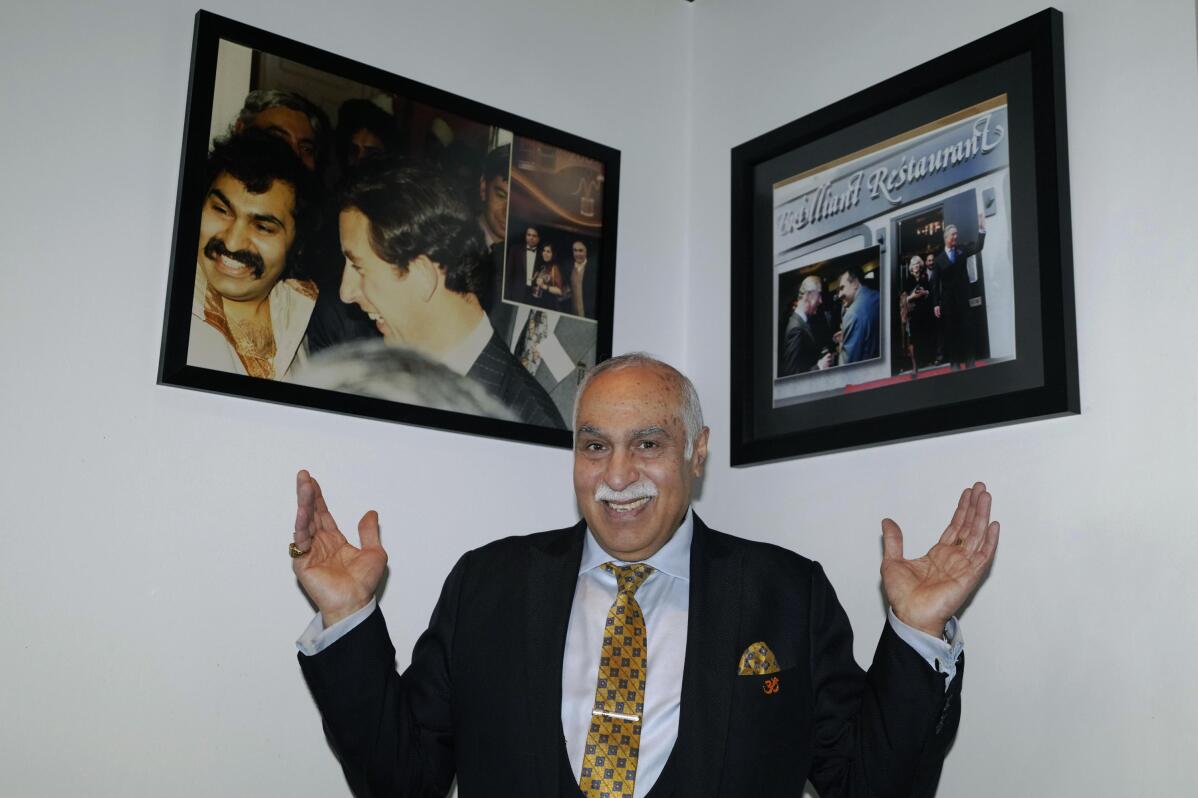 11 of 12

|
Gulu Anand, who owns Southall's Brilliant curry house and has cooked for King Charles III several times over the years when he visited the neighborhood, displays photographs of Charles in his restaurant in London, Thursday, April 27, 2023. Across London, Britain's diverse communities will come together to mark King Charles III's coronation. In south London's Brixton, musicians plan to parade through the streets entertaining crowds with a carnival set mix of Gospel, jazz, grime, disco and rap. In west London's Southall, known as "Little India," British Indians will party with Punjabi song and dance. (AP Photo/Kirsty Wigglesworth)
11 of 12
Gulu Anand, who owns Southall's Brilliant curry house and has cooked for King Charles III several times over the years when he visited the neighborhood, displays photographs of Charles in his restaurant in London, Thursday, April 27, 2023. Across London, Britain's diverse communities will come together to mark King Charles III's coronation. In south London's Brixton, musicians plan to parade through the streets entertaining crowds with a carnival set mix of Gospel, jazz, grime, disco and rap. In west London's Southall, known as "Little India," British Indians will party with Punjabi song and dance. (AP Photo/Kirsty Wigglesworth)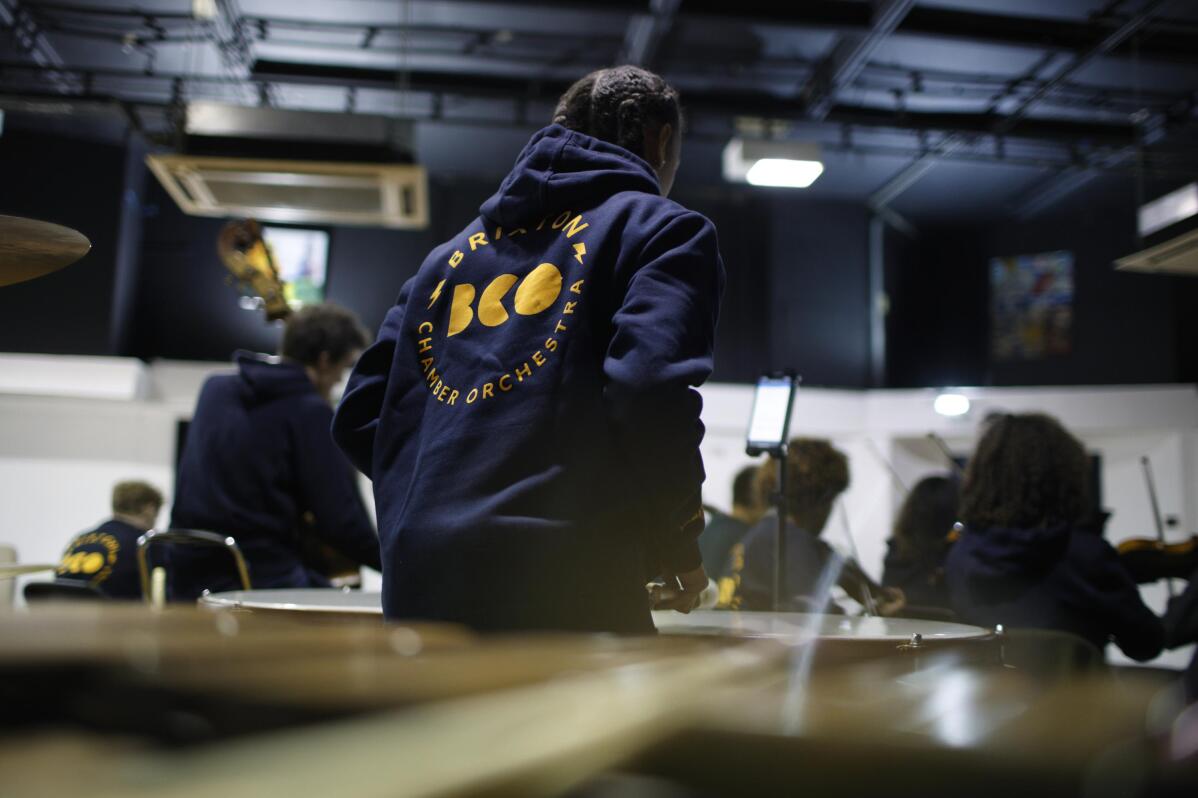 12 of 12

|
Members of the Brixton Chamber Orchestra rehearse for coronation weekend performances in London, Friday, April 21, 2023. Britain's diverse communities will come together to mark King Charles III's coronation. In south London's Brixton, musicians plan to parade through the streets entertaining crowds with a carnival set mix of Gospel, jazz, grime, disco and rap. In west London's Southall, known as "Little India," British Indians will party with Punjabi song and dance. (AP Photo/David Cliff)
12 of 12
Members of the Brixton Chamber Orchestra rehearse for coronation weekend performances in London, Friday, April 21, 2023. Britain's diverse communities will come together to mark King Charles III's coronation. In south London's Brixton, musicians plan to parade through the streets entertaining crowds with a carnival set mix of Gospel, jazz, grime, disco and rap. In west London's Southall, known as "Little India," British Indians will party with Punjabi song and dance. (AP Photo/David Cliff)
LONDON (AP) — Musician Deronne White is ready to play on King Charles III's coronation day. The flautist and his fellow young musicians aren't playing anything regal or solemn — they're planning to parade through south London's streets entertaining crowds with an uplifting "coronation carnival" set mixing gospel, jazz, grime, disco and rap. There'll even be a calypso take on the U.K. national anthem.
While he's excited about the gig, White says he has mixed feelings about the coronation. Like some others at the Brixton Chamber Orchestra, White is a descendant of migrants from Jamaica — a former British colony and Commonwealth member that wants to cut its ties with the monarchy and has called for the U.K. royals to address their historical ties to slavery.
"Personally it's a little bit hard to connect to the whole occasion," he said. "I think that the coronation could possibly allow people like me to try and connect to (the monarchy). But it can be a bit tough."
Towns, cities and villages across the U.K. will be awash with Union flags and patriotic decorations to celebrate Charles' coronation at Westminster Abbey this weekend, and officials say the festivities will bring Britain's diverse communities together. But the event is viewed with a large dose of ambivalence by some in the U.K., not least those with African Caribbean backgrounds and other minorities for whom the British Empire's past wrongs still loom large.
While slavery and the heyday of colonialism may be long gone, the royal family has in recent years struggled to grapple with new accusations of institutional racism – most notably from Prince Harry's wife, Meghan.
The Duchess of Sussex, a biracial American actress, reopened the debate about the monarchy and race when she said last year that an unnamed member of the royal household had asked her how dark her baby's skin might be when she was pregnant with her first child, Archie.
Last year, there was outrage when Ngozi Fulani, a Black charity executive, complained that a close aide of Queen Elizabeth II's repeatedly questioned her at a party about where she was "really" from. Palace officials apologized and the aide, Susan Hussey, resigned.
Charles, 74, has on many occasions spoken about how much he values diversity in modern, multicultural Britain. He has paid tribute to Britain's "Windrush generation" — the West Indians, like White's great-grandparents, who helped rebuild Britain after World War II. In 2021, Charles won praise for acknowledging "the darkest days of our past" and the stain of slavery.
More recently, the monarch expressed for the first time his support for research into the links between the U.K. monarchy and the trans-Atlantic slave trade.
"I think he's definitely trying — maybe not in the best way or the fastest way, but from what I've seen, it's kind of a step in the right way," said Teigan Hastings, 17.
But Hastings, a British Jamaican who plays the tuba alongside White, said that Meghan's claims about how she was treated by her in-laws "opened up a bit of truth within the royal family."
"I guess it wasn't totally unexpected, but at the same time you think there'd be some form of acceptance … and there hasn't really been," he said. "It's like there's nothing like us normal people can really do about it except hope for change."
The musicians say they hope that their vibrant blend of musical styles will help draw in the crowds, whatever they may think of Charles.
Across the capital in Southall, known as "Little India" — the west London neighborhood is home to one of the largest Indian populations outside India — local politician Jasbir Kaur Anand said the area's British Asians also plan to mark the coronation in their own way.
About 6,000 tickets were snapped up for a coronation shindig complete with a huge television screen broadcasting the ceremony, funfair rides and bands playing Jewish, South American and gospel music, Anand said.
She added that she will attend a street party organized by a group of local women that promises to feature "lots of Punjabi food, Punjabi dancing and singing."
Anand, whose family moved to Britain from Singapore when the city-state gained independence, said many immigrants of her generation feel gratitude to the U.K. monarchy for embracing them and giving them the opportunities to settle and prosper.
Gulu Anand, who owns Southall's Brilliant curry house and has cooked for Charles several times over the years when he visited the neighborhood, is one vocal supporter of Charles.
Charles "actually listens to you," he said, recalling the royal's demeanor when he ate at his restaurant. "I think he is the people's king."
But Janpal Basran, who heads local charity Southall Community Alliance, said that many communities in the area are from former colonies and "remember what it was like to be ruled by others."
"So they look at the monarchy, they remember all of the associated historical baggage, for want of a better word," Basran said. "There will be people who will be thinking that the monarchy represents an institution which was repressive, discriminatory and violent. Is this something that we want to be supporting to the future?"
Patrick Vernon, a Black activist campaigning for justice for scores of Caribbean migrants who lost their rights as U.K. citizens because of a legal loophole, said Charles could do so much more to show his subjects that the monarchy takes diversity seriously.
He drew attention to a 2021 investigation by the Guardian newspaper that revealed the royal household is still exempt from equality laws preventing race and sex discrimination.
"I think Charles could be in a unique position to start to actually influence that agenda," he said. "It's important to demonstrate change, demonstrate that there's a clear marker that we're different, that we're moving towards the 21st century."
___
Follow AP's coverage of King Charles III at https://apnews.com/hub/king-charles-iii