In Ukraine, the grief-stricken bear the pain of war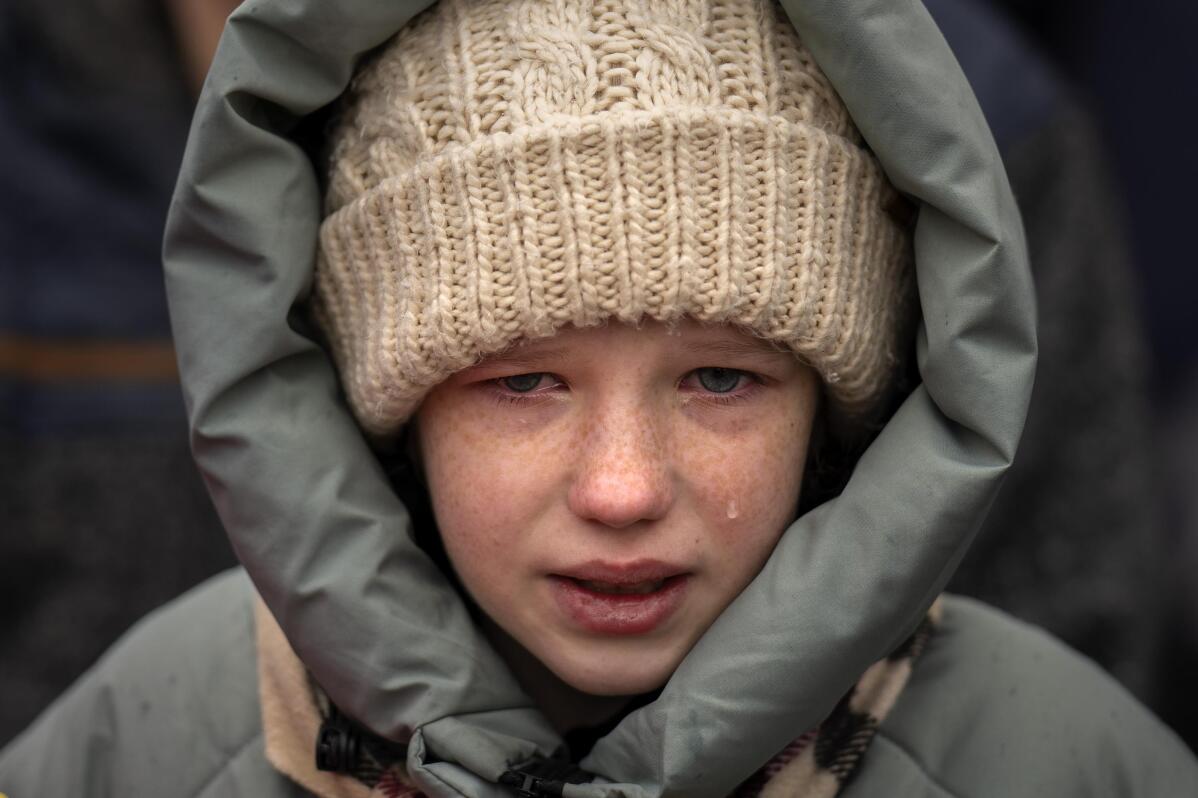 1 of 12

|
Anna, 10, cries next to the body of her brother Yurii, 27, during his funeral in Kalynivka, near Kyiv, Ukraine, Tuesday, Feb. 21, 2023. Yurii Kulyk, a civilian who was a volunteer in the armed forces of Ukraine, was killed during a rocket attack on Feb.15 in Lyman, a city in the Donetsk region of Ukraine. (AP Photo/Emilio Morenatti)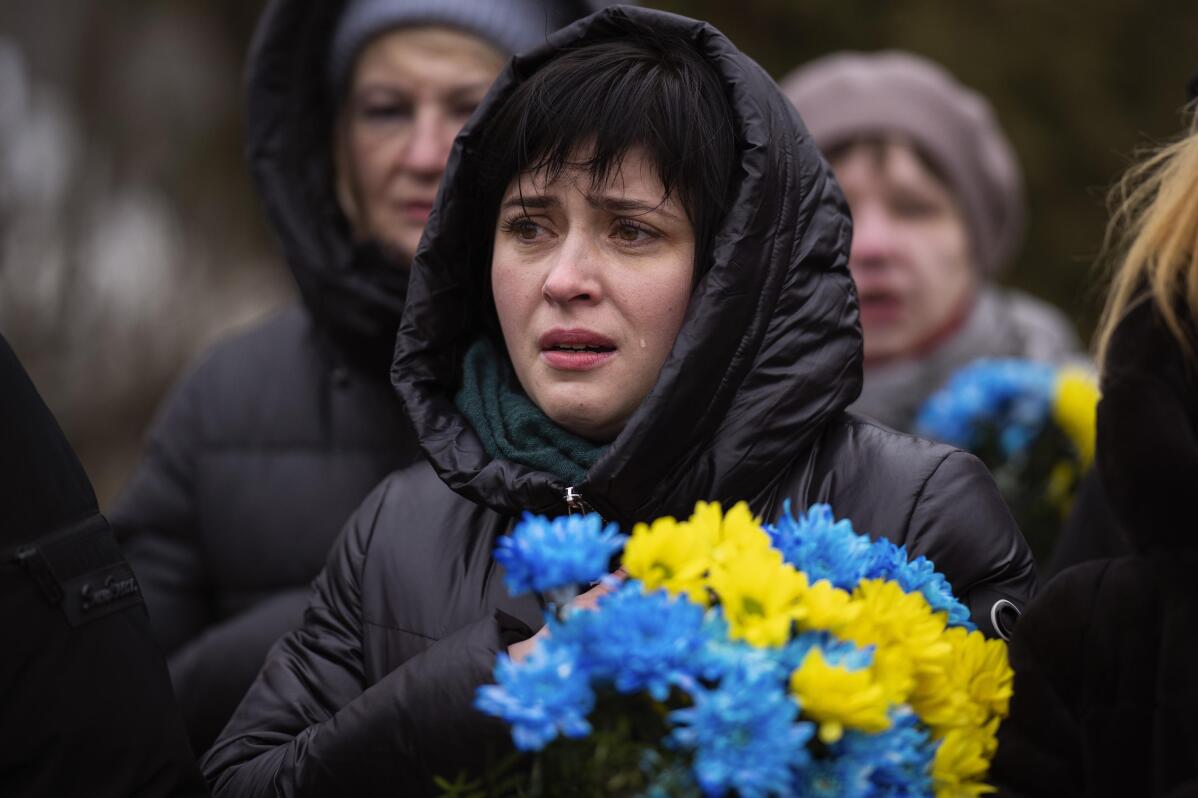 2 of 12

|
A woman cries during a memorial service to mark the one-year anniversary of the start of the Russia Ukraine war, in a cemetery in Bucha, Friday, Feb. 24, 2023. (AP Photo/Emilio Morenatti)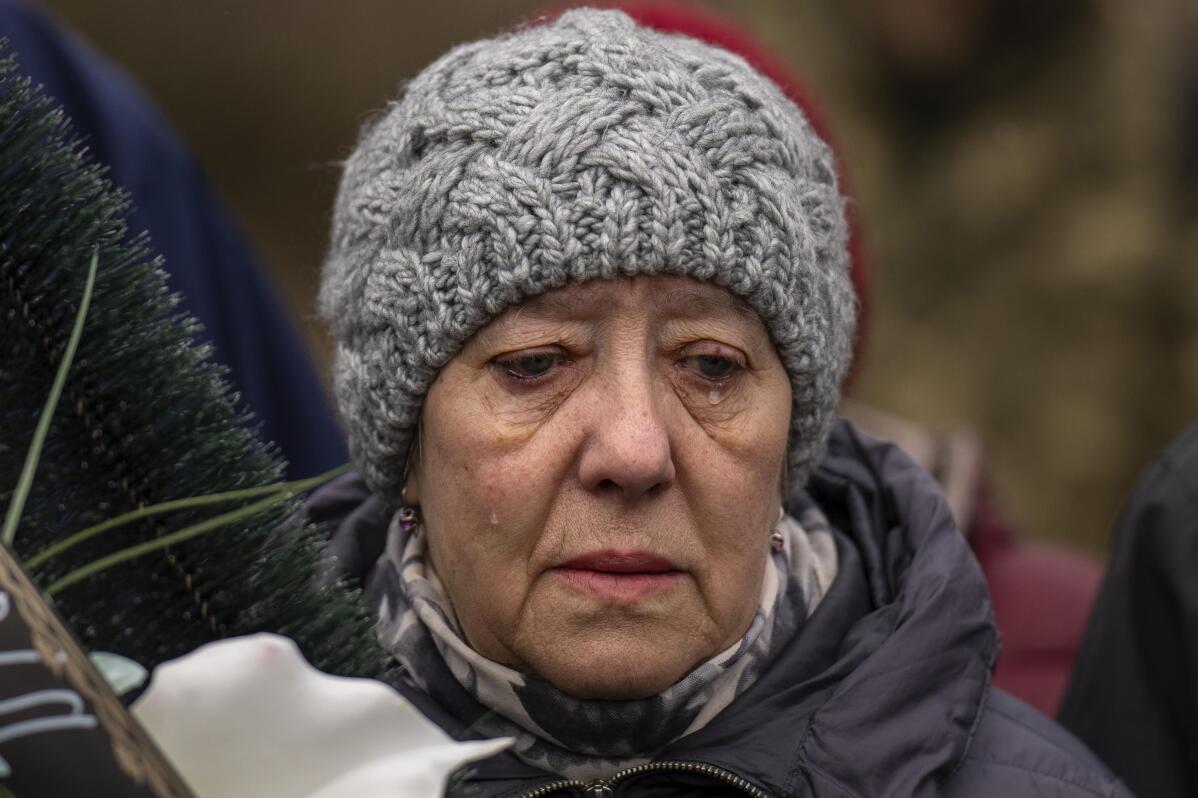 3 of 12

|
Galina,64, cries next to the body of her friend Yurii, 27, during his funeral in Kalynivka, near Kyiv, Ukraine, Tuesday, Feb. 21, 2023. Yurii Kulyk, a civilian who was a volunteer in the armed forces of Ukraine, was killed during a rocket attack on Feb.15 in Lyman, a city in the Donetsk region of Ukraine. (AP Photo/Emilio Morenatti)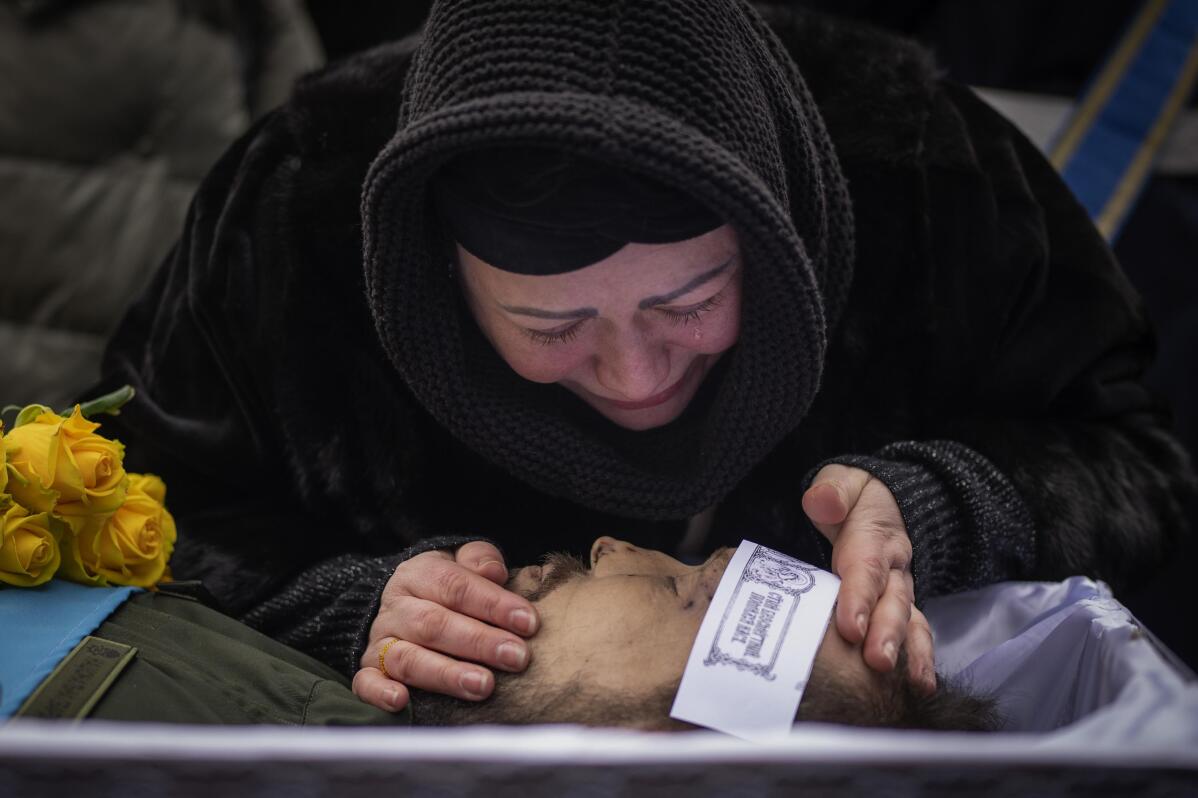 4 of 12

|
Roza cries over the body of her husband Oleksandr Maksymenko, 38, during his funeral in his home-village Kniazhychi, east of Kyiv, Ukraine, Monday, Feb. 13, 2023. Oleksandr, a civilian who was a volunteer in the armed forces of Ukraine, was killed in the fighting in Bakhmut area. (AP Photo/Emilio Morenatti)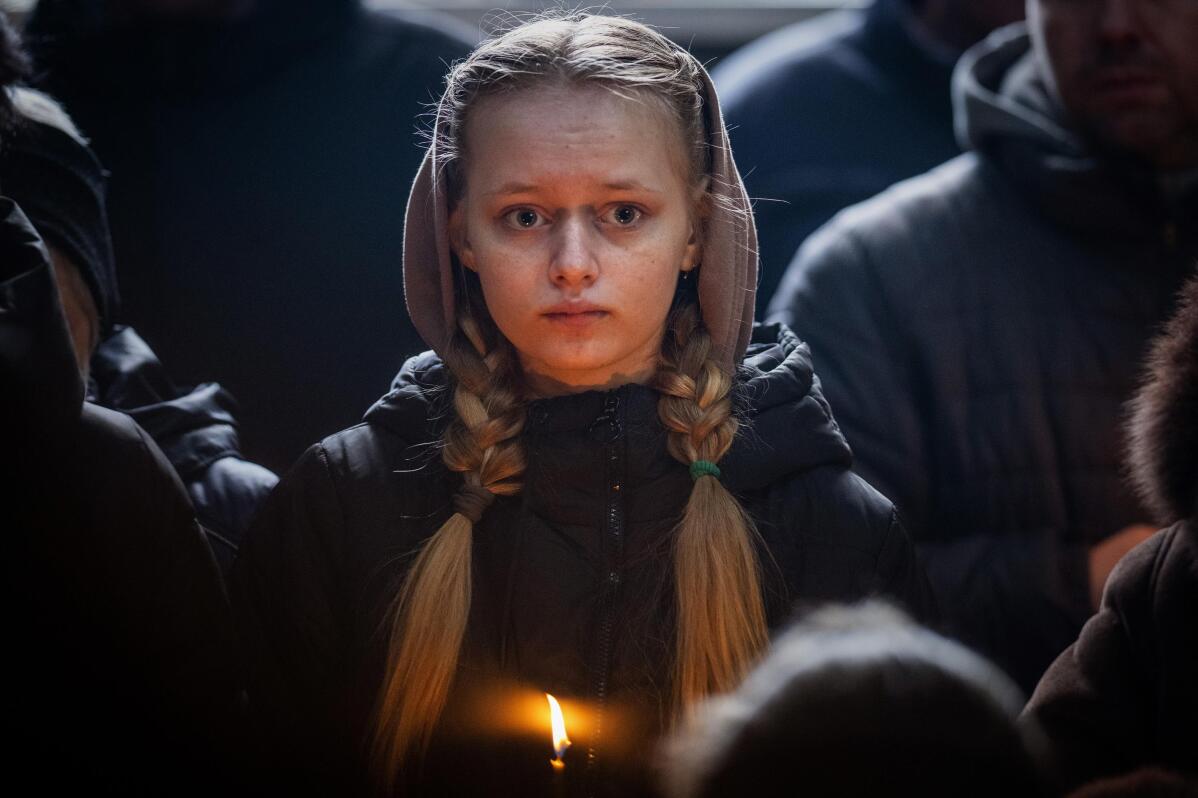 5 of 12

|
A relative holds a candle during Roman Shevchenko's funeral in Bila Tserkva, near Kyiv, Ukraine, Wednesday, Feb. 22, 2023. Roman Shevchenko, 40, was a civilian who joined the Ukrainian Armed Forces to defend his country when the Russian full-scale war started. Roman was killed on Feb. 9 in Vuhledar, a city in the Donetsk region of Ukraine. (AP Photo/Emilio Morenatti)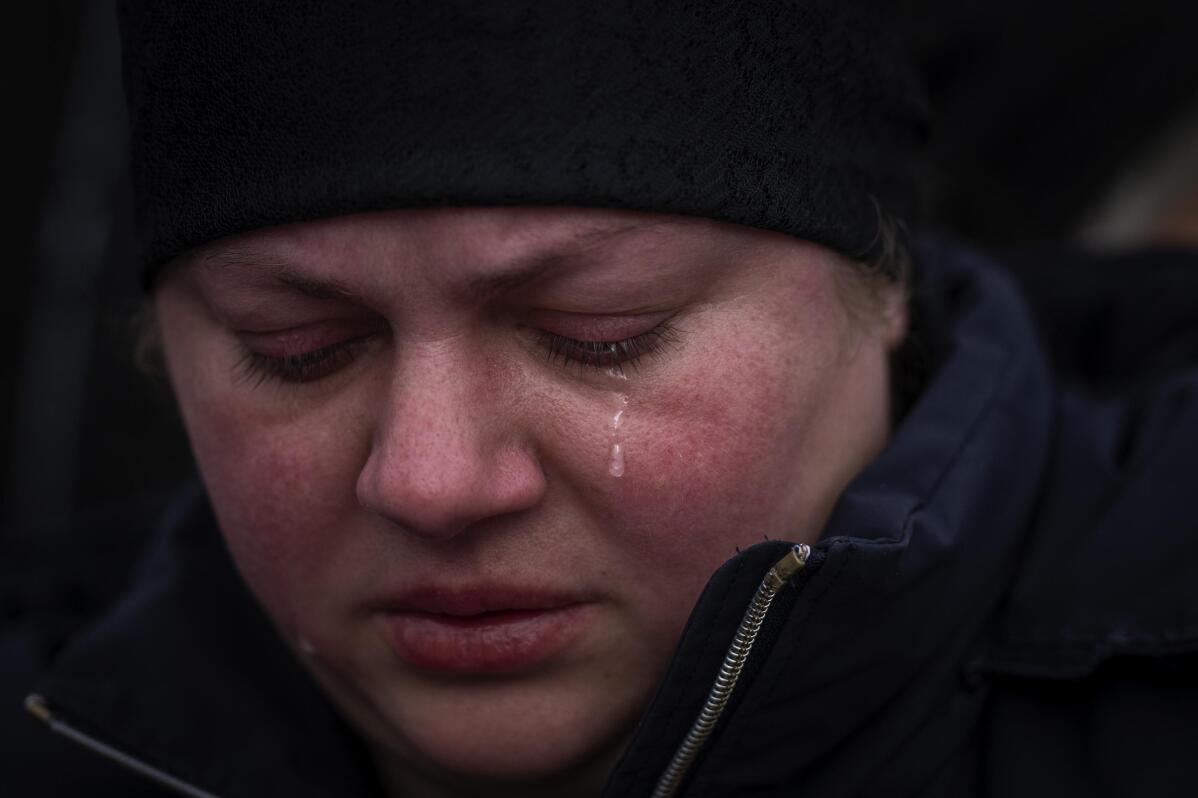 6 of 12

|
Tamara cries next to the body of her husband Roman during his funeral in Bila Tserkva, near Kyiv, Ukraine, Wednesday, Feb. 22, 2023. Roman Shevchenko, 40, was a civilian who joined the Ukrainian Armed Forces to defend his country when the Russian full-scale war started. Roman was killed on Feb. 9 in Vuhledar, a city in the Donetsk region of Ukraine. (AP Photo/Emilio Morenatti)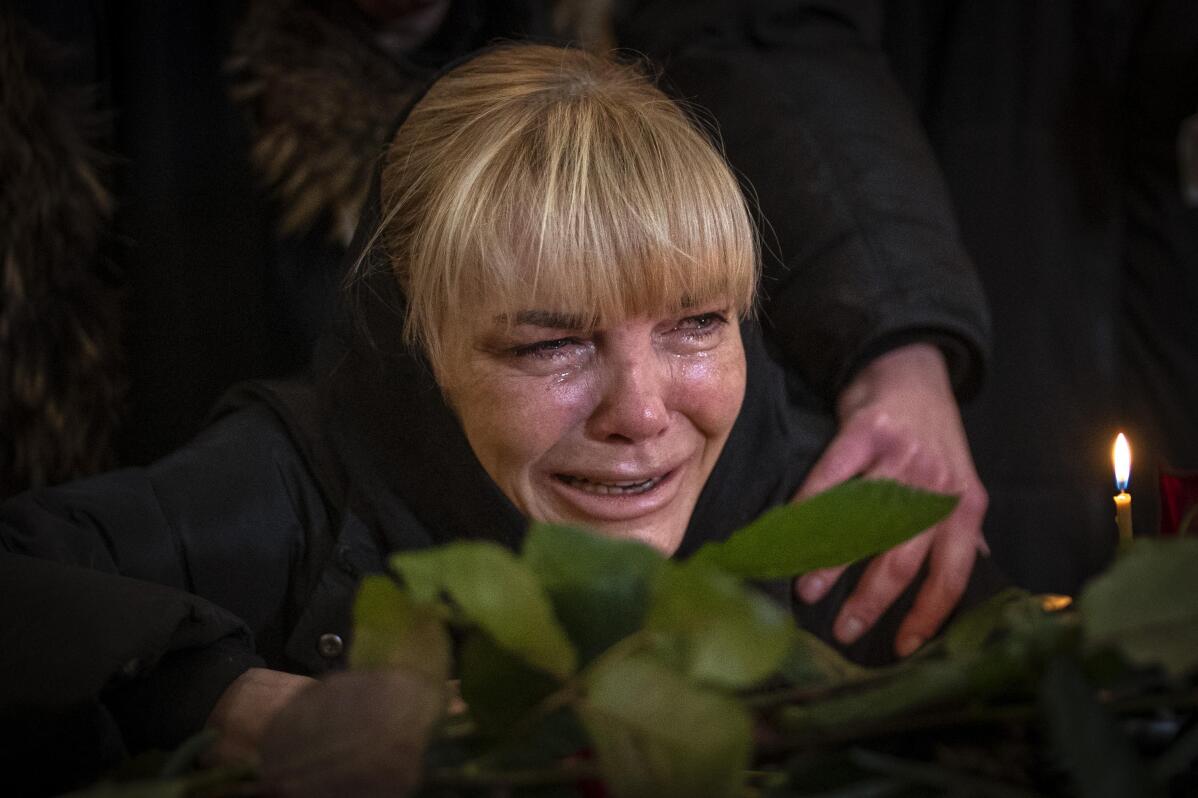 7 of 12

|
Larysa cries over the coffin of her husband Volodymyr, a Ukrainian military serviceman who was killed in the east of the country, during his funeral in Kyiv, Ukraine, Saturday, Feb. 11, 2023. (AP Photo/Emilio Morenatti)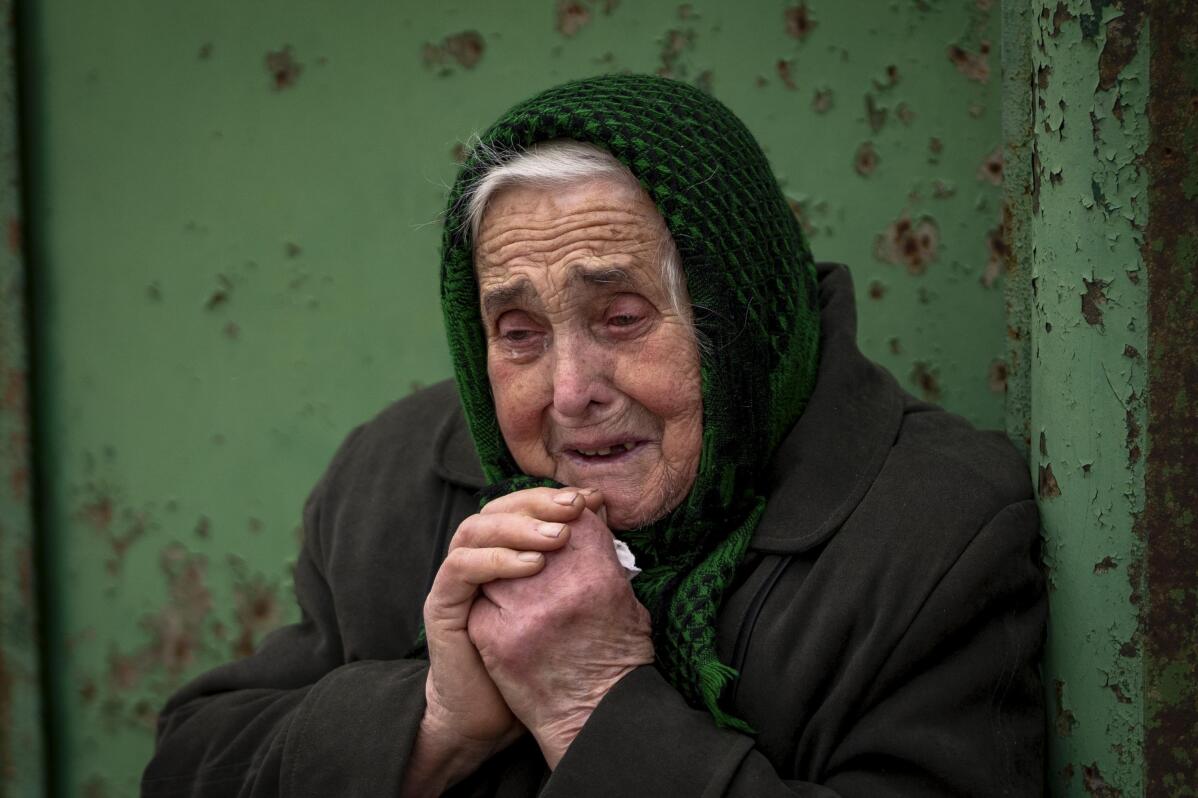 8 of 12

|
Olha Petrenko, 84, cries as the coffin of Oleksandr Maksymenko, 38, passes by during his funeral in his home village Kniazhychi, east of Kyiv, Ukraine, Monday, Feb. 13, 2023. Oleksandr, a civilian who was a volunteer in the armed forces of Ukraine, was killed in the fighting in Bakhmut area. (AP Photo/Emilio Morenatti)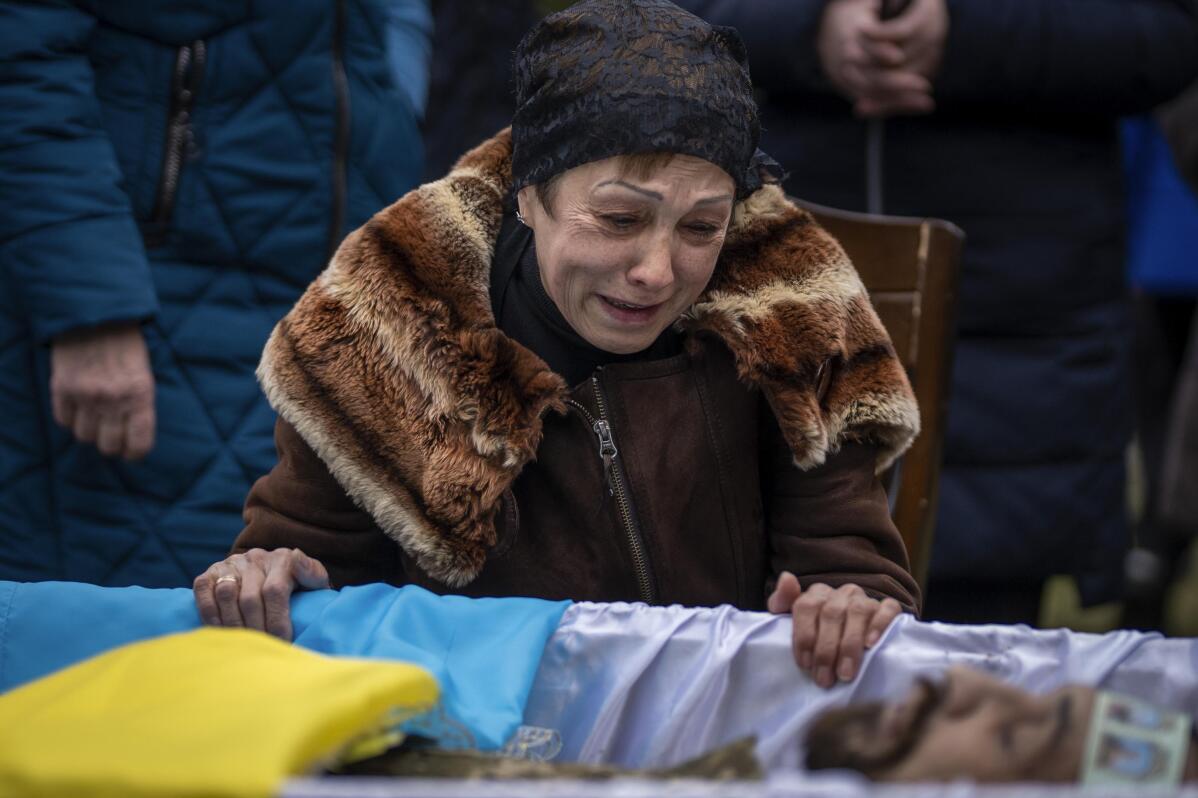 9 of 12

|
Tetyana cries next to the body of her son Kasich, 42, during his funeral in Bucha, near Kyiv, Ukraine, Friday, Feb. 17, 2023. Kasich Kostiantyn, 42, as senior lieutenant of 93rd Ukrainian brigade was killed on Tuesday, Feb. 14 in the fightings in Bakhmut area. (AP Photo/Emilio Morenatti)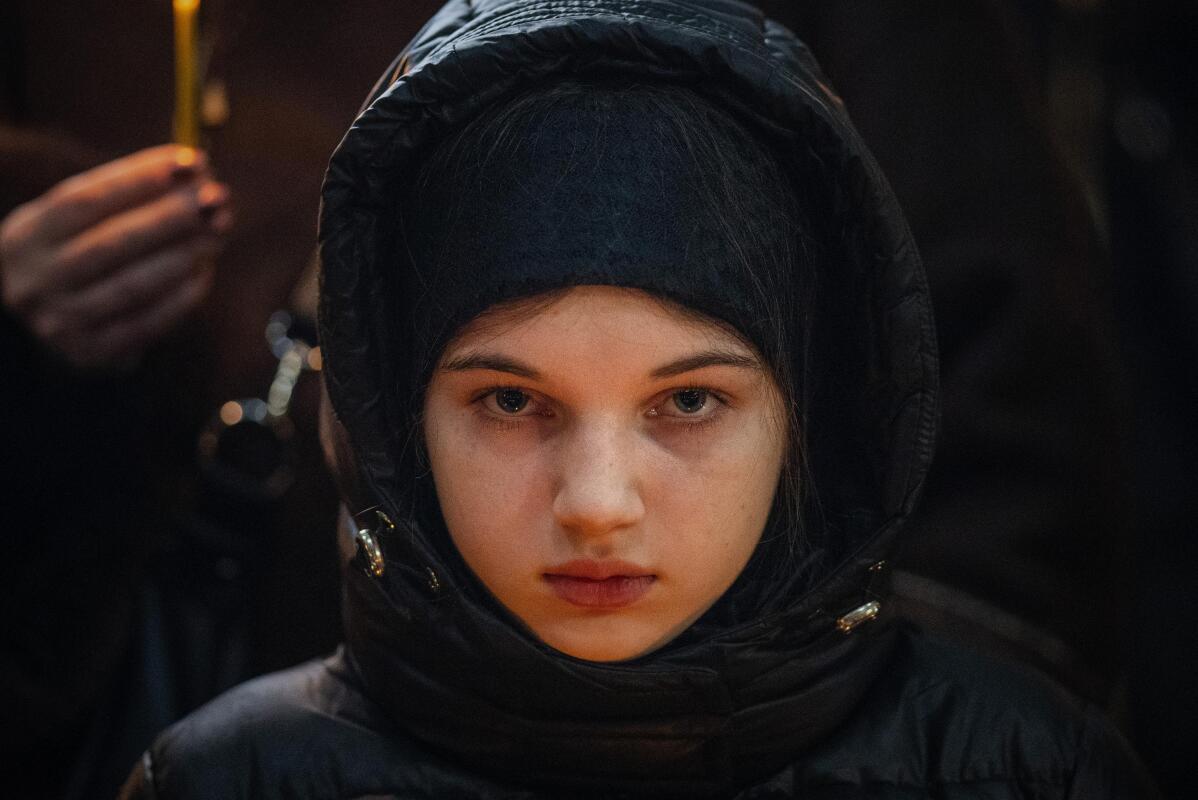 10 of 12

|
Sophia, 13, stands next to the body of her father Roman, during his funeral in Bila Tserkva, near Kyiv, Ukraine, Wednesday, Feb. 22, 2023. Roman Shevchenko, 40, was a civilian who joined the Ukrainian Armed Forces to defend his country when the Russian full-scale war started. Roman was killed on Feb. 9 in Vuhledar, a city in the Donetsk region of Ukraine. (AP Photo/Emilio Morenatti)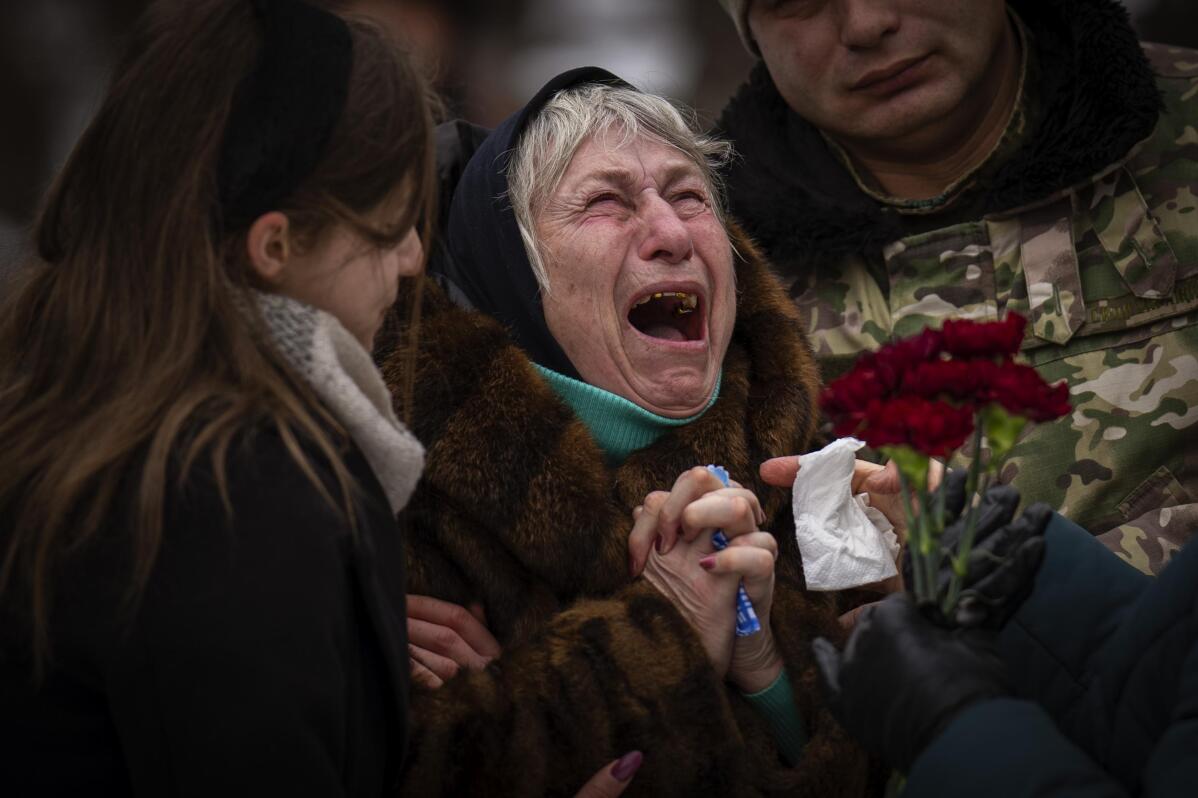 11 of 12

|
Nina Nikiforovа, 80, cries outside a church after attending the funeral of her son Oleg Kunynets, a Ukrainian military serviceman who was killed in the east of the country, in Kyiv, Ukraine, Saturday, Feb. 11, 2023. (AP Photo/Emilio Morenatti)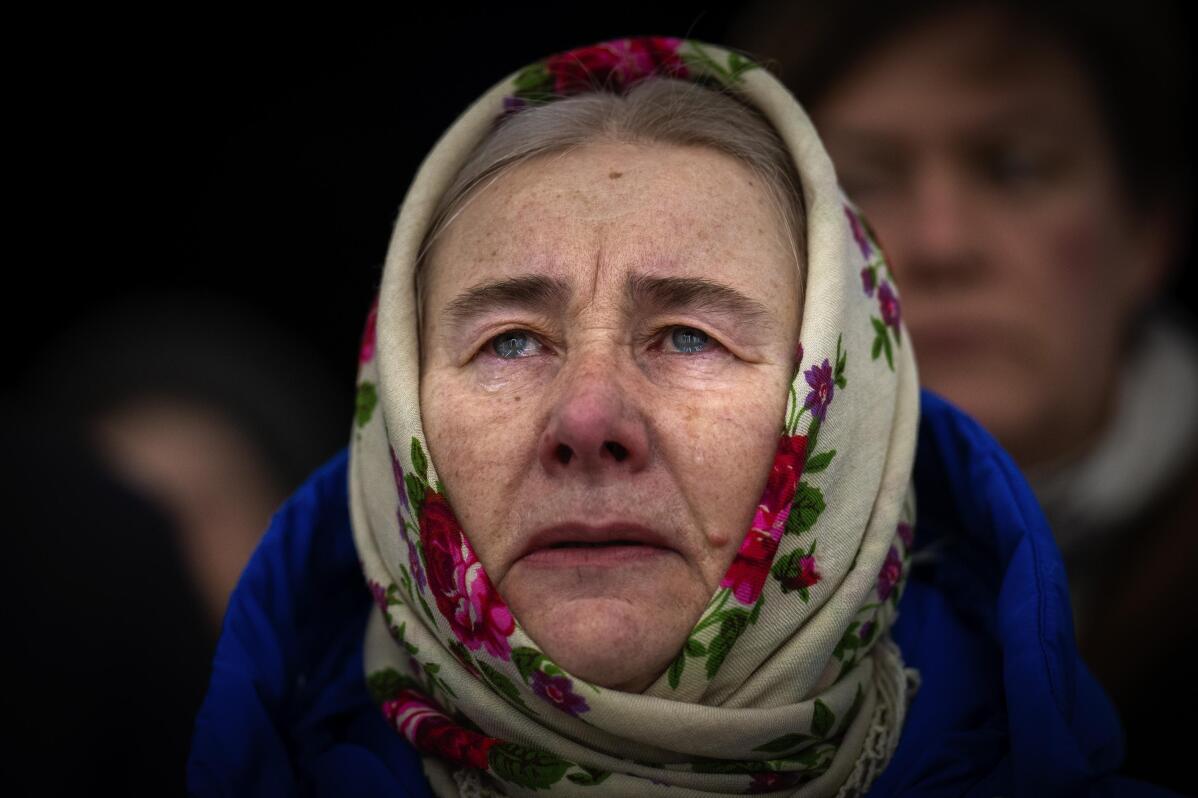 12 of 12

|
Olha Kosianchuk, 64, cries during a memorial service to mark the one-year anniversary of the start of he Russia Ukraine war, in Bucha, Friday, Feb. 24, 2023. Olha's husband was killed during the occupation of Bucha by Russian troops during the first weeks of the war. (AP Photo/Emilio Morenatti)
In Ukraine, the grief-stricken bear the pain of war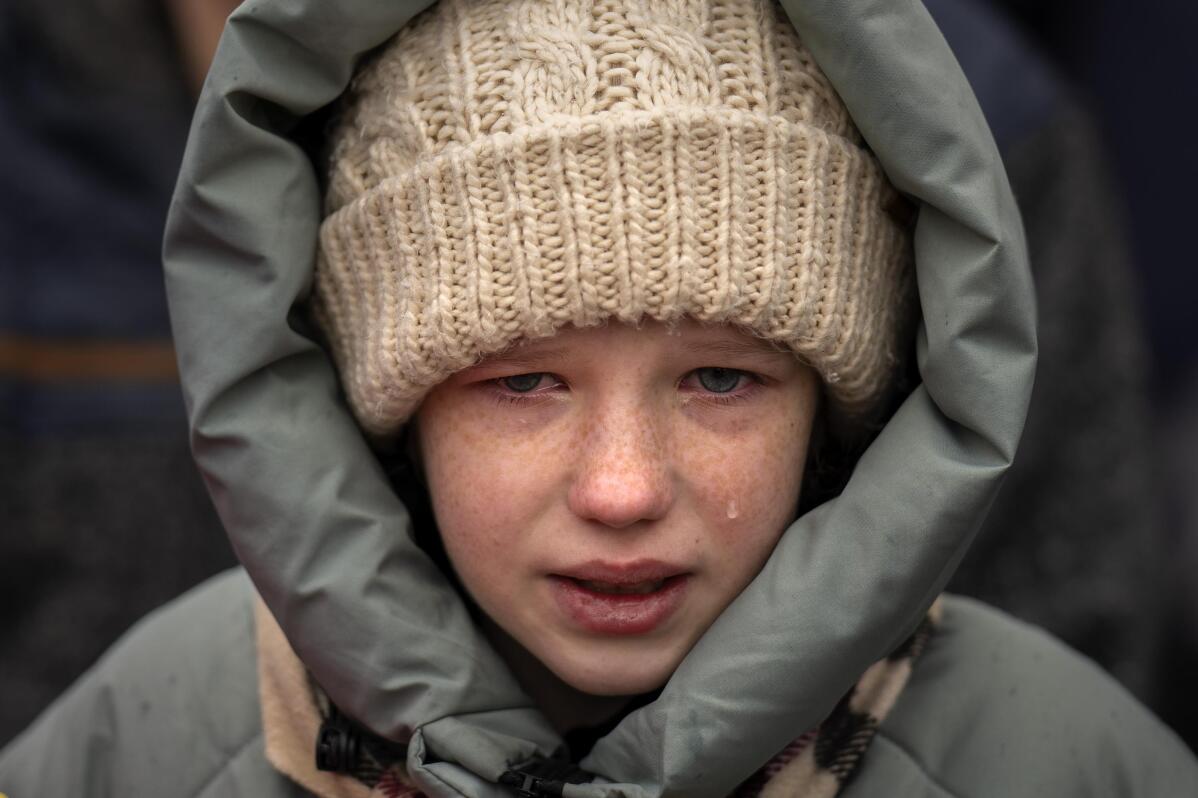 1 of 12

|
Anna, 10, cries next to the body of her brother Yurii, 27, during his funeral in Kalynivka, near Kyiv, Ukraine, Tuesday, Feb. 21, 2023. Yurii Kulyk, a civilian who was a volunteer in the armed forces of Ukraine, was killed during a rocket attack on Feb.15 in Lyman, a city in the Donetsk region of Ukraine. (AP Photo/Emilio Morenatti)
1 of 12
Anna, 10, cries next to the body of her brother Yurii, 27, during his funeral in Kalynivka, near Kyiv, Ukraine, Tuesday, Feb. 21, 2023. Yurii Kulyk, a civilian who was a volunteer in the armed forces of Ukraine, was killed during a rocket attack on Feb.15 in Lyman, a city in the Donetsk region of Ukraine. (AP Photo/Emilio Morenatti)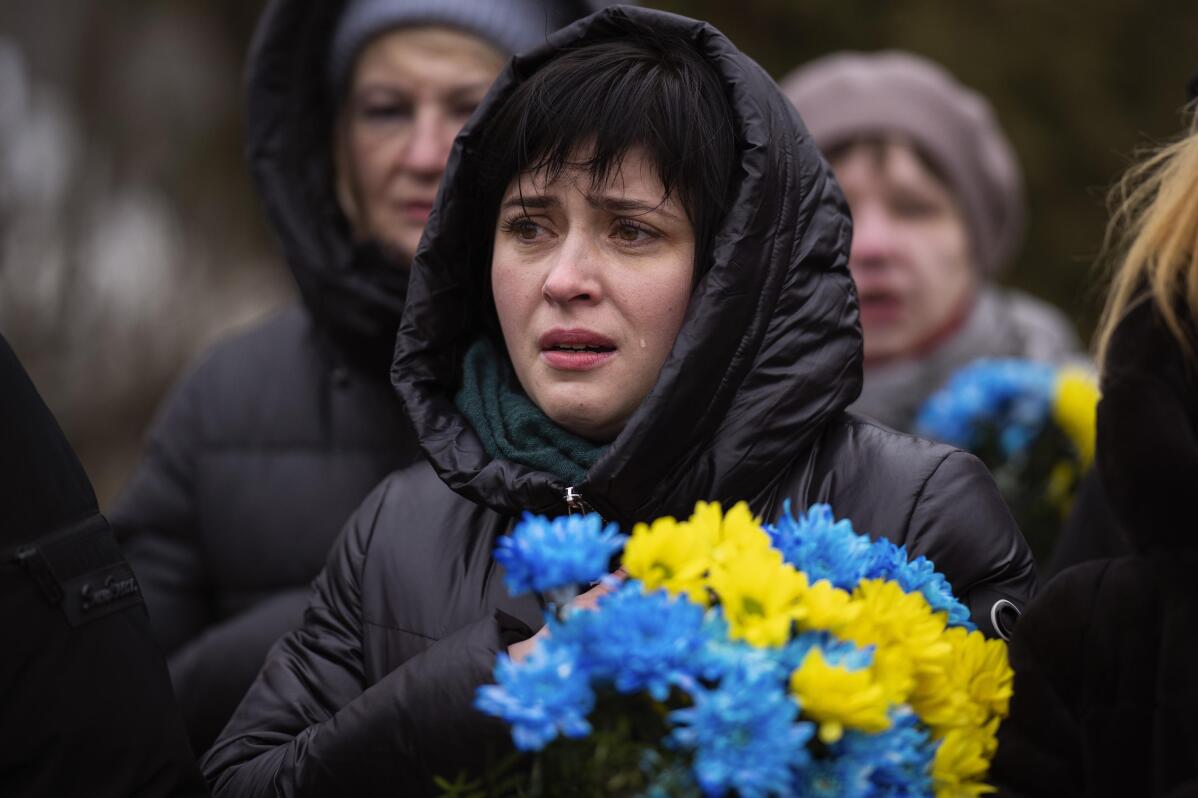 2 of 12

|
A woman cries during a memorial service to mark the one-year anniversary of the start of the Russia Ukraine war, in a cemetery in Bucha, Friday, Feb. 24, 2023. (AP Photo/Emilio Morenatti)
2 of 12
A woman cries during a memorial service to mark the one-year anniversary of the start of the Russia Ukraine war, in a cemetery in Bucha, Friday, Feb. 24, 2023. (AP Photo/Emilio Morenatti)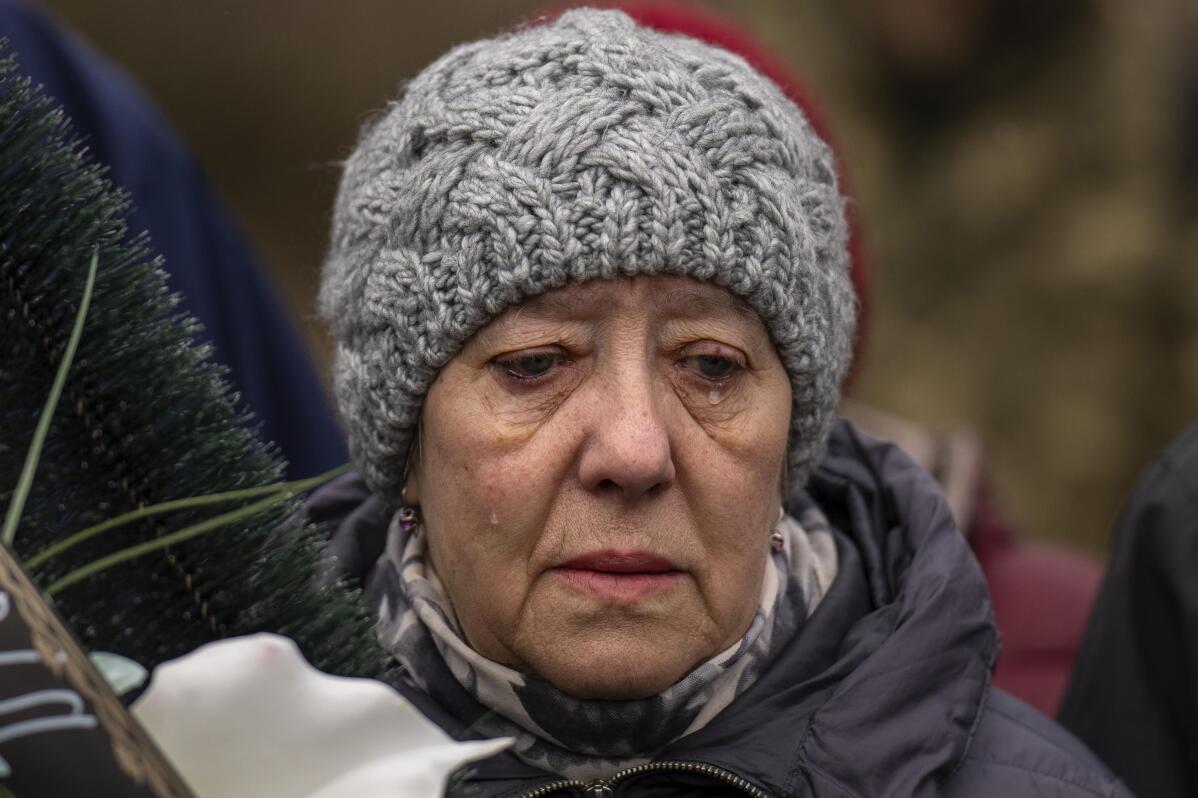 3 of 12

|
Galina,64, cries next to the body of her friend Yurii, 27, during his funeral in Kalynivka, near Kyiv, Ukraine, Tuesday, Feb. 21, 2023. Yurii Kulyk, a civilian who was a volunteer in the armed forces of Ukraine, was killed during a rocket attack on Feb.15 in Lyman, a city in the Donetsk region of Ukraine. (AP Photo/Emilio Morenatti)
3 of 12
Galina,64, cries next to the body of her friend Yurii, 27, during his funeral in Kalynivka, near Kyiv, Ukraine, Tuesday, Feb. 21, 2023. Yurii Kulyk, a civilian who was a volunteer in the armed forces of Ukraine, was killed during a rocket attack on Feb.15 in Lyman, a city in the Donetsk region of Ukraine. (AP Photo/Emilio Morenatti)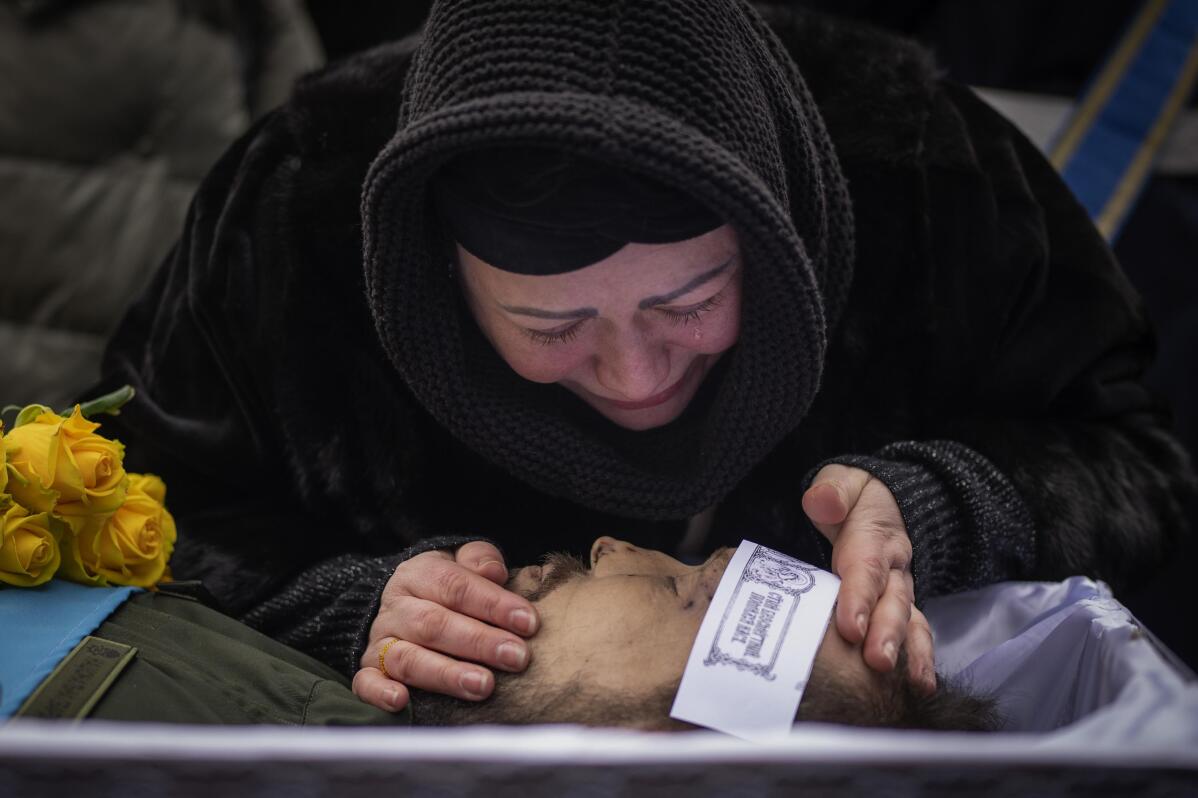 4 of 12

|
Roza cries over the body of her husband Oleksandr Maksymenko, 38, during his funeral in his home-village Kniazhychi, east of Kyiv, Ukraine, Monday, Feb. 13, 2023. Oleksandr, a civilian who was a volunteer in the armed forces of Ukraine, was killed in the fighting in Bakhmut area. (AP Photo/Emilio Morenatti)
4 of 12
Roza cries over the body of her husband Oleksandr Maksymenko, 38, during his funeral in his home-village Kniazhychi, east of Kyiv, Ukraine, Monday, Feb. 13, 2023. Oleksandr, a civilian who was a volunteer in the armed forces of Ukraine, was killed in the fighting in Bakhmut area. (AP Photo/Emilio Morenatti)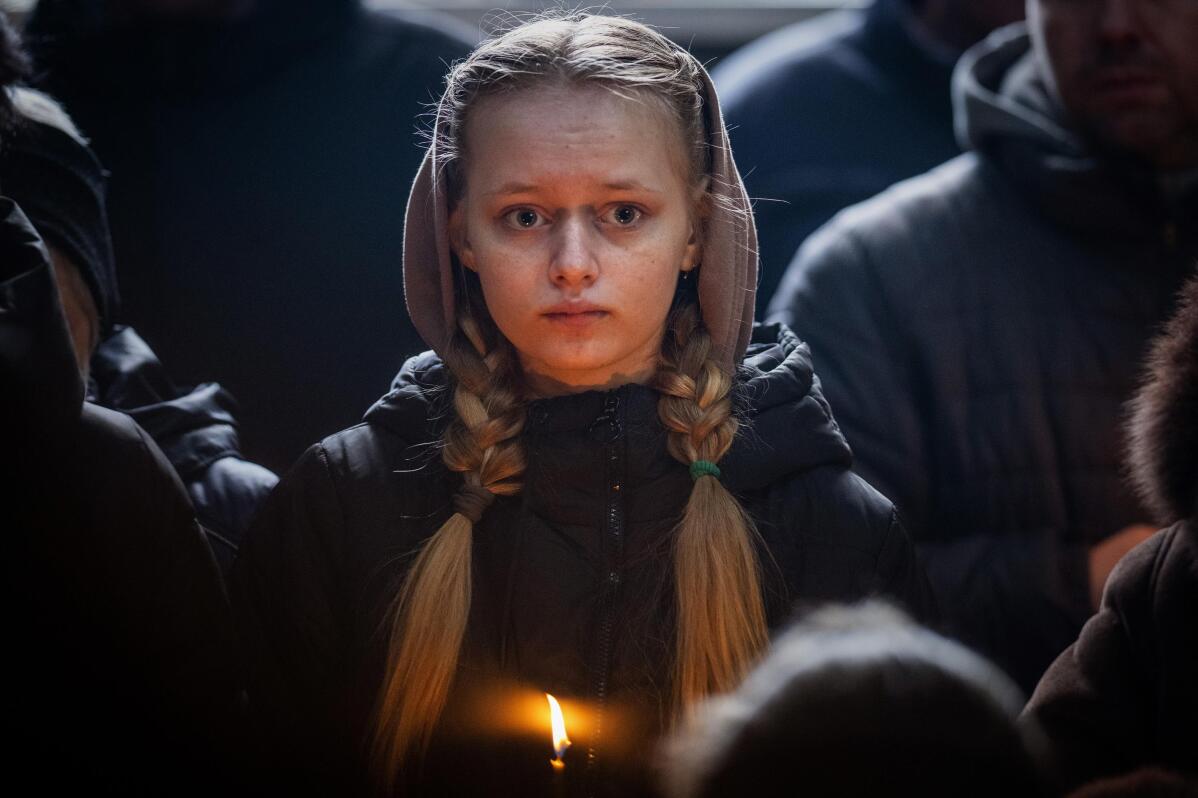 5 of 12

|
A relative holds a candle during Roman Shevchenko's funeral in Bila Tserkva, near Kyiv, Ukraine, Wednesday, Feb. 22, 2023. Roman Shevchenko, 40, was a civilian who joined the Ukrainian Armed Forces to defend his country when the Russian full-scale war started. Roman was killed on Feb. 9 in Vuhledar, a city in the Donetsk region of Ukraine. (AP Photo/Emilio Morenatti)
5 of 12
A relative holds a candle during Roman Shevchenko's funeral in Bila Tserkva, near Kyiv, Ukraine, Wednesday, Feb. 22, 2023. Roman Shevchenko, 40, was a civilian who joined the Ukrainian Armed Forces to defend his country when the Russian full-scale war started. Roman was killed on Feb. 9 in Vuhledar, a city in the Donetsk region of Ukraine. (AP Photo/Emilio Morenatti)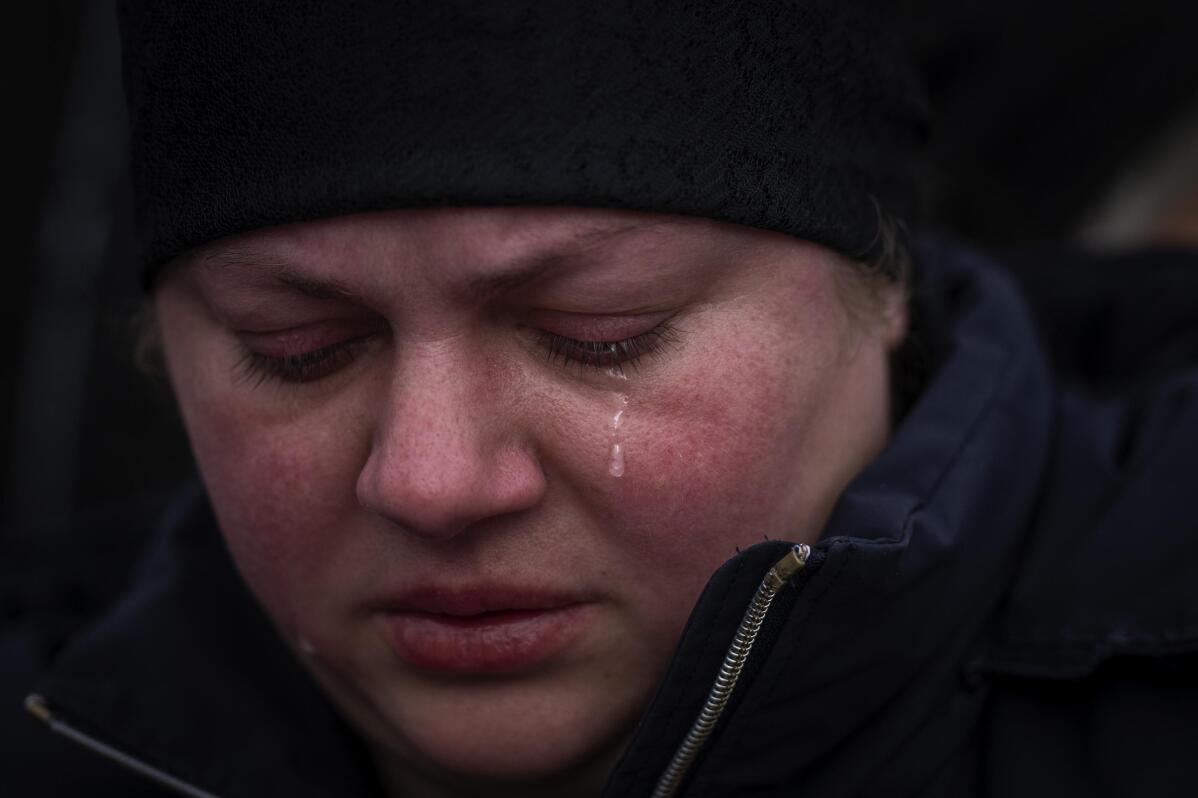 6 of 12

|
Tamara cries next to the body of her husband Roman during his funeral in Bila Tserkva, near Kyiv, Ukraine, Wednesday, Feb. 22, 2023. Roman Shevchenko, 40, was a civilian who joined the Ukrainian Armed Forces to defend his country when the Russian full-scale war started. Roman was killed on Feb. 9 in Vuhledar, a city in the Donetsk region of Ukraine. (AP Photo/Emilio Morenatti)
6 of 12
Tamara cries next to the body of her husband Roman during his funeral in Bila Tserkva, near Kyiv, Ukraine, Wednesday, Feb. 22, 2023. Roman Shevchenko, 40, was a civilian who joined the Ukrainian Armed Forces to defend his country when the Russian full-scale war started. Roman was killed on Feb. 9 in Vuhledar, a city in the Donetsk region of Ukraine. (AP Photo/Emilio Morenatti)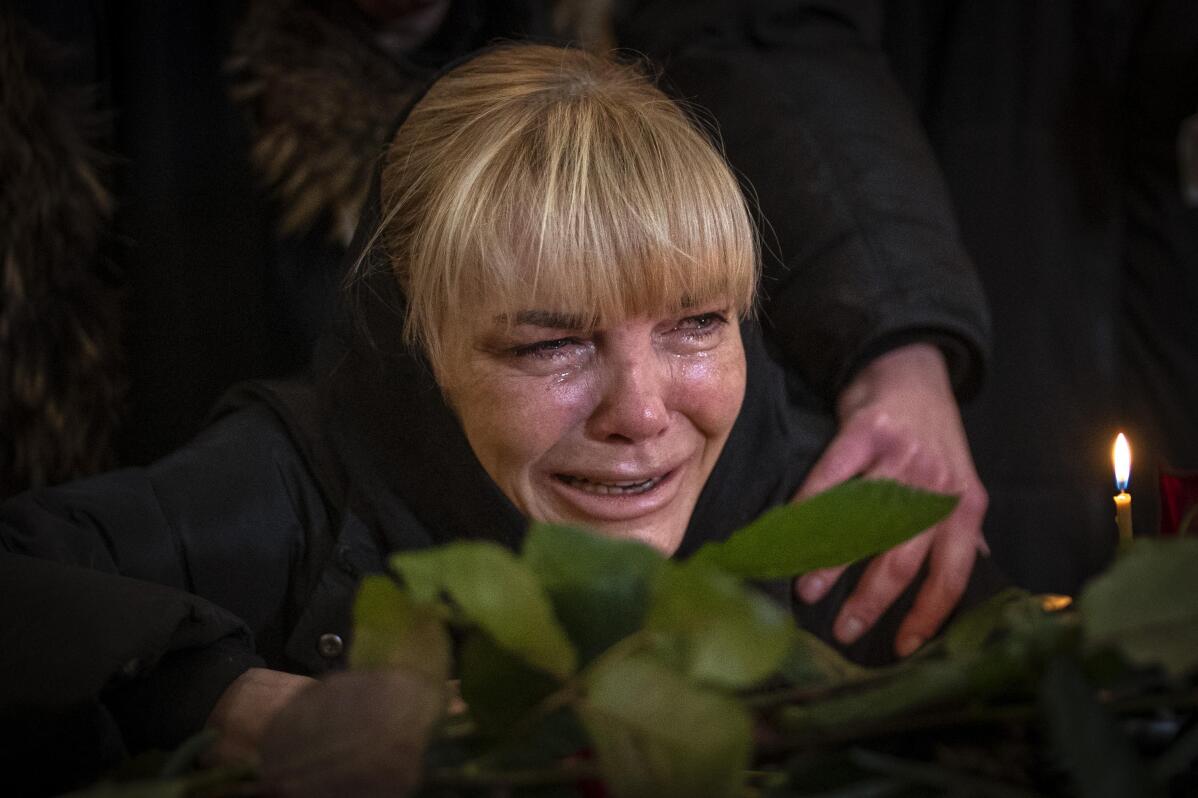 7 of 12

|
Larysa cries over the coffin of her husband Volodymyr, a Ukrainian military serviceman who was killed in the east of the country, during his funeral in Kyiv, Ukraine, Saturday, Feb. 11, 2023. (AP Photo/Emilio Morenatti)
7 of 12
Larysa cries over the coffin of her husband Volodymyr, a Ukrainian military serviceman who was killed in the east of the country, during his funeral in Kyiv, Ukraine, Saturday, Feb. 11, 2023. (AP Photo/Emilio Morenatti)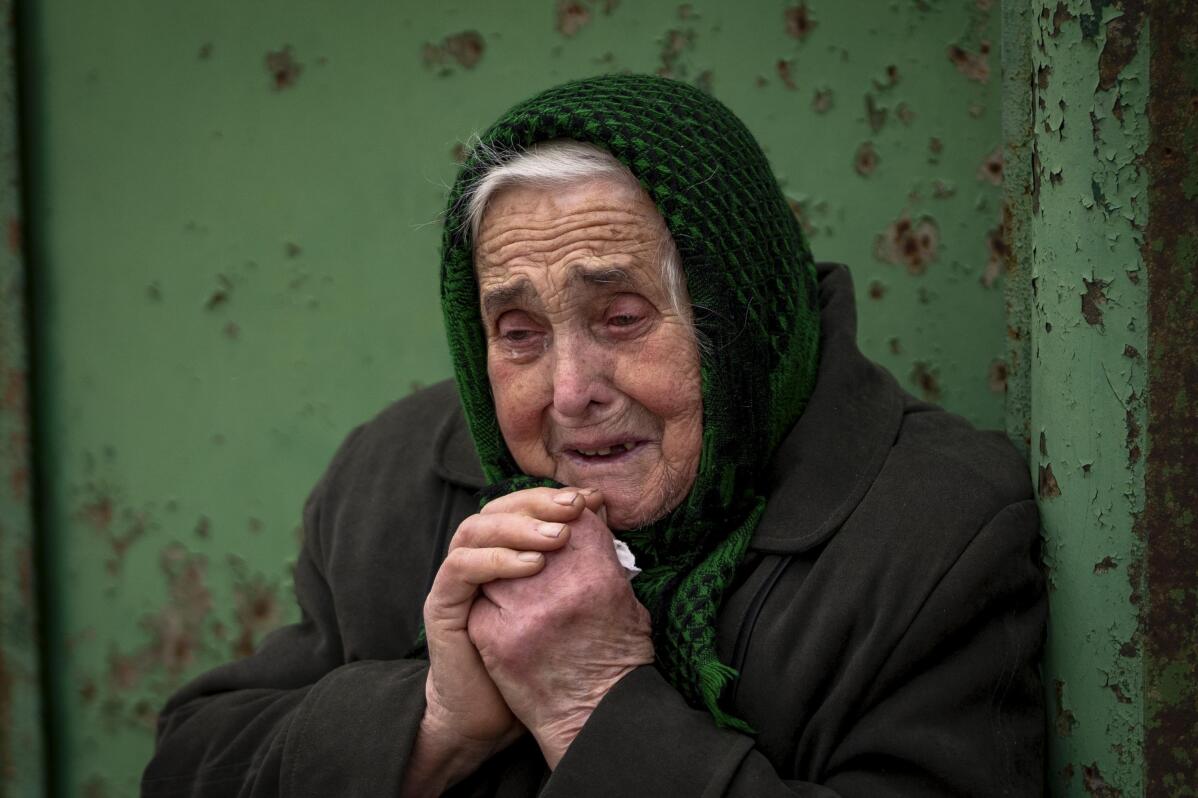 8 of 12

|
Olha Petrenko, 84, cries as the coffin of Oleksandr Maksymenko, 38, passes by during his funeral in his home village Kniazhychi, east of Kyiv, Ukraine, Monday, Feb. 13, 2023. Oleksandr, a civilian who was a volunteer in the armed forces of Ukraine, was killed in the fighting in Bakhmut area. (AP Photo/Emilio Morenatti)
8 of 12
Olha Petrenko, 84, cries as the coffin of Oleksandr Maksymenko, 38, passes by during his funeral in his home village Kniazhychi, east of Kyiv, Ukraine, Monday, Feb. 13, 2023. Oleksandr, a civilian who was a volunteer in the armed forces of Ukraine, was killed in the fighting in Bakhmut area. (AP Photo/Emilio Morenatti)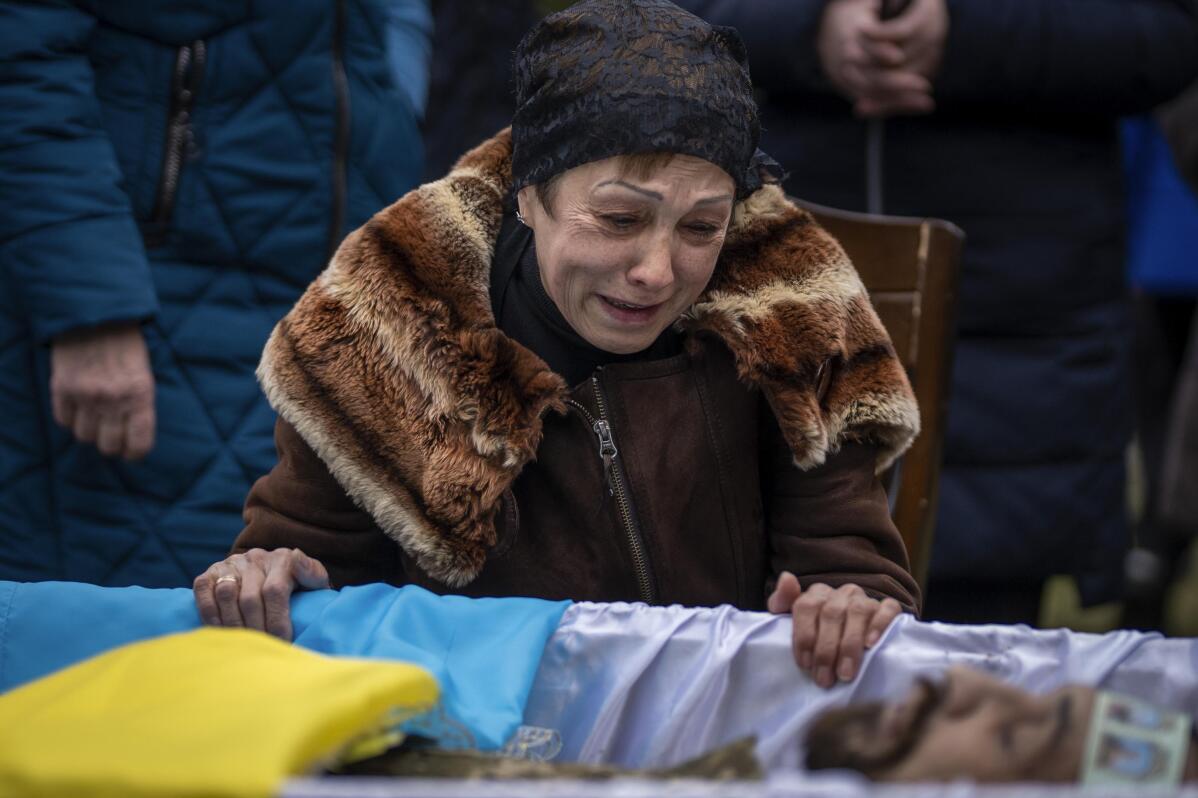 9 of 12

|
Tetyana cries next to the body of her son Kasich, 42, during his funeral in Bucha, near Kyiv, Ukraine, Friday, Feb. 17, 2023. Kasich Kostiantyn, 42, as senior lieutenant of 93rd Ukrainian brigade was killed on Tuesday, Feb. 14 in the fightings in Bakhmut area. (AP Photo/Emilio Morenatti)
9 of 12
Tetyana cries next to the body of her son Kasich, 42, during his funeral in Bucha, near Kyiv, Ukraine, Friday, Feb. 17, 2023. Kasich Kostiantyn, 42, as senior lieutenant of 93rd Ukrainian brigade was killed on Tuesday, Feb. 14 in the fightings in Bakhmut area. (AP Photo/Emilio Morenatti)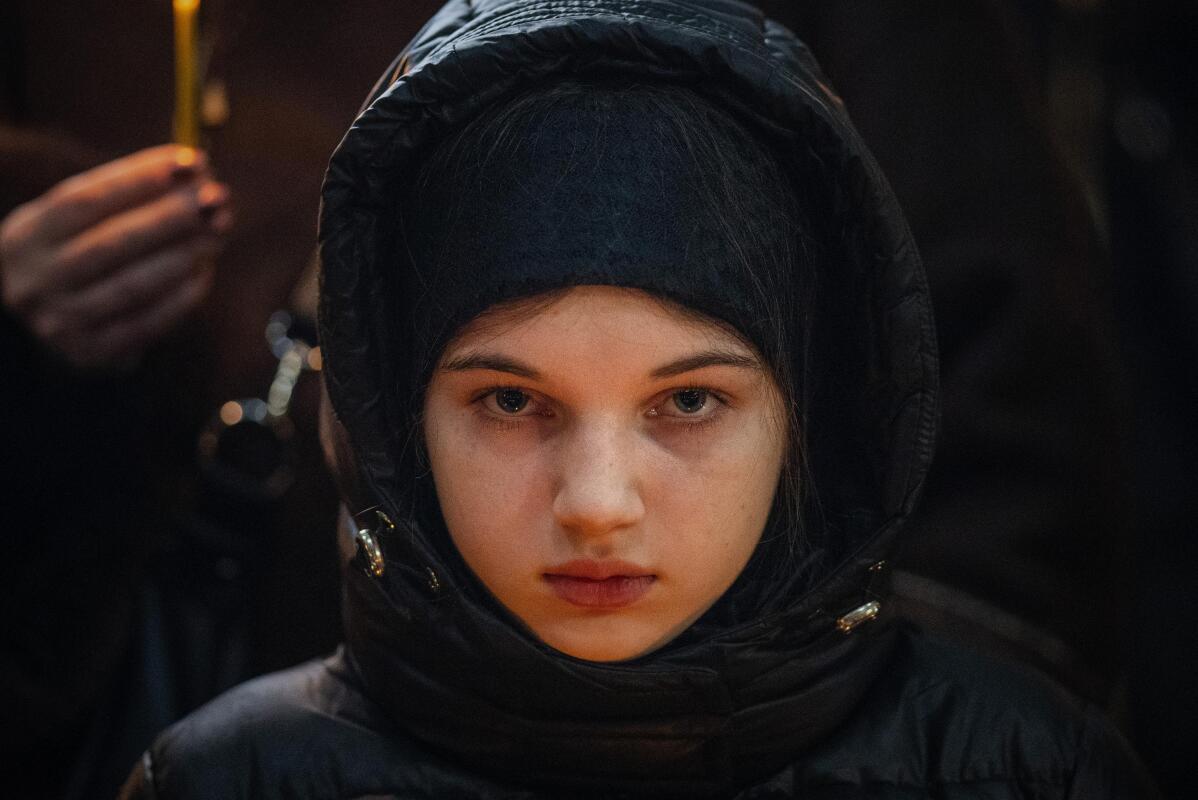 10 of 12

|
Sophia, 13, stands next to the body of her father Roman, during his funeral in Bila Tserkva, near Kyiv, Ukraine, Wednesday, Feb. 22, 2023. Roman Shevchenko, 40, was a civilian who joined the Ukrainian Armed Forces to defend his country when the Russian full-scale war started. Roman was killed on Feb. 9 in Vuhledar, a city in the Donetsk region of Ukraine. (AP Photo/Emilio Morenatti)
10 of 12
Sophia, 13, stands next to the body of her father Roman, during his funeral in Bila Tserkva, near Kyiv, Ukraine, Wednesday, Feb. 22, 2023. Roman Shevchenko, 40, was a civilian who joined the Ukrainian Armed Forces to defend his country when the Russian full-scale war started. Roman was killed on Feb. 9 in Vuhledar, a city in the Donetsk region of Ukraine. (AP Photo/Emilio Morenatti)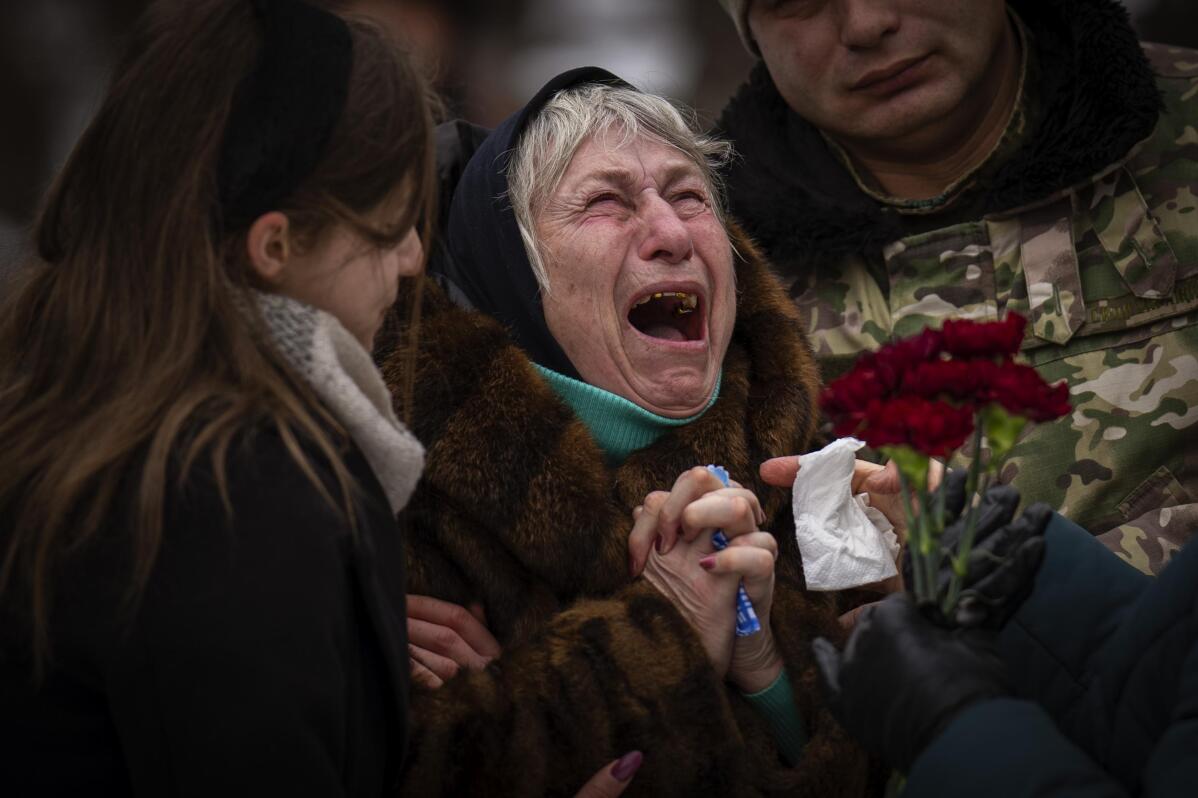 11 of 12

|
Nina Nikiforovа, 80, cries outside a church after attending the funeral of her son Oleg Kunynets, a Ukrainian military serviceman who was killed in the east of the country, in Kyiv, Ukraine, Saturday, Feb. 11, 2023. (AP Photo/Emilio Morenatti)
11 of 12
Nina Nikiforovа, 80, cries outside a church after attending the funeral of her son Oleg Kunynets, a Ukrainian military serviceman who was killed in the east of the country, in Kyiv, Ukraine, Saturday, Feb. 11, 2023. (AP Photo/Emilio Morenatti)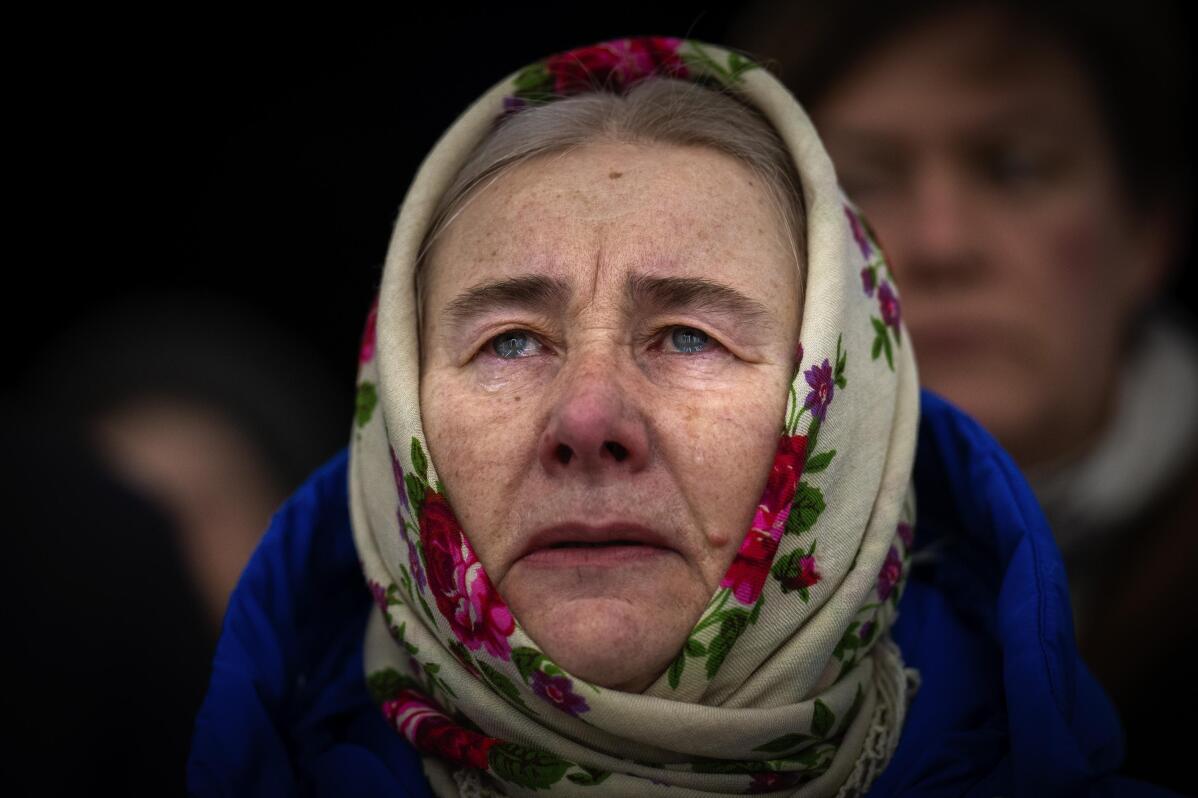 12 of 12

|
Olha Kosianchuk, 64, cries during a memorial service to mark the one-year anniversary of the start of he Russia Ukraine war, in Bucha, Friday, Feb. 24, 2023. Olha's husband was killed during the occupation of Bucha by Russian troops during the first weeks of the war. (AP Photo/Emilio Morenatti)
12 of 12
Olha Kosianchuk, 64, cries during a memorial service to mark the one-year anniversary of the start of he Russia Ukraine war, in Bucha, Friday, Feb. 24, 2023. Olha's husband was killed during the occupation of Bucha by Russian troops during the first weeks of the war. (AP Photo/Emilio Morenatti)
KYIV, Ukraine (AP) — Mothers burying their sons, children burying their fathers. As the war in Ukraine enters its second year, men and women have been dying in droves on the front lines, fighting off Russia's invasion of their country.
For them, the fight is over. They paid the ultimate price. But it is their parents, their children, their siblings and their spouses who will carry the pain of war, the tears of the nation.
Over a period of 15 days in February, numerous funerals were held in towns and villages near the Ukrainian capital, Kyiv, for soldiers killed in fighting in Donbas, in the east of the country where most of the battles are now concentrated. The same scene is repeated day after day, week after week, in villages and cities across Ukraine as those killed on the battlefield return home for the last time.
The vast majority were not career soldiers. A carpenter, an ornithologist, a baker, a pharmacist, a student — they signed up to fight because of the war, leaving behind their civilian lives.
In small villages where they had once led ordinary lives, mourners from the entire village came to their homes to pay their respects to their families after they were killed. They were buried in their military uniforms.