Union Pacific's 1Q profit flat as inflation drives costs up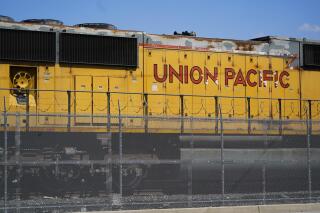 OMAHA, Neb. (AP) — Union Pacific railroad delivered flat profit in the first quarter as weather slowed trains across the western United States and inflation drove costs up, but executives are optimistic about their ability to handle all the goods companies want to ship the rest of the year as more new employees are completing training.
The Omaha, Nebraska-based railroad said it earned $1.63 billion, or $2.67 per share, in the first quarter. That's in line with last year's $1.63 billion profit but higher per share than last year's $2.57 because the railroad has been steadily buying back its shares.
The results topped the average Wall Street forecast for earnings of $2.57 per share, according to the eight analysts surveyed by Zacks Investment Research.
CEO Lance Fritz said he's confident the railroad will continue to get more efficient this year.
The railroad maintained its guidance for the number of carloads it carries to grow more than industrial production, but in a reflection of the concerns about the economy amid increasing interest rates, Union Pacific said the current forecast calls for industrial production to shrink 0.7% this year. Volume was down about 1% in the first quarter.
But Fritz said the railroad isn't planning on a recession at this point.
Safety has been a key focus for the industry ever since a fiery Norfolk Southern derailment in Ohio in February, so Union Pacific officials highlighted some of the ways it uses technology to help prevent accidents like its network of more than 7,000 trackside detectors that help spot equipment problems. Union Pacific said its rate of derailments per every million miles is down 10% over the past year, but Fritz said his railroad and the rest of the industry will keep working to improve safety.
Regulators and members of Congress are considering requiring railroads to take additional steps. Fritz said the railroad is working with them to focus on measures that will make the greatest difference. He said he doesn't think a proposed limit on train length or a requirement to maintain two-person crews would improve safety, but creating rules for those trackside detectors and speeding up planned tank car upgrades do make sense.
"There's a number of areas where Congress and the FRA (Federal Railroad Administration) can work that would have a bona fide, real impact on safety," Fritz said. "But every derailment is one we need to avoid — whatever the cause — so that's what we're focused on is making sure that we're constantly finding ways to improve our safety record and keep the communities that we serve safe."
Edward Jones analyst Jeff Windau said there clearly is going to be a "lot of scrutiny" on safety this year, and the railroads may face some new regulations.
Union Pacific's revenue grew 3% to $6.056 billion as the railroad collected higher fuel surcharges and raised its core rates. Plus, there was a one-time $107 million gain on a real estate sale. Five analysts surveyed by Zacks expected $6.07 billion.
But expenses up 8% to $3.76 billion as inflation and the new contract railroads agreed to with their workers last year pushed up the cost of fuel, materials and wages.
Union Pacific said the number of workers it employed grew 4% to 31,471 in the quarter after it has been hiring aggressively over the past year to help it improve service. Shippers have been complaining about delayed deliveries and poor service that the railroad blamed mostly on a lack of train crews and other employees.
Windau said investors will be watching for progress in UP's efforts to find a new CEO. Fritz said the board is working with a consultant to find his replacement, but he didn't offer any update on the timing of that decision.
Union Pacific is one of the nation's largest railroads and its trains operate across more than 30,000 miles of track in 23 western states.