What you need to know today about the virus outbreak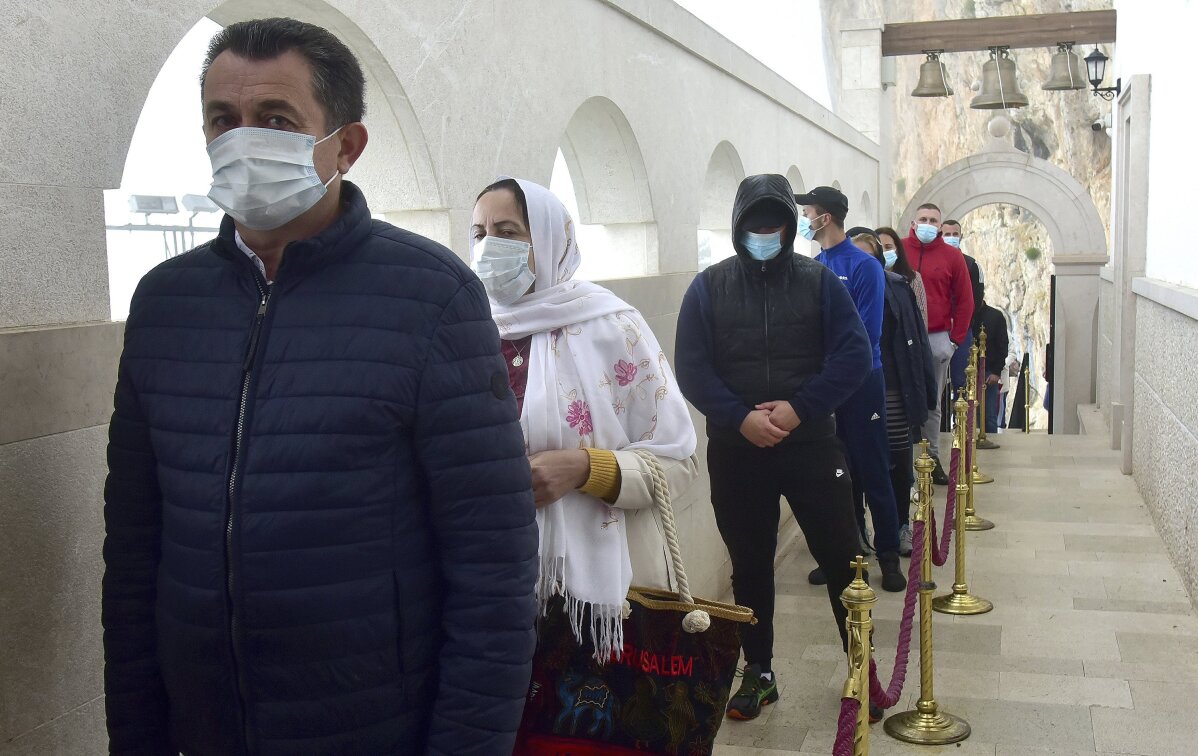 1 of 5

|
Believers wearing a mask against the spread of the new coronaviru wait in a queue in front of the Christian Orthodox monastery of Ostrog, 30 kilometers northwest of the Montenegrin capital Podgorica, May 12, 2020. Serbian Orthodox Church is going ahead with annual pilgrimage to the Ostrog monastery to mark St Basil's Day despite a ban on social gatherings. (AP Photo/Risto Bozovic)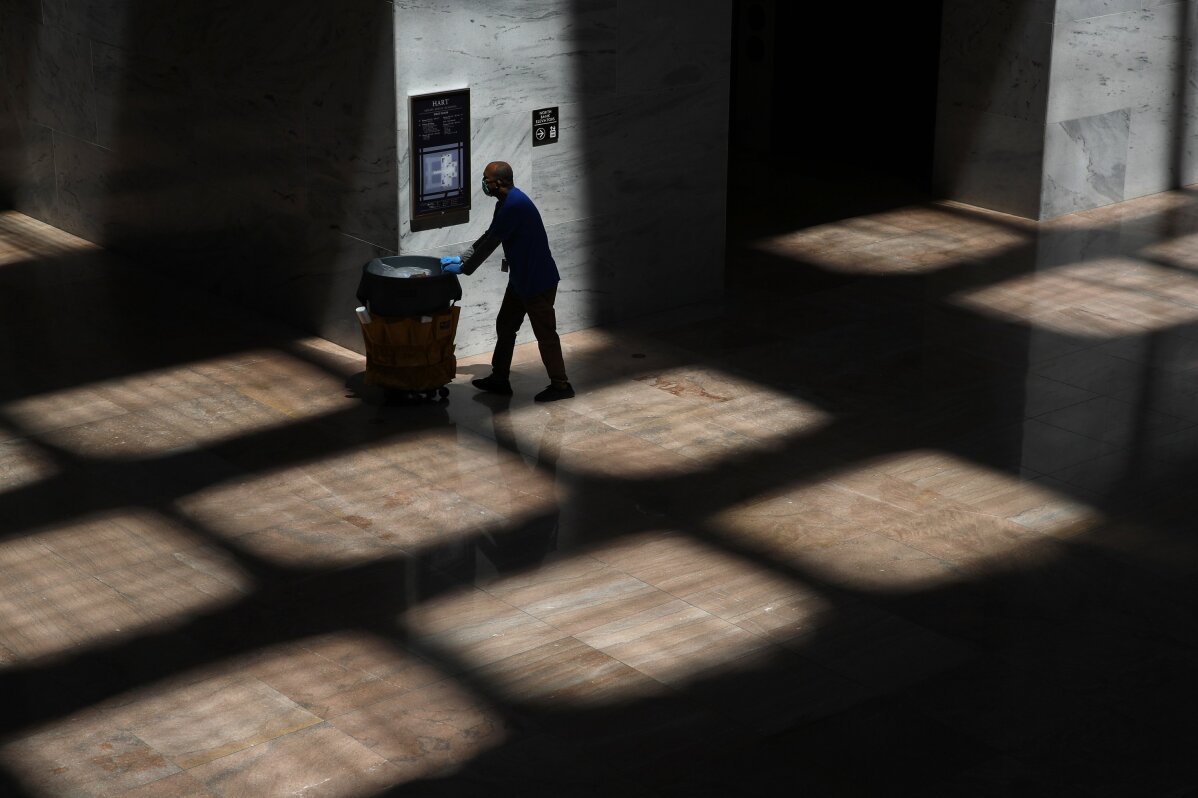 2 of 5

|
A custodian walks in the Hart Senate Office Building on Capitol Hill in Washington, Tuesday, May 12, 2020. Senate office buildings and the U.S. Capitol remain closed to the public in response to the coronavirus outbreak. (AP Photo/Patrick Semansky)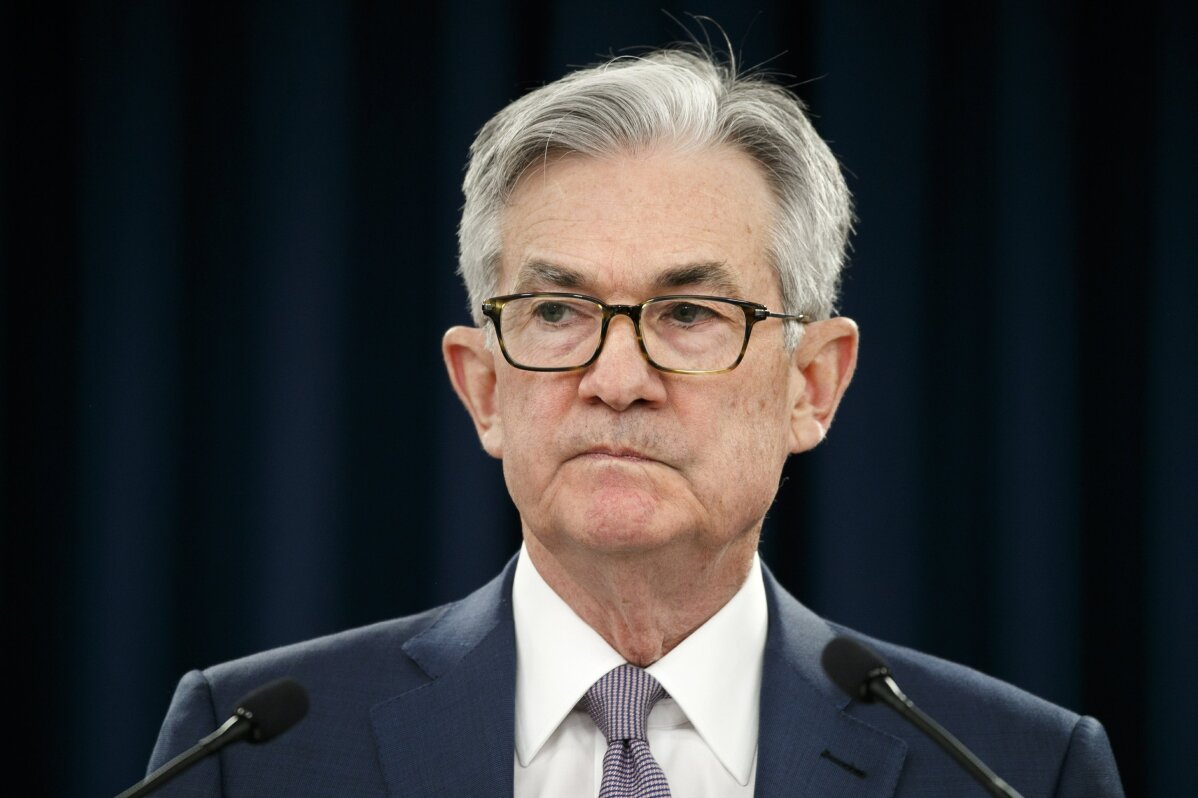 3 of 5

|
FILE - In this March 3, 2020 file photo, Federal Reserve Chair Jerome Powell pauses during a news conference in Washington. Powell provided a bleak outlook for the U.S. economy in remarks Wednesday, May 13, and urged Congress and the White House to act further to offset the damage from the viral outbreak. (AP Photo/Jacquelyn Martin, File)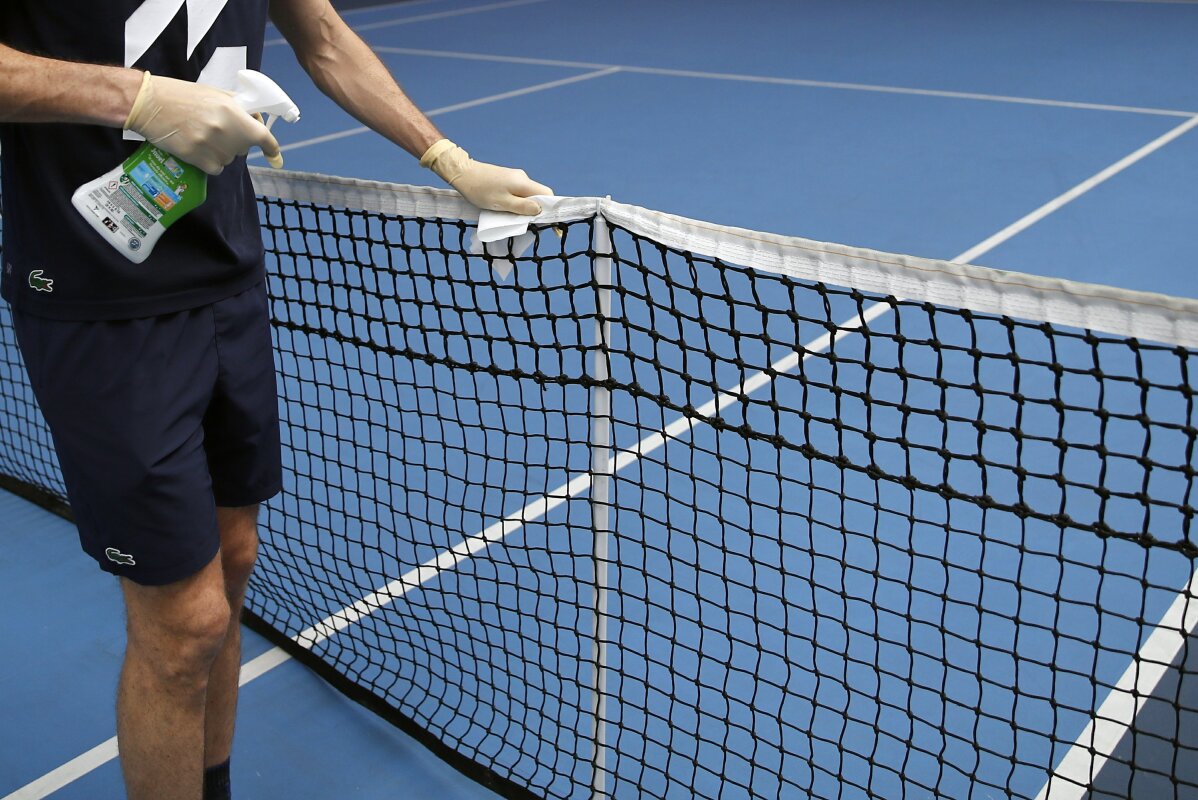 4 of 5

|
French veteran Nicolas Mahut cleans the net during a training session in the French Tennis Federation center near the grounds of the French Open in Paris, Wednesday, May 13, 2020 under the watchful eye of a team doctor and courtside trainers. Professional tennis players resumed training in France after the end of lockdown amid the coronavirus pandemic. (AP Photo/Francois Mori)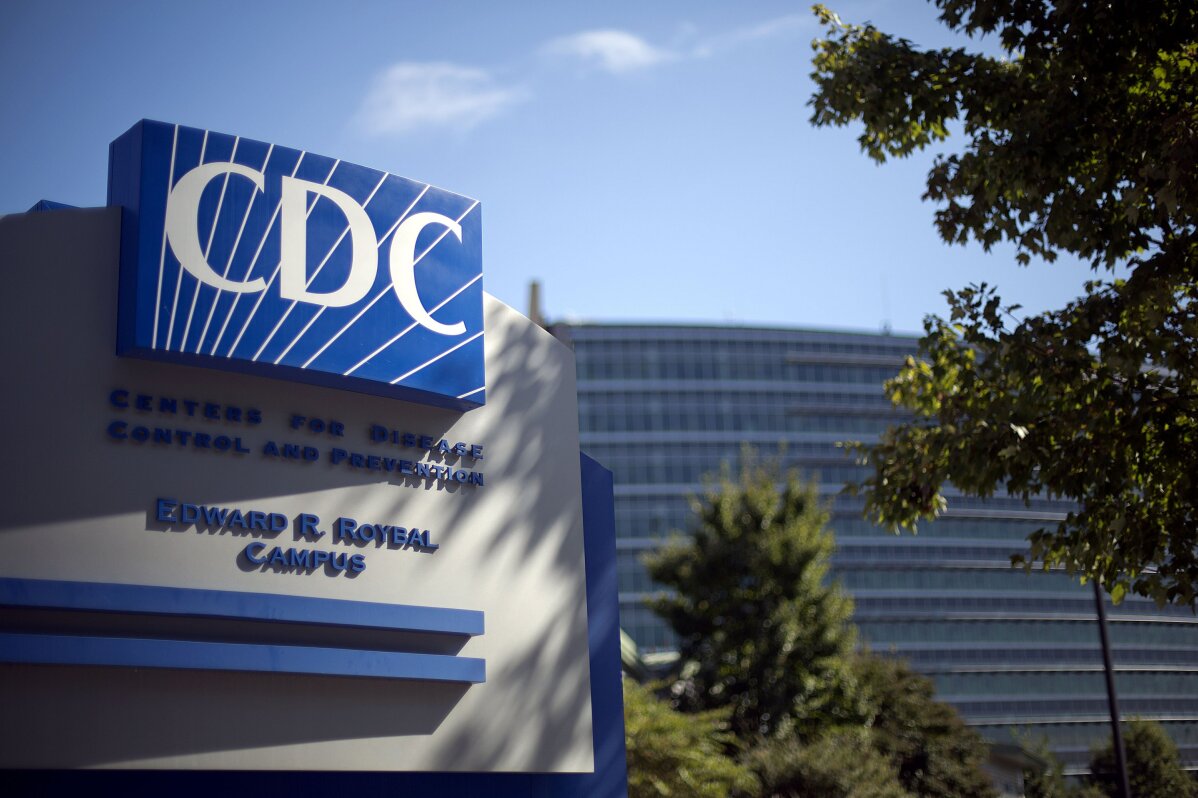 5 of 5

|
FILE - In this Oct. 8, 2013, file photo, a sign marks the entrance to the federal Centers for Disease Control and Prevention in Atlanta. In the United States, the nation with the most pandemic deaths, the reporting of vital coronavirus case and testing data is not keeping pace with its speedy spread. Public health officials nationwide lean too heavily on faxes, email and spreadsheets, sluggish and inefficient 20th-century tools. (AP Photo/David Goldman, File)
What you need to know today about the virus outbreak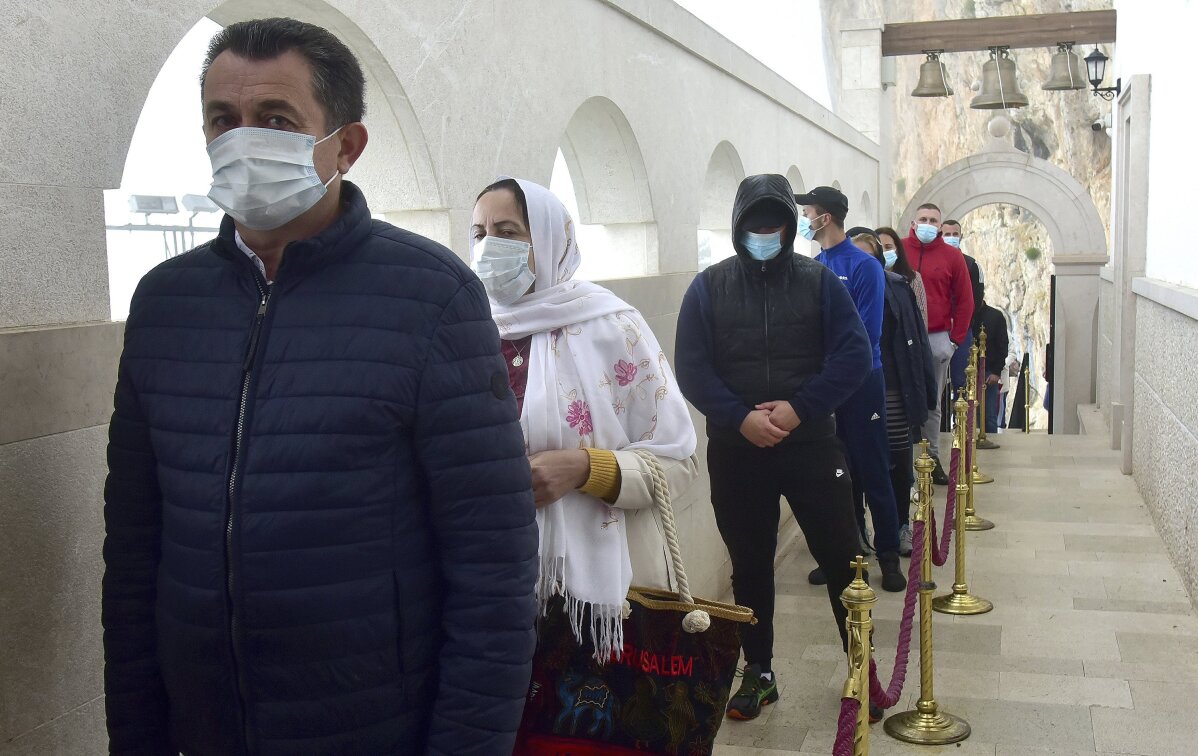 1 of 5

|
Believers wearing a mask against the spread of the new coronaviru wait in a queue in front of the Christian Orthodox monastery of Ostrog, 30 kilometers northwest of the Montenegrin capital Podgorica, May 12, 2020. Serbian Orthodox Church is going ahead with annual pilgrimage to the Ostrog monastery to mark St Basil's Day despite a ban on social gatherings. (AP Photo/Risto Bozovic)
1 of 5
Believers wearing a mask against the spread of the new coronaviru wait in a queue in front of the Christian Orthodox monastery of Ostrog, 30 kilometers northwest of the Montenegrin capital Podgorica, May 12, 2020. Serbian Orthodox Church is going ahead with annual pilgrimage to the Ostrog monastery to mark St Basil's Day despite a ban on social gatherings. (AP Photo/Risto Bozovic)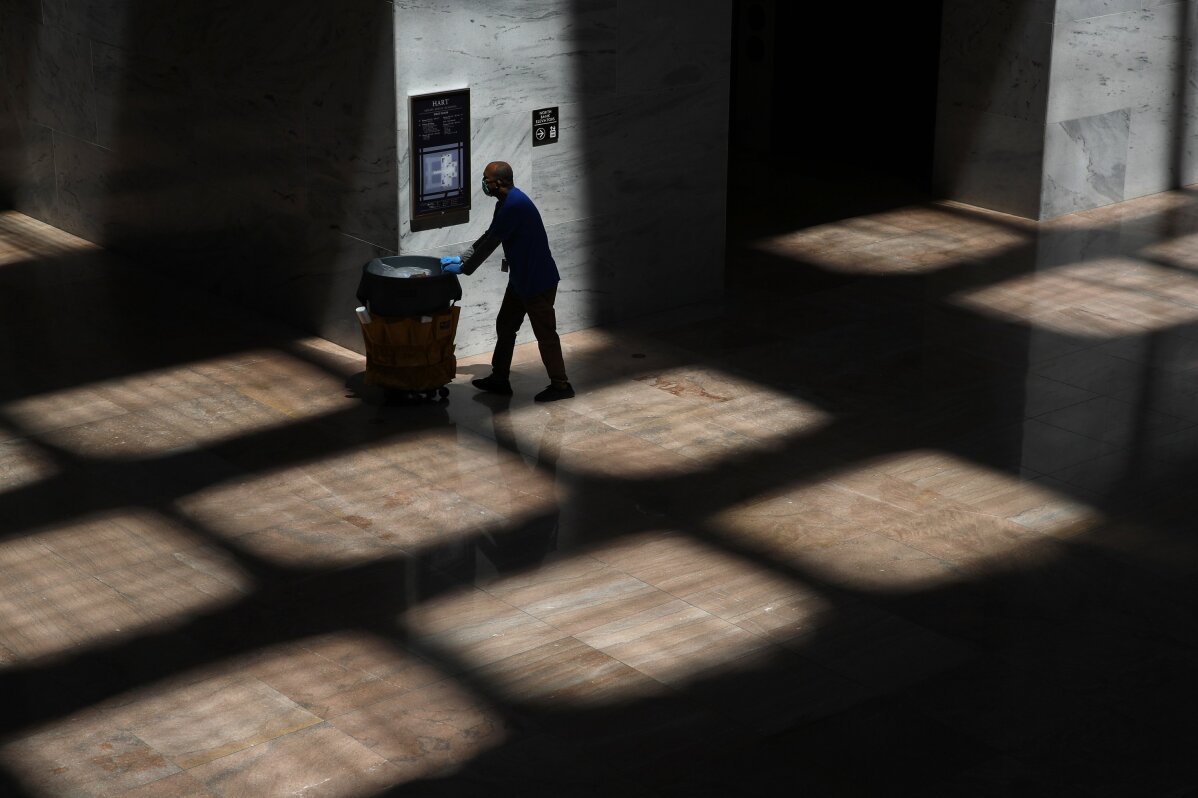 2 of 5

|
A custodian walks in the Hart Senate Office Building on Capitol Hill in Washington, Tuesday, May 12, 2020. Senate office buildings and the U.S. Capitol remain closed to the public in response to the coronavirus outbreak. (AP Photo/Patrick Semansky)
2 of 5
A custodian walks in the Hart Senate Office Building on Capitol Hill in Washington, Tuesday, May 12, 2020. Senate office buildings and the U.S. Capitol remain closed to the public in response to the coronavirus outbreak. (AP Photo/Patrick Semansky)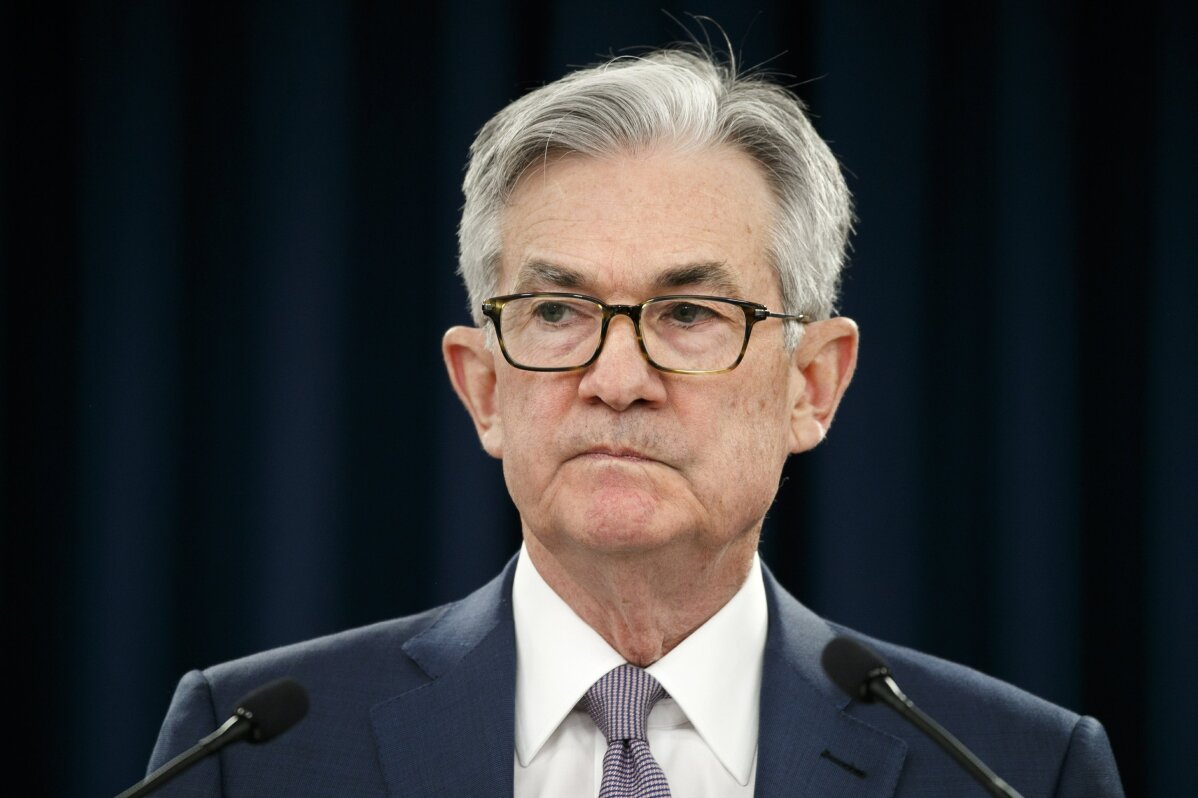 3 of 5

|
FILE - In this March 3, 2020 file photo, Federal Reserve Chair Jerome Powell pauses during a news conference in Washington. Powell provided a bleak outlook for the U.S. economy in remarks Wednesday, May 13, and urged Congress and the White House to act further to offset the damage from the viral outbreak. (AP Photo/Jacquelyn Martin, File)
3 of 5
FILE - In this March 3, 2020 file photo, Federal Reserve Chair Jerome Powell pauses during a news conference in Washington. Powell provided a bleak outlook for the U.S. economy in remarks Wednesday, May 13, and urged Congress and the White House to act further to offset the damage from the viral outbreak. (AP Photo/Jacquelyn Martin, File)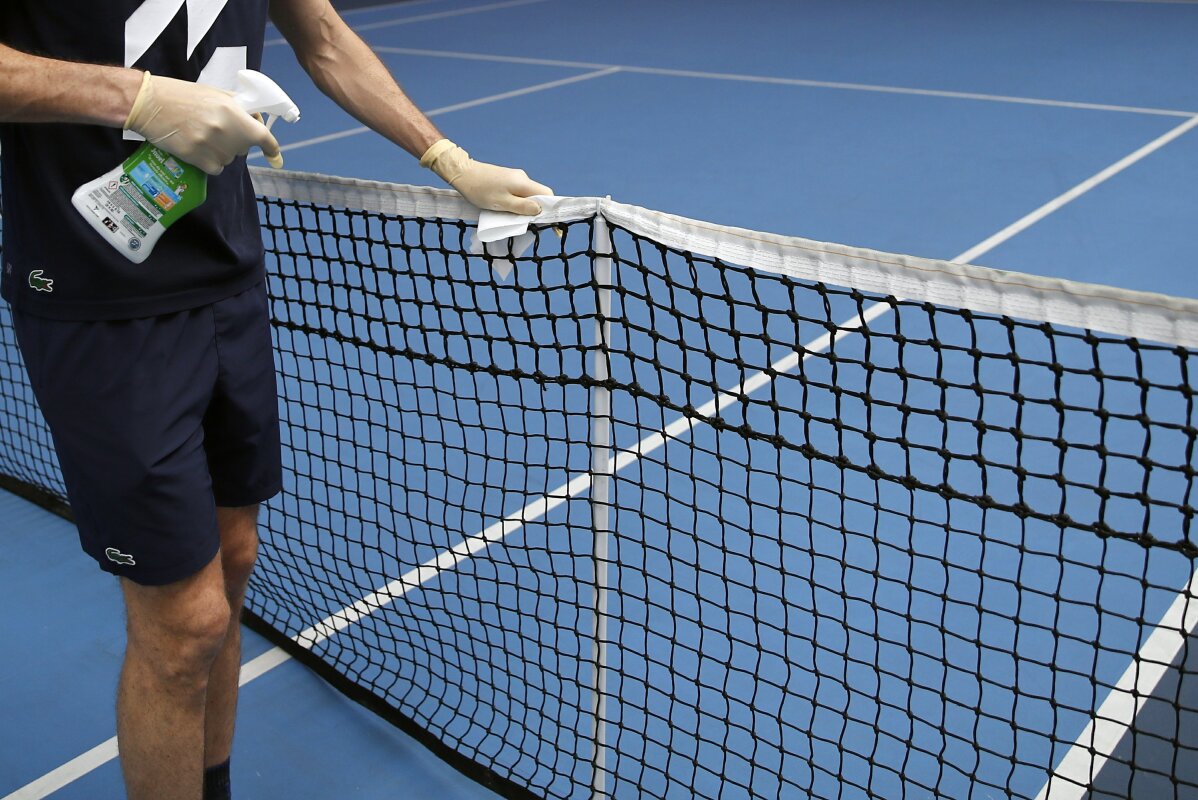 4 of 5

|
French veteran Nicolas Mahut cleans the net during a training session in the French Tennis Federation center near the grounds of the French Open in Paris, Wednesday, May 13, 2020 under the watchful eye of a team doctor and courtside trainers. Professional tennis players resumed training in France after the end of lockdown amid the coronavirus pandemic. (AP Photo/Francois Mori)
4 of 5
French veteran Nicolas Mahut cleans the net during a training session in the French Tennis Federation center near the grounds of the French Open in Paris, Wednesday, May 13, 2020 under the watchful eye of a team doctor and courtside trainers. Professional tennis players resumed training in France after the end of lockdown amid the coronavirus pandemic. (AP Photo/Francois Mori)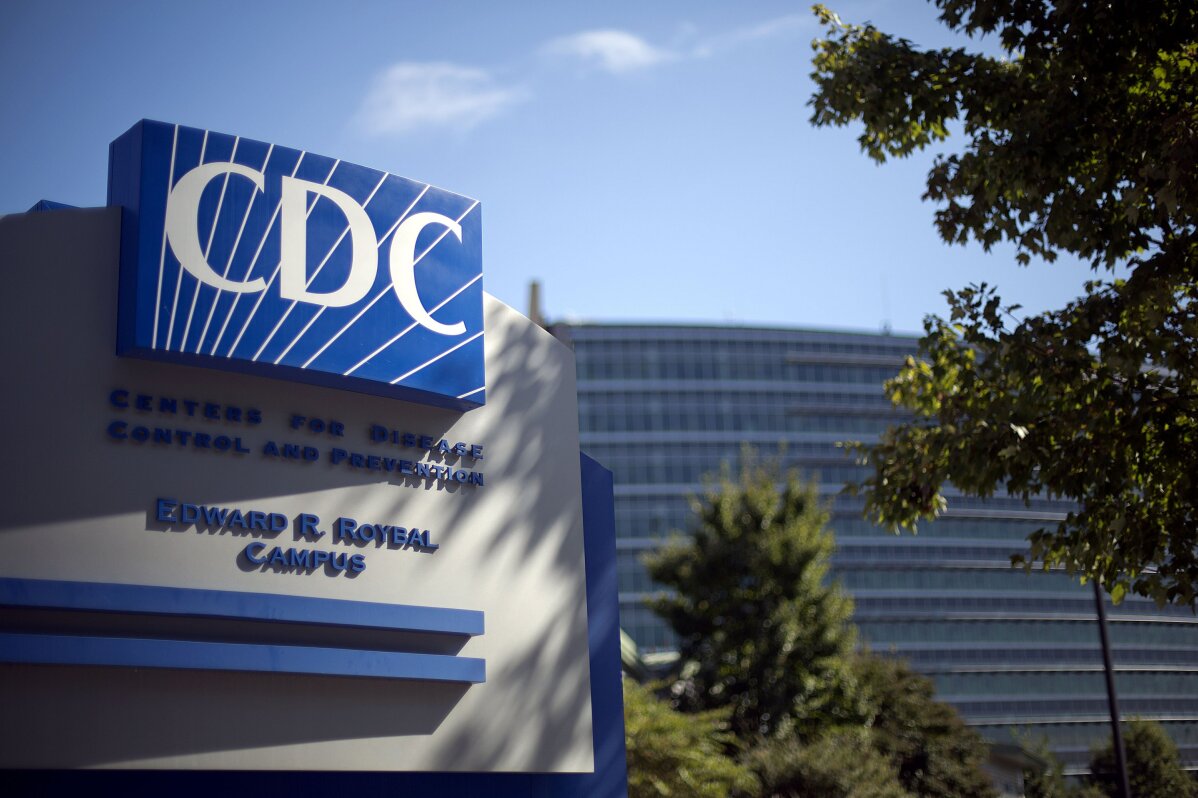 5 of 5

|
FILE - In this Oct. 8, 2013, file photo, a sign marks the entrance to the federal Centers for Disease Control and Prevention in Atlanta. In the United States, the nation with the most pandemic deaths, the reporting of vital coronavirus case and testing data is not keeping pace with its speedy spread. Public health officials nationwide lean too heavily on faxes, email and spreadsheets, sluggish and inefficient 20th-century tools. (AP Photo/David Goldman, File)
5 of 5
FILE - In this Oct. 8, 2013, file photo, a sign marks the entrance to the federal Centers for Disease Control and Prevention in Atlanta. In the United States, the nation with the most pandemic deaths, the reporting of vital coronavirus case and testing data is not keeping pace with its speedy spread. Public health officials nationwide lean too heavily on faxes, email and spreadsheets, sluggish and inefficient 20th-century tools. (AP Photo/David Goldman, File)
The United Nations is forecasting that the coronavirus pandemic will shrink the world economy by 3.2% this year, the sharpest contraction since the Great Depression in the 1930s. The U.N.'s mid-year report released Wednesday said COVID-19 is expected to slash global economic output by nearly $8.5 trillion over the next two years, wiping out nearly all gains of the last four years and likely pushing an estimated 34.3 million people below the extreme poverty line in 2020.
Meanwhile, stocks fell for the second day in a row on Wall Street, weighed down by worries about a slow recovery for the economy. The weakness came after Federal Reserve Chair Jerome Powell warned about the threat of a prolonged recession because of the shutdowns related to the pandemic.
Here are some of AP's top stories Monday on the world's coronavirus pandemic. Follow APNews.com/VirusOutbreak for updates through the day and APNews.com/UnderstandingtheOutbreak for stories explaining some of its complexities.
WHAT'S HAPPENING TODAY:
— Public health officials nationwide rely on faxes, email and spreadsheets to gather infectious disease data and share it with federal authorities. This data dysfunction is hamstringing the nation's coronavirus response by, among other things, slowing the tracing of people potentially exposed to the virus.
— A government whistleblower says America faces the "darkest winter in modern history" unless leaders act decisively to prevent a rebound of the coronavirus. Immunologist Dr. Rick Bright alleges he was ousted from a senior post at the Department of Health and Human Services after opposing widespread use of a malaria drug touted by President Donald Trump for COVID-19. Bright will testify before a House committee on Thursday.
— A federal document says outbreaks of the coronavirus could sweep through large camps where crews typically stay as they fight wildfires across the United States. A U.S. Forest Service draft risk assessment obtained by The Associated Press predicts that even in a best-case scenario, nearly two dozen firefighters could be infected at a camp with hundreds of people.
— House Speaker Nancy Pelosi is defending the $3 trillion price tag of Democrats' pandemic relief package as what's needed to confront the "villainous virus" and economic collapse. In an interview Wednesday with AP, Pelosi acknowledged the proposal, up for a House vote on Friday, is a starting point in negotiations with President Donald Trump and Republicans.
— President Andrés Manuel López Obrador has pledged to begin reopening Mexico starting Monday, even as the country saw its largest one-day jump in coronavirus cases, hospitals are reeling, and testing remains inadequate. The vow follows pressure from U.S. officials worried about the North American industrial supply chain.
— Police in Montenegro used tear gas to disperse protesters demanding the release of eight Serbian Orthodox Church priests who were detained for organizing a religious procession despite a ban on gatherings because of the coronavirus. The protests came a day after thousands attended the procession without wearing face masks and keeping distance.
___
WHAT YOU NEED TO KNOW:
For most people, the coronavirus causes mild or moderate symptoms, such as fever and cough that clear up in two to three weeks. For some, especially older adults and people with existing health problems, it can cause more severe illness, including pneumonia and death. The vast majority of people recover.
Here are the symptoms of the virus compared with the common flu.
One of the best ways to prevent spread of the virus is washing your hands with soap and water. The U.S. Centers for Disease Control and Prevention recommends first washing with warm or cold water and then lathering soap for 20 seconds to get it on the backs of hands, between fingers and under fingernails before rinsing off.
You should wash your phone, too. Here's how.
TRACKING THE VIRUS: Drill down and zoom in at the individual county level, and you can access numbers that will show you the situation where you are, and where loved ones or people you're worried about live.
___
ONE NUMBER:
— 54: Southern Africa's tiny mountain kingdom of Lesotho has confirmed its first positive case of COVID-19, making it the last of 54 African countries to report the disease. Lesotho's health ministry said one person who recently arrived in the country had tested positive but was not showing signs of being ill.
IN OTHER NEWS:
— POMP AND CIRCUMSTANCE: After Xavier University canceled his daughter's commencement, Torrence Burson staged a graduation ceremony for her in the front yard of their Memphis home with a stage for Gabrielle Pierce to walk across. A loudspeaker blared "The Graduation March" and neighbors lined the street to cheer her on.
— NFL TRAINING: Several NFL teams are eyeing a resort owned by West Virginia Gov. Jim Justice as a potential training facility during the coronavirus pandemic. The resort has previously hosted training camps for New Orleans Saints and the Houston Texans.
— BACK ON THE COURT: It's been tough going for French tennis players returning to the court after many weeks of confinement. Nicolas Mahut traded shots of varying speed and accuracy with practice partner Grégoire Barrère. But he could not sit down on a chair during practice and had to wear gloves to disinfect the net cord afterward.
___
Follow AP coverage of the virus outbreak at https://apnews.com/VirusOutbreak and https://apnews.com/UnderstandingtheOutbreak