Top Biden aide tells Chinese diplomat that US wants to 'move beyond' spy balloon
1 of 2

|
FILE - White House national security adviser Jake Sullivan speaks at a press briefing at the White House in Washington, April 24, 2023. Sullivan and senior Chinese foreign policy adviser Wang Yi held talks in Vienna this week, the latest in a series of small signs that tensions could be easing between the world's two biggest economies. (AP Photo/Andrew Harnik, File)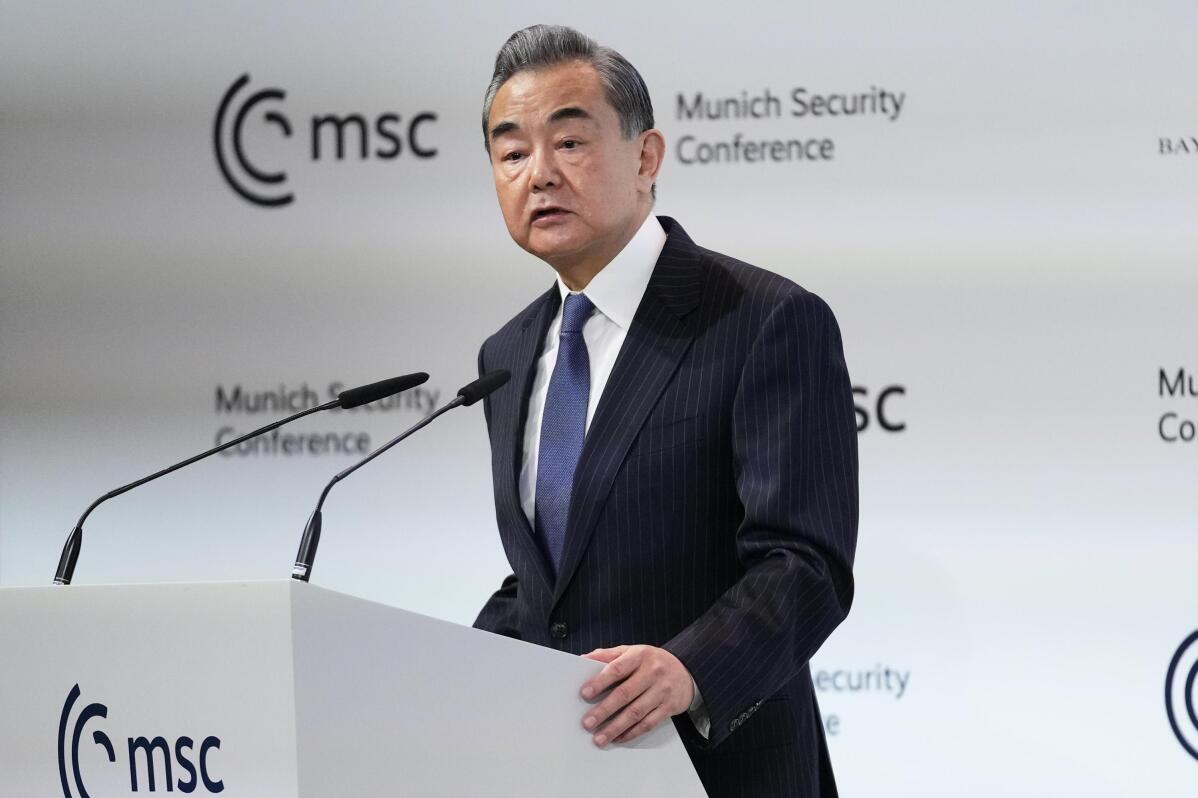 2 of 2

|
FILE - China's Director of the Office of the Central Foreign Affairs Commission Wang Yi speaks at the Munich Security Conference at the Bayerischer Hof Hotel in Munich, on Feb. 18, 2023. White House national security adviser Jake Sullivan and senior Chinese foreign policy adviser Wang Yi held talks in Vienna this week, the latest in a series of small signs that tensions could be easing between the world's two biggest economies. (AP Photo/Petr David Josek, File)
Top Biden aide tells Chinese diplomat that US wants to 'move beyond' spy balloon
1 of 2

|
FILE - White House national security adviser Jake Sullivan speaks at a press briefing at the White House in Washington, April 24, 2023. Sullivan and senior Chinese foreign policy adviser Wang Yi held talks in Vienna this week, the latest in a series of small signs that tensions could be easing between the world's two biggest economies. (AP Photo/Andrew Harnik, File)
1 of 2
FILE - White House national security adviser Jake Sullivan speaks at a press briefing at the White House in Washington, April 24, 2023. Sullivan and senior Chinese foreign policy adviser Wang Yi held talks in Vienna this week, the latest in a series of small signs that tensions could be easing between the world's two biggest economies. (AP Photo/Andrew Harnik, File)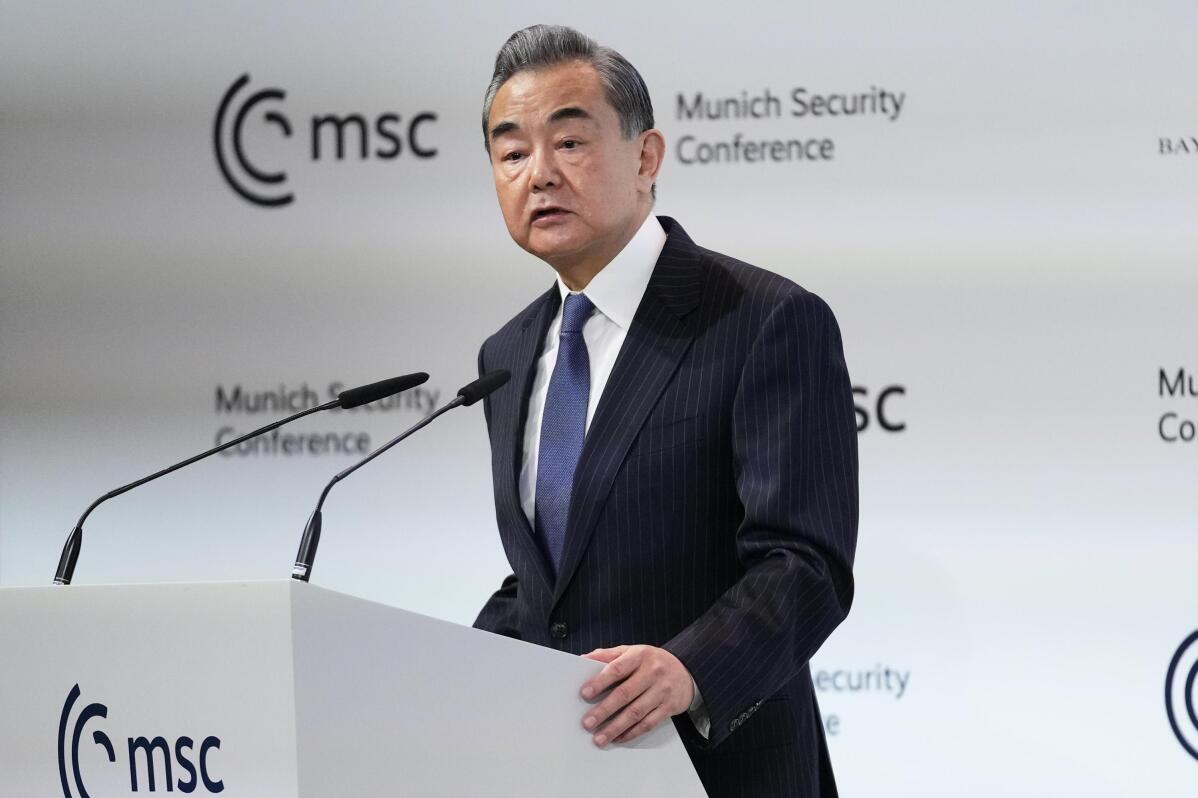 2 of 2

|
FILE - China's Director of the Office of the Central Foreign Affairs Commission Wang Yi speaks at the Munich Security Conference at the Bayerischer Hof Hotel in Munich, on Feb. 18, 2023. White House national security adviser Jake Sullivan and senior Chinese foreign policy adviser Wang Yi held talks in Vienna this week, the latest in a series of small signs that tensions could be easing between the world's two biggest economies. (AP Photo/Petr David Josek, File)
2 of 2
FILE - China's Director of the Office of the Central Foreign Affairs Commission Wang Yi speaks at the Munich Security Conference at the Bayerischer Hof Hotel in Munich, on Feb. 18, 2023. White House national security adviser Jake Sullivan and senior Chinese foreign policy adviser Wang Yi held talks in Vienna this week, the latest in a series of small signs that tensions could be easing between the world's two biggest economies. (AP Photo/Petr David Josek, File)
WASHINGTON (AP) — White House national security adviser Jake Sullivan told senior Chinese foreign policy adviser Wang Yi during talks in Vienna this week that the Biden administration is "looking to move beyond" tensions spurred by the U.S. shooting down a Chinese spy balloon that traversed the continental United States, according to a senior Biden administration official.
The meeting was not publicized by Washington or Beijing ahead of the high-level talks on Wednesday and Thursday in the Austrian capital. The White House described the wide-ranging discussions, in which the two leaders spent more than eight hours together, as "candid" and "constructive."
The administration official, who briefed reporters on condition of anonymity to discuss the private meeting, said that both sides recognize that the February incident was "unfortunate" and are now looking to "reestablish standard, normal channels of communications."
The talks are the latest in a series of small signs that tensions could be easing between the world's two biggest economies.
As the political and military rivalry between China and the U.S. intensifies, American officials and analysts are worried that a lack of reliable crisis communications could cause a minor confrontation to spiral into greater hostilities. They cite the ability to communicate with the former Soviet Union as allowing the Cold War to end without a nuclear exchange.
The White House in a statement said the meeting was part of "ongoing efforts to maintain open lines of communication and responsibly manage competition," and that Sullivan and Wang discussed key issues in the U.S.-China relationship, Russia's ongoing invasion of Ukraine, Taiwan, and more.
The meeting took place in a luxury hotel along Vienna's historical Ringstrasse, according to an Austrian official familiar with the matter. The official, who was not authorized to comment publicly and spoke on the condition of anonymity, said planning for the meeting was closely guarded and Austrian authorities were only given a few days' advance notice that Vienna was chosen for the talks.
Chinese officials saw the discussions as "substantive" and said both sides would "continue to make good use of this channel of strategic communication," according to the official Xinhua News Agency.
Sullivan also repeated White House concerns about a lack of "constructive engagement" by Beijing to use its influence to press Russia to end its invasion of Ukraine and called on China to do more to stop the movement of illegal drugs, according to the administration official. The U.S. in particular has been pressing China to clamp down on the production of precursor chemicals used to make fentanyl.
Sullivan also raised the cases of three American citizens imprisoned in China – Mark Swidan, Kai Li, and David Lin. All three have been designated by the State Department's office of the special presidential envoy on hostage affairs designates as "wrongful detainees."
Tensions between the countries spiked last year after then-House Speaker Nancy Pelosi's visit to democratically governed Taiwan. That visit, the first by a sitting House speaker since Newt Gingrich in 1997, led China, which claims the island as its territory, to launch military exercises around Taiwan.
U.S.-China relations became further strained earlier this year after the U.S. shot down a Chinese spy balloon that had crossed the United States.
Beijing also was angered by Taiwan President Tsai Ing-wen's stopover in the U.S. last month that included an encounter with House Speaker Kevin McCarthy, R-Calif. The speaker hosted the Taiwanese leader at the Ronald Reagan Presidential Library in southern California.
But there are signs that the two sides are getting diplomatic communications back on track.
President Joe Biden and Chinese President Xi Jinping held talks in Bali, Indonesia, in November. Secretary of State Antony Blinken was to travel to China in February, but the trip was postponed after the spy balloon incident. Blinken and Wang, China's top diplomat, met later in February on the sidelines of the Munich Security Conference after the U.S. had shot down the balloon.
The White House has expressed interest in rescheduling Blinken's visit. White House press secretary Karine Jean-Pierre earlier this week said that Treasury Secretary Janet Yellen and Commerce Secretary Gina Raimondo also could visit Beijing at some point.
The talks between Sullivan and Wang was their first face-to-face meeting since Wang was elevated last year to the Communist Party's Politburo, the top policymaking body made up of the party's 24 most senior officials.
Wang served as foreign minister for nearly 10 years and was the only diplomat promoted to the Politburo.
U.S. Ambassador Nicholas Burns and Chinese Foreign Minister Qin Gang also met in Beijing this week, and Biden's special envoy for climate, John Kerry, held a call last month with his counterpart, Xie Zhenhua.
Burns, during a virtual forum hosted by the Stimson Center earlier this month, said communication is improving.
"Yes, we did have instances when we wanted to have certain very high-level conversations when it wasn't possible," Burns said. "But I have to say, in recent weeks, in the last month or so, there's been a consistent communication between myself and senior officials in the foreign ministry, my colleagues in the U.S. mission and their counterparts in the foreign ministry here."
—
Stephanie Liechtenstein in Vienna contributed reporting.