Urawa takes home 1-1 draw with Al-Hilal in Asian final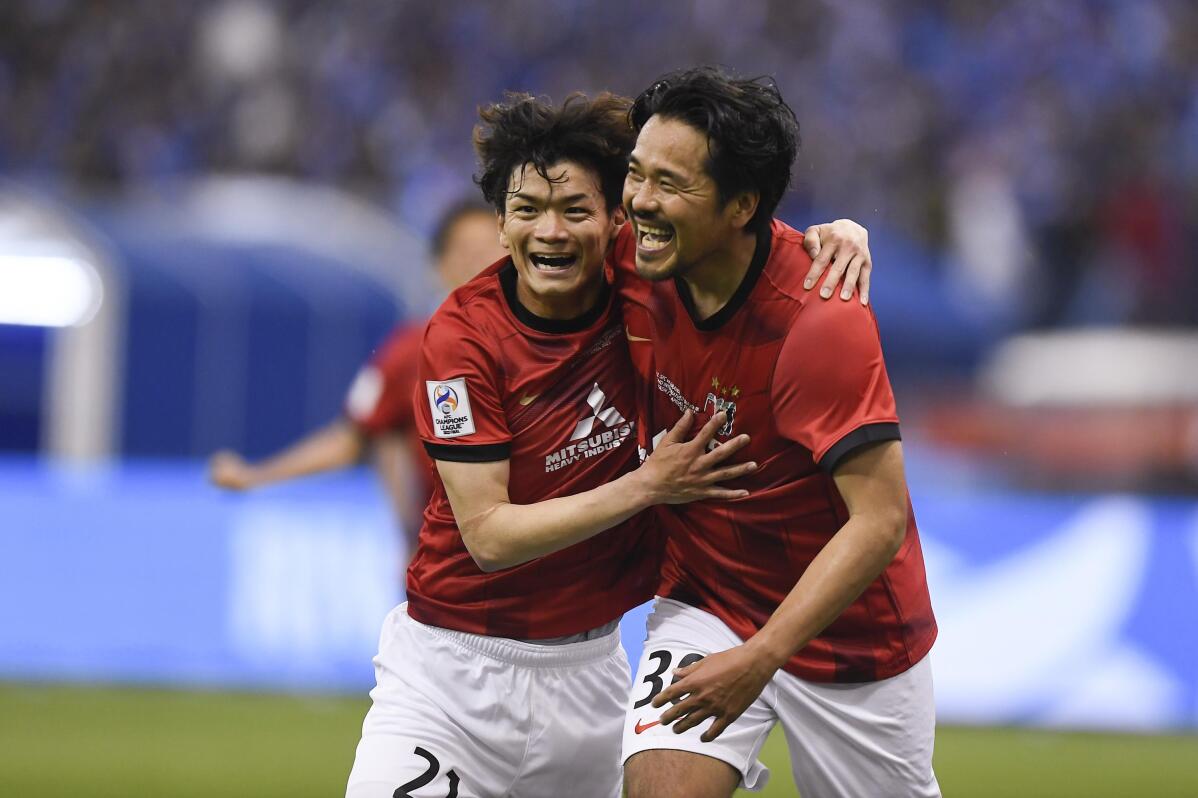 1 of 4

|
Japan's Urawa Red Diamonds' players celebrate during their match with Saudi Arabia's Al Hilal' in the first leg of the Asian Champions League final at King Fahd International Stadium, in Riyadh, Saudi Arabia, Saturday, April 29, 2023. (AP Photo)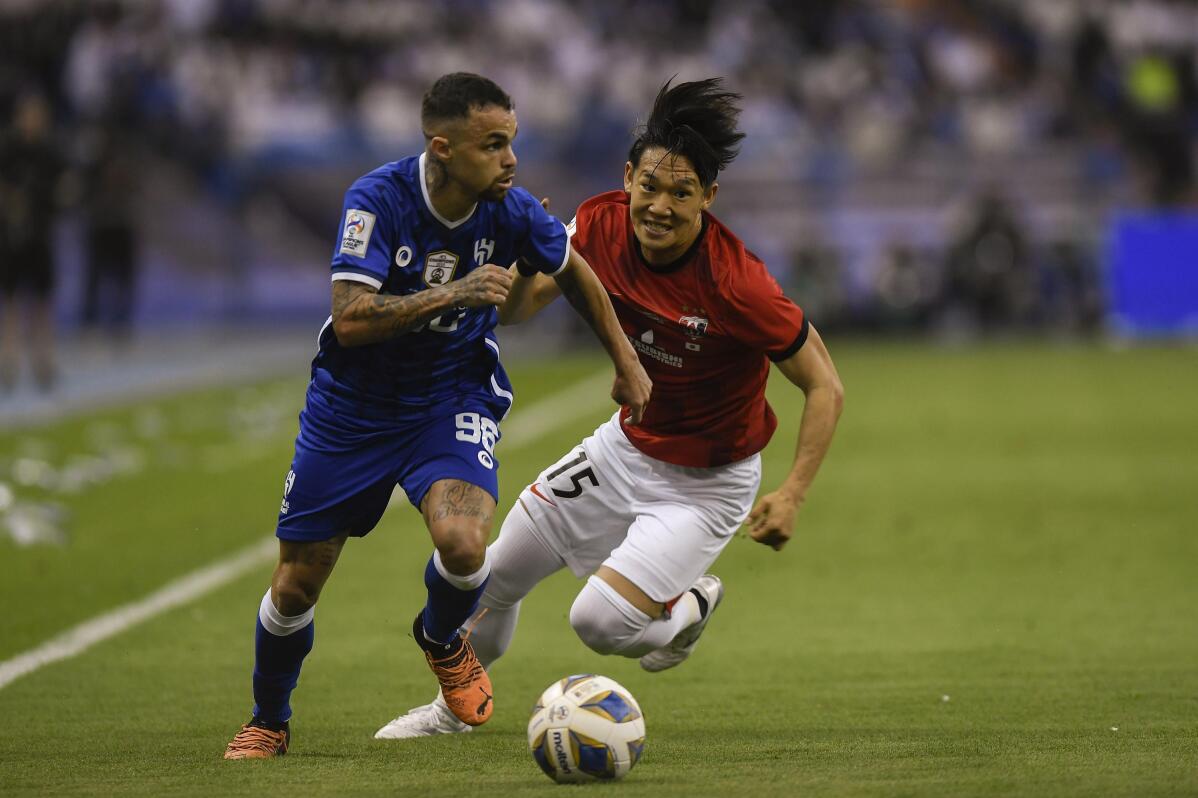 2 of 4

|
Japan's Urawa Red Diamonds' Takahiro Akimoto, right, fights for the ball with Saudi Arabia's Al Hilal' Michael Delgado, during their match in the first leg of the Asian Champions League final at King Fahd International Stadium, in Riyadh, Saudi Arabia, Saturday, April 29, 2023. (AP Photo)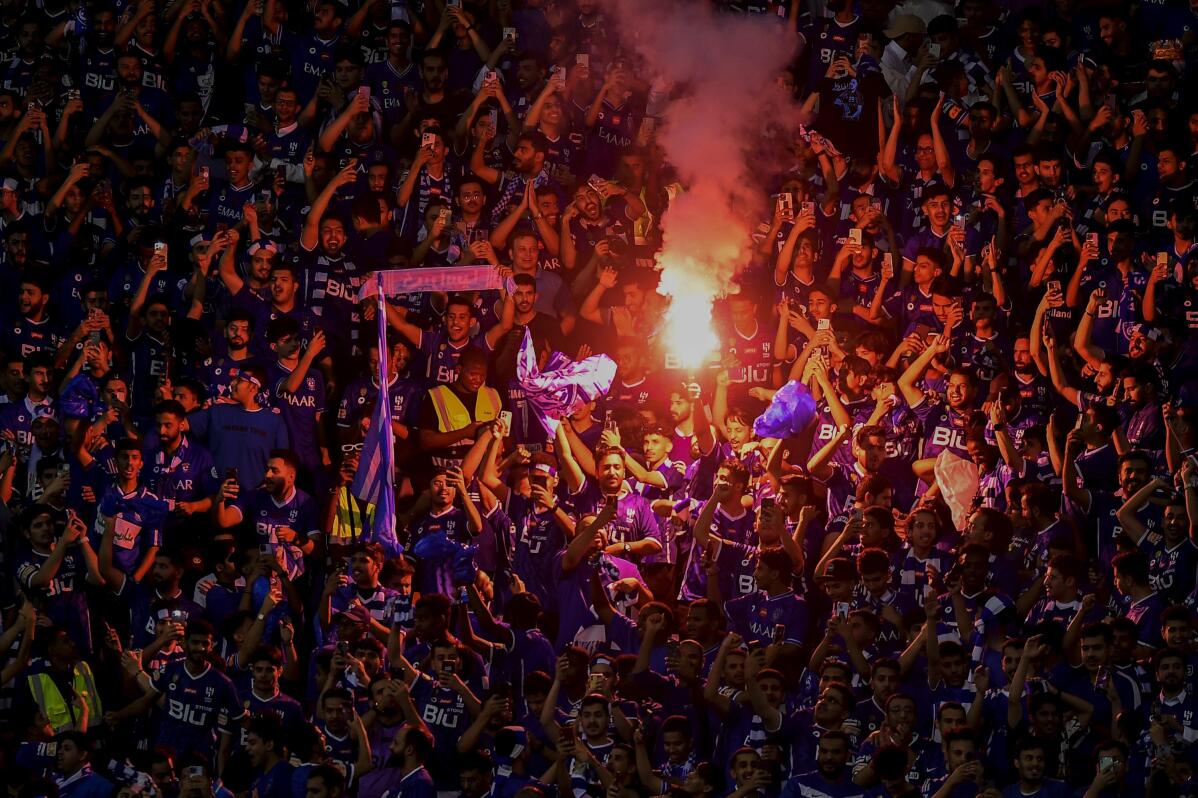 3 of 4

|
Saudi Arabia's Al Hilal fans cheer on during their team soccer match with Japan's Urawa Red Diamonds in the first leg of the Asian Champions League, (ACL), final at King Fahd International Stadium, in Riyadh, Saudi Arabia, Saturday, April 29, 2023. (AP Photo)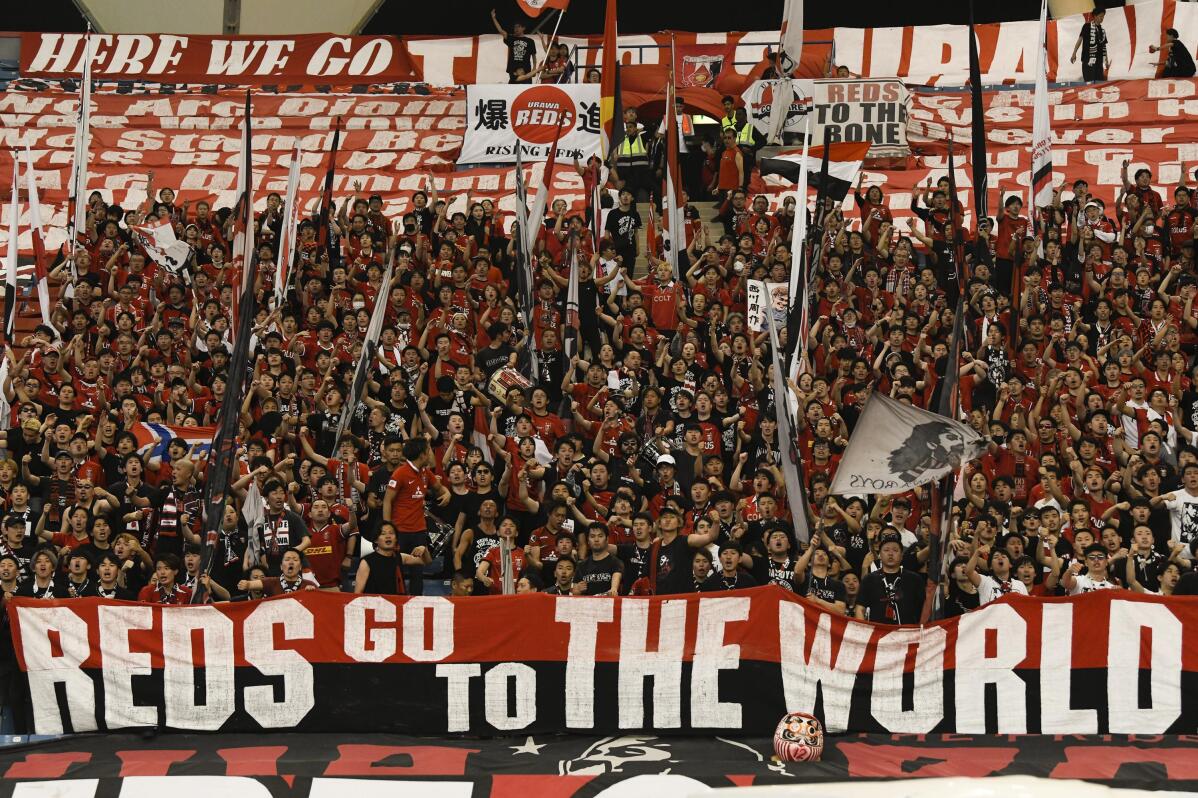 4 of 4

|
Japan's Urawa Red Diamonds' fans cheer on during their team soccer match with Saudi Arabia's Al Hilal in the first leg of the Asian Champions League, (ACL), final at King Fahd International Stadium, in Riyadh, Saudi Arabia, Saturday, April 29, 2023. (AP Photo)
Urawa takes home 1-1 draw with Al-Hilal in Asian final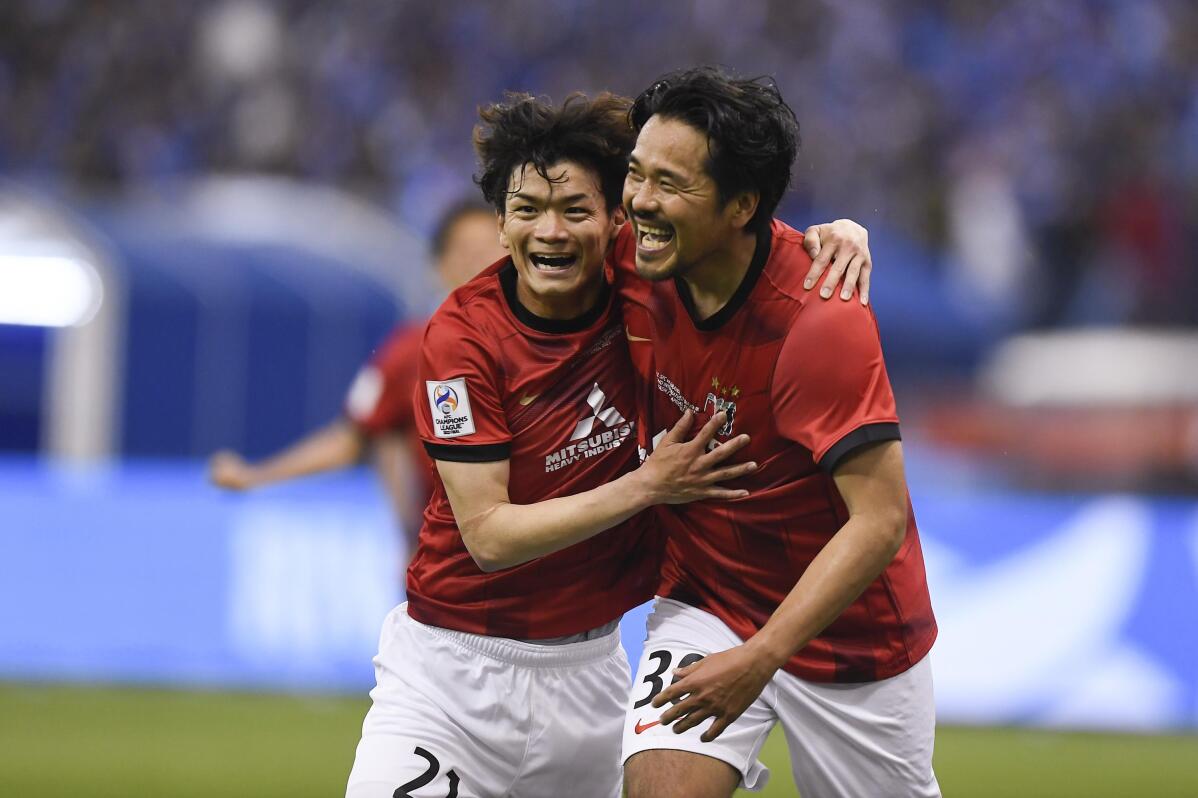 1 of 4

|
Japan's Urawa Red Diamonds' players celebrate during their match with Saudi Arabia's Al Hilal' in the first leg of the Asian Champions League final at King Fahd International Stadium, in Riyadh, Saudi Arabia, Saturday, April 29, 2023. (AP Photo)
1 of 4
Japan's Urawa Red Diamonds' players celebrate during their match with Saudi Arabia's Al Hilal' in the first leg of the Asian Champions League final at King Fahd International Stadium, in Riyadh, Saudi Arabia, Saturday, April 29, 2023. (AP Photo)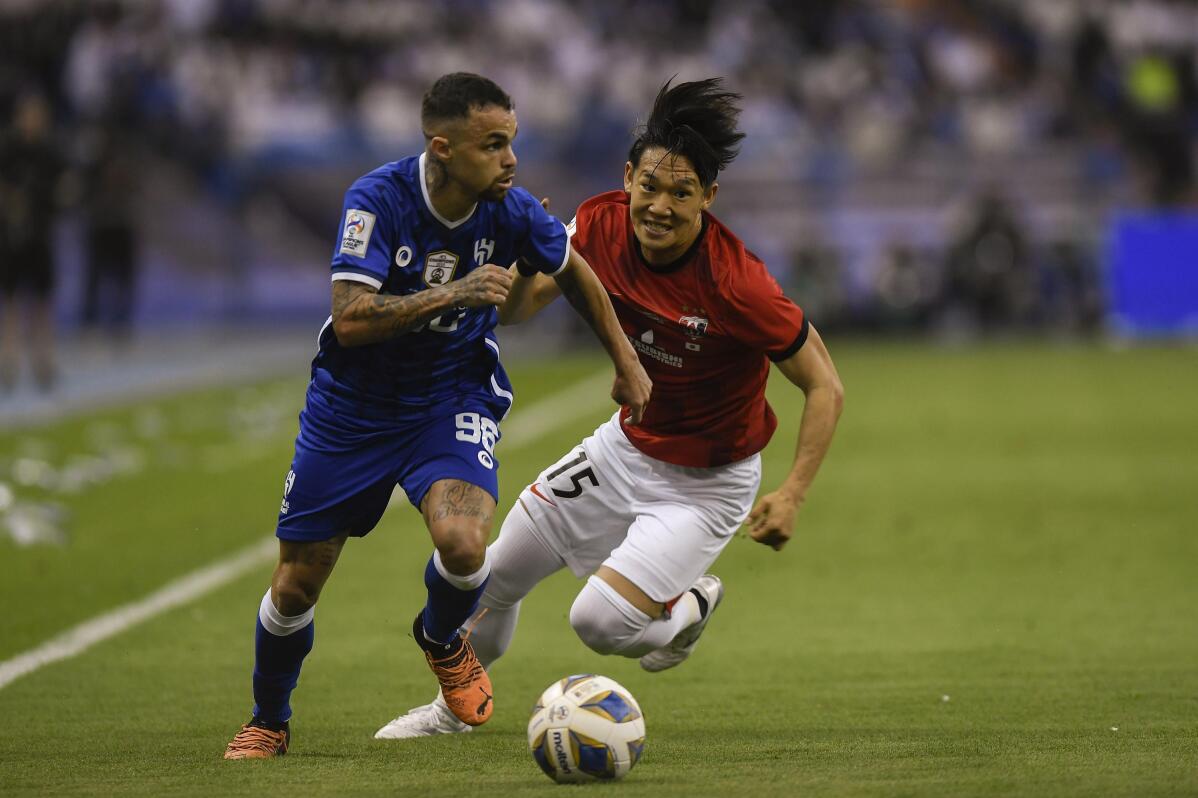 2 of 4

|
Japan's Urawa Red Diamonds' Takahiro Akimoto, right, fights for the ball with Saudi Arabia's Al Hilal' Michael Delgado, during their match in the first leg of the Asian Champions League final at King Fahd International Stadium, in Riyadh, Saudi Arabia, Saturday, April 29, 2023. (AP Photo)
2 of 4
Japan's Urawa Red Diamonds' Takahiro Akimoto, right, fights for the ball with Saudi Arabia's Al Hilal' Michael Delgado, during their match in the first leg of the Asian Champions League final at King Fahd International Stadium, in Riyadh, Saudi Arabia, Saturday, April 29, 2023. (AP Photo)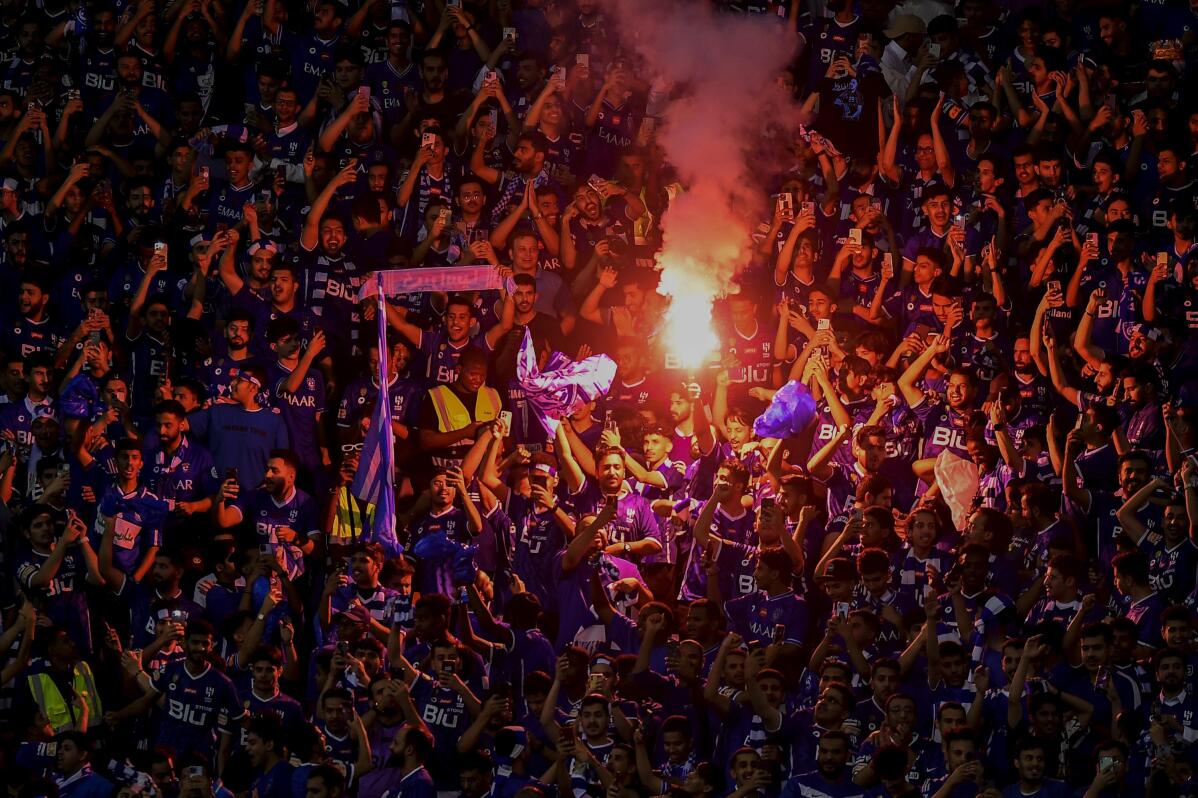 3 of 4

|
Saudi Arabia's Al Hilal fans cheer on during their team soccer match with Japan's Urawa Red Diamonds in the first leg of the Asian Champions League, (ACL), final at King Fahd International Stadium, in Riyadh, Saudi Arabia, Saturday, April 29, 2023. (AP Photo)
3 of 4
Saudi Arabia's Al Hilal fans cheer on during their team soccer match with Japan's Urawa Red Diamonds in the first leg of the Asian Champions League, (ACL), final at King Fahd International Stadium, in Riyadh, Saudi Arabia, Saturday, April 29, 2023. (AP Photo)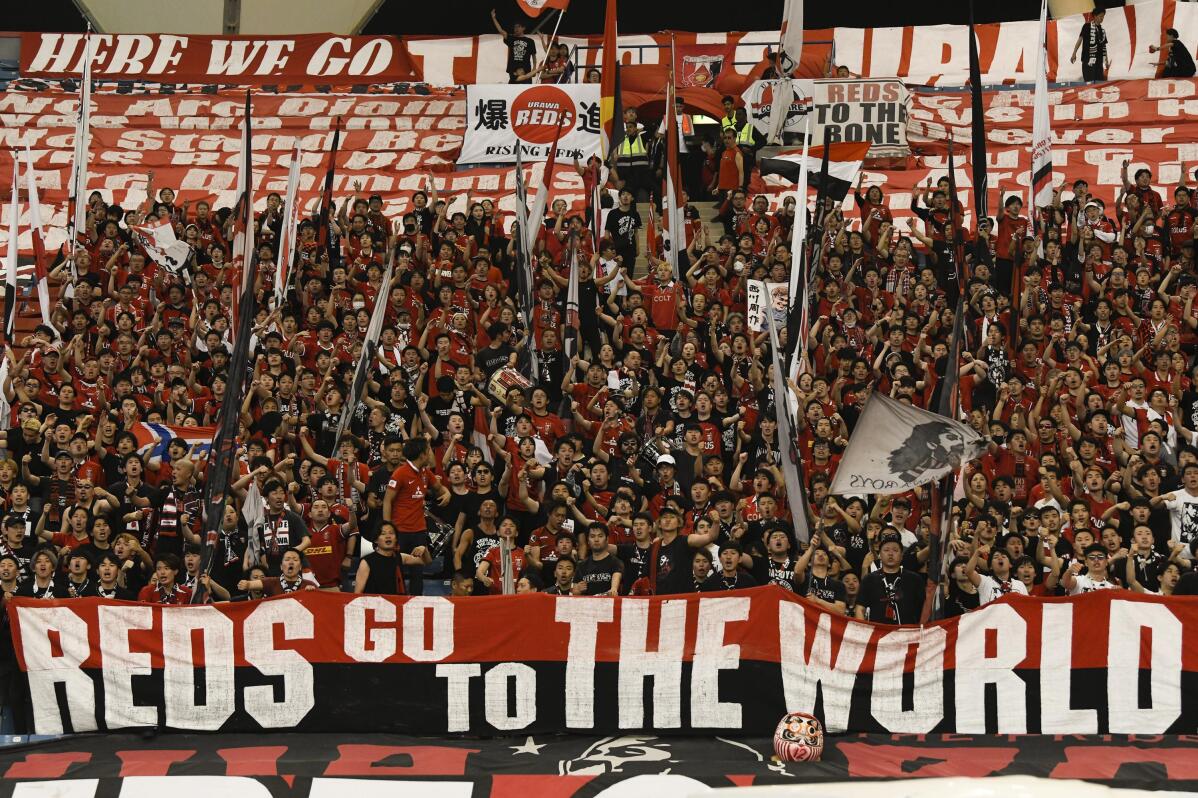 4 of 4

|
Japan's Urawa Red Diamonds' fans cheer on during their team soccer match with Saudi Arabia's Al Hilal in the first leg of the Asian Champions League, (ACL), final at King Fahd International Stadium, in Riyadh, Saudi Arabia, Saturday, April 29, 2023. (AP Photo)
4 of 4
Japan's Urawa Red Diamonds' fans cheer on during their team soccer match with Saudi Arabia's Al Hilal in the first leg of the Asian Champions League, (ACL), final at King Fahd International Stadium, in Riyadh, Saudi Arabia, Saturday, April 29, 2023. (AP Photo)
RIYADH, Saudi Arabia (AP) — Urawa Reds rallied and held on against Al-Hilal to return to Japan with a 1-1 result after the first leg of the Asian Champions League final on Saturday.
Salem Al-Dawsari opened the scoring for four-time champion Al-Hilal in a dominant first half at sold-out King Fahd International Stadium, but a fortuitous equalizer by Shinzo Koroki in the second half gave the Japanese visitors the advantage going into the return match next weekend.
That did not look likely in the first half, highlighted after 13 minutes when Al-Hilal took the lead in the third final between the teams. Urawa won in 2017 and the Riyadh giant in 2019.
Brazilian attacker Michael Delgado broke free down the right side and his low center pass caused confusion between Urawa defender Alexander Scholz and goalkeeper Shusaku Nishikawa, who left the ball for each other.
It carried through to Al-Dawsari, who scored the winning goal for Saudi Arabia against Argentina at the World Cup in November. At the far post, he shot hard and in from a tight angle to produce a roar of joy from more than 56,000 fans. The winger was sent off late in the game after kicking out at Ken Iwao and will miss the second leg.
Al-Hilal was in control at the break, enjoying 70% possession. Former Manchester United striker Odion Ighalo tried to get a shot in before being tackled and midfielder Mohamed Kanno shot high and wide from a good position.
"We started well and put pressure on the opponent," Al-Hilal coach Ramon Diaz said. "We made a mistake in the second half but in the final you expect difficult games and that will be the case in the second leg. Al-Hilal are able to get good results in difficult situations."
Eight minutes after halftime, Urawa leveled with a goal out of nowhere.
Al-Hilal defender Ali Al-Bulaihi tried to prevent a through pass but in attempting to clear from outside the area, he kicked the ball against his own post. Koroki reached the rebound before goalkeeper Abdullah Al-Mayouf and shot into the empty net.
It silenced the home crowd and gave Urawa a vital strike. The Asian Champions League, unlike the European version, still counts away goals as double if the scoreline is level at the end of two legs.
"We didn't have as much of the ball as I would have liked but a draw against a team like Al-Hilal has to be seen as a positive result," Urawa coach Maciej Skorza said. "We came into the game more in the second half but we know that the second leg will be very tough."
That comes next Saturday at Urawa's Saitama Stadium home.
___
More AP soccer: https://apnews.com/hub/soccer and https://twitter.com/AP_Sports