After Irma, Florida Jews seek respite in High Holy Days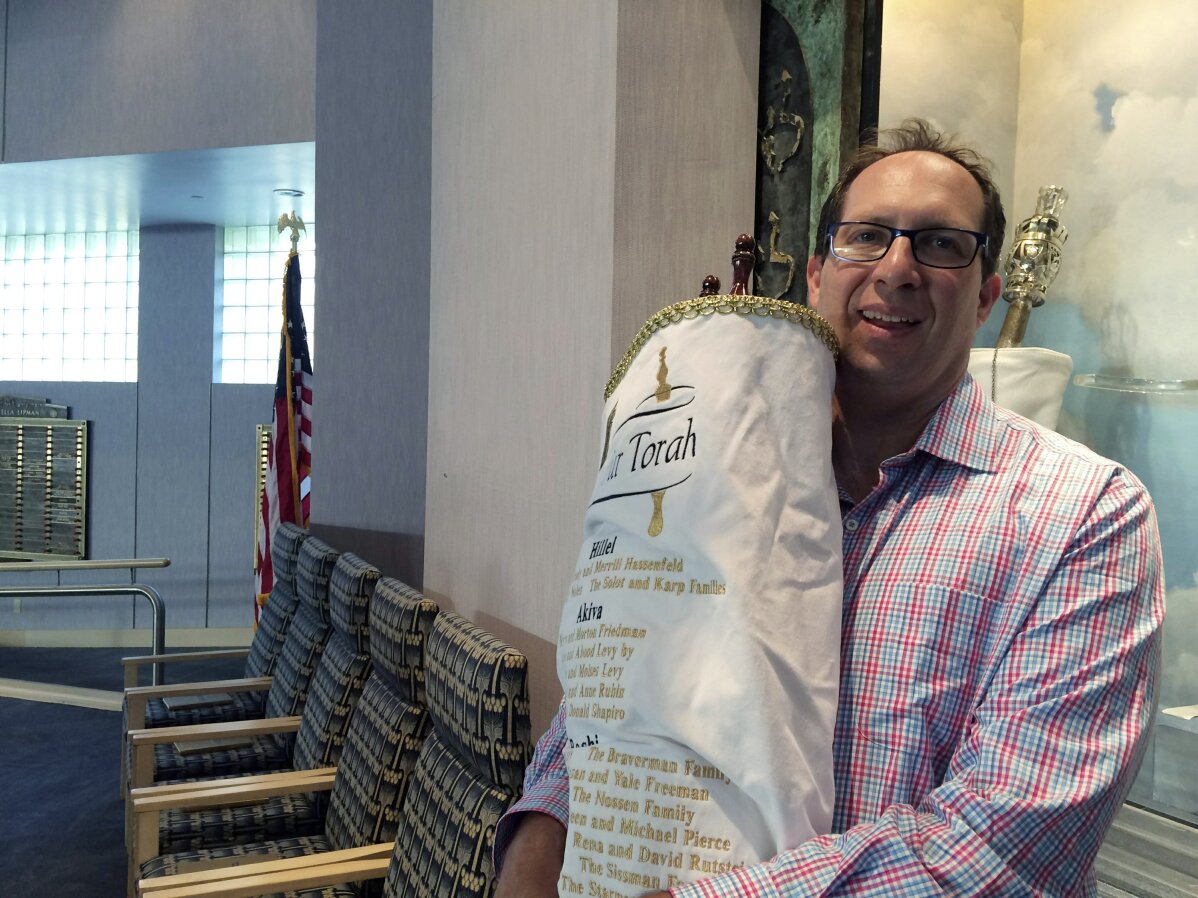 1 of 2

|
In this Sept. 18, 2017 photo, Rabbi Adam Miller of Temple Shalom in Naples, Fla., holds the Torah he took to Tennessee to protect it from Hurricane Irma. Miller has rewritten his Rosh Hashanah sermon to reflect the damage done to southwest Florida by the storm. During Hurricane Irma, Temple Shalom served as a sanctuary of a different kind. When the storm changed course at the last minute, the synagogue became an emergency shelter. As power stayed off for days, the temple served as a cooling center where neighbors could have a free meal. (AP Photo/Terry Spencer)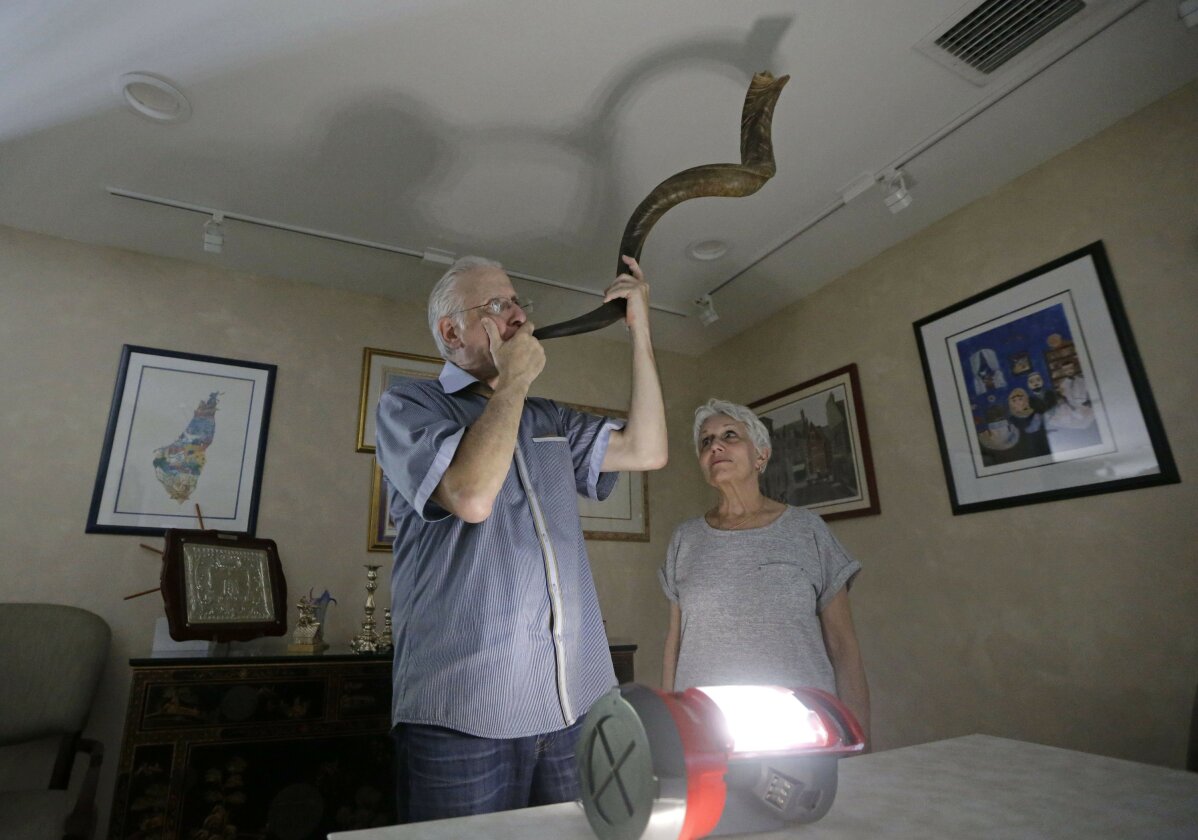 2 of 2

|
Michael Andron blows the shofar as he prepares for Rosh Hashanah, as his wife Lillian watches as they use a battery powered lantern to illuminate the room at their home, Tuesday, Sept.19, 2017, in Miami. The Androns have been without power for nine days due to Hurricane Irma, I feel like this year Rosh Hashanah became even more important because we just want to get in touch with the Infinite, so I feel like I don't need to do the big meal and have company. This year I just wanted to be more reflective and listen to my husband blow the shofar," said Lillian Andron during an interview. (AP Photo/Alan Diaz)
After Irma, Florida Jews seek respite in High Holy Days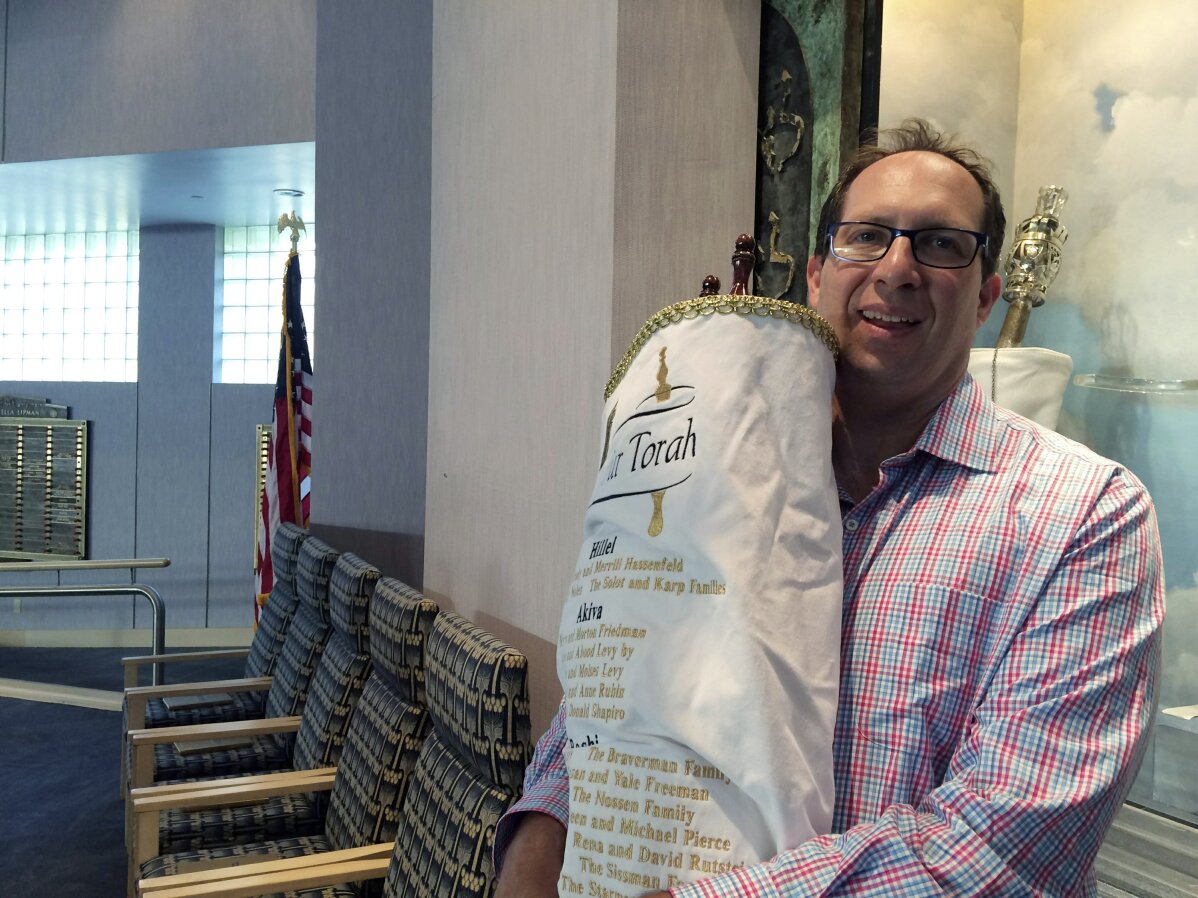 1 of 2

|
In this Sept. 18, 2017 photo, Rabbi Adam Miller of Temple Shalom in Naples, Fla., holds the Torah he took to Tennessee to protect it from Hurricane Irma. Miller has rewritten his Rosh Hashanah sermon to reflect the damage done to southwest Florida by the storm. During Hurricane Irma, Temple Shalom served as a sanctuary of a different kind. When the storm changed course at the last minute, the synagogue became an emergency shelter. As power stayed off for days, the temple served as a cooling center where neighbors could have a free meal. (AP Photo/Terry Spencer)
1 of 2
In this Sept. 18, 2017 photo, Rabbi Adam Miller of Temple Shalom in Naples, Fla., holds the Torah he took to Tennessee to protect it from Hurricane Irma. Miller has rewritten his Rosh Hashanah sermon to reflect the damage done to southwest Florida by the storm. During Hurricane Irma, Temple Shalom served as a sanctuary of a different kind. When the storm changed course at the last minute, the synagogue became an emergency shelter. As power stayed off for days, the temple served as a cooling center where neighbors could have a free meal. (AP Photo/Terry Spencer)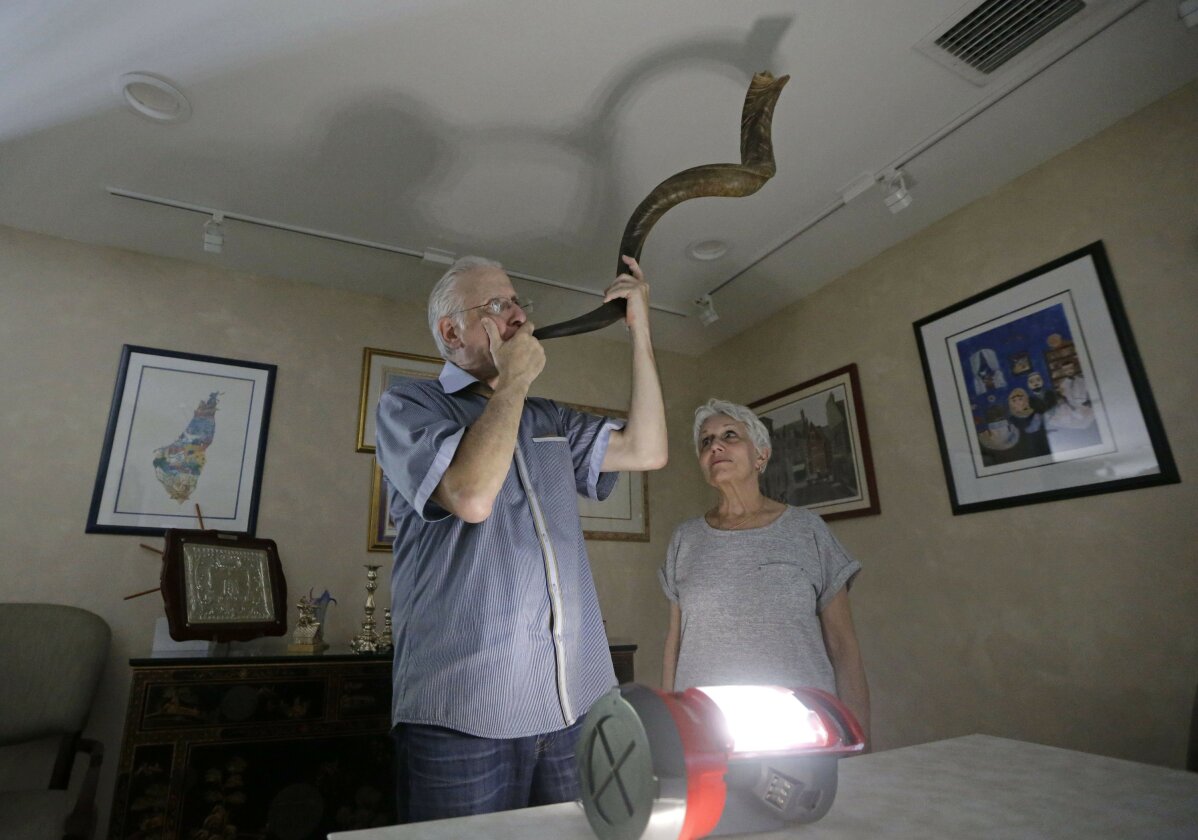 2 of 2

|
Michael Andron blows the shofar as he prepares for Rosh Hashanah, as his wife Lillian watches as they use a battery powered lantern to illuminate the room at their home, Tuesday, Sept.19, 2017, in Miami. The Androns have been without power for nine days due to Hurricane Irma, I feel like this year Rosh Hashanah became even more important because we just want to get in touch with the Infinite, so I feel like I don't need to do the big meal and have company. This year I just wanted to be more reflective and listen to my husband blow the shofar," said Lillian Andron during an interview. (AP Photo/Alan Diaz)
2 of 2
Michael Andron blows the shofar as he prepares for Rosh Hashanah, as his wife Lillian watches as they use a battery powered lantern to illuminate the room at their home, Tuesday, Sept.19, 2017, in Miami. The Androns have been without power for nine days due to Hurricane Irma, I feel like this year Rosh Hashanah became even more important because we just want to get in touch with the Infinite, so I feel like I don't need to do the big meal and have company. This year I just wanted to be more reflective and listen to my husband blow the shofar," said Lillian Andron during an interview. (AP Photo/Alan Diaz)
NAPLES, Fla. (AP) — During Hurricane Irma, Temple Shalom served as a sanctuary of a different kind.
When the storm changed course at the last minute, the Naples synagogue suddenly became an emergency shelter. As power stayed off for days, the Reform temple, which had only minimal damage, was a place for neighbors to escape the heat and have a free meal.
Now, amid the upheaval caused by Irma, Rabbi Adam Miller has decided the sermons he had carefully planned for the Jewish High Holy Days, starting Wednesday night, are no longer relevant.
"Those are in the trash can," said Miller, who rode out the storm in Memphis, Tennessee, carrying one of the synagogue's Torah scrolls for safekeeping. "The new message now is bringing the community together. No matter how challenging it might seem, we can pick up the pieces and rebuild."
In Florida's large Jewish community, the solemn period starting with Rosh Hashana has taken on new meaning as congregants facing desperate uncertainty about the state of their homes, neighbors and livelihoods seek as much comfort as inspiration in the new year.
"The hurricane was so incredibly disruptive psychologically," said Rabbi Michael Resnick of Temple Emanu-el of Palm Beach, a Conservative congregation, who used a solar charger to power his phone so he could send emails of support to his congregation throughout the storm and in the days after. "For me, it was a reminder of how small and fragile we are and that we really have no control over a whole lot."
Even before Irma, Jews in Florida and throughout the country were unsettled approaching the holidays, after a year of ever-bolder expressions of anti-Semitism, including a rally last month of neo-Nazis and white nationalists in Charlottesville, Virginia, where cries of "Sieg Heil!" were heard. President Donald Trump's blaming of "many sides" for the violence at the march drew rebukes from many Jewish leaders.
For Florida's Jews, Irma presented a more immediate personal threat. About 600,000 Florida residents — or about 3 percent of the population — are Jewish, and many are elderly.
Lillian Andron, 70, who spent days without power at their home, declined invitations from friends to go elsewhere for the holidays because her husband, Michael, wanted to keep his years-long tradition of blowing the shofar, or ceremonial ram's horn, at his North Miami Beach Orthodox congregation. He started practicing a month ago, a sound his wife found comforting during a difficult two weeks of storm watching, long gas lines, the hurricane and the aftermath.
"I feel like this year Rosh Hashana became even more important because we just want to get in touch with the infinite, so I feel like I don't need to do the big meal and have company. This year I just wanted to be more reflective," she said.
Many Jews who evacuated ahead of Irma will not make it back to their communities and their synagogues for the holidays. Miller said some parents have told him they won't return until schools re-open. Resnick said many of his congregants who had spent the summer outside of Florida have dropped plans to return to Palm Beach for Rosh Hashana.
The Reform Jewish movement and other branches of American Judaism are asking synagogues around the country to admit those displaced by Irma and Hurricane Harvey, which devastated Texas last month. Congregations generally charge for attendance during the High Holy Days, which also include Yom Kippur, or the Day of Atonement.
In Key West, Rabbi Yaakov Zucker of the Chabad Jewish Center in the Florida Keys said his congregation of about 200 people is scattered across four states.
"They themselves are sort of wandering Jews right now, refugees," Zucker said as he fielded calls from congregants seeking a place to attend services. A synagogue in Parkland has offered to host them, Zucker said, and he expects at least 50 of them to attend.
The disruption from the storm could reach far beyond the immediate period of recovery. The High Holy Days are a critical time for fund-raising, which can make or break a synagogue budget for the year.
Kol Ami of Boca Raton, a small Reconstructionist congregation trying to attract new members, does not sell seats for New Year services and instead relies on contributions to cover the costs of flying in a rabbi and cantor to lead worship.
Kol Ami's rental space, at a Unitarian Universalist church, had no building damage, but some electronics inside were damaged.
"We're not sure how much we'll have to improvise," said Roberta Jainchill, the congregation's president. "We survive from one holiday to the next and hope people come through with donations. I hope we make it."
Miller said his Reform synagogue will host about 40 members of a nearby Conservative congregation because their building was too damaged to hold services.
Miller was a student rabbi in New York City when the Sept. 11 terrorist attacks occurred. He said Florida after Irma feels "a little like that."
"We're a community where everybody's life is turned upside down," he said. "People here desperately need to hear the shofar calling them to another year of life."
___
Spencer reported from Naples. Zoll reported from New York. Kelli Kennedy reported from Fort Lauderdale.