11 key players in OJ Simpson's parole hearing in Nevada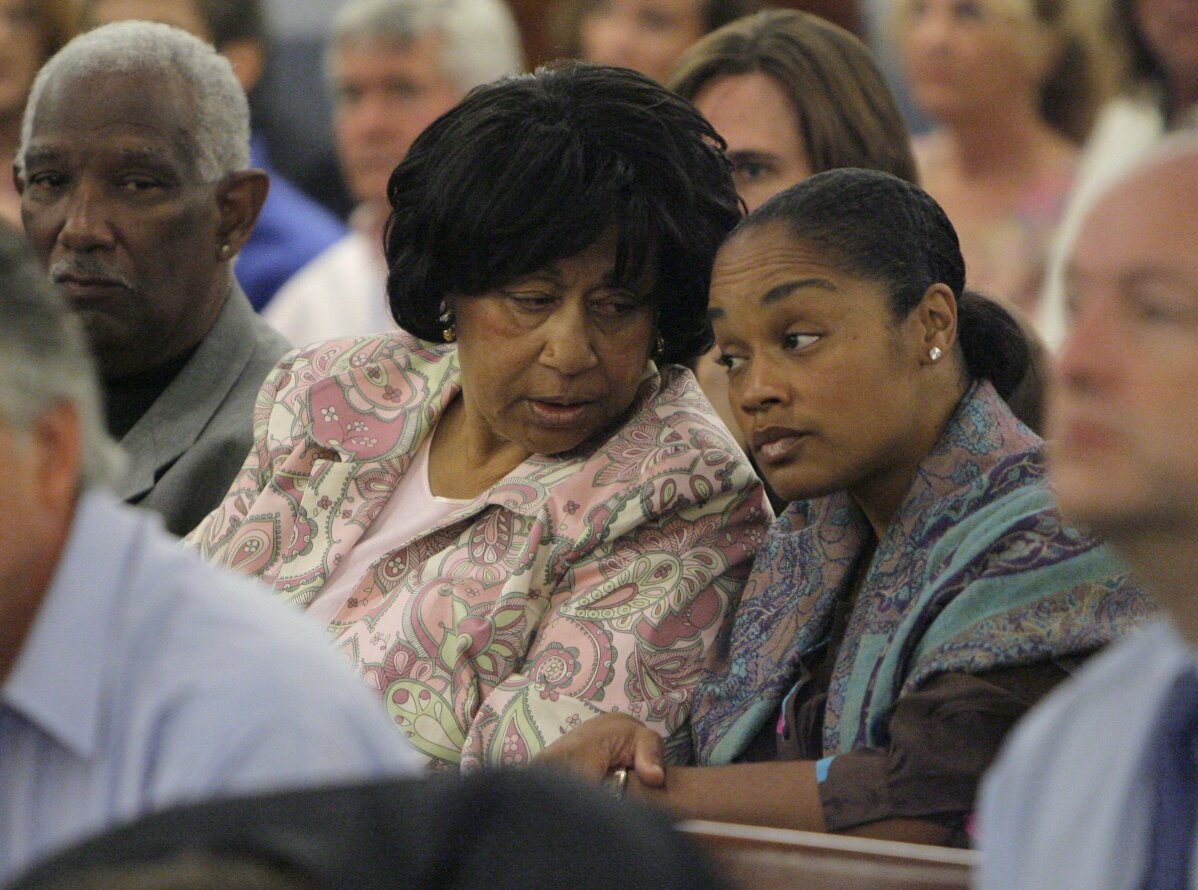 1 of 4

|
FILE - In this Sept. 19, 2007 file photo, O.J. Simpson's daughter Arnelle, right, and Simpson's sister Shirley Baker chat in a Clark County Justice courtroom before Simpson's arraignment in Las Vegas. On Thursday, July 20, 2017 O.J. Simpson faces a parole board hearing in Nevada. (AP Photo/Jae C. Hong, Pool, File)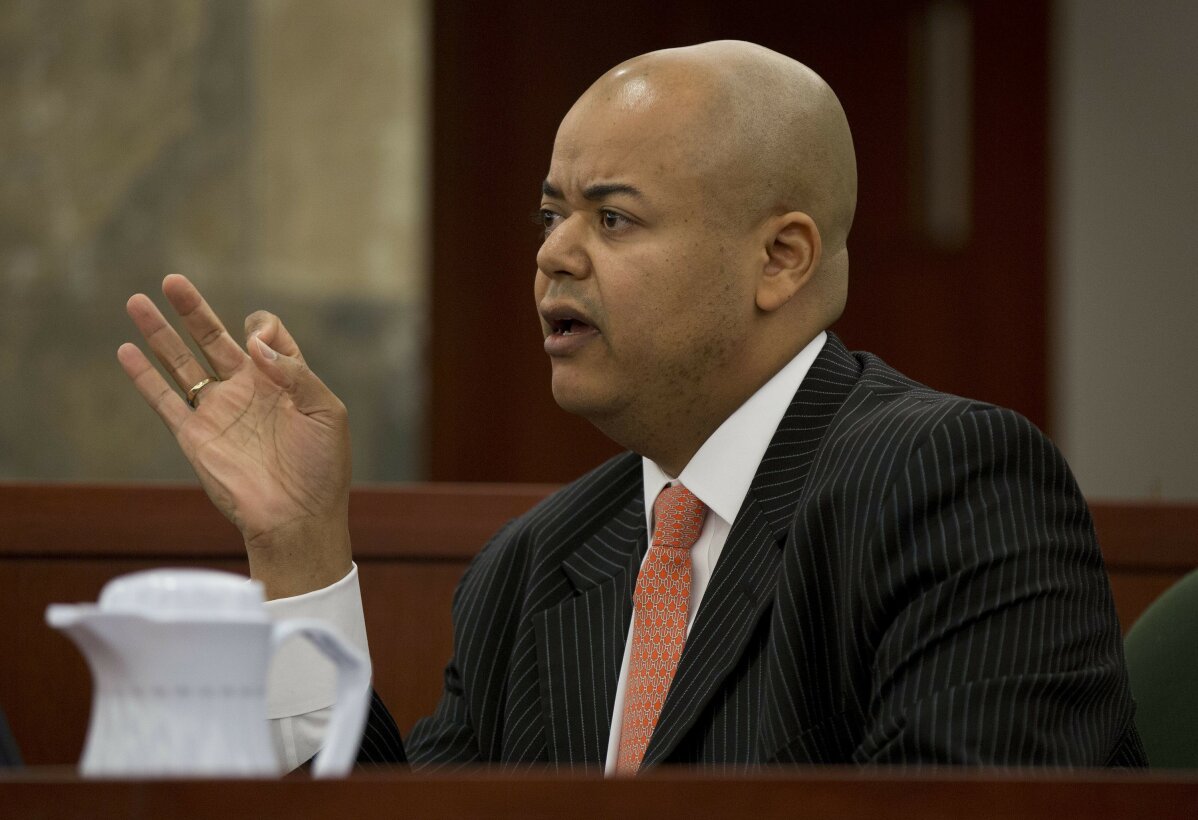 2 of 4

|
FILE- In this May 16, 2013 file photo, Malcolm LaVergne, O.J. Simpson's attorney on appeals to Nevada Supreme Court, testifies during an evidentiary hearing in Clark County District Court in Las Vegas. On Thursday, July 20, 2017, O.J. Simpson faces a parole board hearing in Nevada. (AP Photo/Julie Jacobson, Pool, File)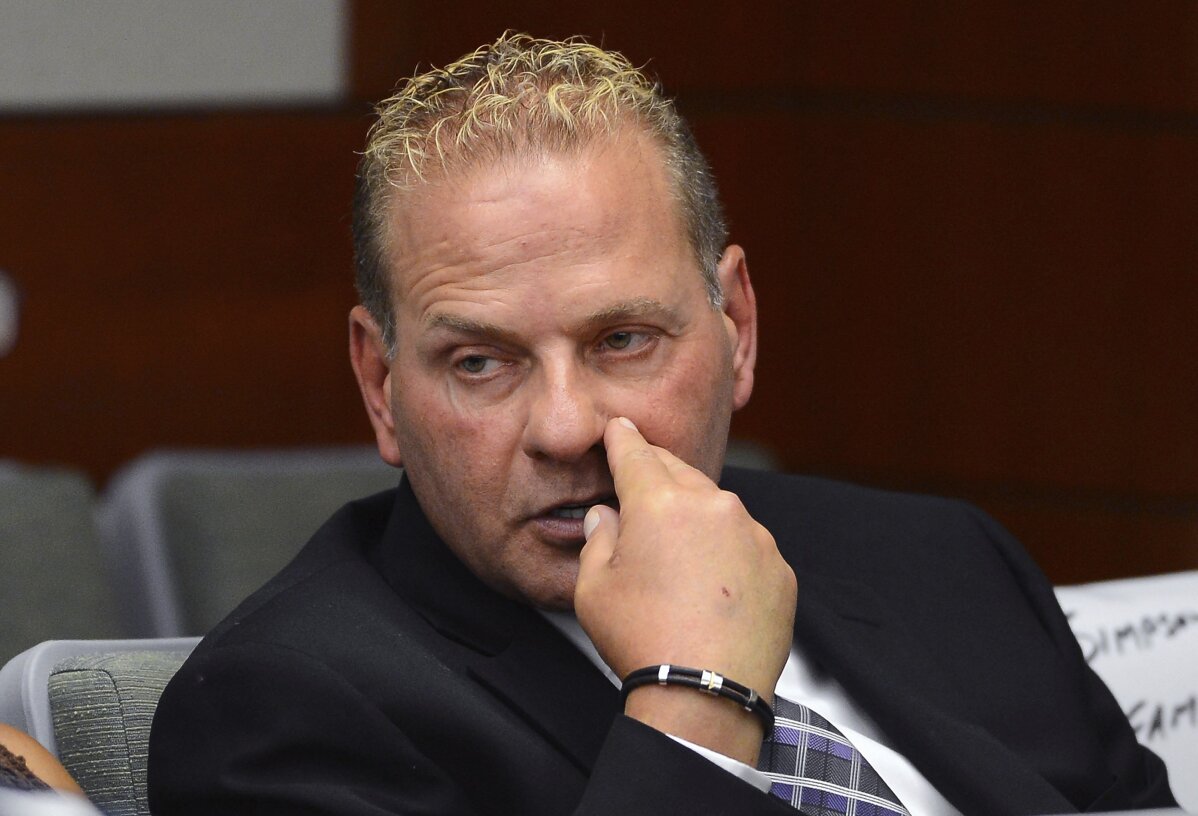 3 of 4

|
FILE- In this May 14, 2013 file photo, O.J. Simpson's friend Tom Scotto appears at an evidentiary hearing for Simpson in Clark County District Court in Las Vegas. On Thursday, July 20, 2017, O.J. Simpson faces a parole board hearing in Nevada. (AP Photo/Ethan Miller, Pool, File)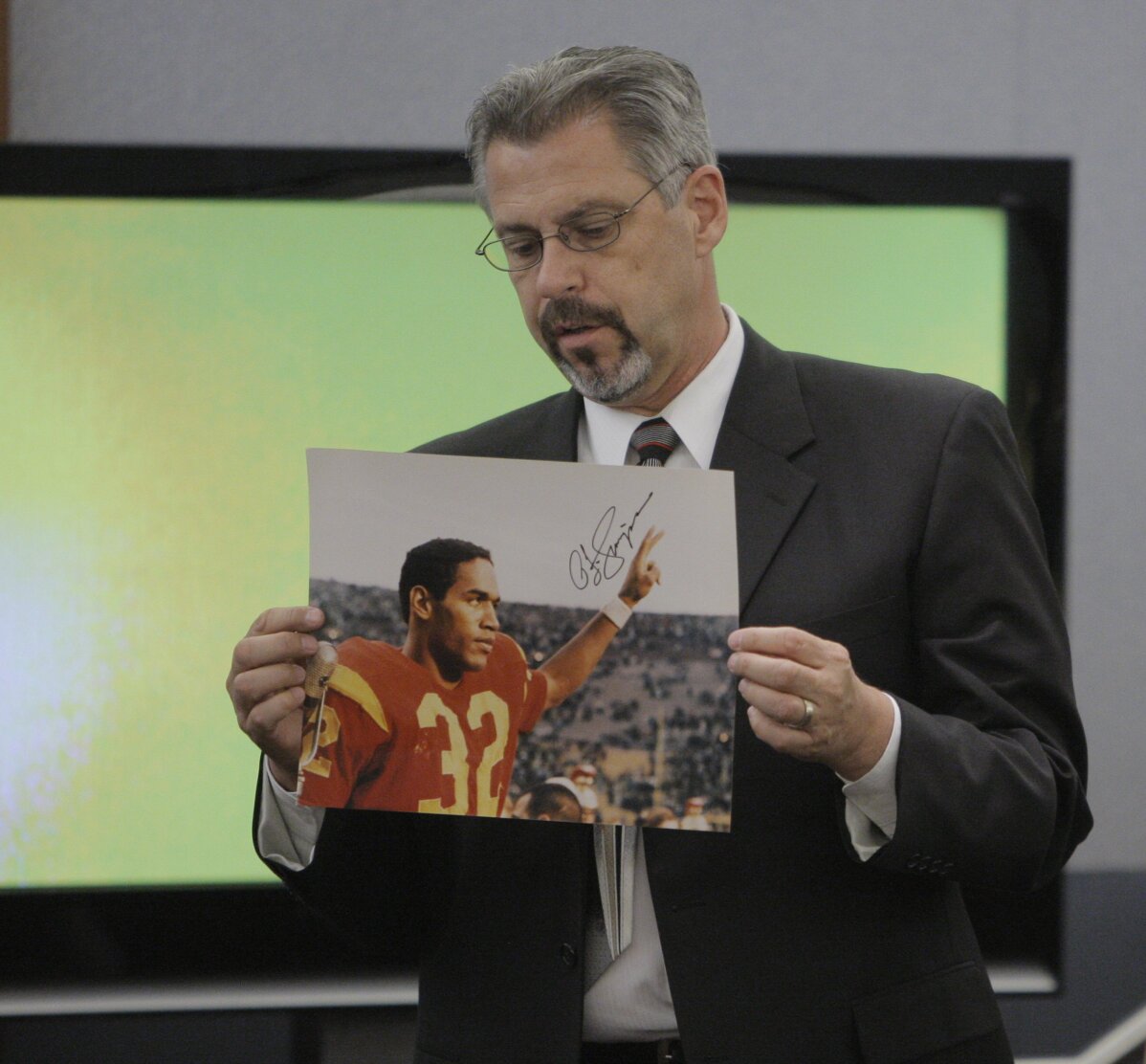 4 of 4

|
FILE - In this Sept. 15, 2008 file photo, prosecution opening witness Bruce Fromong displays a signed photo entered into evidence on the first day of the O.J. Simpson case. On Thursday, July 20, 2017, O.J. Simpson faces a parole board hearing in Nevada. (Jae C. Hong/POOL, File)
11 key players in OJ Simpson's parole hearing in Nevada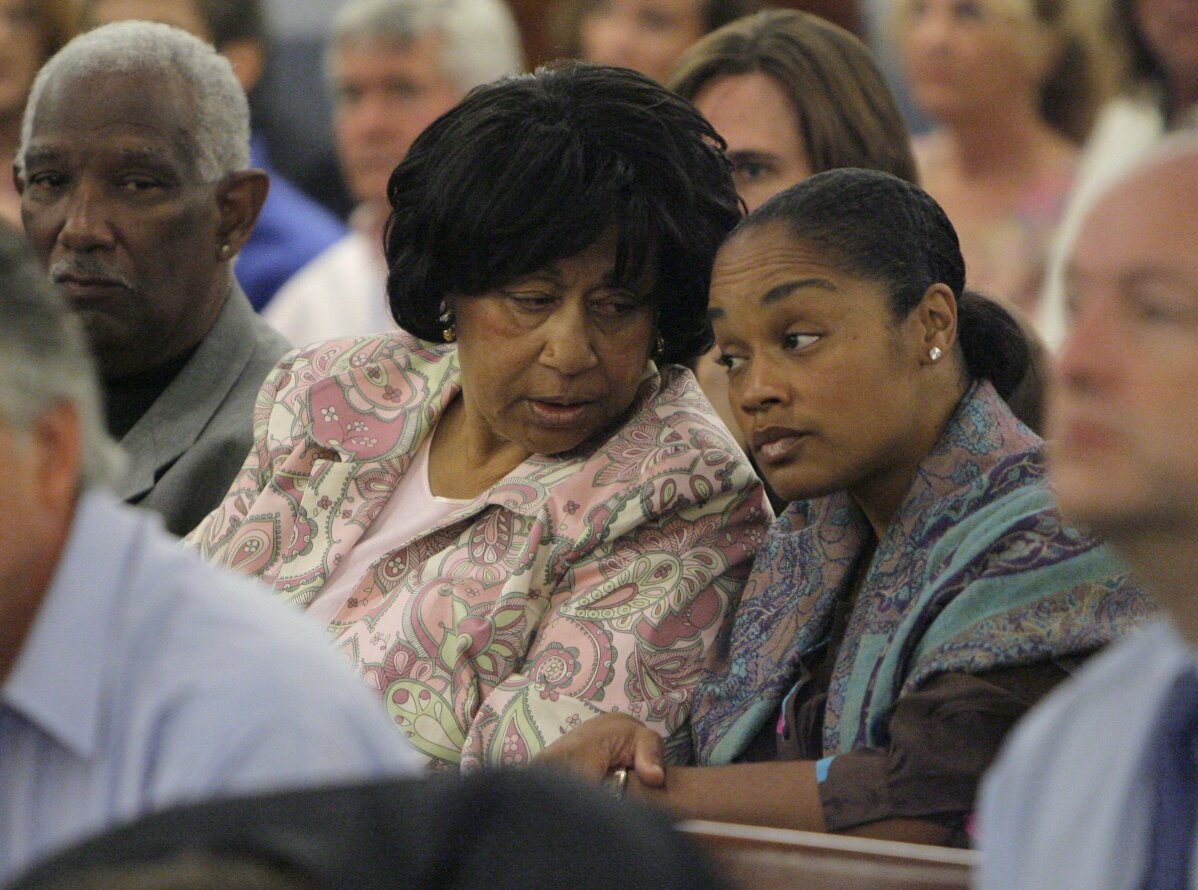 1 of 4

|
FILE - In this Sept. 19, 2007 file photo, O.J. Simpson's daughter Arnelle, right, and Simpson's sister Shirley Baker chat in a Clark County Justice courtroom before Simpson's arraignment in Las Vegas. On Thursday, July 20, 2017 O.J. Simpson faces a parole board hearing in Nevada. (AP Photo/Jae C. Hong, Pool, File)
1 of 4
FILE - In this Sept. 19, 2007 file photo, O.J. Simpson's daughter Arnelle, right, and Simpson's sister Shirley Baker chat in a Clark County Justice courtroom before Simpson's arraignment in Las Vegas. On Thursday, July 20, 2017 O.J. Simpson faces a parole board hearing in Nevada. (AP Photo/Jae C. Hong, Pool, File)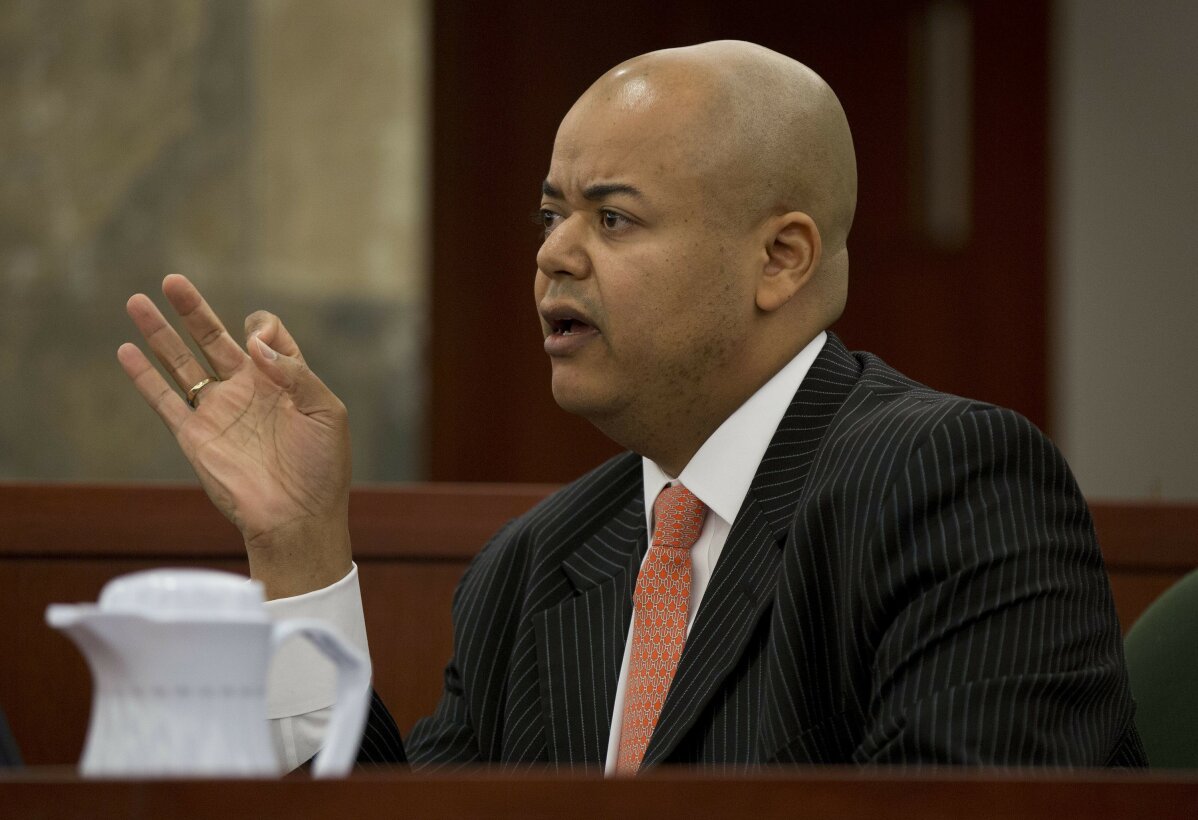 2 of 4

|
FILE- In this May 16, 2013 file photo, Malcolm LaVergne, O.J. Simpson's attorney on appeals to Nevada Supreme Court, testifies during an evidentiary hearing in Clark County District Court in Las Vegas. On Thursday, July 20, 2017, O.J. Simpson faces a parole board hearing in Nevada. (AP Photo/Julie Jacobson, Pool, File)
2 of 4
FILE- In this May 16, 2013 file photo, Malcolm LaVergne, O.J. Simpson's attorney on appeals to Nevada Supreme Court, testifies during an evidentiary hearing in Clark County District Court in Las Vegas. On Thursday, July 20, 2017, O.J. Simpson faces a parole board hearing in Nevada. (AP Photo/Julie Jacobson, Pool, File)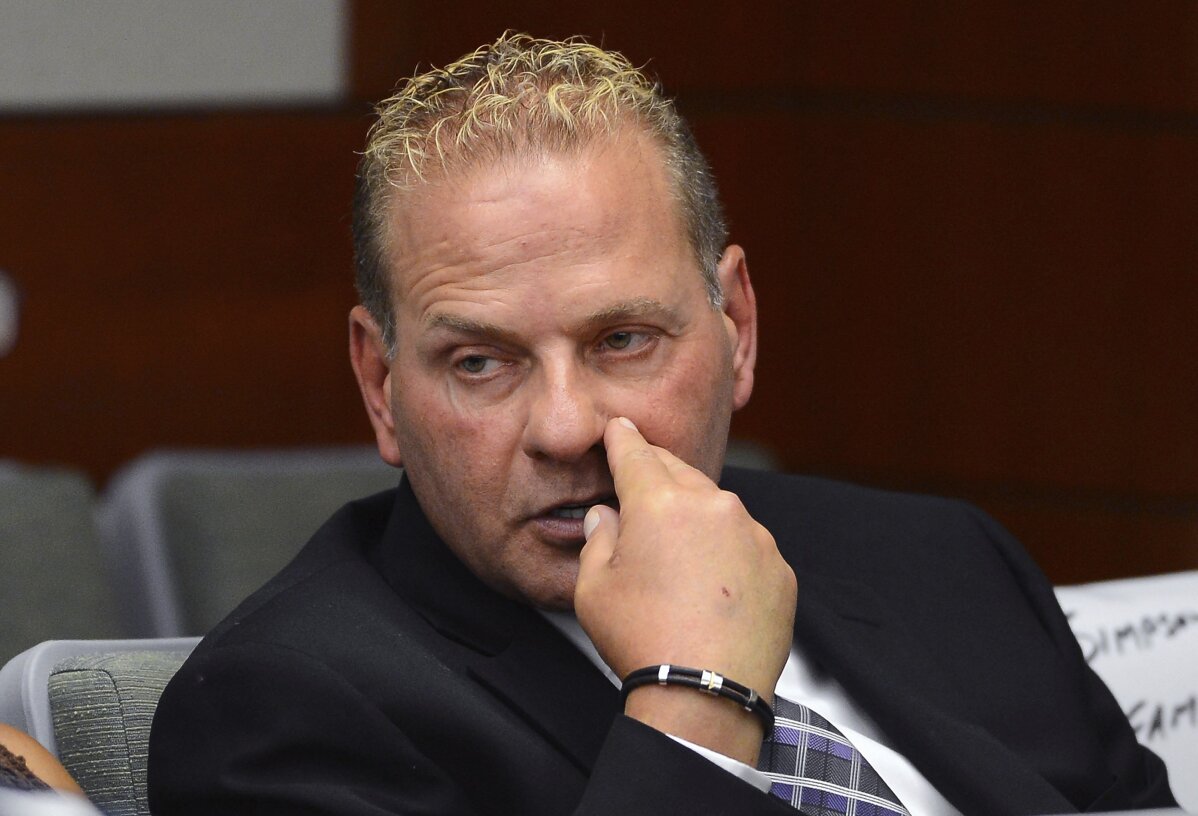 3 of 4

|
FILE- In this May 14, 2013 file photo, O.J. Simpson's friend Tom Scotto appears at an evidentiary hearing for Simpson in Clark County District Court in Las Vegas. On Thursday, July 20, 2017, O.J. Simpson faces a parole board hearing in Nevada. (AP Photo/Ethan Miller, Pool, File)
3 of 4
FILE- In this May 14, 2013 file photo, O.J. Simpson's friend Tom Scotto appears at an evidentiary hearing for Simpson in Clark County District Court in Las Vegas. On Thursday, July 20, 2017, O.J. Simpson faces a parole board hearing in Nevada. (AP Photo/Ethan Miller, Pool, File)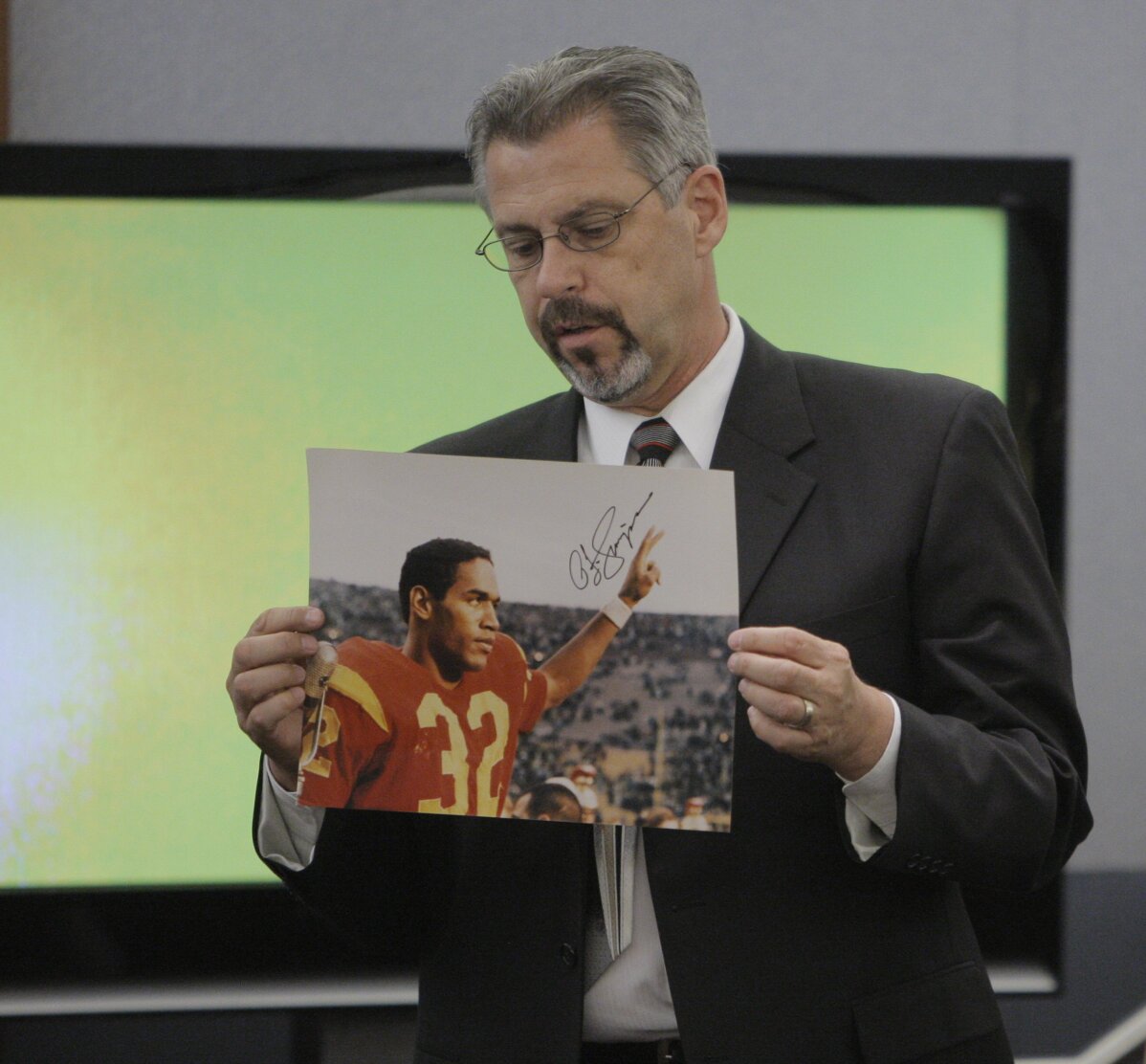 4 of 4

|
FILE - In this Sept. 15, 2008 file photo, prosecution opening witness Bruce Fromong displays a signed photo entered into evidence on the first day of the O.J. Simpson case. On Thursday, July 20, 2017, O.J. Simpson faces a parole board hearing in Nevada. (Jae C. Hong/POOL, File)
4 of 4
FILE - In this Sept. 15, 2008 file photo, prosecution opening witness Bruce Fromong displays a signed photo entered into evidence on the first day of the O.J. Simpson case. On Thursday, July 20, 2017, O.J. Simpson faces a parole board hearing in Nevada. (Jae C. Hong/POOL, File)
LOVELOCK, Nev. (AP) — The Nevada parole board members who will decide if O.J. Simpson gets released from prison have experience in law enforcement, prisons, probation and social work.
Others involved in Thursday's hearing have varying ties to the former football, TV and movie star who was acquitted of murder in 1995 in Los Angeles but convicted of armed robbery in Las Vegas in 2008. They include:
___
MALCOLM LAVERGNE
Simpson's attorney in Las Vegas. LaVergne was not Simpson's trial attorney but was involved in his appeals to the Nevada Supreme Court. LaVergne grew up in Texas, graduated in 2000 from Cornell Law School in New York, and has practiced general practice law in Las Vegas since 2006.
___
TOM SCOTTO
A close friend of Simpson's whose wedding the former football star was in Las Vegas to attend the weekend of the 2007 robbery. Scotto, 55, of Naples, Florida, did not accompany Simpson and five accomplices who confronted two sports memorabilia dealers in a casino hotel room. He said this week that he would be happy to have Simpson live at his home if Simpson is released.
___
ARNELLE SIMPSON
The oldest of Simpson's four children from two marriages. His other children have mostly stayed out of the public eye over the years, but Arnelle, 48, of Fresno, California, testified at a court hearing in Las Vegas in 2013 and she planned to speak to the parole board, Scotto said. Simpson's other children are Jason Simpson, 47, of Atlanta, daughter Sydney Simpson, 31, and Justin Simpson, 28, both of Florida.
___
SHIRLEY BAKER
Simpson's sister and longtime supporter. Baker of Sacramento plans to be in the parole hearing room at Lovelock Correctional Center in Nevada and might host her brother if he is released to live in California, Scotto said.
___
BRUCE FROMONG
A sports collectibles dealer and longtime Simpson acquaintance. Fromong, 63, planned to attend the hearing as the surviving victim of the robbery. The other memorabilia seller, Alfred Beardsley, died in 2015. Fromong has said he and Simpson have made amends and that he intends to speak in favor of Simpson's parole.
___
CONNIE BISBEE
The chairwoman of the Nevada Board of Parole Commissioners since 2009. She will lead the Simpson hearing by videoconference from offices in Carson City, the state capital. Bisbee was an associate Nevada prison warden before being appointed to the board in 2003. She also was at Simpson's 2013 hearing and signed off on parole on several lesser charges.
___
TONY CORDA
A parole commissioner since 2009 and one of four who will participate in the hearing. He worked for more than 22 years in Nevada prisons as a guard, caseworker, analyst and associate warden. He also was at Simpson's 2013 hearing and backed parole on lesser charges.
___
ADAM ENDEL
A parole commissioner since 2009 who will participate in the hearing. He spent 18 years working his way from Nevada prison guard to associate warden at the state's maximum-security facility at Ely State Prison. He also was at Simpson's 2013 hearing and approved parole on other charges.
___
SUSAN JACKSON
A parole commissioner since 2008 who participate in the hearing. She's the board member who questioned Simpson during the 2013 hearing and joined the others to OK parole on lesser charges. Jackson is a former state gambling, attorney general and state police investigator.
___
ED GRAY AND MICHAEL KEELER
The two parole commissioners in Las Vegas who will be asked to weigh in if the four other board members in Carson City don't reach a unanimous decision. Both have been on the board for more than a decade. One board seat is vacant, with a new appointee yet to be sworn in.