GOP plan would speed up Indiana tax cuts, boost vouchers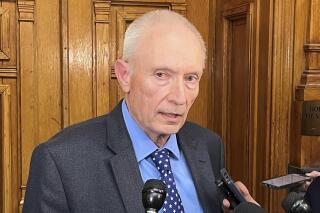 INDIANAPOLIS (AP) — Speeding up planned cuts to the state's personal income tax rates and a further expansion of the private school voucher program are keys parts of a state spending plan released Friday by Indiana House Republicans.
Many of their proposals for the new two-year state budget are similar to those sought by Republican Gov. Eric Holcomb, but the House GOP plan would accelerate tax cut and school voucher moves adopted over the last couple of years.
The House plan would boost K-12 school funding by about $700 million, or 8.5%, next school year. Some $250 million of that increase, however, would go toward raising the income limit to qualify for state money toward private school tuition.
The proposal calls for speeding up individual income tax rate cuts approved a year ago. The current rate of 3.15% would go to 3.0% next year and 2.9% in 2026 — three years earlier than currently scheduled.
Budget leaders in the Republican-dominated Senate have said they want to be cautious about any tax changes with slower growth of state revenue expected in the coming years, but House Ways and Means Committee Chairman Jeff Thompson said he believed state tax collections were solid enough to move up the rate cuts.
"We know from all the data we have that we're in a good spot to make those decreases permanent," said Thompson, a Republican from Lizton. "We believe that Hoosier taxpayers would be the best place to have those additional dollars and they can spend those most wisely and improve their situation."
Negotiations on the new budget will continue until the legislative session wraps up in late April. Neither the governor's office nor House Democrats immediately commented on the Republican proposal.
A significant departure by House Republicans from Holcomb's budget request was to scale back a major funding increase for county public health departments from the $300 million sought by the governor over the next two years to $225 million.
Thompson said that still represented a "huge increase" from the $7 million a year that the state now directs to county health departments, which are primarily funded by local taxes.
A Holcomb-appointed commission found that Indiana's local public health funding ranks 45th among the states and that additional spending was needed to improve Indiana's poor national rankings in areas such as smoking, obesity and life expectancy.
A bill being considered by lawmakers would establish "core public health services" to be provided by county departments, including access to required childhood vaccinations, emergency preparedness, restaurant and sewage system inspections, communicable disease prevention and smoking cessation programs.
Holcomb has made the public health proposal one of his top priorities, saying last month, "We need to get healthier as a state, there's just no two ways about it."
The House Republican plan includes a Holcomb request to eliminate student textbook fees — a step estimated to cost about $120 million a year. Indiana is among a handful of states still allowing textbook fees, which Democrats and many education advocates have long criticized as an unfair extra cost to families.
The GOP proposal would again seek to expand eligibility for the state's school voucher program that is already one of the broadest in the country. It has grown since its 2011 inception from $16 million in payments for about 3,900 students to $241 million for some 44,000 students last school year.
The new proposed expansion would roughly double the current cost and raise the income qualification limit for a family of four from the current $154,000 to $220,000.
Critics of the voucher program say it draws money away from traditional public schools, which educate about 1 million Indiana students.
"Ninety percent of our students still go to traditional public schools and that's fine," Thompson said. "It says most parents believe that's the best for their children, but those that don't, let them have that decision for what they believe is the best."