Trae Young, Hawks outlast reeling Mavericks in OT, 132-130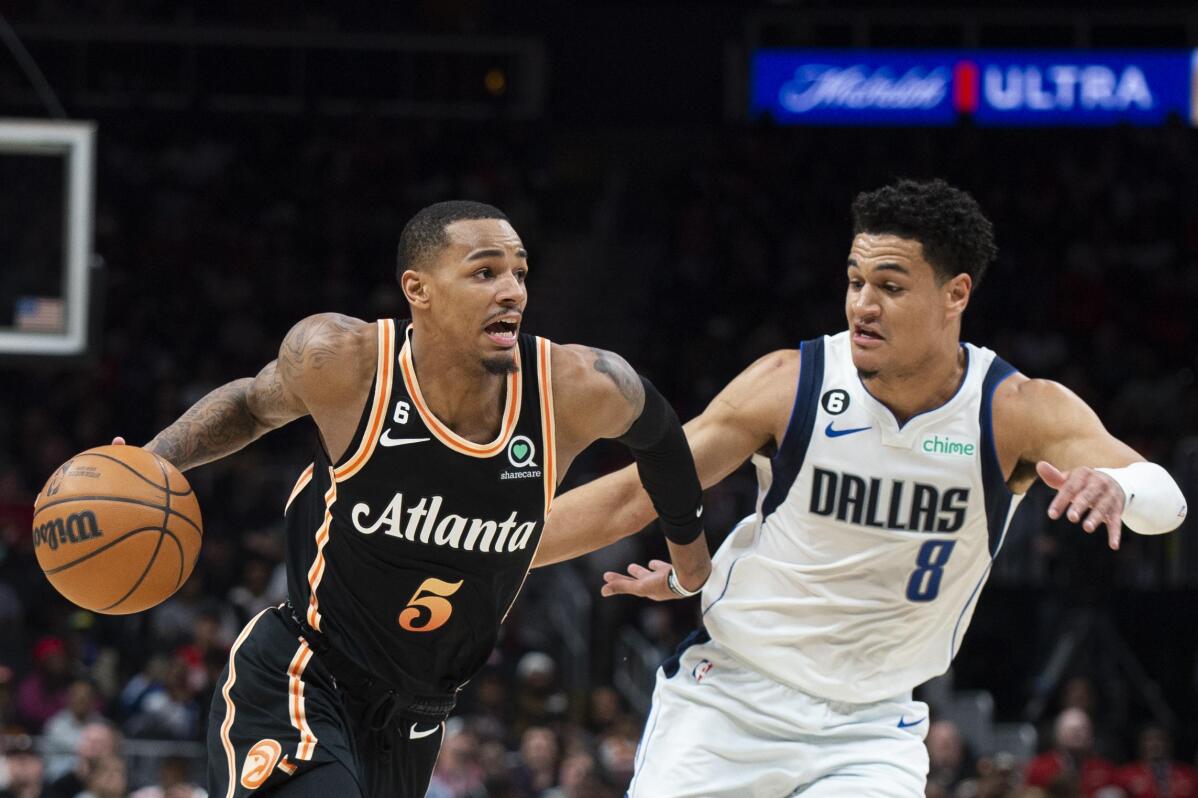 1 of 2

|
Atlanta Hawks guard Dejounte Murray (5) drives to the basket against Dallas Mavericks guard Josh Green during the first half of an NBA basketball game, Sunday, April 2, 2023, in Atlanta. (AP Photo/Hakim Wright Sr.)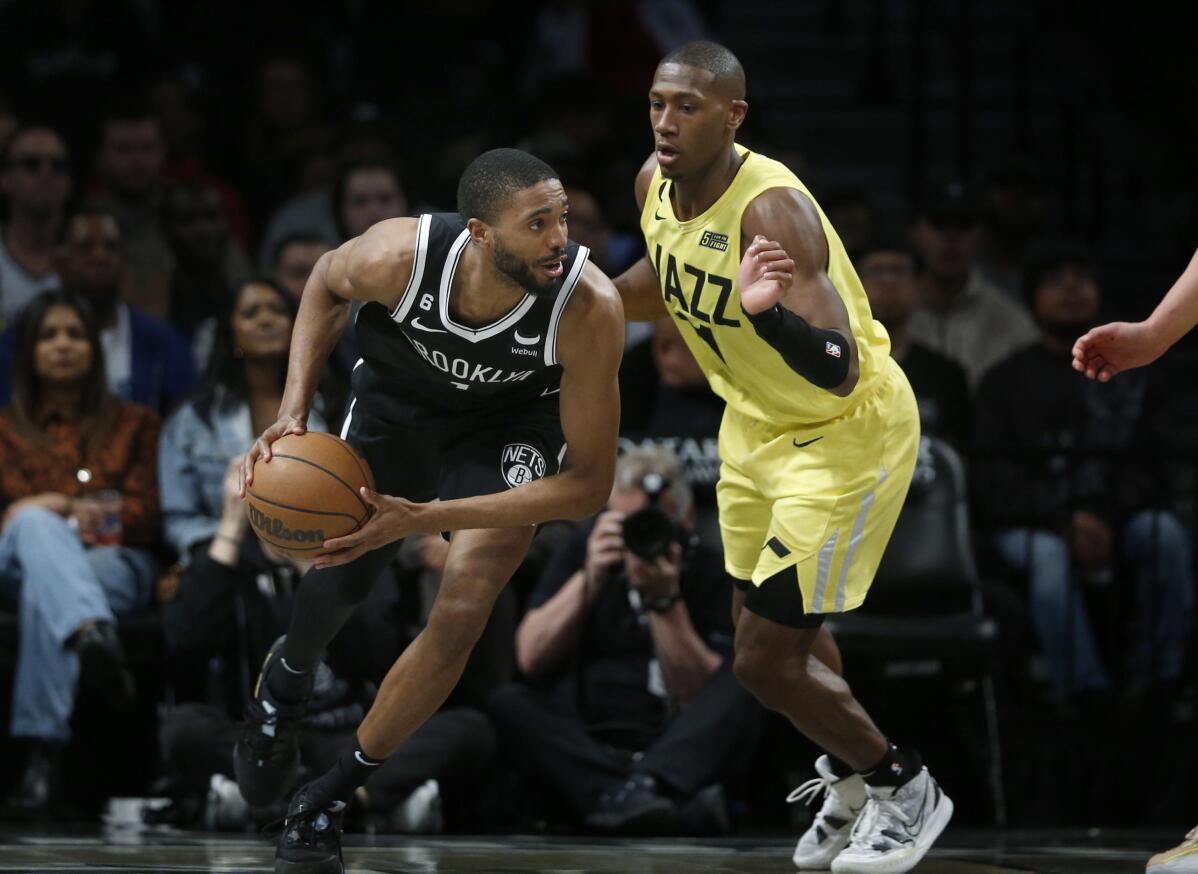 2 of 2

|
Brooklyn Nets guard Mikal Bridges (1) dribbles around Utah Jazz guard Kris Dunn (11) during the second half of an NBA basketball game Sunday, April 2, 2023, in New York. The Nets won 111-110. (AP Photo/John Munson)
Trae Young, Hawks outlast reeling Mavericks in OT, 132-130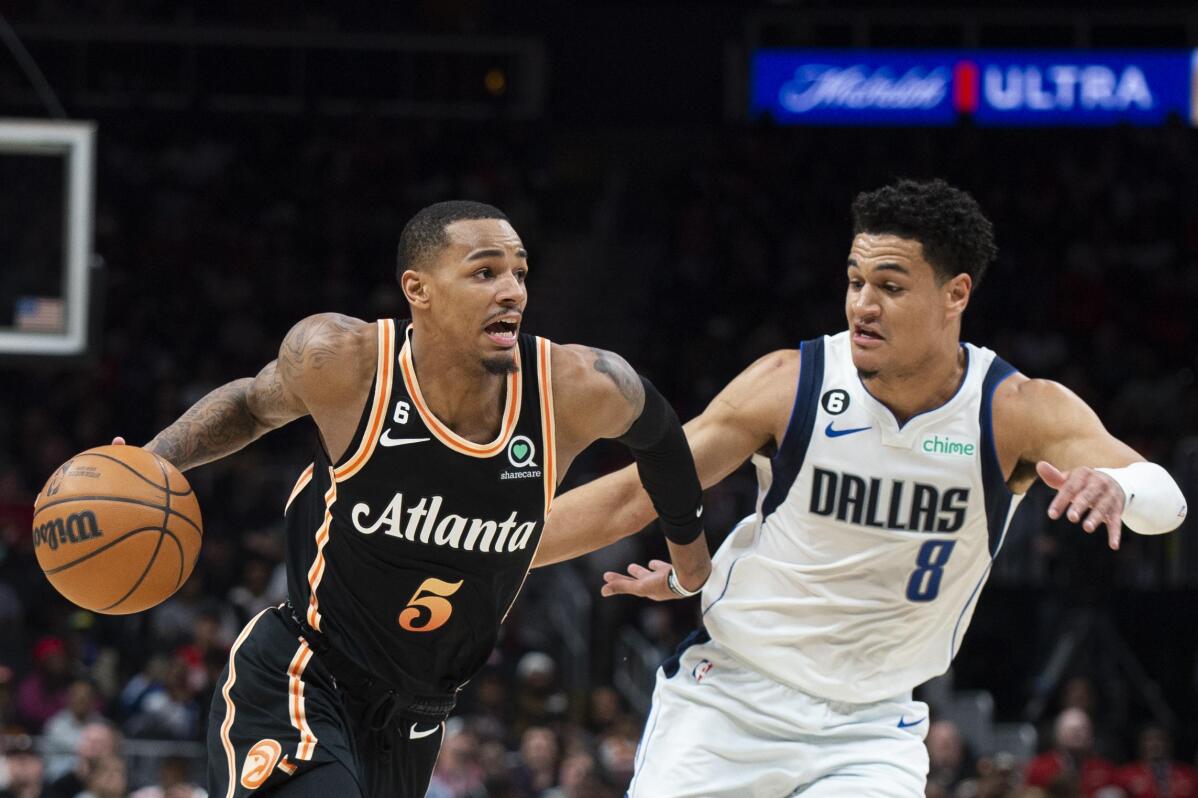 1 of 2

|
Atlanta Hawks guard Dejounte Murray (5) drives to the basket against Dallas Mavericks guard Josh Green during the first half of an NBA basketball game, Sunday, April 2, 2023, in Atlanta. (AP Photo/Hakim Wright Sr.)
1 of 2
Atlanta Hawks guard Dejounte Murray (5) drives to the basket against Dallas Mavericks guard Josh Green during the first half of an NBA basketball game, Sunday, April 2, 2023, in Atlanta. (AP Photo/Hakim Wright Sr.)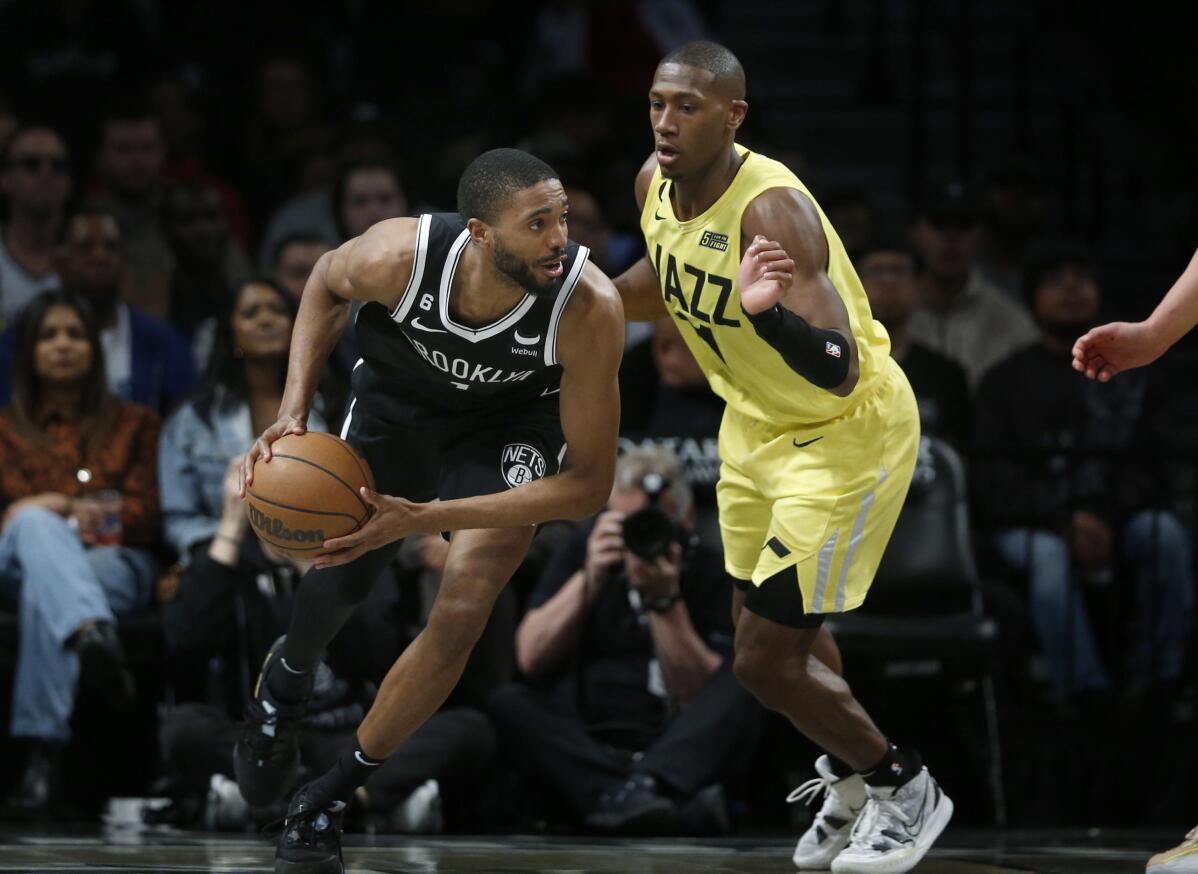 2 of 2

|
Brooklyn Nets guard Mikal Bridges (1) dribbles around Utah Jazz guard Kris Dunn (11) during the second half of an NBA basketball game Sunday, April 2, 2023, in New York. The Nets won 111-110. (AP Photo/John Munson)
2 of 2
Brooklyn Nets guard Mikal Bridges (1) dribbles around Utah Jazz guard Kris Dunn (11) during the second half of an NBA basketball game Sunday, April 2, 2023, in New York. The Nets won 111-110. (AP Photo/John Munson)
ATLANTA (AP) — Trae Young made two free throws with 1.8 seconds remaining in overtime to give Atlanta the lead and the Hawks beat the Dallas Mavericks 132-130 on Sunday night to keep pace in the Eastern Conference play-in race.
Young was fouled by Kyrie Irving, who scored 41 points, with the game tied at 130 on what Young said was "kind of a lucky play for us and unlucky for them."
Young said he accidently stepped on the foot of Mavericks guard Josh Green before crashing into Irving. "I just got in Kyrie's way," Young said.
Following Young's free throws, Luke Doncic, who scored 22 points, missed a last-second 3-pointer.
The Hawks (39-39) moved back into eighth place in the play-in race. Toronto and Chicago put pressure on the Hawks with wins before Atlanta's game. The Hawks have the tiebreaker advantage over Toronto.
The Hawks are only one ahead of the 10th-place Bulls for the final play-in spot in the Eastern Conference and play at Chicago on Tuesday night.
BUCKS 117, 76ERS 104
MILWAUKEE (AP) — Giannis Antetokounmpo had 33 points, 14 rebounds and six assists and Milwaukee the Philadelphia to move a step closer to the top playoff seed in the Eastern Conference.
The Bucks have a two-game lead over Boston with four games left. Boston won the season series with Milwaukee and has the tiebreaker. Philadelphia is third in the East.
Brook Lopez scored 21 points, Khris Middleton had 19 and Jrue Holiday and Bobby Portis each added 18 as the Bucks shot 57.5%. Middleton also had nine assists.
Tyrese Maxey had 29 points and Joel Embiid 28 for the 76ers.
KNICKS 118, WIZARDS 109
NEW YORK (AP) — Jalen Brunson and Quentin Grimes each scored 27 points and New York beat Washington to wrap up a playoff berth.
Immanuel Quickley added 22 points and Obi Toppin had 21 for the Knicks, who won their fourth in a row and will be in the postseason for the second time in three years. They had missed the playoffs the previous seven seasons.
Mitchell Robinson contributed eight points and 11 rebounds for the Knicks, who have won both games since losing All-Star forward Julius Randle to a sprained left ankle. Corey Kispert led Washington with a career-high 29 points.
LAKERS 134, ROCKETS 109
HOUSTON (AP) — Anthony Davis scored 40 points, LeBron James had 18 points, 11 assists and 10 rebounds to tie Jason Kidd for fourth place with his 107th triple-double and Los Angeles beat Houston.
The Lakers (40-38) moved two games over .500 and into a tie for seventh with New Orleans in the Western Conference with four games to go. Los Angeles has won six of its last seven games and owns the tiebreaker over the Pelicans.
Jalen Green scored 24 points for Houston. Alperen Sengun had 18 points and 15 rebounds.
SUNS 128, THUNDER 118
OKLAHOMA CITY (AP) — Kevin Durant scored 35 points and Phoenix held off Oklahoma City for its fifth straight victory.
Durant — once a hero in Oklahoma City after leading the Thunder to the 2012 NBA Finals, but roundly booed nearly every time he touched the ball Sunday — scored 13 points in the fourth quarter, helping Phoenix hold the lead after Oklahoma City cut a 15-point deficit to three. The Suns are 6-0 with Durant in the lineup.
Devin Booker added 22 points and 10 assists for Phoenix, which shot 56.8% from the field to match its season high. Deandre Ayton had 19 points and 11 rebounds and Chris Paul had 16 points and eight assists.
Battling for a spot in the NBA's play-in tournament, Oklahoma City lost for the third time in its last four games despite 39 points from Shai Gilgeous-Alexander.
NETS 111, JAZZ 110
NEW YORK (AP — Mikal Bridges had 30 points and seven rebounds, helping Brooklyn beat Utah to move closer to clinching a playoff berth in the Eastern Conference.
Spencer Dinwiddie had 17 points and 12 assists for Brooklyn, and Cam Johnson had 18 points. The Nets won their third straight, and fourth in their past five games, opening a two-game lead over Miami for the No. 6 seed and dipping their magic number to two for the last guaranteed playoff spot in the East.
Talen Horton-Tucker scored 32 points and Lauri Markkanen had 23 points and nine rebounds for the Jazz, who lost for the fifth time in six games and are 12th in the West, two spots behind the last play-in spot.
NUGGETS 112, WARRIORS 110
DENVER (AP) — Jamal Murray scored 26 points and blocked Klay Thompson's 3-point attempt in the final seconds and Denver held off Golden State.
Michael Porter Jr. had 29 points and 11 rebounds and Aaron Gordon added 13 points and 10 rebounds for short-handed Denver.
Nuggets center Nikola Jokic missed his third straight game with calf tightness that first cropped up against Milwaukee on March 25 and lingered against Philadelphia on Monday night, coach Michael Malone said.
Thompson led Golden State with 25 points and Stephen Curry had 21.
SPURS 142, KINGS 134, OT
SACRAMENTO, Calif. (AP) — Doug McDermott scored 22 of his 30 points in the fourth quarter and overtime and San Antonio denied Sacramento a chance at clinching the Pacific Division.
After clinching their first playoff berth since 2006 on Wednesday night on the road, the Kings were hoping to wrap up their first division title in 20 years in front of their home fans but fell short against the struggling Spurs.
De'Aaron Fox scored 28 points for the Kings.
RAPTORS 128, HORNETS 108
CHARLOTTE, N.C. (AP) — Pascal Siakam scored 36 points, Fred VanVleet added 20 points and a career-high 20 assists and Toronto beat undermanned Charlotte to secure a spot in the NBA play-in tournament.
O.G. Anunoby added 23 points for the Raptors, who clinched after Brooklyn beat Utah.
Svi Mykhailiuk scored a career-high 26 points for the Hornets.
TRAIL BLAZERS 107, TIMBERWOLVES 105
MINNEAPOLIS (AP) — Shaedon Sharpe scored 27 points, Kevin Knox II added 19 points and short-handed Portland beat playoff-hopeful Minnesota.
Trendon Watford had 15 points and Skylar Mays finished with 13 points and nine assists in his second game with Portland, which had lost 11 of 12 and was without four regular starters.
Anthony Edwards scored 37 points for the Timberwolves. They have lost three in a row.
CAVALIERS 115, PACERS 105
CLEVELAND (AP) — All-Star Donovan Mitchell scored 40 points, Evan Mobley had 14 points and 16 rebounds and playoff-bound Cleveland beat Indiana.
Darius Garland added 20 points and six assists for Cleveland, which reduced its magic number to one for clinching home-court advantage in the first round of the playoffs. The Cavaliers won for the 31st time in 40 games at home.
Rookie Bennedict Mathurin had 19 points, nine rebounds and three fourth-quarter offensive fouls for Indiana, which was eliminated from postseason contention for the third year in a row.
BULLS 128, GRIZZLIES 107
CHICAGO (AP) — Zach LaVine scored 36 points, DeMar DeRozan added 31 and Chicago beat Memphis, overcoming Ja Morant's triple-double.
The Bulls outscored the Western Conference's second-place team 75-39 over the final two quarters after trailing by 23. They dominated the Grizzlies 40-16 in the third, ending it on a 17-0 run while taking the lead.
Jaren Jackson Jr. scored 31 points and made five 3-pointers for the Grizzlies, who had won eight of nine. Morant had 17 points, 10 rebounds and 10 assists, and Desmond Bane scored 21.
MAGIC 128, PISTONS 102
ORLANDO, Fla. (AP) — Paolo Banchero and Wendell Carter Jr. each 14 points and nine rebounds each before sitting out the fourth quarter in Orlando's victory over Detroit.
Jalen Suggs led Orlando with 18 points, and Cole Anthony added 17 points and six rebounds.
Killian Hayes scored 20 points for the Pistons. They lost for the 20th time in 21 games.
___ AP NBA: https://apnews.com/hub/NBA and https://twitter.com/AP_Sports