Chukwueze nets 2 as Villarreal stuns Madrid 3-2 at Bernabeu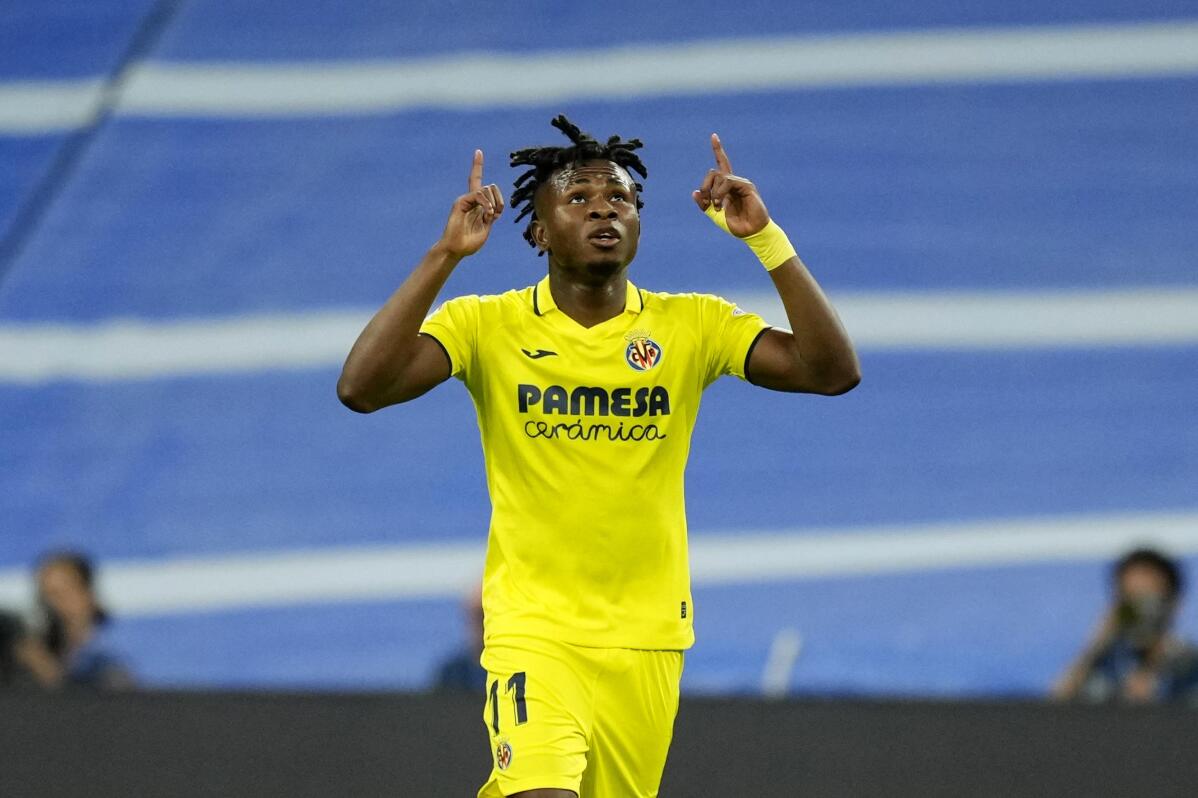 1 of 11

|
Villarreal's Samuel Chukwueze celebrates after scoring his side's first goal during a Spanish La Liga soccer match between Real Madrid and Villarreal at the Santiago Bernabeu stadium in Madrid, Saturday, April 8, 2023. (AP Photo/Jose Breton)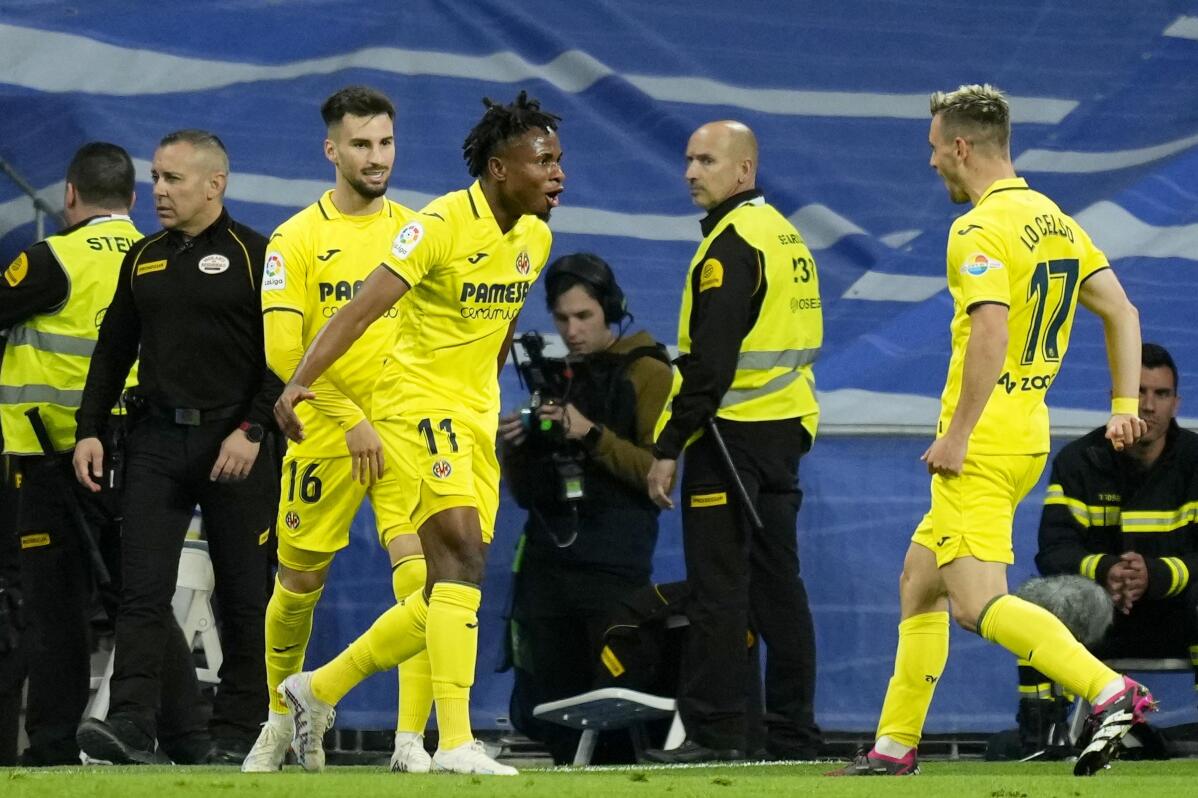 2 of 11

|
Villarreal's Samuel Chukwueze, center, celebrates after scoring his side's first goal during a Spanish La Liga soccer match between Real Madrid and Villarreal at the Santiago Bernabeu stadium in Madrid, Saturday, April 8, 2023. (AP Photo/Jose Breton)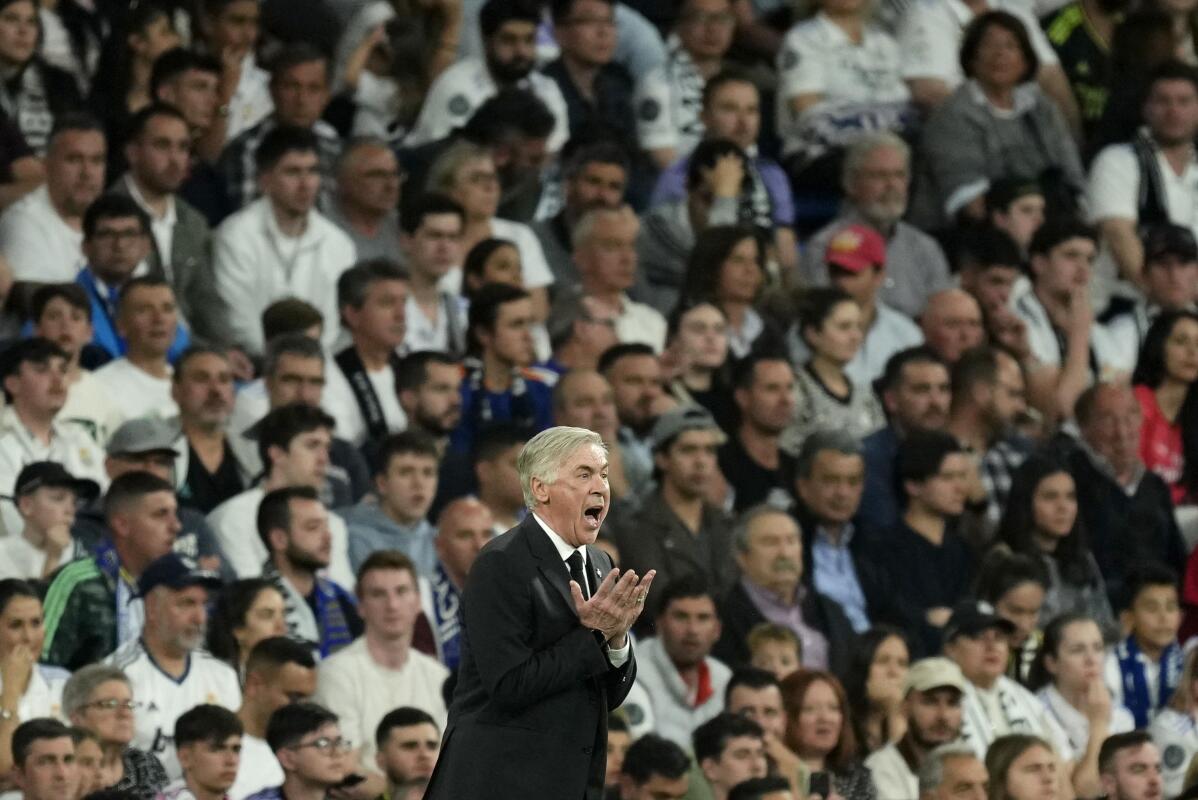 3 of 11

|
Real Madrid's head coach Carlo Ancelotti reacts during a Spanish La Liga soccer match between Real Madrid and Villarreal at the Santiago Bernabeu stadium in Madrid, Saturday, April 8, 2023. (AP Photo/Jose Breton)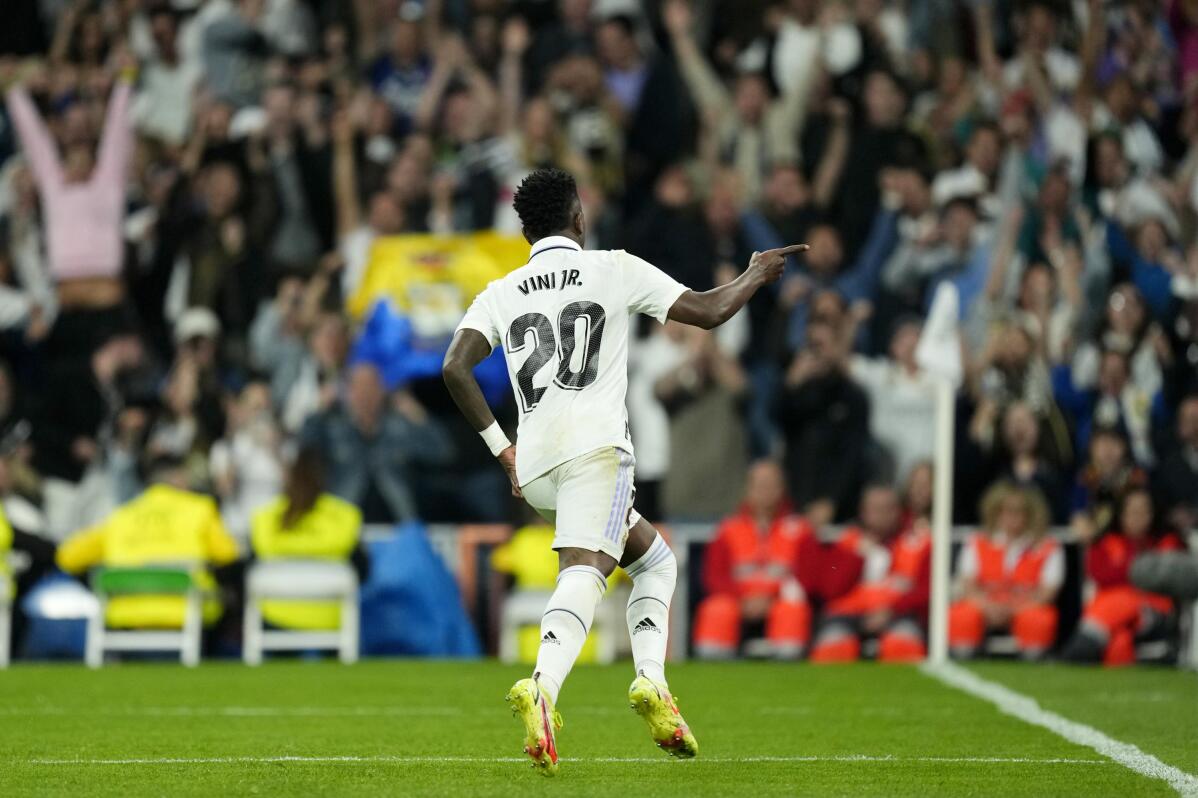 4 of 11

|
Real Madrid's Vinicius Junior celebrates after scoring his side's second goal during a Spanish La Liga soccer match between Real Madrid and Villarreal at the Santiago Bernabeu stadium in Madrid, Saturday, April 8, 2023. (AP Photo/Jose Breton)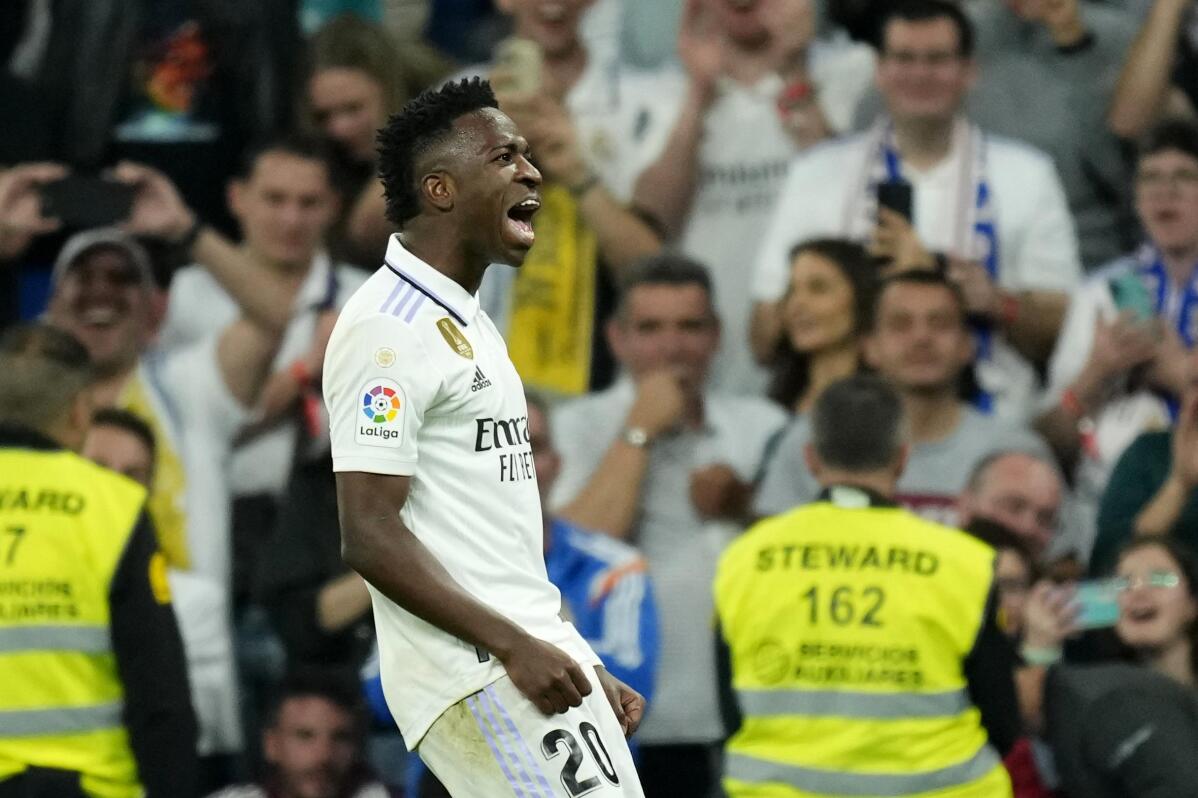 5 of 11

|
Real Madrid's Vinicius Junior celebrates after scoring his side's second goal during a Spanish La Liga soccer match between Real Madrid and Villarreal at the Santiago Bernabeu stadium in Madrid, Saturday, April 8, 2023. (AP Photo/Jose Breton)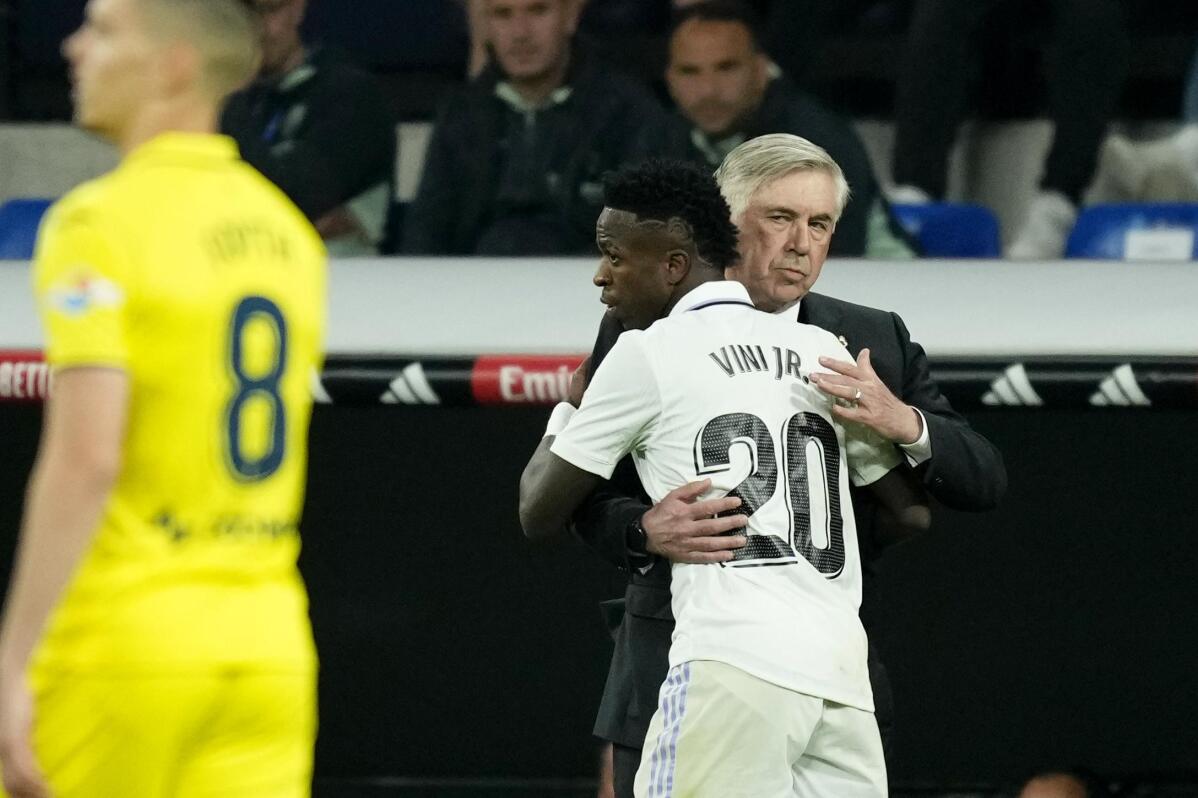 6 of 11

|
Real Madrid's Vinicius Junior celebrates with Real Madrid's head coach Carlo Ancelotti after scoring his side's second goal during a Spanish La Liga soccer match between Real Madrid and Villarreal at the Santiago Bernabeu stadium in Madrid, Saturday, April 8, 2023. (AP Photo/Jose Breton)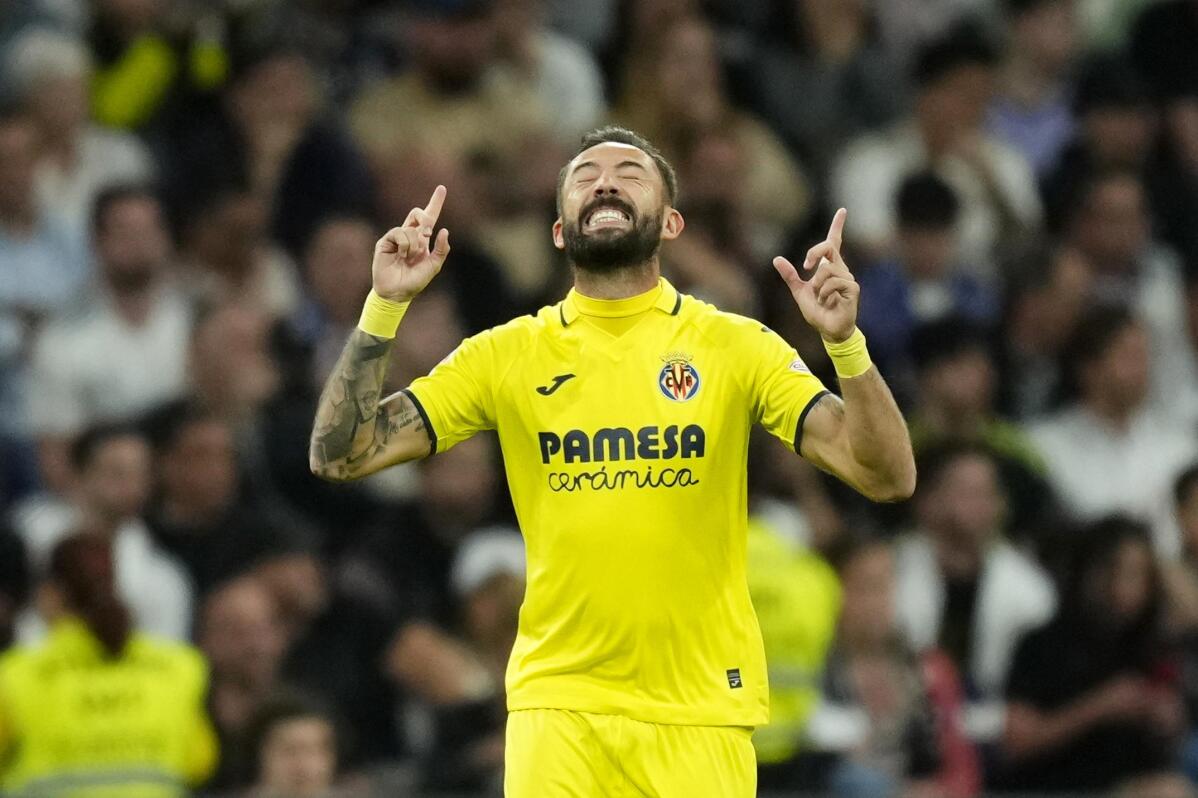 7 of 11

|
Villarreal's Jose Luis Morales celebrates after scoring his side's second goal during a Spanish La Liga soccer match between Real Madrid and Villarreal at the Santiago Bernabeu stadium in Madrid, Saturday, April 8, 2023. (AP Photo/Jose Breton)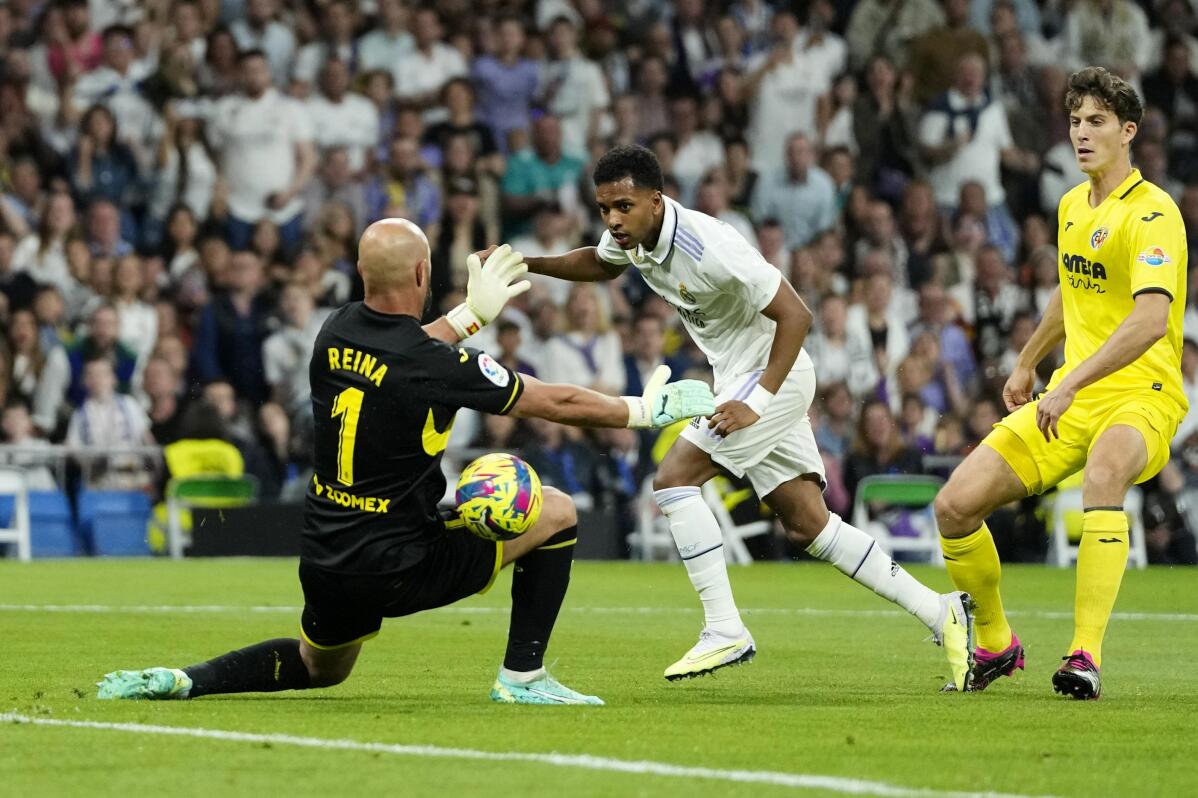 8 of 11

|
Real Madrid's Rodrygo, center, challenges Villarreal's goalkeeper Pepe Reina during a Spanish La Liga soccer match between Real Madrid and Villarreal at the Santiago Bernabeu stadium in Madrid, Saturday, April 8, 2023. (AP Photo/Jose Breton)
9 of 11

|
Real Madrid's Federico Valverde reacts after Villarreal's Jose Luis Morales scored his side's second goal during a Spanish La Liga soccer match between Real Madrid and Villarreal at the Santiago Bernabeu stadium in Madrid, Saturday, April 8, 2023. (AP Photo/Jose Breton)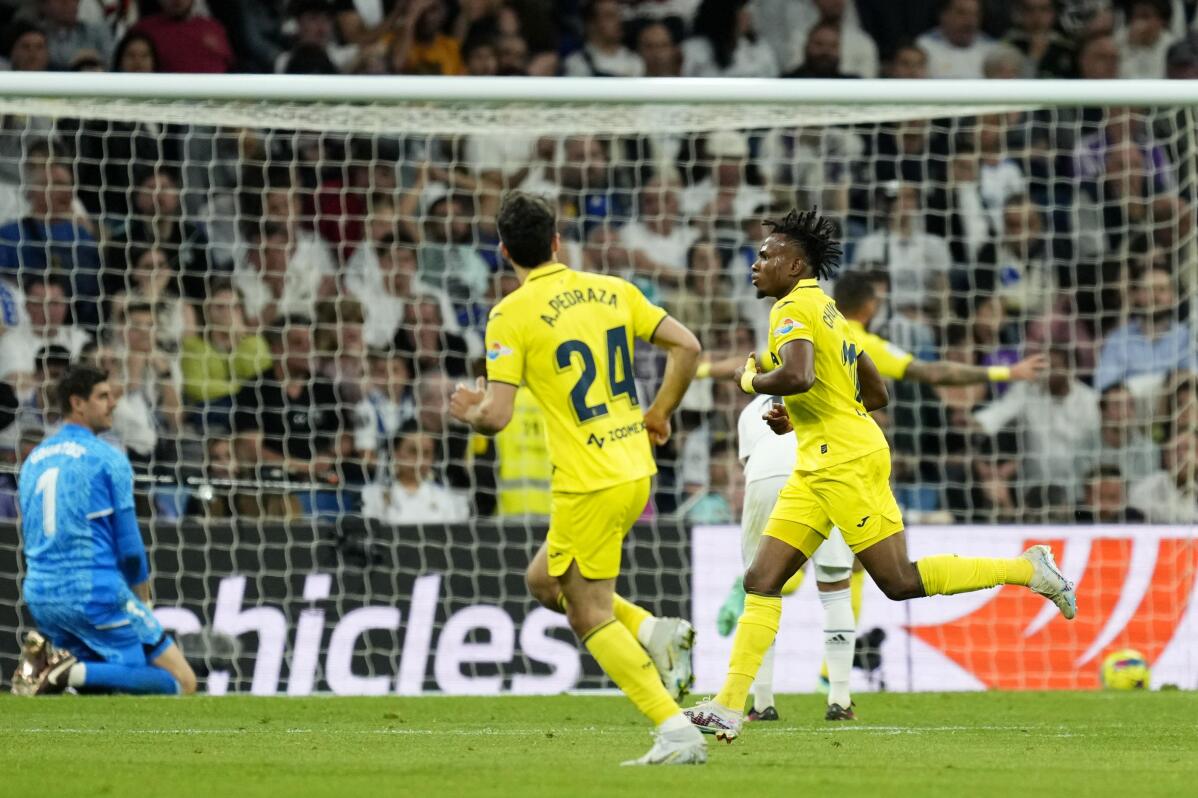 10 of 11

|
Villarreal's Samuel Chukwueze, right, celebrates after scoring his side's third goal during a Spanish La Liga soccer match between Real Madrid and Villarreal at the Santiago Bernabeu stadium in Madrid, Saturday, April 8, 2023. (AP Photo/Jose Breton)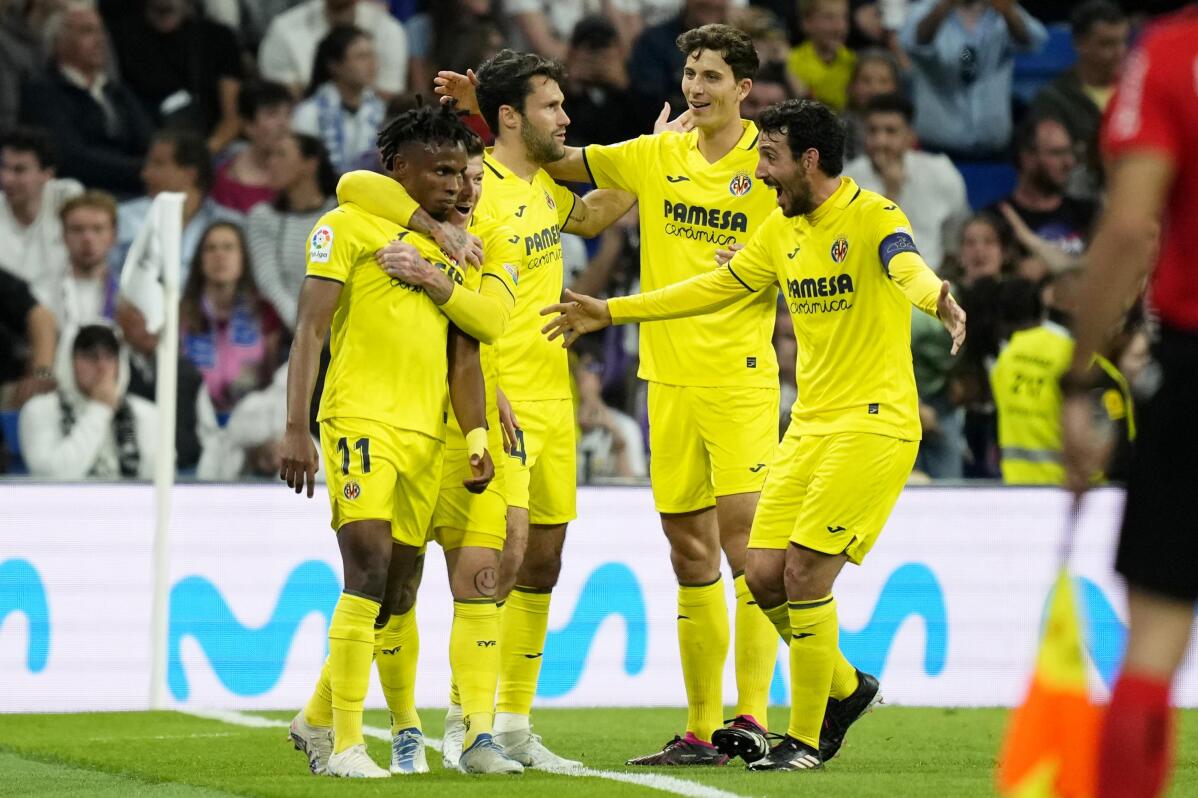 11 of 11

|
Villarreal's Samuel Chukwueze, left, celebrates after scoring his side's third goal during a Spanish La Liga soccer match between Real Madrid and Villarreal at the Santiago Bernabeu stadium in Madrid, Saturday, April 8, 2023. (AP Photo/Jose Breton)
Chukwueze nets 2 as Villarreal stuns Madrid 3-2 at Bernabeu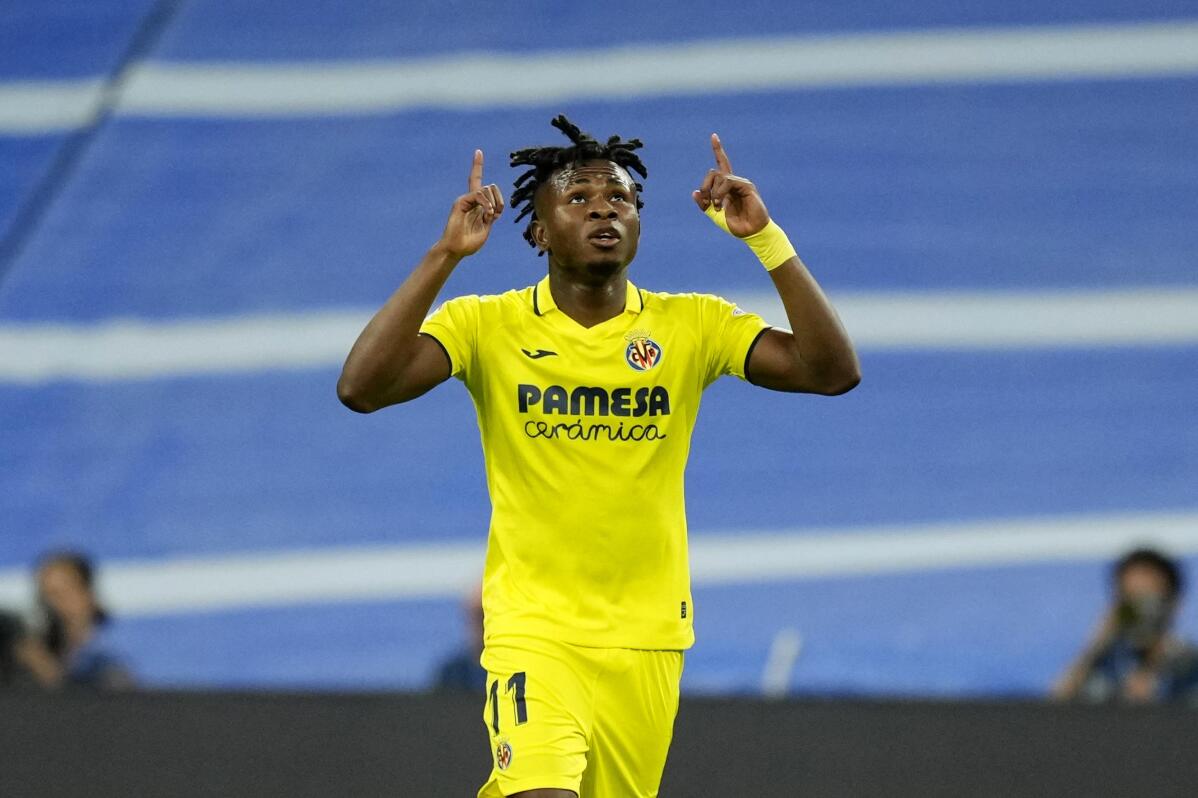 1 of 11

|
Villarreal's Samuel Chukwueze celebrates after scoring his side's first goal during a Spanish La Liga soccer match between Real Madrid and Villarreal at the Santiago Bernabeu stadium in Madrid, Saturday, April 8, 2023. (AP Photo/Jose Breton)
1 of 11
Villarreal's Samuel Chukwueze celebrates after scoring his side's first goal during a Spanish La Liga soccer match between Real Madrid and Villarreal at the Santiago Bernabeu stadium in Madrid, Saturday, April 8, 2023. (AP Photo/Jose Breton)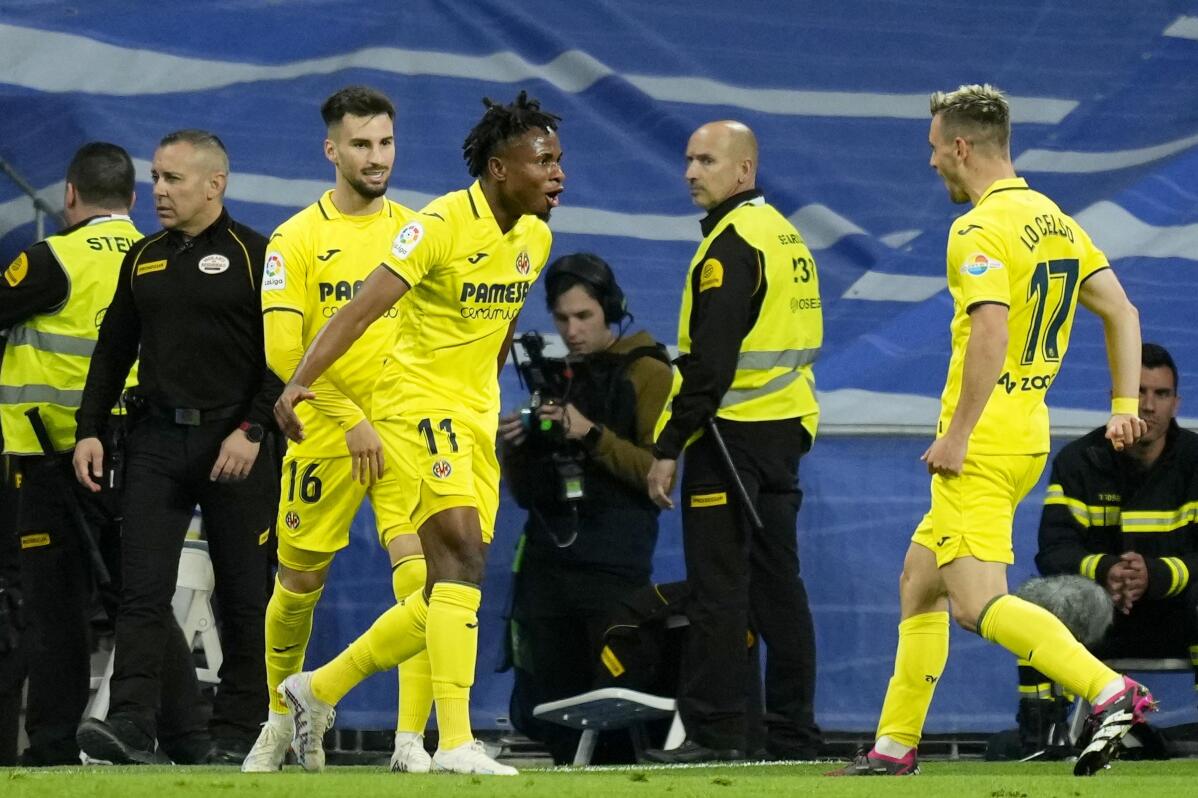 2 of 11

|
Villarreal's Samuel Chukwueze, center, celebrates after scoring his side's first goal during a Spanish La Liga soccer match between Real Madrid and Villarreal at the Santiago Bernabeu stadium in Madrid, Saturday, April 8, 2023. (AP Photo/Jose Breton)
2 of 11
Villarreal's Samuel Chukwueze, center, celebrates after scoring his side's first goal during a Spanish La Liga soccer match between Real Madrid and Villarreal at the Santiago Bernabeu stadium in Madrid, Saturday, April 8, 2023. (AP Photo/Jose Breton)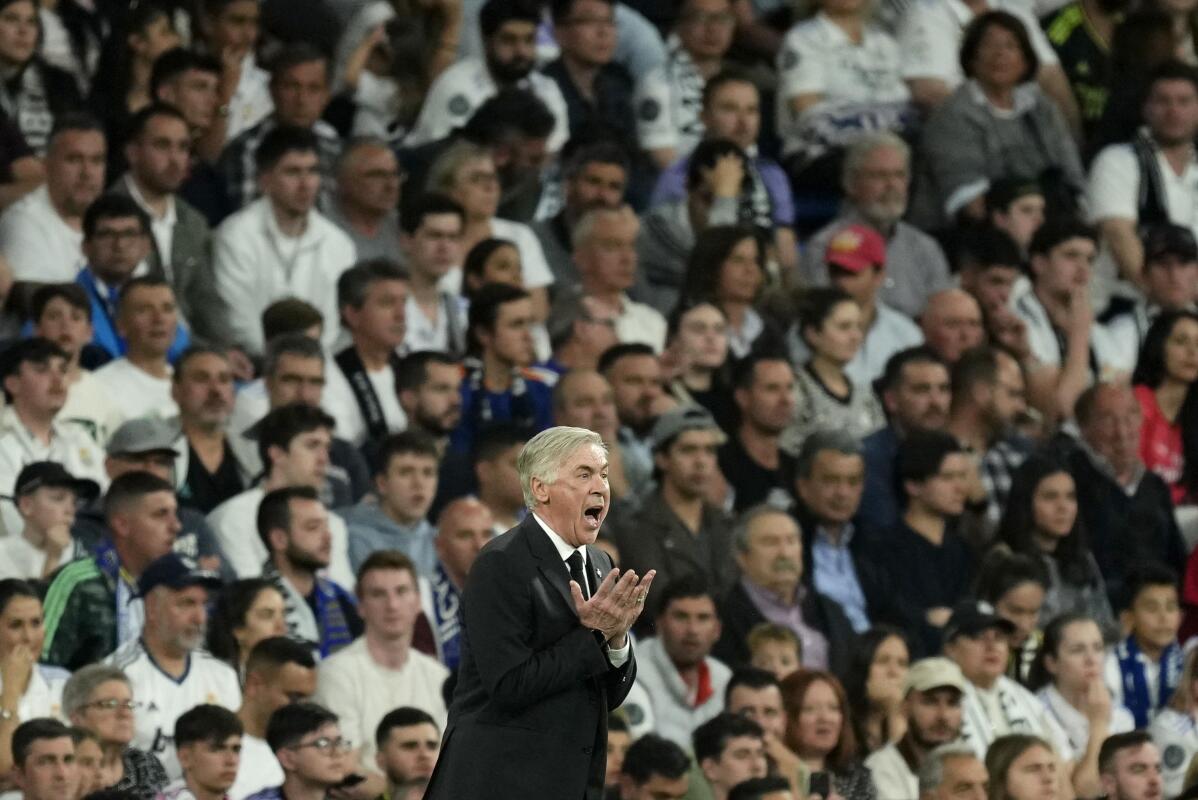 3 of 11

|
Real Madrid's head coach Carlo Ancelotti reacts during a Spanish La Liga soccer match between Real Madrid and Villarreal at the Santiago Bernabeu stadium in Madrid, Saturday, April 8, 2023. (AP Photo/Jose Breton)
3 of 11
Real Madrid's head coach Carlo Ancelotti reacts during a Spanish La Liga soccer match between Real Madrid and Villarreal at the Santiago Bernabeu stadium in Madrid, Saturday, April 8, 2023. (AP Photo/Jose Breton)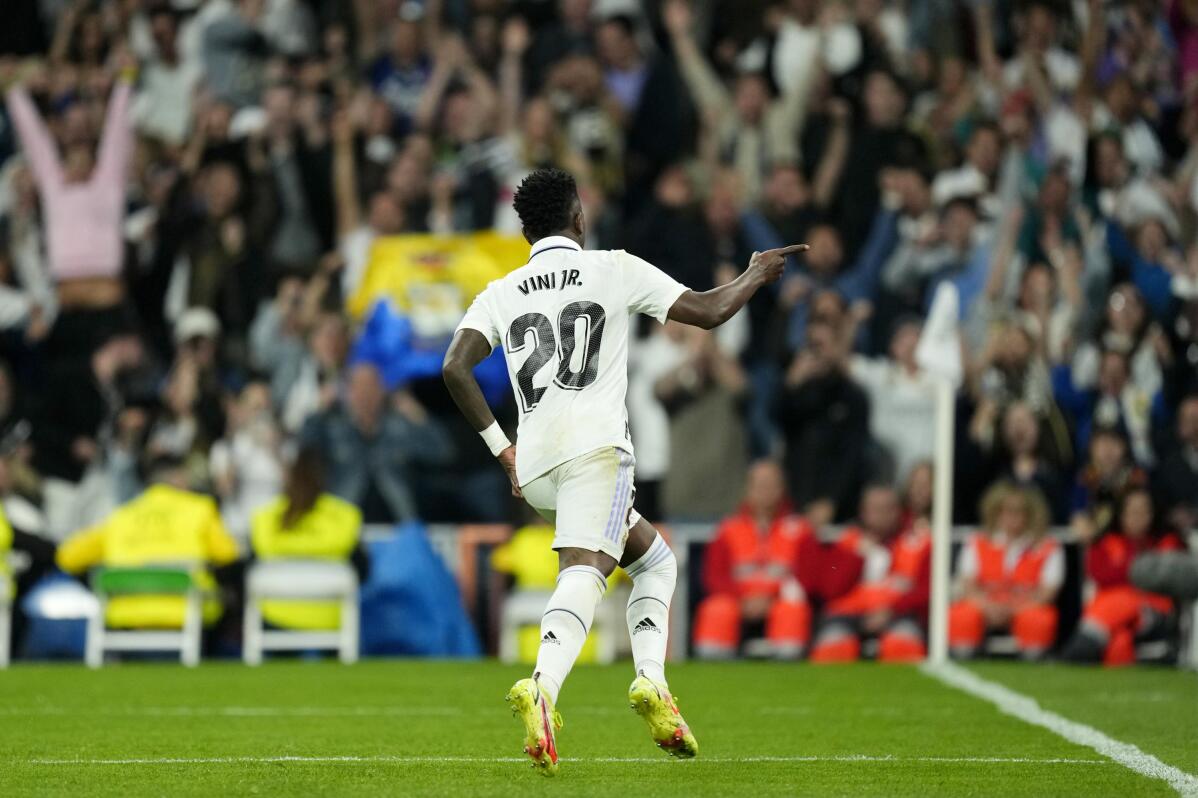 4 of 11

|
Real Madrid's Vinicius Junior celebrates after scoring his side's second goal during a Spanish La Liga soccer match between Real Madrid and Villarreal at the Santiago Bernabeu stadium in Madrid, Saturday, April 8, 2023. (AP Photo/Jose Breton)
4 of 11
Real Madrid's Vinicius Junior celebrates after scoring his side's second goal during a Spanish La Liga soccer match between Real Madrid and Villarreal at the Santiago Bernabeu stadium in Madrid, Saturday, April 8, 2023. (AP Photo/Jose Breton)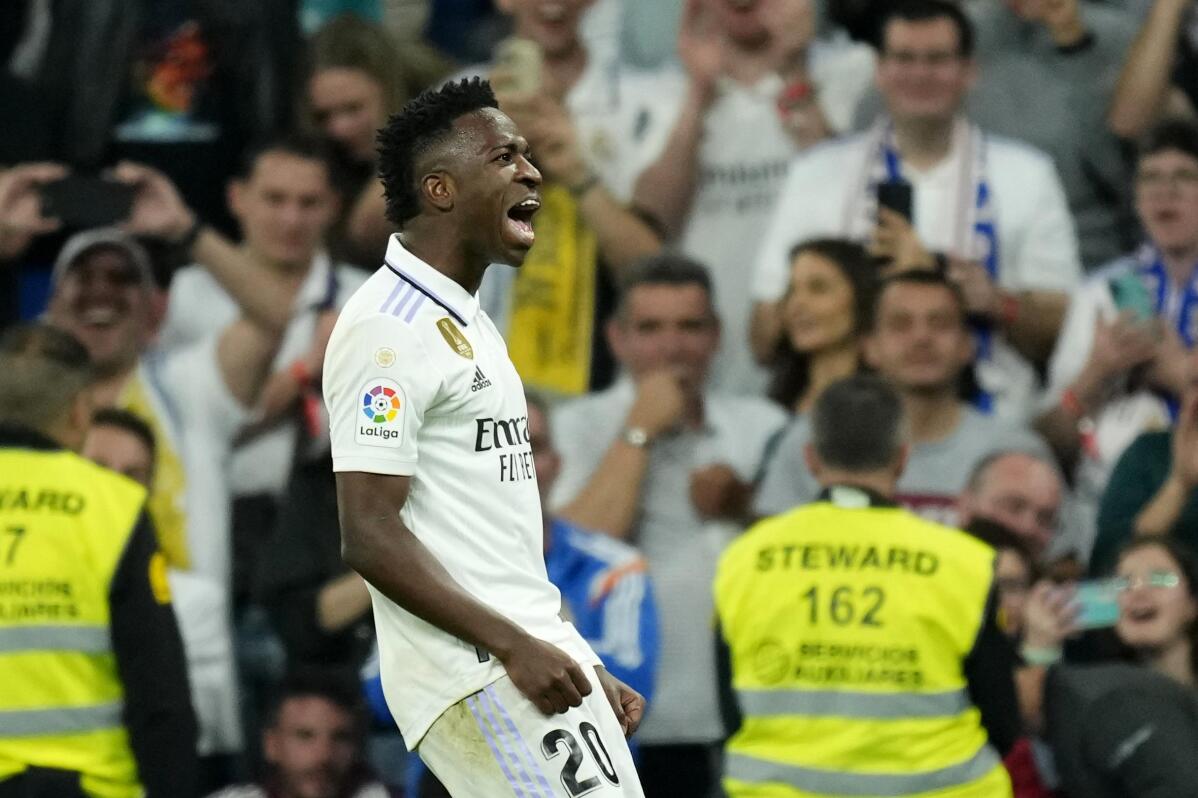 5 of 11

|
Real Madrid's Vinicius Junior celebrates after scoring his side's second goal during a Spanish La Liga soccer match between Real Madrid and Villarreal at the Santiago Bernabeu stadium in Madrid, Saturday, April 8, 2023. (AP Photo/Jose Breton)
5 of 11
Real Madrid's Vinicius Junior celebrates after scoring his side's second goal during a Spanish La Liga soccer match between Real Madrid and Villarreal at the Santiago Bernabeu stadium in Madrid, Saturday, April 8, 2023. (AP Photo/Jose Breton)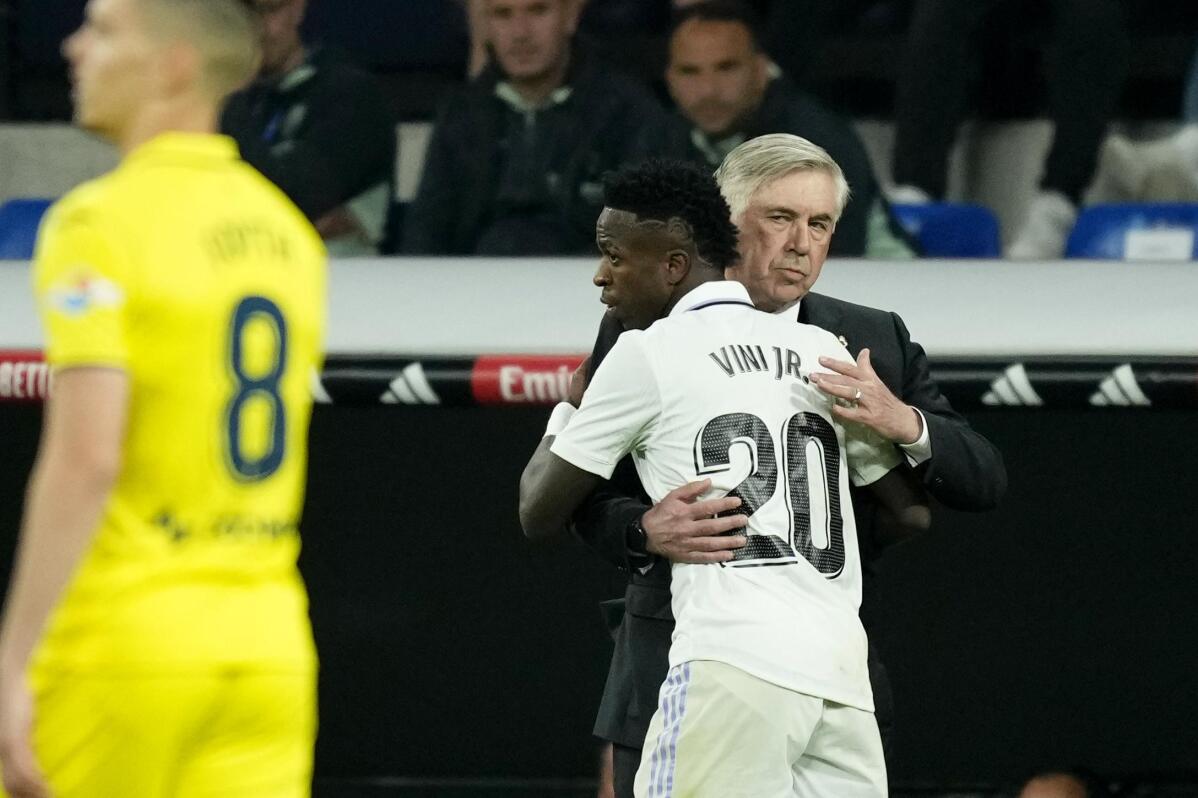 6 of 11

|
Real Madrid's Vinicius Junior celebrates with Real Madrid's head coach Carlo Ancelotti after scoring his side's second goal during a Spanish La Liga soccer match between Real Madrid and Villarreal at the Santiago Bernabeu stadium in Madrid, Saturday, April 8, 2023. (AP Photo/Jose Breton)
6 of 11
Real Madrid's Vinicius Junior celebrates with Real Madrid's head coach Carlo Ancelotti after scoring his side's second goal during a Spanish La Liga soccer match between Real Madrid and Villarreal at the Santiago Bernabeu stadium in Madrid, Saturday, April 8, 2023. (AP Photo/Jose Breton)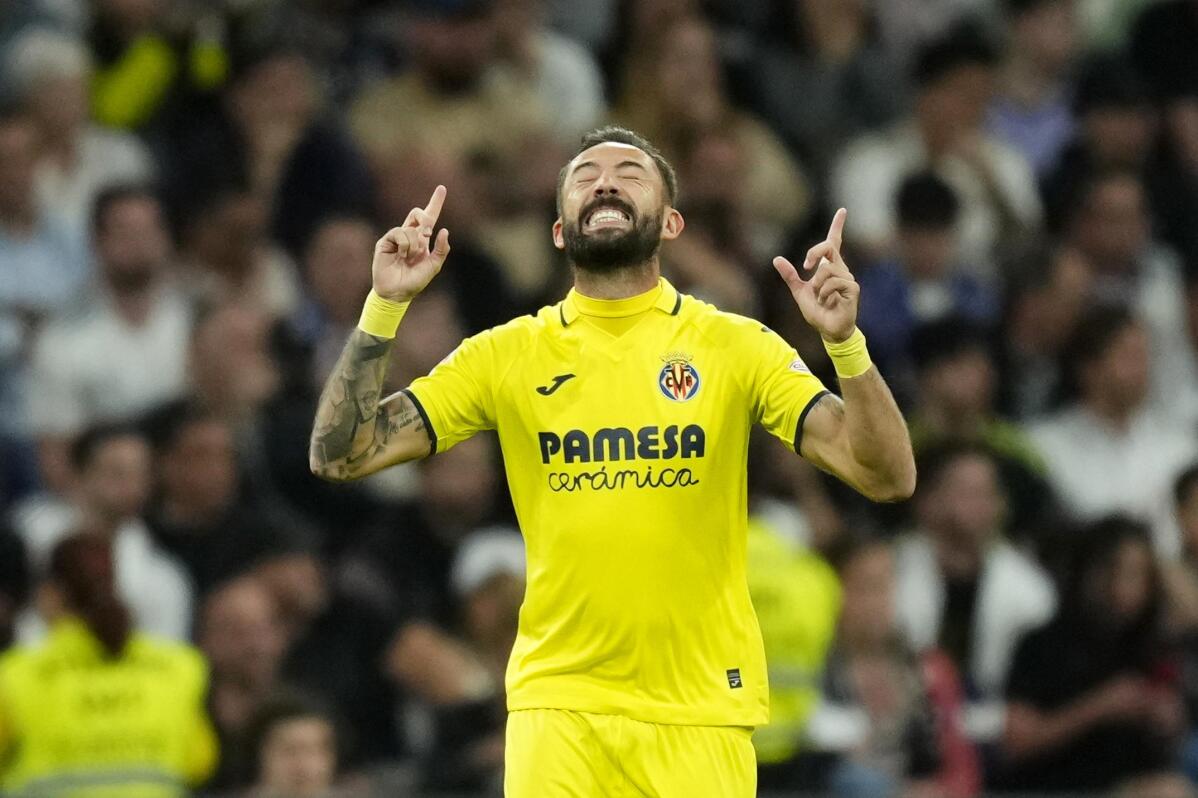 7 of 11

|
Villarreal's Jose Luis Morales celebrates after scoring his side's second goal during a Spanish La Liga soccer match between Real Madrid and Villarreal at the Santiago Bernabeu stadium in Madrid, Saturday, April 8, 2023. (AP Photo/Jose Breton)
7 of 11
Villarreal's Jose Luis Morales celebrates after scoring his side's second goal during a Spanish La Liga soccer match between Real Madrid and Villarreal at the Santiago Bernabeu stadium in Madrid, Saturday, April 8, 2023. (AP Photo/Jose Breton)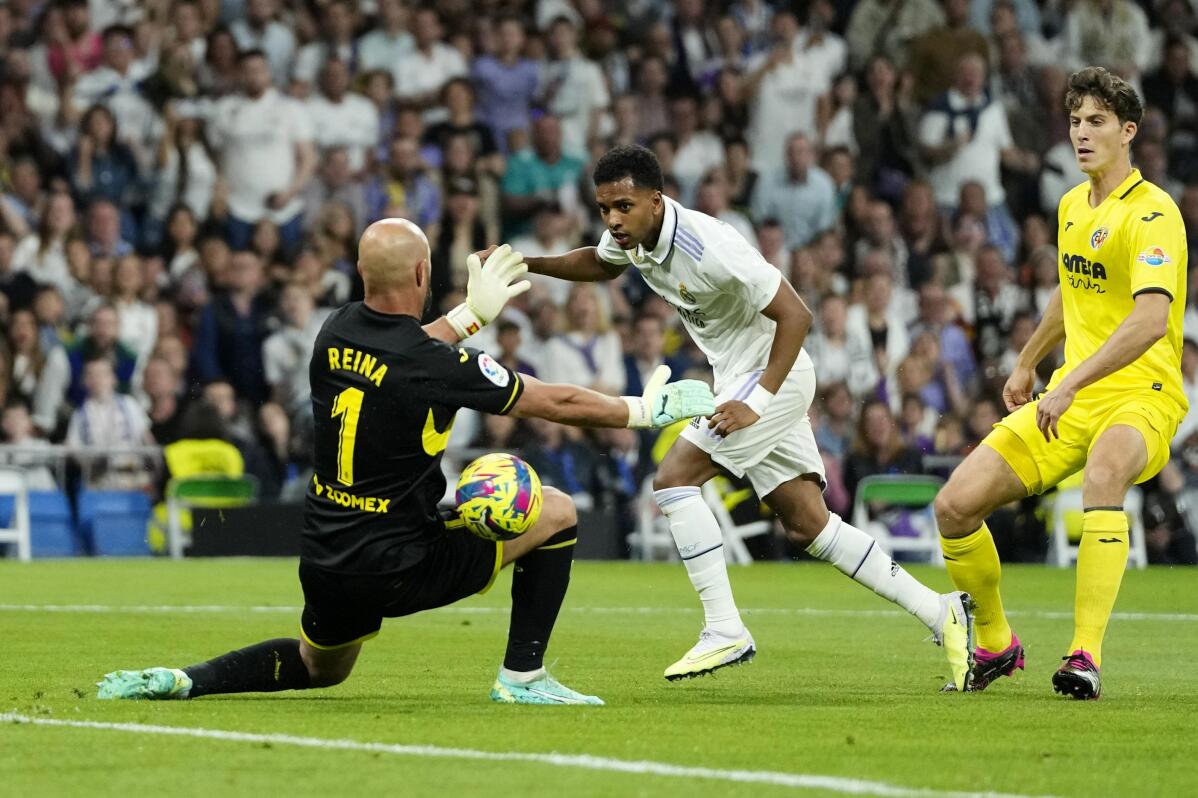 8 of 11

|
Real Madrid's Rodrygo, center, challenges Villarreal's goalkeeper Pepe Reina during a Spanish La Liga soccer match between Real Madrid and Villarreal at the Santiago Bernabeu stadium in Madrid, Saturday, April 8, 2023. (AP Photo/Jose Breton)
8 of 11
Real Madrid's Rodrygo, center, challenges Villarreal's goalkeeper Pepe Reina during a Spanish La Liga soccer match between Real Madrid and Villarreal at the Santiago Bernabeu stadium in Madrid, Saturday, April 8, 2023. (AP Photo/Jose Breton)
9 of 11

|
Real Madrid's Federico Valverde reacts after Villarreal's Jose Luis Morales scored his side's second goal during a Spanish La Liga soccer match between Real Madrid and Villarreal at the Santiago Bernabeu stadium in Madrid, Saturday, April 8, 2023. (AP Photo/Jose Breton)
9 of 11
Real Madrid's Federico Valverde reacts after Villarreal's Jose Luis Morales scored his side's second goal during a Spanish La Liga soccer match between Real Madrid and Villarreal at the Santiago Bernabeu stadium in Madrid, Saturday, April 8, 2023. (AP Photo/Jose Breton)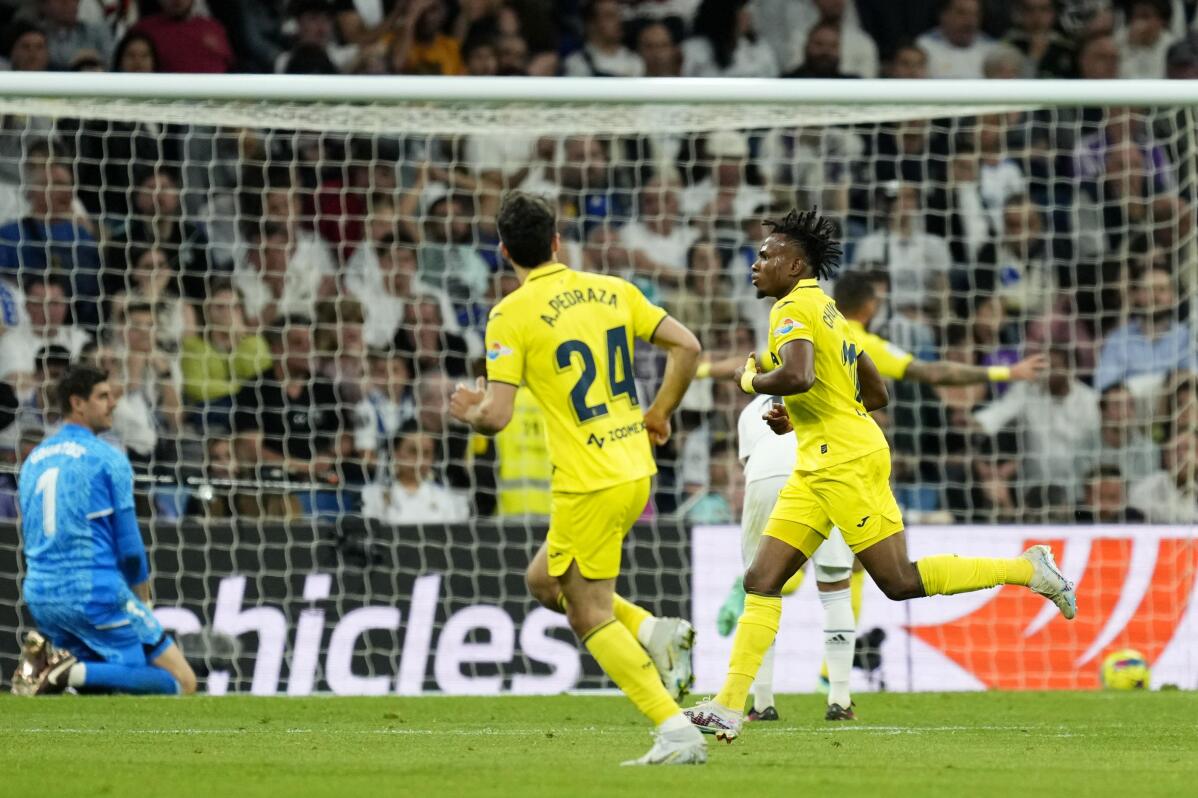 10 of 11

|
Villarreal's Samuel Chukwueze, right, celebrates after scoring his side's third goal during a Spanish La Liga soccer match between Real Madrid and Villarreal at the Santiago Bernabeu stadium in Madrid, Saturday, April 8, 2023. (AP Photo/Jose Breton)
10 of 11
Villarreal's Samuel Chukwueze, right, celebrates after scoring his side's third goal during a Spanish La Liga soccer match between Real Madrid and Villarreal at the Santiago Bernabeu stadium in Madrid, Saturday, April 8, 2023. (AP Photo/Jose Breton)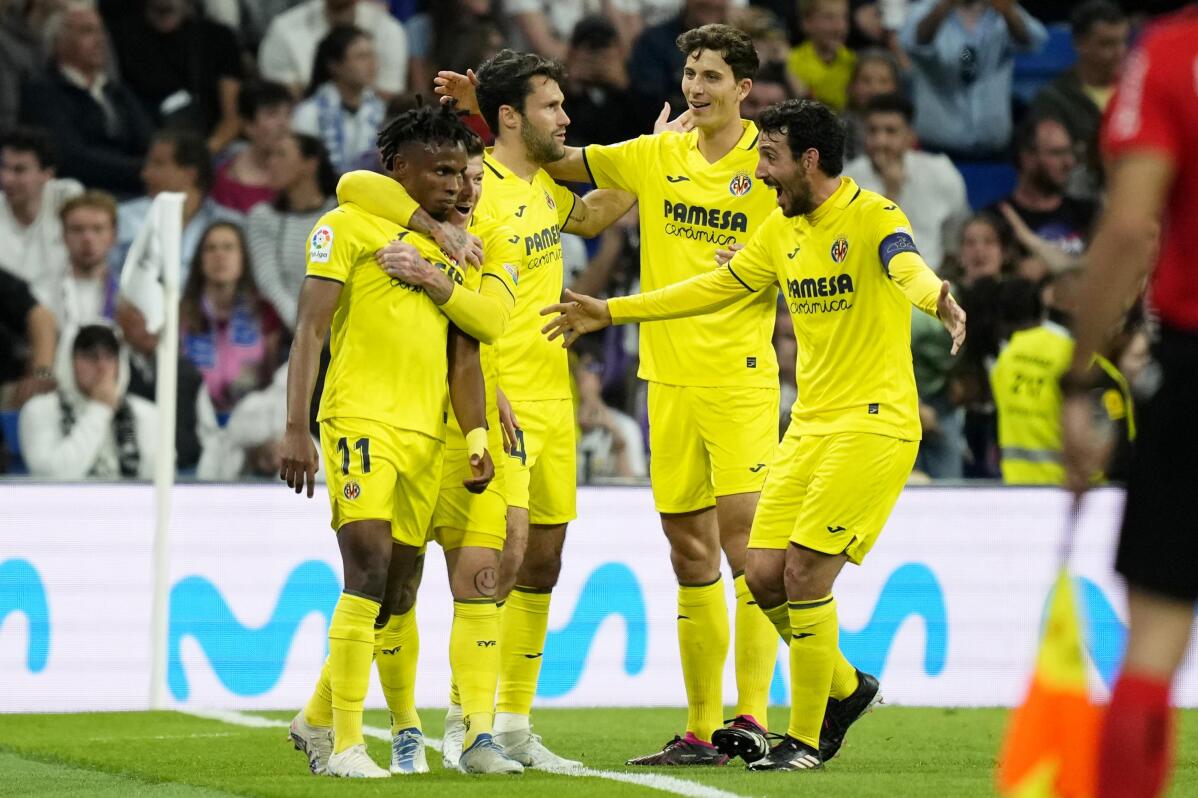 11 of 11

|
Villarreal's Samuel Chukwueze, left, celebrates after scoring his side's third goal during a Spanish La Liga soccer match between Real Madrid and Villarreal at the Santiago Bernabeu stadium in Madrid, Saturday, April 8, 2023. (AP Photo/Jose Breton)
11 of 11
Villarreal's Samuel Chukwueze, left, celebrates after scoring his side's third goal during a Spanish La Liga soccer match between Real Madrid and Villarreal at the Santiago Bernabeu stadium in Madrid, Saturday, April 8, 2023. (AP Photo/Jose Breton)
BARCELONA, Spain (AP) — Samuel Chukwueze upstaged Vinícius Júnior by scoring twice in an outstanding performance by the Villarreal forward to lead its 3-2 comeback win at Real Madrid in the Spanish league on Saturday.
The Nigeria international canceled out a sixth-minute own goal by teammate Paul Torres when he juked past Nacho Fernández to score his first goal in the 39th minute.
Vinícius put Madrid back in front shortly after halftime after he eluded a pack of defenders, but Chukwueze made a pass that led to substitute José Morales' equalizer in the 70th. He then struck the 80th-minute winner from long range to stun the Santiago Bernabeu.
Madrid's first home loss in the domestic league comes four days before it hosts Chelsea in the Champions League quarterfinals.
Barcelona can move 15 points clear of second-placed Madrid if it beats Girona on Monday.
Needing an unlikely meltdown by Barcelona to get back in the domestic title race, Madrid coach Carlo Ancelotti rested several regulars for the Chelsea game. Luka Modric remained on the bench along with Toni Kroos, Federico Valverde, Éder Militão and Dani Carvajal.
Ancelotti said his team would make a better showing against Chelsea.
"We should have defended better, but it was difficult for us to be 100% motivated," Ancelotti said. "Wednesday will be different. On Wednesday we will be full on."
Quique Setién's Villarreal, which beat Madrid at home 2-1 this season, moved into fifth place at four points from Real Sociedad in fourth and the last Champions League spot.
DRIBBLING DUEL
Chukwueze, 23, and Vinícius, 22, are among the best dribblers in the league, and their skills at tormenting defenders were on full display.
A pass by Vinícius was turned into his own net by Torres to put Madrid ahead early. And three minutes after halftime with the score 1-1, the Brazil forward manufactured a goal all on his own.
Vinícius looked hemmed in when he received the ball outside the area with four defenders surrounding him. But a quick change of pace, some fancy footwork, and a nutmeg to slip by defender Aïssa Mandi left him beating Pepe Reina for his 21st goal this season.
Chukwueze had never won before at Madrid, but he knows how to score big goals. His late goal allowed Villarreal to upset Bayern Munich to reach last year's Champions League semifinals.
But his game at Madrid topped that.
Chukwueze responded to the own goal by Torres when he received a pass from Giovani Lo Celso inside the box. A slick change of foot caused Nacho Fernández to stumble the wrong way and Chukwueze curled a left-footed shot around Thibaut Courtois.
Chukwueze pulled Villarreal back again late when he dribbled between Fernández and Dani Ceballos before passing to Alejandro Baena, who laid off for substitute Morales to score.
His best effort came, however, when he dribbled across the edge of the area before unleashing a strike that dipped over a diving Courtois into the far corner.
Chukwueze described his winner as "a crazy great goal."
The forward has 13 in all competitions and seven goals in his last five league games.
"This is what you pay the price of a ticket for, to see games like this, and to see Samu Chukwueze make the spectacular feint like he did on his first goal," Setién said. "His second shot was superb. He practices it in training and put it right in the corner."
BROTHERS SCORE
Brothers Iñaki and Nico Williams both scored to give Athletic Bilbao a 2-1 victory at Espanyol, and dealt new coach Luis García a loss in his debut.
Bilbao's win came after it was eliminated by Osasuna from the Copa del Rey semifinals. Nico closed his social media accounts due to insults he received for his missed chances in the second leg of the semifinal.
"The elimination from the cup was a big bow. It has been a hard week, some very difficult days for me," the 20-year-old Nico said. "My brother knows how I have felt these days."
ABDE DOUBLE
Abde Ezzalzouli scored twice late to lead Osasuna back for a 2-1 win over last-placed Elche.
The Moroccan forward, who is on loan from Barcelona, netted the 84th-minute winner with a shot from outside the area that went in off the post.
MAKING AMENDS
Mikel Oyarzabal made up for a missed penalty by putting Sociedad ahead just before halftime of its 2-0 win over Getafe.
Oyarzabal, who returned in December from a long injury layoff, had his 44th-minute spot kick saved by David Soria, but the Spain forward headed in the opener in first-half stoppage time.
Take Kubo added a second goal.
___
More AP soccer: https://apnews.com/hub/soccer and https://twitter.com/AP_Sports