Fan who insulted Vinícius set to be fined, banned from games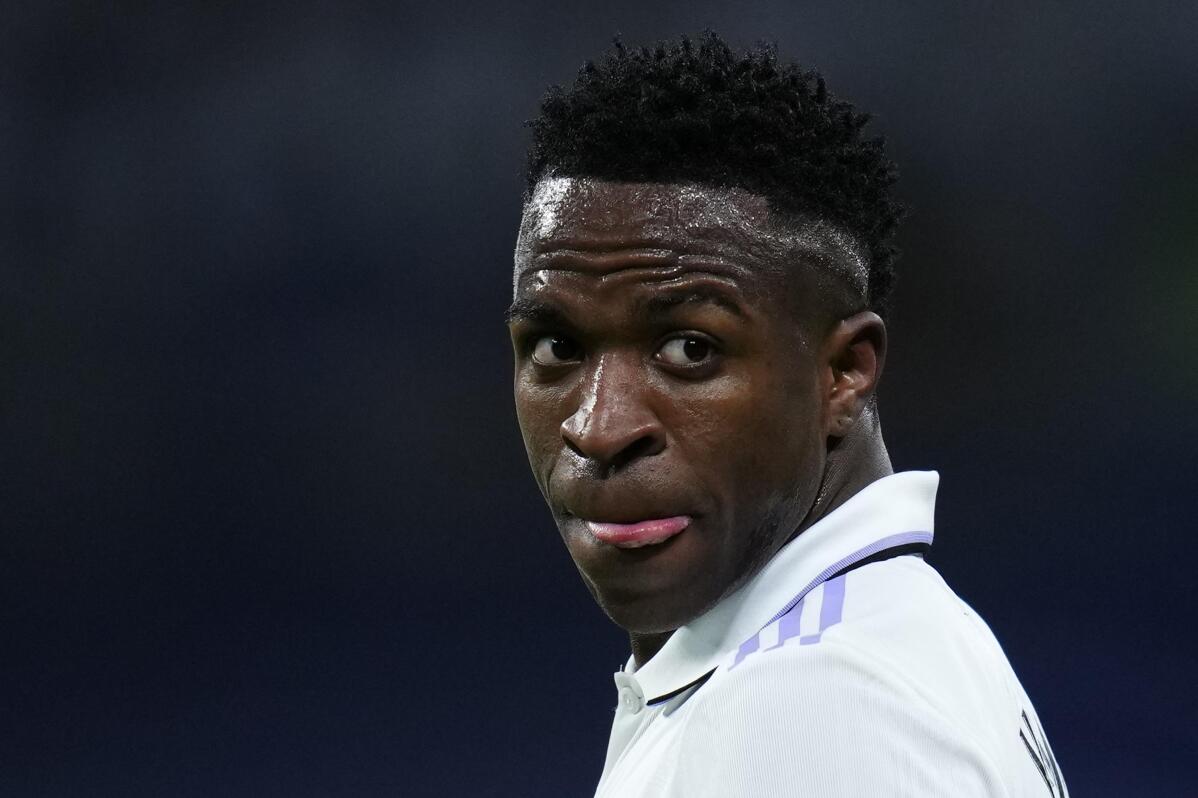 1 of 3

|
Real Madrid's Vinicius Junior gestures during a Spanish La Liga soccer match between Real Madrid and Atletico Madrid at the Santiago Bernabeu stadium in Madrid, Spain, Saturday, Feb. 25, 2023. (AP Photo/Manu Fernandez)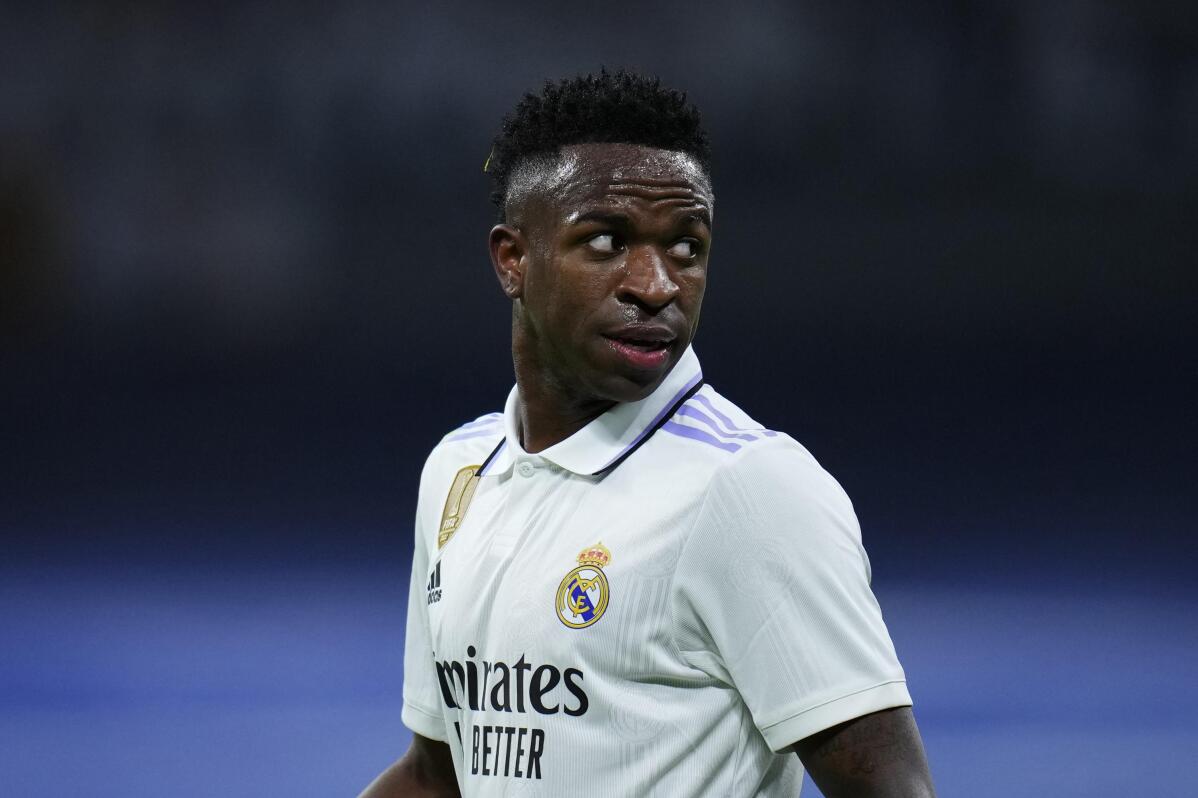 2 of 3

|
Real Madrid's Vinicius Junior gestures during a Spanish La Liga soccer match between Real Madrid and Atletico Madrid at the Santiago Bernabeu stadium in Madrid, Spain, Saturday, Feb. 25, 2023. (AP Photo/Manu Fernandez)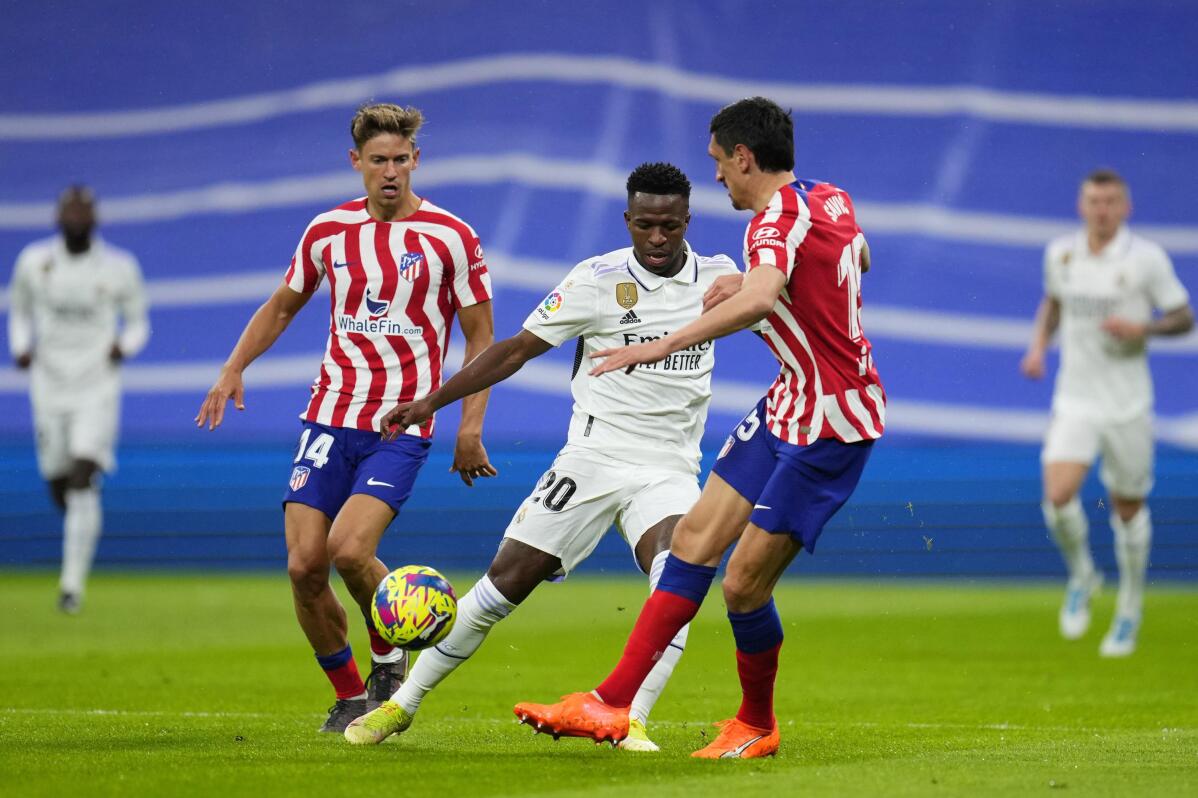 3 of 3

|
Real Madrid's Vinicius Junior, centre, is challenged by Atletico Madrid's Marcos Llorente, left, and Atletico Madrid's Stefan Savic during a Spanish La Liga soccer match between Real Madrid and Atletico Madrid at the Santiago Bernabeu stadium in Madrid, Spain, Saturday, Feb. 25, 2023. (AP Photo/Manu Fernandez)
Fan who insulted Vinícius set to be fined, banned from games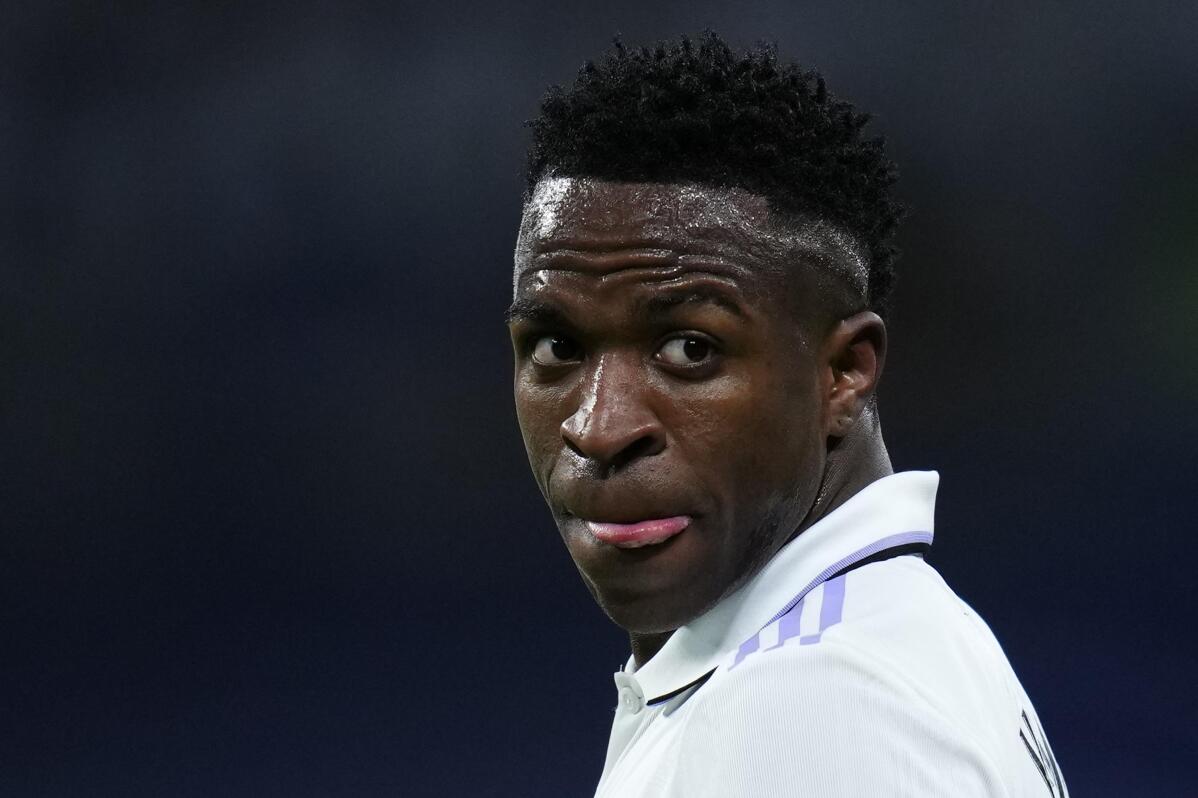 1 of 3

|
Real Madrid's Vinicius Junior gestures during a Spanish La Liga soccer match between Real Madrid and Atletico Madrid at the Santiago Bernabeu stadium in Madrid, Spain, Saturday, Feb. 25, 2023. (AP Photo/Manu Fernandez)
1 of 3
Real Madrid's Vinicius Junior gestures during a Spanish La Liga soccer match between Real Madrid and Atletico Madrid at the Santiago Bernabeu stadium in Madrid, Spain, Saturday, Feb. 25, 2023. (AP Photo/Manu Fernandez)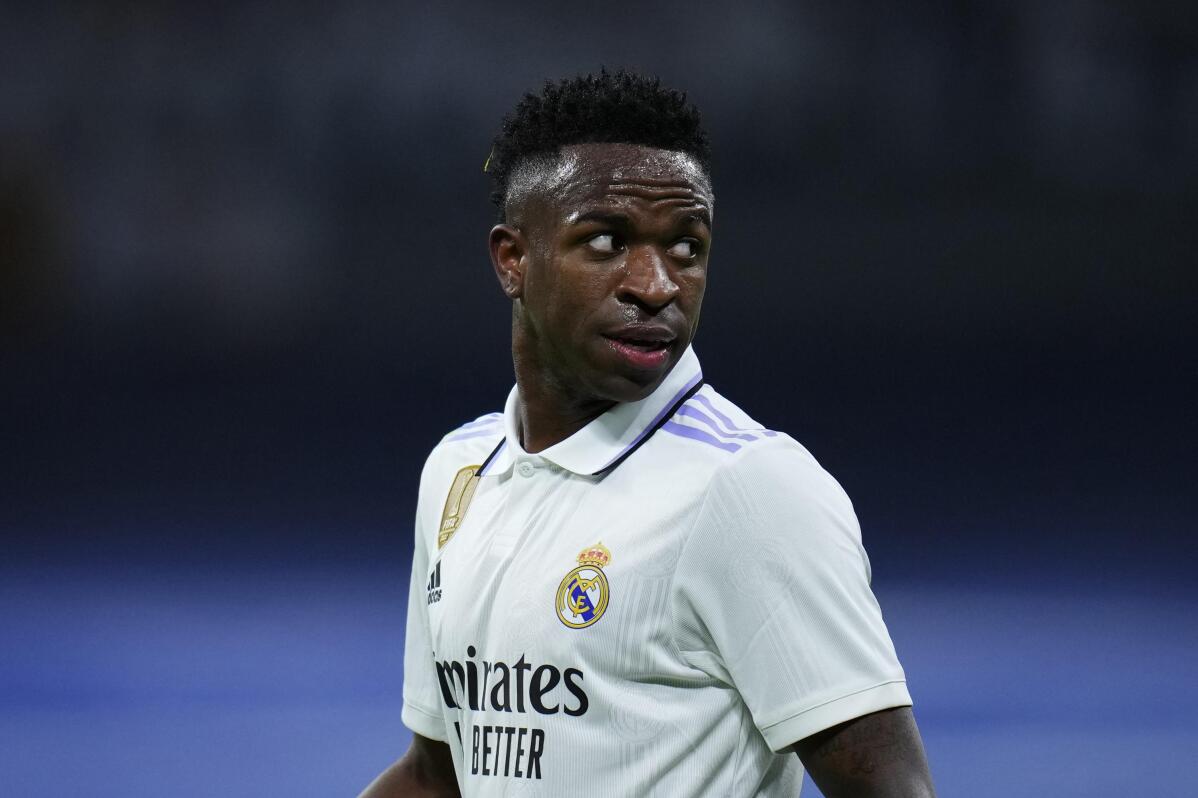 2 of 3

|
Real Madrid's Vinicius Junior gestures during a Spanish La Liga soccer match between Real Madrid and Atletico Madrid at the Santiago Bernabeu stadium in Madrid, Spain, Saturday, Feb. 25, 2023. (AP Photo/Manu Fernandez)
2 of 3
Real Madrid's Vinicius Junior gestures during a Spanish La Liga soccer match between Real Madrid and Atletico Madrid at the Santiago Bernabeu stadium in Madrid, Spain, Saturday, Feb. 25, 2023. (AP Photo/Manu Fernandez)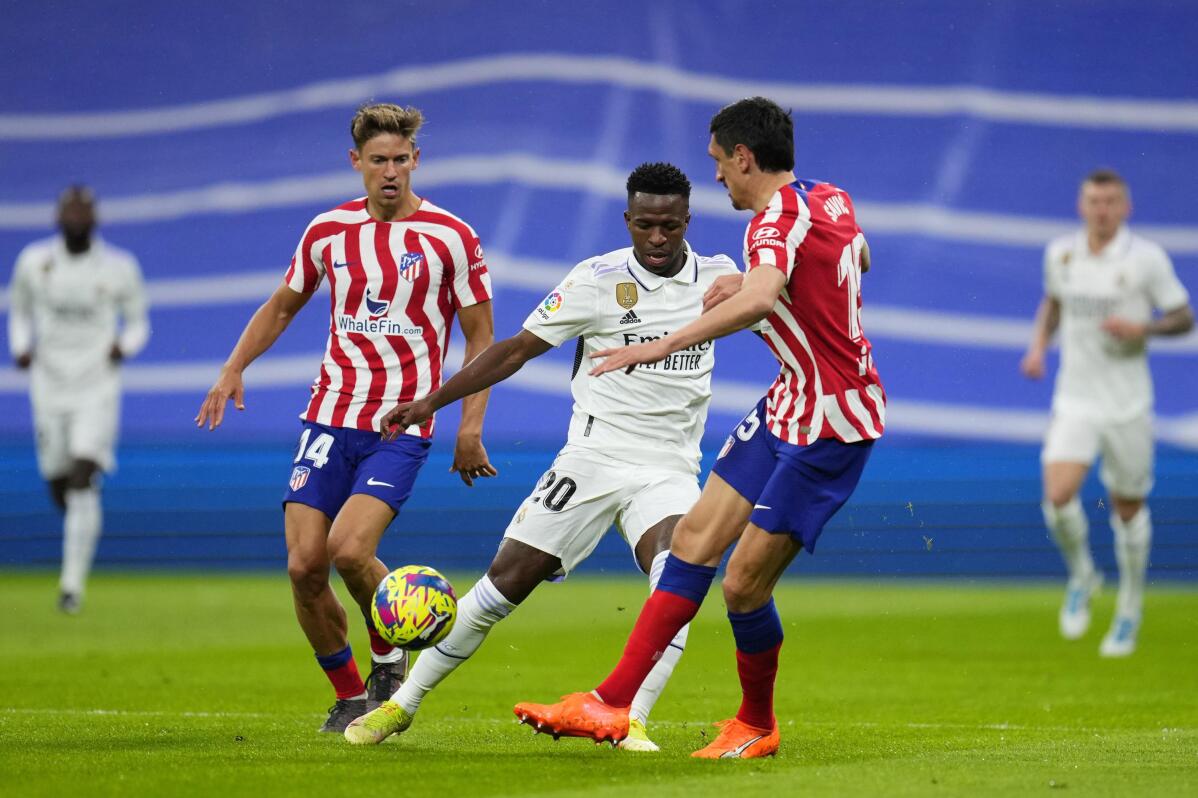 3 of 3

|
Real Madrid's Vinicius Junior, centre, is challenged by Atletico Madrid's Marcos Llorente, left, and Atletico Madrid's Stefan Savic during a Spanish La Liga soccer match between Real Madrid and Atletico Madrid at the Santiago Bernabeu stadium in Madrid, Spain, Saturday, Feb. 25, 2023. (AP Photo/Manu Fernandez)
3 of 3
Real Madrid's Vinicius Junior, centre, is challenged by Atletico Madrid's Marcos Llorente, left, and Atletico Madrid's Stefan Savic during a Spanish La Liga soccer match between Real Madrid and Atletico Madrid at the Santiago Bernabeu stadium in Madrid, Spain, Saturday, Feb. 25, 2023. (AP Photo/Manu Fernandez)
MADRID (AP) — Spain's anti-violence commission proposed a fine of 4,000 euros ($4,200) and a 12-month ban from stadiums on Tuesday for the fan who racially insulted Vinícius Júnior in a Spanish league match.
The punishment is expected to be imposed by authorities against the fan who is accused of calling the Real Madrid forward a monkey during a game at Mallorca on Feb. 5.
The fan, reportedly a 20-year-old Mallorca season ticket holder, may also face criminal charges. He was identified by club security officials and is also believed to have insulted Villarreal player Samu Chukwueze in another match. Both Vinicius and Chukwueze are Black.
Vinícius was also insulted after the Mallorca match when he stopped to pose for photos and sign autographs for fans.
The Brazilian has been subjected to insults since he came to play in Spain five years ago, though very little has been done to punish fans.
Valladolid recently suspended 12 season ticket holders while investigating their alleged verbal abuse of Vinícius.
The first trial against a fan who racially insulted a player in Spain is expected to begin this year following remarks by an Espanyol supporter against Athletic Bilbao forward Iñaki Williams a few years ago.
The Spanish league has filed complaints to authorities for racist insults or chants against Vinícius, with some of them being shelved by prosecutors.
The league has also increased the number of overseers at matches to try to identify perpetrators of insults against players, especially when Vinícius plays.
Authorities have yet to find those responsible for hanging Vinícius' effigy from a bridge in Madrid before the derby against Atletico Madrid last month.
The attacks against him increased after he began celebrating his goals by dancing.
The anti-violence commission also proposed issuing the same fine and ban as the Mallorca fan to an individual who made Nazi salutes a during third-division game this month, and to a fan who racially insulted a player in a volleyball match in December.
___
Tales Azzoni on Twitter: http://twitter.com/tazzoni
___
More AP soccer: https://apnews.com/hub/soccer and https://twitter.com/AP_Sports