Real Madrid players and fans honor Vinícius Júnior after Brazilian was racially abused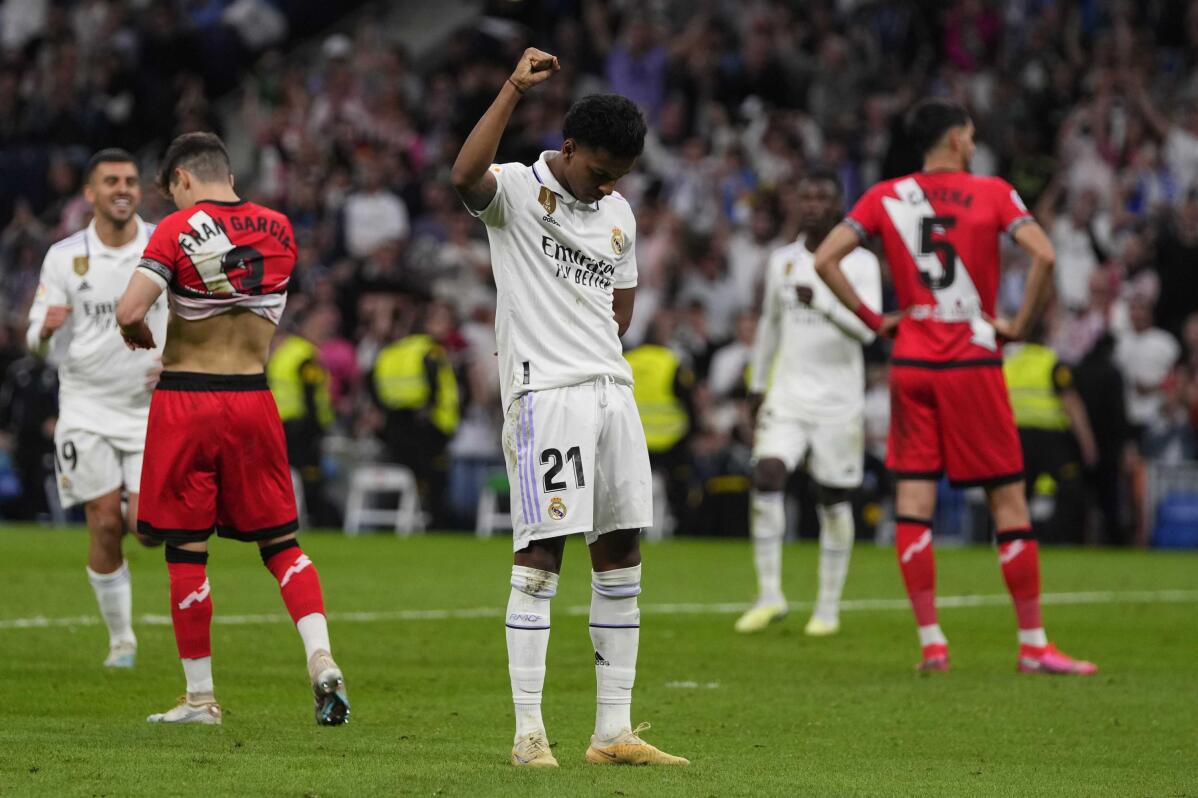 1 of 11

|
Real Madrid's Rodrygo gestures after a Spanish La Liga soccer match between Real Madrid and Rayo Vallecano at the Santiago Bernabeu stadium in Madrid, Spain, Wednesday, May 24, 2023. (AP Photo/Manu Fernandez)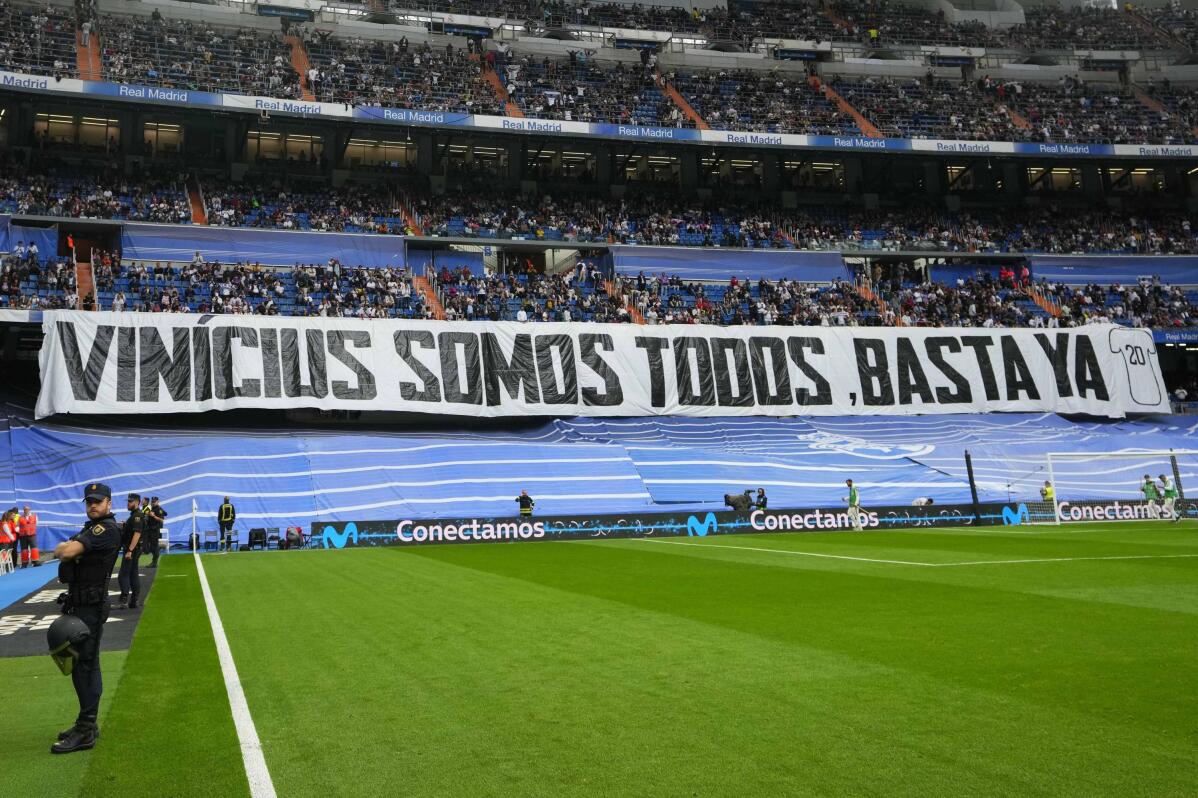 2 of 11

|
Spectators sit behind a banner reading 'We're all Vinicius" prior to a Spanish La Liga soccer match between Real Madrid and Rayo Vallecano at the Santiago Bernabeu stadium in Madrid, Spain, Wednesday, May 24, 2023. (AP Photo/Manu Fernandez)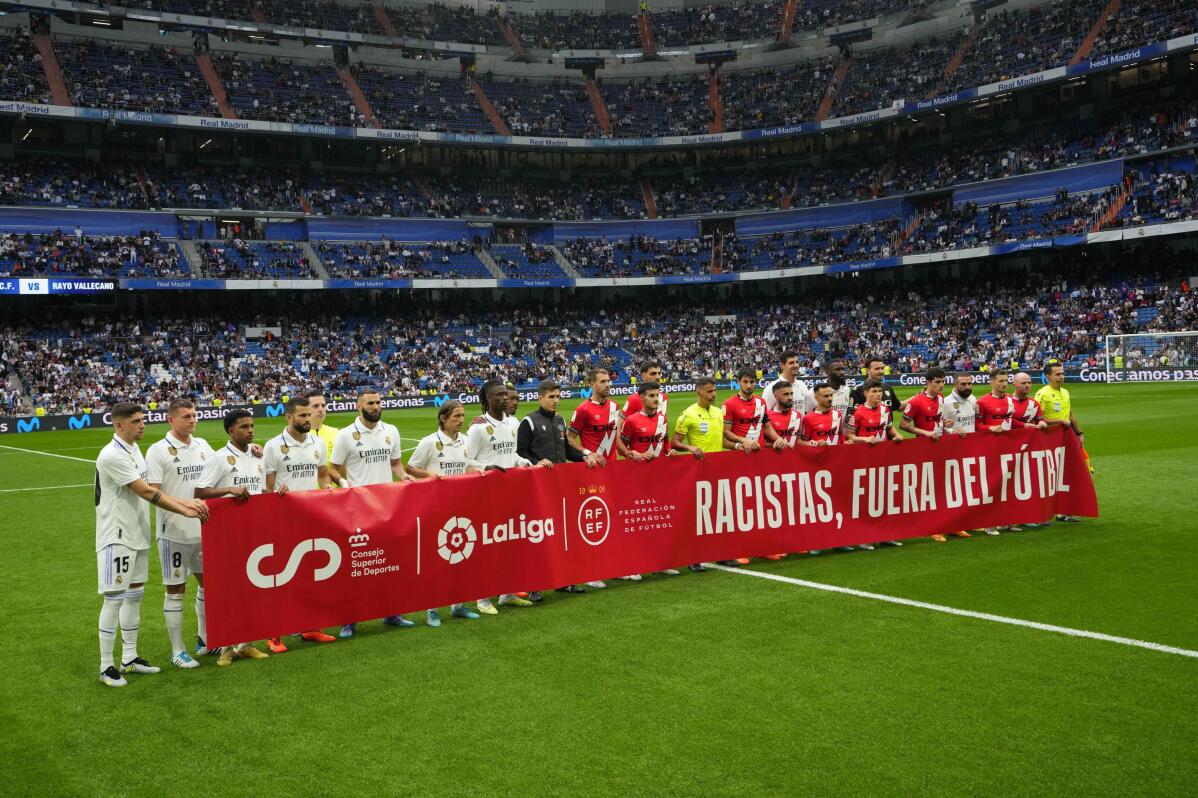 3 of 11

|
Players lift a banner reading 'Racists out of football' prior to a Spanish La Liga soccer match between Real Madrid and Rayo Vallecano at the Santiago Bernabeu stadium in Madrid, Spain, Wednesday, May 24, 2023. (AP Photo/Manu Fernandez)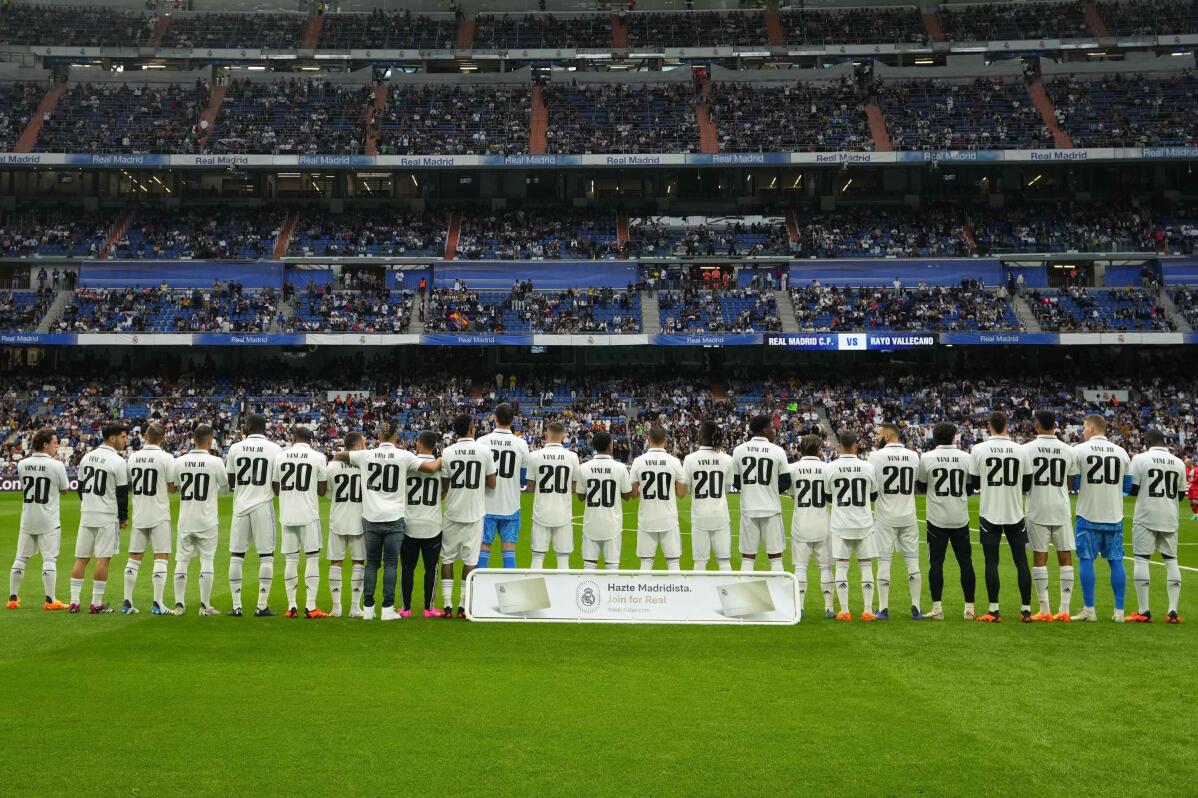 4 of 11

|
Players of Real Madrid wear jerseys with the name of team mate Vinicius Junior for a Spanish La Liga soccer match between Real Madrid and Rayo Vallecano at the Santiago Bernabeu stadium in Madrid, Spain, Wednesday, May 24, 2023. (AP Photo/Manu Fernandez)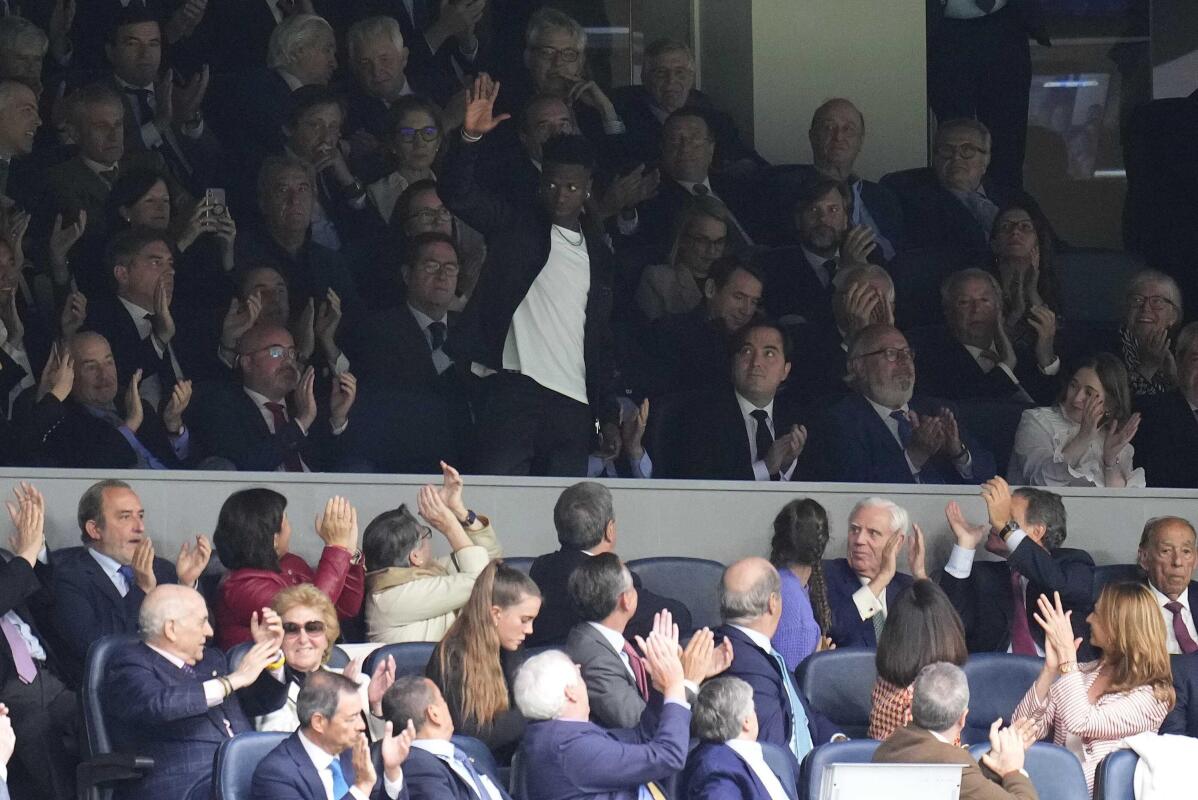 5 of 11

|
Real Madrid's Vinicius Junior waves to spectators prior to a Spanish La Liga soccer match between Real Madrid and Rayo Vallecano at the Santiago Bernabeu stadium in Madrid, Spain, Wednesday, May 24, 2023. (AP Photo/Manu Fernandez)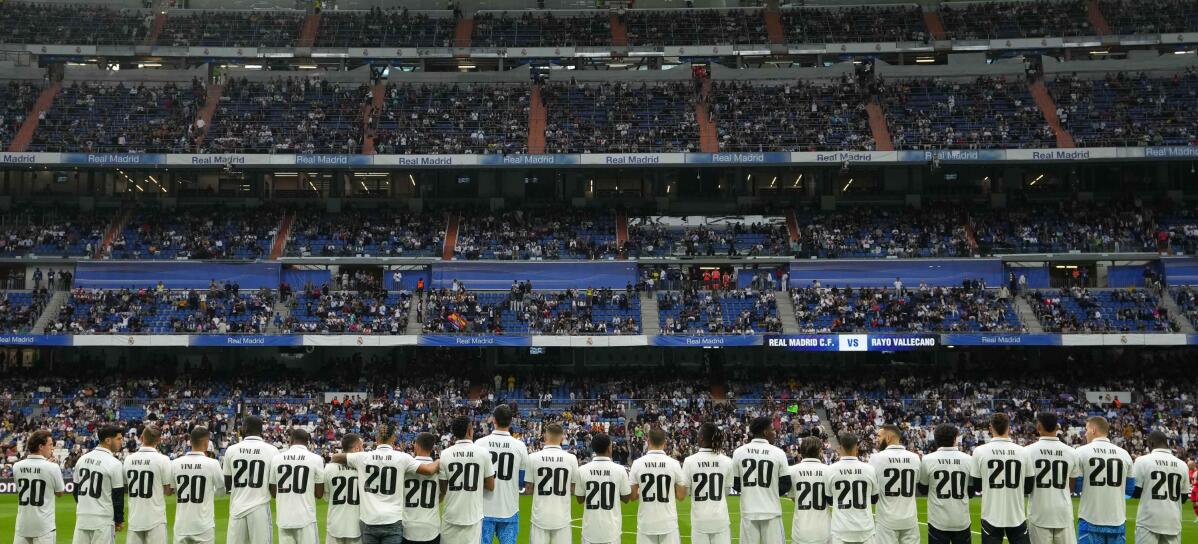 6 of 11

|
Players of Real Madrid wear jerseys with the name of team mate Vinicius Junior for a Spanish La Liga soccer match between Real Madrid and Rayo Vallecano at the Santiago Bernabeu stadium in Madrid, Spain, Wednesday, May 24, 2023. (AP Photo/Manu Fernandez)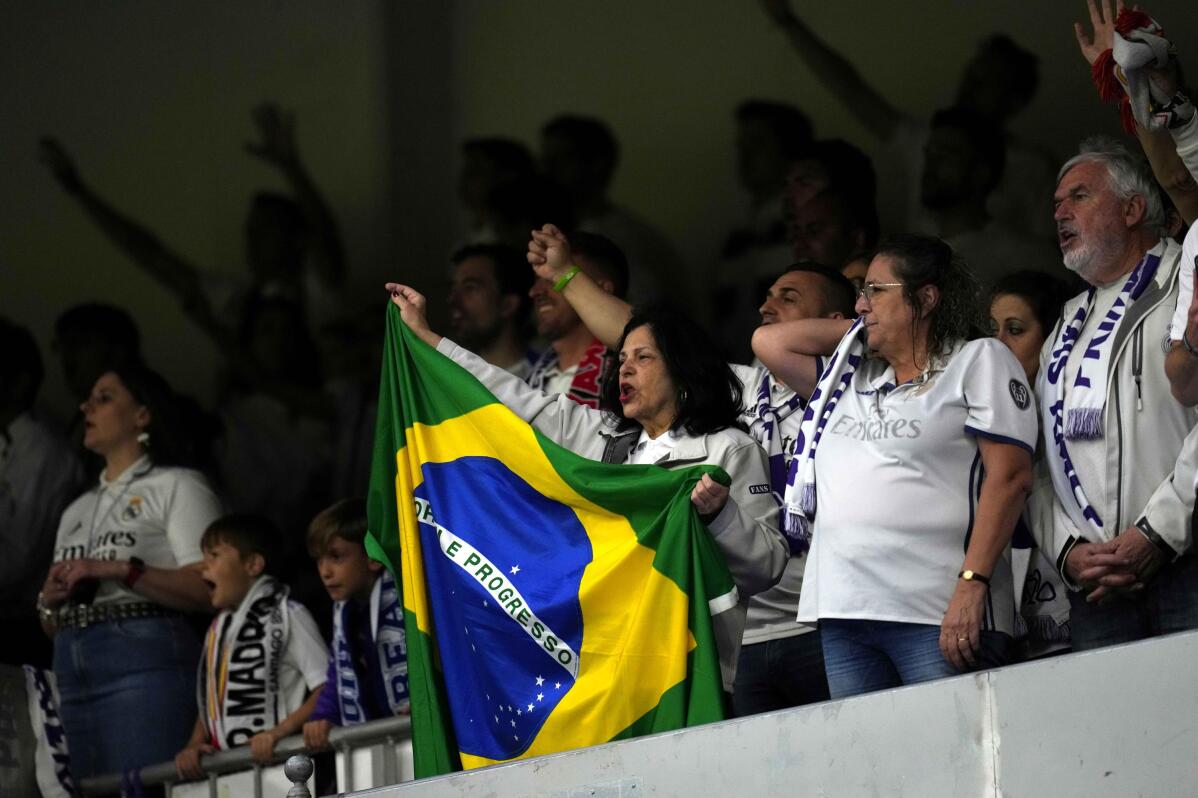 7 of 11

|
A woman lifts a Brazilian flag during a Spanish La Liga soccer match between Real Madrid and Rayo Vallecano at the Santiago Bernabeu stadium in Madrid, Spain, Wednesday, May 24, 2023. (AP Photo/Manu Fernandez)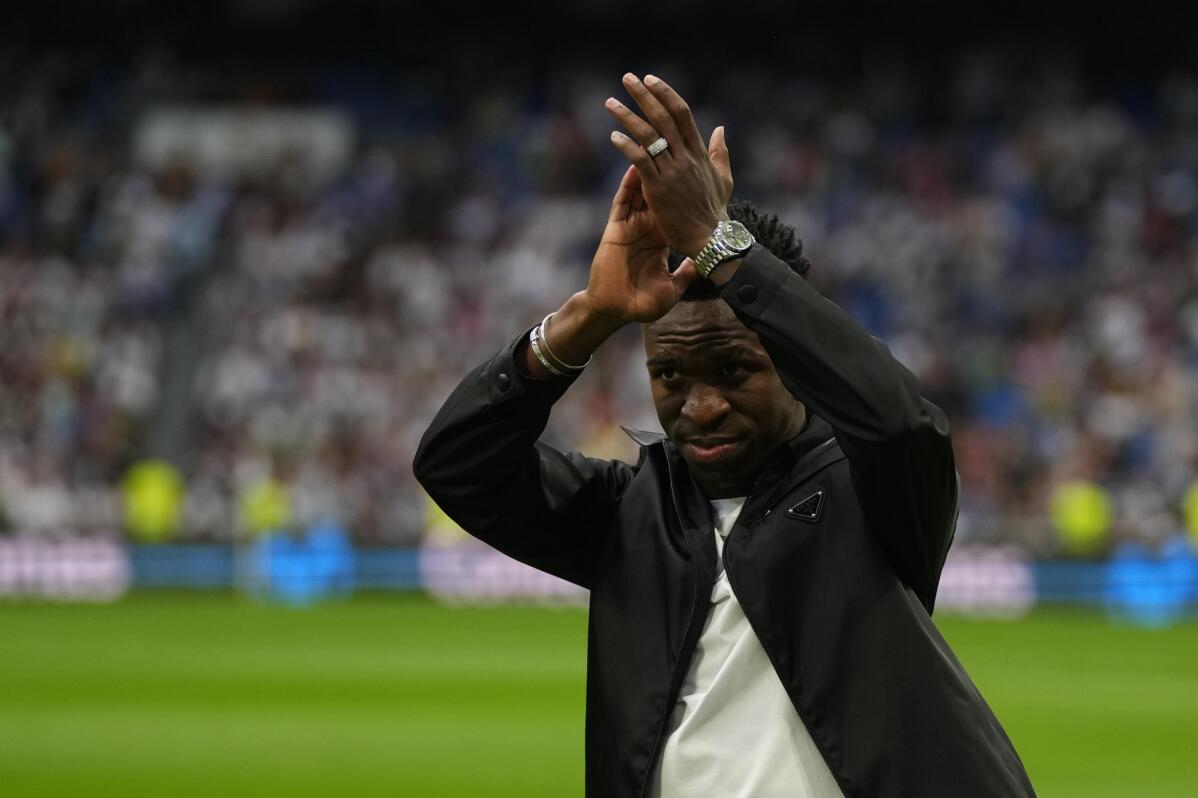 8 of 11

|
Real Madrid's Vinicius Junior applauds to spectators prior to a Spanish La Liga soccer match between Real Madrid and Rayo Vallecano at the Santiago Bernabeu stadium in Madrid, Spain, Wednesday, May 24, 2023. (AP Photo/Manu Fernandez)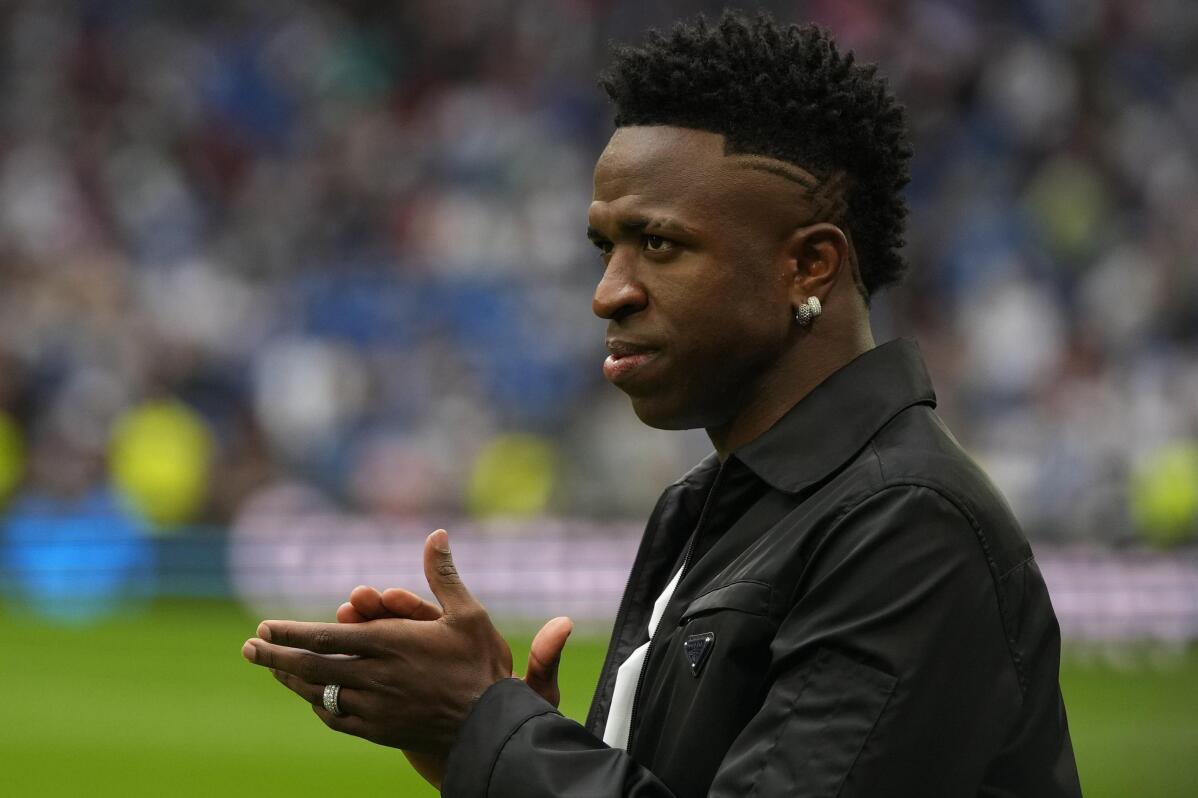 9 of 11

|
Real Madrid's Vinicius Junior applauds to spectators prior to a Spanish La Liga soccer match between Real Madrid and Rayo Vallecano at the Santiago Bernabeu stadium in Madrid, Spain, Wednesday, May 24, 2023. (AP Photo/Manu Fernandez)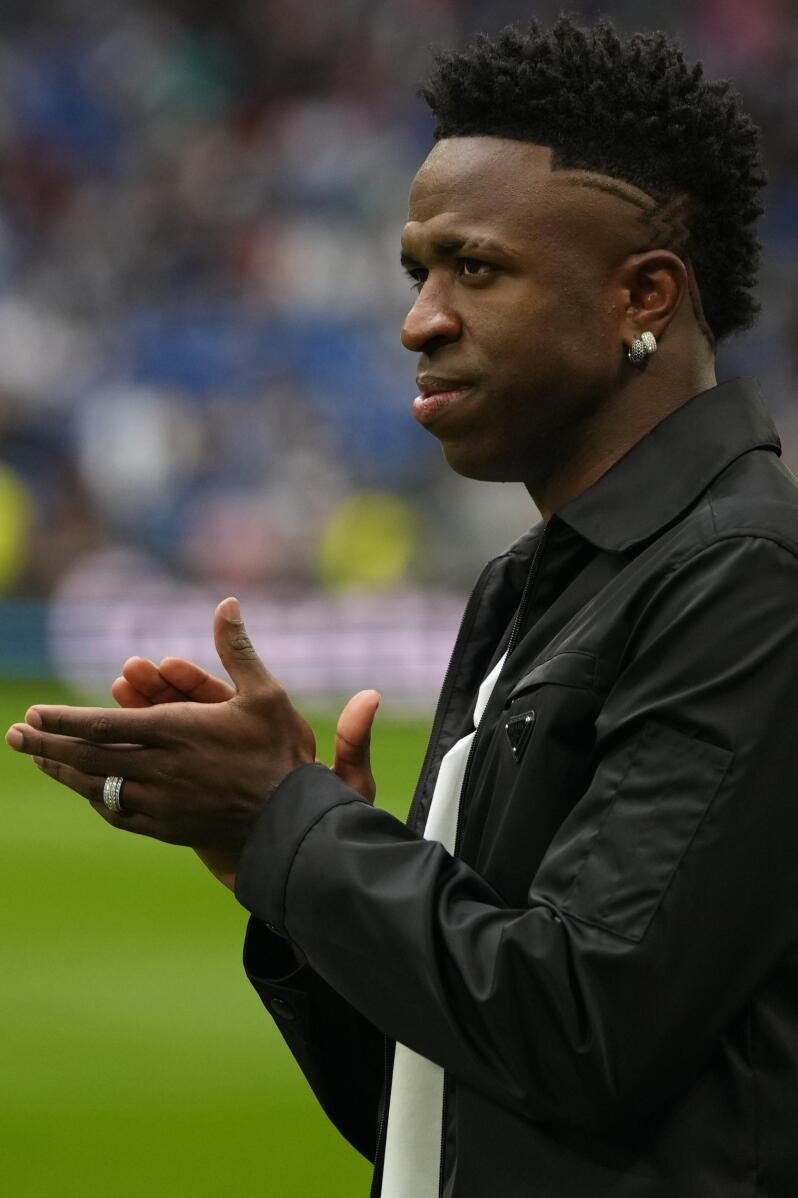 10 of 11

|
Real Madrid's Vinicius Junior applauds to spectators prior to a Spanish La Liga soccer match between Real Madrid and Rayo Vallecano at the Santiago Bernabeu stadium in Madrid, Spain, Wednesday, May 24, 2023. (AP Photo/Manu Fernandez)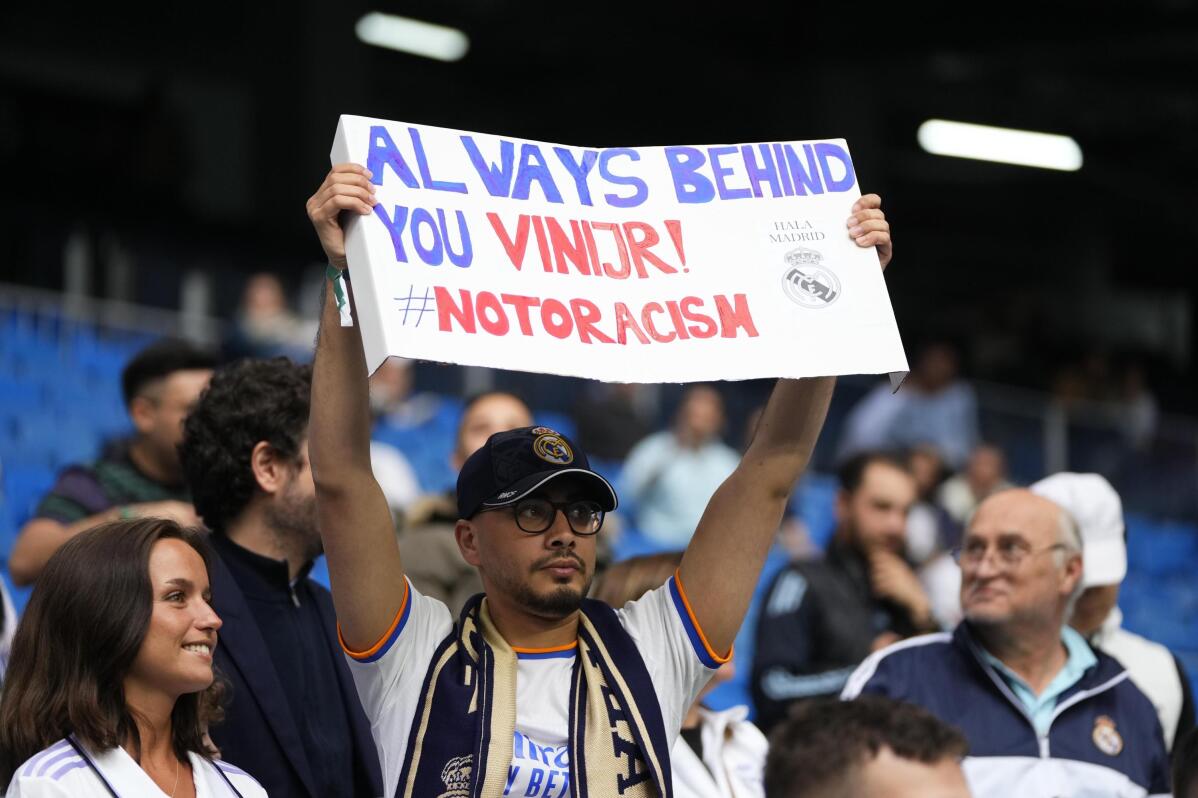 11 of 11

|
A spectator lifts a banner reading 'Always behind you VINIJR-NOTORACISM' prior to a Spanish La Liga soccer match between Real Madrid and Rayo Vallecano at the Santiago Bernabeu stadium in Madrid, Spain, Wednesday, May 24, 2023. (AP Photo/Manu Fernandez)
Real Madrid players and fans honor Vinícius Júnior after Brazilian was racially abused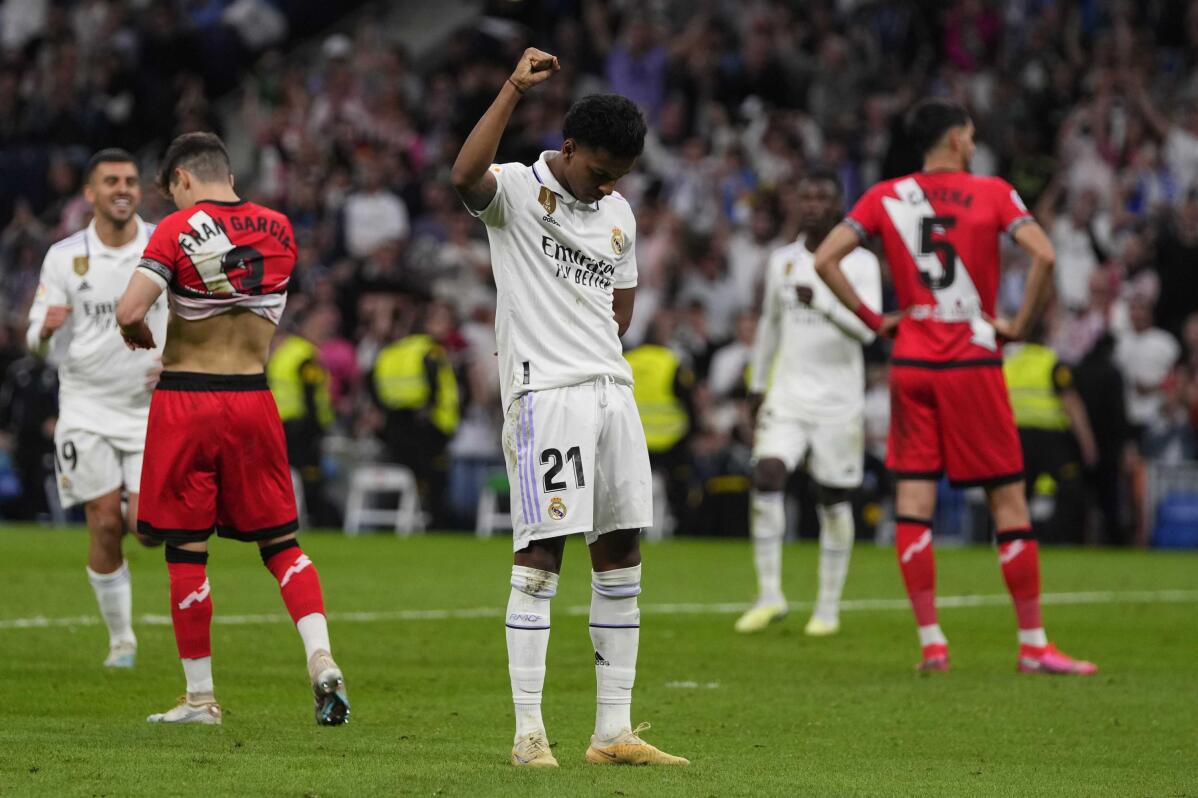 1 of 11

|
Real Madrid's Rodrygo gestures after a Spanish La Liga soccer match between Real Madrid and Rayo Vallecano at the Santiago Bernabeu stadium in Madrid, Spain, Wednesday, May 24, 2023. (AP Photo/Manu Fernandez)
1 of 11
Real Madrid's Rodrygo gestures after a Spanish La Liga soccer match between Real Madrid and Rayo Vallecano at the Santiago Bernabeu stadium in Madrid, Spain, Wednesday, May 24, 2023. (AP Photo/Manu Fernandez)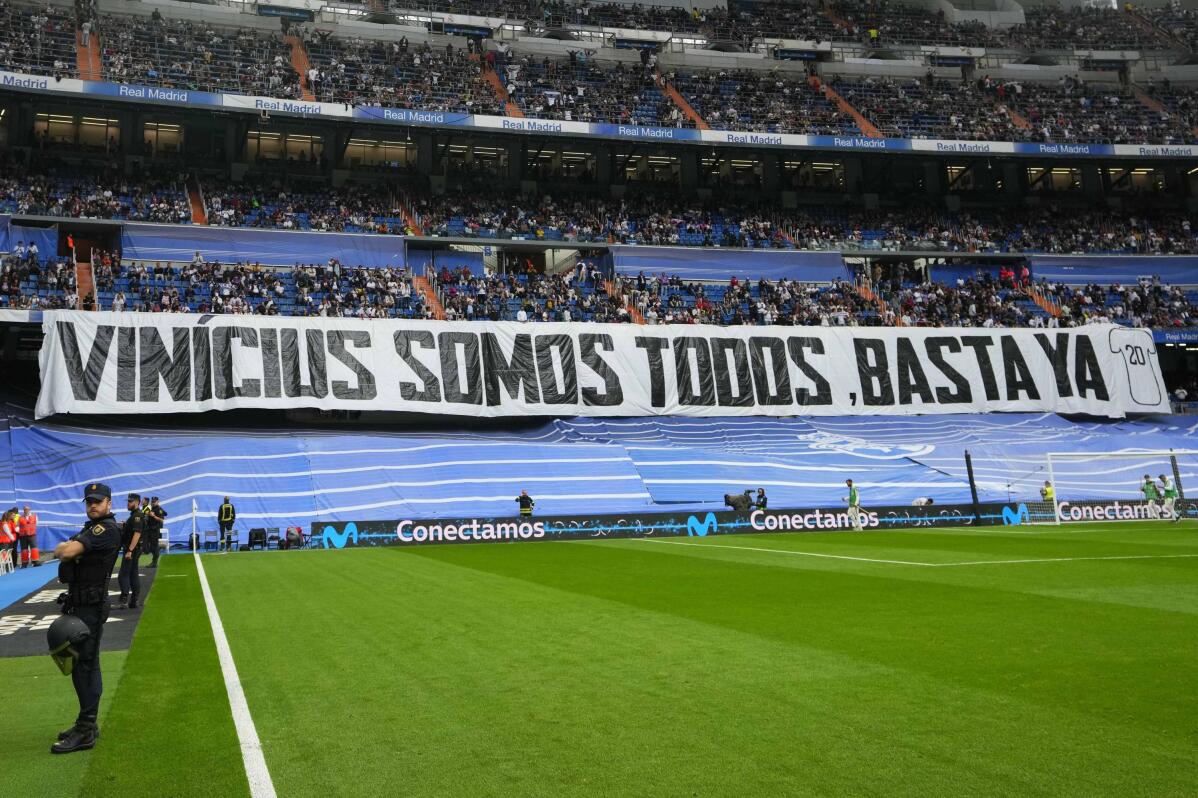 2 of 11

|
Spectators sit behind a banner reading 'We're all Vinicius" prior to a Spanish La Liga soccer match between Real Madrid and Rayo Vallecano at the Santiago Bernabeu stadium in Madrid, Spain, Wednesday, May 24, 2023. (AP Photo/Manu Fernandez)
2 of 11
Spectators sit behind a banner reading 'We're all Vinicius" prior to a Spanish La Liga soccer match between Real Madrid and Rayo Vallecano at the Santiago Bernabeu stadium in Madrid, Spain, Wednesday, May 24, 2023. (AP Photo/Manu Fernandez)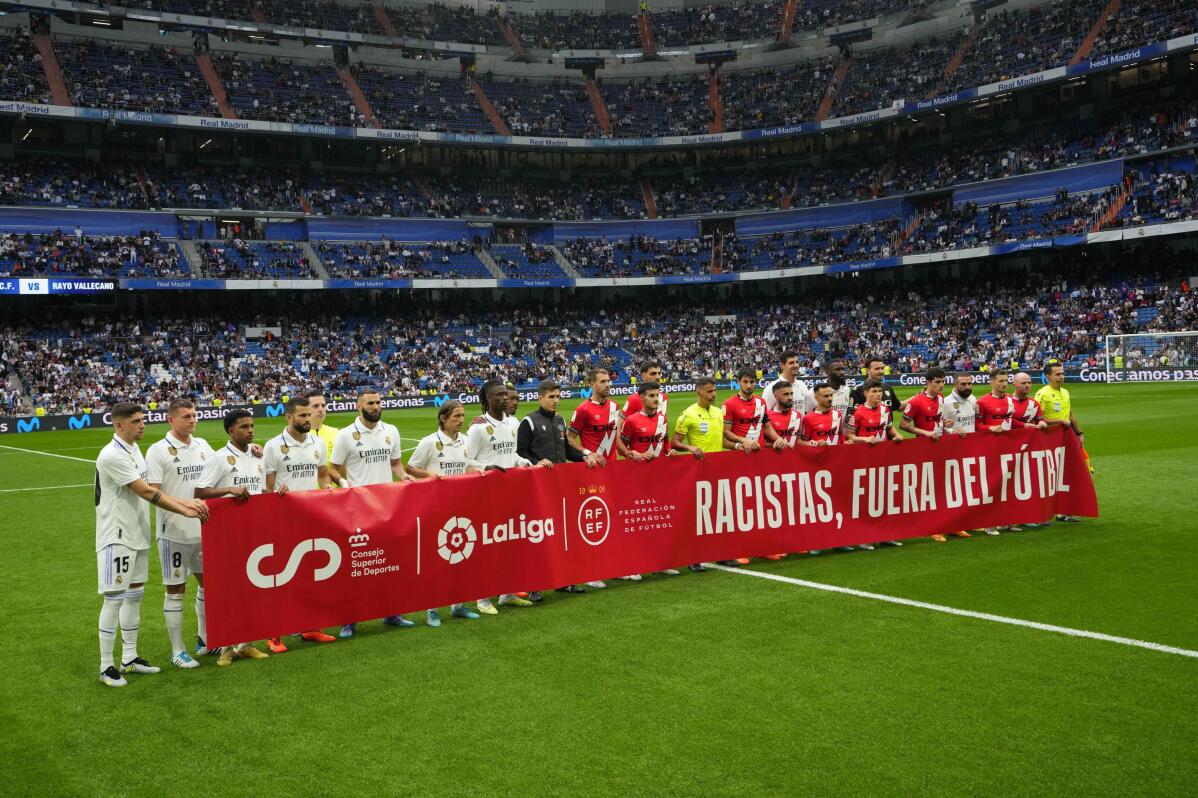 3 of 11

|
Players lift a banner reading 'Racists out of football' prior to a Spanish La Liga soccer match between Real Madrid and Rayo Vallecano at the Santiago Bernabeu stadium in Madrid, Spain, Wednesday, May 24, 2023. (AP Photo/Manu Fernandez)
3 of 11
Players lift a banner reading 'Racists out of football' prior to a Spanish La Liga soccer match between Real Madrid and Rayo Vallecano at the Santiago Bernabeu stadium in Madrid, Spain, Wednesday, May 24, 2023. (AP Photo/Manu Fernandez)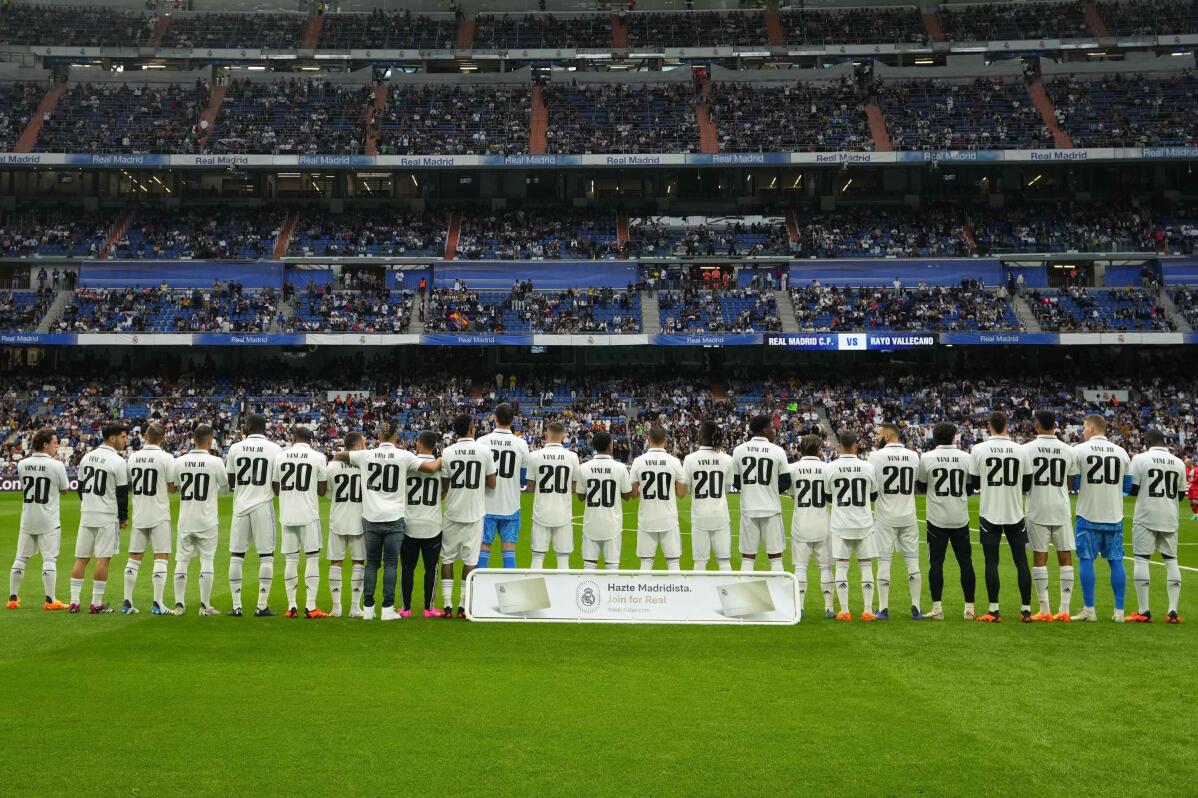 4 of 11

|
Players of Real Madrid wear jerseys with the name of team mate Vinicius Junior for a Spanish La Liga soccer match between Real Madrid and Rayo Vallecano at the Santiago Bernabeu stadium in Madrid, Spain, Wednesday, May 24, 2023. (AP Photo/Manu Fernandez)
4 of 11
Players of Real Madrid wear jerseys with the name of team mate Vinicius Junior for a Spanish La Liga soccer match between Real Madrid and Rayo Vallecano at the Santiago Bernabeu stadium in Madrid, Spain, Wednesday, May 24, 2023. (AP Photo/Manu Fernandez)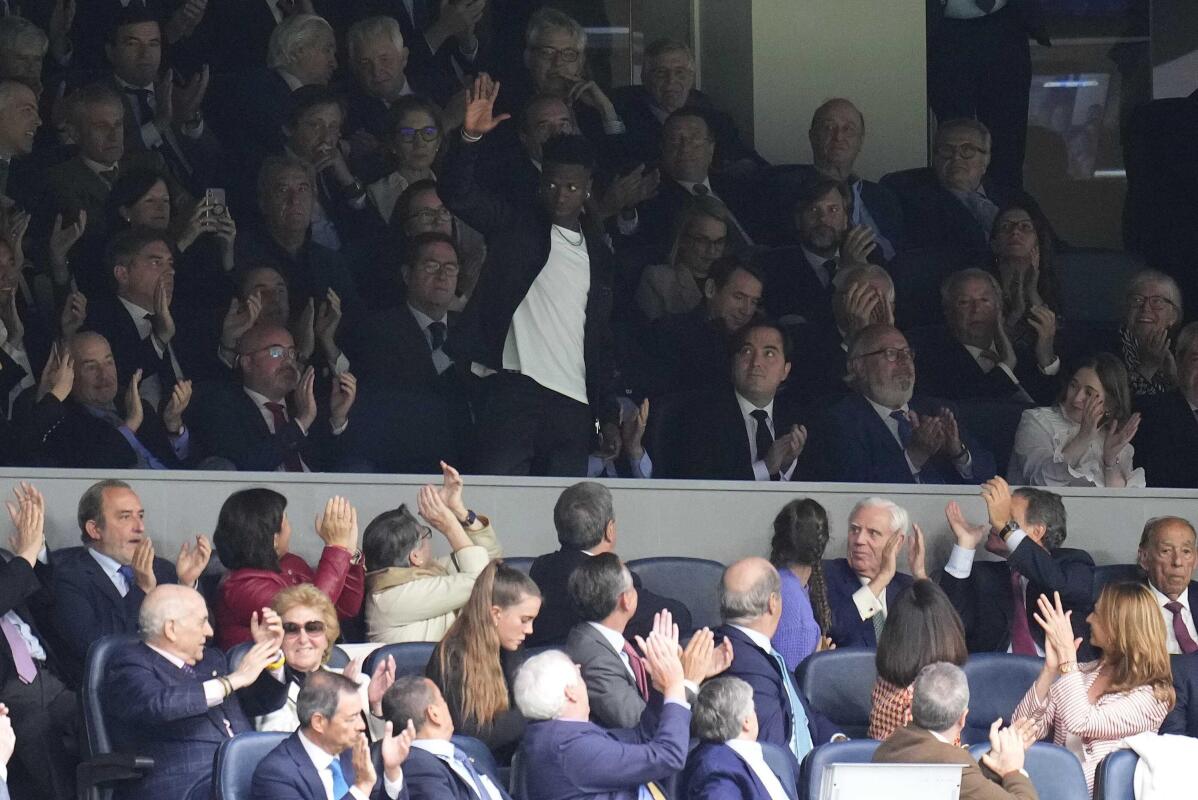 5 of 11

|
Real Madrid's Vinicius Junior waves to spectators prior to a Spanish La Liga soccer match between Real Madrid and Rayo Vallecano at the Santiago Bernabeu stadium in Madrid, Spain, Wednesday, May 24, 2023. (AP Photo/Manu Fernandez)
5 of 11
Real Madrid's Vinicius Junior waves to spectators prior to a Spanish La Liga soccer match between Real Madrid and Rayo Vallecano at the Santiago Bernabeu stadium in Madrid, Spain, Wednesday, May 24, 2023. (AP Photo/Manu Fernandez)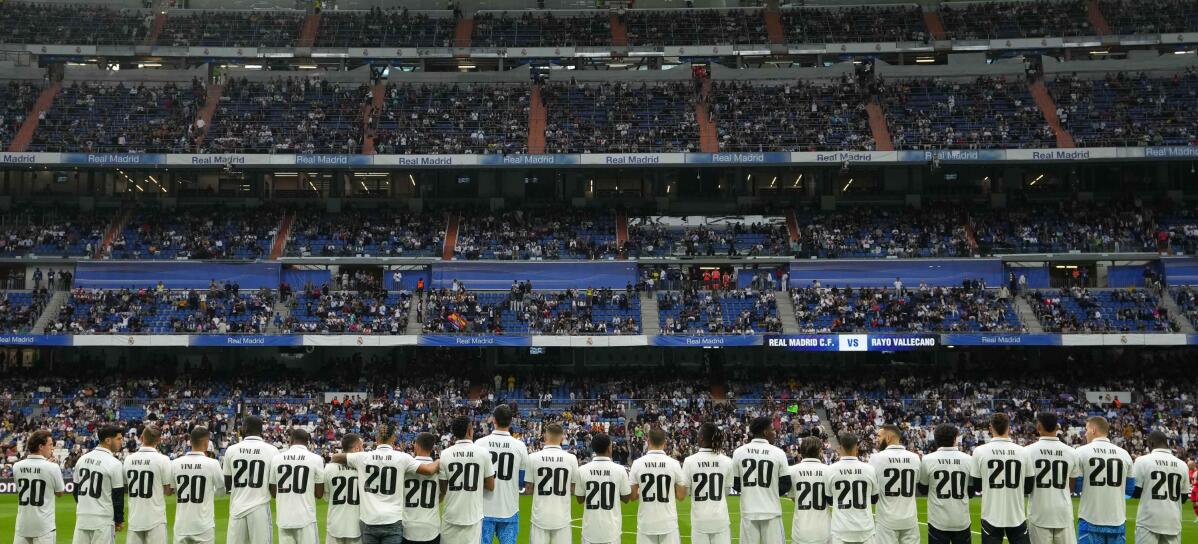 6 of 11

|
Players of Real Madrid wear jerseys with the name of team mate Vinicius Junior for a Spanish La Liga soccer match between Real Madrid and Rayo Vallecano at the Santiago Bernabeu stadium in Madrid, Spain, Wednesday, May 24, 2023. (AP Photo/Manu Fernandez)
6 of 11
Players of Real Madrid wear jerseys with the name of team mate Vinicius Junior for a Spanish La Liga soccer match between Real Madrid and Rayo Vallecano at the Santiago Bernabeu stadium in Madrid, Spain, Wednesday, May 24, 2023. (AP Photo/Manu Fernandez)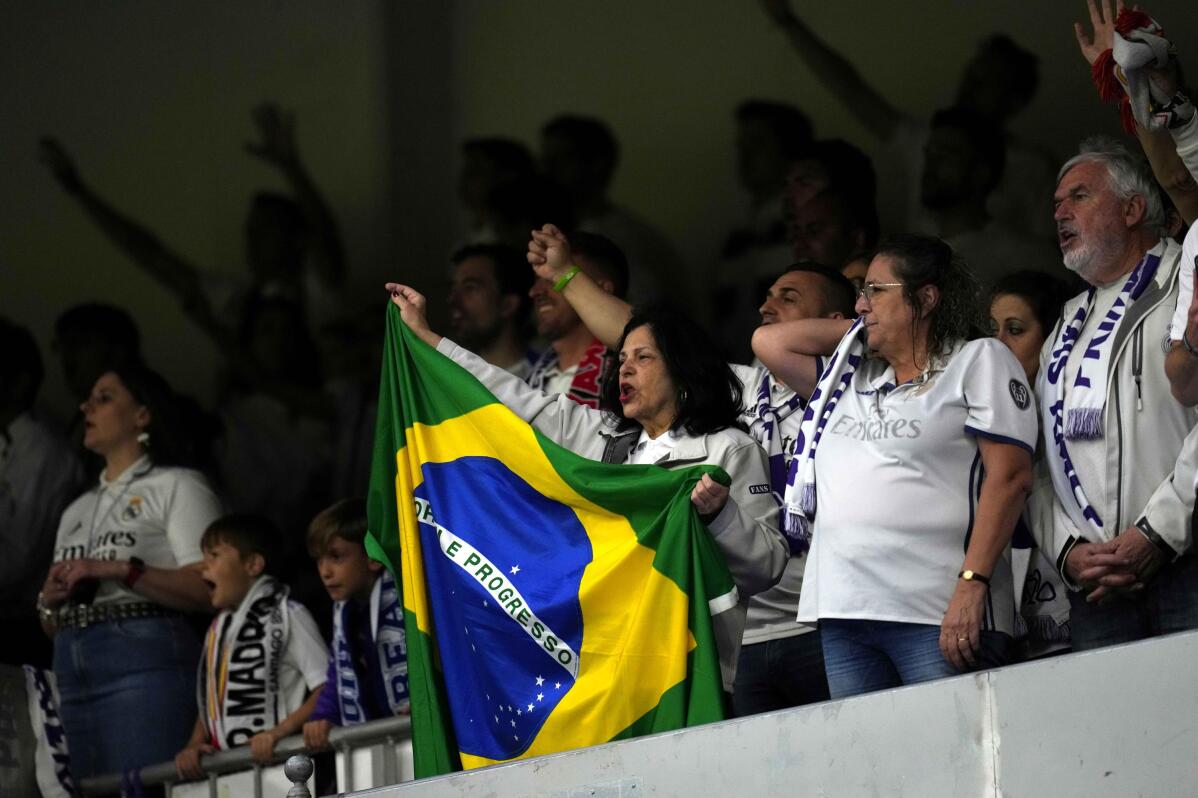 7 of 11

|
A woman lifts a Brazilian flag during a Spanish La Liga soccer match between Real Madrid and Rayo Vallecano at the Santiago Bernabeu stadium in Madrid, Spain, Wednesday, May 24, 2023. (AP Photo/Manu Fernandez)
7 of 11
A woman lifts a Brazilian flag during a Spanish La Liga soccer match between Real Madrid and Rayo Vallecano at the Santiago Bernabeu stadium in Madrid, Spain, Wednesday, May 24, 2023. (AP Photo/Manu Fernandez)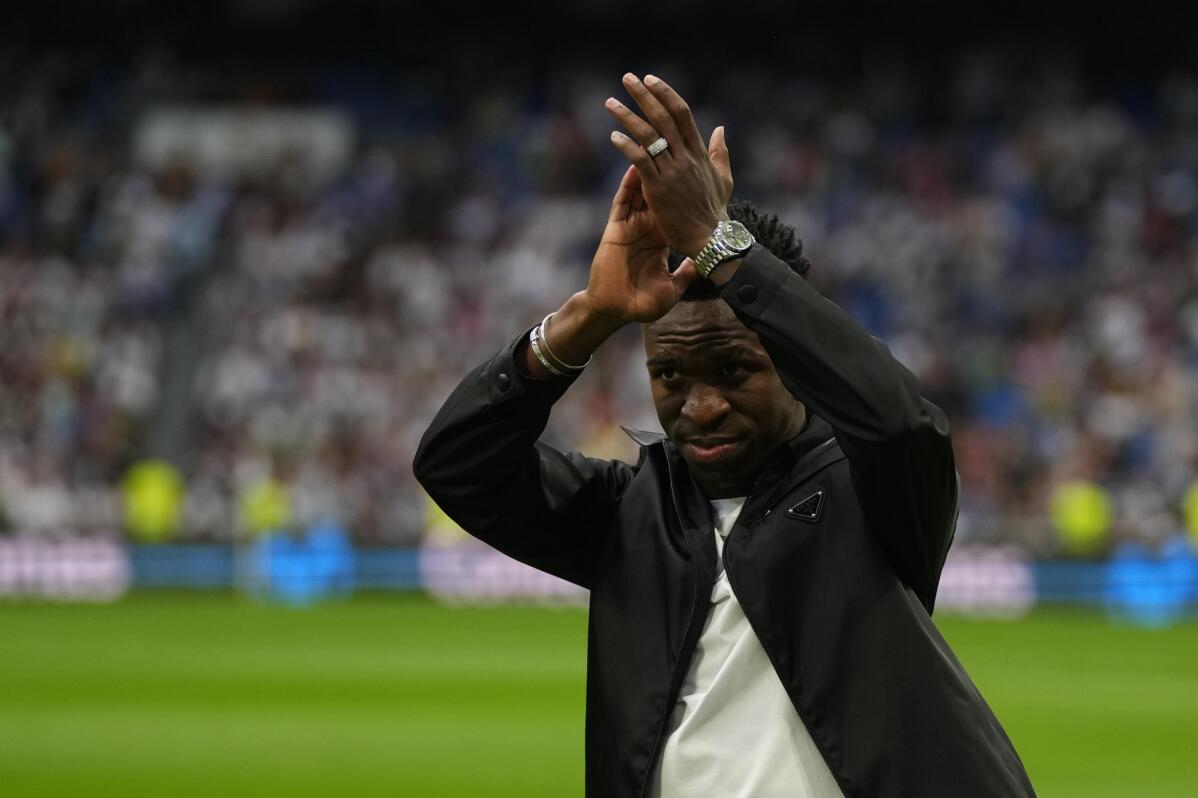 8 of 11

|
Real Madrid's Vinicius Junior applauds to spectators prior to a Spanish La Liga soccer match between Real Madrid and Rayo Vallecano at the Santiago Bernabeu stadium in Madrid, Spain, Wednesday, May 24, 2023. (AP Photo/Manu Fernandez)
8 of 11
Real Madrid's Vinicius Junior applauds to spectators prior to a Spanish La Liga soccer match between Real Madrid and Rayo Vallecano at the Santiago Bernabeu stadium in Madrid, Spain, Wednesday, May 24, 2023. (AP Photo/Manu Fernandez)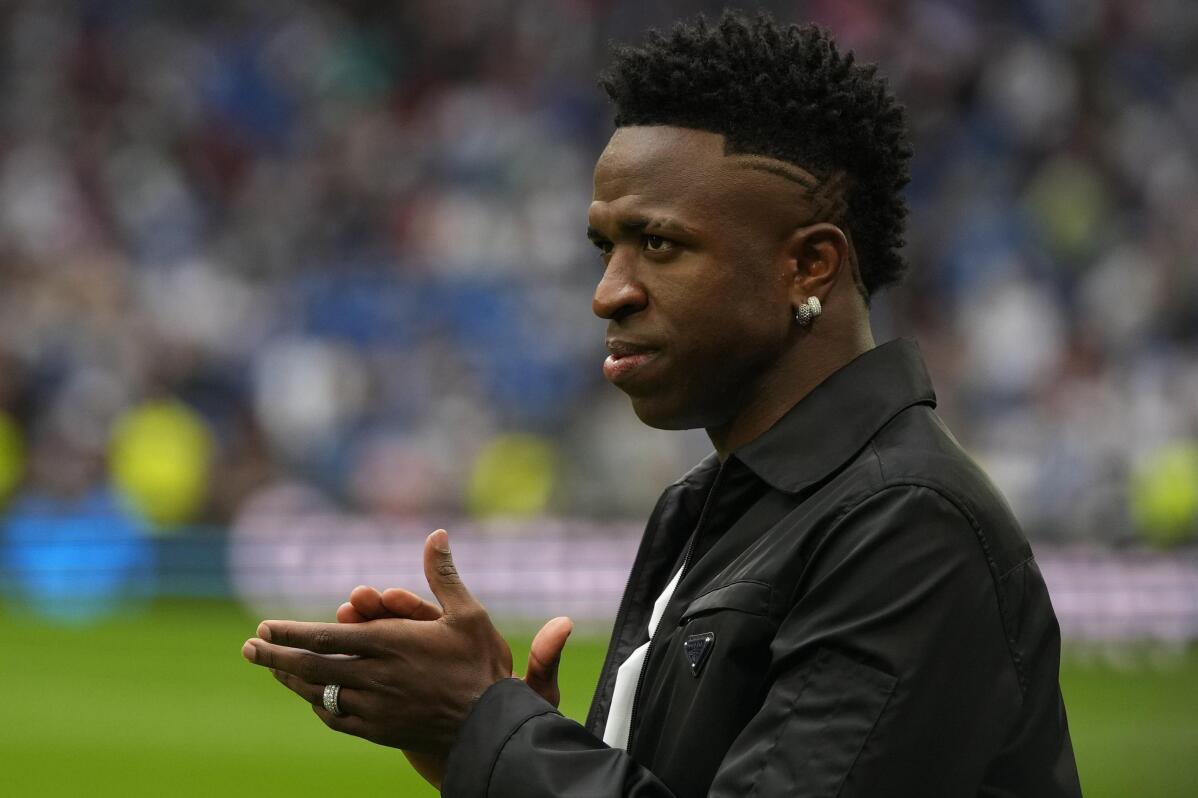 9 of 11

|
Real Madrid's Vinicius Junior applauds to spectators prior to a Spanish La Liga soccer match between Real Madrid and Rayo Vallecano at the Santiago Bernabeu stadium in Madrid, Spain, Wednesday, May 24, 2023. (AP Photo/Manu Fernandez)
9 of 11
Real Madrid's Vinicius Junior applauds to spectators prior to a Spanish La Liga soccer match between Real Madrid and Rayo Vallecano at the Santiago Bernabeu stadium in Madrid, Spain, Wednesday, May 24, 2023. (AP Photo/Manu Fernandez)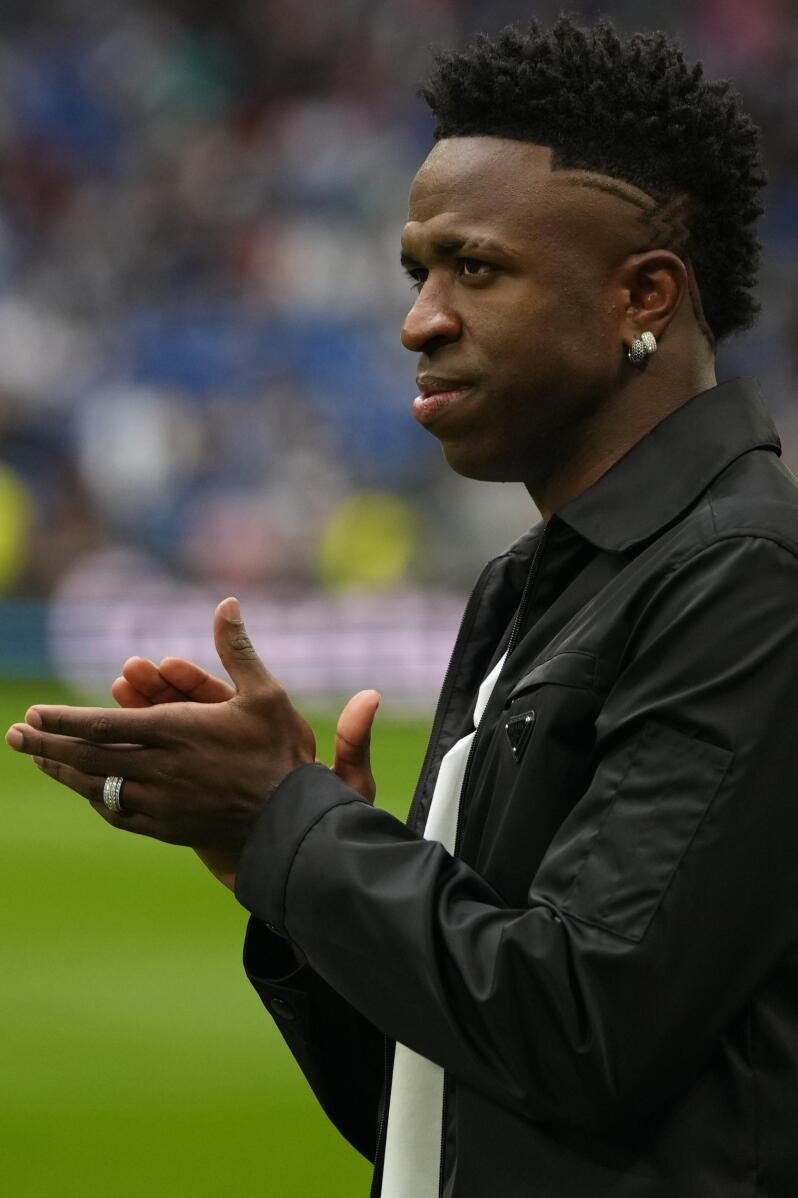 10 of 11

|
Real Madrid's Vinicius Junior applauds to spectators prior to a Spanish La Liga soccer match between Real Madrid and Rayo Vallecano at the Santiago Bernabeu stadium in Madrid, Spain, Wednesday, May 24, 2023. (AP Photo/Manu Fernandez)
10 of 11
Real Madrid's Vinicius Junior applauds to spectators prior to a Spanish La Liga soccer match between Real Madrid and Rayo Vallecano at the Santiago Bernabeu stadium in Madrid, Spain, Wednesday, May 24, 2023. (AP Photo/Manu Fernandez)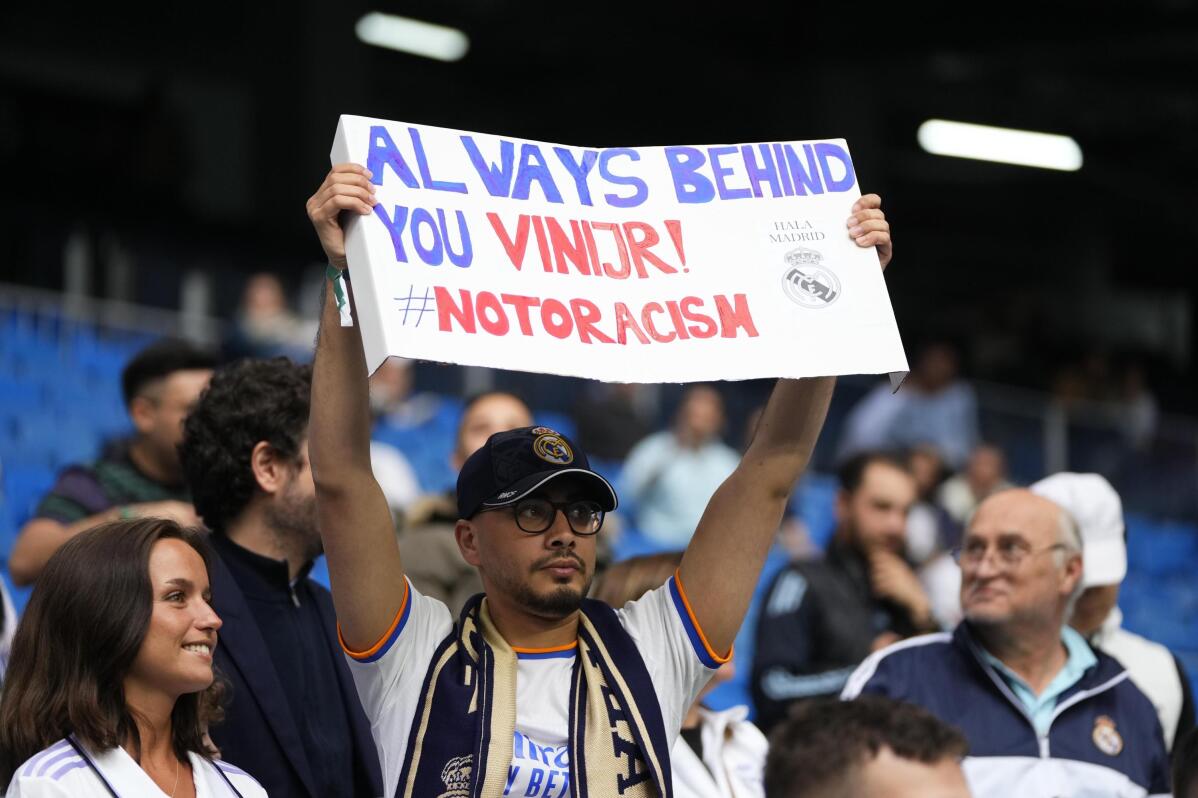 11 of 11

|
A spectator lifts a banner reading 'Always behind you VINIJR-NOTORACISM' prior to a Spanish La Liga soccer match between Real Madrid and Rayo Vallecano at the Santiago Bernabeu stadium in Madrid, Spain, Wednesday, May 24, 2023. (AP Photo/Manu Fernandez)
11 of 11
A spectator lifts a banner reading 'Always behind you VINIJR-NOTORACISM' prior to a Spanish La Liga soccer match between Real Madrid and Rayo Vallecano at the Santiago Bernabeu stadium in Madrid, Spain, Wednesday, May 24, 2023. (AP Photo/Manu Fernandez)
MADRID (AP) — With Vinícius Júnior watching from the stands, Rodrygo scored the winning goal and raised his fist in solidarity with his Real Madrid and Brazil teammate.
It was one of the many tributes to Vinícius in Madrid's first game since the latest case of racial abuse against the player, who considered leaving the field Sunday after being insulted by Valencia fans.
"All the support for Vini was beautiful," said Rodrygo, whose late goal gave Madrid a 2-1 win over Rayo Vallecano in the Spanish league on Wednesday. "What happened to him can happen to many players. We know that it has happened a lot of times in soccer. But we are happy because we see that the world is uniting to fight this."
The show of support came a day after Spanish police arrested seven people on suspicion of hate crime and after Valencia was fined and ordered to partially close its stadium for five games.
Vinícius was not on the field because of a minor injury, but his Real Madrid teammates all came out wearing his No. 20 jersey before kickoff.
"Love you," Vinícius said after the game in a tweet that included a photo of his teammates behind him at the Santiago Bernabeu Stadium. "Thank you, thank you, thank you."
Wearing street clothes, Vinícius came out briefly before the match to salute the fans as Madrid players lined up with their backs to the stands showing his jersey. Vinícius watched the match alongside club president Florentino Pérez.
In the 20th minute, fans applauded and chanted his name. The Brazilian stood up and saluted back from the VIP section.
Outside the stadium, many fans arrived displaying messages condemning racism and praising Vinícius, who is Black. Inside, a huge banner was displayed behind one of the goals with the words "We are all Vinicius. Enough is enough."
As part of a new anti-racism campaign by the Spanish league, the Spanish soccer federation and the government, a banner with the words "racists out of football" was held by players from both squad before the match. Players from both teams wore armbands with anti-racism messages. Slogans against racism were shown during the national and international broadcast of the game.
Vinícius, who on Sunday was subjected to yet another case of racial abuse, didn't play because of what the club said was a minor knee problem.
Vinícius was shown a red card for an altercation in the match against Valencia on Sunday, but the card was later rescinded.
Coach Carlo Ancelotti had said he considered giving Vinícius some rest regardless of the suspension following the recent stressful days.
Madrid's women's soccer players and men's basketball players also came out with No. 20 jerseys for their games Wednesday.
Earlier Wednesday, Valencia said it would appeal the partial closure of its stadium following the racial abuse directed at Vinícius in a league match, saying the punishment is "unfair and disproportionate."
Spanish soccer's competition committee late Tuesday fined Valencia in 45,000 euros ($48,500) and closed one of the sections of Mestalla Stadium for five games in what is the strongest ever punishment for a club in a case of racism in Spain.
Vinícius has been subjected to repeated racial insults since he arrived to play in Spain five years ago. The 22-year-old Brazil forward heavily criticized Spain and its lack of action against racism after the latest incident against him.
"Valencia wants to express its complete disagreement and indignation over the unfair and disproportionate penalty imposed by the competition committee," the club said in a statement. "Valencia wants to publicly denounce that the evidence shown by the committee contradicts what the police and La Liga say. This sanction is based on evidence that the club has not been able to see."
Valencia also complained that it was not given a chance to defend itself before the ruling. The club said it has been cooperating with police from the start. Valencia said not long after the game it would work with authorities to identify those responsible, and a day later it banned one person for life.
With the club's cooperation, police arrested three people on suspicion of a hate crime for their allege abuse against the Brazilian on Sunday, with all being banned for life from the stadium. The the club said that was the maximum punishment it could impose.
"To punish fans who were not involved in these lamentable incidents is a measure completely disproportionate, unfair and unprecedented," Valencia said. "We will fight against it until the end."
The three people spoke to police and were set free as the investigation against them continues. Four other people were detained in Madrid after being accused of hanging an effigy of Vinícius off a highway bridge in January. They are expected to testify before a judge who will then decide on whether to take the case any further.
Fans have been fined and banned before for attacks on Vinícius, but so far no one in Spain has ever gone to trial on criminal charges for racially abusing a player.
Spain created a specific law against violence, racism, xenophobia and intolerance in sports in 2007, and since then an anti-violence commission composed of several entities has been in charge of monitoring and denouncing cases that may break the law.
But the law stipulates that not all cases of racism can be punished criminally, only those in which there is an extra element affecting the victim. Most cases, including many similar to the ones involving the fans in Valencia, end up falling into a category in which punishment only includes fines and bans from stadiums.
Valencia, which is still fighting against relegation to the second division, has one home game left in the league this season, against Espanyol on Sunday. Espanyol is also trying to avoid demotion.
The section of Mestalla that will be closed is where the insults against Vinícius came from, behind one of the goals. It's also where the club's more hardcore fans usually are located.
___
Tales Azzoni on Twitter: http://twitter.com/tazzoni
___
More AP soccer: https://apnews.com/hub/Soccer and https://twitter.com/AP_Sports