Kylian Mbappé sends message of support to Real Madrid forward Vinícius Júnior after racist abuse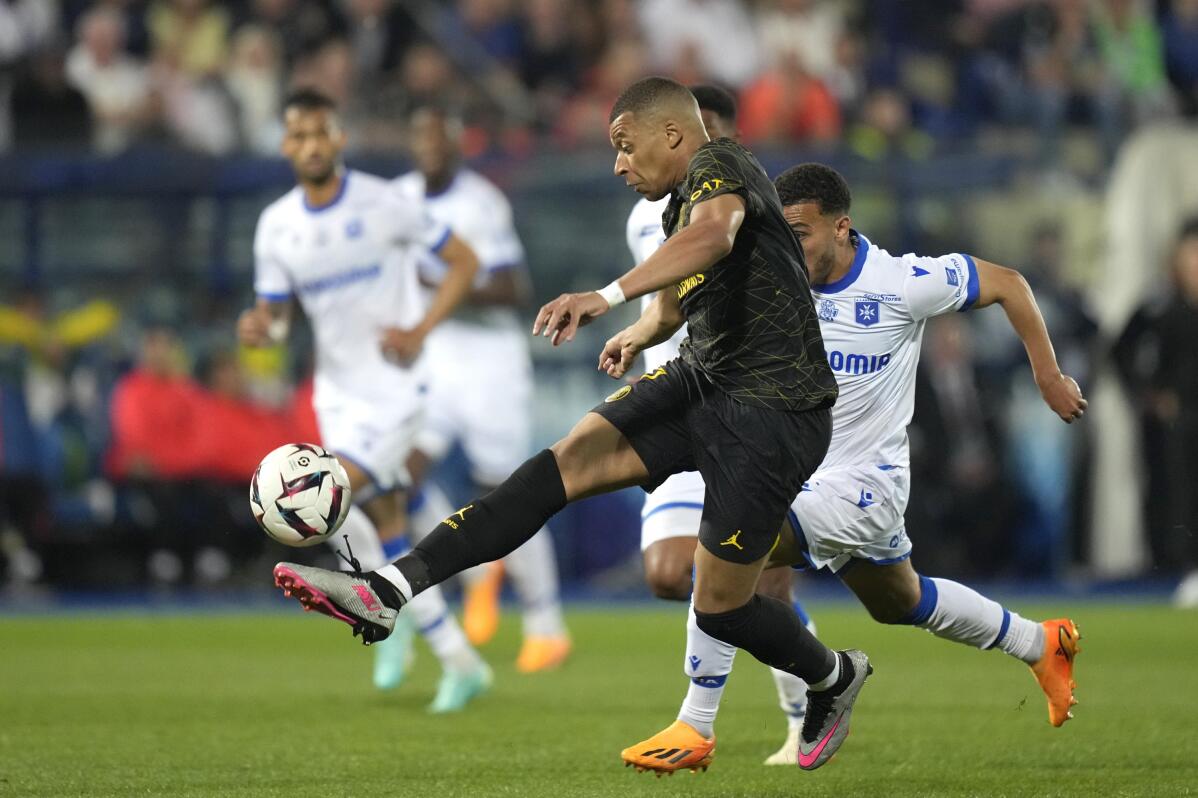 1 of 2

|
PSG's Kylian Mbappe in action during the French League One soccer match between Auxerre and Paris Saint Germain, at the Abbe Deschamps stadium in Auxerre, central France, Sunday, May 21, 2023. (AP Photo/Thibault Camus)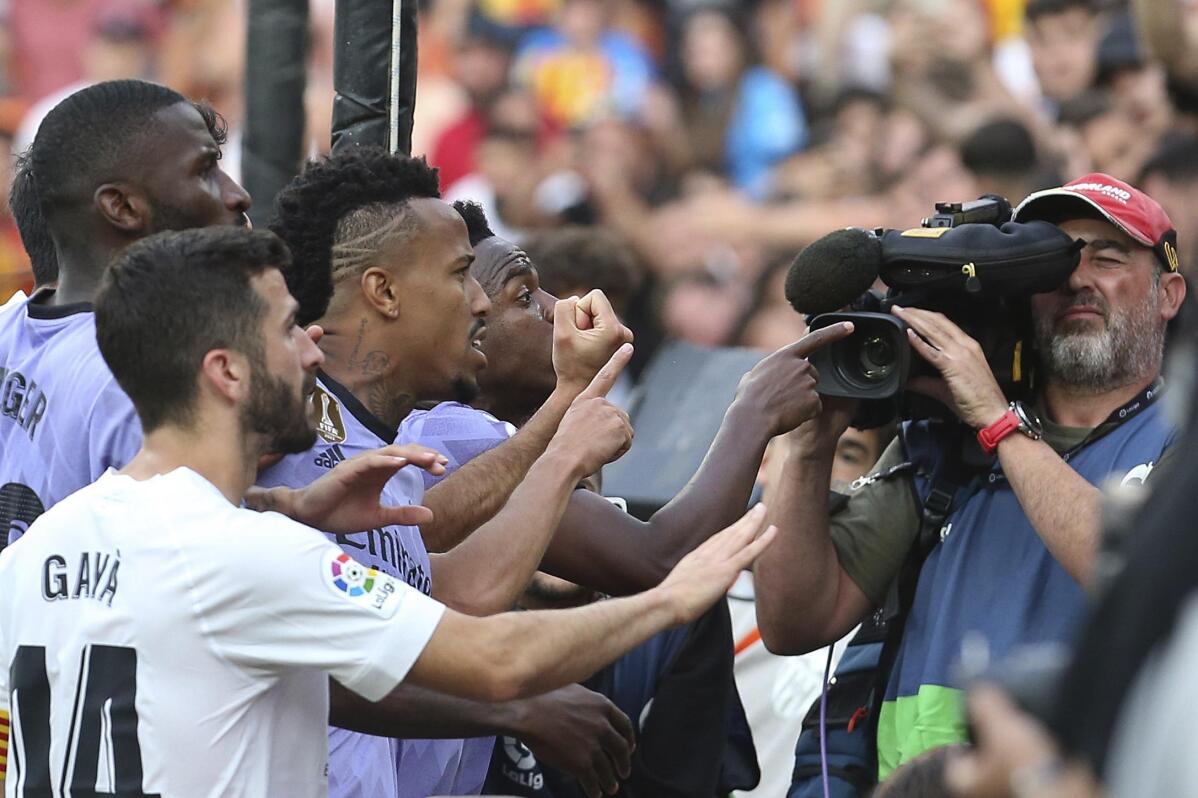 2 of 2

|
Real Madrid's Vinicius Junior, centre confronts Valencia fans along with some of his team mates during a Spanish La Liga soccer match between Valencia and Real Madrid, at the Mestalla stadium in Valencia, Spain, Sunday, May 21, 2023. The game was temporarily stopped when Vinicius said a fan had insulted him from the stands. He was later sent off after clashing with Valencia players. (AP Photo/Alberto Saiz)
Kylian Mbappé sends message of support to Real Madrid forward Vinícius Júnior after racist abuse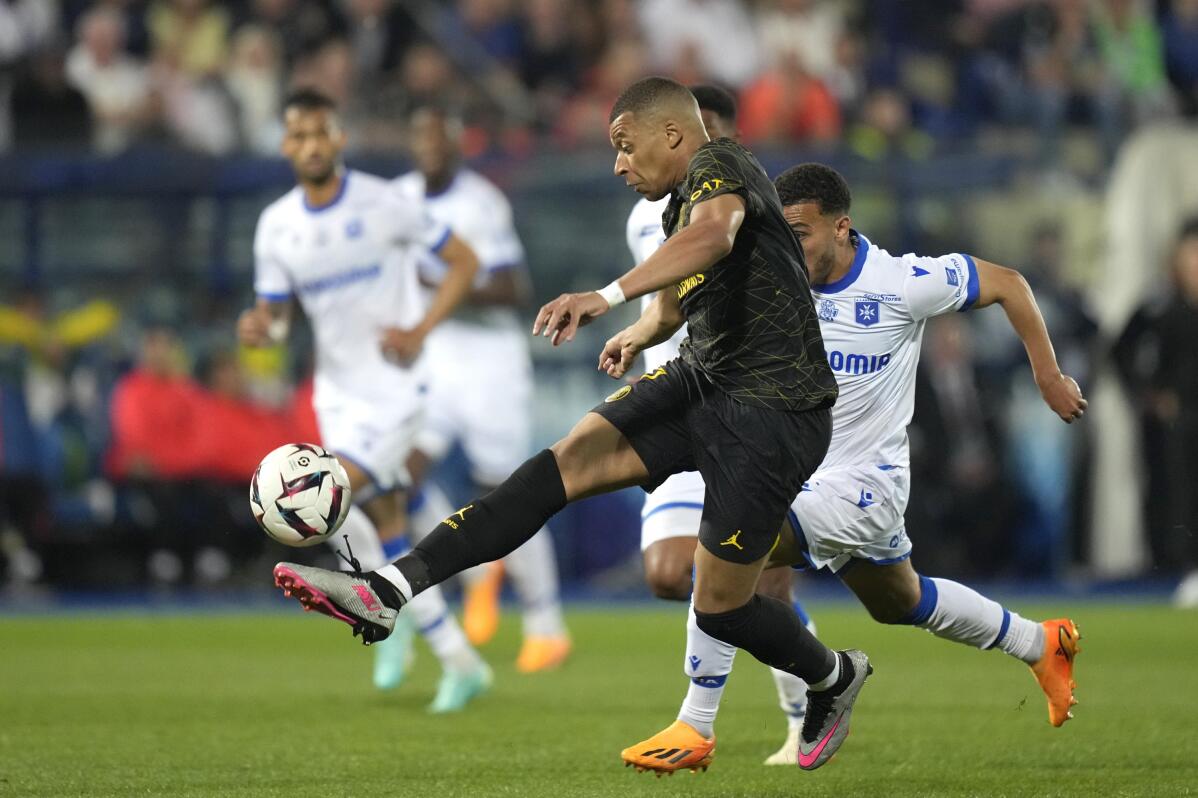 1 of 2

|
PSG's Kylian Mbappe in action during the French League One soccer match between Auxerre and Paris Saint Germain, at the Abbe Deschamps stadium in Auxerre, central France, Sunday, May 21, 2023. (AP Photo/Thibault Camus)
1 of 2
PSG's Kylian Mbappe in action during the French League One soccer match between Auxerre and Paris Saint Germain, at the Abbe Deschamps stadium in Auxerre, central France, Sunday, May 21, 2023. (AP Photo/Thibault Camus)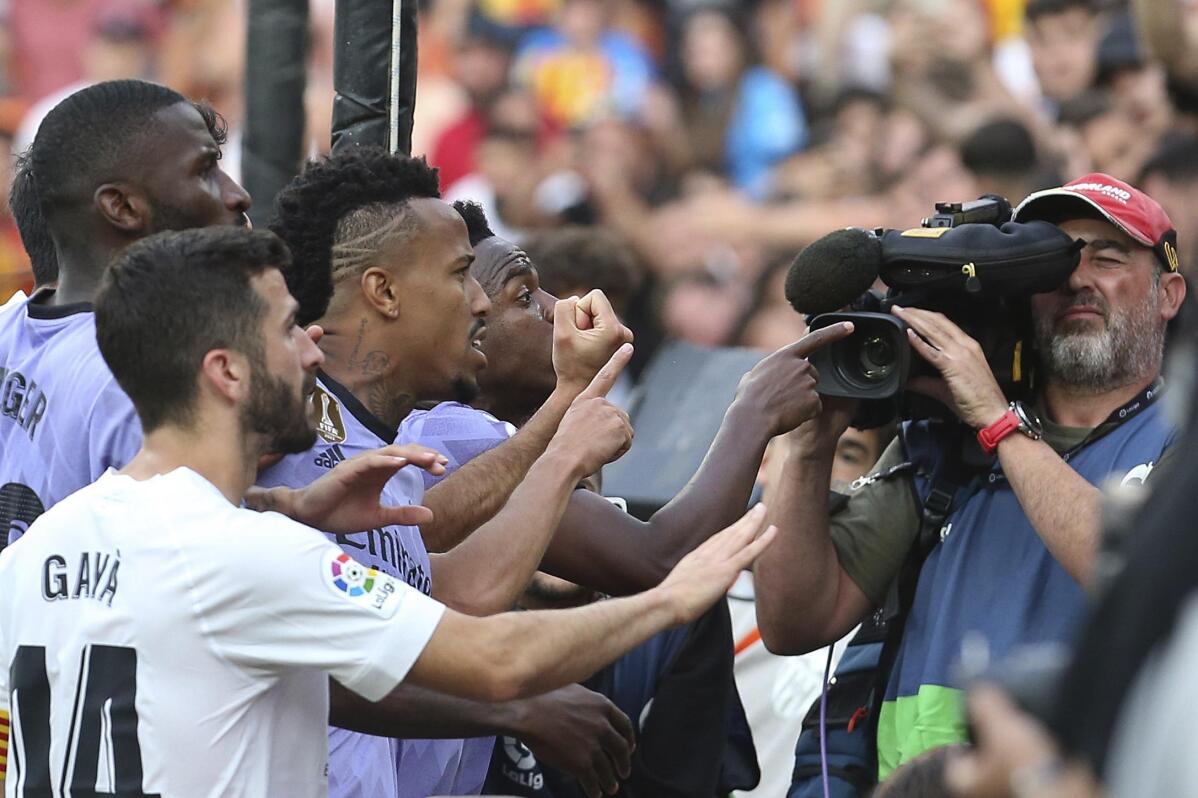 2 of 2

|
Real Madrid's Vinicius Junior, centre confronts Valencia fans along with some of his team mates during a Spanish La Liga soccer match between Valencia and Real Madrid, at the Mestalla stadium in Valencia, Spain, Sunday, May 21, 2023. The game was temporarily stopped when Vinicius said a fan had insulted him from the stands. He was later sent off after clashing with Valencia players. (AP Photo/Alberto Saiz)
2 of 2
Real Madrid's Vinicius Junior, centre confronts Valencia fans along with some of his team mates during a Spanish La Liga soccer match between Valencia and Real Madrid, at the Mestalla stadium in Valencia, Spain, Sunday, May 21, 2023. The game was temporarily stopped when Vinicius said a fan had insulted him from the stands. He was later sent off after clashing with Valencia players. (AP Photo/Alberto Saiz)
PARIS (AP) — Paris Saint-Germain striker Kylian Mbappé sent a message of support to fellow forward Vinícius Júnior after the Real Madrid player was subjected to racist abuse on Sunday.
The latest abuse against Vinícius came in Madrid's 1-0 loss at Valencia, a match that had to be temporarily stopped after the Brazil forward said he was insulted by a fan behind one of the goals at Mestalla Stadium.
The 22-year-old Vinícius, who is is Black, has been subjected to repeated racist abuse since moving to Spain five years ago.
"You are not alone. We are with you and we support you," Mbappé wrote on Instagram.
Mbappé was also hit by racist and hateful comments on social networks following France's loss to Argentina in the World Cup final last year.
Brazilian politicians including President Luiz Inácio Lula da Silva, players and clubs ha ve come out to support Vinícius and criticize racism in the Spanish league.
The first trial against a fan accused of racial abuse in Spanish professional soccer is expected to happen at some point this year in a case involving Athletic Bilbao forward Iñaki Williams, who was insulted by an Espanyol supporter in a match in 2020.
___
More AP soccer: https://apnews.com/hub/Soccer and https://twitter.com/AP_Sports