Spanish acknowledge they have a racism problem after more abuse of Vinícius Júnior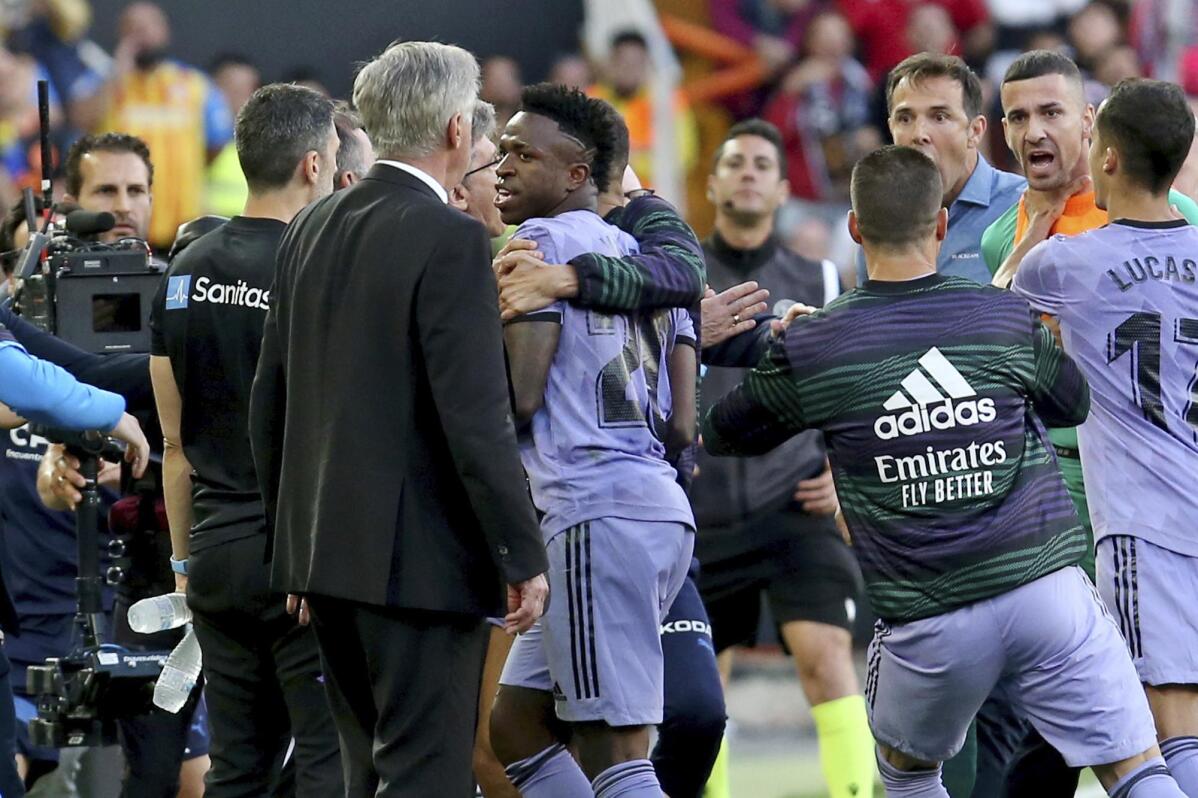 1 of 8

|
Real Madrid's Vinicius Junior, centre, walks past head coach Carlo Ancelotti, front left, after being sent off the pitch during a Spanish La Liga soccer match between Valencia and Real Madrid, at the Mestalla stadium in Valencia, Spain, Sunday, May 21, 2023. The game was temporarily stopped when Vinicius said a fan had insulted him from the stands. He was later sent off after clashing with Valencia players. (AP Photo/Alberto Saiz)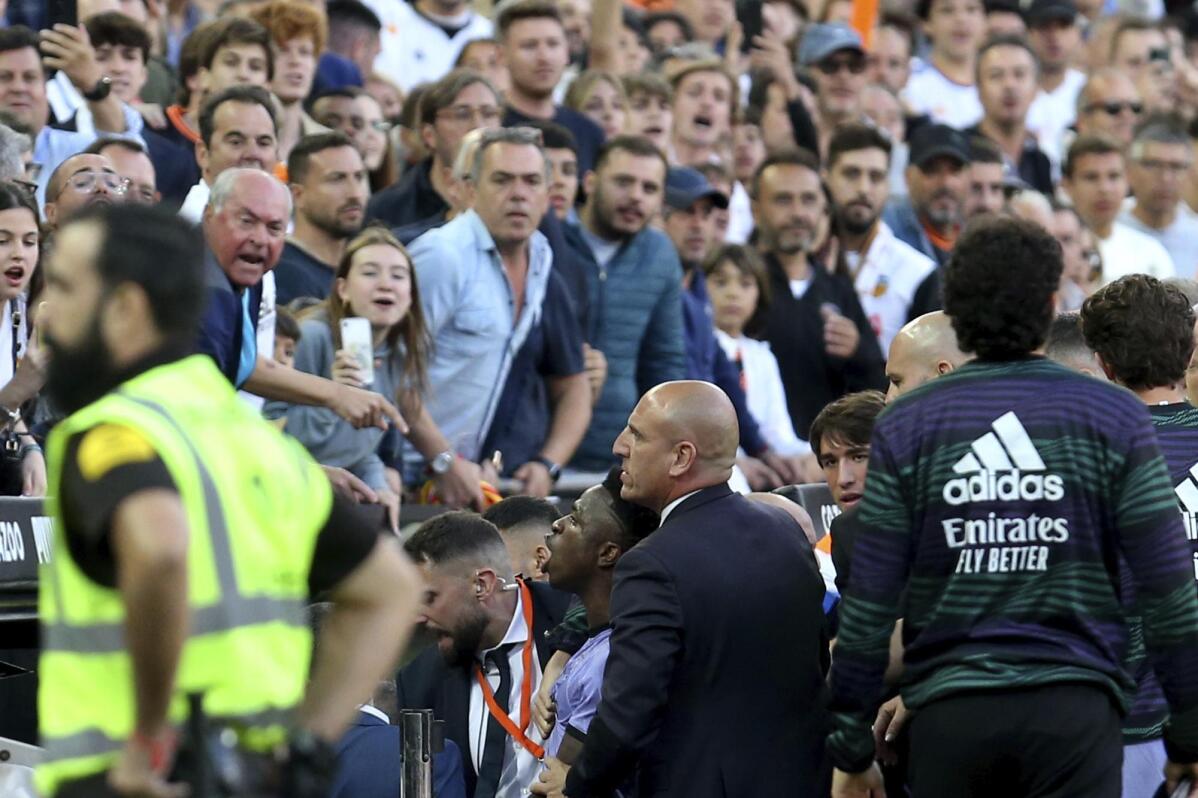 2 of 8

|
Real Madrid's Vinicius Junior, lower centre, reacts towards Valencia fans after being sent off during a Spanish La Liga soccer match between Valencia and Real Madrid, at the Mestalla stadium in Valencia, Spain, Sunday, May 21, 2023. The game was temporarily stopped when Vinicius said a fan had insulted him from the stands. He was later sent off after clashing with Valencia players. (AP Photo/Alberto Saiz)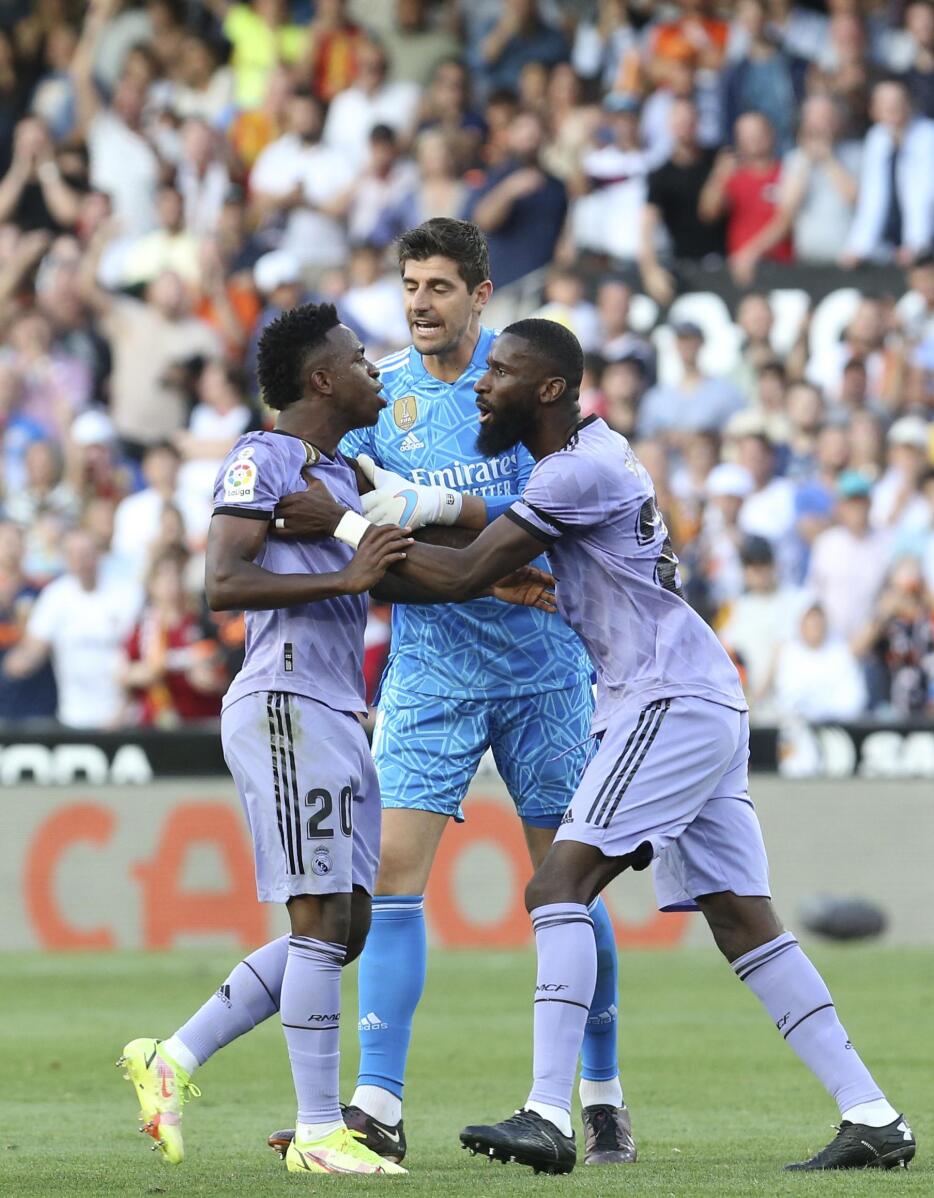 3 of 8

|
Real Madrid's goalkeeper Thibaut Courtois, centre and Antonio Rudiger, right, try to calm Vinicius Junior during a Spanish La Liga soccer match between Valencia and Real Madrid, at the Mestalla stadium in Valencia, Spain, Sunday, May 21, 2023. The game was temporarily stopped when Vinicius said a fan had insulted him from the stands. He was later sent off after clashing with Valencia players. (AP Photo/Alberto Saiz)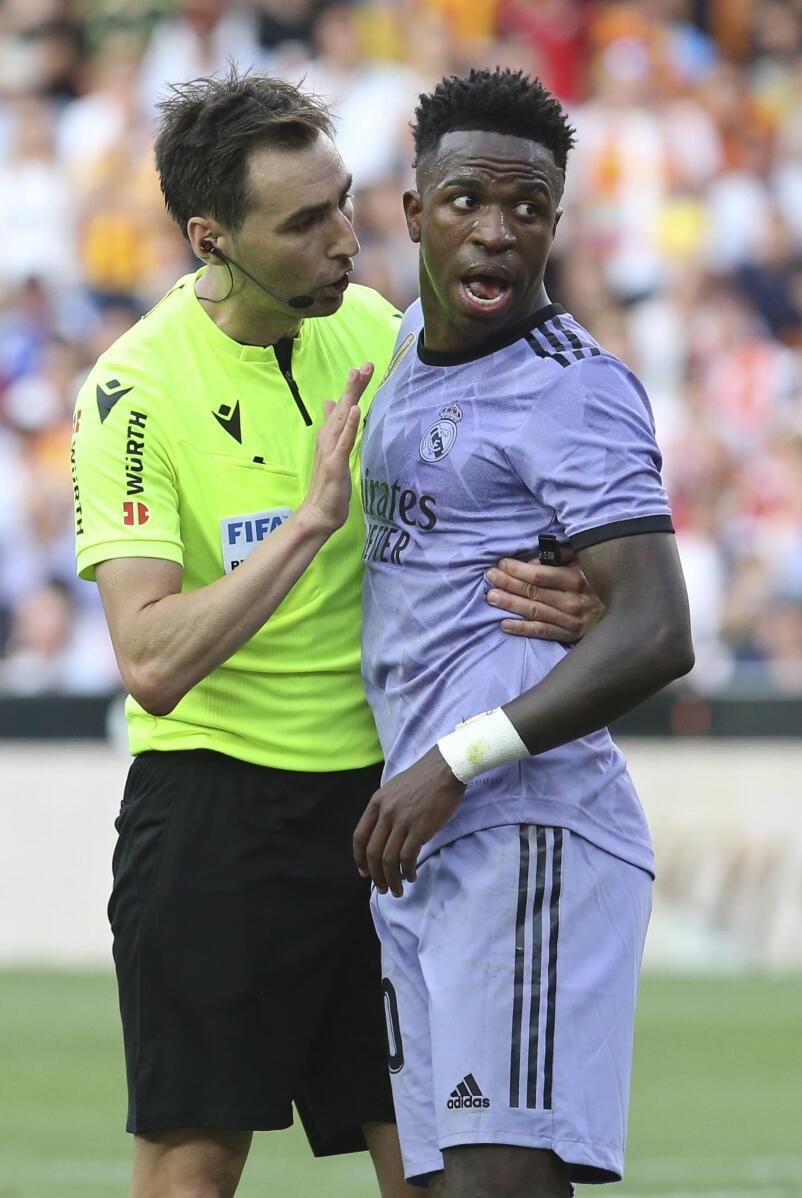 4 of 8

|
Referee Ricardo De Burgos Bengoetxea, left, speaks with Real Madrid's Vinicius Junior during a Spanish La Liga soccer match between Valencia and Real Madrid, at the Mestalla stadium in Valencia, Spain, Sunday, May 21, 2023. The game was temporarily stopped when Vinicius said a fan had insulted him from the stands. He was later sent off after clashing with Valencia players. (AP Photo/Alberto Saiz)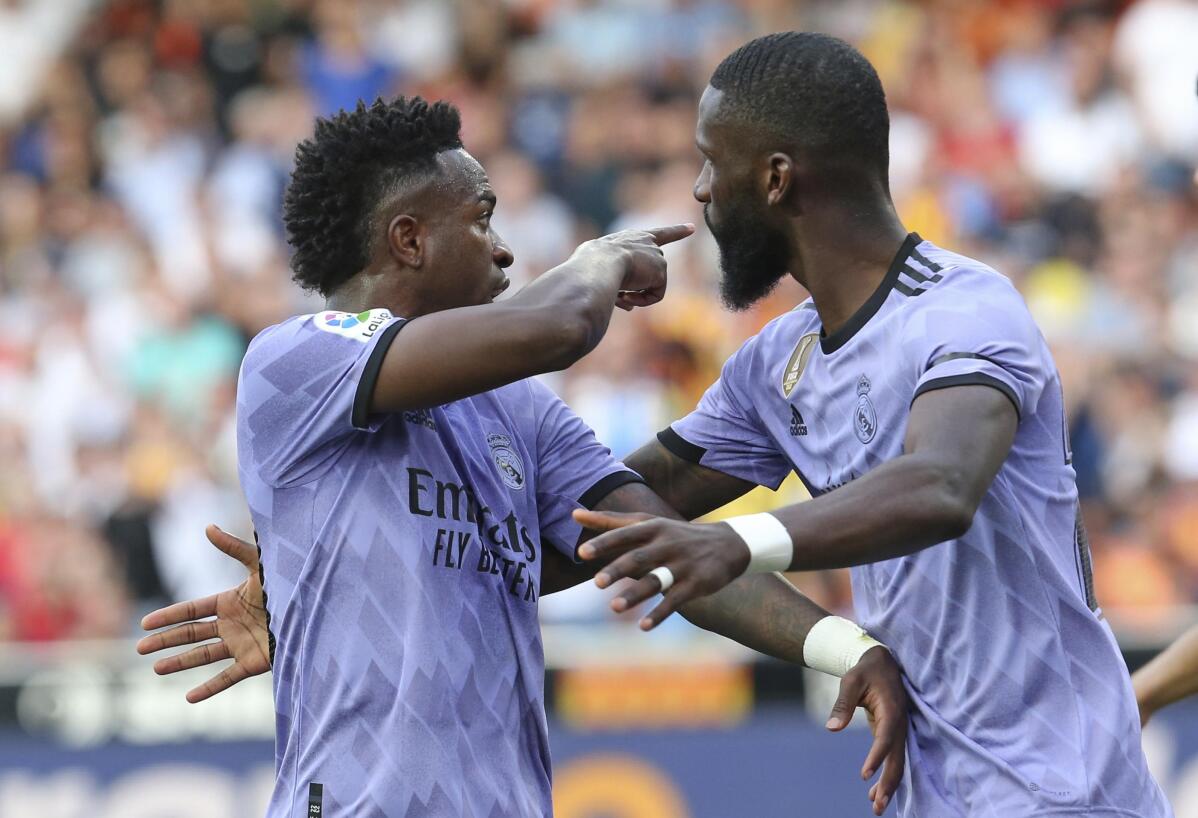 5 of 8

|
Real Madrid's Vinicius Junior, left, confronts Valencia fans as Antonio Rudiger tries to calm him down during a Spanish La Liga soccer match between Valencia and Real Madrid, at the Mestalla stadium in Valencia, Spain, Sunday, May 21, 2023. The game was temporarily stopped when Vinicius said a fan had insulted him from the stands. He was later sent off after clashing with Valencia players. (AP Photo/Alberto Saiz)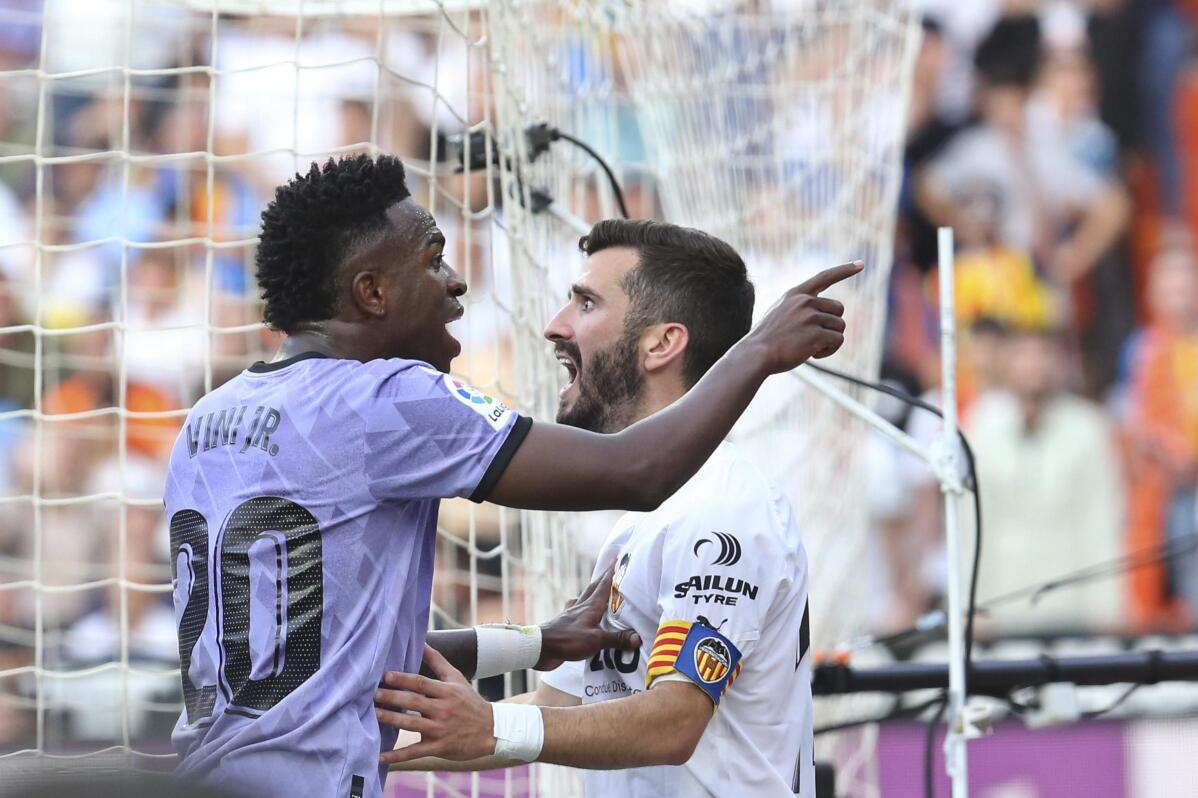 6 of 8

|
Real Madrid's Vinicius Junior, left, confronts Valencia fans in front of Valencia's Jose Luis Gaya during a Spanish La Liga soccer match between Valencia and Real Madrid, at the Mestalla stadium in Valencia, Spain, Sunday, May 21, 2023. The game was temporarily stopped when Vinicius said a fan had insulted him from the stands. He was later sent off after clashing with Valencia players. (AP Photo/Alberto Saiz)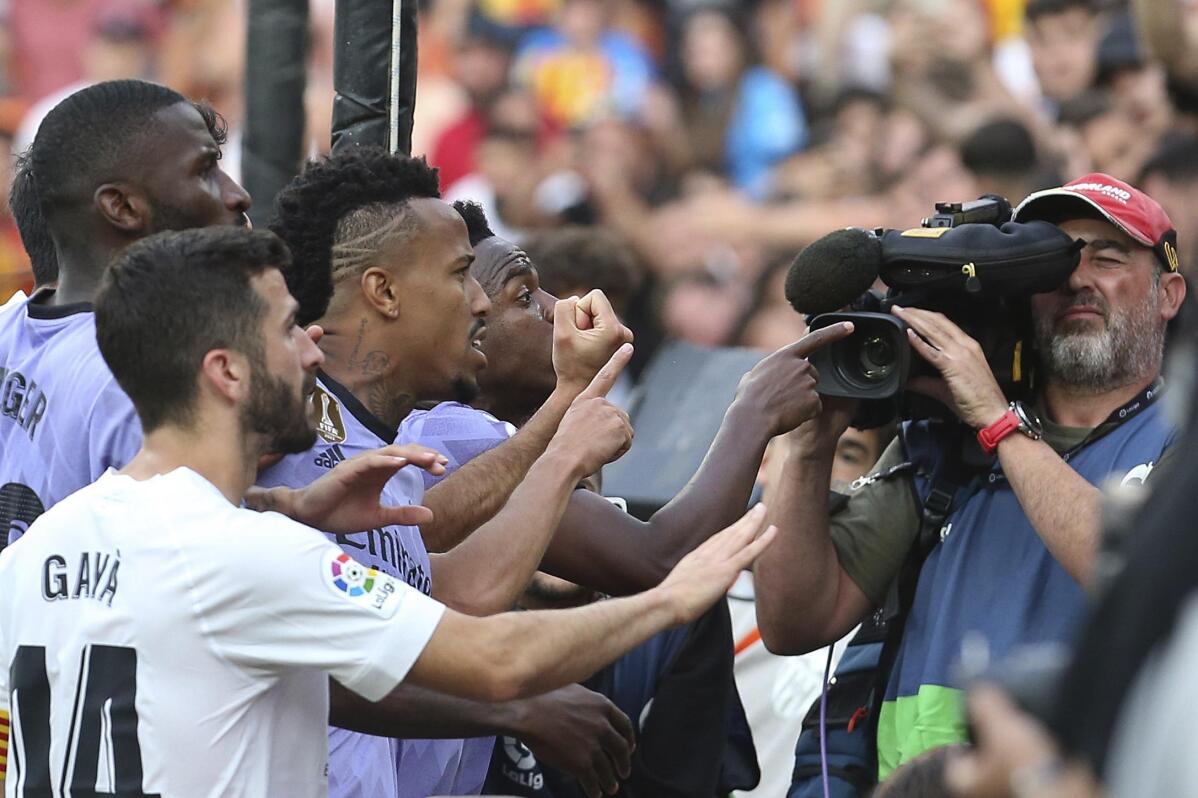 7 of 8

|
Real Madrid's Vinicius Junior, centre confronts Valencia fans along with some of his team mates during a Spanish La Liga soccer match between Valencia and Real Madrid, at the Mestalla stadium in Valencia, Spain, Sunday, May 21, 2023. The game was temporarily stopped when Vinicius said a fan had insulted him from the stands. He was later sent off after clashing with Valencia players. (AP Photo/Alberto Saiz)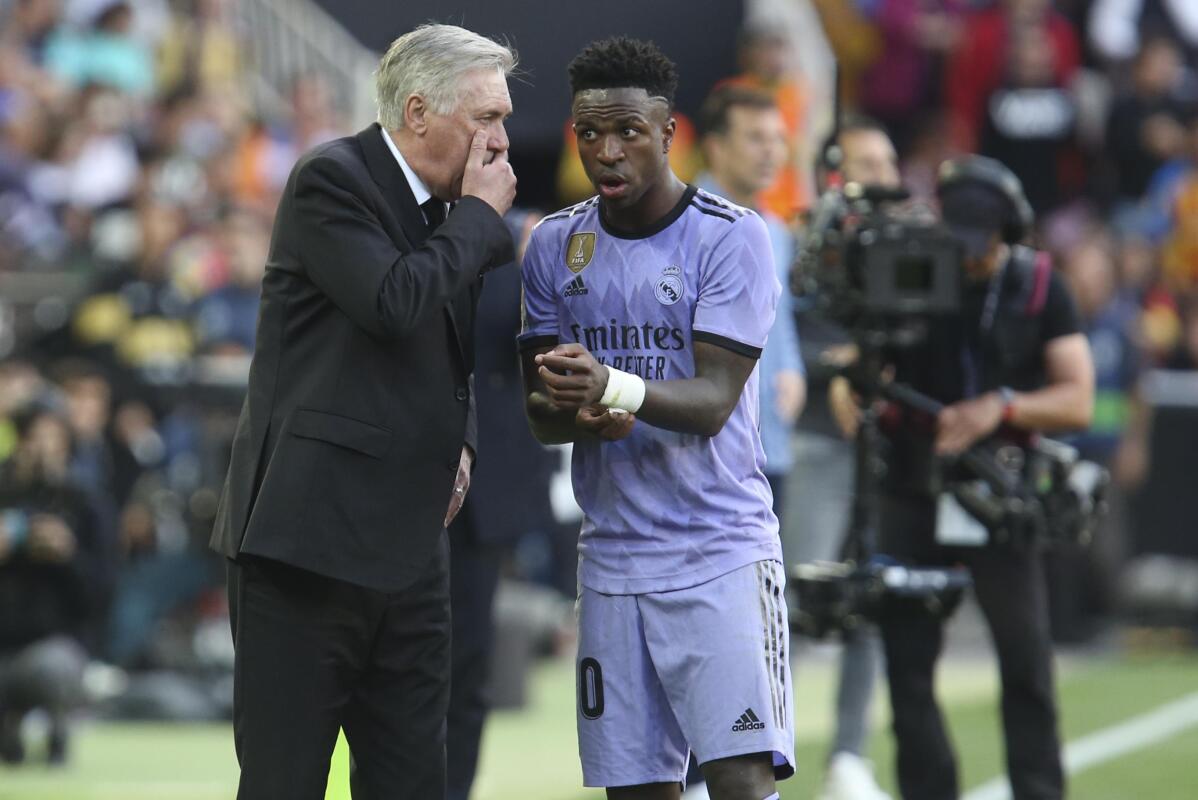 8 of 8

|
Real Madrid's head coach Carlo Ancelotti, left, speaks to Real Madrid's Vinicius Junior during a Spanish La Liga soccer match between Valencia and Real Madrid, at the Mestalla stadium in Valencia, Spain, Sunday, May 21, 2023. (AP Photo/Alberto Saiz)
Spanish acknowledge they have a racism problem after more abuse of Vinícius Júnior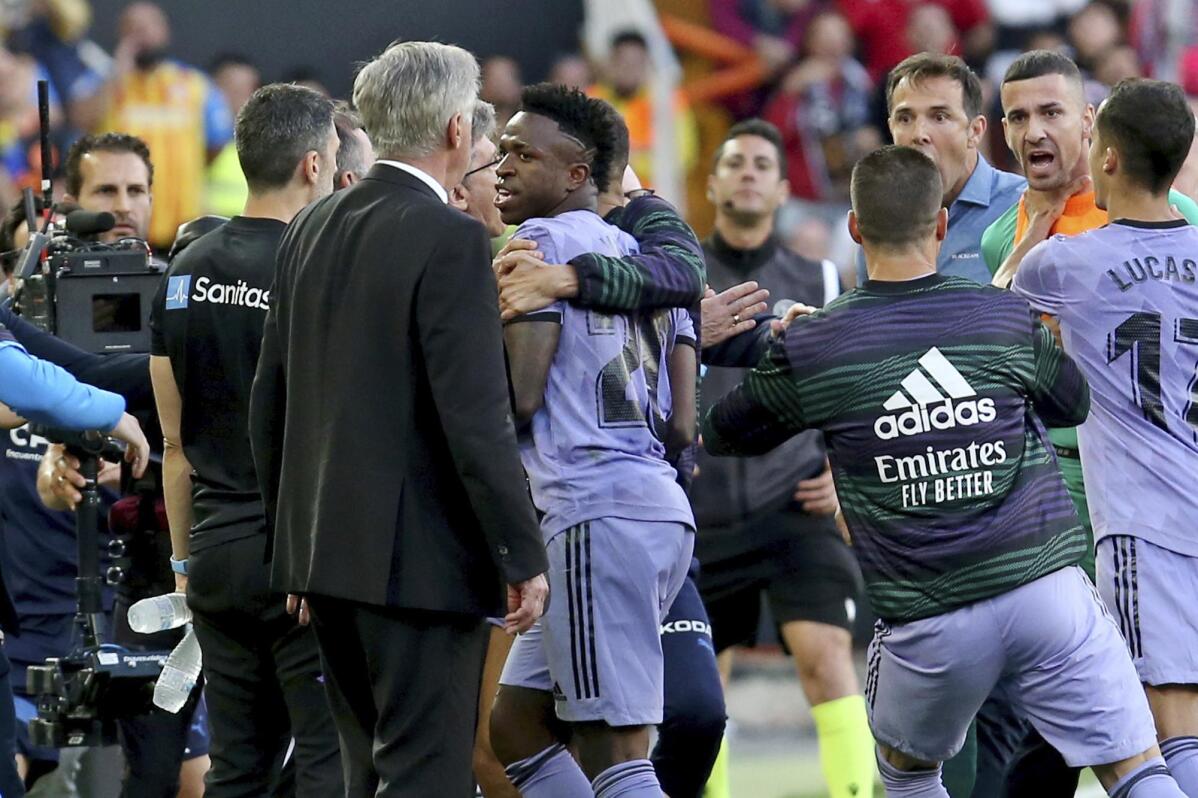 1 of 8

|
Real Madrid's Vinicius Junior, centre, walks past head coach Carlo Ancelotti, front left, after being sent off the pitch during a Spanish La Liga soccer match between Valencia and Real Madrid, at the Mestalla stadium in Valencia, Spain, Sunday, May 21, 2023. The game was temporarily stopped when Vinicius said a fan had insulted him from the stands. He was later sent off after clashing with Valencia players. (AP Photo/Alberto Saiz)
1 of 8
Real Madrid's Vinicius Junior, centre, walks past head coach Carlo Ancelotti, front left, after being sent off the pitch during a Spanish La Liga soccer match between Valencia and Real Madrid, at the Mestalla stadium in Valencia, Spain, Sunday, May 21, 2023. The game was temporarily stopped when Vinicius said a fan had insulted him from the stands. He was later sent off after clashing with Valencia players. (AP Photo/Alberto Saiz)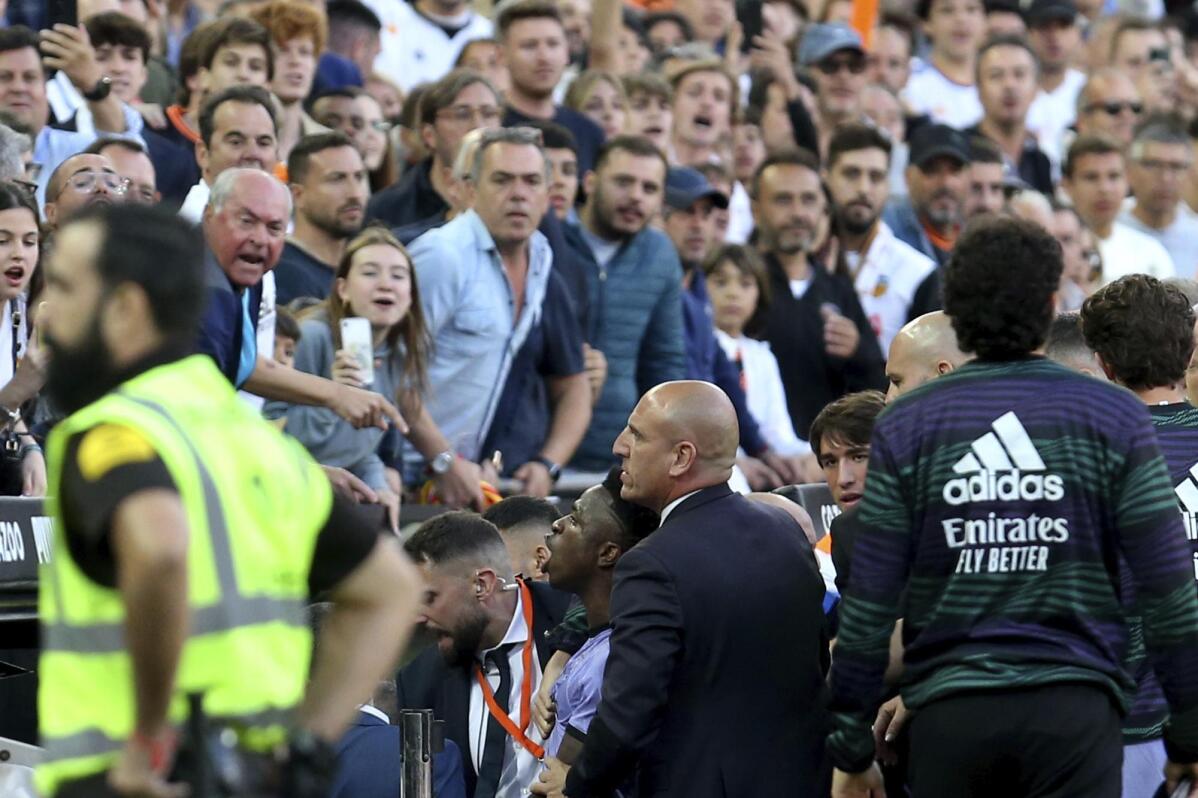 2 of 8

|
Real Madrid's Vinicius Junior, lower centre, reacts towards Valencia fans after being sent off during a Spanish La Liga soccer match between Valencia and Real Madrid, at the Mestalla stadium in Valencia, Spain, Sunday, May 21, 2023. The game was temporarily stopped when Vinicius said a fan had insulted him from the stands. He was later sent off after clashing with Valencia players. (AP Photo/Alberto Saiz)
2 of 8
Real Madrid's Vinicius Junior, lower centre, reacts towards Valencia fans after being sent off during a Spanish La Liga soccer match between Valencia and Real Madrid, at the Mestalla stadium in Valencia, Spain, Sunday, May 21, 2023. The game was temporarily stopped when Vinicius said a fan had insulted him from the stands. He was later sent off after clashing with Valencia players. (AP Photo/Alberto Saiz)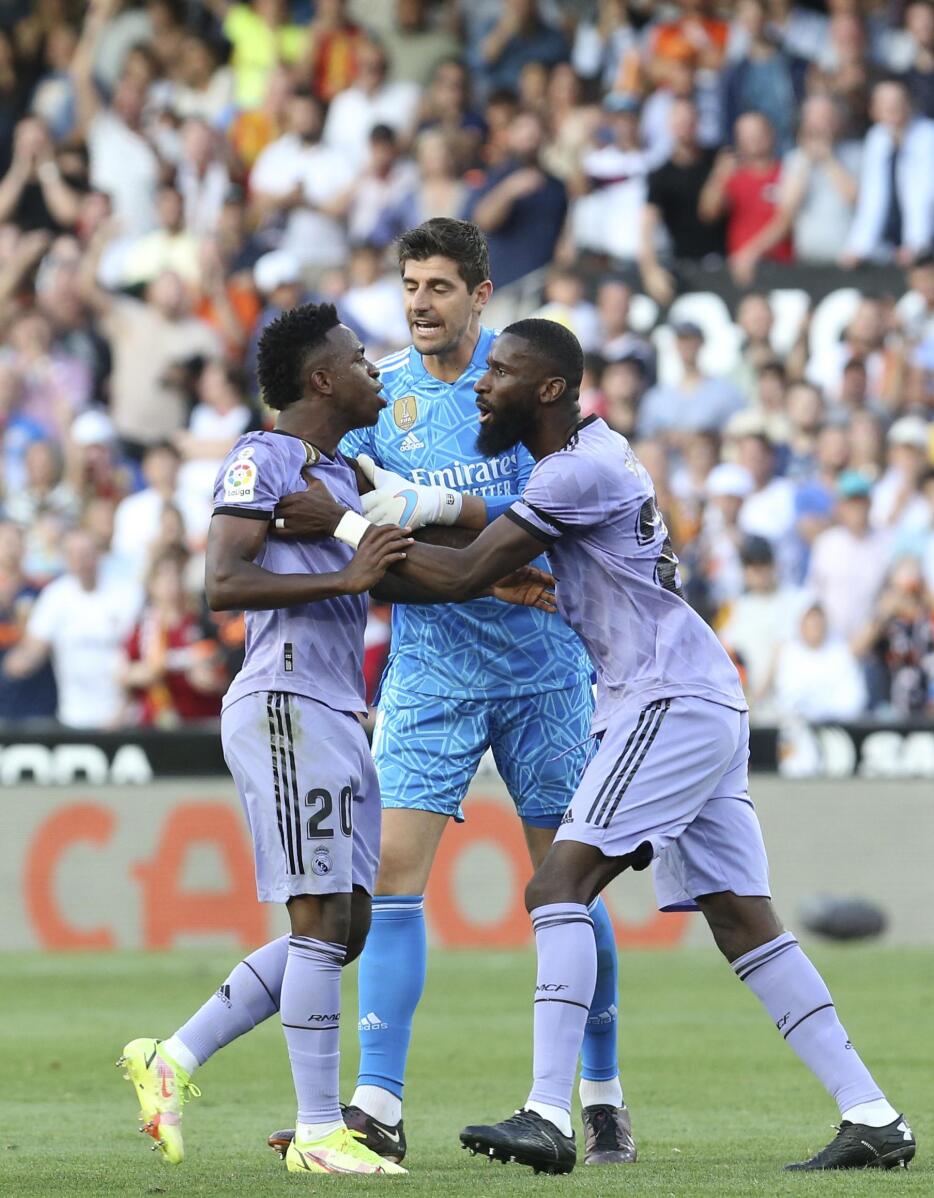 3 of 8

|
Real Madrid's goalkeeper Thibaut Courtois, centre and Antonio Rudiger, right, try to calm Vinicius Junior during a Spanish La Liga soccer match between Valencia and Real Madrid, at the Mestalla stadium in Valencia, Spain, Sunday, May 21, 2023. The game was temporarily stopped when Vinicius said a fan had insulted him from the stands. He was later sent off after clashing with Valencia players. (AP Photo/Alberto Saiz)
3 of 8
Real Madrid's goalkeeper Thibaut Courtois, centre and Antonio Rudiger, right, try to calm Vinicius Junior during a Spanish La Liga soccer match between Valencia and Real Madrid, at the Mestalla stadium in Valencia, Spain, Sunday, May 21, 2023. The game was temporarily stopped when Vinicius said a fan had insulted him from the stands. He was later sent off after clashing with Valencia players. (AP Photo/Alberto Saiz)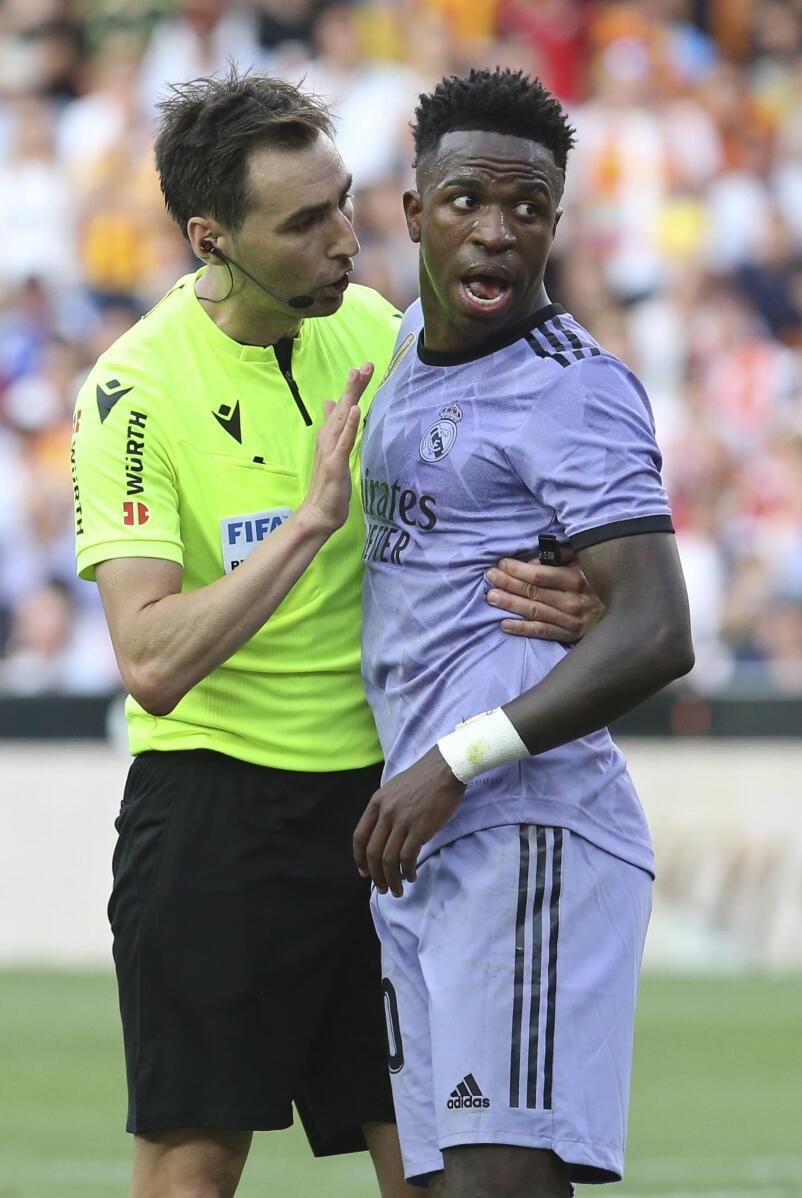 4 of 8

|
Referee Ricardo De Burgos Bengoetxea, left, speaks with Real Madrid's Vinicius Junior during a Spanish La Liga soccer match between Valencia and Real Madrid, at the Mestalla stadium in Valencia, Spain, Sunday, May 21, 2023. The game was temporarily stopped when Vinicius said a fan had insulted him from the stands. He was later sent off after clashing with Valencia players. (AP Photo/Alberto Saiz)
4 of 8
Referee Ricardo De Burgos Bengoetxea, left, speaks with Real Madrid's Vinicius Junior during a Spanish La Liga soccer match between Valencia and Real Madrid, at the Mestalla stadium in Valencia, Spain, Sunday, May 21, 2023. The game was temporarily stopped when Vinicius said a fan had insulted him from the stands. He was later sent off after clashing with Valencia players. (AP Photo/Alberto Saiz)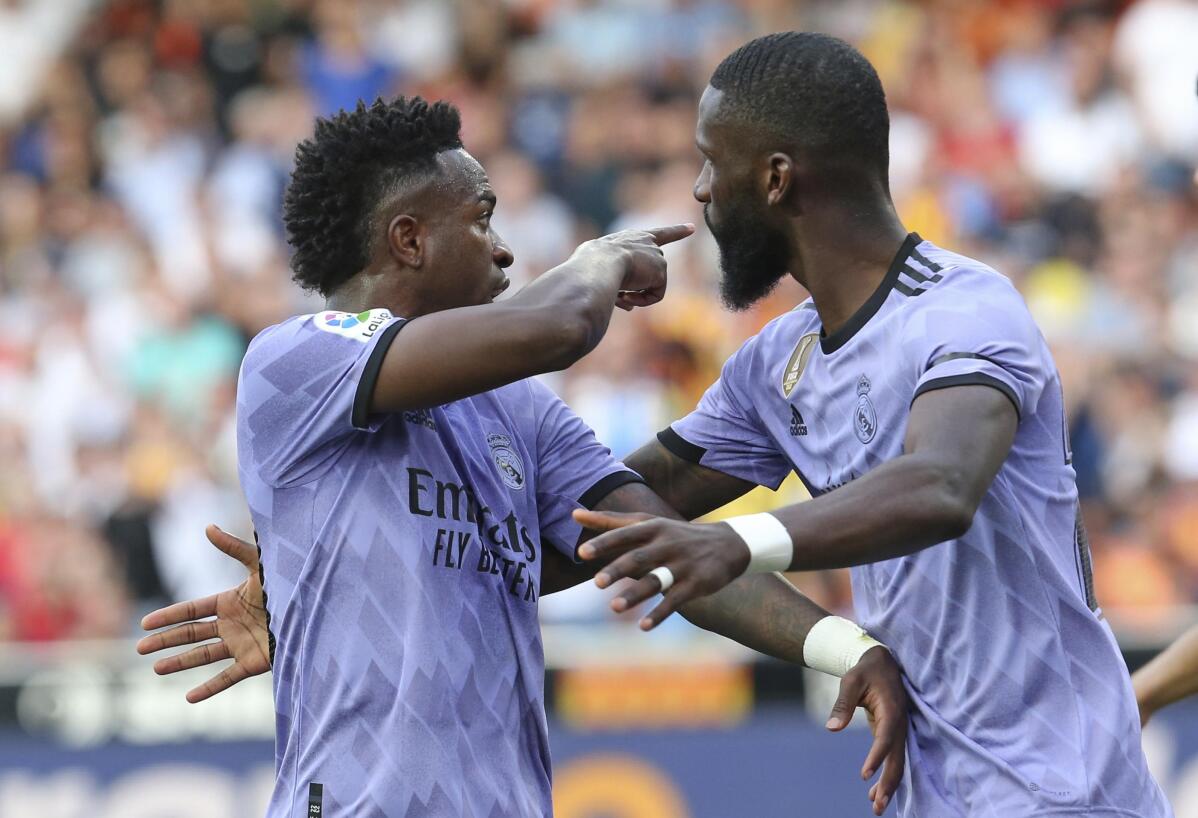 5 of 8

|
Real Madrid's Vinicius Junior, left, confronts Valencia fans as Antonio Rudiger tries to calm him down during a Spanish La Liga soccer match between Valencia and Real Madrid, at the Mestalla stadium in Valencia, Spain, Sunday, May 21, 2023. The game was temporarily stopped when Vinicius said a fan had insulted him from the stands. He was later sent off after clashing with Valencia players. (AP Photo/Alberto Saiz)
5 of 8
Real Madrid's Vinicius Junior, left, confronts Valencia fans as Antonio Rudiger tries to calm him down during a Spanish La Liga soccer match between Valencia and Real Madrid, at the Mestalla stadium in Valencia, Spain, Sunday, May 21, 2023. The game was temporarily stopped when Vinicius said a fan had insulted him from the stands. He was later sent off after clashing with Valencia players. (AP Photo/Alberto Saiz)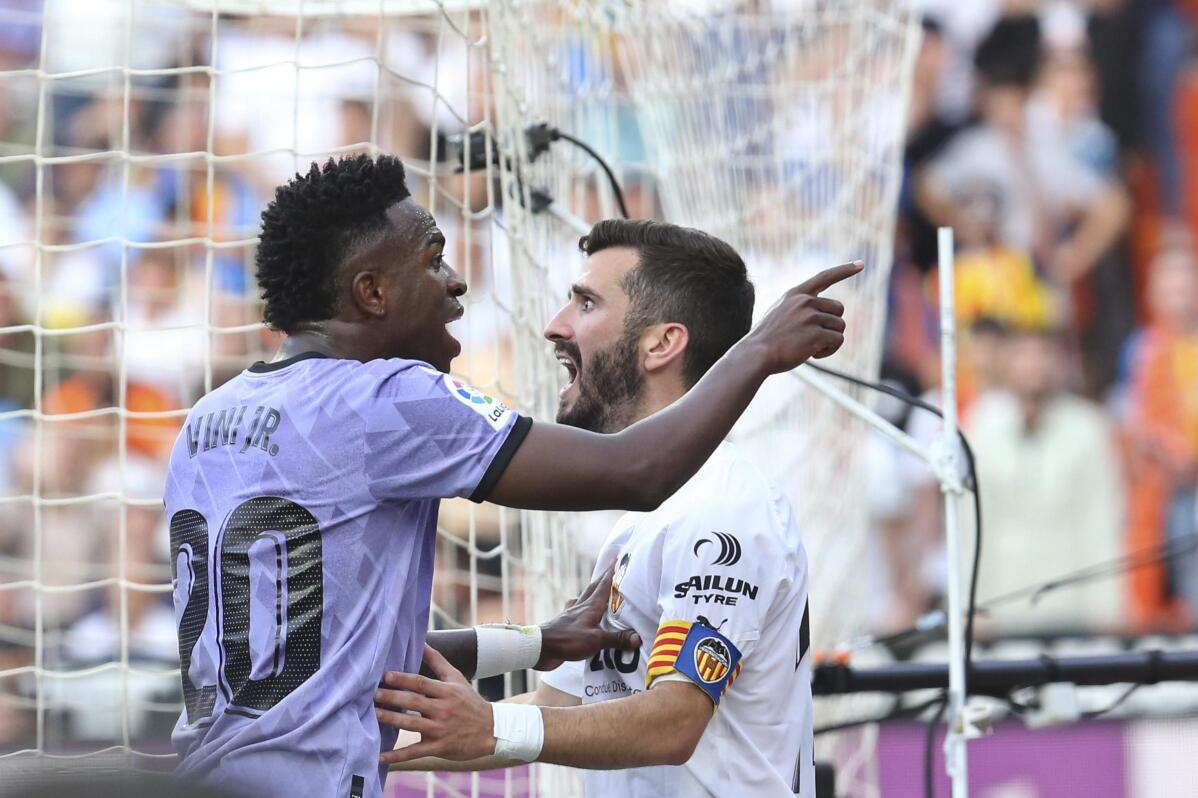 6 of 8

|
Real Madrid's Vinicius Junior, left, confronts Valencia fans in front of Valencia's Jose Luis Gaya during a Spanish La Liga soccer match between Valencia and Real Madrid, at the Mestalla stadium in Valencia, Spain, Sunday, May 21, 2023. The game was temporarily stopped when Vinicius said a fan had insulted him from the stands. He was later sent off after clashing with Valencia players. (AP Photo/Alberto Saiz)
6 of 8
Real Madrid's Vinicius Junior, left, confronts Valencia fans in front of Valencia's Jose Luis Gaya during a Spanish La Liga soccer match between Valencia and Real Madrid, at the Mestalla stadium in Valencia, Spain, Sunday, May 21, 2023. The game was temporarily stopped when Vinicius said a fan had insulted him from the stands. He was later sent off after clashing with Valencia players. (AP Photo/Alberto Saiz)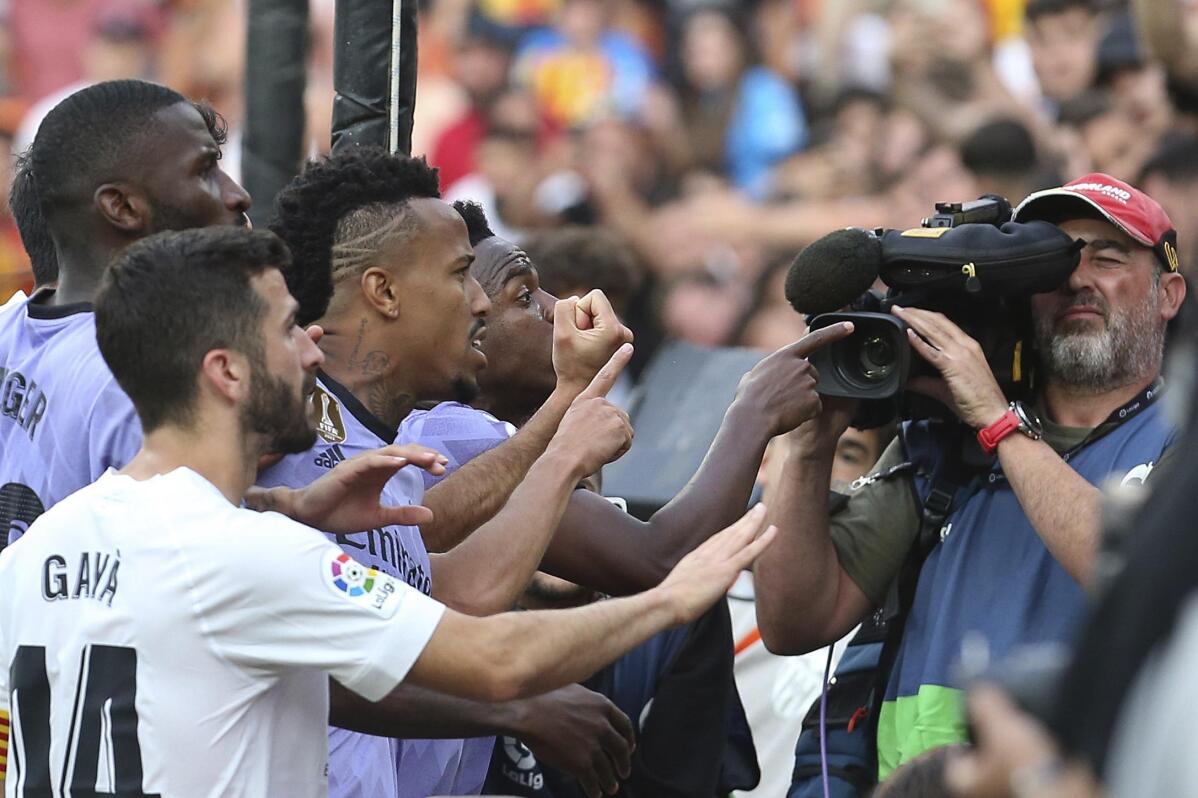 7 of 8

|
Real Madrid's Vinicius Junior, centre confronts Valencia fans along with some of his team mates during a Spanish La Liga soccer match between Valencia and Real Madrid, at the Mestalla stadium in Valencia, Spain, Sunday, May 21, 2023. The game was temporarily stopped when Vinicius said a fan had insulted him from the stands. He was later sent off after clashing with Valencia players. (AP Photo/Alberto Saiz)
7 of 8
Real Madrid's Vinicius Junior, centre confronts Valencia fans along with some of his team mates during a Spanish La Liga soccer match between Valencia and Real Madrid, at the Mestalla stadium in Valencia, Spain, Sunday, May 21, 2023. The game was temporarily stopped when Vinicius said a fan had insulted him from the stands. He was later sent off after clashing with Valencia players. (AP Photo/Alberto Saiz)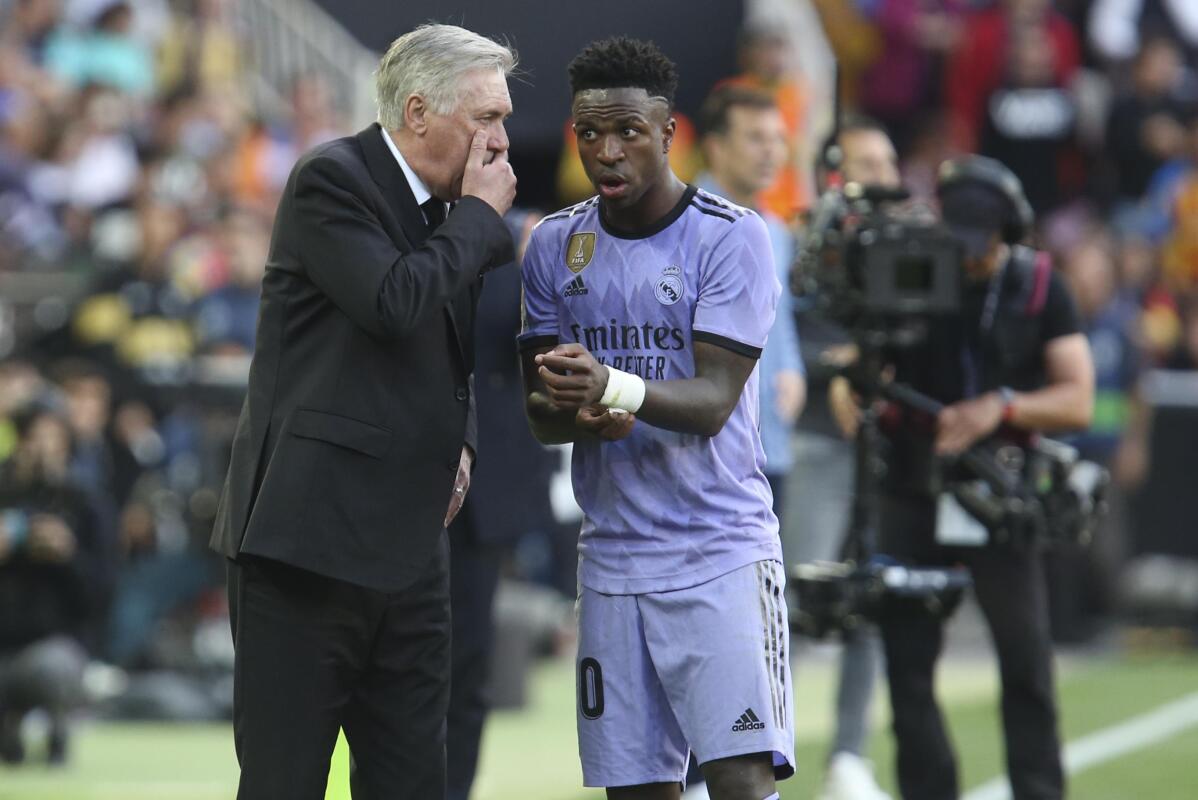 8 of 8

|
Real Madrid's head coach Carlo Ancelotti, left, speaks to Real Madrid's Vinicius Junior during a Spanish La Liga soccer match between Valencia and Real Madrid, at the Mestalla stadium in Valencia, Spain, Sunday, May 21, 2023. (AP Photo/Alberto Saiz)
8 of 8
Real Madrid's head coach Carlo Ancelotti, left, speaks to Real Madrid's Vinicius Junior during a Spanish La Liga soccer match between Valencia and Real Madrid, at the Mestalla stadium in Valencia, Spain, Sunday, May 21, 2023. (AP Photo/Alberto Saiz)
MADRID (AP) — One after another, the racial insults kept coming.
The "monkey" chants outside one stadium, the offensive gestures during a game, the effigy hung off a highway bridge.
One by one, Vinícius Júnior showed them on a video on Instagram on Monday, making sure they were there for everybody to see.
"When will it be enough?" was the message with the video. "Racism is a crime. Not to punish is to be an accomplice."
The president of Spain's soccer federation acknowledged they have a racism problem after yet another case of abuse against the Real Madrid forward. Madrid has asked authorities to investigate the latest incident as a hate crime.
Officials, players and other athletes continued to show solidarity with Vinícius, who on Sunday considered leaving the field after facing racist taunts from fans at Valencia during Real Madrid's 1-0 loss in the Spanish league.
"We have a problem of behavior, of education, of racism," Spanish federation president Luis Rubiales said on Monday. "And as long as there is one fan or one group of fans making insults based on someone's sexual orientation or skin color or belief, then we have a serious problem. A serious problem that stains an entire team, an entire fan base and an entire country."
Valencia said it banned for life one of its fans and was looking to identify others who may have insulted Vinícius at Mestalla Stadium.
"From the moment that the unfortunate events occurred, the club has analyzed all the available footage, working alongside the authorities as rapidly as possible to clarify what happened in order to be able to act quickly and forcefully," Valencia said in a statement.
Real Madrid asked authorities to investigate the abuse, saying the club considered the incident to be a hate crime.
"Real Madrid strongly condemns the events that took place yesterday (Sunday) against our player," the club said. "These events represent a direct attack on the social and democratic model of coexistence of our state based on the rule of law."
The club later released another statement calling for "immediate and decisive action by all those with responsibility and competence to tackle the evils of racism, xenophobia and hatred." It criticized Rubiales for the federation's lack of action and failure to impose FIFA's protocols to stop matches in cases of racism.
"The image of our football is seriously damaged and marred in the eyes of the whole world," Madrid said.
The Spanish league has made nine similar formal complaints for racist abuse against Vinícius over the last two seasons, but most of the cases have been shelved by prosecutors. Another complaint was expected to be made after an investigation into what happened in Valencia was completed.
Supporters have been fined and banned from stadiums for their abuse, but so far only a Mallorca fan may end up going on trial for allegedly racially insulting the Brazilian during a game. The first trial against a fan accused of racial abuse in Spanish professional soccer is expected to happen at some point this year; the case involved Athletic Bilbao forward Iñaki Williams, who was insulted by an Espanyol supporter in a match in 2020.
"I'm curious to see what happens," said Real Madrid coach Carlo Ancelotti, who on Sunday considered taking Vinícius out of the game after he was insulted. "Nothing will happen, because this has already taken place several times in other stadiums and nothing has been done. Nothing. We have to evaluate this situation, because it is very serious."
Barcelona coach Xavi said there was a need to educate and punish people, and called for harsher action by soccer officials in cases of racism during matches.
"It's time to put an end to this," Xavi said. "If there's an insult, out, we stop playing, it's over. I think it's the message to the president of the league and the federation. We have to put an end to this. It's the right time."
Vinícius, who is Black and has been subjected to repeated racist abuse since he arrived from Brazil five years ago, said after the match that the Spanish league "now belongs to racists" and Spain "is seen as a racist country."
The Spanish government and soccer officials condemned the insults against Vinícius but were quick to point out they didn't agree with the player's generalization about Spain or its people being racist.
In the sports world, Vinícius received nearly unconditional support, from Brazil teammate Neymar to Formula One driver Lewis Hamilton, who posted an Instagram story with the message "Standing with you, Vini."
"Full solidarity to Vinicius," FIFA president Gianni Infantino said. "There is no place for racism in football or in society and FIFA stands by all players who have found themselves in such a situation. Events during the match between Valencia and Real Madrid show that this needs to be the case."
Vinícius isn't the only player in Spain, or in European soccer, to face racist abuse. But the Brazilian has been the focus of much of the hate in recent years, particularly this season after he started dancing in his goal celebrations. In January, an effigy of the player was hung off a highway bridge in Madrid.
"You're not alone," France forward Kylian Mbappé said on Instagram. "We are with you and we support you."
Former Brazil and Real Madrid striker Ronaldo said, "Another case of racism against Vinícius in the Spanish league. Until when? As long as there is impunity, there will be racism."
Brazilian President Luiz Inácio Lula da Silva and several cabinet ministers backed Vinicius and were critical of Spanish soccer.
"It is not fair that a poor boy who is winning in his life, becoming one of the best in the world, certainly the best at Real Madrid, is insulted in every stadium he goes to," Lula said.
Spanish league president Javier Tebas criticized Vinícius for attacking the league, saying the player didn't show up for talks on the subject of racism that he requested himself.
The league claims it has authority to only denounce cases, and it's up to local authorities to take action against the perpetrators, and the soccer federation to punish clubs and referees. But FIFA updated its disciplinary code in 2013 — with options for point deductions and mandatory relegation for teams in the most serious cases — and asked competition organizers worldwide to follow.
Vinícius wasn't happy with Tebas' stance.
"Instead of criticizing racists, the league president shows up on social media to attack me," Vinícius said. "Although you may say otherwise or pretend not to notice, the image of your championship is shaken. Omitting yourself only makes you equal to the racists. I'm not your friend to talk about racism with you. I want actions and punishment."
___
AP Sports Writer Graham Dunbar in Geneva contributed to this report.
___
Tales Azzoni on Twitter: http://twitter.com/tazzoni
___
More AP soccer: https://apnews.com/hub/Soccer and https://twitter.com/AP_Sports