Vinícius Júnior soccer racism dispute ignites heated off-field debate in Spain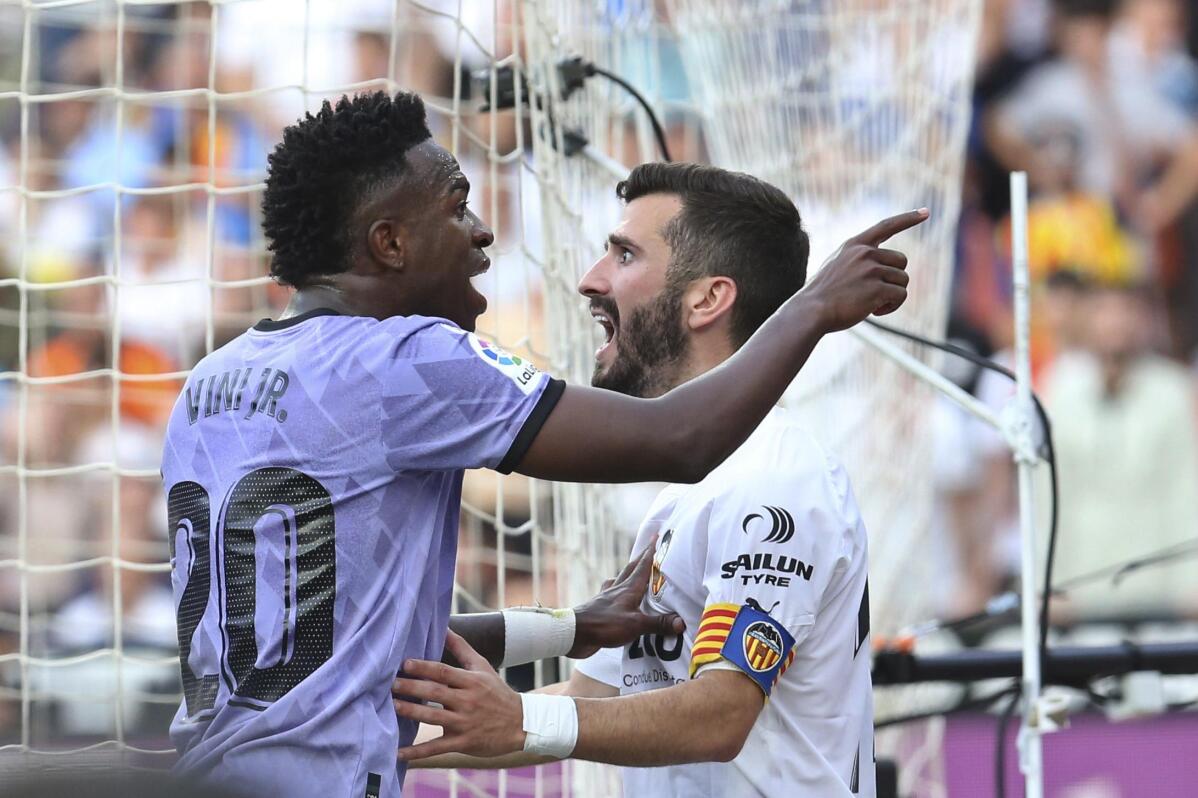 1 of 16

|
FILE - Real Madrid's Vinicius Junior, left, confronts Valencia fans standing in front of Valencia's Jose Luis Gaya during a Spanish La Liga soccer match between Valencia and Real Madrid, at the Mestalla stadium in Valencia, Spain, Sunday, May 21, 2023. Repeated racist insults against Brazilian soccer star Vincius Junior have unleashed a heated debate in Spain about tolerance for racism in a society that is becoming rapidly more diverse on and off the field. (AP Photo/Alberto Saiz, File)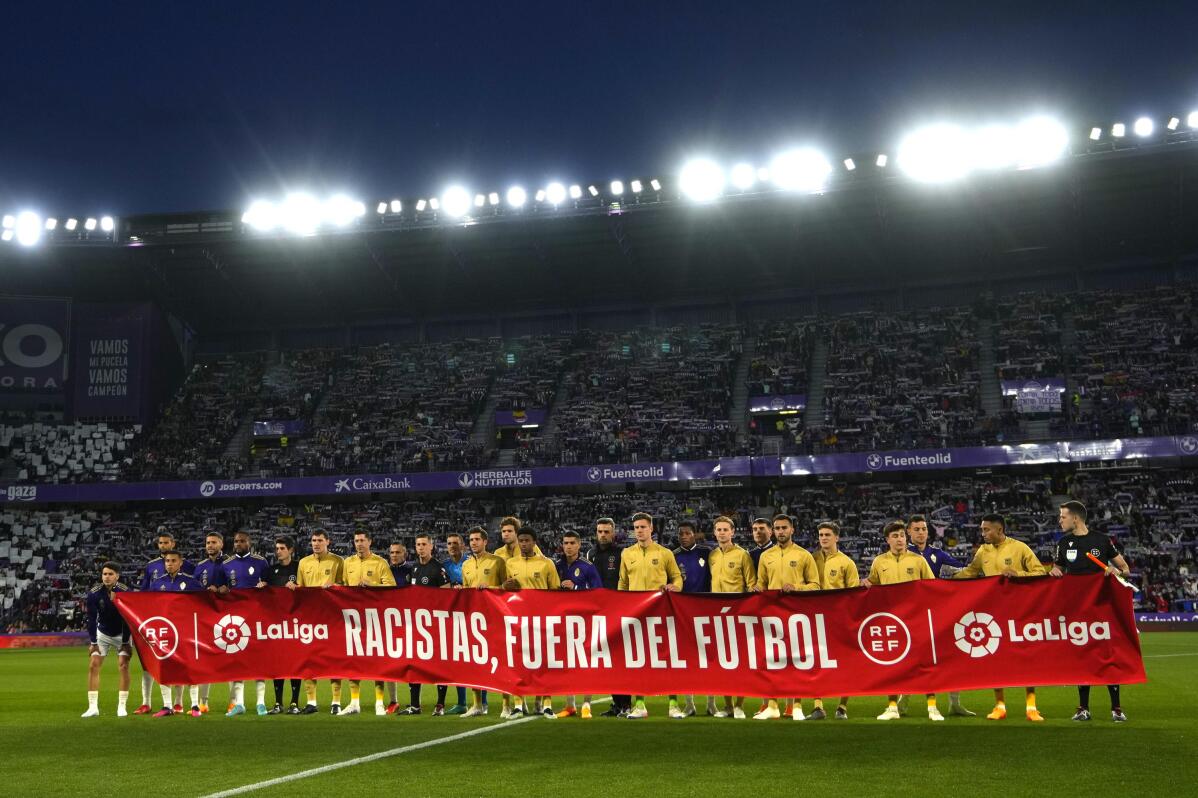 2 of 16

|
Players show a banner reading in Spanish, "Racists, keep out of soccer" before the Spanish La Liga soccer match between Valladolid and FC Barcelona at the Jose Zorrilla stadium in Valladolid, Spain, Tuesday, May 23, 2023. Repeated racist insults against Real Madrid's Brazilian soccer star Vincius Junior have unleashed a heated debate in Spain about tolerance for racism in a society that is becoming rapidly more diverse on and off the field. (AP Photo/Manu Fernandez)
3 of 16

|
FILE - People gather to protest after the death of a Senegalese street vendor at the Lavapies neighborhood in Madrid, Friday, March 16, 2018. Repeated racist insults against Real Madrid's Brazilian soccer star Vincius Junior have unleashed a heated debate in Spain about tolerance for racism in a society that is becoming rapidly more diverse on and off the field. (AP Photo/Francisco Seco, File)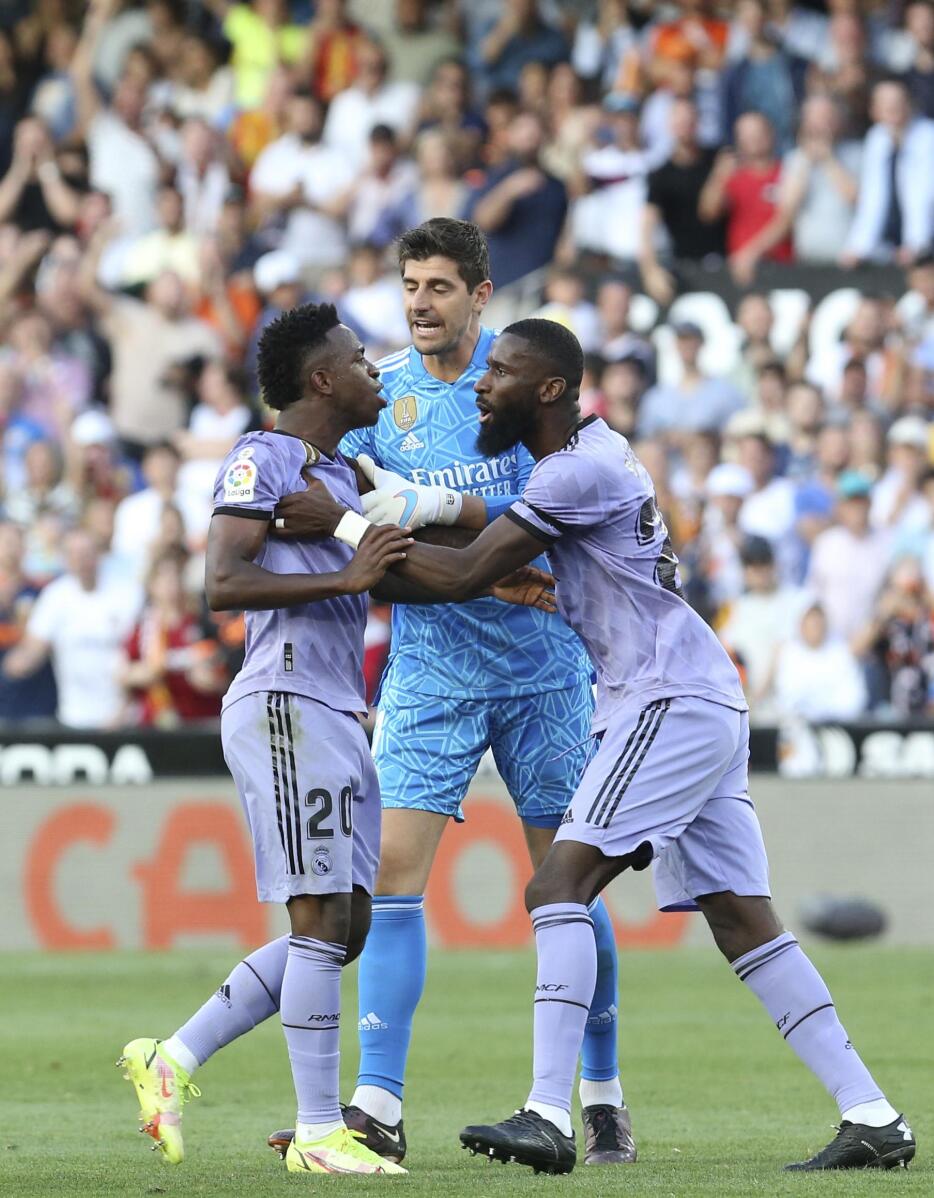 4 of 16

|
FILE - Real Madrid's goalkeeper Thibaut Courtois, center, and Antonio Rudiger, right, try to calm Vinicius Junior who was incensed by racist comments during a Spanish La Liga soccer match between Valencia and Real Madrid, at the Mestalla stadium in Valencia, Spain, Sunday, May 21, 2023. Repeated racist insults against Real Madrid's Brazilian soccer star Vincius Junior have unleashed a heated debate in Spain about tolerance for racism in a society that is becoming rapidly more diverse on and off the field. (AP Photo/Alberto Saiz, File)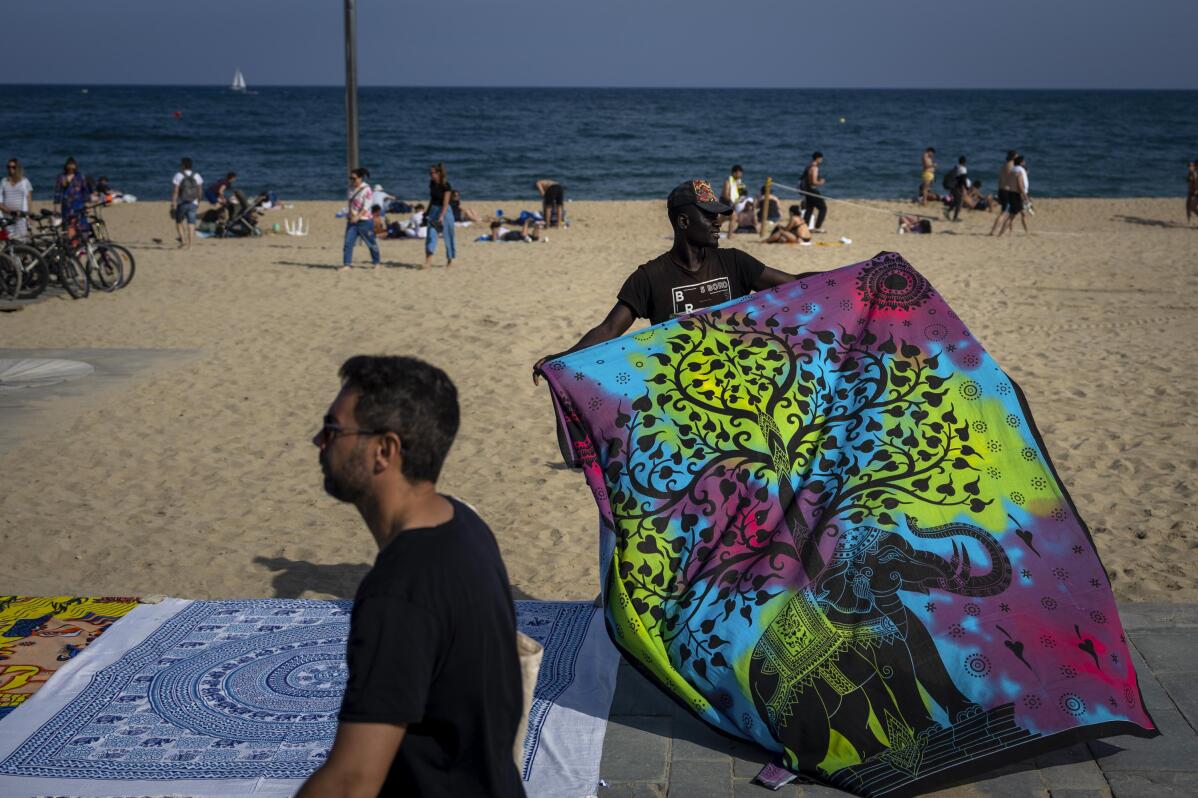 5 of 16

|
Street vendors show their fabrics to tourists walking along the beach in Barcelona, Spain, Tuesday, May 23, 2023. Repeated racist insults against Real Madrid's Brazilian soccer star Vincius Junior have unleashed a heated debate in Spain about tolerance for racism in a society that is becoming rapidly more diverse on and off the field. (AP Photo/Emilio Morenatti)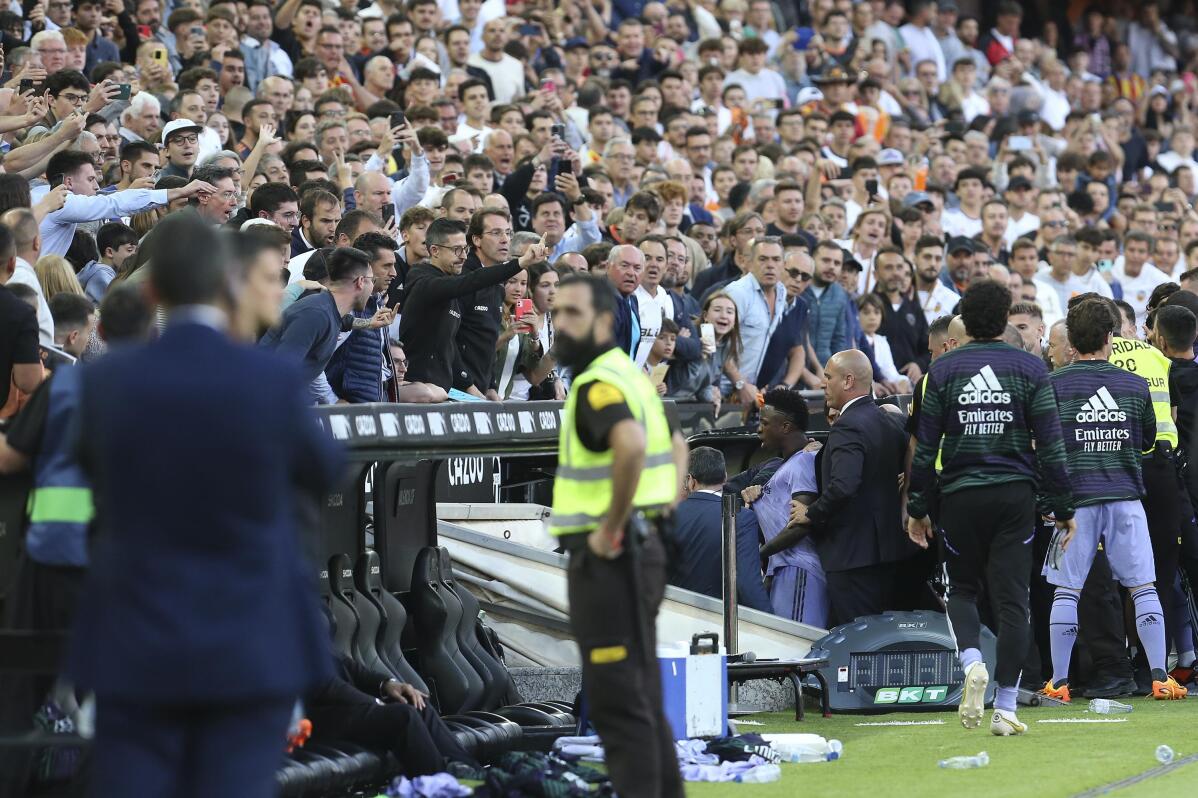 6 of 16

|
FILE - Real Madrid's Vinicius Junior, center, leaves the pitch after being shown a red card during a Spanish La Liga soccer match between Valencia and Real Madrid, at the Mestalla stadium in Valencia, Spain, Sunday, May 21, 2023. Repeated racist insults against Real Madrid's Brazilian soccer star Vincius Junior have unleashed a heated debate in Spain about tolerance for racism in a society that is becoming rapidly more diverse on and off the field. (AP Photo/Alberto Saiz, File)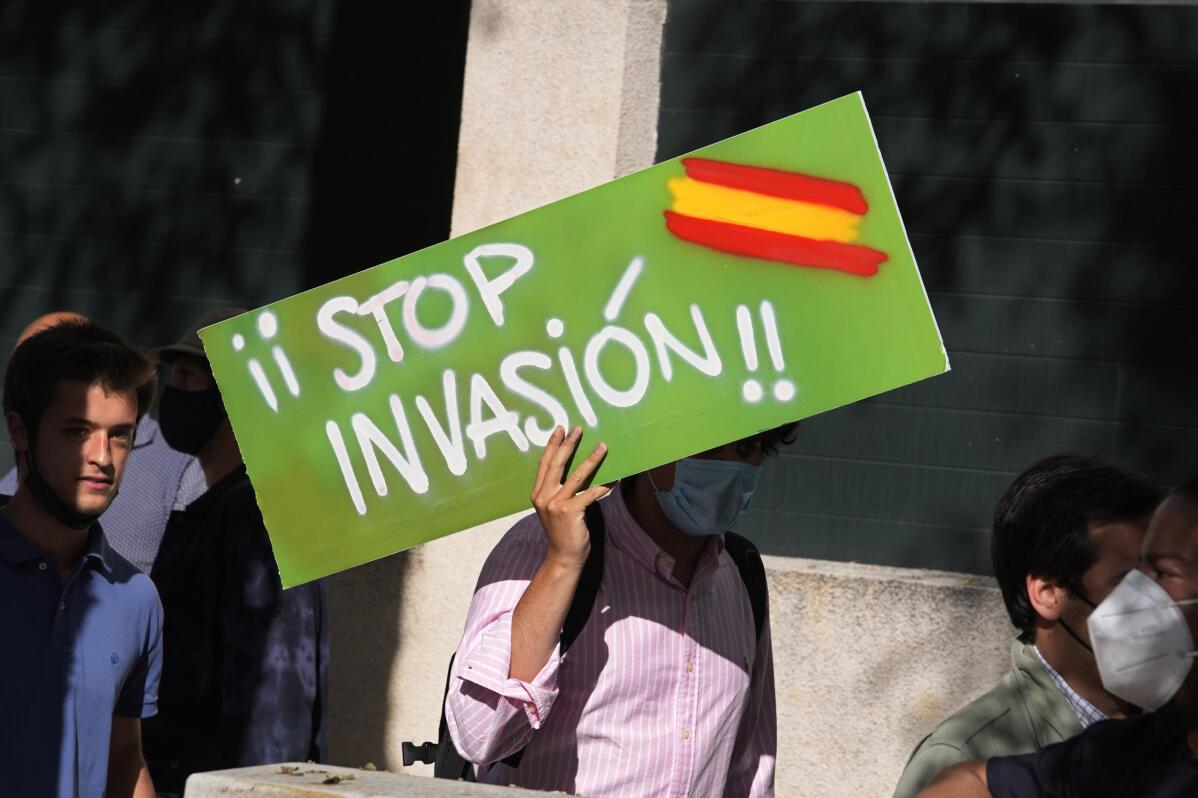 7 of 16

|
FILE - A man carries a sign with the colors of the Spanish in the corner as he takes part in a protest by right wing and extreme right wing groups outside the Moroccan embassy in Madrid, Spain, Tuesday, May 18, 2021. Repeated racist insults against Real Madrid's Brazilian soccer star Vincius Junior have unleashed a heated debate in Spain about tolerance for racism in a society that is becoming rapidly more diverse on and off the field. (AP Photo/Paul White, File)
8 of 16

|
Abraham Jiménez Enoa, a Cuban writer and journalist exiled in Spain poses for a photo during an interview with the Associated Press in Barcelona, Spain, Tuesday, May 23, 2023. Enoa says he identified with the racist abuse suffered by Brazilian soccer star Vinicius Junior. Since moving to Spain 16 months ago, Enoa has recorded in writing more than 180 episodes of daily racism he has faced, including being followed around stores, asked for his ID on public transport, and watching Spaniards compliment his lighter-skinned son. (AP Photo/Renata Brito)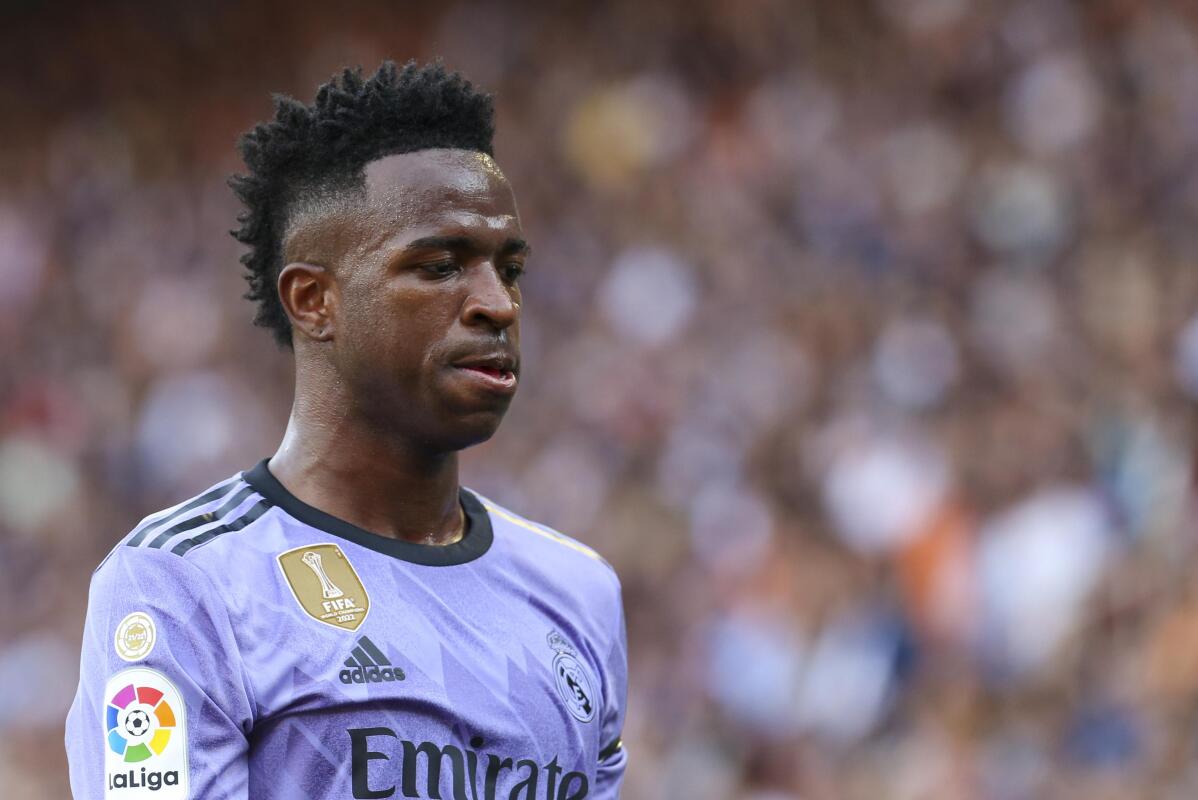 9 of 16

|
FILE - Real Madrid's Vinicius Junior looks down as he walks on the pitch during a Spanish La Liga soccer match between Valencia and Real Madrid, at the Mestalla stadium in Valencia, Spain, Sunday, May 21, 2023. Repeated racist insults against Real Madrid's Brazilian soccer star Vincius Junior have unleashed a heated debate in Spain about tolerance for racism in a society that is becoming rapidly more diverse on and off the field. (AP Photo/Alberto Saiz)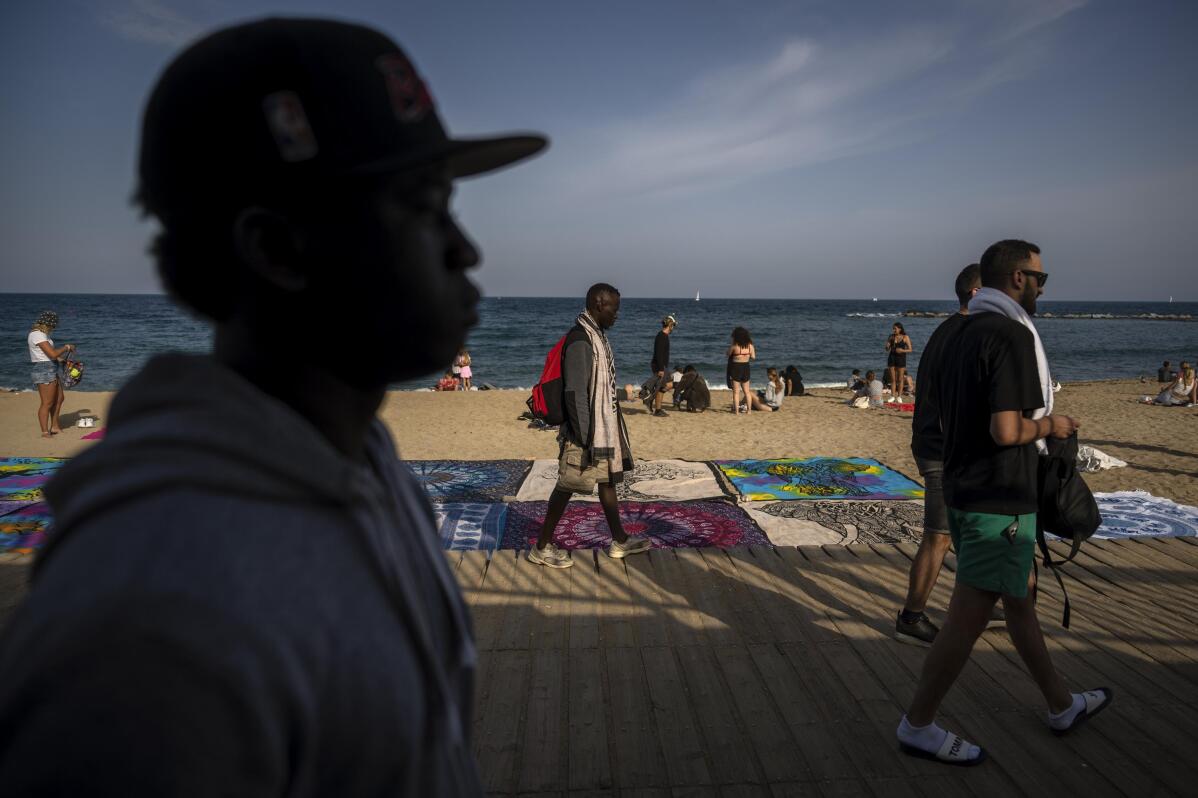 10 of 16

|
People walk past a street vendors selling fabrics at the beach in Barcelona, Spain, Tuesday, May 23, 2023. Repeated racist insults against Real Madrid's Brazilian soccer star Vincius Junior have unleashed a heated debate in Spain about tolerance for racism in a society that is becoming rapidly more diverse on and off the field. (AP Photo/Emilio Morenatti)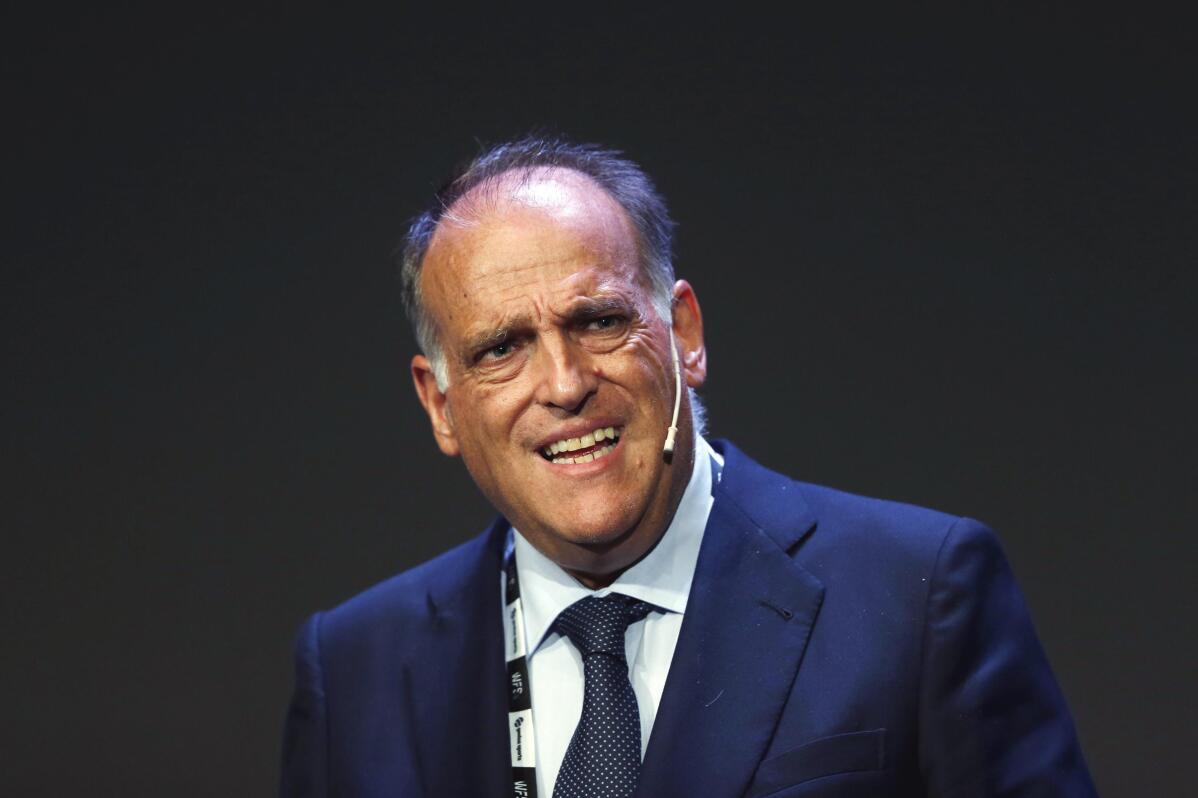 11 of 16

|
FILE - Javier Tebas, the president of the Spanish La Liga speaks during the World Football summit in Madrid, Spain, Monday, Sept. 24, 2018. Repeated racist insults against Real Madrid's Brazilian soccer star Vincius Junior have unleashed a heated debate in Spain about tolerance for racism in a society that is becoming rapidly more diverse on and off the field. Immediately following Sunday's incident, La Liga President Javier Tebas criticized the player for attacking the league, saying Vinicius didn't show up for talks on the subject of racism that he himself had requested. (AP Photo/Paul White, File)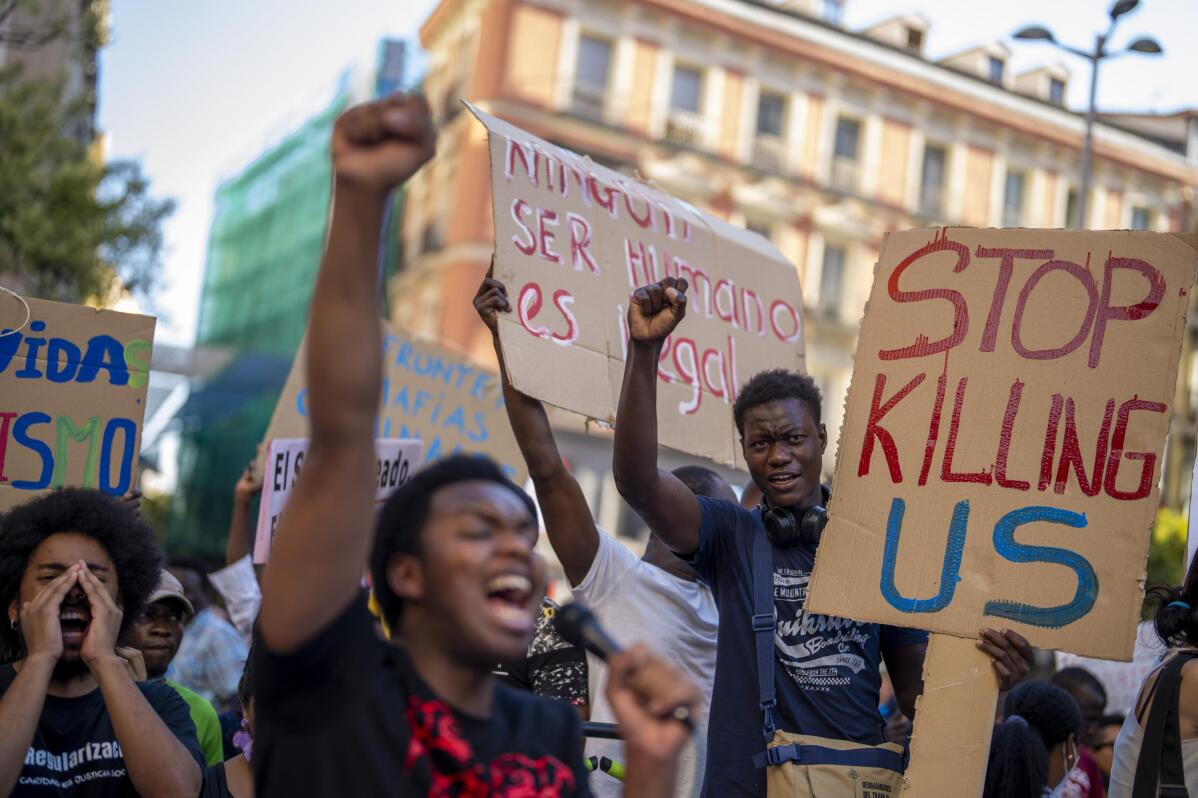 12 of 16

|
FILE - People shout slogans during a protest over the deaths of at least 23 people at the border between the Spanish enclave of Melilla and Morocco grow at Callao square in Madrid, Spain, Friday, July 1, 2022. (AP Photo/Manu Fernandez, File)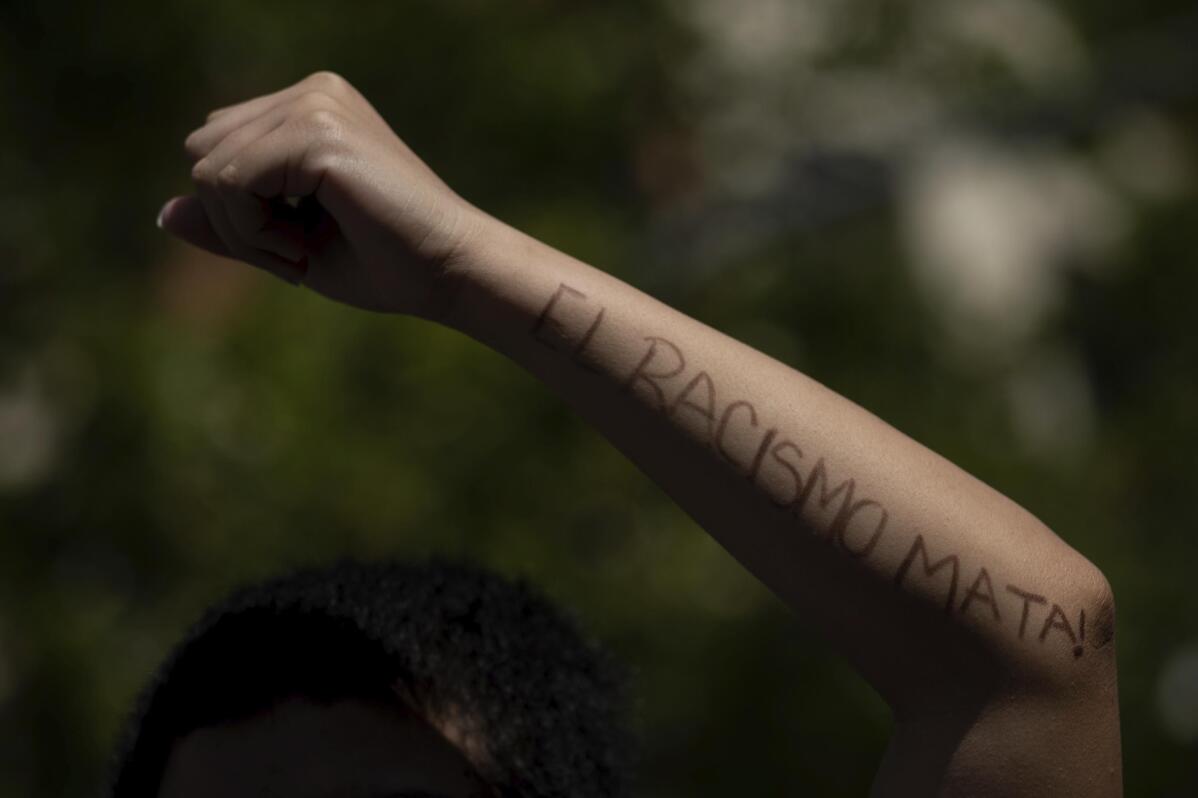 13 of 16

|
FILE - A demonstrator gathers in front the American embassy in Madrid, Spain, Sunday, June 7, 2020 during a demonstration over the death of George Floyd and victims of racial injustice. The text in the arm reads in Spanish "racism kills". (AP Photo/Bernat Armangue, File)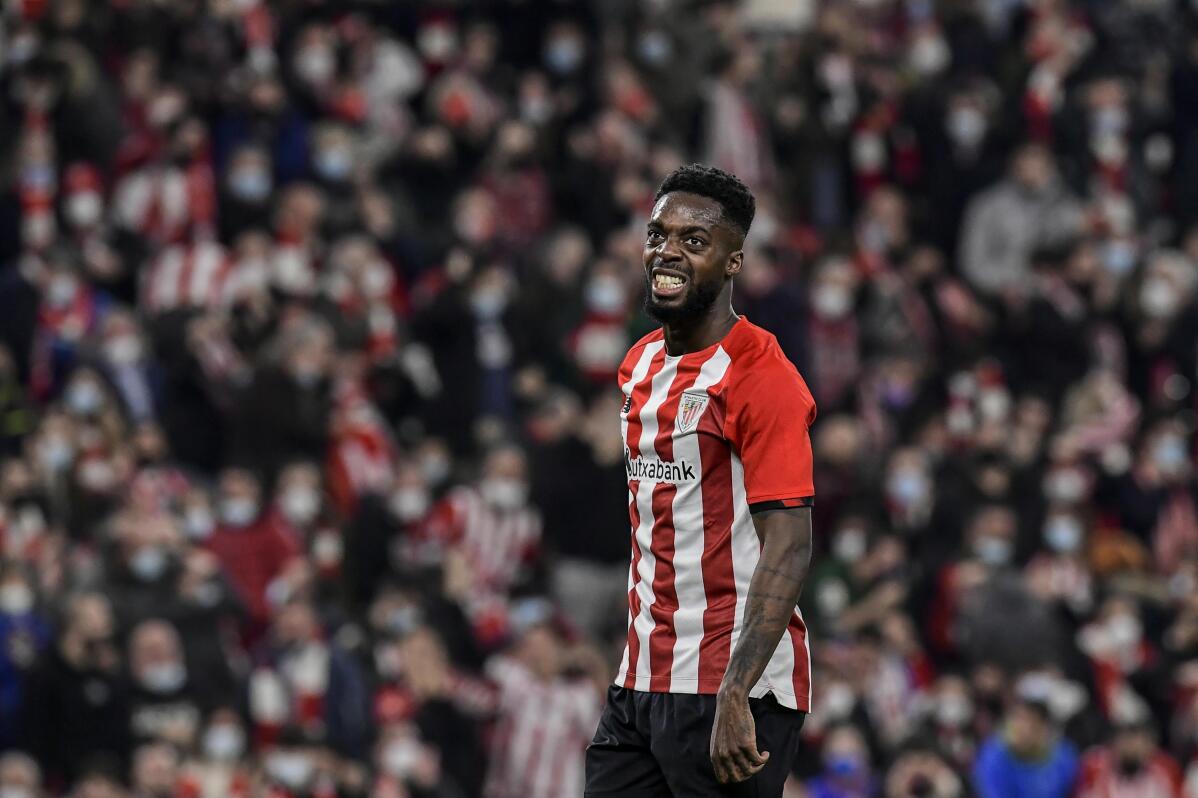 14 of 16

|
FILE - Athletic Bilbao's Inaki Williams reacts during a Spanish Copa del Rey semifinal first leg soccer match between Athletic Club and Valencia at the San Mames stadium in Bilbao, Spain, Thursday, Feb. 10, 2022. Repeated racist insults against Brazilian soccer star Vinicius Junior have unleashed a heated debate in Spain about tolerance for racism in a society that is becoming rapidly more diverse on and off the field. Williams, a forward on the Basque team Athletic Bilbao, tweeted his support for Vinicius with the words: "Racism is inadmissible in any circumstance." (AP Photo/Alvaro Barrientos, File)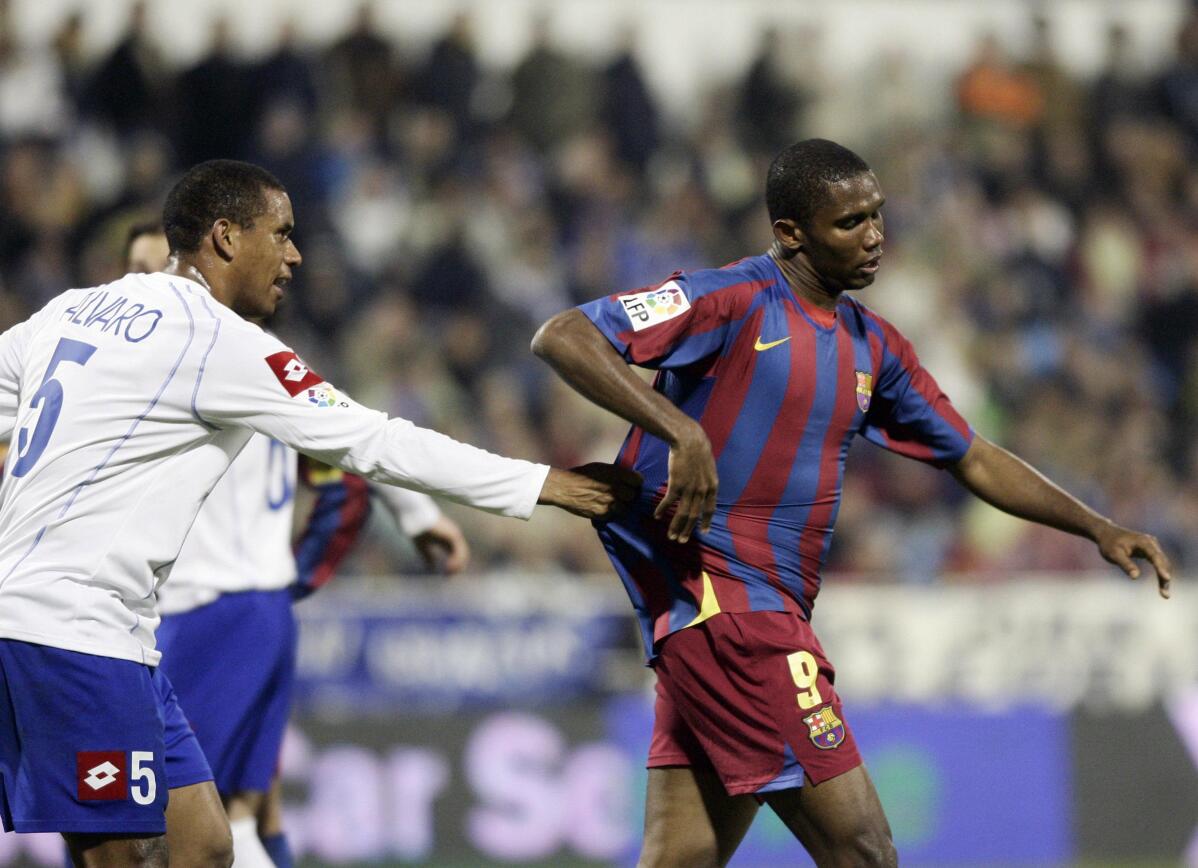 15 of 16

|
FILE - Zaragoza player Alvaro Maior De Aquino of Brazil, left tries to stop Barcelona's Samuel Eto'o of Cameroon, right, from leaving the field after racist taunts against him during a Spanish league soccer match against Zaragoza, in Zaragoza, Spain, Saturday Feb. 25, 2006. Repeated racist insults against Brazilian soccer star Vinícius Júnior have unleashed a heated debate in Spain about tolerance for racism in a society that is becoming rapidly more diverse on and off the field. (AP Photo/Manu Fernandez, File)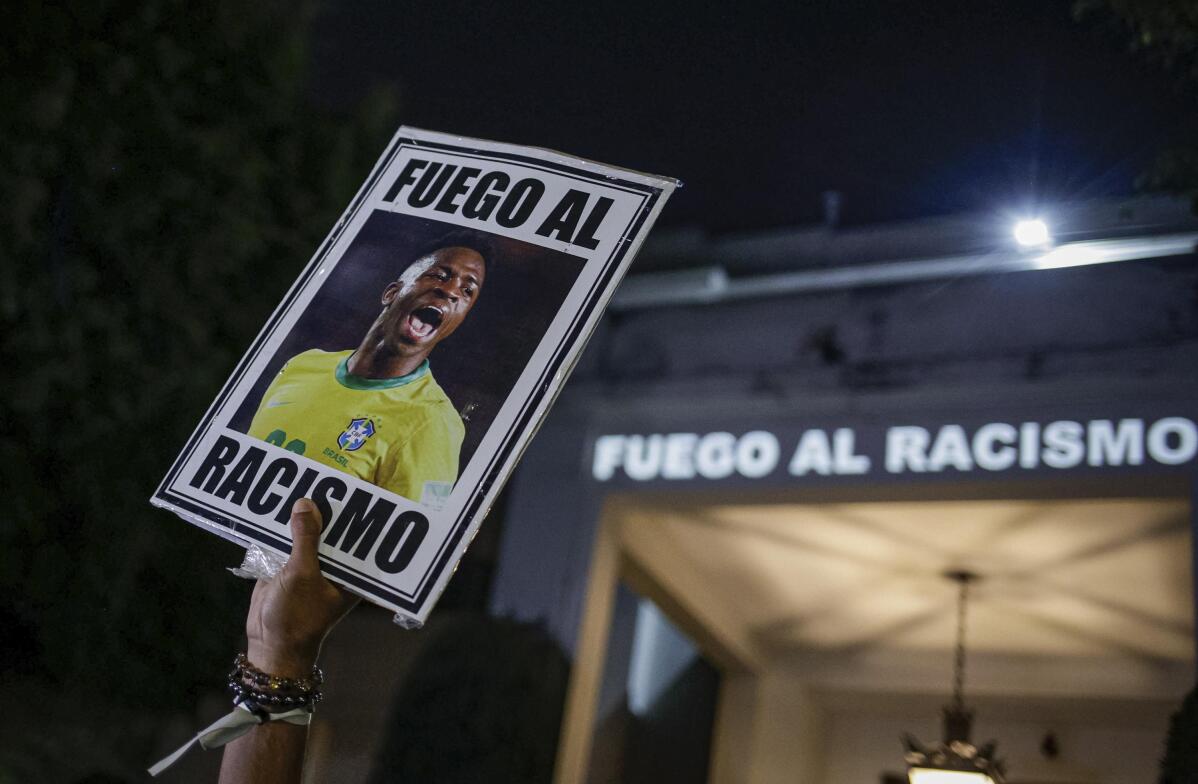 16 of 16

|
A protester holds up a photo of Brazilian soccer star Vinicius Jr and a message that reads in Portuguese; "Fight racism" during a protest against the racism suffered by Vinicius, who plays for Spain's Real Madrid, outside the Spanish Consulate in Sao Paulo, Brazil, Tuesday, May 23, 2023. Vinicius, who is Black, has been subjected to repeated racist taunts since he arrived in Spain five years ago. (AP Photo/Tuane Fernandes)
Vinícius Júnior soccer racism dispute ignites heated off-field debate in Spain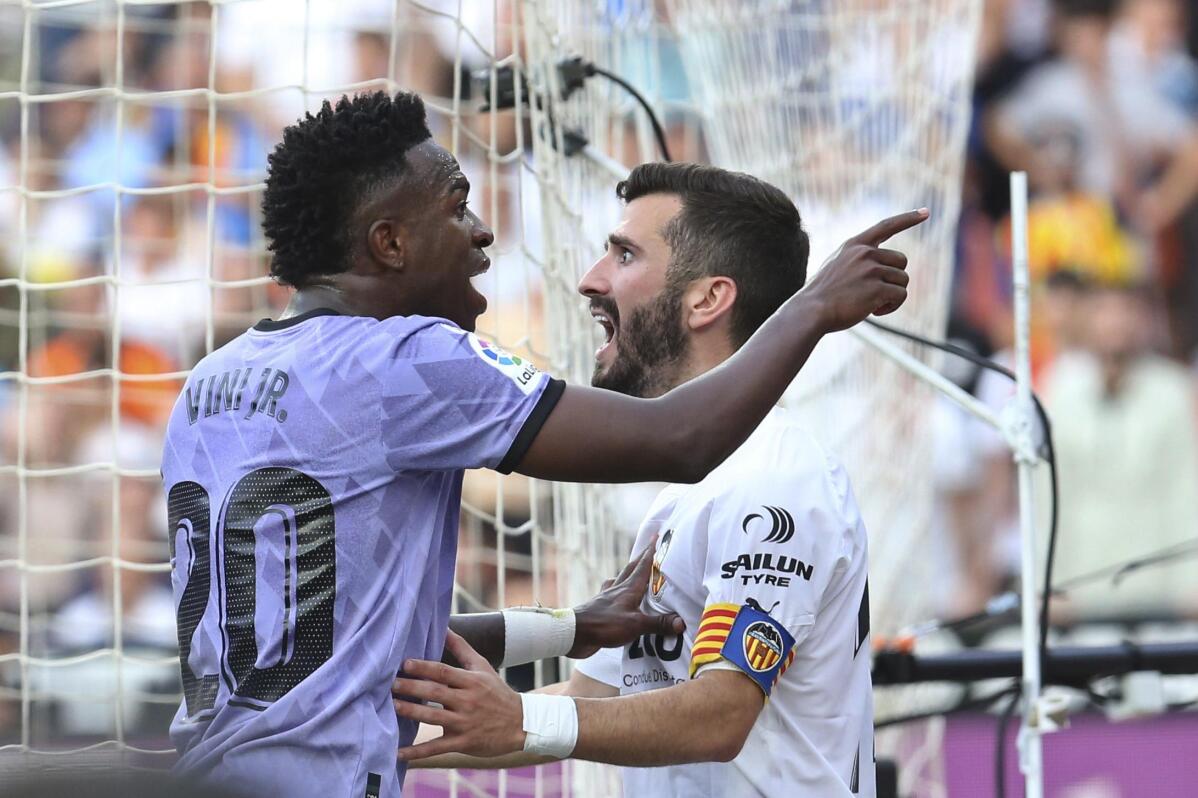 1 of 16

|
FILE - Real Madrid's Vinicius Junior, left, confronts Valencia fans standing in front of Valencia's Jose Luis Gaya during a Spanish La Liga soccer match between Valencia and Real Madrid, at the Mestalla stadium in Valencia, Spain, Sunday, May 21, 2023. Repeated racist insults against Brazilian soccer star Vincius Junior have unleashed a heated debate in Spain about tolerance for racism in a society that is becoming rapidly more diverse on and off the field. (AP Photo/Alberto Saiz, File)
1 of 16
FILE - Real Madrid's Vinicius Junior, left, confronts Valencia fans standing in front of Valencia's Jose Luis Gaya during a Spanish La Liga soccer match between Valencia and Real Madrid, at the Mestalla stadium in Valencia, Spain, Sunday, May 21, 2023. Repeated racist insults against Brazilian soccer star Vincius Junior have unleashed a heated debate in Spain about tolerance for racism in a society that is becoming rapidly more diverse on and off the field. (AP Photo/Alberto Saiz, File)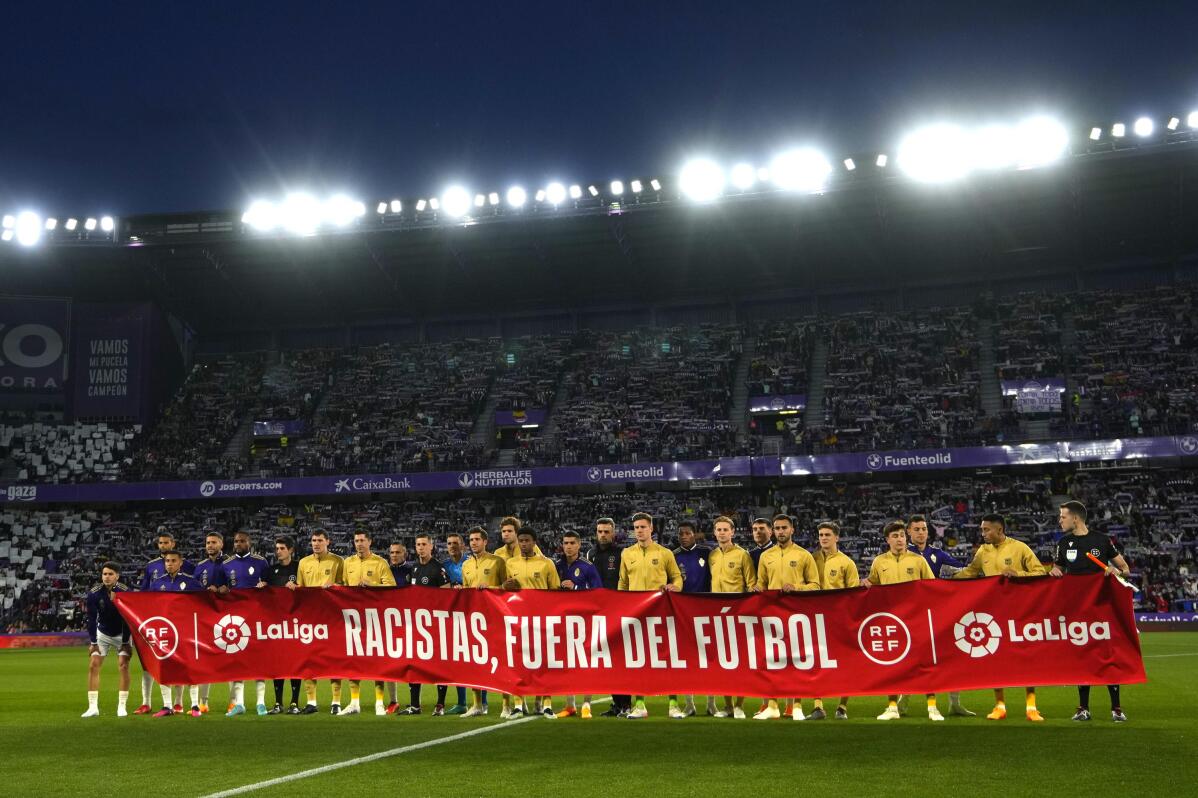 2 of 16

|
Players show a banner reading in Spanish, "Racists, keep out of soccer" before the Spanish La Liga soccer match between Valladolid and FC Barcelona at the Jose Zorrilla stadium in Valladolid, Spain, Tuesday, May 23, 2023. Repeated racist insults against Real Madrid's Brazilian soccer star Vincius Junior have unleashed a heated debate in Spain about tolerance for racism in a society that is becoming rapidly more diverse on and off the field. (AP Photo/Manu Fernandez)
2 of 16
Players show a banner reading in Spanish, "Racists, keep out of soccer" before the Spanish La Liga soccer match between Valladolid and FC Barcelona at the Jose Zorrilla stadium in Valladolid, Spain, Tuesday, May 23, 2023. Repeated racist insults against Real Madrid's Brazilian soccer star Vincius Junior have unleashed a heated debate in Spain about tolerance for racism in a society that is becoming rapidly more diverse on and off the field. (AP Photo/Manu Fernandez)
3 of 16

|
FILE - People gather to protest after the death of a Senegalese street vendor at the Lavapies neighborhood in Madrid, Friday, March 16, 2018. Repeated racist insults against Real Madrid's Brazilian soccer star Vincius Junior have unleashed a heated debate in Spain about tolerance for racism in a society that is becoming rapidly more diverse on and off the field. (AP Photo/Francisco Seco, File)
3 of 16
FILE - People gather to protest after the death of a Senegalese street vendor at the Lavapies neighborhood in Madrid, Friday, March 16, 2018. Repeated racist insults against Real Madrid's Brazilian soccer star Vincius Junior have unleashed a heated debate in Spain about tolerance for racism in a society that is becoming rapidly more diverse on and off the field. (AP Photo/Francisco Seco, File)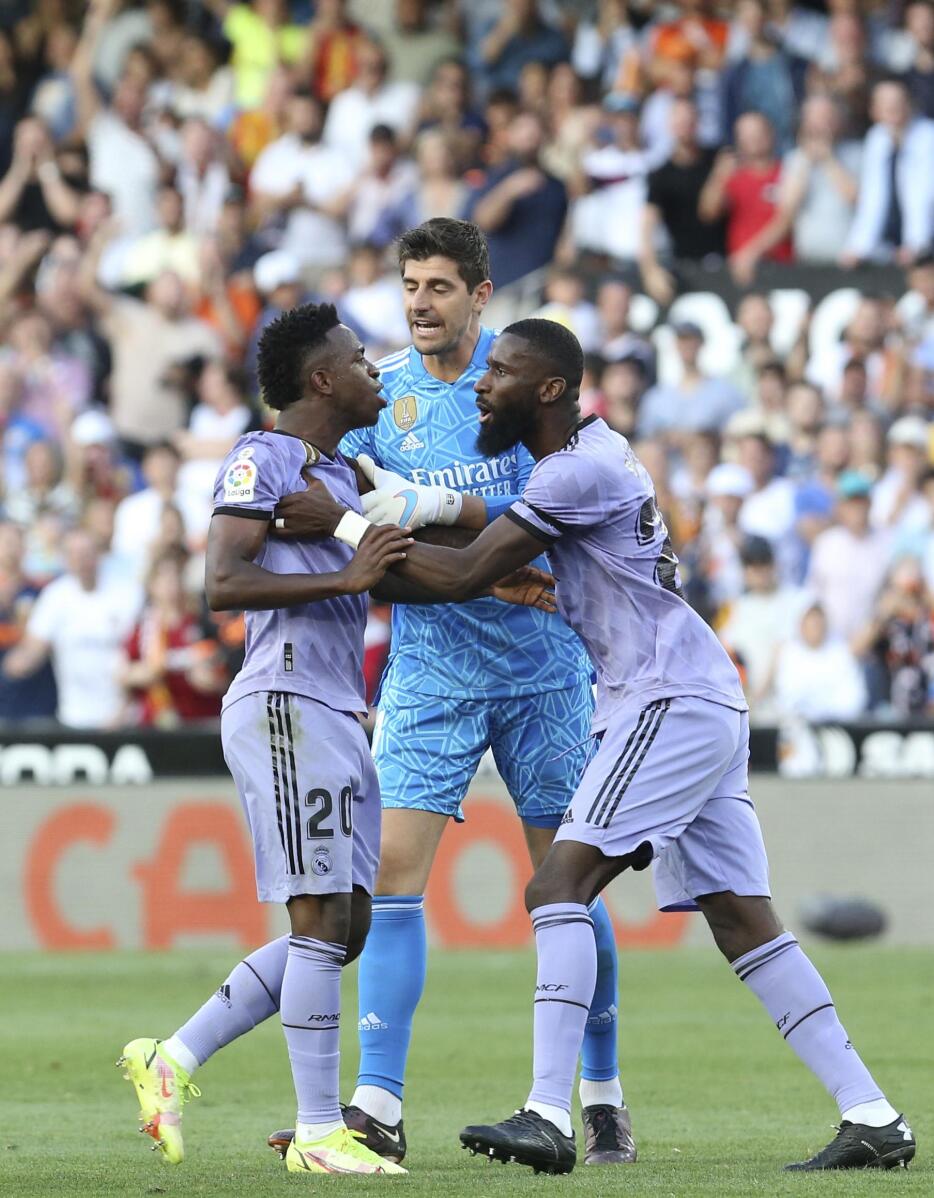 4 of 16

|
FILE - Real Madrid's goalkeeper Thibaut Courtois, center, and Antonio Rudiger, right, try to calm Vinicius Junior who was incensed by racist comments during a Spanish La Liga soccer match between Valencia and Real Madrid, at the Mestalla stadium in Valencia, Spain, Sunday, May 21, 2023. Repeated racist insults against Real Madrid's Brazilian soccer star Vincius Junior have unleashed a heated debate in Spain about tolerance for racism in a society that is becoming rapidly more diverse on and off the field. (AP Photo/Alberto Saiz, File)
4 of 16
FILE - Real Madrid's goalkeeper Thibaut Courtois, center, and Antonio Rudiger, right, try to calm Vinicius Junior who was incensed by racist comments during a Spanish La Liga soccer match between Valencia and Real Madrid, at the Mestalla stadium in Valencia, Spain, Sunday, May 21, 2023. Repeated racist insults against Real Madrid's Brazilian soccer star Vincius Junior have unleashed a heated debate in Spain about tolerance for racism in a society that is becoming rapidly more diverse on and off the field. (AP Photo/Alberto Saiz, File)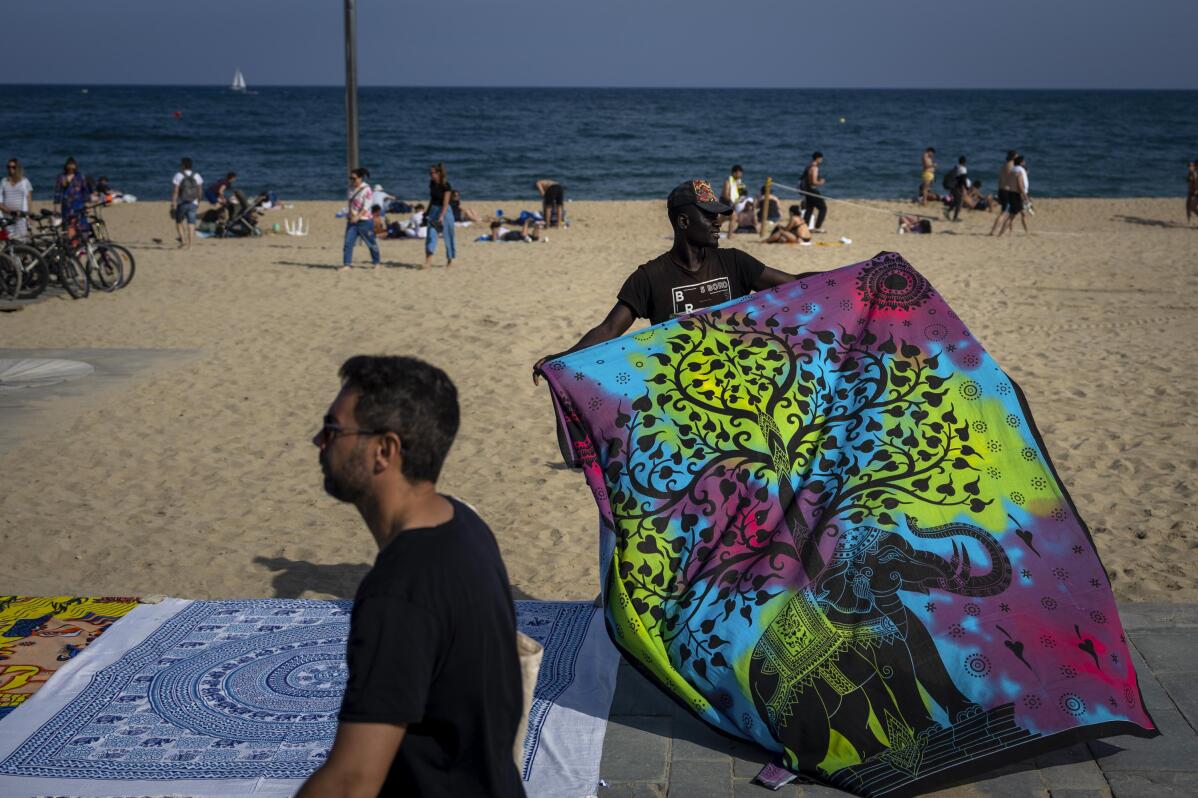 5 of 16

|
Street vendors show their fabrics to tourists walking along the beach in Barcelona, Spain, Tuesday, May 23, 2023. Repeated racist insults against Real Madrid's Brazilian soccer star Vincius Junior have unleashed a heated debate in Spain about tolerance for racism in a society that is becoming rapidly more diverse on and off the field. (AP Photo/Emilio Morenatti)
5 of 16
Street vendors show their fabrics to tourists walking along the beach in Barcelona, Spain, Tuesday, May 23, 2023. Repeated racist insults against Real Madrid's Brazilian soccer star Vincius Junior have unleashed a heated debate in Spain about tolerance for racism in a society that is becoming rapidly more diverse on and off the field. (AP Photo/Emilio Morenatti)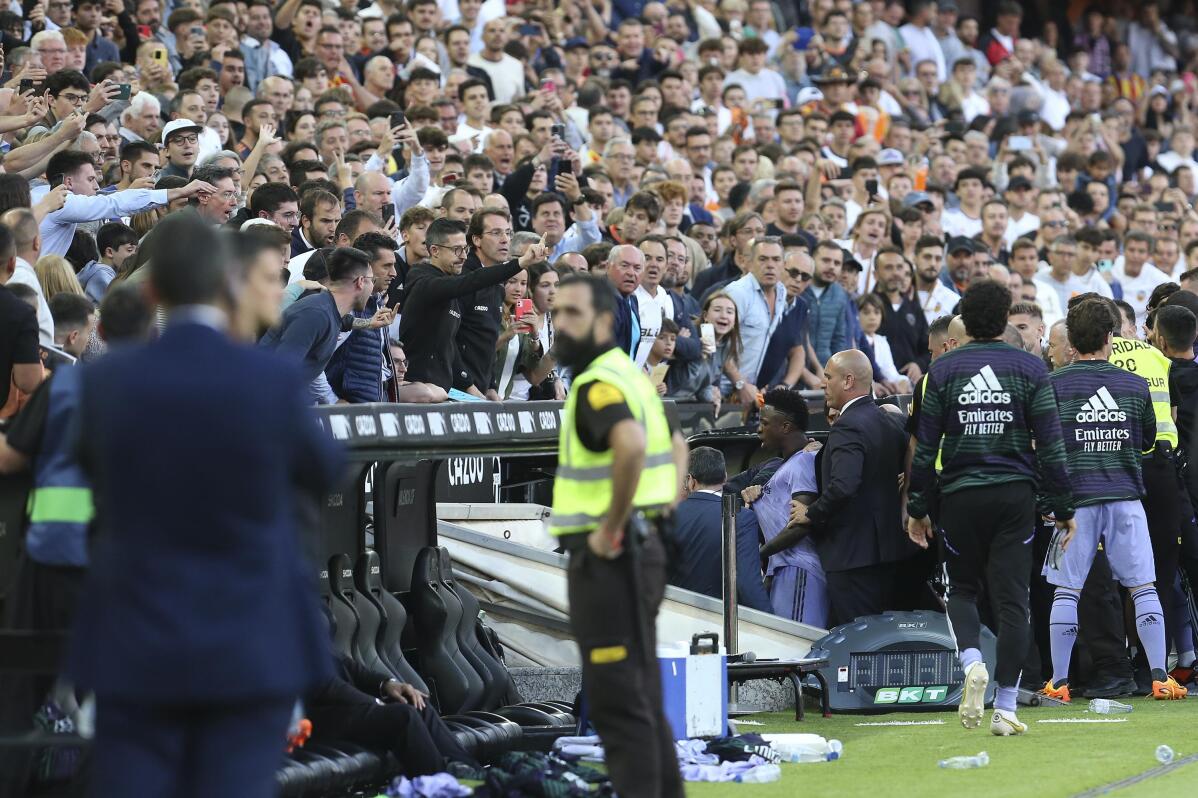 6 of 16

|
FILE - Real Madrid's Vinicius Junior, center, leaves the pitch after being shown a red card during a Spanish La Liga soccer match between Valencia and Real Madrid, at the Mestalla stadium in Valencia, Spain, Sunday, May 21, 2023. Repeated racist insults against Real Madrid's Brazilian soccer star Vincius Junior have unleashed a heated debate in Spain about tolerance for racism in a society that is becoming rapidly more diverse on and off the field. (AP Photo/Alberto Saiz, File)
6 of 16
FILE - Real Madrid's Vinicius Junior, center, leaves the pitch after being shown a red card during a Spanish La Liga soccer match between Valencia and Real Madrid, at the Mestalla stadium in Valencia, Spain, Sunday, May 21, 2023. Repeated racist insults against Real Madrid's Brazilian soccer star Vincius Junior have unleashed a heated debate in Spain about tolerance for racism in a society that is becoming rapidly more diverse on and off the field. (AP Photo/Alberto Saiz, File)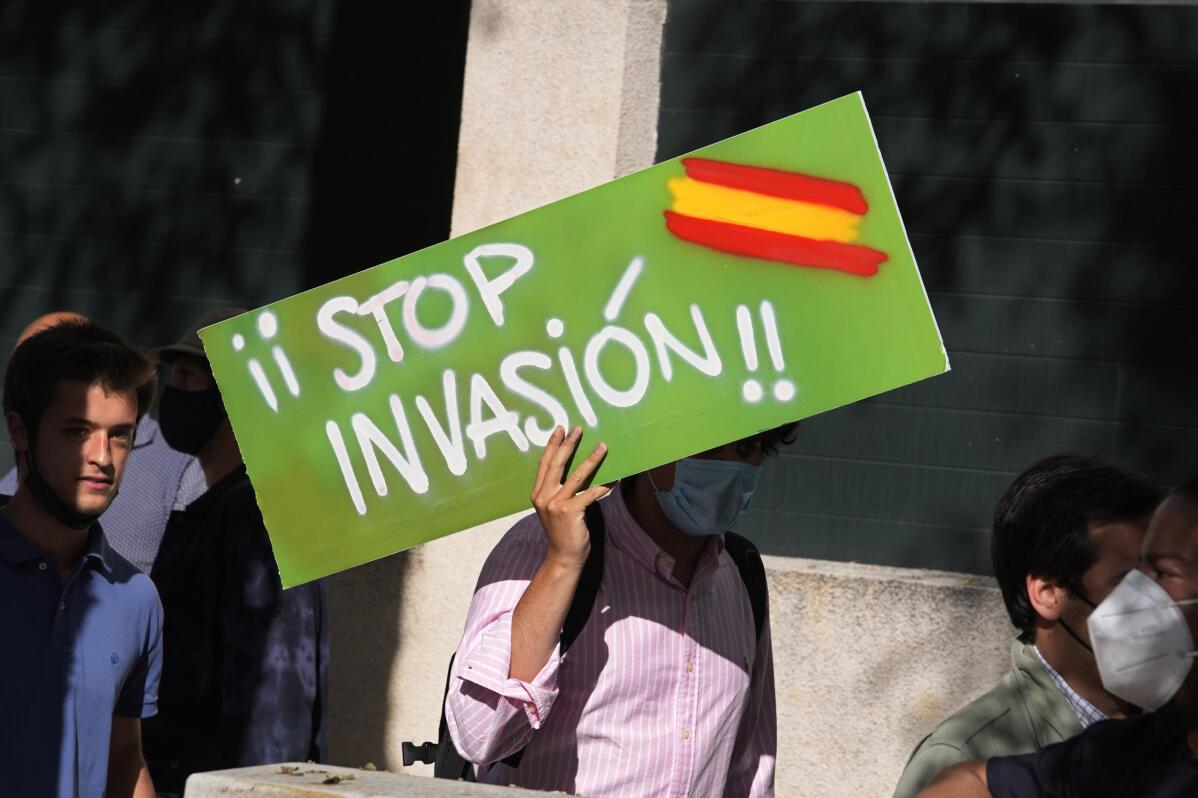 7 of 16

|
FILE - A man carries a sign with the colors of the Spanish in the corner as he takes part in a protest by right wing and extreme right wing groups outside the Moroccan embassy in Madrid, Spain, Tuesday, May 18, 2021. Repeated racist insults against Real Madrid's Brazilian soccer star Vincius Junior have unleashed a heated debate in Spain about tolerance for racism in a society that is becoming rapidly more diverse on and off the field. (AP Photo/Paul White, File)
7 of 16
FILE - A man carries a sign with the colors of the Spanish in the corner as he takes part in a protest by right wing and extreme right wing groups outside the Moroccan embassy in Madrid, Spain, Tuesday, May 18, 2021. Repeated racist insults against Real Madrid's Brazilian soccer star Vincius Junior have unleashed a heated debate in Spain about tolerance for racism in a society that is becoming rapidly more diverse on and off the field. (AP Photo/Paul White, File)
8 of 16

|
Abraham Jiménez Enoa, a Cuban writer and journalist exiled in Spain poses for a photo during an interview with the Associated Press in Barcelona, Spain, Tuesday, May 23, 2023. Enoa says he identified with the racist abuse suffered by Brazilian soccer star Vinicius Junior. Since moving to Spain 16 months ago, Enoa has recorded in writing more than 180 episodes of daily racism he has faced, including being followed around stores, asked for his ID on public transport, and watching Spaniards compliment his lighter-skinned son. (AP Photo/Renata Brito)
8 of 16
Abraham Jiménez Enoa, a Cuban writer and journalist exiled in Spain poses for a photo during an interview with the Associated Press in Barcelona, Spain, Tuesday, May 23, 2023. Enoa says he identified with the racist abuse suffered by Brazilian soccer star Vinicius Junior. Since moving to Spain 16 months ago, Enoa has recorded in writing more than 180 episodes of daily racism he has faced, including being followed around stores, asked for his ID on public transport, and watching Spaniards compliment his lighter-skinned son. (AP Photo/Renata Brito)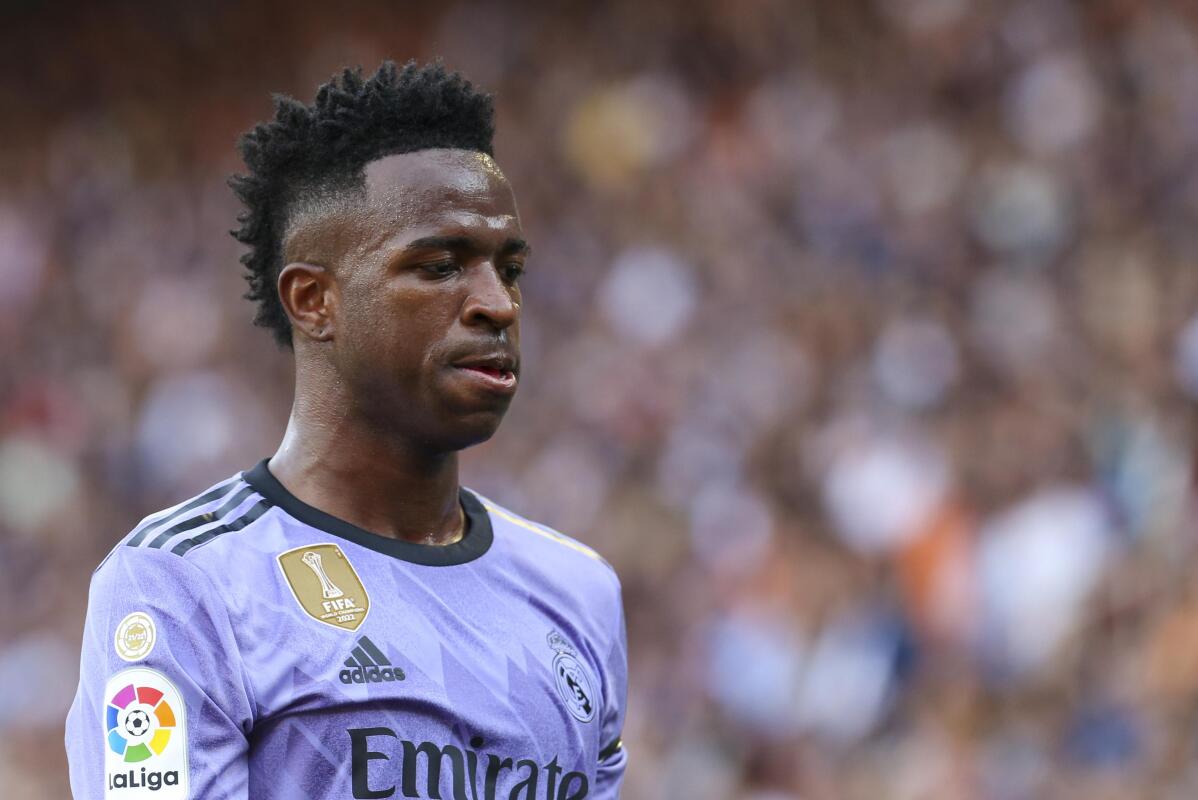 9 of 16

|
FILE - Real Madrid's Vinicius Junior looks down as he walks on the pitch during a Spanish La Liga soccer match between Valencia and Real Madrid, at the Mestalla stadium in Valencia, Spain, Sunday, May 21, 2023. Repeated racist insults against Real Madrid's Brazilian soccer star Vincius Junior have unleashed a heated debate in Spain about tolerance for racism in a society that is becoming rapidly more diverse on and off the field. (AP Photo/Alberto Saiz)
9 of 16
FILE - Real Madrid's Vinicius Junior looks down as he walks on the pitch during a Spanish La Liga soccer match between Valencia and Real Madrid, at the Mestalla stadium in Valencia, Spain, Sunday, May 21, 2023. Repeated racist insults against Real Madrid's Brazilian soccer star Vincius Junior have unleashed a heated debate in Spain about tolerance for racism in a society that is becoming rapidly more diverse on and off the field. (AP Photo/Alberto Saiz)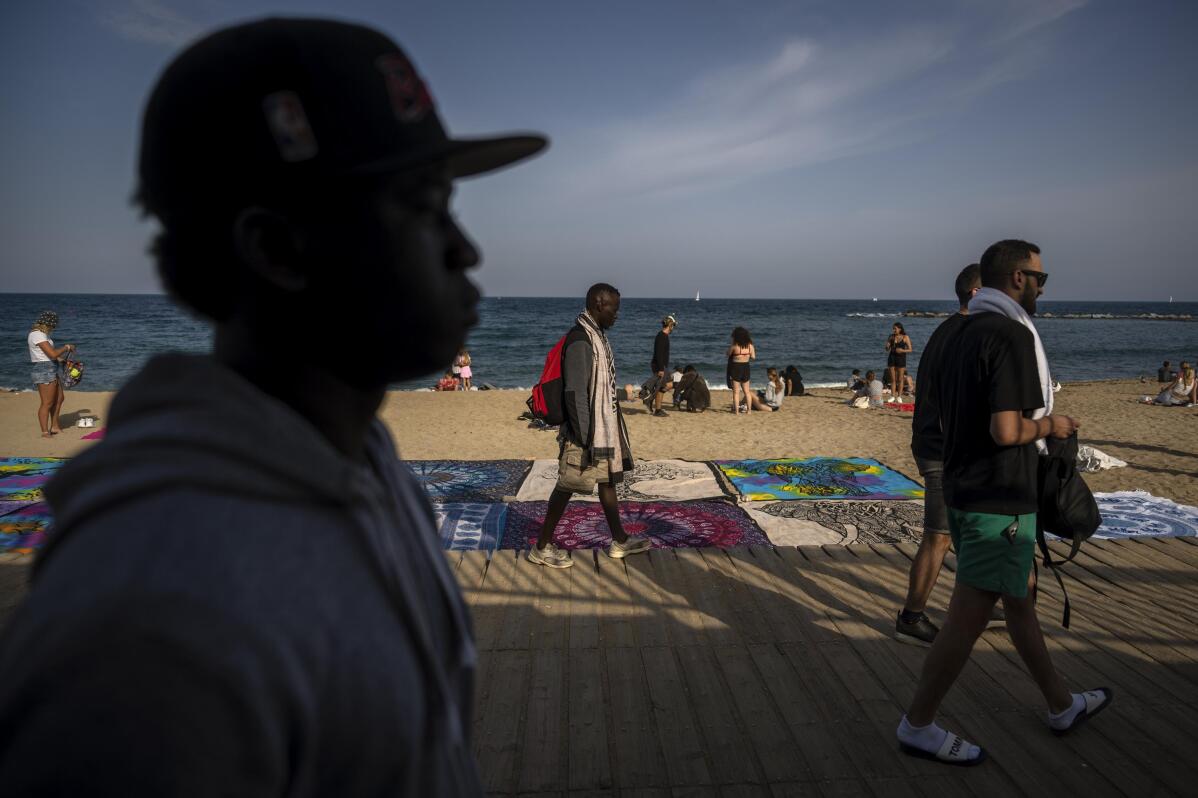 10 of 16

|
People walk past a street vendors selling fabrics at the beach in Barcelona, Spain, Tuesday, May 23, 2023. Repeated racist insults against Real Madrid's Brazilian soccer star Vincius Junior have unleashed a heated debate in Spain about tolerance for racism in a society that is becoming rapidly more diverse on and off the field. (AP Photo/Emilio Morenatti)
10 of 16
People walk past a street vendors selling fabrics at the beach in Barcelona, Spain, Tuesday, May 23, 2023. Repeated racist insults against Real Madrid's Brazilian soccer star Vincius Junior have unleashed a heated debate in Spain about tolerance for racism in a society that is becoming rapidly more diverse on and off the field. (AP Photo/Emilio Morenatti)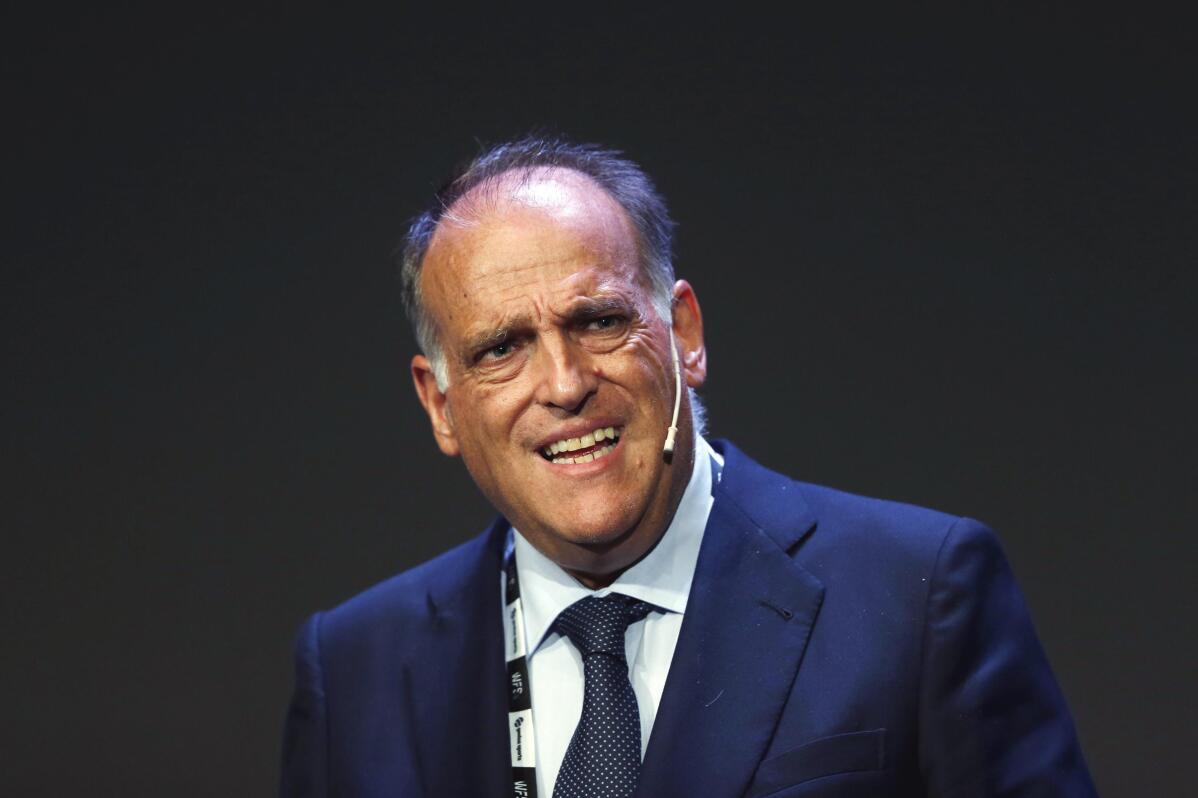 11 of 16

|
FILE - Javier Tebas, the president of the Spanish La Liga speaks during the World Football summit in Madrid, Spain, Monday, Sept. 24, 2018. Repeated racist insults against Real Madrid's Brazilian soccer star Vincius Junior have unleashed a heated debate in Spain about tolerance for racism in a society that is becoming rapidly more diverse on and off the field. Immediately following Sunday's incident, La Liga President Javier Tebas criticized the player for attacking the league, saying Vinicius didn't show up for talks on the subject of racism that he himself had requested. (AP Photo/Paul White, File)
11 of 16
FILE - Javier Tebas, the president of the Spanish La Liga speaks during the World Football summit in Madrid, Spain, Monday, Sept. 24, 2018. Repeated racist insults against Real Madrid's Brazilian soccer star Vincius Junior have unleashed a heated debate in Spain about tolerance for racism in a society that is becoming rapidly more diverse on and off the field. Immediately following Sunday's incident, La Liga President Javier Tebas criticized the player for attacking the league, saying Vinicius didn't show up for talks on the subject of racism that he himself had requested. (AP Photo/Paul White, File)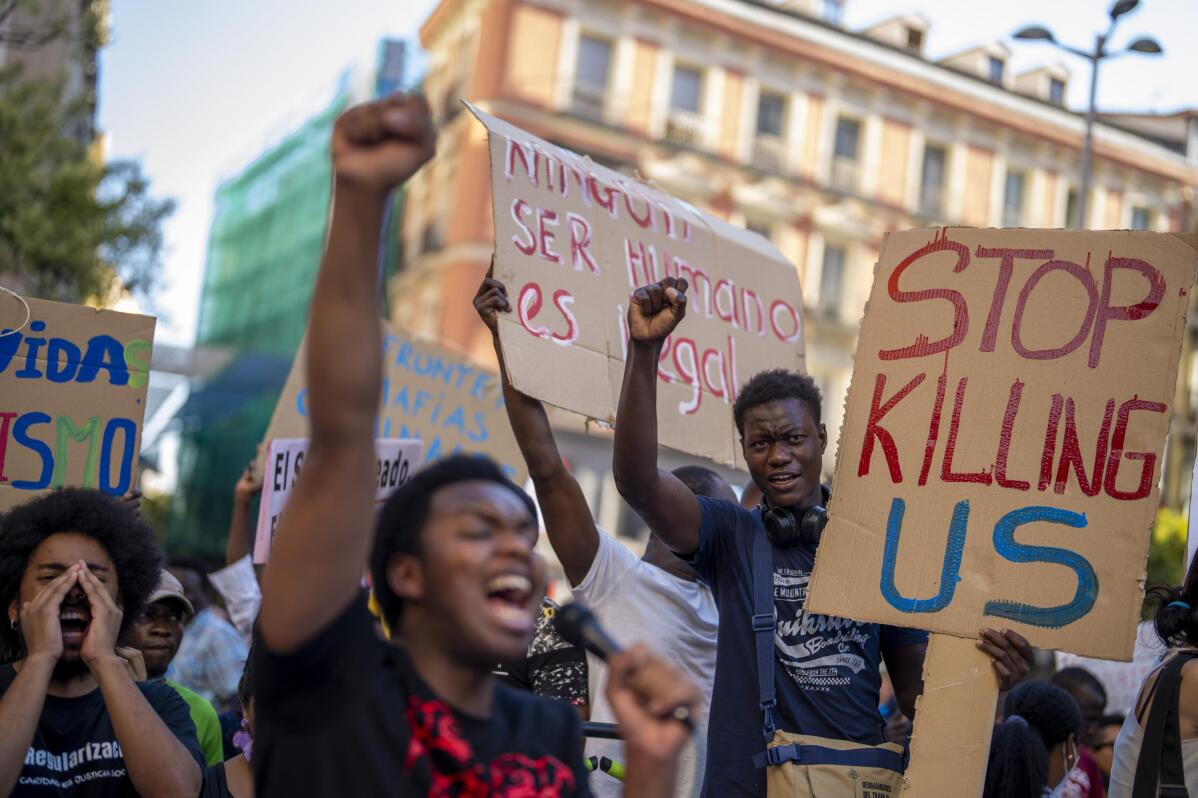 12 of 16

|
FILE - People shout slogans during a protest over the deaths of at least 23 people at the border between the Spanish enclave of Melilla and Morocco grow at Callao square in Madrid, Spain, Friday, July 1, 2022. (AP Photo/Manu Fernandez, File)
12 of 16
FILE - People shout slogans during a protest over the deaths of at least 23 people at the border between the Spanish enclave of Melilla and Morocco grow at Callao square in Madrid, Spain, Friday, July 1, 2022. (AP Photo/Manu Fernandez, File)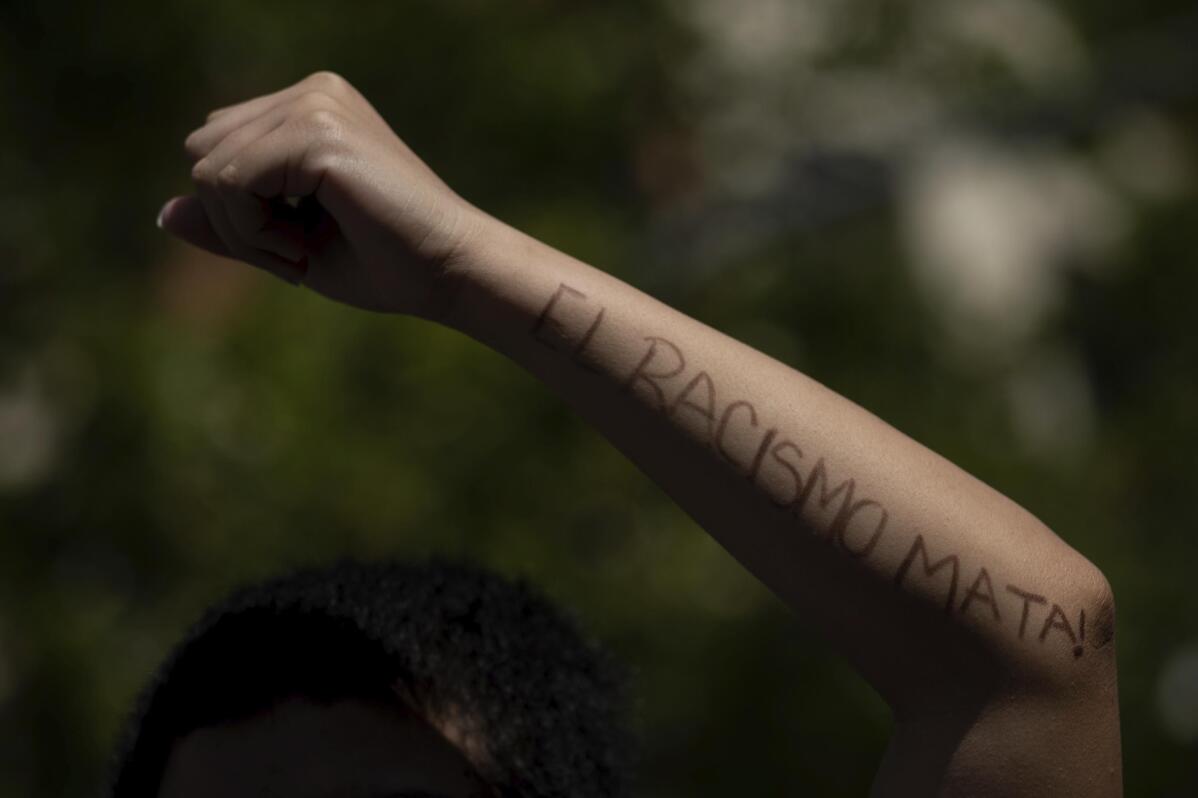 13 of 16

|
FILE - A demonstrator gathers in front the American embassy in Madrid, Spain, Sunday, June 7, 2020 during a demonstration over the death of George Floyd and victims of racial injustice. The text in the arm reads in Spanish "racism kills". (AP Photo/Bernat Armangue, File)
13 of 16
FILE - A demonstrator gathers in front the American embassy in Madrid, Spain, Sunday, June 7, 2020 during a demonstration over the death of George Floyd and victims of racial injustice. The text in the arm reads in Spanish "racism kills". (AP Photo/Bernat Armangue, File)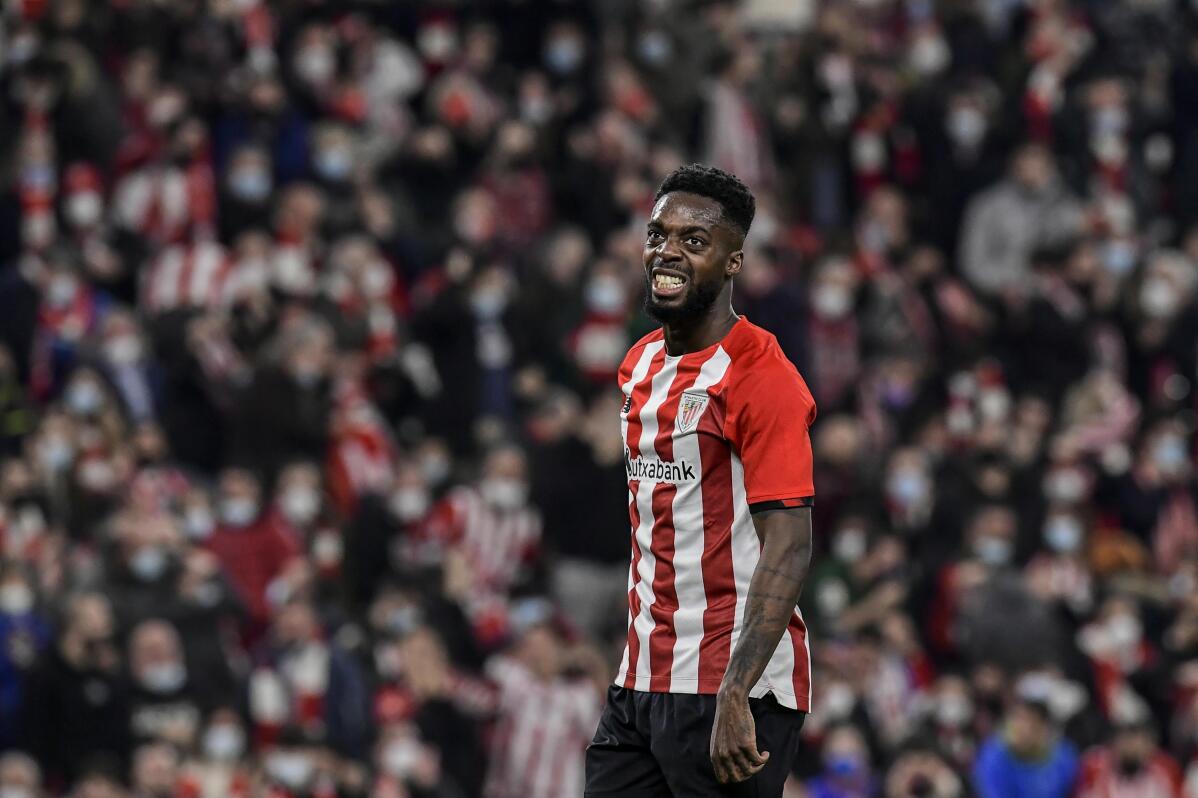 14 of 16

|
FILE - Athletic Bilbao's Inaki Williams reacts during a Spanish Copa del Rey semifinal first leg soccer match between Athletic Club and Valencia at the San Mames stadium in Bilbao, Spain, Thursday, Feb. 10, 2022. Repeated racist insults against Brazilian soccer star Vinicius Junior have unleashed a heated debate in Spain about tolerance for racism in a society that is becoming rapidly more diverse on and off the field. Williams, a forward on the Basque team Athletic Bilbao, tweeted his support for Vinicius with the words: "Racism is inadmissible in any circumstance." (AP Photo/Alvaro Barrientos, File)
14 of 16
FILE - Athletic Bilbao's Inaki Williams reacts during a Spanish Copa del Rey semifinal first leg soccer match between Athletic Club and Valencia at the San Mames stadium in Bilbao, Spain, Thursday, Feb. 10, 2022. Repeated racist insults against Brazilian soccer star Vinicius Junior have unleashed a heated debate in Spain about tolerance for racism in a society that is becoming rapidly more diverse on and off the field. Williams, a forward on the Basque team Athletic Bilbao, tweeted his support for Vinicius with the words: "Racism is inadmissible in any circumstance." (AP Photo/Alvaro Barrientos, File)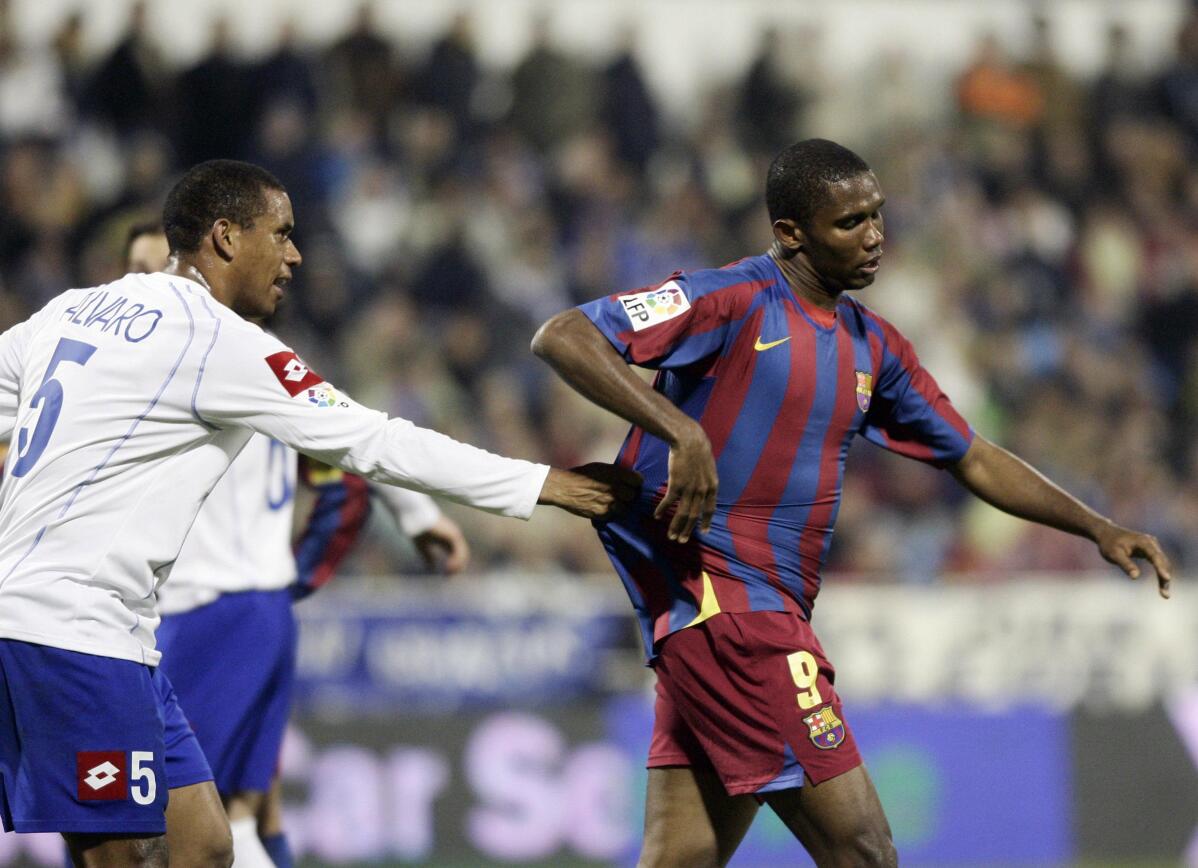 15 of 16

|
FILE - Zaragoza player Alvaro Maior De Aquino of Brazil, left tries to stop Barcelona's Samuel Eto'o of Cameroon, right, from leaving the field after racist taunts against him during a Spanish league soccer match against Zaragoza, in Zaragoza, Spain, Saturday Feb. 25, 2006. Repeated racist insults against Brazilian soccer star Vinícius Júnior have unleashed a heated debate in Spain about tolerance for racism in a society that is becoming rapidly more diverse on and off the field. (AP Photo/Manu Fernandez, File)
15 of 16
FILE - Zaragoza player Alvaro Maior De Aquino of Brazil, left tries to stop Barcelona's Samuel Eto'o of Cameroon, right, from leaving the field after racist taunts against him during a Spanish league soccer match against Zaragoza, in Zaragoza, Spain, Saturday Feb. 25, 2006. Repeated racist insults against Brazilian soccer star Vinícius Júnior have unleashed a heated debate in Spain about tolerance for racism in a society that is becoming rapidly more diverse on and off the field. (AP Photo/Manu Fernandez, File)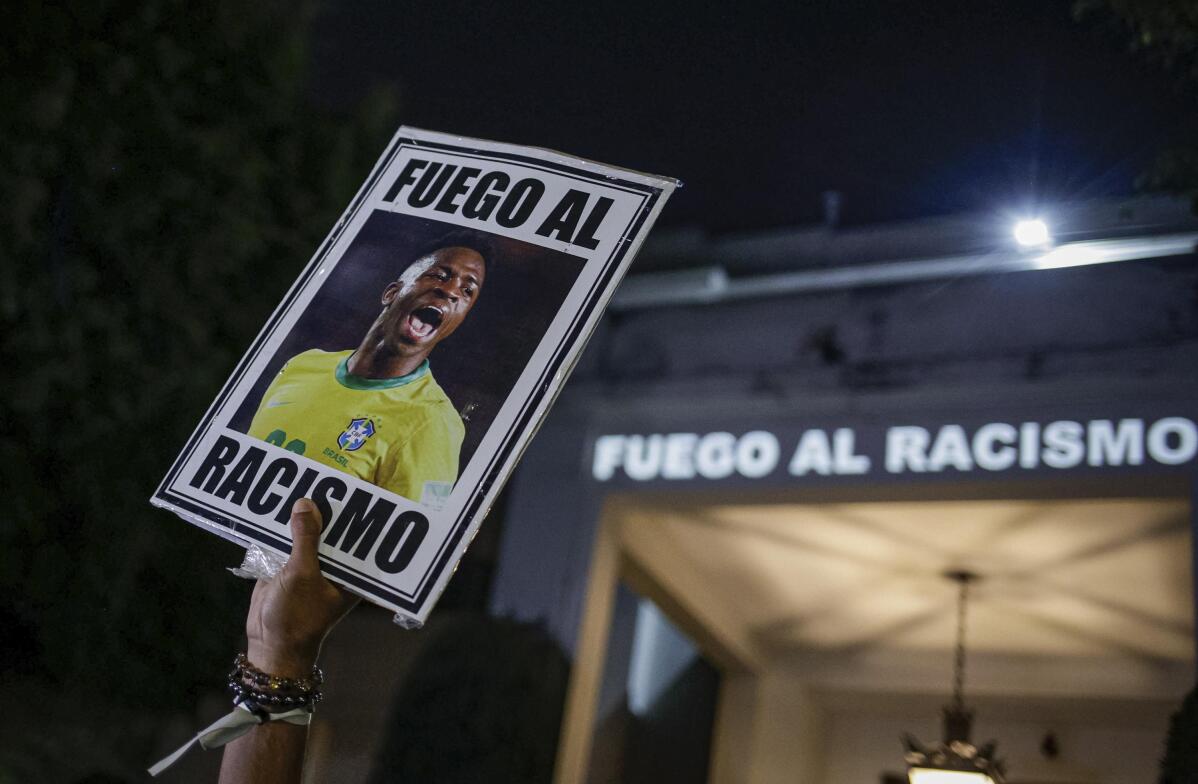 16 of 16

|
A protester holds up a photo of Brazilian soccer star Vinicius Jr and a message that reads in Portuguese; "Fight racism" during a protest against the racism suffered by Vinicius, who plays for Spain's Real Madrid, outside the Spanish Consulate in Sao Paulo, Brazil, Tuesday, May 23, 2023. Vinicius, who is Black, has been subjected to repeated racist taunts since he arrived in Spain five years ago. (AP Photo/Tuane Fernandes)
16 of 16
A protester holds up a photo of Brazilian soccer star Vinicius Jr and a message that reads in Portuguese; "Fight racism" during a protest against the racism suffered by Vinicius, who plays for Spain's Real Madrid, outside the Spanish Consulate in Sao Paulo, Brazil, Tuesday, May 23, 2023. Vinicius, who is Black, has been subjected to repeated racist taunts since he arrived in Spain five years ago. (AP Photo/Tuane Fernandes)
MADRID (AP) — Repeated racist insults against Brazilian soccer star Vinícius Júnior have unleashed a heated debate in Spain about tolerance for racism in a society that is becoming rapidly more diverse on and off the field.
Since the season began in August, the Real Madrid winger has suffered racist abuse by fans of at least five rival teams, including the hanging of an effigy depicting the Black player from a bridge by a group of Atletico Madrid fans in January.
"Racism is normal in LaLiga," Vinícius said of the top league in Spanish soccer on Instagram and Twitter after he was targeted with monkey chants from Valencia fans at a game on Sunday. "The competition thinks it's normal, as does the federation, and the opponents encourage it."
Through his social media presence, Vinícius has repeatedly called out racist attitudes that he says prevail in a southern European country where a third of children are now born to foreign parents, the majority from Latin America and Africa, and society as a whole is becoming more racially diverse.
Politicians were quick to jump on the controversy, dividing along ideological lines. "Zero tolerance for racism in soccer," tweeted Socialist Prime Minister Pedro Sánchez. "Hatred and xenophobia should have no place in our soccer or in our society."
Madrid regional President Isabel Díaz Ayuso, who has become a lightning rod for culture war issues before local elections on Sunday, retorted that Spain "is not a racist country," adding that anyone who said so was "lying."
But Spain's wider Black community has long complained of racist treatment in a society that has been home to significant nonwhite communities since the 1990s, and where they feel little action has been taken by either leftist or conservative governments. Reports of racist hate crimes increased 31% from 2020 to 2021, the last year for which government data was available, and racism is the most common form of hate crime reported in Spain.
Rita Bosaho, who oversees legislation relating to race at Spain's Equality Ministry, urged the government to pass a long-delayed anti-racism law "so that no young person has to go through this again," in reference to the abuse suffered by Vinícius.
Spanish author and anti-racism campaigner Moha Gerehou, who is Black, has written about being repeatedly asked which country he is from despite being born in Spain, and of his experiences of police harassment. He said that racism was so normal as to be unremarkable in Spain.
"Vinícius Jr does well to raise his voice to point out without euphemisms what is obvious: Spain is a racist country and soccer fields are not an exception. They are the norm," he tweeted.
Gerehou has previously said that Spaniards struggle to understand that racism can include refusing someone entry to a bar based on their skin color. "The problem is ... that many people don't want to recognize the racism that exists in Spain," he said.
Abraham Jiménez Enoa, a Cuban writer who moved to Spain 16 months ago, has documented the daily episodes of racism he has suffered — 182 so far, including being followed around stores, asked for his ID on public transportation and watching Spaniards compliment his lighter-skinned son.
"There's a close-up of Vinícius in which you can see him suffering from what he is hearing and I really identified with that," Jiménez Enoa said. "Obviously I've never been in a football stadium where thousands of people are shouting 'monkey!' but in the day-to-day. ... A couple of times I have even cried from anger and frustration."
While racism is also an issue in his native Cuba, Jiménez Enoa said that he has "never suffered such explicit racism in the streets, in shops, in the market, wherever" as in Spain.
"I had never suffered from how my skin color marks everyday life," he said.
Far from support, Vinícius has found himself the object of condemnation from some Spanish soccer authorities. Immediately following Sunday's incident, LaLiga President Javier Tebas criticized the player for attacking the league, saying Vinicius didn't show up for talks on the subject of racism that he himself had requested.
"Instead of criticizing racists, the league president shows up on social media to attack me," Vinícius retorted. "I'm not your friend to talk about racism with you. I want actions and punishment."
Some in Spanish soccer, however, acknowledged the widespread abuse, with Spanish Soccer Federation President Luis Rubiales condemning "a problem of behavior, of education, of racism."
Authorities have been slow to clamp down on fans who insult and attack Black players. Only on Tuesday were four people arrested over the effigy incident, four months after it happened. Police didn't say if the timing had to do with the widespread condemnation of the latest abuse against Vinícius. Three other fans were also detained in Valencia for the racist attack on Sunday.
Spanish player Iñaki Williams, a Black forward on the Basque team Athletic Bilbao, tweeted his support for Vinicius with the words: "Racism is inadmissible in any circumstance."
Williams experienced similar insults at a 2020 match, leading to the first criminal trial against a fan for racial abuse in the history of the Spanish game, expected to happen at some point later this year.
Even children's leagues are not spared.
In March, police in Barcelona arrested a 49-year-old man for insulting a Black child from the stands of a match. Separately, a 12-year-old Black child was subjected to racist taunts in the Catalan town of Sant Vicenç de Castellet in September. In that case, no police action was taken.
___
Renata Brito contributed to this report from Barcelona, Spain.