Fuel leak in Virginia shuts down part of Colonial Pipeline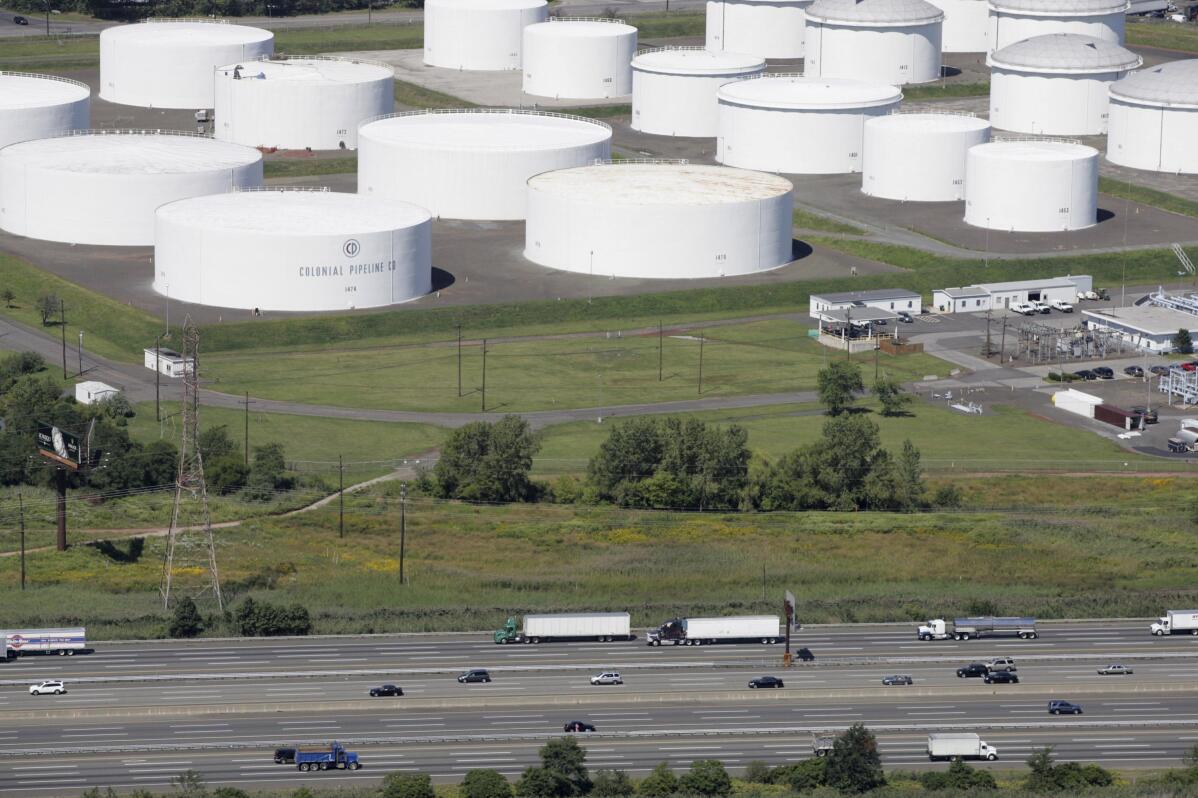 1 of 3

|
FILE - In this Sept. 8, 2008 file photo traffic on I-95 passes oil storage tanks owned by the Colonial Pipeline Company in Linden, N.J. The Colonial Pipeline says a diesel fuel leak in Virginia has shut down part of the nation's largest fuel pipeline, but it is expected to restart Saturday, Jan. 7, 2023. Colonial spokesperson David Conti says the spill was discovered Tuesday. (AP Photo/Mark Lennihan, File)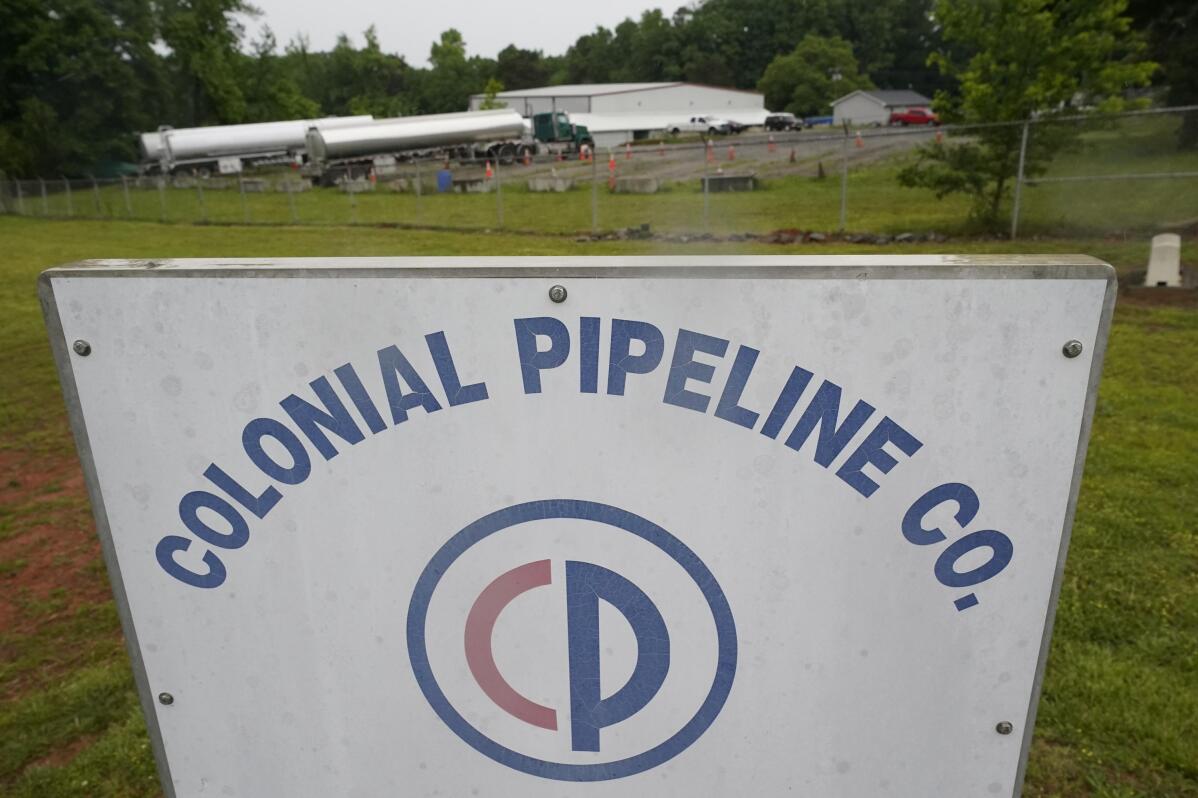 2 of 3

|
FILE - Tanker trucks are parked near the entrance of Colonial Pipeline Company Wednesday, May 12, 2021, in Charlotte, N.C. The Colonial Pipeline says a diesel fuel leak in Virginia has shut down part of the nation's largest fuel pipeline, but it is expected to restart Saturday, Jan. 7, 2023. Colonial spokesperson David Conti says the spill was discovered Tuesday. (AP Photo/Chris Carlson, File)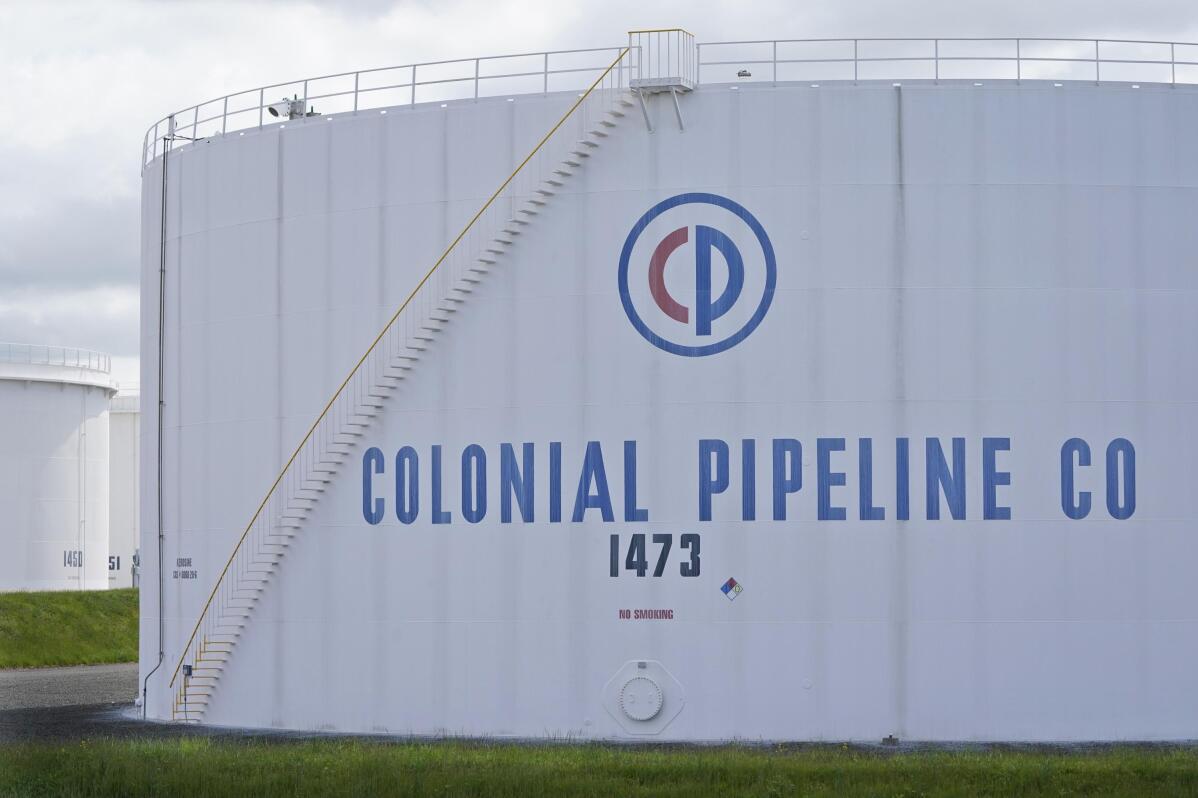 3 of 3

|
FILE - Colonial Pipeline storage tanks are seen in Woodbridge, N.J., Monday, May 10, 2021. The Colonial Pipeline says a diesel fuel leak in Virginia has shut down part of the nation's largest fuel pipeline, but it is expected to restart Saturday, Jan. 7, 2023. Colonial spokesperson David Conti says the spill was discovered Tuesday. (AP Photo/Seth Wenig, File)
Fuel leak in Virginia shuts down part of Colonial Pipeline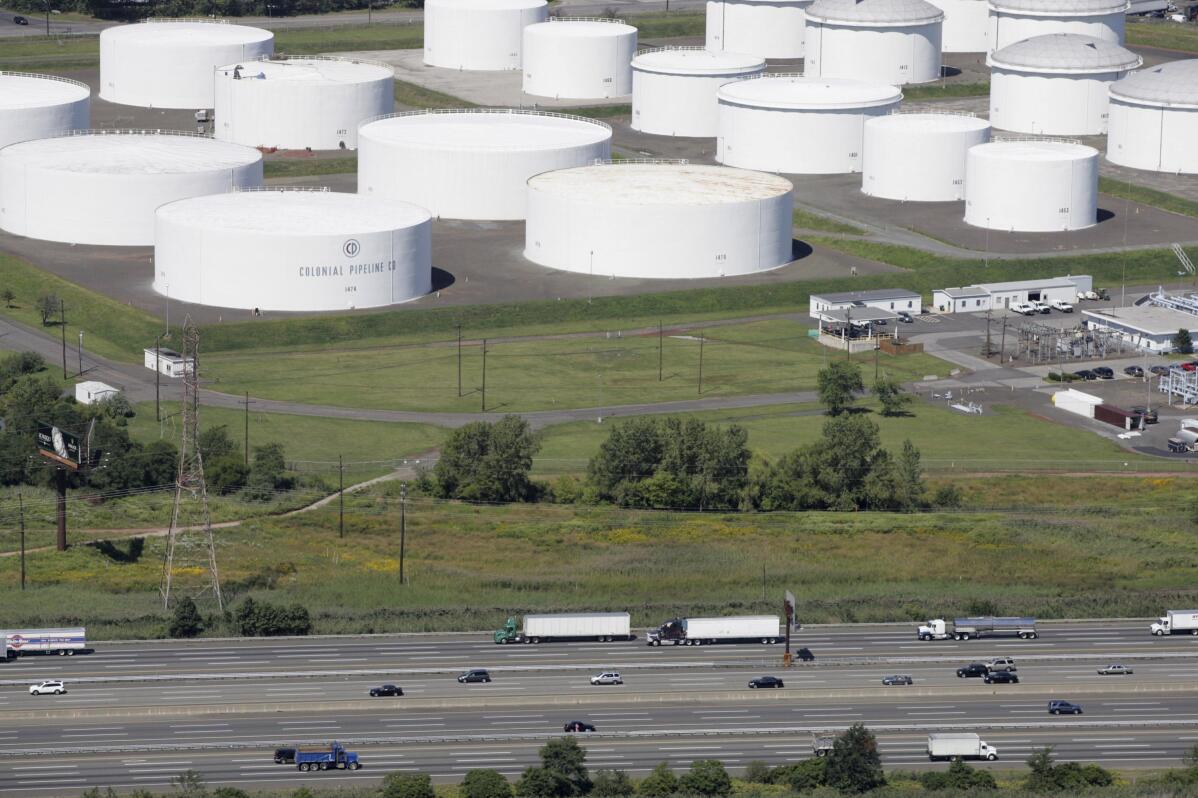 1 of 3

|
FILE - In this Sept. 8, 2008 file photo traffic on I-95 passes oil storage tanks owned by the Colonial Pipeline Company in Linden, N.J. The Colonial Pipeline says a diesel fuel leak in Virginia has shut down part of the nation's largest fuel pipeline, but it is expected to restart Saturday, Jan. 7, 2023. Colonial spokesperson David Conti says the spill was discovered Tuesday. (AP Photo/Mark Lennihan, File)
1 of 3
FILE - In this Sept. 8, 2008 file photo traffic on I-95 passes oil storage tanks owned by the Colonial Pipeline Company in Linden, N.J. The Colonial Pipeline says a diesel fuel leak in Virginia has shut down part of the nation's largest fuel pipeline, but it is expected to restart Saturday, Jan. 7, 2023. Colonial spokesperson David Conti says the spill was discovered Tuesday. (AP Photo/Mark Lennihan, File)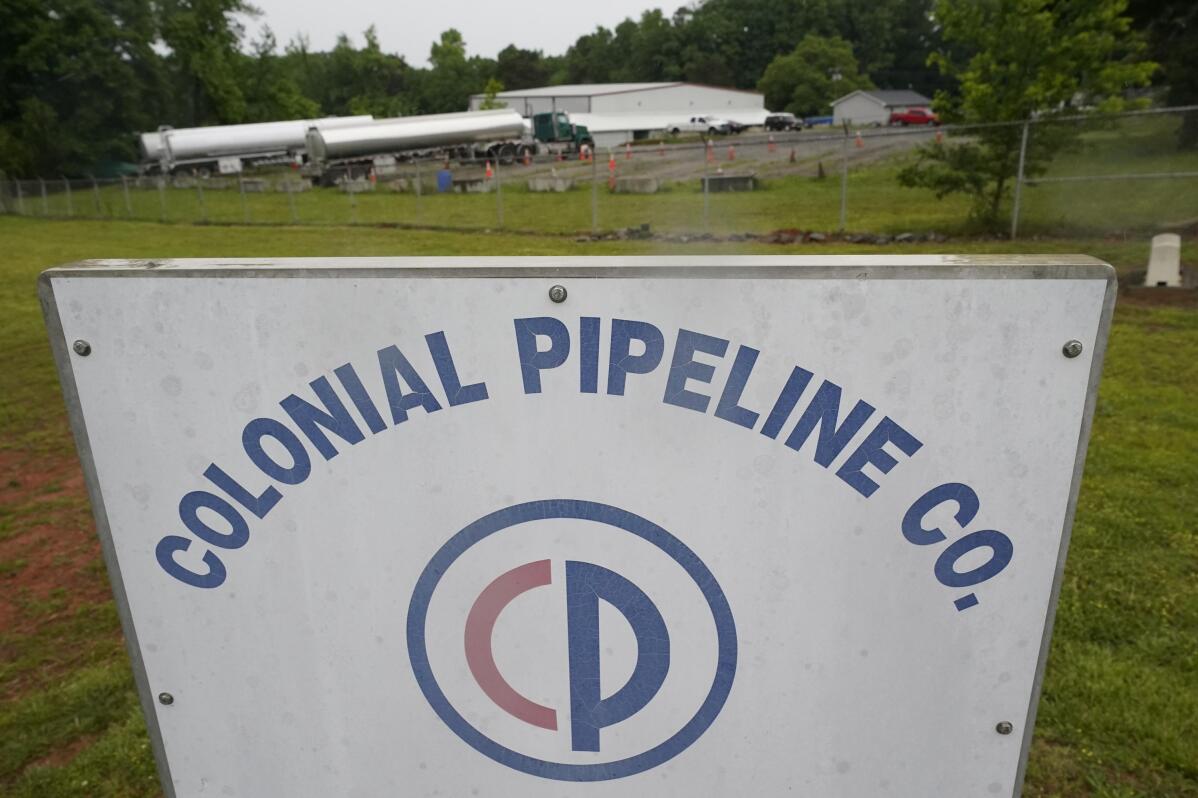 2 of 3

|
FILE - Tanker trucks are parked near the entrance of Colonial Pipeline Company Wednesday, May 12, 2021, in Charlotte, N.C. The Colonial Pipeline says a diesel fuel leak in Virginia has shut down part of the nation's largest fuel pipeline, but it is expected to restart Saturday, Jan. 7, 2023. Colonial spokesperson David Conti says the spill was discovered Tuesday. (AP Photo/Chris Carlson, File)
2 of 3
FILE - Tanker trucks are parked near the entrance of Colonial Pipeline Company Wednesday, May 12, 2021, in Charlotte, N.C. The Colonial Pipeline says a diesel fuel leak in Virginia has shut down part of the nation's largest fuel pipeline, but it is expected to restart Saturday, Jan. 7, 2023. Colonial spokesperson David Conti says the spill was discovered Tuesday. (AP Photo/Chris Carlson, File)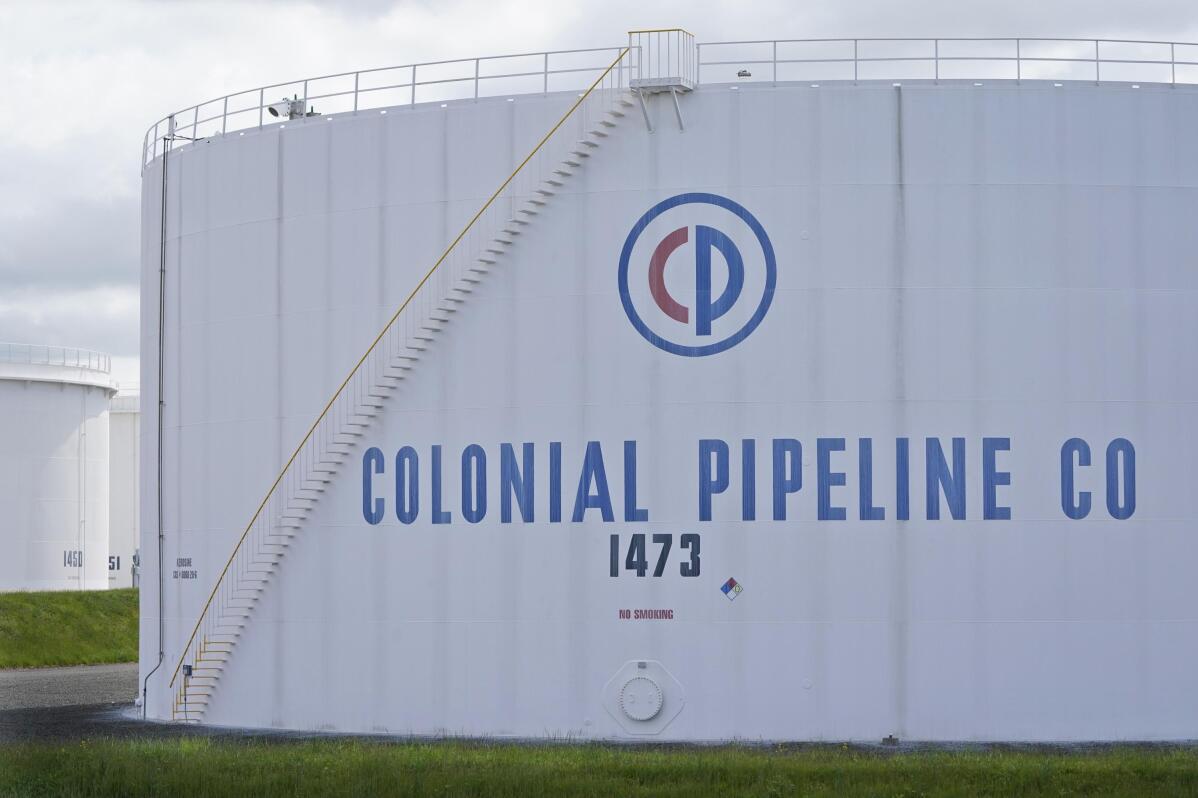 3 of 3

|
FILE - Colonial Pipeline storage tanks are seen in Woodbridge, N.J., Monday, May 10, 2021. The Colonial Pipeline says a diesel fuel leak in Virginia has shut down part of the nation's largest fuel pipeline, but it is expected to restart Saturday, Jan. 7, 2023. Colonial spokesperson David Conti says the spill was discovered Tuesday. (AP Photo/Seth Wenig, File)
3 of 3
FILE - Colonial Pipeline storage tanks are seen in Woodbridge, N.J., Monday, May 10, 2021. The Colonial Pipeline says a diesel fuel leak in Virginia has shut down part of the nation's largest fuel pipeline, but it is expected to restart Saturday, Jan. 7, 2023. Colonial spokesperson David Conti says the spill was discovered Tuesday. (AP Photo/Seth Wenig, File)
NORFOLK, Va. (AP) — A diesel fuel leak in Virginia shut down part of the Colonial Pipeline, the nation's largest fuel pipeline, which supplies roughly half the fuel consumed on the East Coast, but it is expected to restart Saturday, the company said.
The spill was discovered Tuesday. And while this particular line is shut down, the rest of the system is operating normally, spokesperson David Conti said in an email.
The incident shouldn't have much impact on gas prices, according to Patrick De Haan, head of petroleum analysis for GasBuddy.
"The key being shouldn't," he said. "Obviously the Colonial is a key artery supplying refined products up the East Coast … It could be nothing. And it could turn into something" if regular operations fail to resume quickly.
One bright spot is that fuel demand has dipped following the holidays, while a fair amount of people are still working from home, De Haan said. Gasoline demand is about 10% less than what it was before the COVID-19 pandemic.
"I wouldn't necessarily say it's the state of the economy, but there could be a little bit of that mixed in as well," he added.
Crews are fixing equipment that failed at the Witt booster station near Danville, Colonial said in a statement. The failure caused a spill that was detected during a routine station check and appears to be contained to the property, the Alpharetta, Georgia-based company said. The company didn't say what caused the leak or how much had spilled.
Aaron Proctor, a spokesman for the Virginia Department of Environmental Quality, wrote in an email that approximately 2,500 gallons (9,464 liters) of diesel fuel spilled.
All of it was contained on site between soil and an adjacent storm water retention pond, Proctor wrote. There's been no sign of impacts to state waters or wildlife beyond fish and animals living in the retention pond.
Colonial transports gasoline, diesel, jet fuel and home heating oil from refineries located on the Gulf Coast through pipelines running from Texas to New Jersey. Its pipeline system spans more than 5,500 miles (8,850 kilometers), transporting more than 100 million gallons (378 million liters) a day. The impacted line carries about 885,000 barrels of product a day from Greensboro, North Carolina, to Linden, New Jersey, the Danville Register & Bee reported.
In May 2021, the company temporarily shut down its operations after a ransomware attack.
The halt to fuel supplies for nearly a week led to panic-buying and shortages at gas stations from Washington, D.C., to Florida. The company disclosed that it paid a ransom of $4.4 million to retrieve access to its data and the Justice Department later announced that a ransomware task force recovered most of the ransom.
——
Brumfield reported from Silver Spring, Maryland.