Family lawyer: Police shooting caught on video was execution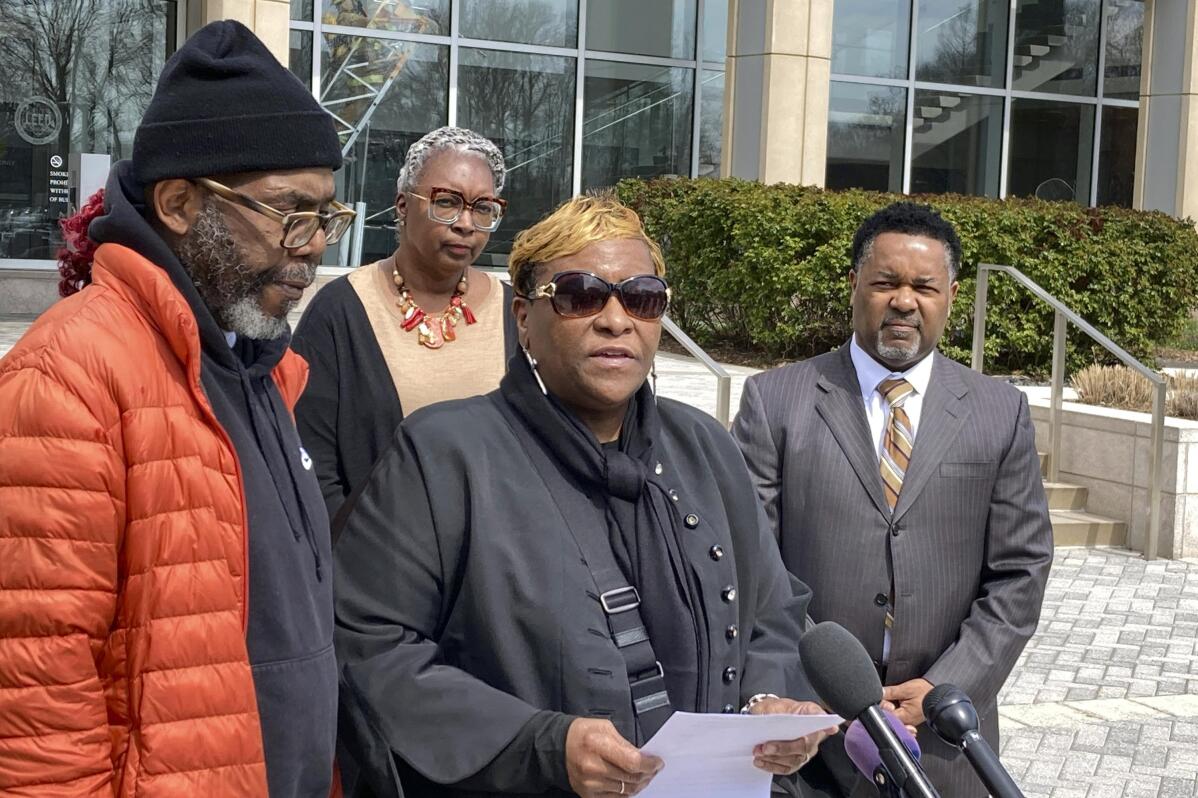 1 of 3

|
Timothy McCree Johnson's parents Melissa Johnson, center, and Timothy Walker, left, address reporters along with attorney Carl Crews, right, outside Fairfax County Police headquarters, Wednesday, March 22, 2023, in Fairfax, Va., after viewing police body camera video of their son's shooting death at the hands of police last month outside Tysons Corner Center shopping mall. (AP Photo/Matthew Barakat)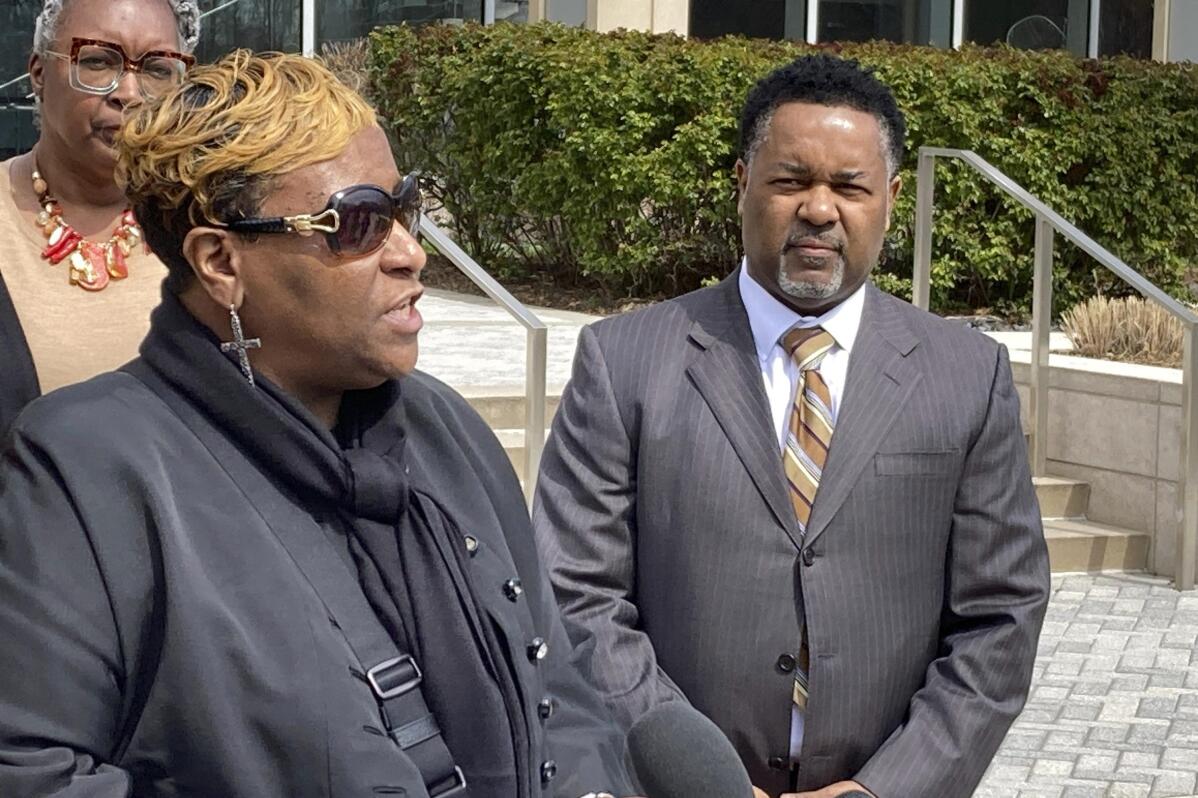 2 of 3

|
Timothy McCree Johnson's mother Melissa Johnson, along with attorney Carl Crews, addresses reporters outside Fairfax County Police headquarters, Wednesday, March 22, 2023, in Fairfax, Va., after viewing police body camera video of their son's shooting death at the hands of police last month outside Tysons Corner Center shopping mall. (AP Photo/Matthew Barakat)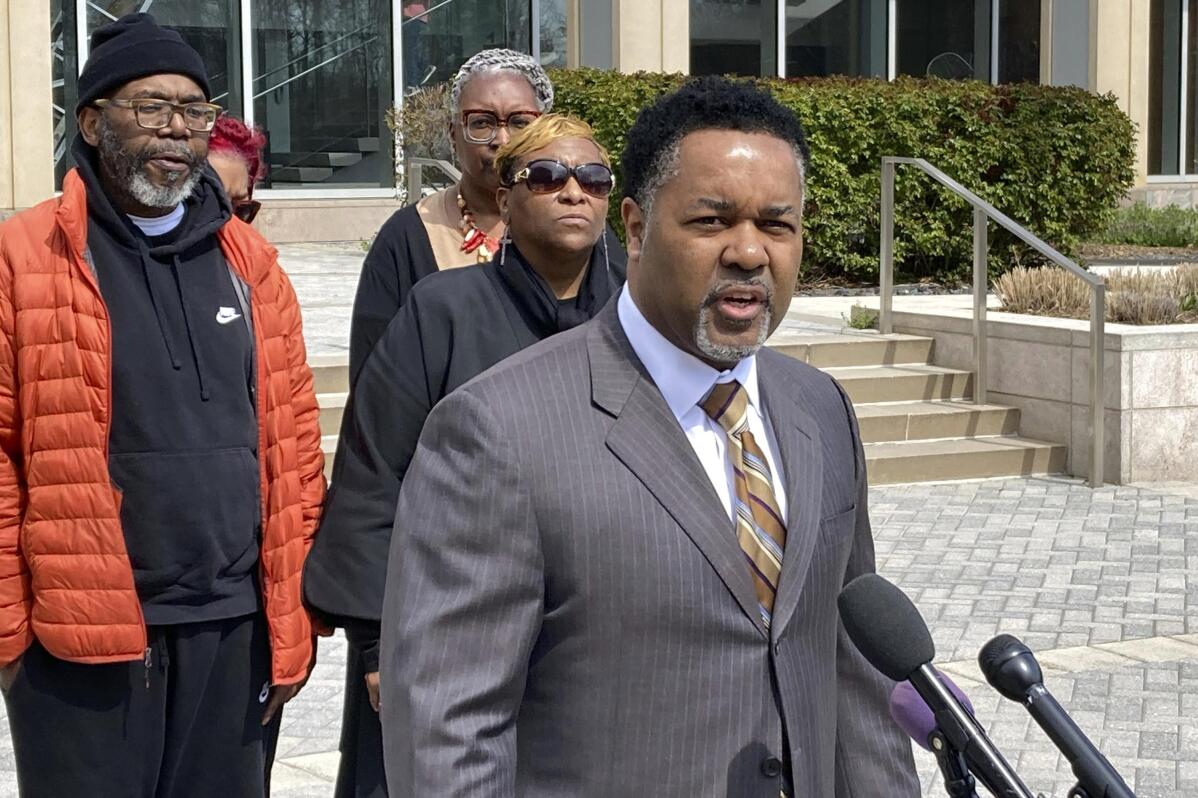 3 of 3

|
Family attorney Carl Crews, front, along with Timothy McCree Johnson's parents Melissa Johnson, rear center, and Timothy Walker, left, address reporters outside Fairfax County Police headquarters, Wednesday, March 22, 2023, in Fairfax, Va., after viewing police body camera video of their son's shooting death at the hands of police last month outside Tysons Corner Center shopping mall. (AP Photo/Matthew Barakat)
Family lawyer: Police shooting caught on video was execution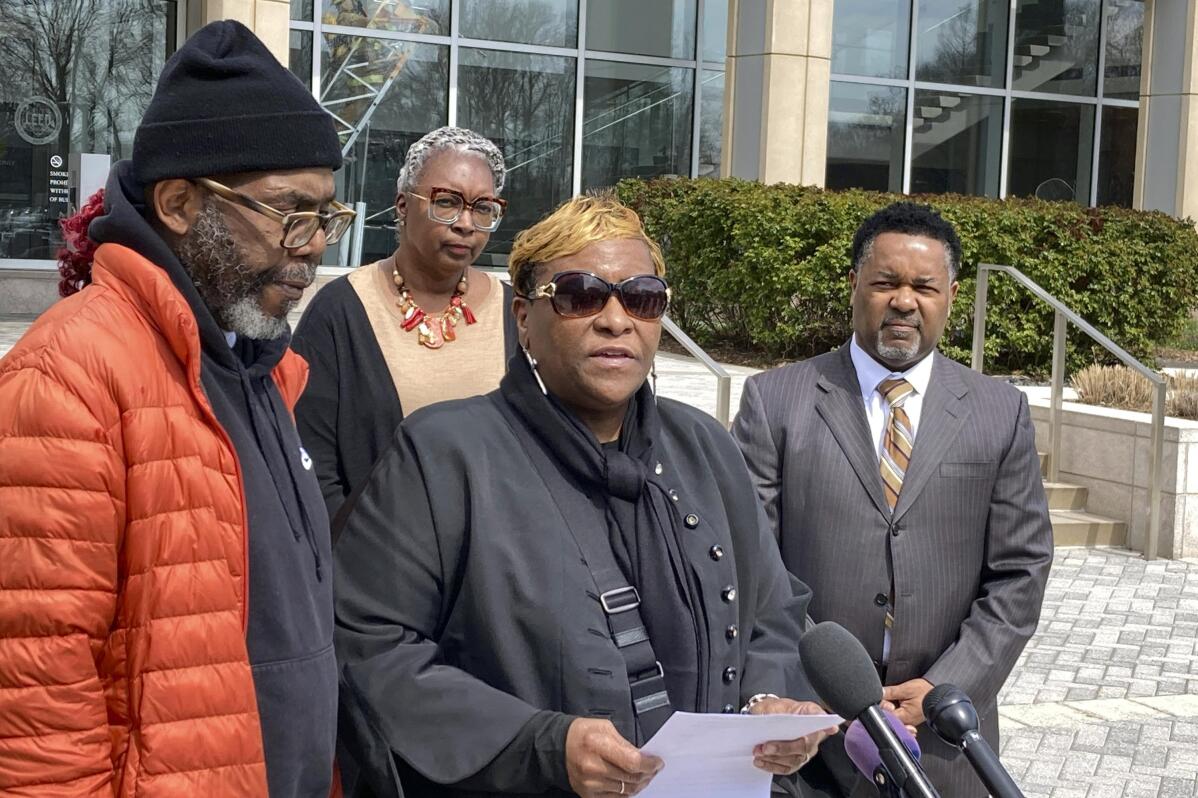 1 of 3

|
Timothy McCree Johnson's parents Melissa Johnson, center, and Timothy Walker, left, address reporters along with attorney Carl Crews, right, outside Fairfax County Police headquarters, Wednesday, March 22, 2023, in Fairfax, Va., after viewing police body camera video of their son's shooting death at the hands of police last month outside Tysons Corner Center shopping mall. (AP Photo/Matthew Barakat)
1 of 3
Timothy McCree Johnson's parents Melissa Johnson, center, and Timothy Walker, left, address reporters along with attorney Carl Crews, right, outside Fairfax County Police headquarters, Wednesday, March 22, 2023, in Fairfax, Va., after viewing police body camera video of their son's shooting death at the hands of police last month outside Tysons Corner Center shopping mall. (AP Photo/Matthew Barakat)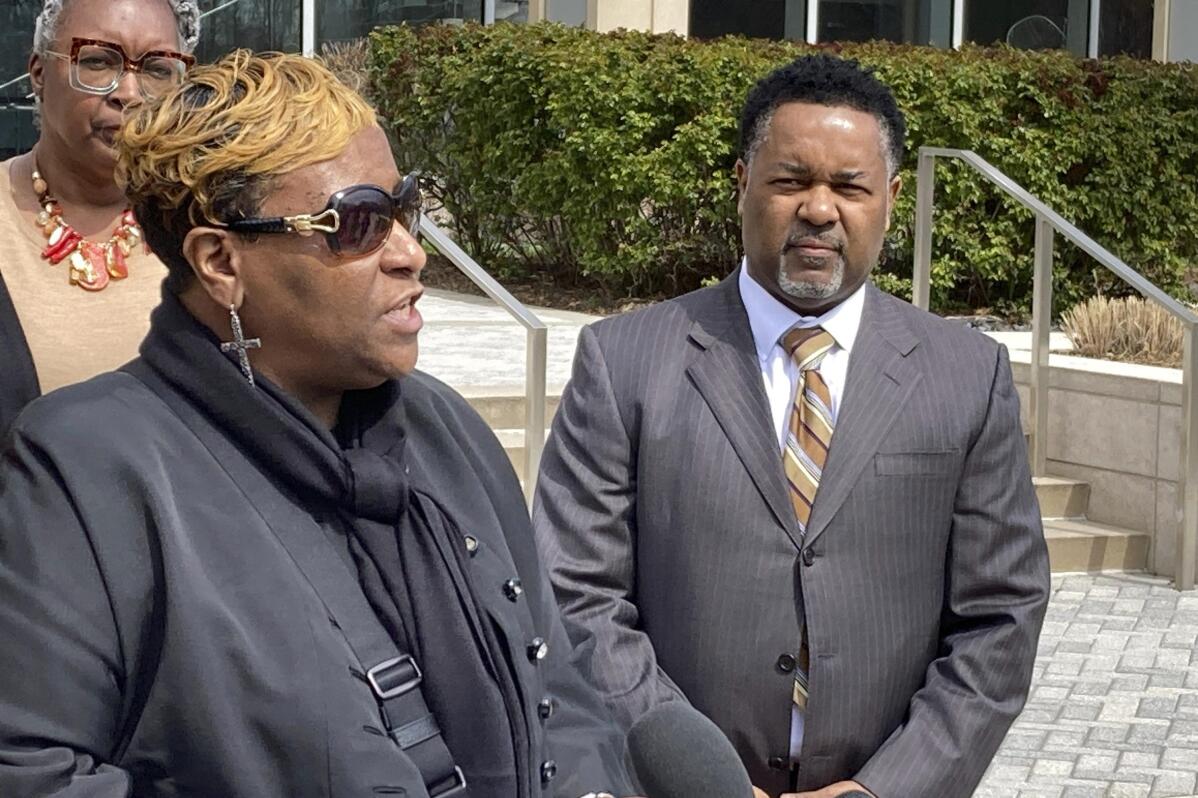 2 of 3

|
Timothy McCree Johnson's mother Melissa Johnson, along with attorney Carl Crews, addresses reporters outside Fairfax County Police headquarters, Wednesday, March 22, 2023, in Fairfax, Va., after viewing police body camera video of their son's shooting death at the hands of police last month outside Tysons Corner Center shopping mall. (AP Photo/Matthew Barakat)
2 of 3
Timothy McCree Johnson's mother Melissa Johnson, along with attorney Carl Crews, addresses reporters outside Fairfax County Police headquarters, Wednesday, March 22, 2023, in Fairfax, Va., after viewing police body camera video of their son's shooting death at the hands of police last month outside Tysons Corner Center shopping mall. (AP Photo/Matthew Barakat)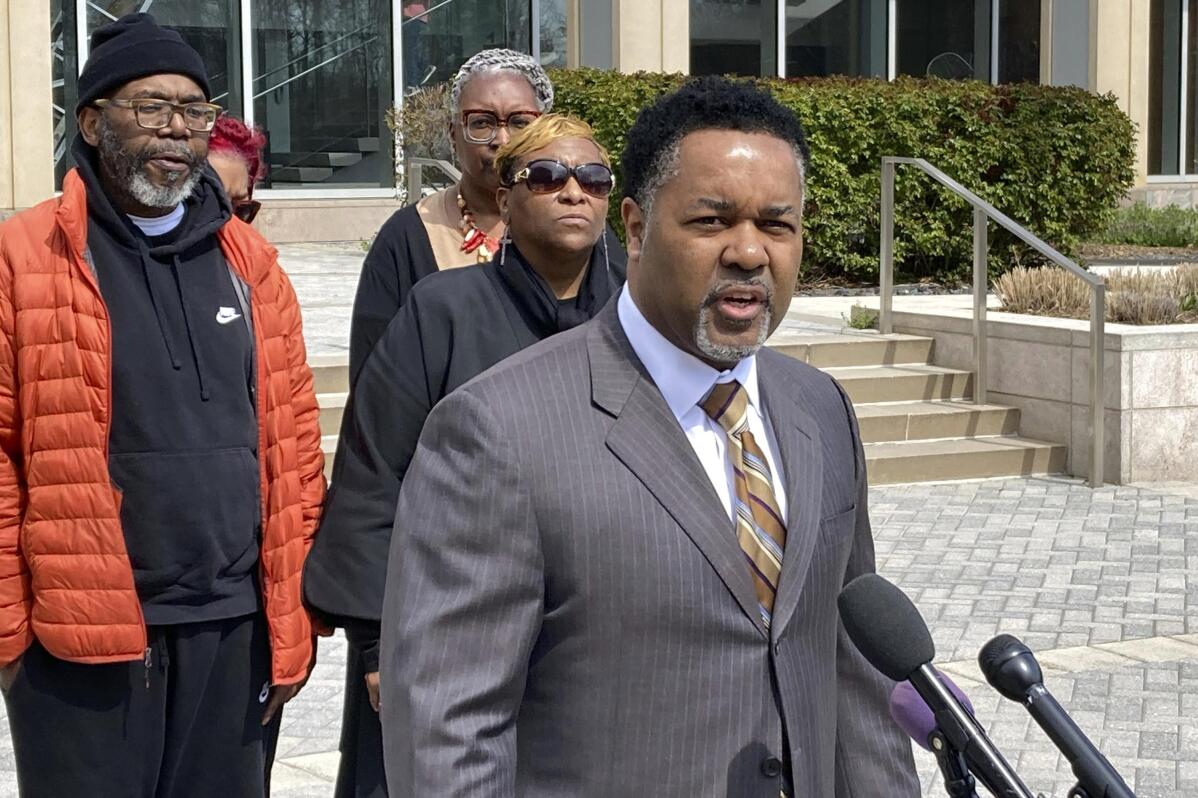 3 of 3

|
Family attorney Carl Crews, front, along with Timothy McCree Johnson's parents Melissa Johnson, rear center, and Timothy Walker, left, address reporters outside Fairfax County Police headquarters, Wednesday, March 22, 2023, in Fairfax, Va., after viewing police body camera video of their son's shooting death at the hands of police last month outside Tysons Corner Center shopping mall. (AP Photo/Matthew Barakat)
3 of 3
Family attorney Carl Crews, front, along with Timothy McCree Johnson's parents Melissa Johnson, rear center, and Timothy Walker, left, address reporters outside Fairfax County Police headquarters, Wednesday, March 22, 2023, in Fairfax, Va., after viewing police body camera video of their son's shooting death at the hands of police last month outside Tysons Corner Center shopping mall. (AP Photo/Matthew Barakat)
FAIRFAX, Va. (AP) — The lawyer for the family of a man fatally shot by police after he allegedly stole a pair of sunglasses from a Virginia shopping mall called the death "an execution" after seeing video of the shooting for the first time Wednesday.
Family of Timothy McCree Johnson viewed the body camera video for the first time at the invitation of the Fairfax County Police Department nearly a month after two officers ran after Johnson and then shot him outside Tysons Corner Center, one of the busiest malls in northern Virginia.
Attorney Carl Crews said nothing in the video shows anything to explain why officers would have reasonably feared for their lives when they opened fire.
"If the video would have exonerated the officer, we would have seen it already," Crews said, referring to the delay. He called Johnson's death "an execution by a Fairfax County police officer."
Crews said nothing appears in the video to make it look as though Johnson was armed.
"He could have been apprehended without a shot being fired," Crews said.
The video has not yet been made publicly available. Police say they plan to release it Thursday, just inside of a 30-day deadline set by internal guidelines.
Johnson's mother, Melissa Johnson of Forestville, Maryland, said she has now been thrust into a depressingly familiar role in the national news cycle: the mother of a Black man who was killed by police without justification.
"No parent should have to view the killing of their child and then be asked to give remarks," she said to reporters outside police headquarters after having just watched the eight-minute body camera video. "However, here we are, and here I stand."
Police did not comment Wednesday on the family's accusations. Last month, though, immediately after the shooting, Fairfax County Police Chief Kevin Davis described Johnson as someone with a "significant violent criminal history" who was "absolutely very well known to law enforcement in the national capital region."
Davis said Johnson ran into a heavily wooded patch that made it difficult to determine at the time of the shooting whether Johnson had been armed. Police later confirmed that no weapon was found.
On Wednesday, Melissa Johnson took issue with Davis' depiction of her son.
"Before he took the time to gather the facts, he painted a negative half-truth about our son and the unfolding case," she said.
The only thing the officers knew about her son when he was shot and killed, she said, was "that he was Black and male and had allegedly triggered an alarm from a store for some sunglasses."
Johnson had no criminal record in Fairfax County, court records show. He did have assault and gun convictions against him in Maryland and the District of Columbia that went back 20 years.
The video viewed Wednesday by Johnson's family came from body camera footage connected to Sgt. Wesley Shifflett, one of the two officers assigned to patrolling Tysons Corner Center, Crews said. The other officer, James Sadler, was in plainclothes and had no body camera, police have said. Both officers opened fire, according to police.
The release of the video to Johnson's family comes as seven Virginia sheriff's deputies and three hospital workers in Henrico County, near Richmond, have been charged with second-degree murder in the death of a Black patient, Irvo Otieno, after he died while being transferred to a state hospital. Video released Tuesday in Otieno's case shows the deputies and workers surrounding and pinning Otieno to the floor.
In Johnson's case, Fairfax County Commonwealth's Attorney Steve Descano, who was elected in part on a platform of holding police officers accountable, said in a statement Wednesday that he will decide in the coming weeks whether the officers who shot Johnson will face criminal charges.
"I have seen and am devastated by the body-worn camera footage showing yet another death of a Black man at the hands of police," Descano said. "My heart grieves for the Johnsons, who lost a beloved family member over an incident involving a pair of sunglasses."