What's Happening: Virus moves west, 'Big Brother' gets real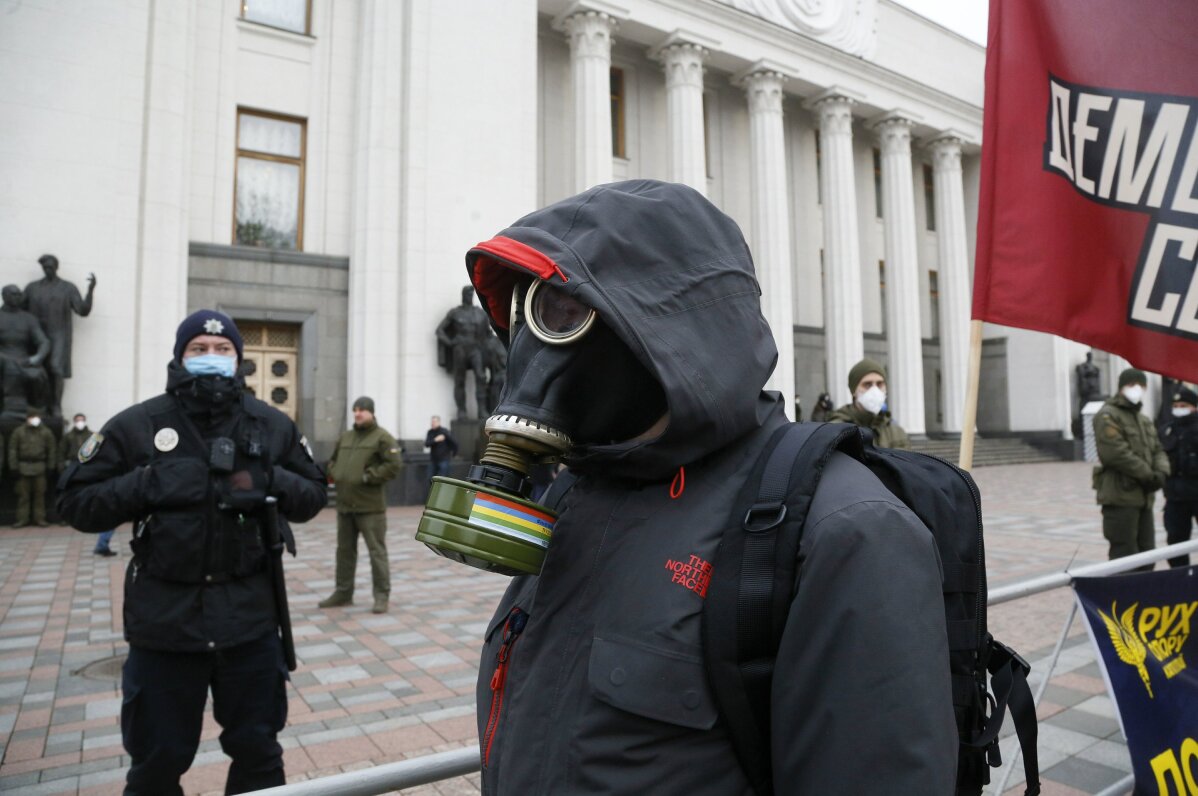 1 of 21

|
A protester in a gas mask takes part in a rally in front of the parliament building in Kyiv, Ukraine, Tuesday, March 17, 2020. Protesters demanded lawmakers to stop working amid nation-wide quarantine in order to prevent hastily adopting unpopular laws. In an additional set of measures preventing the spread of the new coronarivus, Ukrainian authorities ruled to close public places except food markets, pharmacies and gas stations starting from Tuesday in Kyiv and other regions, and restrict the use of public transport from Kyiv to other Ukrainian cities. For most people, the new coronavirus causes only mild or moderate symptoms. For some it can cause more severe illness, especially in older adults and people with existing health problems. (AP Photo/Efrem Lukatsky)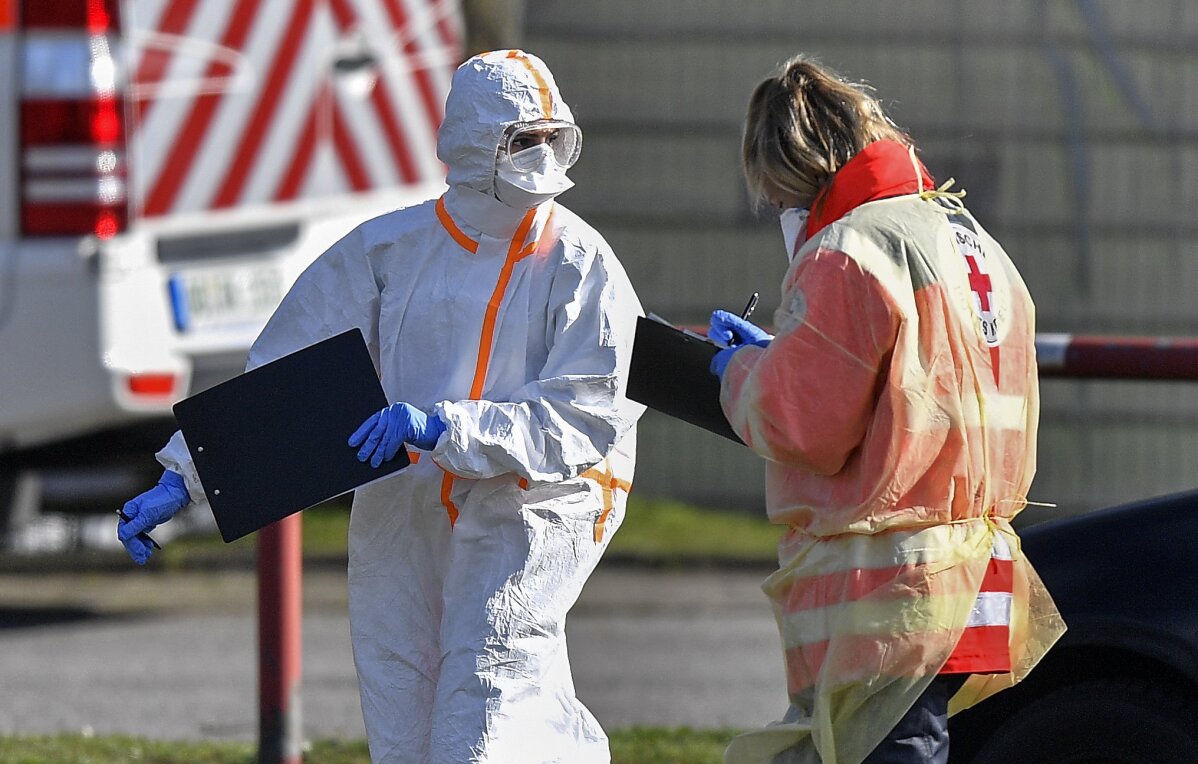 2 of 21

|
Workers of the fire department and the Red Cross take samples for coronavirus tests from car drivers at a mobile test station in Oberhausen, Germany, Tuesday, March 17, 2020. All public and private events are banned in Germany, clubs, bars restaurants and most shops are closed due to the virus outbreak. For most people, the new coronavirus causes only mild or moderate symptoms, such as fever and cough. For some, especially older adults and people with existing health problems, it can cause more severe illness, including pneumonia. (AP Photo/Martin Meissner)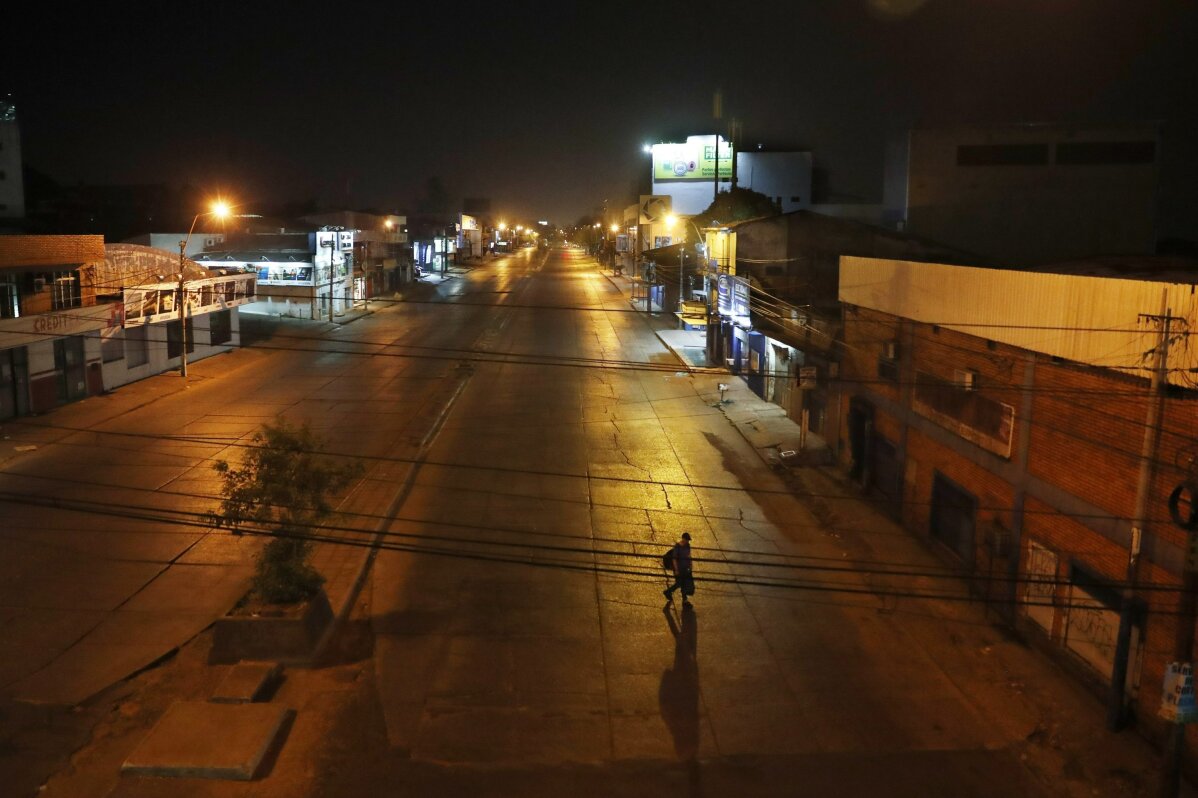 3 of 21

|
A man crosses the Eusebio Ayala Avenue bereft of traffic, during curfew in Asuncion, Paraguay, Monday, March 16, 2020. Authorities have decreed a curfew from 8pm to 4am in an attempt to stop the spread of the new coronavirus. According to the World Health Organization, most people recover in about two to six weeks from the virus, depending on the severity of the illness. (AP Photo/Jorge Saenz)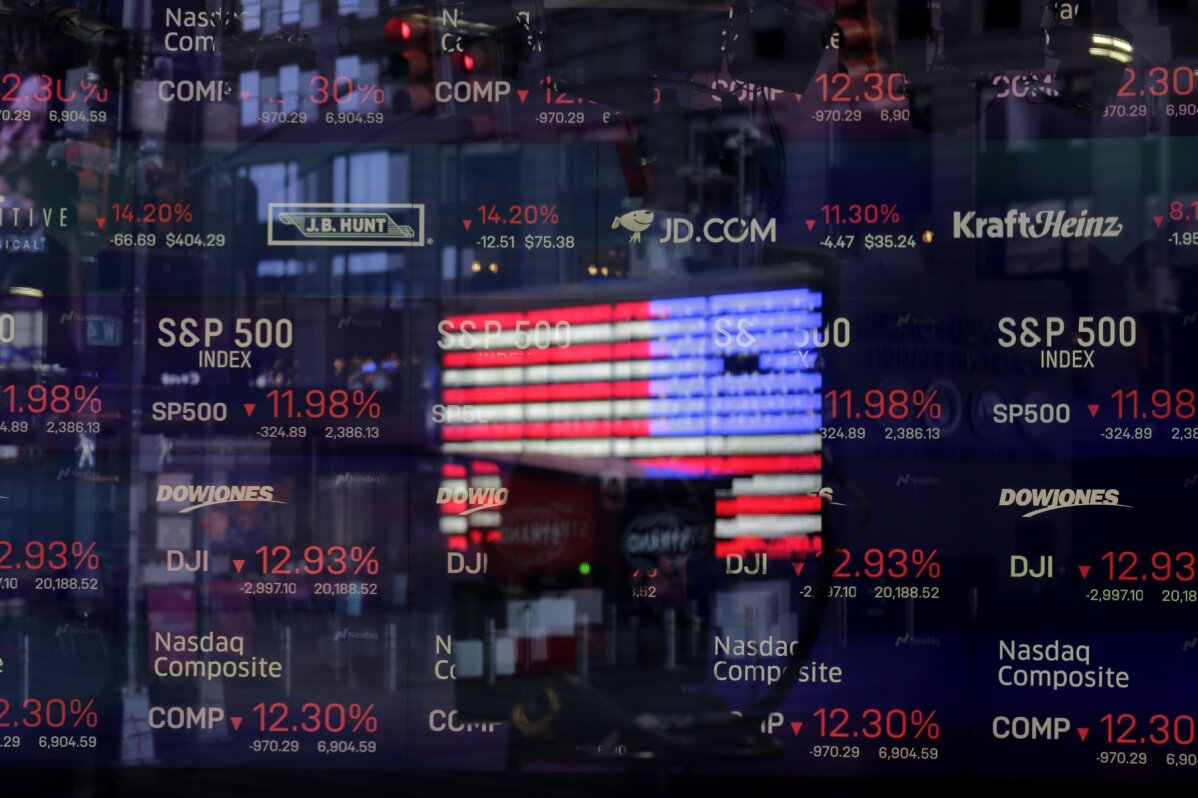 4 of 21

|
A United States flag is reflected in the window of the Nasdaq studio, which displays indices and stocks down, in Times Square, New York, Monday, March 16, 2020. (AP Photo/Seth Wenig)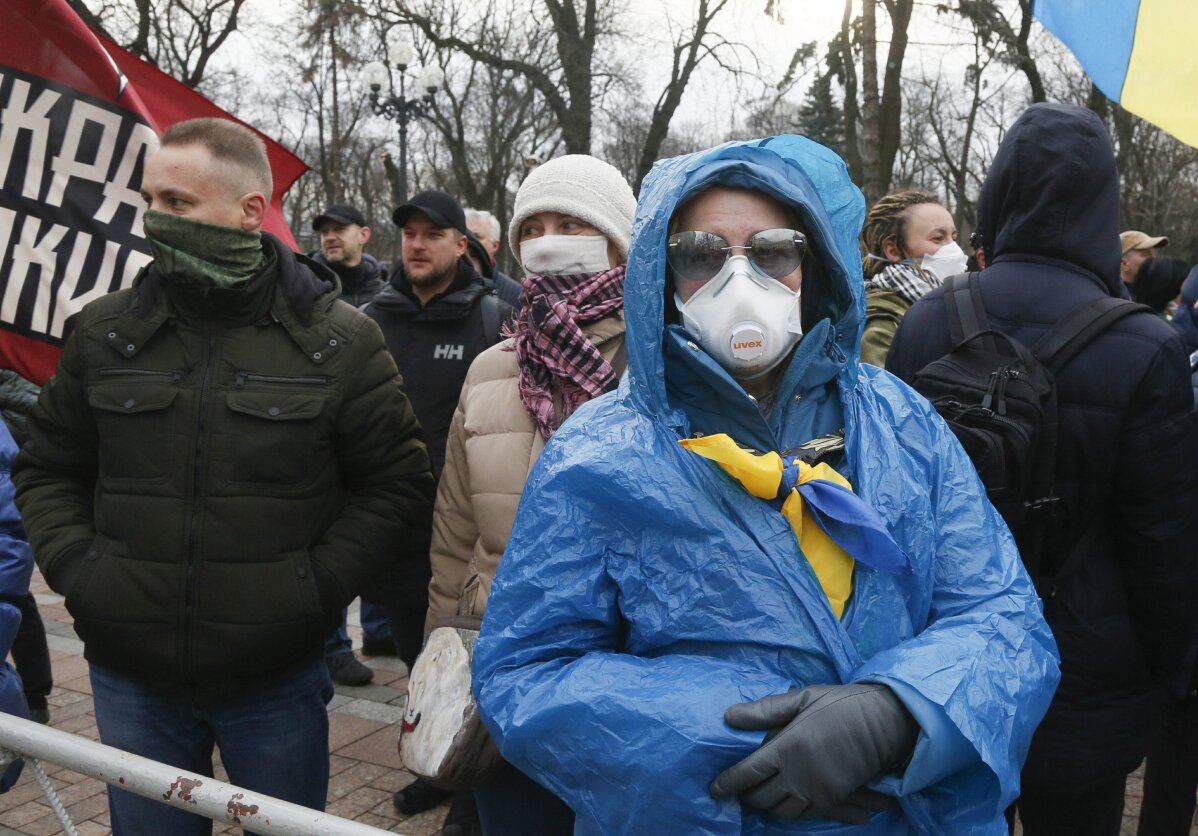 5 of 21

|
Protesters in face masks take part in a rally in front of the parliament building in Kyiv, Ukraine, Tuesday, March 17, 2020. Protesters demanded lawmakers to stop working amid nation-wide quarantine in order to prevent hastily adopting unpopular laws. In an additional set of measures preventing the spread of the new coronarivus, Ukrainian authorities ruled to close public places except food markets, pharmacies and gas stations starting from Tuesday in Kyiv and other regions, and restrict the use of public transport from Kyiv to other Ukrainian cities. For most people, the new coronavirus causes only mild or moderate symptoms. For some it can cause more severe illness, especially in older adults and people with existing health problems. (AP Photo/Efrem Lukatsky)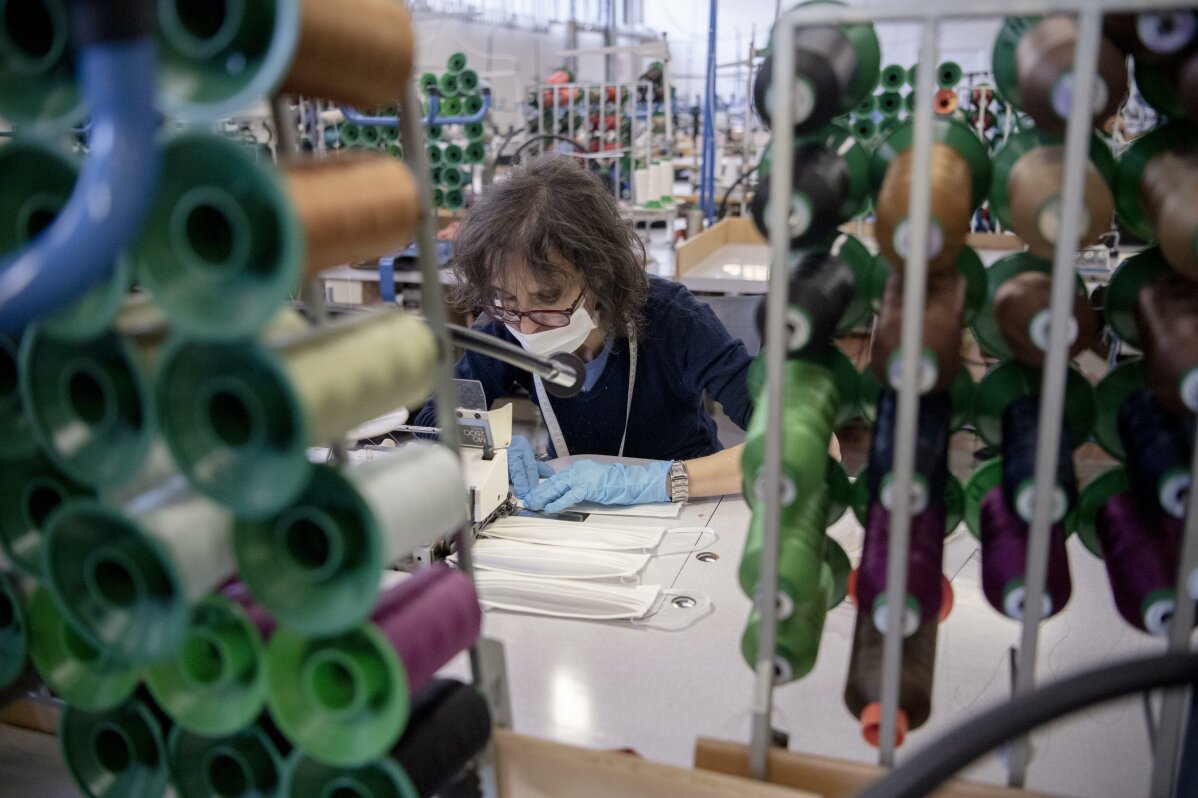 6 of 21

|
An employee works to produce face masks in the Miroglio group factory in Alba, Northern Italy, Tuesday, March 17, 2020. In order to face the coronavirus emergency, the factory was converted to the production of masks. For most people, the new coronavirus causes only mild or moderate symptoms. For some it can cause more severe illness, especially in older adults and people with existing health problems. (Marco Alpozzi/LaPresse via AP)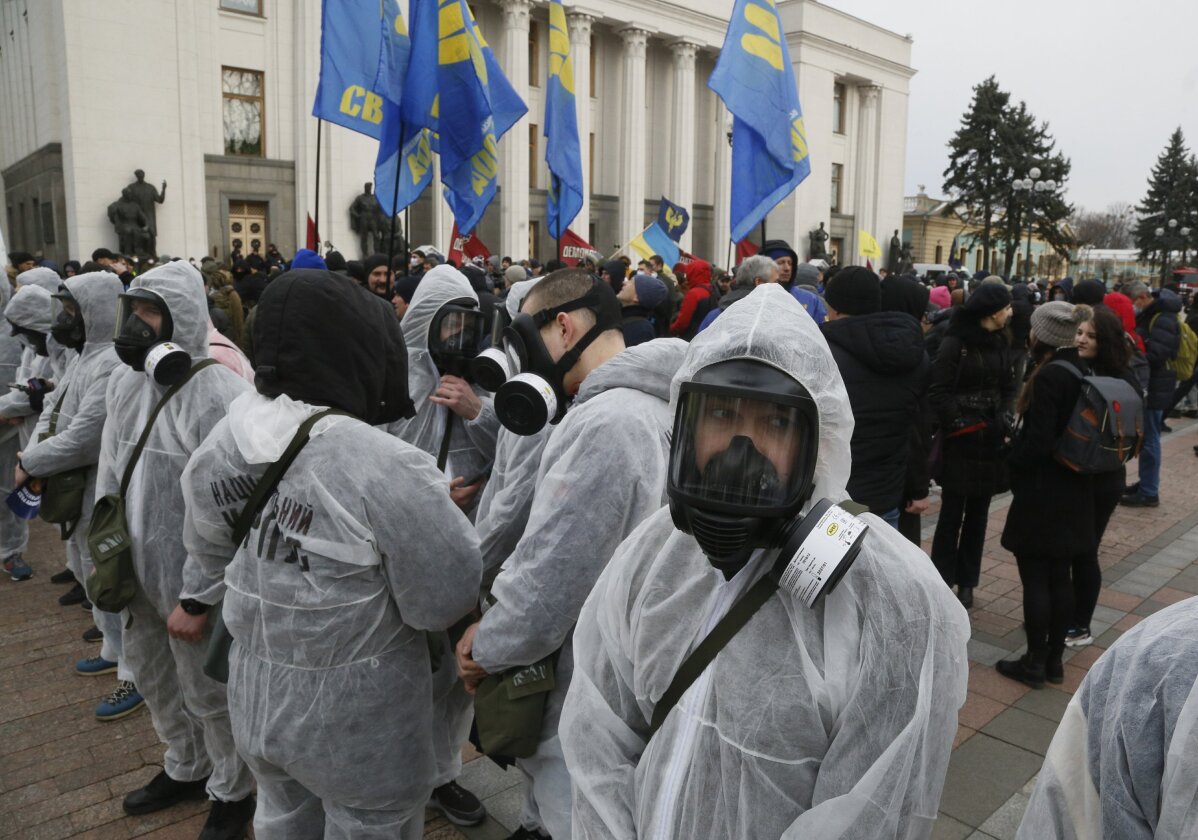 7 of 21

|
Protesters in protective suits and masks take part in a rally in front of the parliament building in Kyiv, Ukraine, Tuesday, March 17, 2020. Protesters demanded lawmakers to stop working amid nation-wide quarantine in order to prevent hastily adopting unpopular laws. In an additional set of measures preventing the spread of the new coronarivus, Ukrainian authorities ruled to close public places except food markets, pharmacies and gas stations starting from Tuesday in Kyiv and other regions, and restrict the use of public transport from Kyiv to other Ukrainian cities. For most people, the new coronavirus causes only mild or moderate symptoms. For some it can cause more severe illness, especially in older adults and people with existing health problems. (AP Photo/Efrem Lukatsky)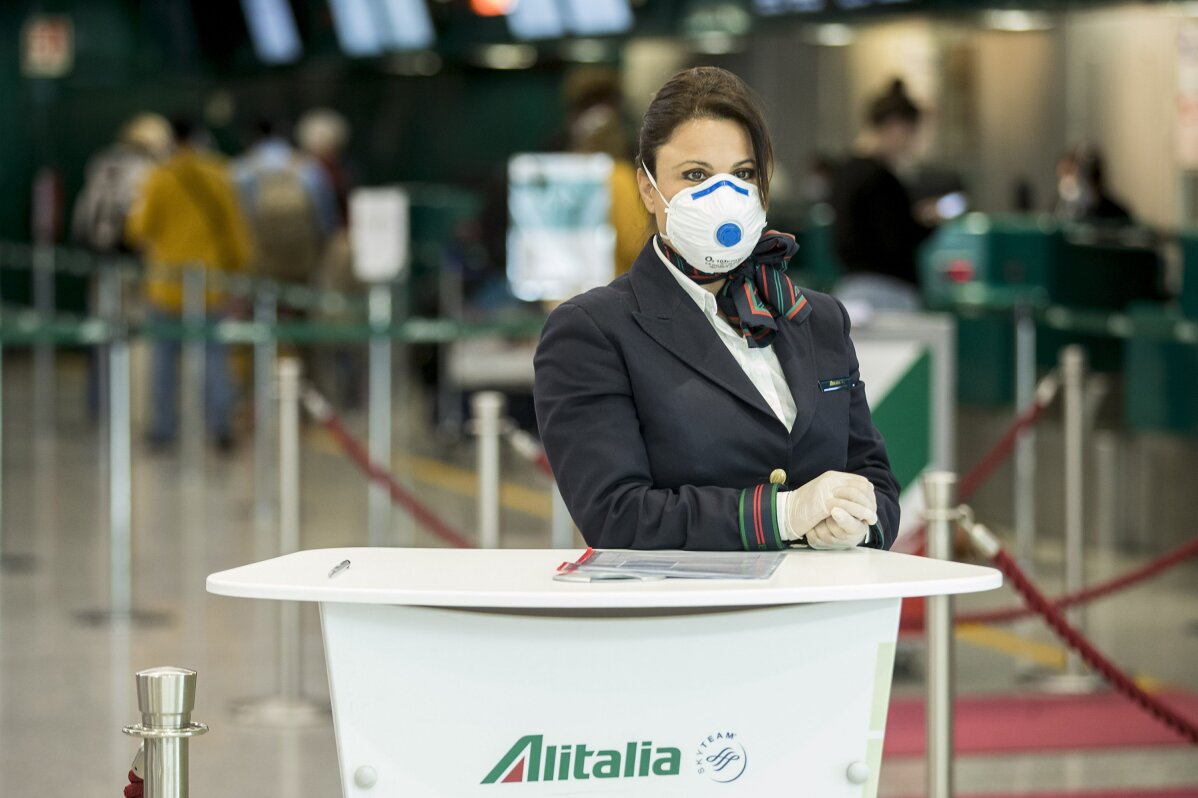 8 of 21

|
An Alitalia employee waits at the desk the Leonardo Da Vinci airport, in Rome, Tuesday, March 17, 2020. For most people, the new coronavirus causes only mild or moderate symptoms. For some it can cause more severe illness, especially in older adults and people with existing health problems.(Roberto Monaldo/LaPresse via AP)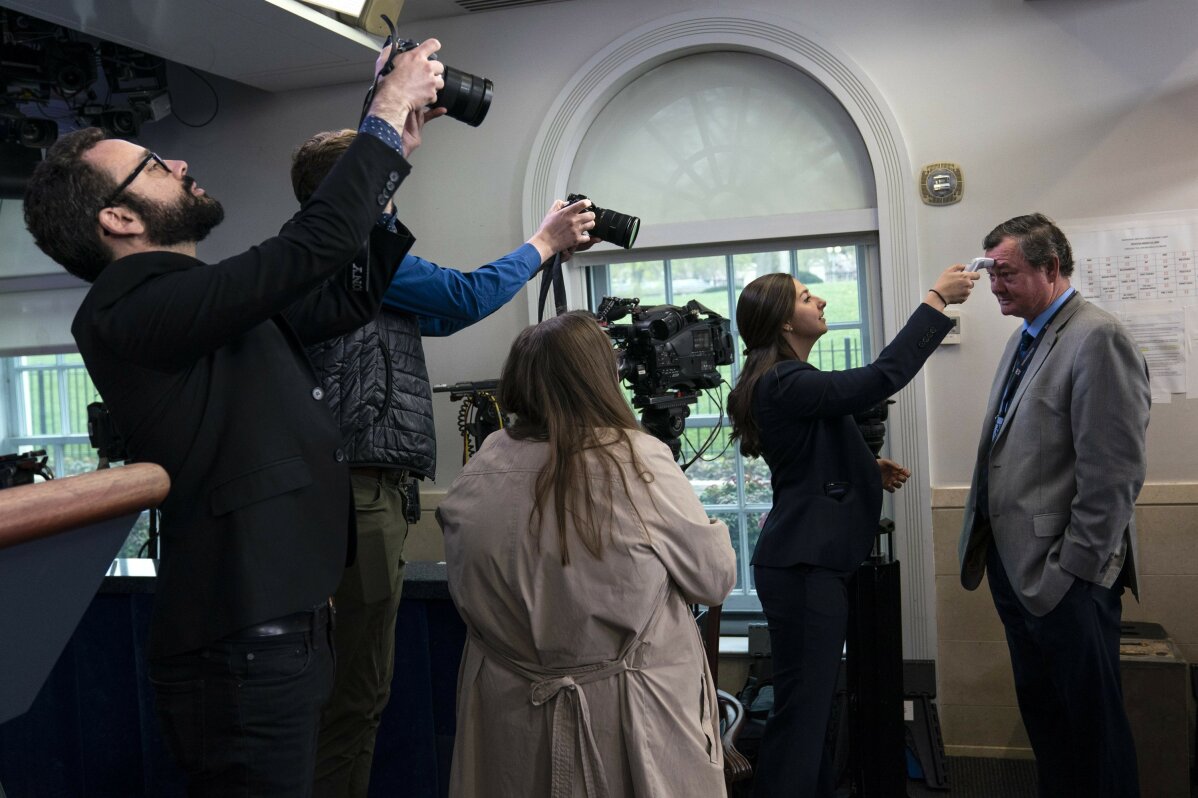 9 of 21

|
ADDS ID - Associated Press journalist Kevin Freking has his temperature checked before a coronavirus task force briefing, at the White House, Tuesday, March 17, 2020, in Washington. (AP Photo/Evan Vucci)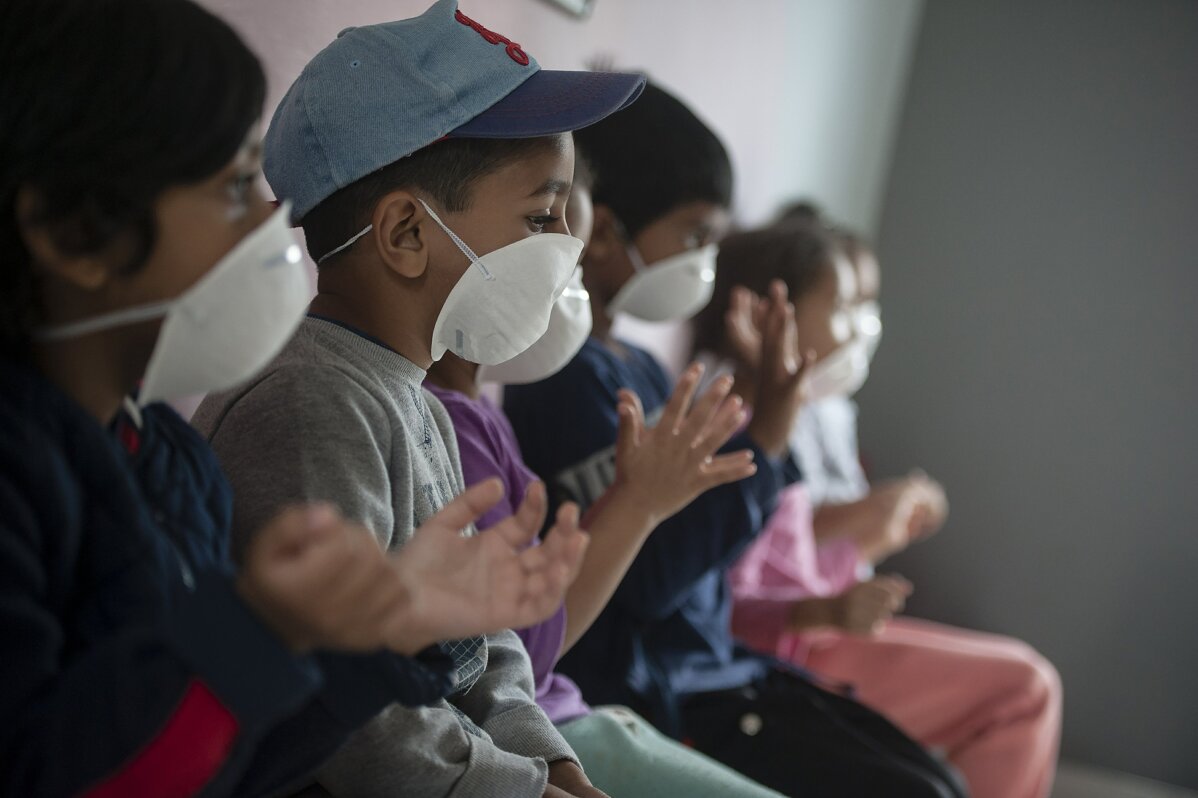 10 of 21

|
Learners wear masks as they sanitise their hans at a pre-school in Lenasia, Johannesburg, Tuesday, March 17, 2020, on the day schools closed in a bid to control the spread of coronavirus. For most people the virus causes only mild or moderate symptoms but for others is can cause more severe illness, especially in older adults and people with existing health problems. (AP Photo/Shiraaz Mohamed)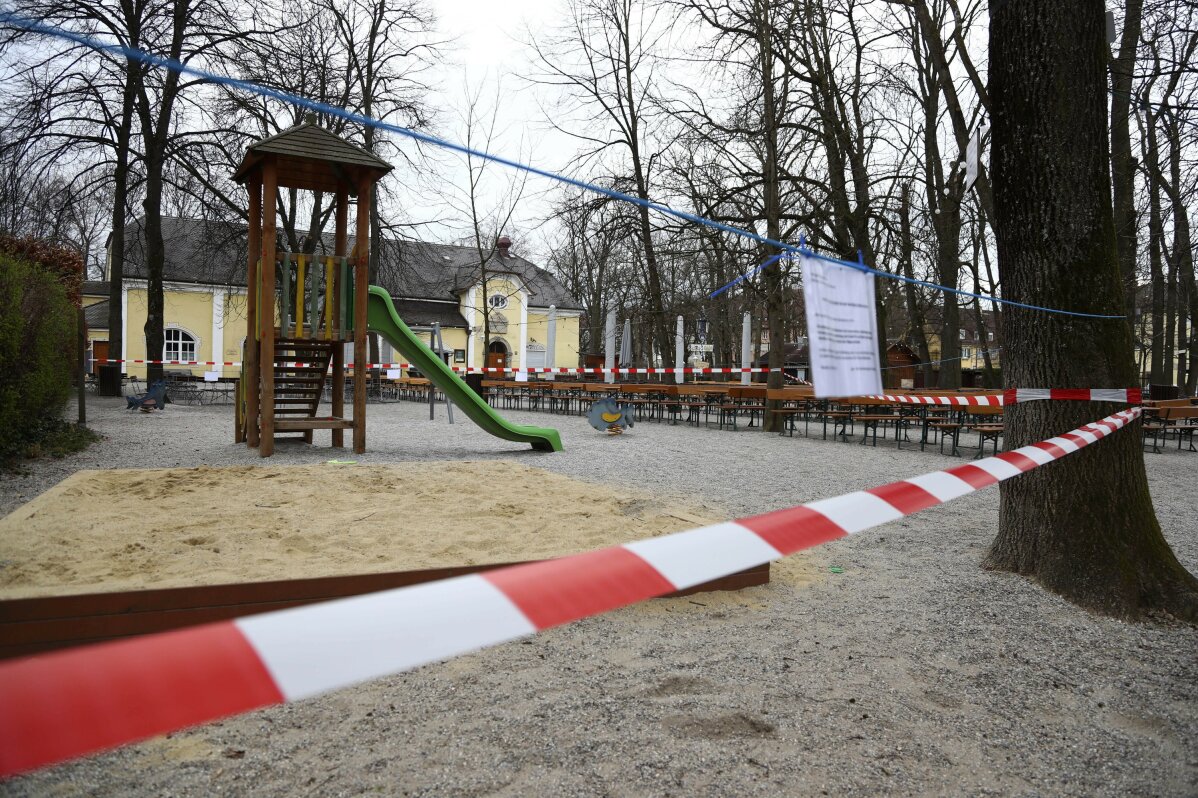 11 of 21

|
A barrier tape closes off a playground in Munich, Germany, Tuesday, March 17, 2020. German government had announced measure to curb the coronavirus outbreak in the country late Monday. For most people, the new coronavirus causes only mild or moderate symptoms, such as fever and cough. For some, especially older adults and people with existing health problems, it can cause more severe illness, including pneumonia. (AP Photo/Matthias Schrader)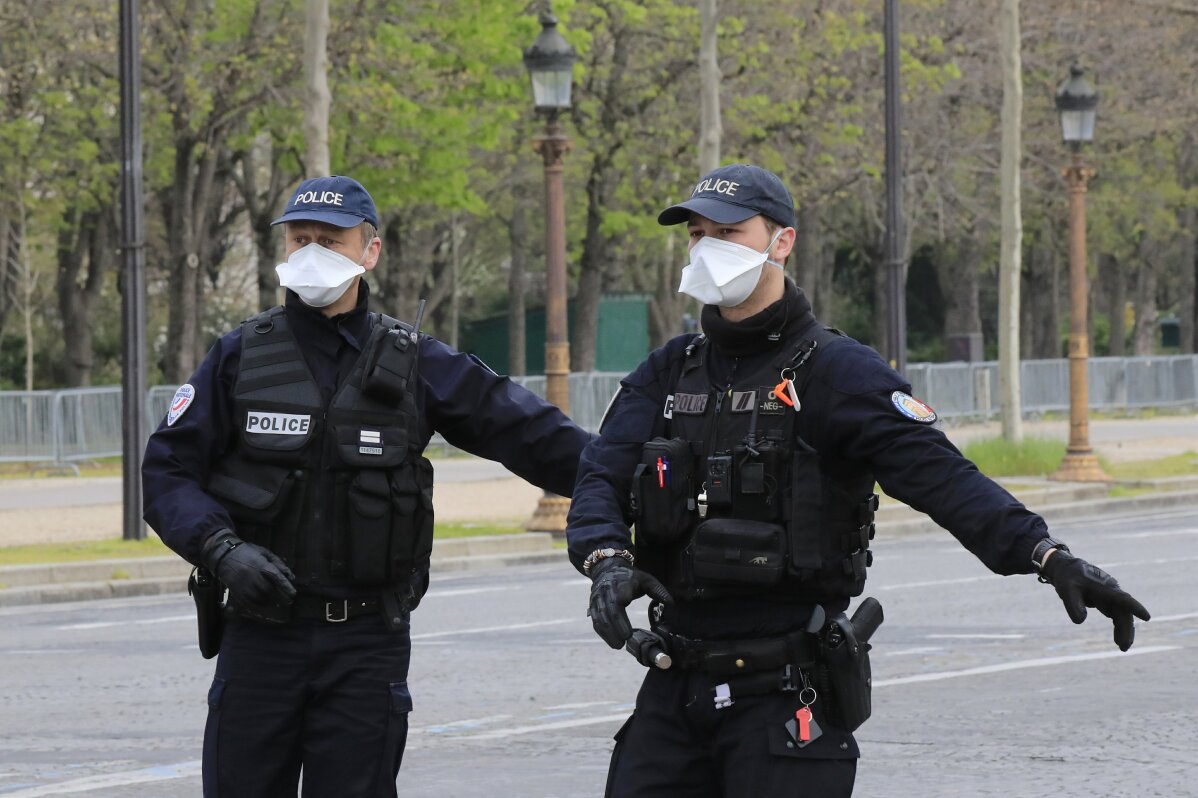 12 of 21

|
Police officers wearing protective masks wave a car into a control point at the Champs Elysees avenue in Paris, Tuesday, March 17, 2020. France is imposing nationwide restrictions on how far from their homes people can go and for what purpose as part of the country's strategy to stop the spread of the new coronavirus. For most people, the new coronavirus causes only mild or moderate symptoms, such as fever and cough. For some, especially older adults and people with existing health problems, it can cause more severe illness, including pneumonia. (AP Photo/Michel Euler)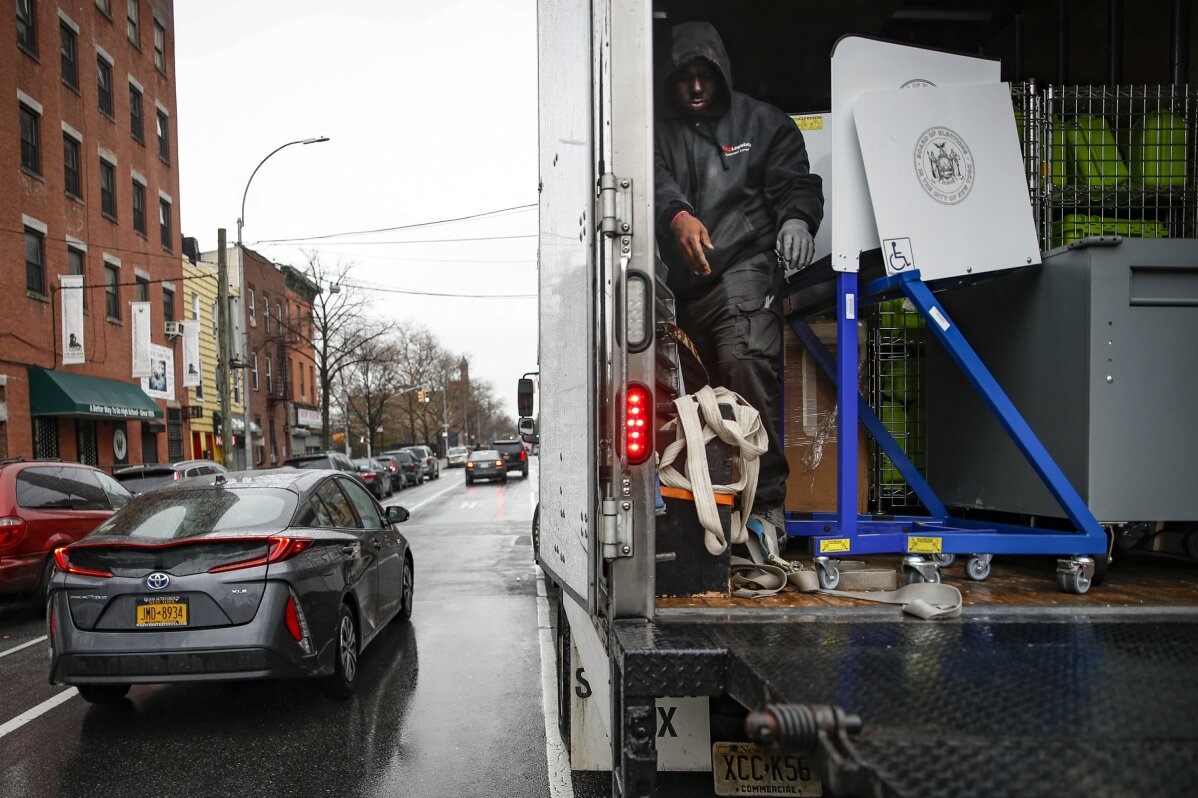 13 of 21

|
Workers load election materials into a truck for moving to different location, Tuesday, March 17, 2020, in the Brooklyn borough of New York. The New York Board of Elections is discussing whether or not to delay the state's April presidential primary due to concerns over the spread of the coronavirus. The number of confirmed cases in New York has shot up to over 1,300. (AP Photo/John Minchillo)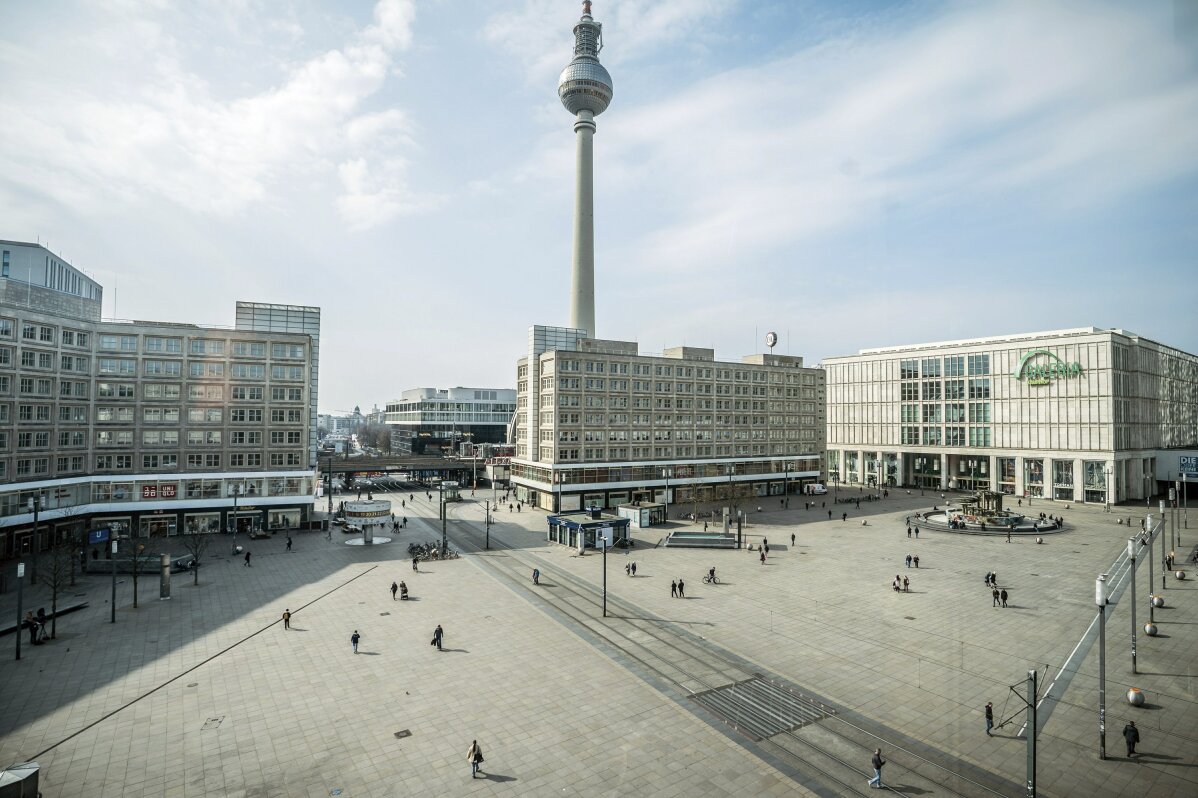 14 of 21

|
People walk across the Alexanderplatz a shopping area in Berlin, Germany, Tuesday, March 17, 2020. For most people, the new coronavirus causes only mild or moderate symptoms, such as fever and cough. For some, especially older adults and people with existing health problems, it can cause more severe illness, including pneumonia. (Michael Kappeler/dpa via AP)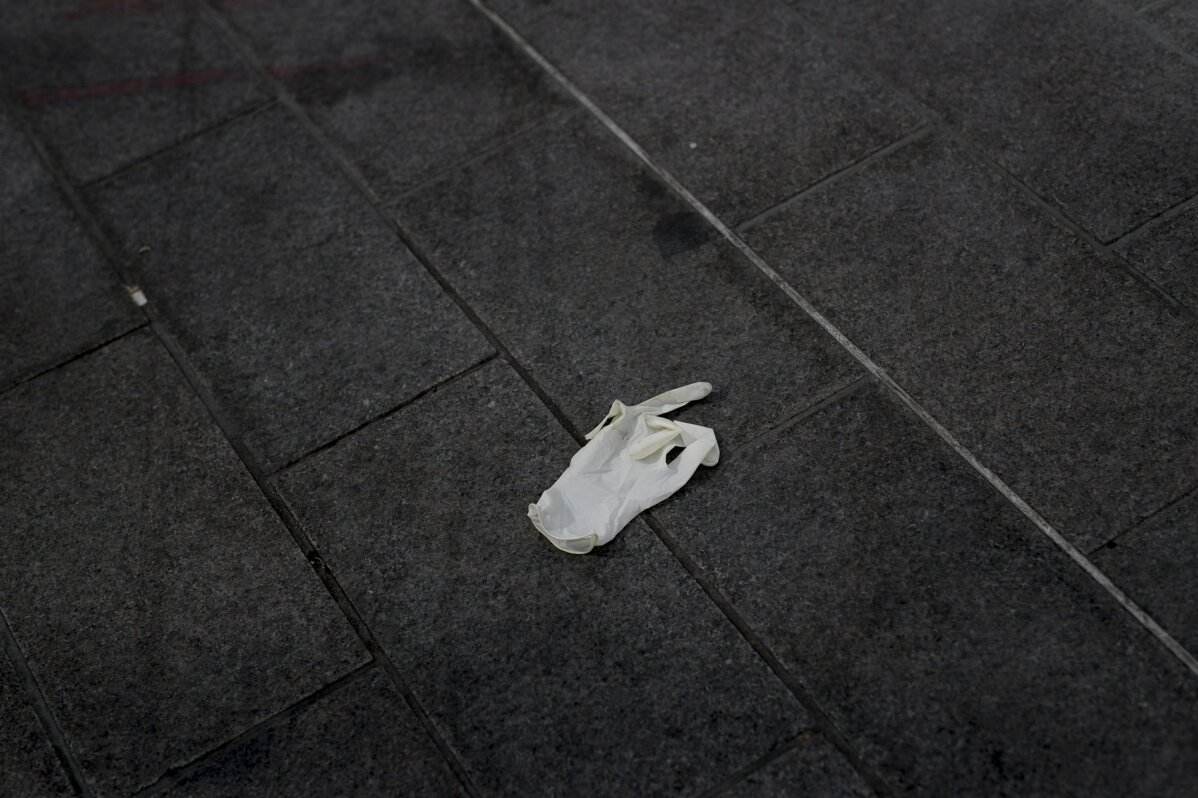 15 of 21

|
A sanitary glove lies on the pavement of a deserted street just after nationwide confinement measures came into effect, Tuesday, March 17, 2020, in Marseille, southern France. French President Emmanuel Macron announced strong restrictions on freedom of movement in a bid to counter the new coronavirus, as the European Union closed its external borders to foreign travelers. For most people, the new coronavirus causes only mild or moderate symptoms. For some it can cause more severe illness. (AP Photo/Daniel Cole)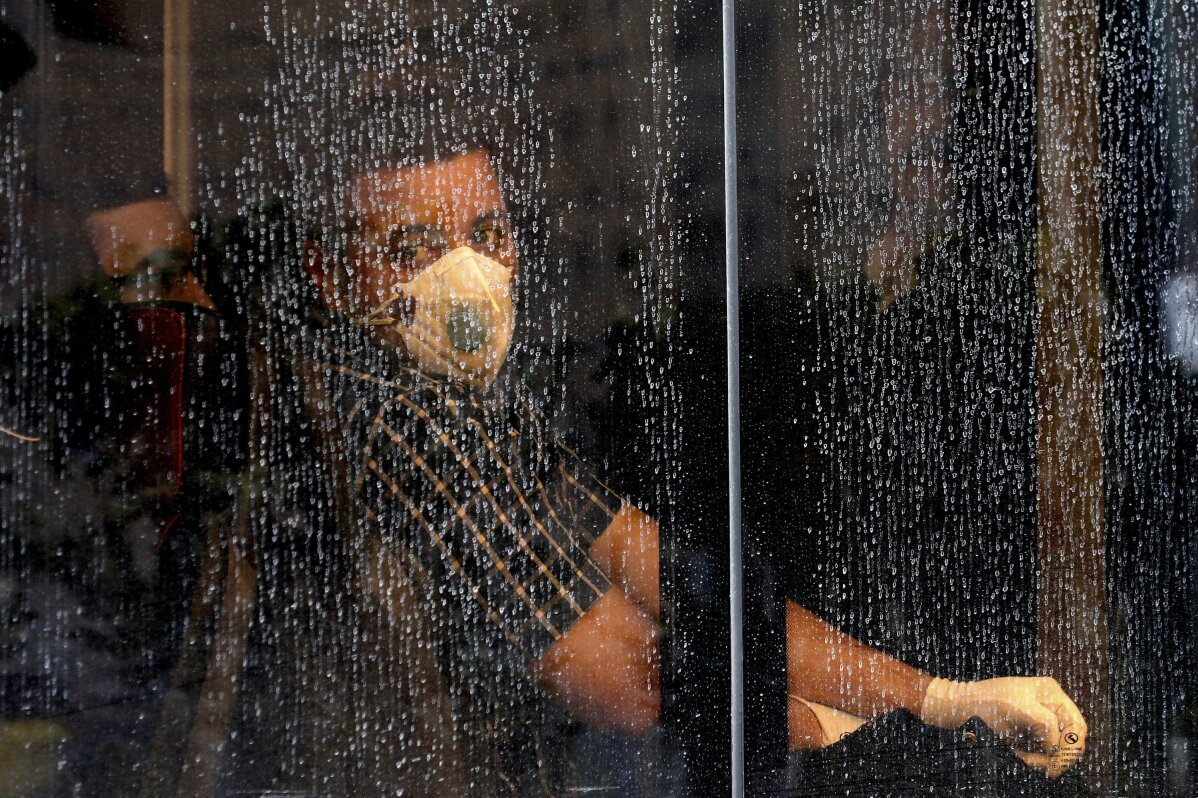 16 of 21

|
FILE — In this Feb. 23, 2020 file photo, a commuter looks through a water-stained window wearing a mask and gloves to help prevent the spread of the COVID-19 virus, on a public bus in downtown Tehran, Iran. Nine out of 10 cases of the virus in the Middle East come from the Islamic Republic. Days of denials gave the virus time to spread as the country marked the 41st anniversary of its 1979 Islamic Revolution. Iran also held a parliamentary election in which authorities desperately sought to boost turnout. For most people, the new coronavirus causes only mild or moderate symptoms. For some it can cause more severe illness. (AP Photo/Ebrahim Noroozi, File)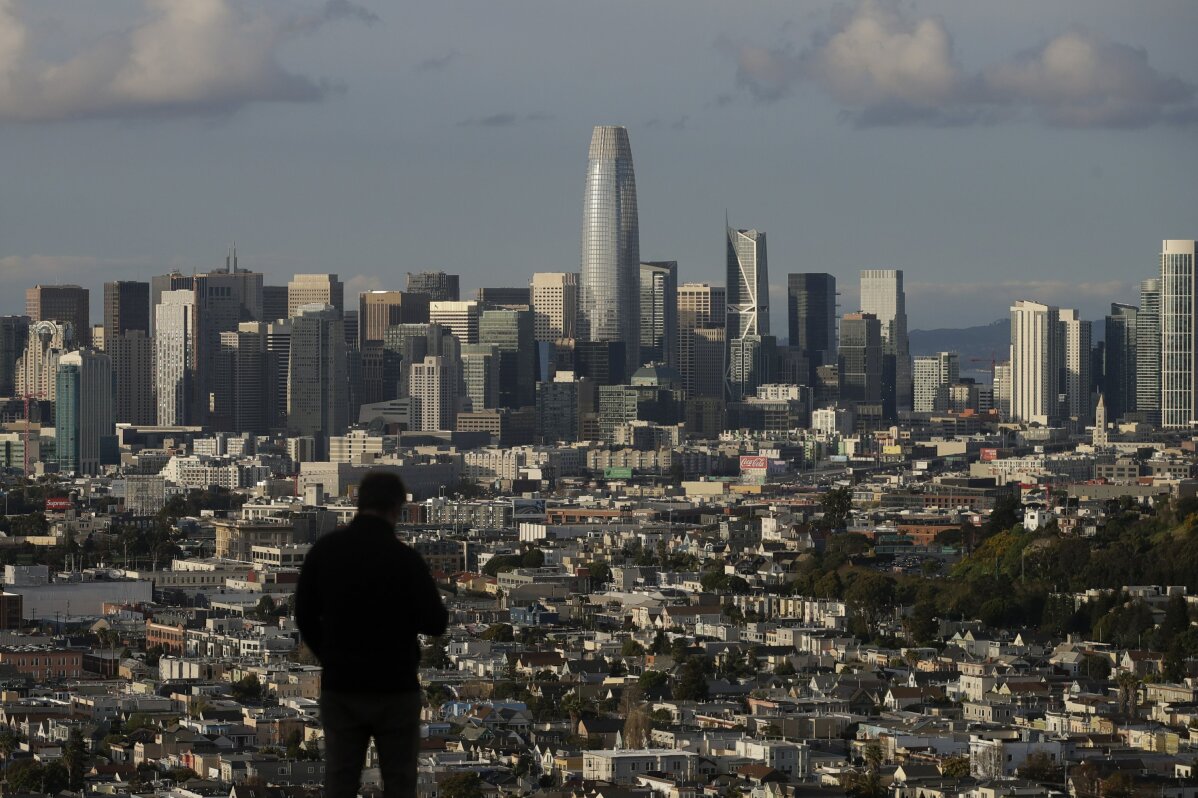 17 of 21

|
A man looks toward the skyline from Bernal Heights Hill in San Francisco, Monday, March 16, 2020. Officials in six San Francisco Bay Area counties issued a shelter-in-place mandate Monday affecting nearly 7 million people, including the city of San Francisco itself. The order says residents must stay inside and venture out only for necessities for three weeks starting Tuesday in a desperate attempt by officials to curb the spread of the novel coronavirus. (AP Photo/Jeff Chiu)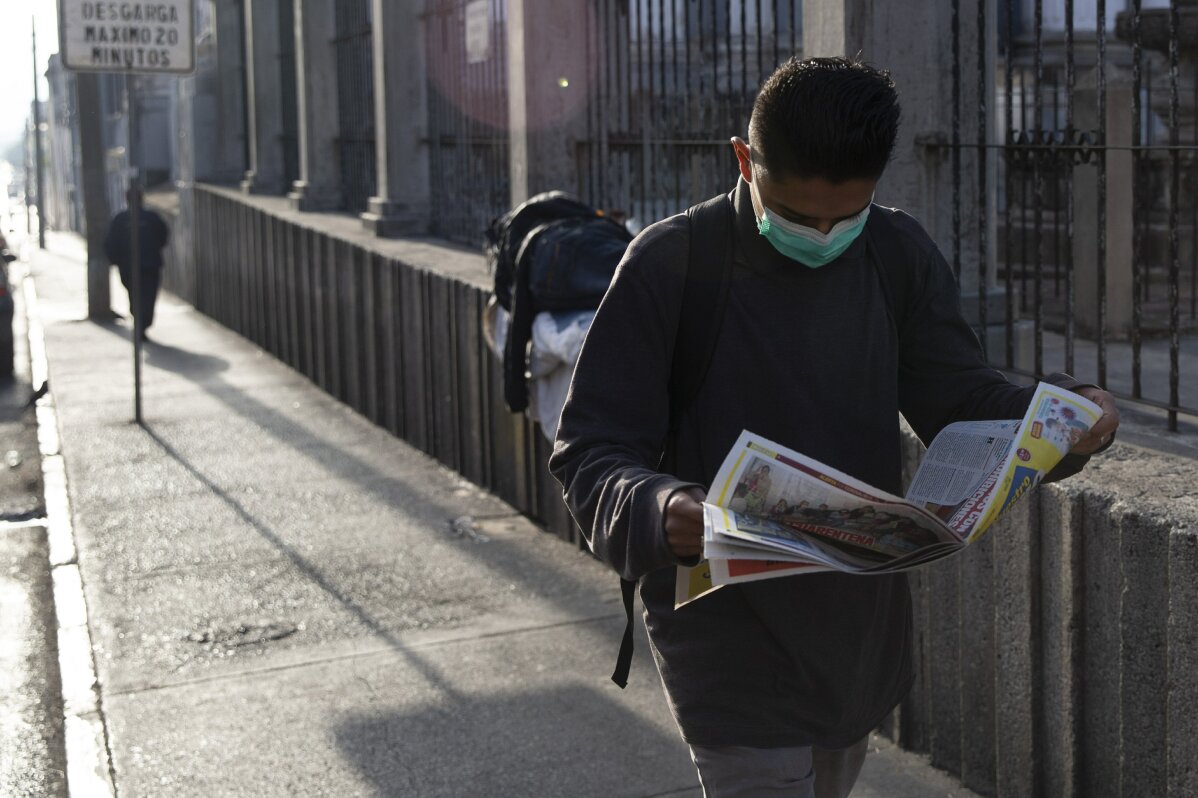 18 of 21

|
A man wearing a protective mask reads newspaper in Guatemala City, Tuesday, March 17, 2020. Guatemalan President Alejandro Giammattei effectively closed off Guatemala late Monday to all non-Guatemalans or permanent residents and ordered a suspension of all non-essential activities. For most people, the new coronavirus causes only mild or moderate symptoms. For some it can cause more severe illness. (AP Photo/Moises Castillo)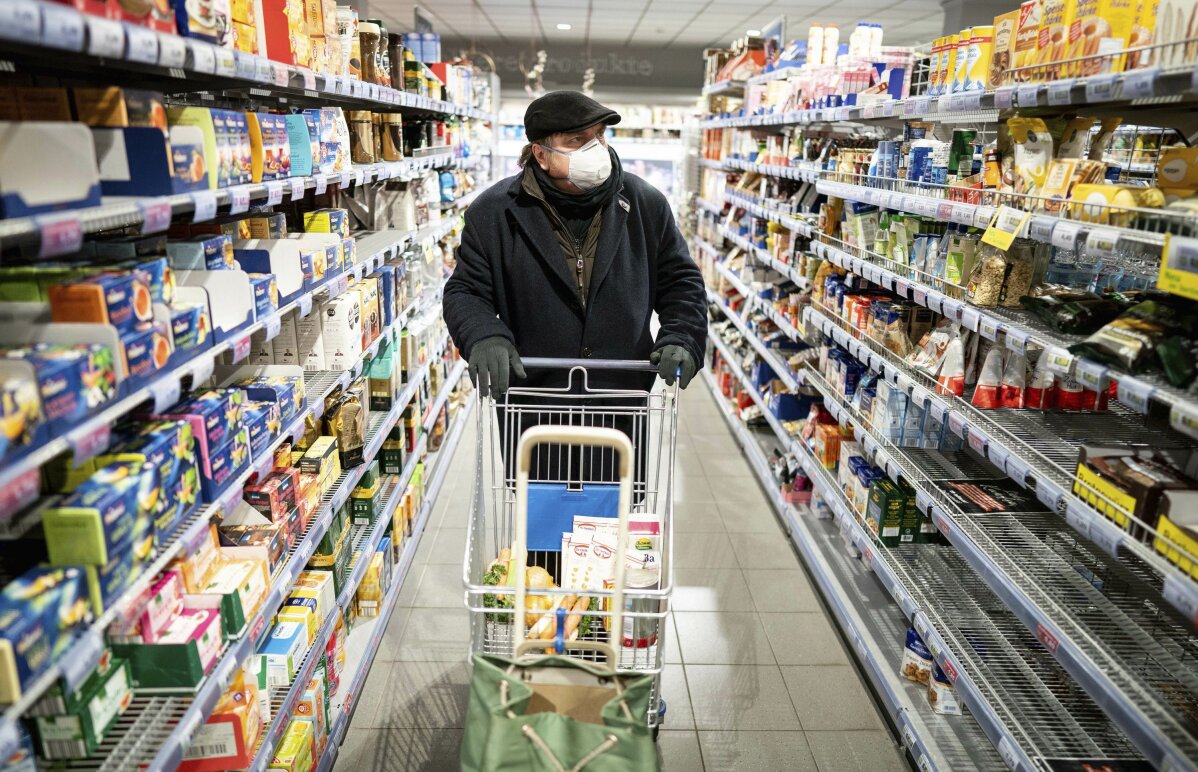 19 of 21

|
A customer wearing a face mask and gloves goes shopping in the early morning in a supermarket in the Berlin district of Friedenau, Germany, Tuesday, March 17, 2020 In order to slow down the spread of the coronavirus, the German government has considerably restricted public life. Only for most people, the new coronavirus causes only mild or moderate symptoms, such as fever and cough. For some, especially older adults and people with existing health problems, it can cause more severe illness, including pneumonia. (Kay Nietfeld/dpa via AP)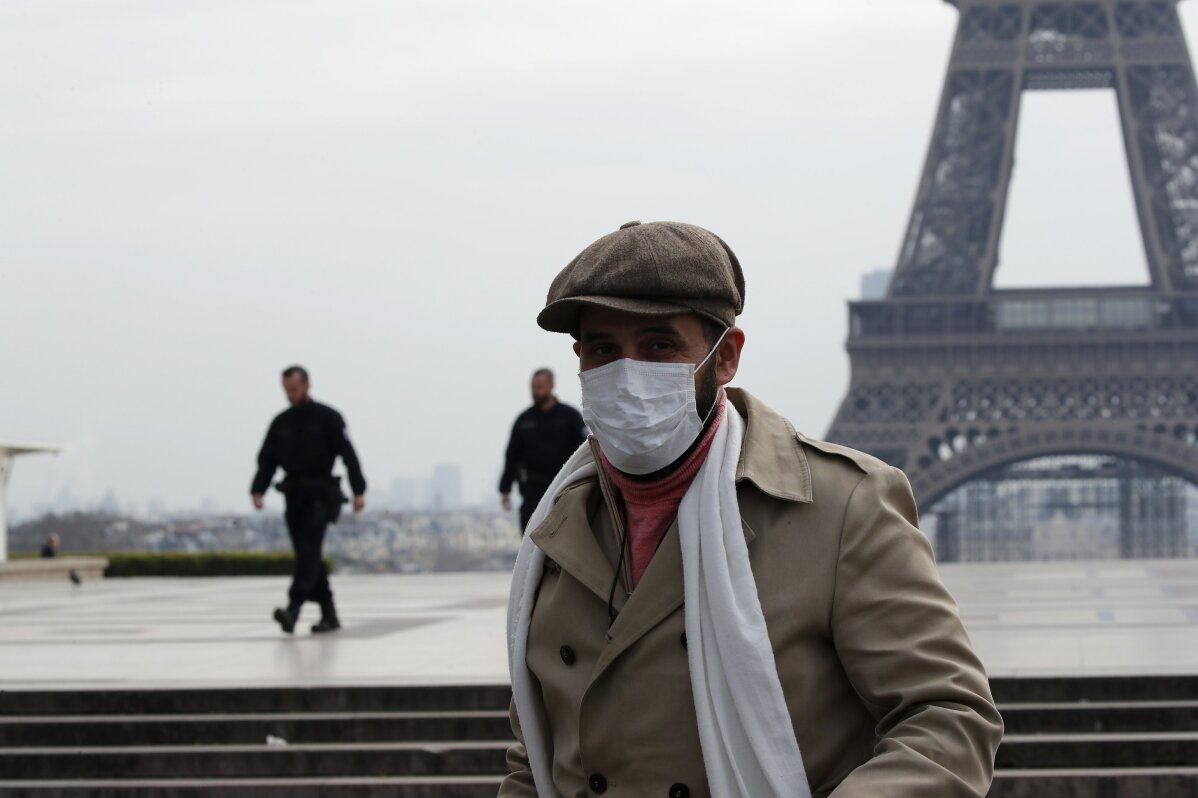 20 of 21

|
A masked man walks on the empty Trocadero as Police officers patrol in background, next to the Eiffel Tower, in Paris, Tuesday, March 17, 2020. French President Emmanuel Macron said that starting on Tuesday, people would be allowed to leave the place they live only for necessary activities such as shopping for food, going to work or taking a walk. For most people, the new coronavirus causes only mild or moderate symptoms. For some it can cause more severe illness. (AP Photo/Francois Mori)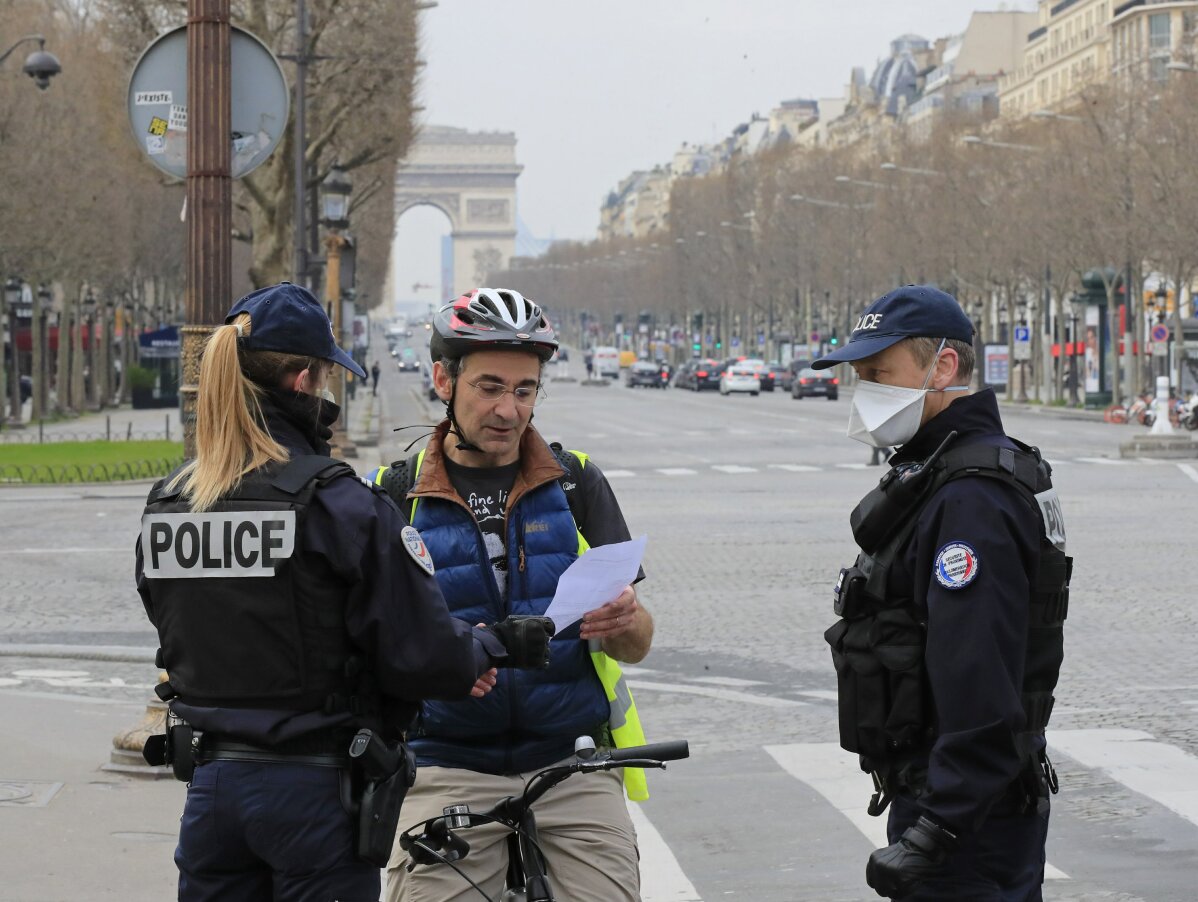 21 of 21

|
Police officers wearing protective masks check the paper of a cyclist at a control point at the Champs Elysees avenue in Paris, Tuesday, March 17, 2020. France is imposing nationwide restrictions on how far from their homes people can go and for what purpose as part of the country's strategy to stop the spread of the new coronavirus. For most people, the new coronavirus causes only mild or moderate symptoms, such as fever and cough. For some, especially older adults and people with existing health problems, it can cause more severe illness, including pneumonia. (AP Photo/Michel Euler)
What's Happening: Virus moves west, 'Big Brother' gets real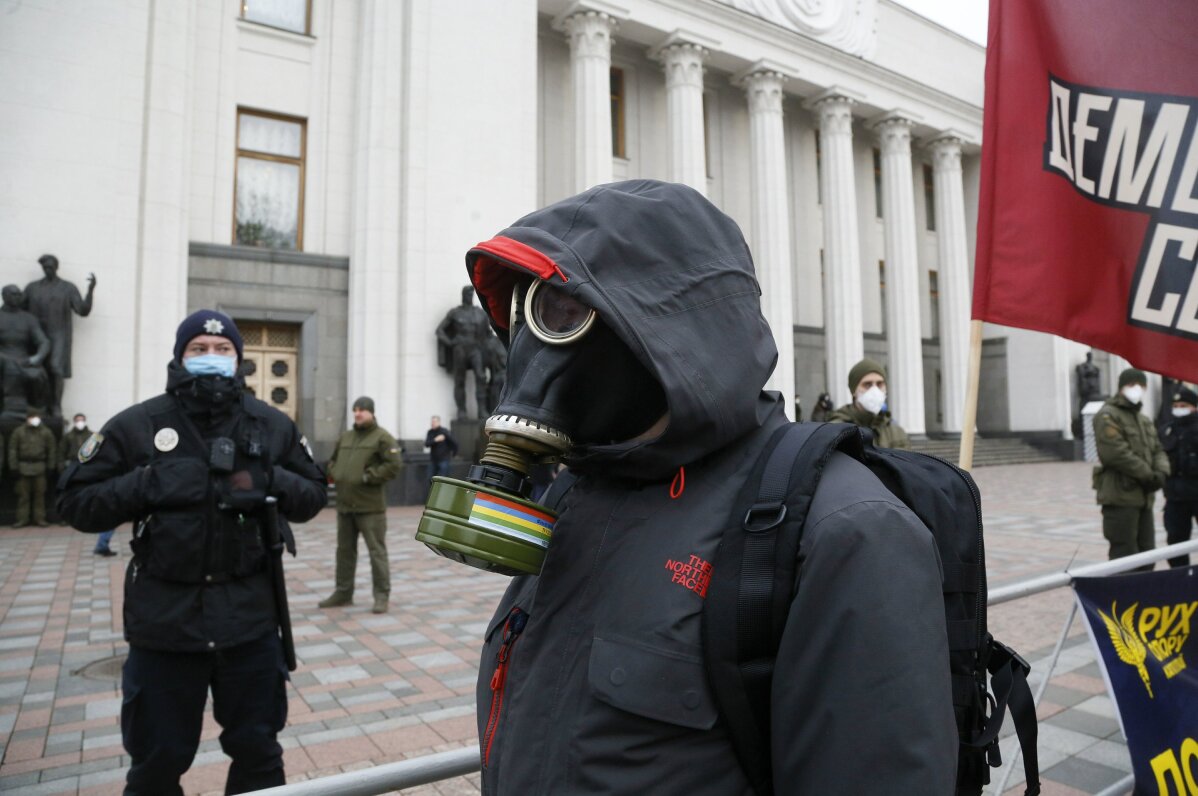 1 of 21

|
A protester in a gas mask takes part in a rally in front of the parliament building in Kyiv, Ukraine, Tuesday, March 17, 2020. Protesters demanded lawmakers to stop working amid nation-wide quarantine in order to prevent hastily adopting unpopular laws. In an additional set of measures preventing the spread of the new coronarivus, Ukrainian authorities ruled to close public places except food markets, pharmacies and gas stations starting from Tuesday in Kyiv and other regions, and restrict the use of public transport from Kyiv to other Ukrainian cities. For most people, the new coronavirus causes only mild or moderate symptoms. For some it can cause more severe illness, especially in older adults and people with existing health problems. (AP Photo/Efrem Lukatsky)
1 of 21
A protester in a gas mask takes part in a rally in front of the parliament building in Kyiv, Ukraine, Tuesday, March 17, 2020. Protesters demanded lawmakers to stop working amid nation-wide quarantine in order to prevent hastily adopting unpopular laws. In an additional set of measures preventing the spread of the new coronarivus, Ukrainian authorities ruled to close public places except food markets, pharmacies and gas stations starting from Tuesday in Kyiv and other regions, and restrict the use of public transport from Kyiv to other Ukrainian cities. For most people, the new coronavirus causes only mild or moderate symptoms. For some it can cause more severe illness, especially in older adults and people with existing health problems. (AP Photo/Efrem Lukatsky)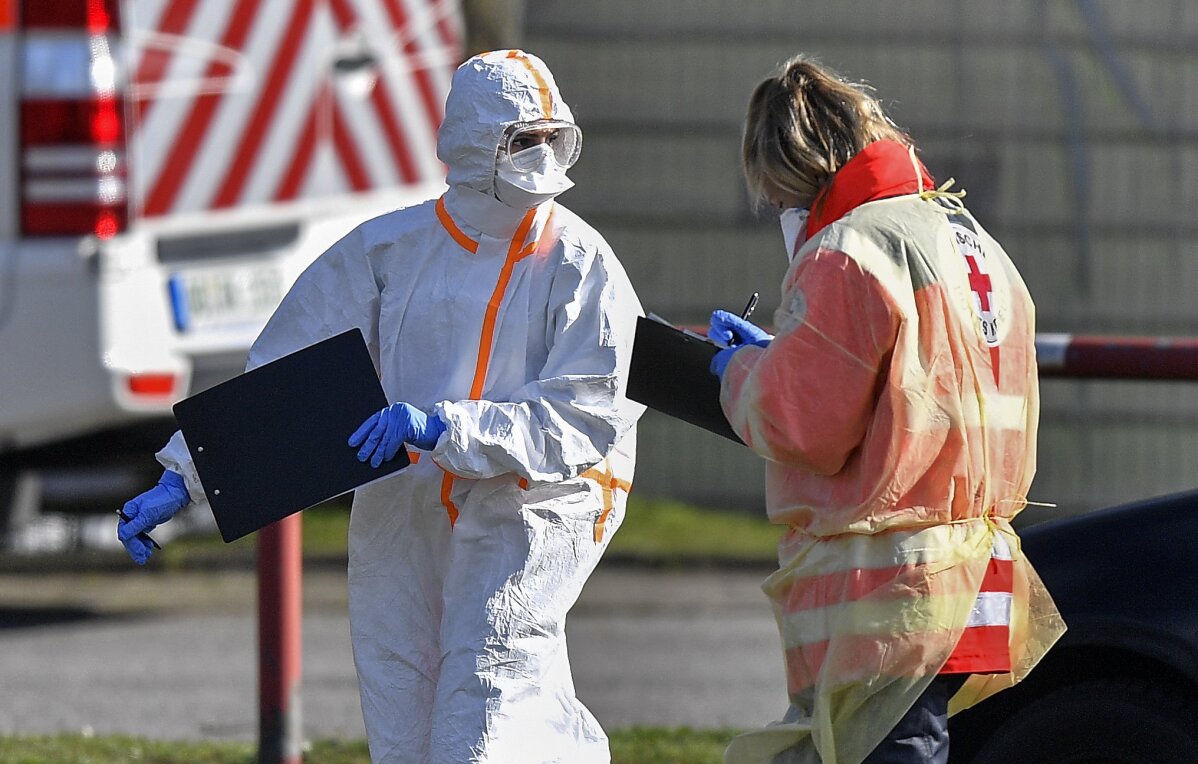 2 of 21

|
Workers of the fire department and the Red Cross take samples for coronavirus tests from car drivers at a mobile test station in Oberhausen, Germany, Tuesday, March 17, 2020. All public and private events are banned in Germany, clubs, bars restaurants and most shops are closed due to the virus outbreak. For most people, the new coronavirus causes only mild or moderate symptoms, such as fever and cough. For some, especially older adults and people with existing health problems, it can cause more severe illness, including pneumonia. (AP Photo/Martin Meissner)
2 of 21
Workers of the fire department and the Red Cross take samples for coronavirus tests from car drivers at a mobile test station in Oberhausen, Germany, Tuesday, March 17, 2020. All public and private events are banned in Germany, clubs, bars restaurants and most shops are closed due to the virus outbreak. For most people, the new coronavirus causes only mild or moderate symptoms, such as fever and cough. For some, especially older adults and people with existing health problems, it can cause more severe illness, including pneumonia. (AP Photo/Martin Meissner)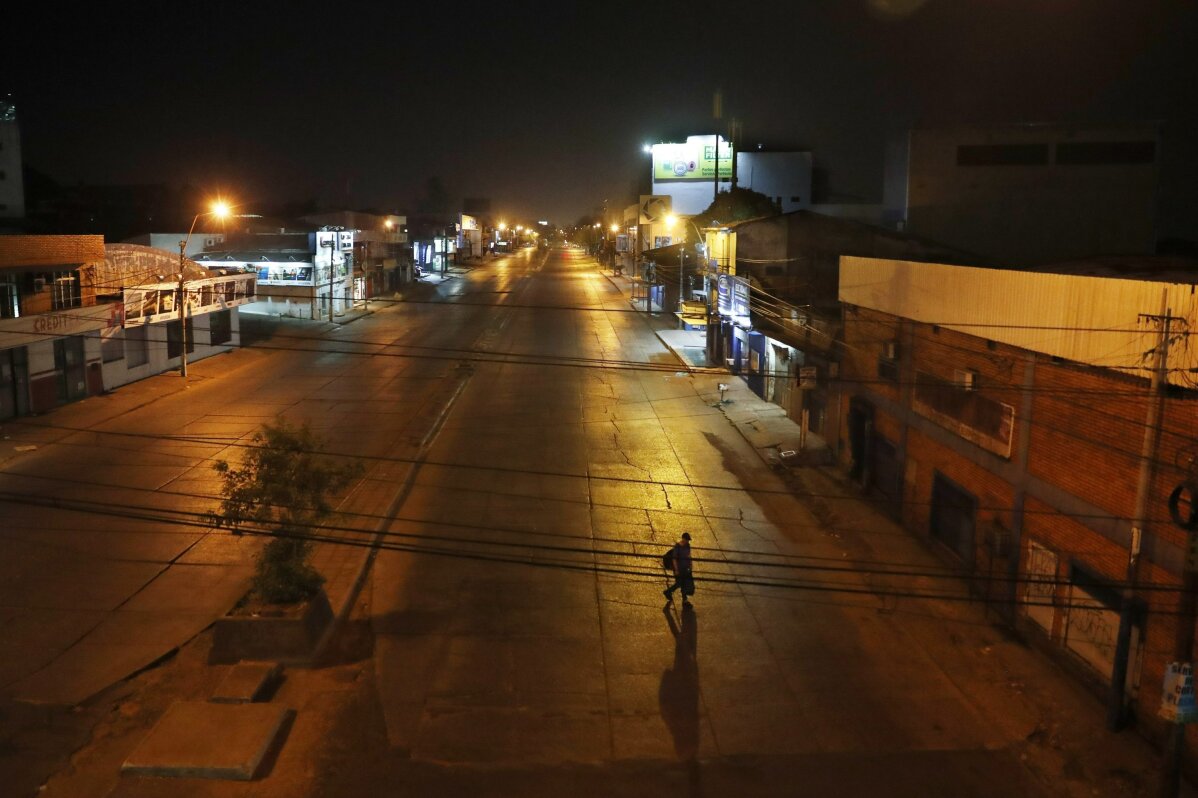 3 of 21

|
A man crosses the Eusebio Ayala Avenue bereft of traffic, during curfew in Asuncion, Paraguay, Monday, March 16, 2020. Authorities have decreed a curfew from 8pm to 4am in an attempt to stop the spread of the new coronavirus. According to the World Health Organization, most people recover in about two to six weeks from the virus, depending on the severity of the illness. (AP Photo/Jorge Saenz)
3 of 21
A man crosses the Eusebio Ayala Avenue bereft of traffic, during curfew in Asuncion, Paraguay, Monday, March 16, 2020. Authorities have decreed a curfew from 8pm to 4am in an attempt to stop the spread of the new coronavirus. According to the World Health Organization, most people recover in about two to six weeks from the virus, depending on the severity of the illness. (AP Photo/Jorge Saenz)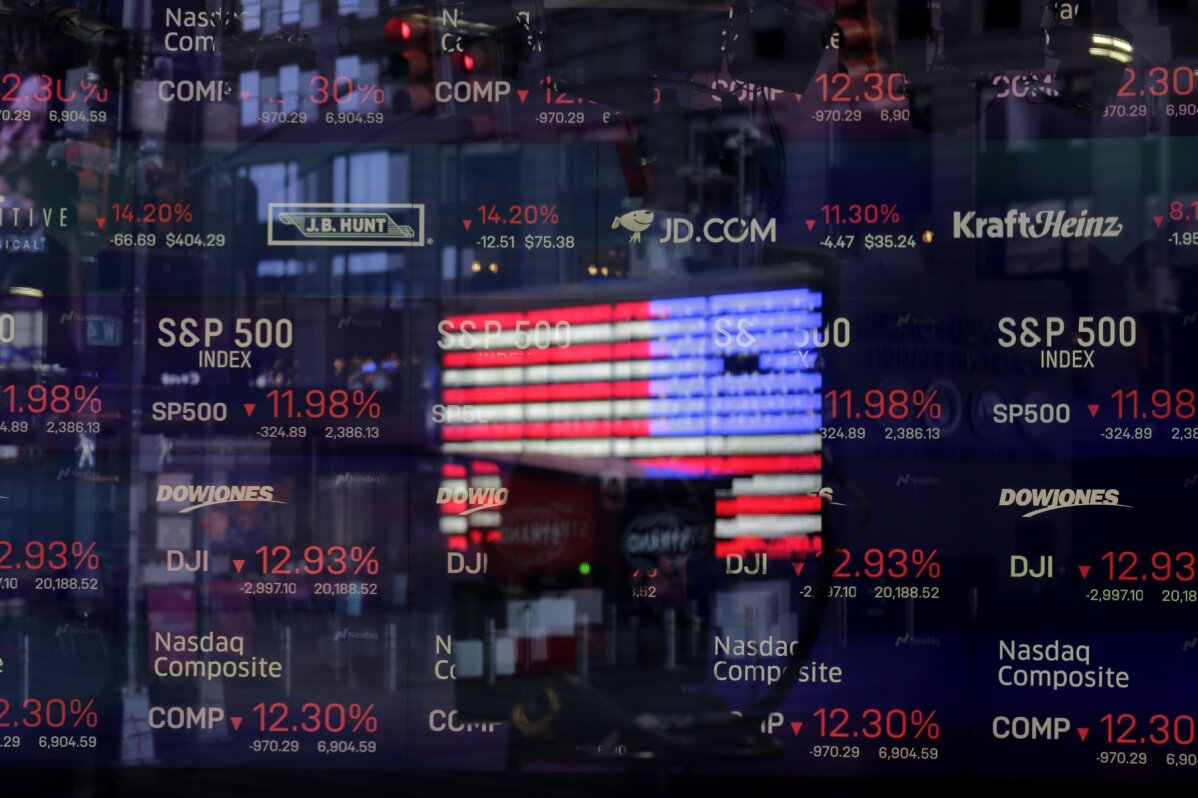 4 of 21

|
A United States flag is reflected in the window of the Nasdaq studio, which displays indices and stocks down, in Times Square, New York, Monday, March 16, 2020. (AP Photo/Seth Wenig)
4 of 21
A United States flag is reflected in the window of the Nasdaq studio, which displays indices and stocks down, in Times Square, New York, Monday, March 16, 2020. (AP Photo/Seth Wenig)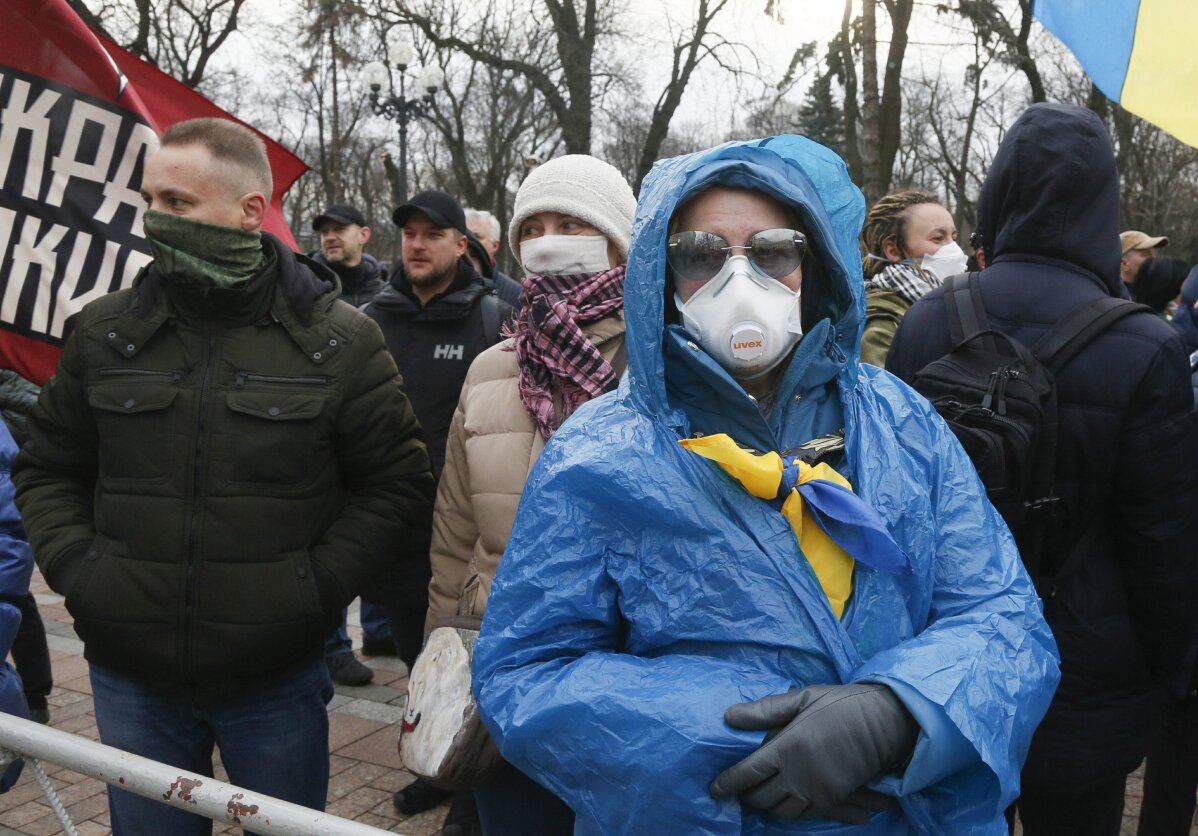 5 of 21

|
Protesters in face masks take part in a rally in front of the parliament building in Kyiv, Ukraine, Tuesday, March 17, 2020. Protesters demanded lawmakers to stop working amid nation-wide quarantine in order to prevent hastily adopting unpopular laws. In an additional set of measures preventing the spread of the new coronarivus, Ukrainian authorities ruled to close public places except food markets, pharmacies and gas stations starting from Tuesday in Kyiv and other regions, and restrict the use of public transport from Kyiv to other Ukrainian cities. For most people, the new coronavirus causes only mild or moderate symptoms. For some it can cause more severe illness, especially in older adults and people with existing health problems. (AP Photo/Efrem Lukatsky)
5 of 21
Protesters in face masks take part in a rally in front of the parliament building in Kyiv, Ukraine, Tuesday, March 17, 2020. Protesters demanded lawmakers to stop working amid nation-wide quarantine in order to prevent hastily adopting unpopular laws. In an additional set of measures preventing the spread of the new coronarivus, Ukrainian authorities ruled to close public places except food markets, pharmacies and gas stations starting from Tuesday in Kyiv and other regions, and restrict the use of public transport from Kyiv to other Ukrainian cities. For most people, the new coronavirus causes only mild or moderate symptoms. For some it can cause more severe illness, especially in older adults and people with existing health problems. (AP Photo/Efrem Lukatsky)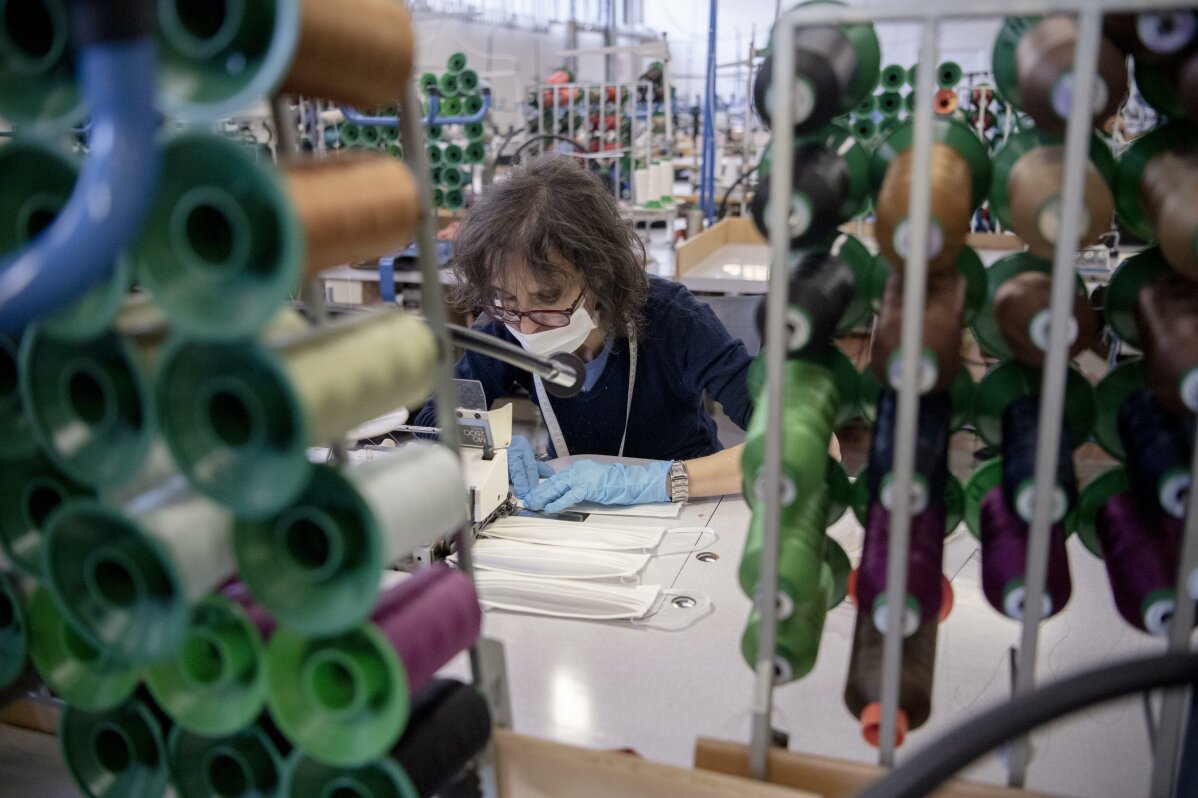 6 of 21

|
An employee works to produce face masks in the Miroglio group factory in Alba, Northern Italy, Tuesday, March 17, 2020. In order to face the coronavirus emergency, the factory was converted to the production of masks. For most people, the new coronavirus causes only mild or moderate symptoms. For some it can cause more severe illness, especially in older adults and people with existing health problems. (Marco Alpozzi/LaPresse via AP)
6 of 21
An employee works to produce face masks in the Miroglio group factory in Alba, Northern Italy, Tuesday, March 17, 2020. In order to face the coronavirus emergency, the factory was converted to the production of masks. For most people, the new coronavirus causes only mild or moderate symptoms. For some it can cause more severe illness, especially in older adults and people with existing health problems. (Marco Alpozzi/LaPresse via AP)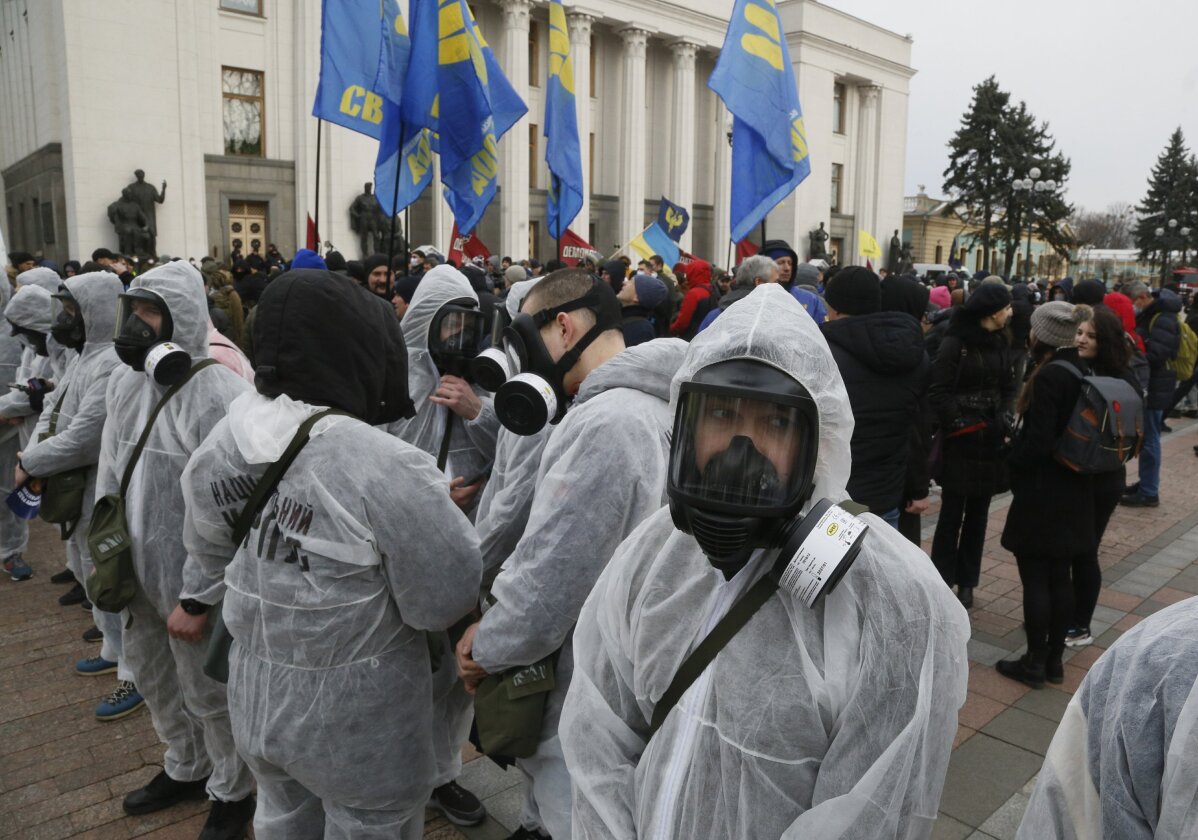 7 of 21

|
Protesters in protective suits and masks take part in a rally in front of the parliament building in Kyiv, Ukraine, Tuesday, March 17, 2020. Protesters demanded lawmakers to stop working amid nation-wide quarantine in order to prevent hastily adopting unpopular laws. In an additional set of measures preventing the spread of the new coronarivus, Ukrainian authorities ruled to close public places except food markets, pharmacies and gas stations starting from Tuesday in Kyiv and other regions, and restrict the use of public transport from Kyiv to other Ukrainian cities. For most people, the new coronavirus causes only mild or moderate symptoms. For some it can cause more severe illness, especially in older adults and people with existing health problems. (AP Photo/Efrem Lukatsky)
7 of 21
Protesters in protective suits and masks take part in a rally in front of the parliament building in Kyiv, Ukraine, Tuesday, March 17, 2020. Protesters demanded lawmakers to stop working amid nation-wide quarantine in order to prevent hastily adopting unpopular laws. In an additional set of measures preventing the spread of the new coronarivus, Ukrainian authorities ruled to close public places except food markets, pharmacies and gas stations starting from Tuesday in Kyiv and other regions, and restrict the use of public transport from Kyiv to other Ukrainian cities. For most people, the new coronavirus causes only mild or moderate symptoms. For some it can cause more severe illness, especially in older adults and people with existing health problems. (AP Photo/Efrem Lukatsky)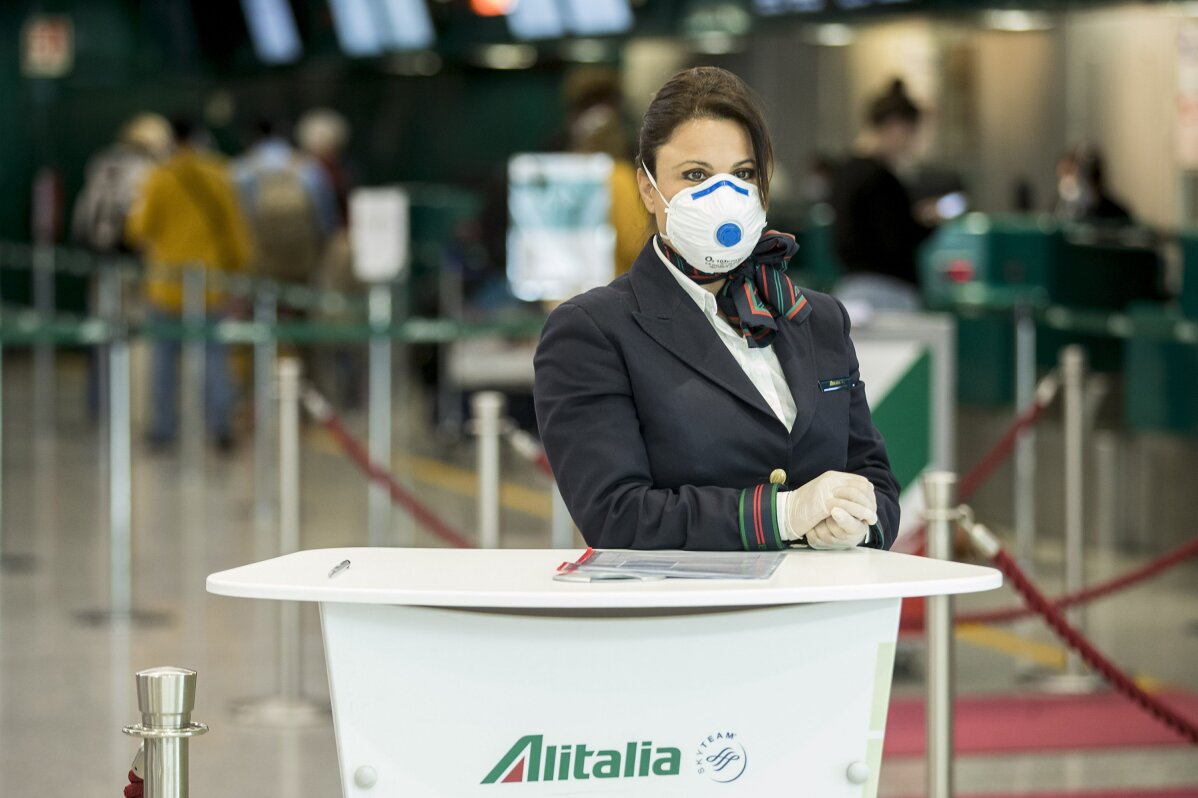 8 of 21

|
An Alitalia employee waits at the desk the Leonardo Da Vinci airport, in Rome, Tuesday, March 17, 2020. For most people, the new coronavirus causes only mild or moderate symptoms. For some it can cause more severe illness, especially in older adults and people with existing health problems.(Roberto Monaldo/LaPresse via AP)
8 of 21
An Alitalia employee waits at the desk the Leonardo Da Vinci airport, in Rome, Tuesday, March 17, 2020. For most people, the new coronavirus causes only mild or moderate symptoms. For some it can cause more severe illness, especially in older adults and people with existing health problems.(Roberto Monaldo/LaPresse via AP)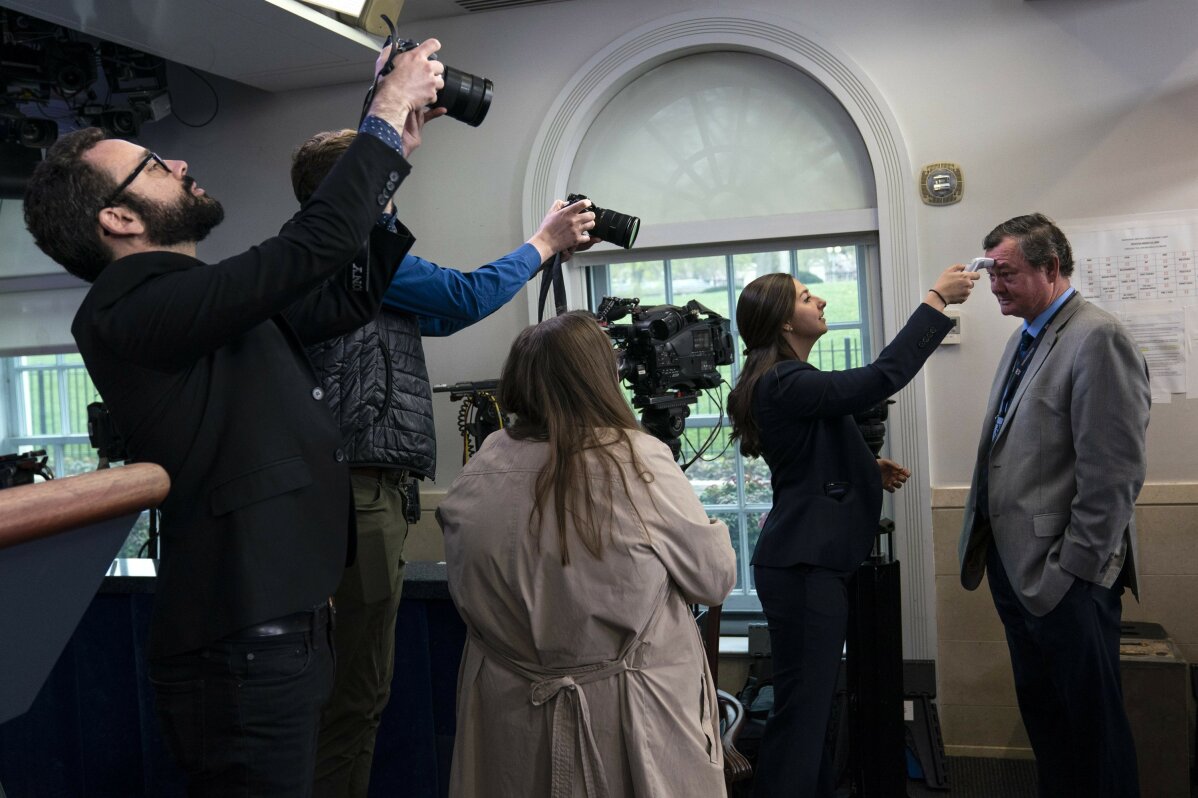 9 of 21

|
ADDS ID - Associated Press journalist Kevin Freking has his temperature checked before a coronavirus task force briefing, at the White House, Tuesday, March 17, 2020, in Washington. (AP Photo/Evan Vucci)
9 of 21
ADDS ID - Associated Press journalist Kevin Freking has his temperature checked before a coronavirus task force briefing, at the White House, Tuesday, March 17, 2020, in Washington. (AP Photo/Evan Vucci)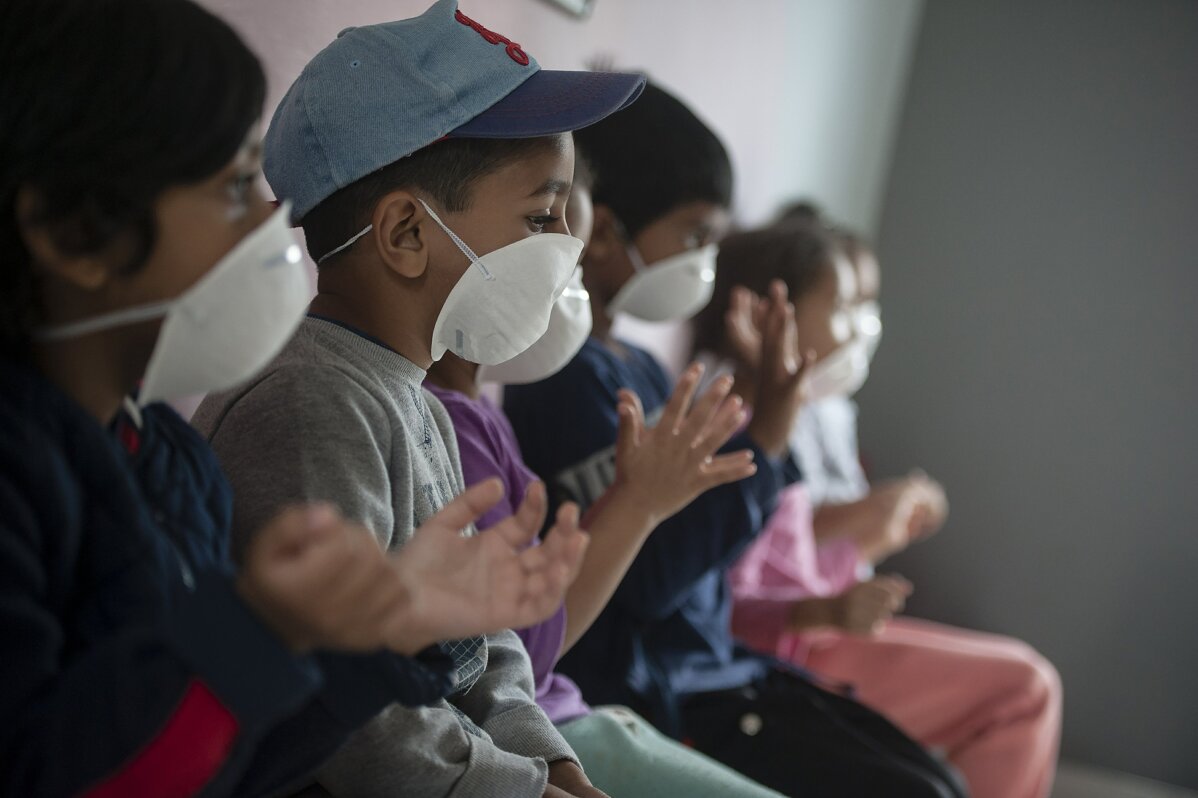 10 of 21

|
Learners wear masks as they sanitise their hans at a pre-school in Lenasia, Johannesburg, Tuesday, March 17, 2020, on the day schools closed in a bid to control the spread of coronavirus. For most people the virus causes only mild or moderate symptoms but for others is can cause more severe illness, especially in older adults and people with existing health problems. (AP Photo/Shiraaz Mohamed)
10 of 21
Learners wear masks as they sanitise their hans at a pre-school in Lenasia, Johannesburg, Tuesday, March 17, 2020, on the day schools closed in a bid to control the spread of coronavirus. For most people the virus causes only mild or moderate symptoms but for others is can cause more severe illness, especially in older adults and people with existing health problems. (AP Photo/Shiraaz Mohamed)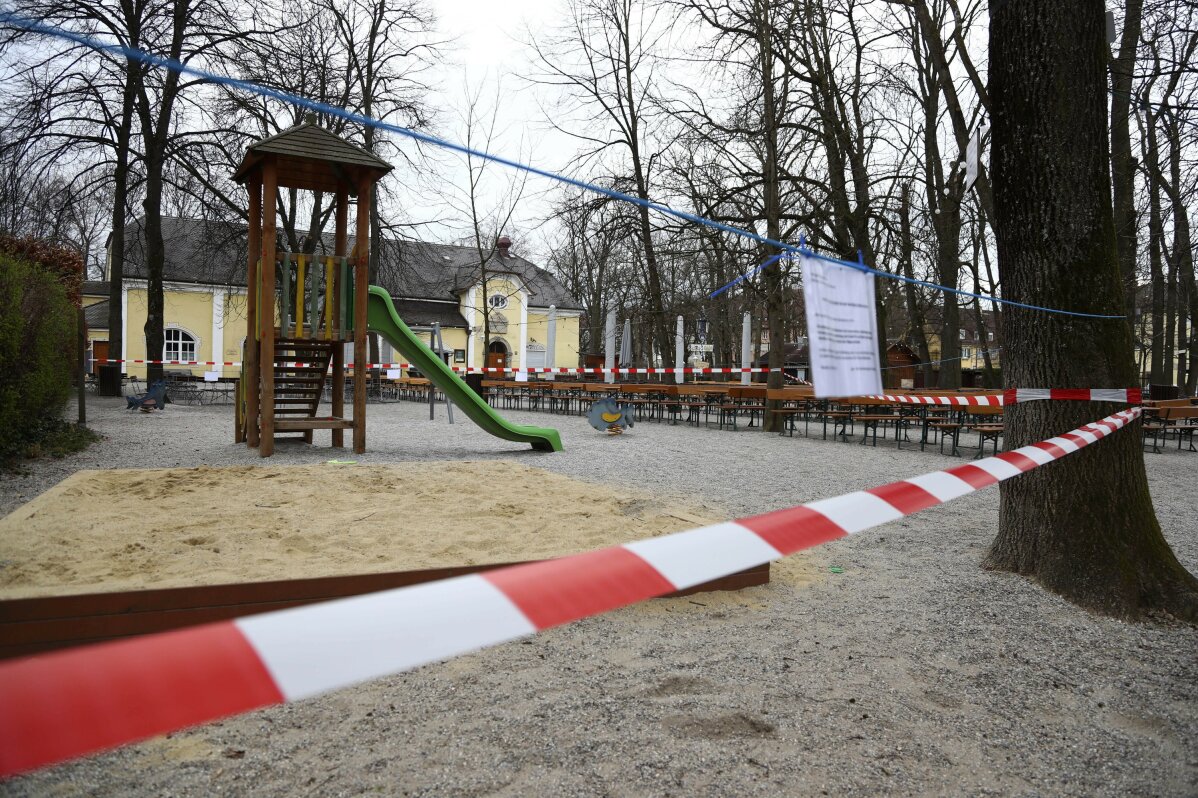 11 of 21

|
A barrier tape closes off a playground in Munich, Germany, Tuesday, March 17, 2020. German government had announced measure to curb the coronavirus outbreak in the country late Monday. For most people, the new coronavirus causes only mild or moderate symptoms, such as fever and cough. For some, especially older adults and people with existing health problems, it can cause more severe illness, including pneumonia. (AP Photo/Matthias Schrader)
11 of 21
A barrier tape closes off a playground in Munich, Germany, Tuesday, March 17, 2020. German government had announced measure to curb the coronavirus outbreak in the country late Monday. For most people, the new coronavirus causes only mild or moderate symptoms, such as fever and cough. For some, especially older adults and people with existing health problems, it can cause more severe illness, including pneumonia. (AP Photo/Matthias Schrader)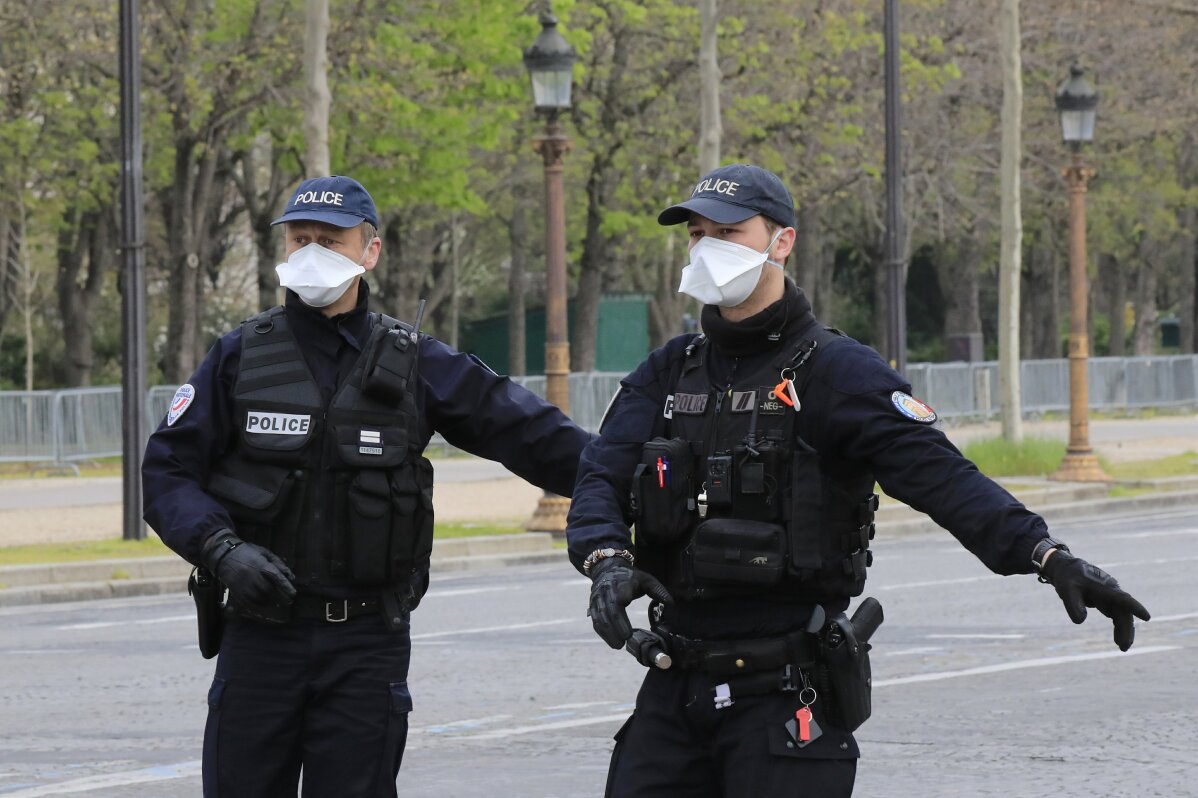 12 of 21

|
Police officers wearing protective masks wave a car into a control point at the Champs Elysees avenue in Paris, Tuesday, March 17, 2020. France is imposing nationwide restrictions on how far from their homes people can go and for what purpose as part of the country's strategy to stop the spread of the new coronavirus. For most people, the new coronavirus causes only mild or moderate symptoms, such as fever and cough. For some, especially older adults and people with existing health problems, it can cause more severe illness, including pneumonia. (AP Photo/Michel Euler)
12 of 21
Police officers wearing protective masks wave a car into a control point at the Champs Elysees avenue in Paris, Tuesday, March 17, 2020. France is imposing nationwide restrictions on how far from their homes people can go and for what purpose as part of the country's strategy to stop the spread of the new coronavirus. For most people, the new coronavirus causes only mild or moderate symptoms, such as fever and cough. For some, especially older adults and people with existing health problems, it can cause more severe illness, including pneumonia. (AP Photo/Michel Euler)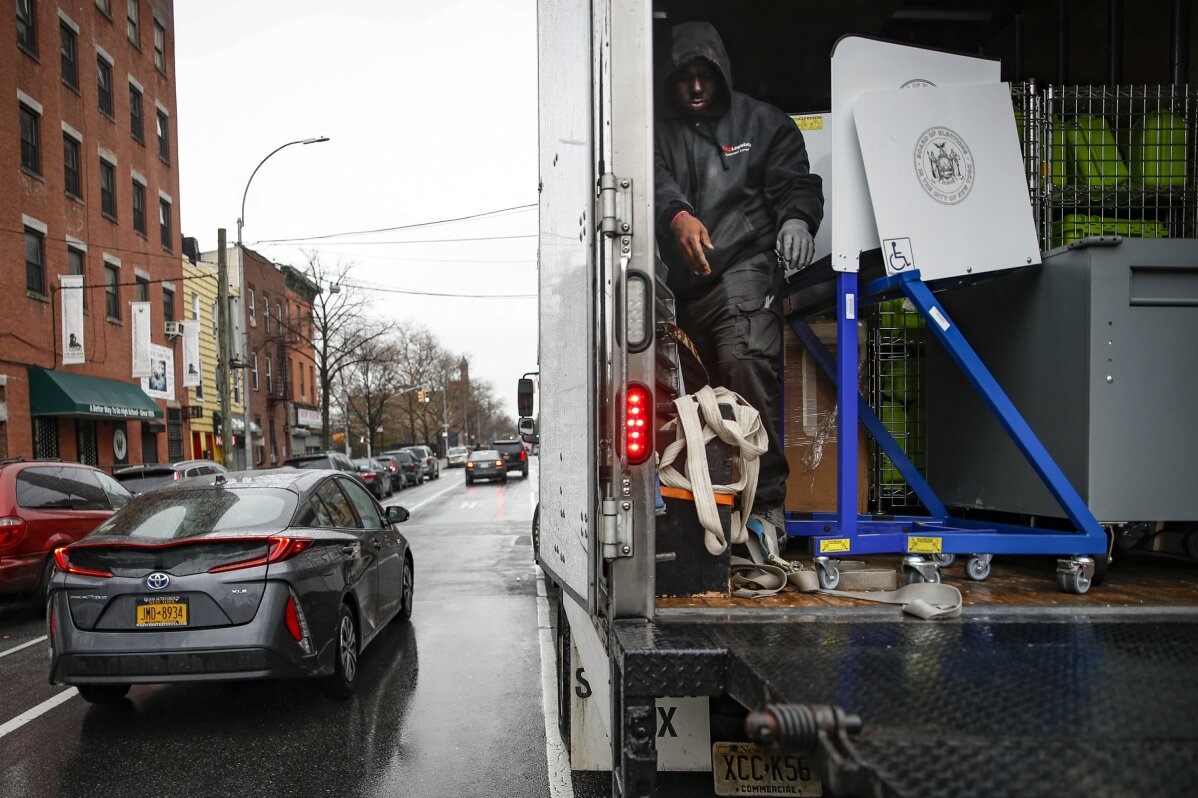 13 of 21

|
Workers load election materials into a truck for moving to different location, Tuesday, March 17, 2020, in the Brooklyn borough of New York. The New York Board of Elections is discussing whether or not to delay the state's April presidential primary due to concerns over the spread of the coronavirus. The number of confirmed cases in New York has shot up to over 1,300. (AP Photo/John Minchillo)
13 of 21
Workers load election materials into a truck for moving to different location, Tuesday, March 17, 2020, in the Brooklyn borough of New York. The New York Board of Elections is discussing whether or not to delay the state's April presidential primary due to concerns over the spread of the coronavirus. The number of confirmed cases in New York has shot up to over 1,300. (AP Photo/John Minchillo)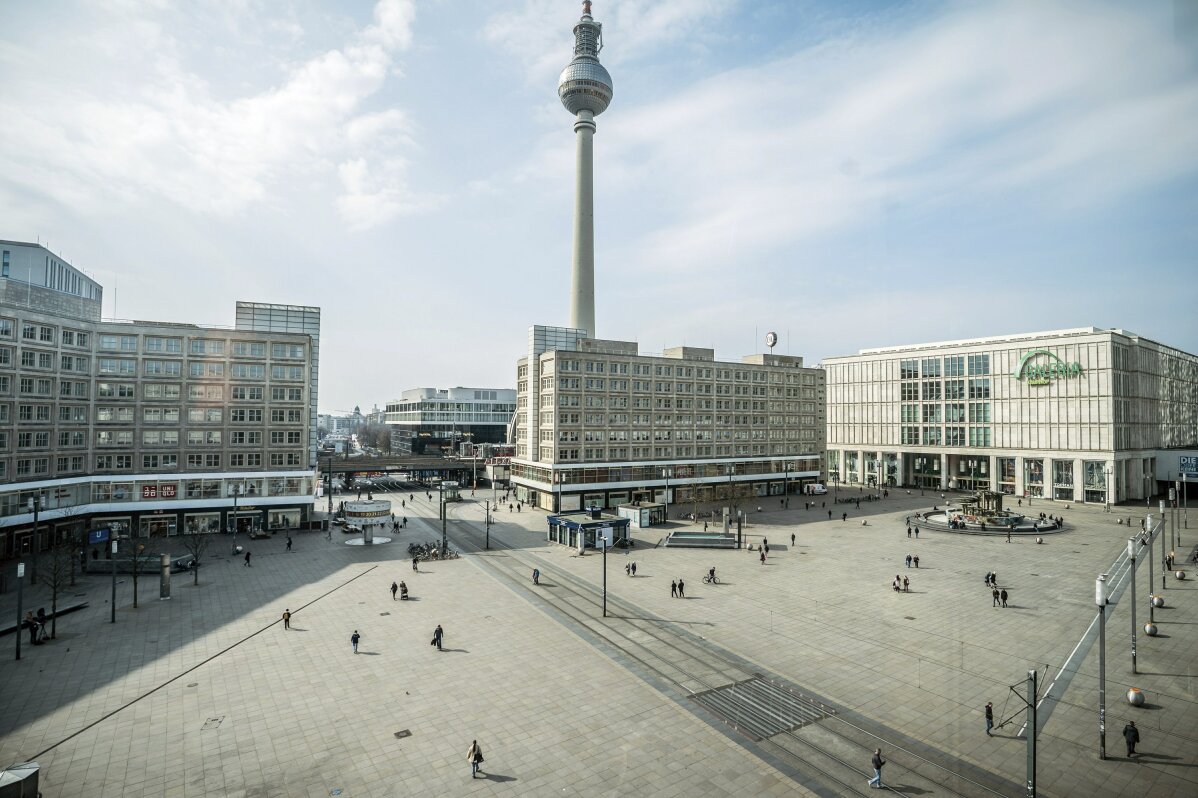 14 of 21

|
People walk across the Alexanderplatz a shopping area in Berlin, Germany, Tuesday, March 17, 2020. For most people, the new coronavirus causes only mild or moderate symptoms, such as fever and cough. For some, especially older adults and people with existing health problems, it can cause more severe illness, including pneumonia. (Michael Kappeler/dpa via AP)
14 of 21
People walk across the Alexanderplatz a shopping area in Berlin, Germany, Tuesday, March 17, 2020. For most people, the new coronavirus causes only mild or moderate symptoms, such as fever and cough. For some, especially older adults and people with existing health problems, it can cause more severe illness, including pneumonia. (Michael Kappeler/dpa via AP)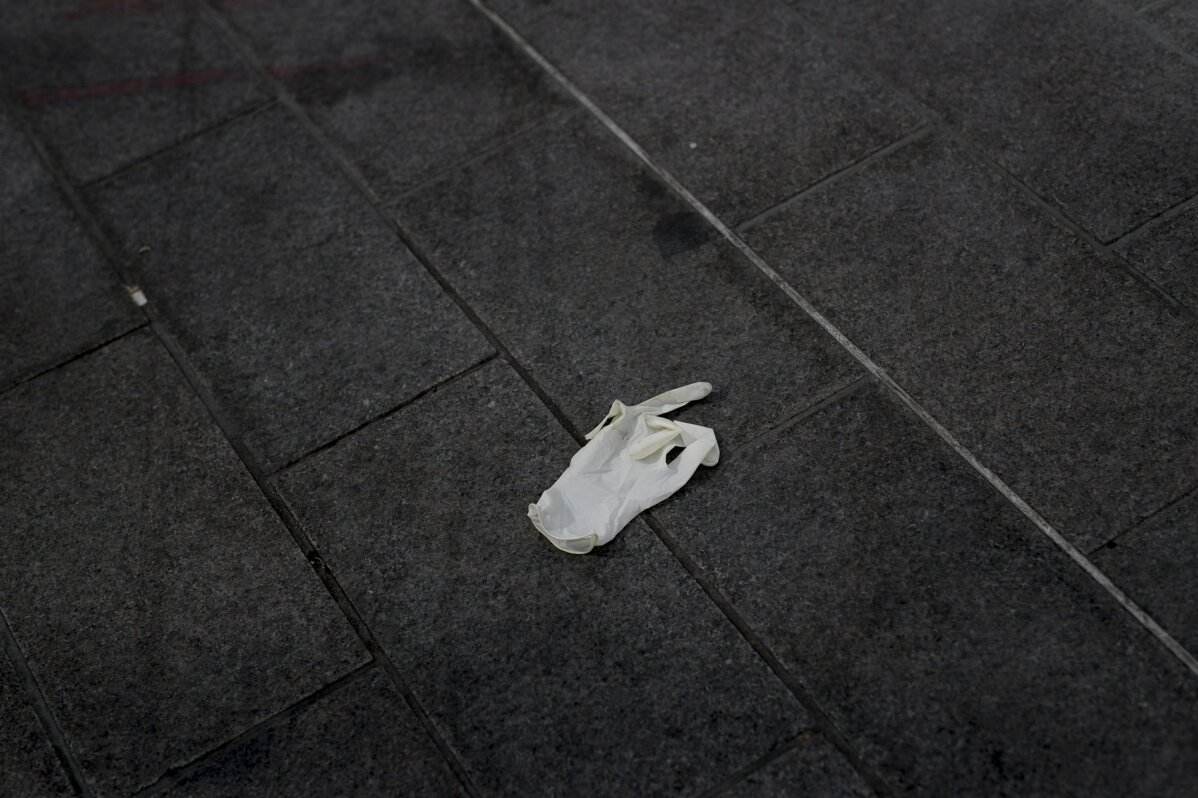 15 of 21

|
A sanitary glove lies on the pavement of a deserted street just after nationwide confinement measures came into effect, Tuesday, March 17, 2020, in Marseille, southern France. French President Emmanuel Macron announced strong restrictions on freedom of movement in a bid to counter the new coronavirus, as the European Union closed its external borders to foreign travelers. For most people, the new coronavirus causes only mild or moderate symptoms. For some it can cause more severe illness. (AP Photo/Daniel Cole)
15 of 21
A sanitary glove lies on the pavement of a deserted street just after nationwide confinement measures came into effect, Tuesday, March 17, 2020, in Marseille, southern France. French President Emmanuel Macron announced strong restrictions on freedom of movement in a bid to counter the new coronavirus, as the European Union closed its external borders to foreign travelers. For most people, the new coronavirus causes only mild or moderate symptoms. For some it can cause more severe illness. (AP Photo/Daniel Cole)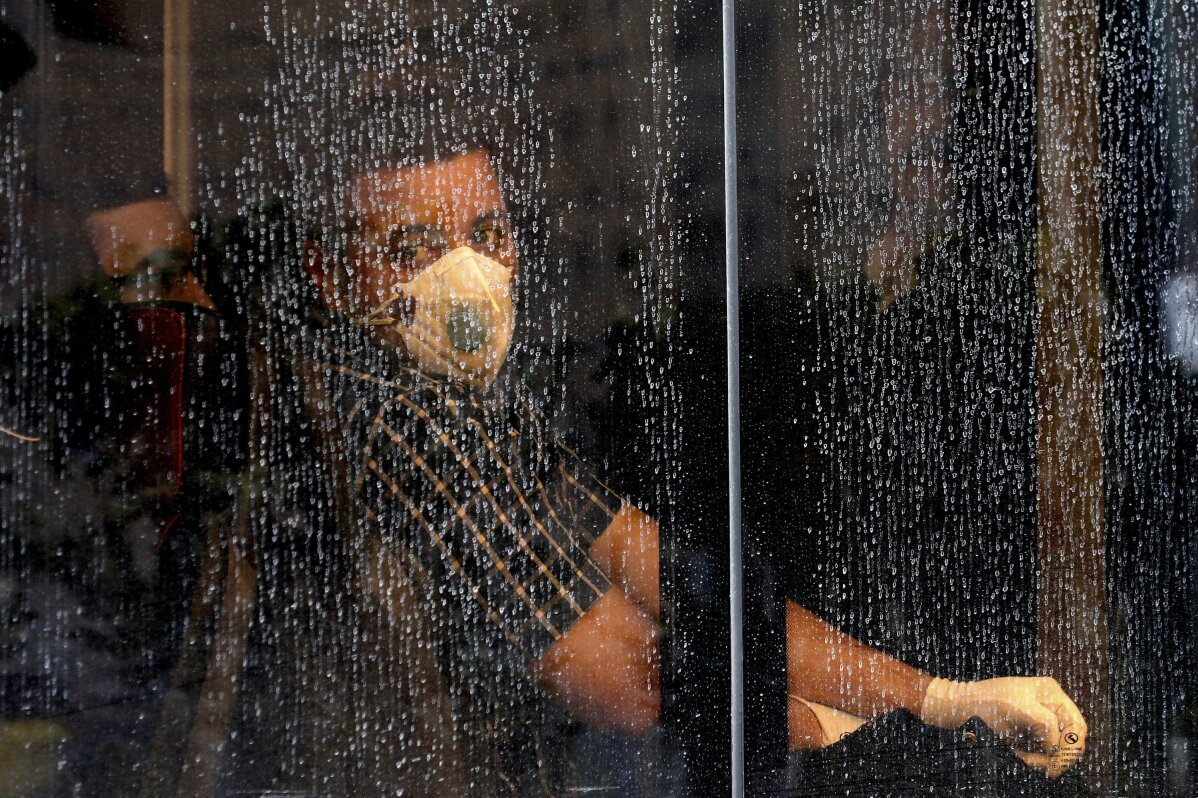 16 of 21

|
FILE — In this Feb. 23, 2020 file photo, a commuter looks through a water-stained window wearing a mask and gloves to help prevent the spread of the COVID-19 virus, on a public bus in downtown Tehran, Iran. Nine out of 10 cases of the virus in the Middle East come from the Islamic Republic. Days of denials gave the virus time to spread as the country marked the 41st anniversary of its 1979 Islamic Revolution. Iran also held a parliamentary election in which authorities desperately sought to boost turnout. For most people, the new coronavirus causes only mild or moderate symptoms. For some it can cause more severe illness. (AP Photo/Ebrahim Noroozi, File)
16 of 21
FILE — In this Feb. 23, 2020 file photo, a commuter looks through a water-stained window wearing a mask and gloves to help prevent the spread of the COVID-19 virus, on a public bus in downtown Tehran, Iran. Nine out of 10 cases of the virus in the Middle East come from the Islamic Republic. Days of denials gave the virus time to spread as the country marked the 41st anniversary of its 1979 Islamic Revolution. Iran also held a parliamentary election in which authorities desperately sought to boost turnout. For most people, the new coronavirus causes only mild or moderate symptoms. For some it can cause more severe illness. (AP Photo/Ebrahim Noroozi, File)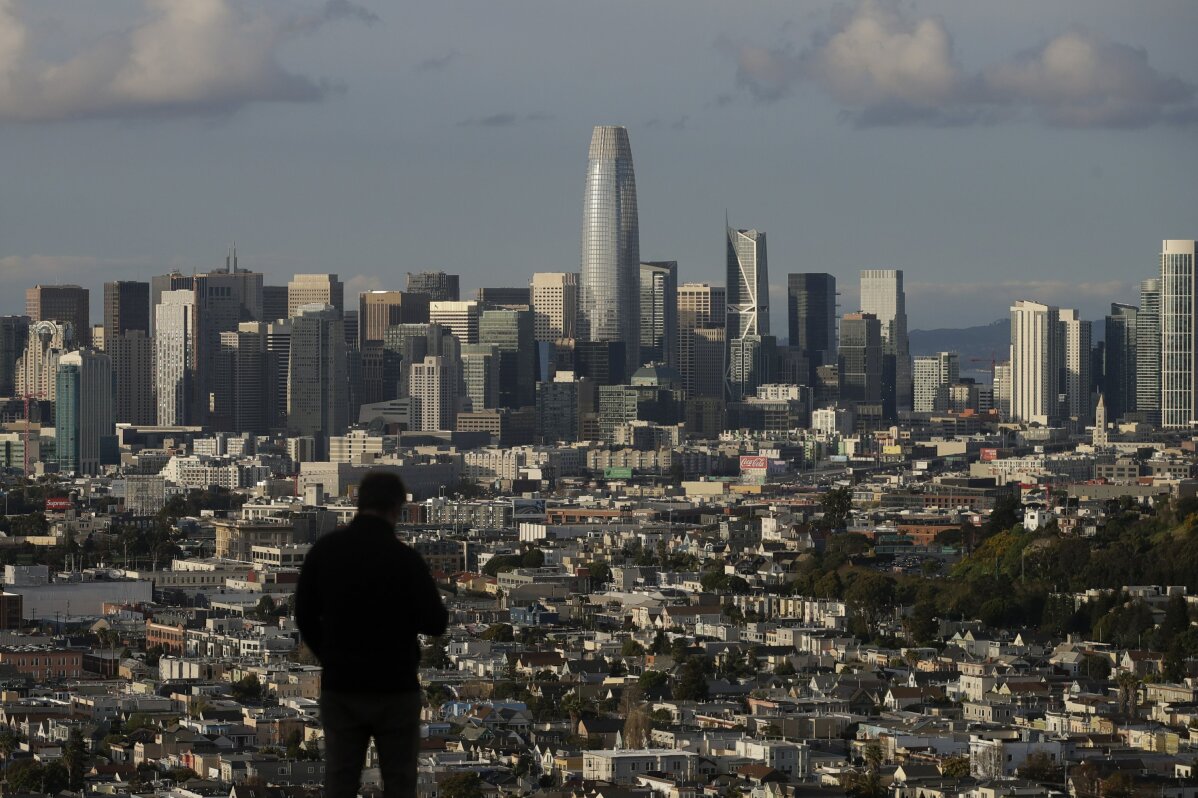 17 of 21

|
A man looks toward the skyline from Bernal Heights Hill in San Francisco, Monday, March 16, 2020. Officials in six San Francisco Bay Area counties issued a shelter-in-place mandate Monday affecting nearly 7 million people, including the city of San Francisco itself. The order says residents must stay inside and venture out only for necessities for three weeks starting Tuesday in a desperate attempt by officials to curb the spread of the novel coronavirus. (AP Photo/Jeff Chiu)
17 of 21
A man looks toward the skyline from Bernal Heights Hill in San Francisco, Monday, March 16, 2020. Officials in six San Francisco Bay Area counties issued a shelter-in-place mandate Monday affecting nearly 7 million people, including the city of San Francisco itself. The order says residents must stay inside and venture out only for necessities for three weeks starting Tuesday in a desperate attempt by officials to curb the spread of the novel coronavirus. (AP Photo/Jeff Chiu)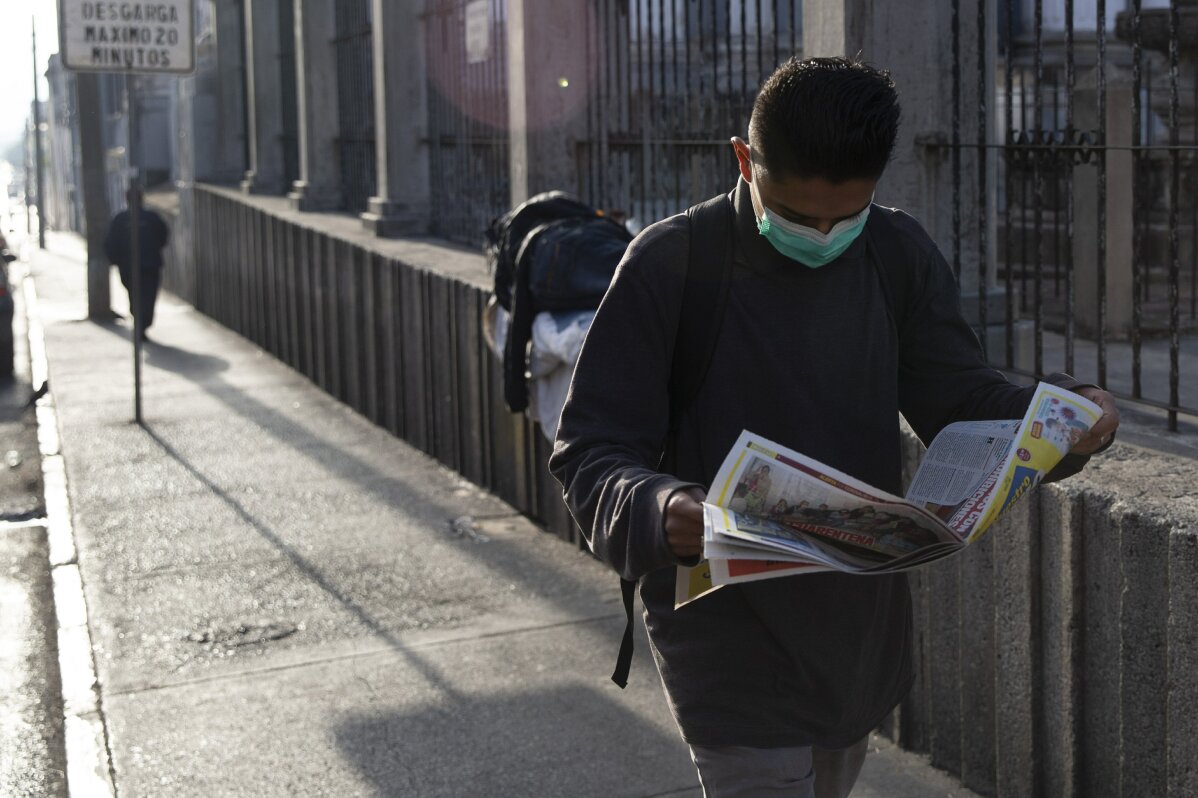 18 of 21

|
A man wearing a protective mask reads newspaper in Guatemala City, Tuesday, March 17, 2020. Guatemalan President Alejandro Giammattei effectively closed off Guatemala late Monday to all non-Guatemalans or permanent residents and ordered a suspension of all non-essential activities. For most people, the new coronavirus causes only mild or moderate symptoms. For some it can cause more severe illness. (AP Photo/Moises Castillo)
18 of 21
A man wearing a protective mask reads newspaper in Guatemala City, Tuesday, March 17, 2020. Guatemalan President Alejandro Giammattei effectively closed off Guatemala late Monday to all non-Guatemalans or permanent residents and ordered a suspension of all non-essential activities. For most people, the new coronavirus causes only mild or moderate symptoms. For some it can cause more severe illness. (AP Photo/Moises Castillo)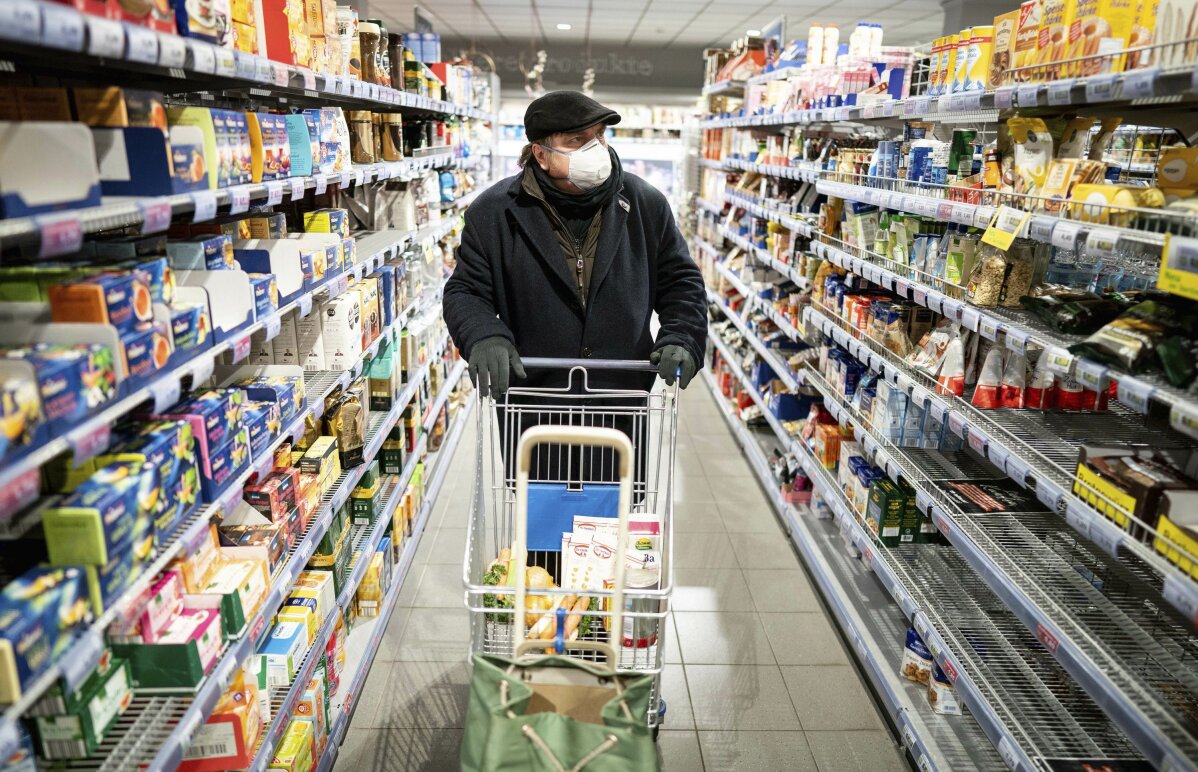 19 of 21

|
A customer wearing a face mask and gloves goes shopping in the early morning in a supermarket in the Berlin district of Friedenau, Germany, Tuesday, March 17, 2020 In order to slow down the spread of the coronavirus, the German government has considerably restricted public life. Only for most people, the new coronavirus causes only mild or moderate symptoms, such as fever and cough. For some, especially older adults and people with existing health problems, it can cause more severe illness, including pneumonia. (Kay Nietfeld/dpa via AP)
19 of 21
A customer wearing a face mask and gloves goes shopping in the early morning in a supermarket in the Berlin district of Friedenau, Germany, Tuesday, March 17, 2020 In order to slow down the spread of the coronavirus, the German government has considerably restricted public life. Only for most people, the new coronavirus causes only mild or moderate symptoms, such as fever and cough. For some, especially older adults and people with existing health problems, it can cause more severe illness, including pneumonia. (Kay Nietfeld/dpa via AP)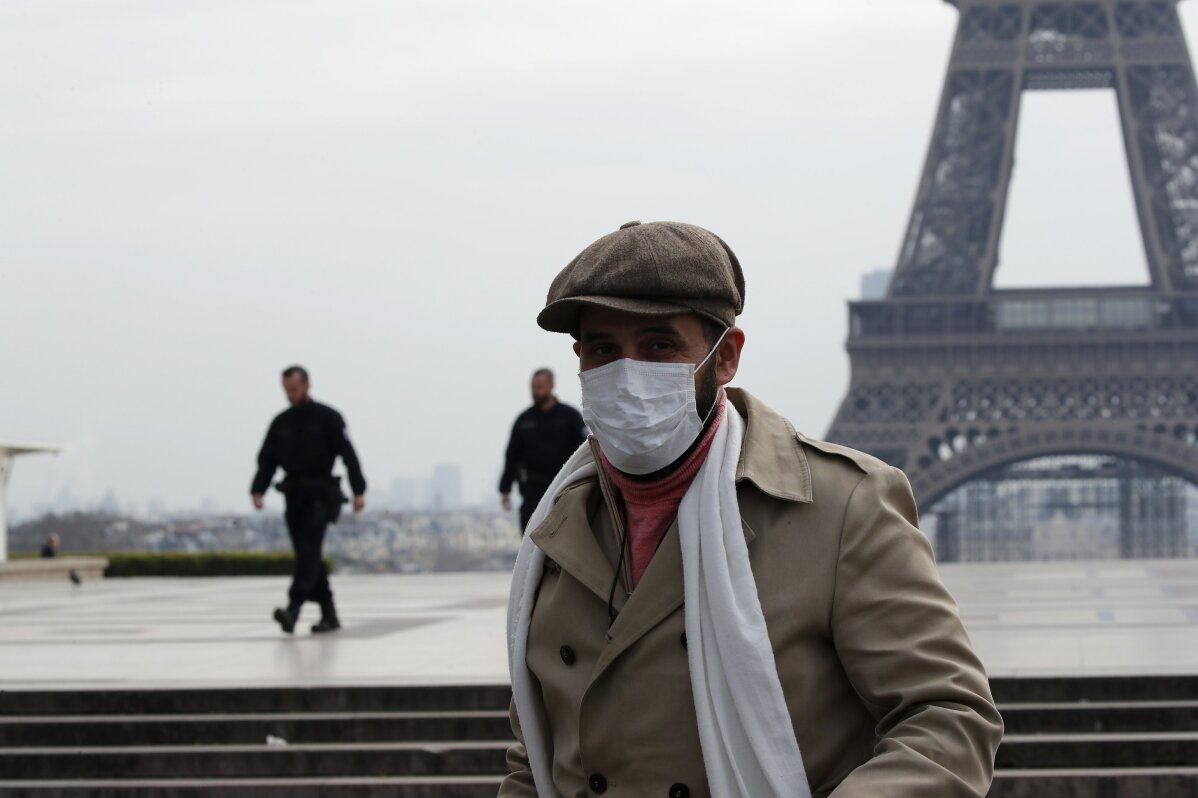 20 of 21

|
A masked man walks on the empty Trocadero as Police officers patrol in background, next to the Eiffel Tower, in Paris, Tuesday, March 17, 2020. French President Emmanuel Macron said that starting on Tuesday, people would be allowed to leave the place they live only for necessary activities such as shopping for food, going to work or taking a walk. For most people, the new coronavirus causes only mild or moderate symptoms. For some it can cause more severe illness. (AP Photo/Francois Mori)
20 of 21
A masked man walks on the empty Trocadero as Police officers patrol in background, next to the Eiffel Tower, in Paris, Tuesday, March 17, 2020. French President Emmanuel Macron said that starting on Tuesday, people would be allowed to leave the place they live only for necessary activities such as shopping for food, going to work or taking a walk. For most people, the new coronavirus causes only mild or moderate symptoms. For some it can cause more severe illness. (AP Photo/Francois Mori)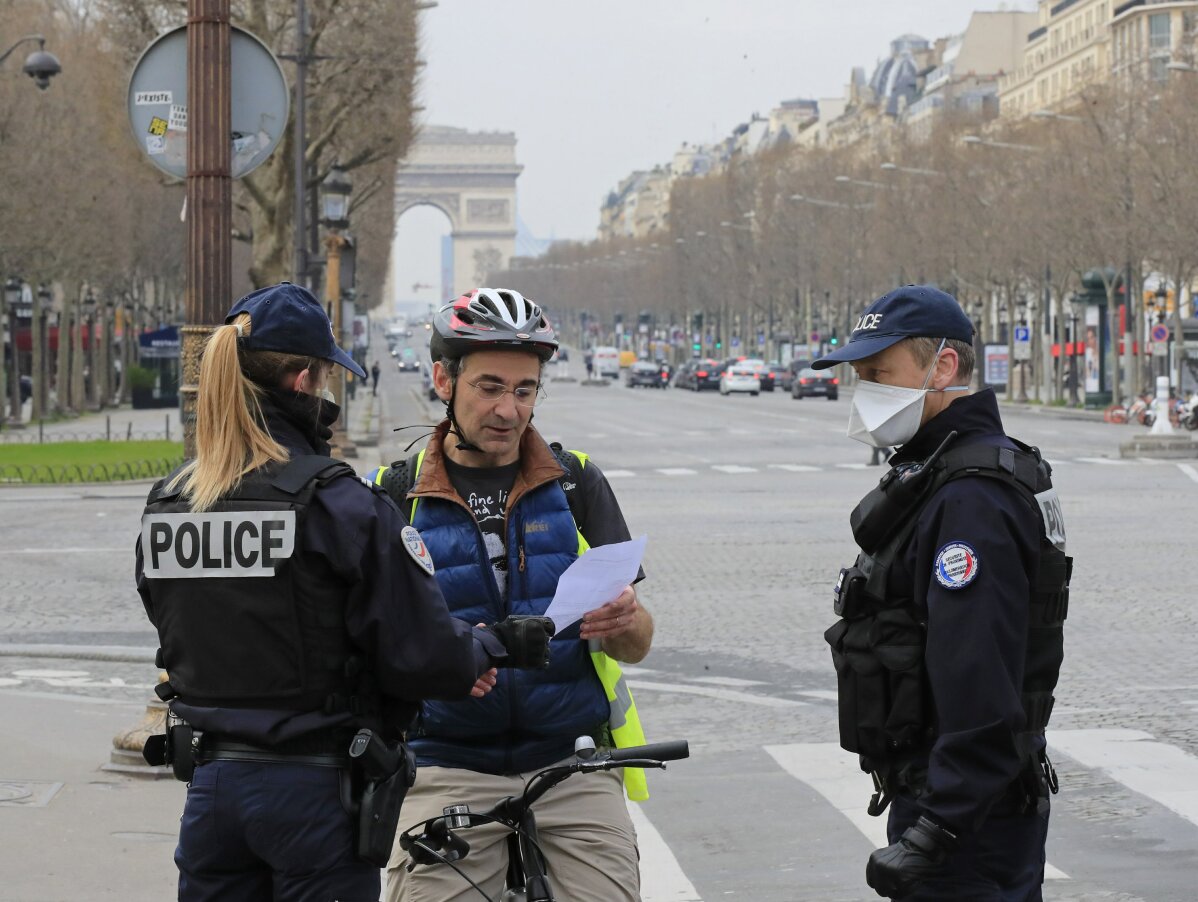 21 of 21

|
Police officers wearing protective masks check the paper of a cyclist at a control point at the Champs Elysees avenue in Paris, Tuesday, March 17, 2020. France is imposing nationwide restrictions on how far from their homes people can go and for what purpose as part of the country's strategy to stop the spread of the new coronavirus. For most people, the new coronavirus causes only mild or moderate symptoms, such as fever and cough. For some, especially older adults and people with existing health problems, it can cause more severe illness, including pneumonia. (AP Photo/Michel Euler)
21 of 21
Police officers wearing protective masks check the paper of a cyclist at a control point at the Champs Elysees avenue in Paris, Tuesday, March 17, 2020. France is imposing nationwide restrictions on how far from their homes people can go and for what purpose as part of the country's strategy to stop the spread of the new coronavirus. For most people, the new coronavirus causes only mild or moderate symptoms, such as fever and cough. For some, especially older adults and people with existing health problems, it can cause more severe illness, including pneumonia. (AP Photo/Michel Euler)
Borders have slammed shut, schools and businesses have closed and increasingly draconian restrictions on movement have been enforced to slow the spread of the new coronavirus.
Here are some of the latest developments on Tuesday:
VIRUS KEEPS MOVING WEST
Work places and schools around the world are eerily empty, and tens of millions of people are hunkered down and heeding government calls to isolate themselves to slow the spread of the coronavirus. Caseloads outside China now outnumber those inside its borders. Wuhan, the Chinese city where the virus was first detected and which has been under lockdown for weeks, reported just one new case Tuesday. Countries including Canada, Malaysia, Russia and Switzerland announced sharp new restrictions on the movement of people across their borders.
ITALY'S HOSPITALS OVERWHELMED
At a hospital in one of the hardest-hit cities in northern Italy, Dr. Sergio Cattaneo has seen a laundry room converted into a stretcher-filled waiting room and an unused ward outfitted into an intensive care unit. The onslaught of infections has overwhelmed the public health system in Italy's prosperous north, prompting officials to beg retired doctors to return to work and to accelerate graduation dates for nurses and specialists. By Tuesday, the country had more than 31,500 positive cases and more than 2,500 deaths, more than anywhere outside China.
LOCAL SPREAD SEEN IN AFRICA
The coronavirus is now spreading locally within a dozen African nations. With cases confirmed in people arriving from abroad, African nations had slammed shut some border posts and turned away foreigners. But the growing number of locally transmitted cases is bringing new danger. Economically shattered Zimbabwe has declared a national disaster even before the country has confirmed a case.
BERLIN'S SEX WORKERS FEAR RUIN
The outbreak is also hitting sex workers, who have long been a part of nightlife in Germany's capital. Berlin authorities have ordered the temporary closure of entertainment venues, including brothels. It wasn't clear how the move would affect independent sex workers. Salome Balthus, a sex worker in city, said most of her colleagues would prefer to stay at home. "But they know that nobody is going to compensate them for loss of income," she said on Twitter. "90% of all dates are being canceled anyway. As always, we're left to fend for ourselves."
PANDEMIC REVEALED ON "BIG BROTHER"
Germany's Big Brother reality show participants have been cut off from the outside world since Feb. 6. On Tuesday evening, they were to be informed about the pandemic that has brought many countries around the globe to a standstill. Contestants living in isolation near the western German city of Cologne were to be informed about the virus pandemic in a special show airing Tuesday.
POSTPONED, DISRUPTED
The European Championship soccer tournament has been postponed for one year, upending a tradition that dominates European life for a full month every four years. In the United States, the virus created uncertainty for the Democratic presidential primary after leaders in the state of Ohio called off a Tuesday election hours before polls were expected to open. Officials in Florida, Arizona and Illinois said voting would take place, but people had difficulty getting to the polls in the morning.
DENIAL IN IRAN
Days of denials at the outset of the coronavirus outbreak in Iran gave the disease time to spread. Officials ignored the problem as Iran marked the 41st anniversary of its 1979 Islamic Revolution with mass demonstrations and then held a parliamentary election in which they sought to boost turnout. Officials still seem unwilling to stop travel between cities as affected towns threaten to set up their own checkpoints to turn away outsiders. The country now has the third-highest number of deaths worldwide.
___
The Associated Press receives support for health and science coverage from the Howard Hughes Medical Institute's Department of Science Education. The AP is solely responsible for all content.
___
Follow AP coverage of the virus outbreak at https://apnews.com/VirusOutbreak and https://apnews.com/UnderstandingtheOutbreak