The Latest: Biden is camp focused on voters, not on travel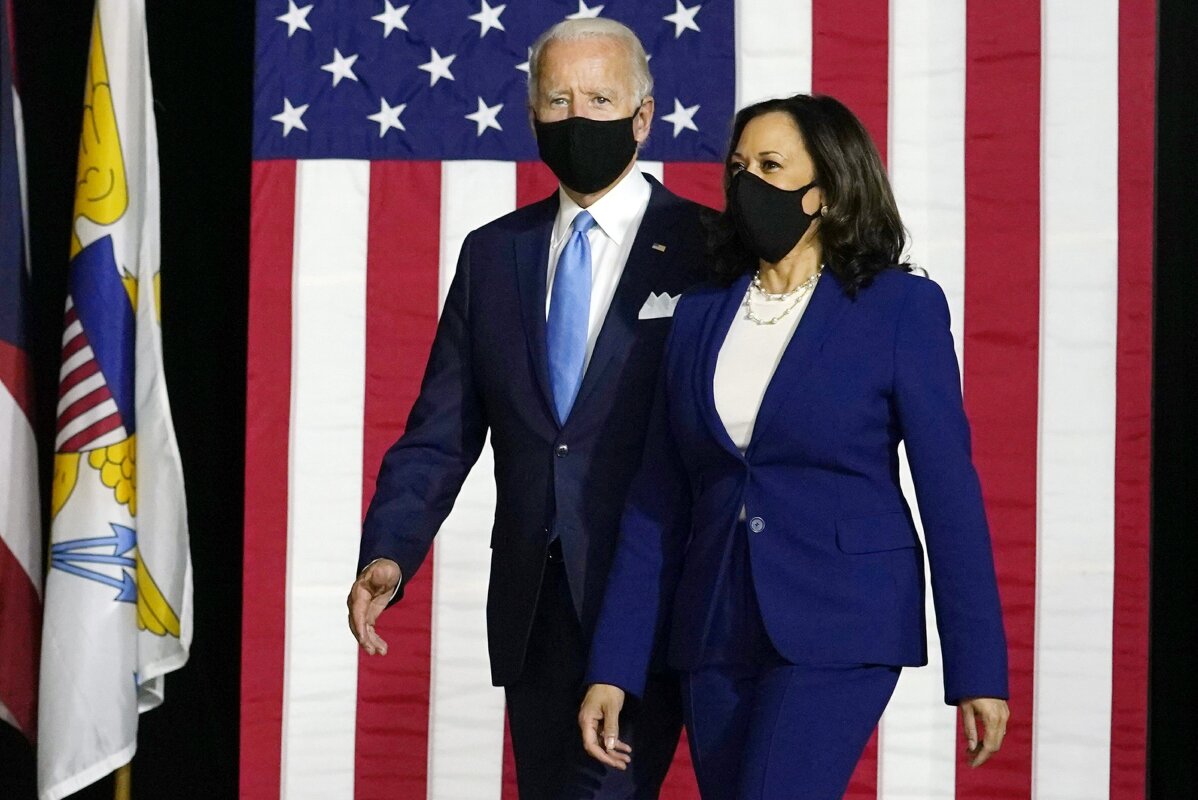 1 of 6

|
FILE - In this Aug. 12, 2020, file photo Democratic presidential candidate former Vice President Joe Biden and his running mate Sen. Kamala Harris, D-Calif., arrive to speak at a news conference at Alexis Dupont High School in Wilmington, Del. As Democrats gather virtually this week to nominate Joe Biden for the presidency, party leaders and activists across the political spectrum agree on one unifying force: their desire to defeat President Donald Trump. (AP Photo/Carolyn Kaster)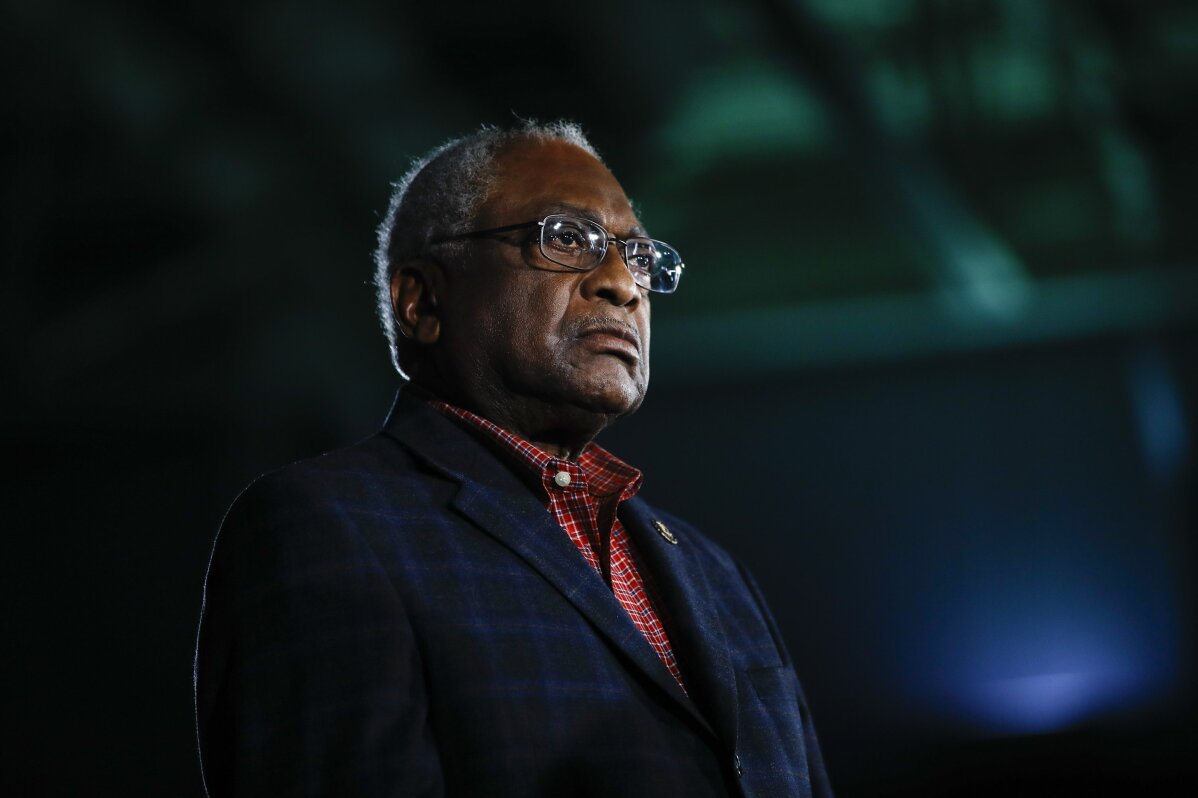 2 of 6

|
FILE - In this Feb. 29, 2020, file photo Rep. James Clyburn, D-S.C. listens to Democratic presidential candidate former Vice President Joe Biden speak at a primary night election rally in Columbia, S.C. Clyburn is now the highest-ranking Black lawmaker in Congress, the House Democratic Whip, and one of the few leaders of civil rights movement still in elected office today. (AP Photo/Matt Rourke, File)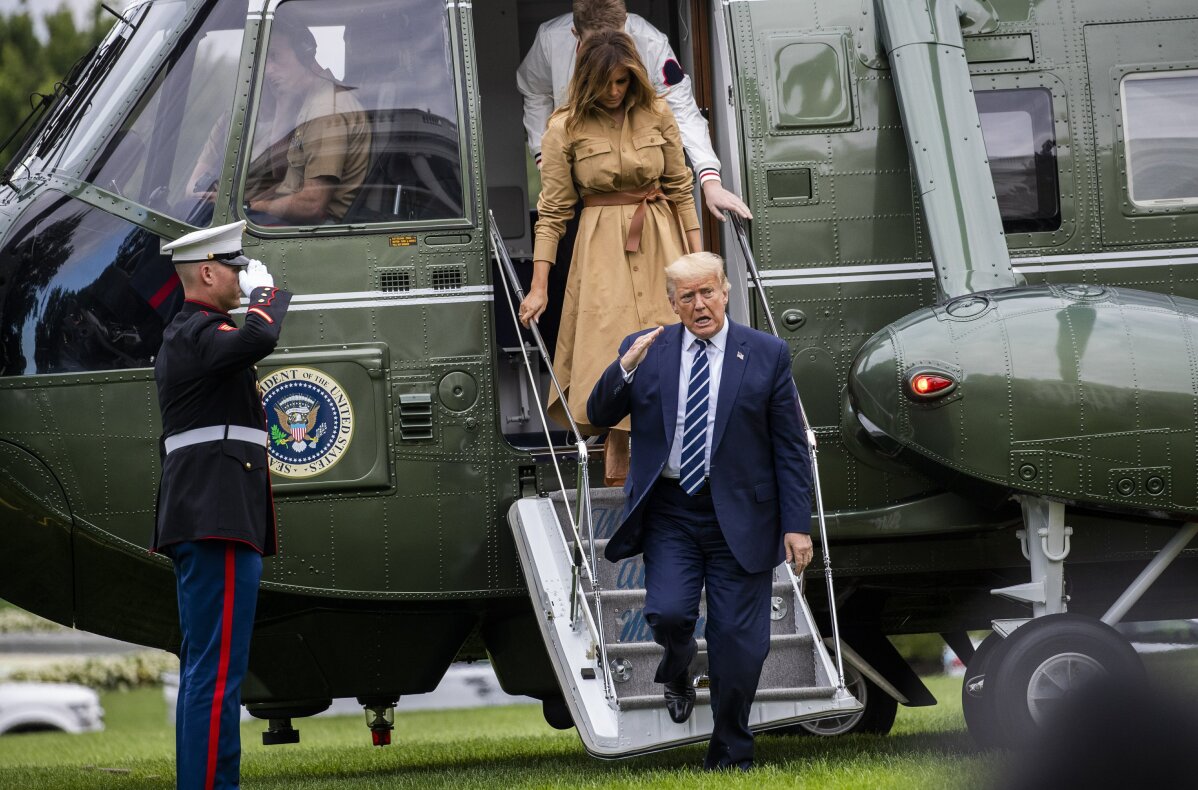 3 of 6

|
President Donald Trump with first lady Melania Trump and their son Barron, salutes a Marine Corps honor guard as they disembark Marine One on the South Lawn upon arrival at the White House from a weekend trip to Bedminster, N.J., Sunday, Aug. 16, 2020, in Washington. (AP Photo/Manuel Balce Ceneta)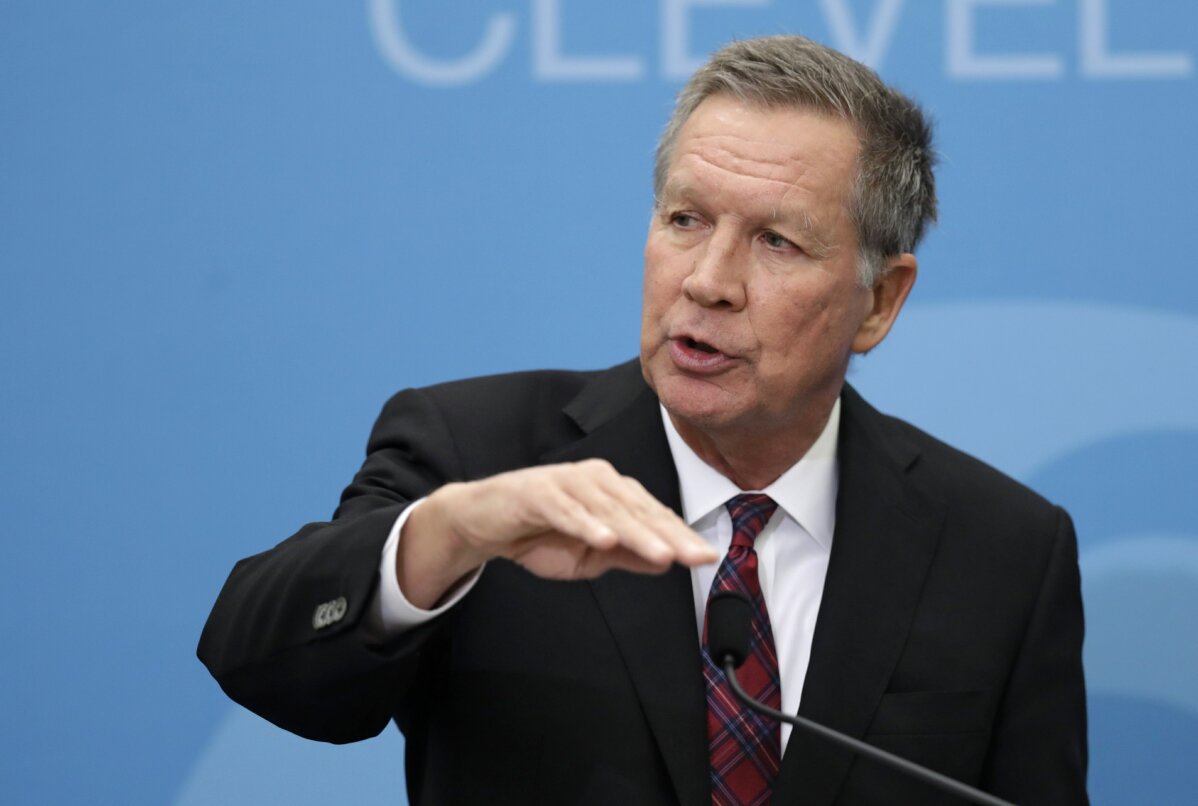 4 of 6

|
FILE - In this Dec. 4, 2018, then Ohio Gov. John Kasich speaks at The City Club of Cleveland, in Cleveland. (AP Photo/Tony Dejak)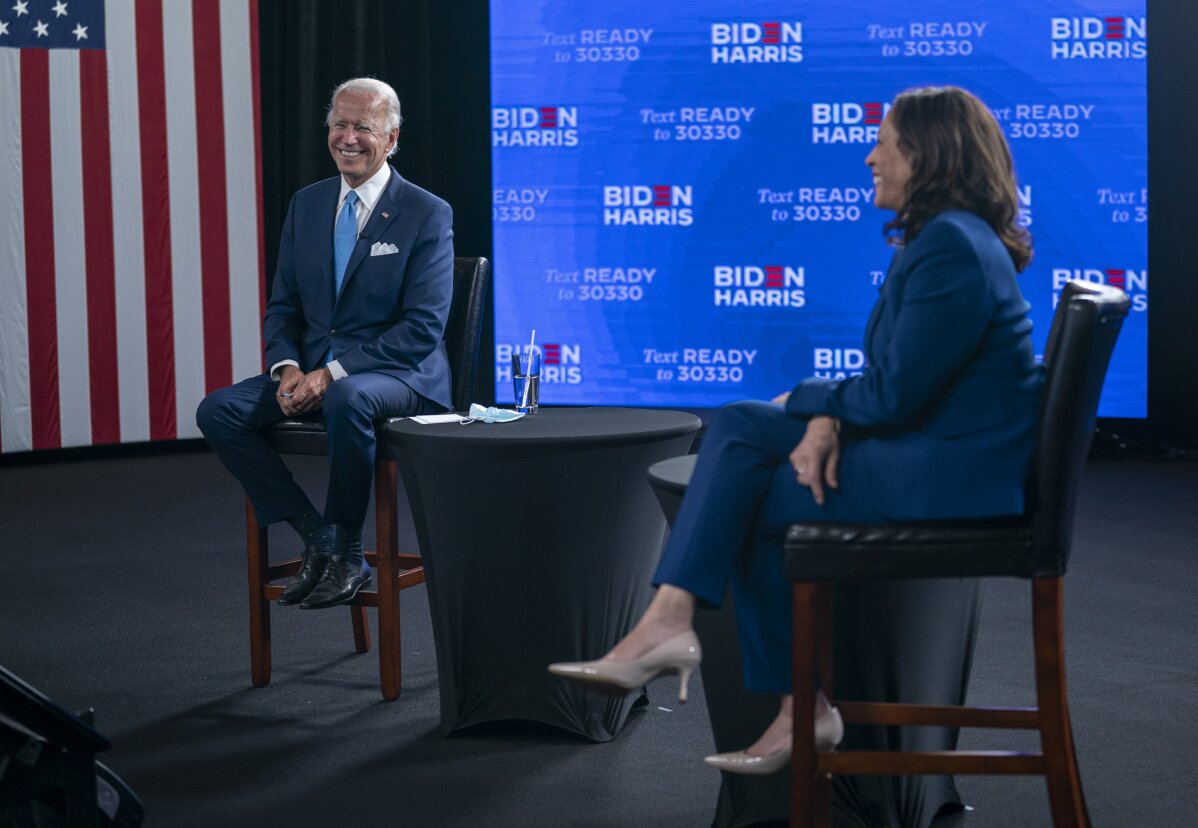 5 of 6

|
FILE - In this Aug. 12, 2020, file photo Democratic presidential candidate former Vice President Joe Biden and his running mate Sen. Kamala Harris, D-Calif., participate in a virtual grassroots fundraiser at the Hotel DuPont in Wilmington, Del. The Democratic Party will convene Monday, Aug. 17, sort of, amid a pandemic that has upended the usual pomp-and-circumstance of presidential nominating conventions. (AP Photo/Carolyn Kaster, File)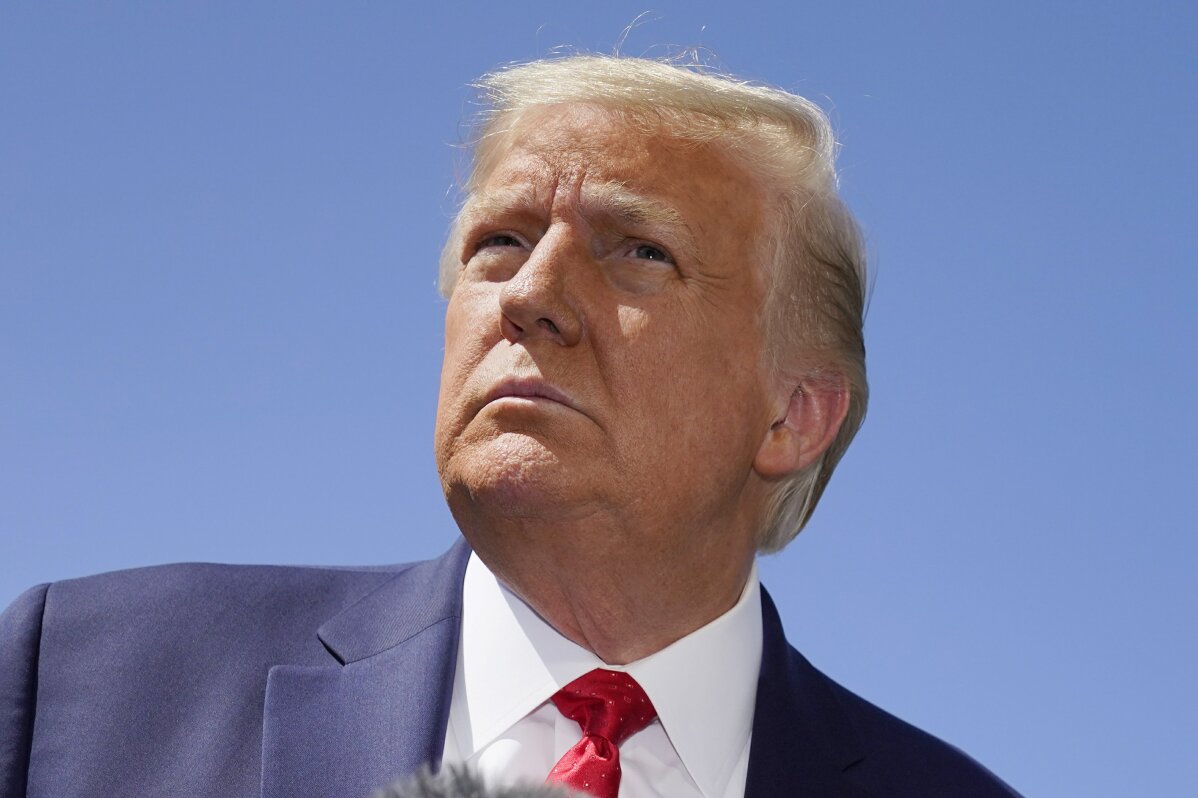 6 of 6

|
President Donald Trump speaks with reporters as he walks to Marine One on the South Lawn of the White House, Monday, Aug. 17, 2020, in Washington. Trump is en route to Minnesota and Wisconsin. (AP Photo/Alex Brandon)
The Latest: Biden is camp focused on voters, not on travel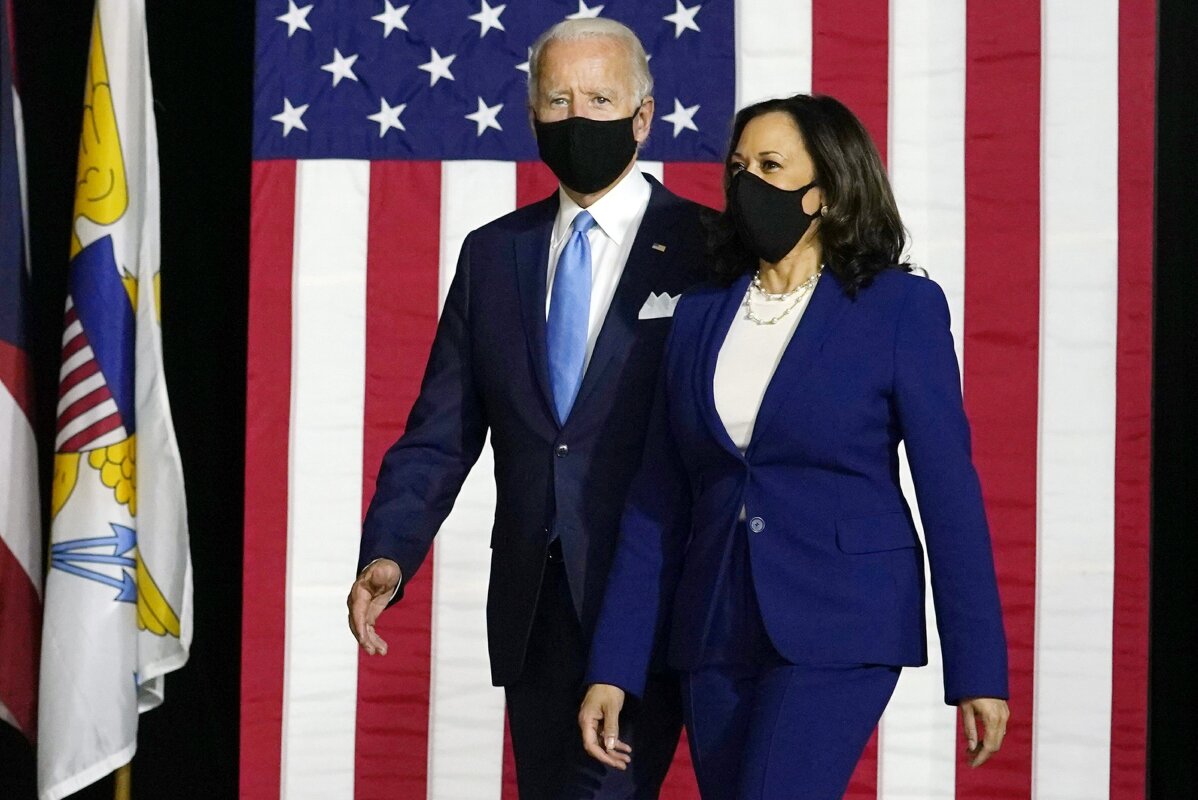 1 of 6

|
FILE - In this Aug. 12, 2020, file photo Democratic presidential candidate former Vice President Joe Biden and his running mate Sen. Kamala Harris, D-Calif., arrive to speak at a news conference at Alexis Dupont High School in Wilmington, Del. As Democrats gather virtually this week to nominate Joe Biden for the presidency, party leaders and activists across the political spectrum agree on one unifying force: their desire to defeat President Donald Trump. (AP Photo/Carolyn Kaster)
1 of 6
FILE - In this Aug. 12, 2020, file photo Democratic presidential candidate former Vice President Joe Biden and his running mate Sen. Kamala Harris, D-Calif., arrive to speak at a news conference at Alexis Dupont High School in Wilmington, Del. As Democrats gather virtually this week to nominate Joe Biden for the presidency, party leaders and activists across the political spectrum agree on one unifying force: their desire to defeat President Donald Trump. (AP Photo/Carolyn Kaster)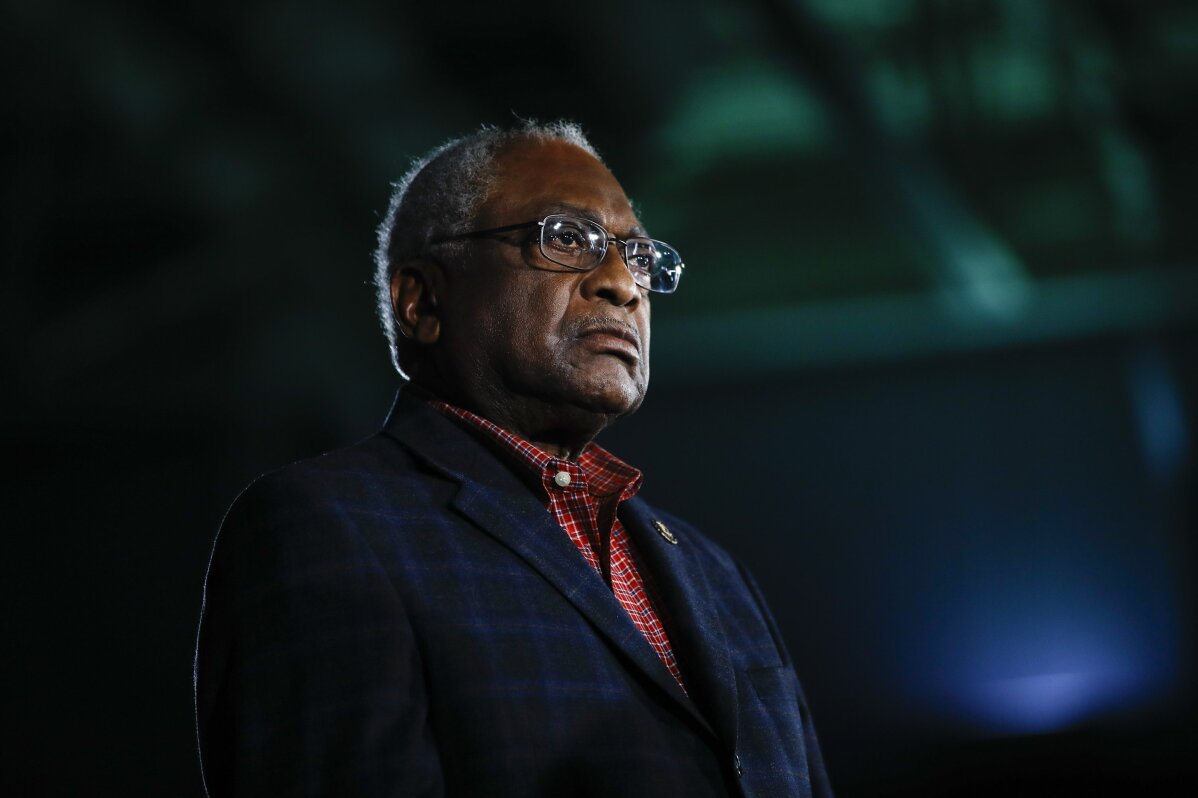 2 of 6

|
FILE - In this Feb. 29, 2020, file photo Rep. James Clyburn, D-S.C. listens to Democratic presidential candidate former Vice President Joe Biden speak at a primary night election rally in Columbia, S.C. Clyburn is now the highest-ranking Black lawmaker in Congress, the House Democratic Whip, and one of the few leaders of civil rights movement still in elected office today. (AP Photo/Matt Rourke, File)
2 of 6
FILE - In this Feb. 29, 2020, file photo Rep. James Clyburn, D-S.C. listens to Democratic presidential candidate former Vice President Joe Biden speak at a primary night election rally in Columbia, S.C. Clyburn is now the highest-ranking Black lawmaker in Congress, the House Democratic Whip, and one of the few leaders of civil rights movement still in elected office today. (AP Photo/Matt Rourke, File)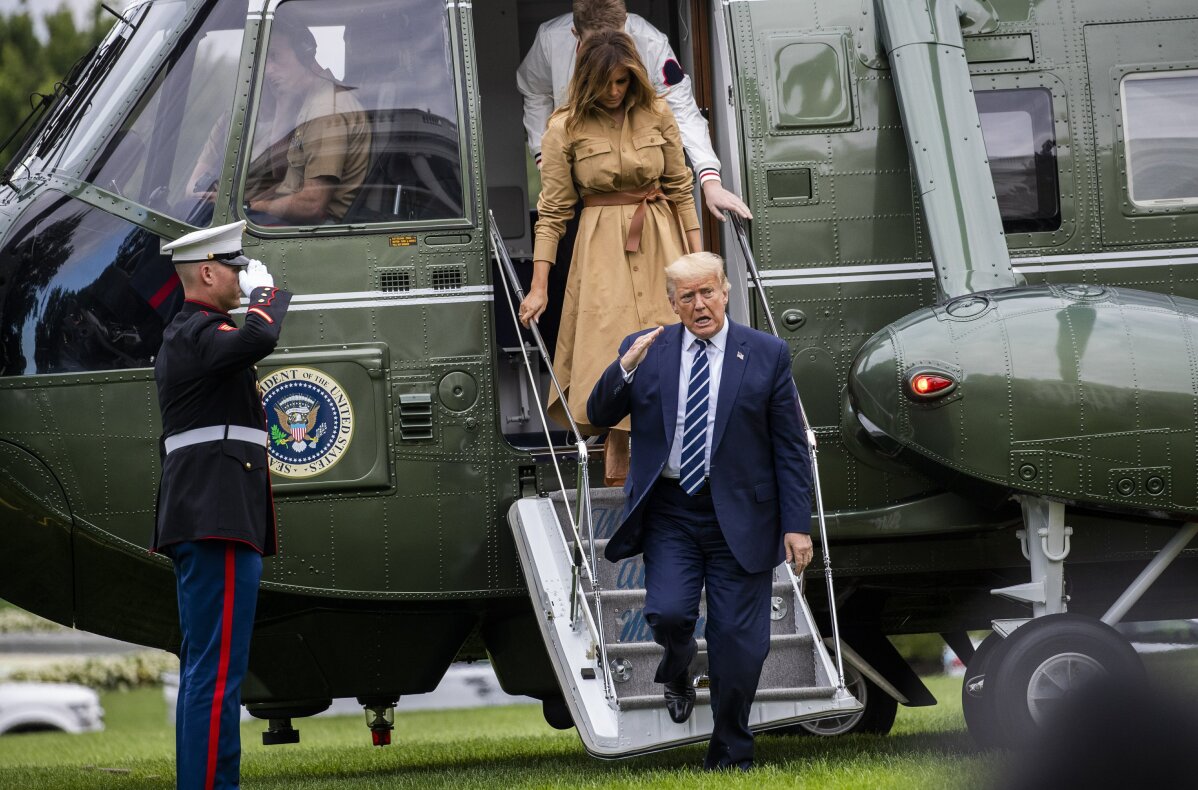 3 of 6

|
President Donald Trump with first lady Melania Trump and their son Barron, salutes a Marine Corps honor guard as they disembark Marine One on the South Lawn upon arrival at the White House from a weekend trip to Bedminster, N.J., Sunday, Aug. 16, 2020, in Washington. (AP Photo/Manuel Balce Ceneta)
3 of 6
President Donald Trump with first lady Melania Trump and their son Barron, salutes a Marine Corps honor guard as they disembark Marine One on the South Lawn upon arrival at the White House from a weekend trip to Bedminster, N.J., Sunday, Aug. 16, 2020, in Washington. (AP Photo/Manuel Balce Ceneta)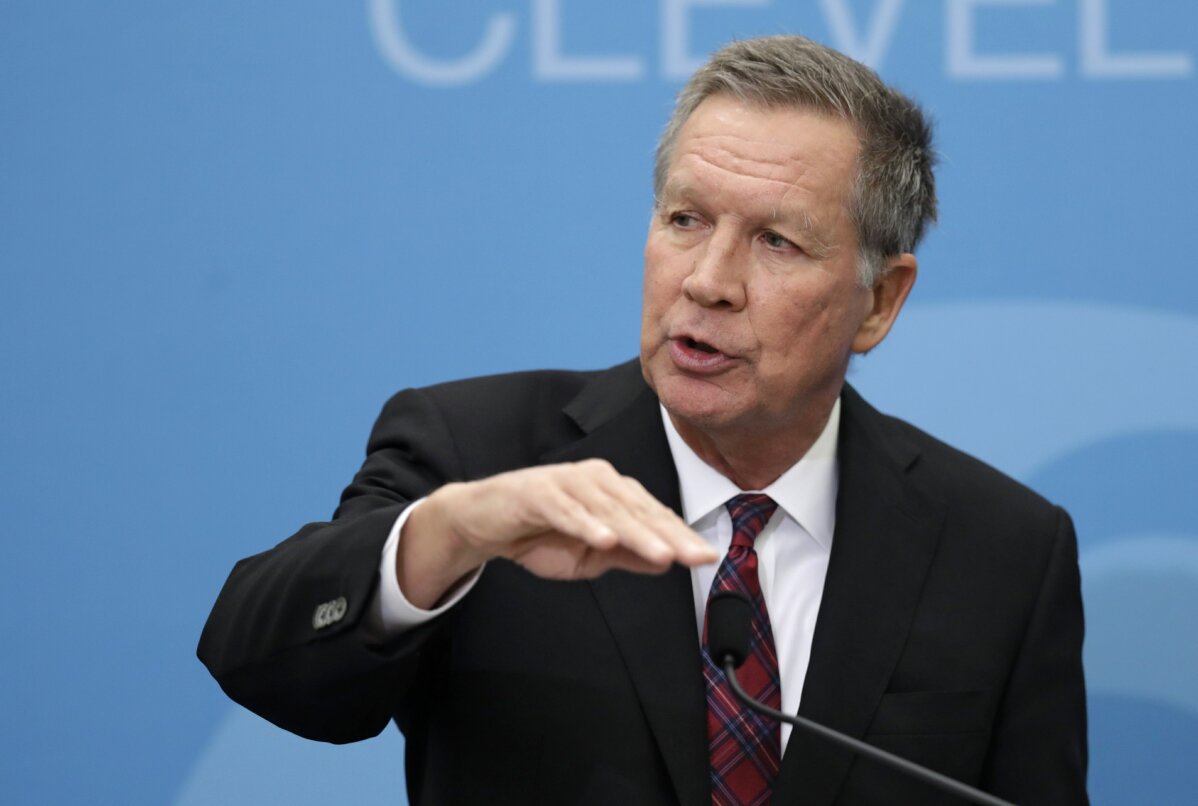 4 of 6

|
FILE - In this Dec. 4, 2018, then Ohio Gov. John Kasich speaks at The City Club of Cleveland, in Cleveland. (AP Photo/Tony Dejak)
4 of 6
FILE - In this Dec. 4, 2018, then Ohio Gov. John Kasich speaks at The City Club of Cleveland, in Cleveland. (AP Photo/Tony Dejak)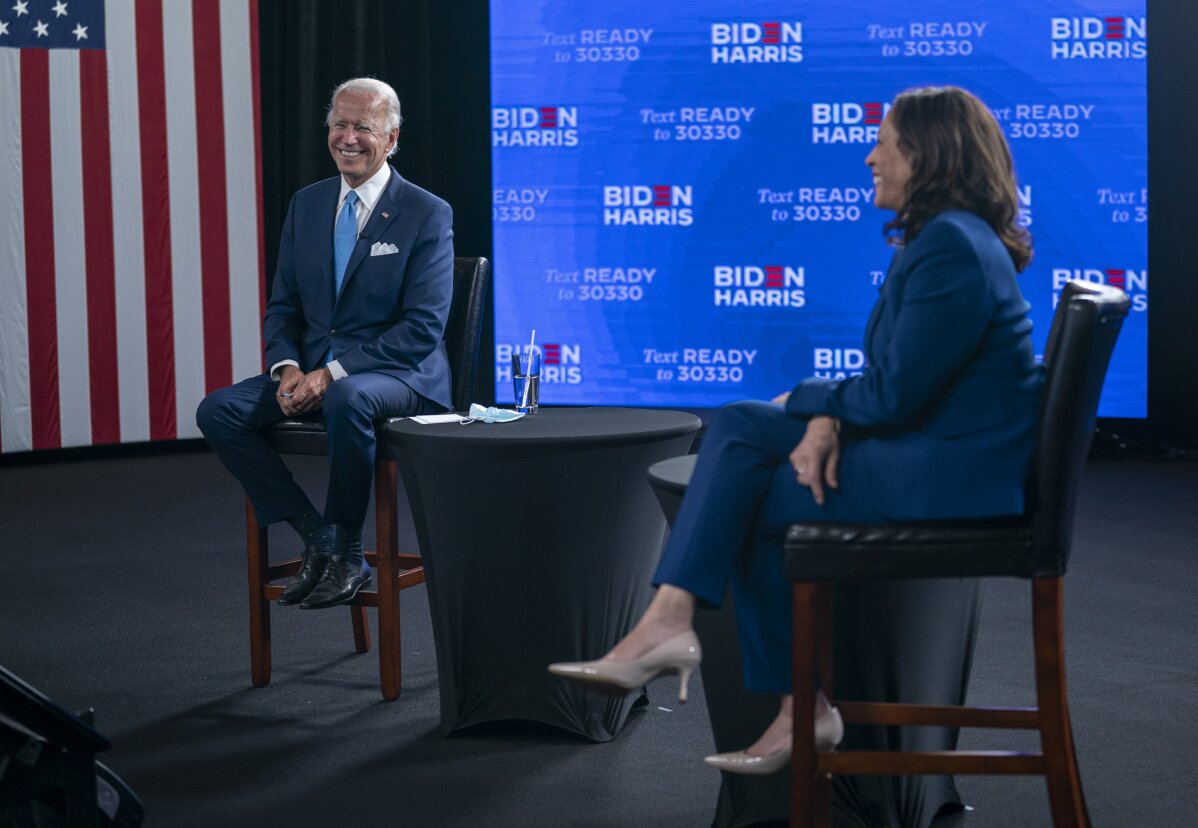 5 of 6

|
FILE - In this Aug. 12, 2020, file photo Democratic presidential candidate former Vice President Joe Biden and his running mate Sen. Kamala Harris, D-Calif., participate in a virtual grassroots fundraiser at the Hotel DuPont in Wilmington, Del. The Democratic Party will convene Monday, Aug. 17, sort of, amid a pandemic that has upended the usual pomp-and-circumstance of presidential nominating conventions. (AP Photo/Carolyn Kaster, File)
5 of 6
FILE - In this Aug. 12, 2020, file photo Democratic presidential candidate former Vice President Joe Biden and his running mate Sen. Kamala Harris, D-Calif., participate in a virtual grassroots fundraiser at the Hotel DuPont in Wilmington, Del. The Democratic Party will convene Monday, Aug. 17, sort of, amid a pandemic that has upended the usual pomp-and-circumstance of presidential nominating conventions. (AP Photo/Carolyn Kaster, File)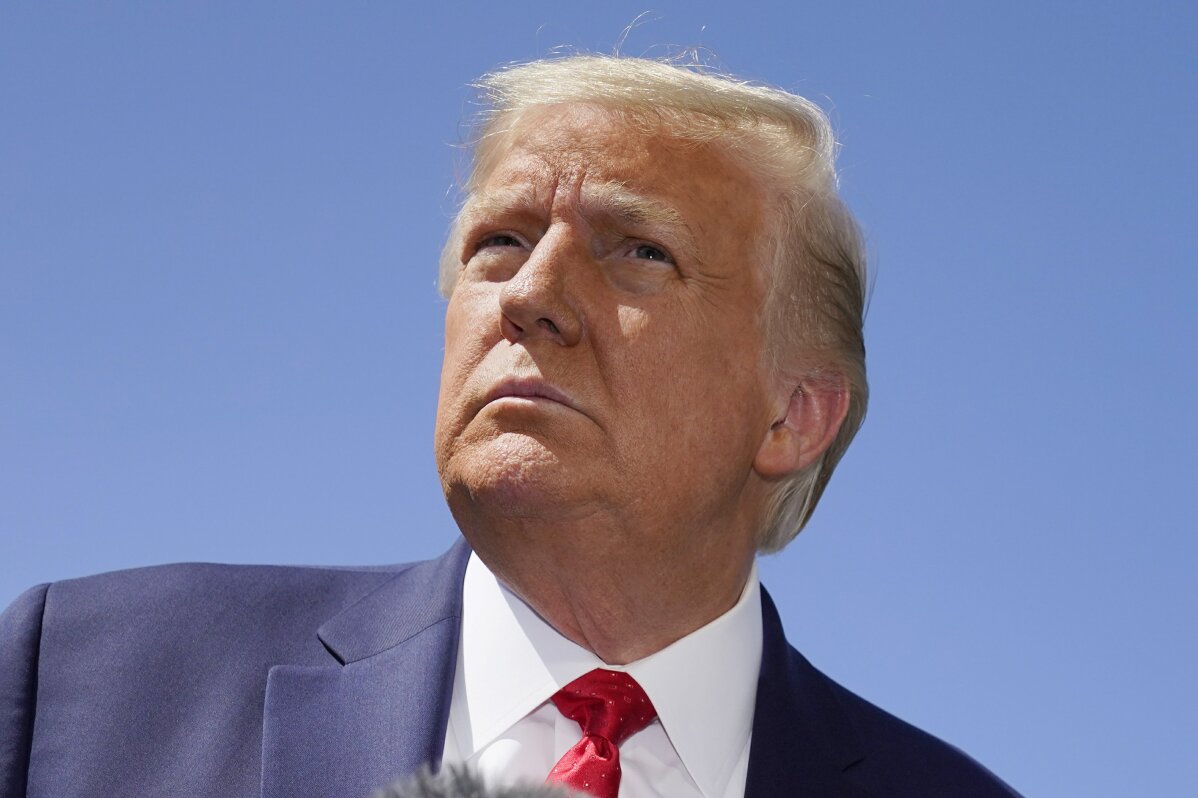 6 of 6

|
President Donald Trump speaks with reporters as he walks to Marine One on the South Lawn of the White House, Monday, Aug. 17, 2020, in Washington. Trump is en route to Minnesota and Wisconsin. (AP Photo/Alex Brandon)
6 of 6
President Donald Trump speaks with reporters as he walks to Marine One on the South Lawn of the White House, Monday, Aug. 17, 2020, in Washington. Trump is en route to Minnesota and Wisconsin. (AP Photo/Alex Brandon)
WASHINGTON (AP) — The Latest on the Democratic National Convention (all times local):
12:05 p.m.
Unlike most recent presidential campaigns, it's unclear whether the Democratic ticket will travel after the party's national convention in light of the coronavirus pandemic.
Presumptive Democratic nominee Joe Biden's campaign manager Jennifer O'Malley-Dillon isn't saying whether the former vice president or his running mate, California Sen. Kamala Harris, expects to travel to key states this fall.
O'Malley-Dillon tells The Washington Post she's not as concerned about the travel restrictions as she is about making sure the campaign is "spending the time and building community and connection and engaging with voters."
President Donald Trump has mocked Biden for his light travel schedule.
O'Malley-Dillon also says the Biden campaign has lawyers ready to litigate any effort to limit voting by mail, which Trump has said without evidence is rife with fraud. Trump said last week he's starving the U.S. Postal Service of money to make it harder to process an expected surge of mail-in ballots, which he worries could cost him the election.
O'Malley-Dillon says Biden's campaign will have "the largest voter protection effort" ever conducted on a presidential campaign.
Democrats' virtual national convention begins Monday night.
___
11:40 a.m.
The first night of Democrats' national convention features a lineup of several former Republican officials who are backing former Vice President Joe Biden over President Donald Trump.
Officials announced that former Ohio Gov. John Kasich will be making remarks, along with former New York Rep. Susan Molinari and former New Jersey Gov. Christine Whitman.
Also slated for Monday night is Meg Whitman, the former CEO of Hewlett Packard. Whitman was a senior member of Republican Mitt Romney's presidential bids but backed Democrat Hillary Clinton in 2016.
Kasich was one of the last contenders in the 2016 GOP primary and has been a fierce critic of Trump.
Biden campaign co-chair and U.S. Rep. Cedric Richmond says the inclusion of speakers from all political backgrounds reflects a theme of unity during national struggles including the coronavirus pandemic.
Democrats are gathering virtually across the country for this week's national convention, which begins Monday night. Other speakers include House Majority Whip Jim Clyburn of South Carolina, former first lady Michelle Obama and Vermont Sen. Bernie Sanders.
___
10:20 a.m.
President Donald Trump says he has "no choice" but to campaign in Wisconsin this week while the Democratic National Convention goes on, in order to address voters there in what he says is a news media environment hostile to him.
Trump says during a morning interview on "Fox and Friends" that he plans to visit Oshkosh on Monday "because we have a fake media in this country, so I have to work. I don't have time not to."
Trump describes what he sees as unfair treatment by a news media with "fire out of their eyes" in their questions for him, while presumptive Democratic nominee Joe Biden "doesn't come out of his basement."
Biden had largely campaigned virtually throughout the summer but has begun appearing in public, as he did with newly-named running mate Kamala Harris over the weekend.
Trump plans an afternoon campaign stop at a private air hangar in Oshkosh, Wisconsin, a pivotal state in the quest for a majority of the Electoral College votes. The Democratic convention is being held in Milwaukee this week, but mainly features speakers addressing the event virtually because of the coronavirus pandemic.