AP PHOTOS: A week of images from the coronavirus pandemic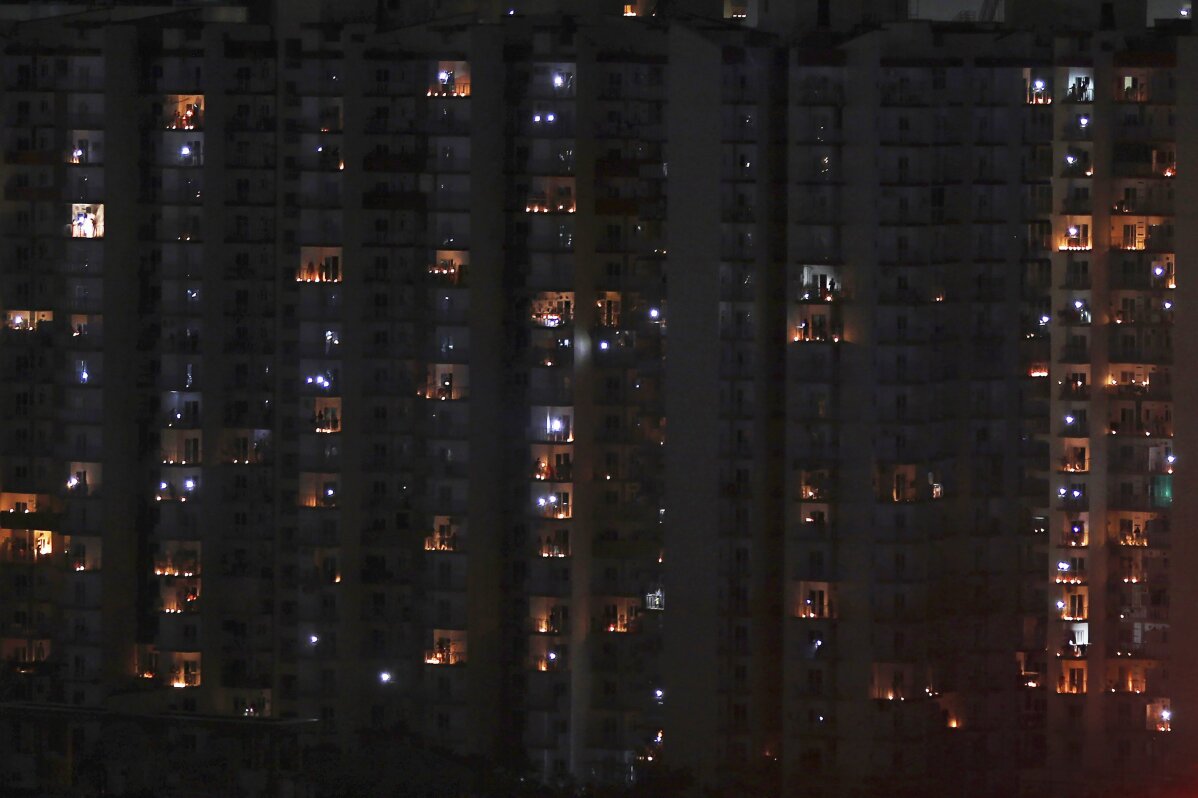 1 of 20

|
Balconies are illuminated with candles and torches to mark the country's fight against COVID-19 in Greater Noida, a suburb of New Delhi, India, April 5, 2020. Indian Prime Minister Narendra Modi had in a Friday broadcast urged the country's 1.3 billion people to switch off lights of their home at 9 pm for 9 minutes on Sunday night and light candles, lamps and even use mobile torches standing in their balconies. Modi said that such a gesture will dispel the darkness created by the coronavirus and show that people are together in their fight against the epidemic. (AP Photo/Altaf Qadri)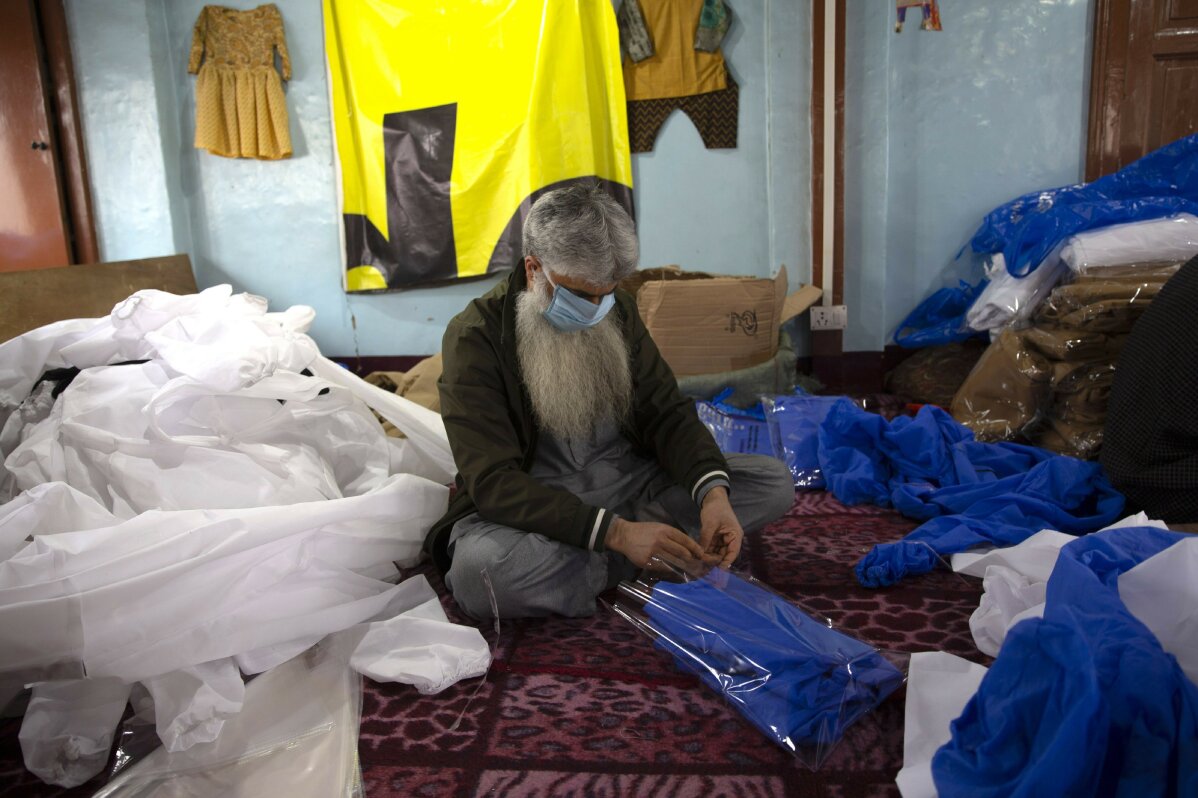 2 of 20

|
Kashmiri volunteer packs disposable protective suit to be distributed free among different hospitals in Srinagar Indian controlled Kashmir, Friday, April 3, 2020. (AP Photo/ Dar Yasin)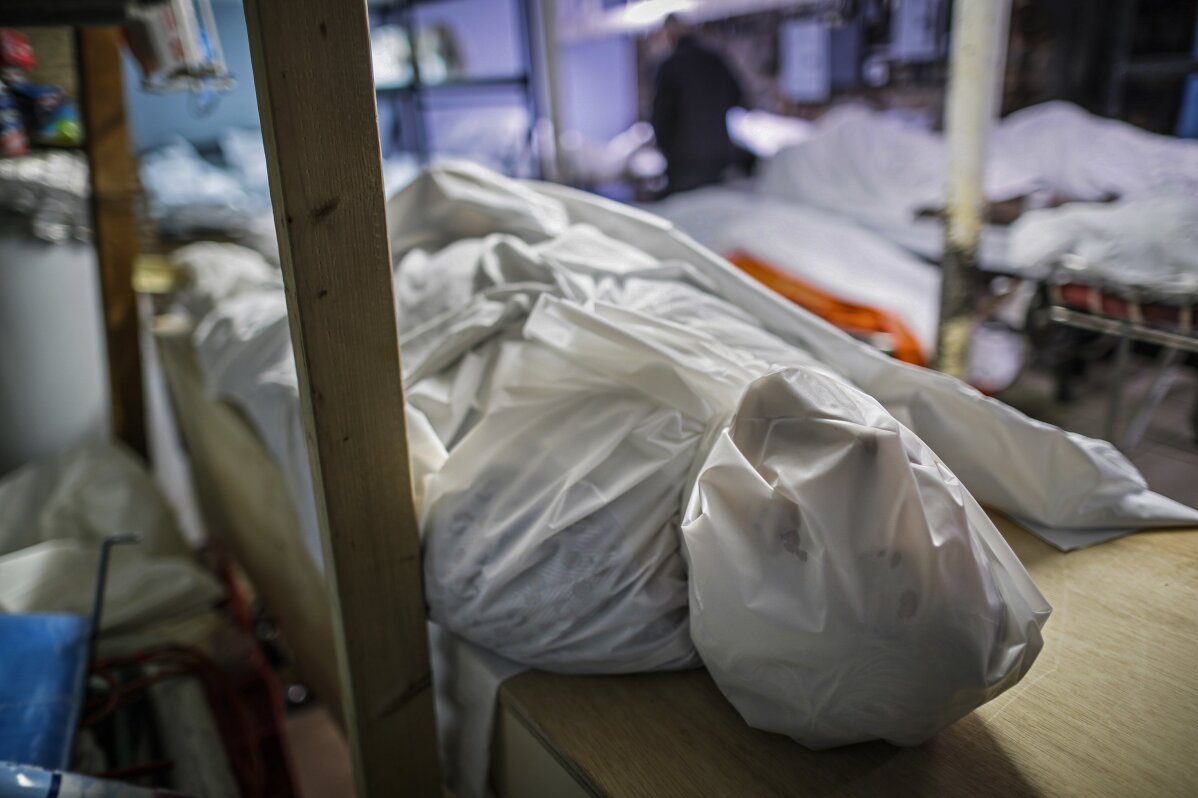 3 of 20

|
Bodies are wrapped in protective plastic in a holding facility at Daniel J. Schaefer Funeral Home, April 2, 2020, in the Brooklyn borough of New York. The company is equipped to handle 40-60 cases at a time. But amid the coronavirus pandemic, it was taking care of 185 Thursday morning. (AP Photo/John Minchillo)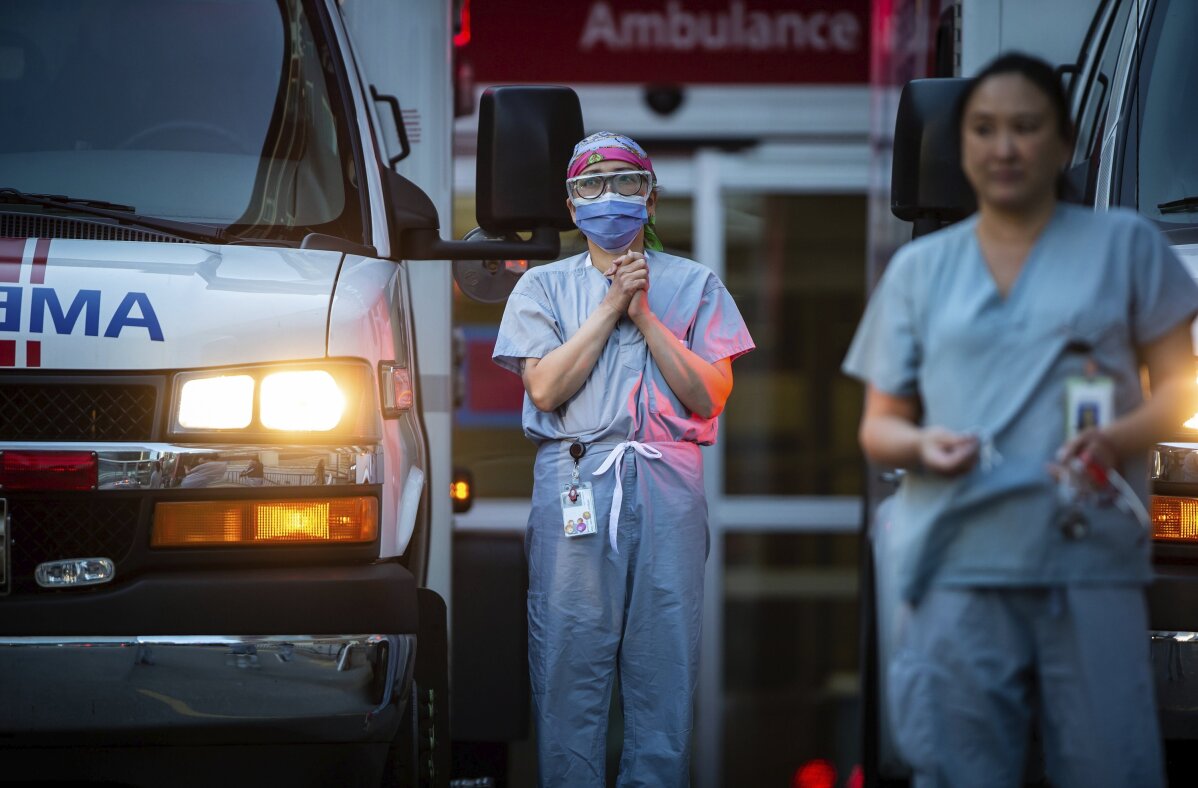 4 of 20

|
Healthcare workers at St. Paul's Hospital acknowledge applause and cheers from people outside the hospital, as a convoy of first responders with lights and sirens activated parade past to show support for the hospital staff, in Vancouver, British Columbia, April 5, 2020. (Darryl Dyck/The Canadian Press via AP)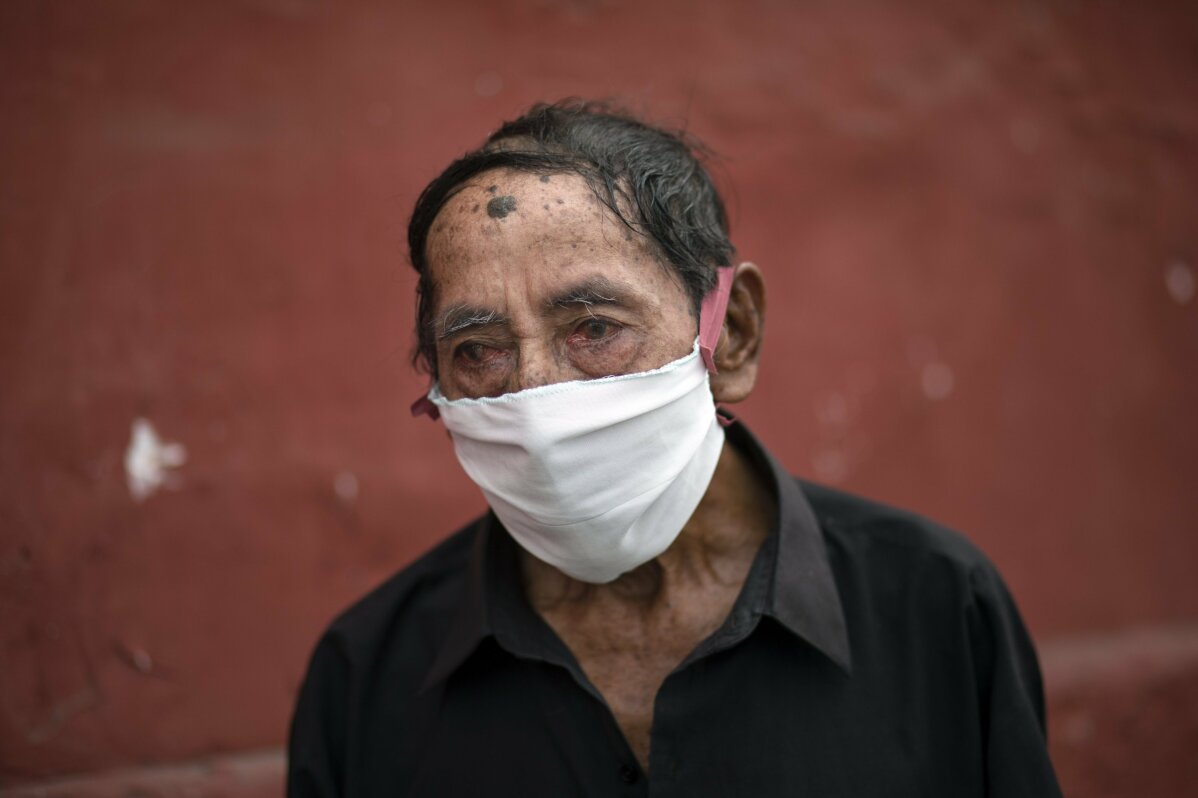 5 of 20

|
Ciro Orlando Gijon, 78, waits to apply for shelter at the Plaza de Toros de Acho bullring, in Lima, Peru, March 31, 2020. The mayor of Lima reported that the plaza will provide shelter and balanced meals for some of the city's homeless amid the new coronavirus pandemic. (AP Photo/Rodrigo Abd)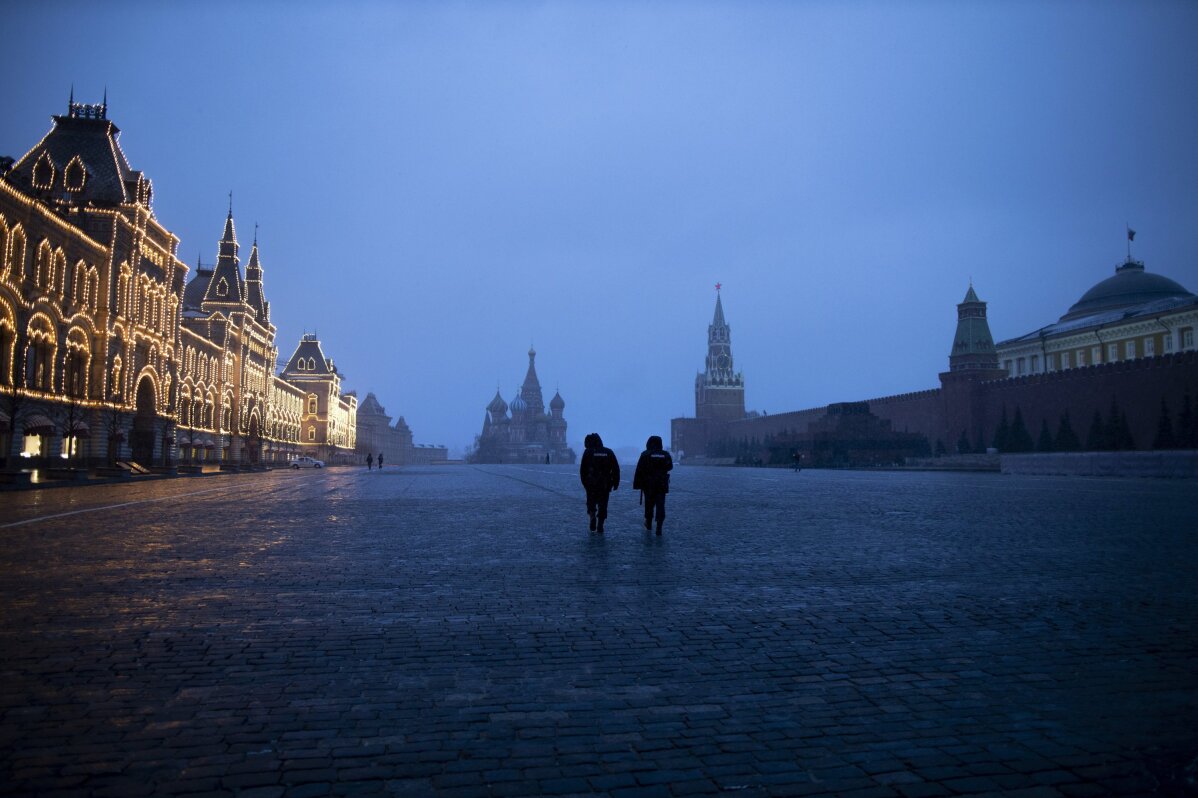 6 of 20

|
Two police officers patrol an almost empty Red Square, with St. Basil's Cathedral, center, and Spasskaya Tower and the Kremlin Wall, right, at the time when its usually very crowded in Moscow, Russia, March 30, 2020. (AP Photo/Alexander Zemlianichenko)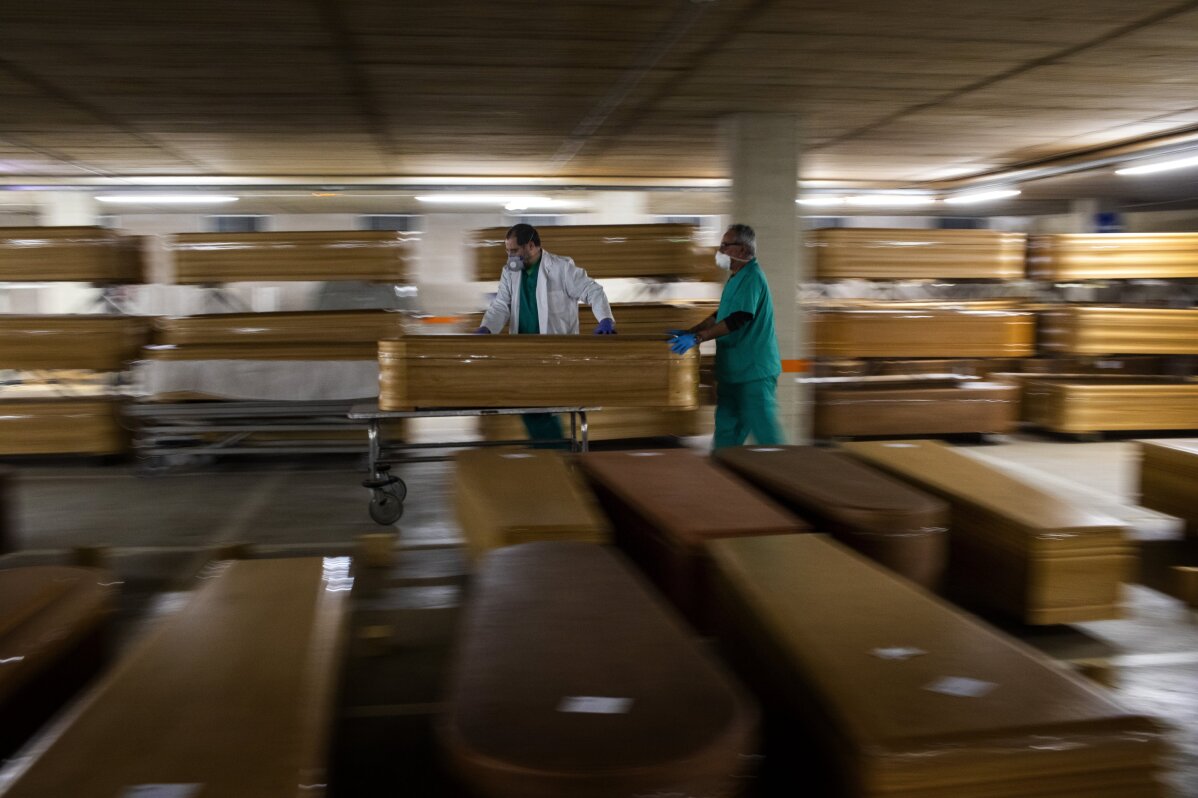 7 of 20

|
Workers move a coffin with the body of a victim of coronavirus as others coffins are stored waiting for burial or cremation at the Collserola morgue in Barcelona, Spain, April 2, 2020. (AP Photo/Emilio Morenatti)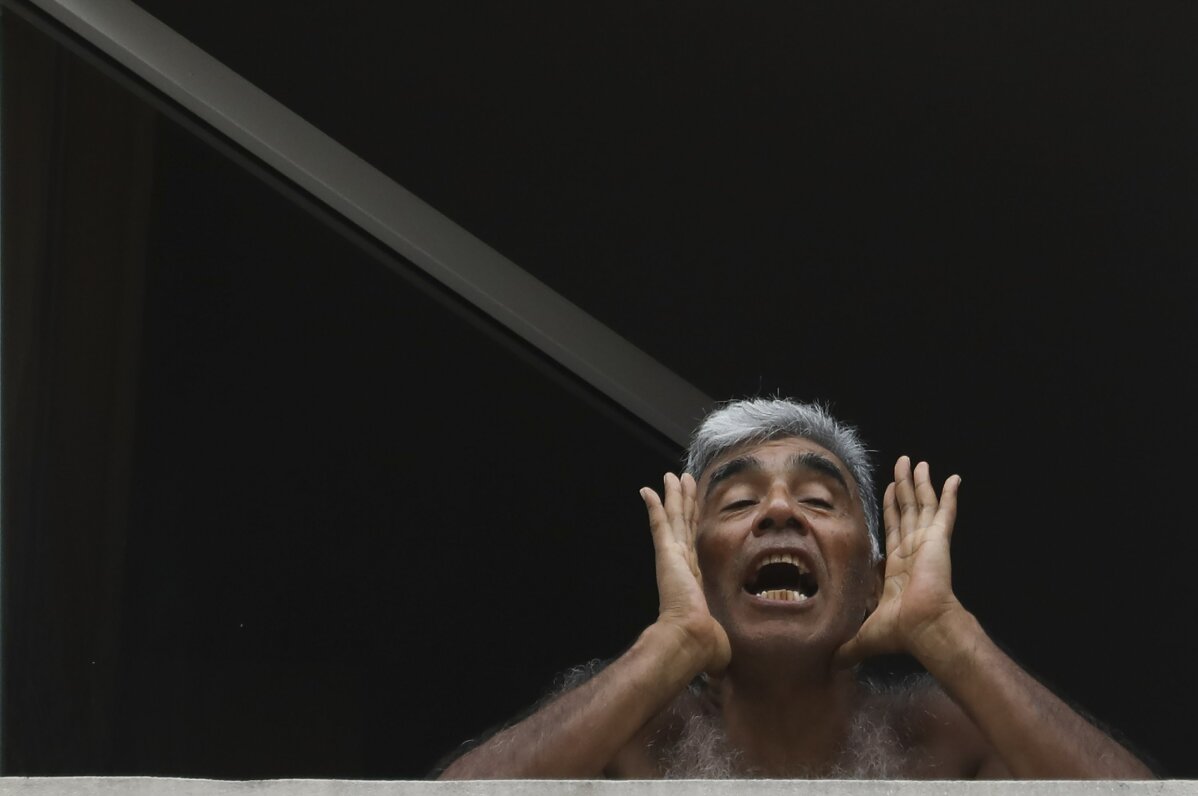 8 of 20

|
Marcelo Gomez shouts to the press about poor living conditions at a hotel where he is being quarantined by the government in Buenos Aires, Argentina, Wednesday, April 1, 2020. The government placed many Argentines returning from vacation into single hotel rooms where they are not allowed to leave. Many of them are denouncing what they describe as bad treatment, insufficient cleaning conditions, poor food, and no information on how long they will be forced to stay. (AP Photo/Natacha Pisarenko)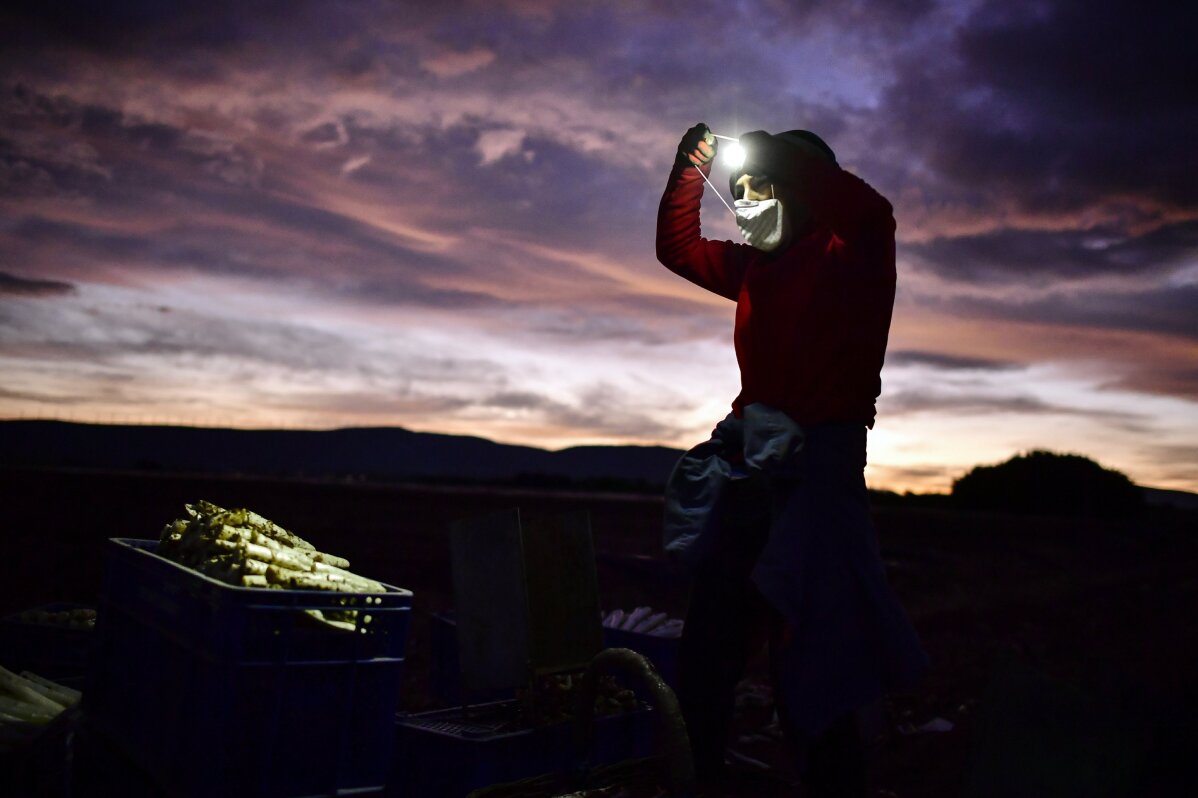 9 of 20

|
Maria Rivera, a 42-year-old seasonal worker, wears face mask to protect against coronavirus while collecting white asparagus from the field using lanterns in Uterga, around 15 km (9 miles) from Pamplona, northern Spain, Sunday, April 5, 2020. (AP Photo/Alvaro Barrientos)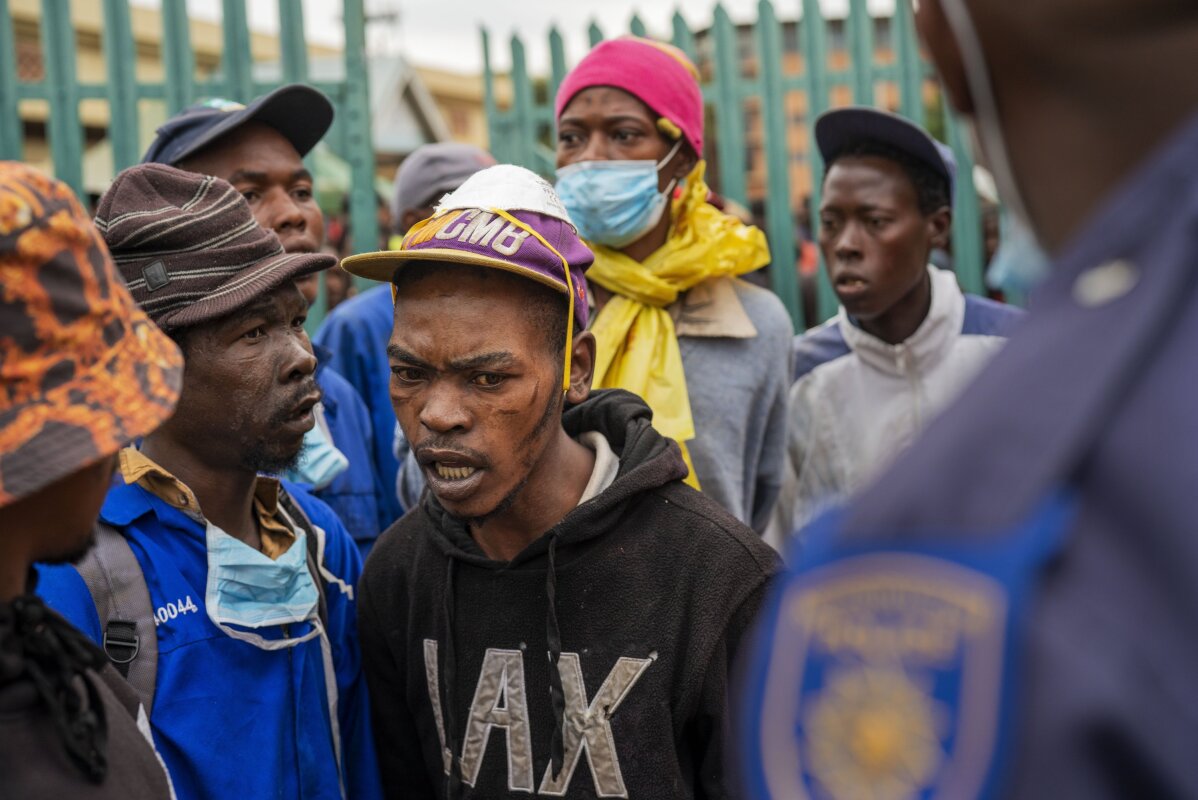 10 of 20

|
Homeless people stay at the Caledonian stadium downtown Pretoria, South Africa, April 2, 2020, after being rounded up by police in an effort to enforce a 21 day lockdown to control the spread of the coronavirus. Many of them being addicted, they are receiving methadone syrup from a local NGO, and were complaining about the lack of sanitizer and soap. (AP Photo/Jerome Delay)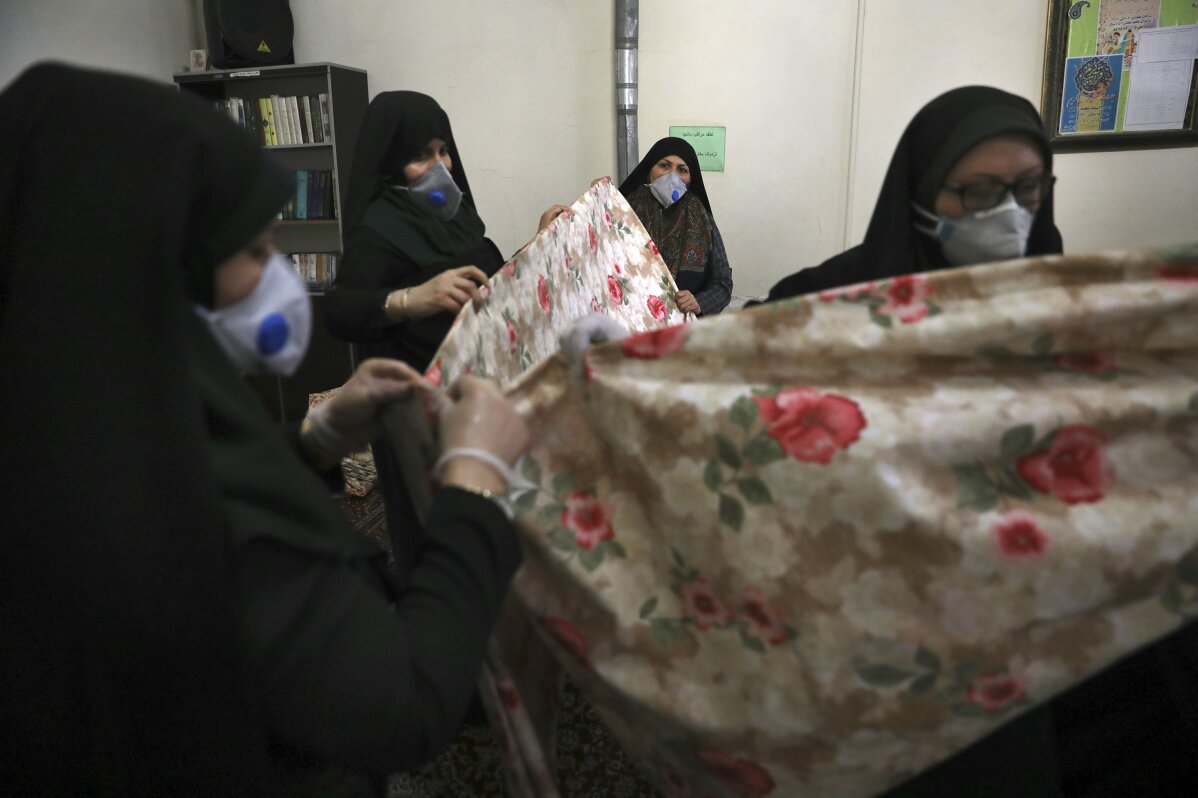 11 of 20

|
Volunteer women prepare fabric to sew bed sheets for hospitals, in a mosque in southern Tehran, Iran, April 5, 2020. (AP Photo/Vahid Salemi)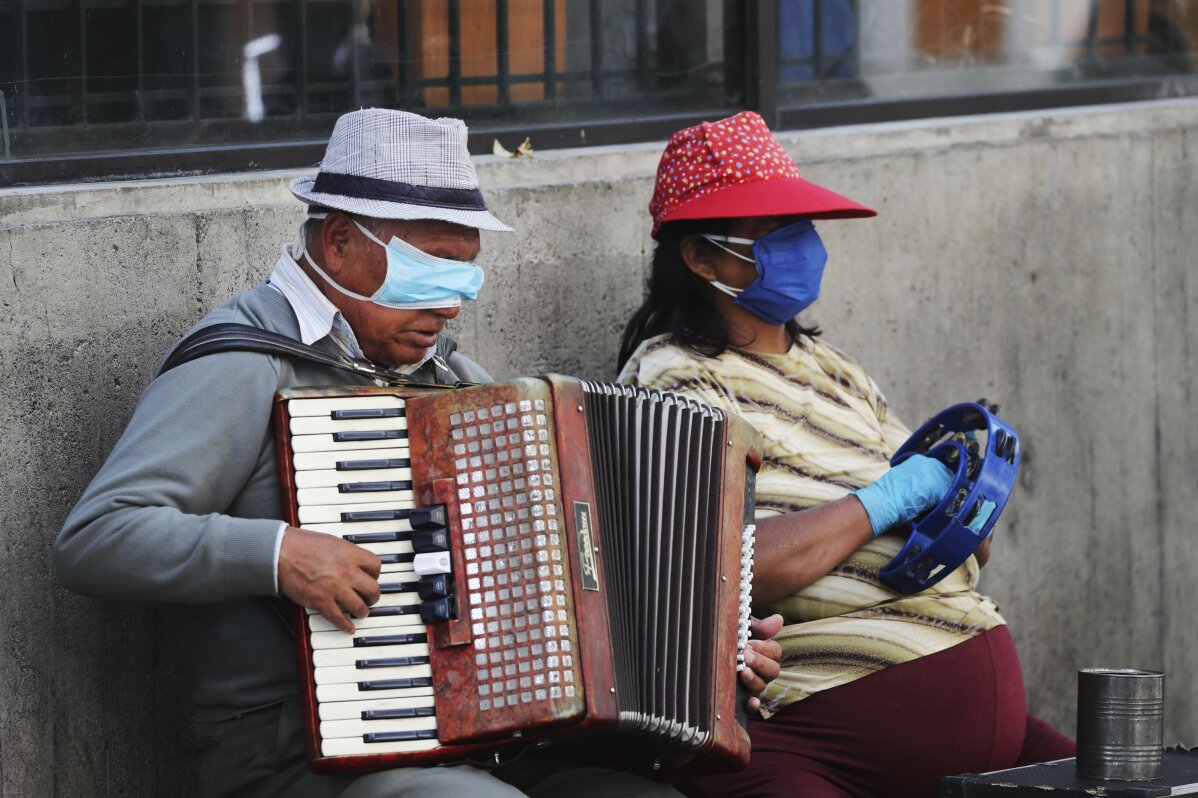 12 of 20

|
A blind man and his musical partner play for tips in downtown Quito, Ecuador, April 3, 2020. (AP Photo/Dolores Ochoa)
13 of 20

|
City workers fumigate a street to help contain the spread of the new coronavirus in La Paz, Bolivia, April 2, 2020. (AP Photo/Juan Karita)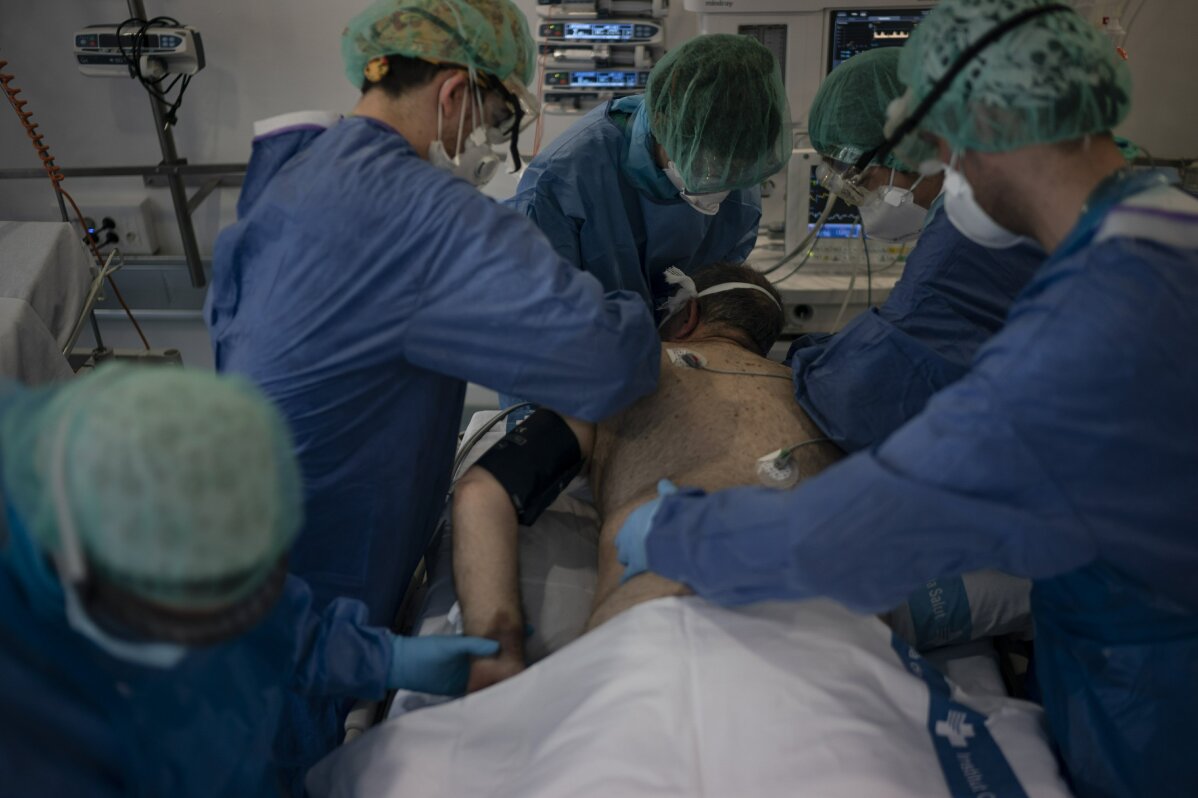 14 of 20

|
Healthcare workers assist a COVID-19 patient at a library that was turned into an intensive care unit (ICU) at Germans Trias i Pujol hospital in Badalona, Barcelona province, Spain, April 1, 2020. (AP Photo/Felipe Dana)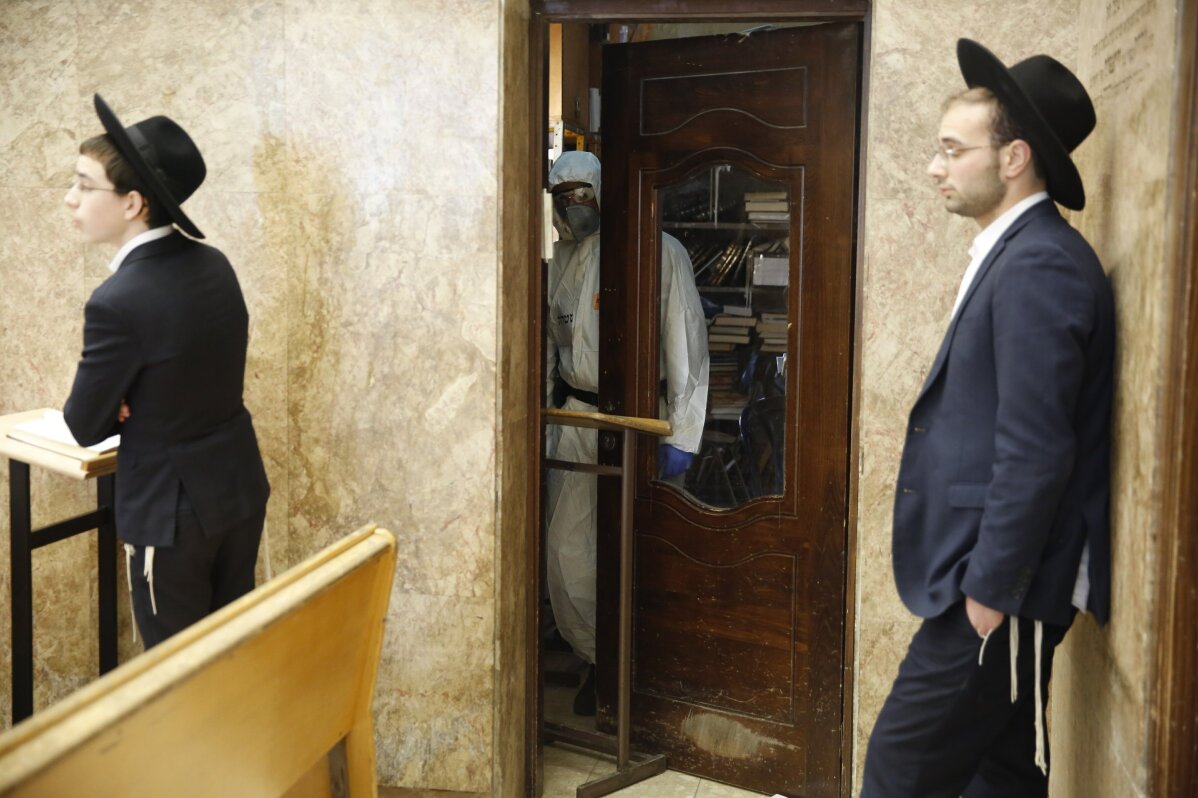 15 of 20

|
An Israeli police officer wearing protective gear waits behind a door to detain ultra-Orthodox men as they pray in a synagogue because of the government's measures to help stop the spread of the coronavirus, in Bnei Brak, a suburb of Tel Aviv, Israel, April 2, 2020. ‏On Wednesday, Israeli Prime Minister Benjamin Netanyahu ordered a police cordon around the largely ultra-Orthodox city of Bnei Brak, to limit movement to and from the city. Bnei Brak has the second highest number of coronavirus cases in Israel. (AP Photo/Ariel Schalit)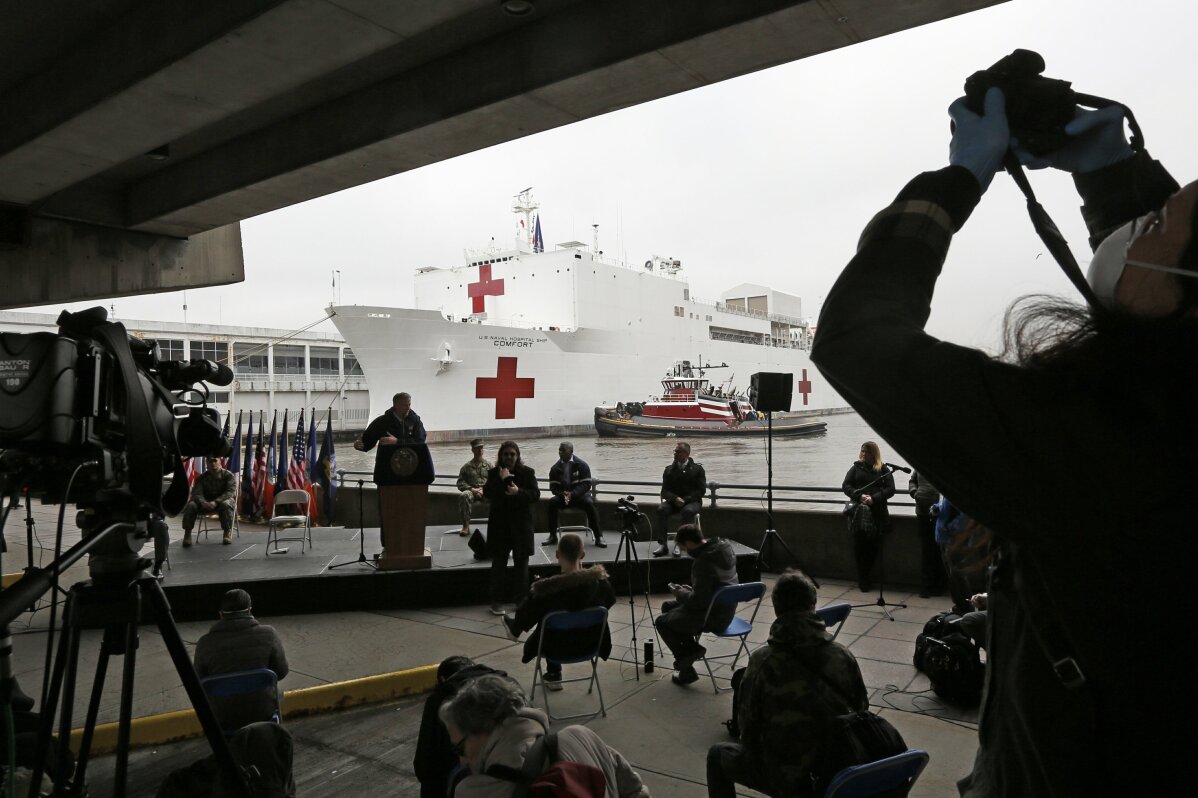 16 of 20

|
A journalist records speakers at a press briefing following the arrival of the USNS Comfort, a naval hospital ship with a 1,000 bed-capacity, March 30, 2020, at Pier 90 in New York. The ship will be used to treat patients who do not have the new coronavirus as land-based hospitals fill up to capacity with those that do. (AP Photo/Kathy Willens)
17 of 20

|
A resident wearing a mask to protect against the spread of the coronavirus looks over barriers used to seal off a neighborhood in Wuhan in central China's Hubei province on Friday, April 3, 2020. (AP Photo/Ng Han Guan)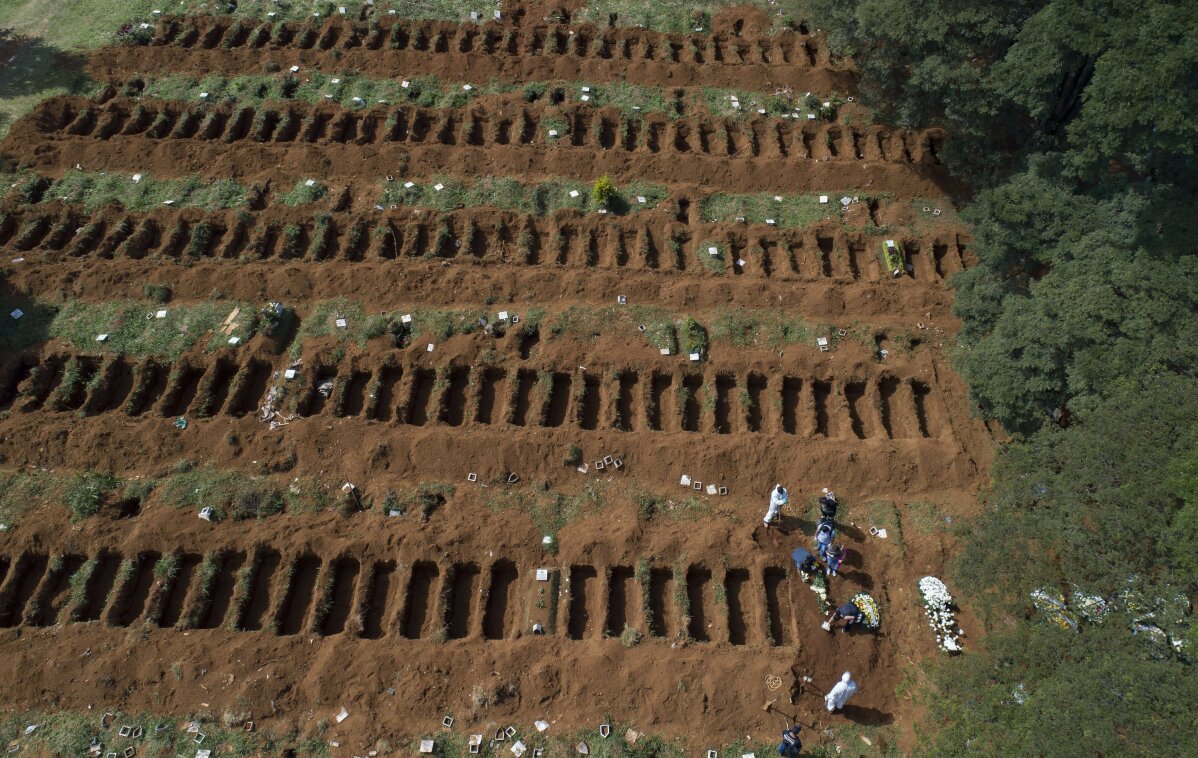 18 of 20

|
Cemetery workers in protective clothing bury a person at the Vila Formosa cemetery in Sao Paulo, Brazil, April 1, 2020. (AP Photo/Andre Penner)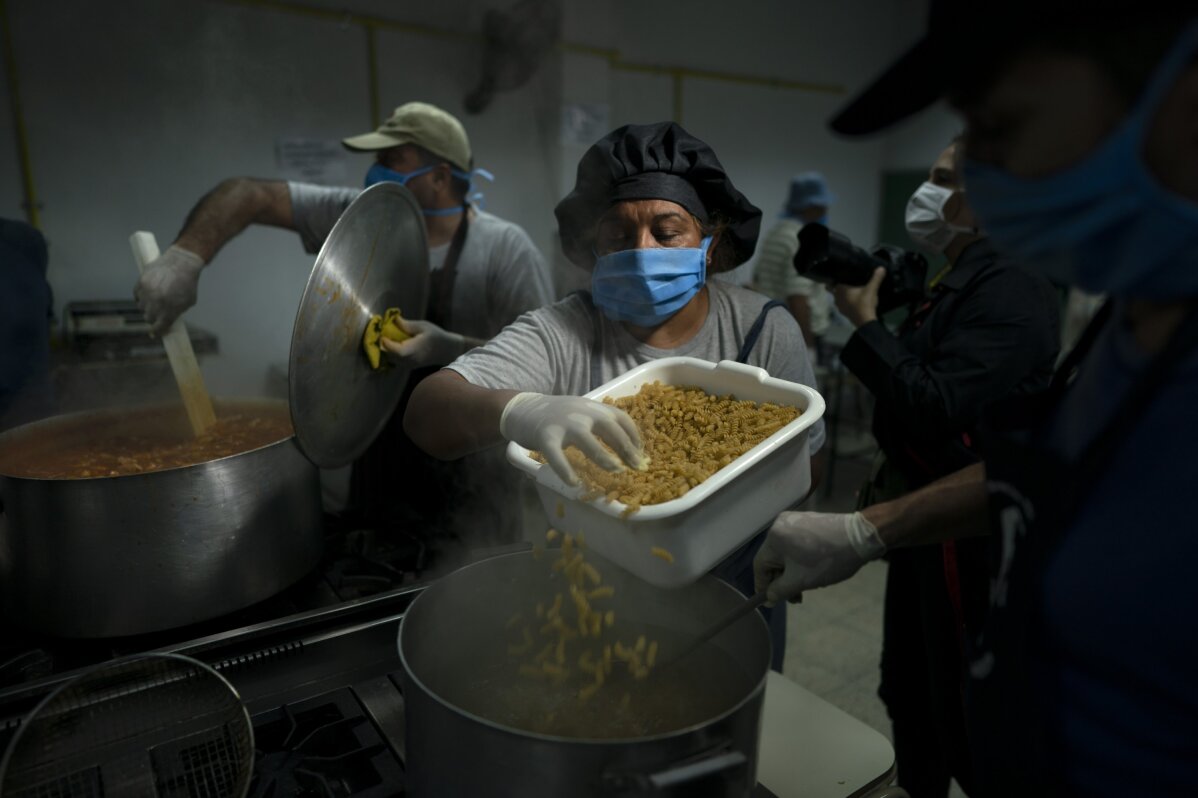 19 of 20

|
Cooks prepare pasta at a soup kitchen at the San Cayetano church in Jose Leon Suarez neighborhood on the outskirts of Buenos Aires, Argentina, March 31, 2020. The Argentine government said Tuesday that the number of people requesting food assistance has increased following the lockdowns that have left many people unable to work amid the pandemic. (AP Photo/Victor R. Caivano)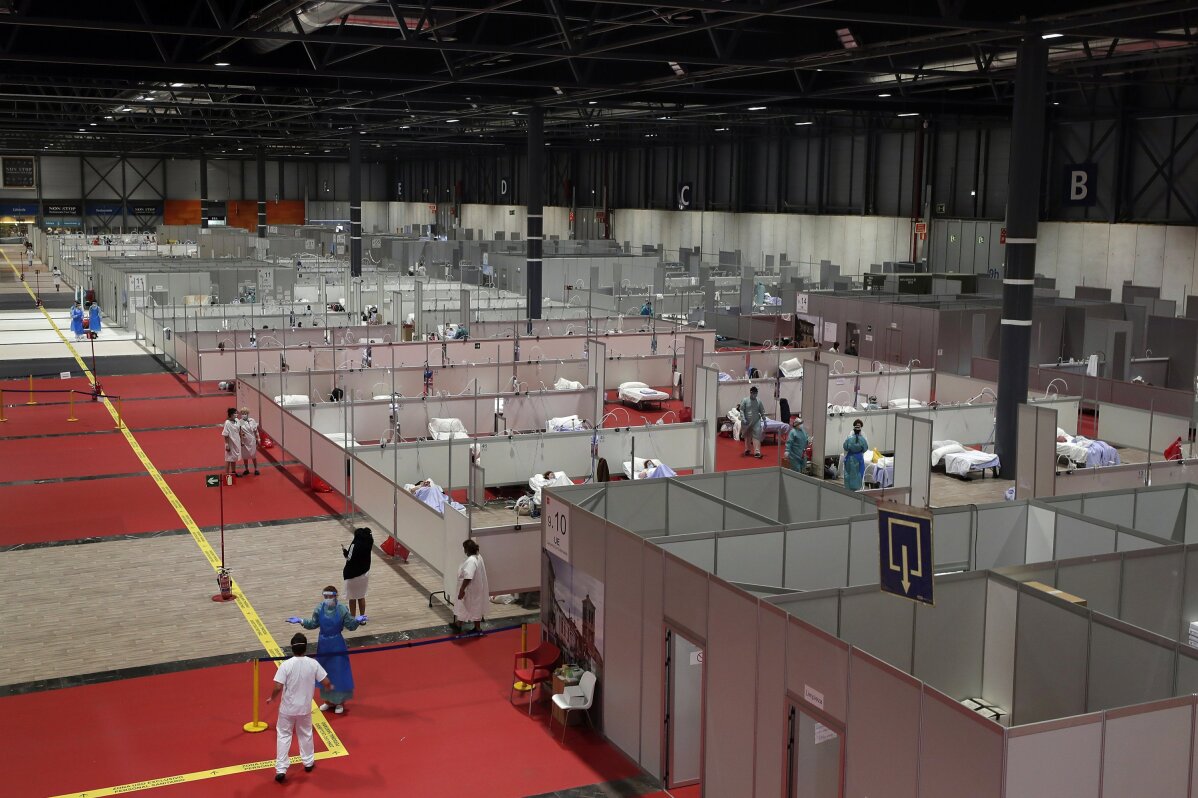 20 of 20

|
A general view a temporary field hospital set at Ifema convention and exhibition of in Madrid, Spain, April 2, 2020. (AP Photo/Manu Fernandez)
AP PHOTOS: A week of images from the coronavirus pandemic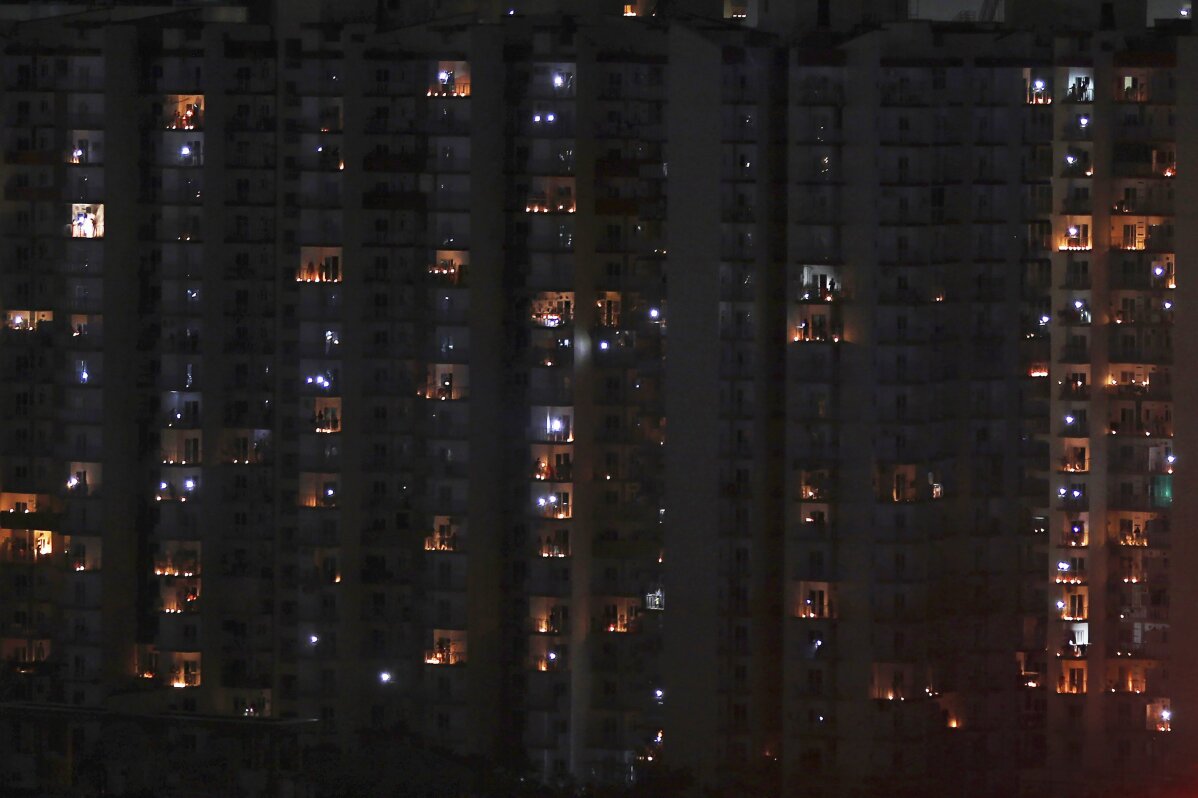 1 of 20

|
Balconies are illuminated with candles and torches to mark the country's fight against COVID-19 in Greater Noida, a suburb of New Delhi, India, April 5, 2020. Indian Prime Minister Narendra Modi had in a Friday broadcast urged the country's 1.3 billion people to switch off lights of their home at 9 pm for 9 minutes on Sunday night and light candles, lamps and even use mobile torches standing in their balconies. Modi said that such a gesture will dispel the darkness created by the coronavirus and show that people are together in their fight against the epidemic. (AP Photo/Altaf Qadri)
1 of 20
Balconies are illuminated with candles and torches to mark the country's fight against COVID-19 in Greater Noida, a suburb of New Delhi, India, April 5, 2020. Indian Prime Minister Narendra Modi had in a Friday broadcast urged the country's 1.3 billion people to switch off lights of their home at 9 pm for 9 minutes on Sunday night and light candles, lamps and even use mobile torches standing in their balconies. Modi said that such a gesture will dispel the darkness created by the coronavirus and show that people are together in their fight against the epidemic. (AP Photo/Altaf Qadri)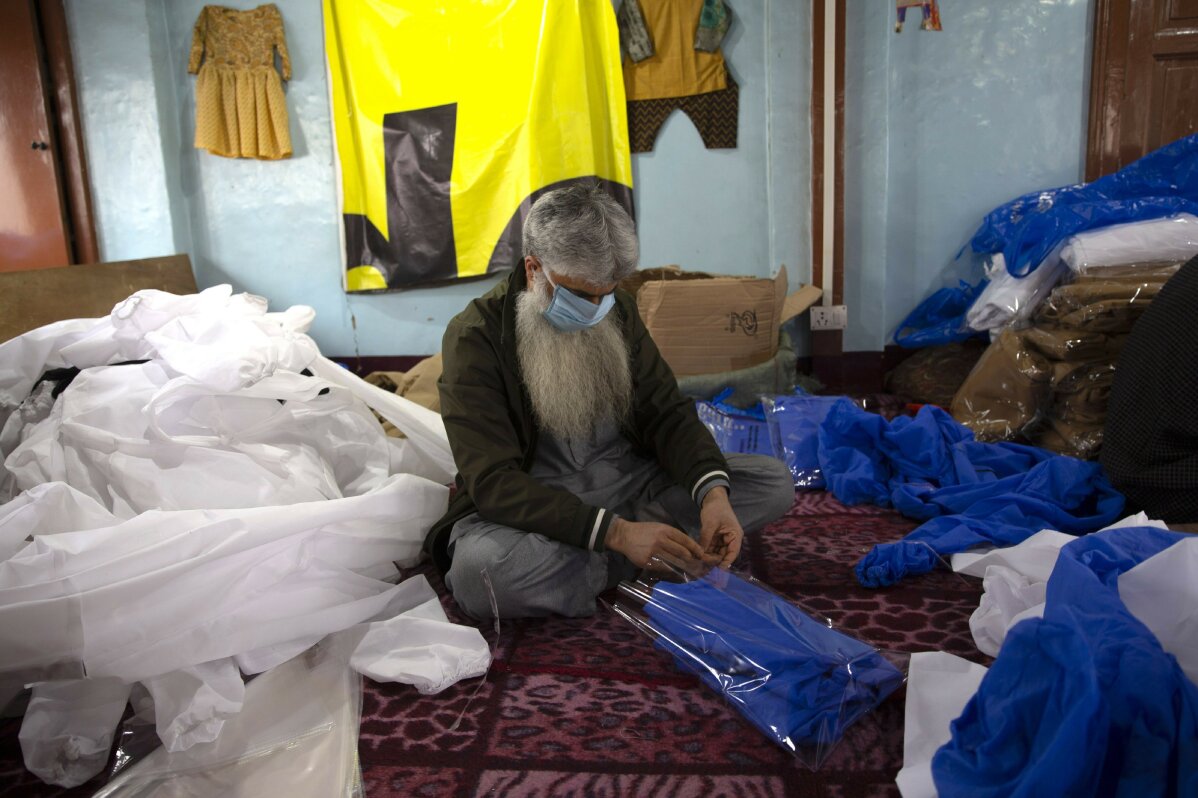 2 of 20

|
Kashmiri volunteer packs disposable protective suit to be distributed free among different hospitals in Srinagar Indian controlled Kashmir, Friday, April 3, 2020. (AP Photo/ Dar Yasin)
2 of 20
Kashmiri volunteer packs disposable protective suit to be distributed free among different hospitals in Srinagar Indian controlled Kashmir, Friday, April 3, 2020. (AP Photo/ Dar Yasin)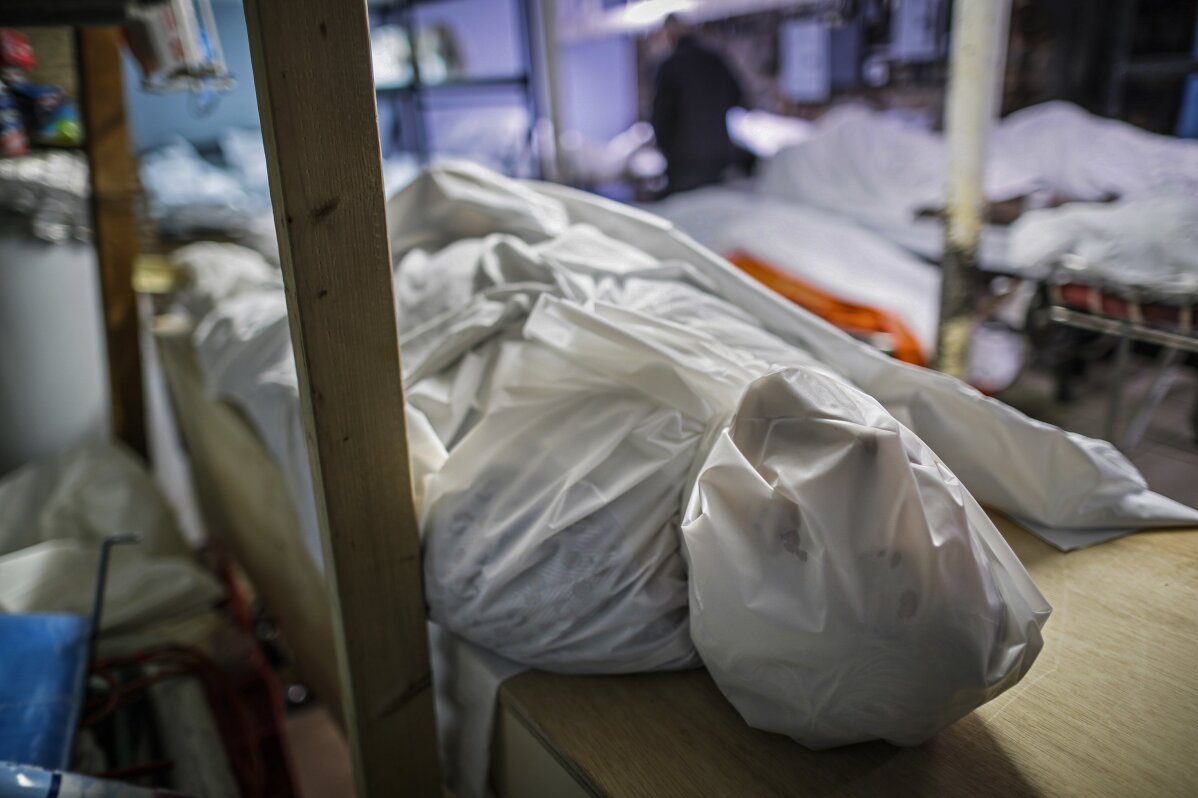 3 of 20

|
Bodies are wrapped in protective plastic in a holding facility at Daniel J. Schaefer Funeral Home, April 2, 2020, in the Brooklyn borough of New York. The company is equipped to handle 40-60 cases at a time. But amid the coronavirus pandemic, it was taking care of 185 Thursday morning. (AP Photo/John Minchillo)
3 of 20
Bodies are wrapped in protective plastic in a holding facility at Daniel J. Schaefer Funeral Home, April 2, 2020, in the Brooklyn borough of New York. The company is equipped to handle 40-60 cases at a time. But amid the coronavirus pandemic, it was taking care of 185 Thursday morning. (AP Photo/John Minchillo)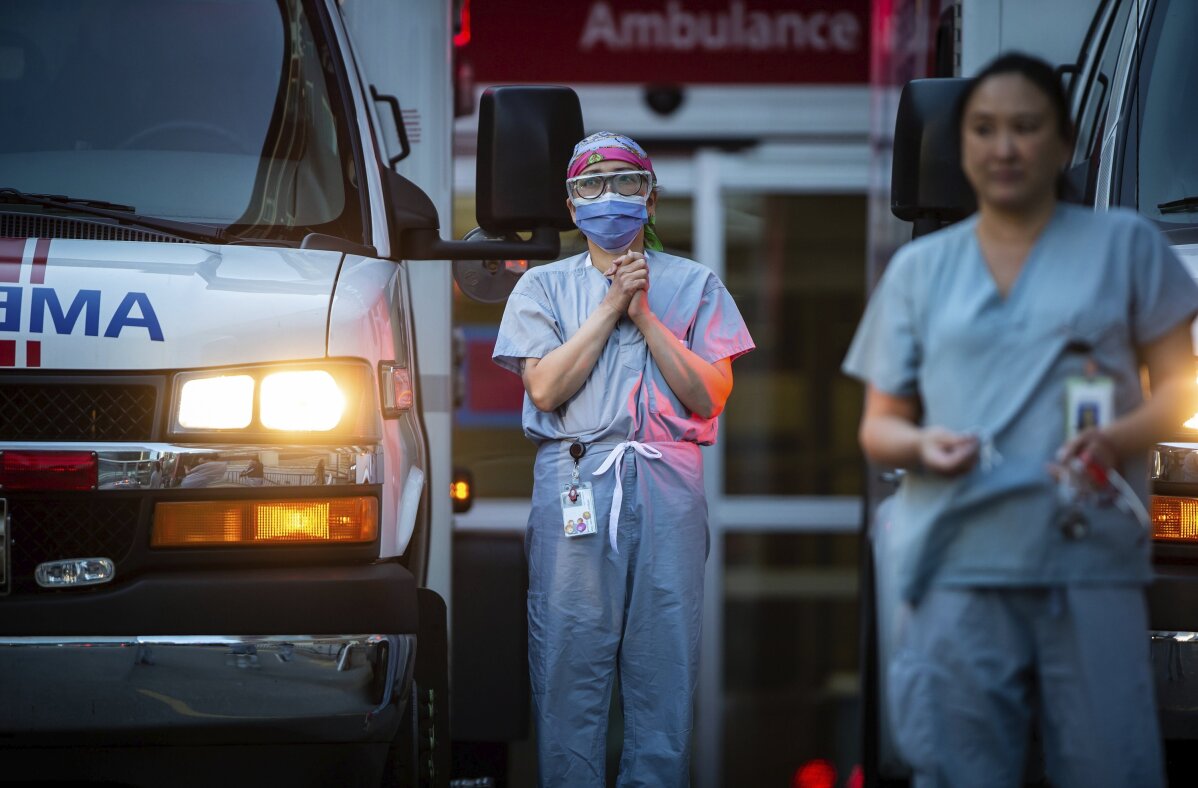 4 of 20

|
Healthcare workers at St. Paul's Hospital acknowledge applause and cheers from people outside the hospital, as a convoy of first responders with lights and sirens activated parade past to show support for the hospital staff, in Vancouver, British Columbia, April 5, 2020. (Darryl Dyck/The Canadian Press via AP)
4 of 20
Healthcare workers at St. Paul's Hospital acknowledge applause and cheers from people outside the hospital, as a convoy of first responders with lights and sirens activated parade past to show support for the hospital staff, in Vancouver, British Columbia, April 5, 2020. (Darryl Dyck/The Canadian Press via AP)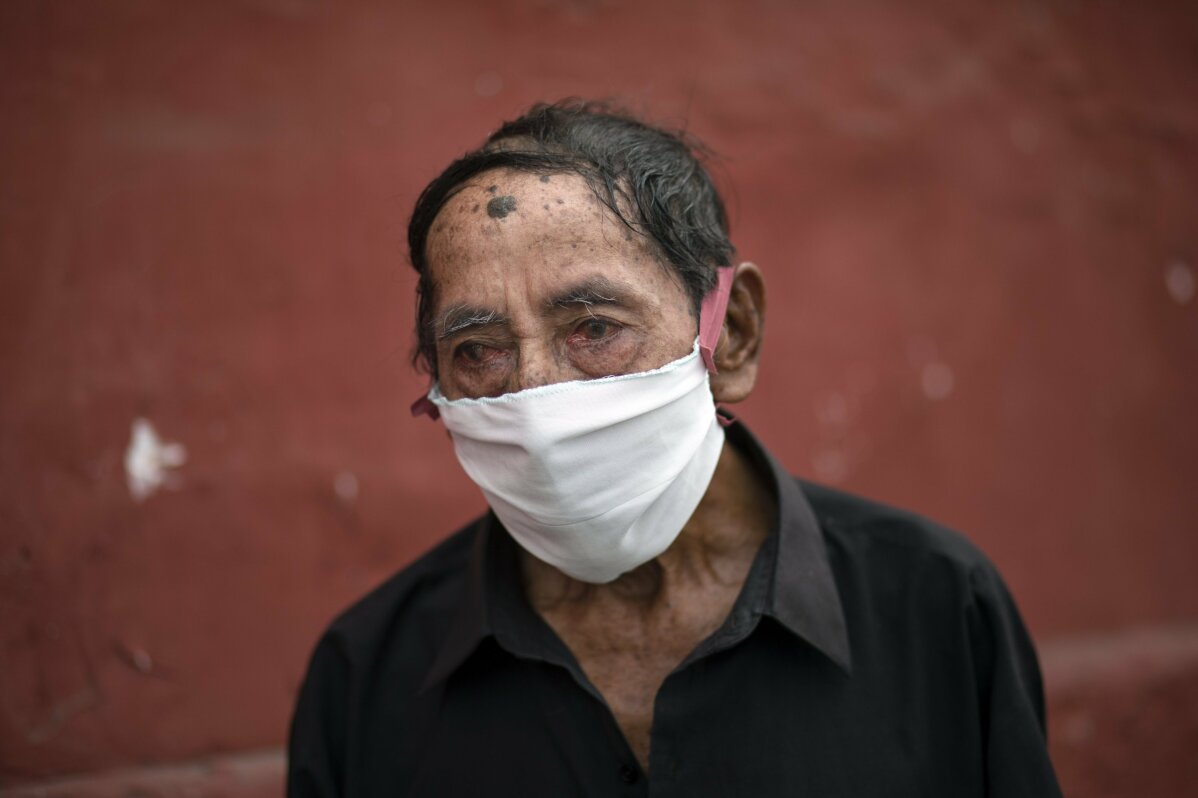 5 of 20

|
Ciro Orlando Gijon, 78, waits to apply for shelter at the Plaza de Toros de Acho bullring, in Lima, Peru, March 31, 2020. The mayor of Lima reported that the plaza will provide shelter and balanced meals for some of the city's homeless amid the new coronavirus pandemic. (AP Photo/Rodrigo Abd)
5 of 20
Ciro Orlando Gijon, 78, waits to apply for shelter at the Plaza de Toros de Acho bullring, in Lima, Peru, March 31, 2020. The mayor of Lima reported that the plaza will provide shelter and balanced meals for some of the city's homeless amid the new coronavirus pandemic. (AP Photo/Rodrigo Abd)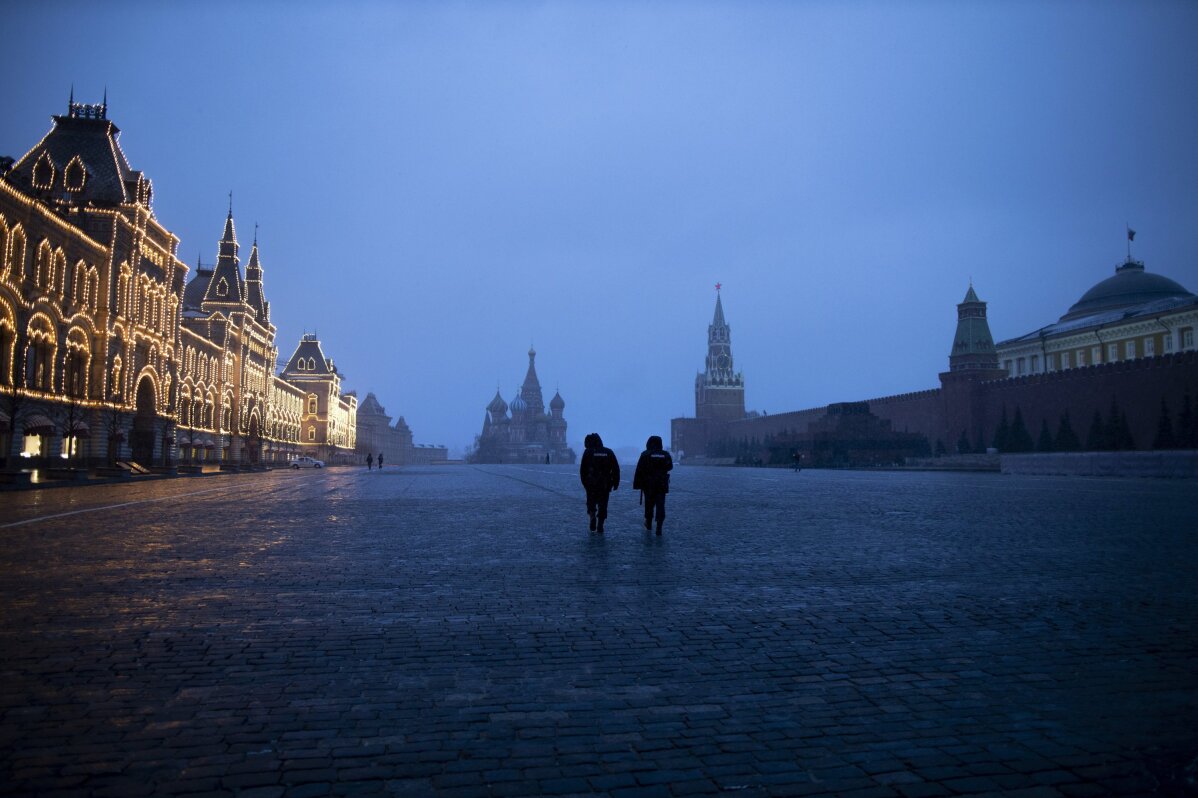 6 of 20

|
Two police officers patrol an almost empty Red Square, with St. Basil's Cathedral, center, and Spasskaya Tower and the Kremlin Wall, right, at the time when its usually very crowded in Moscow, Russia, March 30, 2020. (AP Photo/Alexander Zemlianichenko)
6 of 20
Two police officers patrol an almost empty Red Square, with St. Basil's Cathedral, center, and Spasskaya Tower and the Kremlin Wall, right, at the time when its usually very crowded in Moscow, Russia, March 30, 2020. (AP Photo/Alexander Zemlianichenko)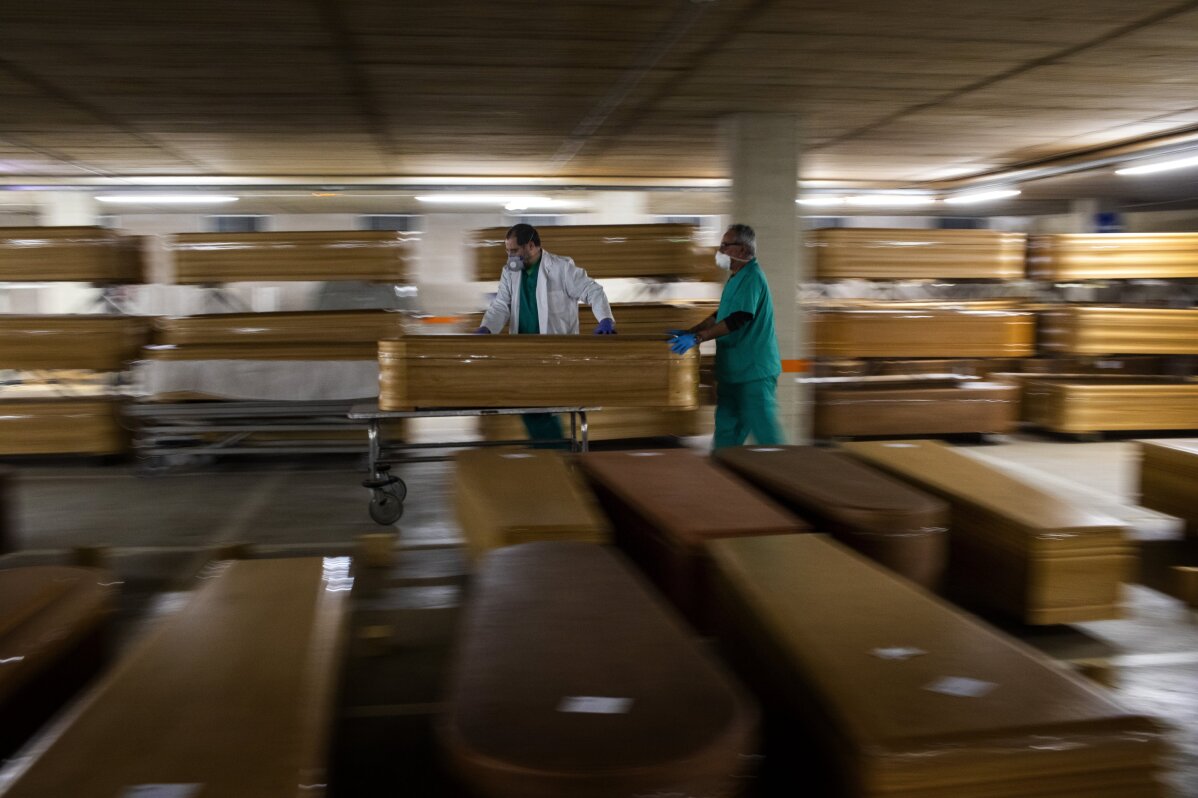 7 of 20

|
Workers move a coffin with the body of a victim of coronavirus as others coffins are stored waiting for burial or cremation at the Collserola morgue in Barcelona, Spain, April 2, 2020. (AP Photo/Emilio Morenatti)
7 of 20
Workers move a coffin with the body of a victim of coronavirus as others coffins are stored waiting for burial or cremation at the Collserola morgue in Barcelona, Spain, April 2, 2020. (AP Photo/Emilio Morenatti)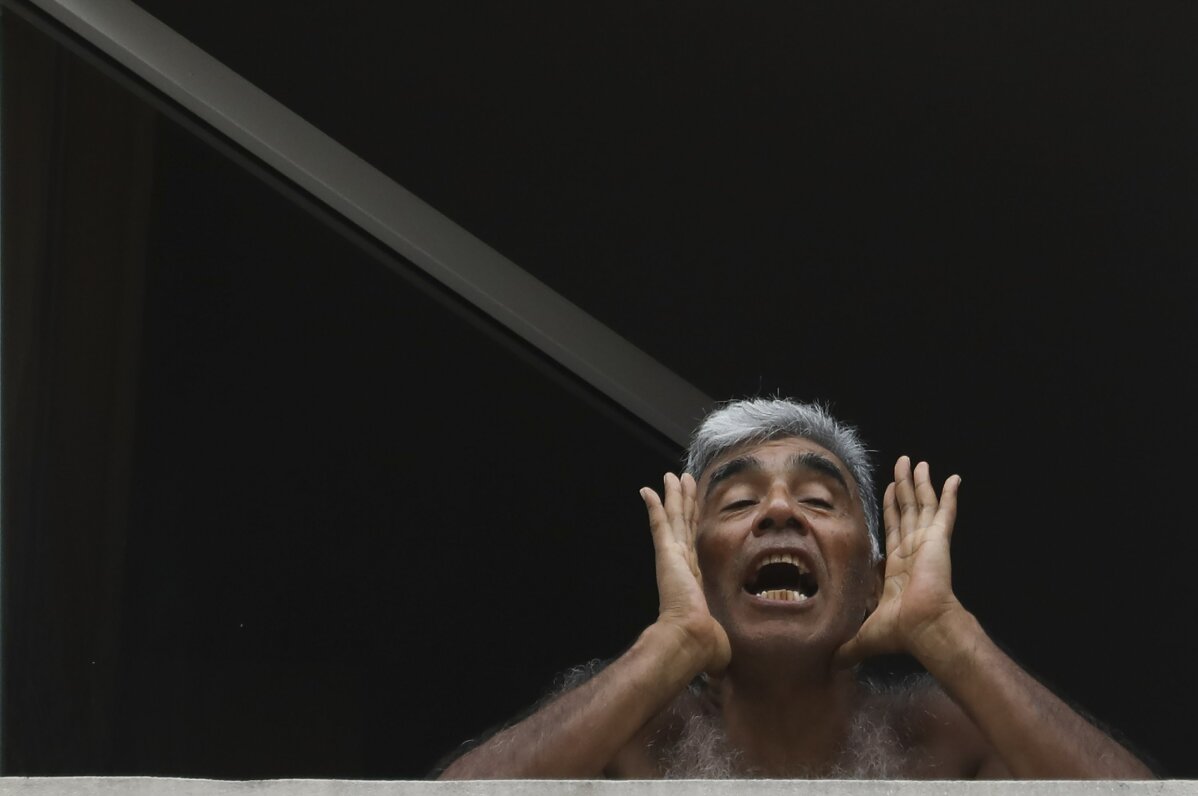 8 of 20

|
Marcelo Gomez shouts to the press about poor living conditions at a hotel where he is being quarantined by the government in Buenos Aires, Argentina, Wednesday, April 1, 2020. The government placed many Argentines returning from vacation into single hotel rooms where they are not allowed to leave. Many of them are denouncing what they describe as bad treatment, insufficient cleaning conditions, poor food, and no information on how long they will be forced to stay. (AP Photo/Natacha Pisarenko)
8 of 20
Marcelo Gomez shouts to the press about poor living conditions at a hotel where he is being quarantined by the government in Buenos Aires, Argentina, Wednesday, April 1, 2020. The government placed many Argentines returning from vacation into single hotel rooms where they are not allowed to leave. Many of them are denouncing what they describe as bad treatment, insufficient cleaning conditions, poor food, and no information on how long they will be forced to stay. (AP Photo/Natacha Pisarenko)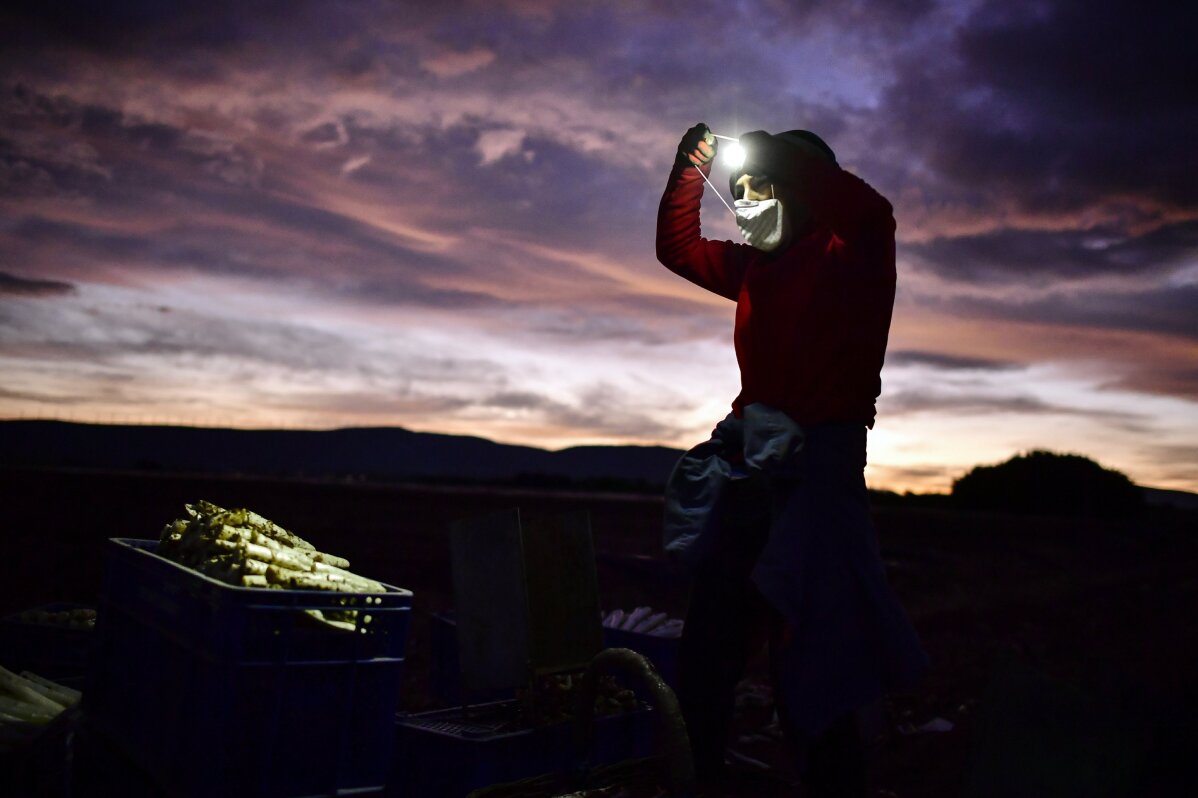 9 of 20

|
Maria Rivera, a 42-year-old seasonal worker, wears face mask to protect against coronavirus while collecting white asparagus from the field using lanterns in Uterga, around 15 km (9 miles) from Pamplona, northern Spain, Sunday, April 5, 2020. (AP Photo/Alvaro Barrientos)
9 of 20
Maria Rivera, a 42-year-old seasonal worker, wears face mask to protect against coronavirus while collecting white asparagus from the field using lanterns in Uterga, around 15 km (9 miles) from Pamplona, northern Spain, Sunday, April 5, 2020. (AP Photo/Alvaro Barrientos)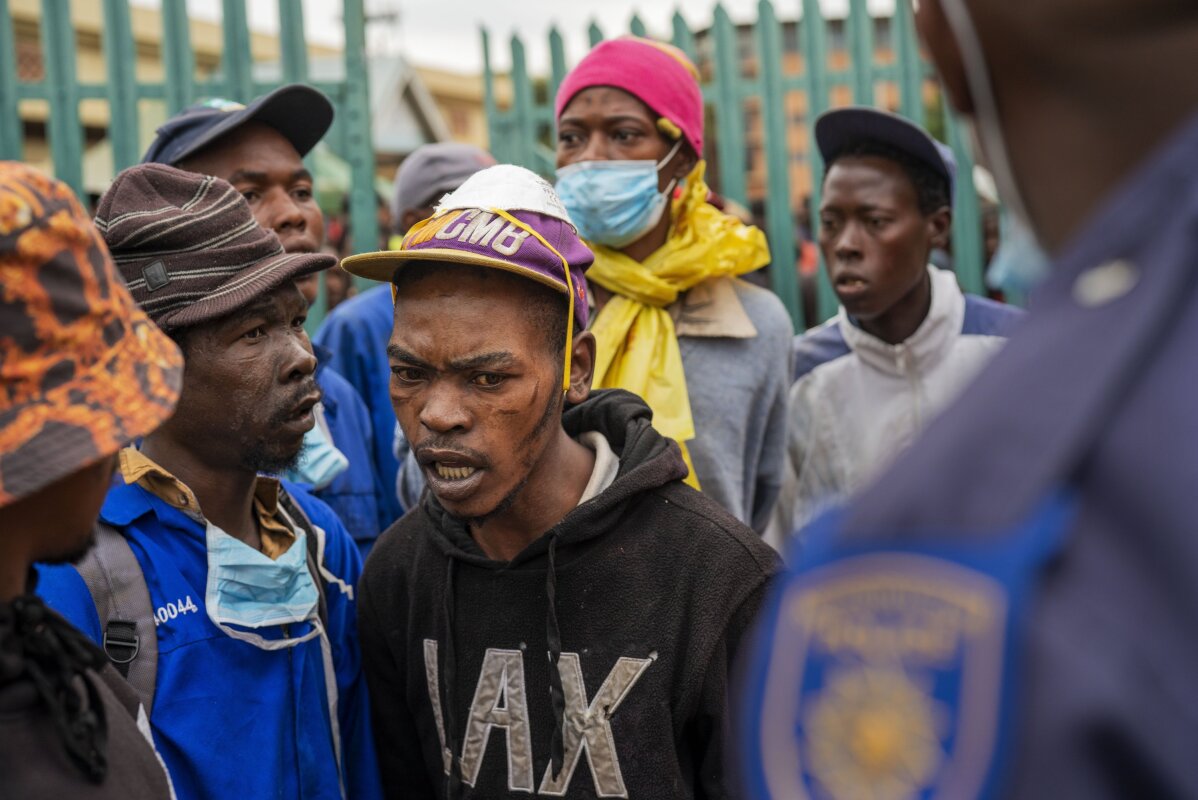 10 of 20

|
Homeless people stay at the Caledonian stadium downtown Pretoria, South Africa, April 2, 2020, after being rounded up by police in an effort to enforce a 21 day lockdown to control the spread of the coronavirus. Many of them being addicted, they are receiving methadone syrup from a local NGO, and were complaining about the lack of sanitizer and soap. (AP Photo/Jerome Delay)
10 of 20
Homeless people stay at the Caledonian stadium downtown Pretoria, South Africa, April 2, 2020, after being rounded up by police in an effort to enforce a 21 day lockdown to control the spread of the coronavirus. Many of them being addicted, they are receiving methadone syrup from a local NGO, and were complaining about the lack of sanitizer and soap. (AP Photo/Jerome Delay)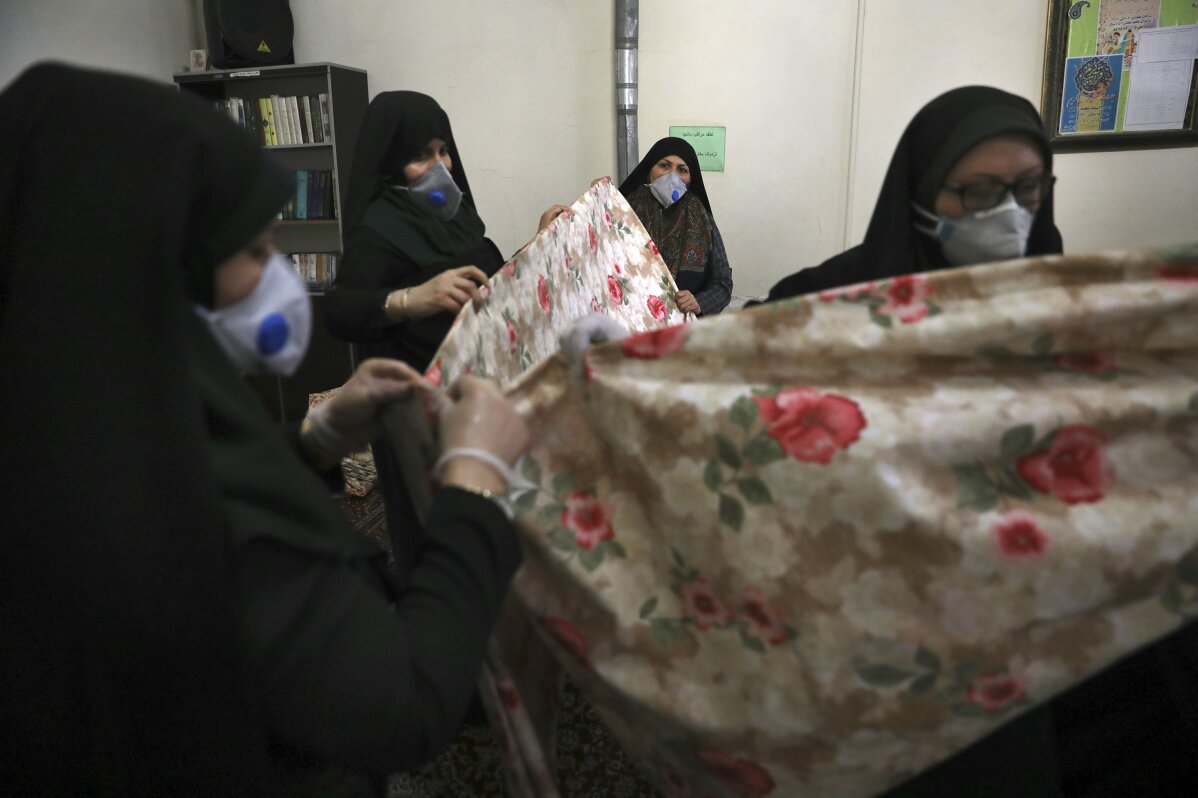 11 of 20

|
Volunteer women prepare fabric to sew bed sheets for hospitals, in a mosque in southern Tehran, Iran, April 5, 2020. (AP Photo/Vahid Salemi)
11 of 20
Volunteer women prepare fabric to sew bed sheets for hospitals, in a mosque in southern Tehran, Iran, April 5, 2020. (AP Photo/Vahid Salemi)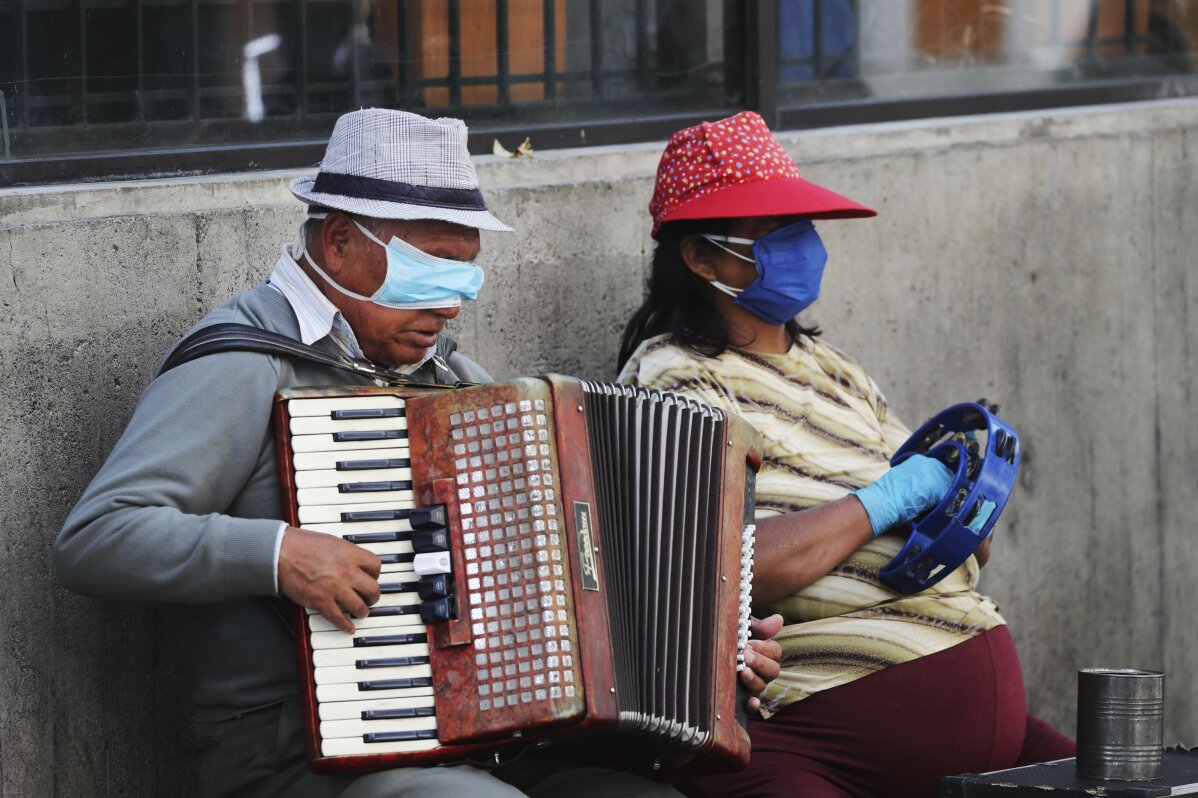 12 of 20

|
A blind man and his musical partner play for tips in downtown Quito, Ecuador, April 3, 2020. (AP Photo/Dolores Ochoa)
12 of 20
A blind man and his musical partner play for tips in downtown Quito, Ecuador, April 3, 2020. (AP Photo/Dolores Ochoa)
13 of 20

|
City workers fumigate a street to help contain the spread of the new coronavirus in La Paz, Bolivia, April 2, 2020. (AP Photo/Juan Karita)
13 of 20
City workers fumigate a street to help contain the spread of the new coronavirus in La Paz, Bolivia, April 2, 2020. (AP Photo/Juan Karita)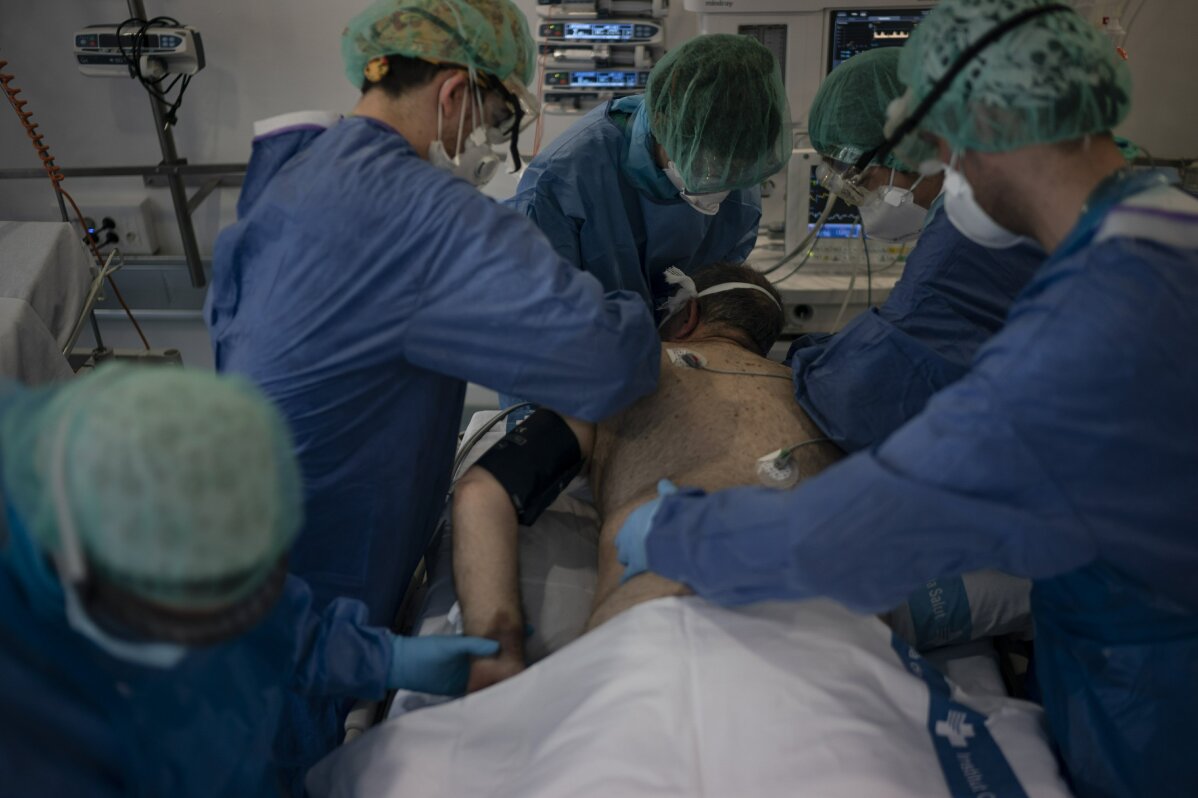 14 of 20

|
Healthcare workers assist a COVID-19 patient at a library that was turned into an intensive care unit (ICU) at Germans Trias i Pujol hospital in Badalona, Barcelona province, Spain, April 1, 2020. (AP Photo/Felipe Dana)
14 of 20
Healthcare workers assist a COVID-19 patient at a library that was turned into an intensive care unit (ICU) at Germans Trias i Pujol hospital in Badalona, Barcelona province, Spain, April 1, 2020. (AP Photo/Felipe Dana)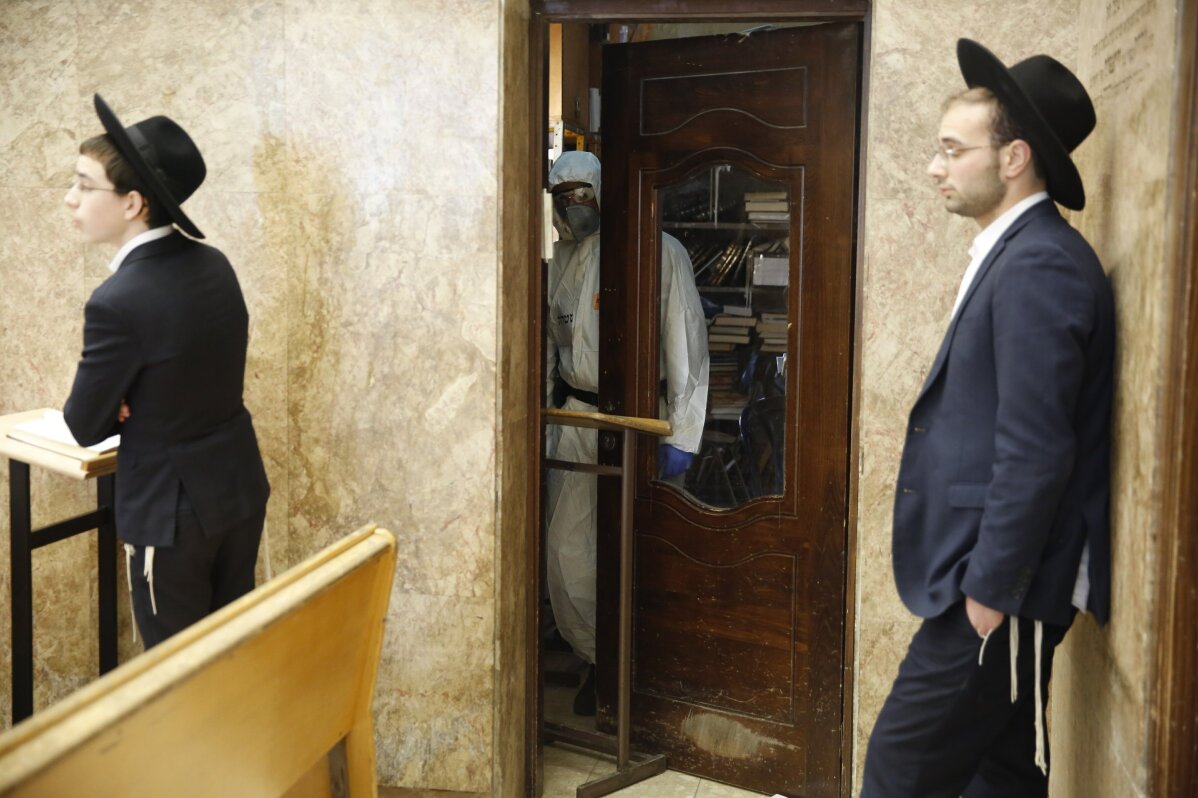 15 of 20

|
An Israeli police officer wearing protective gear waits behind a door to detain ultra-Orthodox men as they pray in a synagogue because of the government's measures to help stop the spread of the coronavirus, in Bnei Brak, a suburb of Tel Aviv, Israel, April 2, 2020. ‏On Wednesday, Israeli Prime Minister Benjamin Netanyahu ordered a police cordon around the largely ultra-Orthodox city of Bnei Brak, to limit movement to and from the city. Bnei Brak has the second highest number of coronavirus cases in Israel. (AP Photo/Ariel Schalit)
15 of 20
An Israeli police officer wearing protective gear waits behind a door to detain ultra-Orthodox men as they pray in a synagogue because of the government's measures to help stop the spread of the coronavirus, in Bnei Brak, a suburb of Tel Aviv, Israel, April 2, 2020. ‏On Wednesday, Israeli Prime Minister Benjamin Netanyahu ordered a police cordon around the largely ultra-Orthodox city of Bnei Brak, to limit movement to and from the city. Bnei Brak has the second highest number of coronavirus cases in Israel. (AP Photo/Ariel Schalit)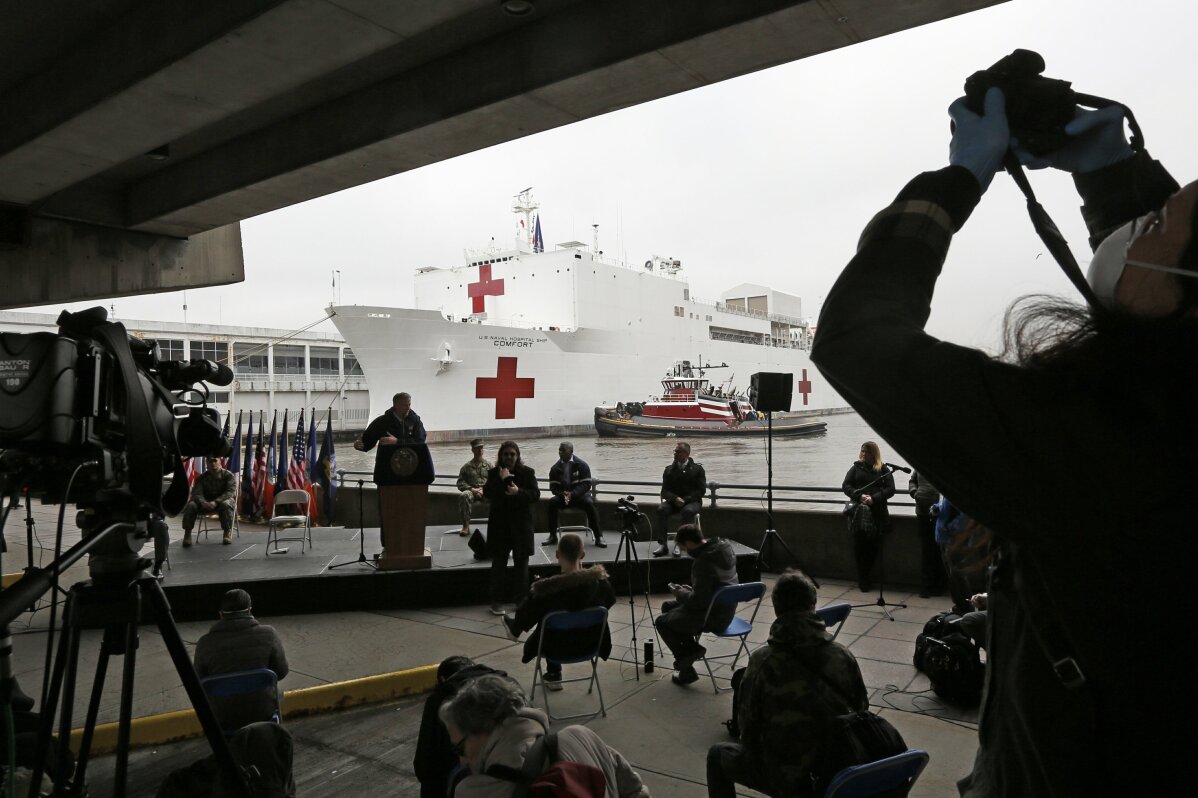 16 of 20

|
A journalist records speakers at a press briefing following the arrival of the USNS Comfort, a naval hospital ship with a 1,000 bed-capacity, March 30, 2020, at Pier 90 in New York. The ship will be used to treat patients who do not have the new coronavirus as land-based hospitals fill up to capacity with those that do. (AP Photo/Kathy Willens)
16 of 20
A journalist records speakers at a press briefing following the arrival of the USNS Comfort, a naval hospital ship with a 1,000 bed-capacity, March 30, 2020, at Pier 90 in New York. The ship will be used to treat patients who do not have the new coronavirus as land-based hospitals fill up to capacity with those that do. (AP Photo/Kathy Willens)
17 of 20

|
A resident wearing a mask to protect against the spread of the coronavirus looks over barriers used to seal off a neighborhood in Wuhan in central China's Hubei province on Friday, April 3, 2020. (AP Photo/Ng Han Guan)
17 of 20
A resident wearing a mask to protect against the spread of the coronavirus looks over barriers used to seal off a neighborhood in Wuhan in central China's Hubei province on Friday, April 3, 2020. (AP Photo/Ng Han Guan)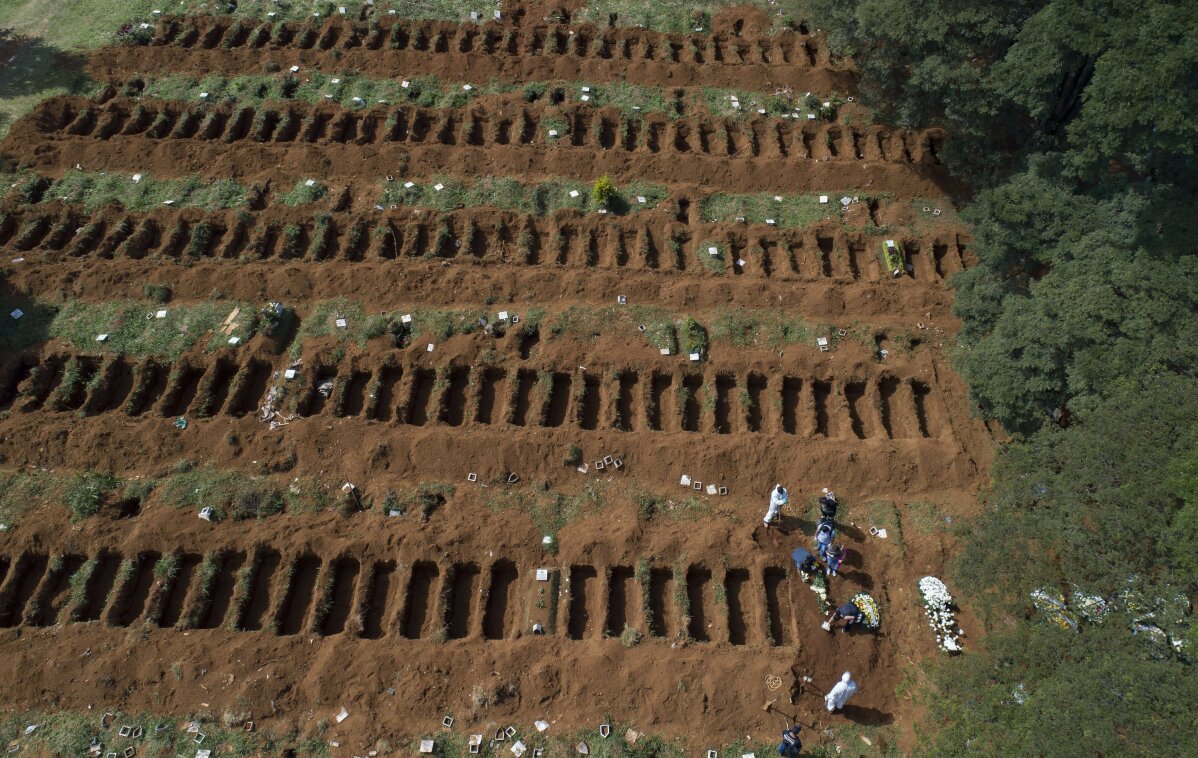 18 of 20

|
Cemetery workers in protective clothing bury a person at the Vila Formosa cemetery in Sao Paulo, Brazil, April 1, 2020. (AP Photo/Andre Penner)
18 of 20
Cemetery workers in protective clothing bury a person at the Vila Formosa cemetery in Sao Paulo, Brazil, April 1, 2020. (AP Photo/Andre Penner)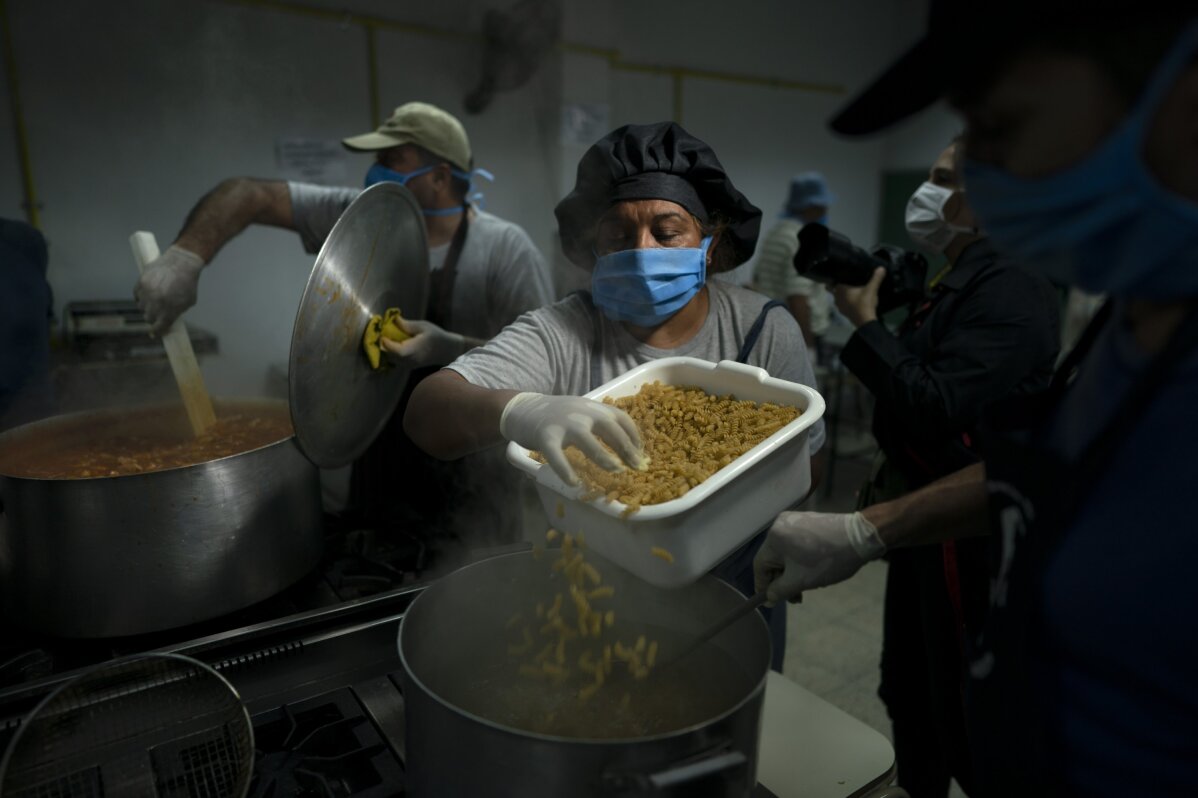 19 of 20

|
Cooks prepare pasta at a soup kitchen at the San Cayetano church in Jose Leon Suarez neighborhood on the outskirts of Buenos Aires, Argentina, March 31, 2020. The Argentine government said Tuesday that the number of people requesting food assistance has increased following the lockdowns that have left many people unable to work amid the pandemic. (AP Photo/Victor R. Caivano)
19 of 20
Cooks prepare pasta at a soup kitchen at the San Cayetano church in Jose Leon Suarez neighborhood on the outskirts of Buenos Aires, Argentina, March 31, 2020. The Argentine government said Tuesday that the number of people requesting food assistance has increased following the lockdowns that have left many people unable to work amid the pandemic. (AP Photo/Victor R. Caivano)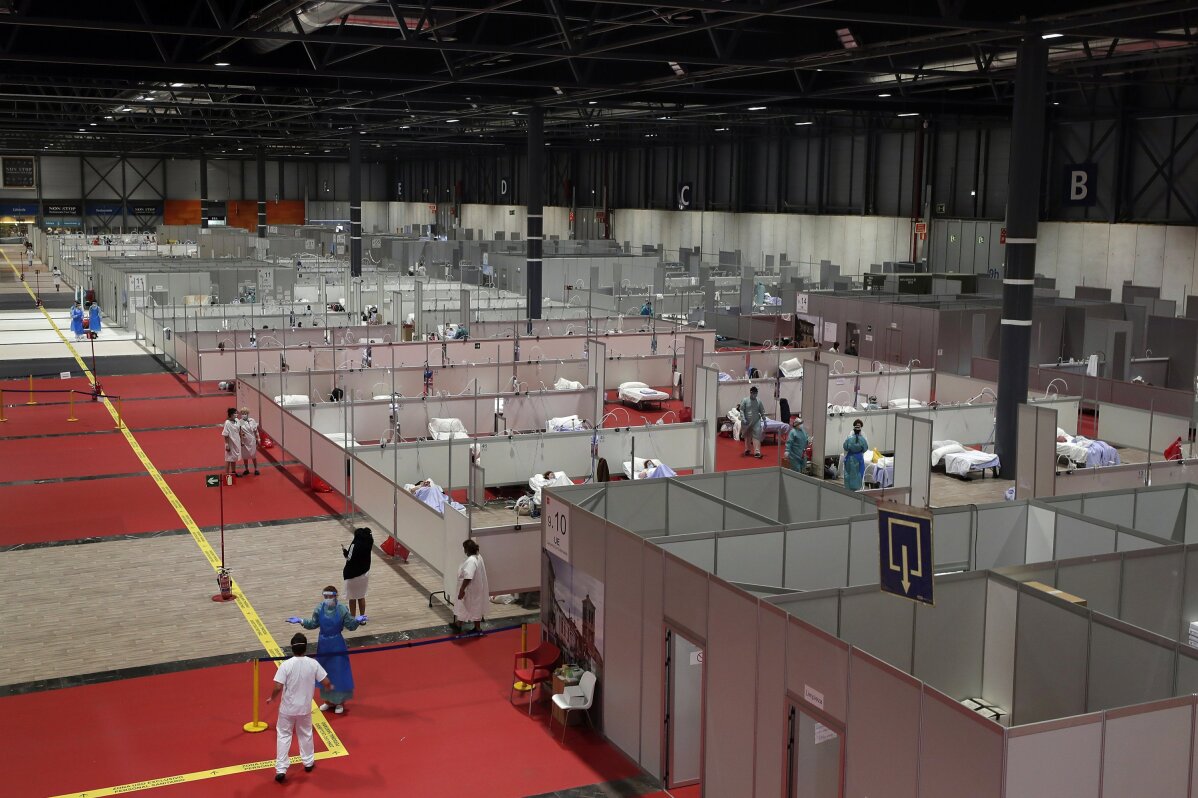 20 of 20

|
A general view a temporary field hospital set at Ifema convention and exhibition of in Madrid, Spain, April 2, 2020. (AP Photo/Manu Fernandez)
20 of 20
A general view a temporary field hospital set at Ifema convention and exhibition of in Madrid, Spain, April 2, 2020. (AP Photo/Manu Fernandez)
Cemetery workers wore protective clothing as they conducted a burial in Brazil, a field of freshly dug graves awaiting more corpses. In Spain, a stockpile of caskets stood ready for burials or cremations.
In the last week, the coronavirus pandemic yielded images showing much of the world still frozen in place. But the business of death continued apace. A funeral home in Brooklyn, New York, that is normally equipped for 40 to 60 cases at a time was handling more than 180. A body lay wrapped in white plastic for a mortician.
Elsewhere, the fight to save the living pushed on. Health care workers in Spain toiled in a library that was turned into an intensive care unit, five figures in blue gowns clustered around a patient near a panel of medical machines. A hospital ship arrived in New York, bringing 1,000 more beds to ease the strain on the city's hospitals.
People hoping to evade the virus watched and worried. A masked man in Wuhan, China, where the disease first emerged, peered over barriers used to seal off a neighborhood. Ciro Orlando Gijon, 78, waited to apply for help after the mayor of Lima, Peru, reported that a bullring would offer shelter and balanced meals for some of the city's homeless.