The Latest: Kentucky sees near-record number of new cases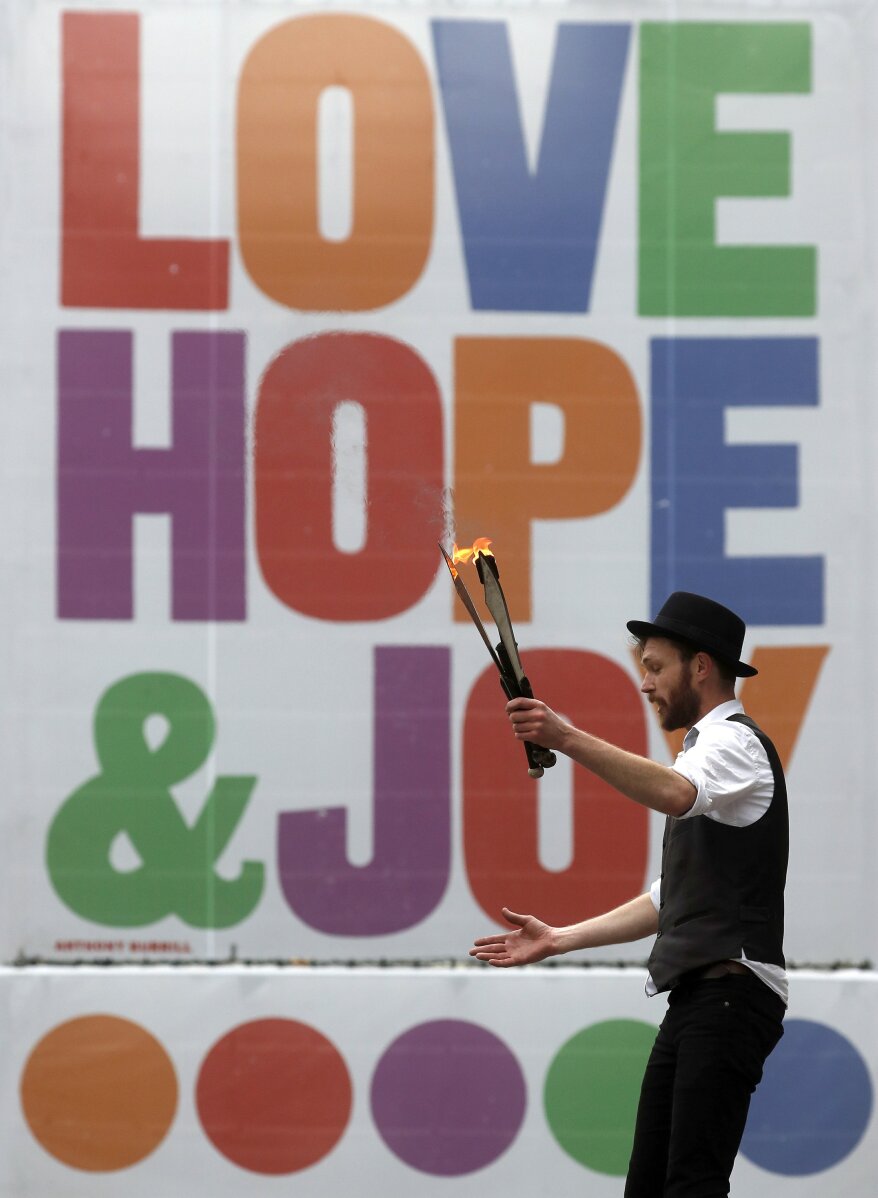 1 of 21

|
A joggler entertains tourists and visitors at Covent Garden in London, Friday, Oct. 30, 2020. (AP Photo/Frank Augstein)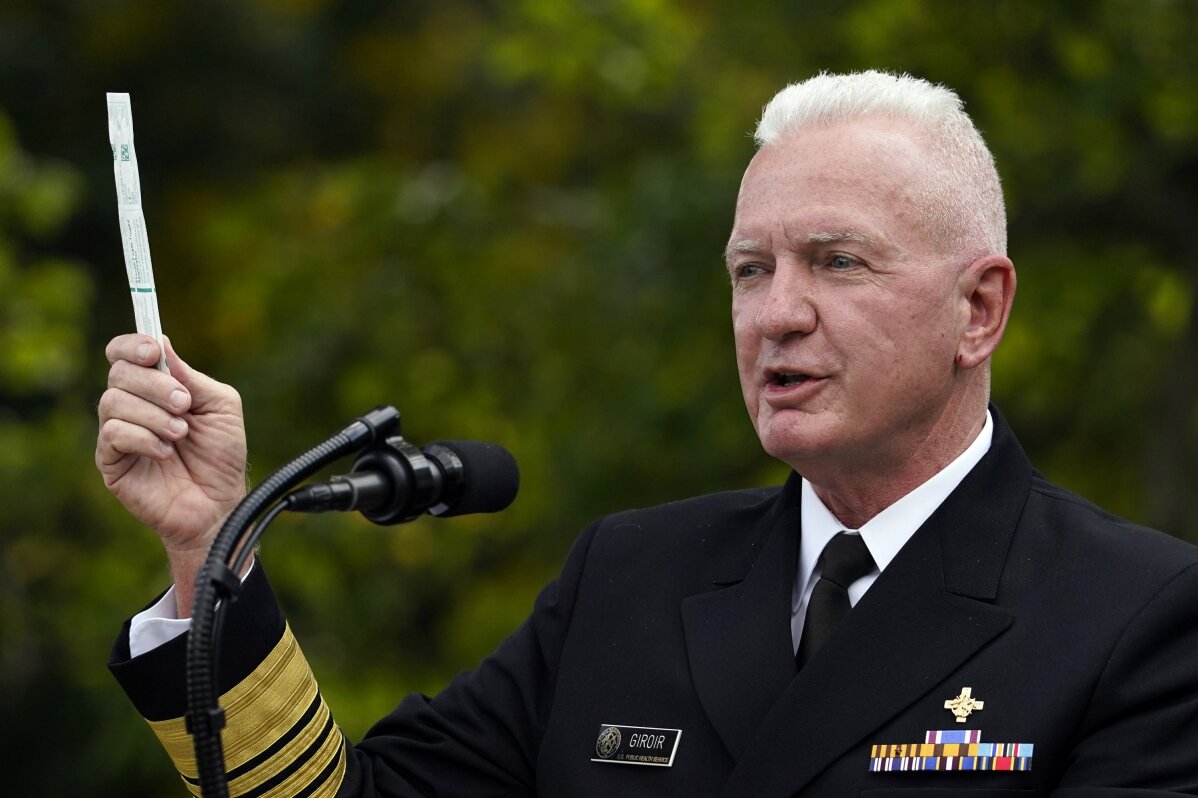 2 of 21

|
FILE - In this Sept. 28, 2020, file photo, Adm. Brett Giroir, assistant secretary of Health and Human Services, holds a swab manufactured by Puritan Medical Products as he talks about a new COVID-19 test during a event with President Donald Trump about coronavirus testing in the Rose Garden of the White House in Washington. A multi-state coronavirus surge in the countdown to Election Day has exposed a clear split between President Donald Trump's bullish embrace of a return to normalcy and urgent public warnings from the government's top health officials. (AP Photo/Evan Vucci, File)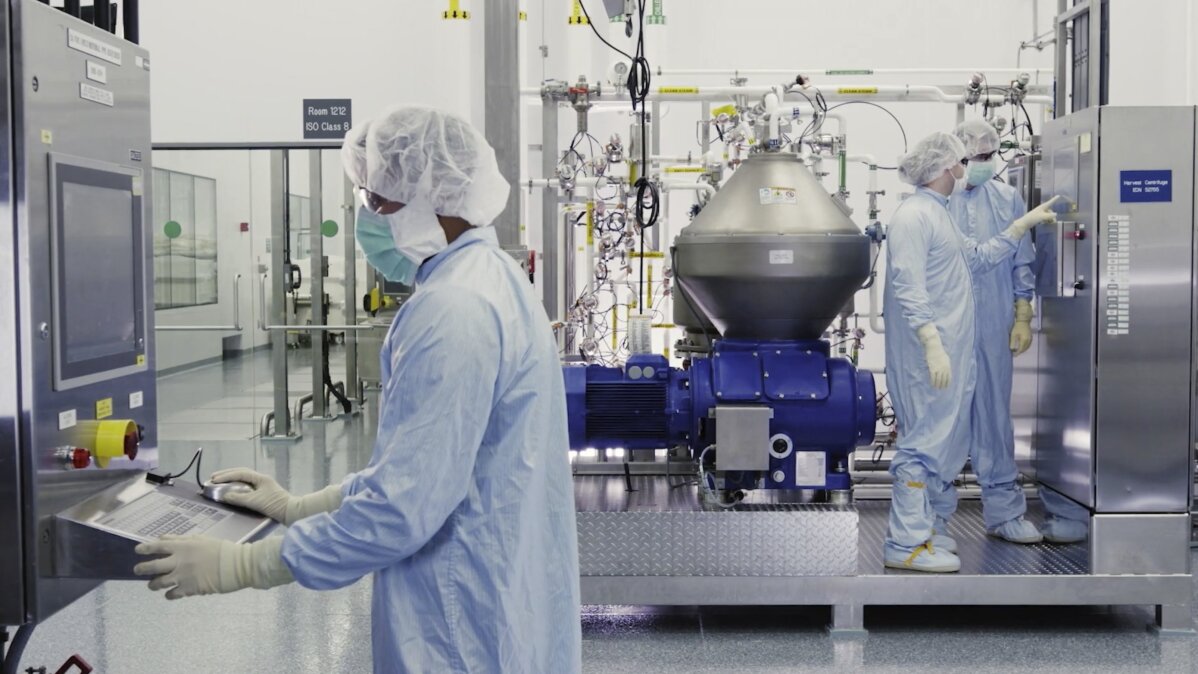 3 of 21

|
In this undated image from video provided by Regeneron Pharmaceuticals on Friday, Oct. 2, 2020, scientists work with a bioreactor at a company facility in New York state, for efforts on an experimental coronavirus antibody drug. The Food and Drug Administration on Saturday, Nov. 21, 2020 authorized the use of the Regeneron Pharmaceuticals Inc. drug to try to prevent patients with mild-to-moderate disease from worsening and needing hospitalization. It's given as a one-time treatment through an IV and is still going through more testing to establish its safety and effectiveness. (Regeneron via AP)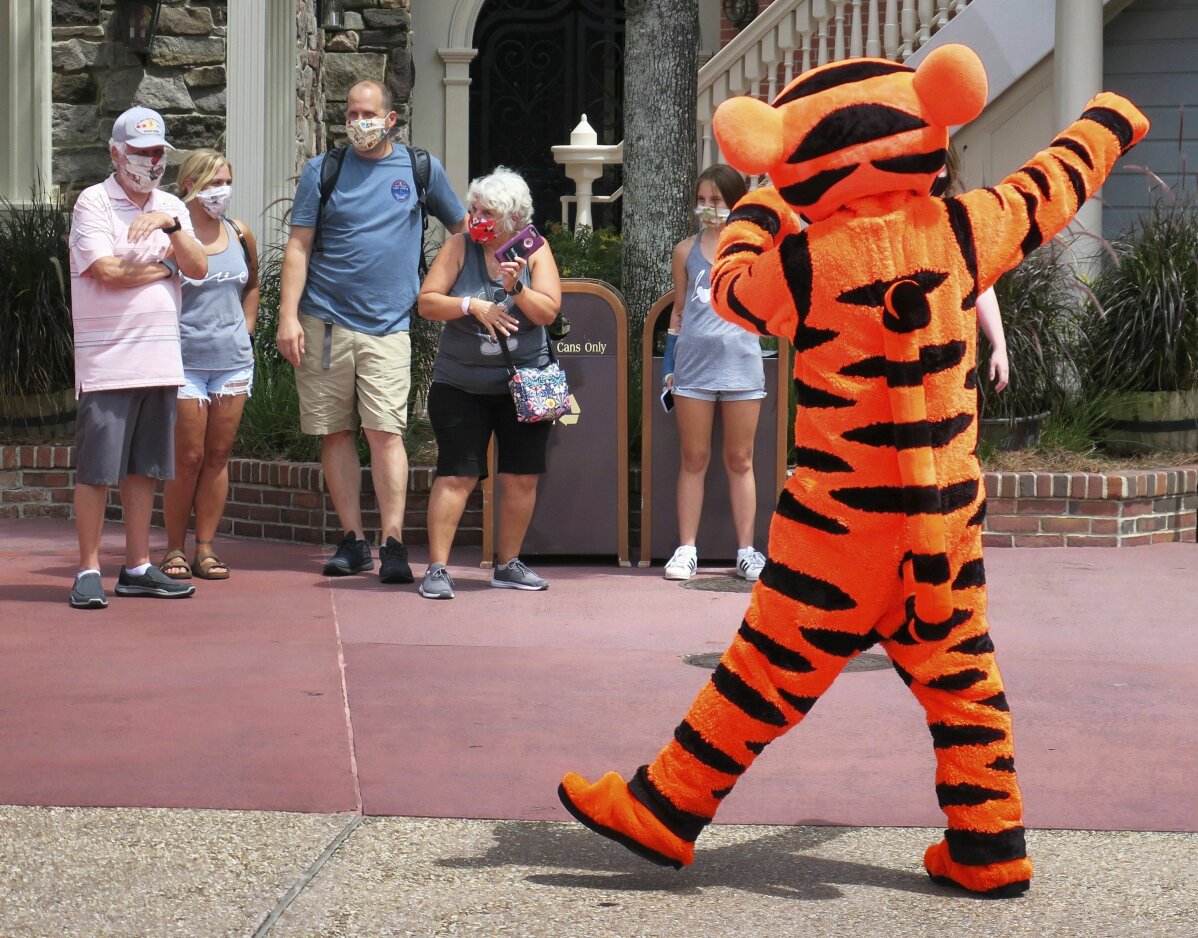 4 of 21

|
FILE- In this July 11, 2020 file photo, Tigger entertains guests wearing masks as required to attend the official reopening day of the Magic Kingdom at Walt Disney World in Lake Buena Vista, Fla. Walt Disney World announced Wednesday, Oct. 28, 2020, that over 700 actors and singers will be laid off. (Joe Burbank/Orlando Sentinel via AP, File)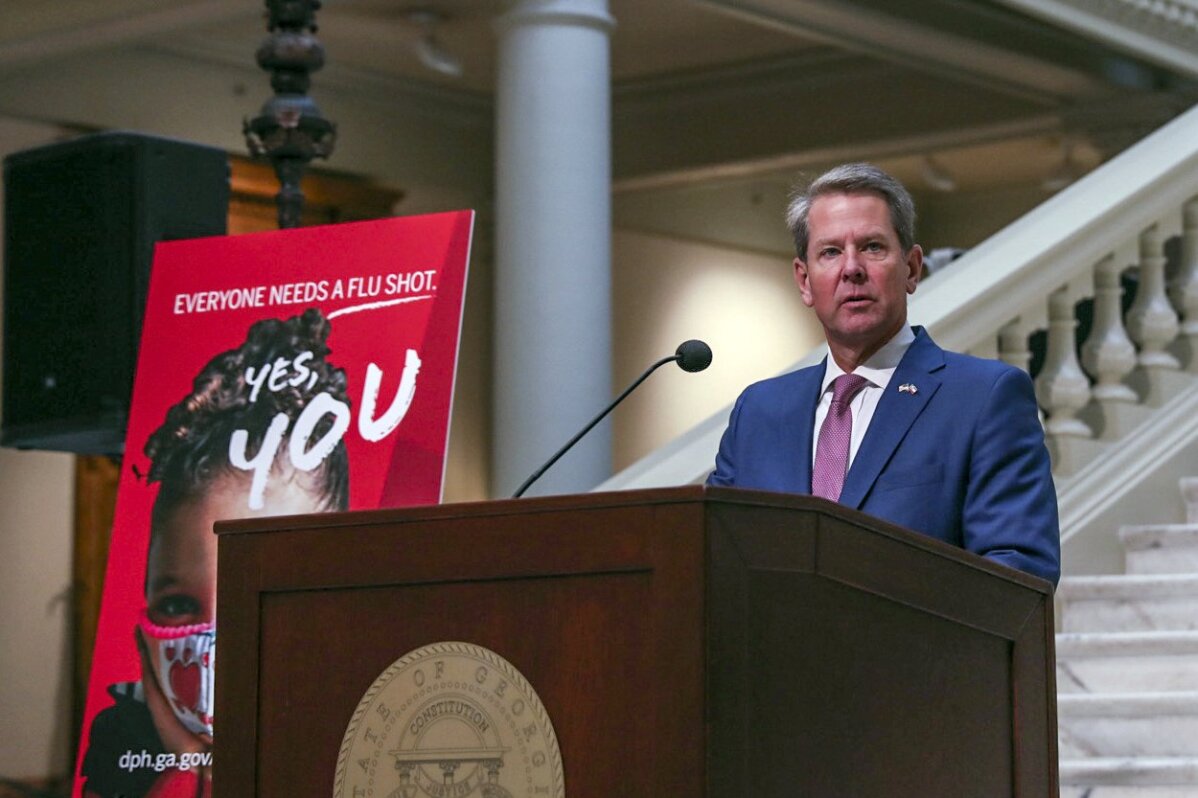 5 of 21

|
Georgia Gov. Brian Kemp speaks to reporters about Georgia's COVID-19 outbreak, Wednesday, Oct. 7, 2020, at the state Capitol in Atlanta. Kemp says that Georgia is making progress in reducing coronavirus infections, but is urging people to get a flu shot in addition to practicing social distancing, wearing masks and washing hands. (Riley Bunch/The Daily Times via AP)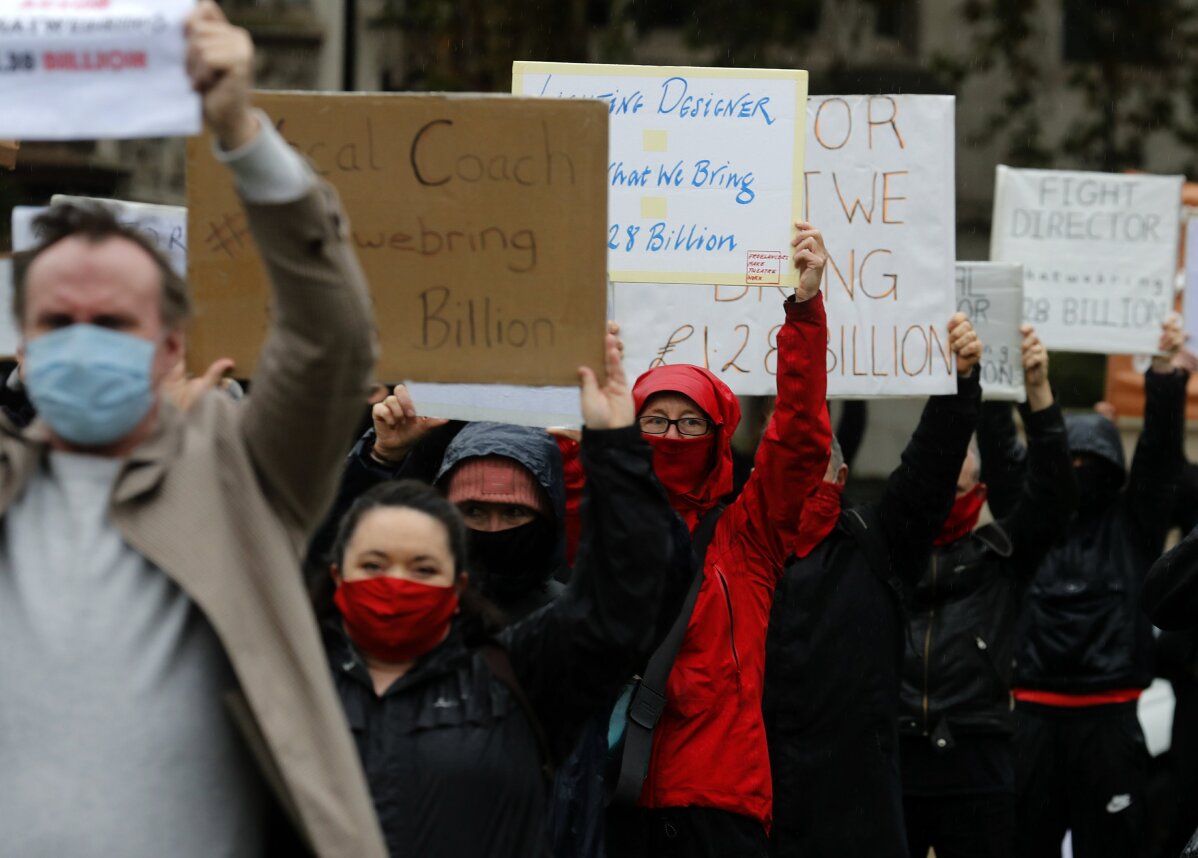 6 of 21

|
Actors and performers protest against coronavirus restrictions as part of a week of protests in Parliament Square in London, Thursday, Oct. 29, 2020. The British government is under pressure to develop a national strategy to combat the resurgence of the COVID-19 pandemic and "rescue Christmas'' as scientists warn that the number of people hospitalized with the disease could almost triple by the end of next month unless something more is done now. (AP Photo/Frank Augstein)
7 of 21

|
Dancers and theater workers attend a protest against the government restriction measures of closing gyms, cinemas and movie theaters to curb the spread of COVID-19, in front of the Italian Parliament, in Rome, Friday, Oct. 30, 2020. (AP Photo/Alessandra Tarantino)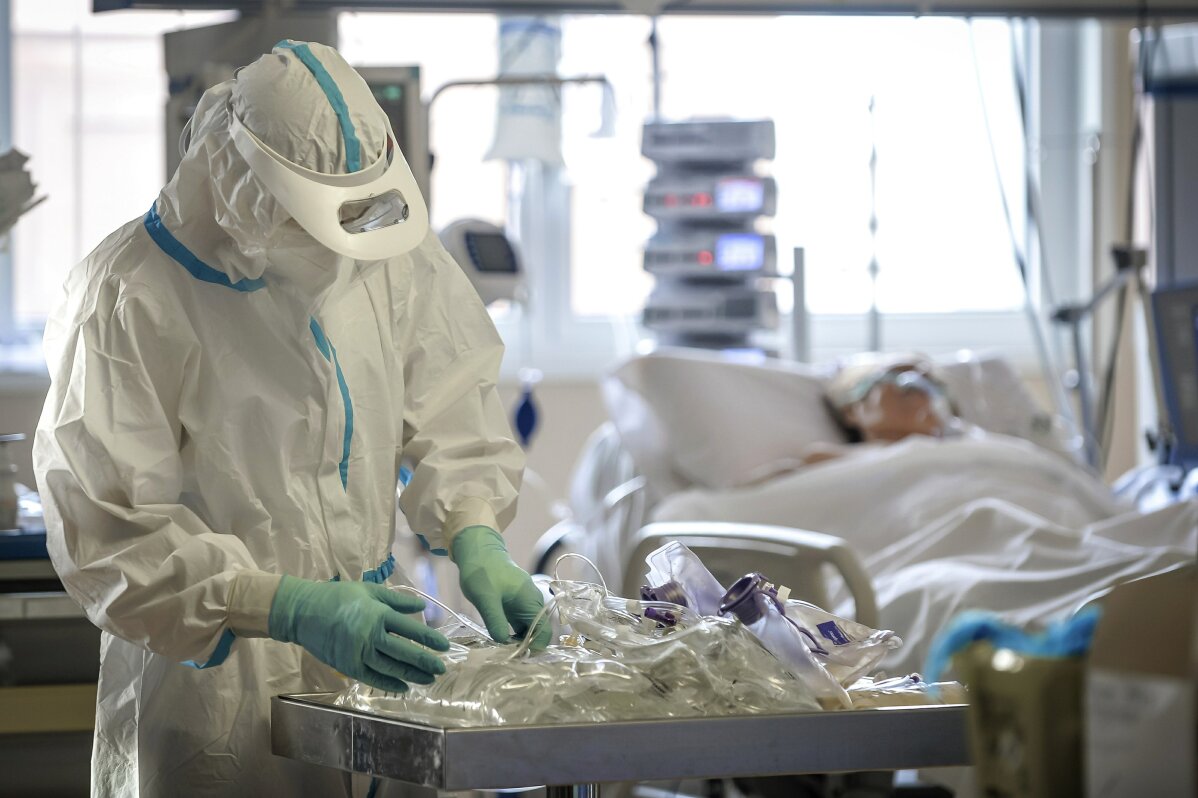 8 of 21

|
Medical staff tend to patients in the intensive care unit of the Circolo Hospital and Macchi Foundation of Varese, Italy, Friday, Oct. 30, 2020. Italy on Friday added more than 31,000 confirmed new cases of COVID-19 since the previous day, the highest one-day new caseload for the country in the pandemic. "The epidemic is galloping" in Italy, said Gianni Rezza, a top Health Ministry official. (Claudio Furlan/LaPresse via AP)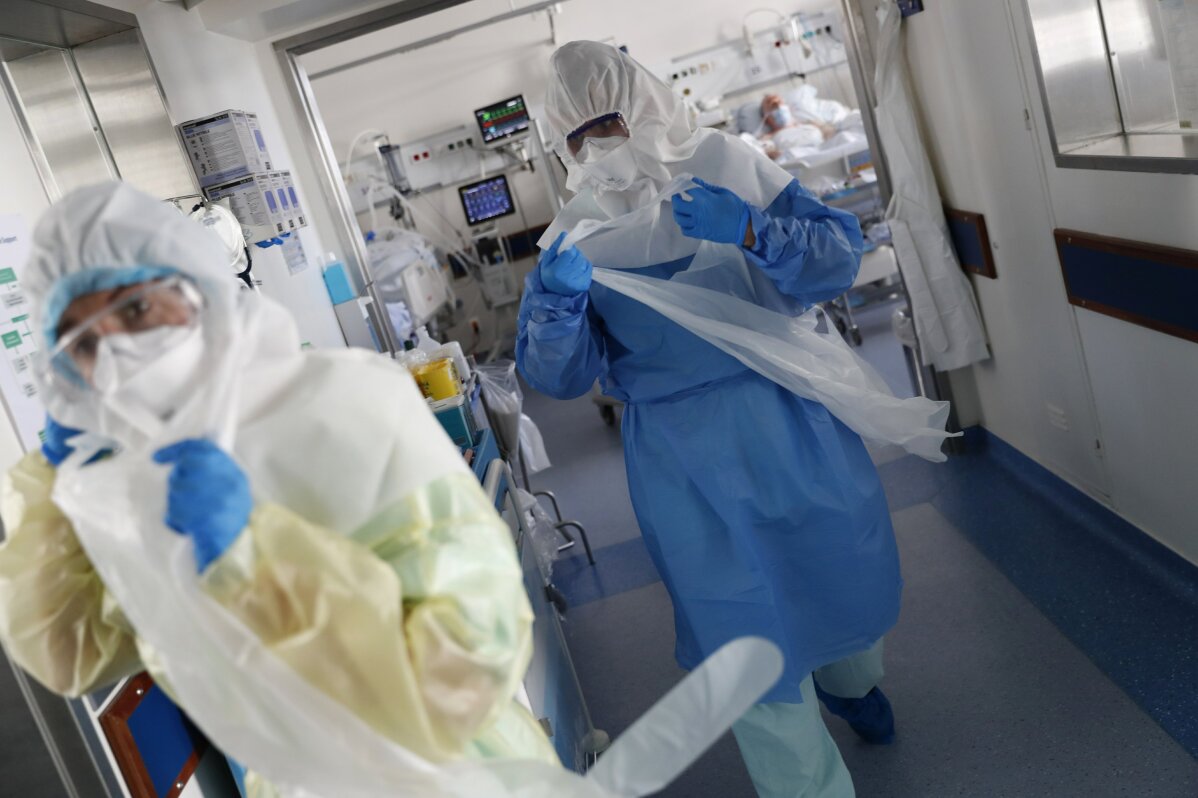 9 of 21

|
Nurses put on medical aprons before tending to a patient inside a COVID-19 ICU at Santa Maria hospital in Lisbon, Friday, Oct. 30, 2020. Portugal is reporting a record number of new COVID-19 cases, deaths and hospital admissions. (AP Photo/Armando Franca)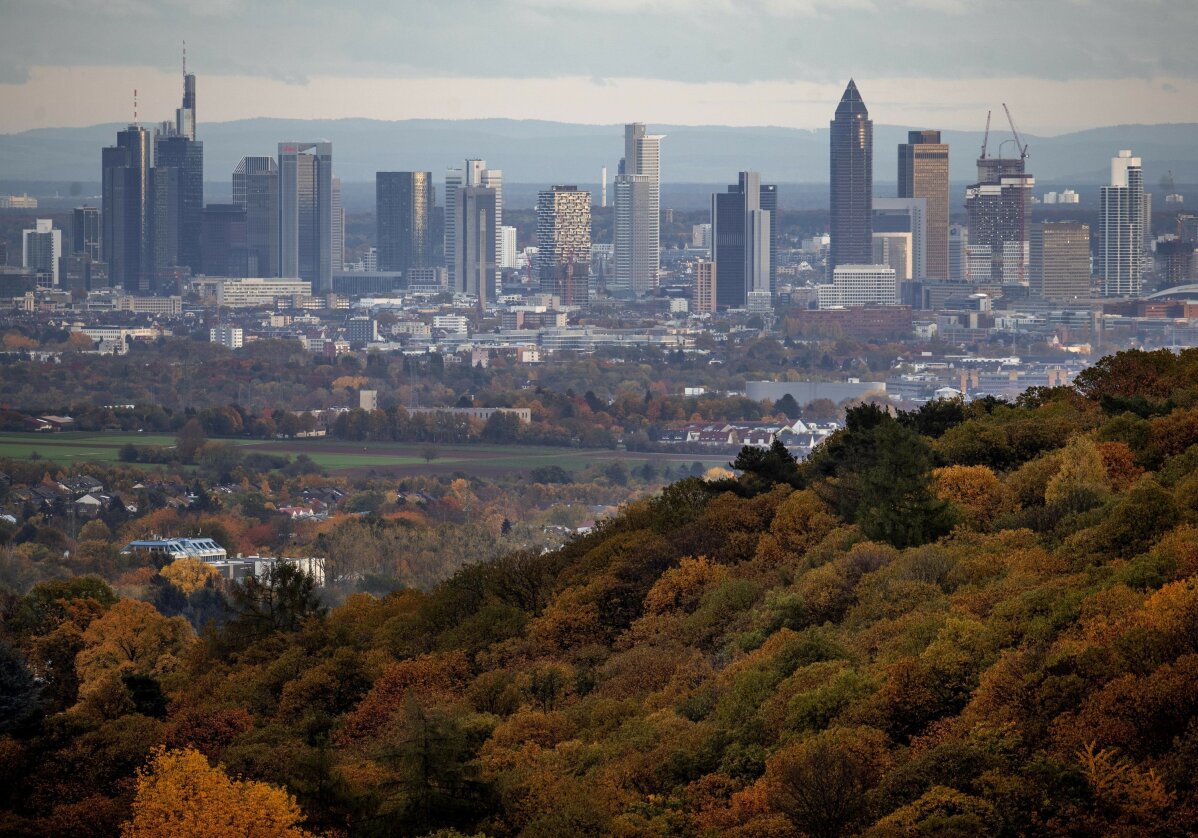 10 of 21

|
FILE - In this Tuesday, Oct. 27, 2020 file photo, the buildings of the banking district are seen in Frankfurt, Germany. The German economy bounced back strongly in the third quarter compared to the previous three months, when the country was hit by the first wave of the coronavirus pandemic, according to official figures.(AP Photo/Michael Probst)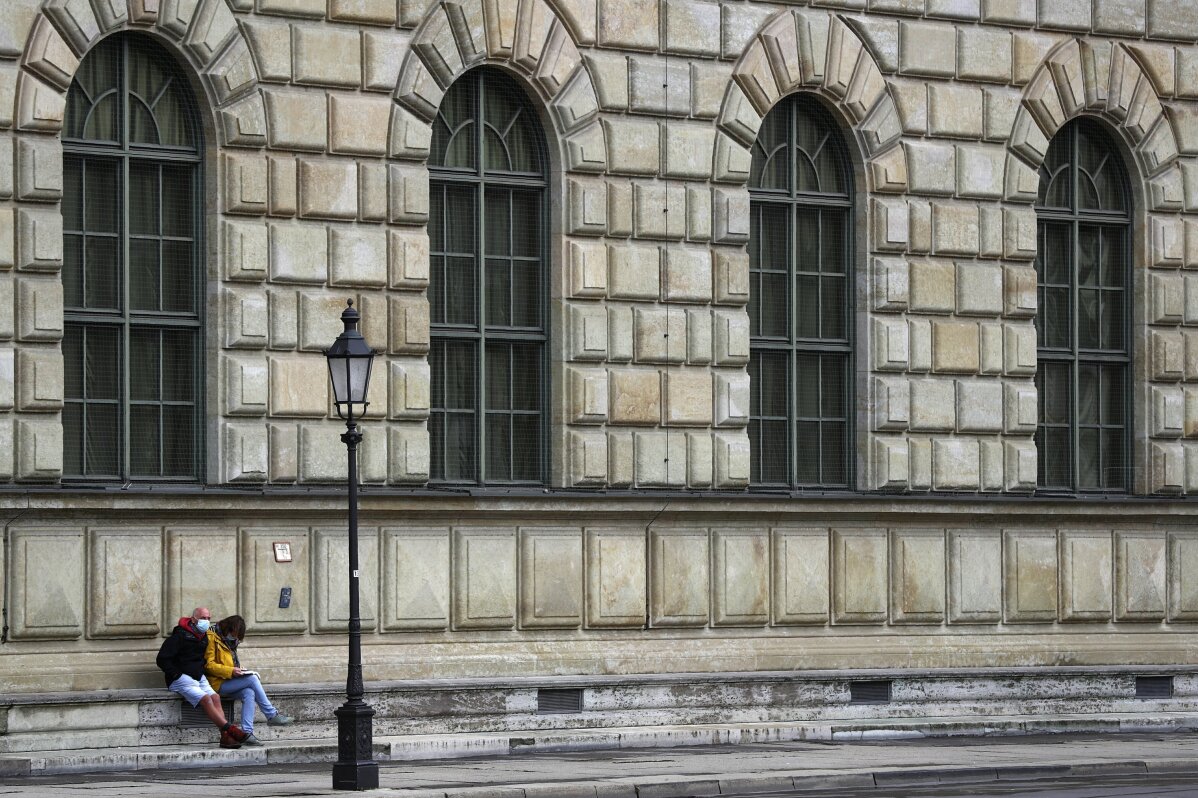 11 of 21

|
People wear a face masks as they sit on stairs in downtown in Munich, Germany, Friday, Oct. 30, 2020. In Munich city center masks are mandatory to avoid the spread of the coronavirus and the COVID-19 disease. (AP Photo/Matthias Schrader)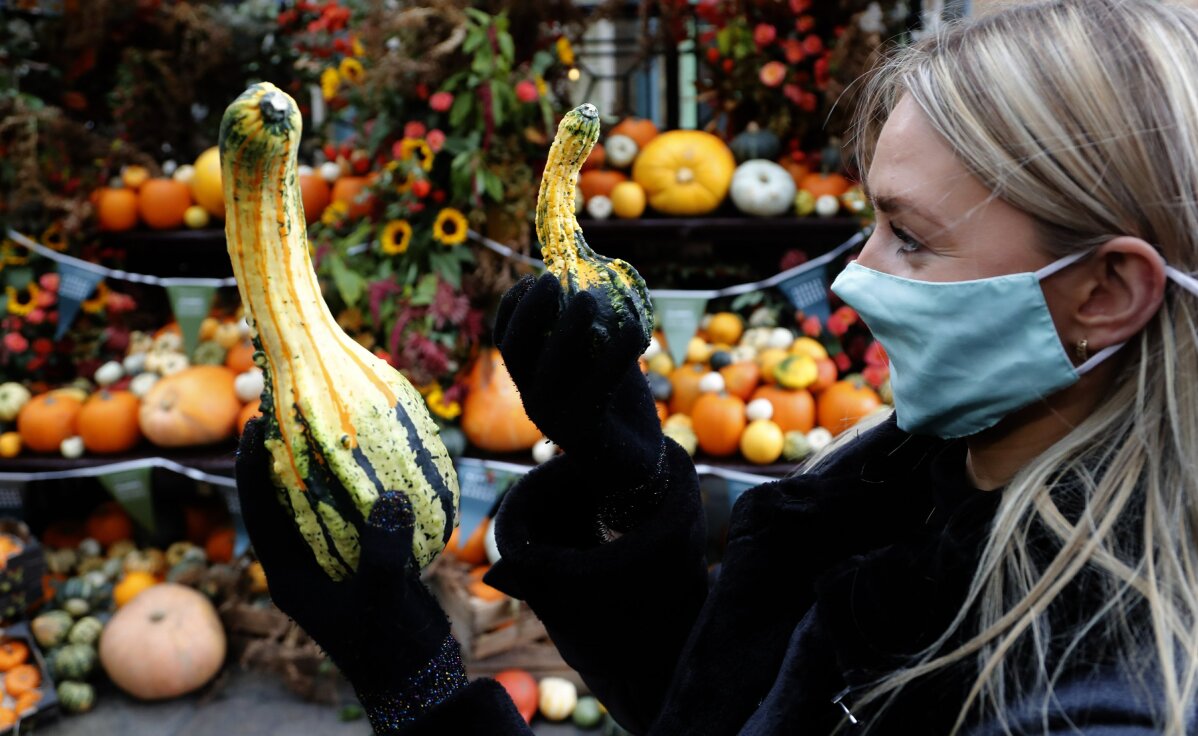 12 of 21

|
A woman compares two pumpkins at a Pumkin market in Covent Garden in London, Friday, Oct. 30, 2020. Pumpkin season has started with Halloween approaching on Saturday as trick or treating has been strongly discouraged due to the Coronavirus outbreak. (AP Photo/Frank Augstein)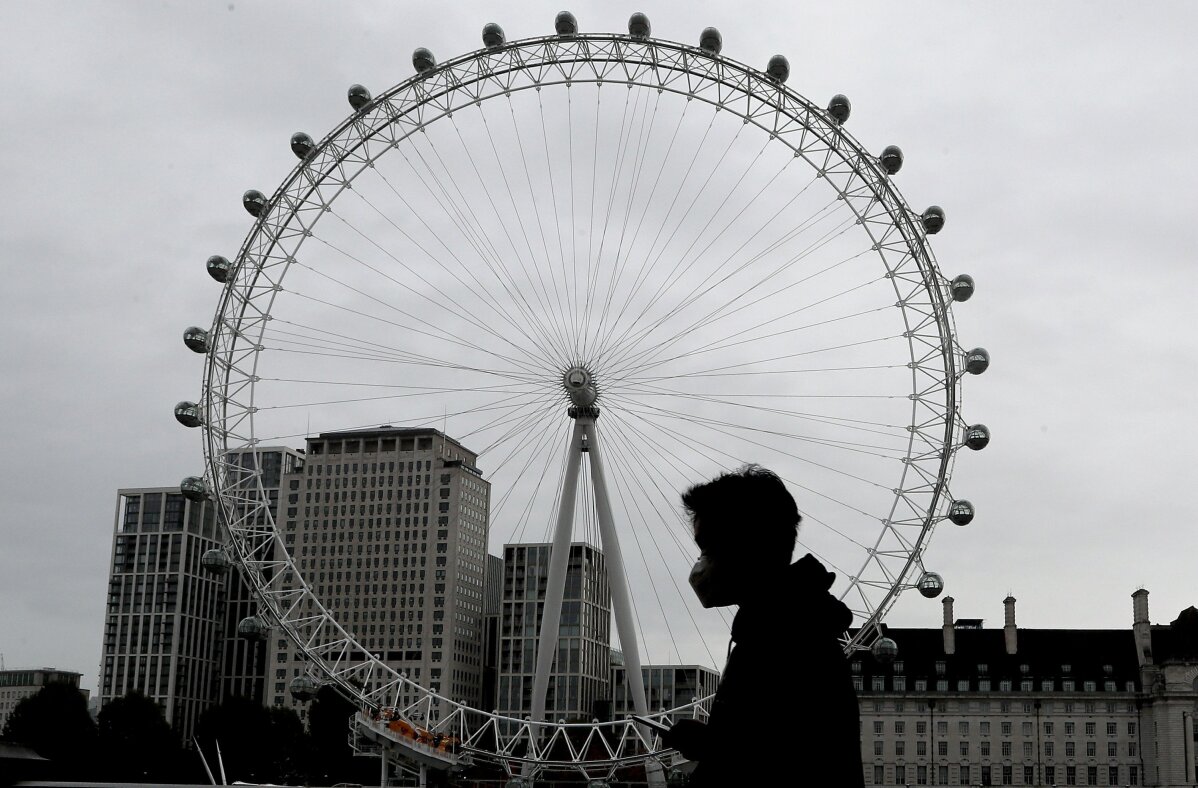 13 of 21

|
A man wears a face mask as he passes the London Eye in London, Thursday, Oct. 29, 2020. The International Monetary Fund has downgraded its growth forecasts for the British economy for this year and next, in its annual assessment published Thursday, following an acceleration in the number of coronavirus infections over the past couple of weeks.(AP Photo/Frank Augstein)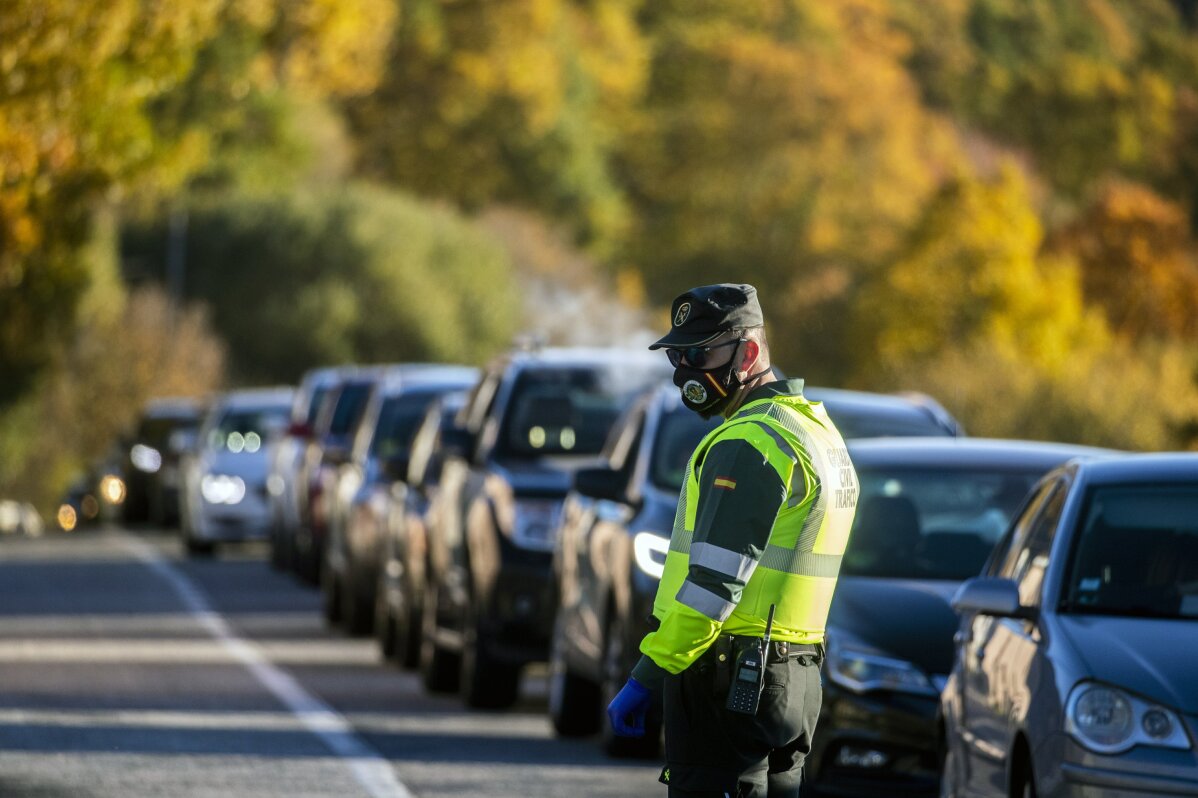 14 of 21

|
Guardia Civil officers stop vehicles at a checkpoint in Somosierra, Spain, Friday, Oct. 30, 2020. All Spanish regions except for the Canary Islands are already implementing overnight curfews to reduce social meetings and parties that could spread the virus. (AP Photo/Manu Fernandez)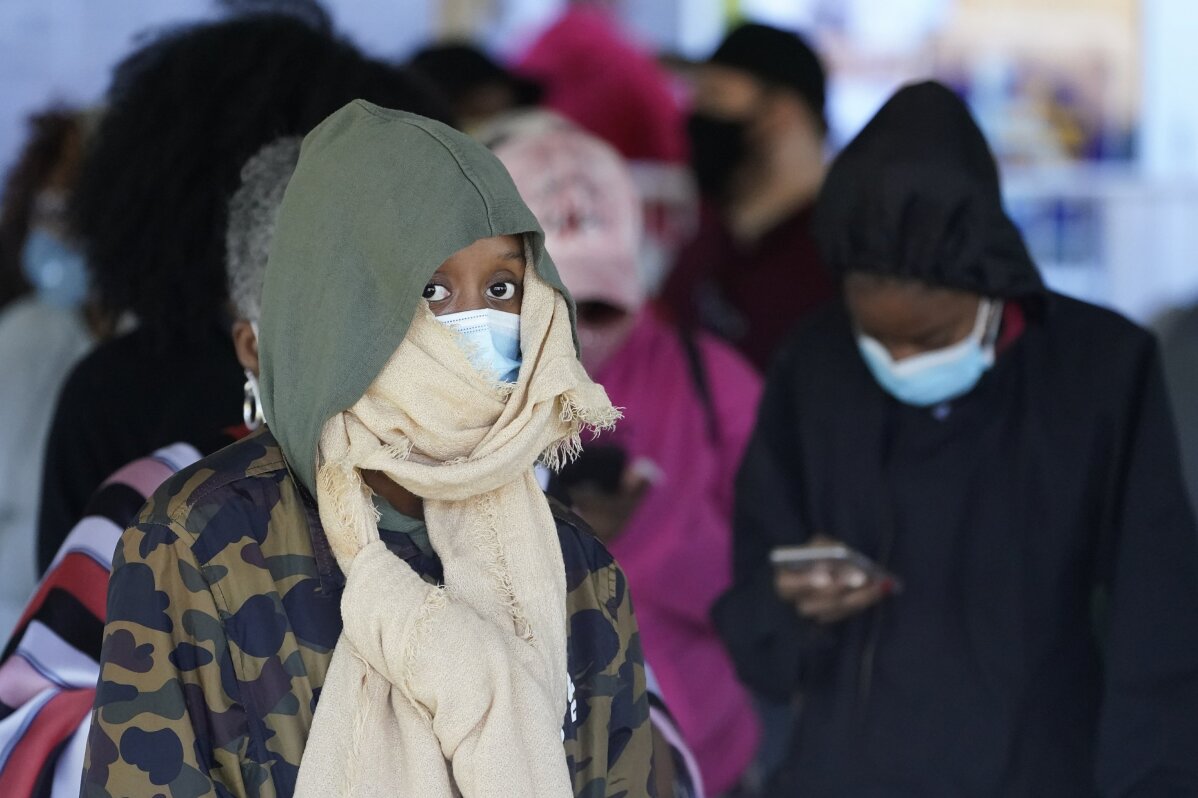 15 of 21

|
Voters brave a chilly and windy morning to cast their ballots early Friday, Oct. 30, 2020, in Covington, Ga. (AP Photo/John Bazemore)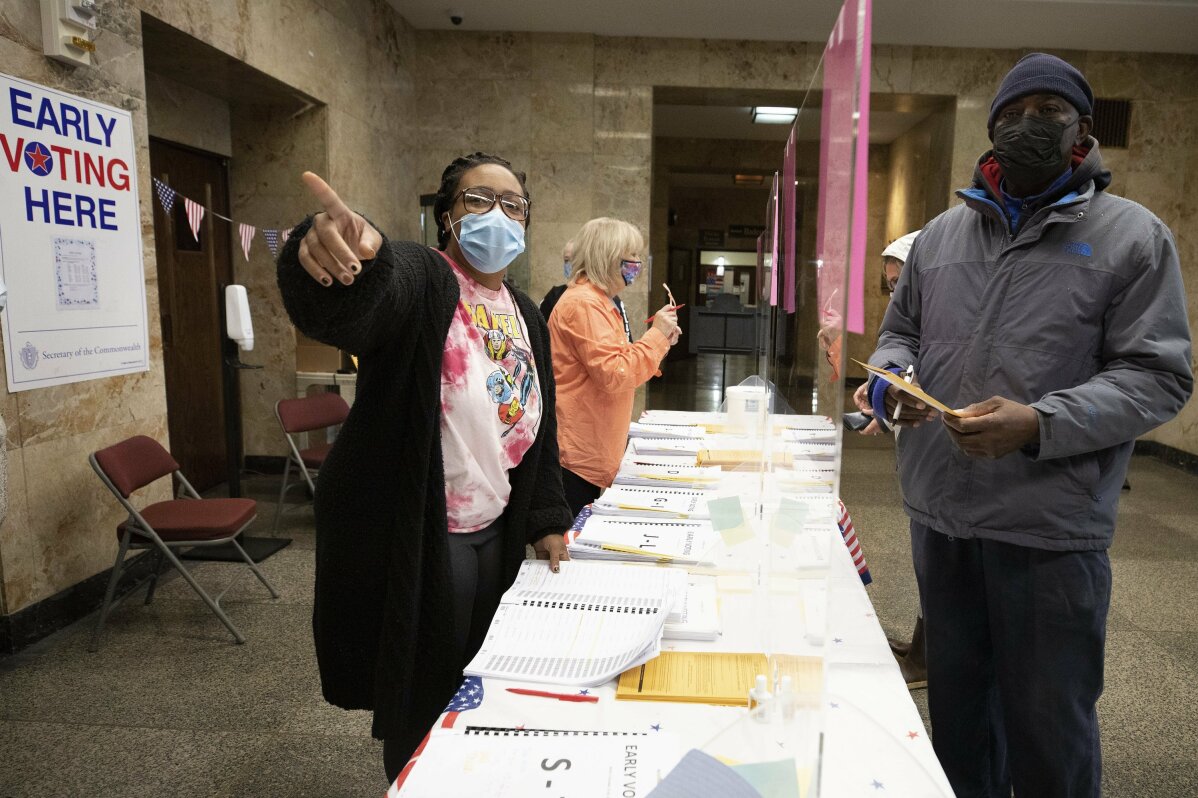 16 of 21

|
People check in to vote at Lynn City Hall, Friday, Oct. 30, 2020, in Lynn, Mass. Friday is the final day for early voting before the general election in Massachusetts. (AP Photo/Michael Dwyer)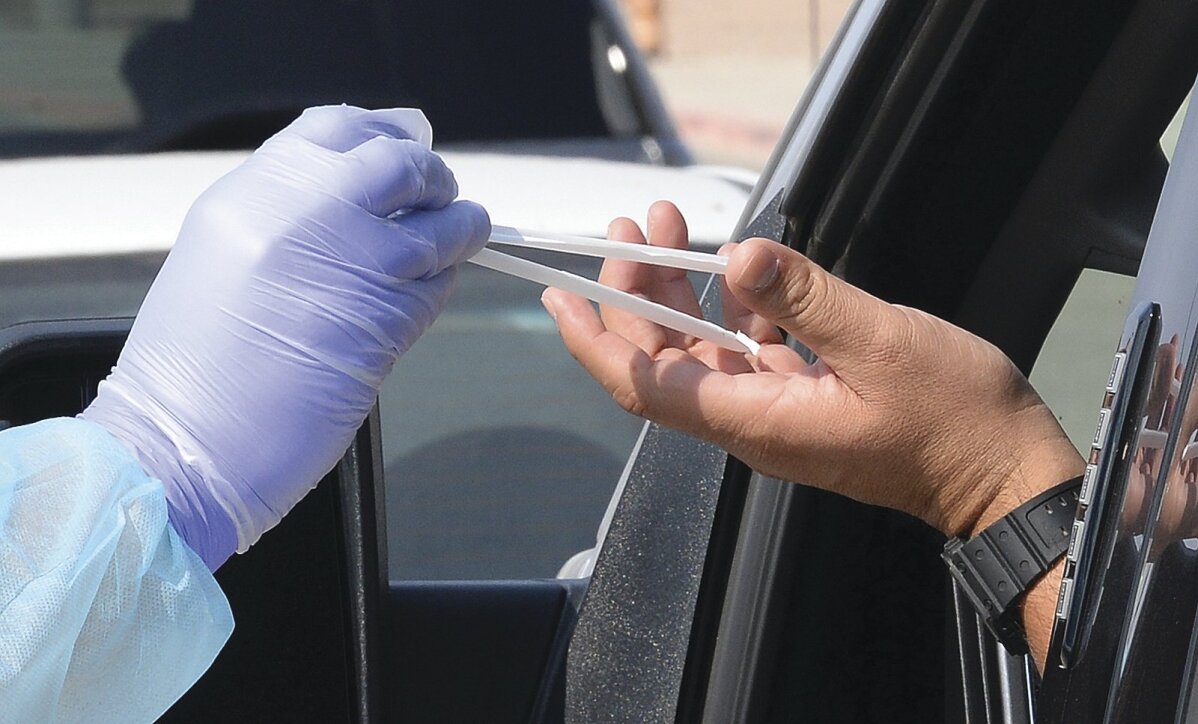 17 of 21

|
An Arizona Western College EMT Academy student hands a pair of straws to a participant in the drive-through COVID-19 saliva test on the main campus at Arizona Western College, in Yuma, Ariz., Saturday, Oct. 17, 2020. The straws are part of the testing kit. The testing, organized by the Yuma County Public Health Services District, lasted from 11 a.m. to 3 p.m., and saw 671 tests administered, according to Yuma County spokesperson Kevin Tunnell. The purpose of the testing, according to Yuma County, was to capitalize on the recent development of a saliva test for COVID-19 by Arizona State University's Biodesign Institute. The new test helps health officials achieve the goals of providing testing for all citizens that is simple and easy to use and is non-invasive, and to get a snapshot of the current infection rate in Yuma County. Health officials are asking everyone to get tested regardless of how they feel physically. (Randy Hoeft/The Yuma Sun via AP)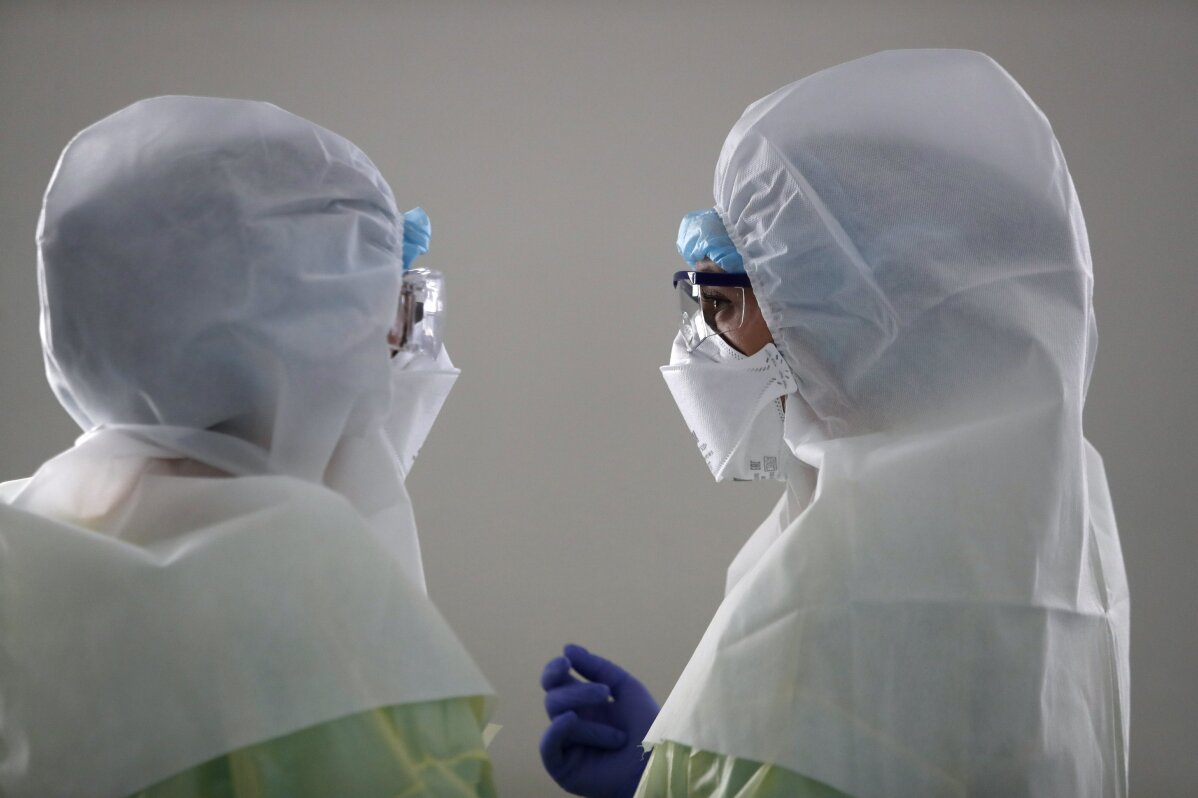 18 of 21

|
Nurse Raquel, right, talks with a colleague while tending to a patient inside a COVID-19 ICU at Santa Maria hospital in Lisbon, Friday, Oct. 30, 2020. Portugal is reporting a record number of new COVID-19 cases, deaths and hospital admissions. (AP Photo/Armando Franca)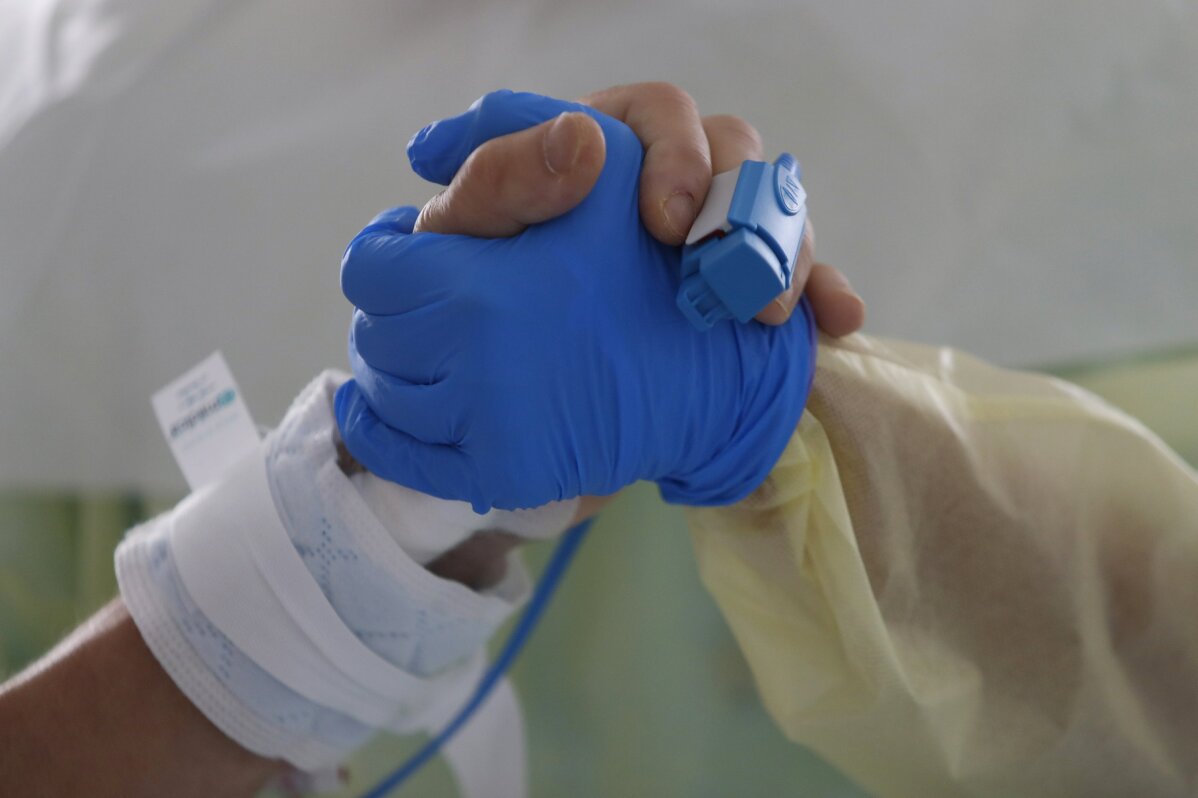 19 of 21

|
Therapist Catia Jesus holds the hand of a patient inside a COVID-19 ICU at Santa Maria hospital in Lisbon, Friday, Oct. 30, 2020. Portugal is reporting a record number of new COVID-19 cases, deaths and hospital admissions. (AP Photo/Armando Franca)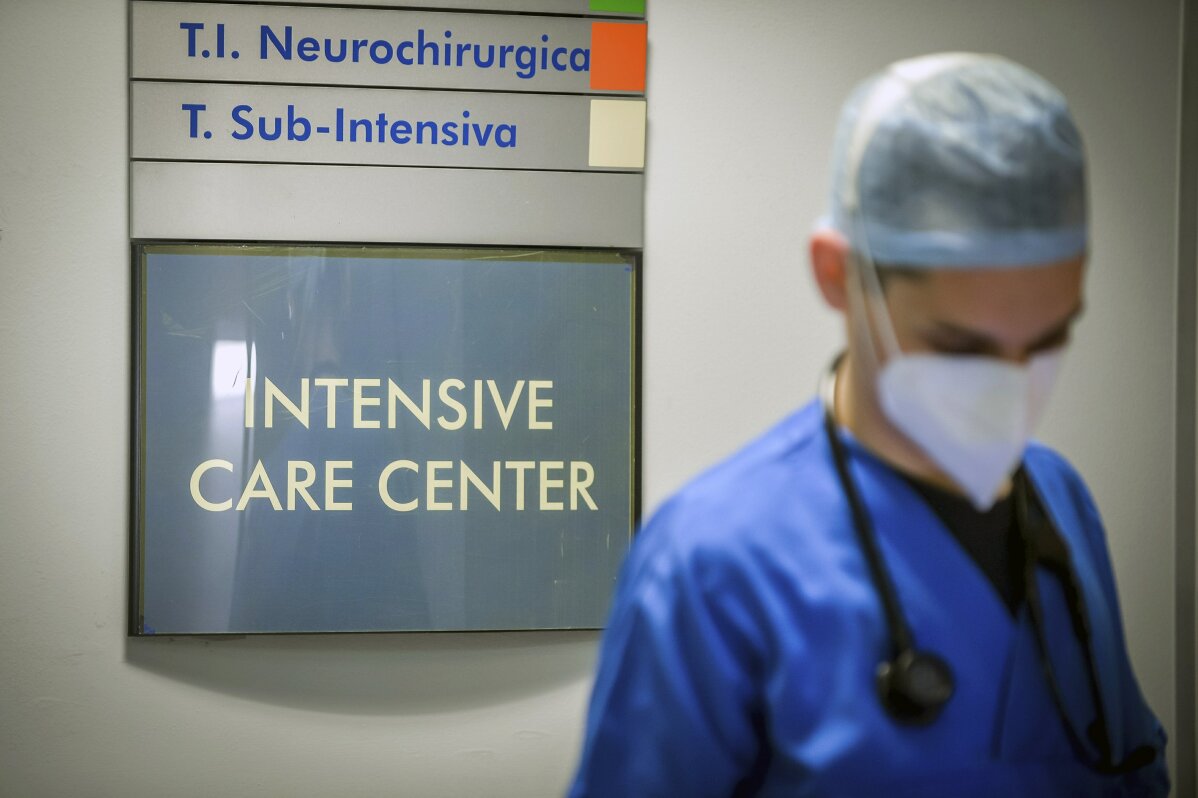 20 of 21

|
A medical staffer looks down as he walks outside the intensive care unit of the Circolo Hospital and Macchi Foundation of Varese, Italy, Friday, Oct. 30, 2020. Italy on Friday added more than 31,000 confirmed new cases of COVID-19 since the previous day, the highest one-day new caseload for the country in the pandemic. "The epidemic is galloping" in Italy, said Gianni Rezza, a top Health Ministry official. (Claudio Furlan/LaPresse via AP)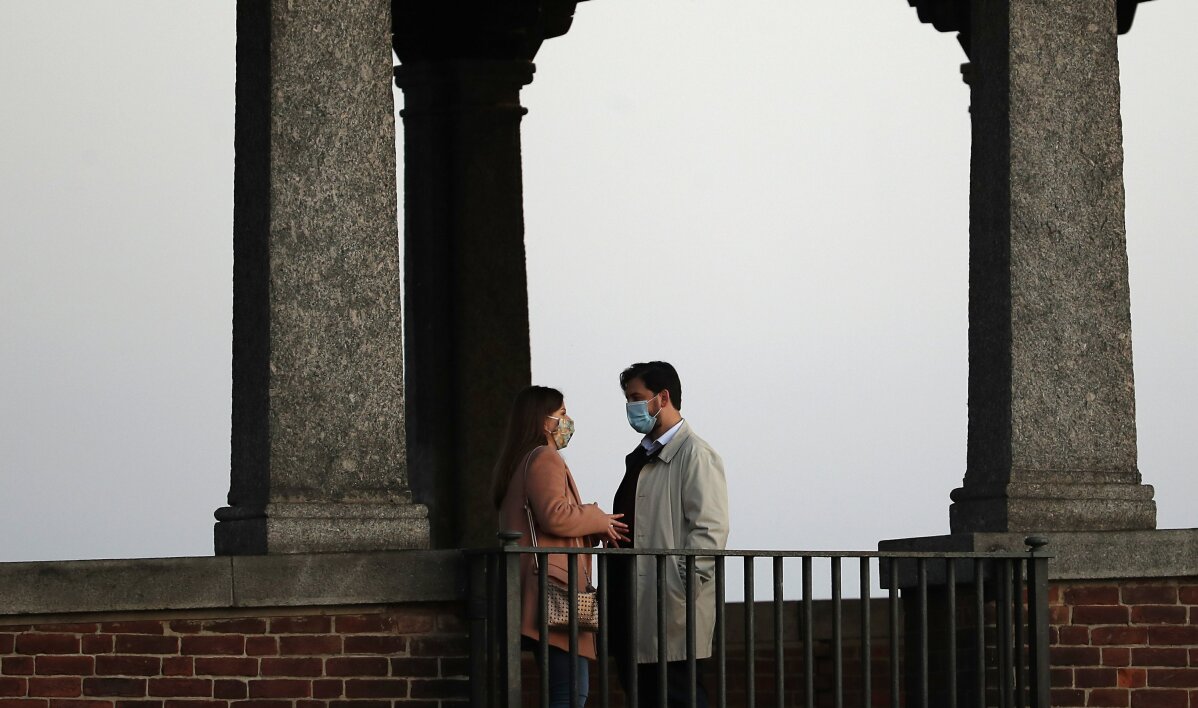 21 of 21

|
A man and a woman wearing face masks talk as they stand on the Ponte Coperto (Covered bridge), also known as Ponte Vecchio (Old Bridge), a brick and stone arch bridge over the Ticino River, in Pavia, some 40 kilometers (24 miles) away rom Milan, Italy, Friday, Oct. 30, 2020. (AP Photo/Antonio Calanni)
The Latest: Kentucky sees near-record number of new cases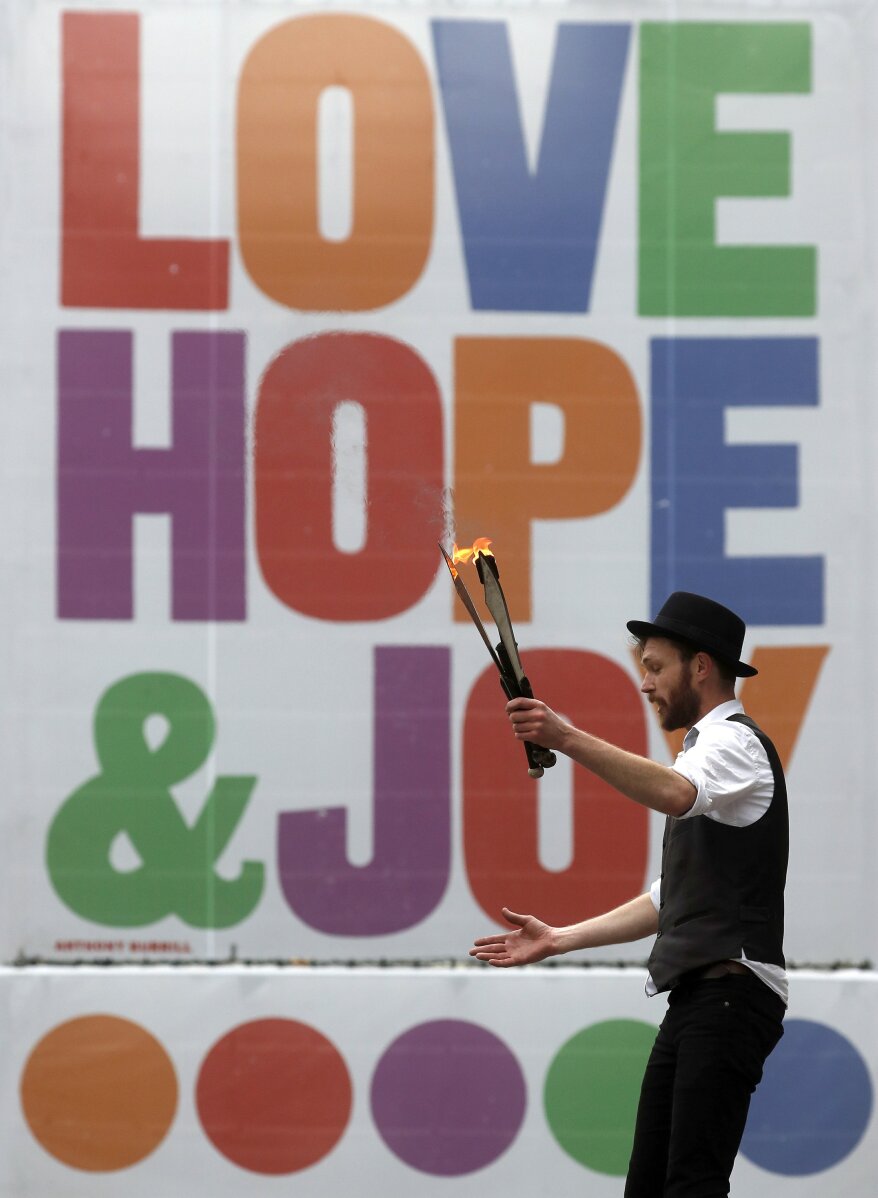 1 of 21

|
A joggler entertains tourists and visitors at Covent Garden in London, Friday, Oct. 30, 2020. (AP Photo/Frank Augstein)
1 of 21
A joggler entertains tourists and visitors at Covent Garden in London, Friday, Oct. 30, 2020. (AP Photo/Frank Augstein)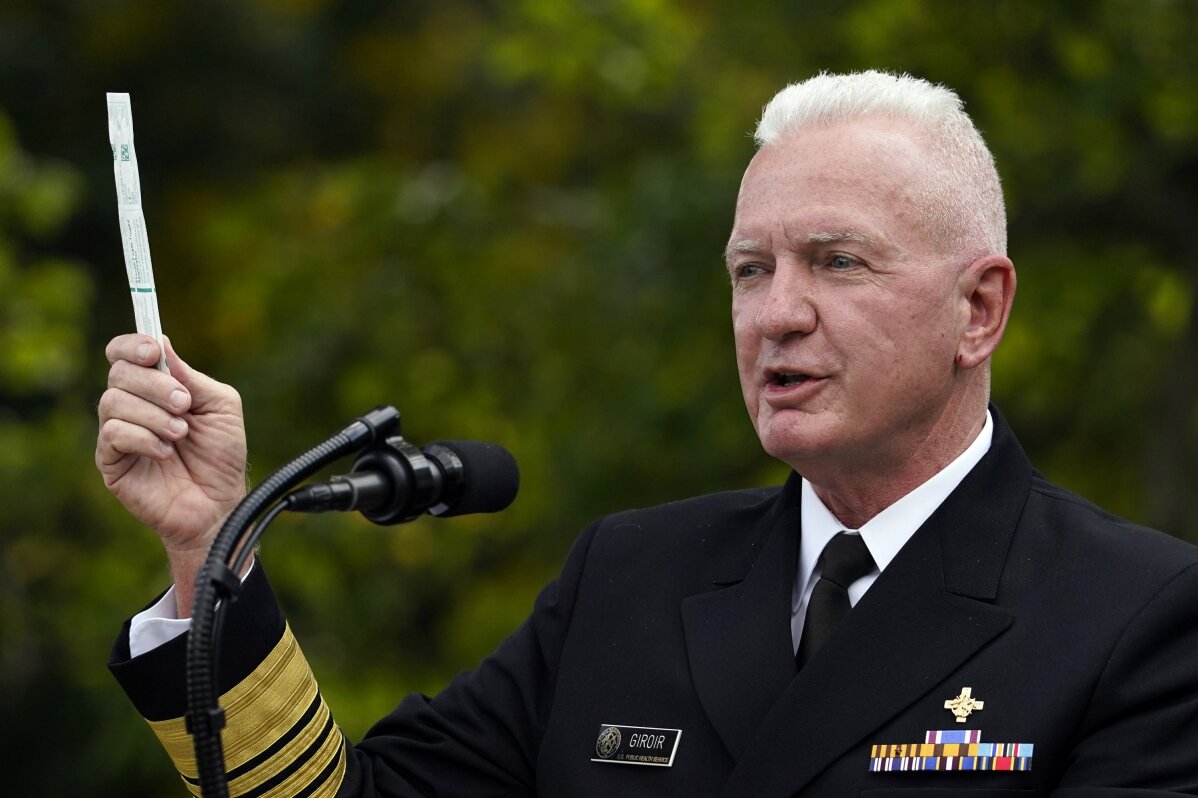 2 of 21

|
FILE - In this Sept. 28, 2020, file photo, Adm. Brett Giroir, assistant secretary of Health and Human Services, holds a swab manufactured by Puritan Medical Products as he talks about a new COVID-19 test during a event with President Donald Trump about coronavirus testing in the Rose Garden of the White House in Washington. A multi-state coronavirus surge in the countdown to Election Day has exposed a clear split between President Donald Trump's bullish embrace of a return to normalcy and urgent public warnings from the government's top health officials. (AP Photo/Evan Vucci, File)
2 of 21
FILE - In this Sept. 28, 2020, file photo, Adm. Brett Giroir, assistant secretary of Health and Human Services, holds a swab manufactured by Puritan Medical Products as he talks about a new COVID-19 test during a event with President Donald Trump about coronavirus testing in the Rose Garden of the White House in Washington. A multi-state coronavirus surge in the countdown to Election Day has exposed a clear split between President Donald Trump's bullish embrace of a return to normalcy and urgent public warnings from the government's top health officials. (AP Photo/Evan Vucci, File)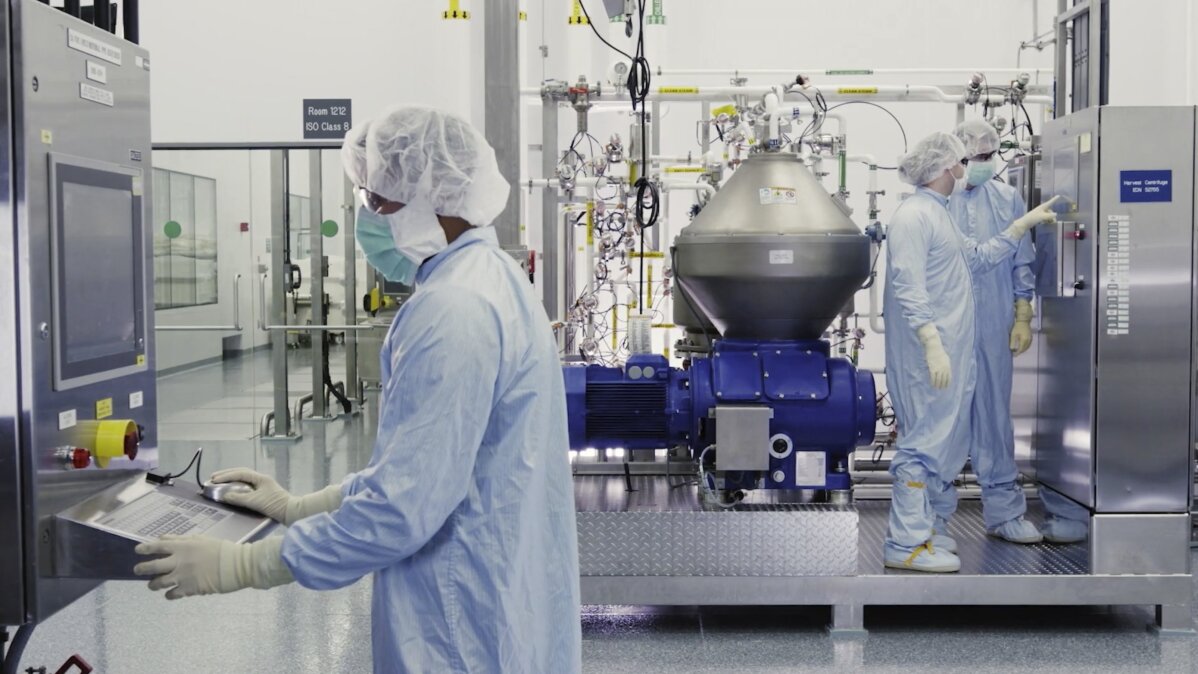 3 of 21

|
In this undated image from video provided by Regeneron Pharmaceuticals on Friday, Oct. 2, 2020, scientists work with a bioreactor at a company facility in New York state, for efforts on an experimental coronavirus antibody drug. The Food and Drug Administration on Saturday, Nov. 21, 2020 authorized the use of the Regeneron Pharmaceuticals Inc. drug to try to prevent patients with mild-to-moderate disease from worsening and needing hospitalization. It's given as a one-time treatment through an IV and is still going through more testing to establish its safety and effectiveness. (Regeneron via AP)
3 of 21
In this undated image from video provided by Regeneron Pharmaceuticals on Friday, Oct. 2, 2020, scientists work with a bioreactor at a company facility in New York state, for efforts on an experimental coronavirus antibody drug. The Food and Drug Administration on Saturday, Nov. 21, 2020 authorized the use of the Regeneron Pharmaceuticals Inc. drug to try to prevent patients with mild-to-moderate disease from worsening and needing hospitalization. It's given as a one-time treatment through an IV and is still going through more testing to establish its safety and effectiveness. (Regeneron via AP)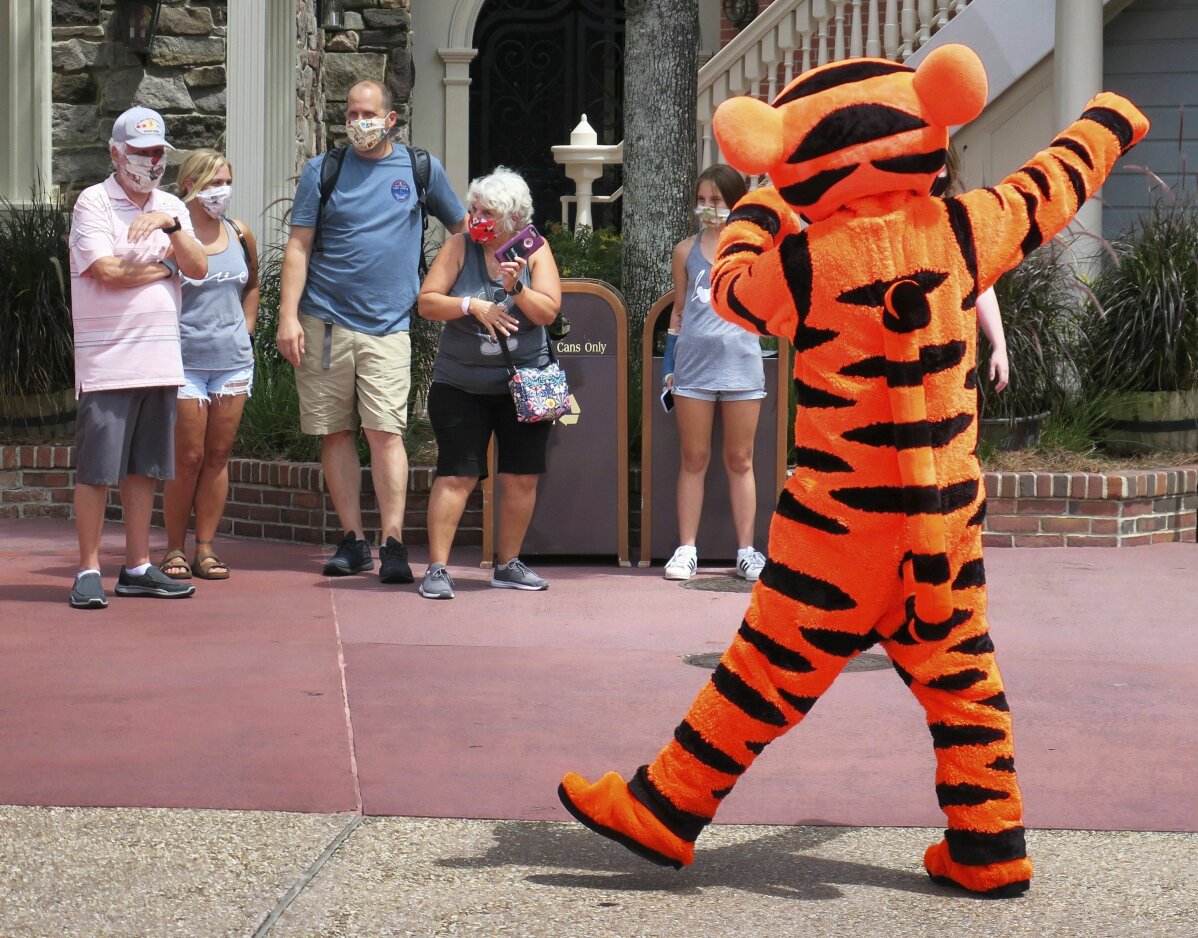 4 of 21

|
FILE- In this July 11, 2020 file photo, Tigger entertains guests wearing masks as required to attend the official reopening day of the Magic Kingdom at Walt Disney World in Lake Buena Vista, Fla. Walt Disney World announced Wednesday, Oct. 28, 2020, that over 700 actors and singers will be laid off. (Joe Burbank/Orlando Sentinel via AP, File)
4 of 21
FILE- In this July 11, 2020 file photo, Tigger entertains guests wearing masks as required to attend the official reopening day of the Magic Kingdom at Walt Disney World in Lake Buena Vista, Fla. Walt Disney World announced Wednesday, Oct. 28, 2020, that over 700 actors and singers will be laid off. (Joe Burbank/Orlando Sentinel via AP, File)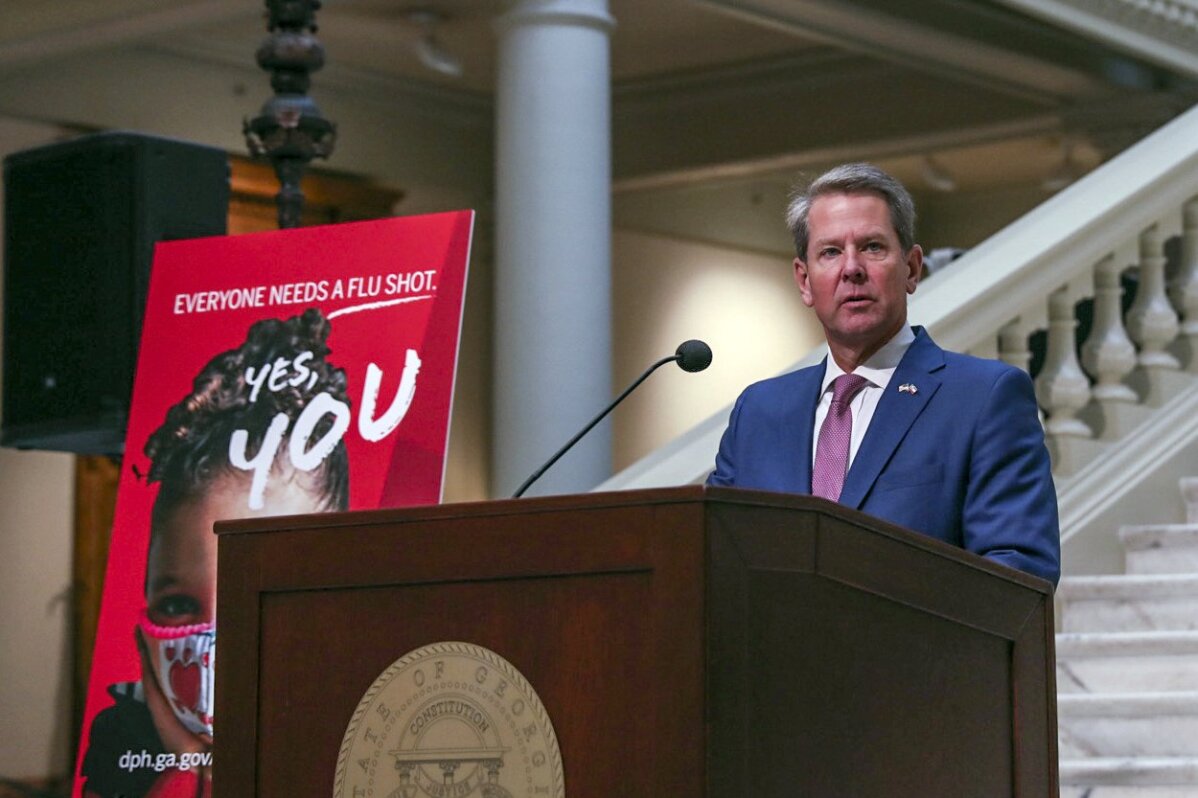 5 of 21

|
Georgia Gov. Brian Kemp speaks to reporters about Georgia's COVID-19 outbreak, Wednesday, Oct. 7, 2020, at the state Capitol in Atlanta. Kemp says that Georgia is making progress in reducing coronavirus infections, but is urging people to get a flu shot in addition to practicing social distancing, wearing masks and washing hands. (Riley Bunch/The Daily Times via AP)
5 of 21
Georgia Gov. Brian Kemp speaks to reporters about Georgia's COVID-19 outbreak, Wednesday, Oct. 7, 2020, at the state Capitol in Atlanta. Kemp says that Georgia is making progress in reducing coronavirus infections, but is urging people to get a flu shot in addition to practicing social distancing, wearing masks and washing hands. (Riley Bunch/The Daily Times via AP)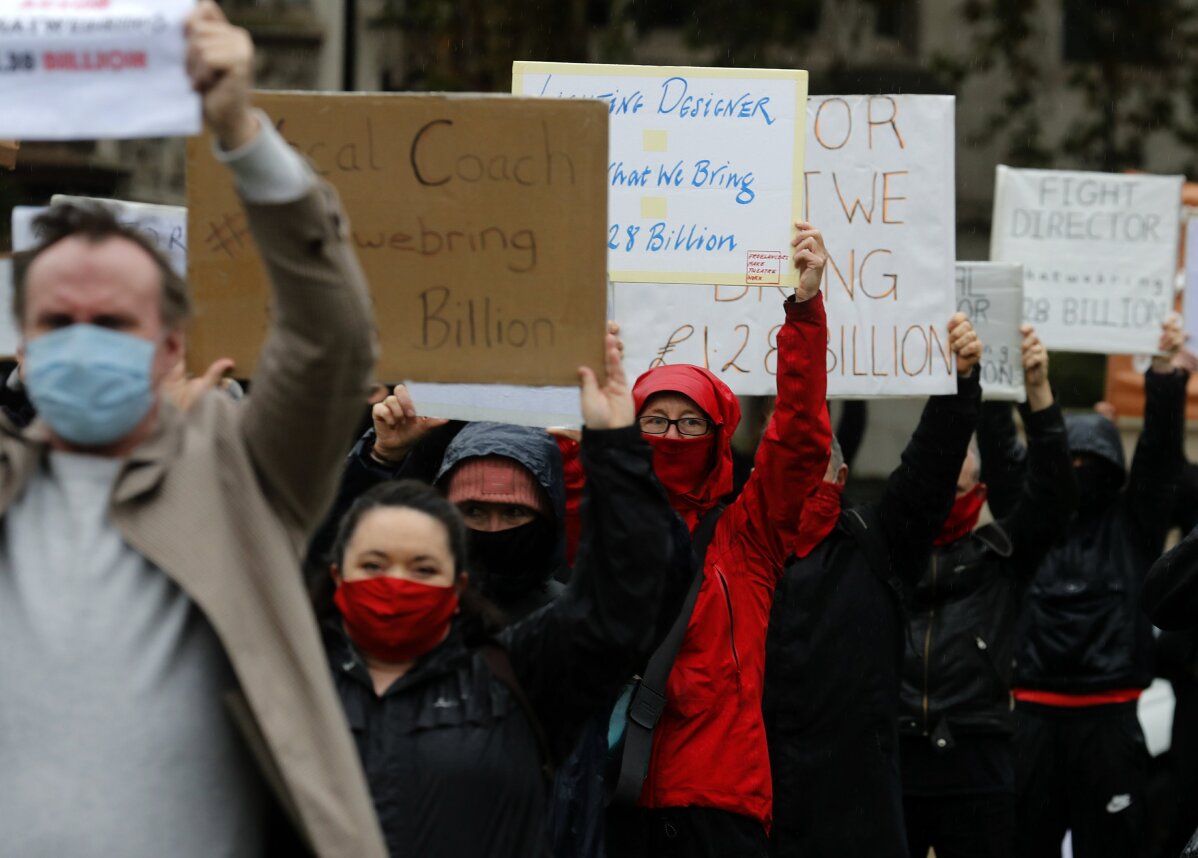 6 of 21

|
Actors and performers protest against coronavirus restrictions as part of a week of protests in Parliament Square in London, Thursday, Oct. 29, 2020. The British government is under pressure to develop a national strategy to combat the resurgence of the COVID-19 pandemic and "rescue Christmas'' as scientists warn that the number of people hospitalized with the disease could almost triple by the end of next month unless something more is done now. (AP Photo/Frank Augstein)
6 of 21
Actors and performers protest against coronavirus restrictions as part of a week of protests in Parliament Square in London, Thursday, Oct. 29, 2020. The British government is under pressure to develop a national strategy to combat the resurgence of the COVID-19 pandemic and "rescue Christmas'' as scientists warn that the number of people hospitalized with the disease could almost triple by the end of next month unless something more is done now. (AP Photo/Frank Augstein)
7 of 21

|
Dancers and theater workers attend a protest against the government restriction measures of closing gyms, cinemas and movie theaters to curb the spread of COVID-19, in front of the Italian Parliament, in Rome, Friday, Oct. 30, 2020. (AP Photo/Alessandra Tarantino)
7 of 21
Dancers and theater workers attend a protest against the government restriction measures of closing gyms, cinemas and movie theaters to curb the spread of COVID-19, in front of the Italian Parliament, in Rome, Friday, Oct. 30, 2020. (AP Photo/Alessandra Tarantino)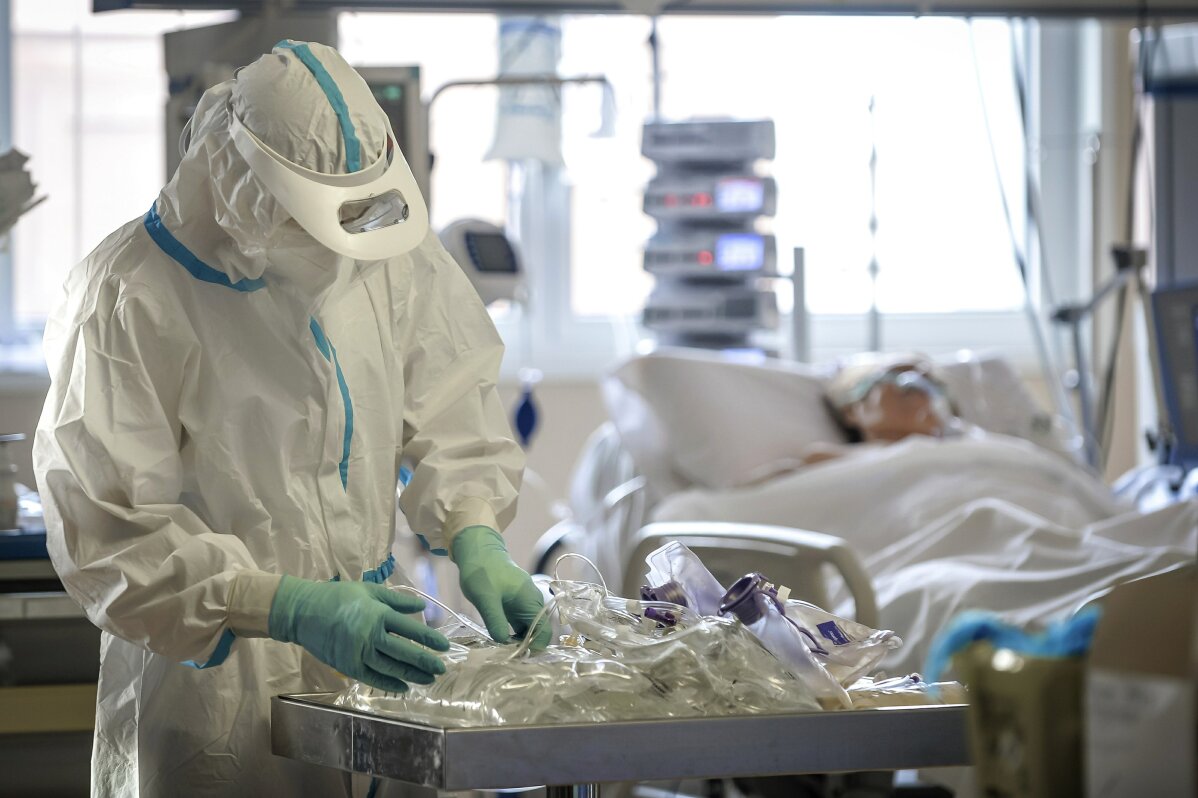 8 of 21

|
Medical staff tend to patients in the intensive care unit of the Circolo Hospital and Macchi Foundation of Varese, Italy, Friday, Oct. 30, 2020. Italy on Friday added more than 31,000 confirmed new cases of COVID-19 since the previous day, the highest one-day new caseload for the country in the pandemic. "The epidemic is galloping" in Italy, said Gianni Rezza, a top Health Ministry official. (Claudio Furlan/LaPresse via AP)
8 of 21
Medical staff tend to patients in the intensive care unit of the Circolo Hospital and Macchi Foundation of Varese, Italy, Friday, Oct. 30, 2020. Italy on Friday added more than 31,000 confirmed new cases of COVID-19 since the previous day, the highest one-day new caseload for the country in the pandemic. "The epidemic is galloping" in Italy, said Gianni Rezza, a top Health Ministry official. (Claudio Furlan/LaPresse via AP)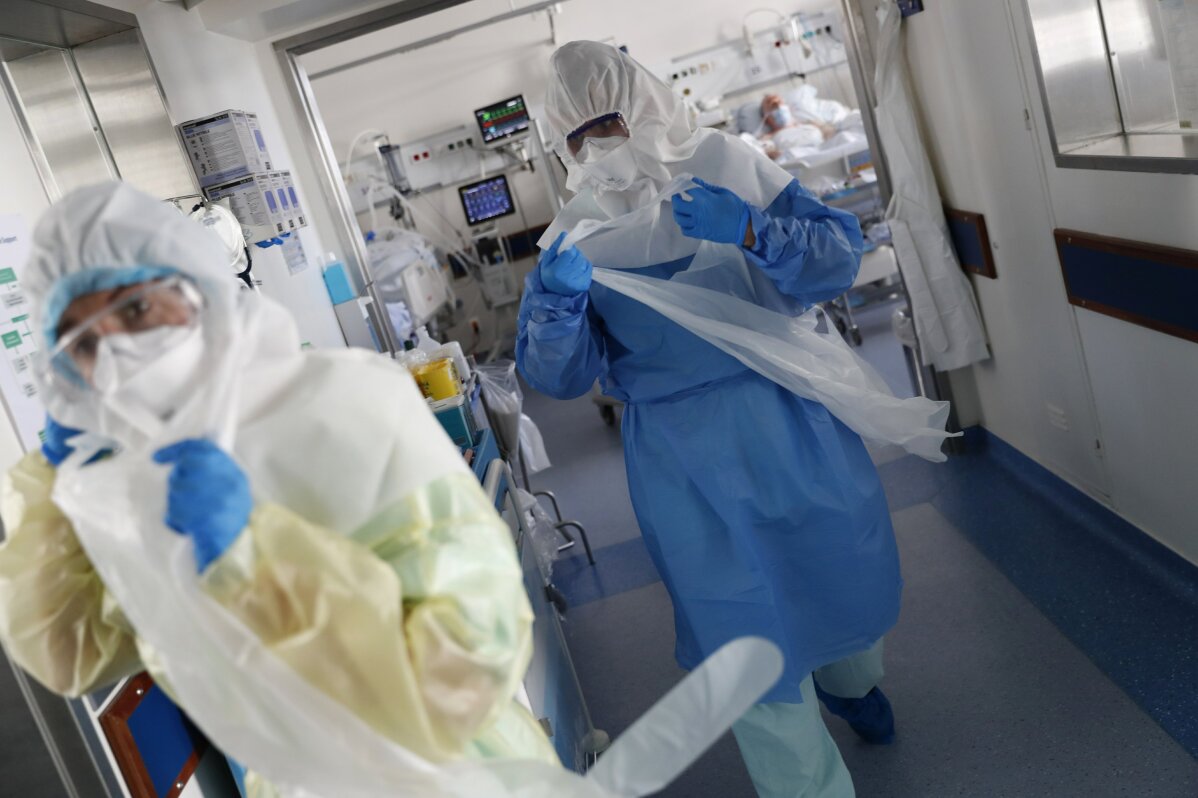 9 of 21

|
Nurses put on medical aprons before tending to a patient inside a COVID-19 ICU at Santa Maria hospital in Lisbon, Friday, Oct. 30, 2020. Portugal is reporting a record number of new COVID-19 cases, deaths and hospital admissions. (AP Photo/Armando Franca)
9 of 21
Nurses put on medical aprons before tending to a patient inside a COVID-19 ICU at Santa Maria hospital in Lisbon, Friday, Oct. 30, 2020. Portugal is reporting a record number of new COVID-19 cases, deaths and hospital admissions. (AP Photo/Armando Franca)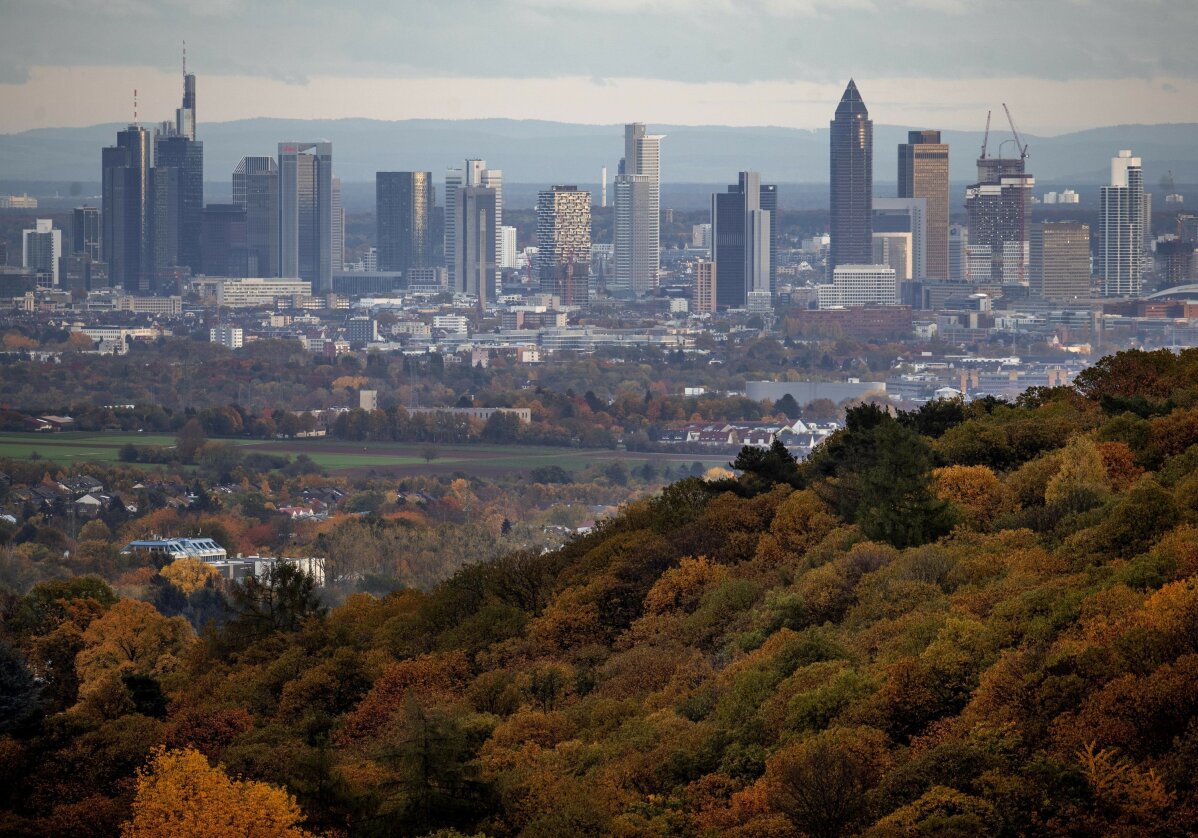 10 of 21

|
FILE - In this Tuesday, Oct. 27, 2020 file photo, the buildings of the banking district are seen in Frankfurt, Germany. The German economy bounced back strongly in the third quarter compared to the previous three months, when the country was hit by the first wave of the coronavirus pandemic, according to official figures.(AP Photo/Michael Probst)
10 of 21
FILE - In this Tuesday, Oct. 27, 2020 file photo, the buildings of the banking district are seen in Frankfurt, Germany. The German economy bounced back strongly in the third quarter compared to the previous three months, when the country was hit by the first wave of the coronavirus pandemic, according to official figures.(AP Photo/Michael Probst)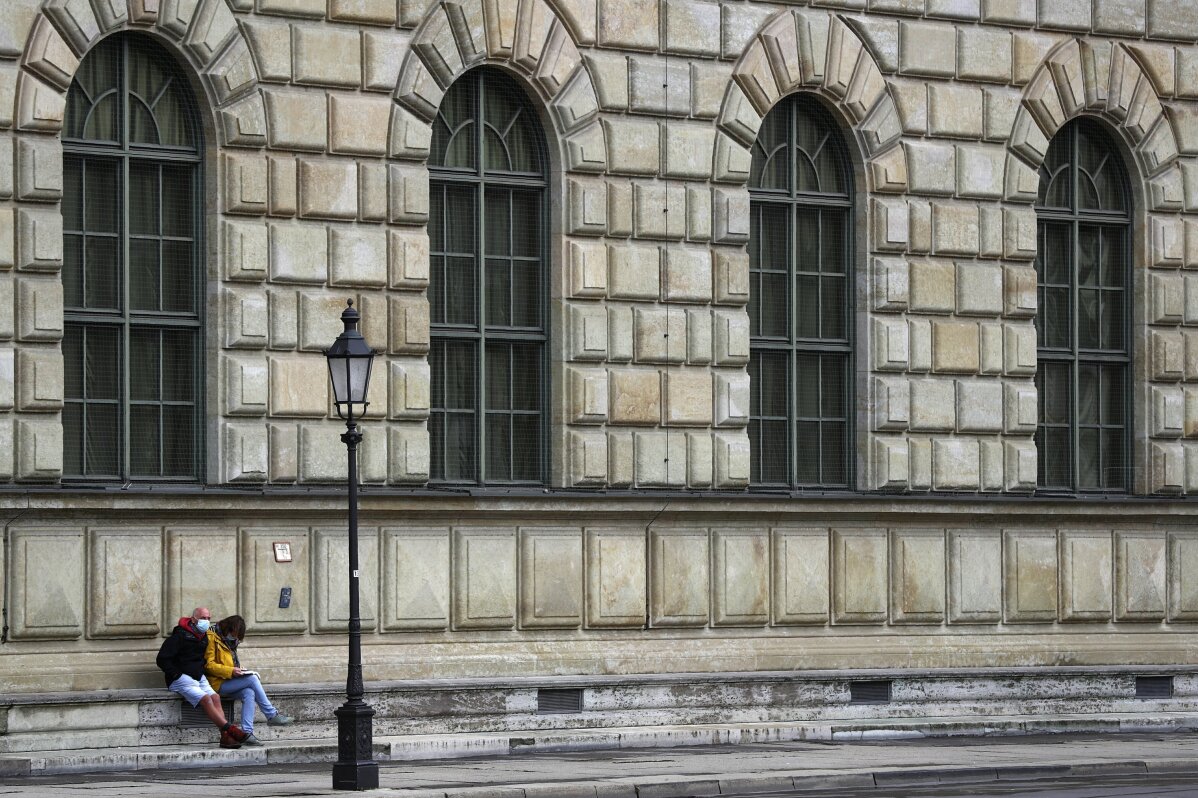 11 of 21

|
People wear a face masks as they sit on stairs in downtown in Munich, Germany, Friday, Oct. 30, 2020. In Munich city center masks are mandatory to avoid the spread of the coronavirus and the COVID-19 disease. (AP Photo/Matthias Schrader)
11 of 21
People wear a face masks as they sit on stairs in downtown in Munich, Germany, Friday, Oct. 30, 2020. In Munich city center masks are mandatory to avoid the spread of the coronavirus and the COVID-19 disease. (AP Photo/Matthias Schrader)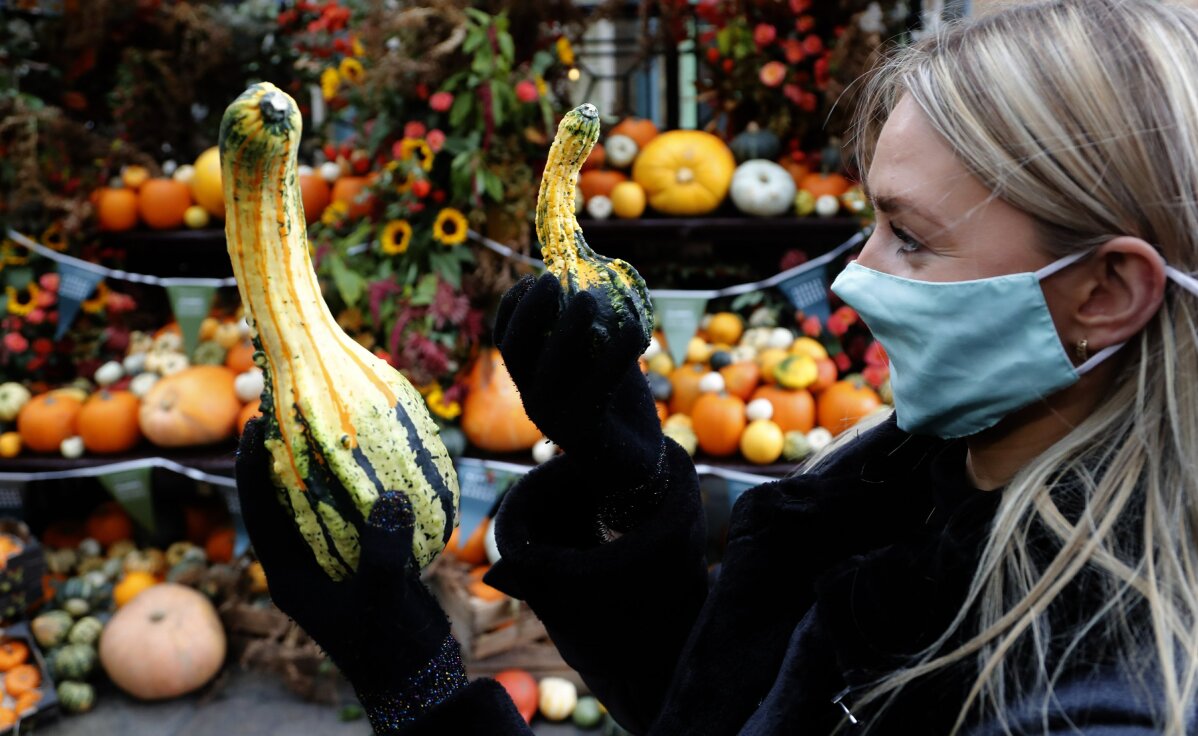 12 of 21

|
A woman compares two pumpkins at a Pumkin market in Covent Garden in London, Friday, Oct. 30, 2020. Pumpkin season has started with Halloween approaching on Saturday as trick or treating has been strongly discouraged due to the Coronavirus outbreak. (AP Photo/Frank Augstein)
12 of 21
A woman compares two pumpkins at a Pumkin market in Covent Garden in London, Friday, Oct. 30, 2020. Pumpkin season has started with Halloween approaching on Saturday as trick or treating has been strongly discouraged due to the Coronavirus outbreak. (AP Photo/Frank Augstein)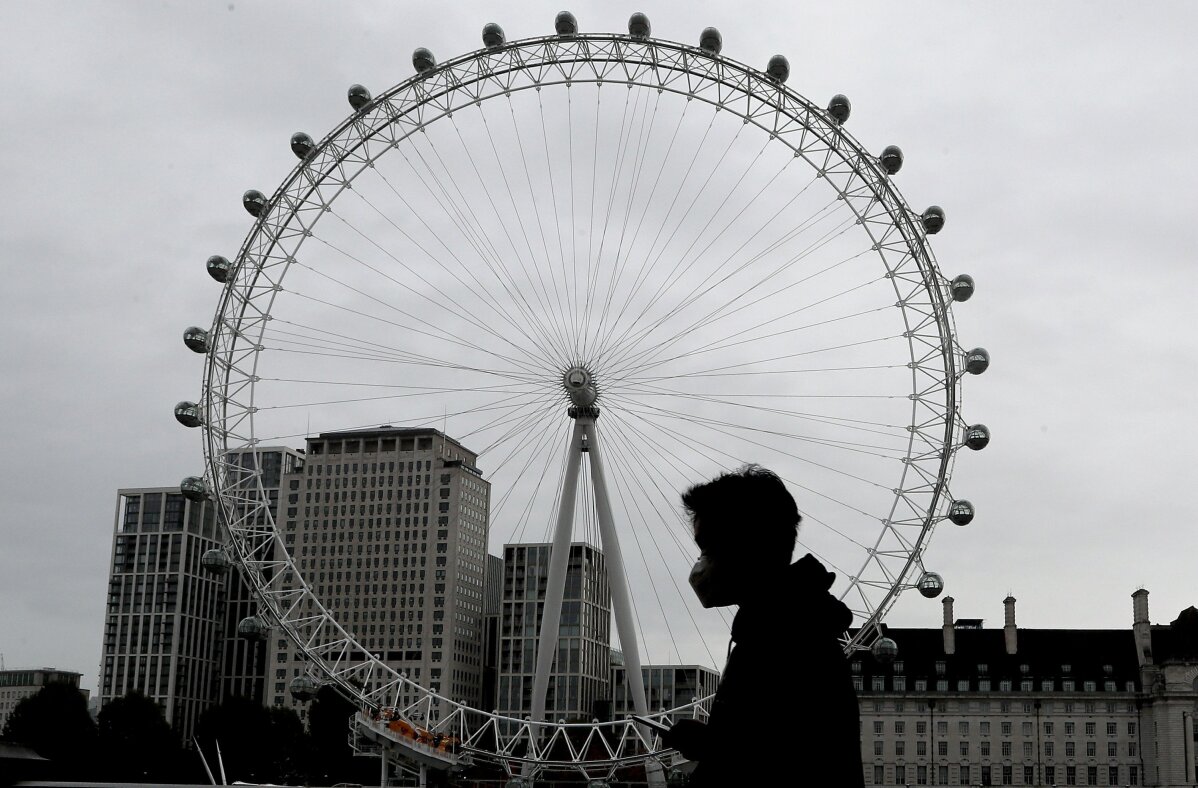 13 of 21

|
A man wears a face mask as he passes the London Eye in London, Thursday, Oct. 29, 2020. The International Monetary Fund has downgraded its growth forecasts for the British economy for this year and next, in its annual assessment published Thursday, following an acceleration in the number of coronavirus infections over the past couple of weeks.(AP Photo/Frank Augstein)
13 of 21
A man wears a face mask as he passes the London Eye in London, Thursday, Oct. 29, 2020. The International Monetary Fund has downgraded its growth forecasts for the British economy for this year and next, in its annual assessment published Thursday, following an acceleration in the number of coronavirus infections over the past couple of weeks.(AP Photo/Frank Augstein)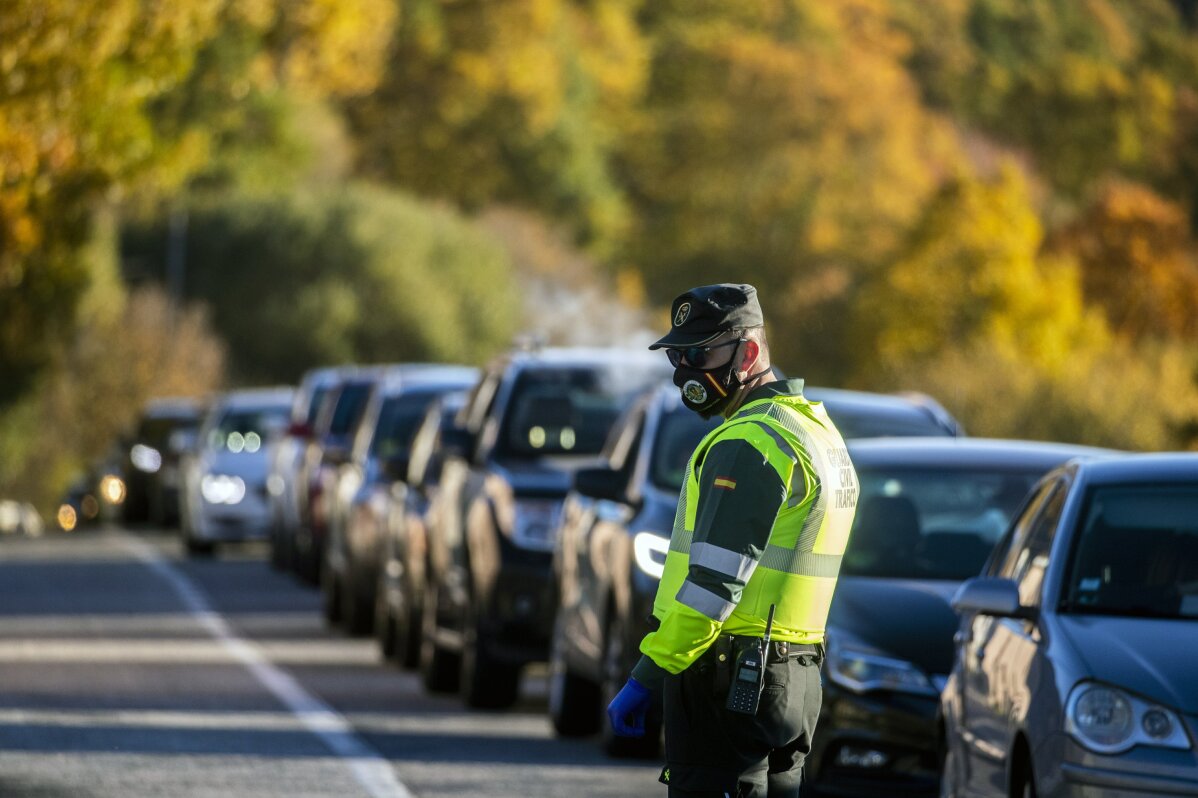 14 of 21

|
Guardia Civil officers stop vehicles at a checkpoint in Somosierra, Spain, Friday, Oct. 30, 2020. All Spanish regions except for the Canary Islands are already implementing overnight curfews to reduce social meetings and parties that could spread the virus. (AP Photo/Manu Fernandez)
14 of 21
Guardia Civil officers stop vehicles at a checkpoint in Somosierra, Spain, Friday, Oct. 30, 2020. All Spanish regions except for the Canary Islands are already implementing overnight curfews to reduce social meetings and parties that could spread the virus. (AP Photo/Manu Fernandez)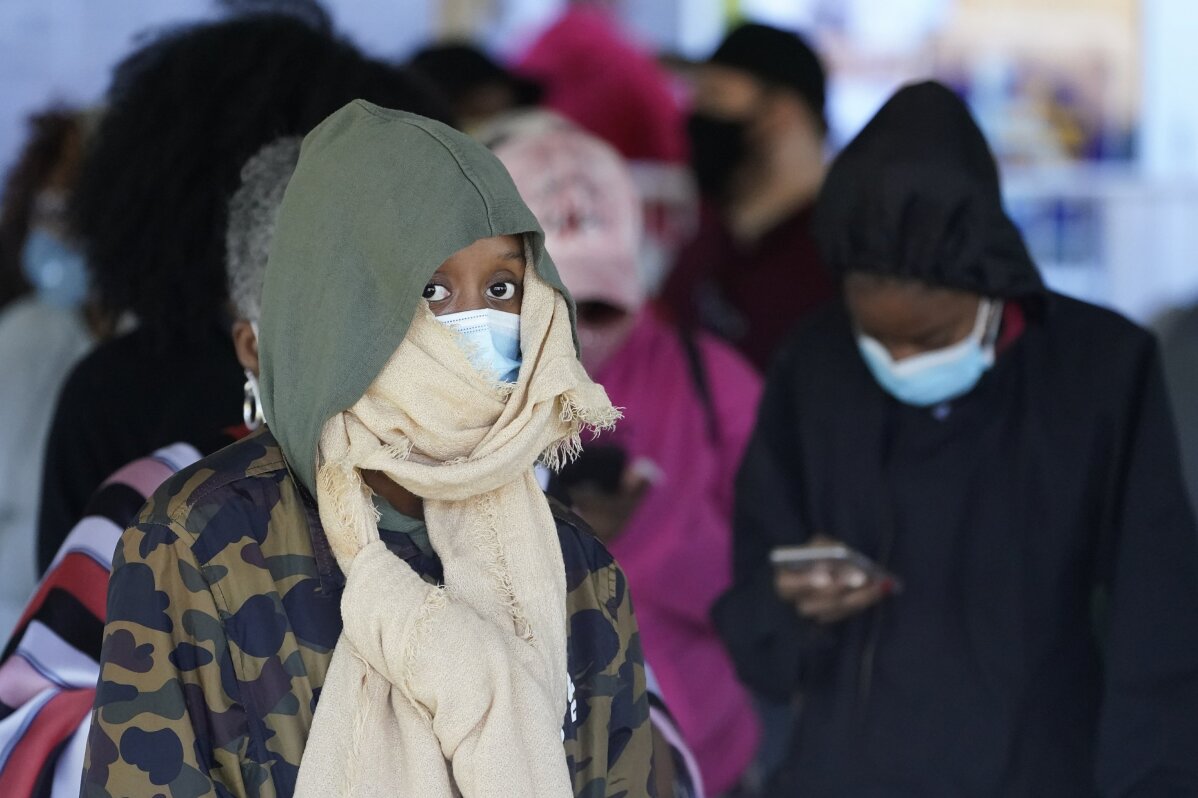 15 of 21

|
Voters brave a chilly and windy morning to cast their ballots early Friday, Oct. 30, 2020, in Covington, Ga. (AP Photo/John Bazemore)
15 of 21
Voters brave a chilly and windy morning to cast their ballots early Friday, Oct. 30, 2020, in Covington, Ga. (AP Photo/John Bazemore)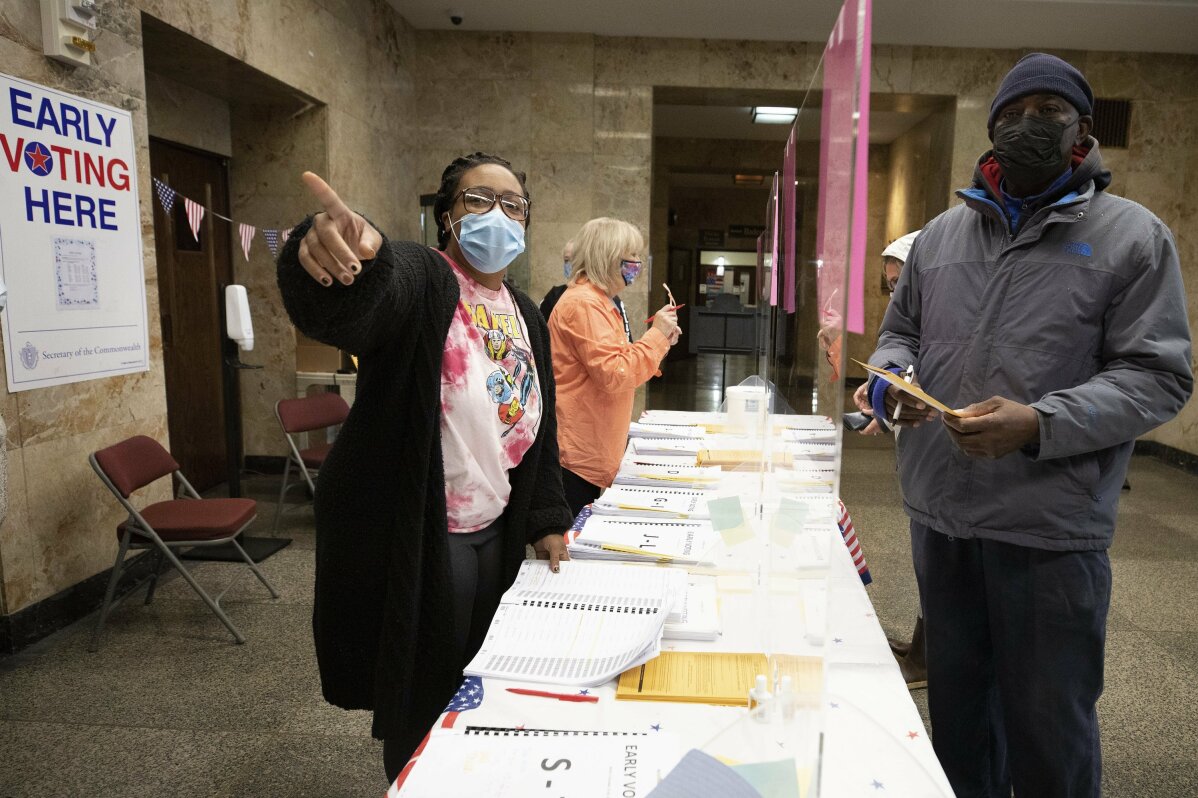 16 of 21

|
People check in to vote at Lynn City Hall, Friday, Oct. 30, 2020, in Lynn, Mass. Friday is the final day for early voting before the general election in Massachusetts. (AP Photo/Michael Dwyer)
16 of 21
People check in to vote at Lynn City Hall, Friday, Oct. 30, 2020, in Lynn, Mass. Friday is the final day for early voting before the general election in Massachusetts. (AP Photo/Michael Dwyer)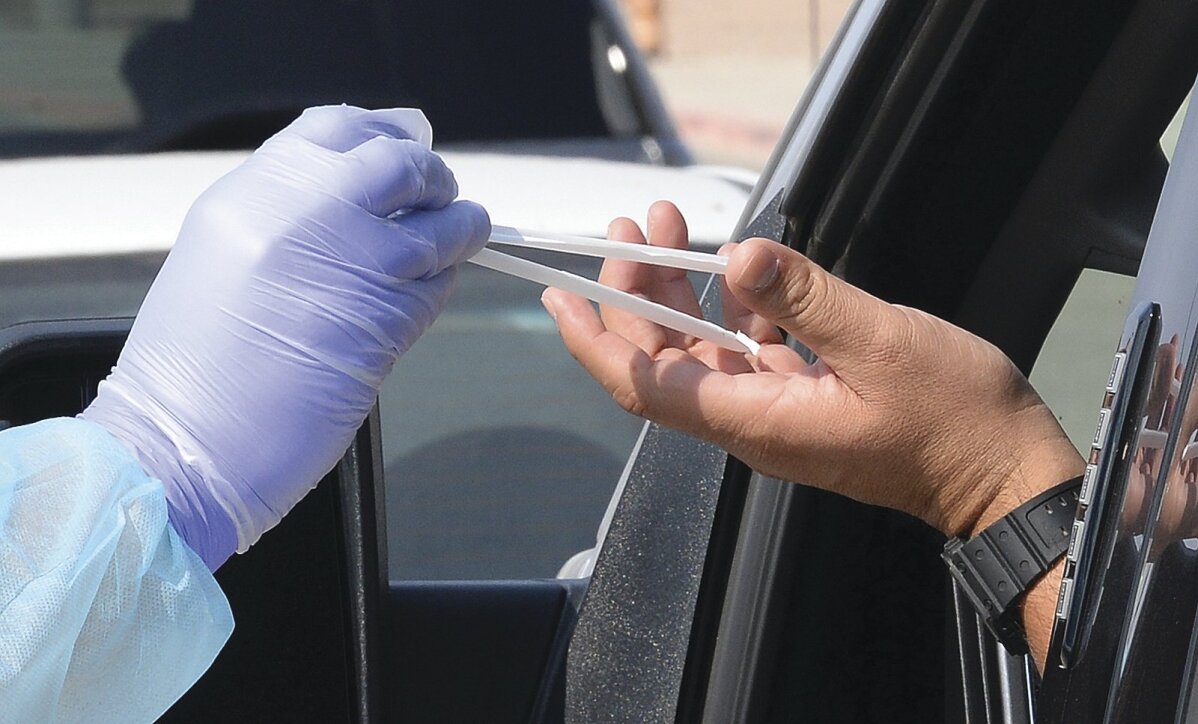 17 of 21

|
An Arizona Western College EMT Academy student hands a pair of straws to a participant in the drive-through COVID-19 saliva test on the main campus at Arizona Western College, in Yuma, Ariz., Saturday, Oct. 17, 2020. The straws are part of the testing kit. The testing, organized by the Yuma County Public Health Services District, lasted from 11 a.m. to 3 p.m., and saw 671 tests administered, according to Yuma County spokesperson Kevin Tunnell. The purpose of the testing, according to Yuma County, was to capitalize on the recent development of a saliva test for COVID-19 by Arizona State University's Biodesign Institute. The new test helps health officials achieve the goals of providing testing for all citizens that is simple and easy to use and is non-invasive, and to get a snapshot of the current infection rate in Yuma County. Health officials are asking everyone to get tested regardless of how they feel physically. (Randy Hoeft/The Yuma Sun via AP)
17 of 21
An Arizona Western College EMT Academy student hands a pair of straws to a participant in the drive-through COVID-19 saliva test on the main campus at Arizona Western College, in Yuma, Ariz., Saturday, Oct. 17, 2020. The straws are part of the testing kit. The testing, organized by the Yuma County Public Health Services District, lasted from 11 a.m. to 3 p.m., and saw 671 tests administered, according to Yuma County spokesperson Kevin Tunnell. The purpose of the testing, according to Yuma County, was to capitalize on the recent development of a saliva test for COVID-19 by Arizona State University's Biodesign Institute. The new test helps health officials achieve the goals of providing testing for all citizens that is simple and easy to use and is non-invasive, and to get a snapshot of the current infection rate in Yuma County. Health officials are asking everyone to get tested regardless of how they feel physically. (Randy Hoeft/The Yuma Sun via AP)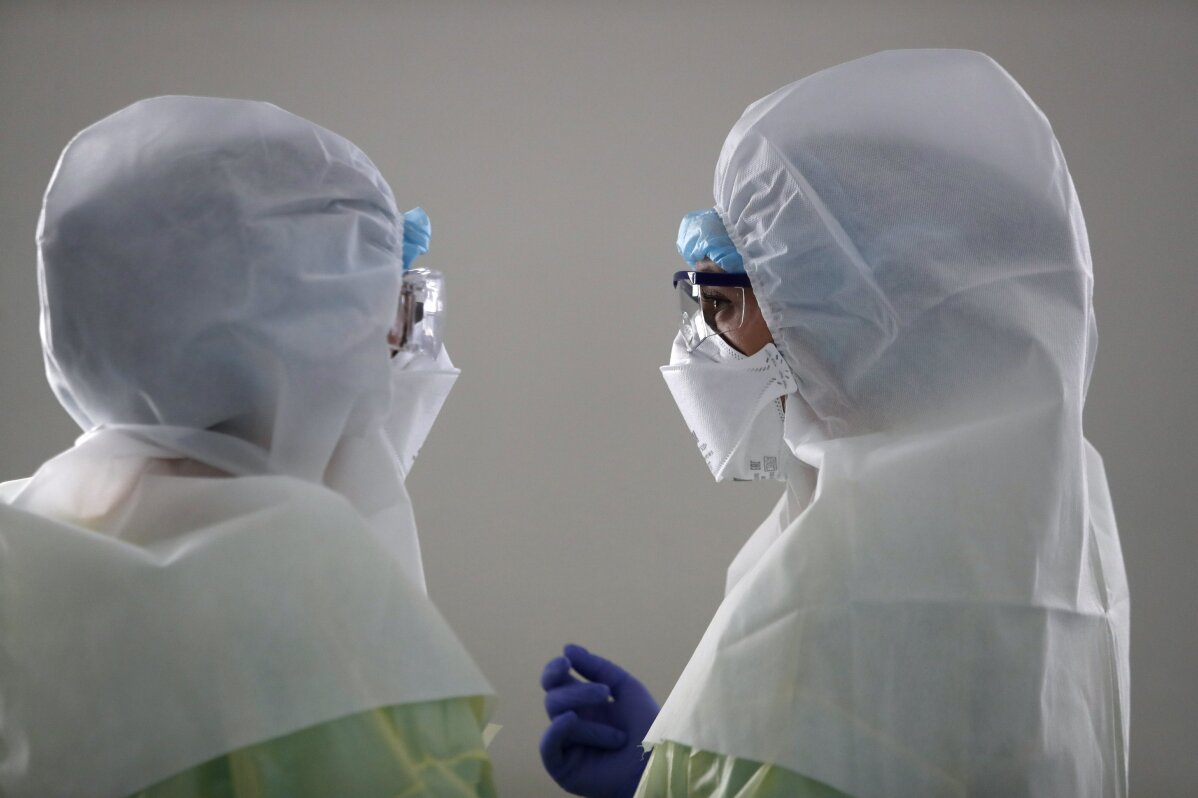 18 of 21

|
Nurse Raquel, right, talks with a colleague while tending to a patient inside a COVID-19 ICU at Santa Maria hospital in Lisbon, Friday, Oct. 30, 2020. Portugal is reporting a record number of new COVID-19 cases, deaths and hospital admissions. (AP Photo/Armando Franca)
18 of 21
Nurse Raquel, right, talks with a colleague while tending to a patient inside a COVID-19 ICU at Santa Maria hospital in Lisbon, Friday, Oct. 30, 2020. Portugal is reporting a record number of new COVID-19 cases, deaths and hospital admissions. (AP Photo/Armando Franca)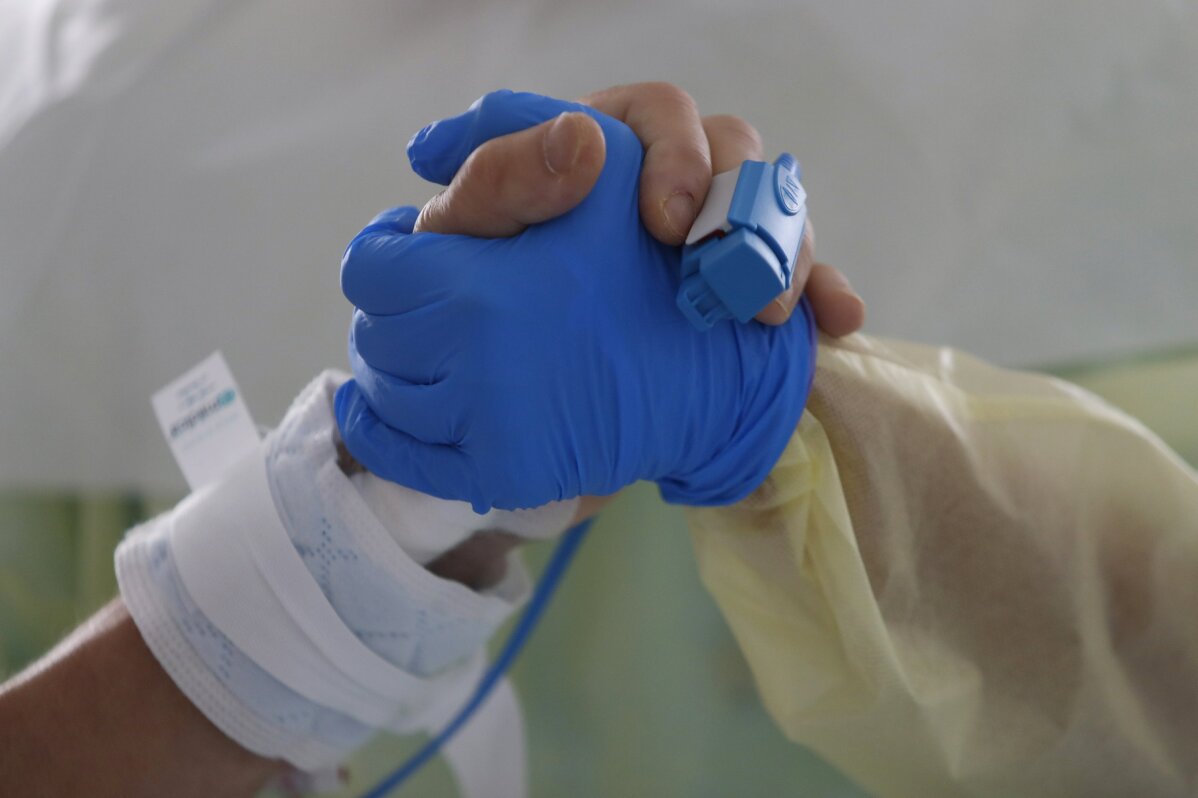 19 of 21

|
Therapist Catia Jesus holds the hand of a patient inside a COVID-19 ICU at Santa Maria hospital in Lisbon, Friday, Oct. 30, 2020. Portugal is reporting a record number of new COVID-19 cases, deaths and hospital admissions. (AP Photo/Armando Franca)
19 of 21
Therapist Catia Jesus holds the hand of a patient inside a COVID-19 ICU at Santa Maria hospital in Lisbon, Friday, Oct. 30, 2020. Portugal is reporting a record number of new COVID-19 cases, deaths and hospital admissions. (AP Photo/Armando Franca)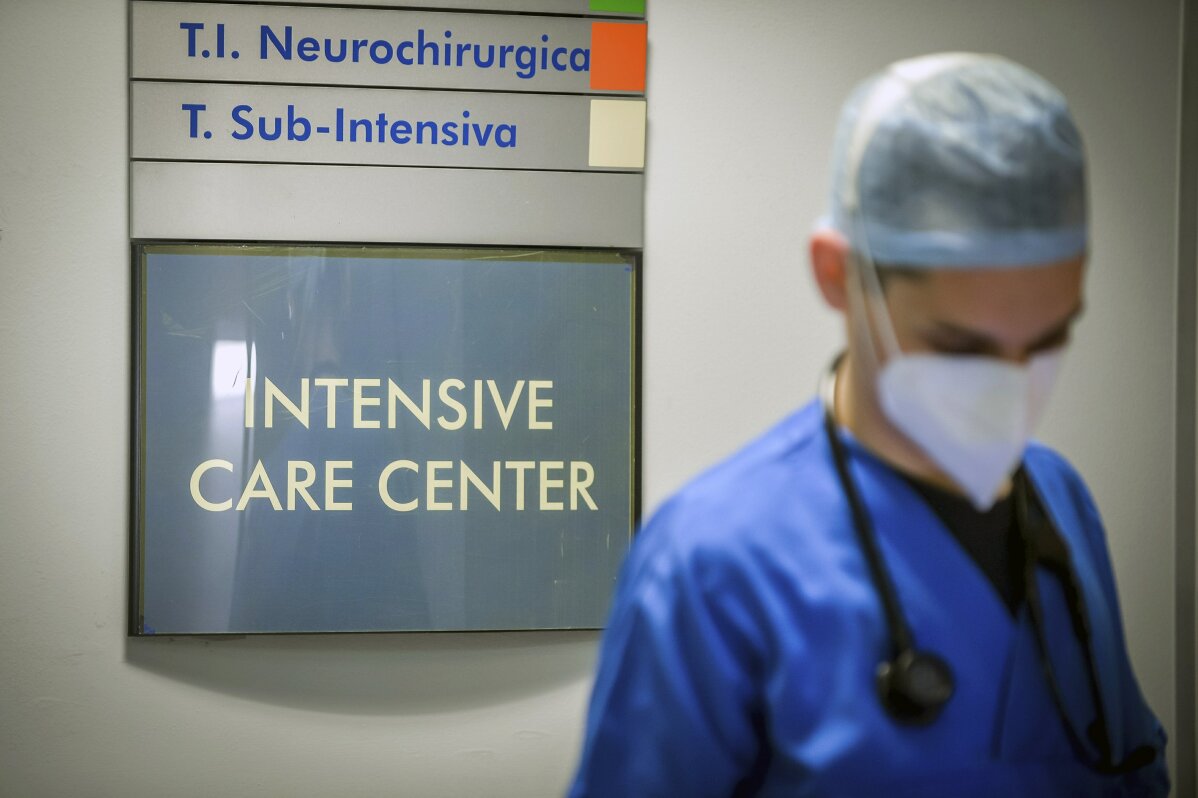 20 of 21

|
A medical staffer looks down as he walks outside the intensive care unit of the Circolo Hospital and Macchi Foundation of Varese, Italy, Friday, Oct. 30, 2020. Italy on Friday added more than 31,000 confirmed new cases of COVID-19 since the previous day, the highest one-day new caseload for the country in the pandemic. "The epidemic is galloping" in Italy, said Gianni Rezza, a top Health Ministry official. (Claudio Furlan/LaPresse via AP)
20 of 21
A medical staffer looks down as he walks outside the intensive care unit of the Circolo Hospital and Macchi Foundation of Varese, Italy, Friday, Oct. 30, 2020. Italy on Friday added more than 31,000 confirmed new cases of COVID-19 since the previous day, the highest one-day new caseload for the country in the pandemic. "The epidemic is galloping" in Italy, said Gianni Rezza, a top Health Ministry official. (Claudio Furlan/LaPresse via AP)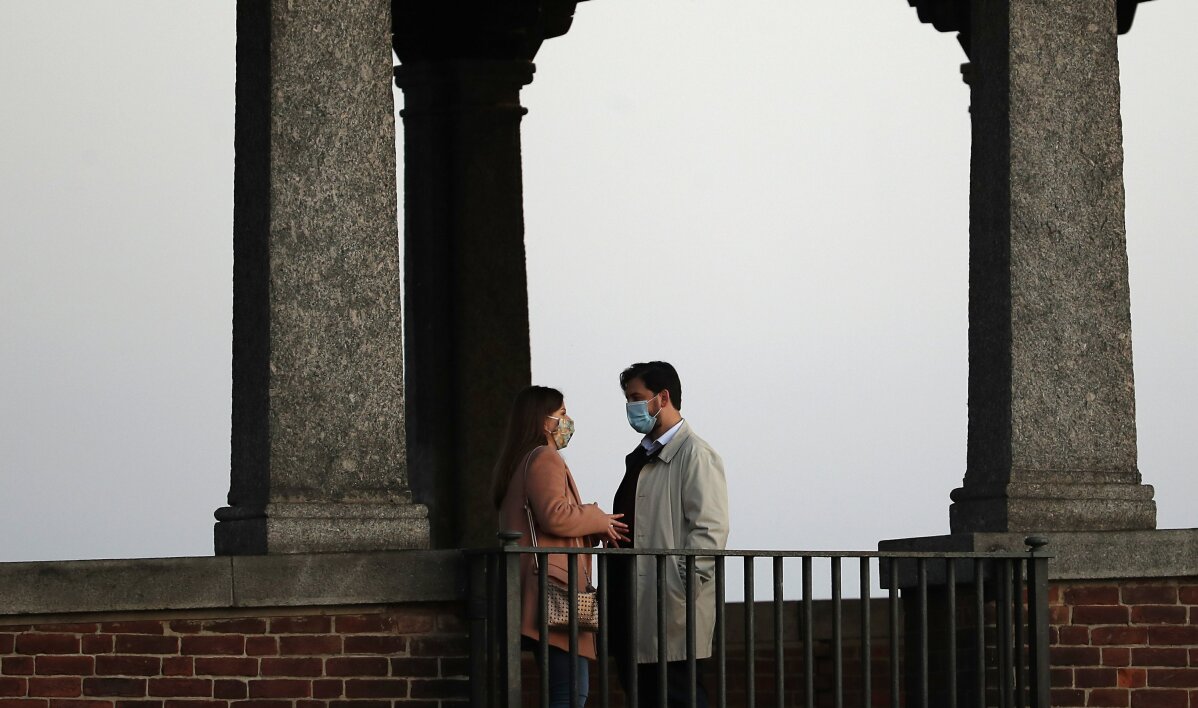 21 of 21

|
A man and a woman wearing face masks talk as they stand on the Ponte Coperto (Covered bridge), also known as Ponte Vecchio (Old Bridge), a brick and stone arch bridge over the Ticino River, in Pavia, some 40 kilometers (24 miles) away rom Milan, Italy, Friday, Oct. 30, 2020. (AP Photo/Antonio Calanni)
21 of 21
A man and a woman wearing face masks talk as they stand on the Ponte Coperto (Covered bridge), also known as Ponte Vecchio (Old Bridge), a brick and stone arch bridge over the Ticino River, in Pavia, some 40 kilometers (24 miles) away rom Milan, Italy, Friday, Oct. 30, 2020. (AP Photo/Antonio Calanni)
FRANKFORT, Ky. -- Kentucky reported a near-record number of new coronavirus cases Friday as the surging outbreak continued sending more people to hospitals, Gov. Andy Beshear said.
"This is a dangerous time. We're moving the wrong way," the Democratic governor said as he urged Kentuckians to wear masks in public to protect themselves and those around them.
Beshear reported 1,941 new COVID-19 cases — the second-highest statewide daily total since the pandemic began — and 15 more virus-related deaths.
The state's positivity rate reached 6.19% — the highest level since May 6, he said.
The recent surge has led to rising hospitalizations. On Friday, there were 974 patients hospitalized in Kentucky due to the virus, the governor said, noting the number of COVID-19 patients in intensive care rose to 241.
"Remember, the more cases, the more people in the hospital, the more people in the ICU and the more people who die," Beshear said.
Total statewide COVID-19 cases surpassed 105,000, and the virus-related death toll reached at least 1,476. The latest deaths announced included people ranging in ages from 39 to 91.
___
HERE'S WHAT YOU NEED TO KNOW ABOUT THE VIRUS OUTBREAK:
— U.S. now has 9 million confirmed cases of the coronavirus
— Georgia Gov. Kemp in quarantine after coronavirus exposure
— Virus antibody drug trial paused for safety issue by Regeneron Pharmaceuticals
— Kenya joins trial of AstraZeneca coronavirus vaccine
— European countries want WHO given greater powers to independently investigate outbreaks and compel countries to provide more data,
— For many Latinos, coronavirus deaths loom over Day of the Dead. Some are mourning more than one relative, which underscores the pandemic's disproportionate impact on communities of color.
— Curious about going to a movie theater in U.S.? A few things to know.
Follow AP's coronavirus pandemic coverage at http://apnews.com/VirusOutbreak and https://apnews.com/UnderstandingtheOutbreak
___
HERE'S WHAT ELSE IS HAPPENING:
ORLANDO, Fla. — Walt Disney World says it plans to lay off more than 11,000 unionized workers because of the new coronavirus, bringing the total number of pandemic-related job casualties at the Florida resort to almost 18,000 positions.
Disney World said in a letter to state and local leaders Thursday that the 11,350 union workers — mostly part-timers — will be laid off at the end of the year. Company officials previously had said that another 6,400 nonunion Disney employees in Florida would lose their jobs.
Earlier this week, 720 Disney World actors and singers were laid off since many of the live entertainment shows at the Florida resort have gone dark, according Actors' Equity Association, the labor union representing the performers.
The layoffs are part of a decision by The Walt Disney Co. last month to eliminate 28,000 positions in its parks division in California and Florida because of the pandemic.
Disney's parks closed last spring as the coronavirus began spreading in the U.S. The Florida parks reopened this summer with restrictions on how many people could be in the parks at any given time and new requirements for social distancing and mask-wearing. The California parks have yet to reopen because of restrictions by the state of California.
___
TOPEKA, Kan. — Kansas counties that require masks have seen about half as many new coronavirus infections as counties that don't mandate face coverings, a study has found, as cases statewide surged again to record levels.
"Do Masks Matter in Kansas" produced by the Institute for Policy and Social Research at the University of Kansas found that counties that require masks saw a decrease in their seven-day rolling average of daily cases per 100,000 population starting 14 days after the mandate was issued.
"Masks, it is important to note, do not eliminate COVID, but they significantly slow the spread of the disease — at least here in Kansas," said Donna K. Ginther, the institute's director, in a video presenting the study's findings. The Institute for Policy and Social Research at the University of Kansas has been tracking the impact of COVID-19 on the state, The Kansas City Star reported.
Kansas Gov. Laura Kelly tried over the summer to issue a statewide mask mandate, but most of the state's 105 counties opted out. This week, Kelly and top Republicans agreed to try to persuade counties that are coronavirus hot spots to impose mask requirements rather than having the state step in. But she said she could still call the Republican-controlled Legislature into special session to impose a statewide rule.
Counties without mask mandates have seen the seven-day rolling average of daily cases per 100,000 steadily increase. And in September, those counties started to have higher case rates compared to counties with a mask mandate, Ginther said.
"We found a 50% reduction in the spread of COVID-19 in counties that had a mask mandate compared to those without," Ginther said.
___
NEW YORK CITY — The coronavirus can spread more extensively in households than previous research suggests, and kids can transmit it at about the same rate as adults do, according to a new study.
The study shows how important it is for people who test positive to isolate themselves within a home, and for them and everyone else to wear masks when they are in common areas, researchers said.
The Centers for Disease Control and Prevention released the study Friday. The researchers focused on 101 households in Tennessee and Wisconsin.
In each home, after a person was diagnosed, other household members agreed to undergo nasal swab or saliva tests and kept symptom diaries. Nearly 300 people participated. About 100 were identified as the first to be infected and the other 200 people lived with them.
About 53% of the household members tested positive, and most were diagnosed within five days of the time the first person got sick. Previous studies have estimated the secondary infection rate at around half that.
___
SAO PAULO — Four tourists were arrested on Thursday in Brazil for allegedly falsifying COVID-19 tests in an attempt to reach what some say is the world's most beautiful beach.
The two men and two women were arrested after landing in Fernando de Noronha, a group of islands offshore northern Brazil, according to a statement posted on the archipelago's official website. The Brazilians, who took a private jet and arrived Wednesday night, were accused of falsifying documents, using falsified documents and criminal association.
TripAdvisor users rated Fernando de Noronha's Sancho Bay as the world's top beach in 2020.
Fernando de Noronha reopened to tourists on Oct. 10, requiring COVID-19 tests that show negative results and administered no earlier than one day before departure. The visitors presented test results that were dated three days prior to their arrival.
___
KNOXVILLE, Tenn. — Three tigers at a Tennessee zoo are in quarantine after one tested positive for the coronavirus, according to a Friday news release from Zoo Knoxville.
The United States Department of Agriculture's national veterinary lab confirmed the positive test for Bashir, an 11-year-old male Malayan tiger, the Knoxville News Sentinel reported.
Two other tigers, 11-year-old male Tanvir and 6-year-old female Arya, are presumed positive while their tests are being processed. All three animals have experienced mild coughing, lethargy and decreased appetite.
___
SIOUX FALLS, S.D. — South Dakota broke its record for new coronavirus infections reported in one day on Friday as 1,560 people tested positive.
The new virus cases brought the number of cases statewide to 13,520, according to the Department of Health. That means that roughly one out of every 65 people currently has an active infection. The state has ranked second in the nation for new cases per person over the last two weeks, according to Johns Hopkins researchers. There were about 1,359 new cases per 100,000 people.
The Department of Health also reported 12 new deaths, bringing the tally of COVID-19 deaths to 415 since the pandemic began. October has been the state's deadliest month as health officials reported 192 of those deaths this month.
The number of hospitalizations declined by 10 people to 403, breaking a run where hospitalizations hit new highs for five days in a row. About 31% of general-care hospital beds and 37% of ICU beds remained available in the state.
___
BALTIMORE — The U.S. now has 9 million confirmed cases of the coronavirus, according to data compiled by Johns Hopkins University, as infections continue to rise in nearly every state.
It took two weeks to reach the mark from 8 million, the fastest jump of 1 million yet. It had taken more than three weeks for the total to rise from 7 million to 8 million.
Confirmed U.S. cases are on the rise in 47 states. Deaths are up 14% over the past two weeks, averaging more than 800 every day. The virus has now killed more than 229,000 Americans.
___
SAN FRANCISCO — San Francisco will temporarily halt the reopening of additional activities and businesses planned for next week because of an increase in coronavirus case rates and hospitalizations, the city's mayor and health director said Friday.
That includes expanding capacity for indoor dining at restaurants, and at places of worship and museums among other businesses, as cases increase not just in San Francisco but also in California and nationally, said Mayor London Breed and Director of Public Health Dr. Grant Colfax.
San Francisco's case rate has gone from 3 people per 100,000 to 4 people per 100,000 in the last two weeks, Colfax said, a 25% increase.
"We are still in the midst of a pandemic," Breed said. "We are tired of COVID-19 but COVID-19 isn't tired of us."
The number of infections is thought to be far higher because many people have not been tested, and studies suggest people can be infected with the virus without feeling sick.
___
PROVIDENCE, R.I. — Rhode Island Gov. Gina Raimondo reduced the maximum number of people allowed at casual social gatherings from 15 to 10, barred spectators from youth sporting events, closed indoor sports facilities, and ordered businesses to remind customers to wear masks in an effort to stem a rising wave of new coronavirus cases.
The restrictions were announced Friday, on a day when the state Department of Health reported another 482 confirmed cases, and a daily test positivity rate of 3.3%.
She said state data is clear that the spread is being fueled by small, unstructured social gatherings where people let their guard down and stop wearing masks, and not in structured settings such as workplaces and schools. So she told residents to limit their social network to the same 10 people and avoid all nonessential activities, including parties, barbecues, baby showers and similar gatherings.
The goal of the new regulations is to disrupt schools and commerce as little as possible.
Hosts of parties and other gatherings that violate the 10-person limit are subject to a fine of $500 per guest over the limit. Spectators are banned from youth and school sports for two weeks. As of Monday, all skating rinks and indoor sports facilities will be required to close for one week while the state comes up with new safety protocols.
The rules around sports do not apply to colleges or pro teams.
___
DEWITT TOWNSHIP, Mich. — An entire police department north of Lansing is off duty because of the coronavirus.
DeWitt Township closed the department Wednesday due to some positive cases. Other officers and staff were told to quarantine, township manager Andrew Dymczyk said.
The department's 18 employees include 15 officers, he said.
"We'll reevaluate over the next few days," Dymczyk said. "We're very grateful for our neighbors helping us. They've all been great."
The township, which has a population of 15,000, said anyone who came in close contact with a member of the police department between Oct. 14 and Oct. 27 should monitor their health.
Police in neighboring communities, as well as state police and Clinton County sheriff's deputies, were available to respond to calls in DeWitt.
___
ATLANTA — Georgia Gov. Brian Kemp and his wife have gone into quarantine after being exposed to someone who tested positive for the coronavirus.
Spokesman Cody Hall says Kemp and first lady Marty Kemp had a coronavirus test, although he didn't say if they'd received the results.
Georgia has had more than 350,000 confirmed cases of the virus. More than 7,900 people in the state have died after contracting the virus, according to data from the state Department of Public Health.
___
NAIROBI, Kenya — Kenya has joined the trial of the AstraZeneca coronavirus vaccine, which was developed with Oxford University.
The Kenya Medical Research Institute says the first of 40 volunteers have been vaccinated and all are frontline health workers. It says another 360 volunteers will be recruited once the vaccine's safety is confirmed. All will be monitored for more than a year.
Trials of the AstraZeneca vaccine have been under way in South Africa, Brazil and other countries.
The African government have been outspoken about the need to carry out more vaccine trials on the continent of some 1.3 billion people.
The announcement comes as Kenya's government says a second surge in coronavirus cases has begun in East Africa's economic hub.
___
LINCOLN, Neb. — Nebraska has added a record 1,605 coronavirus cases, joining several Midwest states with increased caseloads and hospitalizations.
The state's COVID-19 dashboard shows new hospitalizations reached an all-time high of 528 on Thursday.
The seven-day rolling average of daily new cases in Nebraska increased the past two weeks from 724 on Oct. 15 to 891 on Thursday, according to data from Johns Hopkins University.
Nebraska has had 68,150 confirmed cases and 637 deaths since the start of the pandemic.
___
PHOENIX — Arizona' reported 1,565 coronavirus cases and 16 more deaths on Friday.
The tallies were reported a day after Gov. Doug Ducey defended his administration's handling of the outbreak but warned "there is a storm ahead of us."
The seven-day rolling average for daily cases rose in the past two weeks from 764 on Oct. 15 to 1,082 on Thursday, according to Johns Hopkins University data analyzed by The Associated Press.
The state Department of Health Services increasing the state's totals to 244,045 cases and 5,934 deaths.
___
PRAGUE — The Czech Parliament will extend a state of emergency to Nov. 17 amid a record surge in coronavirus cases.
On Wednesday, the government imposed a nationwide curfew from 9 p.m. to 5 a.m. All stores must close on Sundays and employees in state and private companies are recommended to work from home. The government says it won't reopen elementary schools as planned on Monday because the rising infections.
More than 7,000 people are hospitalized with the coronavirus, putting the health system under pressure.
The Czech Republic has 310,068 total confirmed cases, with 161,050 cases in the last two weeks. The total confirmed deaths stand at 2,862, with the addition of 908 deaths in the last week.