AP PHOTOS: Street art offers beauty, a laugh, some hope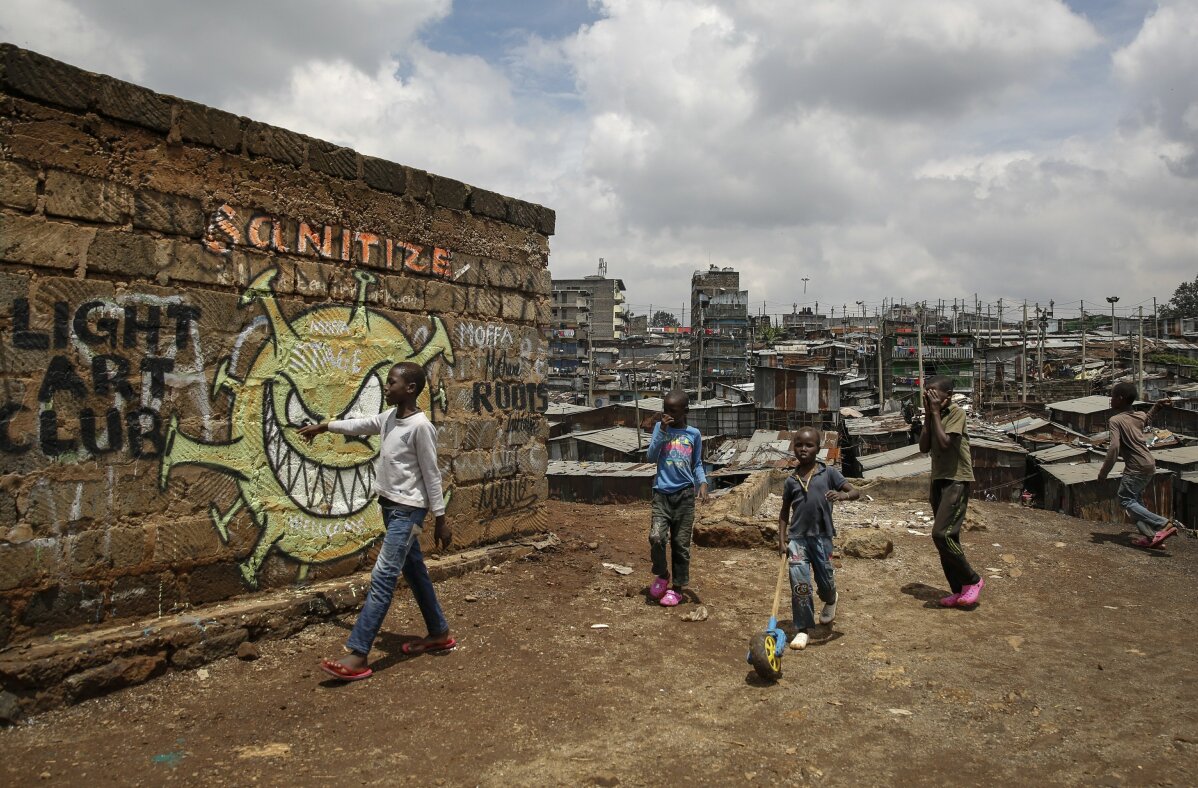 1 of 17

|
Children walk past an informational mural depicting the new coronavirus and warning people to sanitize to prevent its spread, painted by graffiti artists from the Mathare Roots youth group, in the Mathare informal settlement, of Nairobi, Kenya, Wednesday, April 22, 2020. (AP Photo/Brian Inganga)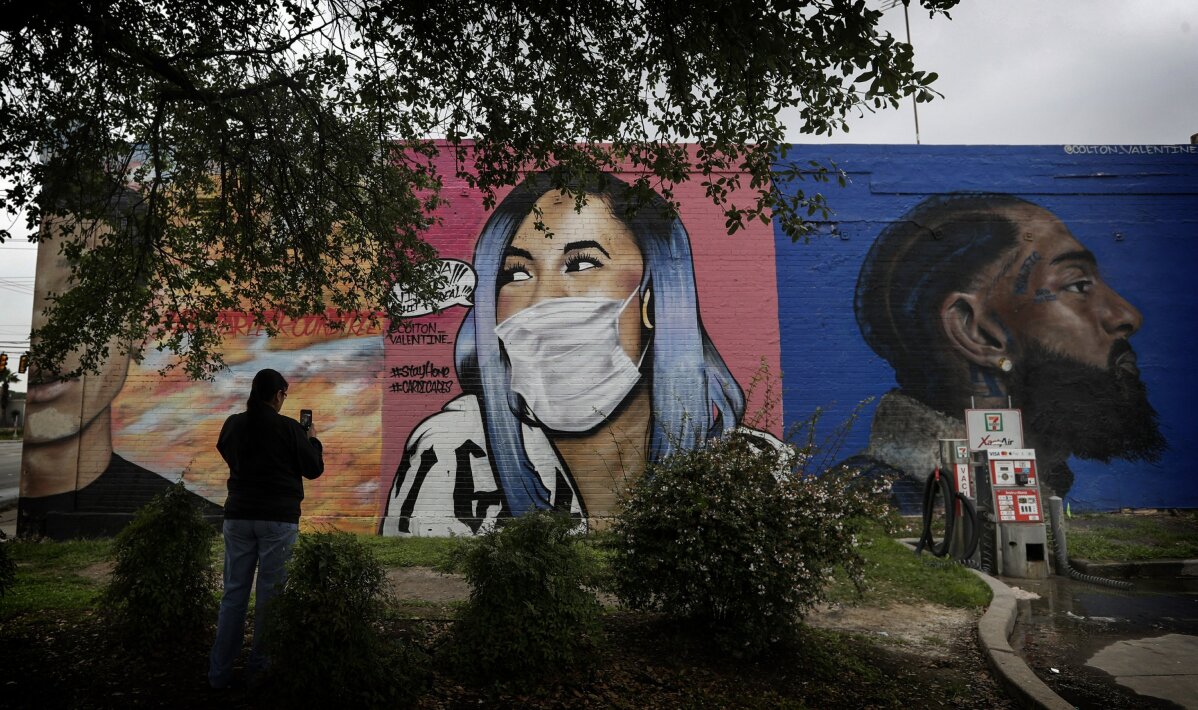 2 of 17

|
A woman photographs a mural of Cardi B that was updated by the artist Colton Valentine to include a face mask during the coronavirus outbreak in San Antonio, Monday, March 30, 2020. (AP Photo/Eric Gay)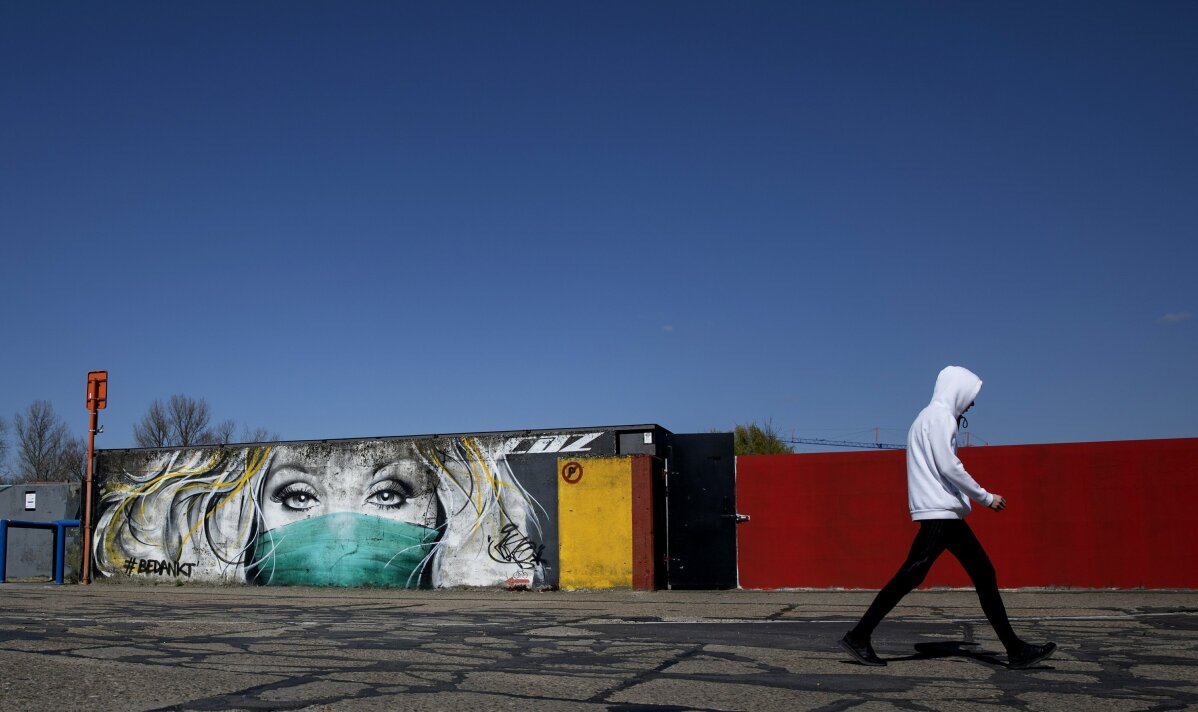 3 of 17

|
A man walks by a street art mural, depicting a healthcare worker in a face mask by Belgian street artist CAZ, during a partial lockdown against the spread of COVID-19 in Wetteren, Belgium, March 31, 2020. (AP Photo/Virginia Mayo)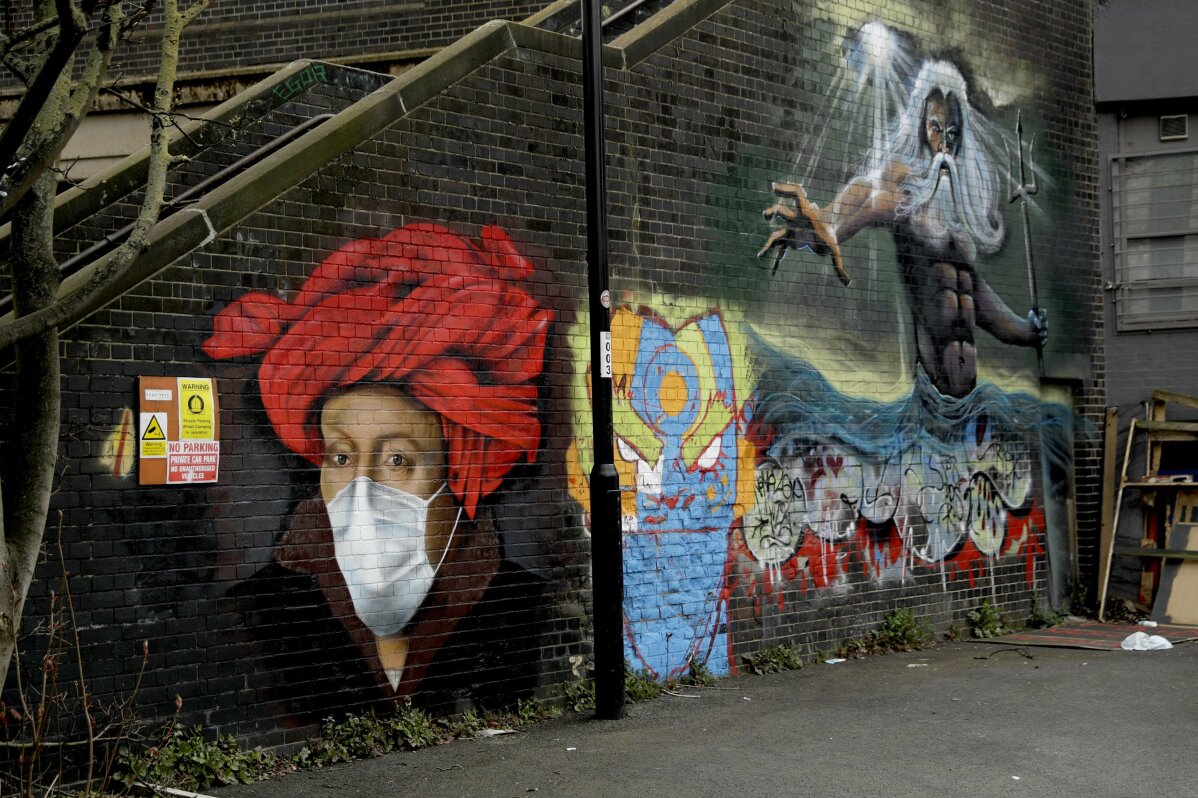 4 of 17

|
A mural by street artist Lionel Stanhope with a face mask reference to coronavirus next to one of his other works, at right, painted on a bridge wall in Ladywell, south east London, Thursday, April 2, 2020. (AP Photo/Matt Dunham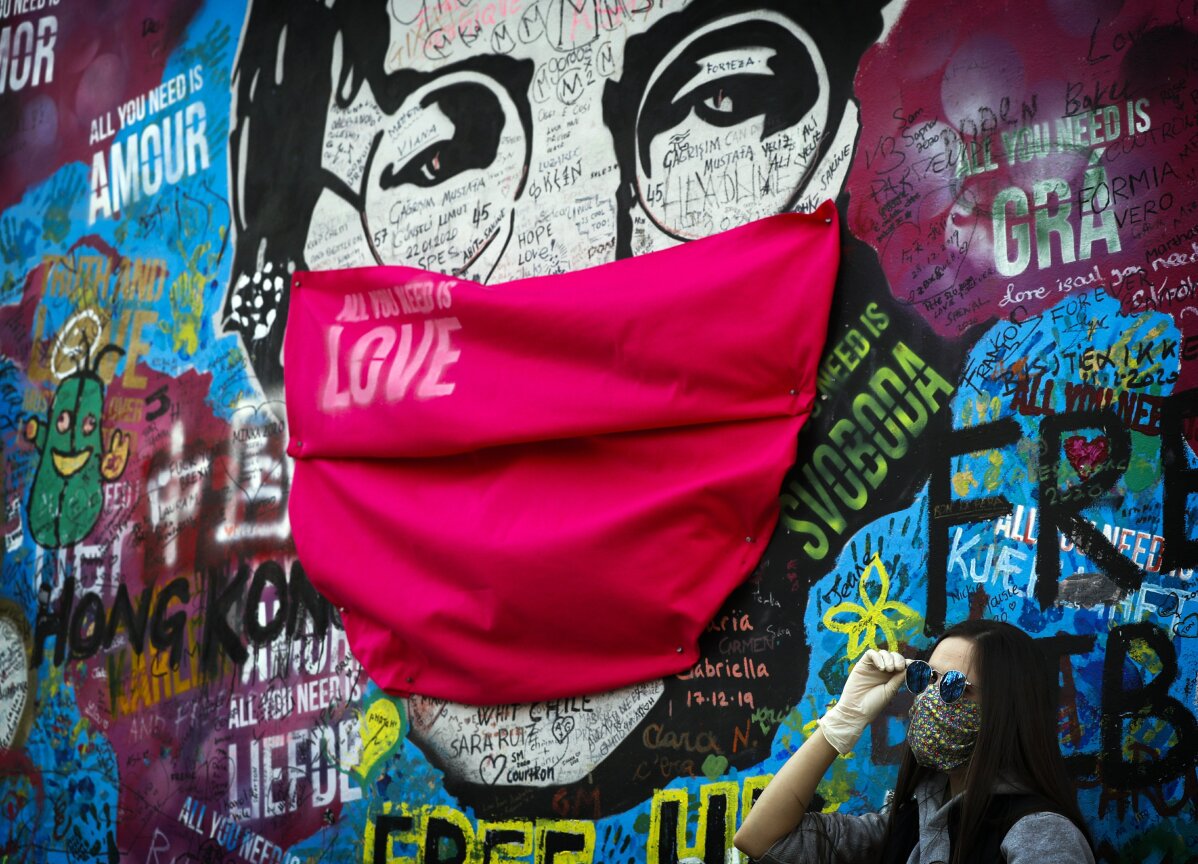 5 of 17

|
A woman poses for a photo by the "Lennon Wall" with a face mask attached to the image of John Lennon, in Prague, Czech Republic, Monday, April 6, 2020. (AP Photo/Petr David Josek)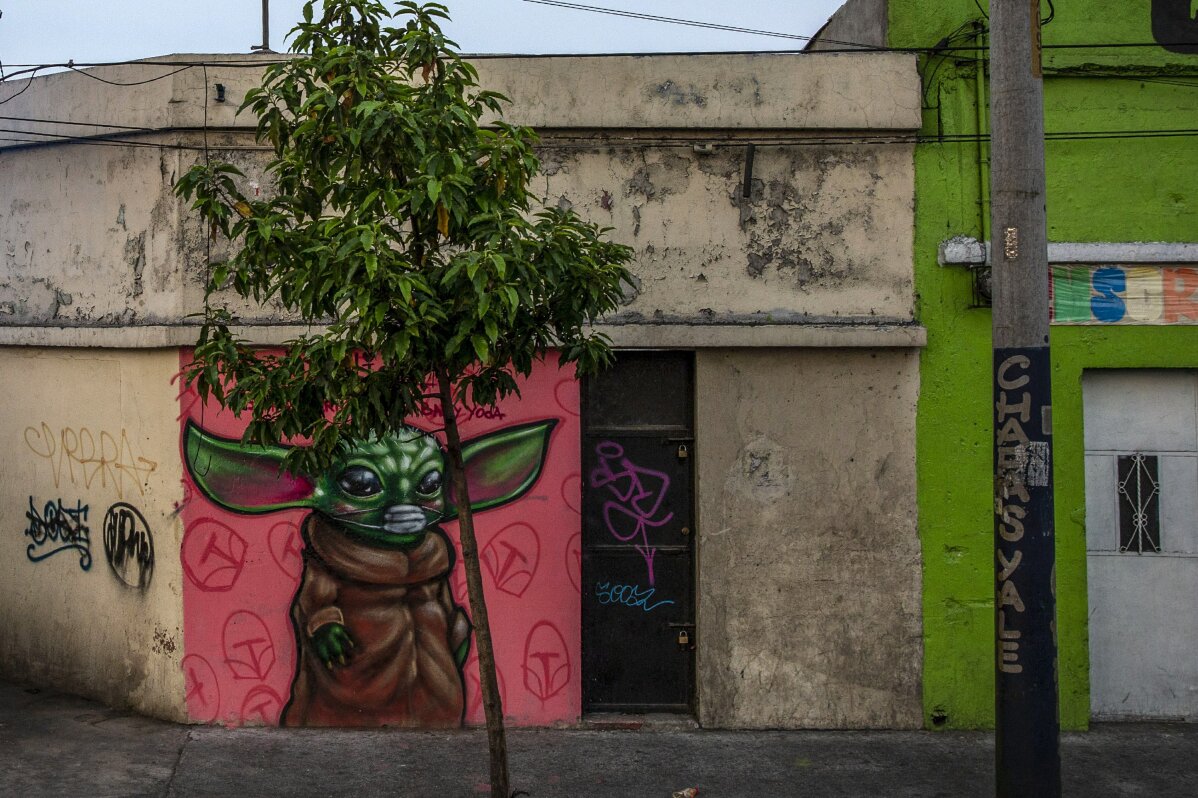 6 of 17

|
A graffiti of "The Child," dubbed "Baby Yoda" character, wearing a face mask, is painted on a wall in Guatemala City, Monday, April 6, 2020. (AP Photo/Moises Castillo)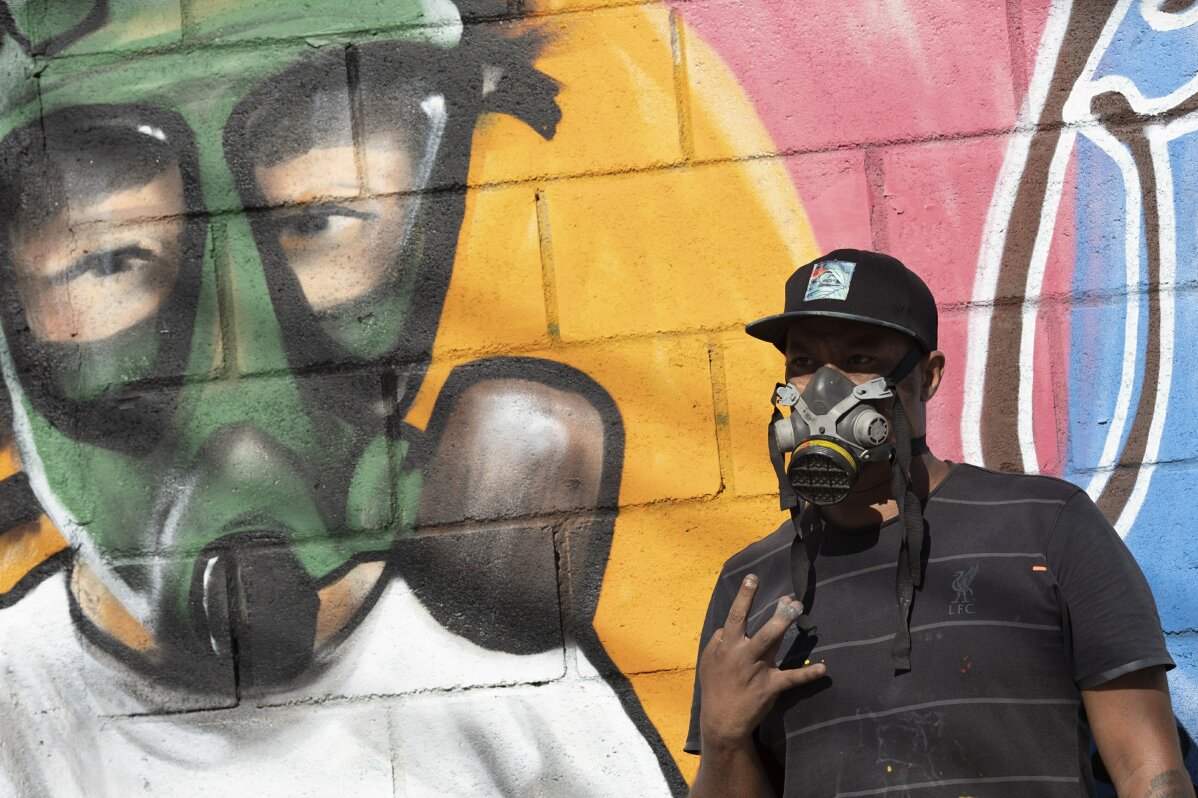 7 of 17

|
Graffiti artist Angelo Campos poses for a photo by his mural referencing the COVID-19 pandemic which he said he painted in honor of health workers in Rio de Janeiro, Brazil, Thursday, May 21, 2020. (AP Photo/Silvia Izquierdo)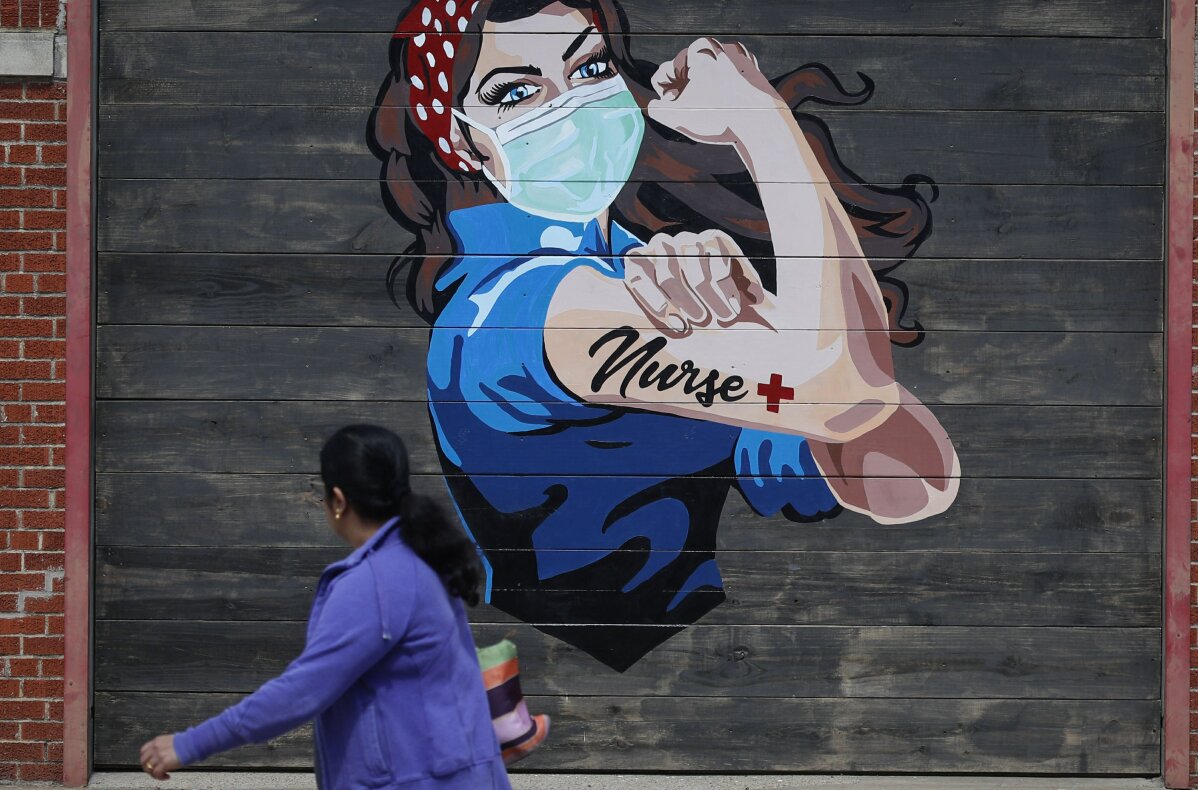 8 of 17

|
A mural near a hospital pays tribute to nurses amid COVID-19 concerns in Dallas, Tuesday, April 7, 2020. (AP Photo/LM Otero)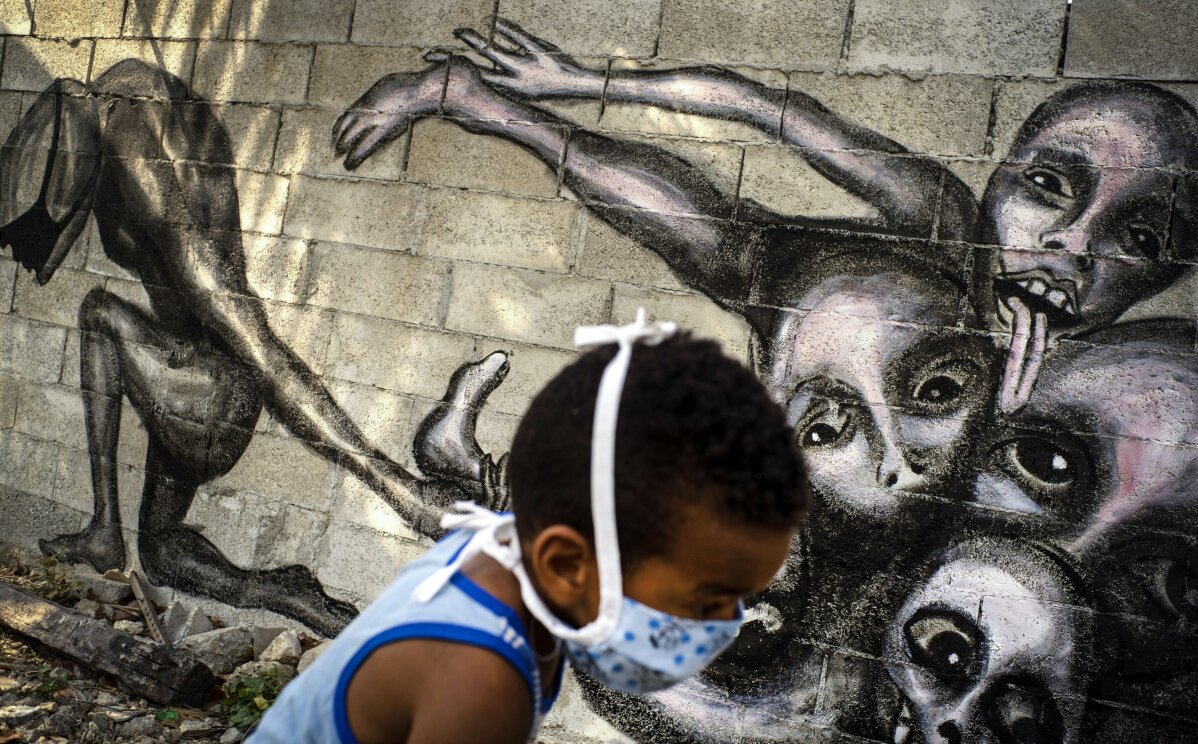 9 of 17

|
A boy wearing a mask as a precaution against the spread of the new coronavirus plays in front of a mural by artist Yulier P. titled "Marcha Hacia la Oscuridad," or Move Toward Darkness, in the patio of a home in Havana, Cuba, Friday, April 10, 2020. Yulier P. said his latest murals show humanity's powerlessness against the COVID-19 disease. (AP Photo/Ramon Espinosa)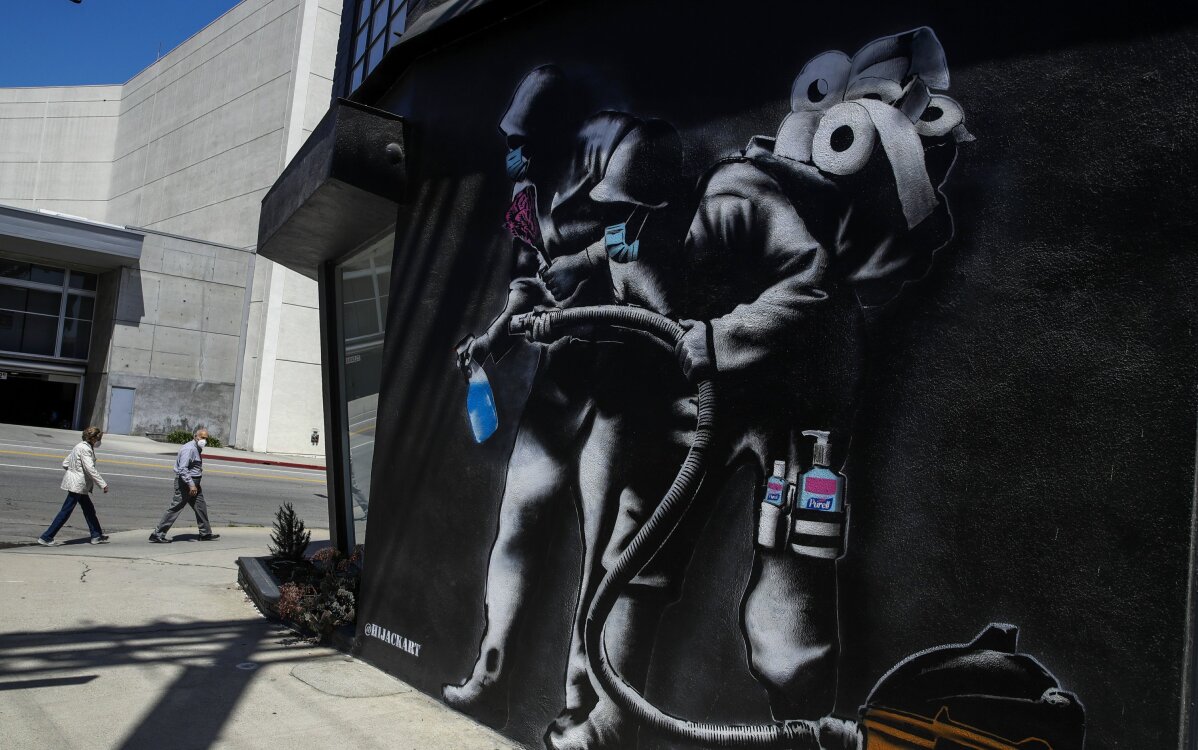 10 of 17

|
A recently painted mural depicts a coronavirus theme Tuesday, April 14, 2020, in Los Angeles. (AP Photo/Marcio Jose Sanchez)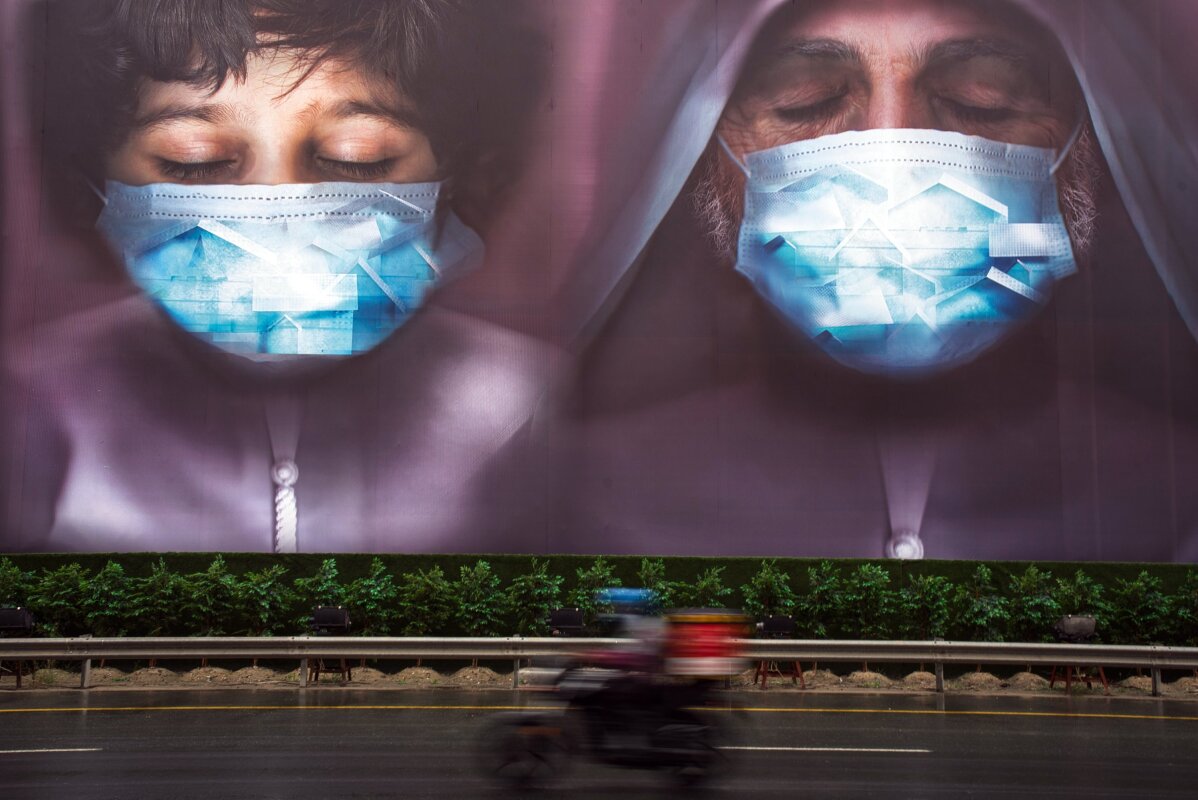 11 of 17

|
A motorcycle deliveryman rides past a billboard urging people to stay during the coronavirus pandemic in Dubai, United Arab Emirates, Wednesday, April 15, 2020. (AP Photo/Jon Gambrell)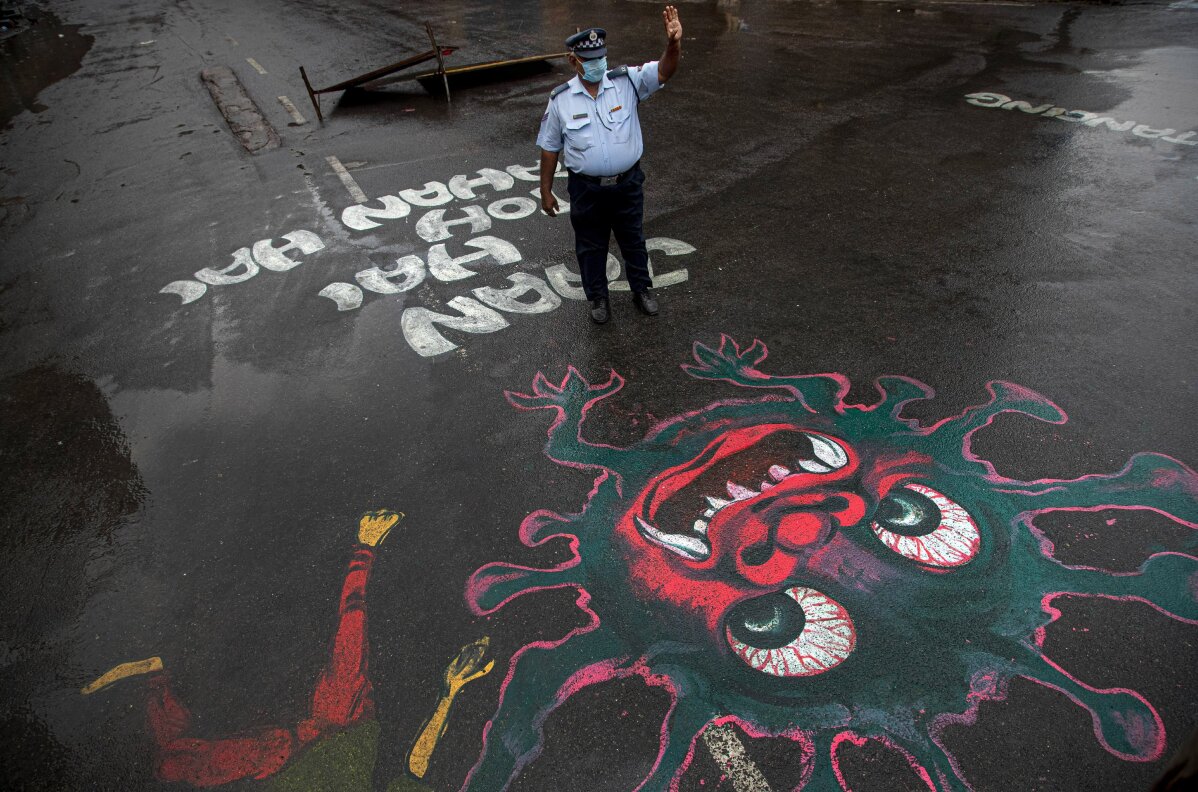 12 of 17

|
An Indian traffic policeman stands next to an artwork displayed on a road to create awareness about coronavirus during lockdown in Gauhati, India, Wednesday, April 15, 2020. (AP Photo/Anupam Nath)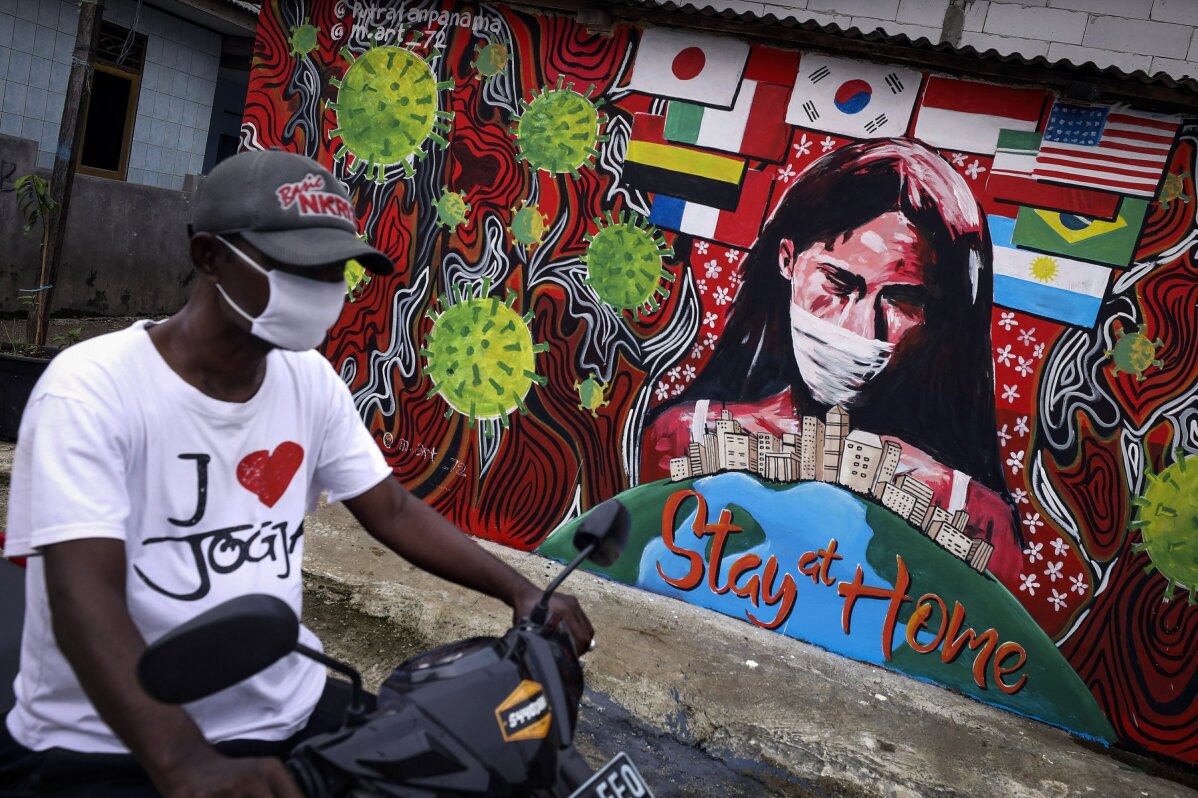 13 of 17

|
A motorist wearing a face mask rides past a coronavirus themed mural in Depok on the outskirts of Jakarta, Indonesia, Wednesday, April 15, 2020. (AP Photo/Dita Alangkara)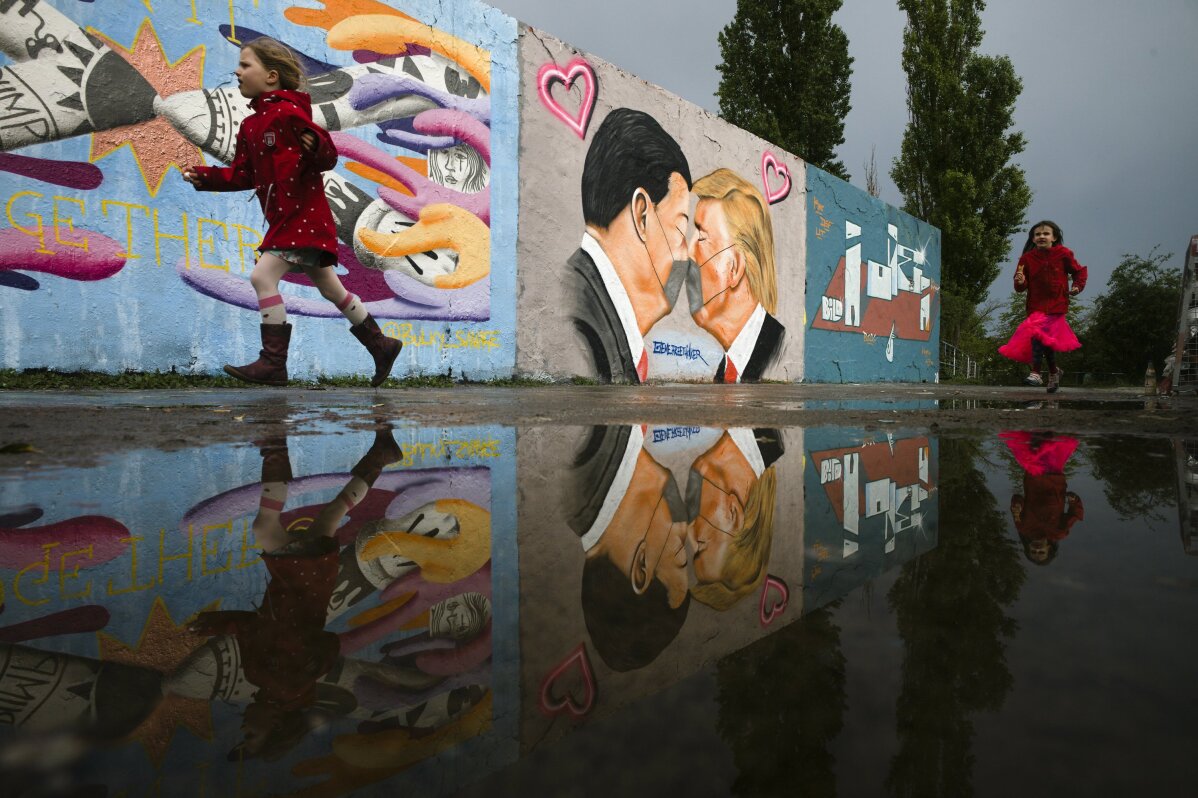 14 of 17

|
Graffiti depicts U.S. President Trump, right, and China's President Xi Jinping kissing each other with face masks on a wall in the public park Mauerpark in Berlin, Germany, Wednesday, April 29, 2020. (AP Photo/Markus Schreiber)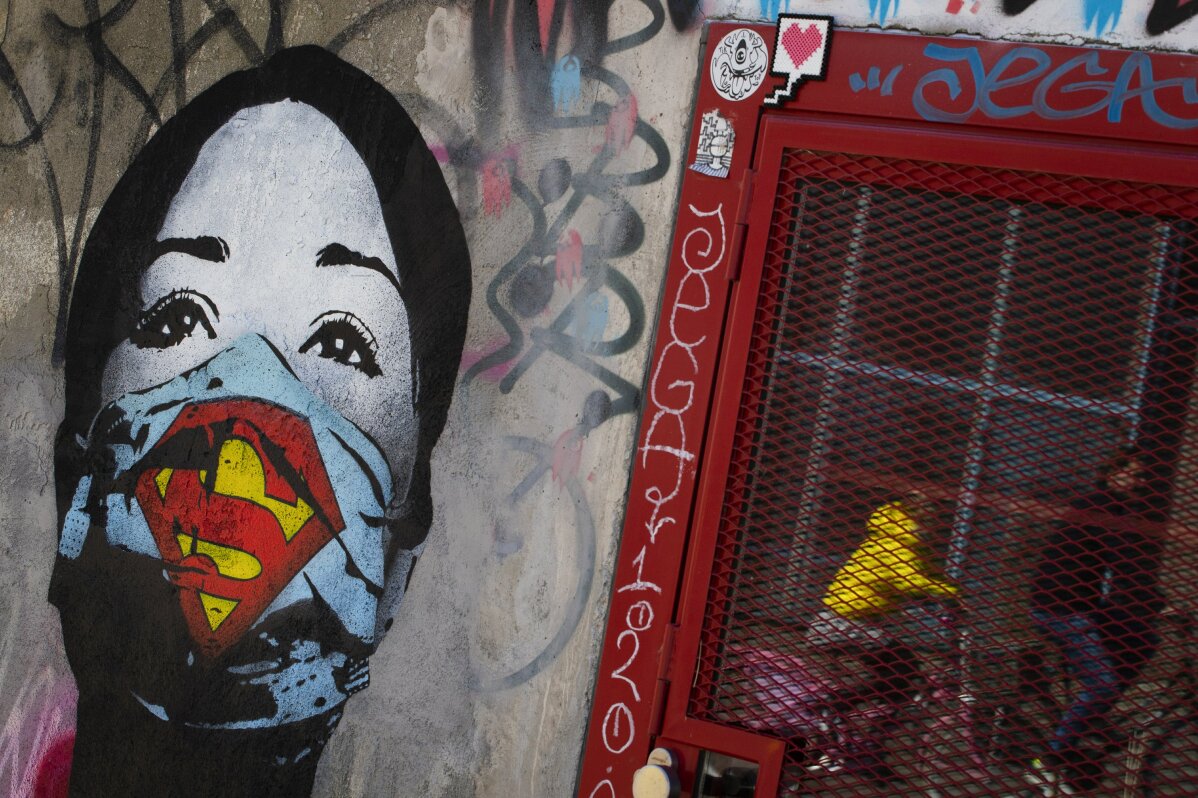 15 of 17

|
A mother and her child are reflected as they pass a mural by artist FAKE, titled "Super Nurse", paying tribute to all healthcare and medical professionals in times of the coronavirus, in Amsterdam, Netherlands, Sunday, April 19, 2020. (AP Photo/Peter Dejong)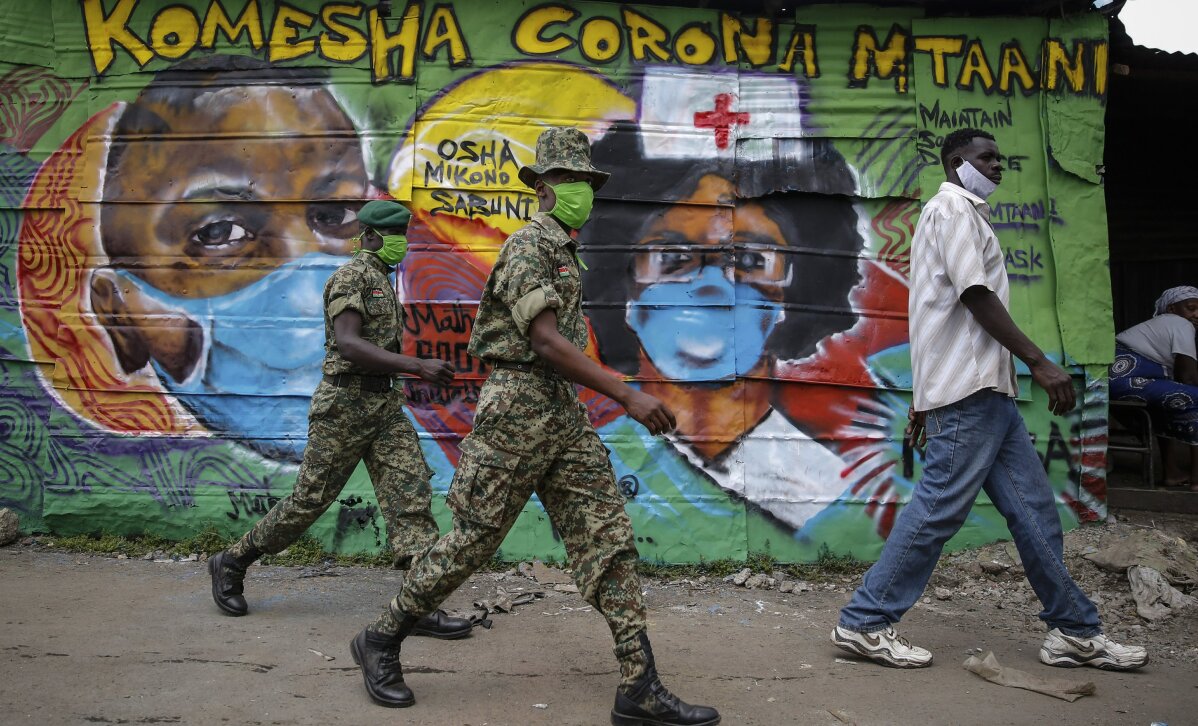 16 of 17

|
Members of the National Youth Service walk past an informational mural about the coronavirus with words in Swahili reading "Stop corona in the neighborhood", painted by graffiti artists from the Mathare Roots youth group, in the Mathare slum, or informal settlement, of Nairobi, Kenya Thursday, April 30, 2020. (AP Photo/Brian Inganga)
17 of 17

|
A mural reads "Stay Home, Life is Beautiful' Tuesday, April 14, 2020, in Los Angeles. (AP Photo/Marcio Jose Sanchez)
AP PHOTOS: Street art offers beauty, a laugh, some hope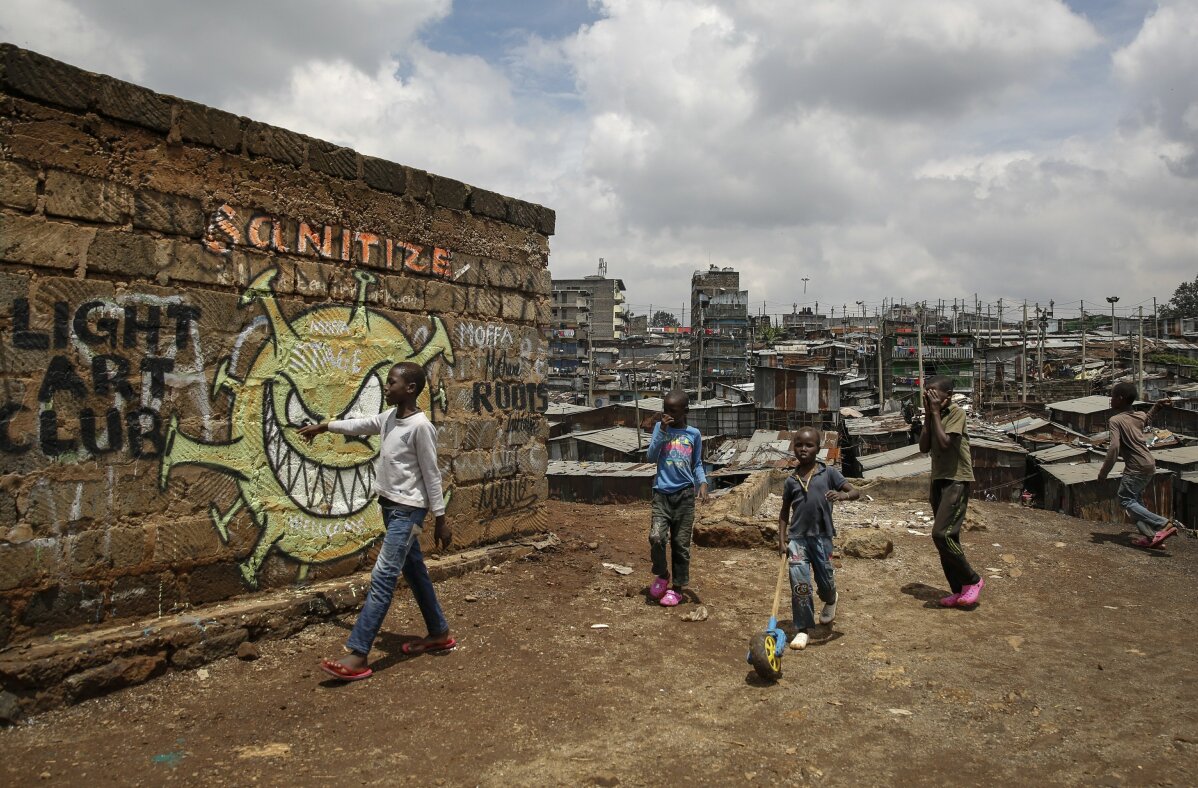 1 of 17

|
Children walk past an informational mural depicting the new coronavirus and warning people to sanitize to prevent its spread, painted by graffiti artists from the Mathare Roots youth group, in the Mathare informal settlement, of Nairobi, Kenya, Wednesday, April 22, 2020. (AP Photo/Brian Inganga)
1 of 17
Children walk past an informational mural depicting the new coronavirus and warning people to sanitize to prevent its spread, painted by graffiti artists from the Mathare Roots youth group, in the Mathare informal settlement, of Nairobi, Kenya, Wednesday, April 22, 2020. (AP Photo/Brian Inganga)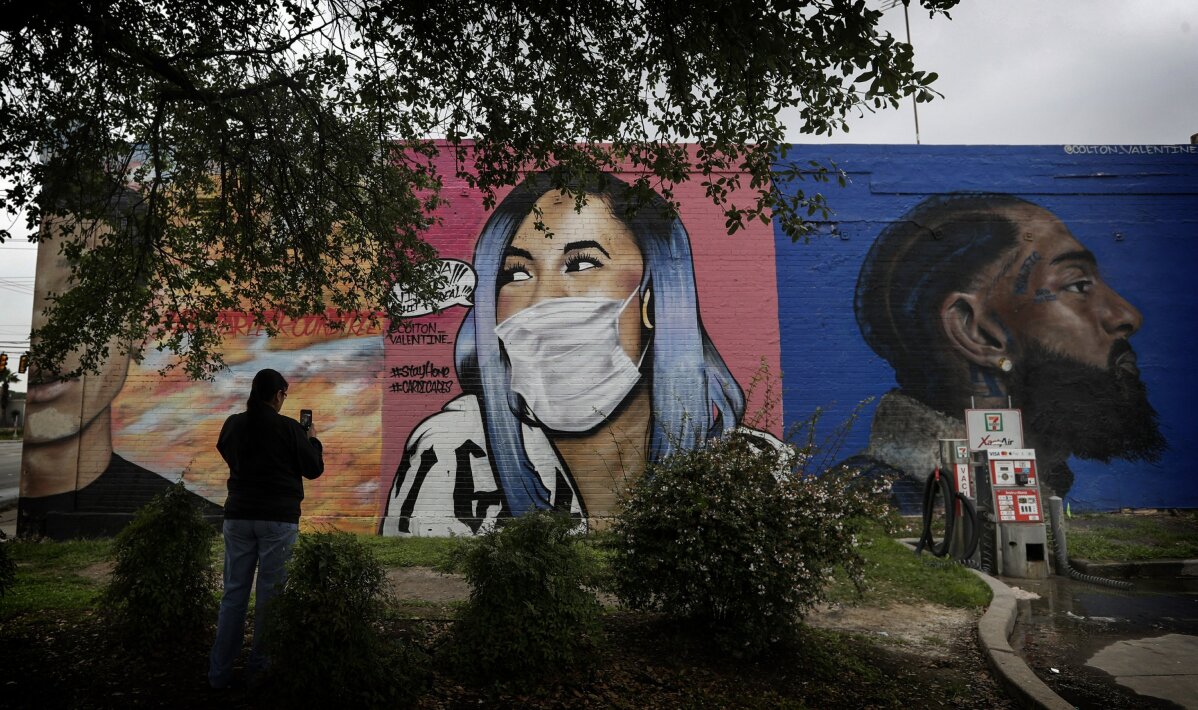 2 of 17

|
A woman photographs a mural of Cardi B that was updated by the artist Colton Valentine to include a face mask during the coronavirus outbreak in San Antonio, Monday, March 30, 2020. (AP Photo/Eric Gay)
2 of 17
A woman photographs a mural of Cardi B that was updated by the artist Colton Valentine to include a face mask during the coronavirus outbreak in San Antonio, Monday, March 30, 2020. (AP Photo/Eric Gay)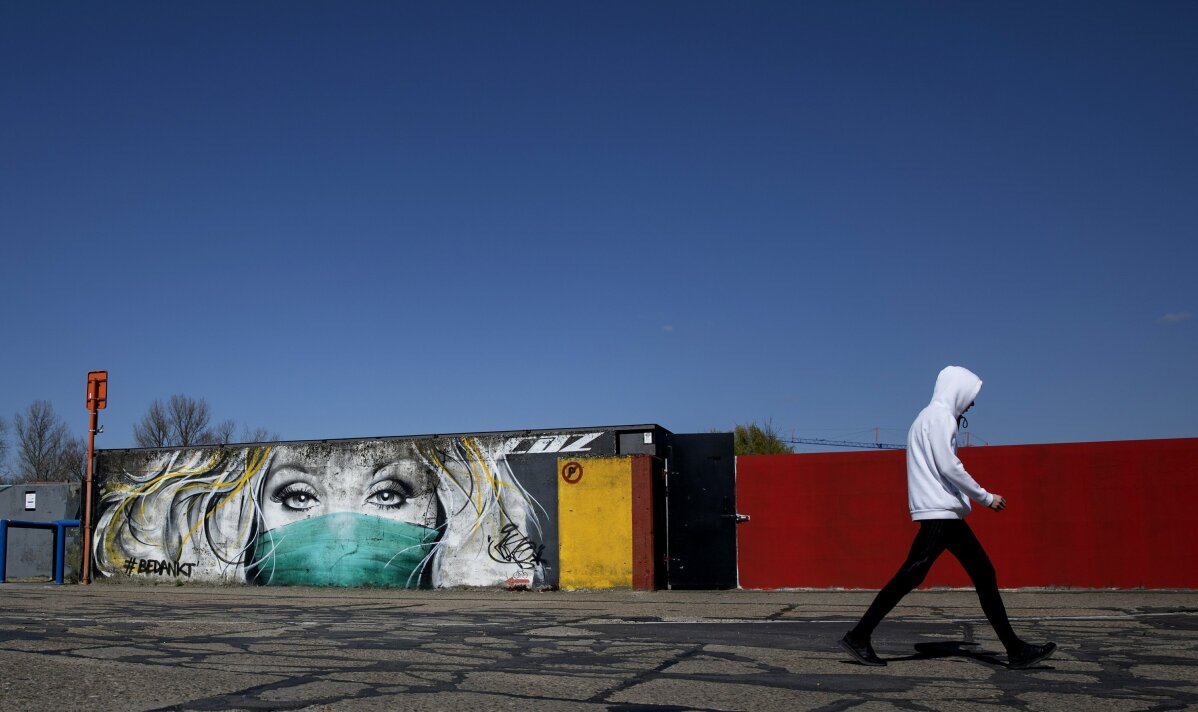 3 of 17

|
A man walks by a street art mural, depicting a healthcare worker in a face mask by Belgian street artist CAZ, during a partial lockdown against the spread of COVID-19 in Wetteren, Belgium, March 31, 2020. (AP Photo/Virginia Mayo)
3 of 17
A man walks by a street art mural, depicting a healthcare worker in a face mask by Belgian street artist CAZ, during a partial lockdown against the spread of COVID-19 in Wetteren, Belgium, March 31, 2020. (AP Photo/Virginia Mayo)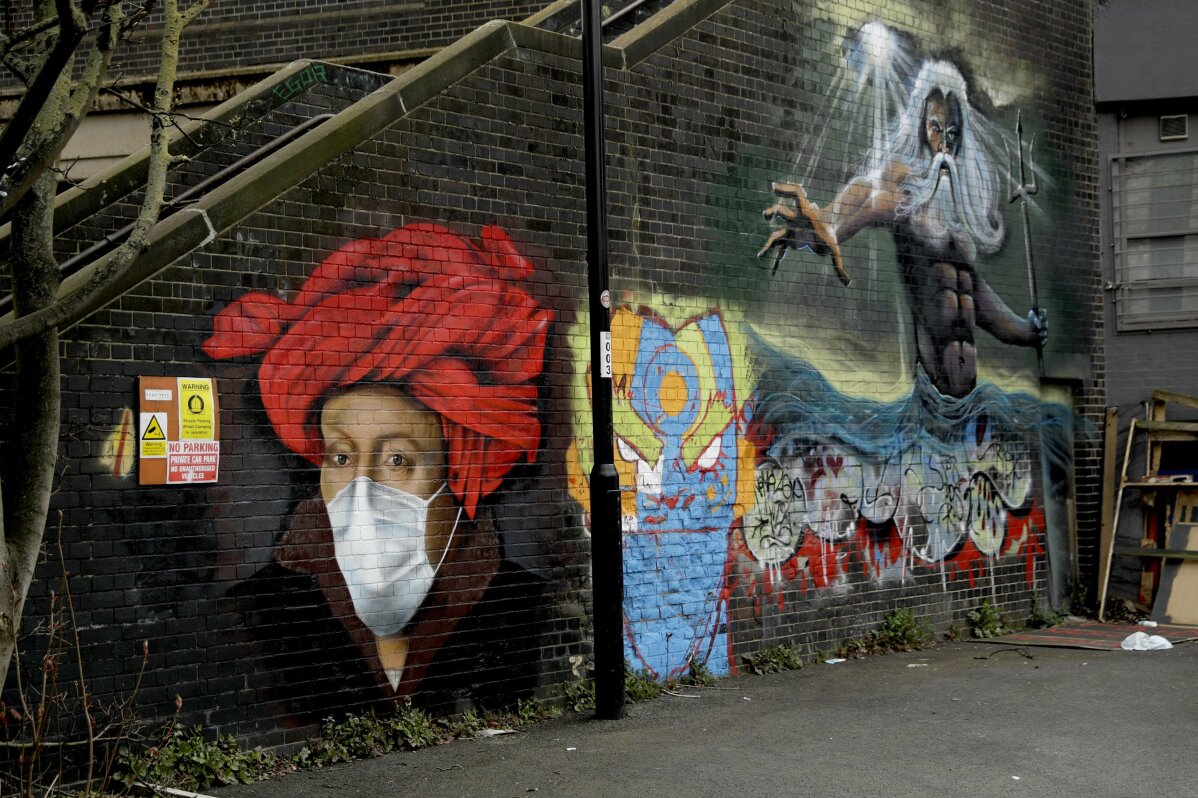 4 of 17

|
A mural by street artist Lionel Stanhope with a face mask reference to coronavirus next to one of his other works, at right, painted on a bridge wall in Ladywell, south east London, Thursday, April 2, 2020. (AP Photo/Matt Dunham
4 of 17
A mural by street artist Lionel Stanhope with a face mask reference to coronavirus next to one of his other works, at right, painted on a bridge wall in Ladywell, south east London, Thursday, April 2, 2020. (AP Photo/Matt Dunham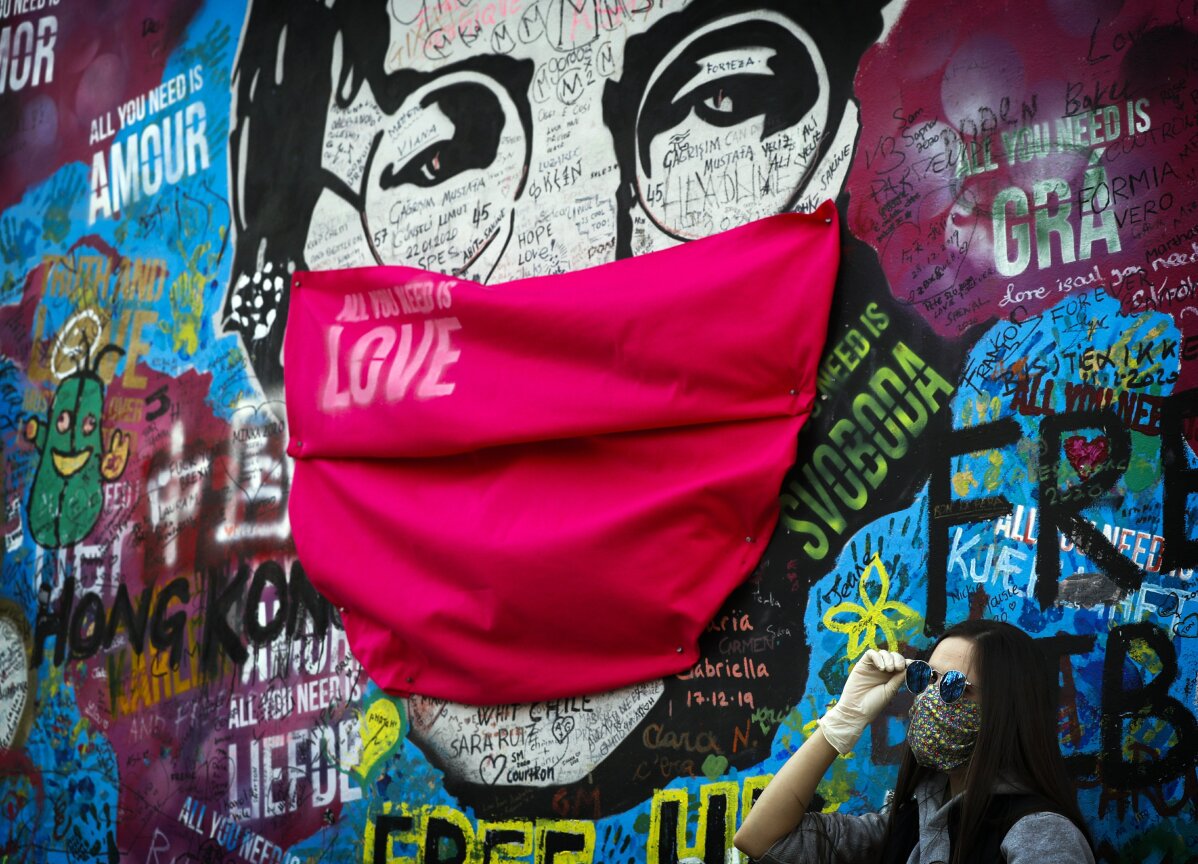 5 of 17

|
A woman poses for a photo by the "Lennon Wall" with a face mask attached to the image of John Lennon, in Prague, Czech Republic, Monday, April 6, 2020. (AP Photo/Petr David Josek)
5 of 17
A woman poses for a photo by the "Lennon Wall" with a face mask attached to the image of John Lennon, in Prague, Czech Republic, Monday, April 6, 2020. (AP Photo/Petr David Josek)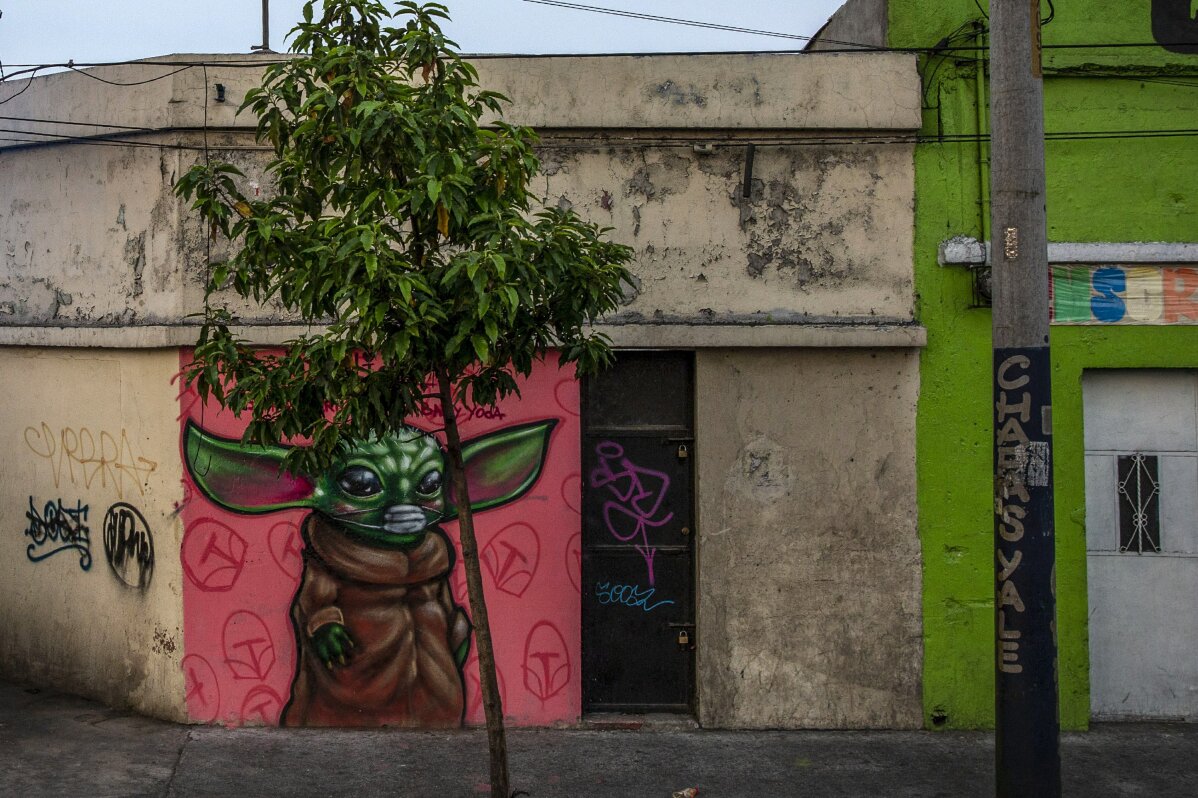 6 of 17

|
A graffiti of "The Child," dubbed "Baby Yoda" character, wearing a face mask, is painted on a wall in Guatemala City, Monday, April 6, 2020. (AP Photo/Moises Castillo)
6 of 17
A graffiti of "The Child," dubbed "Baby Yoda" character, wearing a face mask, is painted on a wall in Guatemala City, Monday, April 6, 2020. (AP Photo/Moises Castillo)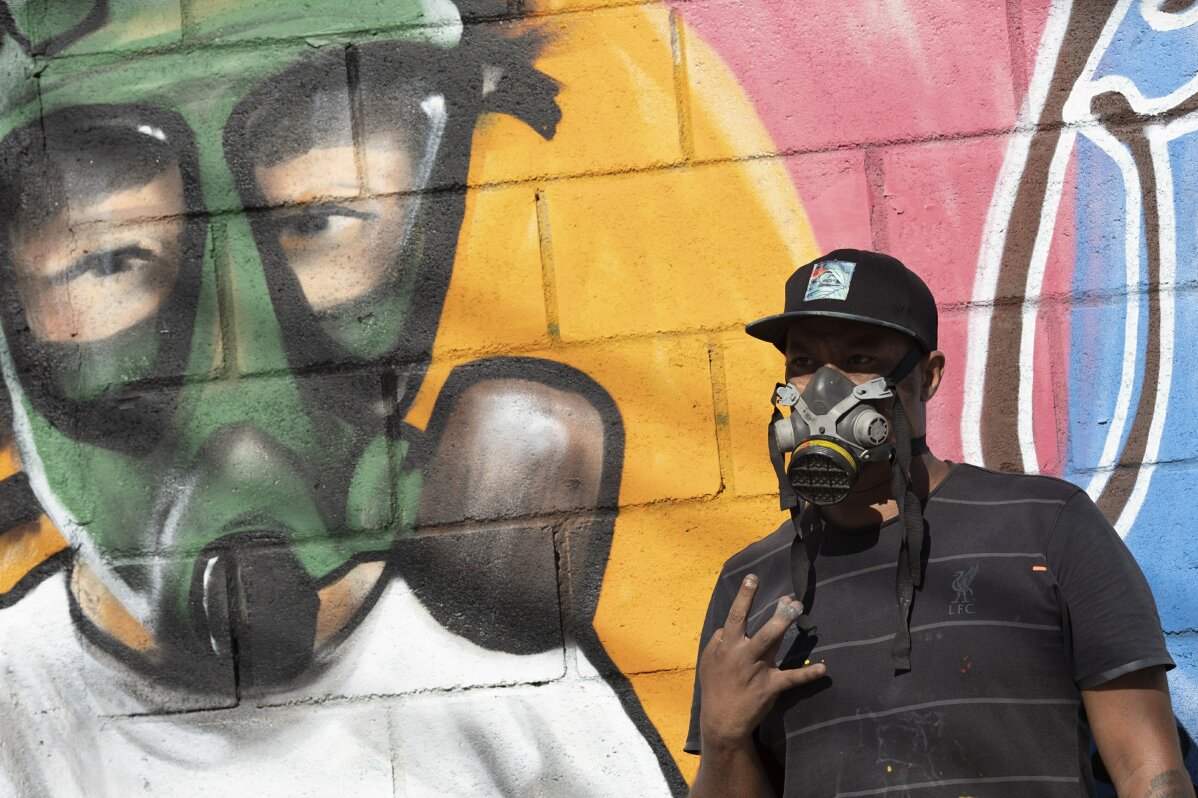 7 of 17

|
Graffiti artist Angelo Campos poses for a photo by his mural referencing the COVID-19 pandemic which he said he painted in honor of health workers in Rio de Janeiro, Brazil, Thursday, May 21, 2020. (AP Photo/Silvia Izquierdo)
7 of 17
Graffiti artist Angelo Campos poses for a photo by his mural referencing the COVID-19 pandemic which he said he painted in honor of health workers in Rio de Janeiro, Brazil, Thursday, May 21, 2020. (AP Photo/Silvia Izquierdo)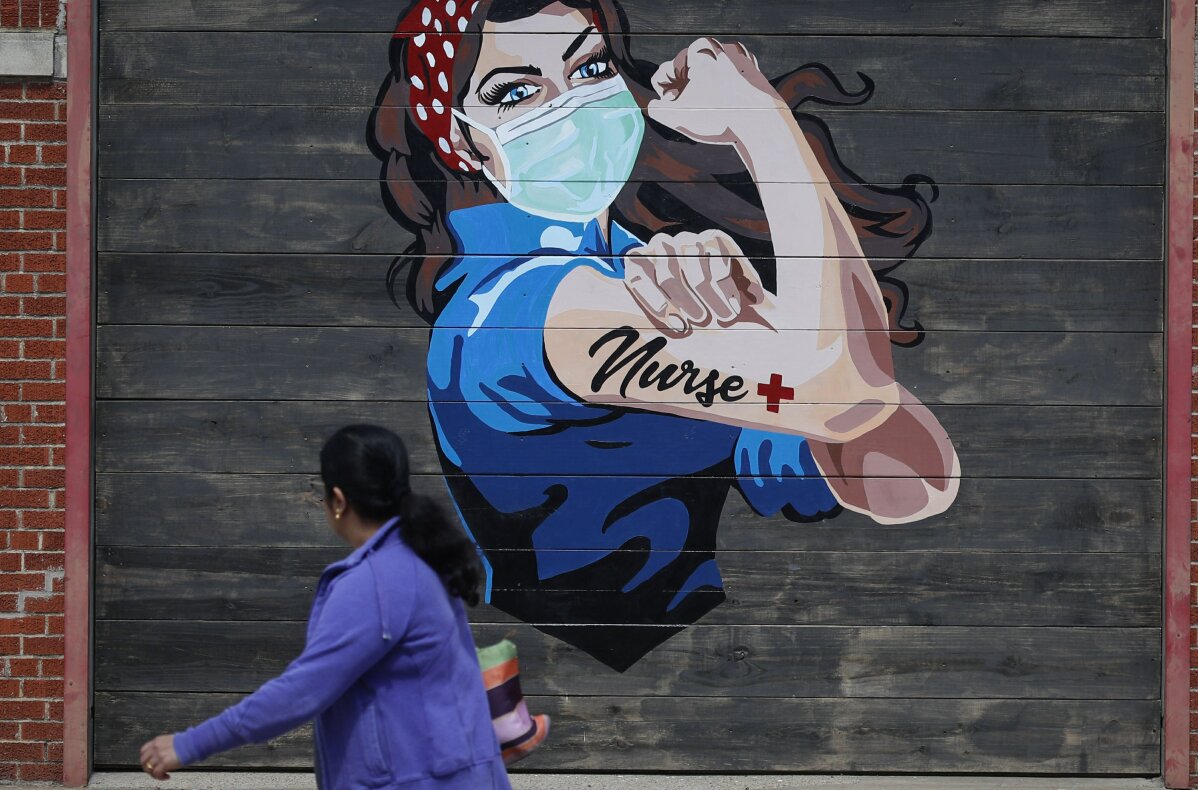 8 of 17

|
A mural near a hospital pays tribute to nurses amid COVID-19 concerns in Dallas, Tuesday, April 7, 2020. (AP Photo/LM Otero)
8 of 17
A mural near a hospital pays tribute to nurses amid COVID-19 concerns in Dallas, Tuesday, April 7, 2020. (AP Photo/LM Otero)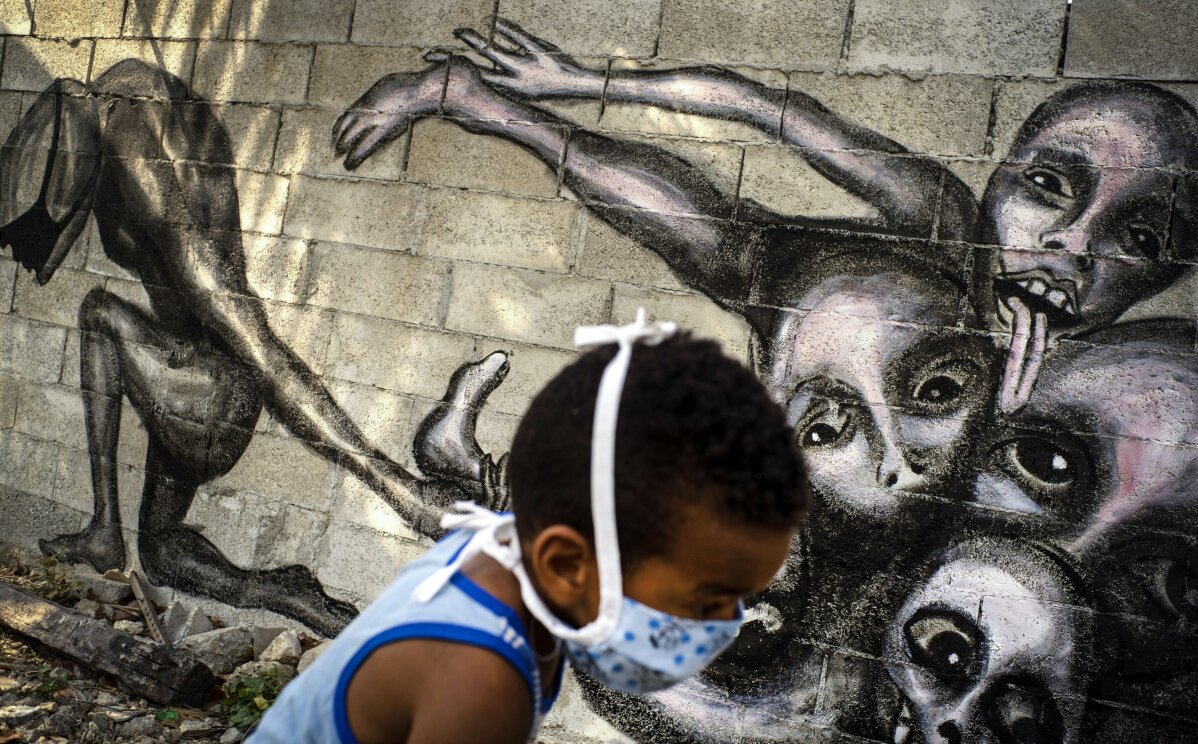 9 of 17

|
A boy wearing a mask as a precaution against the spread of the new coronavirus plays in front of a mural by artist Yulier P. titled "Marcha Hacia la Oscuridad," or Move Toward Darkness, in the patio of a home in Havana, Cuba, Friday, April 10, 2020. Yulier P. said his latest murals show humanity's powerlessness against the COVID-19 disease. (AP Photo/Ramon Espinosa)
9 of 17
A boy wearing a mask as a precaution against the spread of the new coronavirus plays in front of a mural by artist Yulier P. titled "Marcha Hacia la Oscuridad," or Move Toward Darkness, in the patio of a home in Havana, Cuba, Friday, April 10, 2020. Yulier P. said his latest murals show humanity's powerlessness against the COVID-19 disease. (AP Photo/Ramon Espinosa)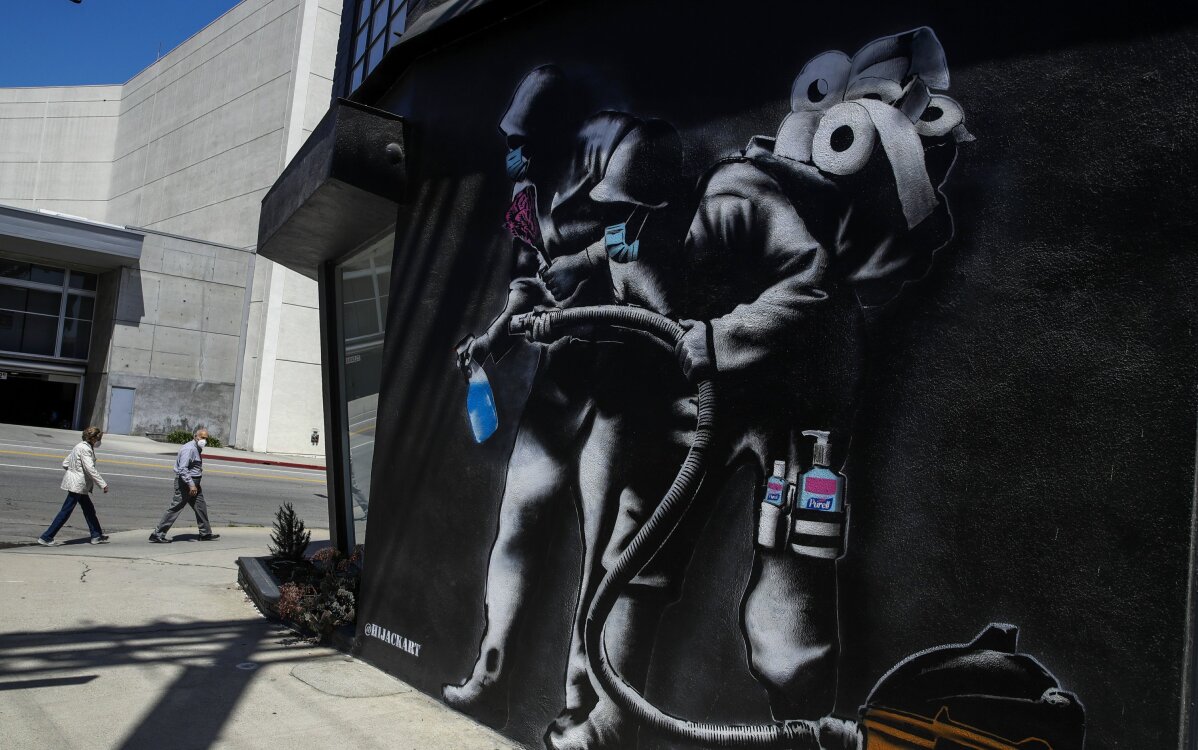 10 of 17

|
A recently painted mural depicts a coronavirus theme Tuesday, April 14, 2020, in Los Angeles. (AP Photo/Marcio Jose Sanchez)
10 of 17
A recently painted mural depicts a coronavirus theme Tuesday, April 14, 2020, in Los Angeles. (AP Photo/Marcio Jose Sanchez)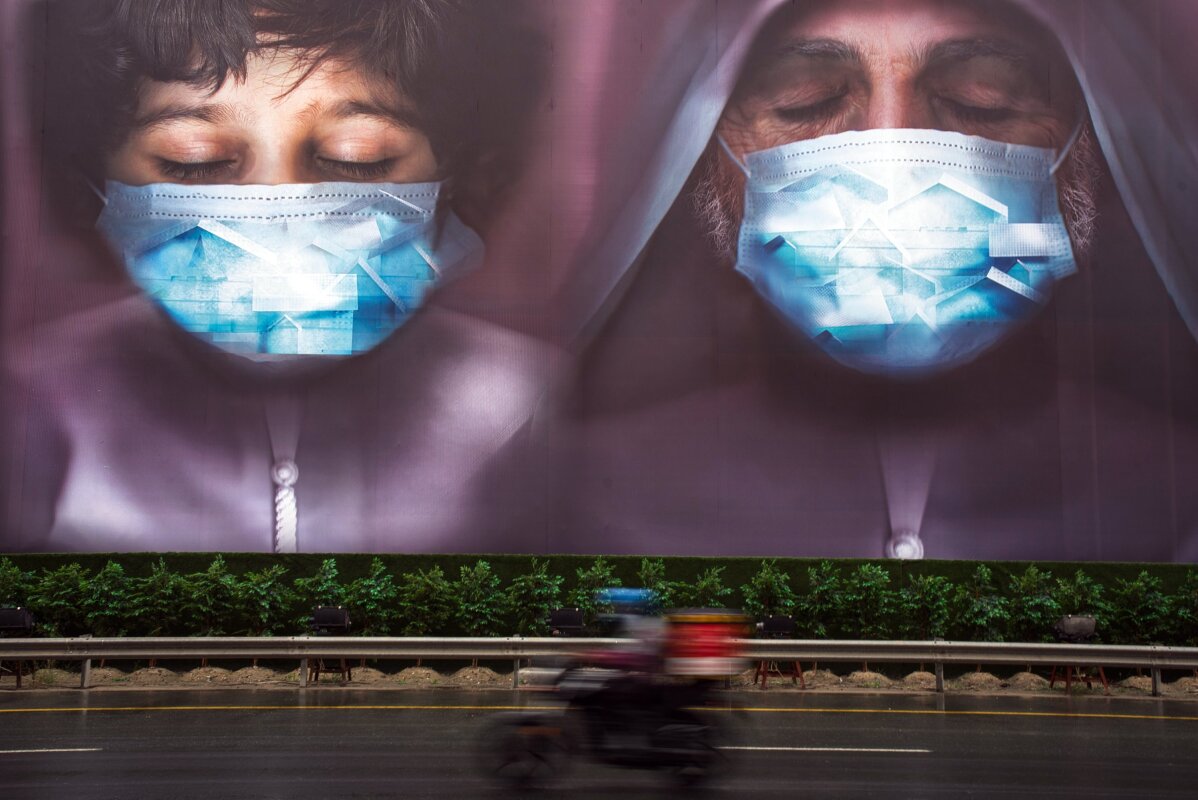 11 of 17

|
A motorcycle deliveryman rides past a billboard urging people to stay during the coronavirus pandemic in Dubai, United Arab Emirates, Wednesday, April 15, 2020. (AP Photo/Jon Gambrell)
11 of 17
A motorcycle deliveryman rides past a billboard urging people to stay during the coronavirus pandemic in Dubai, United Arab Emirates, Wednesday, April 15, 2020. (AP Photo/Jon Gambrell)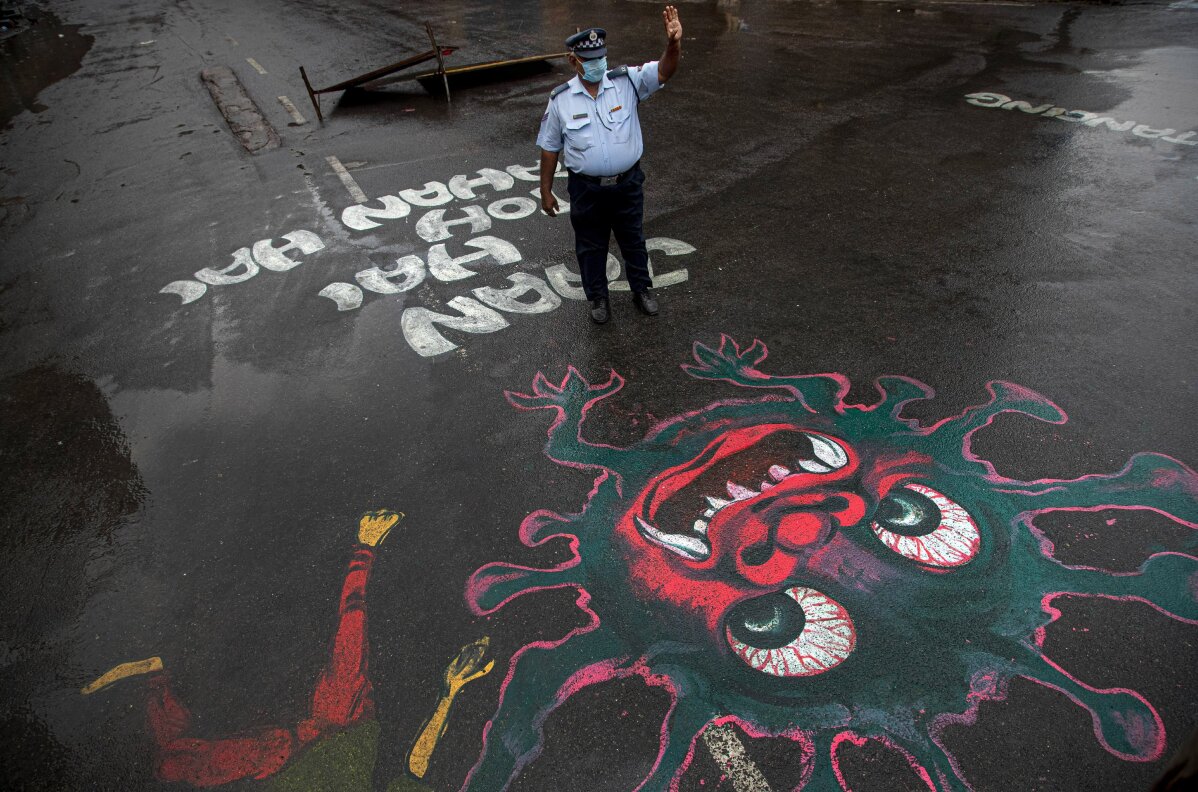 12 of 17

|
An Indian traffic policeman stands next to an artwork displayed on a road to create awareness about coronavirus during lockdown in Gauhati, India, Wednesday, April 15, 2020. (AP Photo/Anupam Nath)
12 of 17
An Indian traffic policeman stands next to an artwork displayed on a road to create awareness about coronavirus during lockdown in Gauhati, India, Wednesday, April 15, 2020. (AP Photo/Anupam Nath)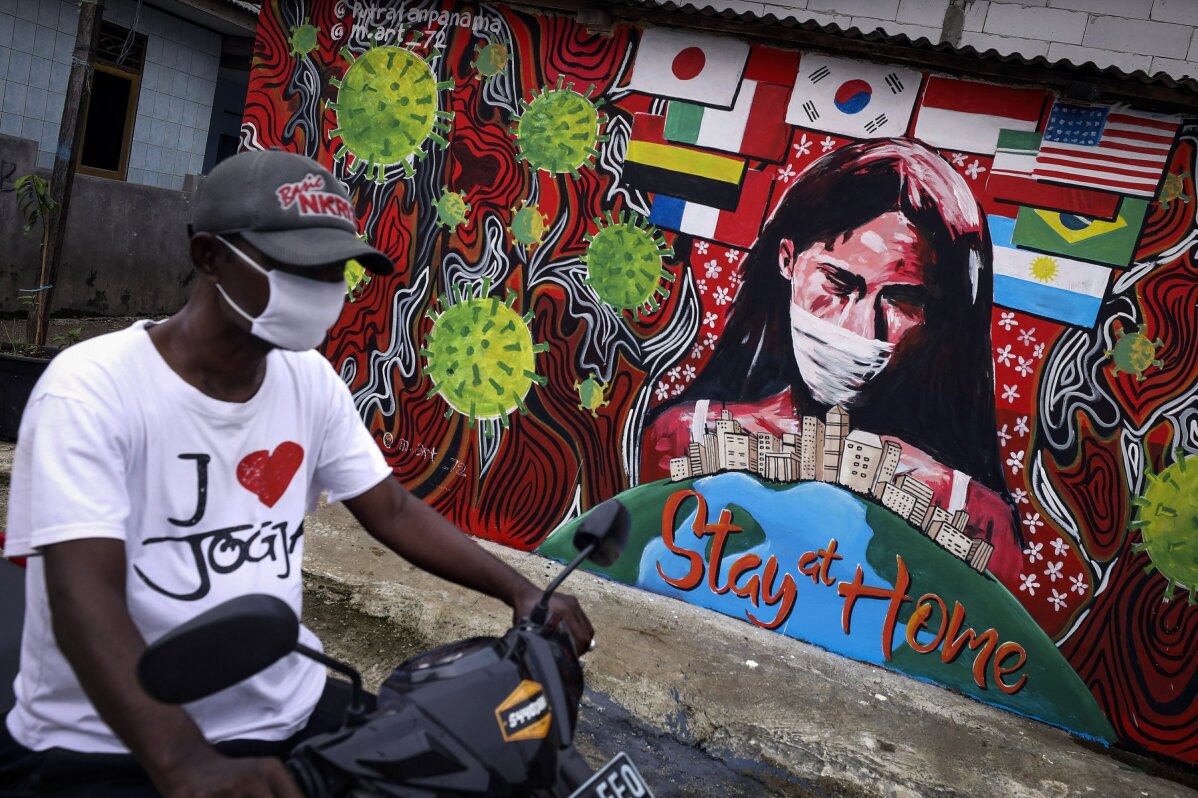 13 of 17

|
A motorist wearing a face mask rides past a coronavirus themed mural in Depok on the outskirts of Jakarta, Indonesia, Wednesday, April 15, 2020. (AP Photo/Dita Alangkara)
13 of 17
A motorist wearing a face mask rides past a coronavirus themed mural in Depok on the outskirts of Jakarta, Indonesia, Wednesday, April 15, 2020. (AP Photo/Dita Alangkara)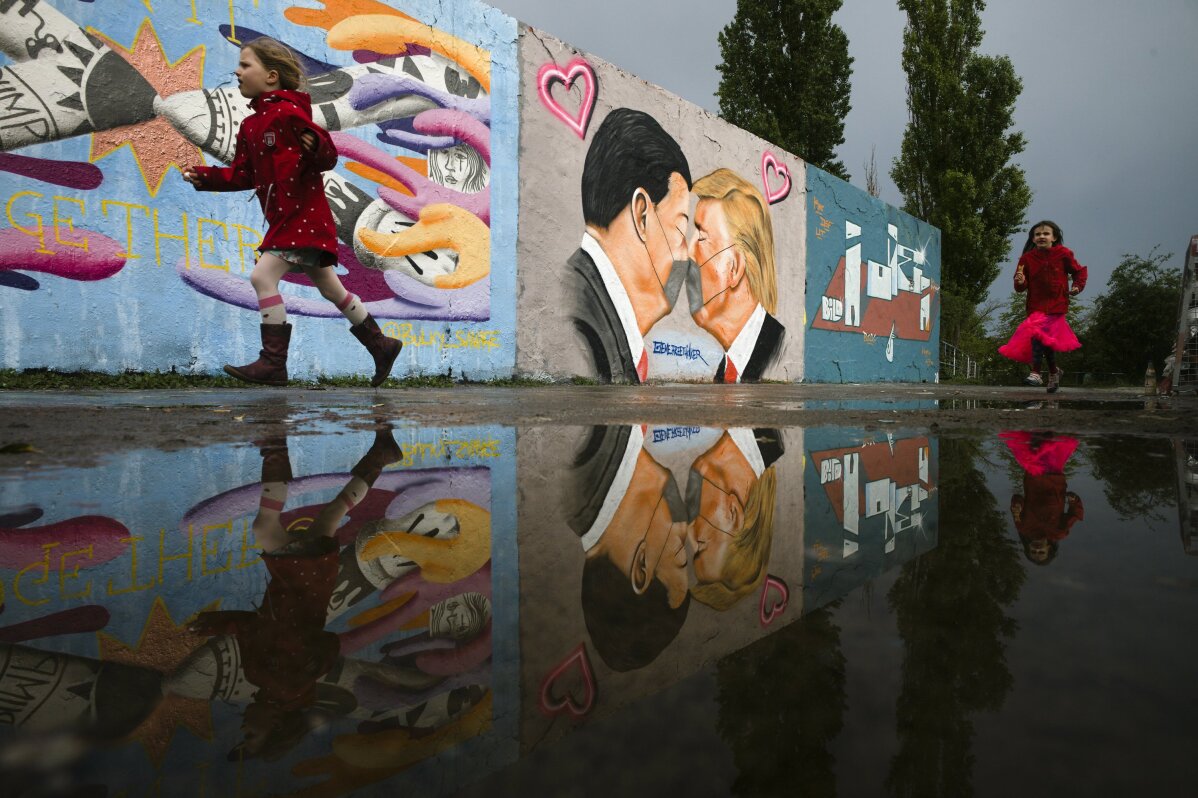 14 of 17

|
Graffiti depicts U.S. President Trump, right, and China's President Xi Jinping kissing each other with face masks on a wall in the public park Mauerpark in Berlin, Germany, Wednesday, April 29, 2020. (AP Photo/Markus Schreiber)
14 of 17
Graffiti depicts U.S. President Trump, right, and China's President Xi Jinping kissing each other with face masks on a wall in the public park Mauerpark in Berlin, Germany, Wednesday, April 29, 2020. (AP Photo/Markus Schreiber)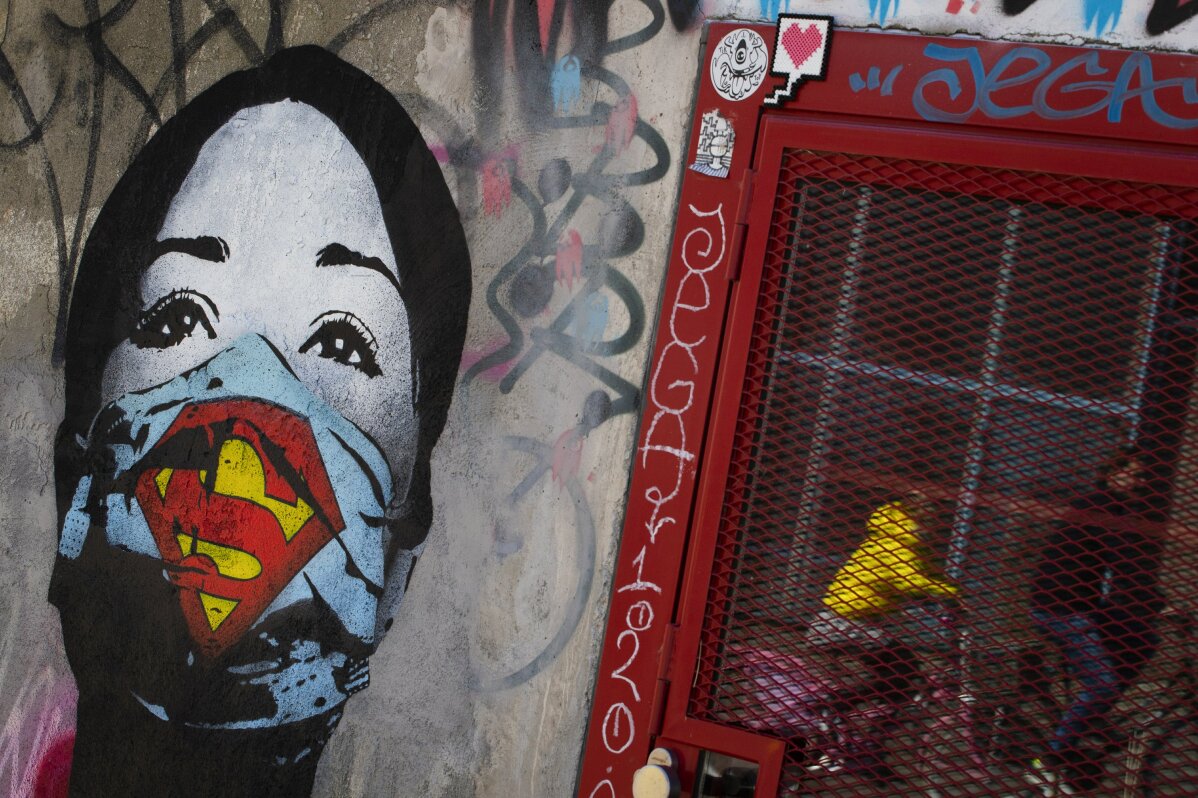 15 of 17

|
A mother and her child are reflected as they pass a mural by artist FAKE, titled "Super Nurse", paying tribute to all healthcare and medical professionals in times of the coronavirus, in Amsterdam, Netherlands, Sunday, April 19, 2020. (AP Photo/Peter Dejong)
15 of 17
A mother and her child are reflected as they pass a mural by artist FAKE, titled "Super Nurse", paying tribute to all healthcare and medical professionals in times of the coronavirus, in Amsterdam, Netherlands, Sunday, April 19, 2020. (AP Photo/Peter Dejong)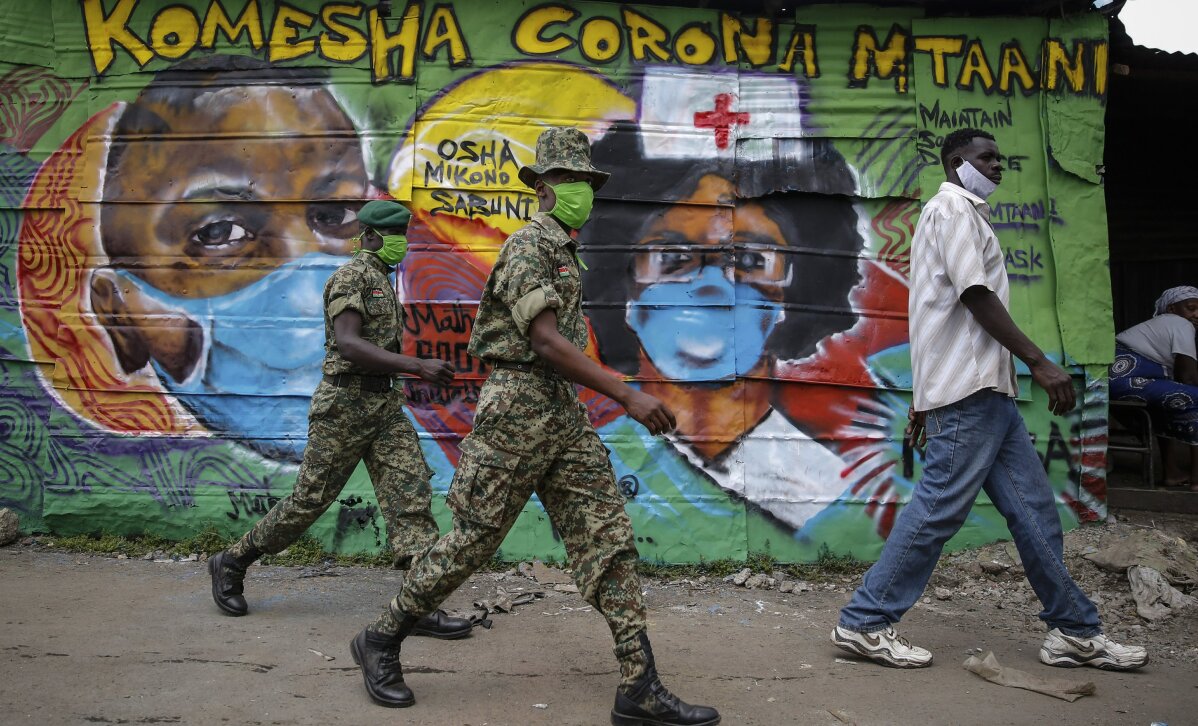 16 of 17

|
Members of the National Youth Service walk past an informational mural about the coronavirus with words in Swahili reading "Stop corona in the neighborhood", painted by graffiti artists from the Mathare Roots youth group, in the Mathare slum, or informal settlement, of Nairobi, Kenya Thursday, April 30, 2020. (AP Photo/Brian Inganga)
16 of 17
Members of the National Youth Service walk past an informational mural about the coronavirus with words in Swahili reading "Stop corona in the neighborhood", painted by graffiti artists from the Mathare Roots youth group, in the Mathare slum, or informal settlement, of Nairobi, Kenya Thursday, April 30, 2020. (AP Photo/Brian Inganga)
17 of 17

|
A mural reads "Stay Home, Life is Beautiful' Tuesday, April 14, 2020, in Los Angeles. (AP Photo/Marcio Jose Sanchez)
17 of 17
A mural reads "Stay Home, Life is Beautiful' Tuesday, April 14, 2020, in Los Angeles. (AP Photo/Marcio Jose Sanchez)
Scrawled or masterfully crafted on walls and roads are messages of hope and warning.
Street art is getting inspiration from the coronavirus pandemic gripping the globe, offering some comic relief, wit and beauty in a world where people are cut off from each other.
In some cases, the art urges people to follow safety advice. Celebrities and politicians are depicted wearing masks.
In Prague, people take photos with a graffiti image of John Lennon, whose nose and mouth are covered with a fabric mask that says, "All you need is love," the title of the Beatles' 1967 song.
Coronavirus germs depicted as cartoon villains are spray-painted on streets and walls in India and Kenya to get people to take precautions to prevent the disease from spreading.
While street art around the world is giving people something thought-provoking or entertaining to gaze at from behind their masks, it also can provide a glimmer of hope, like one mural in Los Angeles that implores passers-by: "Stay home, life is beautiful."