China reports 1,886 new virus cases, death toll up by 98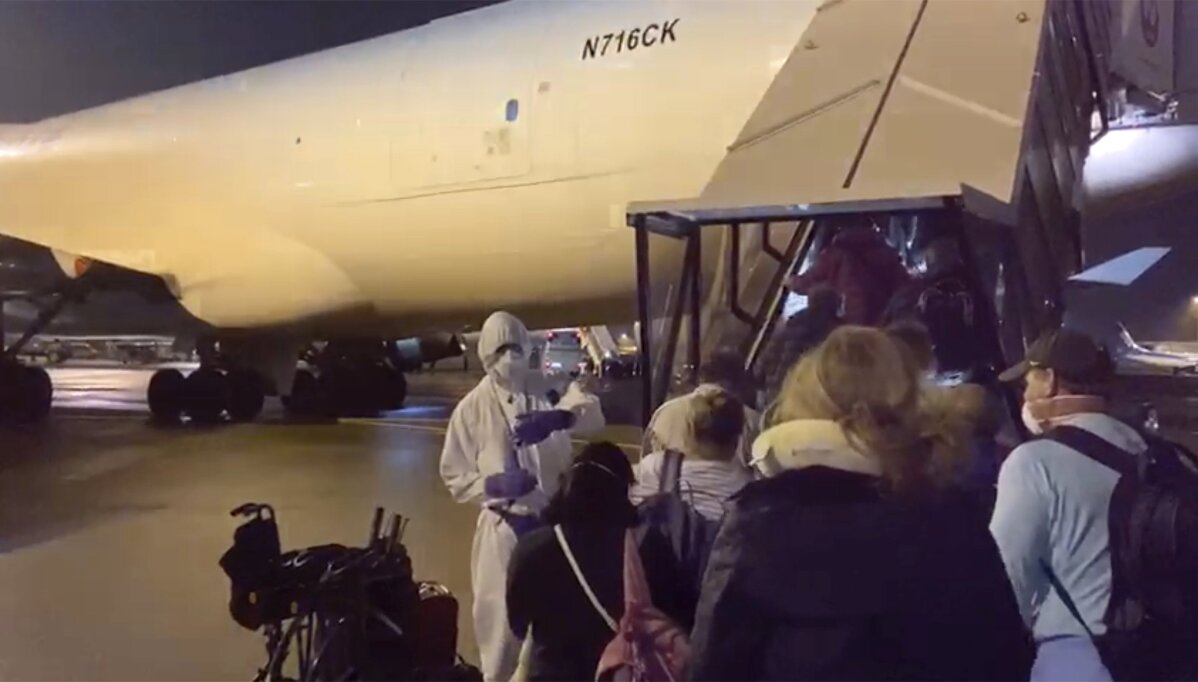 1 of 21

|
In this image from a video taken on Monday, Feb. 17, 2020, U.S. passengers who evacuated off the quarantined cruise ship the Diamond Princess, board a Kalitta Air plane bound for the U.S., at Haneda airport in Tokyo.(Cheryl and Paul Molesky via AP)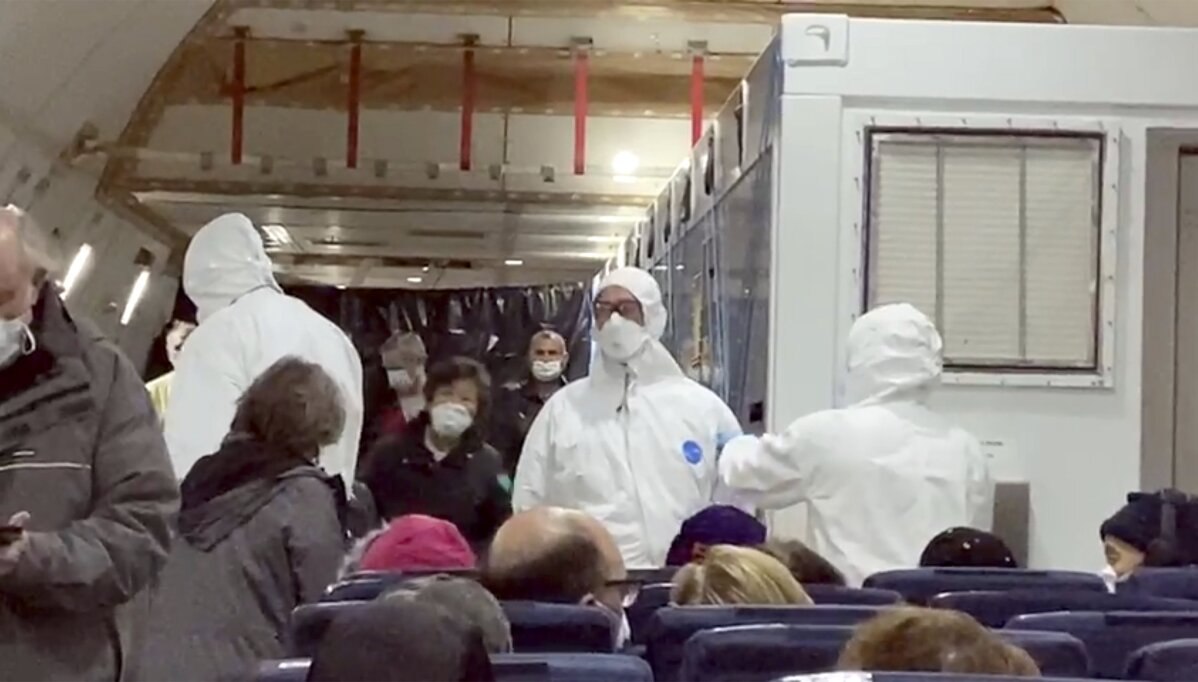 2 of 21

|
In this image from a video taken on Monday, Feb. 17, 2020, U.S. passengers who evacuated off the quarantined cruise ship the Diamond Princess and officials wait for the takeoff of a Kalitta Air airplane bound for the U.S., at Haneda airport in Tokyo.(Cheryl and Paul Molesky via AP)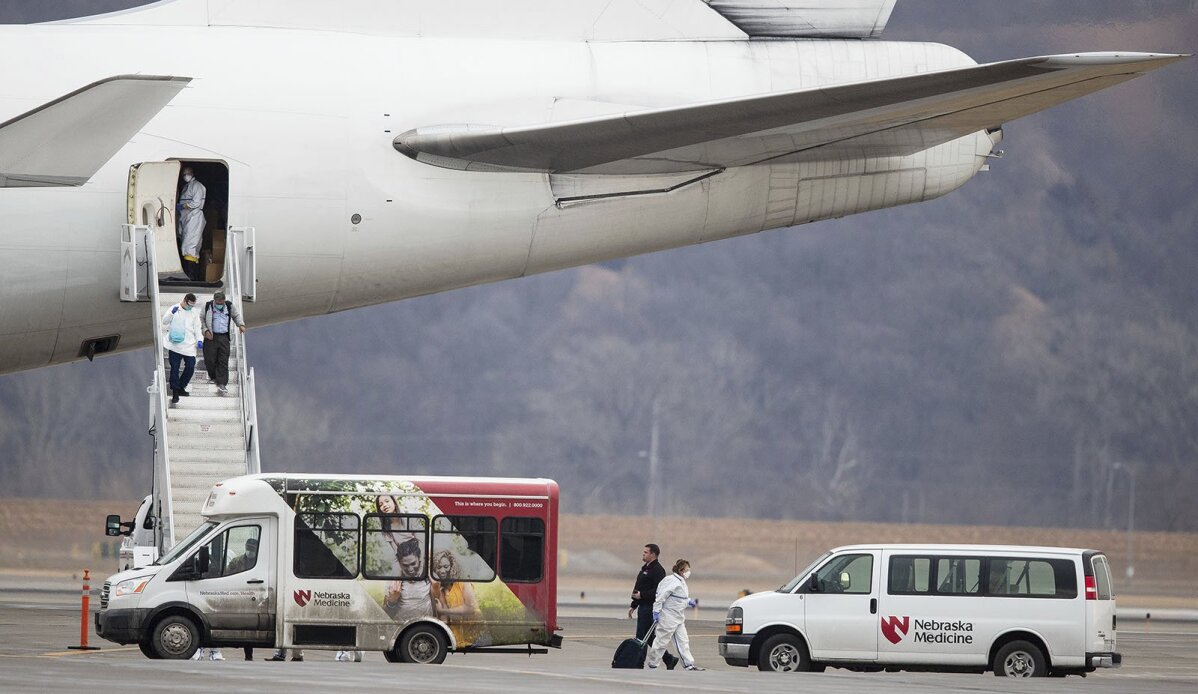 3 of 21

|
Officials help passengers off a plane to waiting vehicles at Eppley Airfield in Omaha, Neb., on Monday, Feb 17, 2020. American citizens who were on a cruise ship off Japan's coast who were at high risk of being exposed to the novel coronavirus were taken to the University of Nebraska Medical Center campus after landing. (Z Long/Omaha World-Herald via AP)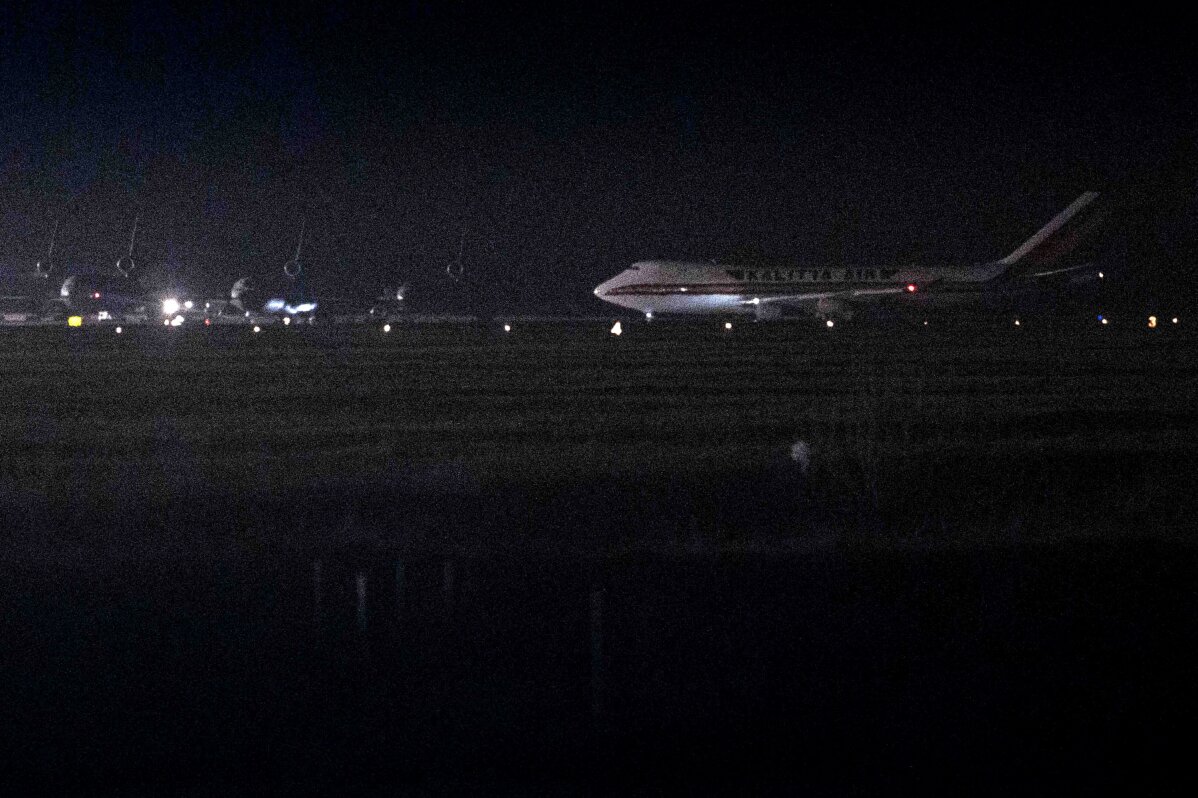 4 of 21

|
A charter flight transporting passengers from the quarantined Diamond Princess cruise ship arrives at Travis Air Force Base in Fairfield, Calif., Sunday, Feb. 16, 2020. (AP Photo/Hector Amezcua)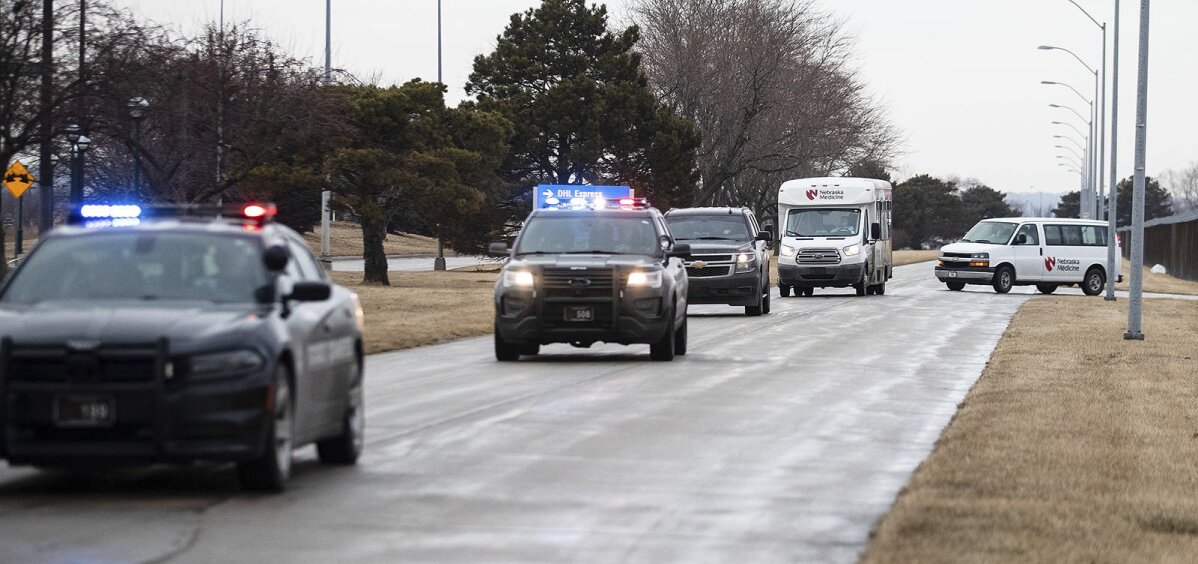 5 of 21

|
Law enforcement vehicles escort Nebraska Medical Center vehicles leaving Eppley Airfield in Omaha, Neb., on Monday, Feb 17, 2020. American citizens who were on a cruise ship off Japan's coast who were at high risk of being exposed to the novel coronavirus were flown to Omaha and taken to the University of Nebraska Medical Center campus after landing. (Z Long/Omaha World-Herald via AP)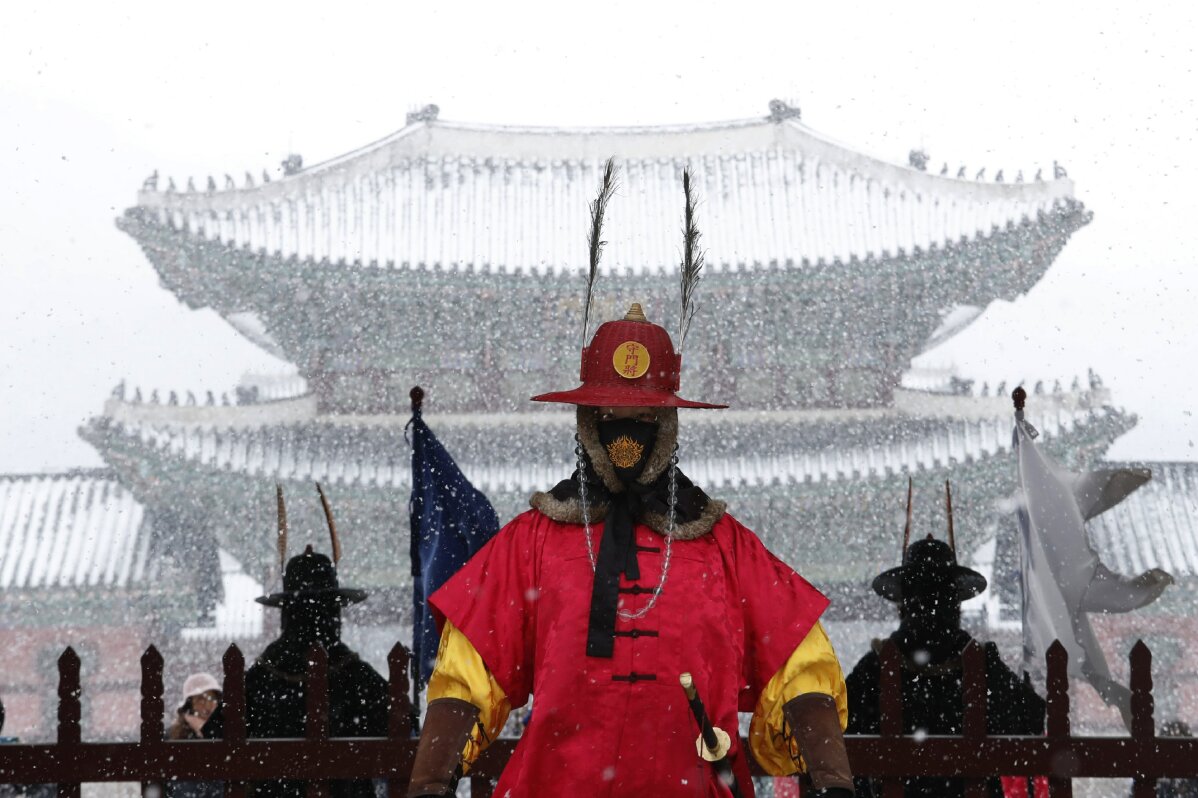 6 of 21

|
An Imperial guard wearing a face mask stands in the snow outside the Gyeongbok Palace, the main royal palace during the Joseon Dynasty in Seoul, South Korea, Monday, Feb. 17, 2020. Chinese authorities on Monday reported a slight upturn in new virus cases and hundred more deaths for a total of thousands since the outbreak began two months ago. (AP Photo/Ahn Young-joon)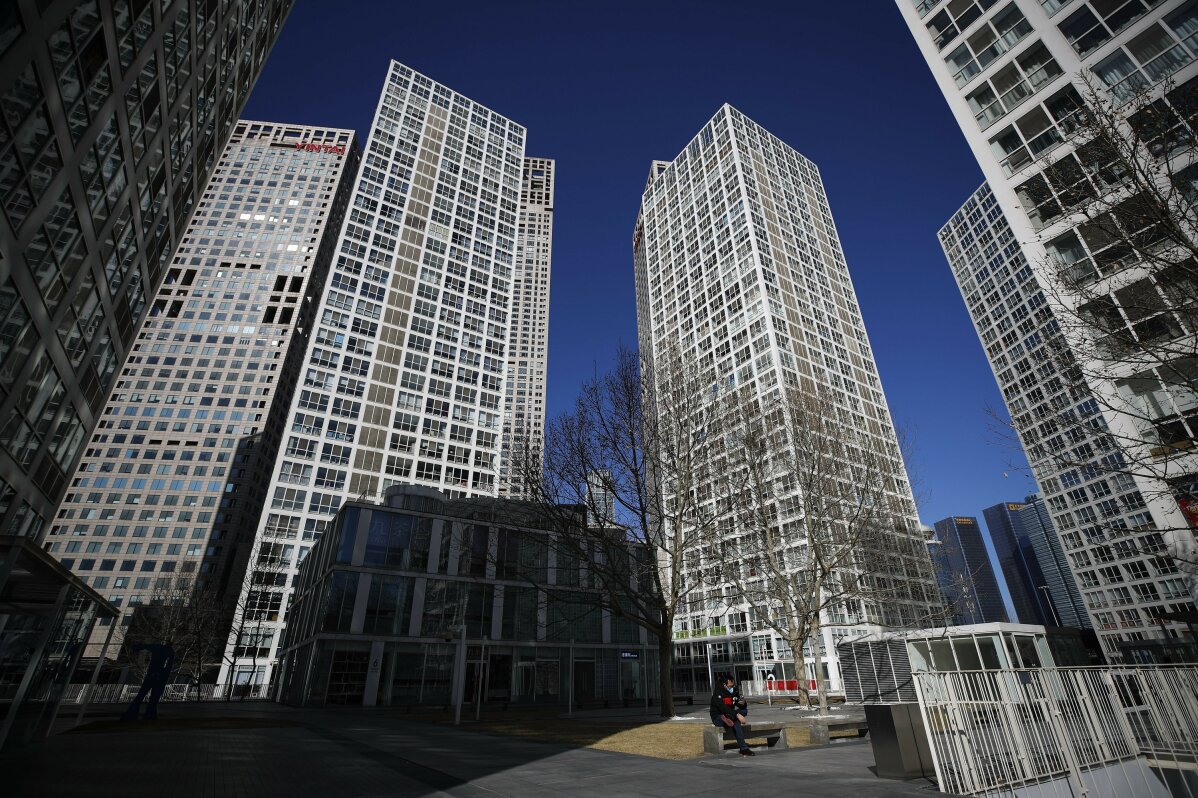 7 of 21

|
A man wearing a protective face mask sits alone at a deserted compound of a commercial office building during the lunch break in Beijing, Monday, Feb. 17, 2020. Chinese authorities on Monday reported a slight upturn in new virus cases and hundred more deaths, as the military dispatched hundreds more medical workers and extra supplies to the city hit hardest by the 2-month-old outbreak. (AP Photo/Andy Wong)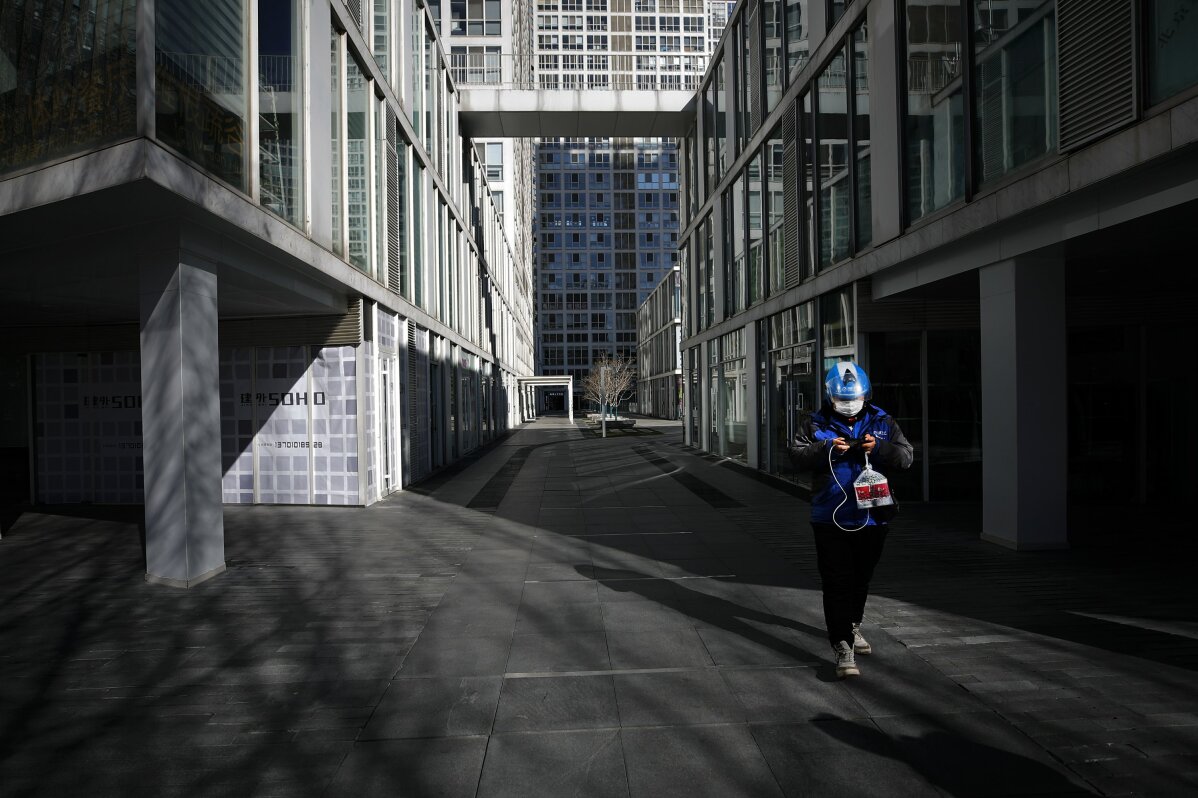 8 of 21

|
A food delivery worker passes a deserted compound of a commercial office building during the lunch break in Beijing, Monday, Feb. 17, 2020. Chinese authorities on Monday reported a slight upturn in new virus cases and hundred more deaths, as the military dispatched hundreds more medical workers and extra supplies to the city hit hardest by the 2-month-old outbreak. (AP Photo/Andy Wong)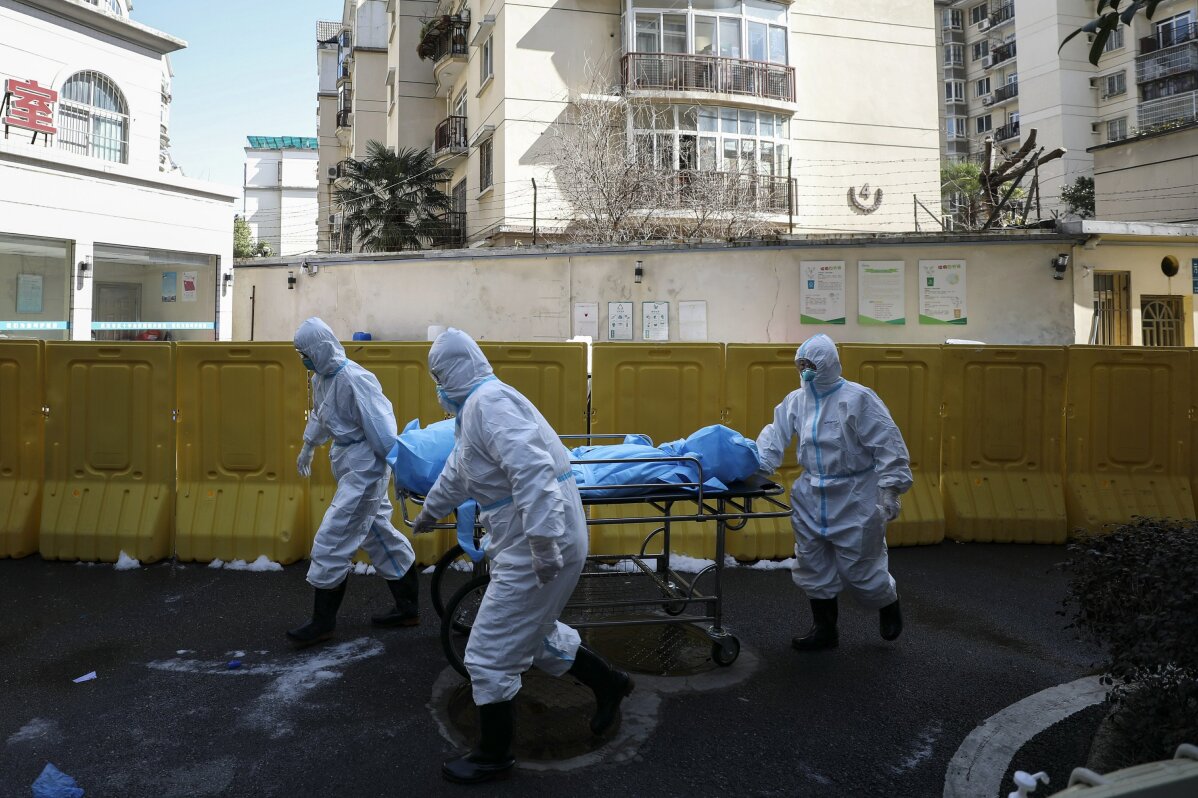 9 of 21

|
In this Sunday, Feb. 16, 2020, photo, medical workers move a person who died from COVID-19 at a hospital in Wuhan in central China's Hubei province. Chinese authorities on Monday reported a slight upturn in new virus cases and hundred more deaths for a total of thousands since the outbreak began two months ago. (Chinatopix via AP)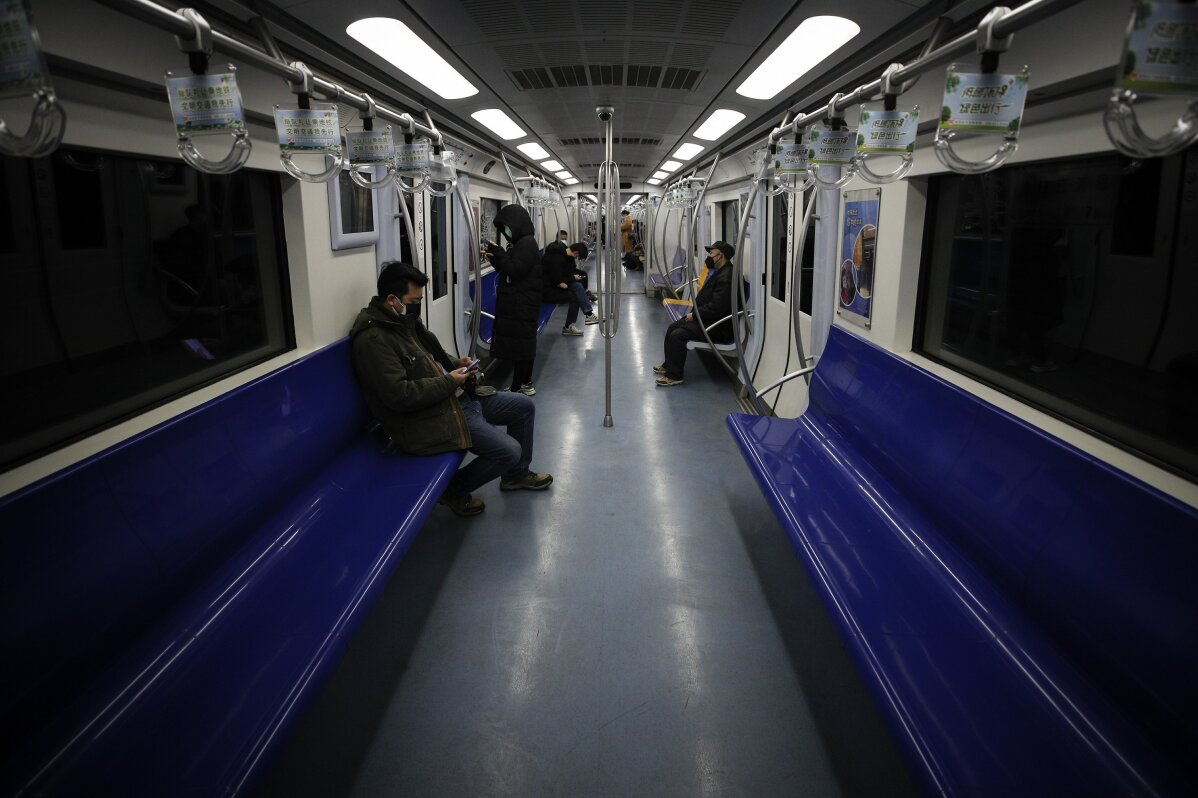 10 of 21

|
Commuters ride in a quiet subway train during the morning rush hour in Beijing, Monday, Feb. 17, 2020. Chinese authorities on Monday reported a slight upturn in new virus cases and hundred more deaths for a total of thousands since the outbreak began two months ago. (AP Photo/Andy Wong)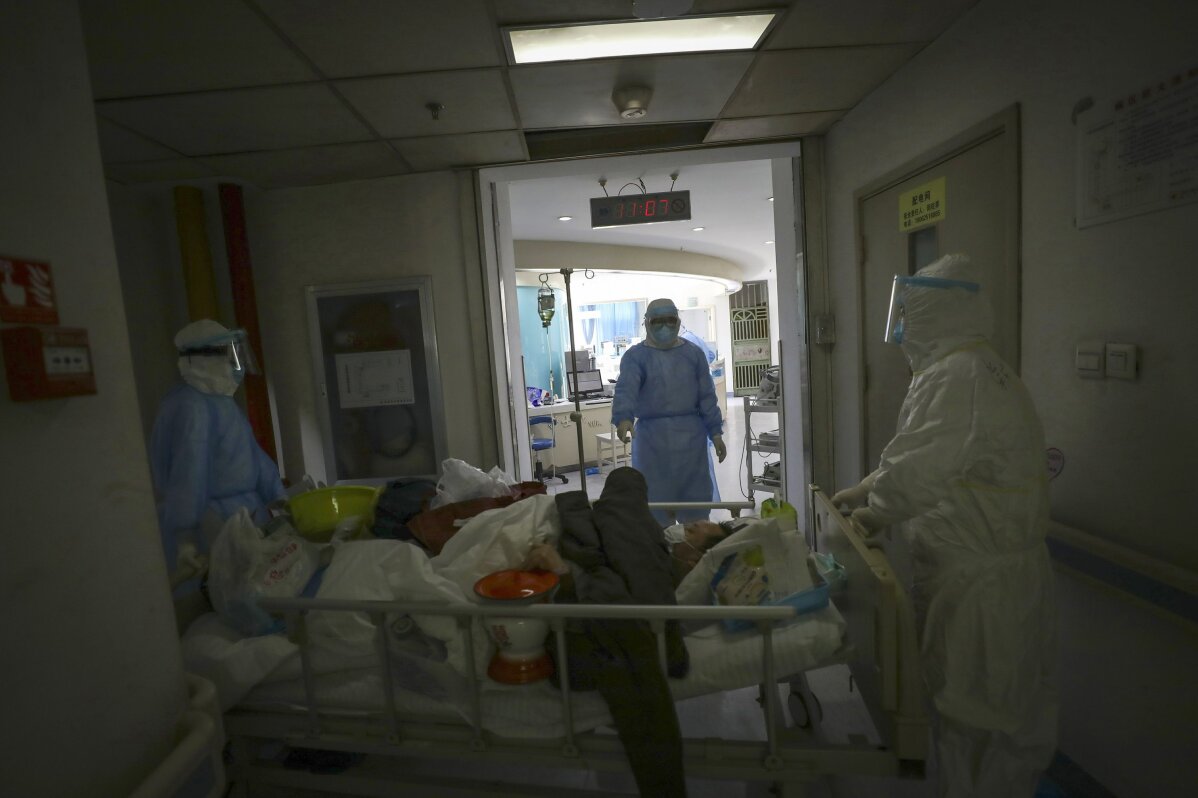 11 of 21

|
In this Sunday, Feb. 16, 2020, photo, medical workers transfer a new coronavirus patient at a hospital in Wuhan in central China's Hubei province. Chinese authorities on Monday reported a slight upturn in new virus cases and hundred more deaths for a total of thousands since the outbreak began two months ago. (Chinatopix via AP)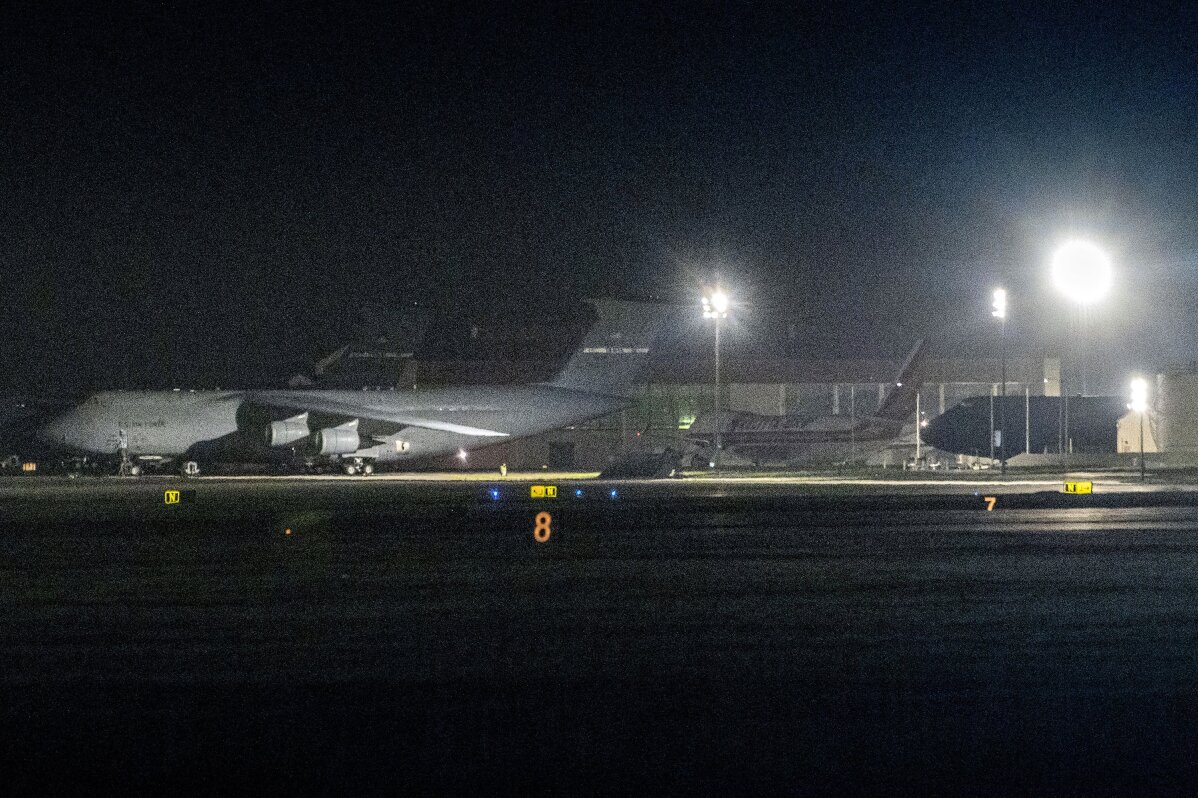 12 of 21

|
A charter flight transporting passengers from the quarantined Diamond Princess cruise ship moves behind military airplanes after it arrived at Travis Air Force Base in Fairfield, Calif., Sunday, Feb. 16, 2020. (AP Photo/Hector Amezcua)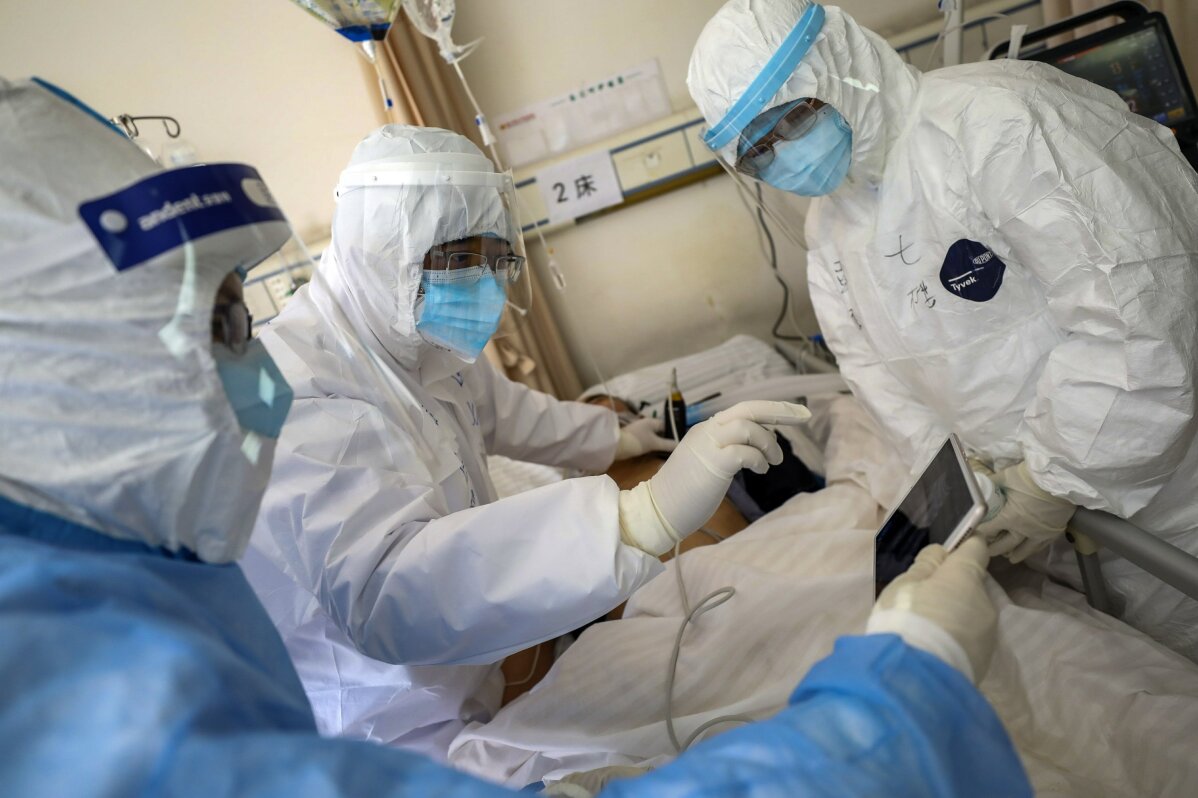 13 of 21

|
In this Sunday, Feb. 16, 2020, photo, medical personnel scan a new coronavirus patient at a hospital in Wuhan in central China's Hubei province. Chinese authorities on Monday reported a slight upturn in new virus cases and hundred more deaths for a total of thousands since the outbreak began two months ago. (Chinatopix via AP)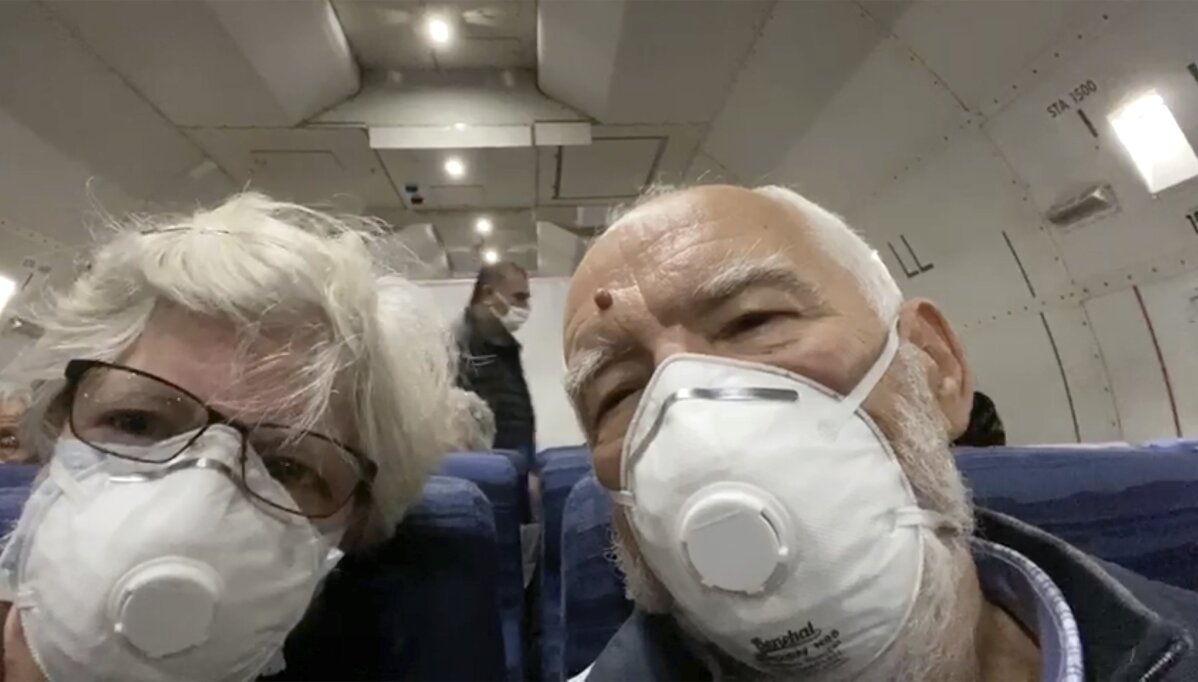 14 of 21

|
In this image from a video taken on Monday, Feb. 17, 2020, Paul Molesky, right, and Cheryl Molesky, who evacuated off the quarantined cruise ship the Diamond Princess, film selfie video aboard a Kalitta Air plane bound for the U.S., at Haneda airport in Tokyo.(Cheryl and Paul Molesky via AP)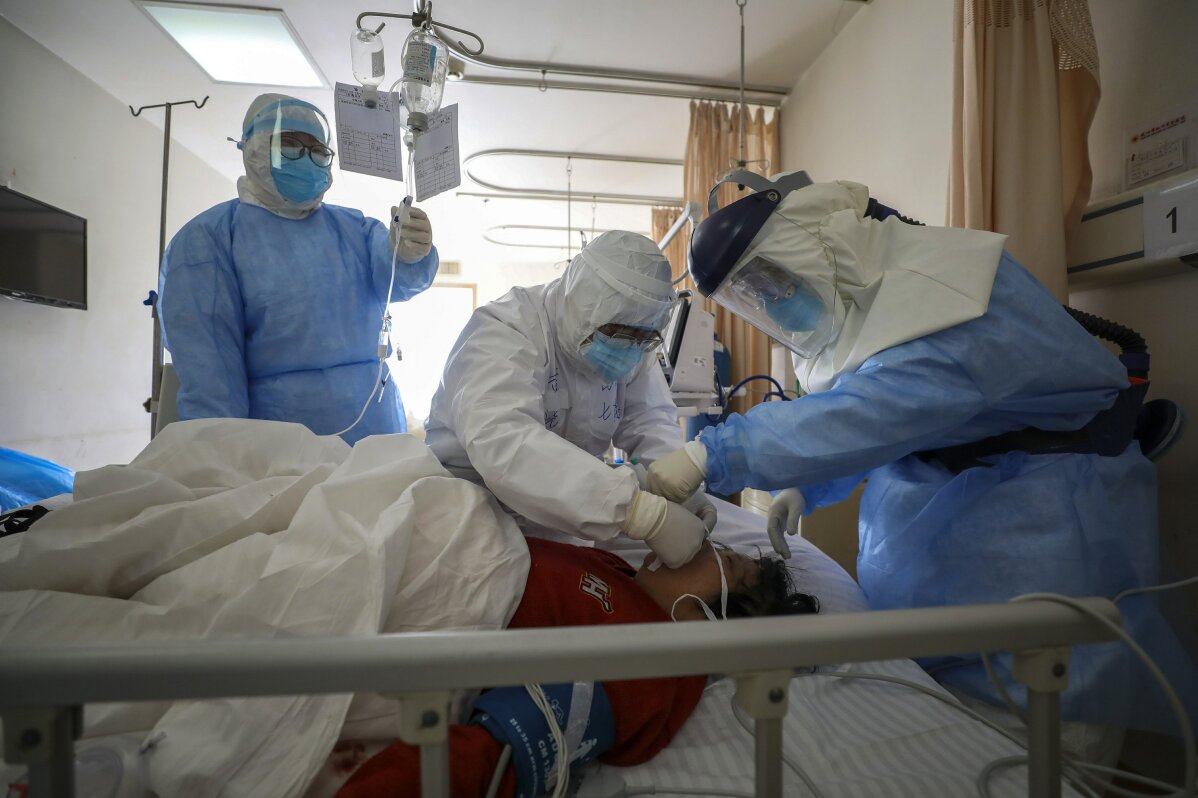 15 of 21

|
In this Sunday, Feb. 16, 2020, photo, medical workers provide treatment to a new coronavirus patient at a hospital in Wuhan in central China's Hubei province. Chinese authorities on Monday reported a slight upturn in new virus cases and hundred more deaths for a total of thousands since the outbreak began two months ago. (Chinatopix via AP)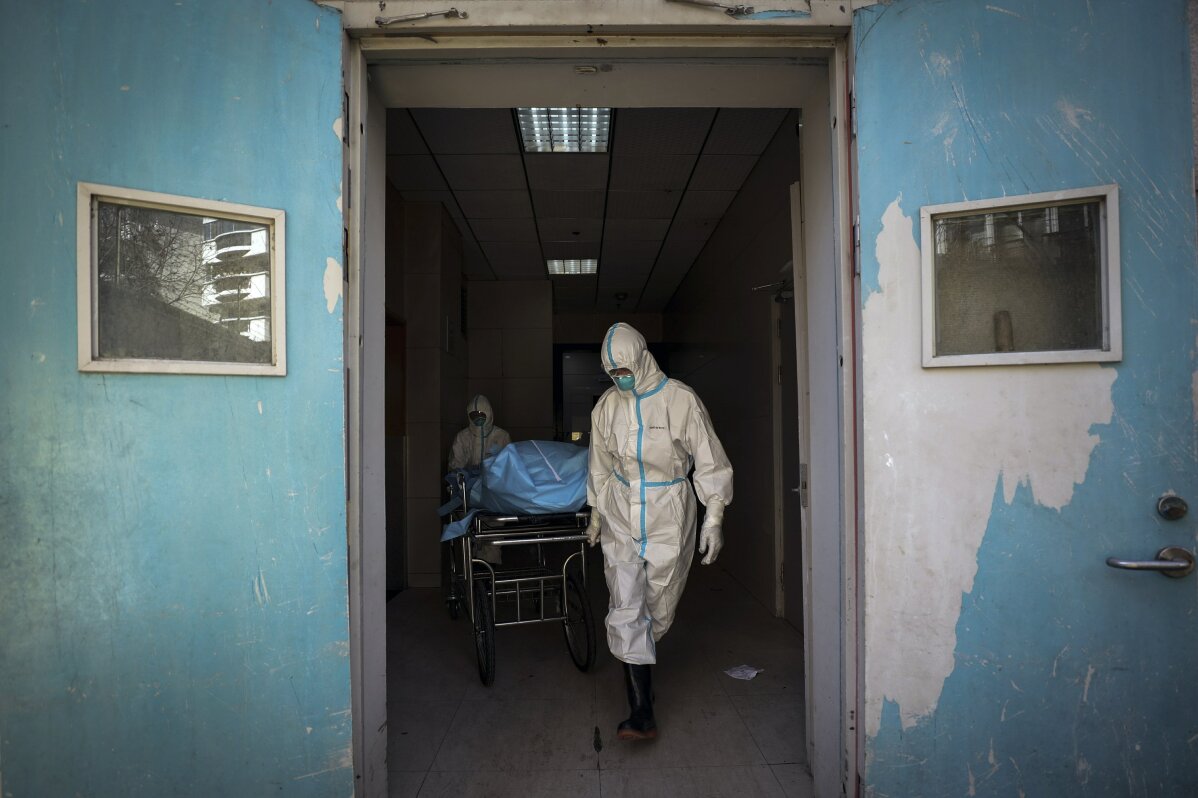 16 of 21

|
In this Sunday, Feb. 16, 2020, photo, medical workers move a person who died from COVID-19 at a hospital in Wuhan in central China's Hubei province. Chinese authorities on Monday reported a slight upturn in new virus cases and hundred more deaths for a total of thousands since the outbreak began two months ago. (Chinatopix via AP)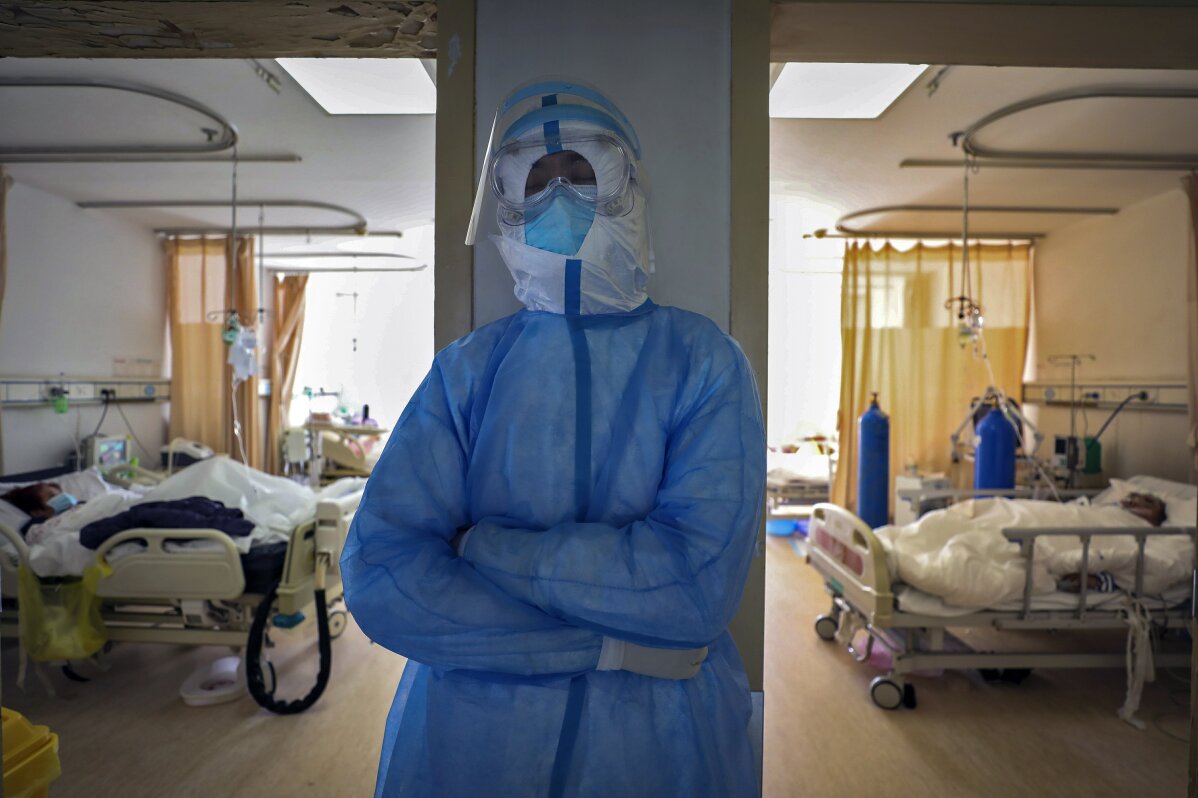 17 of 21

|
In this Sunday, Feb. 16, 2020, photo, a medical worker takes a nap at a hospital in Wuhan in central China's Hubei province. Chinese authorities on Monday reported a slight upturn in new virus cases and hundred more deaths for a total of thousands since the outbreak began two months ago. (Chinatopix via AP)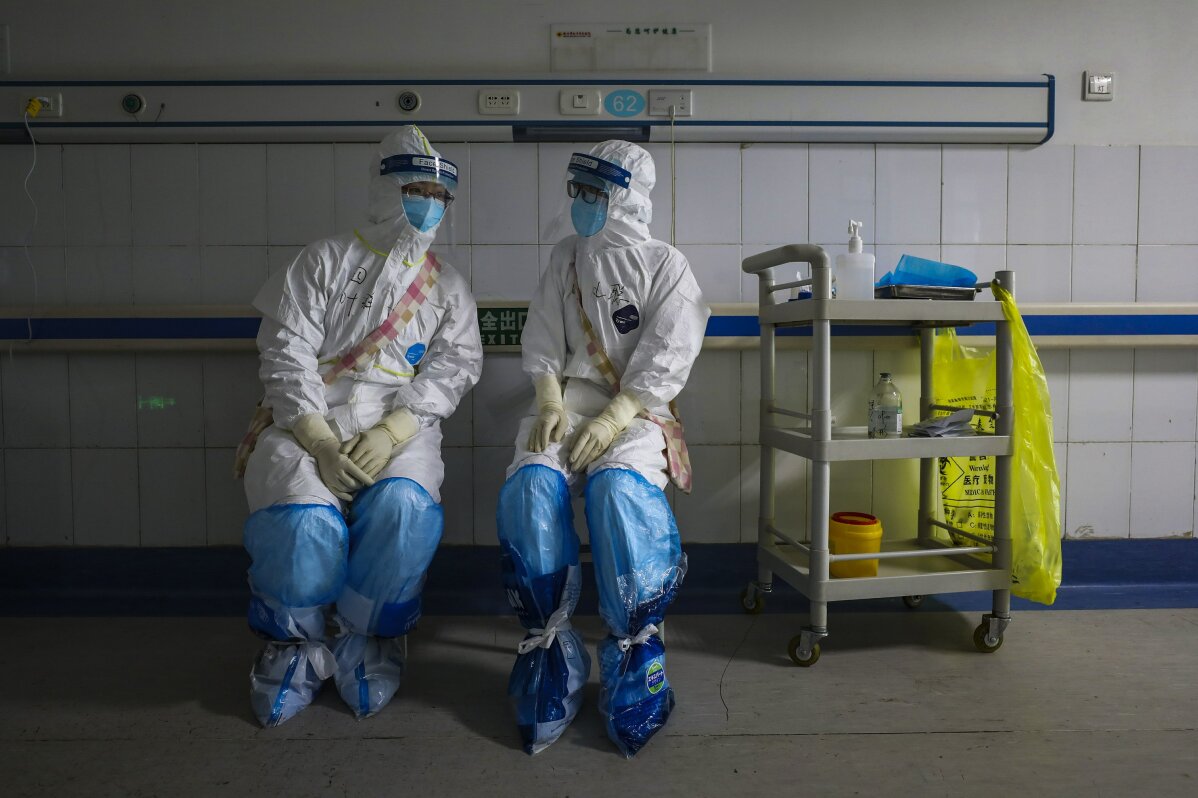 18 of 21

|
In this Sunday, Feb. 16, 2020, photo, medical workers wearing full protective suits chat to each other at a hospital in Wuhan in central China's Hubei province. Chinese authorities on Monday reported a slight upturn in new virus cases and hundred more deaths for a total of thousands since the outbreak began two months ago. (Chinatopix via AP)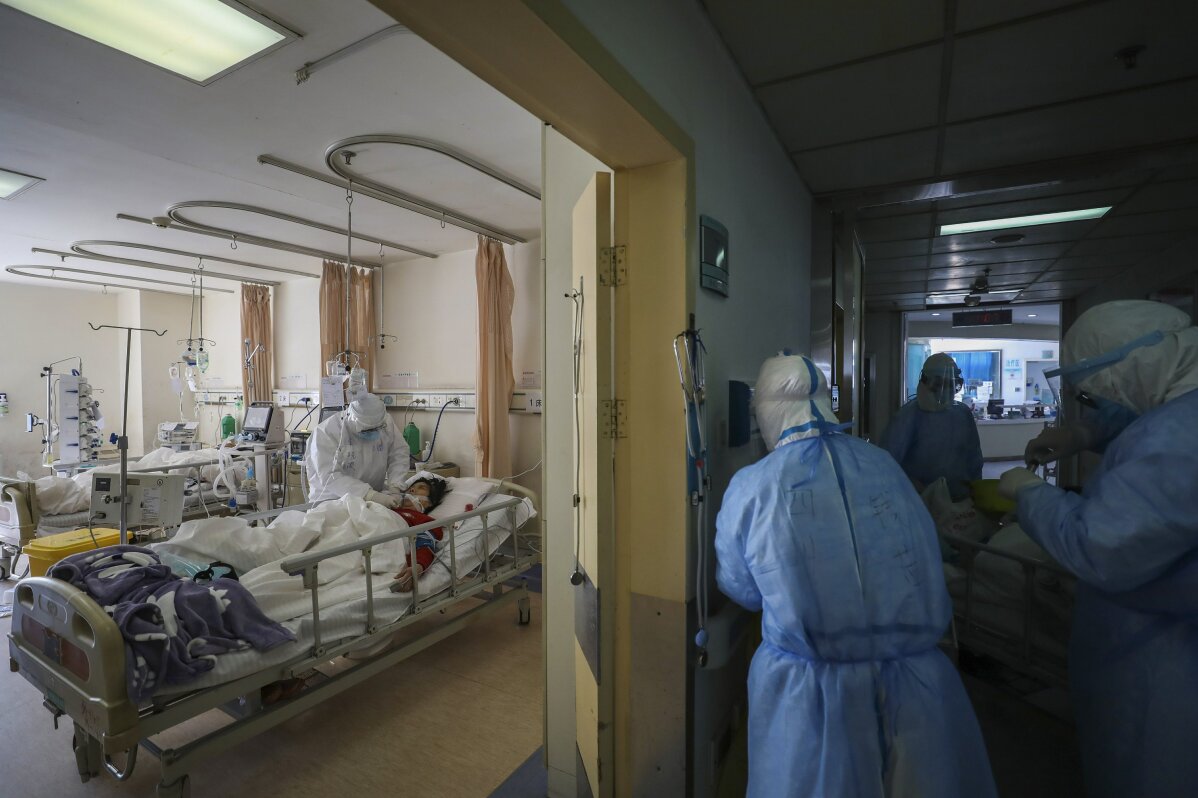 19 of 21

|
In this Sunday, Feb. 16, 2020, photo, medical personnel provide treatment to a a new coronavirus patient at a hospital in Wuhan in central China's Hubei province. Chinese authorities on Monday reported a slight upturn in new virus cases and hundred more deaths for a total of thousands since the outbreak began two months ago. (Chinatopix via AP)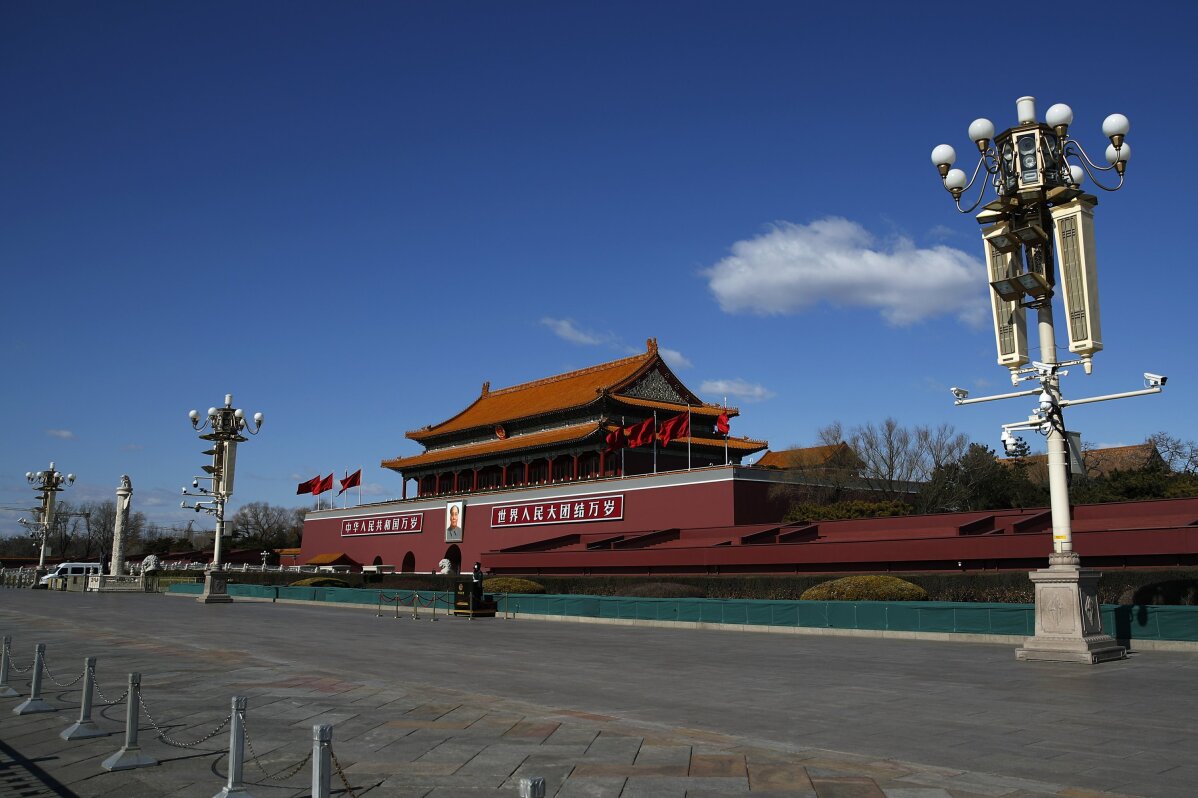 20 of 21

|
FILE - In this Feb. 16, 2020, file photo, a masked paramilitary policeman stands guard alone at a deserted Tiananmen Gate following the coronavirus outbreak, in Beijing. China on Wednesday, Feb. 19 said it has revoked the press credentials of three reporters for the U.S. newspaper Wall Street Journal over a headline for an opinion column deemed by the government to be racist and slanderous. (AP Photo/Andy Wong, File)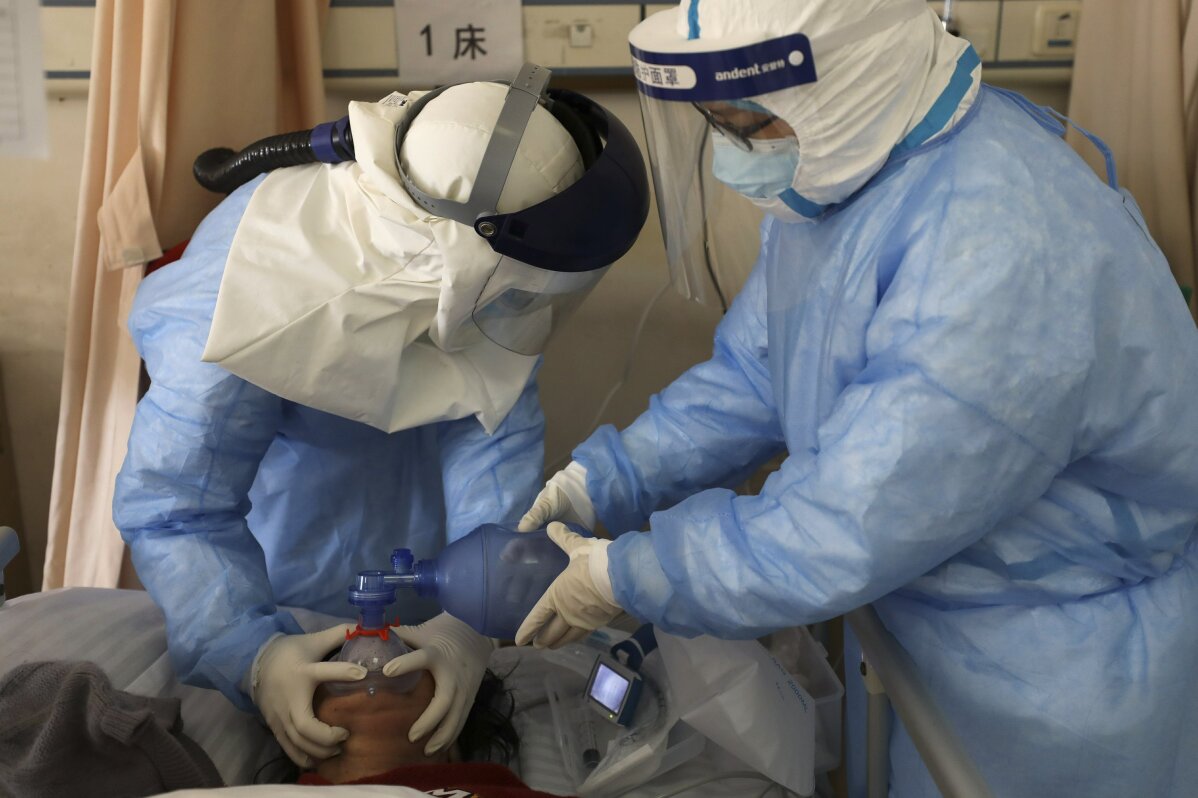 21 of 21

|
In this Sunday, Feb. 16, 2020, photo, medical workers pump oxygen for a new coronavirus patient at a hospital in Wuhan in central China's Hubei province. Chinese authorities on Monday reported a slight upturn in new virus cases and hundred more deaths for a total of thousands since the outbreak began two months ago. (Chinatopix via AP)
China reports 1,886 new virus cases, death toll up by 98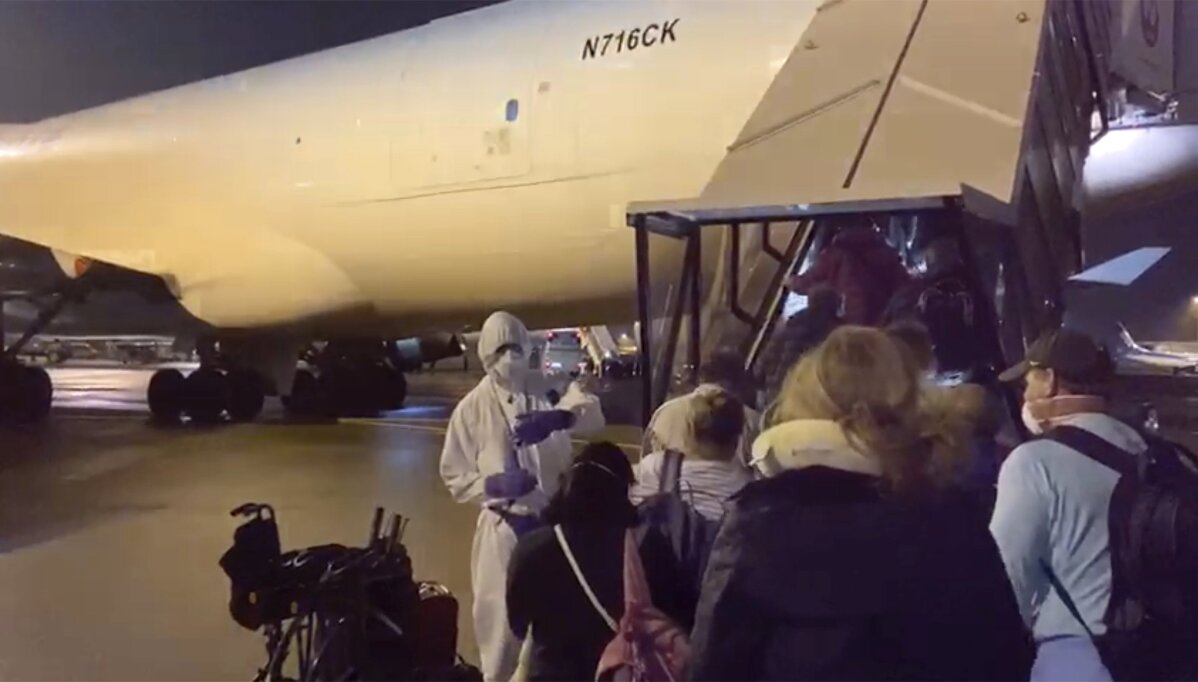 1 of 21

|
In this image from a video taken on Monday, Feb. 17, 2020, U.S. passengers who evacuated off the quarantined cruise ship the Diamond Princess, board a Kalitta Air plane bound for the U.S., at Haneda airport in Tokyo.(Cheryl and Paul Molesky via AP)
1 of 21
In this image from a video taken on Monday, Feb. 17, 2020, U.S. passengers who evacuated off the quarantined cruise ship the Diamond Princess, board a Kalitta Air plane bound for the U.S., at Haneda airport in Tokyo.(Cheryl and Paul Molesky via AP)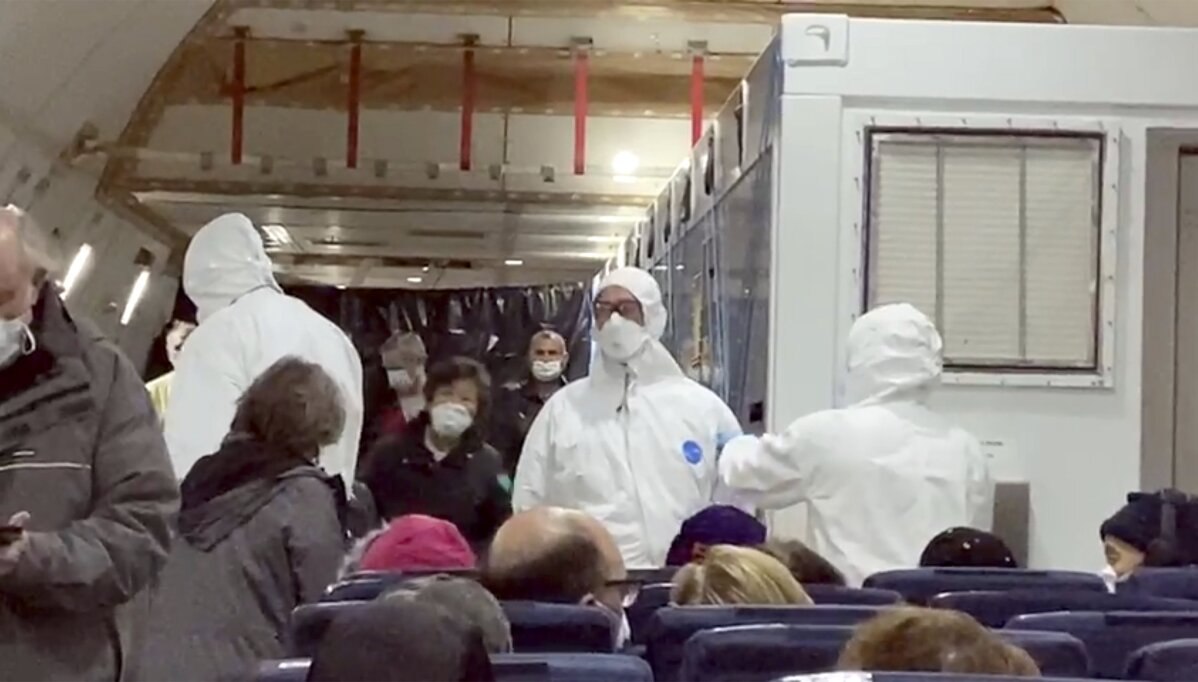 2 of 21

|
In this image from a video taken on Monday, Feb. 17, 2020, U.S. passengers who evacuated off the quarantined cruise ship the Diamond Princess and officials wait for the takeoff of a Kalitta Air airplane bound for the U.S., at Haneda airport in Tokyo.(Cheryl and Paul Molesky via AP)
2 of 21
In this image from a video taken on Monday, Feb. 17, 2020, U.S. passengers who evacuated off the quarantined cruise ship the Diamond Princess and officials wait for the takeoff of a Kalitta Air airplane bound for the U.S., at Haneda airport in Tokyo.(Cheryl and Paul Molesky via AP)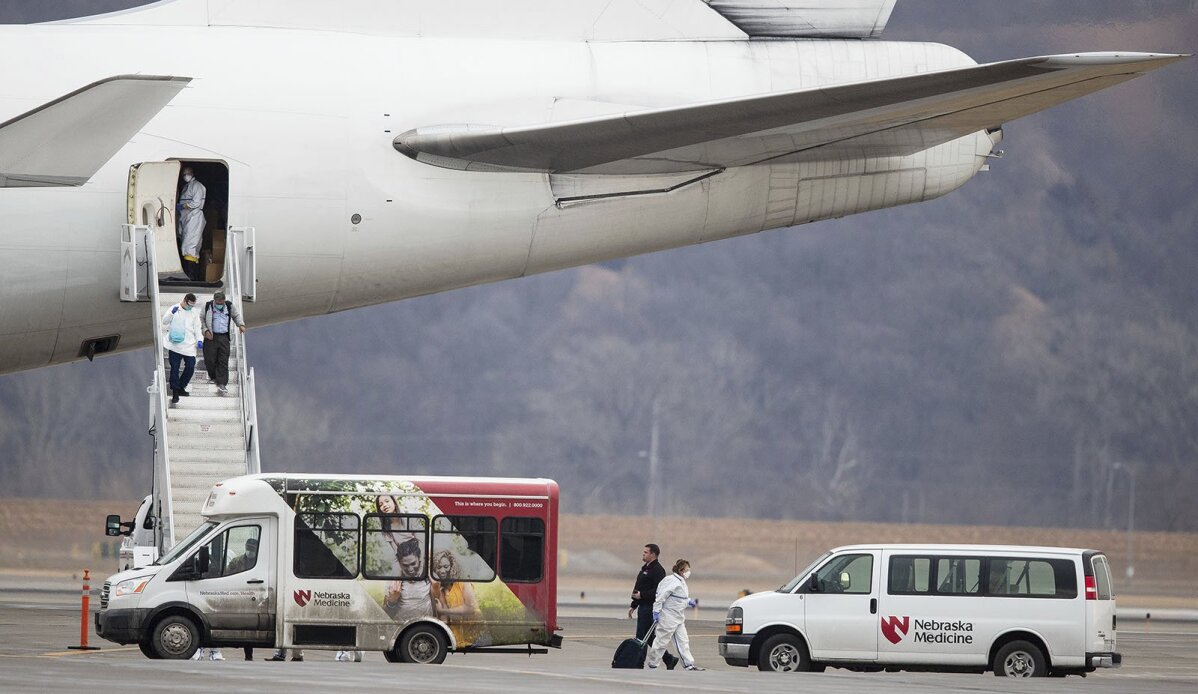 3 of 21

|
Officials help passengers off a plane to waiting vehicles at Eppley Airfield in Omaha, Neb., on Monday, Feb 17, 2020. American citizens who were on a cruise ship off Japan's coast who were at high risk of being exposed to the novel coronavirus were taken to the University of Nebraska Medical Center campus after landing. (Z Long/Omaha World-Herald via AP)
3 of 21
Officials help passengers off a plane to waiting vehicles at Eppley Airfield in Omaha, Neb., on Monday, Feb 17, 2020. American citizens who were on a cruise ship off Japan's coast who were at high risk of being exposed to the novel coronavirus were taken to the University of Nebraska Medical Center campus after landing. (Z Long/Omaha World-Herald via AP)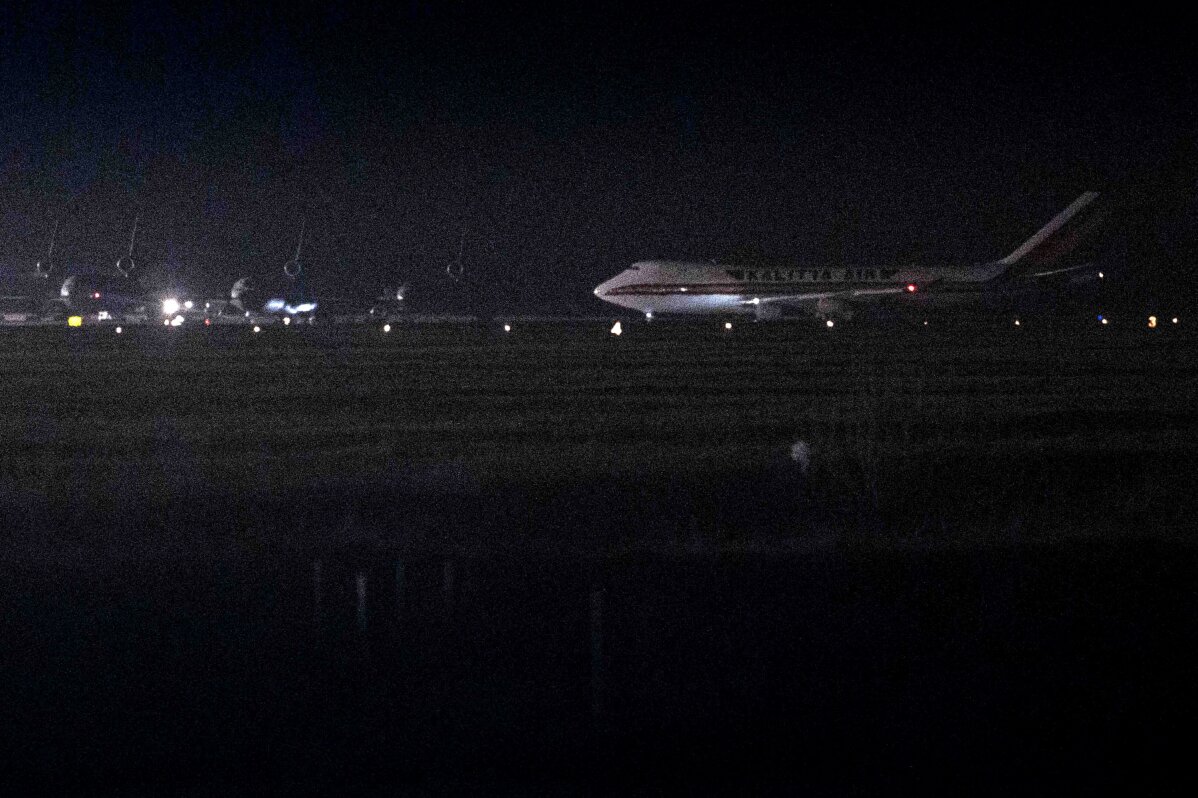 4 of 21

|
A charter flight transporting passengers from the quarantined Diamond Princess cruise ship arrives at Travis Air Force Base in Fairfield, Calif., Sunday, Feb. 16, 2020. (AP Photo/Hector Amezcua)
4 of 21
A charter flight transporting passengers from the quarantined Diamond Princess cruise ship arrives at Travis Air Force Base in Fairfield, Calif., Sunday, Feb. 16, 2020. (AP Photo/Hector Amezcua)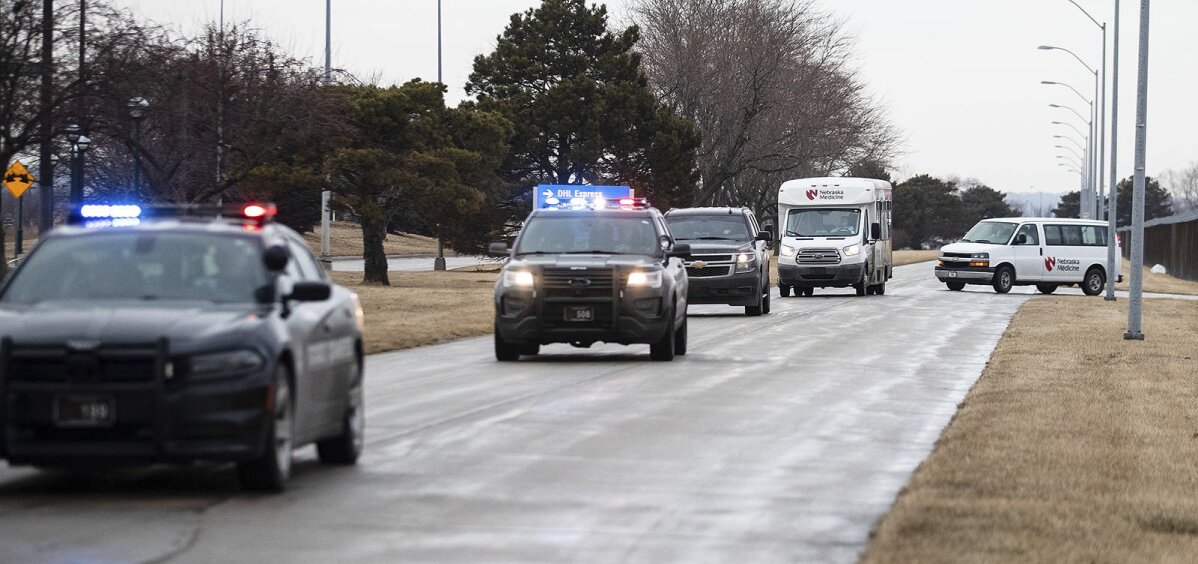 5 of 21

|
Law enforcement vehicles escort Nebraska Medical Center vehicles leaving Eppley Airfield in Omaha, Neb., on Monday, Feb 17, 2020. American citizens who were on a cruise ship off Japan's coast who were at high risk of being exposed to the novel coronavirus were flown to Omaha and taken to the University of Nebraska Medical Center campus after landing. (Z Long/Omaha World-Herald via AP)
5 of 21
Law enforcement vehicles escort Nebraska Medical Center vehicles leaving Eppley Airfield in Omaha, Neb., on Monday, Feb 17, 2020. American citizens who were on a cruise ship off Japan's coast who were at high risk of being exposed to the novel coronavirus were flown to Omaha and taken to the University of Nebraska Medical Center campus after landing. (Z Long/Omaha World-Herald via AP)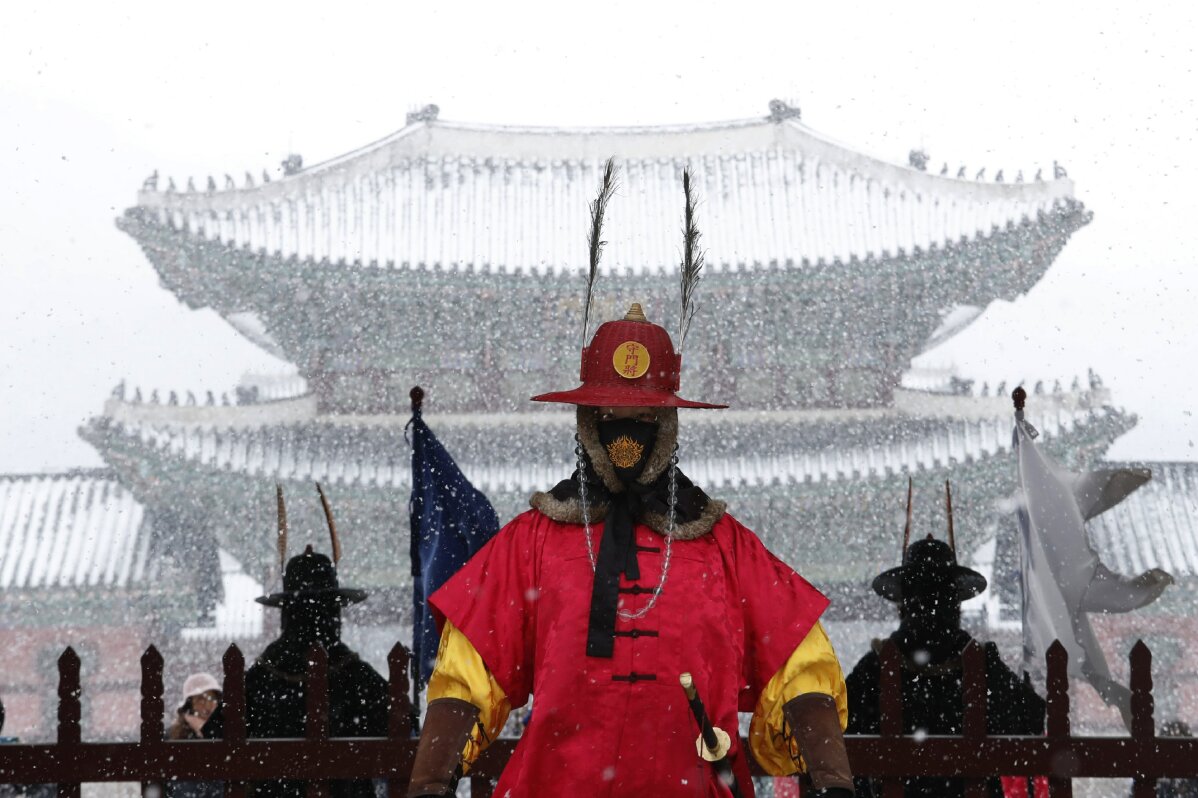 6 of 21

|
An Imperial guard wearing a face mask stands in the snow outside the Gyeongbok Palace, the main royal palace during the Joseon Dynasty in Seoul, South Korea, Monday, Feb. 17, 2020. Chinese authorities on Monday reported a slight upturn in new virus cases and hundred more deaths for a total of thousands since the outbreak began two months ago. (AP Photo/Ahn Young-joon)
6 of 21
An Imperial guard wearing a face mask stands in the snow outside the Gyeongbok Palace, the main royal palace during the Joseon Dynasty in Seoul, South Korea, Monday, Feb. 17, 2020. Chinese authorities on Monday reported a slight upturn in new virus cases and hundred more deaths for a total of thousands since the outbreak began two months ago. (AP Photo/Ahn Young-joon)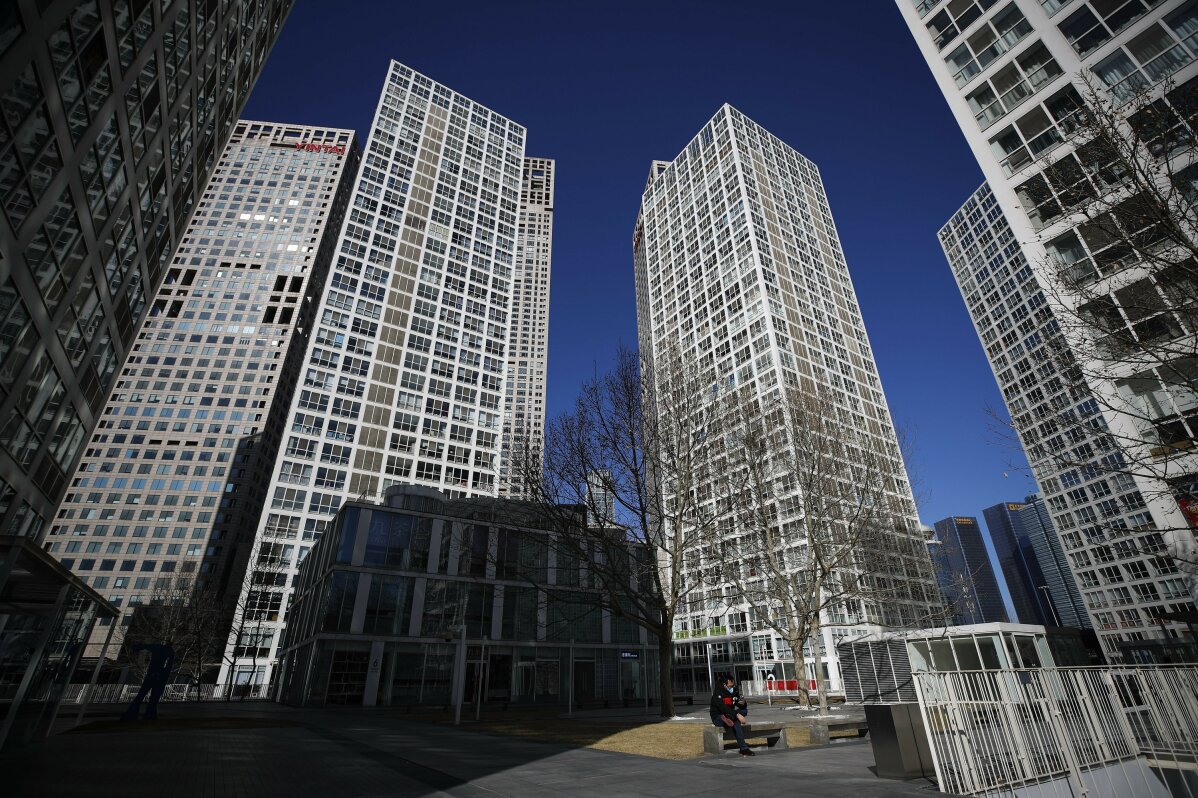 7 of 21

|
A man wearing a protective face mask sits alone at a deserted compound of a commercial office building during the lunch break in Beijing, Monday, Feb. 17, 2020. Chinese authorities on Monday reported a slight upturn in new virus cases and hundred more deaths, as the military dispatched hundreds more medical workers and extra supplies to the city hit hardest by the 2-month-old outbreak. (AP Photo/Andy Wong)
7 of 21
A man wearing a protective face mask sits alone at a deserted compound of a commercial office building during the lunch break in Beijing, Monday, Feb. 17, 2020. Chinese authorities on Monday reported a slight upturn in new virus cases and hundred more deaths, as the military dispatched hundreds more medical workers and extra supplies to the city hit hardest by the 2-month-old outbreak. (AP Photo/Andy Wong)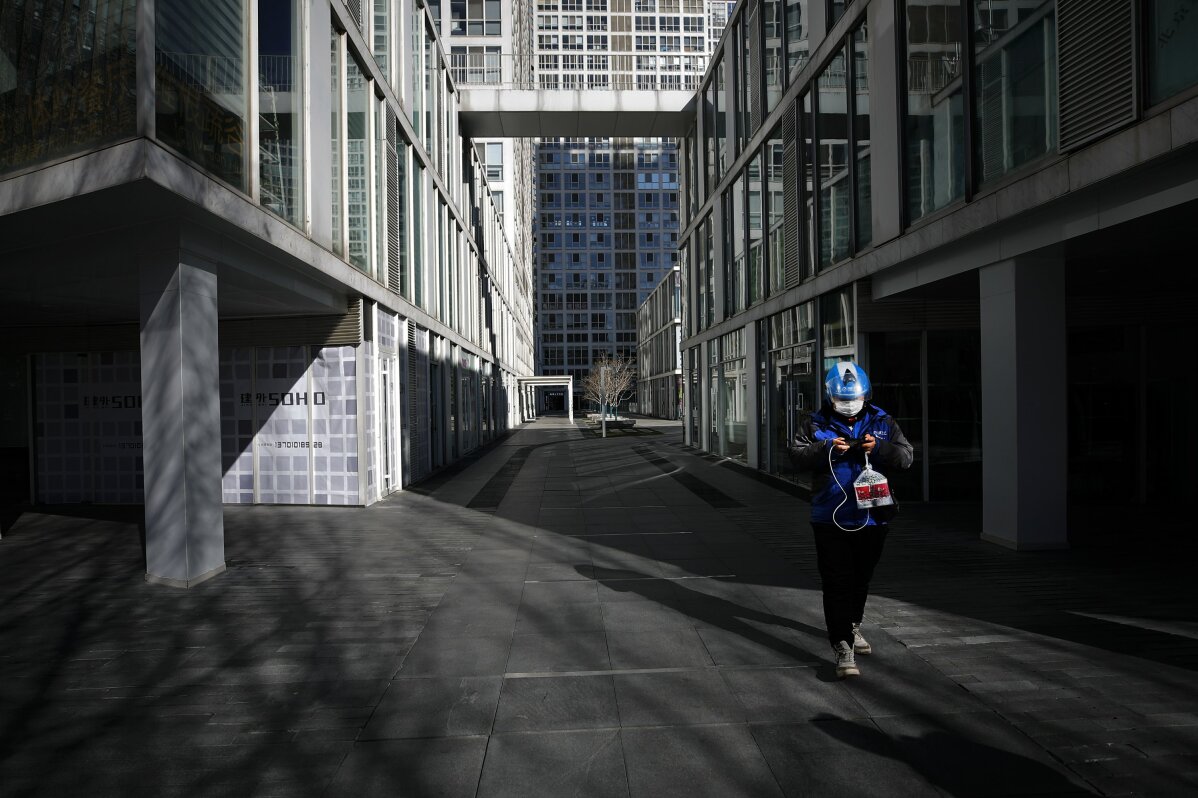 8 of 21

|
A food delivery worker passes a deserted compound of a commercial office building during the lunch break in Beijing, Monday, Feb. 17, 2020. Chinese authorities on Monday reported a slight upturn in new virus cases and hundred more deaths, as the military dispatched hundreds more medical workers and extra supplies to the city hit hardest by the 2-month-old outbreak. (AP Photo/Andy Wong)
8 of 21
A food delivery worker passes a deserted compound of a commercial office building during the lunch break in Beijing, Monday, Feb. 17, 2020. Chinese authorities on Monday reported a slight upturn in new virus cases and hundred more deaths, as the military dispatched hundreds more medical workers and extra supplies to the city hit hardest by the 2-month-old outbreak. (AP Photo/Andy Wong)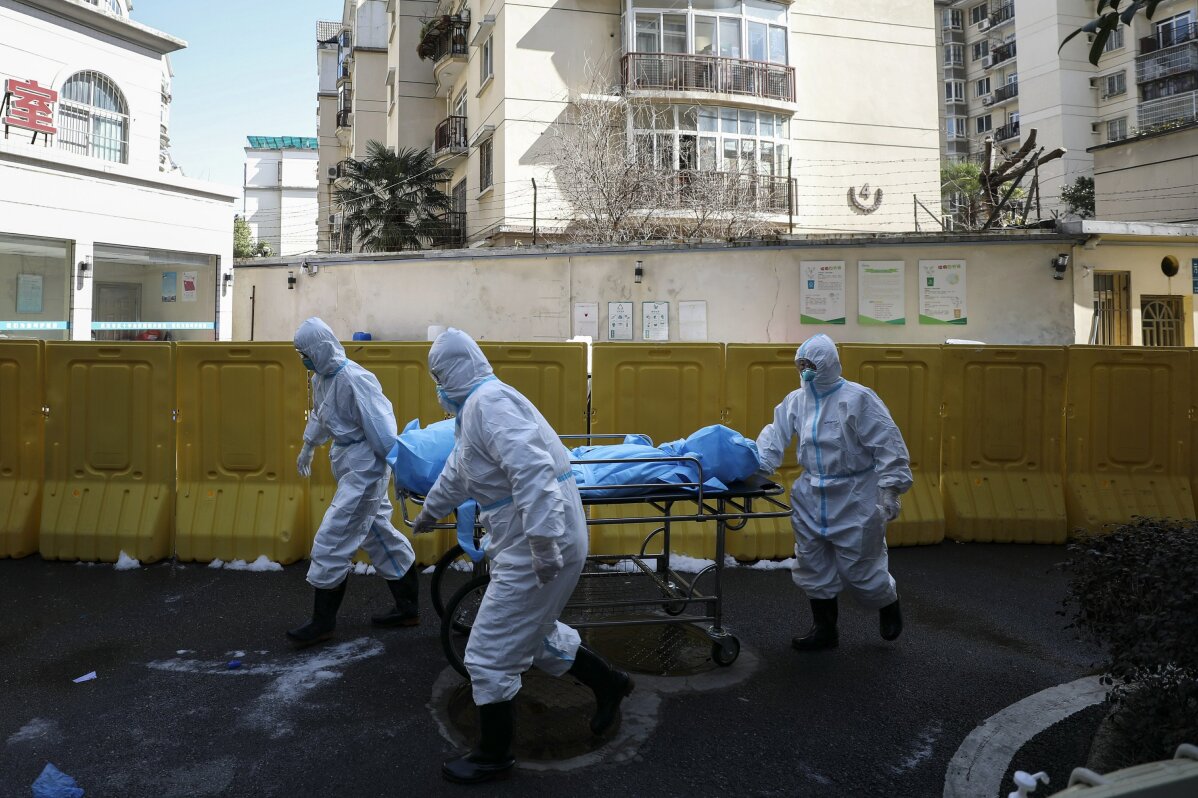 9 of 21

|
In this Sunday, Feb. 16, 2020, photo, medical workers move a person who died from COVID-19 at a hospital in Wuhan in central China's Hubei province. Chinese authorities on Monday reported a slight upturn in new virus cases and hundred more deaths for a total of thousands since the outbreak began two months ago. (Chinatopix via AP)
9 of 21
In this Sunday, Feb. 16, 2020, photo, medical workers move a person who died from COVID-19 at a hospital in Wuhan in central China's Hubei province. Chinese authorities on Monday reported a slight upturn in new virus cases and hundred more deaths for a total of thousands since the outbreak began two months ago. (Chinatopix via AP)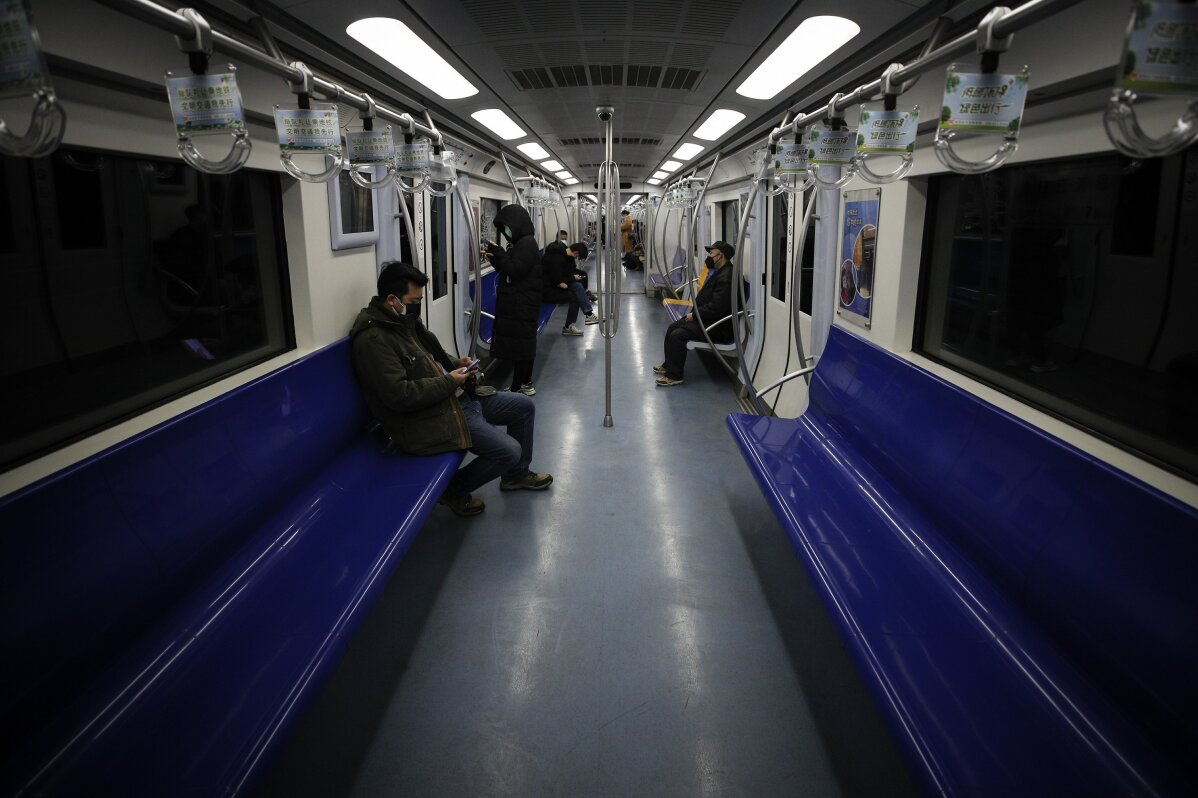 10 of 21

|
Commuters ride in a quiet subway train during the morning rush hour in Beijing, Monday, Feb. 17, 2020. Chinese authorities on Monday reported a slight upturn in new virus cases and hundred more deaths for a total of thousands since the outbreak began two months ago. (AP Photo/Andy Wong)
10 of 21
Commuters ride in a quiet subway train during the morning rush hour in Beijing, Monday, Feb. 17, 2020. Chinese authorities on Monday reported a slight upturn in new virus cases and hundred more deaths for a total of thousands since the outbreak began two months ago. (AP Photo/Andy Wong)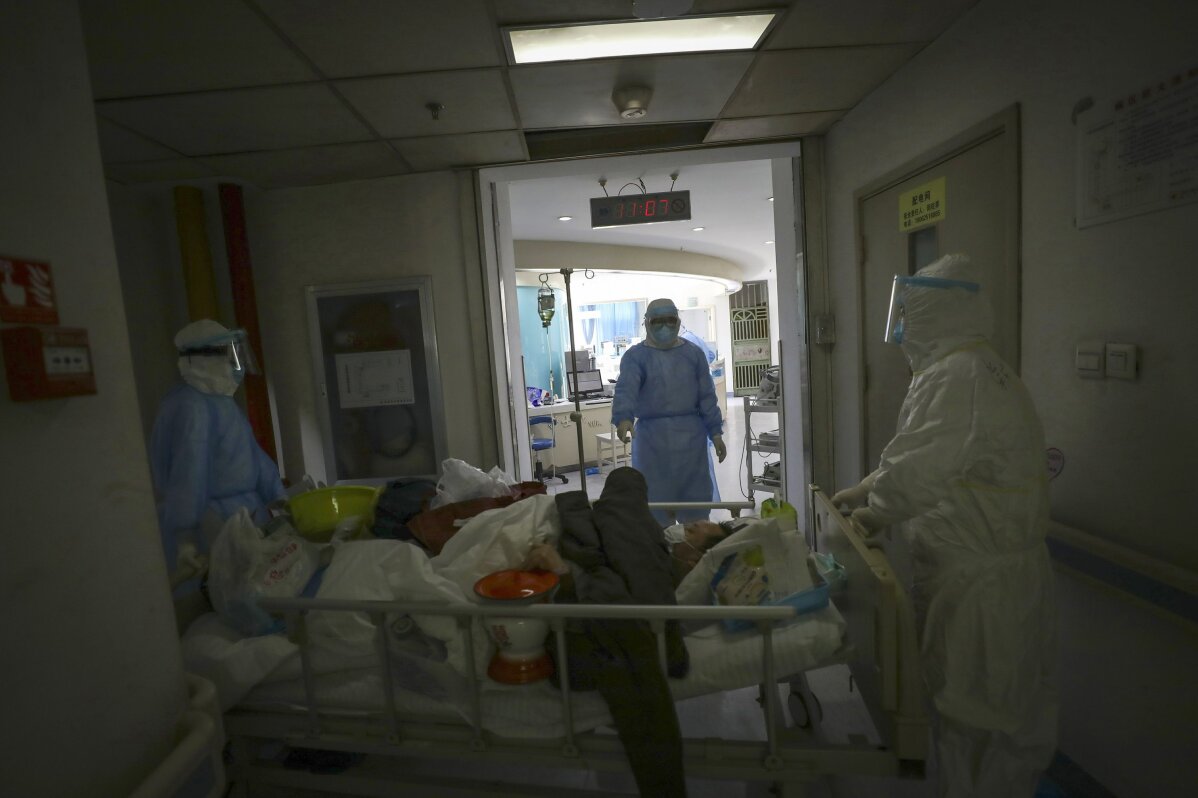 11 of 21

|
In this Sunday, Feb. 16, 2020, photo, medical workers transfer a new coronavirus patient at a hospital in Wuhan in central China's Hubei province. Chinese authorities on Monday reported a slight upturn in new virus cases and hundred more deaths for a total of thousands since the outbreak began two months ago. (Chinatopix via AP)
11 of 21
In this Sunday, Feb. 16, 2020, photo, medical workers transfer a new coronavirus patient at a hospital in Wuhan in central China's Hubei province. Chinese authorities on Monday reported a slight upturn in new virus cases and hundred more deaths for a total of thousands since the outbreak began two months ago. (Chinatopix via AP)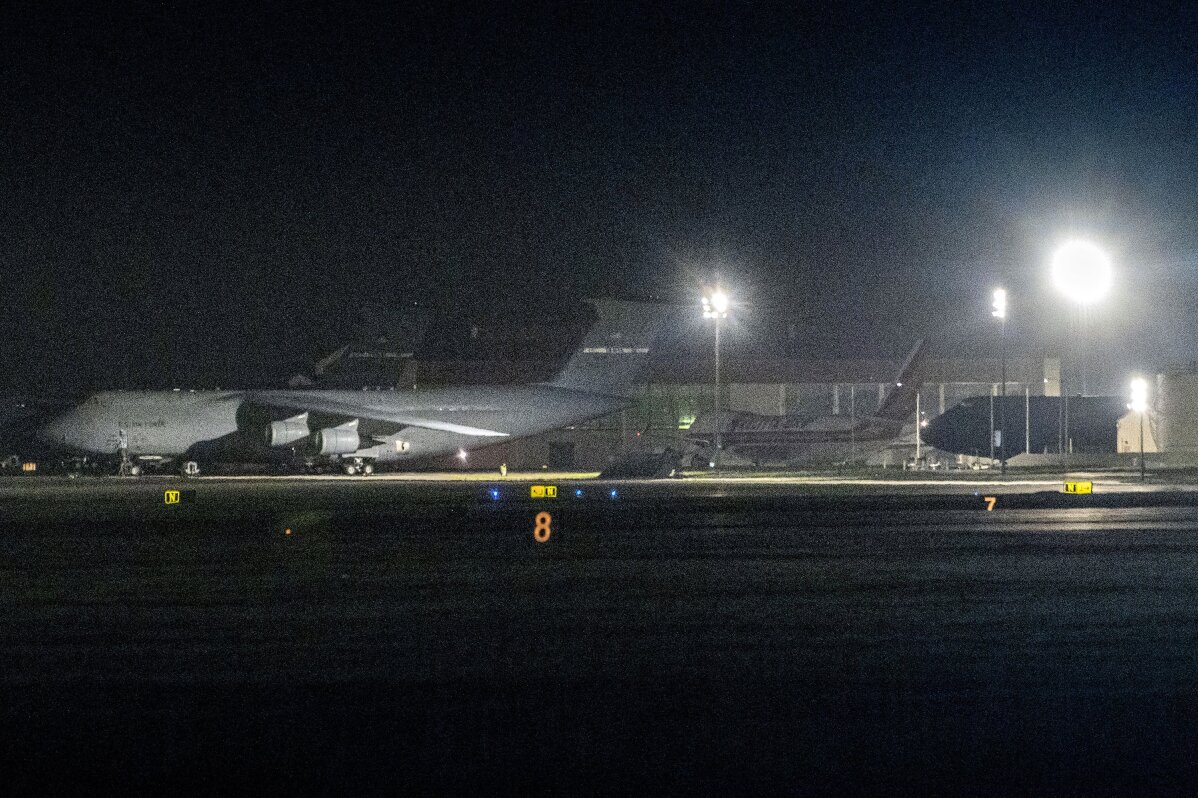 12 of 21

|
A charter flight transporting passengers from the quarantined Diamond Princess cruise ship moves behind military airplanes after it arrived at Travis Air Force Base in Fairfield, Calif., Sunday, Feb. 16, 2020. (AP Photo/Hector Amezcua)
12 of 21
A charter flight transporting passengers from the quarantined Diamond Princess cruise ship moves behind military airplanes after it arrived at Travis Air Force Base in Fairfield, Calif., Sunday, Feb. 16, 2020. (AP Photo/Hector Amezcua)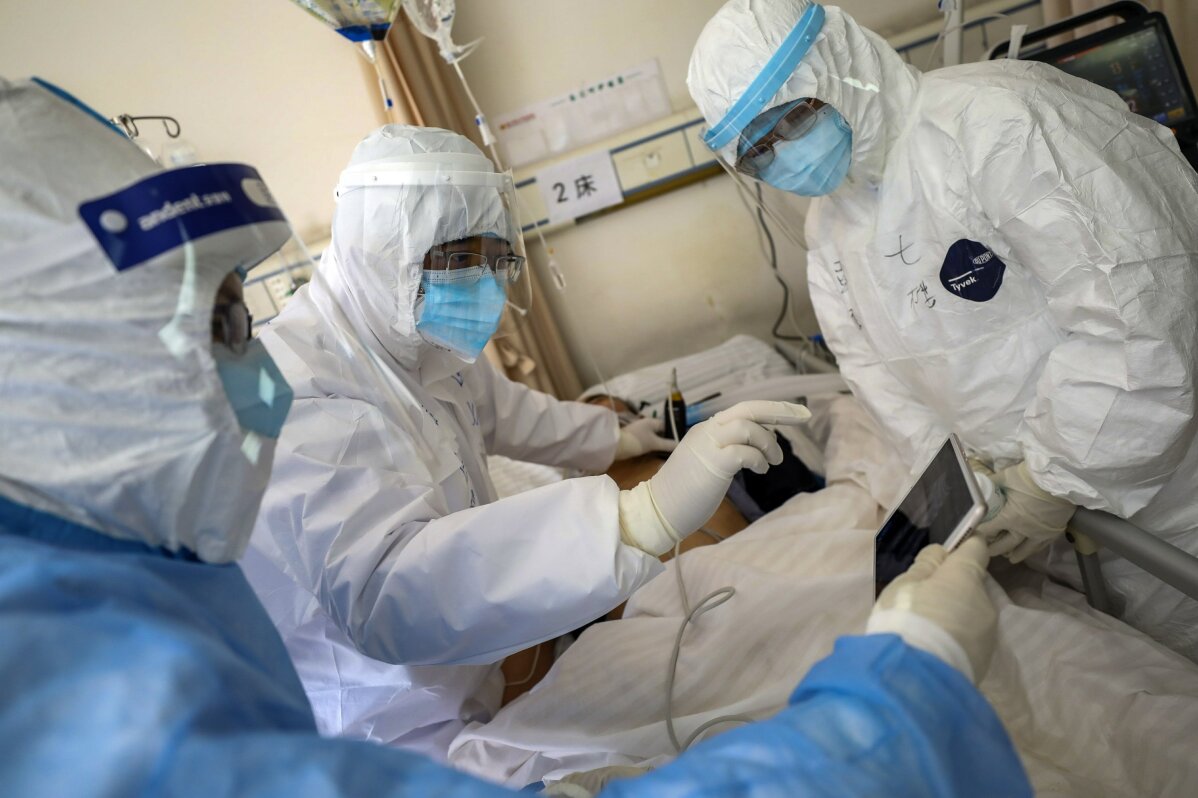 13 of 21

|
In this Sunday, Feb. 16, 2020, photo, medical personnel scan a new coronavirus patient at a hospital in Wuhan in central China's Hubei province. Chinese authorities on Monday reported a slight upturn in new virus cases and hundred more deaths for a total of thousands since the outbreak began two months ago. (Chinatopix via AP)
13 of 21
In this Sunday, Feb. 16, 2020, photo, medical personnel scan a new coronavirus patient at a hospital in Wuhan in central China's Hubei province. Chinese authorities on Monday reported a slight upturn in new virus cases and hundred more deaths for a total of thousands since the outbreak began two months ago. (Chinatopix via AP)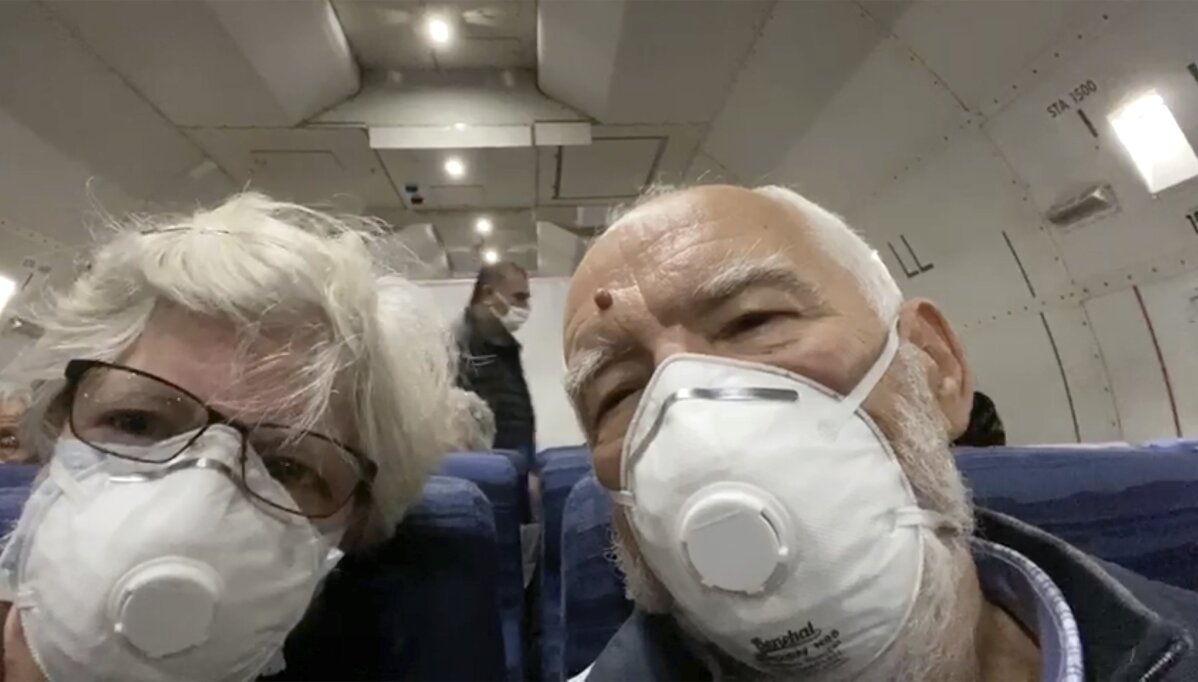 14 of 21

|
In this image from a video taken on Monday, Feb. 17, 2020, Paul Molesky, right, and Cheryl Molesky, who evacuated off the quarantined cruise ship the Diamond Princess, film selfie video aboard a Kalitta Air plane bound for the U.S., at Haneda airport in Tokyo.(Cheryl and Paul Molesky via AP)
14 of 21
In this image from a video taken on Monday, Feb. 17, 2020, Paul Molesky, right, and Cheryl Molesky, who evacuated off the quarantined cruise ship the Diamond Princess, film selfie video aboard a Kalitta Air plane bound for the U.S., at Haneda airport in Tokyo.(Cheryl and Paul Molesky via AP)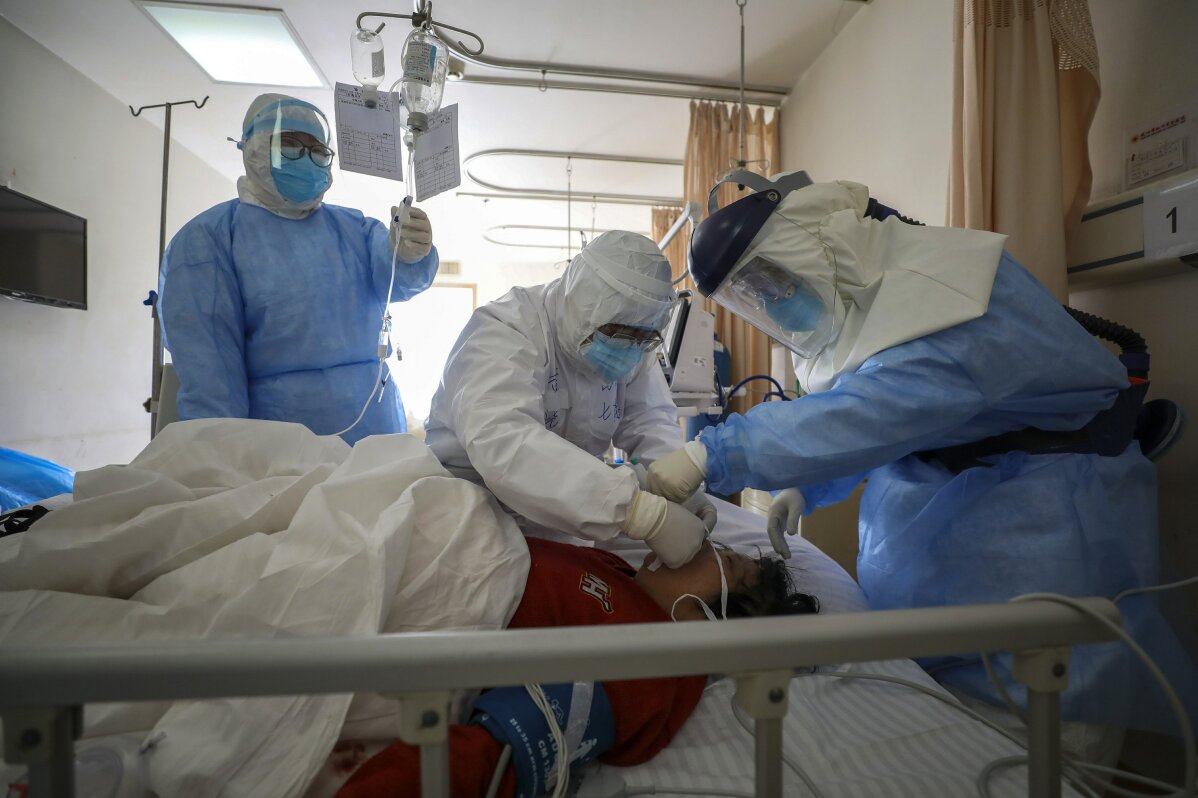 15 of 21

|
In this Sunday, Feb. 16, 2020, photo, medical workers provide treatment to a new coronavirus patient at a hospital in Wuhan in central China's Hubei province. Chinese authorities on Monday reported a slight upturn in new virus cases and hundred more deaths for a total of thousands since the outbreak began two months ago. (Chinatopix via AP)
15 of 21
In this Sunday, Feb. 16, 2020, photo, medical workers provide treatment to a new coronavirus patient at a hospital in Wuhan in central China's Hubei province. Chinese authorities on Monday reported a slight upturn in new virus cases and hundred more deaths for a total of thousands since the outbreak began two months ago. (Chinatopix via AP)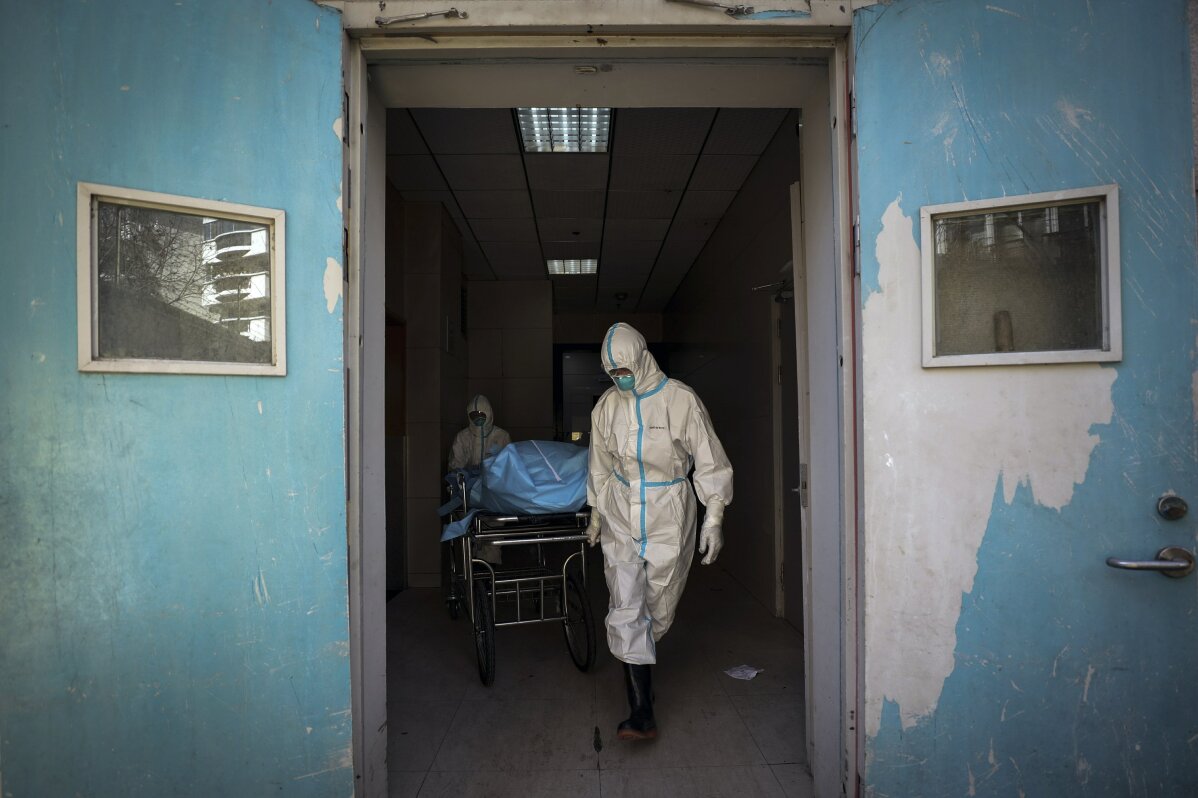 16 of 21

|
In this Sunday, Feb. 16, 2020, photo, medical workers move a person who died from COVID-19 at a hospital in Wuhan in central China's Hubei province. Chinese authorities on Monday reported a slight upturn in new virus cases and hundred more deaths for a total of thousands since the outbreak began two months ago. (Chinatopix via AP)
16 of 21
In this Sunday, Feb. 16, 2020, photo, medical workers move a person who died from COVID-19 at a hospital in Wuhan in central China's Hubei province. Chinese authorities on Monday reported a slight upturn in new virus cases and hundred more deaths for a total of thousands since the outbreak began two months ago. (Chinatopix via AP)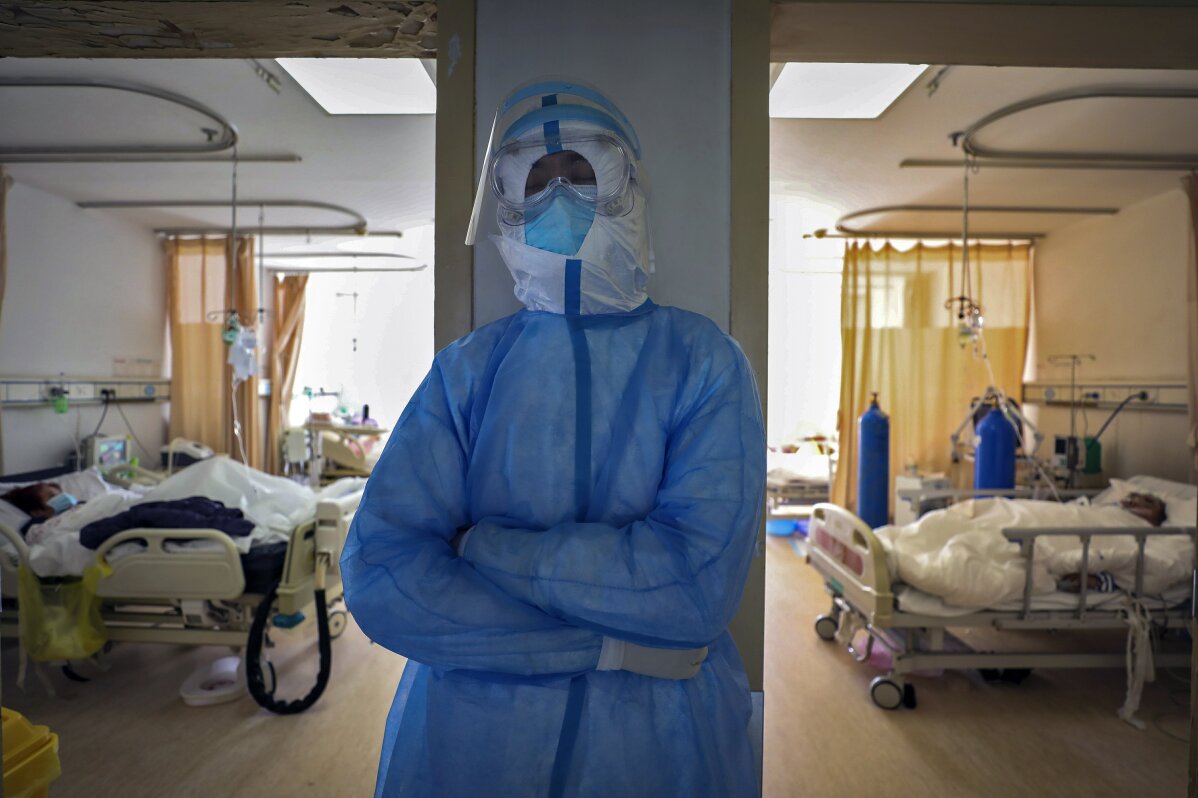 17 of 21

|
In this Sunday, Feb. 16, 2020, photo, a medical worker takes a nap at a hospital in Wuhan in central China's Hubei province. Chinese authorities on Monday reported a slight upturn in new virus cases and hundred more deaths for a total of thousands since the outbreak began two months ago. (Chinatopix via AP)
17 of 21
In this Sunday, Feb. 16, 2020, photo, a medical worker takes a nap at a hospital in Wuhan in central China's Hubei province. Chinese authorities on Monday reported a slight upturn in new virus cases and hundred more deaths for a total of thousands since the outbreak began two months ago. (Chinatopix via AP)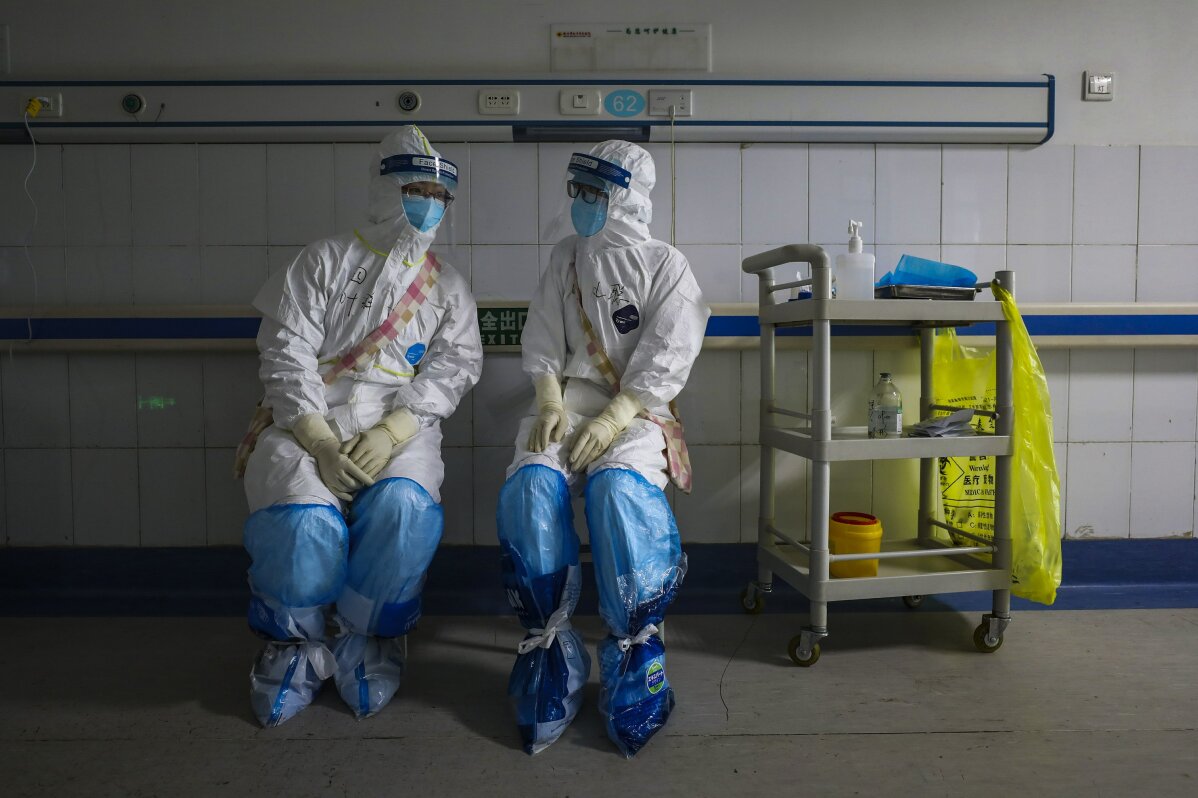 18 of 21

|
In this Sunday, Feb. 16, 2020, photo, medical workers wearing full protective suits chat to each other at a hospital in Wuhan in central China's Hubei province. Chinese authorities on Monday reported a slight upturn in new virus cases and hundred more deaths for a total of thousands since the outbreak began two months ago. (Chinatopix via AP)
18 of 21
In this Sunday, Feb. 16, 2020, photo, medical workers wearing full protective suits chat to each other at a hospital in Wuhan in central China's Hubei province. Chinese authorities on Monday reported a slight upturn in new virus cases and hundred more deaths for a total of thousands since the outbreak began two months ago. (Chinatopix via AP)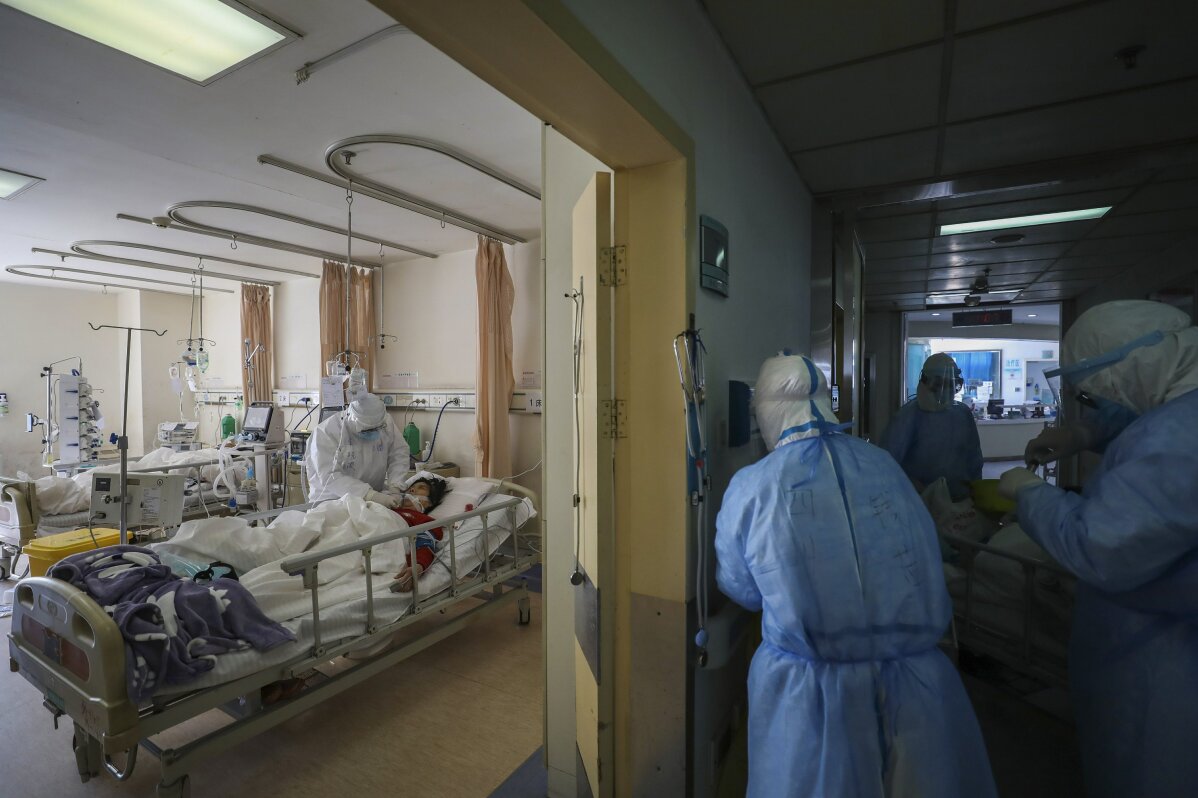 19 of 21

|
In this Sunday, Feb. 16, 2020, photo, medical personnel provide treatment to a a new coronavirus patient at a hospital in Wuhan in central China's Hubei province. Chinese authorities on Monday reported a slight upturn in new virus cases and hundred more deaths for a total of thousands since the outbreak began two months ago. (Chinatopix via AP)
19 of 21
In this Sunday, Feb. 16, 2020, photo, medical personnel provide treatment to a a new coronavirus patient at a hospital in Wuhan in central China's Hubei province. Chinese authorities on Monday reported a slight upturn in new virus cases and hundred more deaths for a total of thousands since the outbreak began two months ago. (Chinatopix via AP)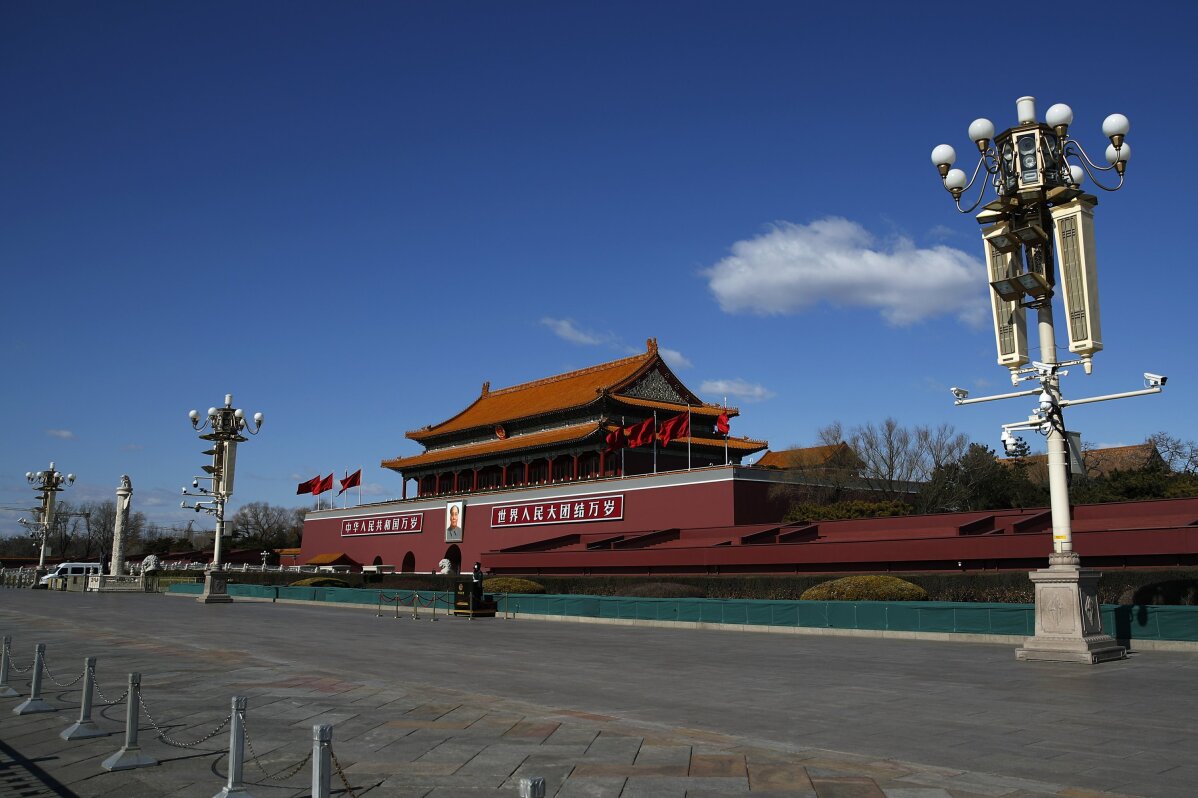 20 of 21

|
FILE - In this Feb. 16, 2020, file photo, a masked paramilitary policeman stands guard alone at a deserted Tiananmen Gate following the coronavirus outbreak, in Beijing. China on Wednesday, Feb. 19 said it has revoked the press credentials of three reporters for the U.S. newspaper Wall Street Journal over a headline for an opinion column deemed by the government to be racist and slanderous. (AP Photo/Andy Wong, File)
20 of 21
FILE - In this Feb. 16, 2020, file photo, a masked paramilitary policeman stands guard alone at a deserted Tiananmen Gate following the coronavirus outbreak, in Beijing. China on Wednesday, Feb. 19 said it has revoked the press credentials of three reporters for the U.S. newspaper Wall Street Journal over a headline for an opinion column deemed by the government to be racist and slanderous. (AP Photo/Andy Wong, File)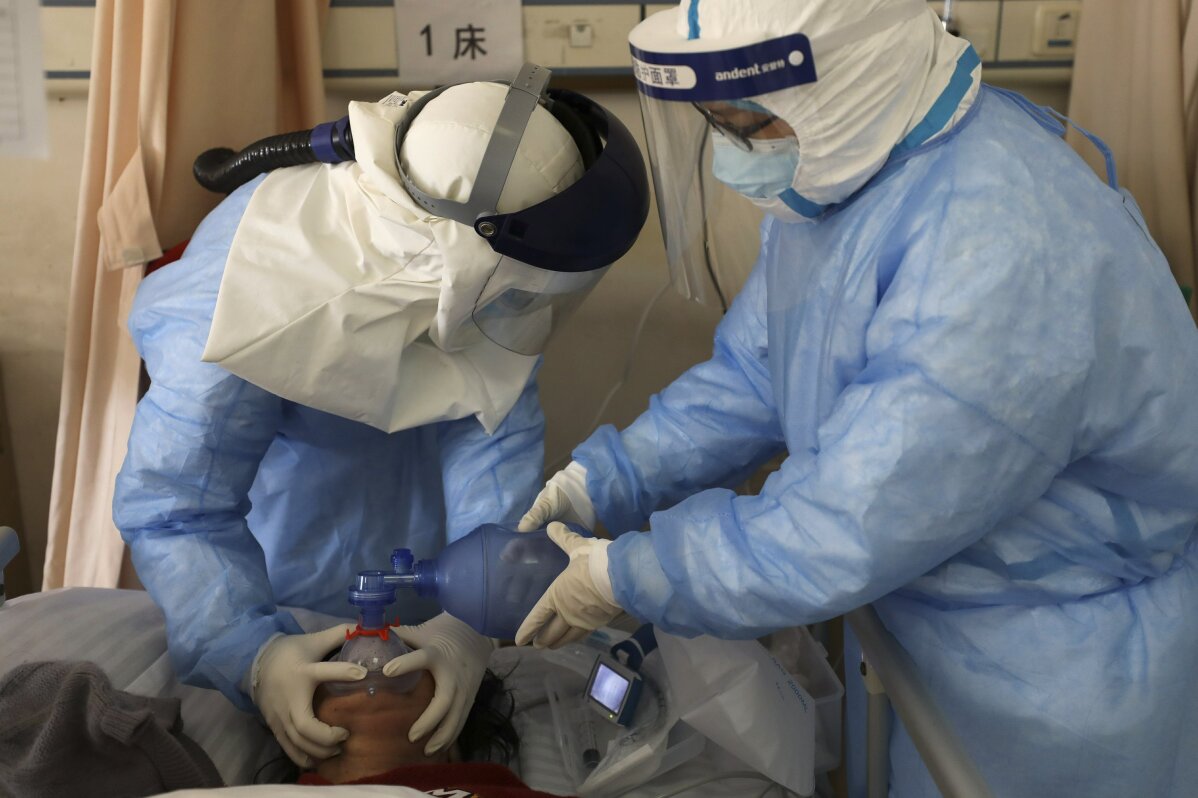 21 of 21

|
In this Sunday, Feb. 16, 2020, photo, medical workers pump oxygen for a new coronavirus patient at a hospital in Wuhan in central China's Hubei province. Chinese authorities on Monday reported a slight upturn in new virus cases and hundred more deaths for a total of thousands since the outbreak began two months ago. (Chinatopix via AP)
21 of 21
In this Sunday, Feb. 16, 2020, photo, medical workers pump oxygen for a new coronavirus patient at a hospital in Wuhan in central China's Hubei province. Chinese authorities on Monday reported a slight upturn in new virus cases and hundred more deaths for a total of thousands since the outbreak began two months ago. (Chinatopix via AP)
Mainland China reported 1,886 new virus cases and 98 more deaths for a total of 1,868 in its update Tuesday, following a report that 80% of cases have been mild, prompting guarded optimism from health officials.
The latest figures come after health officials in China published the first details on nearly 45,000 cases of infection with the coronavirus that originated there, saying more than 80% have been mild and new ones seem to be falling since early this month.
A total of 72,436 cases have been reported in mainland China as of Tuesday, although a spike in recent cases was due to a broader definition in the hardest-hit region based on doctors' diagnoses before laboratory tests were completed.
Monday's report from the Chinese Center for Disease Control and Prevention gives the World Health Organization a "clearer picture of the outbreak, how it's developing and where it's headed," WHO's director-general said at a news conference.
"It's too early to tell if this reported decline will continue. Every scenario is still on the table," Tedros Adhanom Ghebreyesus said.
China may postpone its annual congress in March, its biggest political meeting of the year, to avoid travel while the disease is still spreading. The standing committee for the National People's Congress will meet Feb. 24 to deliberate on a postponement of the meeting due to start March 5.
The new disease, called COVID-19, first emerged in December in Wuhan, the capital of central China's Hubei province, and has spread to more than two dozen other countries.
The new study reports on 44,672 cases confirmed in China as of Feb. 11. The virus caused severe symptoms such as pneumonia in 14% of them and critical illness in 5%.
The fatality rate for these confirmed cases is 2.3% — 2.8% for males versus 1.7% for females.
That's lower than for SARS and MERS, which are caused by two similar viruses, but COVID-19 ultimately could prove more deadly if it spreads to far more people than the others did. Ordinary flu has a fatality rate of 0.1% yet kills hundreds of thousands because it infects millions each year.
The COVID-19 cases include relatively few children, and the risk of death rises with age. It's higher among those with other health problems — more than 10% for those with heart disease, for example, and higher among those in Hubei province versus elsewhere in China.
Cases seem to have been declining since Feb. 1, but that could change as people return to work and school after the Chinese holidays, the report warns. Beijing has sought to forestall that by extending the Lunar New Year holiday, imposing tight travel restrictions and demanding 14 days off self-quarantine for anyone returning from outside their immediate region.
Hundreds of cases have been confirmed outside China, with a significant number on a cruise ship quarantined at a port near Tokyo.
Japanese officials on Monday confirmed 99 more people were infected on the Diamond Princess, bringing the total to 454. The Health Ministry said it has now tested 1,723 people on the ship, which had about 3,700 passengers and crew aboard. Outside China, the ship has the largest number of cases of COVID-19.
Japan has 518 confirmed cases, including the 454 from the cruise ship, and one death from the virus.
The U.S. evacuated 328 American passengers, with most of them now in a 14-day quarantine at military bases in California and Texas. Fourteen of them have the virus and were taken to hospitals in California and Nebraska.
Any quarantined passengers who shows symptoms of the virus will be taken to a hospital off the base "for containment and specialized care," according to a statement from Centers for Disease Control and Prevention spokesman Scott Pauley. The CDC rather than the Department of Defense is responsible for all parts of the quarantine operation.
___
Associated Press writers Maria Cheng in London and Marilynn Marchione David Pitt, Olga R. Rodriguez and Ken Miller in the U.S. contributed to this report.