Volunteers speak on why they serve and why more people don't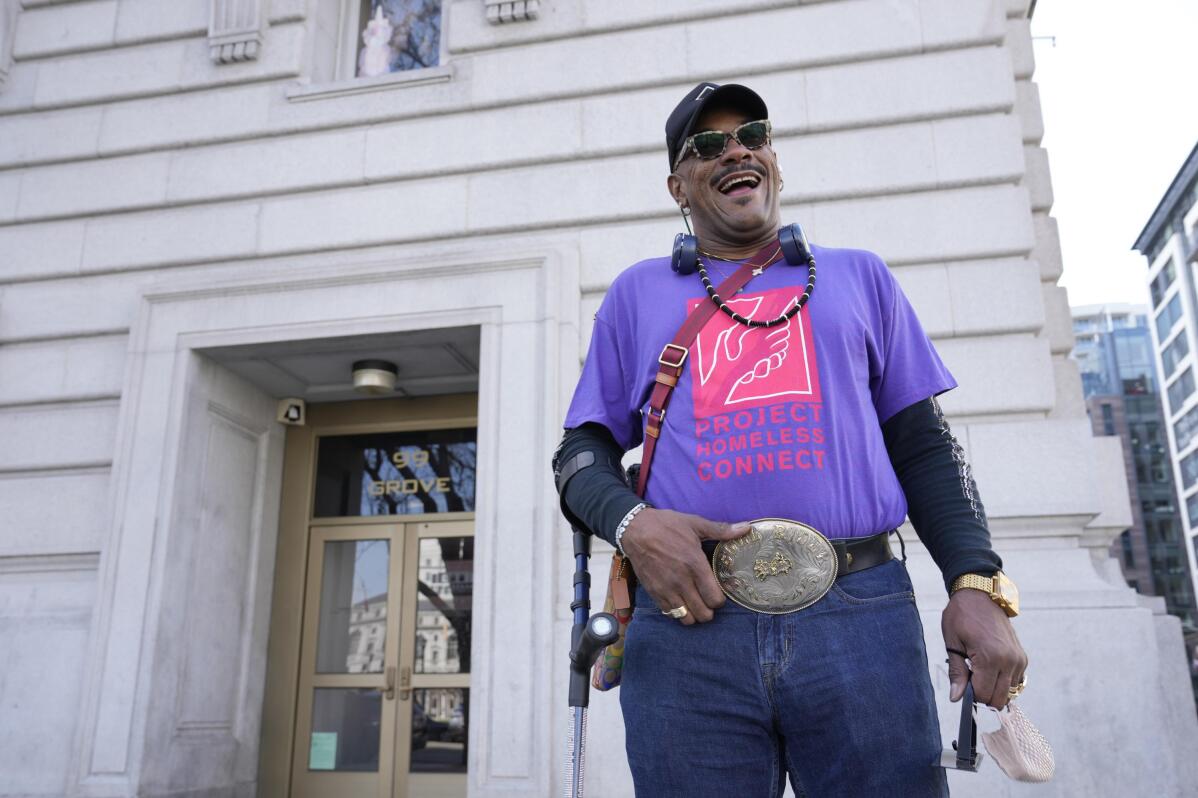 1 of 9

|
Troy Brunet poses for photos in San Francisco, Wednesday, April 5, 2023. For 16 years, Brunet has volunteered with Project Homeless Connect in San Francisco and leads their initiative to give eyeglasses to those who need them. (AP Photo/Eric Risberg)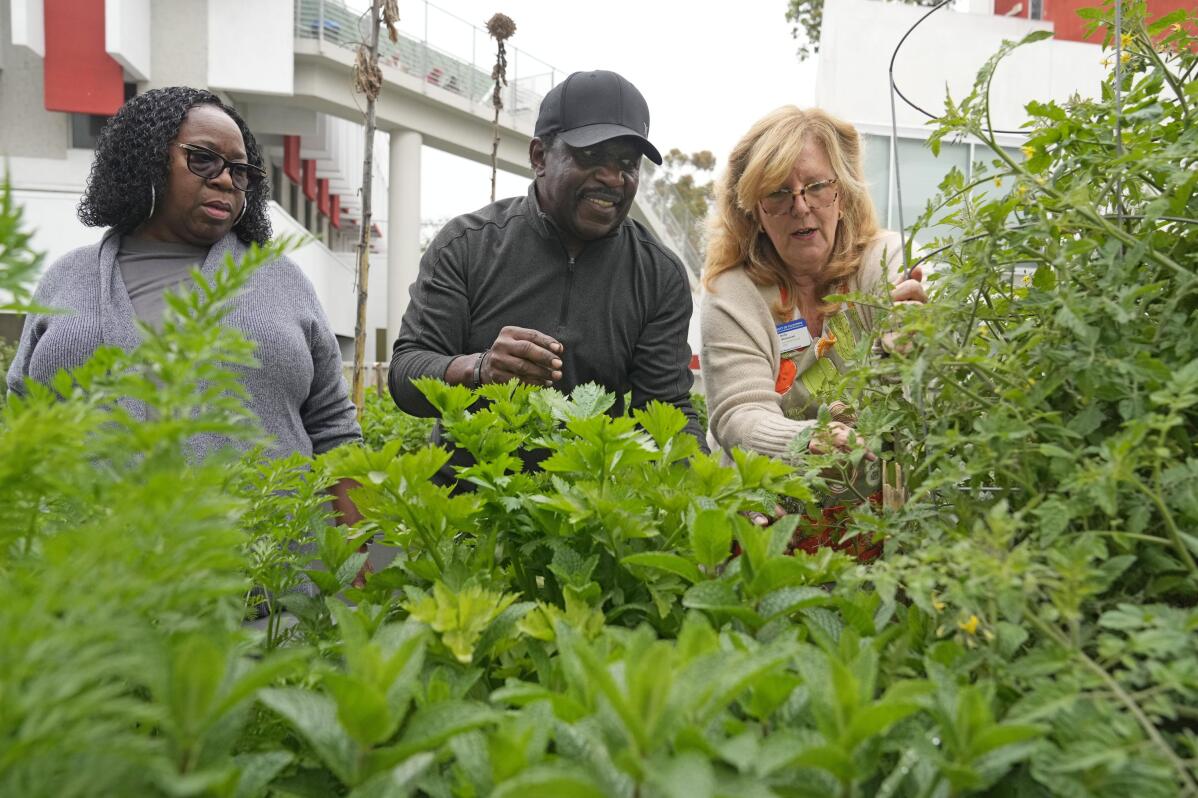 2 of 9

|
Bella McGowan, right, works at a community garden with local residents Rico De Rixey, center, and his wife Geraldine Brand, Thursday, April 13, 2023, in Los Angeles. McGowan, a master gardener and horticultural therapist, started volunteering four years ago after retiring from her job as a school psychologist. (AP Photo/Marcio Jose Sanchez)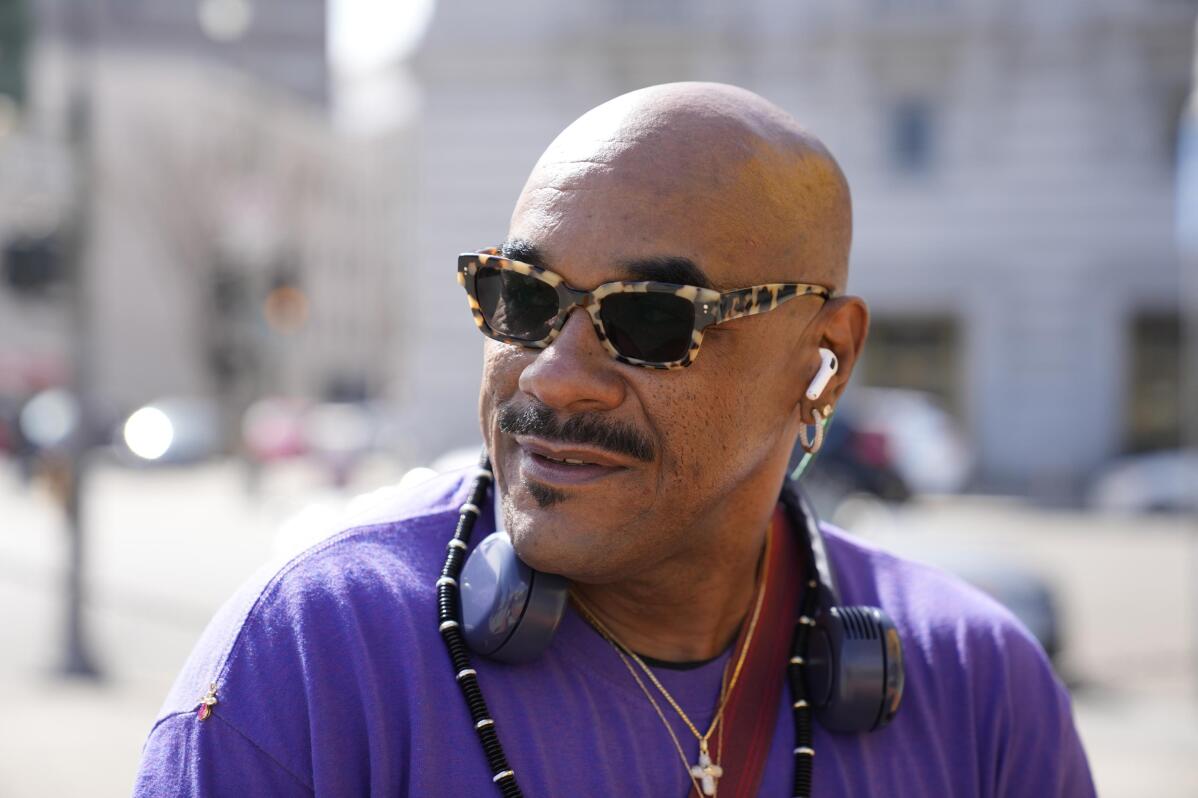 3 of 9

|
Troy Brunet poses for photos in San Francisco, Wednesday, April 5, 2023. For 16 years, Brunet has volunteered with Project Homeless Connect in San Francisco and leads their initiative to give eyeglasses to those who need them. (AP Photo/Eric Risberg)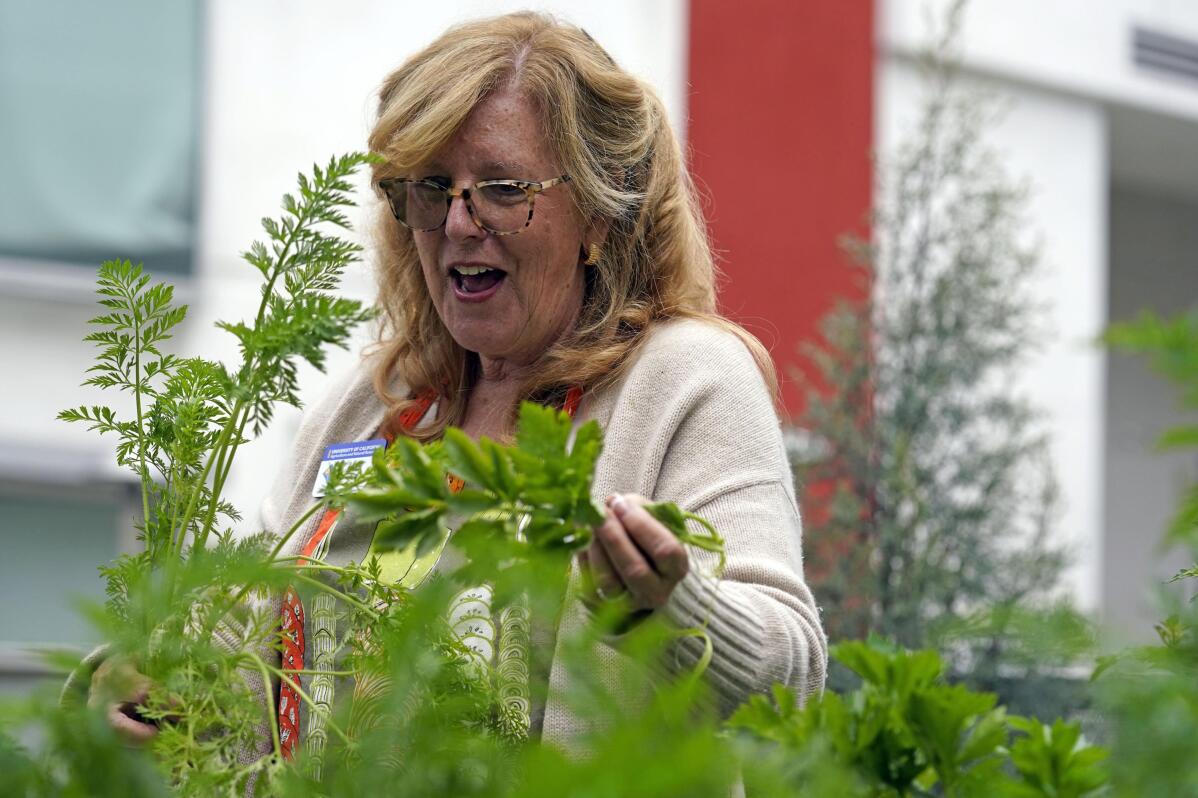 4 of 9

|
Bella McGowan looks at the plants in a community garden, Thursday, April 13, 2023, in Los Angeles. McGowan, a master gardener and horticultural therapist, started volunteering four years ago after retiring from her job as a school psychologist. (AP Photo/Marcio Jose Sanchez)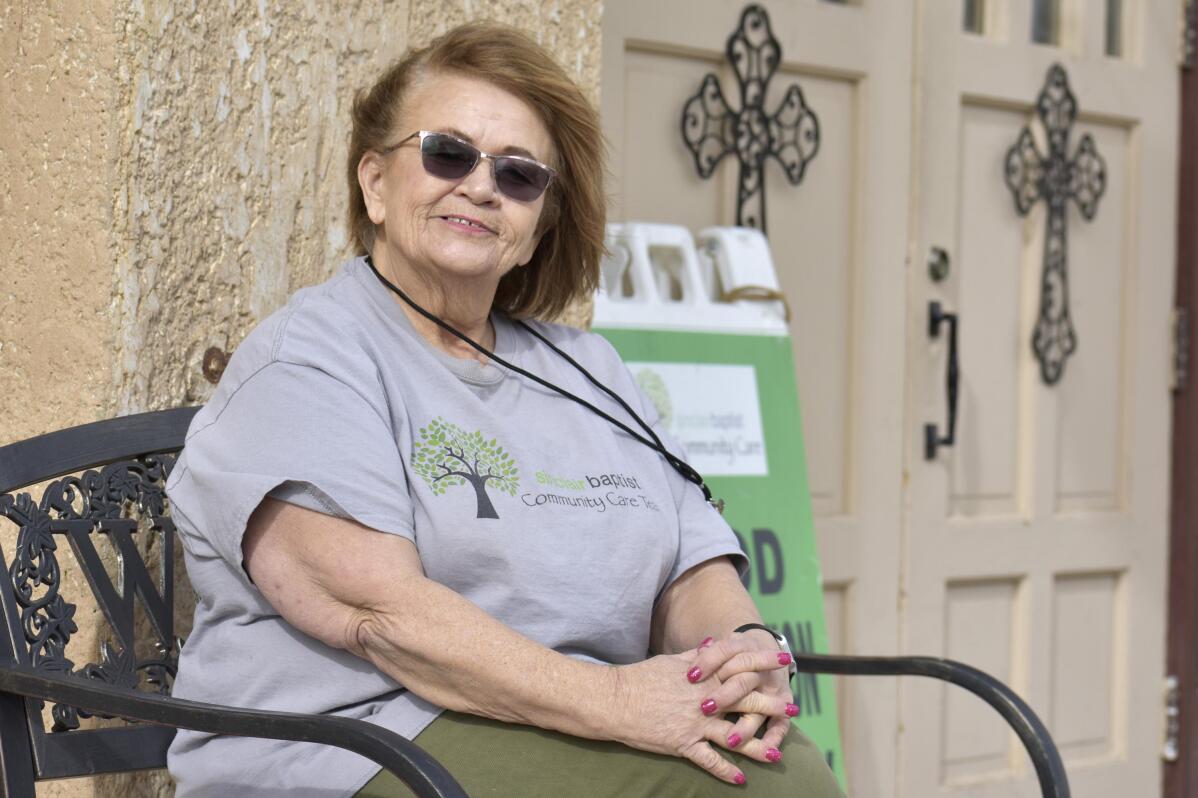 5 of 9

|
Liz Smith poses during a break from volunteer work in Sinclair, Wyo., on Wednesday, April 12, 2023. Smith, 67, helps organize and recruit volunteers at two food distribution locations in south central Wyoming. (AP Photo/Caroline Phillips)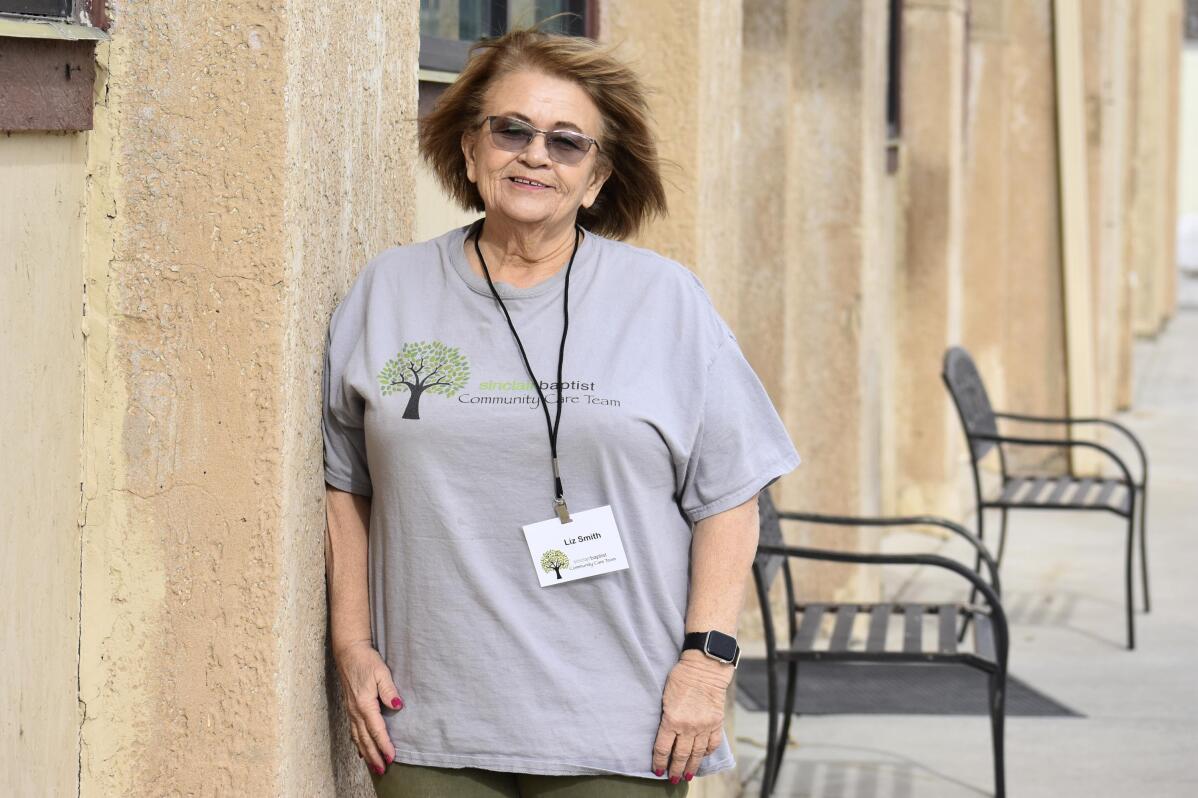 6 of 9

|
Liz Smith poses during a break from volunteer work in Sinclair, Wyo., on Wednesday, April 12, 2023. Smith, 67, helps organize and recruit volunteers at two food distribution locations in south central Wyoming. (AP Photo/Caroline Phillips)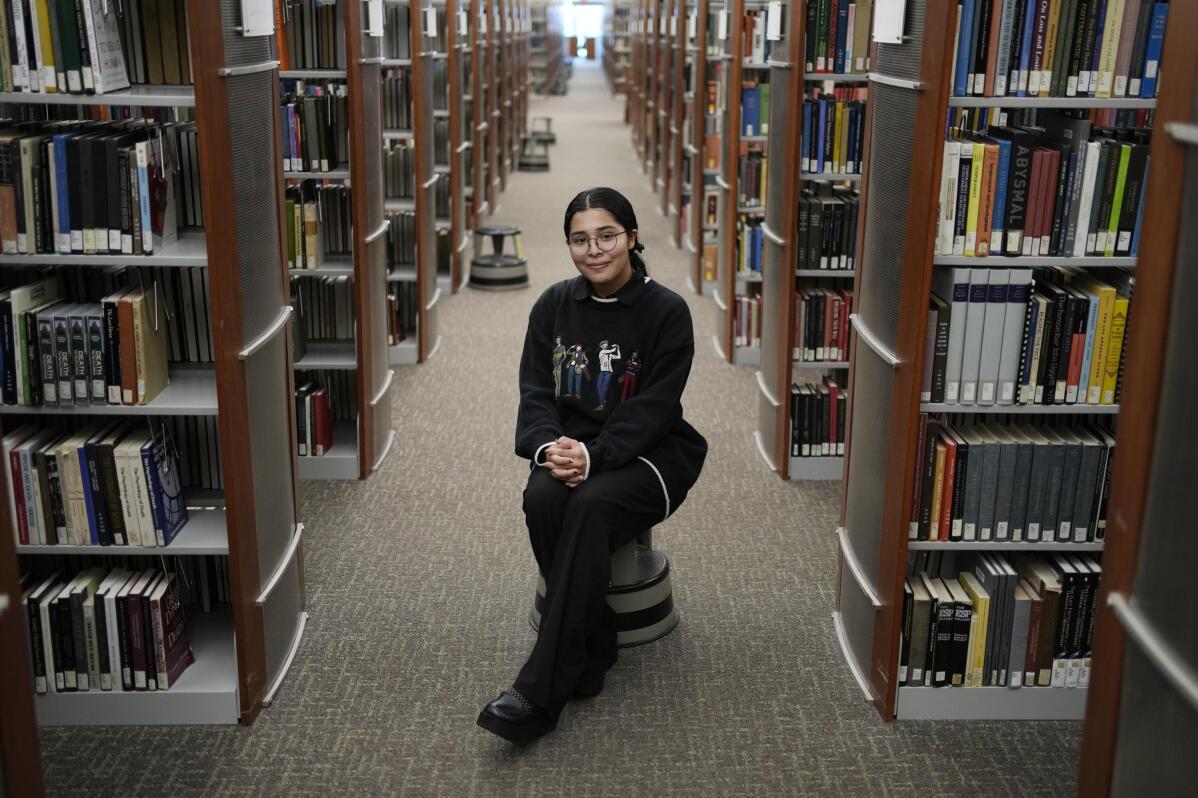 7 of 9

|
Gadi Hernandez-Corado, a student at UNLV, poses in a library at the university, Wednesday, April 12, 2023, in Las Vegas. Hernandez-Corado volunteers at an elementary school. (AP Photo/John Locher)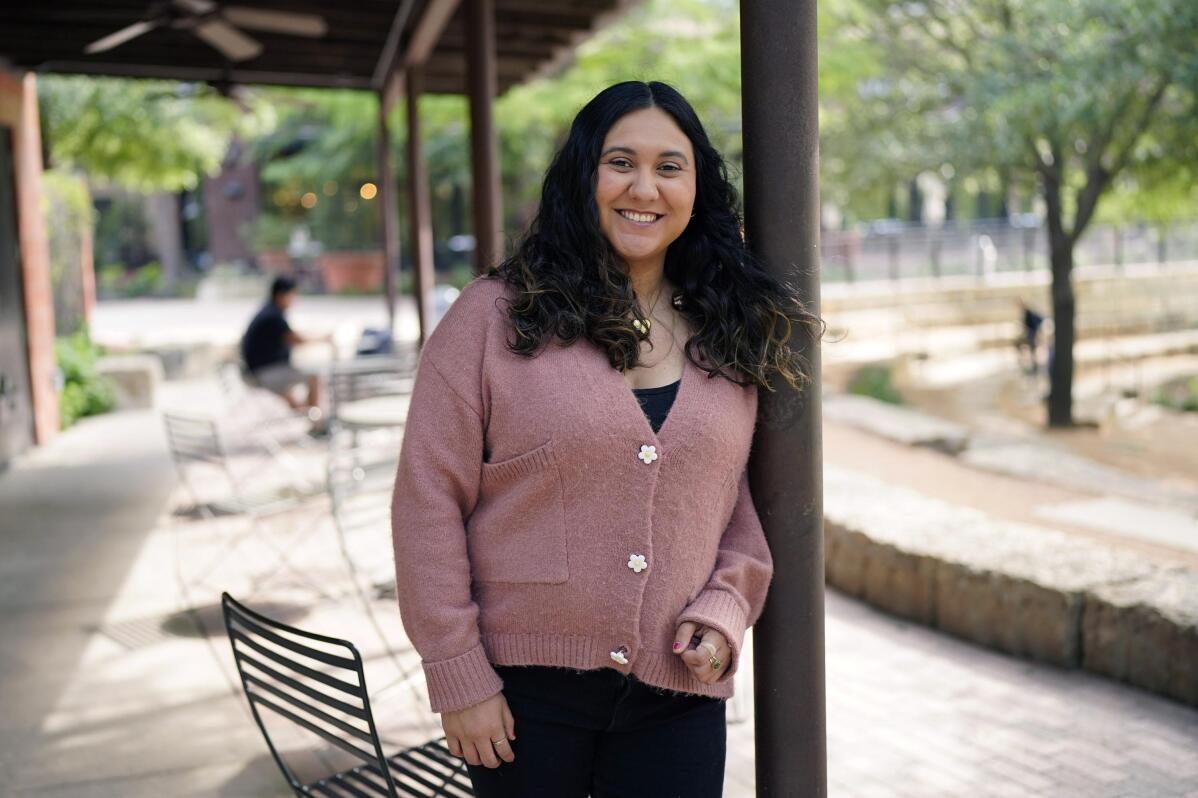 8 of 9

|
Sarah Lopez, who volunteers with a women's rights organization called For Her, poses for a photo at the site where the group meets, Wednesday, April 5, 2023, in San Antonio. Lopez was invited by the nonprofit to go through a leadership training program, meant to develop volunteers among the organization's participants. (AP Photo/Eric Gay)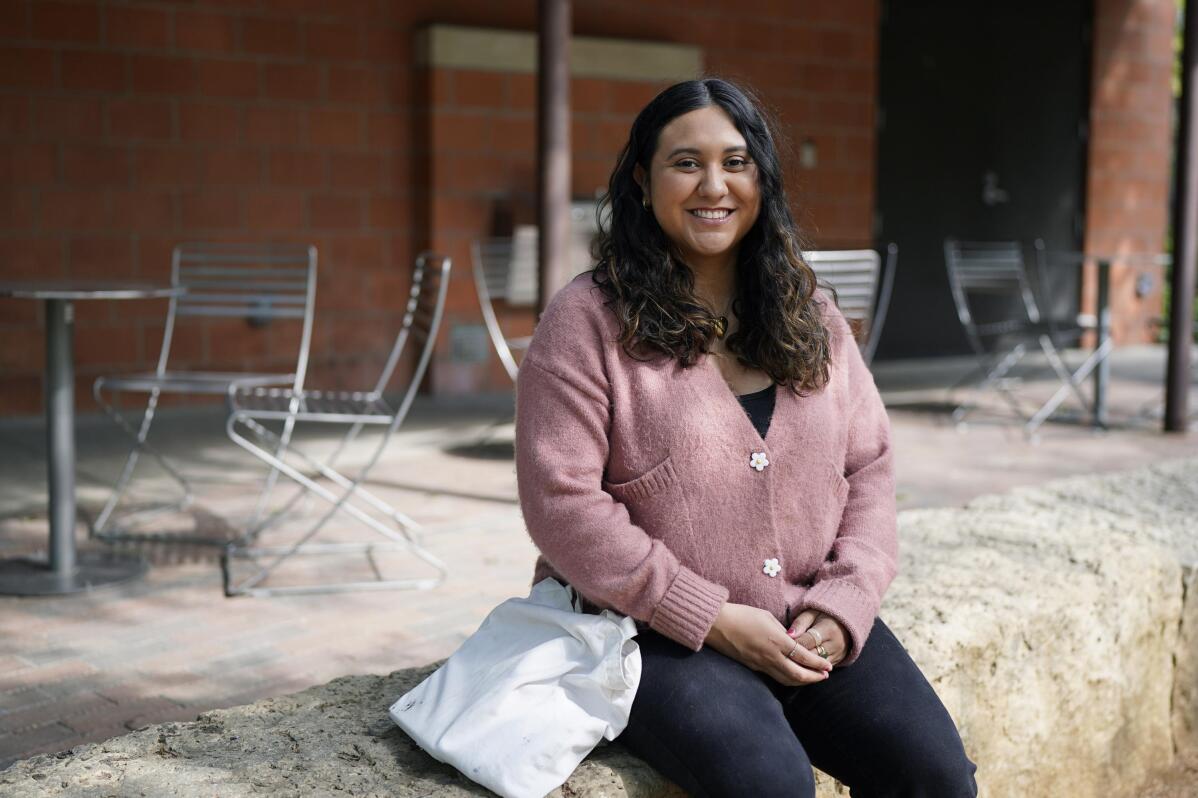 9 of 9

|
Sarah Lopez, who volunteers with a women's rights organization called For Her, poses for a photo at the site where the group meets, Wednesday, April 5, 2023, in San Antonio. Lopez was invited by the nonprofit to go through a leadership training program, meant to develop volunteers among the organization's participants. (AP Photo/Eric Gay)
Volunteers speak on why they serve and why more people don't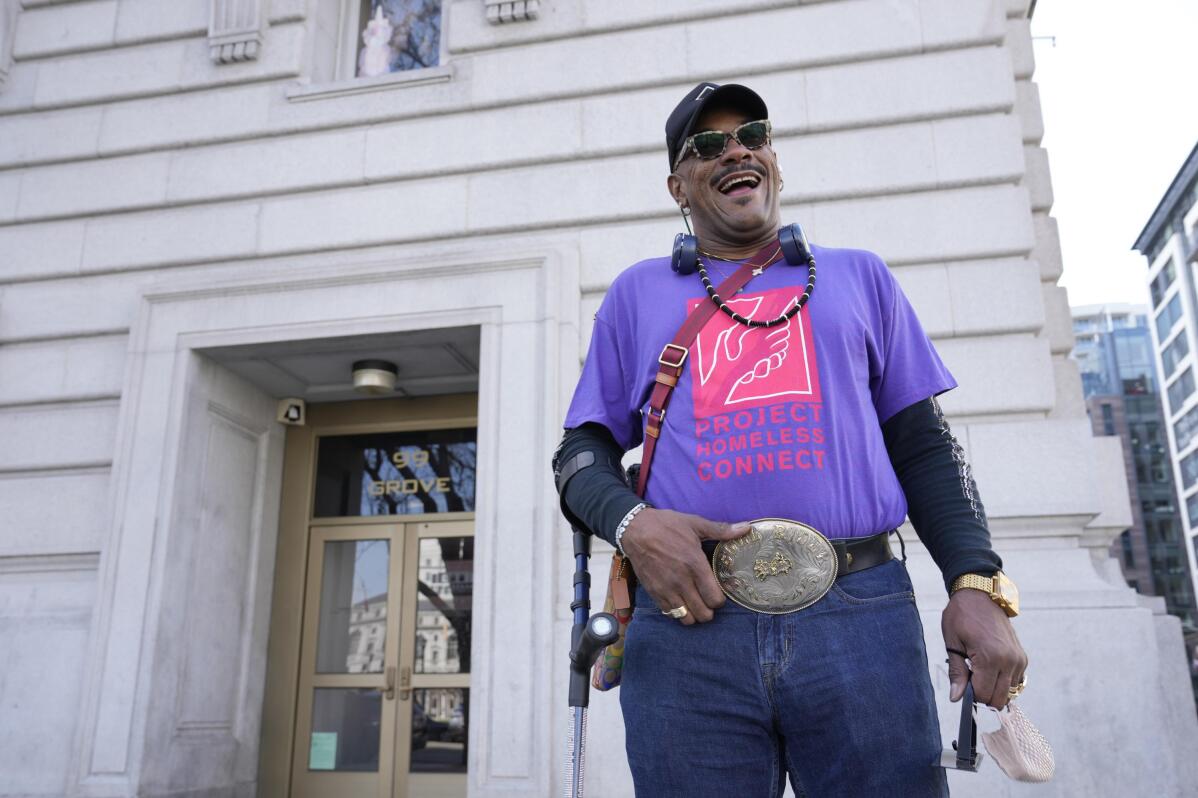 1 of 9

|
Troy Brunet poses for photos in San Francisco, Wednesday, April 5, 2023. For 16 years, Brunet has volunteered with Project Homeless Connect in San Francisco and leads their initiative to give eyeglasses to those who need them. (AP Photo/Eric Risberg)
1 of 9
Troy Brunet poses for photos in San Francisco, Wednesday, April 5, 2023. For 16 years, Brunet has volunteered with Project Homeless Connect in San Francisco and leads their initiative to give eyeglasses to those who need them. (AP Photo/Eric Risberg)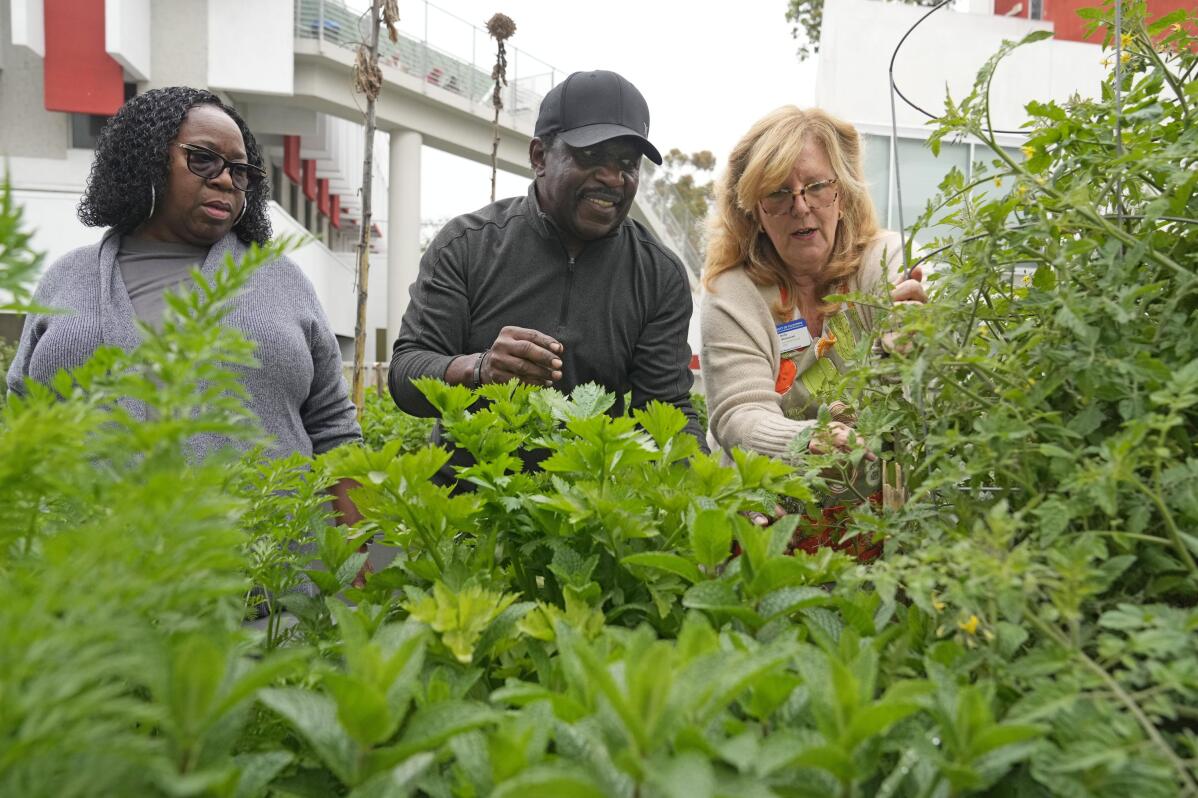 2 of 9

|
Bella McGowan, right, works at a community garden with local residents Rico De Rixey, center, and his wife Geraldine Brand, Thursday, April 13, 2023, in Los Angeles. McGowan, a master gardener and horticultural therapist, started volunteering four years ago after retiring from her job as a school psychologist. (AP Photo/Marcio Jose Sanchez)
2 of 9
Bella McGowan, right, works at a community garden with local residents Rico De Rixey, center, and his wife Geraldine Brand, Thursday, April 13, 2023, in Los Angeles. McGowan, a master gardener and horticultural therapist, started volunteering four years ago after retiring from her job as a school psychologist. (AP Photo/Marcio Jose Sanchez)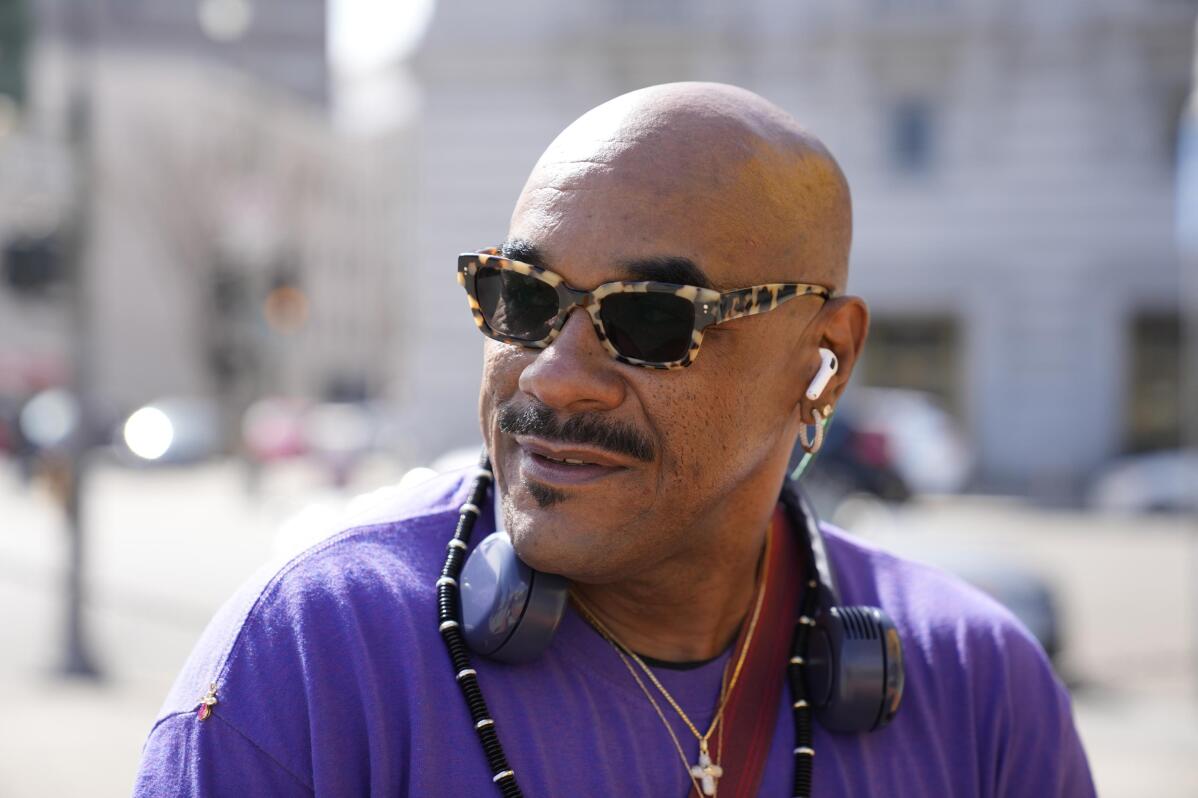 3 of 9

|
Troy Brunet poses for photos in San Francisco, Wednesday, April 5, 2023. For 16 years, Brunet has volunteered with Project Homeless Connect in San Francisco and leads their initiative to give eyeglasses to those who need them. (AP Photo/Eric Risberg)
3 of 9
Troy Brunet poses for photos in San Francisco, Wednesday, April 5, 2023. For 16 years, Brunet has volunteered with Project Homeless Connect in San Francisco and leads their initiative to give eyeglasses to those who need them. (AP Photo/Eric Risberg)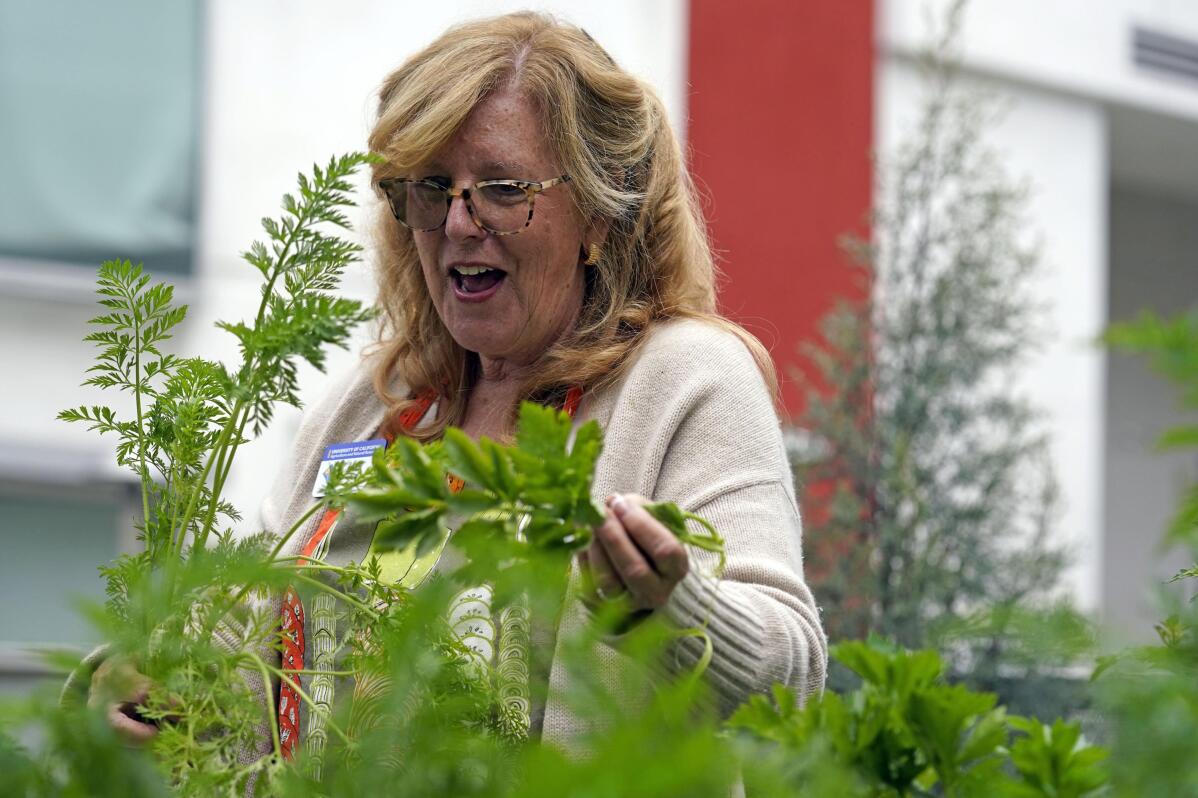 4 of 9

|
Bella McGowan looks at the plants in a community garden, Thursday, April 13, 2023, in Los Angeles. McGowan, a master gardener and horticultural therapist, started volunteering four years ago after retiring from her job as a school psychologist. (AP Photo/Marcio Jose Sanchez)
4 of 9
Bella McGowan looks at the plants in a community garden, Thursday, April 13, 2023, in Los Angeles. McGowan, a master gardener and horticultural therapist, started volunteering four years ago after retiring from her job as a school psychologist. (AP Photo/Marcio Jose Sanchez)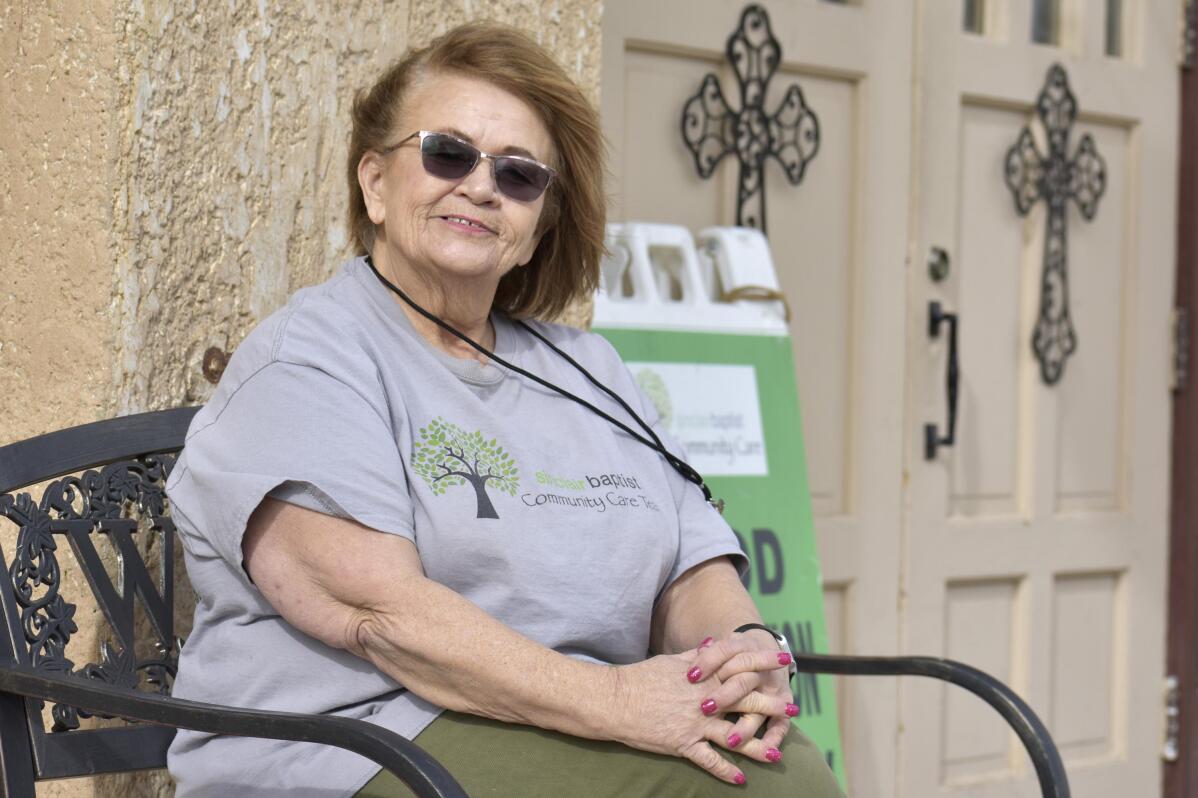 5 of 9

|
Liz Smith poses during a break from volunteer work in Sinclair, Wyo., on Wednesday, April 12, 2023. Smith, 67, helps organize and recruit volunteers at two food distribution locations in south central Wyoming. (AP Photo/Caroline Phillips)
5 of 9
Liz Smith poses during a break from volunteer work in Sinclair, Wyo., on Wednesday, April 12, 2023. Smith, 67, helps organize and recruit volunteers at two food distribution locations in south central Wyoming. (AP Photo/Caroline Phillips)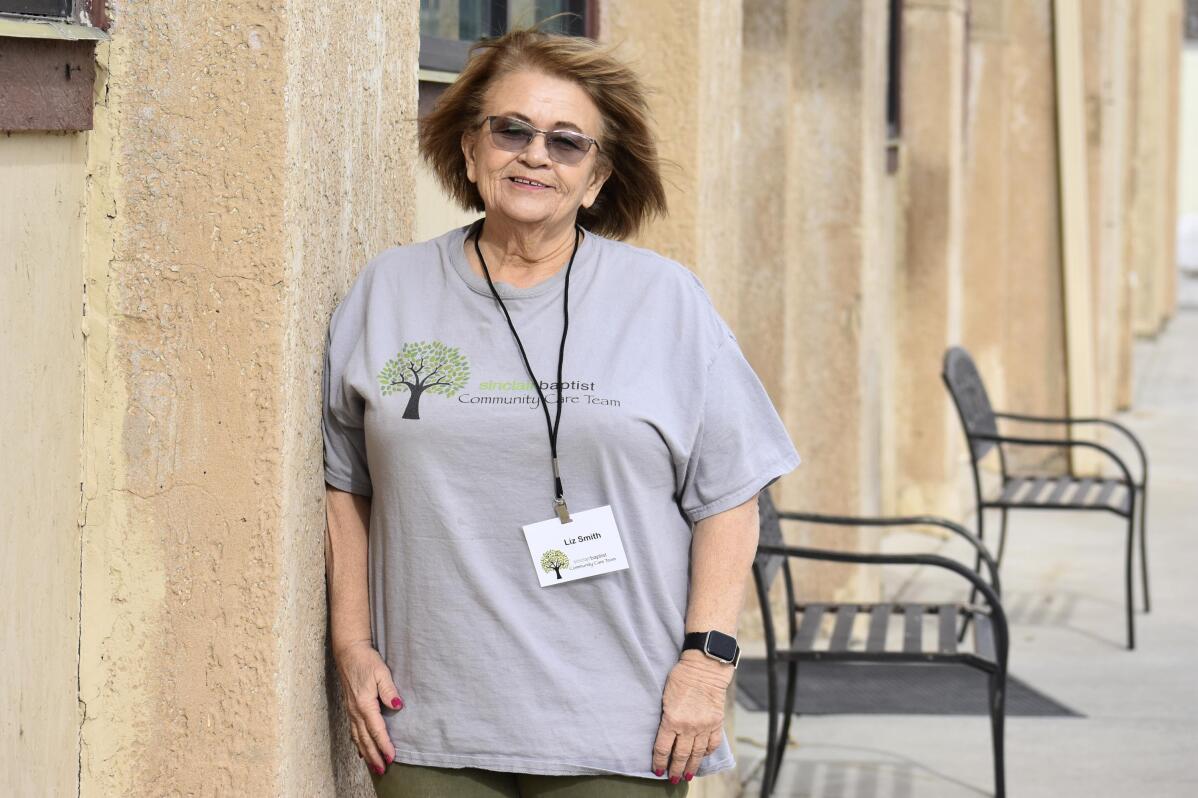 6 of 9

|
Liz Smith poses during a break from volunteer work in Sinclair, Wyo., on Wednesday, April 12, 2023. Smith, 67, helps organize and recruit volunteers at two food distribution locations in south central Wyoming. (AP Photo/Caroline Phillips)
6 of 9
Liz Smith poses during a break from volunteer work in Sinclair, Wyo., on Wednesday, April 12, 2023. Smith, 67, helps organize and recruit volunteers at two food distribution locations in south central Wyoming. (AP Photo/Caroline Phillips)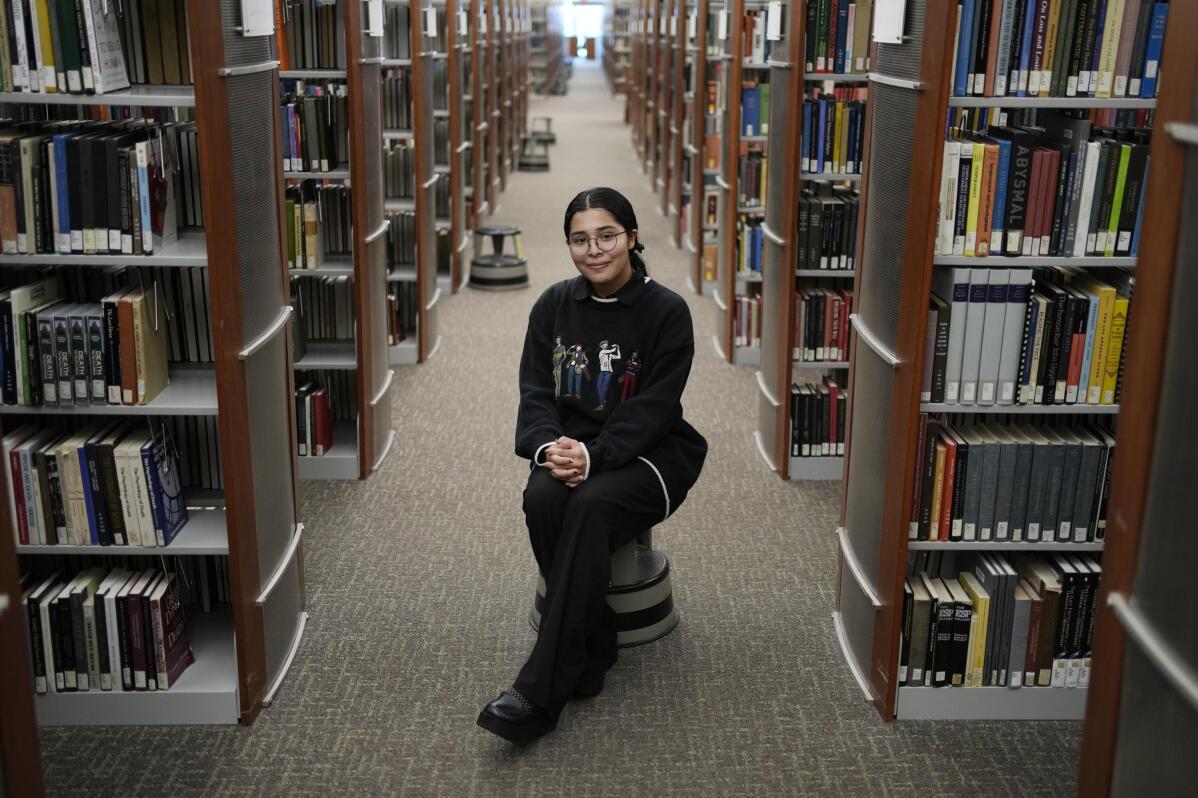 7 of 9

|
Gadi Hernandez-Corado, a student at UNLV, poses in a library at the university, Wednesday, April 12, 2023, in Las Vegas. Hernandez-Corado volunteers at an elementary school. (AP Photo/John Locher)
7 of 9
Gadi Hernandez-Corado, a student at UNLV, poses in a library at the university, Wednesday, April 12, 2023, in Las Vegas. Hernandez-Corado volunteers at an elementary school. (AP Photo/John Locher)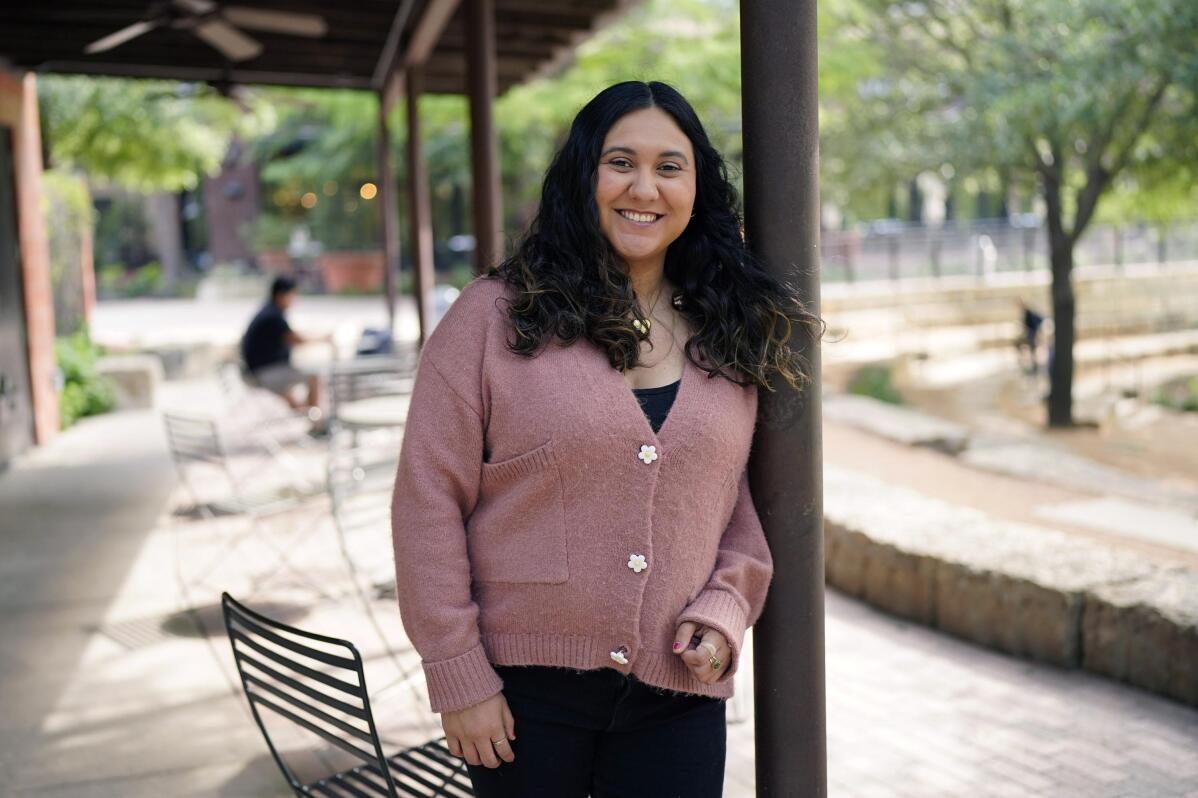 8 of 9

|
Sarah Lopez, who volunteers with a women's rights organization called For Her, poses for a photo at the site where the group meets, Wednesday, April 5, 2023, in San Antonio. Lopez was invited by the nonprofit to go through a leadership training program, meant to develop volunteers among the organization's participants. (AP Photo/Eric Gay)
8 of 9
Sarah Lopez, who volunteers with a women's rights organization called For Her, poses for a photo at the site where the group meets, Wednesday, April 5, 2023, in San Antonio. Lopez was invited by the nonprofit to go through a leadership training program, meant to develop volunteers among the organization's participants. (AP Photo/Eric Gay)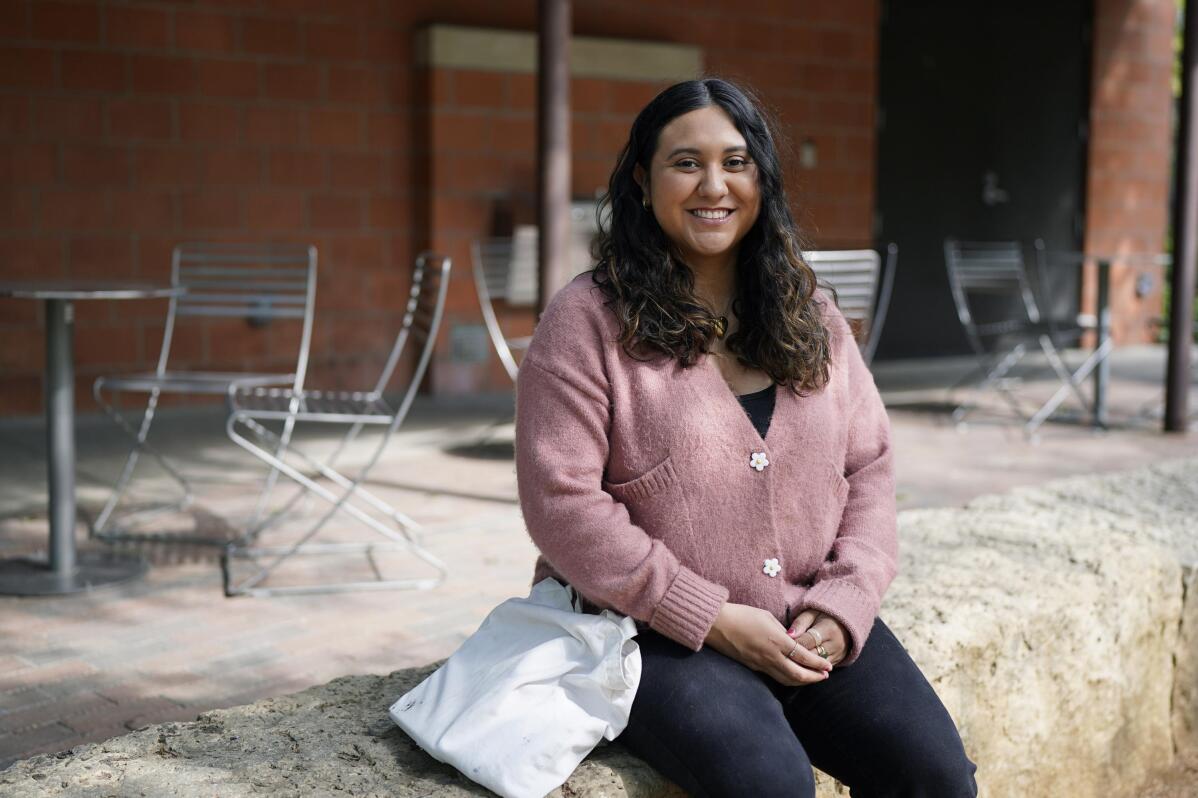 9 of 9

|
Sarah Lopez, who volunteers with a women's rights organization called For Her, poses for a photo at the site where the group meets, Wednesday, April 5, 2023, in San Antonio. Lopez was invited by the nonprofit to go through a leadership training program, meant to develop volunteers among the organization's participants. (AP Photo/Eric Gay)
9 of 9
Sarah Lopez, who volunteers with a women's rights organization called For Her, poses for a photo at the site where the group meets, Wednesday, April 5, 2023, in San Antonio. Lopez was invited by the nonprofit to go through a leadership training program, meant to develop volunteers among the organization's participants. (AP Photo/Eric Gay)
Every day, Americans donate their time, skills and energy to their communities by volunteering with nonprofit organizations. The Associated Press interviewed five volunteers about what motivated them to get involved and why they think more people don't give their time.
Recently released data from the U.S. Census and AmeriCorps showed that volunteer participation fell 7 percentage points between 2019 and 2021, part of a long trend in declining volunteerism.
These interviews have been edited for length and clarity:
SAN FRANCISCO — For 16 years, Troy Brunet has volunteered with Project Homeless Connect in San Francisco and leads their initiative to give eyeglasses to those who need them. The 58-year-old passes out cards with information about the organization's events wherever he goes and describes the joy he gets from bringing volunteers together. He tells them to talk with the people who come in for help, to really connect with them.
Q: Why do you volunteer?
A: I'm HIV positive and it hit me really hard. At one point, I was in a coma for two months, and after coming out of that, I knew doggone well that everything I'm going to be focusing on besides recovering from it, was making sure I would help people because people were there for me.
Q: Why do you think more people don't volunteer in some way?
A: COVID hit us and it really has just stopped the world from spinning around here. Everything became very stagnant. And I just want people to be able to step back into coming to help, to make sure that people can move forward in a better way of life. Because the negativity that is running rampant through this country, it is absolutely exhausting. And I think we're all exhausted from it. And we need to be able to get some fresh air, breathe in here and feel lighter in life so that joy can continue to flow through your world.
___
LAS VEGAS — Gadi Hernandez-Corado is a sophomore at the University of Nevada Las Vegas where she studies political science and earned a scholarship to a program focused on community service. The 20-year-old, whose parents immigrated from Guatemala, is the first in her family to attend college and she intends to continue on to law school. She says she is an introvert and credits volunteering with an organization that offers extra support to students in schools for bringing her out of her shell.
Q: Why do you volunteer?
A: I believe it's a good use of my time. It doesn't require any special skills. You just have to be there and present. Do whatever they ask you to do. And I appreciate the fact that no matter who you are, no matter what skillset you have, you can make a difference. You can participate. You can feel satisfaction from doing something.
Q: Why do you think more people don't volunteer in some way?
A: There are people that maybe want to do something, but they don't really know that there are organizations out there that offer them that opportunity, that experience. And it is that lack of knowledge that sometimes prevents people from going out there and participating in community service. And sometimes apart from that, it's just fear.
___
SAN ANTONIO — Two years ago, Sarah Lopez moved from California to San Antonio for a job and started attending events at For Her, a nonprofit focused on empowering women. They eventually invited her to go through a leadership training program, meant to develop volunteers among the organization's participants. Lopez, 27, is a lesbian and a Latina and said it was important for her to be a part of an organization standing up for women's rights, especially in Texas.
Q: Why do you volunteer?
A: Moving here from out of state, I've tried a lot of things. I've tried joining Facebook groups, I've tried going on Bumble For Friends. I've tried meeting coworkers and things like that. And it is really hard to find people that have the same values as you. I think especially I want to be surrounded by people who who also care about women's issues and who understand the trauma that a lot of women experience. So for me, it was more about finding a safe place.
Q: Why do you think more people don't volunteer in some way?
A: I think maybe with social media and being online, that's where a lot of people connect nowadays and that's also where people feel like they can make a difference. And that makes sense. I think before, people would volunteer and get involved as far as activism goes, but now there's a lot that you can do from your phone to make you feel like you're participating in the discourse.
___
RAWLINS, WYOMING — Liz Smith, 67, helps organize and recruit volunteers to two food distributions in south central Wyoming, where she's lived since 2016 when her oldest daughter — one of nine children she adopted — moved there. The retired business owner and grandmother said she spends 10 hours a week organizing the pantries that serve communities along the I-80 corridor. While she said she's always volunteered through her churches teaching classes, for example, this is the first extended commitment she's made as a volunteer to an outside organization.
Q: Why do you volunteer?
A: I feel great afterwards. I mean, we're exhausted, but it feels good. And even though sometimes we stood outside when it was snowing on us and it was like 20 degrees outside and the wind was blowing, we still stood outside and passed out food. And we've been out there when it's so blistering hot.
I feel I've learned a lot through this. I learned more about what people need, what they're looking for. I learned how to organize volunteers in such a way that they want to keep coming back. I have people that drive an hour to come and help us, which I think that just speaks volumes of their character and their integrity.
Q: Why do you think more people don't volunteer in some way?
A: Honestly, I think there are a lot of people who just can't, maybe because of work requirements or family. Then, there are people that think, "I don't need anything, so I don't need to volunteer." Plus, we have kind of a lazy society, not going to lie.
___
LOS ANGELES — A psychologist and now master gardener, Bella McGowan volunteers with the nonprofit PATH at a residence for people without housing in Los Angeles and helps run their community garden. The 70-year-old grandmother spent decades working in the city's schools and sought out volunteer opportunities when she retired. She also shared that, late last year, she was diagnosed with breast cancer.
Q: Why do you volunteer?
A: When you get a diagnosis that's pretty shocking and unexpected, having purpose and meaning in your life and volunteering and needing to show up for other people when you've created programs and you've got a garden that needs watering and weeding and relationships where people rely on you really contributes to recovery. Volunteering and being in gardens has just been an incredible part of my recovery and a lifeline.
Q: Why do you think more people don't volunteer in some way?
A: I think they definitely need an invitation. And in many instances, they need to be led by the hand. I think there's a lot of fear — "Oh, I couldn't possibly do that job," or "That's not for me," or "I don't want to work with those kinds of people." And I think there are a lot of stigmas. And once you get past that and realize there's no "us and them," and there by the grace of God, any of us could be in any one of these situations that suddenly puts us on the street. Or natural disasters can level your house or fire. There's so many situations where you could be the person on the news that's lost everything.
___
Associated Press coverage of philanthropy and nonprofits receives support through the AP's collaboration with The Conversation US, with funding from Lilly Endowment Inc. The AP is solely responsible for this content. For all of AP's philanthropy coverage, visit https://apnews.com/hub/philanthropy.