Fermin's bunt in ninth gives Royals 4-3 win over White Sox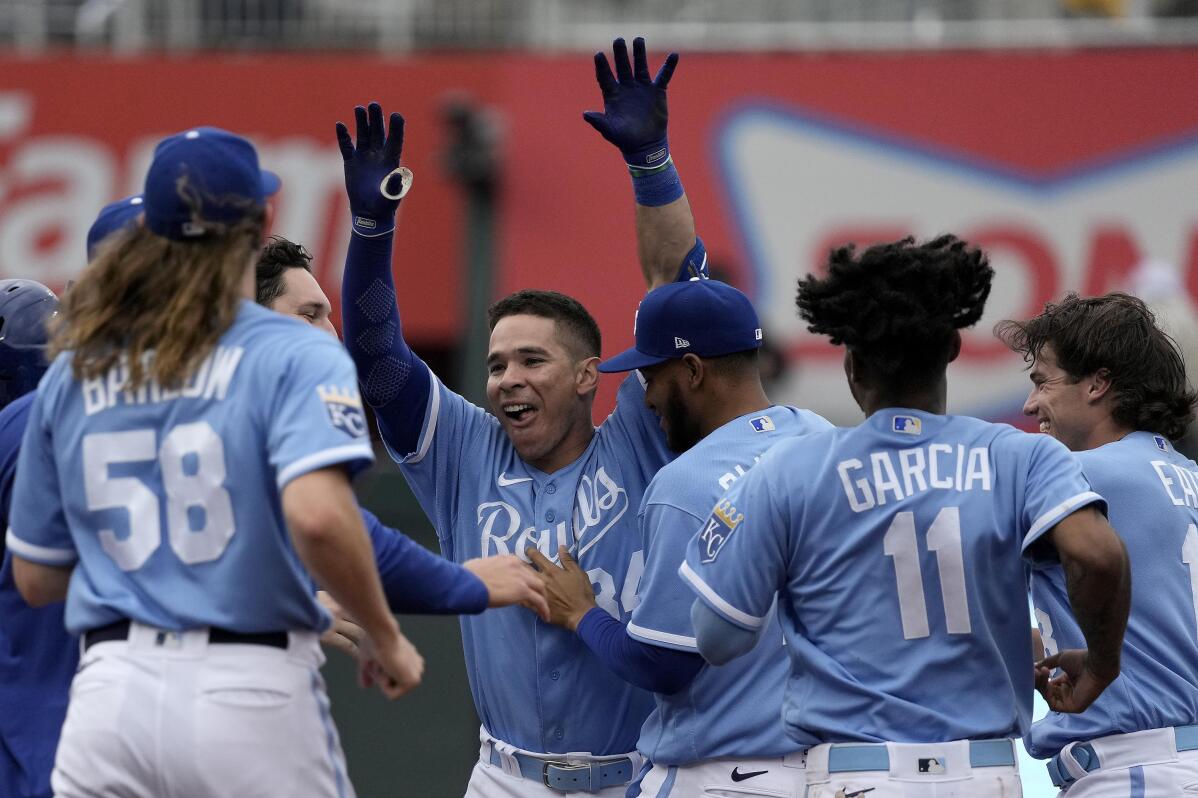 1 of 9

|
Kansas City Royals' Freddy Fermin, center, celebrates with teammates after their baseball game against the Chicago White Sox Thursday, May 11, 2023, in Kansas City, Mo. The Royals won 4-3. (AP Photo/Charlie Riedel)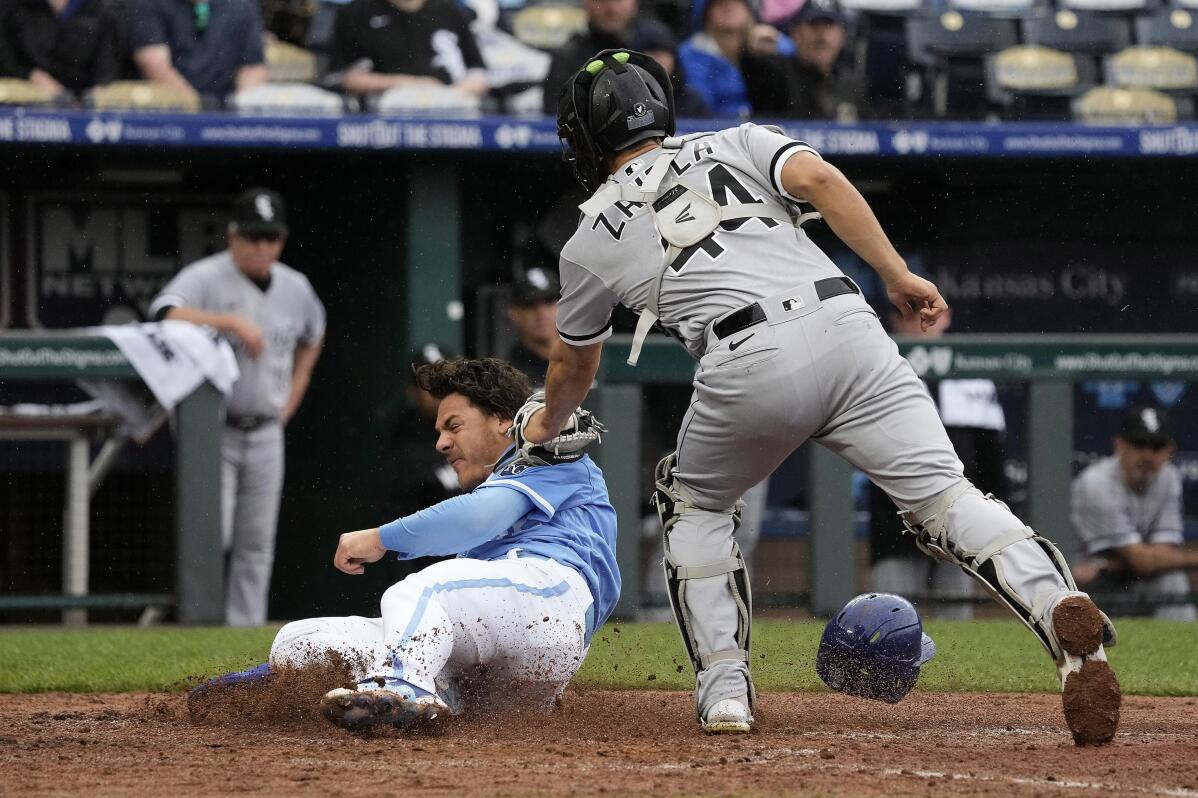 2 of 9

|
Kansas City Royals' Nick Pratto beats the tag by Chicago White Sox catcher Seby Zavala to score on a two-run double hit by Maikel Garcia during the fourth inning of a baseball game Thursday, May 11, 2023, in Kansas City, Mo. (AP Photo/Charlie Riedel)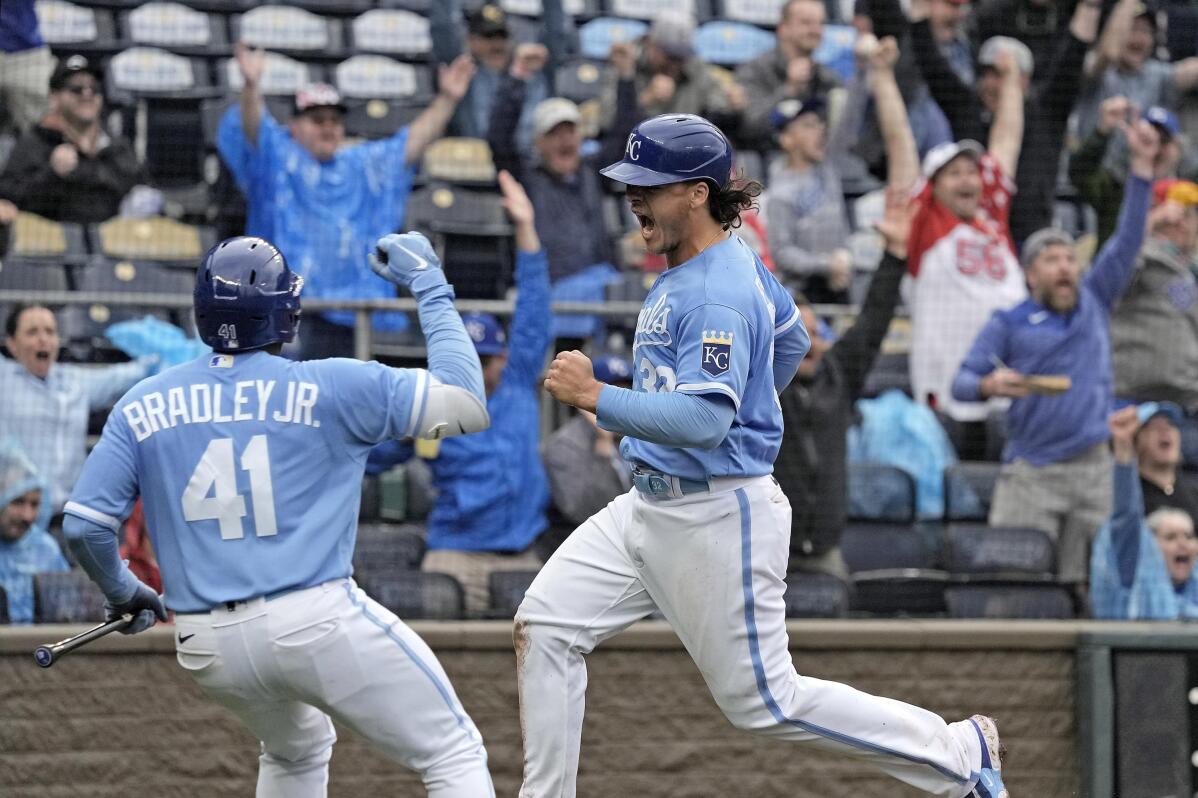 3 of 9

|
Kansas City Royals' Nick Pratto, right, celebrates with Jackie Bradley Jr. (41) after Pratto scored the winning run on a bunt single hit by Freddy Fermin during the ninth inning of a baseball game against the Chicago White Sox Thursday, May 11, 2023, in Kansas City, Mo. The Royals won 4-3. (AP Photo/Charlie Riedel)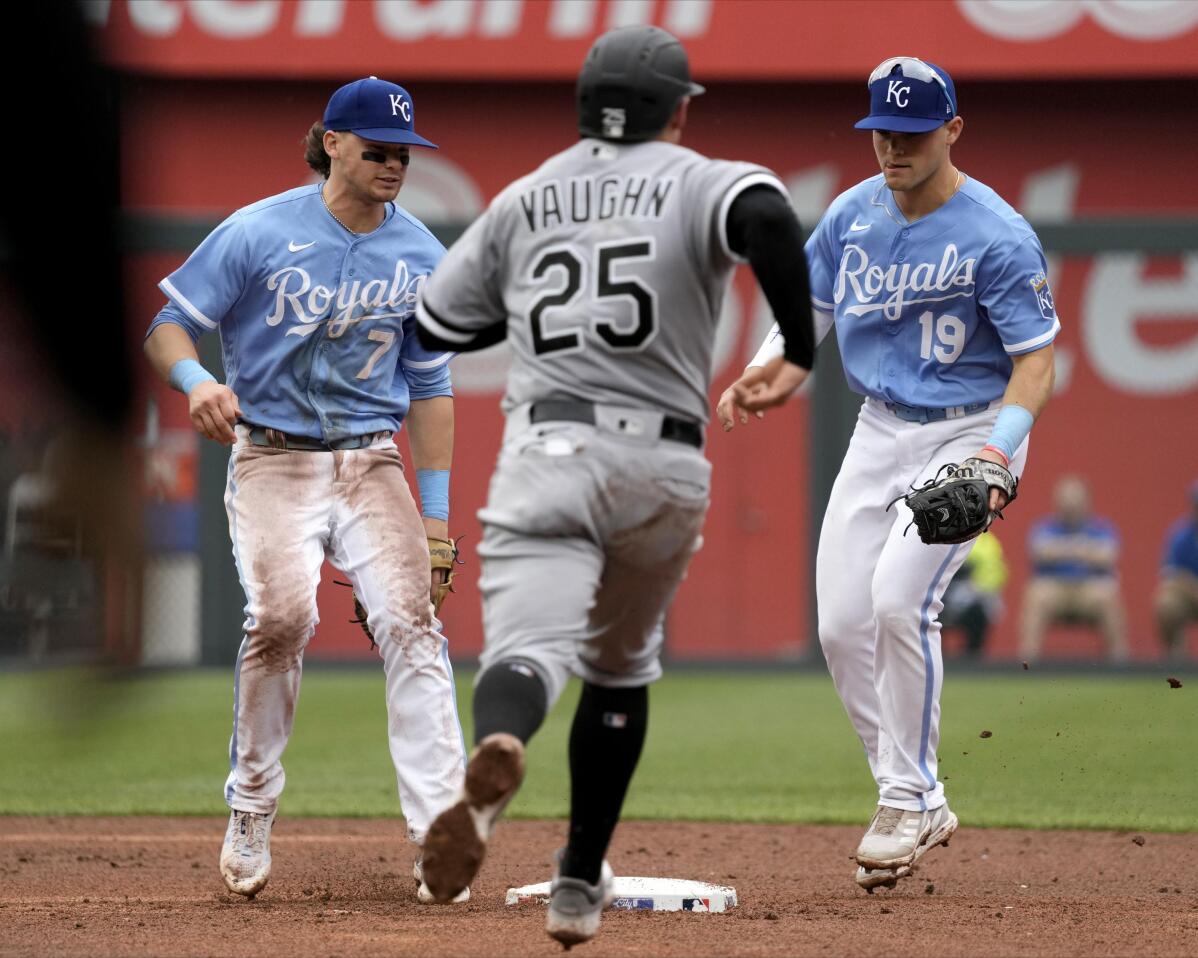 4 of 9

|
Chicago White Sox's Andrew Vaughn (25) is forced out at second by Kansas City Royals second baseman Michael Massey during the sixth inning of a baseball game Thursday, May 11, 2023, in Kansas City, Mo. (AP Photo/Charlie Riedel)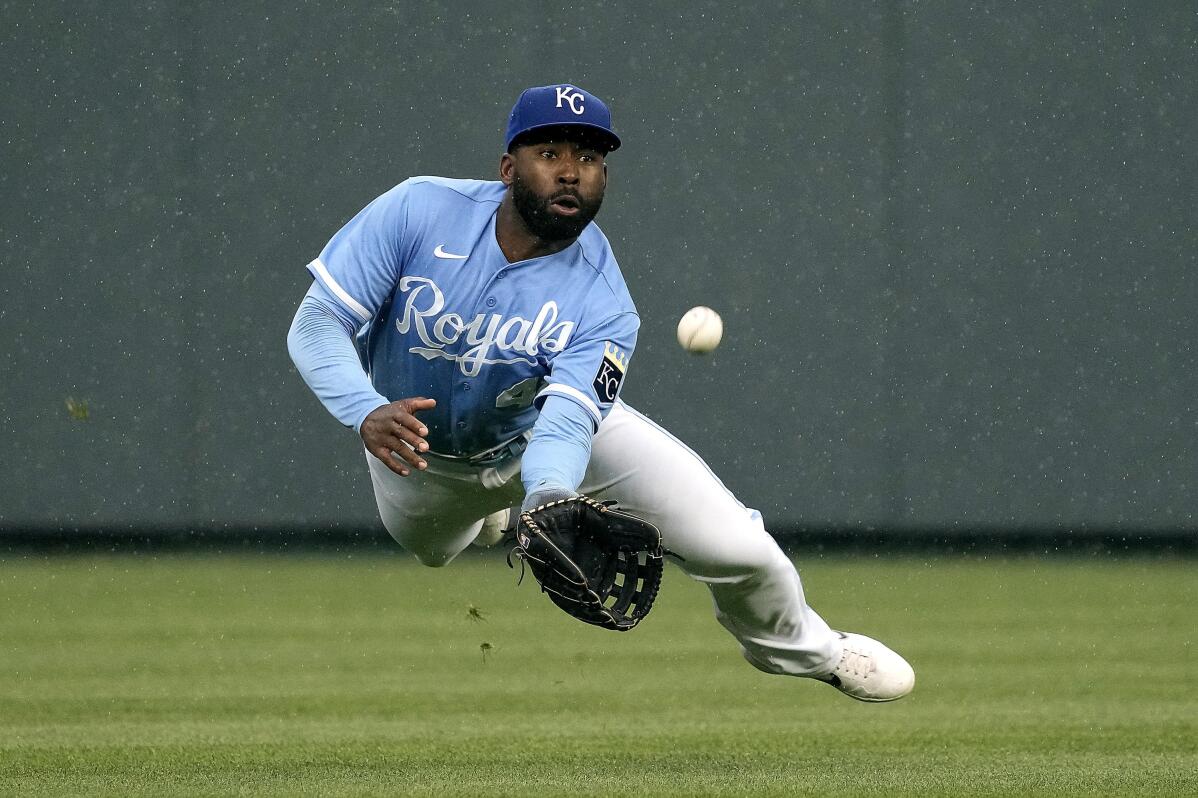 5 of 9

|
Kansas City Royals' Jackie Bradley Jr. catches a fly ball for the out on Chicago White Sox's Andrew Benintendi during the eighth inning of a baseball game Thursday, May 11, 2023, in Kansas City, Mo. The Royals won 4-3. (AP Photo/Charlie Riedel)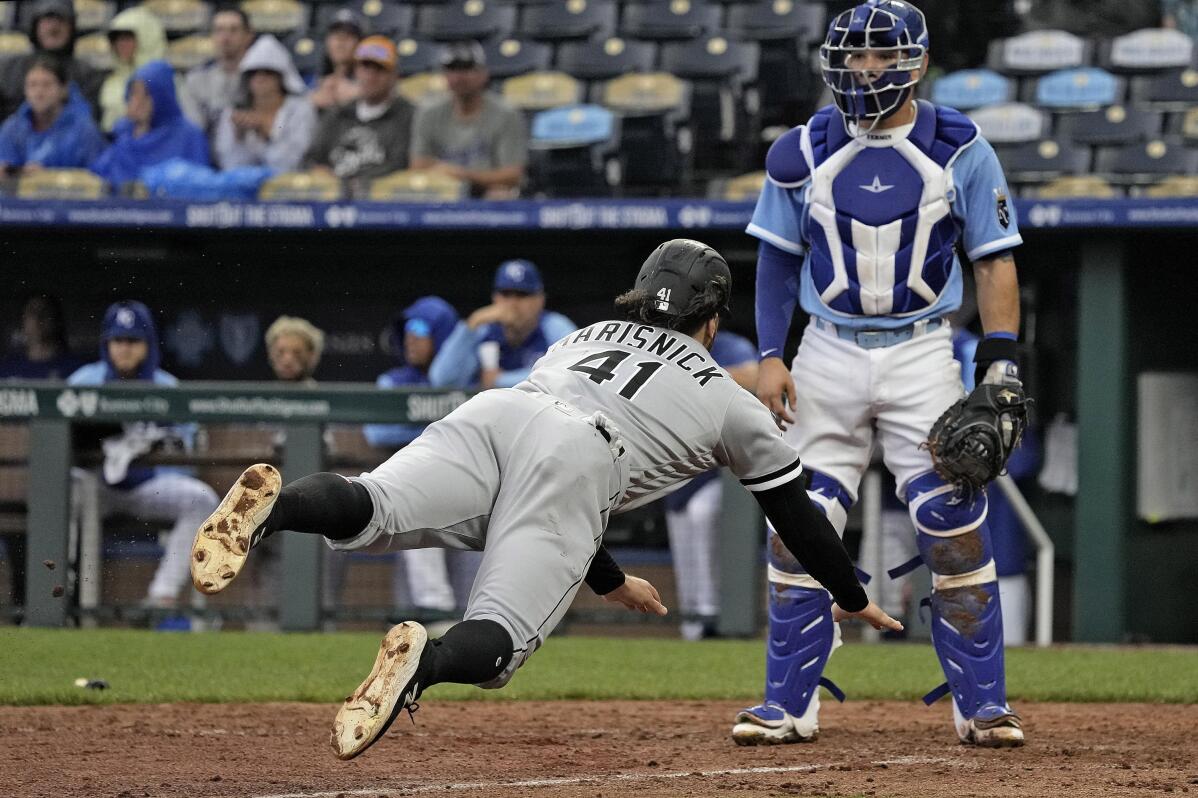 6 of 9

|
Chicago White Sox's Jake Marisnick dives home to score on a two-run double hit by Luis Robert Jr. during the eighth inning of a baseball game against the Kansas City Royals Thursday, May 11, 2023, in Kansas City, Mo. The Royals won 4-3. (AP Photo/Charlie Riedel)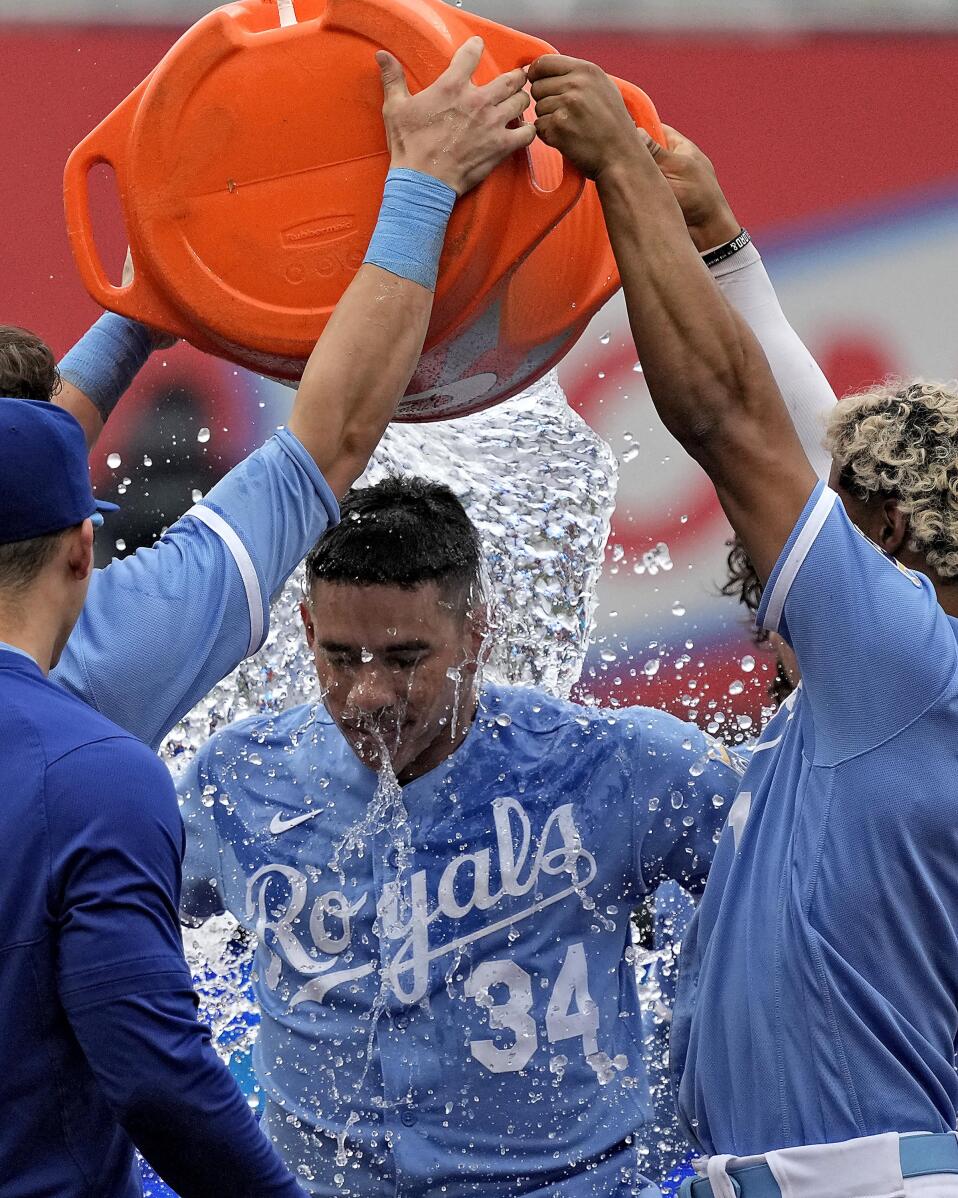 7 of 9

|
Kansas City Royals' Freddy Fermin (34) is doused by teammates after their baseball game against the Chicago White Sox Thursday, May 11, 2023, in Kansas City, Mo. The Royals won 4-3. (AP Photo/Charlie Riedel)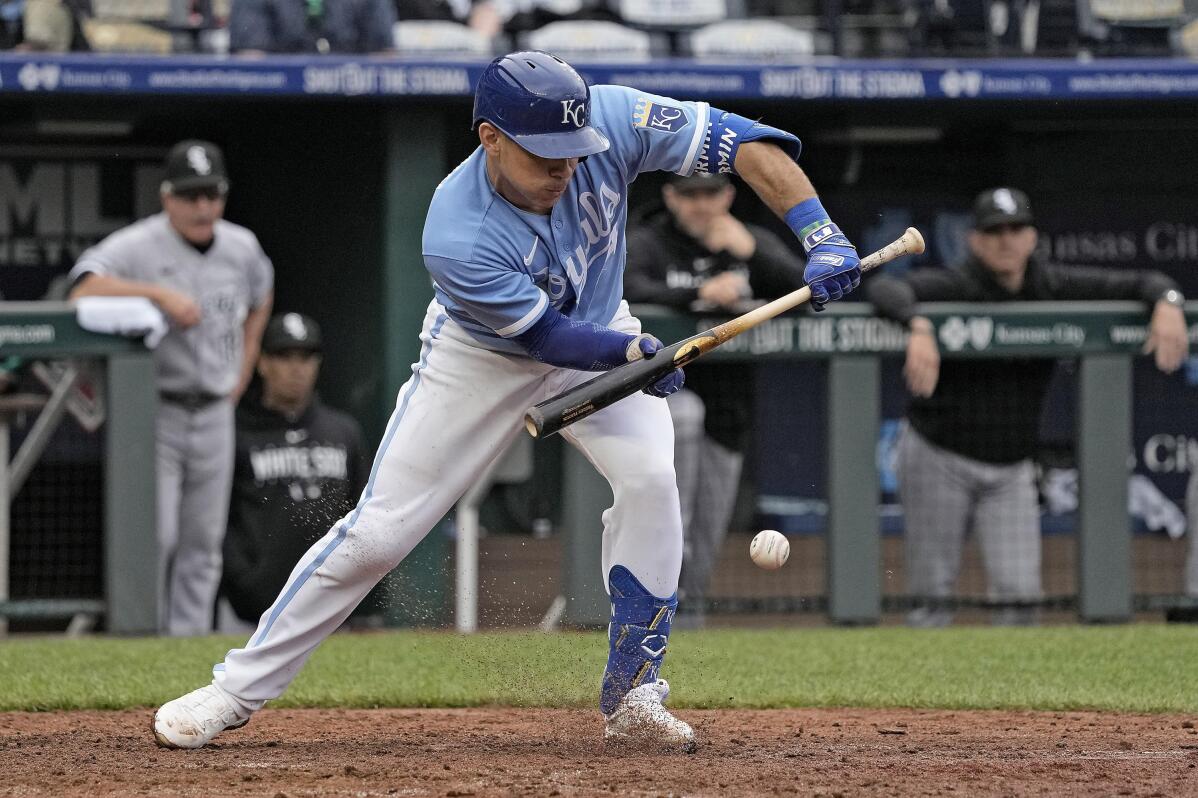 8 of 9

|
Kansas City Royals' Freddy Fermin hits a bunt single to bring in the winning run during the ninth inning of a baseball game against the Chicago White Sox Thursday, May 11, 2023, in Kansas City, Mo. The Royals won 4-3. (AP Photo/Charlie Riedel)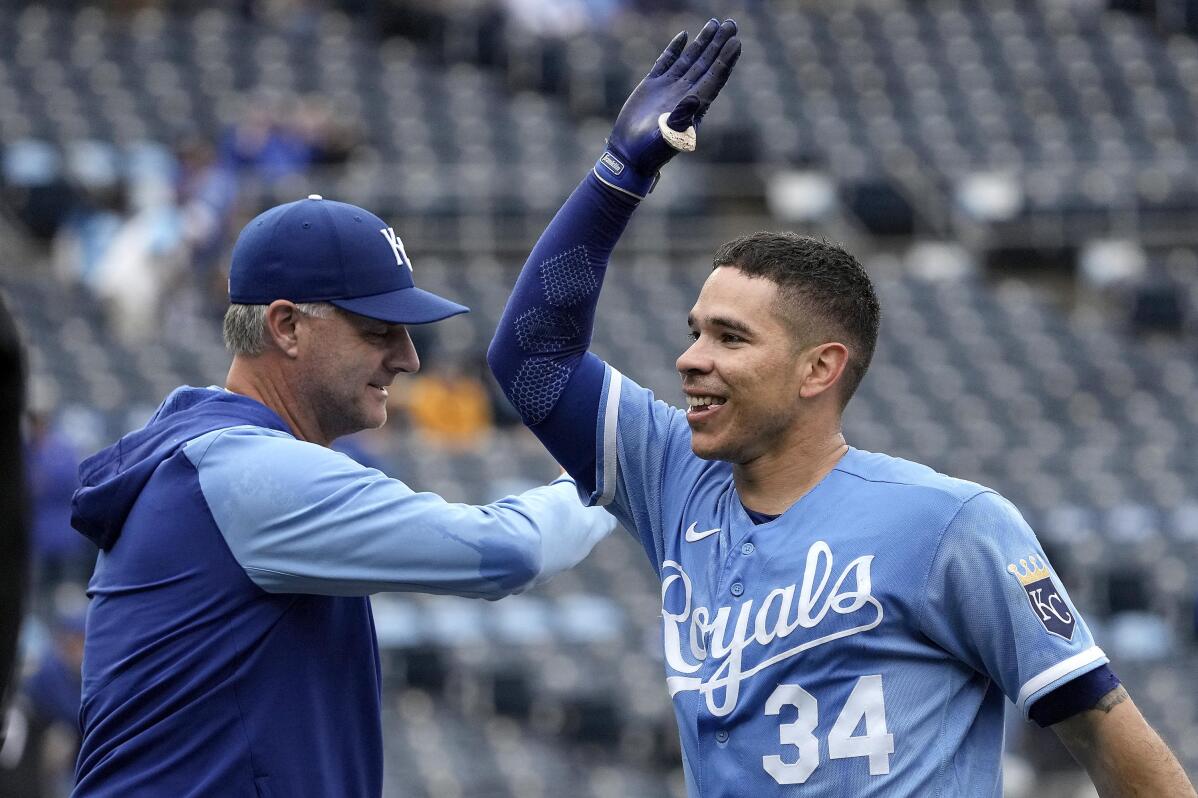 9 of 9

|
Kansas City Royals manager Matt Quatraro celebrates with Freddy Fermin (34) after their baseball game against the Chicago White Sox Thursday, May 11, 2023, in Kansas City, Mo. The Royals won 4-3. (AP Photo/Charlie Riedel)
Fermin's bunt in ninth gives Royals 4-3 win over White Sox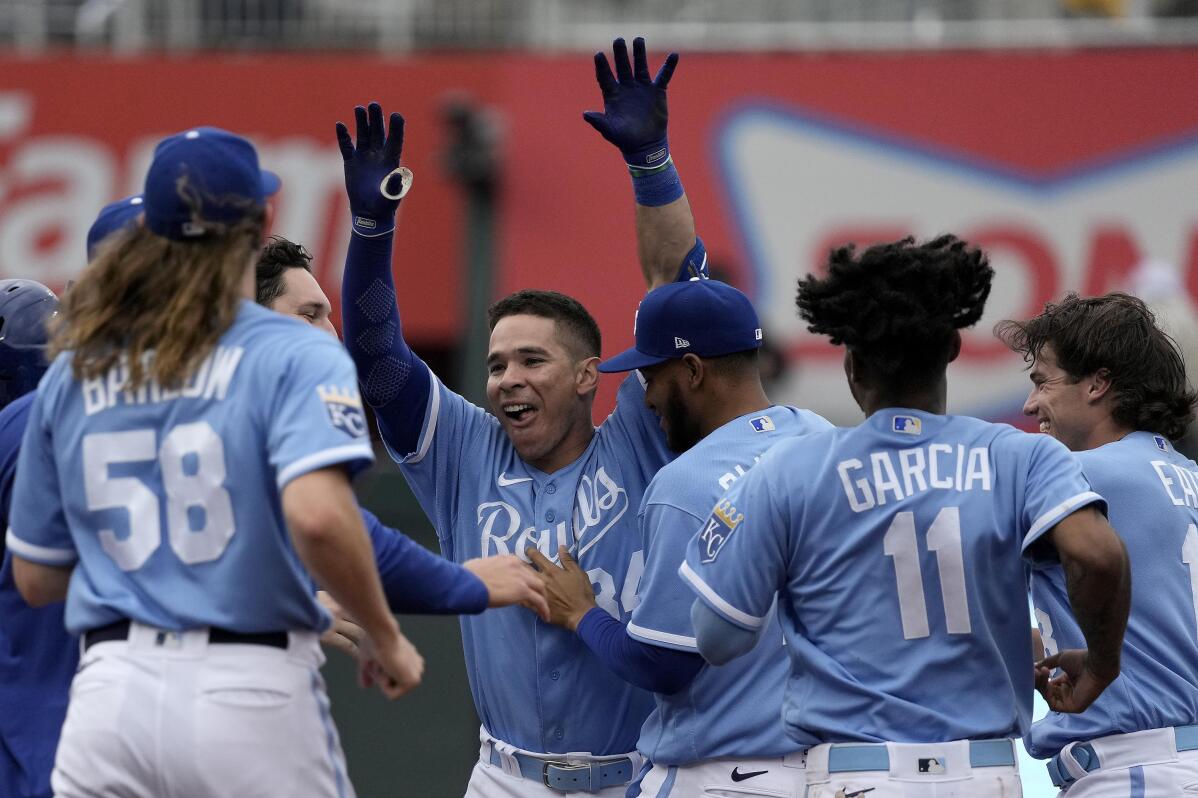 1 of 9

|
Kansas City Royals' Freddy Fermin, center, celebrates with teammates after their baseball game against the Chicago White Sox Thursday, May 11, 2023, in Kansas City, Mo. The Royals won 4-3. (AP Photo/Charlie Riedel)
1 of 9
Kansas City Royals' Freddy Fermin, center, celebrates with teammates after their baseball game against the Chicago White Sox Thursday, May 11, 2023, in Kansas City, Mo. The Royals won 4-3. (AP Photo/Charlie Riedel)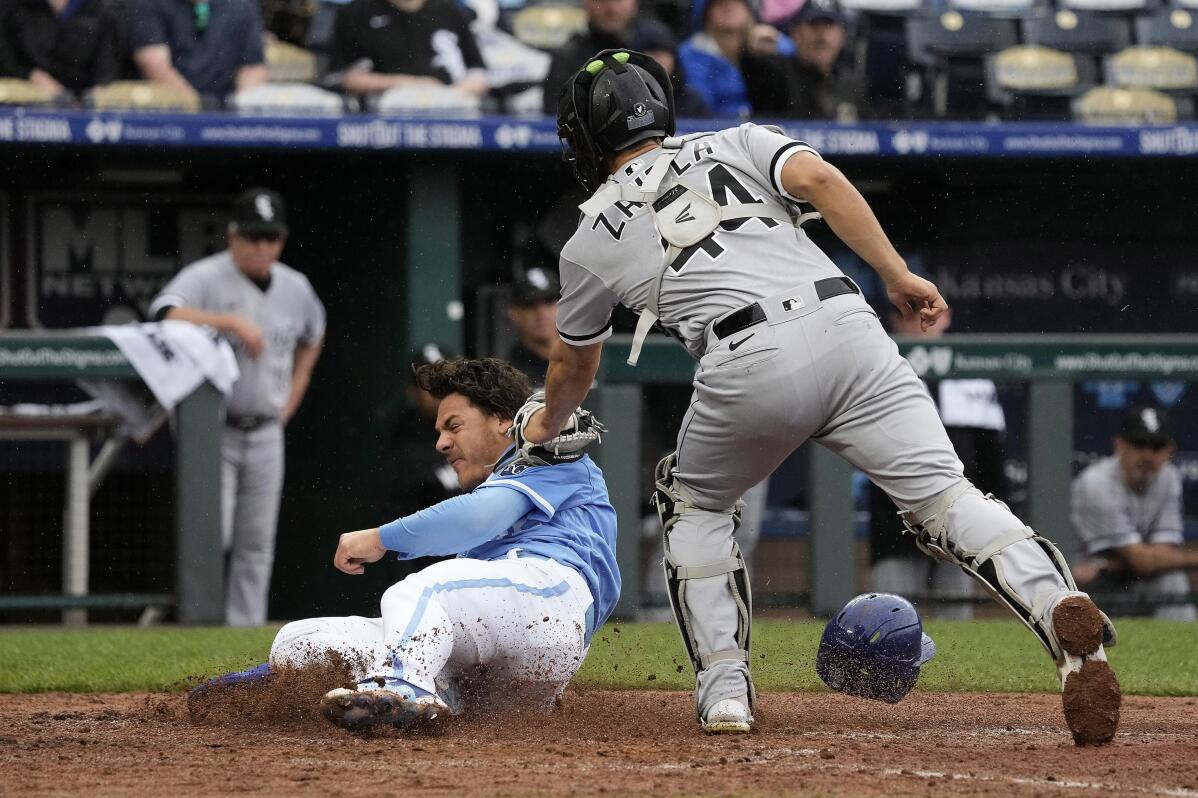 2 of 9

|
Kansas City Royals' Nick Pratto beats the tag by Chicago White Sox catcher Seby Zavala to score on a two-run double hit by Maikel Garcia during the fourth inning of a baseball game Thursday, May 11, 2023, in Kansas City, Mo. (AP Photo/Charlie Riedel)
2 of 9
Kansas City Royals' Nick Pratto beats the tag by Chicago White Sox catcher Seby Zavala to score on a two-run double hit by Maikel Garcia during the fourth inning of a baseball game Thursday, May 11, 2023, in Kansas City, Mo. (AP Photo/Charlie Riedel)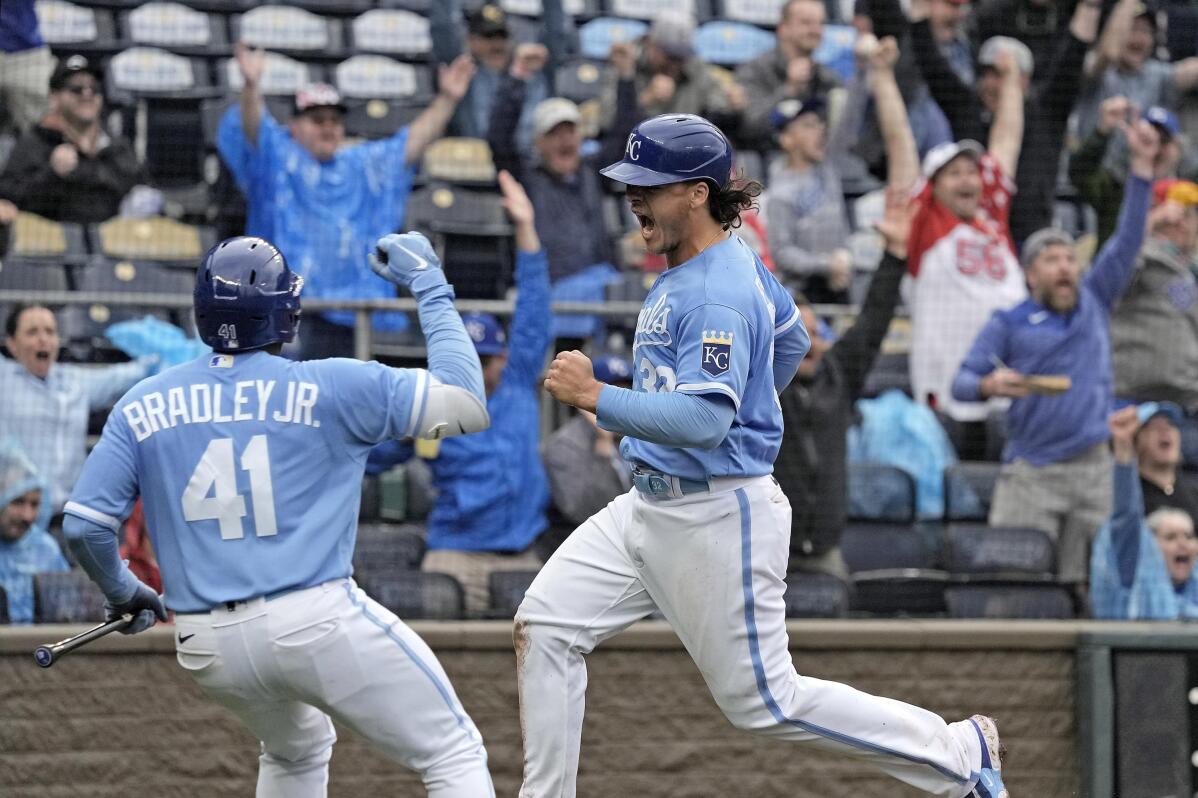 3 of 9

|
Kansas City Royals' Nick Pratto, right, celebrates with Jackie Bradley Jr. (41) after Pratto scored the winning run on a bunt single hit by Freddy Fermin during the ninth inning of a baseball game against the Chicago White Sox Thursday, May 11, 2023, in Kansas City, Mo. The Royals won 4-3. (AP Photo/Charlie Riedel)
3 of 9
Kansas City Royals' Nick Pratto, right, celebrates with Jackie Bradley Jr. (41) after Pratto scored the winning run on a bunt single hit by Freddy Fermin during the ninth inning of a baseball game against the Chicago White Sox Thursday, May 11, 2023, in Kansas City, Mo. The Royals won 4-3. (AP Photo/Charlie Riedel)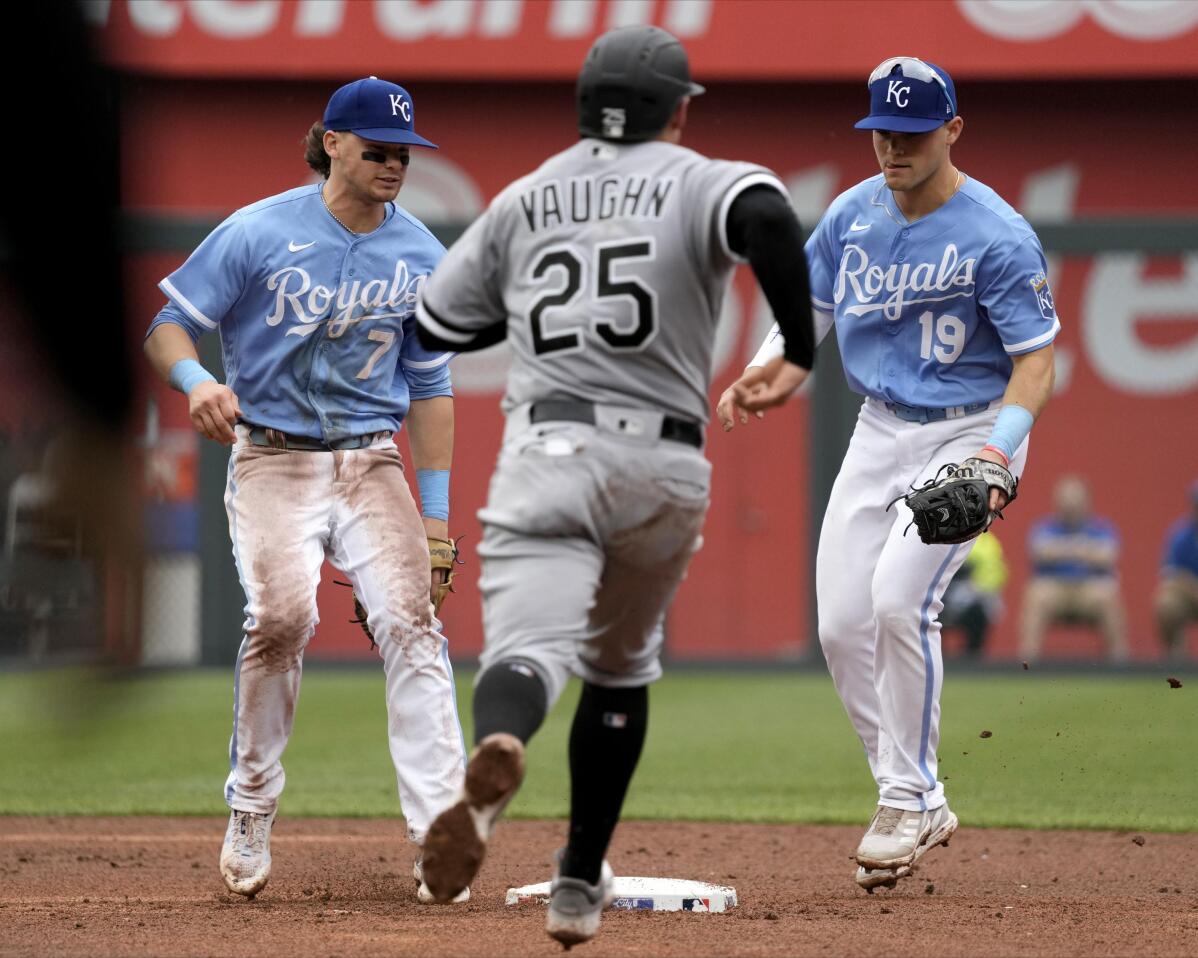 4 of 9

|
Chicago White Sox's Andrew Vaughn (25) is forced out at second by Kansas City Royals second baseman Michael Massey during the sixth inning of a baseball game Thursday, May 11, 2023, in Kansas City, Mo. (AP Photo/Charlie Riedel)
4 of 9
Chicago White Sox's Andrew Vaughn (25) is forced out at second by Kansas City Royals second baseman Michael Massey during the sixth inning of a baseball game Thursday, May 11, 2023, in Kansas City, Mo. (AP Photo/Charlie Riedel)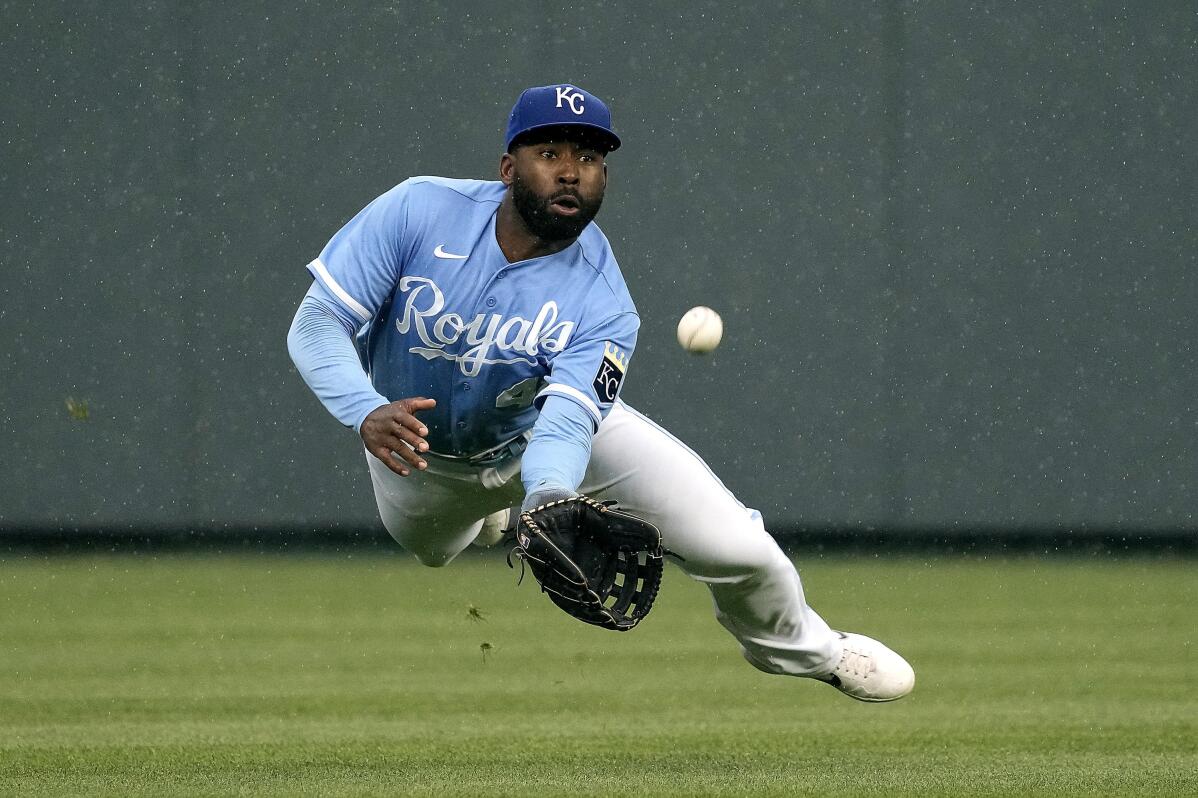 5 of 9

|
Kansas City Royals' Jackie Bradley Jr. catches a fly ball for the out on Chicago White Sox's Andrew Benintendi during the eighth inning of a baseball game Thursday, May 11, 2023, in Kansas City, Mo. The Royals won 4-3. (AP Photo/Charlie Riedel)
5 of 9
Kansas City Royals' Jackie Bradley Jr. catches a fly ball for the out on Chicago White Sox's Andrew Benintendi during the eighth inning of a baseball game Thursday, May 11, 2023, in Kansas City, Mo. The Royals won 4-3. (AP Photo/Charlie Riedel)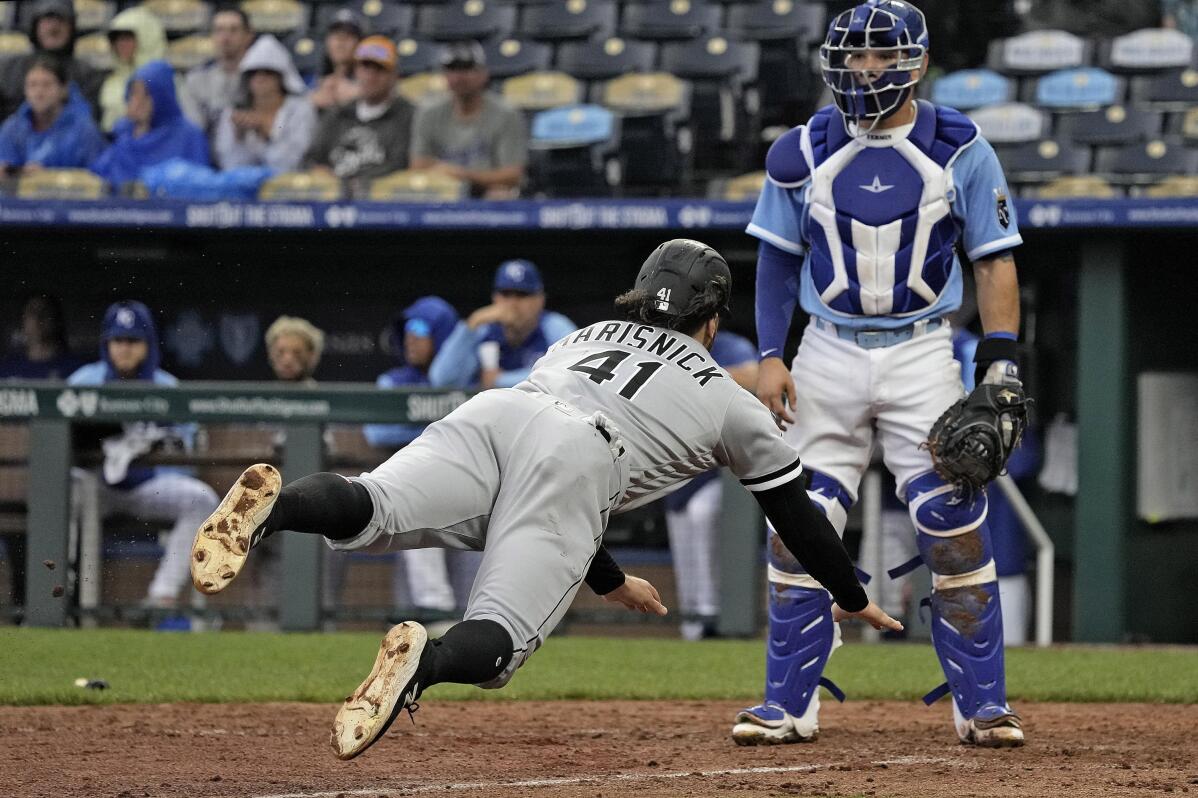 6 of 9

|
Chicago White Sox's Jake Marisnick dives home to score on a two-run double hit by Luis Robert Jr. during the eighth inning of a baseball game against the Kansas City Royals Thursday, May 11, 2023, in Kansas City, Mo. The Royals won 4-3. (AP Photo/Charlie Riedel)
6 of 9
Chicago White Sox's Jake Marisnick dives home to score on a two-run double hit by Luis Robert Jr. during the eighth inning of a baseball game against the Kansas City Royals Thursday, May 11, 2023, in Kansas City, Mo. The Royals won 4-3. (AP Photo/Charlie Riedel)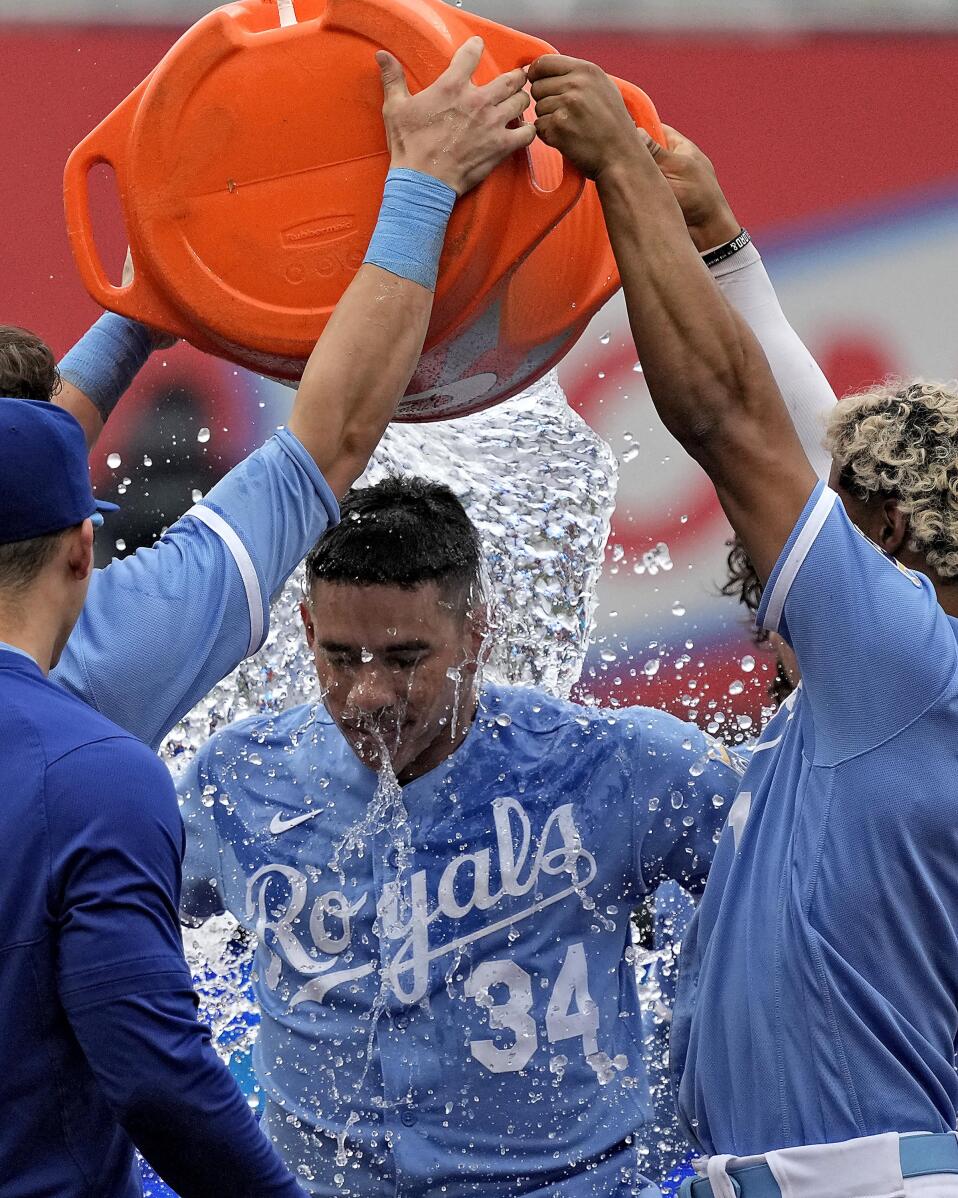 7 of 9

|
Kansas City Royals' Freddy Fermin (34) is doused by teammates after their baseball game against the Chicago White Sox Thursday, May 11, 2023, in Kansas City, Mo. The Royals won 4-3. (AP Photo/Charlie Riedel)
7 of 9
Kansas City Royals' Freddy Fermin (34) is doused by teammates after their baseball game against the Chicago White Sox Thursday, May 11, 2023, in Kansas City, Mo. The Royals won 4-3. (AP Photo/Charlie Riedel)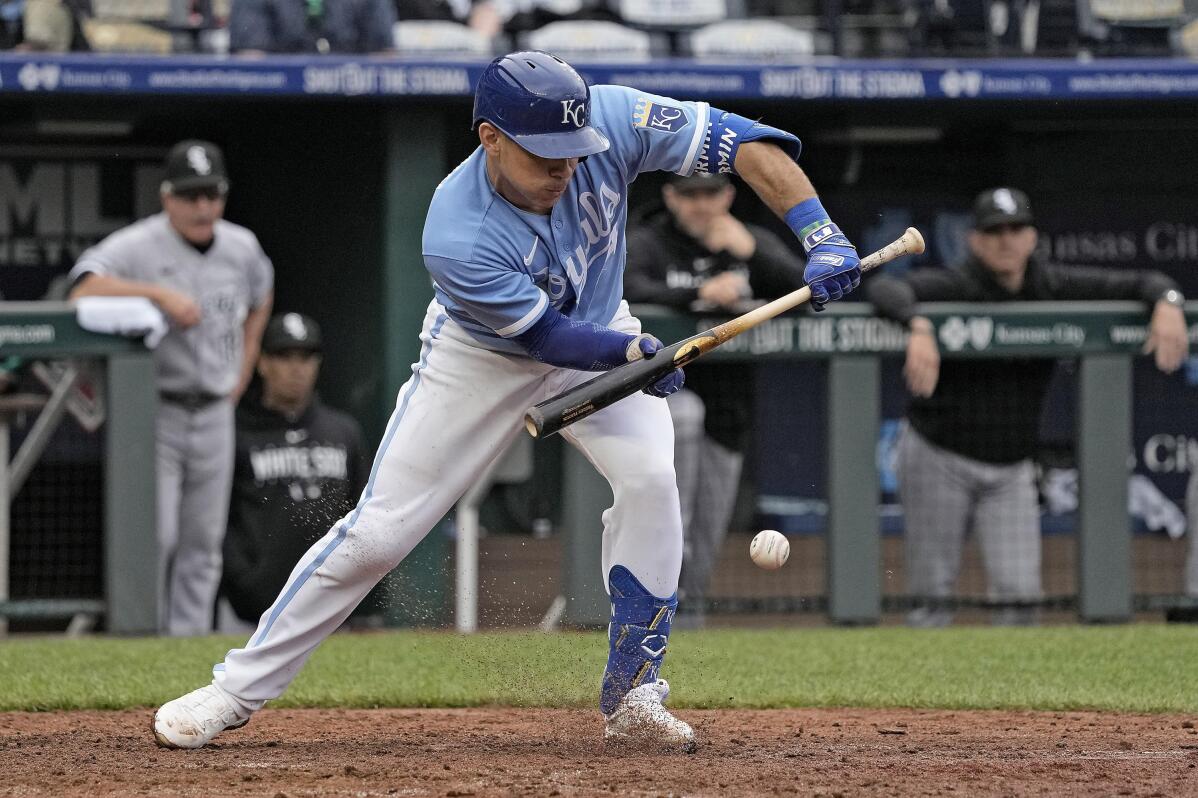 8 of 9

|
Kansas City Royals' Freddy Fermin hits a bunt single to bring in the winning run during the ninth inning of a baseball game against the Chicago White Sox Thursday, May 11, 2023, in Kansas City, Mo. The Royals won 4-3. (AP Photo/Charlie Riedel)
8 of 9
Kansas City Royals' Freddy Fermin hits a bunt single to bring in the winning run during the ninth inning of a baseball game against the Chicago White Sox Thursday, May 11, 2023, in Kansas City, Mo. The Royals won 4-3. (AP Photo/Charlie Riedel)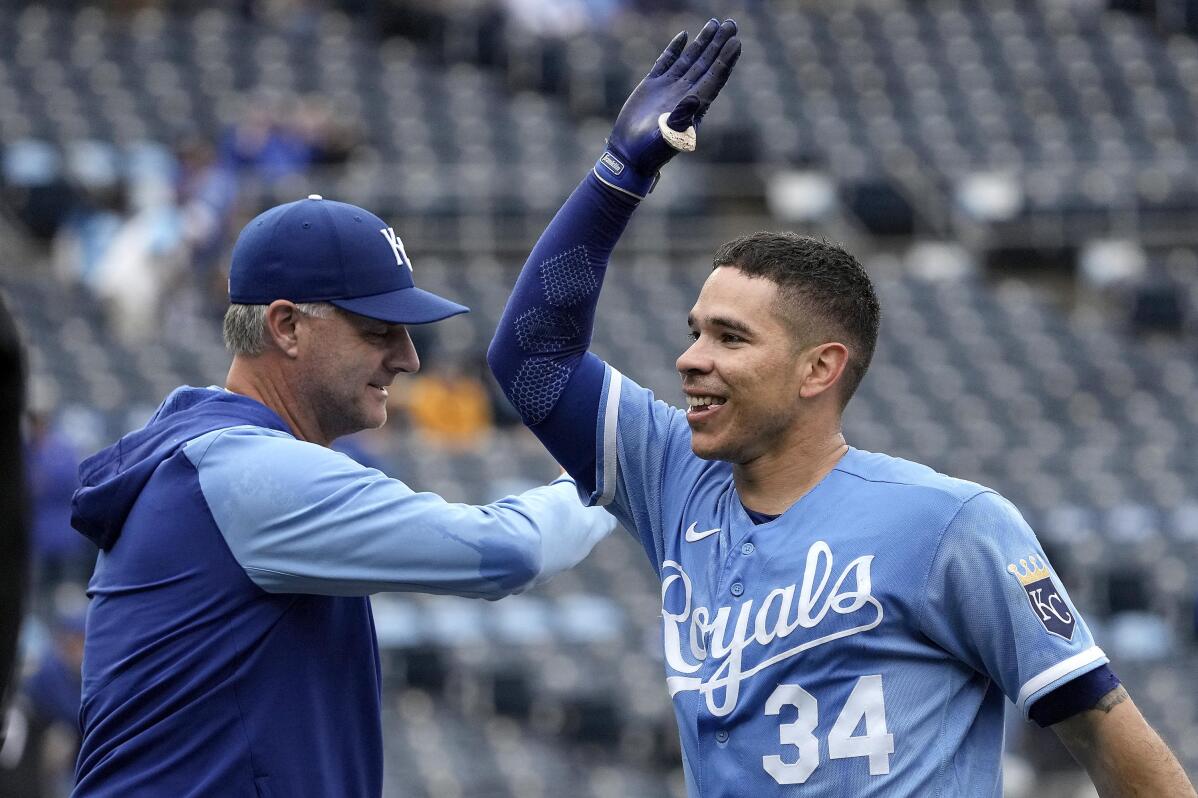 9 of 9

|
Kansas City Royals manager Matt Quatraro celebrates with Freddy Fermin (34) after their baseball game against the Chicago White Sox Thursday, May 11, 2023, in Kansas City, Mo. The Royals won 4-3. (AP Photo/Charlie Riedel)
9 of 9
Kansas City Royals manager Matt Quatraro celebrates with Freddy Fermin (34) after their baseball game against the Chicago White Sox Thursday, May 11, 2023, in Kansas City, Mo. The Royals won 4-3. (AP Photo/Charlie Riedel)
KANSAS CITY, Mo. (AP) — Freddy Fermin had fouled off a couple of bunt attempts earlier in the week, yet Royals manager Matt Quatraro had no qualms about calling for another one with the backup catcher at the plate and a chance to beat the White Sox on Thursday.
This time, Fermin's bunt was fair.
Nick Pratto immediately dashed home from third base, but the bunt was so perfectly executed that there was never even a play, and that allowed Kansas City to escape with a 4-3 victory over Chicago and its first home series win of the season.
"He stuck his nose in there and got it done," Quatraro said. "It's a really hard play, if at all possible, to defense a safety squeeze unless you really sell out, and then you give up a free base. But to get that bunt down was really impressive."
There have been two walk-off bunts in the majors this season. Both have come against the White Sox.
"We got outplayed in this series," Chicago manager Pedro Grifol said after dropping three of four. "Flat out."
The Royals nursed a 3-1 lead into the eighth, but the White Sox tied it with a two-out rally against Aroldis Chapman. Andrew Vaughn and pinch-hitter Carlos Pérez singled, and Luis Robert Jr. bounced a tying double off the chalk of the left-field line.
But in the ninth, Pratto worked a walk off Reynaldo López (0-3) before Maikel Garcia struck out. Matt Duffy followed with a single to right, and Fermin laid down a bunt that went landed about six feet in front of the plate.
"Just shows you the versatility of this team," said the Royals' Michael Massey, "and the spectrum we can play on."
Scott Barlow (1-2) pitched a perfect ninth inning to earn the win.
The start of the game was delayed an hour by a steady rain that never fully abated, and that in turn created a conundrum for the grounds crew, which never seemed certain before first pitch whether it should be rolling up and stowing the tarp.
Turned out the pitchers handled the drizzle better than anyone.
The Royals' Brady Singer has been struggling most of the season, allowing 19 runs in 19 innings in his first four home starts. But the young right-hander showcased better command and execution while cutting through the White Sox lineup Thursday.
He gave up Vaughn's two-out single in the third but lasted six innings and departed with a 3-1 lead.
Mike Clevinger was sharp, too, though that was expected against Kansas City. The right-hander with the funky delivery — who twice got nailed with pitch-clock violations — was 9-0 with a 1.98 ERA over his first 14 games against the Royals.
Clevinger also left after six innings Thursday, allowing three hits and two walks.
While the Royals never hit Clevinger hard, they did hit him enough. Massey followed his first homer of the season Wednesday night with a two-out shot in the second, and the Royals got a leadoff single by Edward Oliveras and a walk from Pratto before a double by Garcia into the left-field corner gave Kansas City a 3-1 lead in the fourth.
The lead didn't hold. But the Royals added one more run when they needed it.
"There's a lot of baseball left," Grifol said. "Disappointed at times with lack of urgency? Absolutely, I am. Absolutely. That starts with me. So we've got to be better. We've got to be better as a staff. We've got to be better as a ballclub."
SCHOOL DAY AT THE K
The Royals welcomed hundreds of students for a wet but educational morning at Kauffman Stadium, and many stuck around through the rain delay for part of the game. The annual school day event was particularly special for Quatraro, the Royals' first-year manager, whose parents were both educators and whose wife is a teacher as well.
"There's so many good lessons for life in school," Quatraro said, "whether it's in the books or the other stuff."
TRANSACTIONS
Royals: OF Franmil Reyes chose free agency Thursday rather than go to Triple-A Omaha. He was designated for assignment after hitting just .186 with two homers and seven RBIs in 19 games for Kansas City.
TRAINER'S ROOM
White Sox: C Yasmani Grandal doubled in the second and singled in the third before leaving with right hamstring tightness. He was replaced by Seby Zavala. ... INF Jake Burger (strained left oblique) was beginning a rehab assignment Thursday night with Triple-A Charlotte. ... INF Yoán Moncada (lower back tightness) was not playing at Charlotte, raising the expectation that he would return to the White Sox on Friday. Chicago manager Pedro Grifol would only say it's a possibility.
UP NEXT
The White Sox start a nine-game homestand with RHP Michael Kopech (1-3, 5.97 ERA) on the mound for Friday night's opener of a three-game set against Houston. The Royals head out on a nine-game trip but have not announced a starting pitcher for Friday night's opener of a three-game series in Milwaukee.
___
AP MLB: https://apnews.com/hub/MLB and https://twitter.com/AP_Sports