Stars uncertain about Joe Pavelski after hard hit by Wild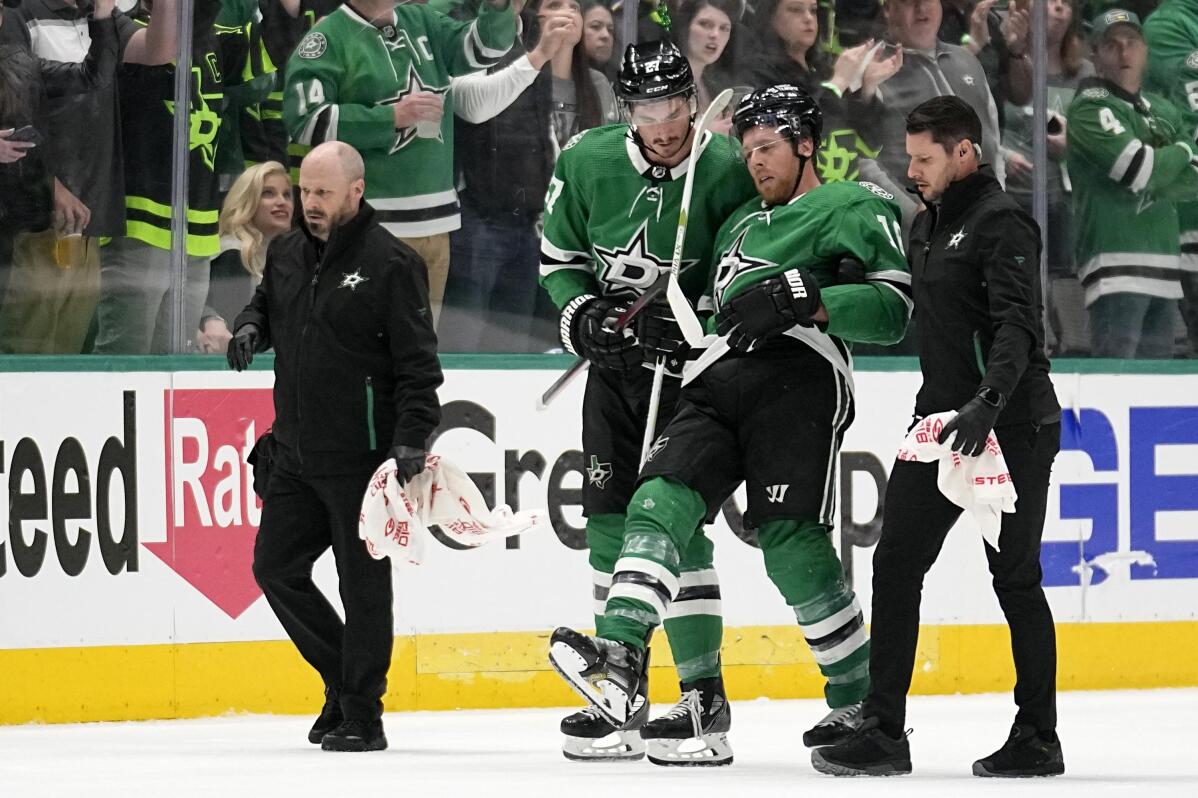 1 of 4

|
Dallas Stars' Joe Pavelski, second from right, is helped off the ice by Mason Marchment and staff after suffering an unknown injury in the second period of Game 1 of an NHL hockey Stanley Cup first-round playoff series against the Minnesota Wild, Monday, April 17, 2023, in Dallas. (AP Photo/Tony Gutierrez)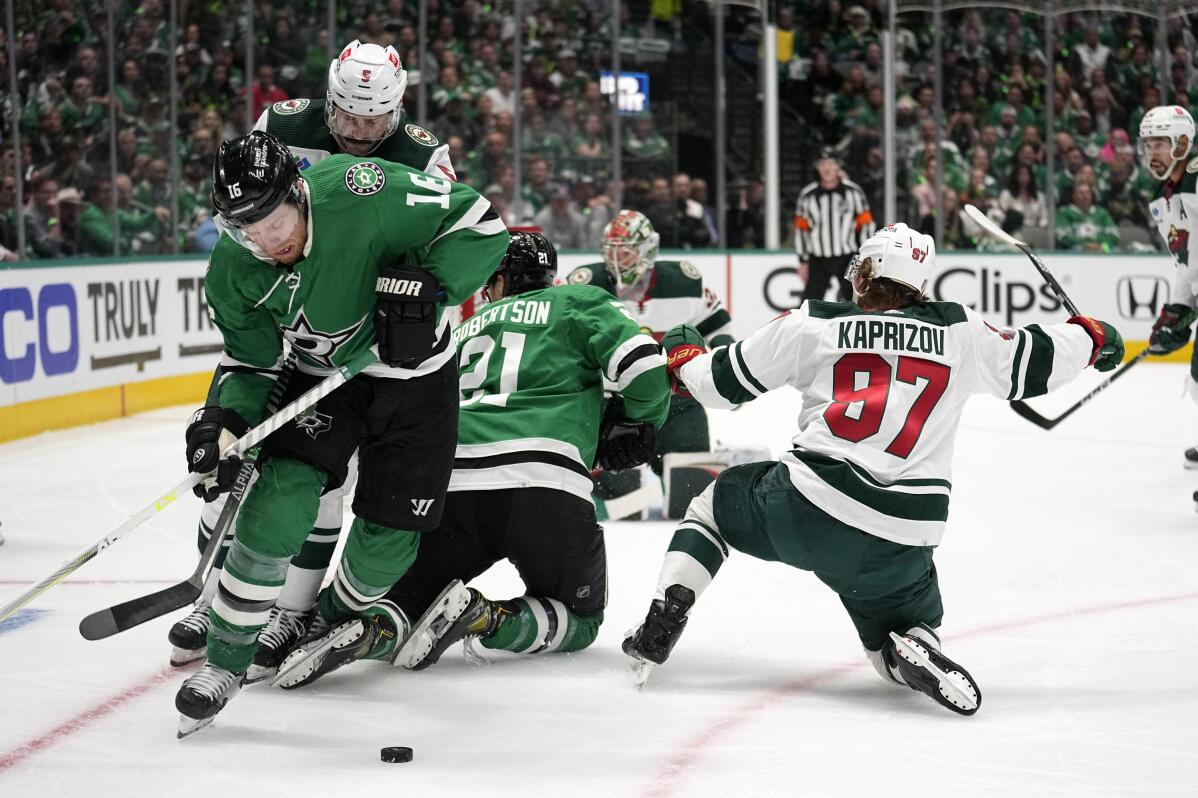 2 of 4

|
Dallas Stars center Joe Pavelski works to take control of the puck in front of Minnesota Wild defenseman Jake Middleton (5) as Jason Robertson (21) and Kirill Kaprizov (97) collide during play in the first period of Game 1 of an NHL hockey Stanley Cup first-round playoff series, Monday, April 17, 2023, in Dallas. (AP Photo/Tony Gutierrez)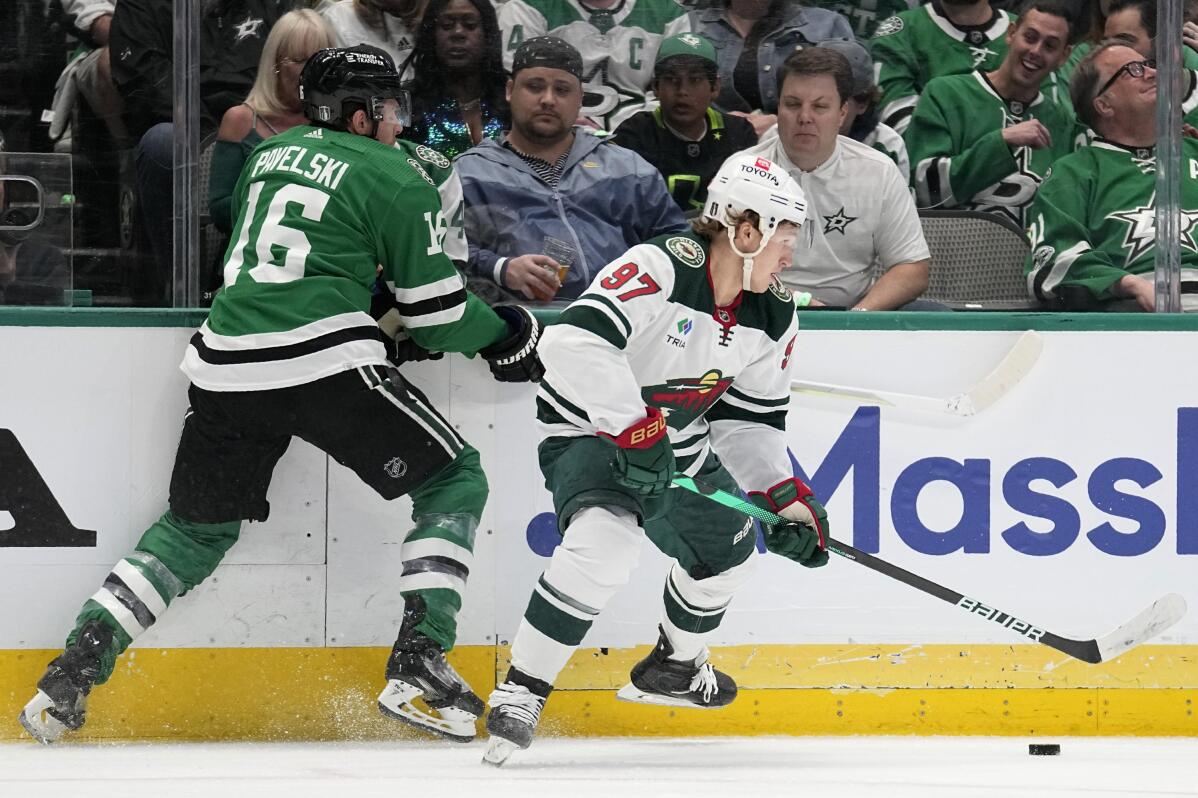 3 of 4

|
Dallas Stars center Joe Pavelski (16) and Minnesota Wild left wing Kirill Kaprizov (97) compete for control of the puck during the first period of Game 1 of an NHL hockey Stanley Cup first-round playoff series, Monday, April 17, 2023, in Dallas. (AP Photo/Tony Gutierrez)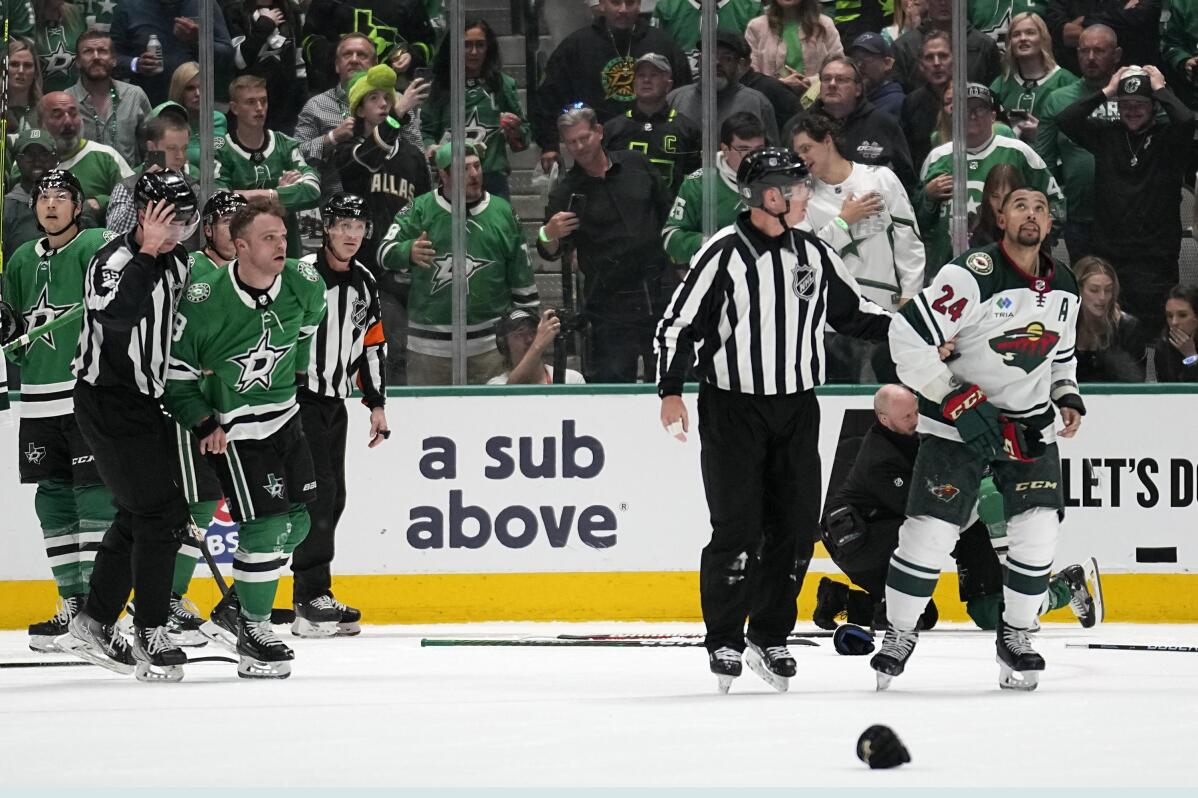 4 of 4

|
Dallas Stars' Max Domi, left, and Minnesota Wild's Matt Dumba (24) are escorted to the penalty boxes for fighting in the second period of Game 1 of an NHL hockey Stanley Cup first-round playoff series, Monday, April 17, 2023, in Dallas. (AP Photo/Tony Gutierrez)
Stars uncertain about Joe Pavelski after hard hit by Wild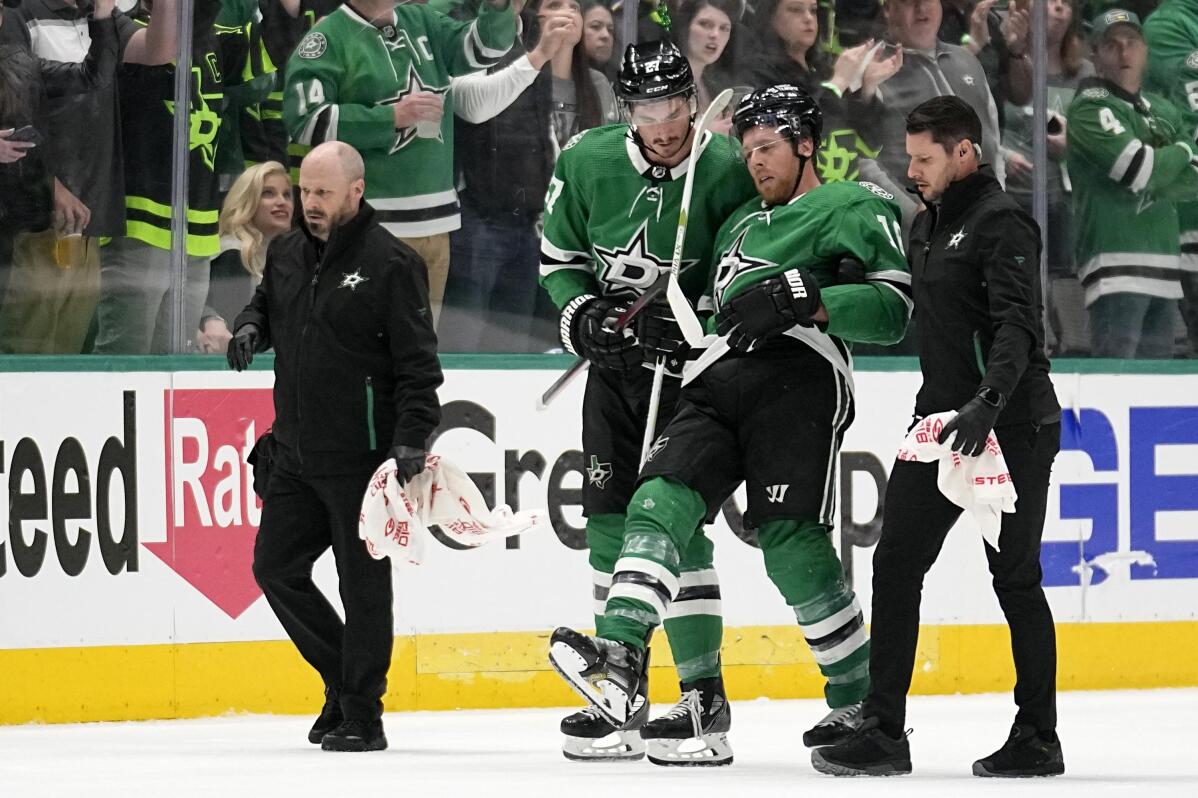 1 of 4

|
Dallas Stars' Joe Pavelski, second from right, is helped off the ice by Mason Marchment and staff after suffering an unknown injury in the second period of Game 1 of an NHL hockey Stanley Cup first-round playoff series against the Minnesota Wild, Monday, April 17, 2023, in Dallas. (AP Photo/Tony Gutierrez)
1 of 4
Dallas Stars' Joe Pavelski, second from right, is helped off the ice by Mason Marchment and staff after suffering an unknown injury in the second period of Game 1 of an NHL hockey Stanley Cup first-round playoff series against the Minnesota Wild, Monday, April 17, 2023, in Dallas. (AP Photo/Tony Gutierrez)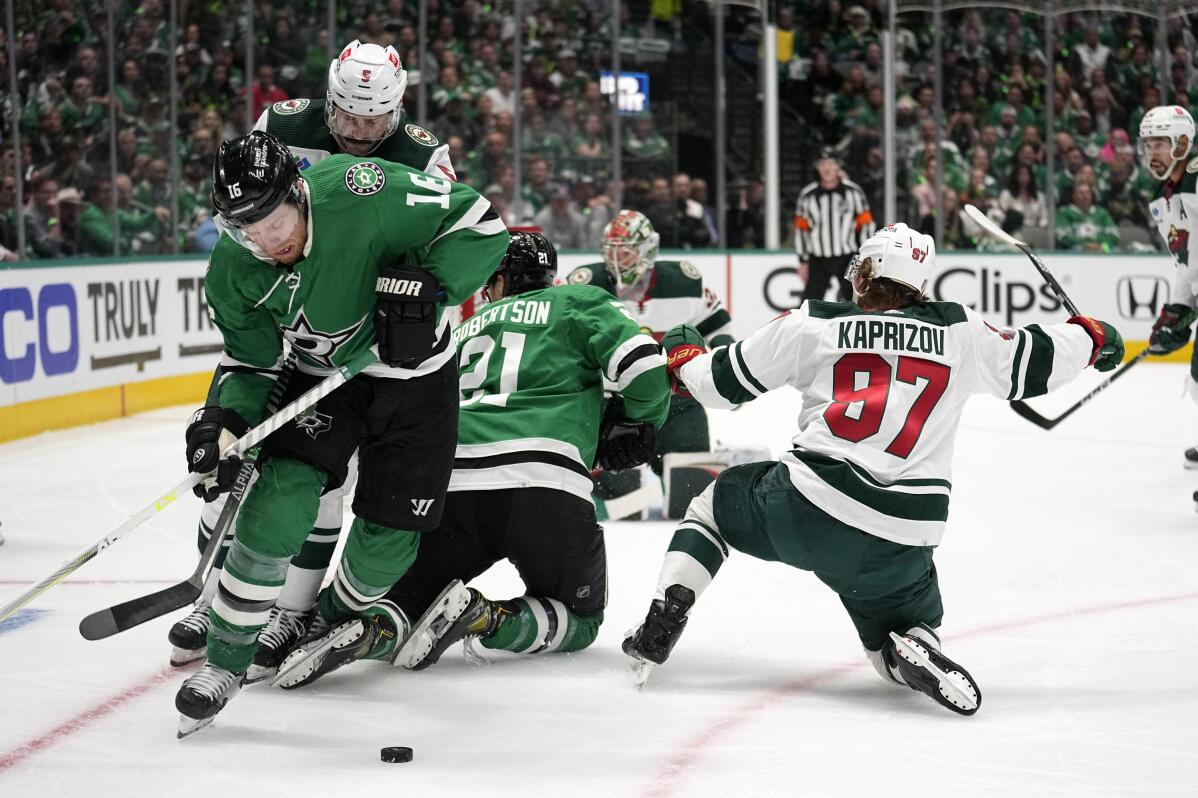 2 of 4

|
Dallas Stars center Joe Pavelski works to take control of the puck in front of Minnesota Wild defenseman Jake Middleton (5) as Jason Robertson (21) and Kirill Kaprizov (97) collide during play in the first period of Game 1 of an NHL hockey Stanley Cup first-round playoff series, Monday, April 17, 2023, in Dallas. (AP Photo/Tony Gutierrez)
2 of 4
Dallas Stars center Joe Pavelski works to take control of the puck in front of Minnesota Wild defenseman Jake Middleton (5) as Jason Robertson (21) and Kirill Kaprizov (97) collide during play in the first period of Game 1 of an NHL hockey Stanley Cup first-round playoff series, Monday, April 17, 2023, in Dallas. (AP Photo/Tony Gutierrez)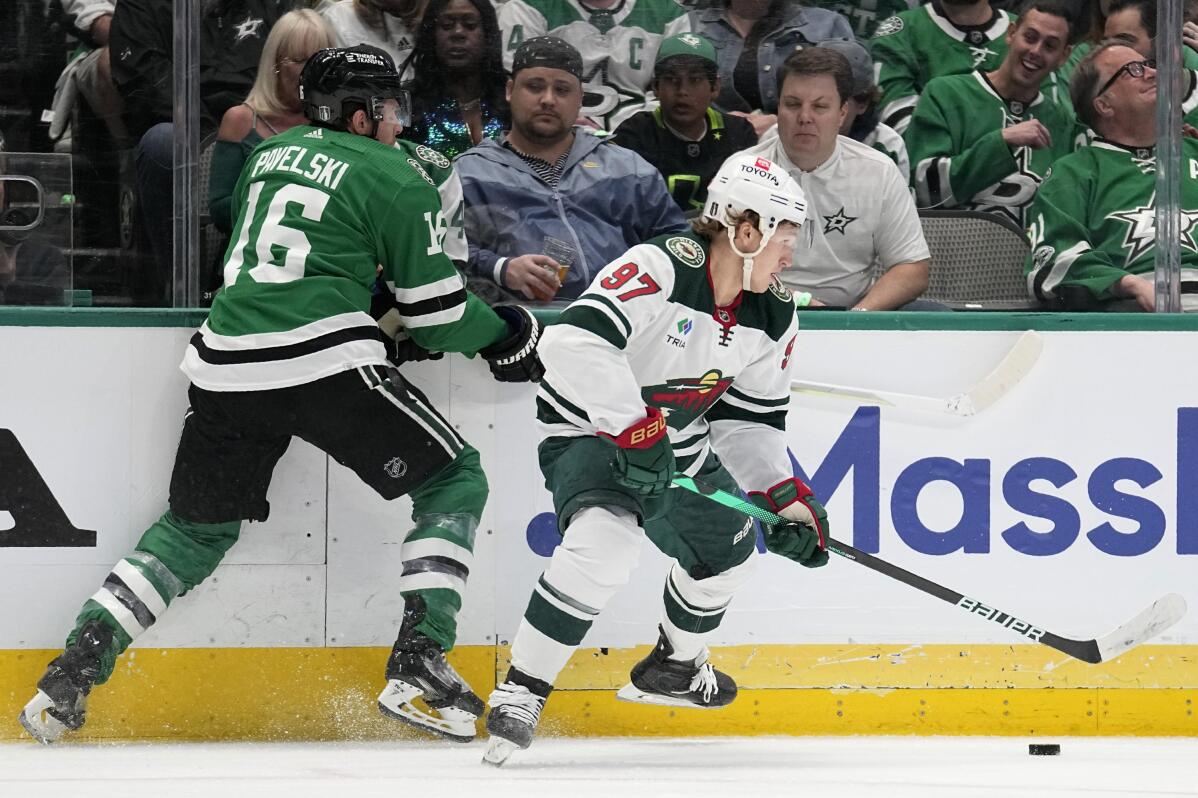 3 of 4

|
Dallas Stars center Joe Pavelski (16) and Minnesota Wild left wing Kirill Kaprizov (97) compete for control of the puck during the first period of Game 1 of an NHL hockey Stanley Cup first-round playoff series, Monday, April 17, 2023, in Dallas. (AP Photo/Tony Gutierrez)
3 of 4
Dallas Stars center Joe Pavelski (16) and Minnesota Wild left wing Kirill Kaprizov (97) compete for control of the puck during the first period of Game 1 of an NHL hockey Stanley Cup first-round playoff series, Monday, April 17, 2023, in Dallas. (AP Photo/Tony Gutierrez)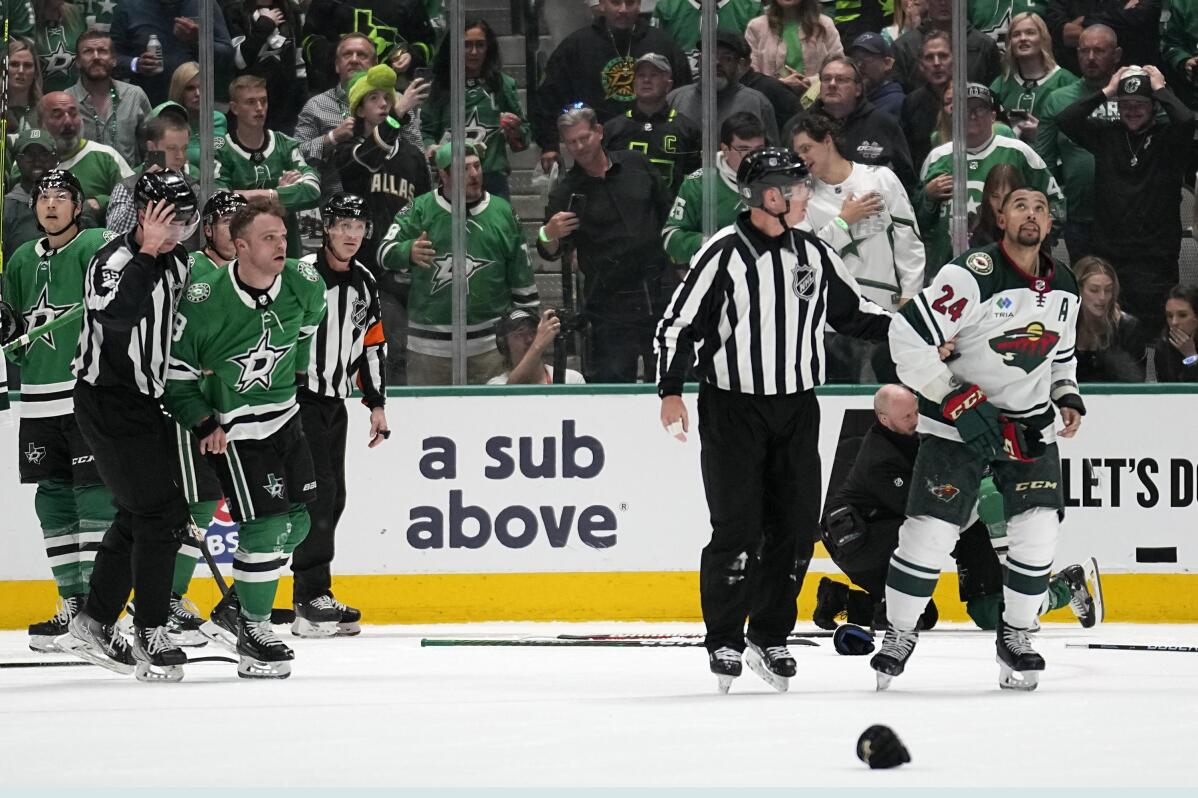 4 of 4

|
Dallas Stars' Max Domi, left, and Minnesota Wild's Matt Dumba (24) are escorted to the penalty boxes for fighting in the second period of Game 1 of an NHL hockey Stanley Cup first-round playoff series, Monday, April 17, 2023, in Dallas. (AP Photo/Tony Gutierrez)
4 of 4
Dallas Stars' Max Domi, left, and Minnesota Wild's Matt Dumba (24) are escorted to the penalty boxes for fighting in the second period of Game 1 of an NHL hockey Stanley Cup first-round playoff series, Monday, April 17, 2023, in Dallas. (AP Photo/Tony Gutierrez)
DALLAS (AP) — Stars veteran center Joe Pavelski was not at the arena for a team meeting Tuesday, and his status for Game 2 and beyond against the Minnesota Wild was uncertain after a massive hit that took him out of the series-opening loss midway through the second period.
"Trainers and some of the players had contact with him, and he seems OK, but we left him at home," coach Pete DeBoer said.
When asked if the 38-year-old Pavelski was in concussion protocol, DeBoer responded, "I don't have anything like that yet."
Pavelski hit his head on the ice after the crushing blow from Minnesota defenseman Matt Dumba to the side of the Wild net Monday night. Officials initially announced a five-minute major penalty before that was changed to a two-minute minor for roughing after a video review. The Stars center remained on the ice for some time, during which teammate Max Domi sought out and fought Dumba.
Stars center Tyler Seguin said Tuesday it was tough to say if the hit was properly called, but called it a dangerous play.
"I don't know if he's per se trying to knock out Joe," Seguin said. "But it was dangerous, it was late. ... Pete said after the game, and I agree with it, the refs have got an incredibly hard job to do and they're the best in the world at what they do."
Dumba said after Minnesota's 3-2 win in the best-of-seven series that he thought it was a clean shoulder-on-shoulder hit. He questioned after the game why he even got a roughing penalty.
Game 2 is Wednesday night in Dallas.
Wyatt Johnston, the 19-year-old Stars center who has lived this season with Pavelski's family, described Pavelski as being in good spirits Tuesday.
"I mean, obviously it was a big hit, and I think everyone kind of saw the aftermath, but, yeah, I mean, he was in pretty good spirits," Johnston said. "I was able to talk to him a bit and, happy to see that he's kind of just doing his regular things."
A play involving Pavelski in the 2019 playoffs helped prompt the NHL to expand its video review process, allowing officials to review major penalties to determine whether the call was accurate. That change gave referees the option to reduce a major penalty to a minor, as happened with Dumba's hit Monday night.
Had that expanded process been in use in 2019, it could have potentially changed the complexion of Game 7 in a first-round series between Vegas and San Jose after Pavelski, then with the Sharks with DeBoer as his coach there, took a hit from Cody Eakin.
The Golden Knights were leading 3-0 when Eakin was assessed a major penalty for that hit, which the league alledgedly later told Vegas was not the right call. The Sharks scored four times on the ensuing major penalty and won 5-4 in overtime.
Pavelski is in his fourth season with the Stars, and 17th overall. He got his 1,000th career point in the regular season earlier this month, and his 64 career playoff goals are the most among U.S.-born players. He has played 1,250 regular-season games and 169 playoff games, and is still in search of his first Stanley Cup title.
Dallas now waits to see when he will be back on the ice.
"Obviously a pinnacle leader of this team and so much experience and history of being successful in the playoffs," Seguin said. "You miss him, but in the playoffs, you have all sorts of adversity and next-man-up mentality. So we'll miss him, but we'll do everything we can to fill that void."
___
AP NHL Playoffs: https://apnews.com/hub/stanley-cup and https://twitter.com/AP_Sports