Zuccarello scores 2, Wild beat Stars to take 2-1 series lead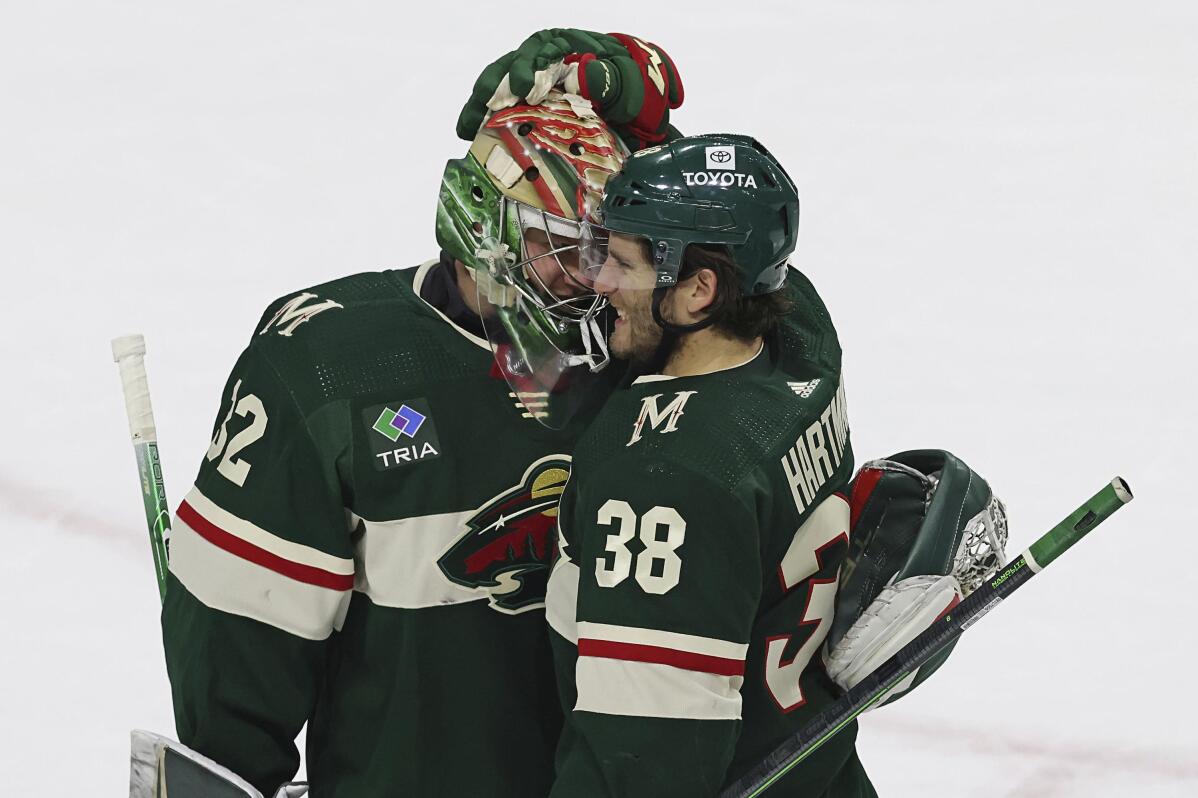 1 of 9

|
Minnesota Wild right wing Ryan Hartman (38) celebrates with goaltender Filip Gustavsson (32) after the team's 5-1 over the Dallas Stars in Game 3 of an NHL hockey Stanley Cup first-round playoff series Friday, April 21, 2023, in St. Paul, Minn. (AP Photo/Stacy Bengs)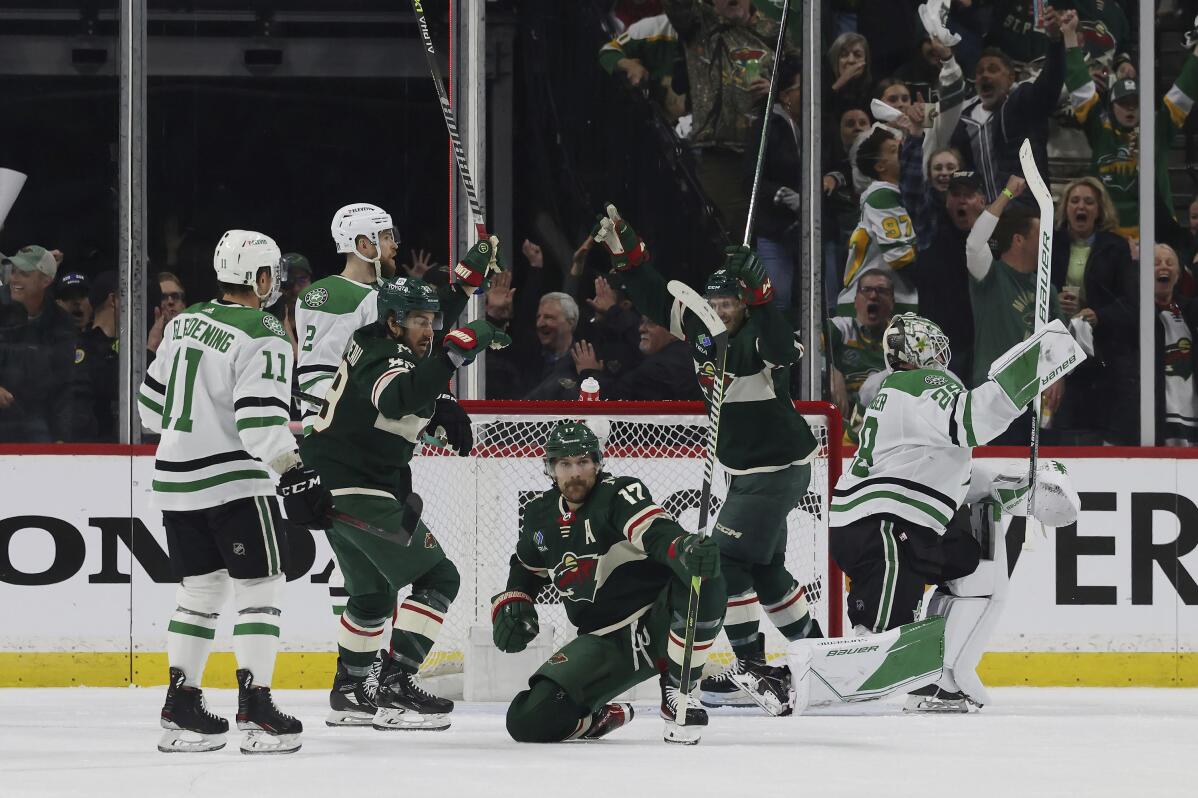 2 of 9

|
Minnesota Wild left wing Marcus Foligno (17) celebrates his goal against the Dallas Stars during the second period of Game 3 of an NHL hockey Stanley Cup first-round playoff series Friday, April 21, 2023, in St. Paul, Minn. (AP Photo/Stacy Bengs)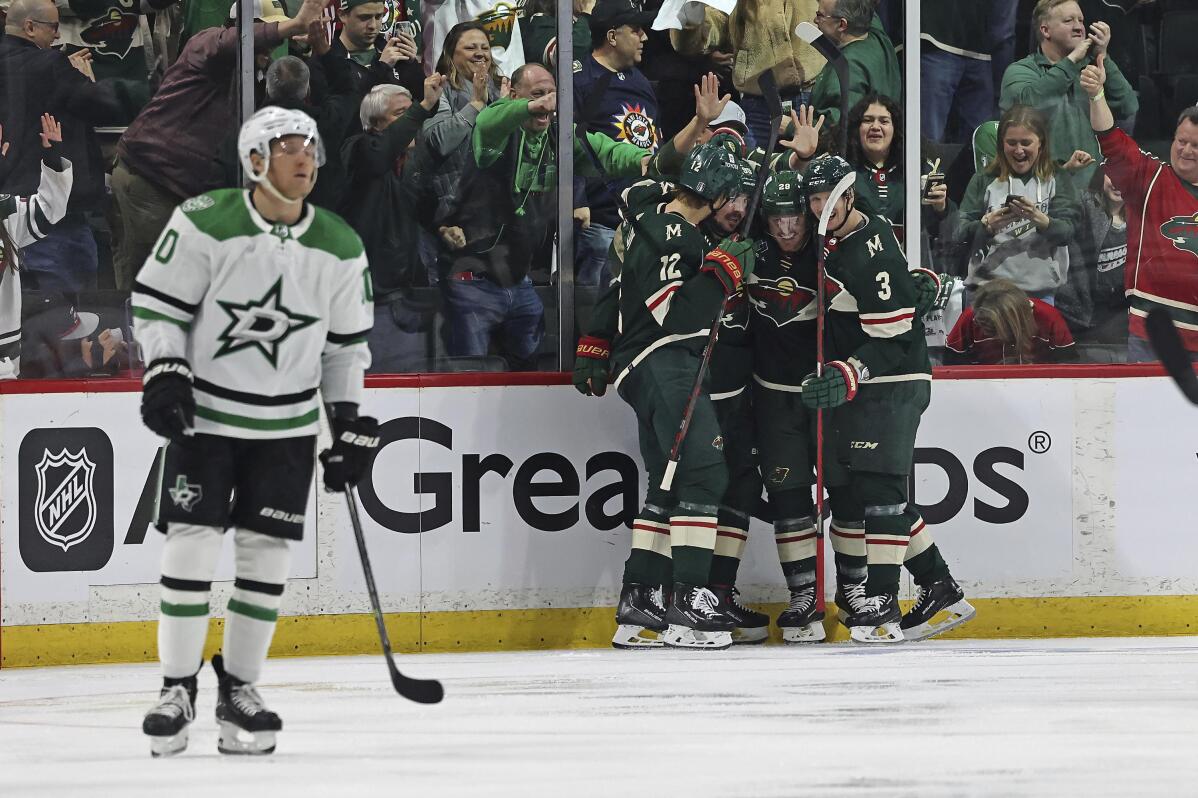 3 of 9

|
Minnesota Wild left wing Marcus Johansson, second from left at rear, is surrounded by teammates in celebration of his goal against the Dallas Stars during the second period of Game 3 of an NHL hockey Stanley Cup first-round playoff series Friday, April 21, 2023, in St. Paul, Minn. (AP Photo/Stacy Bengs)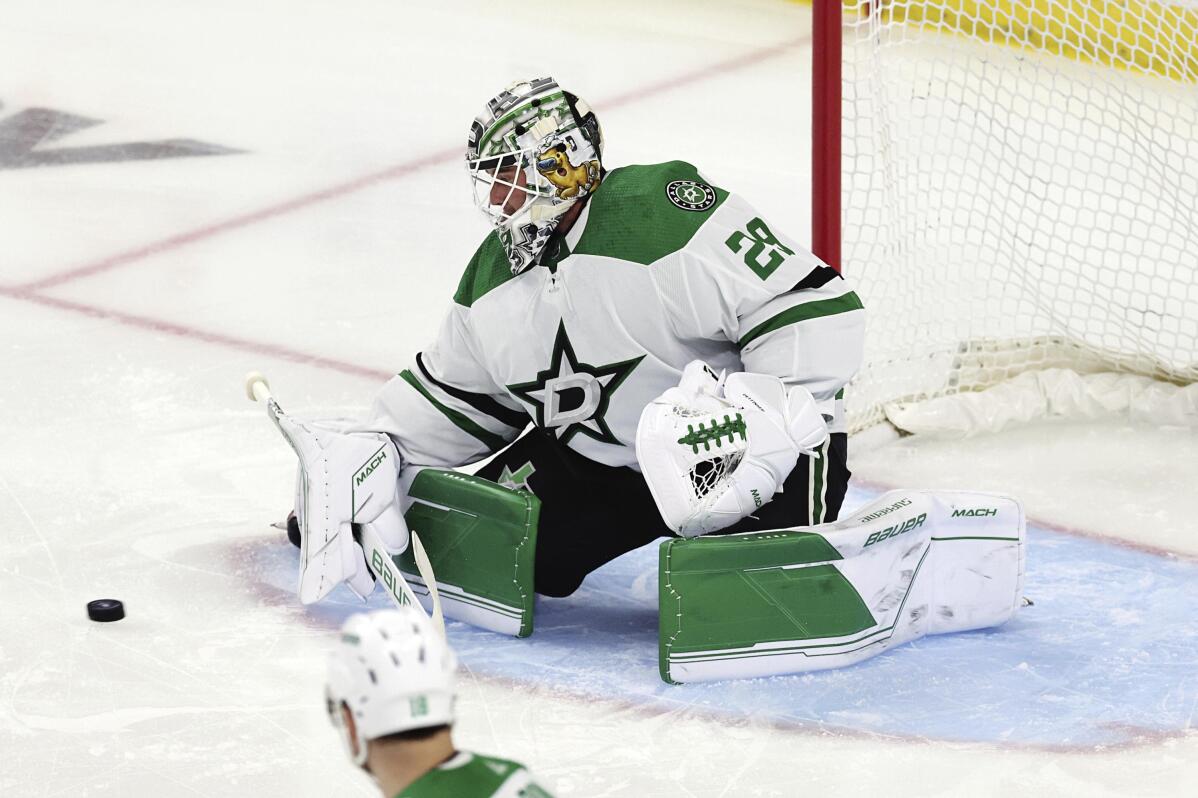 4 of 9

|
Dallas Stars goaltender Jake Oettinger stops the puck during the first period against the Minnesota Wild in Game 3 of an NHL hockey Stanley Cup first-round playoff series Friday, April 21, 2023, in St. Paul, Minn. (AP Photo/Stacy Bengs)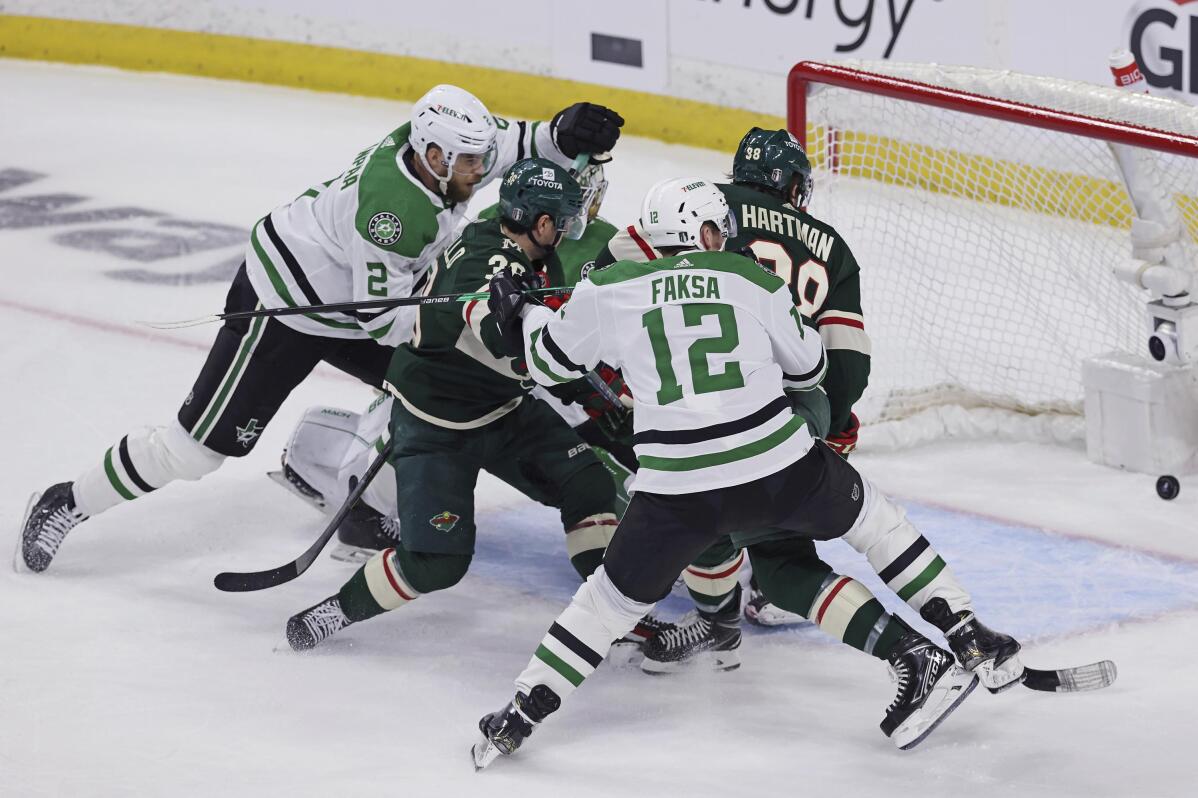 5 of 9

|
Minnesota Wild right wing Ryan Hartman (38) scores a goal against the Dallas Stars during the first period of Game 3 of an NHL hockey Stanley Cup first-round playoff series Friday, April 21, 2023, in St. Paul, Minn. (AP Photo/Stacy Bengs)
6 of 9

|
Dallas Stars left wing Jamie Benn (14) handles the puck next to Minnesota Wild center Connor Dewar (26) during the first period of Game 3 of an NHL hockey Stanley Cup first-round playoff series Friday, April 21, 2023, in St. Paul, Minn. (AP Photo/Stacy Bengs)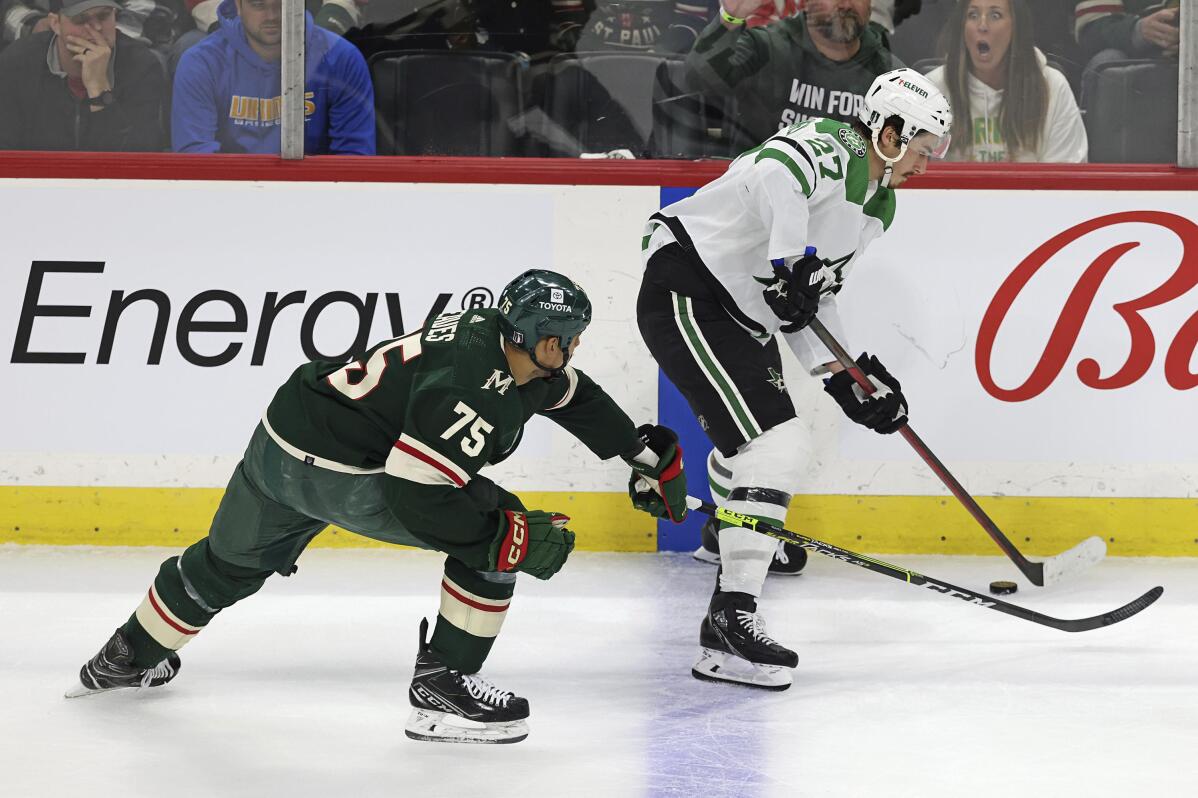 7 of 9

|
Dallas Stars left wing Mason Marchment (27) is defended by Minnesota Wild right wing Ryan Reaves (75) during the first period of Game 3 of an NHL hockey Stanley Cup first-round playoff series Friday, April 21, 2023, in St. Paul, Minn. (AP Photo/Stacy Bengs)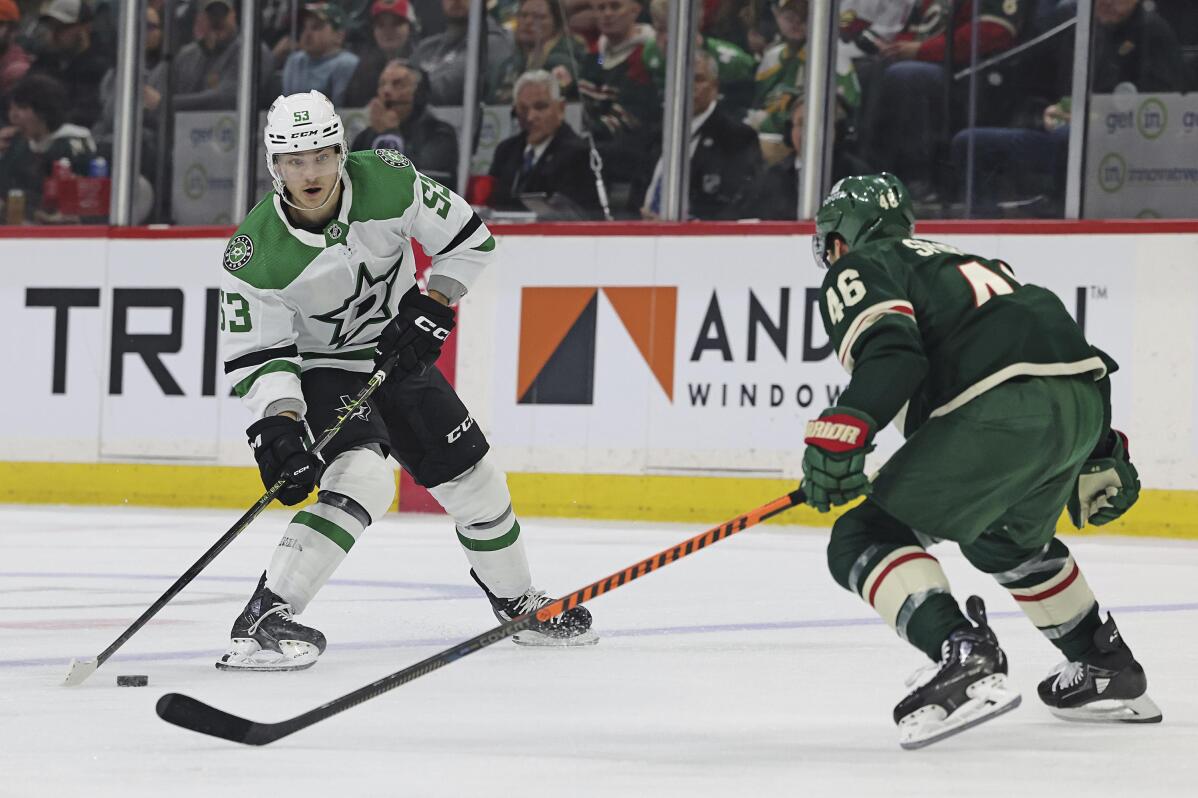 8 of 9

|
Dallas Stars center Wyatt Johnston (53) handles the puck in front of Minnesota Wild defenseman Jared Spurgeon (46) during the second period of Game 3 of an NHL hockey Stanley Cup first-round playoff series Friday, April 21, 2023, in St. Paul, Minn. (AP Photo/Stacy Bengs)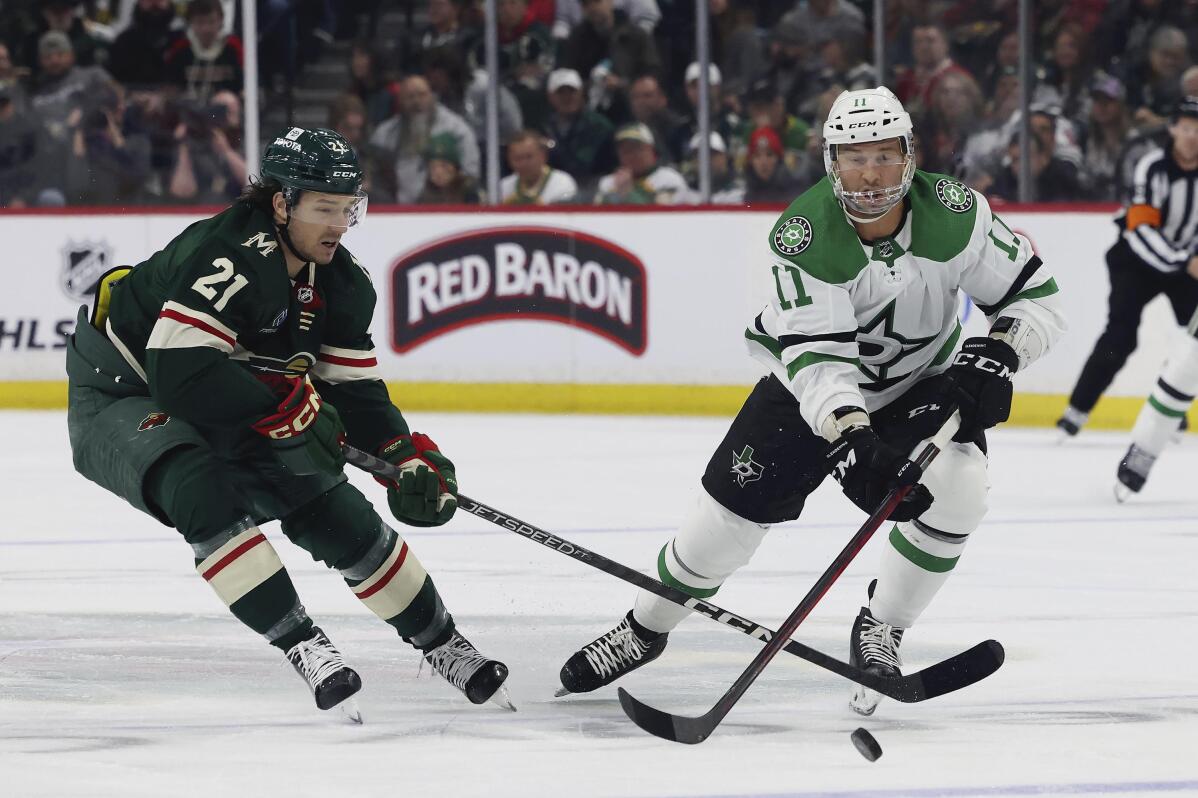 9 of 9

|
Dallas Stars center Luke Glendening (11) is defended by Minnesota Wild right wing Brandon Duhaime (21) during the second period of Game 3 of an NHL hockey Stanley Cup first-round playoff series Friday, April 21, 2023, in St. Paul, Minn. (AP Photo/Stacy Bengs)
Zuccarello scores 2, Wild beat Stars to take 2-1 series lead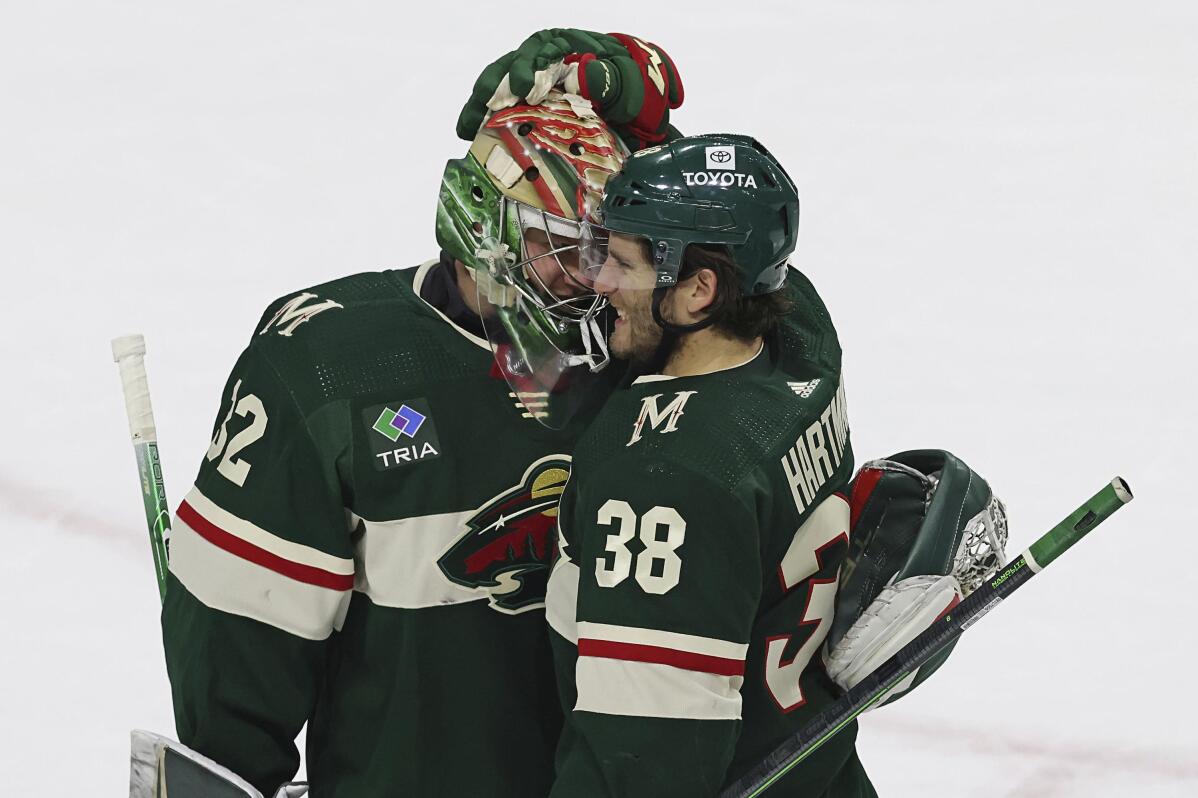 1 of 9

|
Minnesota Wild right wing Ryan Hartman (38) celebrates with goaltender Filip Gustavsson (32) after the team's 5-1 over the Dallas Stars in Game 3 of an NHL hockey Stanley Cup first-round playoff series Friday, April 21, 2023, in St. Paul, Minn. (AP Photo/Stacy Bengs)
1 of 9
Minnesota Wild right wing Ryan Hartman (38) celebrates with goaltender Filip Gustavsson (32) after the team's 5-1 over the Dallas Stars in Game 3 of an NHL hockey Stanley Cup first-round playoff series Friday, April 21, 2023, in St. Paul, Minn. (AP Photo/Stacy Bengs)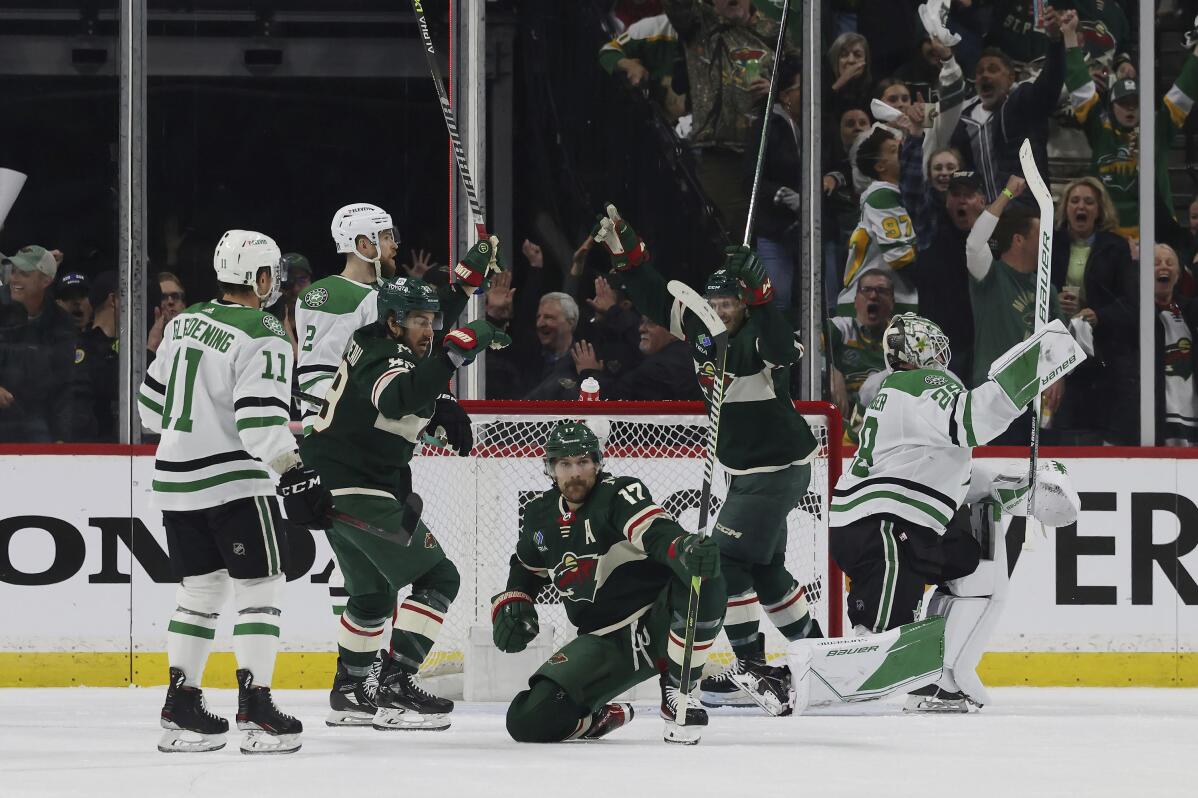 2 of 9

|
Minnesota Wild left wing Marcus Foligno (17) celebrates his goal against the Dallas Stars during the second period of Game 3 of an NHL hockey Stanley Cup first-round playoff series Friday, April 21, 2023, in St. Paul, Minn. (AP Photo/Stacy Bengs)
2 of 9
Minnesota Wild left wing Marcus Foligno (17) celebrates his goal against the Dallas Stars during the second period of Game 3 of an NHL hockey Stanley Cup first-round playoff series Friday, April 21, 2023, in St. Paul, Minn. (AP Photo/Stacy Bengs)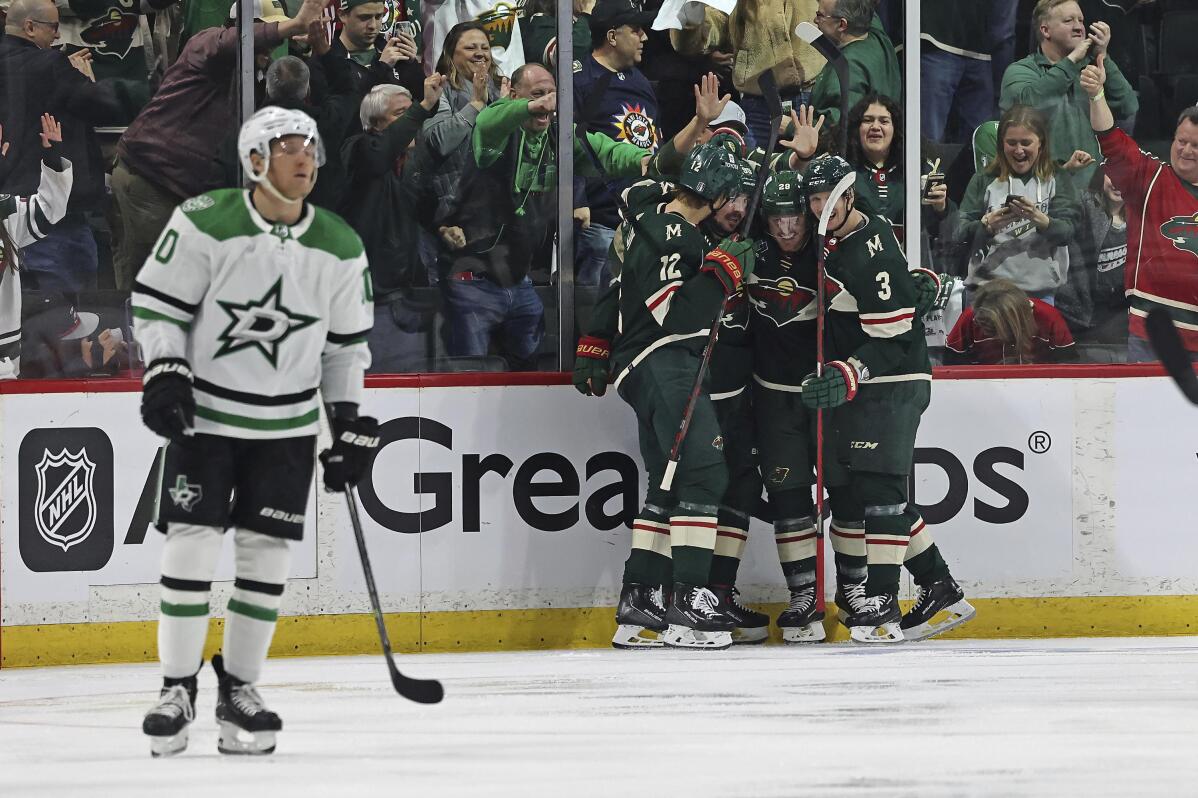 3 of 9

|
Minnesota Wild left wing Marcus Johansson, second from left at rear, is surrounded by teammates in celebration of his goal against the Dallas Stars during the second period of Game 3 of an NHL hockey Stanley Cup first-round playoff series Friday, April 21, 2023, in St. Paul, Minn. (AP Photo/Stacy Bengs)
3 of 9
Minnesota Wild left wing Marcus Johansson, second from left at rear, is surrounded by teammates in celebration of his goal against the Dallas Stars during the second period of Game 3 of an NHL hockey Stanley Cup first-round playoff series Friday, April 21, 2023, in St. Paul, Minn. (AP Photo/Stacy Bengs)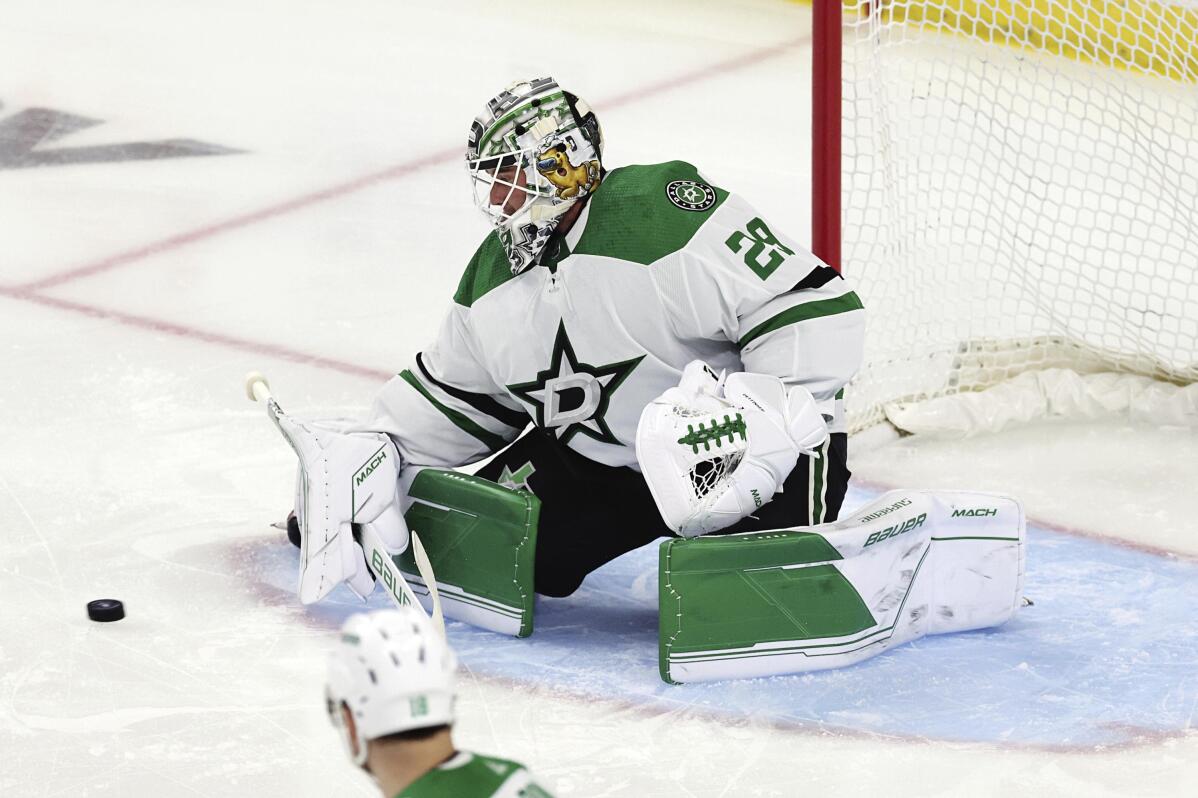 4 of 9

|
Dallas Stars goaltender Jake Oettinger stops the puck during the first period against the Minnesota Wild in Game 3 of an NHL hockey Stanley Cup first-round playoff series Friday, April 21, 2023, in St. Paul, Minn. (AP Photo/Stacy Bengs)
4 of 9
Dallas Stars goaltender Jake Oettinger stops the puck during the first period against the Minnesota Wild in Game 3 of an NHL hockey Stanley Cup first-round playoff series Friday, April 21, 2023, in St. Paul, Minn. (AP Photo/Stacy Bengs)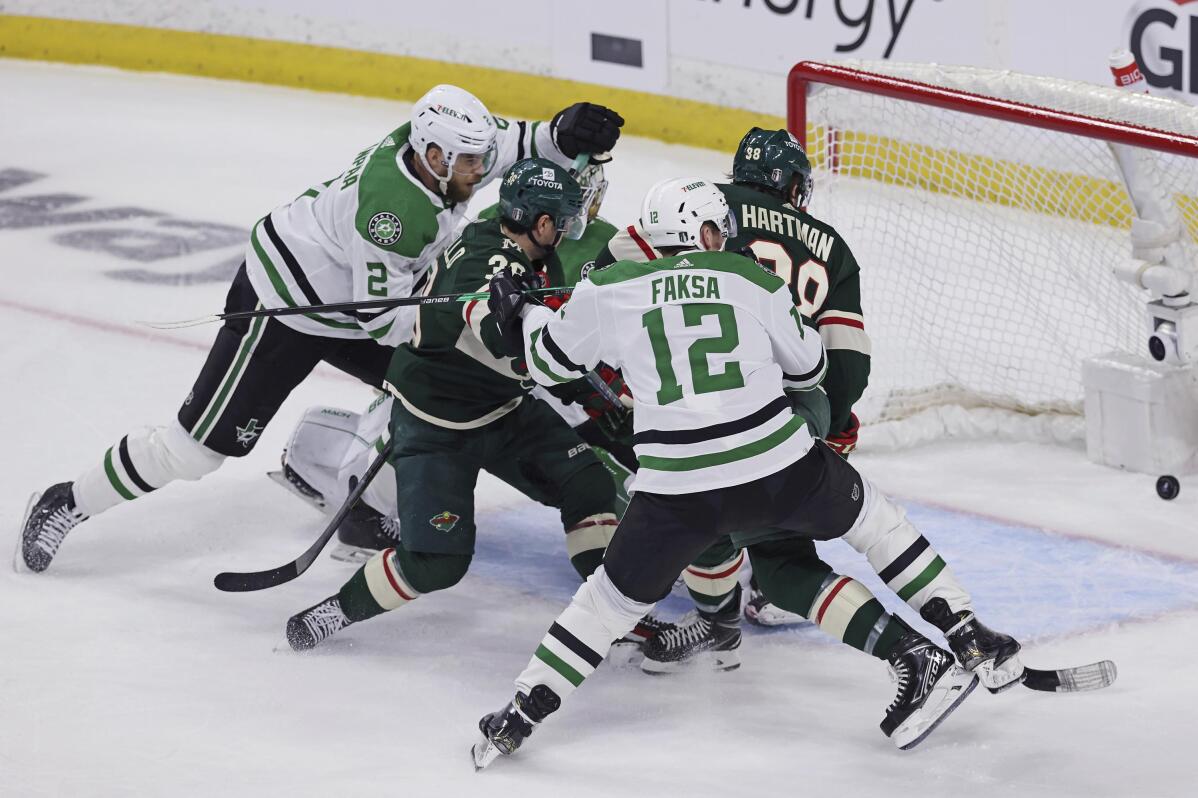 5 of 9

|
Minnesota Wild right wing Ryan Hartman (38) scores a goal against the Dallas Stars during the first period of Game 3 of an NHL hockey Stanley Cup first-round playoff series Friday, April 21, 2023, in St. Paul, Minn. (AP Photo/Stacy Bengs)
5 of 9
Minnesota Wild right wing Ryan Hartman (38) scores a goal against the Dallas Stars during the first period of Game 3 of an NHL hockey Stanley Cup first-round playoff series Friday, April 21, 2023, in St. Paul, Minn. (AP Photo/Stacy Bengs)
6 of 9

|
Dallas Stars left wing Jamie Benn (14) handles the puck next to Minnesota Wild center Connor Dewar (26) during the first period of Game 3 of an NHL hockey Stanley Cup first-round playoff series Friday, April 21, 2023, in St. Paul, Minn. (AP Photo/Stacy Bengs)
6 of 9
Dallas Stars left wing Jamie Benn (14) handles the puck next to Minnesota Wild center Connor Dewar (26) during the first period of Game 3 of an NHL hockey Stanley Cup first-round playoff series Friday, April 21, 2023, in St. Paul, Minn. (AP Photo/Stacy Bengs)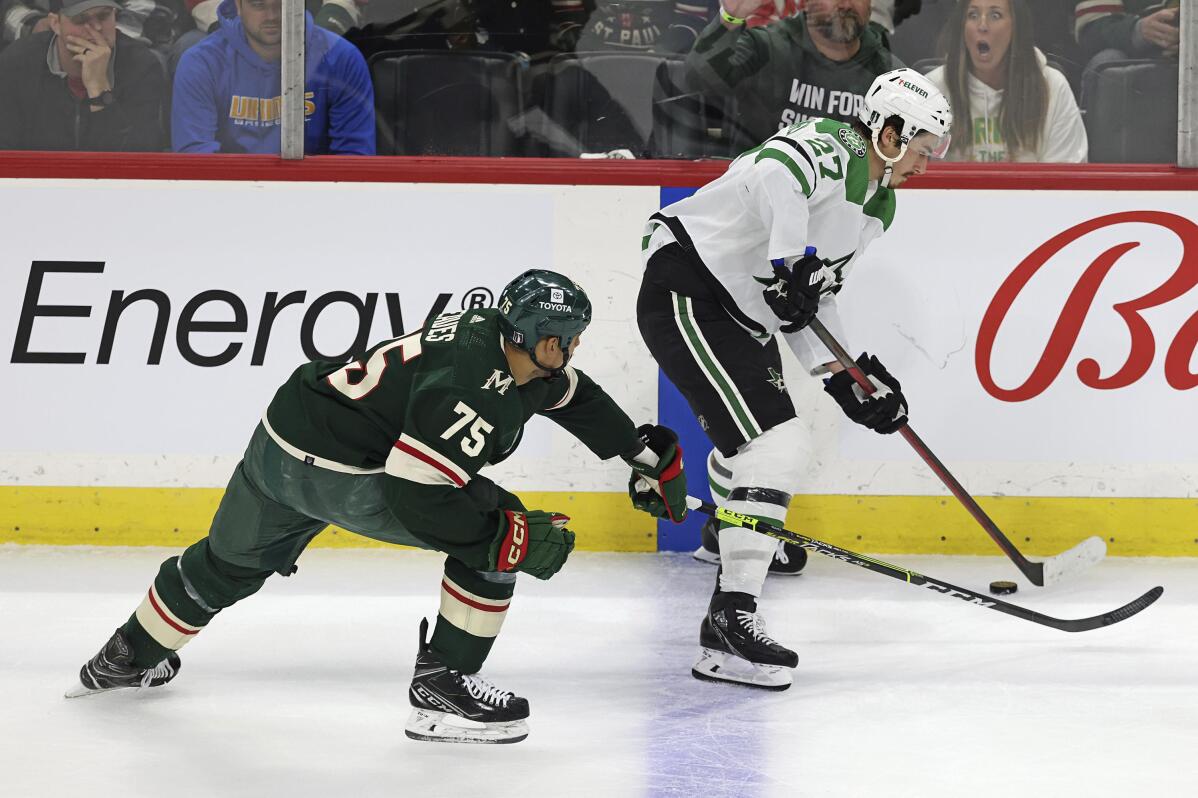 7 of 9

|
Dallas Stars left wing Mason Marchment (27) is defended by Minnesota Wild right wing Ryan Reaves (75) during the first period of Game 3 of an NHL hockey Stanley Cup first-round playoff series Friday, April 21, 2023, in St. Paul, Minn. (AP Photo/Stacy Bengs)
7 of 9
Dallas Stars left wing Mason Marchment (27) is defended by Minnesota Wild right wing Ryan Reaves (75) during the first period of Game 3 of an NHL hockey Stanley Cup first-round playoff series Friday, April 21, 2023, in St. Paul, Minn. (AP Photo/Stacy Bengs)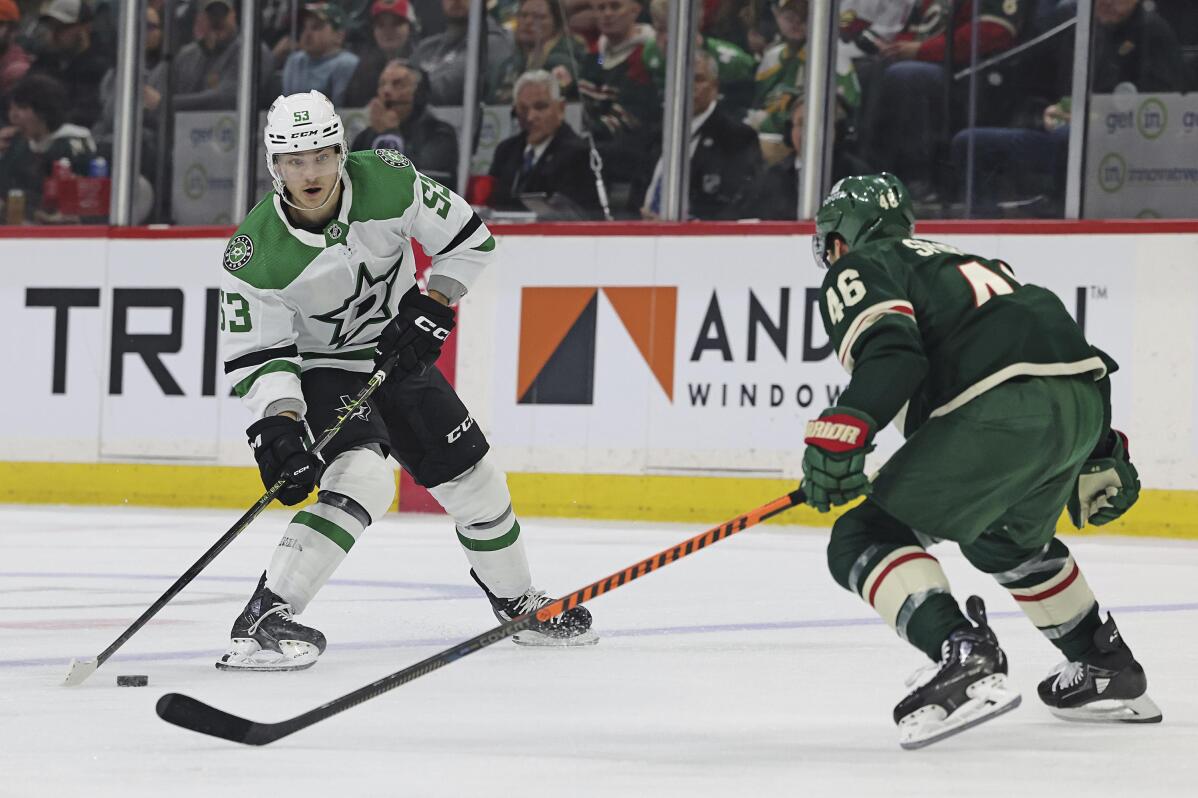 8 of 9

|
Dallas Stars center Wyatt Johnston (53) handles the puck in front of Minnesota Wild defenseman Jared Spurgeon (46) during the second period of Game 3 of an NHL hockey Stanley Cup first-round playoff series Friday, April 21, 2023, in St. Paul, Minn. (AP Photo/Stacy Bengs)
8 of 9
Dallas Stars center Wyatt Johnston (53) handles the puck in front of Minnesota Wild defenseman Jared Spurgeon (46) during the second period of Game 3 of an NHL hockey Stanley Cup first-round playoff series Friday, April 21, 2023, in St. Paul, Minn. (AP Photo/Stacy Bengs)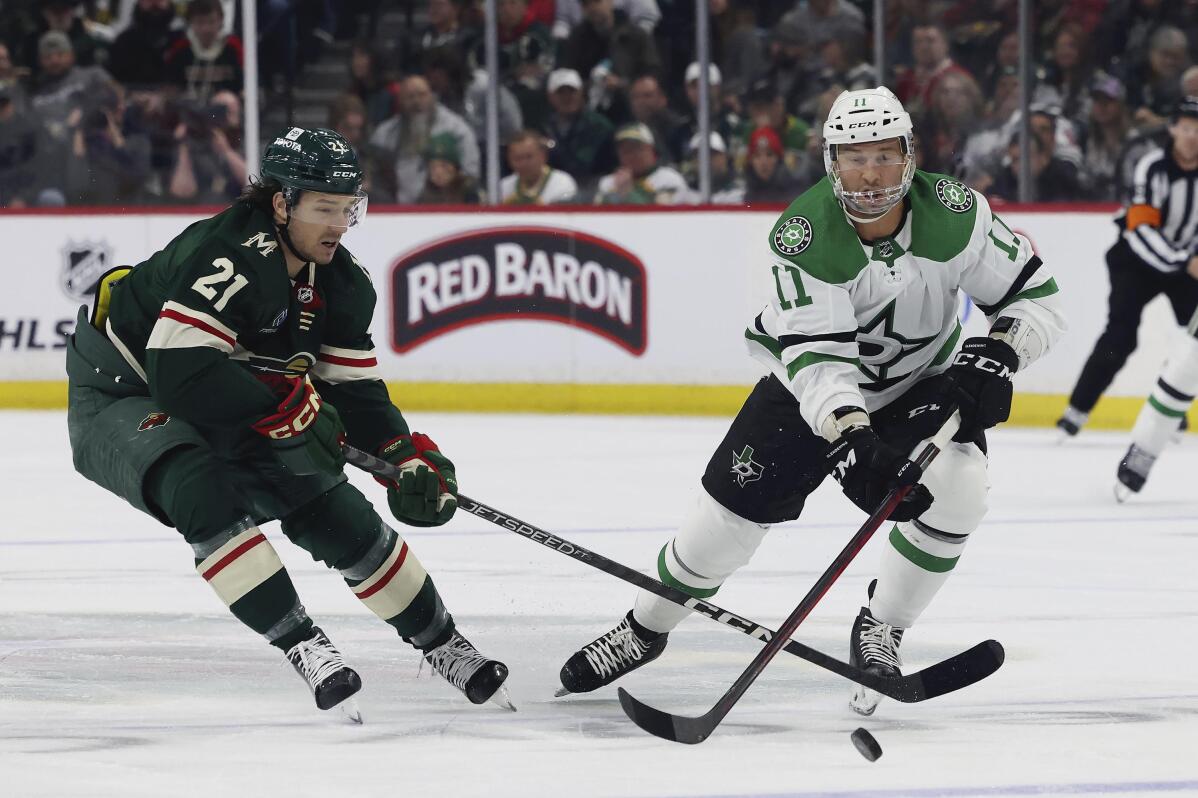 9 of 9

|
Dallas Stars center Luke Glendening (11) is defended by Minnesota Wild right wing Brandon Duhaime (21) during the second period of Game 3 of an NHL hockey Stanley Cup first-round playoff series Friday, April 21, 2023, in St. Paul, Minn. (AP Photo/Stacy Bengs)
9 of 9
Dallas Stars center Luke Glendening (11) is defended by Minnesota Wild right wing Brandon Duhaime (21) during the second period of Game 3 of an NHL hockey Stanley Cup first-round playoff series Friday, April 21, 2023, in St. Paul, Minn. (AP Photo/Stacy Bengs)
ST. PAUL, Minn. (AP) — The Minnesota Wild had a short memory after a lopsided loss in Dallas, and insist they'll move on quickly from their latest victory.
Mats Zuccarello scored twice and Ryan Hartman had a three-point game as the Wild beat the Dallas Stars 5-1 Friday night to take a 2-1 lead in the first-round playoff series.
"Tonight when you get home, the game is over. It's a race to four," Zuccarello said. "This game, too, we've got to forget quick because they come quick here. Get some rest tonight and tomorrow, and we know these guys are going to be ready to go on Sunday, so we've got to make sure we're ready to go."
Zuccarello scored Minnesota's first goal on a backhander at 16:45 of the first period and beat Stars goalie Jake Oettinger on a breakaway at 14:07 of the third to bring the sellout crowd to its feet.
Marcus Johansson, Marcus Foligno and Hartman also scored for the Wild. Filip Gustavsson, who did not play in a 7-3 Game 2 loss in Dallas, made 23 saves.
Luke Glendening scores his first goal of the series at 2:25 of the second period for Dallas. Oettinger, a Minnesota native, stopped 20 shots.
Game 4 of the best-of-seven series is Sunday at the Xcel Energy Center.
"We've got a chance to get a split here and get our home ice back with a big effort next game, so that's what we're looking to do," Dallas coach Pete DeBoer said.
The Wild opened the scoring late in the first period. John Klingberg, playing in his first game of the series, fired a shot from the point that wound up in front of the net. After the puck bounced around, Zuccarello corralled it and scored past Oettinger.
Minnesota took a 2-0 lead early in the second when Johansson made a move to get past Colin Miller and beat Oettinger on the stick side.
Eleven seconds later, Glendening controlled a bouncing put and fired past Gustavsson, cutting Dallas' deficit to 2-1.
Foligno made it 3-1 on a power play goal that was initially waved off for a high stick. A review by the officials deemed his stick was at the crossbar level, meaning Minnesota regained its two-goal lead with 8:36 left in the second period.
"I don't have a problem with the replay and the goal. I had a problem with the original penalty is my problem with that," DeBoer said. "I didn't think we should have been short-handed to have that goal scored on the power play."
The Wild got forward Joel Eriksson Ek back for the game. Sidelined since April 6, Eriksson Ek missed the first two games of the series with a lower-body injury. His return Friday was shortlived.
Eriksson Ek, who had 23 goals and 38 assists during the regular season, left the ice during his first shift of the first period and did not return. That left Minnesota short a forward for nearly the entire game.
Wild coach Dean Evason didn't provide any updates on Eriksson Ek after the game.
"Disappointing, obviously. We all know who he is, outside and more importantly inside, and his will to get back out there with his teammates was tremendous," Evason said. "So, yeah, it's a tough one for sure."
Hartman and Klingberg each earned assists on both of Zuccarello's goals.
Hartman scored an empty-net goal with 1:50 to play.
SHAW FIRES UP CROWD
Wild forward Mason Shaw, who tore his ACL for the fourth time in his career earlier this month, performed the "Let's Play Hockey!" chant that takes place just before puck drop at every Wild home game. Shaw was on two crutches and wearing his green No. 15 jersey as he drew a standing ovation from the sold-out crowd. The 24-year-old Shaw had 17 points in 59 games this season.
OETTINGER BACK HOME
Oettinger grew up in Lakeville, Minnesota, about 25 miles from the Xcel Energy Center in St. Paul. He said prior to Friday's game that he bought about a dozen tickets for friends and family.
"There's worse things you can spend your money on than tickets for your family," Oettinger said. "So I'm just happy they get to be here and to watch (me) play live in the playoffs."
___
AP NHL: https://apnews.com/hub/NHL and https://twitter.com/AP_Sports