Uncertainty over rebuilding after Texas wildfires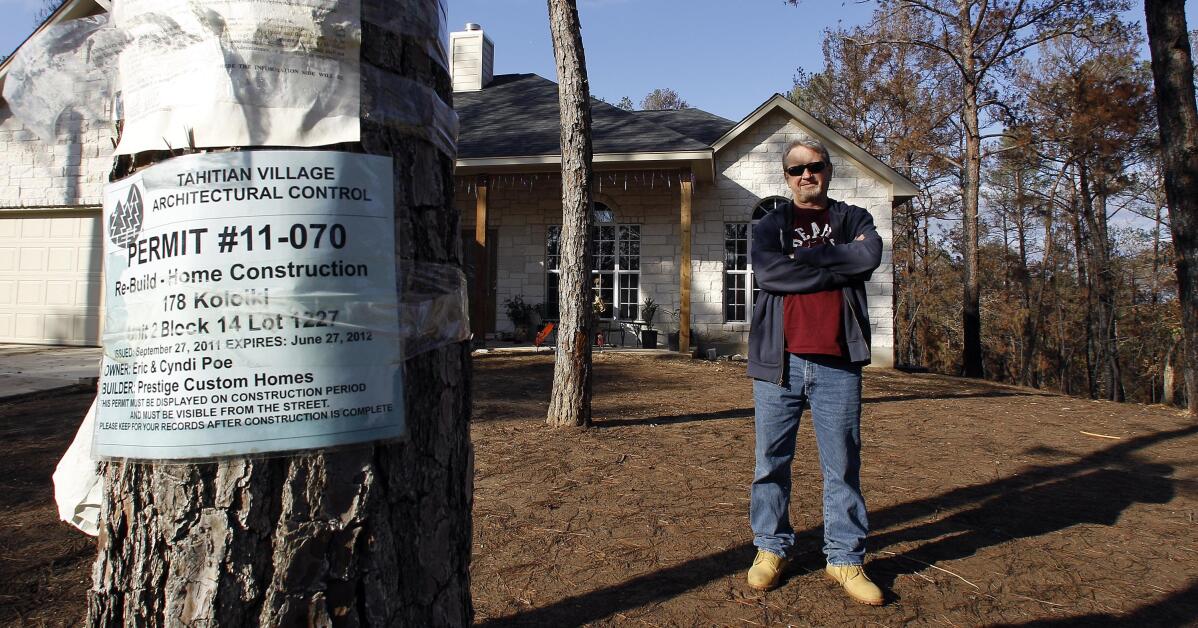 1 of 5

|
In this Dec. 6, 2011 photo, Eric Poe stands in front of his new home, in Bastrop, Texas. The Poes lost their home to a Labor Day weekend wildfire and are one of the first to rebuild. (AP Photo/Eric Gay)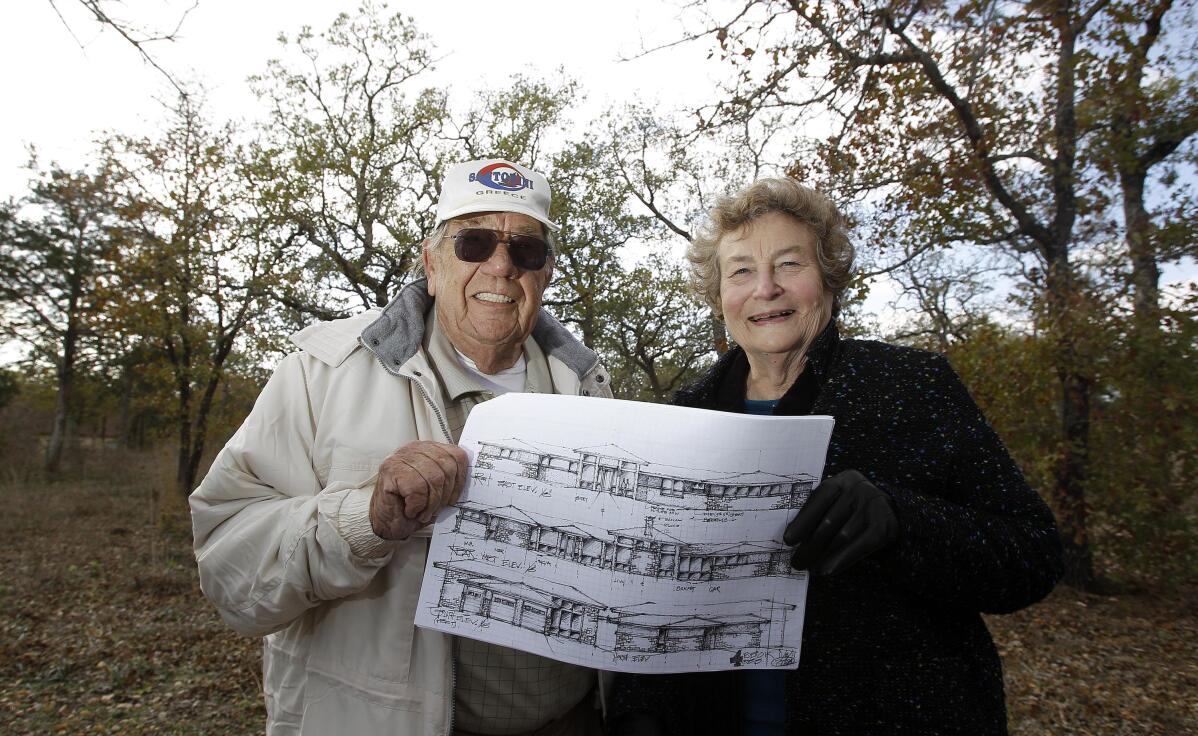 2 of 5

|
In this Dec. 6, 2011 photo, Marvin Beck, 79, and his wife, Anne, hold the plans for a new home on the property where they plan to rebuild, in Bastrop, Texas. The Becks lost their home to a Labor Day weekend wildfire. (AP Photo/Eric Gay)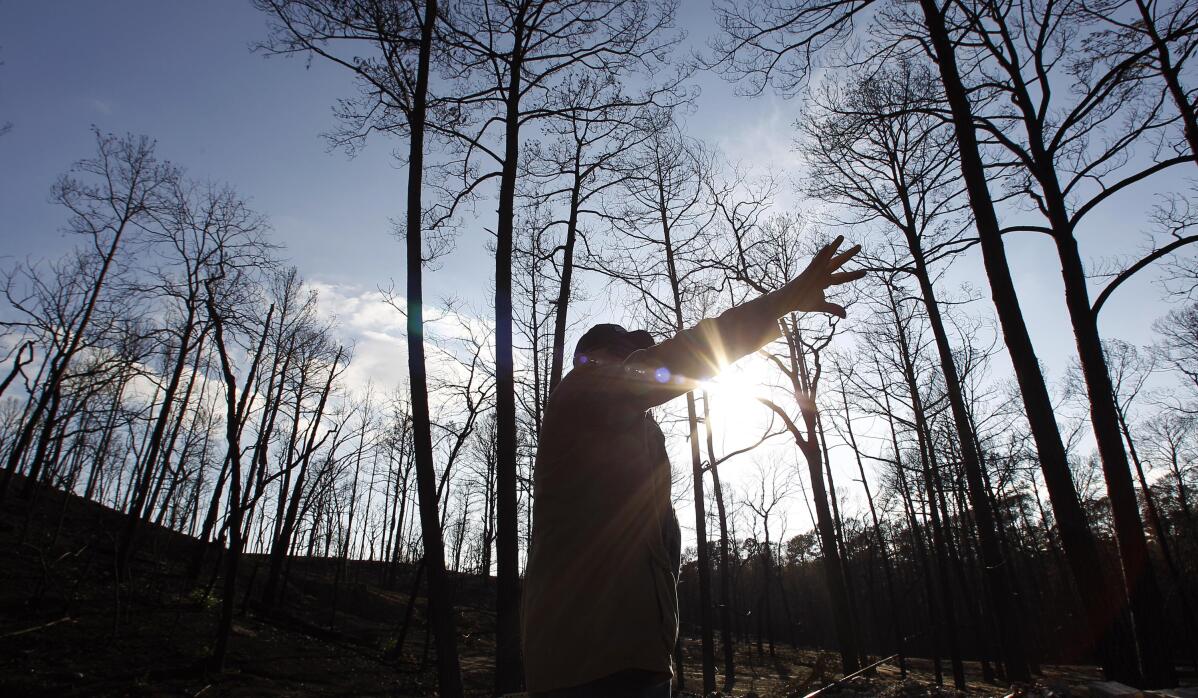 3 of 5

|
In this Dec. 6, 2011 photo, surrounded by burned pines, Victor Gonzalez, a 59-year-old attorney, stands on the foundation of his home that was destroyed by a Labor Day week wildfire, in Bastrop, Texas. Gonzalez has yet to clear all the rubble because there's still hope sifting could turn up jewelry or other spared valuables.(AP Photo/Eric Gay)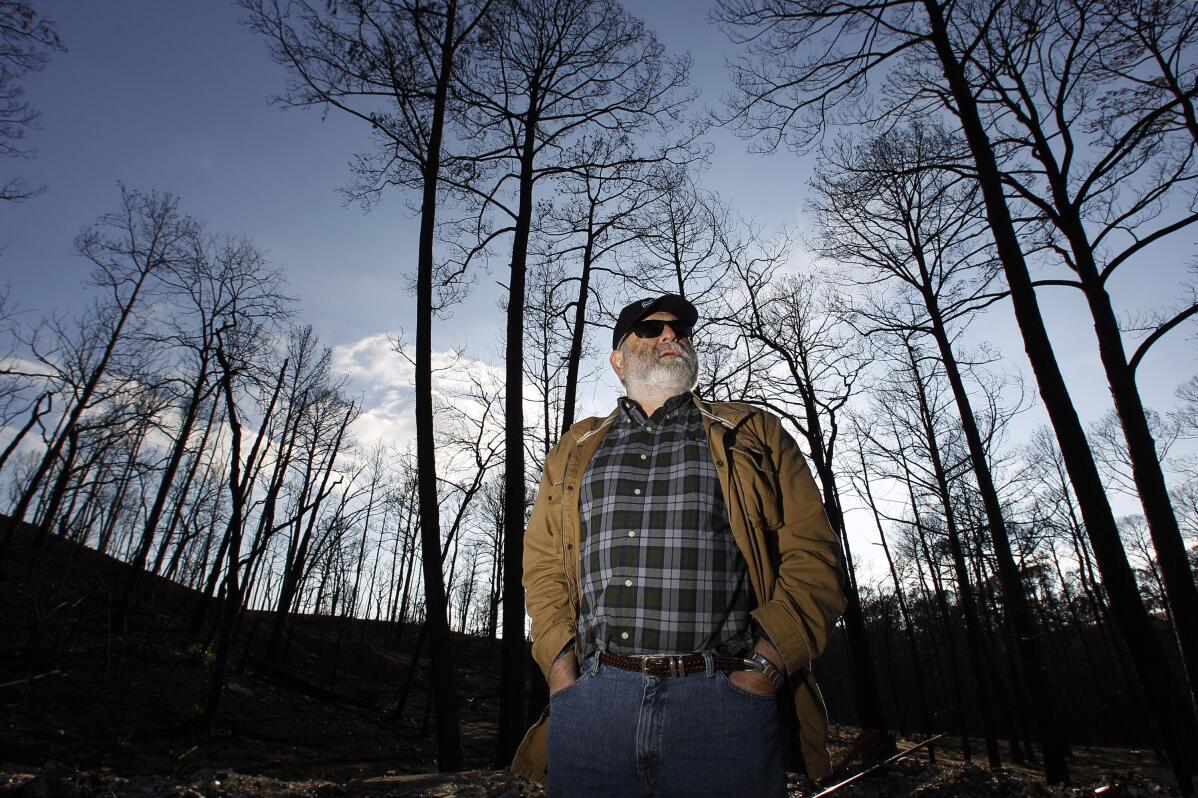 4 of 5

|
In this Dec. 6, 2011 photo, surrounded by burned pines, Victor Gonzalez, a 59-year-old attorney, stands on the foundation of his home that was destroyed by a Labor Day week wildfire, in Bastrop, Texas. Gonzalez has yet to clear all the rubble because there's still hope sifting could turn up jewelry or other spared valuables. (AP Photo/Eric Gay)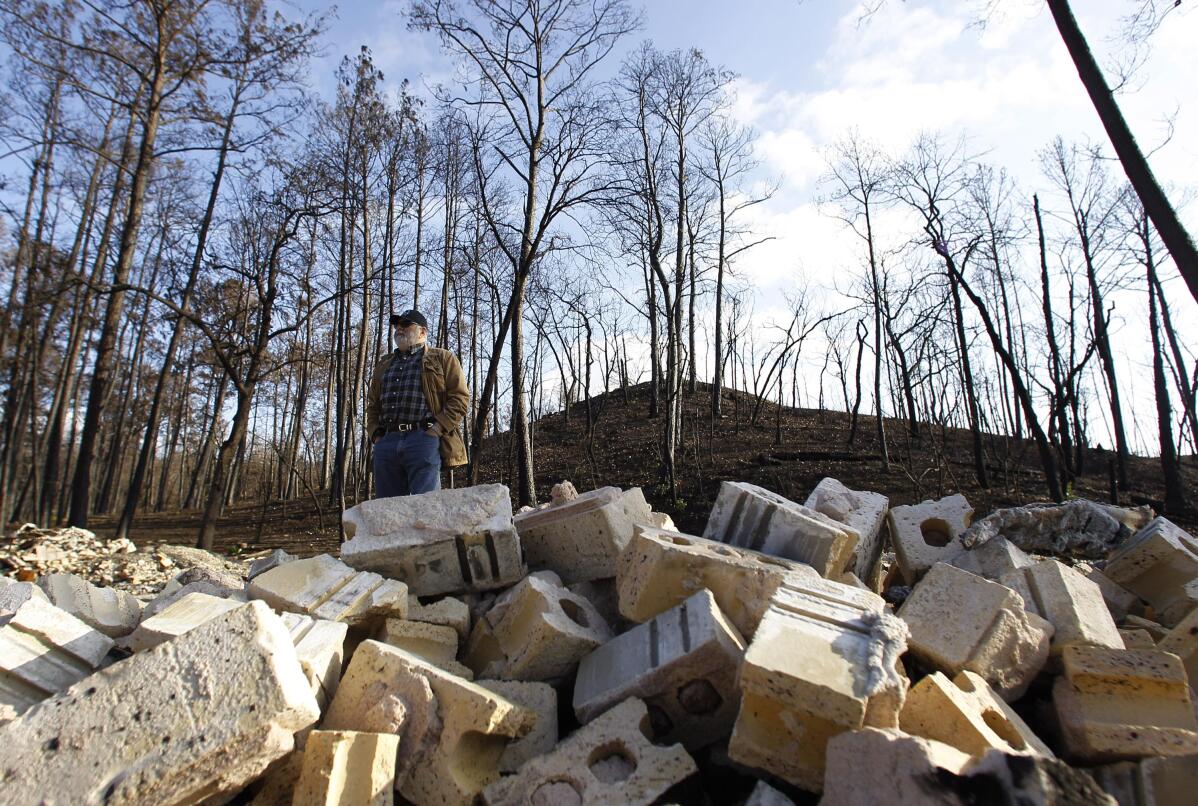 5 of 5

|
In this Dec. 6, 2011 photo, surrounded by burned pines and debris, Victor Gonzalez, a 59-year-old attorney, stands on the foundation of his home that was destroyed by a Labor Day week wildfire, in Bastrop, Texas. Gonzalez has yet to clear all the rubble because there's still hope sifting could turn up jewelry or other spared valuables. (AP Photo/Eric Gay)
Uncertainty over rebuilding after Texas wildfires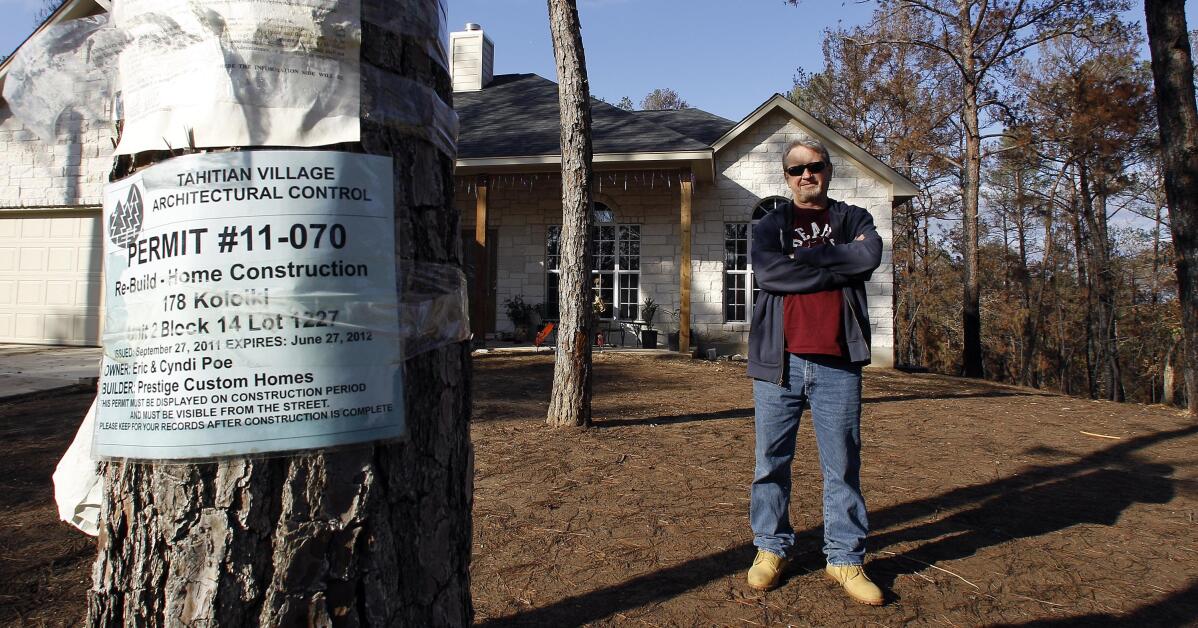 1 of 5

|
In this Dec. 6, 2011 photo, Eric Poe stands in front of his new home, in Bastrop, Texas. The Poes lost their home to a Labor Day weekend wildfire and are one of the first to rebuild. (AP Photo/Eric Gay)
1 of 5
In this Dec. 6, 2011 photo, Eric Poe stands in front of his new home, in Bastrop, Texas. The Poes lost their home to a Labor Day weekend wildfire and are one of the first to rebuild. (AP Photo/Eric Gay)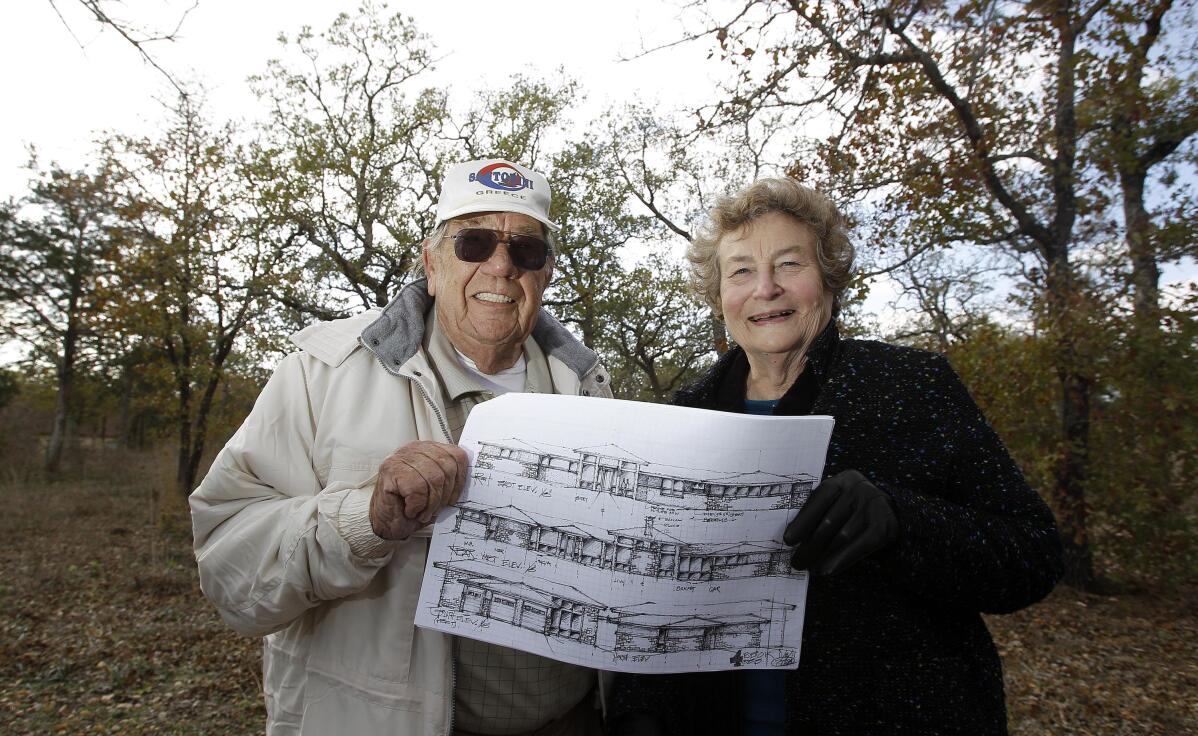 2 of 5

|
In this Dec. 6, 2011 photo, Marvin Beck, 79, and his wife, Anne, hold the plans for a new home on the property where they plan to rebuild, in Bastrop, Texas. The Becks lost their home to a Labor Day weekend wildfire. (AP Photo/Eric Gay)
2 of 5
In this Dec. 6, 2011 photo, Marvin Beck, 79, and his wife, Anne, hold the plans for a new home on the property where they plan to rebuild, in Bastrop, Texas. The Becks lost their home to a Labor Day weekend wildfire. (AP Photo/Eric Gay)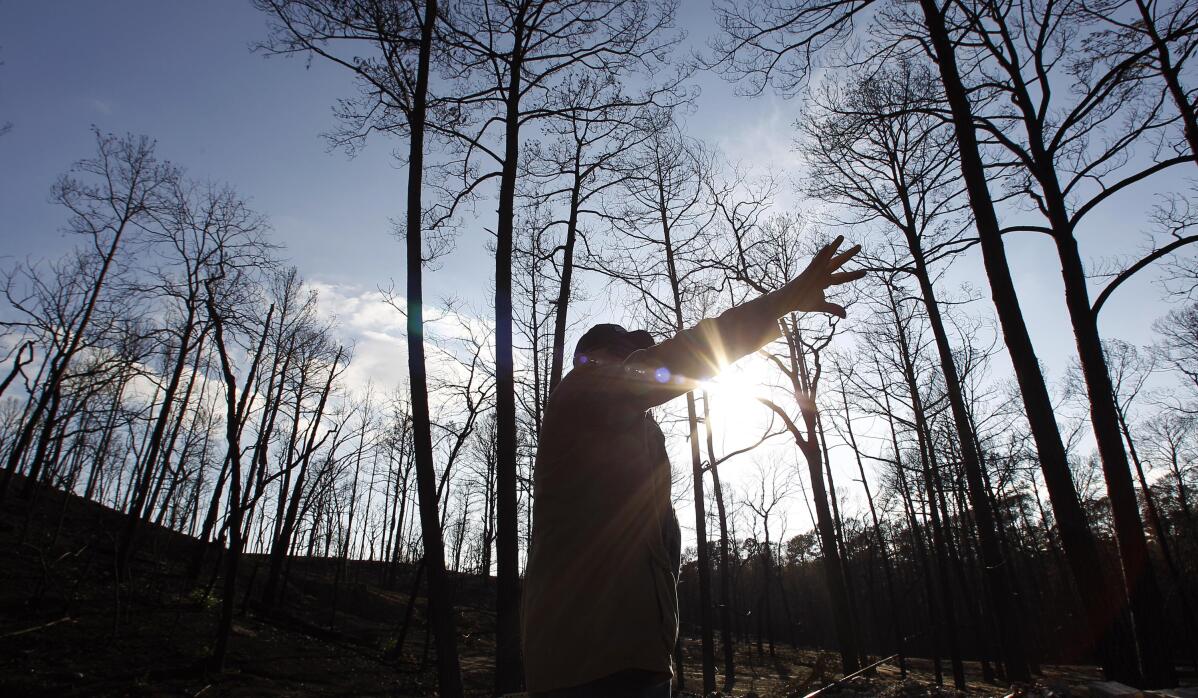 3 of 5

|
In this Dec. 6, 2011 photo, surrounded by burned pines, Victor Gonzalez, a 59-year-old attorney, stands on the foundation of his home that was destroyed by a Labor Day week wildfire, in Bastrop, Texas. Gonzalez has yet to clear all the rubble because there's still hope sifting could turn up jewelry or other spared valuables.(AP Photo/Eric Gay)
3 of 5
In this Dec. 6, 2011 photo, surrounded by burned pines, Victor Gonzalez, a 59-year-old attorney, stands on the foundation of his home that was destroyed by a Labor Day week wildfire, in Bastrop, Texas. Gonzalez has yet to clear all the rubble because there's still hope sifting could turn up jewelry or other spared valuables.(AP Photo/Eric Gay)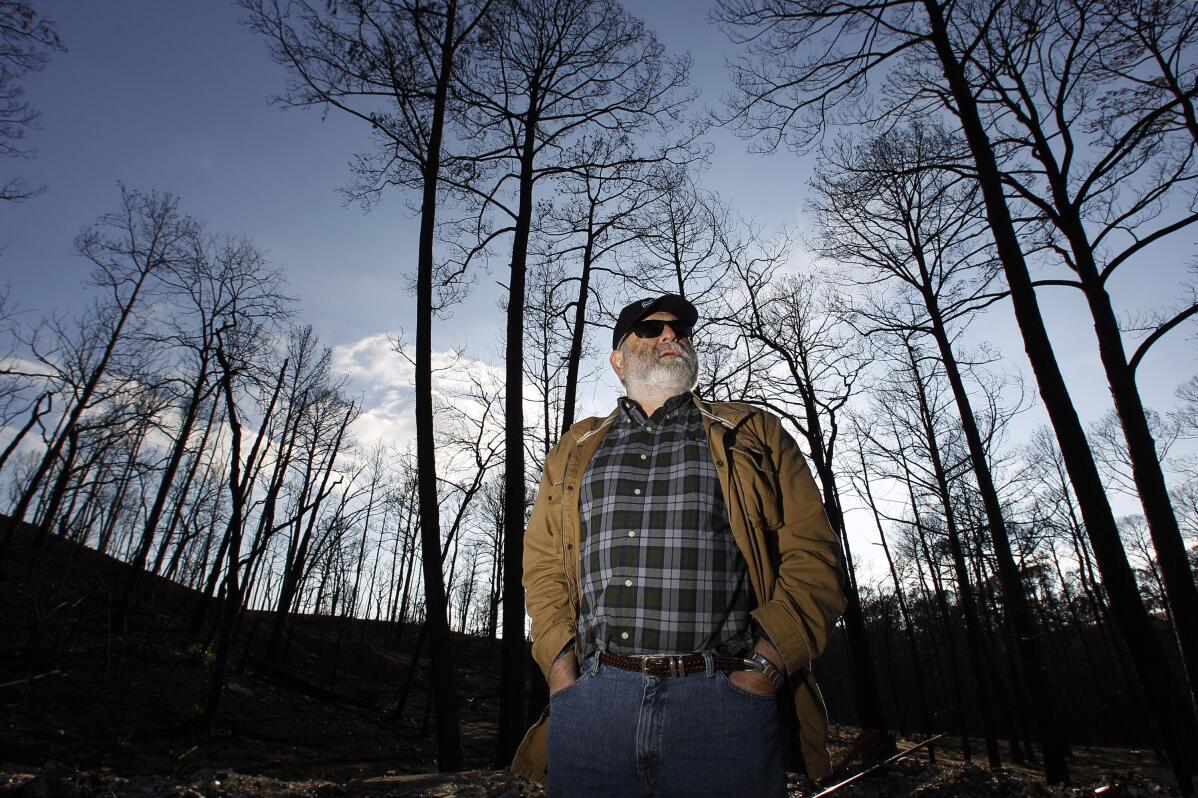 4 of 5

|
In this Dec. 6, 2011 photo, surrounded by burned pines, Victor Gonzalez, a 59-year-old attorney, stands on the foundation of his home that was destroyed by a Labor Day week wildfire, in Bastrop, Texas. Gonzalez has yet to clear all the rubble because there's still hope sifting could turn up jewelry or other spared valuables. (AP Photo/Eric Gay)
4 of 5
In this Dec. 6, 2011 photo, surrounded by burned pines, Victor Gonzalez, a 59-year-old attorney, stands on the foundation of his home that was destroyed by a Labor Day week wildfire, in Bastrop, Texas. Gonzalez has yet to clear all the rubble because there's still hope sifting could turn up jewelry or other spared valuables. (AP Photo/Eric Gay)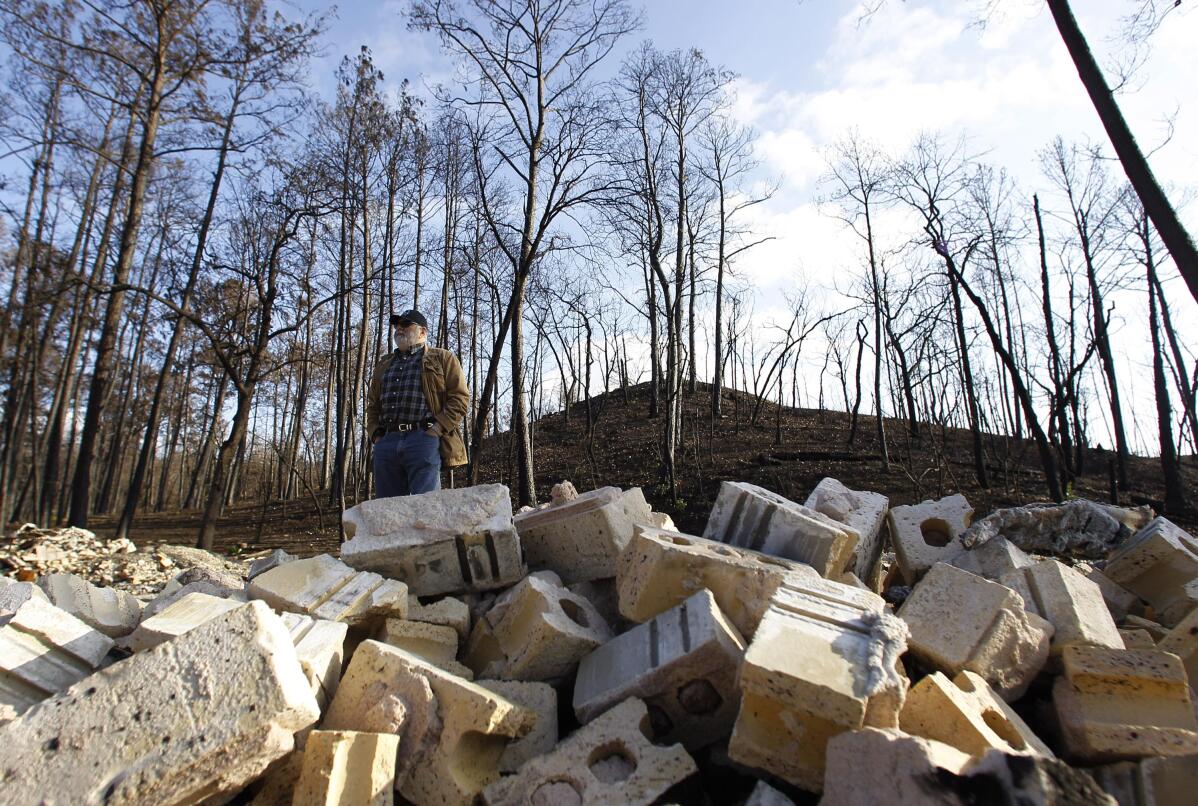 5 of 5

|
In this Dec. 6, 2011 photo, surrounded by burned pines and debris, Victor Gonzalez, a 59-year-old attorney, stands on the foundation of his home that was destroyed by a Labor Day week wildfire, in Bastrop, Texas. Gonzalez has yet to clear all the rubble because there's still hope sifting could turn up jewelry or other spared valuables. (AP Photo/Eric Gay)
5 of 5
In this Dec. 6, 2011 photo, surrounded by burned pines and debris, Victor Gonzalez, a 59-year-old attorney, stands on the foundation of his home that was destroyed by a Labor Day week wildfire, in Bastrop, Texas. Gonzalez has yet to clear all the rubble because there's still hope sifting could turn up jewelry or other spared valuables. (AP Photo/Eric Gay)
BASTROP, Texas (AP) — Concrete foundations that have been cleared of rubble sit eerily empty amid charred remains of once majestic loblolly pines. Driveways, some still complete with patio furniture and basketball hoops, snake their way to nothing but a slab of stone.
More than three months after record-setting wildfires roared through this otherwise charming corner of central Texas, many of the hardest-hit areas stand largely abandoned by homeowners who have moved elsewhere. Others left homeless are starting to rebuild bigger and better houses — or vow to do so soon — even as the memories of the raging blazes remain fresh.
"I get to kind of build my dream house, I just haven't been in the spirit yet," said Denise Rodgers, a hospice chaplain. She was among an estimated 5,000 people displaced by the flames that killed two people, destroyed 1,673 homes and charred 33,000 acres — an area more than twice the size of Manhattan — in and around Bastrop, about 30 miles southeast of Austin.
Some parts of town are in the midst of a rebuilding boom, with streets crammed with trucks hauling in lumber or earthmoving equipment and carting away debris. Even ABC's "Extreme Makeover: Home Edition" show got in on the action, taking a week to build a 2,500-square-foot home for a volunteer firewoman and her family who lost their bungalow.
But other areas have made little recovery. No one knows for sure how many residents have moved away already or still could.
"Certainly there are going to be a lot of people leaving," Bastrop Mayor Terry Orr said. "But we certainly want to encourage people to rebuild."
The city of Bastrop and surrounding county of the same name are home to 80,000 people, Orr said, meaning about 7 percent of residents lost homes.
In the days after the wildfires, some displaced families snapped up vacant homes for sale in the area. Others have moved in with friends or relatives, or rented homes while they decide what to do permanently.
Rodgers is living in a vacant home lent by a friend with only some rented basic furniture: "I have stuff only for one drawer." She said her New Year's resolution is getting her new home built — and that she may put a pool and garden where her original house stood and build on an adjacent lot.
"In the beginning, I was so horrified, I couldn't think of living there," Rodgers said of her home, which was reduced to ash and clumps of melted belongings. "But you get used to seeing certain things and you change ideas."
Returning after the fire, she remembers, "I sat in the driveway and wailed. There was nothing that I could see and recognize."
A Buddha statue, a cross, an angel Christmas ornament missing only a broken wing and a Hindu goddess statue survived the flames.
"Is it uncanny that an eclectic, non-denominational hospice chaplain would find only spiritual icons in the debris? I think not," Rodgers said. "These were all divine signs that all would be OK."
Some have already begun building improved homes, fitted with energy-efficient technology and other upgrades.
Marvin Beck and his wife Anne spent two years beginning in 1992 building their home largely by hand. The fire destroyed it, so the 79-year-old architect drew up new plans and bought a new plot 12 miles from the old one.
Construction will begin in January — though this time the couple is letting professional builders handle it.
"We had hoped the last house would be our last house," Beck said with a wry chuckle. "Hopefully this one will be."
The Becks said they had far too many friends in Bastrop to think of leaving. But they also conceded that going back to the same spot where their home once stood was too painful.
"We couldn't digest that," Beck said.
Insured losses from the fire should reach $325 million, according to the Insurance Council of Texas, making it the costliest blaze in state history. About 3,080 residents have applied for Federal Emergency Management Agency assistance, said spokesman Ray Perez, and the agency has paid out close to $9.4 million in housing and other relief funds. FEMA provided trailers to 52 displaced families across Bastrop County.
Eric and Cyndi Poe lost everything and wanted to stay but were undecided about rebuilding on their same lot — until the builder who constructed their original home told them he could do it again in record time. The couple moved into a new home the week before Thanksgiving, barely 10 weeks after the fire.
"It didn't seem possible," Cyndi said. "That's how lucky we've been."
Except for charred trees in the yard, it's now hard to tell the fire even hit the Poe's house. Their new house is virtually identical to the old one, except the Poes asked for a larger garage and said they could do without a bathtub in the master bathroom.
And, of course, their possessions are gone. Cyndi said that on Thanksgiving, she instinctively opened a cabinet expecting to see a family heirloom.
"I reached up to get the turkey platter we've used all of my life and it wasn't there, and I had a little moment where I was sad," she said.
The Poes live in Tahitian Village, a sprawling subdivision where the fires claimed 282 homes. Some 240 owners whose homes were destroyed have sought refunds for their water deposits — meaning they won't rebuild.
Still, many leaving the subdivision could move elsewhere in and around Bastrop. Among them is Victor Gonzalez, a 59-year-old attorney who has yet to clear all the rubble of his Tahitian Village home because there's still hope sifting could turn up spared valuables.
The fire leveled dozens of pines and melted a BMW in the driveway. Only the swimming pool survived.
"We had a very secluded portion of heaven," Gonzalez said. "Now we've got a moonscape."
Neighbors on either side of him lost their homes and won't rebuild. Gonzalez is mulling a move to another part of the subdivision.
"Tahitian will be back," he said. "It's just not going to look the same."