Wisconsin QB Tanner Mordecai already emerging as team leader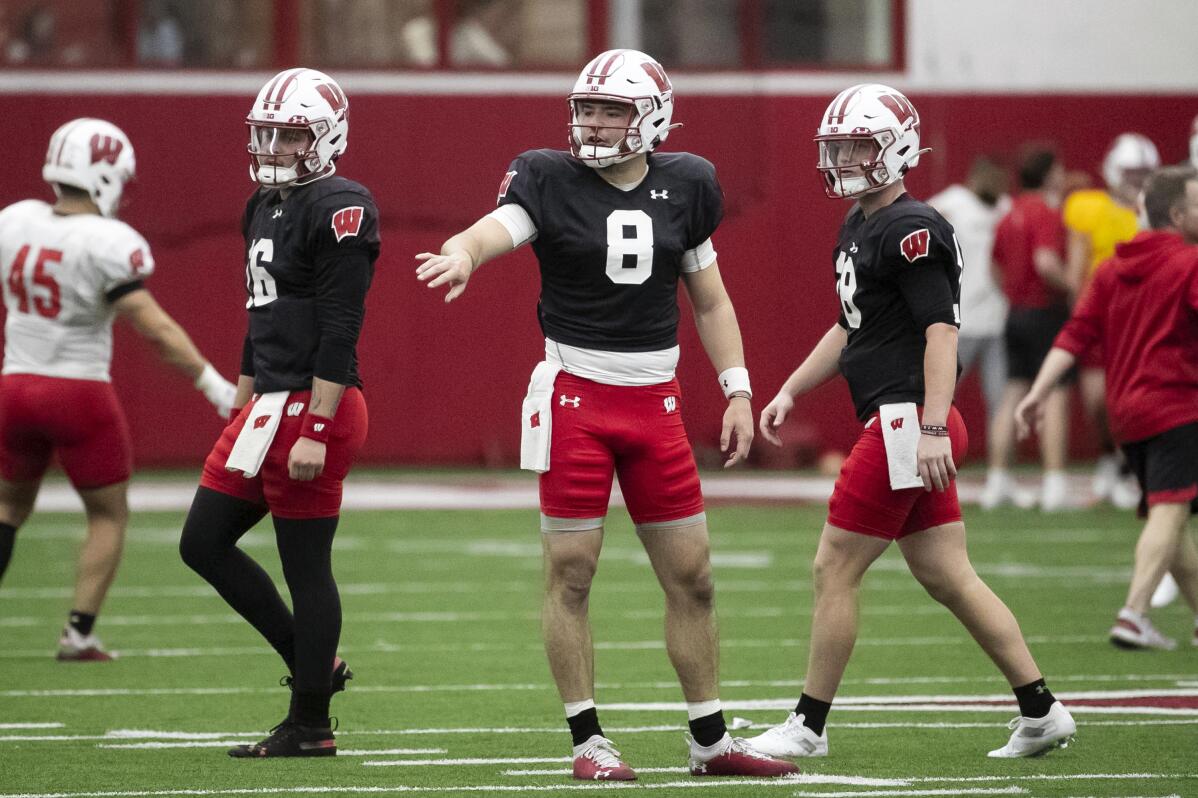 1 of 2

|
Wisconsin quarterbacks Myles Burkett (16), Tanner Mordecai (8) and Braedyn Locke (18) participate during spring NCAA college football practice at the McClain Center in Madison, Wis., Thursday, March 30, 2023. (Samantha Madar/Wisconsin State Journal via AP)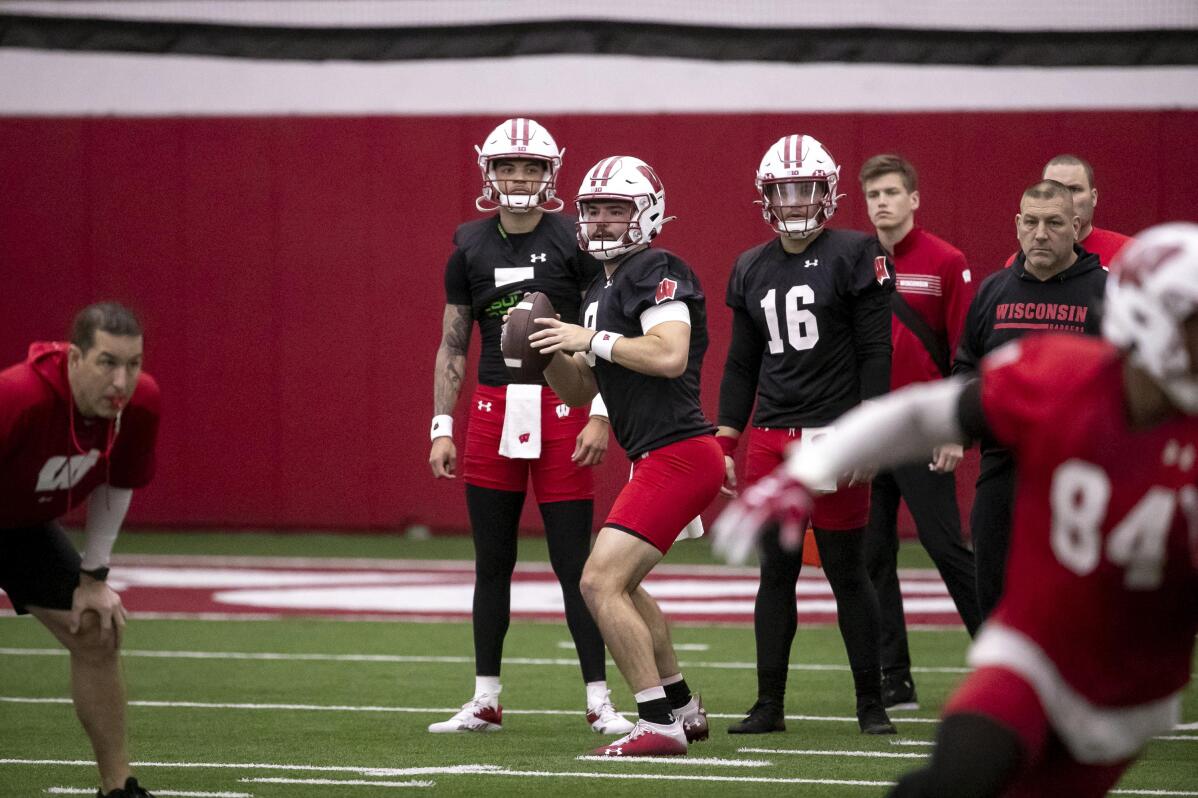 2 of 2

|
Wisconsin quarterback Tanner Mordecai (8) looks to pass as Nick Evers (7) and Myles Burkett (16) watch during spring NCAA college football practice, Saturday, March 25, 2023, in Madison, Wis. (Samantha Madar/Wisconsin State Journal via AP)
Wisconsin QB Tanner Mordecai already emerging as team leader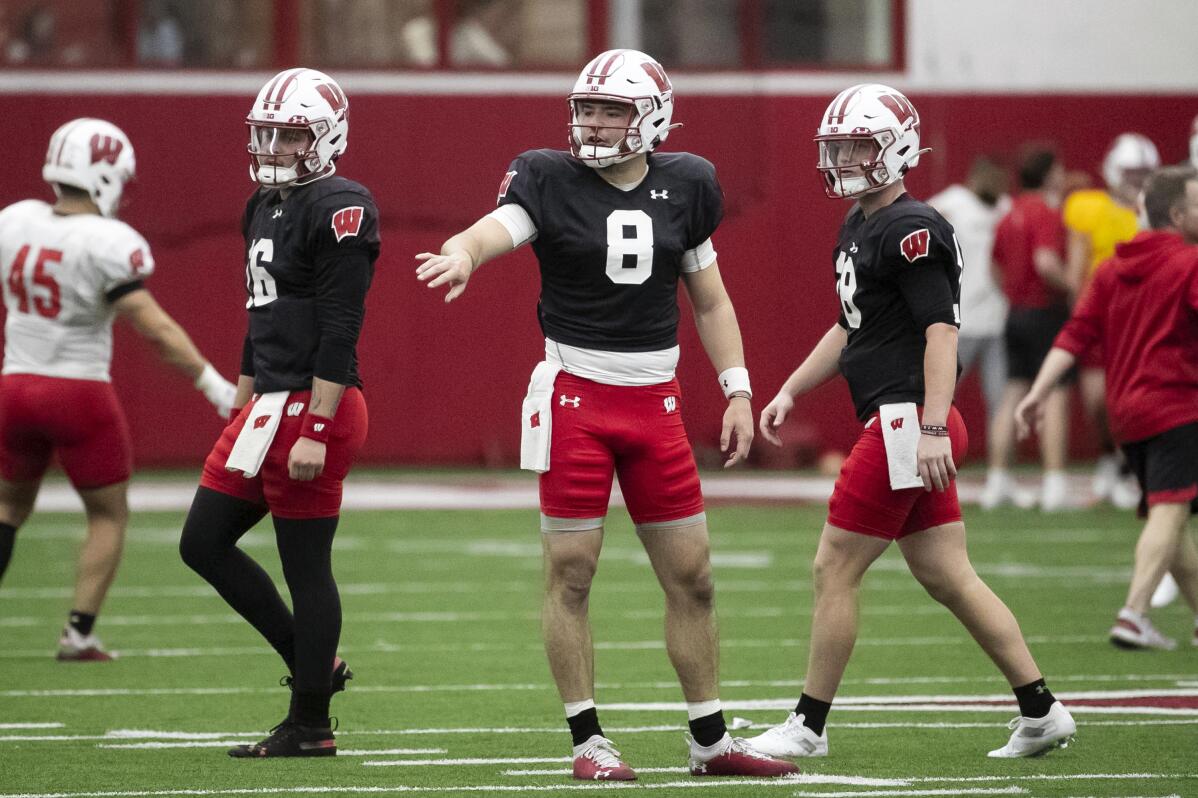 1 of 2

|
Wisconsin quarterbacks Myles Burkett (16), Tanner Mordecai (8) and Braedyn Locke (18) participate during spring NCAA college football practice at the McClain Center in Madison, Wis., Thursday, March 30, 2023. (Samantha Madar/Wisconsin State Journal via AP)
1 of 2
Wisconsin quarterbacks Myles Burkett (16), Tanner Mordecai (8) and Braedyn Locke (18) participate during spring NCAA college football practice at the McClain Center in Madison, Wis., Thursday, March 30, 2023. (Samantha Madar/Wisconsin State Journal via AP)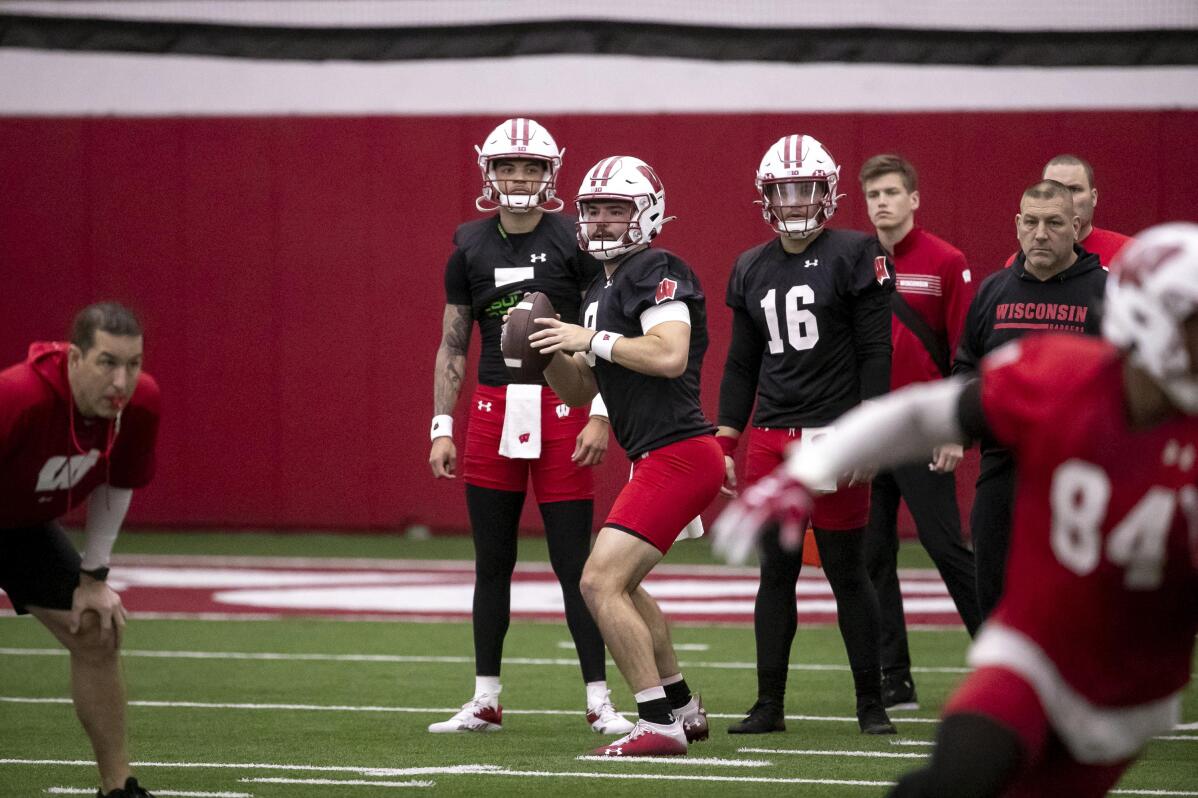 2 of 2

|
Wisconsin quarterback Tanner Mordecai (8) looks to pass as Nick Evers (7) and Myles Burkett (16) watch during spring NCAA college football practice, Saturday, March 25, 2023, in Madison, Wis. (Samantha Madar/Wisconsin State Journal via AP)
2 of 2
Wisconsin quarterback Tanner Mordecai (8) looks to pass as Nick Evers (7) and Myles Burkett (16) watch during spring NCAA college football practice, Saturday, March 25, 2023, in Madison, Wis. (Samantha Madar/Wisconsin State Journal via AP)
MADISON, Wis. (AP) — Wisconsin quarterback Tanner Mordecai originally planned to spend this month preparing for the NFL draft rather than gearing up for one last college season at a third school.
"I was about 90% sure I was going to put my name in the draft and do the whole pro route," Mordecai said Wednesday during a day off from spring practice. "I got some feedback from some scouts and teams about where I'd be drafted, and I wasn't super-fired up about the feedback."
Mordecai decided he could boost his pro stock by showing that he could play just as effectively at a Power Five school as he did the last two seasons at American Athletic Conference program SMU, where he became the Mustangs' career leader in touchdown passes.
Playing for a head coach who had beat him twice and an offensive coordinator who had recruited him out of high school made Wisconsin particularly appealing.
"It was kind of an opportunity, a fit that I thought I shouldn't pass up," Mordecai said.
New Wisconsin coach Luke Fickell added three quarterback transfers this offseason in Mordecai, Nick Evers (Oklahoma) and Braedyn Locke (Mississippi State). The Badgers also return Myles Burkett and Marshall Howe and added freshman Cole LaCrue as they seek a replacement for Graham Mertz, who transferred to Florida after starting every game for Wisconsin each of the last three seasons.
Mordecai, the only active Wisconsin quarterback who has started a game, is the leading candidate to start the Sept. 2 opener against Buffalo.
"If there's a guy that on a consistent basis every single day has been a great leader in my eyes so far, one would be Tanner Mordecai," Fickell said last week.
After spending three seasons in a reserve role at Oklahoma, Mordecai threw for more than 3,500 yards each of the last two seasons at SMU while totaling 72 touchdown passes and 22 interceptions. He did all that despite breaking two ribs early last season and one more rib late in the season and missing one game with a concussion.
The only games in which Mordecai threw for fewer than 200 yards for SMU both came in losses to Cincinnati teams coached by Fickell, though an injury caused him to leave last season's matchup in the third quarter.
"I firmly believe Coach Fickell is going to win a national championship here," Mordecai said.
Mordecai also was familiar with Wisconsin offensive coordinator Phil Longo and his history of producing standout quarterbacks.
"I was in high school when he was at Ole Miss (and) I was close to committing to him there," Mordecai said. "It's kind of crazy how it comes full circle."
Longo was Mississippi's offensive coordinator from 2017-18 before filling the same role at North Carolina the last four seasons. Longo's last two quarterbacks at North Carolina were 2022 fifth-round draft pick Sam Howell and Drake Maye, who heads into his sophomore season as one of college football's top NFL quarterback prospects.
Longo is eager to see what Mordecai can do in the Big Ten and has been impressed with the leadership the former SMU quarterback has shown thus far.
"From day one that Tanner has been here, he's acted like the starter," Longo said. "He's shown up. There's no ego. He's very humble. And there's no disrespect toward the other guys, but he's been a starter for two years. He carries himself that way. And he just has shown some natural leadership ability when he's out among our players as teammates."
Teammates say Mordecai has done that without stepping on anyone's toes. Mordecai said he was careful to listen and get a better understanding of his new teammates before he asserted himself in conversations with them.
"You can't walk into a culture that you're not part of and bark orders," Mordecai said. "You've got to build relationships, build trust, respect and go from there. I think if you ask the guys now, they would say I'm a lot more vocal now than I was in January."
His teammates appreciated that approach.
"I think he's a great leader," wide receiver Chimere Dike said. "The first day he stepped in, he didn't try to force himself into any role, but that was kind of just natural because that's who he is, the way he approaches, how he works hard, how he prepares. What stuck out is how he approached every single day and how prepared he was and now natural of a leader he was."
Mordecai values the way his new teammates have welcomed him and doesn't take it for granted.
"They understand my work ethic and how much this game and this culture and winning matter to me," Mordecai said. "I think that they see that and understand that. It's something I'm going to hold true to my heart."
___
AP college football: https://apnews.com/hub/college-football and https://twitter.com/ap_top25