Wisconsin lawmakers unveil bipartisan election overhauls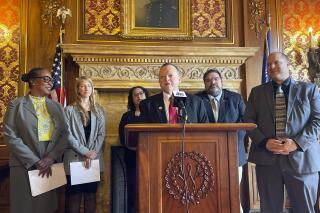 MADISON, Wis. (AP) — Wisconsin lawmakers unveiled bipartisan plans on Thursday to address problems that have disrupted how elections have been administered in the presidential battleground state since 2020.
Among other changes, the proposals would prevent last-minute polling site closures, better protect election officials and enact stricter military voting requirements to deter fraud.
The bills add to a growing list of proposals from a group of Democrats and Republicans focused on making the state's elections safer and more secure. Their efforts stand in stark contrast to bills put forth by GOP lawmakers during the last legislative session that sought to limit local clerks' power and make it harder to vote.
One of the bills announced Thursday would raise the penalty for intentionally harming an election official from a misdemeanor to a felony and prohibit public access to records containing an election official's address. It would also protect election officials from losing their jobs for reporting suspicious activity and fraud.
Elections and the people who run them have increasingly become the targets of threats and misinformation in recent cycles, with one in six election officials nationwide reporting that they had been personally threatened, according to a 2022 survey by the Brennan Center for Justice.
"We want them to feel safe conducting their duties. They deserve to do their job without fear for their personal safety or their job security," Republican state Rep. Joy Goeben said Thursday.
Another bill would prohibit towns and cities from closing more than half their polling locations unless local lawmakers hold a public hearing and approve the shutdowns at least 30 days before an election. Polling sites could only be closed fewer than 30 days before an election with permission of the local clerk and the head of the local lawmaking body.
Milwaukee closed all but five of its 182 polling sites during the 2020 presidential primary amid fears of COVID-19. Thousands of voters were forced to wait hours outside the few crowded locations that remained, and many others decided not to vote because of the long lines.
"We should never again see a time when voters show up to their regular polling locations only to find out that the doors are closed and there is no real information on where to go to vote," Democratic state Sen. Lena Taylor said. "It was done, and it should never be done again."
Lawmakers also proposed requiring service members to provide their Department of Defense identification number when requesting a military absentee ballot. Local clerks would have to verify the voter's identity with the Wisconsin Department of Military Affairs before counting a military ballot.
The bill comes in response to the actions of a top Milwaukee elections official who took advantage of lax requirements intended to help service members vote during the 2022 midterm. Kimberly Zapata, the former deputy director of the Milwaukee Elections Commission, was fired for falsely requesting military absentee ballots and sending them to the home of a Republican state lawmaker who has promoted election conspiracy theories.
Lawmakers and state officials began discussing military ID requirements shortly after that election.
"We found out that this is a gap in our election system. We want to close that gap and make sure we're keeping our elections as fair and secure as possible," said Republican state Rep. Shae Sortwell.
The bipartisan group of lawmakers behind Thursday's bills has also proposed requiring the Wisconsin Elections Commission to reimburse local governments for the costs of special elections, and allowing people to make a voting complaint on behalf of their adult parent or child even if they live in separate districts.
Although the bills have unique bipartisan support, they would still need the approval of both chamgers of the Republican-led Legislature and Democratic Gov. Tony Evers to become law.
___
Harm Venhuizen is a corps member for the Associated Press/Report for America Statehouse News Initiative. Report for America is a nonprofit national service program that places journalists in local newsrooms to report on undercovered issues. Follow Harm on Twitter.