Wisconsin lawmakers pass bill to clarify cash bail amendment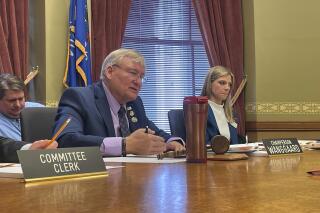 MADISON, Wis. (AP) — The Republican-controlled Wisconsin Legislature moved Wednesday to clarify when a proposed constitutional amendment to make it harder for people to go free on bail before trial would apply.
Both chambers of the Legislature passed a bill specifying which offenses would fall under the proposed amendment that, if approved by a majority of the state's April voters, would allow judges to consider the criminal histories of people accused of violent crimes when setting bail.
State law offers three definitions of violent crime. The GOP-backed bill would set a new definition for use with the bail amendment, designating more than 100 offenses such as homicide, sexual assault, arson, stalking or human trafficking as violent crimes.
Opponents have said the list is too broad and includes offenses that should not make it more difficult for people to get out on bail, such as watching a cockfight, violating a court order against contacting members of a criminal gang or leaving a firearm where a child gains access to it.
The bill still needs the approval of Democratic Gov. Tony Evers. After that, the measure would go into effect only if voters pass two bail questions on the April 4 ballot. Evers cannot veto a constitutional amendment.
Republican Rep. Cindi Duchow, the bill's sponsor in the Assembly, said she was confident Evers will sign the bill into law.
"If he does veto it and the constitutional amendment passes, then it's kind of the Wild West. Every judge can decide what they think serious harm is; every judge can decide what he thinks violent crime is," she said in a news conference.
The governor's spokesperson, Britt Cudaback, did not immediately respond to an email Wednesday or to two emails over the past week asking whether Evers plans to sign off on the bill.
Democratic Sen. Tim Carpenter accused Republicans of using the proposed amendment to bolster conservative turnout in the pivotal state Supreme Court election and said lawmakers were confusing voters by using a separate measure to clarify when the amendment would apply.
"A lot of people are very confused what the two questions are," Carpenter said in a news conference. "They really don't know what they're voting on."
All Democrats in the Senate, except for Sen. Brad Pfaff, voted against the bill with all Republicans in support. Five of the 35 Assembly Democrats and all Assembly Republicans voted in support of the bill.
Currently, bail is set only as a means to ensure someone returns to court. Duchow and Republican Sen. Van Wanggaard, sponsors of both the proposed amendment and the bill to define violent crimes, argue that judges should have greater freedom to set high bail amounts if they believe a defendant poses a threat to public safety.
Republican state lawmakers across the country have pushed for stricter cash bail laws since the year began, following through on a midterm cycle in which the GOP painted itself as tough on crime.
Criminal justice advocates say using cash bail benefits wealthy defendants and does not protect public safety. Wisconsin Democrats introduced an alternative to the bail amendment last week that would virtually eliminate the use of cash bail and make risk the sole factor when deciding who to release before trial. Their proposal is unlikely to make any progress in the Republican-controlled Legislature.
___
Associated Press writer Scott Bauer contributed to this report.
___
Harm Venhuizen is a corps member for the Associated Press/Report for America Statehouse News Initiative. Report for America is a nonprofit national service program that places journalists in local newsrooms to report on undercovered issues. Follow Harm on Twitter.