Abortion drives liberal's win in Wisconsin court election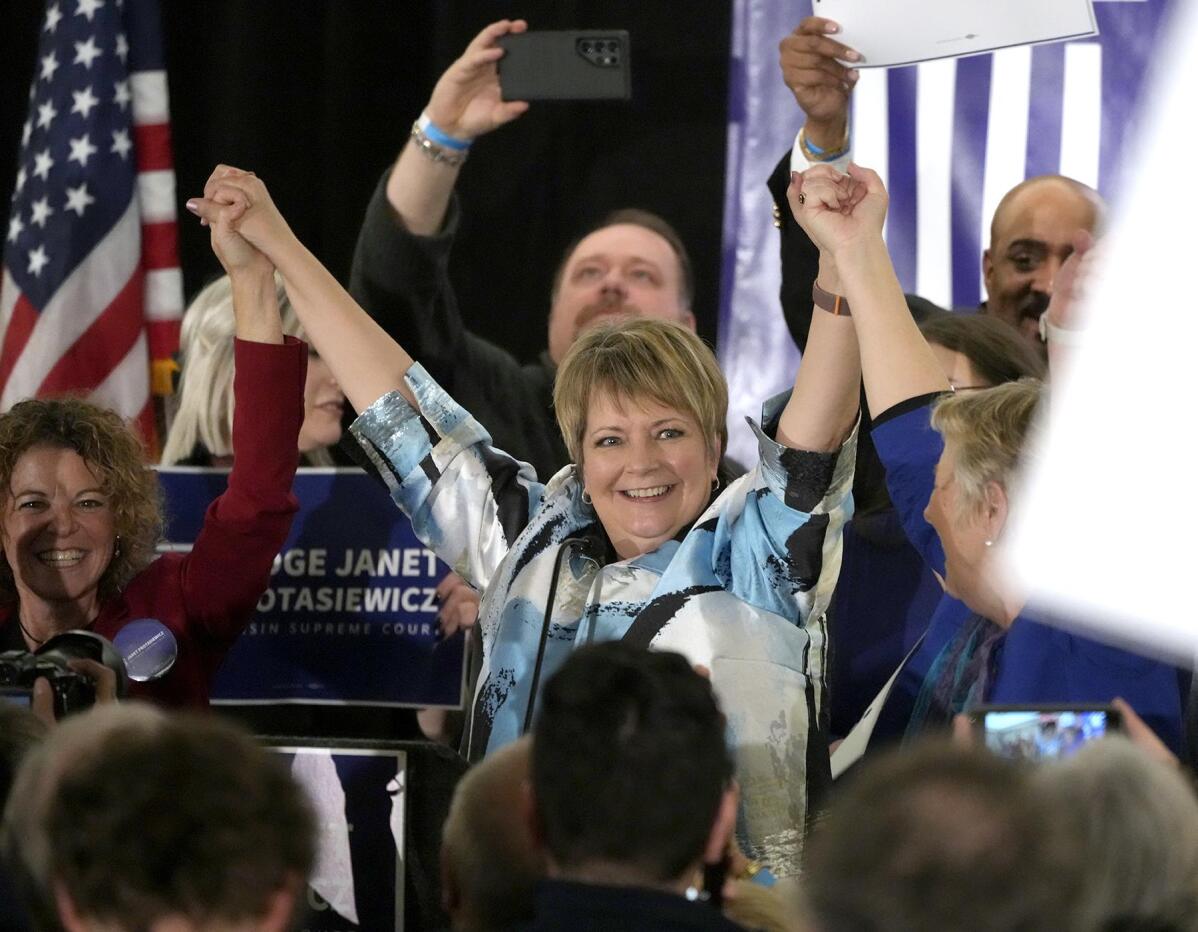 1 of 4

|
Supreme Court candidate Janet Protasiewicz, center, holds hands with Wisconsin Supreme Court Justice, Rebecca Dallet, far left, and Wisconsin Supreme Court Justice Ann Walsh Bradley, right, at Protasiewicz's election night watch party in Milwaukee, Wis., on Tuesday, April 4, 2023. Protasiewicz, 60, defeated former Justice Dan Kelly, who previously worked for Republicans and had support from the state's leading anti-abortion groups. (Mike De Sisti /Milwaukee Journal-Sentinel via AP)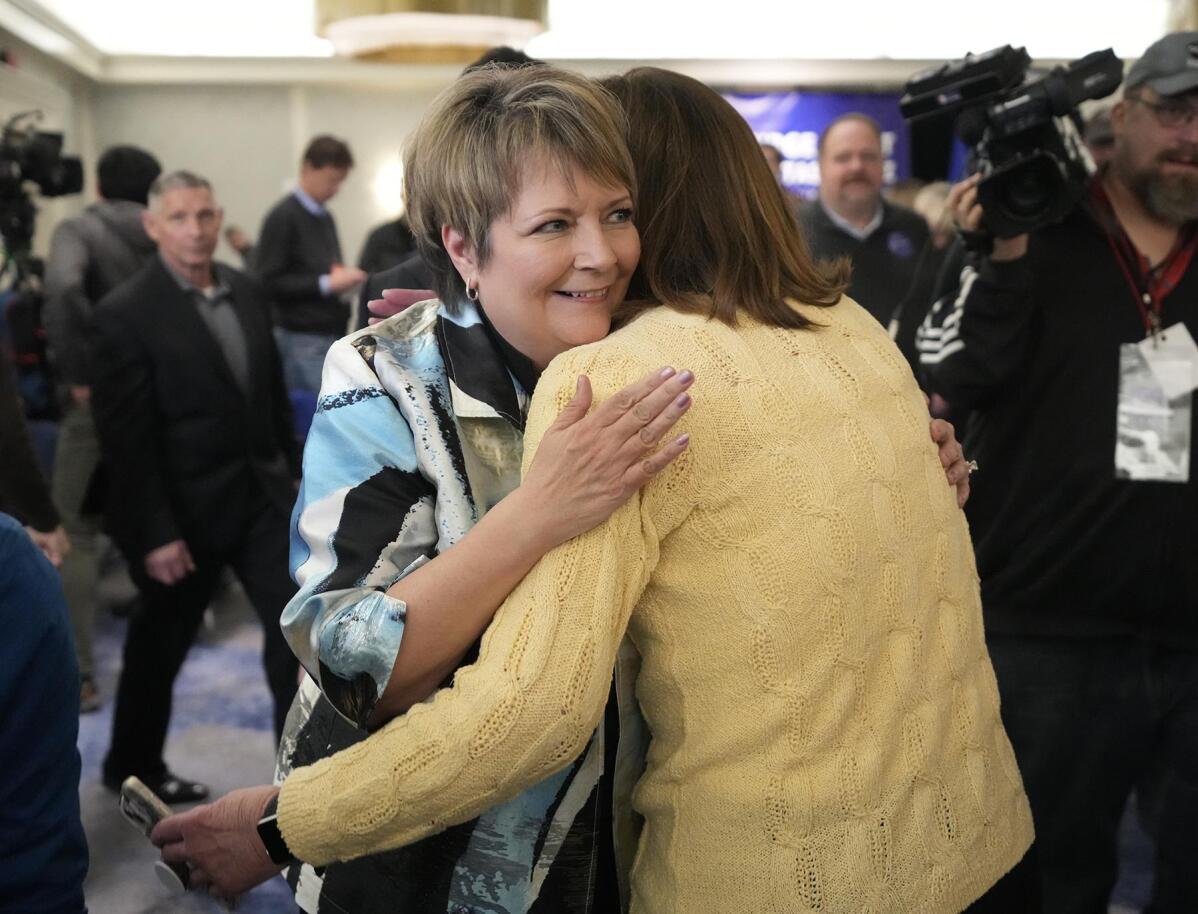 2 of 4

|
Supreme Court candidate Janet Protasiewicz greets supporters during her the election night watch party in Milwaukee, Wis., on Tuesday, April 4, 2023. Protasiewicz, 60, defeated former Justice Dan Kelly, who previously worked for Republicans and had support from the state's leading anti-abortion groups. (Mike De Sisti /Milwaukee Journal-Sentinel via AP)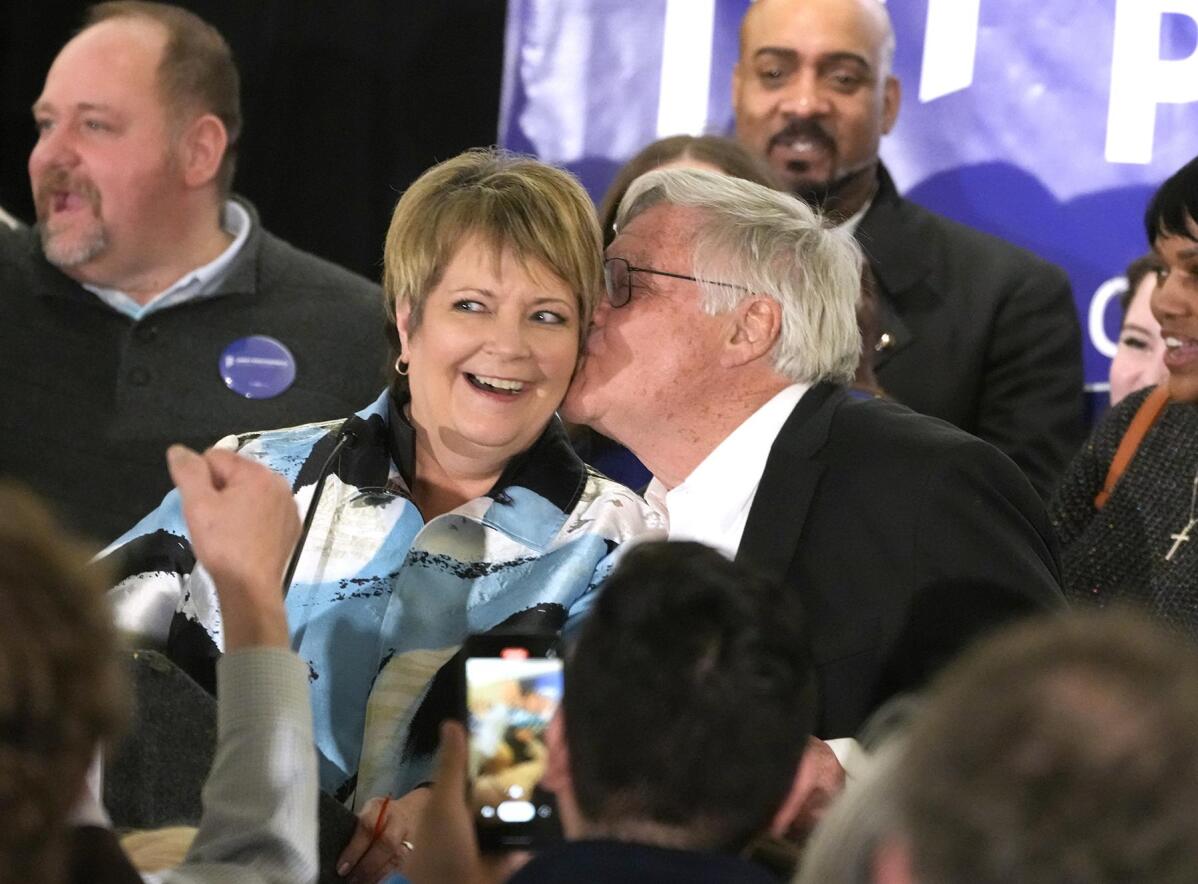 3 of 4

|
Supreme Court candidate Janet Protasiewicz gets a kiss from her husband Greg Sell while speaking at her election night watch party in Milwaukee, Wis., on Tuesday, April 4, 2023. Protasiewicz, 60, defeated former Justice Dan Kelly, who previously worked for Republicans and had support from the state's leading anti-abortion groups. (Mike De Sisti /Milwaukee Journal-Sentinel via AP)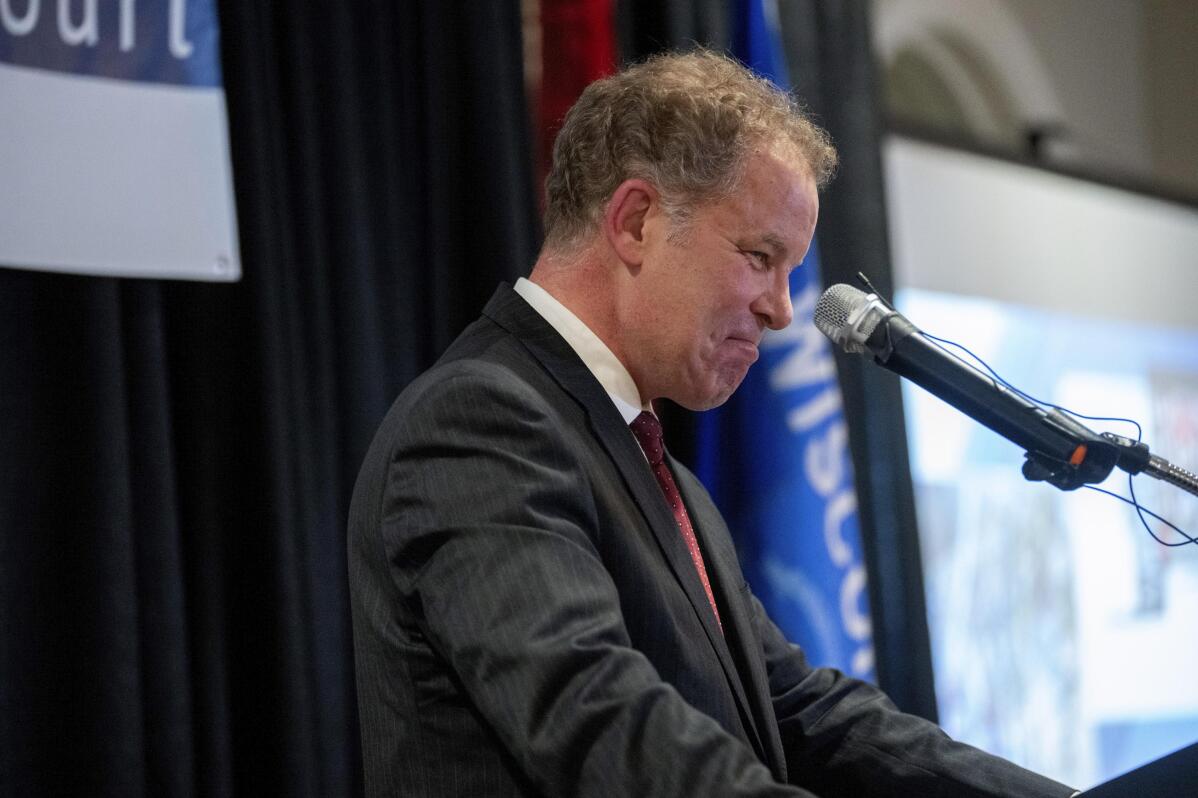 4 of 4

|
Wisconsin Supreme Court candidate Daniel Kelly concedes the race to Janet Protasiewicz during an election night gathering Tuesday, April 4, 2023 in Green Lake, Wis. Protasiewicz won the high stakes Wisconsin Supreme Court race Tuesday, ensuring liberals will take over majority control of the court for the first time in 15 years with the fate of the state's abortion ban on the line. (Mark Hoffman /Milwaukee Journal-Sentinel via AP)
Abortion drives liberal's win in Wisconsin court election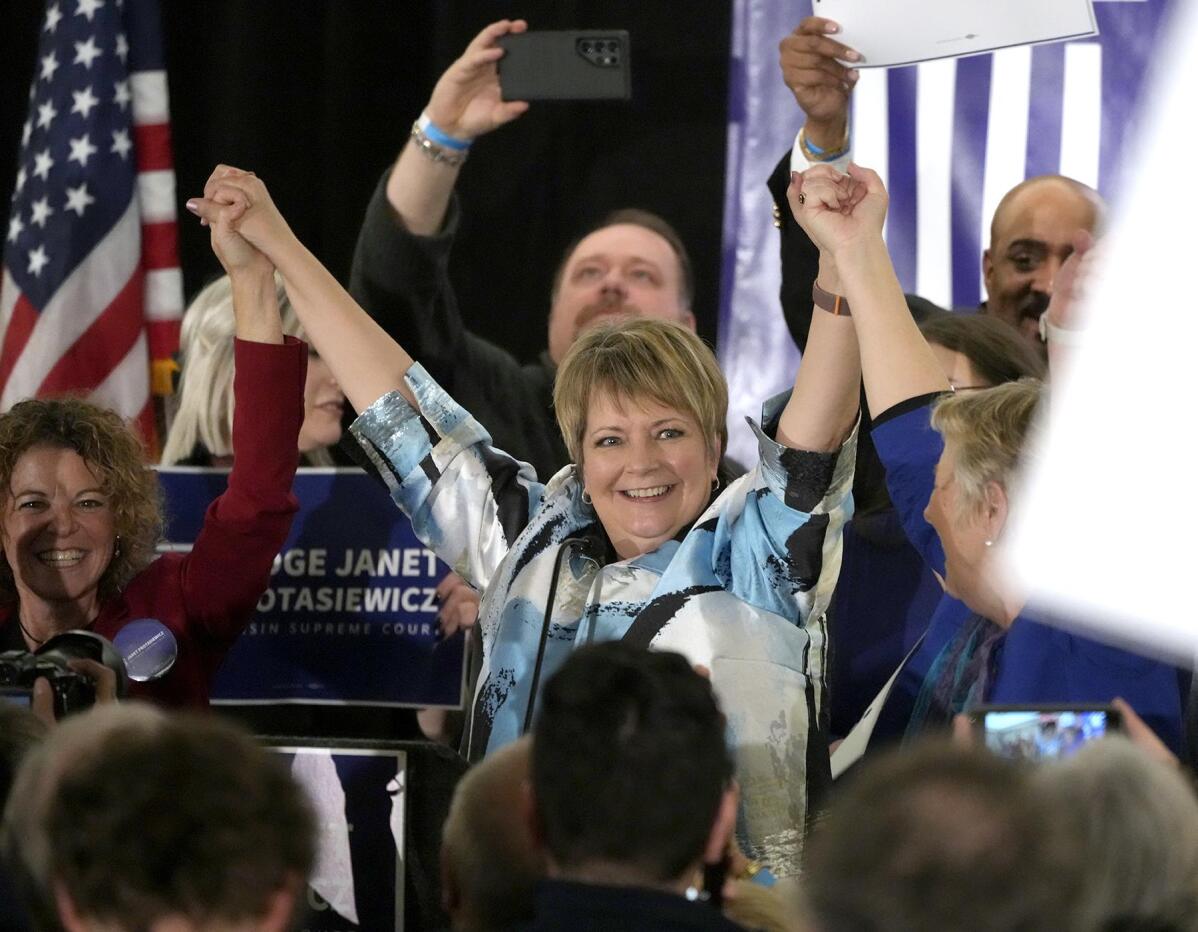 1 of 4

|
Supreme Court candidate Janet Protasiewicz, center, holds hands with Wisconsin Supreme Court Justice, Rebecca Dallet, far left, and Wisconsin Supreme Court Justice Ann Walsh Bradley, right, at Protasiewicz's election night watch party in Milwaukee, Wis., on Tuesday, April 4, 2023. Protasiewicz, 60, defeated former Justice Dan Kelly, who previously worked for Republicans and had support from the state's leading anti-abortion groups. (Mike De Sisti /Milwaukee Journal-Sentinel via AP)
1 of 4
Supreme Court candidate Janet Protasiewicz, center, holds hands with Wisconsin Supreme Court Justice, Rebecca Dallet, far left, and Wisconsin Supreme Court Justice Ann Walsh Bradley, right, at Protasiewicz's election night watch party in Milwaukee, Wis., on Tuesday, April 4, 2023. Protasiewicz, 60, defeated former Justice Dan Kelly, who previously worked for Republicans and had support from the state's leading anti-abortion groups. (Mike De Sisti /Milwaukee Journal-Sentinel via AP)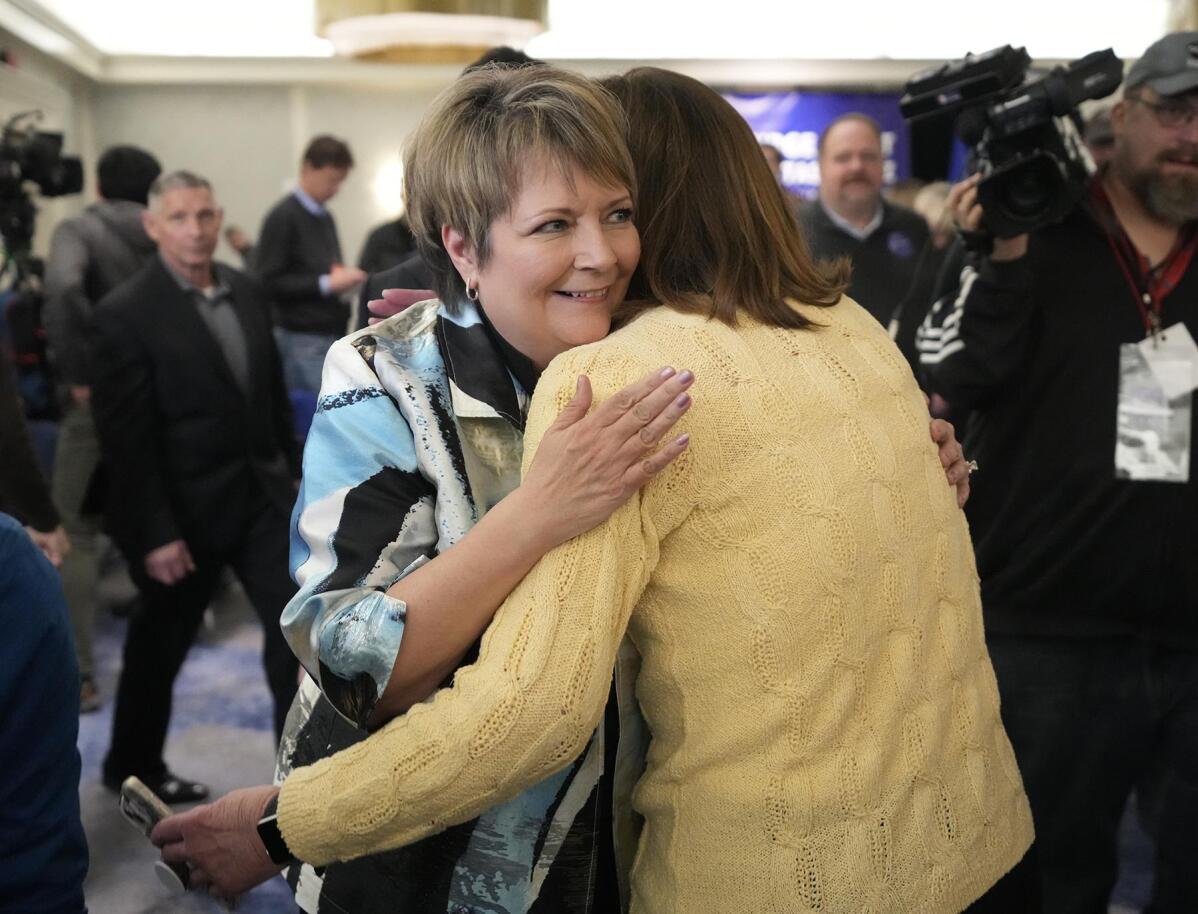 2 of 4

|
Supreme Court candidate Janet Protasiewicz greets supporters during her the election night watch party in Milwaukee, Wis., on Tuesday, April 4, 2023. Protasiewicz, 60, defeated former Justice Dan Kelly, who previously worked for Republicans and had support from the state's leading anti-abortion groups. (Mike De Sisti /Milwaukee Journal-Sentinel via AP)
2 of 4
Supreme Court candidate Janet Protasiewicz greets supporters during her the election night watch party in Milwaukee, Wis., on Tuesday, April 4, 2023. Protasiewicz, 60, defeated former Justice Dan Kelly, who previously worked for Republicans and had support from the state's leading anti-abortion groups. (Mike De Sisti /Milwaukee Journal-Sentinel via AP)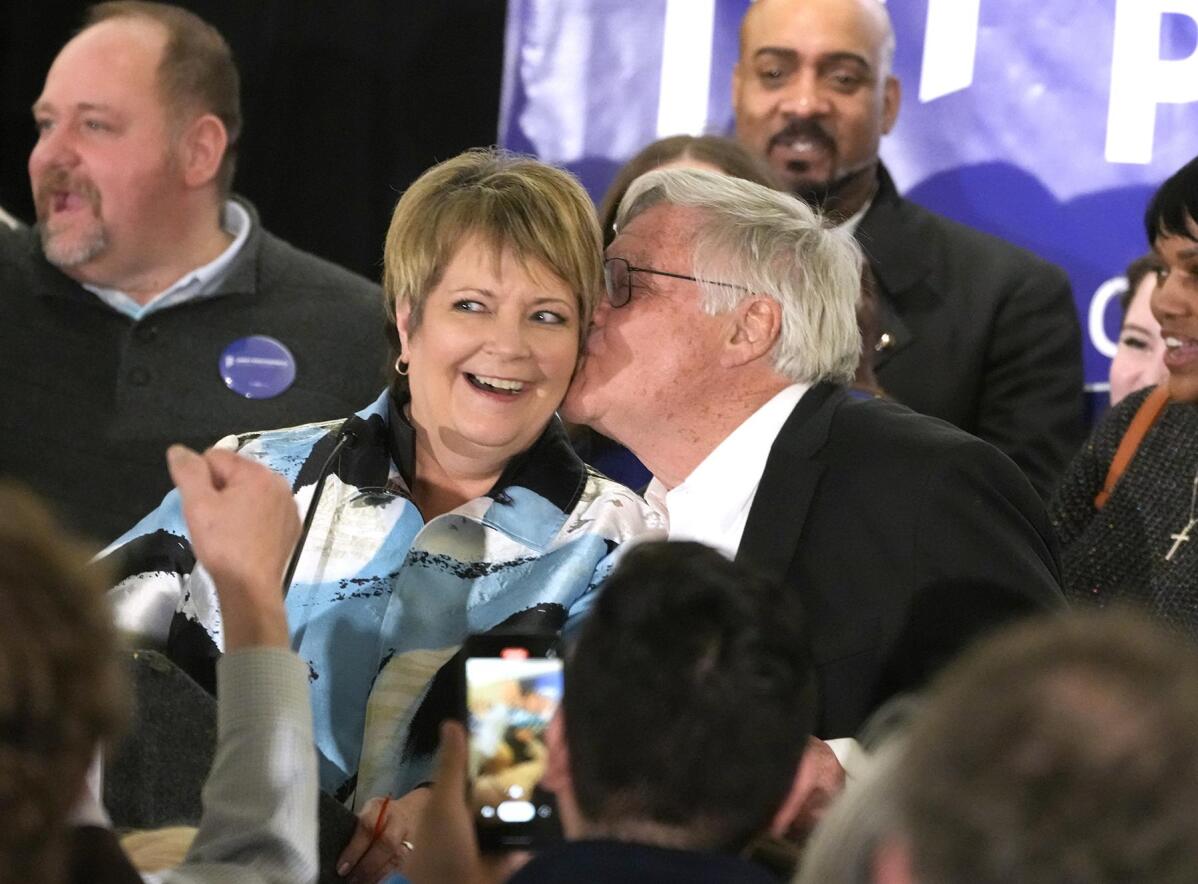 3 of 4

|
Supreme Court candidate Janet Protasiewicz gets a kiss from her husband Greg Sell while speaking at her election night watch party in Milwaukee, Wis., on Tuesday, April 4, 2023. Protasiewicz, 60, defeated former Justice Dan Kelly, who previously worked for Republicans and had support from the state's leading anti-abortion groups. (Mike De Sisti /Milwaukee Journal-Sentinel via AP)
3 of 4
Supreme Court candidate Janet Protasiewicz gets a kiss from her husband Greg Sell while speaking at her election night watch party in Milwaukee, Wis., on Tuesday, April 4, 2023. Protasiewicz, 60, defeated former Justice Dan Kelly, who previously worked for Republicans and had support from the state's leading anti-abortion groups. (Mike De Sisti /Milwaukee Journal-Sentinel via AP)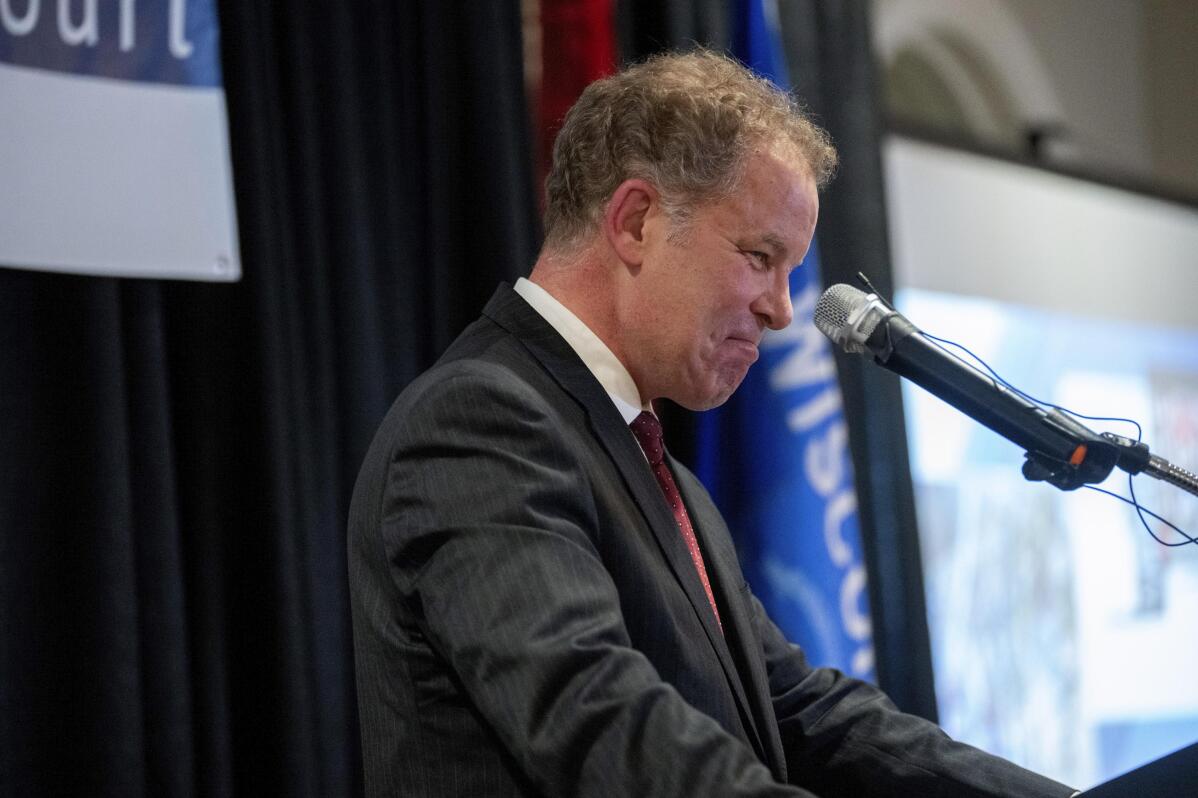 4 of 4

|
Wisconsin Supreme Court candidate Daniel Kelly concedes the race to Janet Protasiewicz during an election night gathering Tuesday, April 4, 2023 in Green Lake, Wis. Protasiewicz won the high stakes Wisconsin Supreme Court race Tuesday, ensuring liberals will take over majority control of the court for the first time in 15 years with the fate of the state's abortion ban on the line. (Mark Hoffman /Milwaukee Journal-Sentinel via AP)
4 of 4
Wisconsin Supreme Court candidate Daniel Kelly concedes the race to Janet Protasiewicz during an election night gathering Tuesday, April 4, 2023 in Green Lake, Wis. Protasiewicz won the high stakes Wisconsin Supreme Court race Tuesday, ensuring liberals will take over majority control of the court for the first time in 15 years with the fate of the state's abortion ban on the line. (Mark Hoffman /Milwaukee Journal-Sentinel via AP)
MADISON, Wis. (AP) — Democratic-backed candidate Janet Protaswiecz's victory in Wisconsin's state Supreme Court election is a fresh example of the enduring political power of abortion rights in the wake of Roe v. Wade's reversal.
Protasiewicz defeated her conservative opponent, Dan Kelly, by an astonishing 11 percentage points in Tuesday's election. Her win will give Democratic-backed justices a 4-3 majority when she takes office in August, putting progressives in a prime position to overturn the state's 174-year-old abortion ban and undo a host of other Republican-written policies and statutes.
"The results ... send a clear message," Steven Webb II, executive director of Planned Parenthood Advocates of Wisconsin, said in a statement. "Wisconsinites are committed to reproductive freedom and upholding our state's proud tradition of civic engagement."
Protasiewicz leaned into the high stakes during her campaign, announcing in ads that she supports abortion rights. It was an unusual tactic for a judicial candidate to openly announce a position on an issue, but it resonated with voters.
Spending on the race topped $42 million, nearly triple the national record for a court race. Protasiewicz and her supporters outspent Kelly and his supporters by about $6 million. Almost 40% of the state's eligible voters cast a ballot, the highest turnout for a spring election that didn't feature a presidential primary in 20 years.
"I'm flabbergasted (at the turnout)," said Charles Franklin, a Marquette University political scientist. "Abortion was very salient. You look at the content of (Protasiewicz's) campaign and how clear her position was and the results being lopsided, it certainly points to that as a key driver."
Wisconsin was just the latest state where abortion has been a crucial factor motivating Democratic voters since the U.S. Supreme Court ruling last summer that ended constitutional protections for abortion that had been in place nearly 50 years.
Abortion rights were on the ballot in six states in 2022, and in every contest voters opted to protect them. That included contests in states like conservative Kansas, where former President Donald Trump twice won by double-digit margins, and Michigan, a political battleground where the issue helped Democrats win reelection to all statewide offices and retake control of the state Legislature for the first time in decades.
The issue will be on the ballot in New York and Maryland in 2024, and other states may also consider abortion ballot measures, including Florida, Hawaii, Iowa, Ohio, Pennsylvania and South Dakota.
Democrats also pointed to the issue as the reason for their better-than-expected performance in midterm elections across the U.S. and in Congress. According to AP VoteCast, a survey of the midterm electorate, about 6 in 10 voters said they were angry or dissatisfied by the court's decision, and roughly the same number said they favor a law to guarantee access to legal abortion nationwide.
"Republicans are in a difficult position," said Anthony Chergosky, a University of Wisconsin-La Crosse political scientist. "They won a monumental victory with overturning Roe vs. Wade, but now they're experiencing the political backlash from that victory.
"Any state at any time could become the next battleground over the issue of abortion. This was Wisconsin's turn to be that battleground. The politics of abortion have just utterly been transformed."
Wisconsin Republicans were largely silent Wednesday about Protasiewicz's win. Some tried to downplay the role that abortion played in the race.
Republican strategist Mark Graul said her victory was as much about how her spending enabled her to get her name out to voters as abortion rights.
Julaine Appling, executive director of the anti-abortion group Wisconsin Family Action, said people were wrong to see the election as a referendum on abortion. She predicted that the new liberal-leaning court would undo Republican efforts to expand school choice and rework GOP-drawn legislative boundaries.
"We certainly talked about all the other issues (during the campaign)," Appling said. "Many people are going to be surprised when they start seeing decisions coming out of this court that impact many other areas of their lives."
Former President Donald Trump tweeted that Kelly lost because he didn't seek Trump's endorsement.
Some abortion rights opponents say they're frustrated with answers like that as Democrats continue to score wins.
"It's clear that abortion is a top issue and it isn't going away," said Kelsey Pritchard of Women Speak Out PAC, a partner of Susan B. Anthony Pro-Life America, one of the country's most influential anti-abortion organizations. "Allowing their Democratic opponents and the radical pro-abortion lobby to control the narrative will never win them elections."
Wisconsin Republican Party Executive Director Mark Jefferson acknowledged that the GOP failed to address to the anger over the Roe v. Wade reversal.
"The Democrats were successful in pushing the abortion issue because we did not respond to the attacks effectively with a message of our own," Jefferson said. "We did not have a coherent response on our side of the aisle."
___
This story has been updated to correct that total spending, not fundraising, in the court race topped $42 million. The update also corrects that Protasawicz and her supporters outspent Kelly and his supporters by $6 million and that the 40% turnout was the highest for a spring election that didn't feature a presidential primary in 20 years.
___
Burnett reported from Chicago.
___
Harm Venhuizen is a corps member for the Associated Press/Report for America Statehouse News Initiative. Report for America is a nonprofit national service program that places journalists in local newsrooms to report on undercovered issues. Follow Venhuizen on Twitter.