Everton grabs last-minute equalizer in fight for EPL survival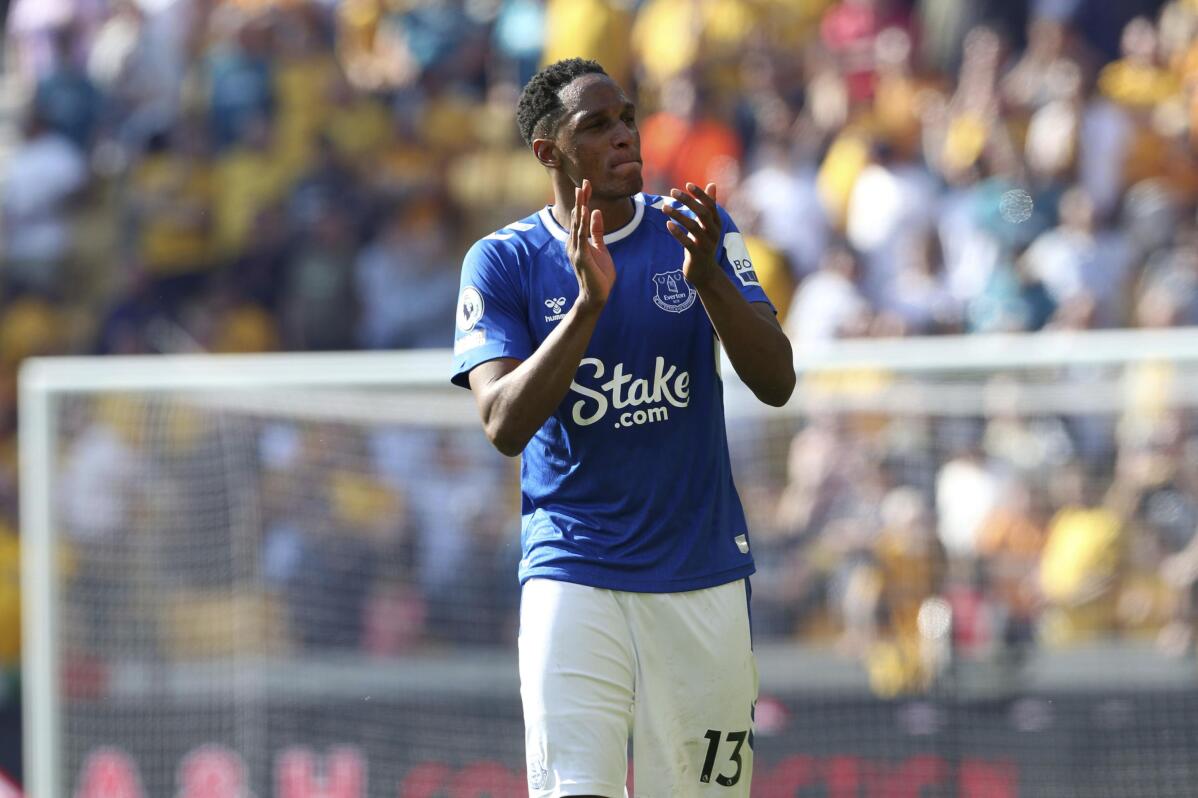 1 of 4

|
Everton's Yerry Mina applauds the fans after the English Premier League soccer match between Wolverhampton Wanderers and Everton at the Molineux Stadium, Wolverhampton, Saturday May 20, 2023. (Barrington Coombs/PA via AP)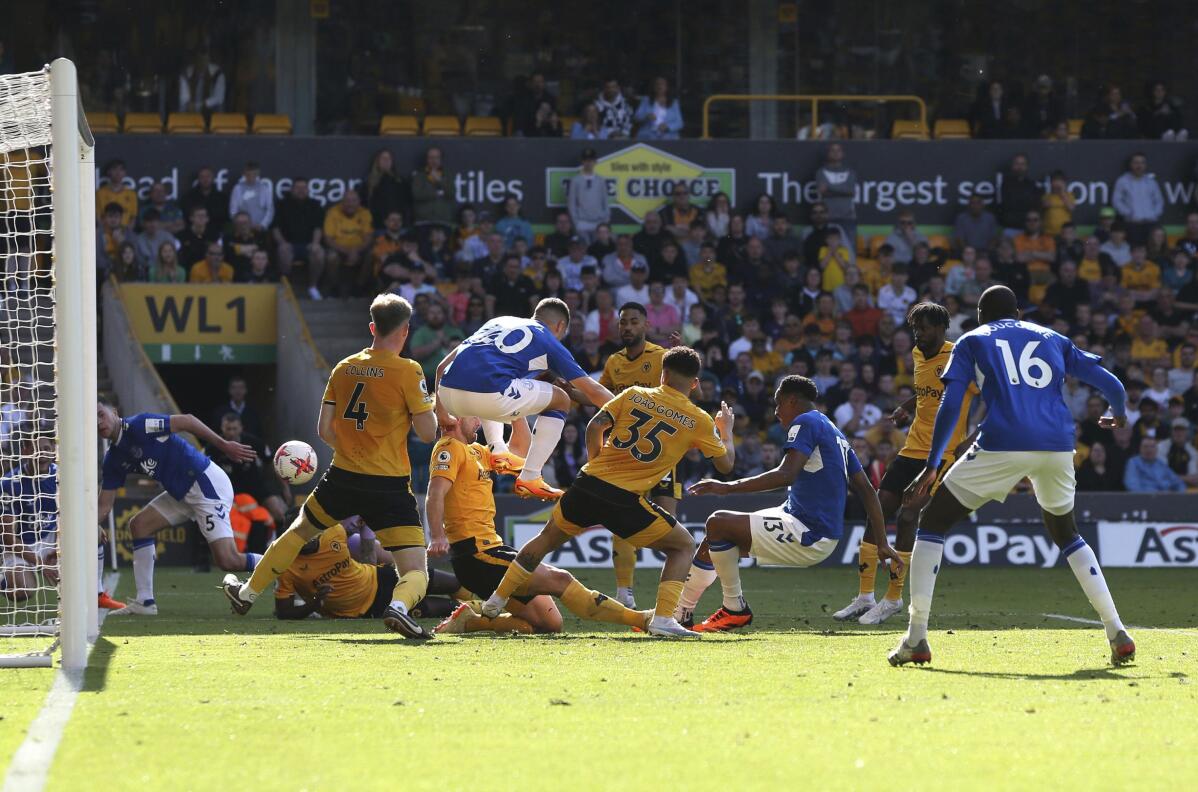 2 of 4

|
Everton's Yerry Mina, third right, scores their side's first goal of the game during the English Premier League soccer match between Wolverhampton Wanderers and Everton at the Molineux Stadium, Wolverhampton, Saturday May 20, 2023. (Barrington Coombs/PA via AP)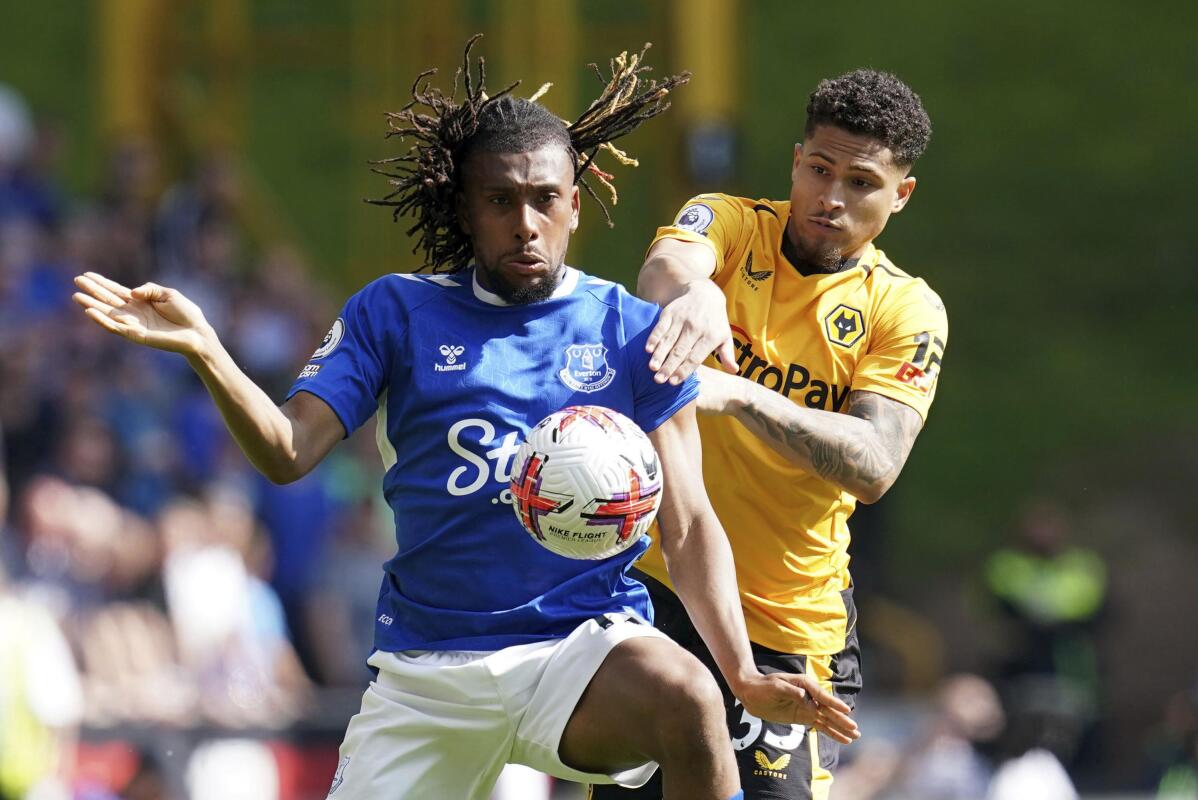 3 of 4

|
Everton's Alex Iwobi, left, and Wolverhampton Wanderers' Joao Gomes battle for the ball during the English Premier League soccer match between Wolverhampton Wanderers and Everton at the Molineux Stadium, Wolverhampton, Saturday May 20, 2023. (Nick Potts/PA via AP)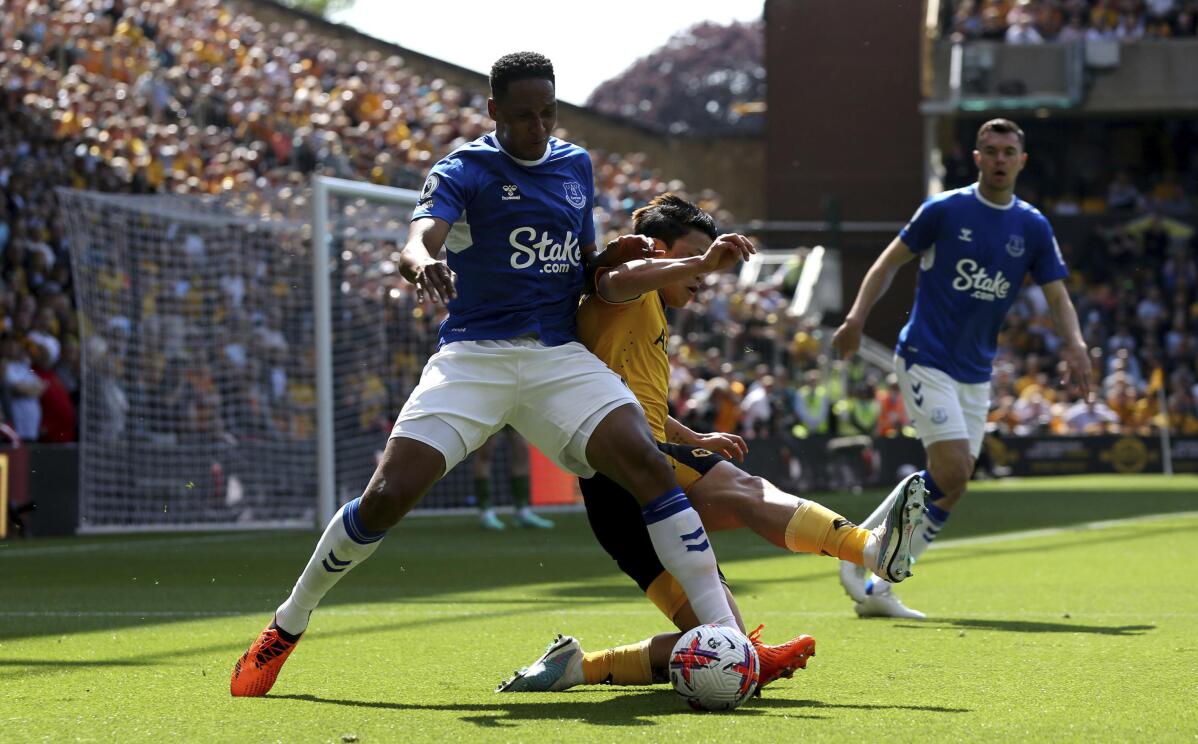 4 of 4

|
Wolverhampton Wanderers' Hwang Hee-chan, centre, and Everton's Yerry Mina battle for the ball during the English Premier League soccer match between Wolverhampton Wanderers and Everton at the Molineux Stadium, Wolverhampton, Saturday May 20, 2023. (Nick Potts/PA via AP)
Everton grabs last-minute equalizer in fight for EPL survival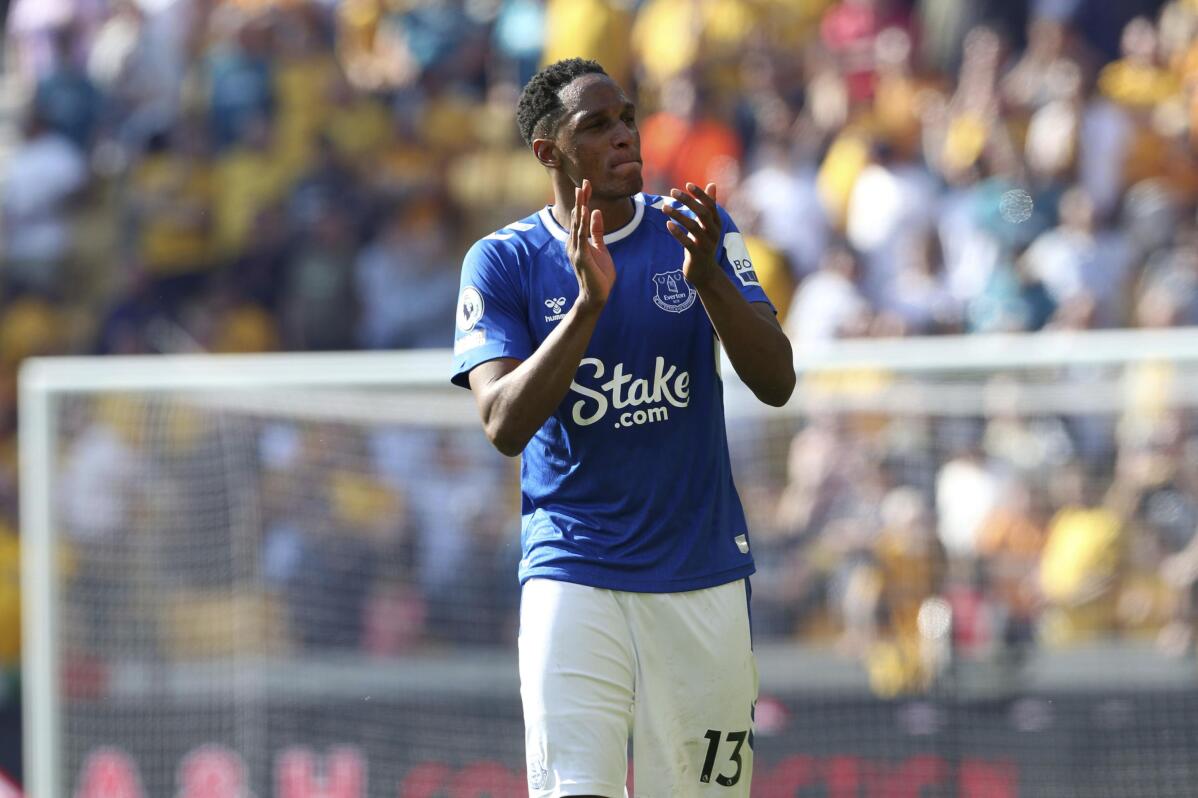 1 of 4

|
Everton's Yerry Mina applauds the fans after the English Premier League soccer match between Wolverhampton Wanderers and Everton at the Molineux Stadium, Wolverhampton, Saturday May 20, 2023. (Barrington Coombs/PA via AP)
1 of 4
Everton's Yerry Mina applauds the fans after the English Premier League soccer match between Wolverhampton Wanderers and Everton at the Molineux Stadium, Wolverhampton, Saturday May 20, 2023. (Barrington Coombs/PA via AP)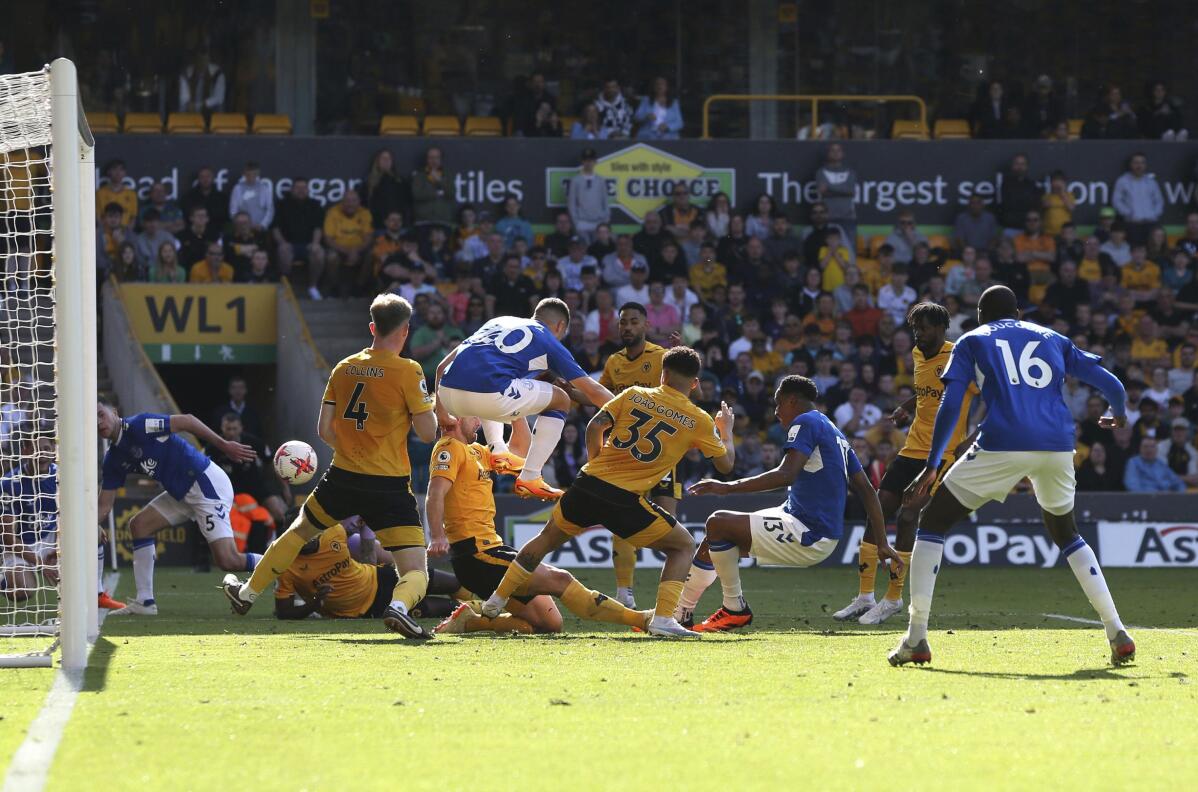 2 of 4

|
Everton's Yerry Mina, third right, scores their side's first goal of the game during the English Premier League soccer match between Wolverhampton Wanderers and Everton at the Molineux Stadium, Wolverhampton, Saturday May 20, 2023. (Barrington Coombs/PA via AP)
2 of 4
Everton's Yerry Mina, third right, scores their side's first goal of the game during the English Premier League soccer match between Wolverhampton Wanderers and Everton at the Molineux Stadium, Wolverhampton, Saturday May 20, 2023. (Barrington Coombs/PA via AP)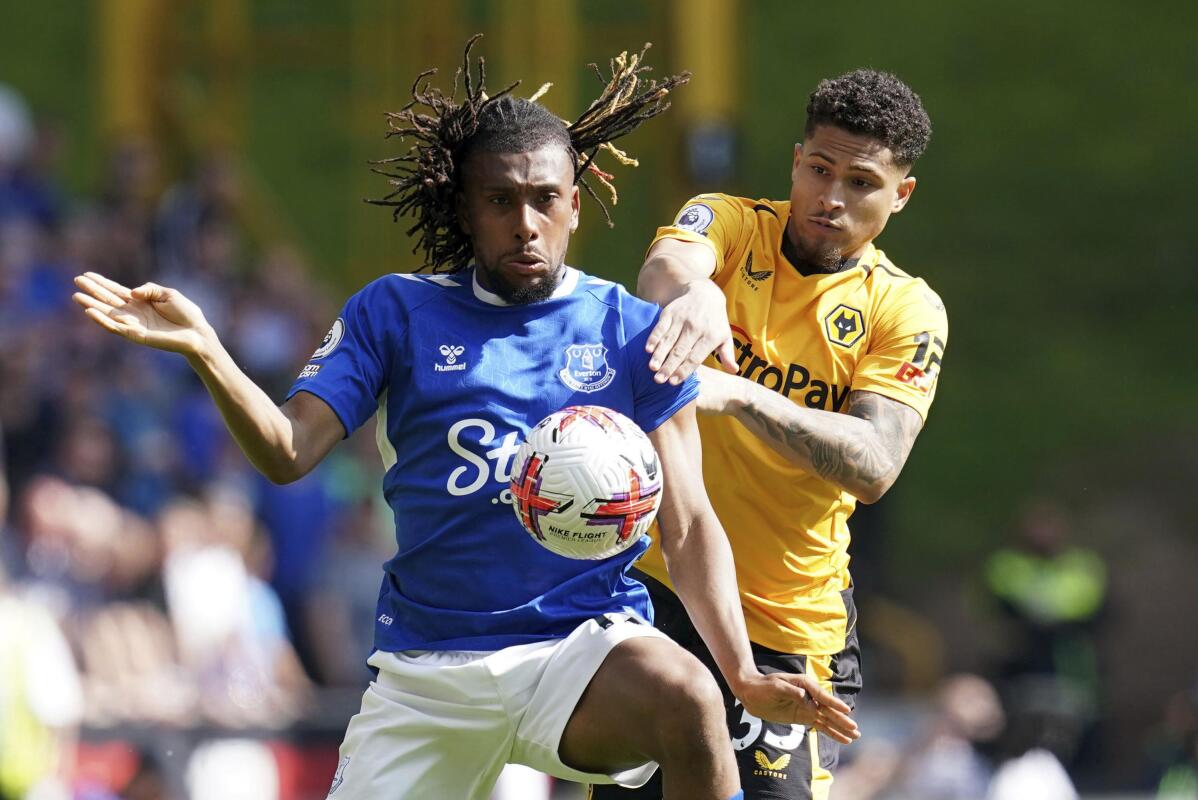 3 of 4

|
Everton's Alex Iwobi, left, and Wolverhampton Wanderers' Joao Gomes battle for the ball during the English Premier League soccer match between Wolverhampton Wanderers and Everton at the Molineux Stadium, Wolverhampton, Saturday May 20, 2023. (Nick Potts/PA via AP)
3 of 4
Everton's Alex Iwobi, left, and Wolverhampton Wanderers' Joao Gomes battle for the ball during the English Premier League soccer match between Wolverhampton Wanderers and Everton at the Molineux Stadium, Wolverhampton, Saturday May 20, 2023. (Nick Potts/PA via AP)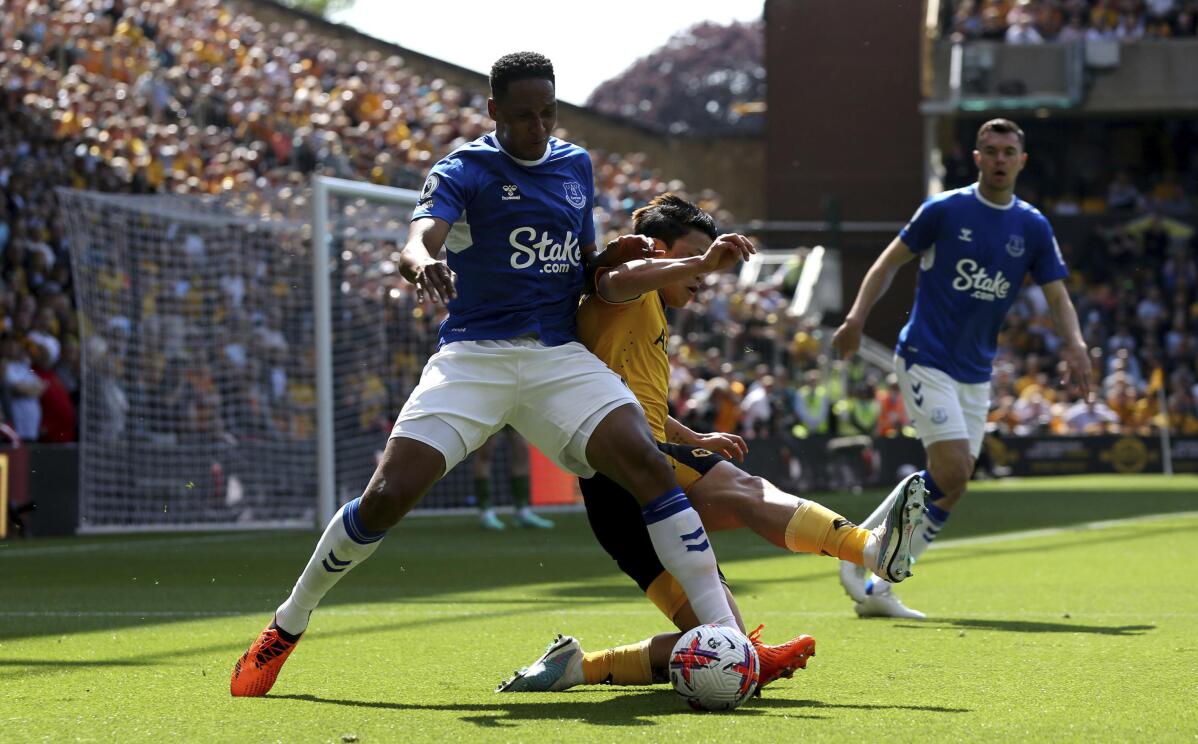 4 of 4

|
Wolverhampton Wanderers' Hwang Hee-chan, centre, and Everton's Yerry Mina battle for the ball during the English Premier League soccer match between Wolverhampton Wanderers and Everton at the Molineux Stadium, Wolverhampton, Saturday May 20, 2023. (Nick Potts/PA via AP)
4 of 4
Wolverhampton Wanderers' Hwang Hee-chan, centre, and Everton's Yerry Mina battle for the ball during the English Premier League soccer match between Wolverhampton Wanderers and Everton at the Molineux Stadium, Wolverhampton, Saturday May 20, 2023. (Nick Potts/PA via AP)
WOLVERHAMPTON, England (AP) — Yerry Mina's dramatic leveler at Wolverhampton earned Everton a valuable point in its fight for English Premier League survival on Saturday.
The defender struck from close range in the ninth minute of second-half stoppage time to grab a 1-1 draw and give the Toffees hope after Hwang Hee-chan's first-half goal for Wolves.
Everton's 69-year stay in the top-flight remains in doubt and Sean Dyche's side could still find itself in the drop zone before next week's finale.
Leeds visits West Ham on Sunday before Leicester's trip to Newcastle on Monday and victory for both would lift them above Everton.
As it is, Everton sits two points above the bottom three ahead of the visit of Bournemouth next Sunday.
Everton struggled for long spells and again lost Dominic Calvert-Lewin to injury. Calvert-Lewin, who came off in last week's defeat to Manchester City with a groin problem, limped off in first-half stoppage time.
It will spawn a nervous Goodison Park, which saw its last relegation from the top-flight in 1951.
___
More AP soccer: https://apnews.com/hub/soccer and https://twitter.com/AP_Sports