Milestones in women's boxing ahead of Katie Taylor's homecoming for fight in Ireland
1 of 4

|
FILE - Ireland's Katie Taylor, left, punches Amanda Serrano during the second round of a lightweight championship boxing match Saturday, April 30, 2022, in New York. Women's boxing has been achieving a lot of milestones recently. Katie Taylor and Claressa Shields have led the way, and Ireland's Taylor will challenge Chantelle Cameron in Dublin on Saturday when another groundbreaking fighter Cecilia Braekhus takes on WBA world super-welterweight champion Terri Harper on the Taylor-Cameron undercard. (AP Photo/Frank Franklin II, File)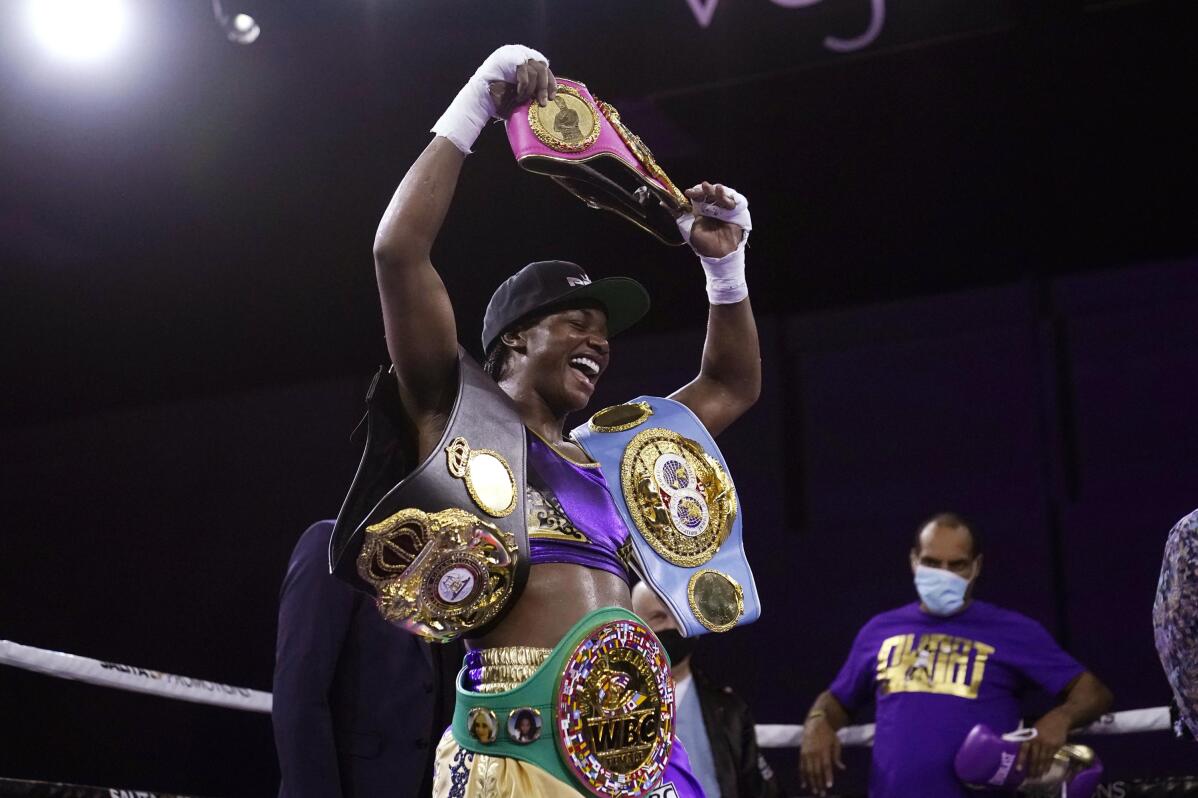 2 of 4

|
FILE - Claressa Shields holds her championship belts after defeating Marie-Eve Dicaire by decision for the women's super welterweight boxing title Friday, March 5, 2021, in Flint, Mich. Women's boxing has been achieving a lot of milestones recently. Katie Taylor and Claressa Shields have led the way, and Ireland's Taylor will challenge Chantelle Cameron in Dublin on Saturday when another groundbreaking fighter Cecilia Braekhus takes on WBA world super-welterweight champion Terri Harper on the Taylor-Cameron undercard. (AP Photo/Carlos Osorio, File)
3 of 4

|
FILE - Cecilia Braekhus, right, of Norway, hits Kali Reis during their female welterweight championship boxing match Saturday, May 5, 2018, in Carson, Calif. Women's boxing has been achieving a lot of milestones recently. Katie Taylor and Claressa Shields have led the way, and Ireland's Taylor will challenge Chantelle Cameron in Dublin on Saturday when another groundbreaking fighter Cecilia Braekhus takes on WBA world super-welterweight champion Terri Harper on the Taylor-Cameron undercard. (AP Photo/Chris Carlson, File)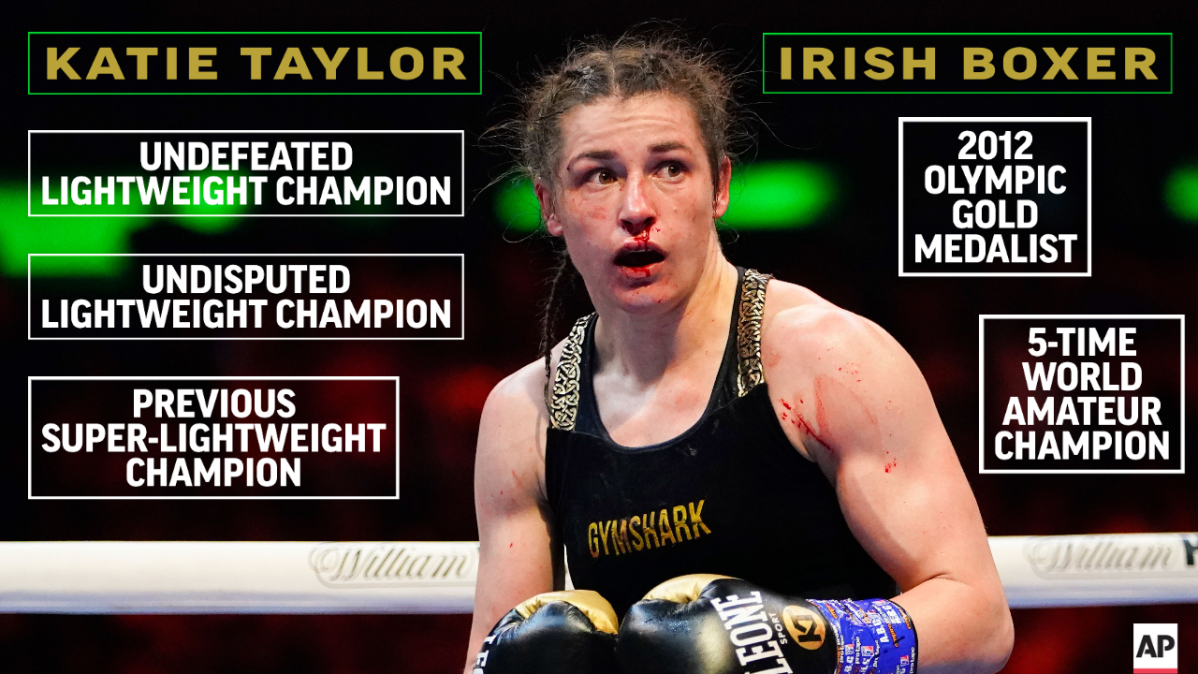 Milestones in women's boxing ahead of Katie Taylor's homecoming for fight in Ireland
1 of 4

|
FILE - Ireland's Katie Taylor, left, punches Amanda Serrano during the second round of a lightweight championship boxing match Saturday, April 30, 2022, in New York. Women's boxing has been achieving a lot of milestones recently. Katie Taylor and Claressa Shields have led the way, and Ireland's Taylor will challenge Chantelle Cameron in Dublin on Saturday when another groundbreaking fighter Cecilia Braekhus takes on WBA world super-welterweight champion Terri Harper on the Taylor-Cameron undercard. (AP Photo/Frank Franklin II, File)
1 of 4
FILE - Ireland's Katie Taylor, left, punches Amanda Serrano during the second round of a lightweight championship boxing match Saturday, April 30, 2022, in New York. Women's boxing has been achieving a lot of milestones recently. Katie Taylor and Claressa Shields have led the way, and Ireland's Taylor will challenge Chantelle Cameron in Dublin on Saturday when another groundbreaking fighter Cecilia Braekhus takes on WBA world super-welterweight champion Terri Harper on the Taylor-Cameron undercard. (AP Photo/Frank Franklin II, File)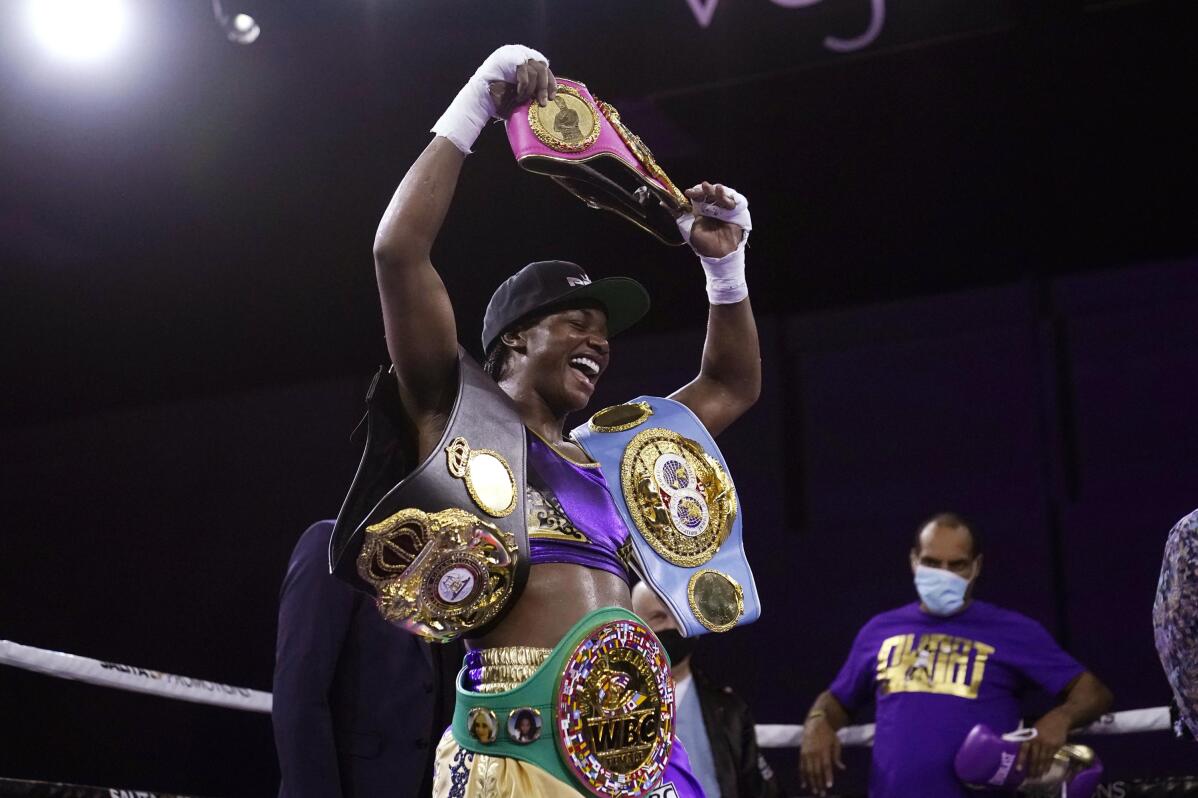 2 of 4

|
FILE - Claressa Shields holds her championship belts after defeating Marie-Eve Dicaire by decision for the women's super welterweight boxing title Friday, March 5, 2021, in Flint, Mich. Women's boxing has been achieving a lot of milestones recently. Katie Taylor and Claressa Shields have led the way, and Ireland's Taylor will challenge Chantelle Cameron in Dublin on Saturday when another groundbreaking fighter Cecilia Braekhus takes on WBA world super-welterweight champion Terri Harper on the Taylor-Cameron undercard. (AP Photo/Carlos Osorio, File)
2 of 4
FILE - Claressa Shields holds her championship belts after defeating Marie-Eve Dicaire by decision for the women's super welterweight boxing title Friday, March 5, 2021, in Flint, Mich. Women's boxing has been achieving a lot of milestones recently. Katie Taylor and Claressa Shields have led the way, and Ireland's Taylor will challenge Chantelle Cameron in Dublin on Saturday when another groundbreaking fighter Cecilia Braekhus takes on WBA world super-welterweight champion Terri Harper on the Taylor-Cameron undercard. (AP Photo/Carlos Osorio, File)
3 of 4

|
FILE - Cecilia Braekhus, right, of Norway, hits Kali Reis during their female welterweight championship boxing match Saturday, May 5, 2018, in Carson, Calif. Women's boxing has been achieving a lot of milestones recently. Katie Taylor and Claressa Shields have led the way, and Ireland's Taylor will challenge Chantelle Cameron in Dublin on Saturday when another groundbreaking fighter Cecilia Braekhus takes on WBA world super-welterweight champion Terri Harper on the Taylor-Cameron undercard. (AP Photo/Chris Carlson, File)
3 of 4
FILE - Cecilia Braekhus, right, of Norway, hits Kali Reis during their female welterweight championship boxing match Saturday, May 5, 2018, in Carson, Calif. Women's boxing has been achieving a lot of milestones recently. Katie Taylor and Claressa Shields have led the way, and Ireland's Taylor will challenge Chantelle Cameron in Dublin on Saturday when another groundbreaking fighter Cecilia Braekhus takes on WBA world super-welterweight champion Terri Harper on the Taylor-Cameron undercard. (AP Photo/Chris Carlson, File)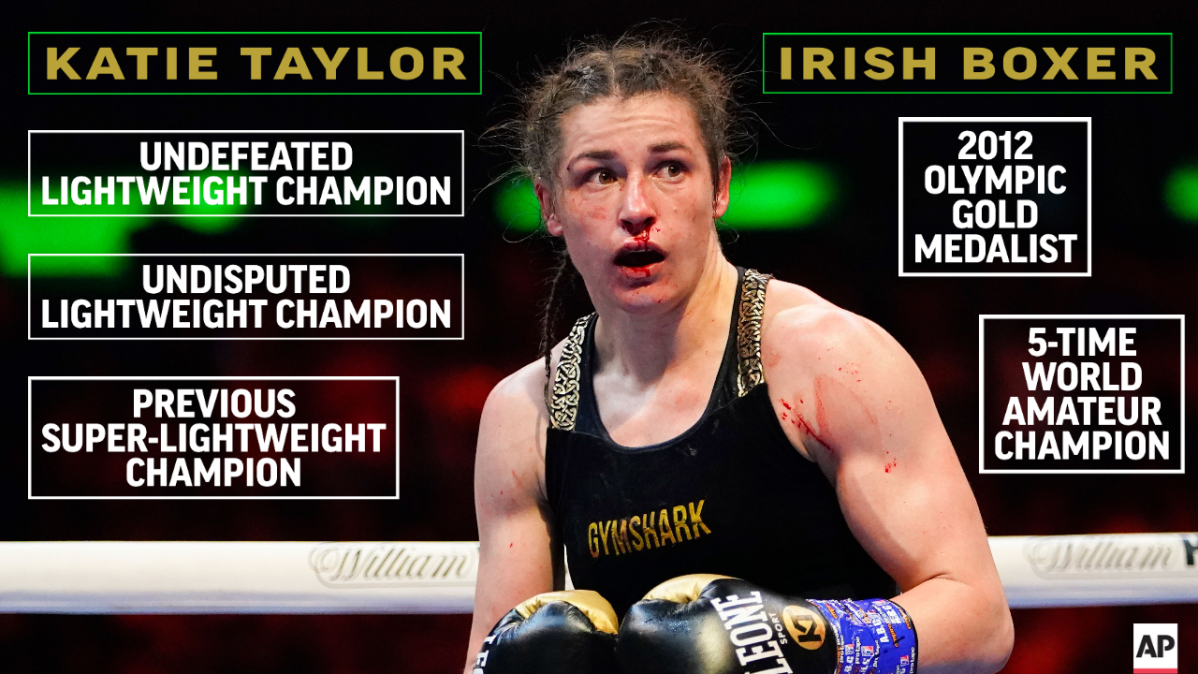 DUBLIN (AP) — Women's boxing has been achieving a lot of "firsts" in recent years and will add to the list when Katie Taylor fights Chantelle Cameron in Dublin on Saturday.
Taylor has never fought in her home country of Ireland as a professional, and promoter Eddie Hearn says it's the first time two reigning undisputed world champions in the four-belt era will square off.
Cameron's super-lightweight belts are on the line as lightweight champion Taylor steps up to the 140-pound division to headline a homecoming bout at 3Arena, a 9,000-capacity stadium that quickly sold out.
"A few years ago, we were worried about whether we were going to sell out York Hall," Taylor said of the 1,200-capacity London venue, "and now we're talking about the 3Arena being too small."
Indeed, Taylor and Hearn had been eyeing Croke Park — which holds 83,000 — for a rematch with Amanda Serrano before security costs sank the idea.
Interest has boomed since women's boxing made its Olympic debut at the 2012 London Games, where Taylor and Claressa Shields won gold medals. Shields repeated her feat in Rio de Janeiro four years later. And the Olympic field is only getting stronger as the pro game moves more into the mainstream.
Here's a look at some recent milestones in women's boxing:
MADISON SQUARE GARDEN
A sold-out crowd of 19,187 watched Taylor and Serrano slug it out just over a year ago in the first women's boxing match to headline at Madison Square Garden. Taylor edged Serrano in a split decision to remain the undisputed lightweight champion (135 pounds) after a thrilling fight in the same arena where Joe Frazier and Muhammad Ali fought the "Fight of the Century" in 1971. Taylor's Irish and Serrano's Puerto Rican fans made so much noise that Taylor later said she couldn't hear the bell. Serrano's post-fight message: "Women can sell, women can fight and we put on a hell of a show." Broadcaster DAZN said its global audience hit 1.5 million.
SHIELDS SHINES IN DETROIT
Shields, the undisputed world middleweight champion, will be the main attraction at Little Caesars Arena, which will host boxing for the first time on June 3. The two-time Olympic champion will fight Hanna Gabriels of Costa Rica. The home of the Detroit Pistons and Red Wings opened in 2017. The 28-year-old Shields is from Flint, Michigan, and said it's "a dream" to fight in front of 15,000 home fans. Boxing Hall of Famer Thomas Hearns said the event will help all of boxing in Detroit, regardless of gender.
HISTORY IN LONDON
Shields became the undisputed world middleweight champion last October when she beat Savannah Marshall at a sold-out O2 Arena in London. The fight topped Britain's first all-female card — 24 years after Jane Couch won her court case against British boxing authorities to become the country's first licensed female boxer. Shields took Marshall's WBO belt to add it to her WBC, WBA and IBF crowns.
BREAK TIME
Cecilia Braekhus featured in the main event of HBO's final boxing show, back in December 2018. Earlier that year, the veteran Norwegian fighter had been in the first women's boxing match on HBO, the U.S. cable network that covered the sport for 45 years. On Saturday, Braekhus is challenging WBA world super-welterweight champion Terri Harper on the Taylor-Cameron undercard.
___
More AP boxing: https://apnews.com/hub/boxing and https://twitter.com/AP_Sports