Sass trades goal crease to oversee Bills new stadium project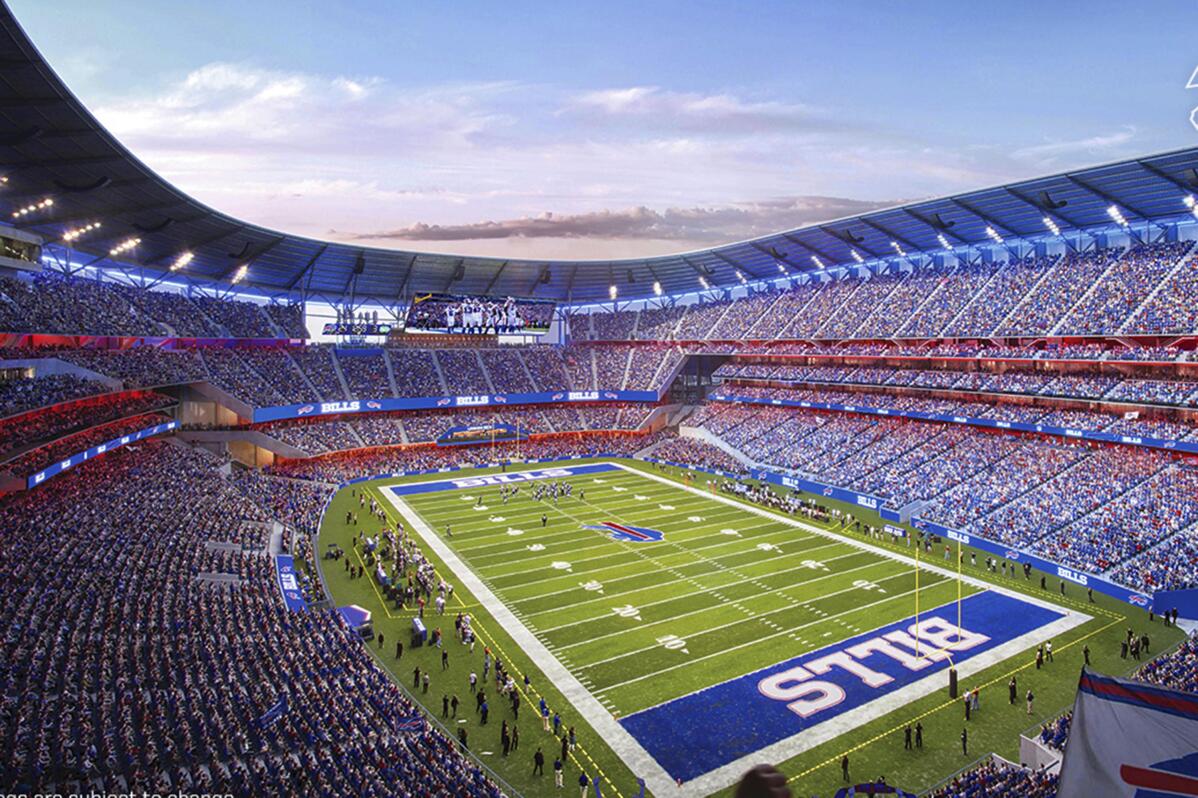 1 of 6

|
FILE -This artist rendering, provided by the National Football League Buffalo Bills, Thursday, March 2, 2023, shows the team's proposed new stadium in Orchard Park, N.Y. The Buffalo Bills moved one major step closer to breaking ground on their new stadium by next month after formally submitting the final agreements -- including a 30-year lease -- to the county on Monday, April 3, 2023.(Courtesy of Buffalo Bills via Populous, via AP, File)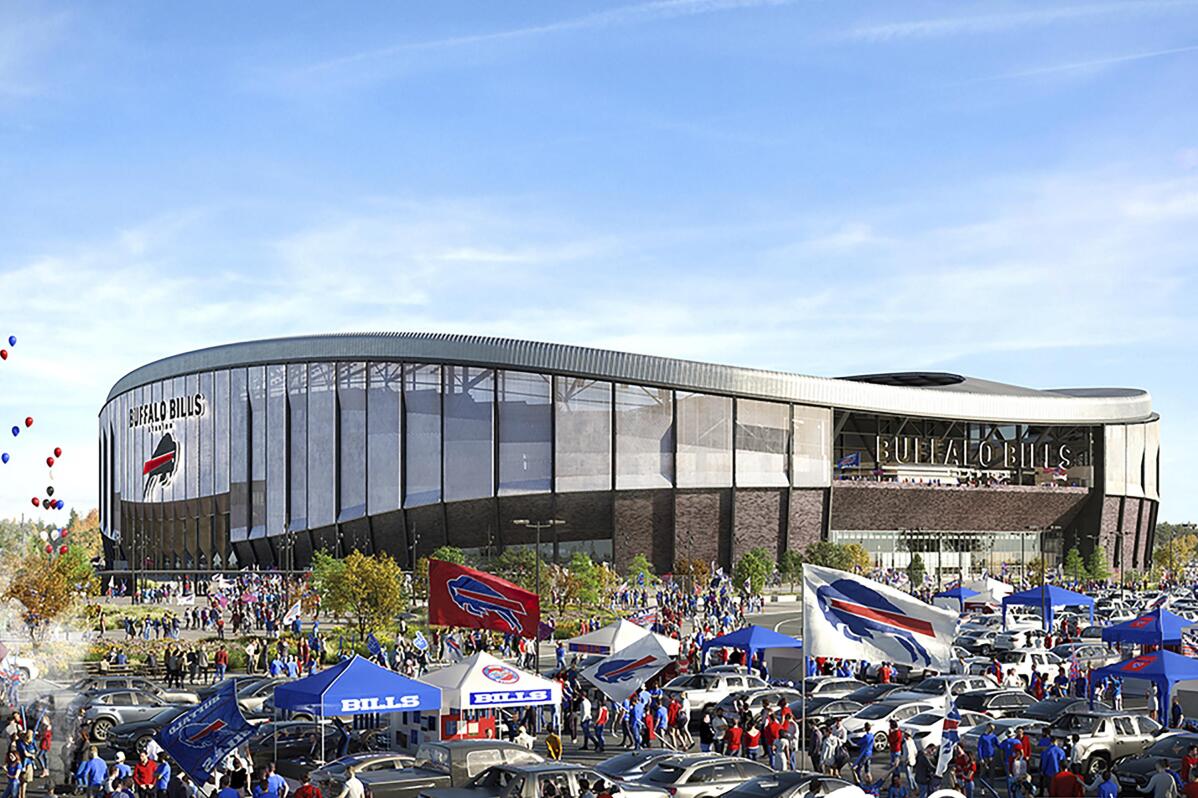 2 of 6

|
This artist rendering, provided by the National Football League Buffalo Bills, Thursday, March 2, 2023, shows the team's proposed new stadium in Orchard Park, N.Y. Kimberly Sass has traded in her goal crease for a construction hat and football. The former goalie, who won a National Women's Hockey League championship with the Metropolitan Riveters in 2018, has been hired on as project manager in overseeing the building of the Buffalo Bills new stadium. (Courtesy of Buffalo Bills via Populous, via AP)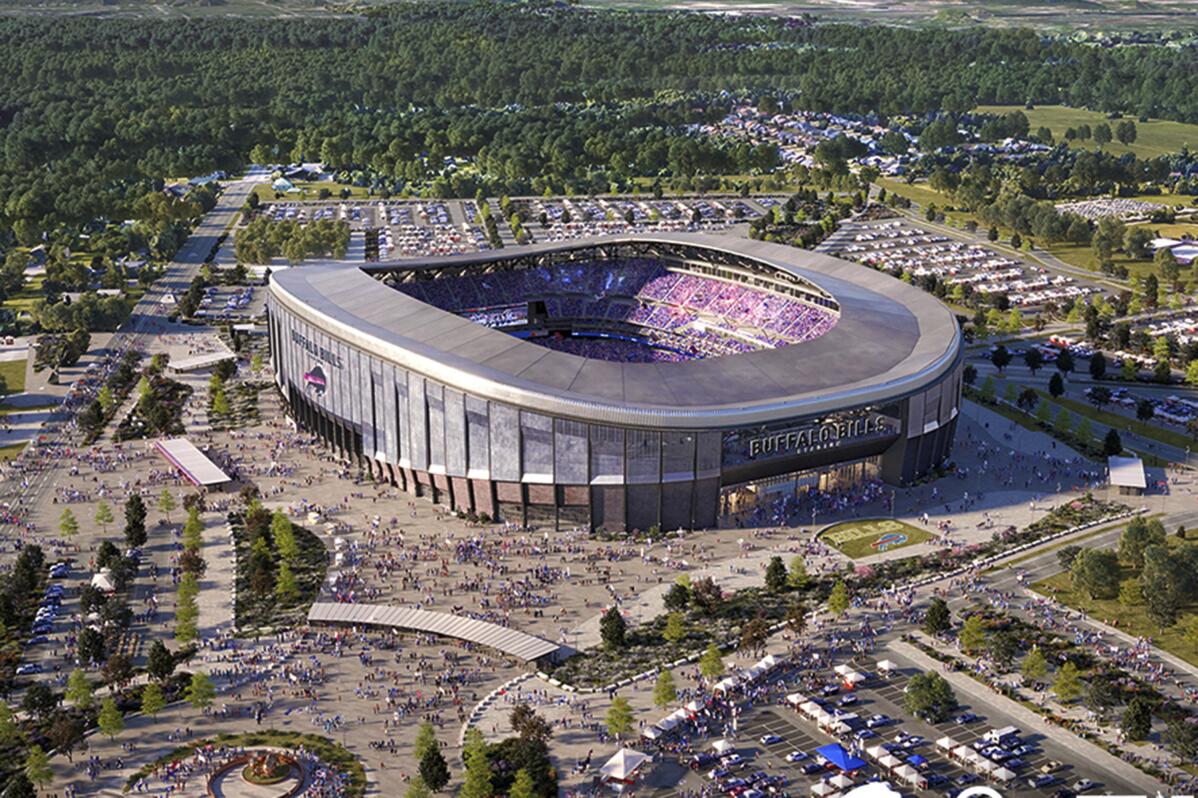 3 of 6

|
This artist rendering, provided by the National Football League Buffalo Bills, Thursday, March 2, 2023, shows the team's proposed new stadium in Orchard Park, N.Y. Kimberly Sass has traded in her goal crease for a construction hat and football. The former goalie, who won a National Women's Hockey League championship with the Metropolitan Riveters in 2018, has been hired on as project manager in overseeing the building of the Buffalo Bills new stadium. (Courtesy of Buffalo Bills via Populous, via AP)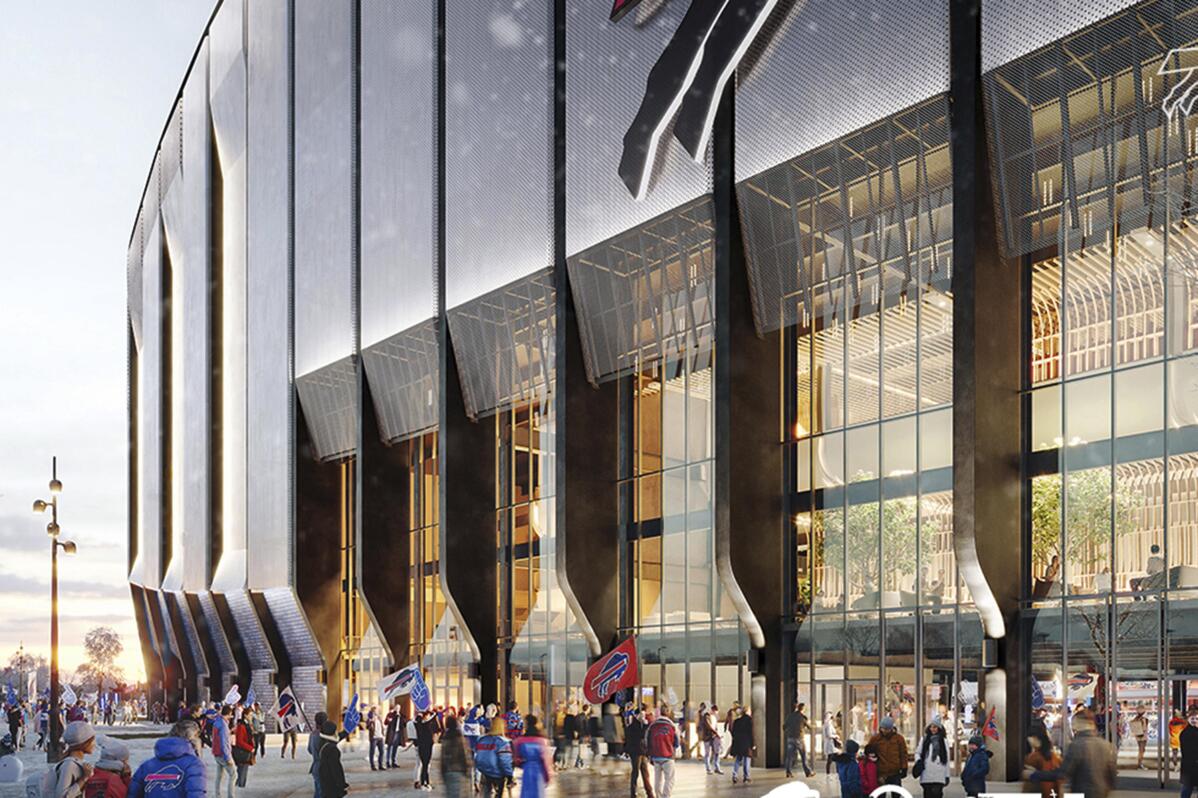 4 of 6

|
This artist rendering, provided by the National Football League Buffalo Bills, Thursday, March 2, 2023, shows the team's proposed new stadium in Orchard Park, N.Y. Kimberly Sass has traded in her goal crease for a construction hat and football. The former goalie, who won a National Women's Hockey League championship with the Metropolitan Riveters in 2018, has been hired on as project manager in overseeing the building of the Buffalo Bills new stadium. (Courtesy of Buffalo Bills via Populous, via AP)
5 of 6

|
FILE -This artist rendering, provided by the National Football League Buffalo Bills, Thursday, March 2, 2023, shows the team's proposed new stadium in Orchard Park, N.Y. The Buffalo Bills moved one major step closer to breaking ground on their new stadium by next month after formally submitting the final agreements -- including a 30-year lease -- to the county on Monday, April 3, 2023. (Courtesy of Buffalo Bills via Populous, via AP, File)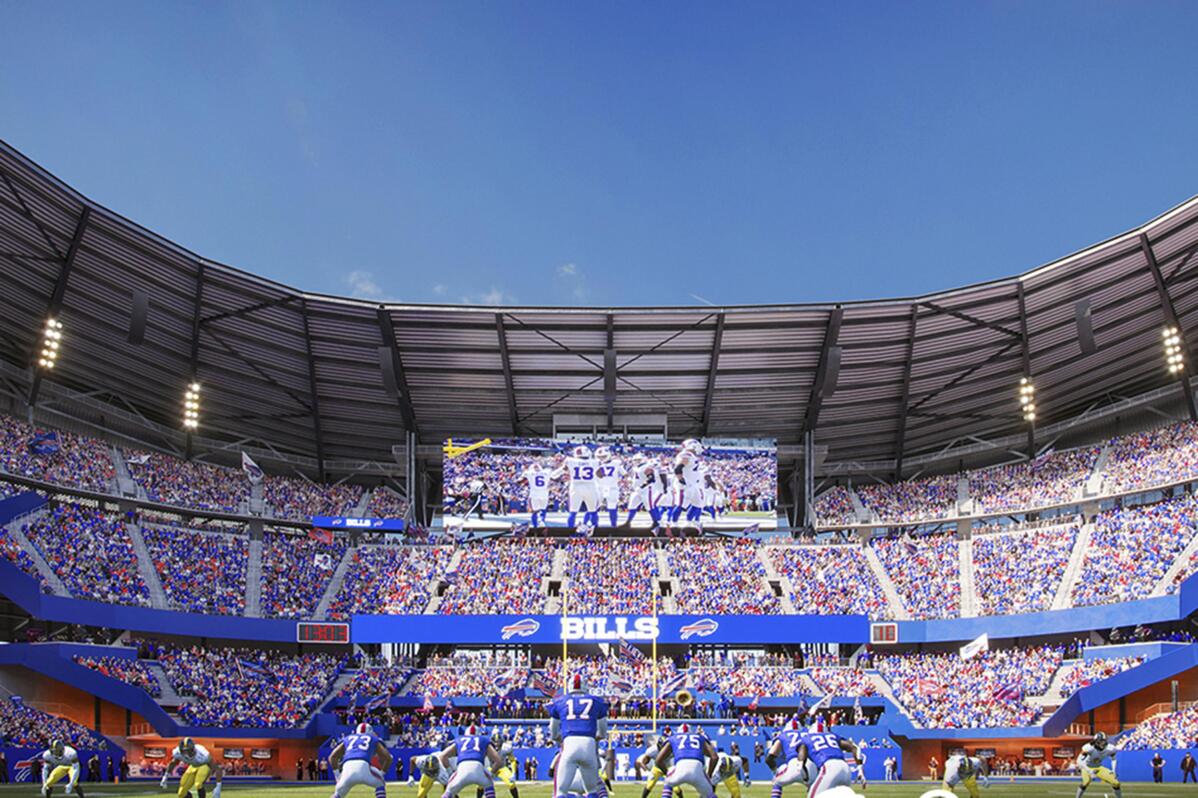 6 of 6

|
HOLD FOR STORY — This artist rendering, provided by the National Football League Buffalo Bills, Thursday, March 2, 2023, shows the teams's proposed new stadium. (Courtesy of Buffalo Bills via Populous, via AP)
Sass trades goal crease to oversee Bills new stadium project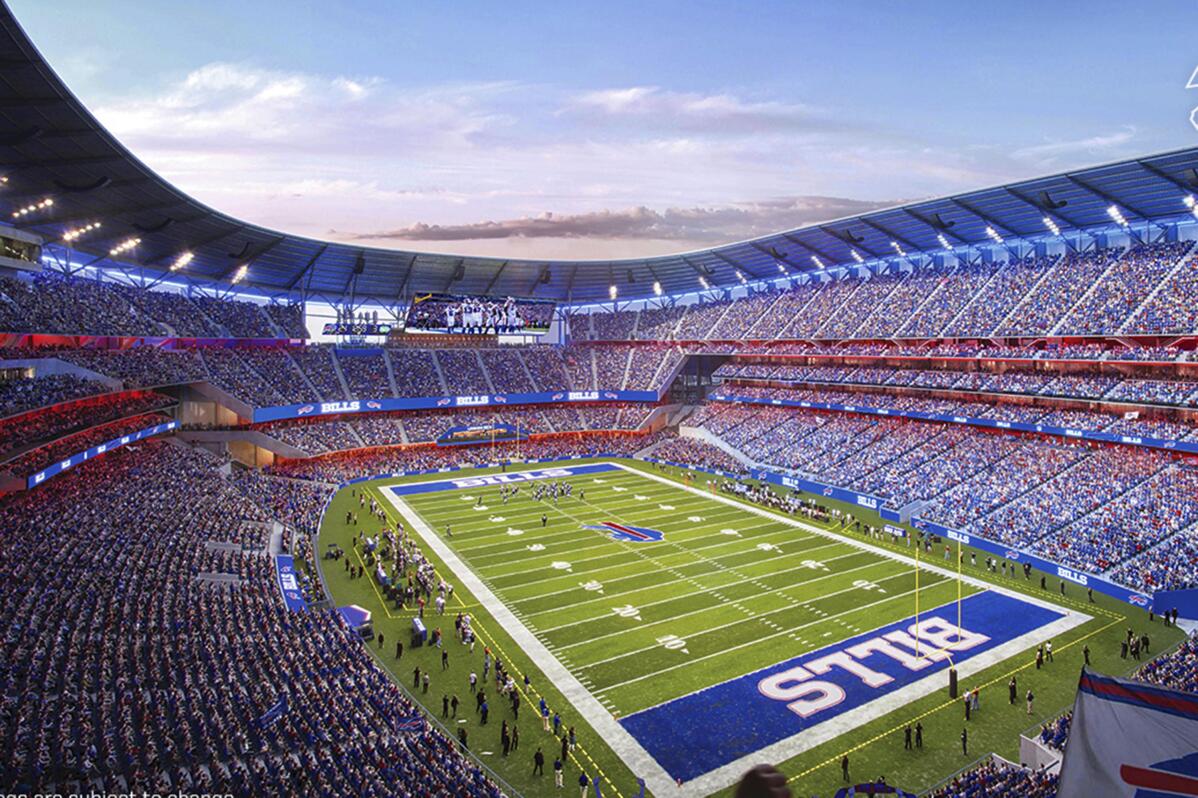 1 of 6

|
FILE -This artist rendering, provided by the National Football League Buffalo Bills, Thursday, March 2, 2023, shows the team's proposed new stadium in Orchard Park, N.Y. The Buffalo Bills moved one major step closer to breaking ground on their new stadium by next month after formally submitting the final agreements -- including a 30-year lease -- to the county on Monday, April 3, 2023.(Courtesy of Buffalo Bills via Populous, via AP, File)
1 of 6
FILE -This artist rendering, provided by the National Football League Buffalo Bills, Thursday, March 2, 2023, shows the team's proposed new stadium in Orchard Park, N.Y. The Buffalo Bills moved one major step closer to breaking ground on their new stadium by next month after formally submitting the final agreements -- including a 30-year lease -- to the county on Monday, April 3, 2023.(Courtesy of Buffalo Bills via Populous, via AP, File)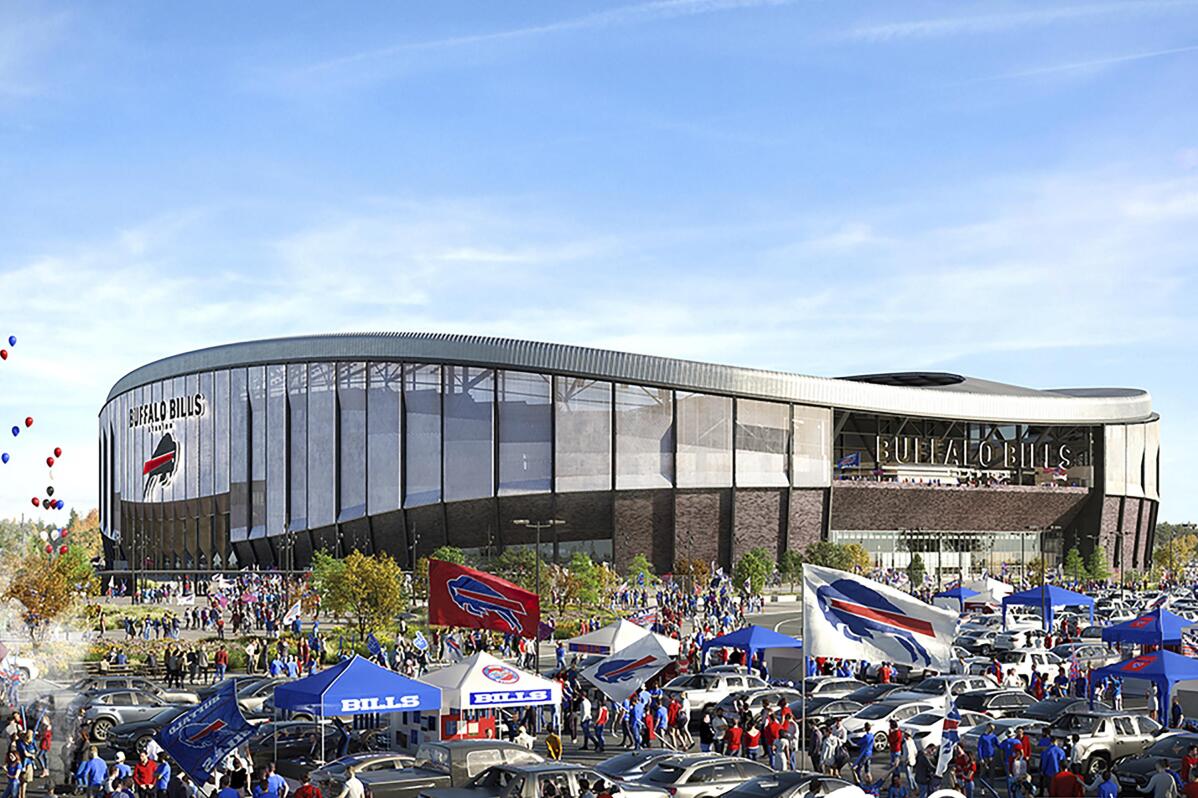 2 of 6

|
This artist rendering, provided by the National Football League Buffalo Bills, Thursday, March 2, 2023, shows the team's proposed new stadium in Orchard Park, N.Y. Kimberly Sass has traded in her goal crease for a construction hat and football. The former goalie, who won a National Women's Hockey League championship with the Metropolitan Riveters in 2018, has been hired on as project manager in overseeing the building of the Buffalo Bills new stadium. (Courtesy of Buffalo Bills via Populous, via AP)
2 of 6
This artist rendering, provided by the National Football League Buffalo Bills, Thursday, March 2, 2023, shows the team's proposed new stadium in Orchard Park, N.Y. Kimberly Sass has traded in her goal crease for a construction hat and football. The former goalie, who won a National Women's Hockey League championship with the Metropolitan Riveters in 2018, has been hired on as project manager in overseeing the building of the Buffalo Bills new stadium. (Courtesy of Buffalo Bills via Populous, via AP)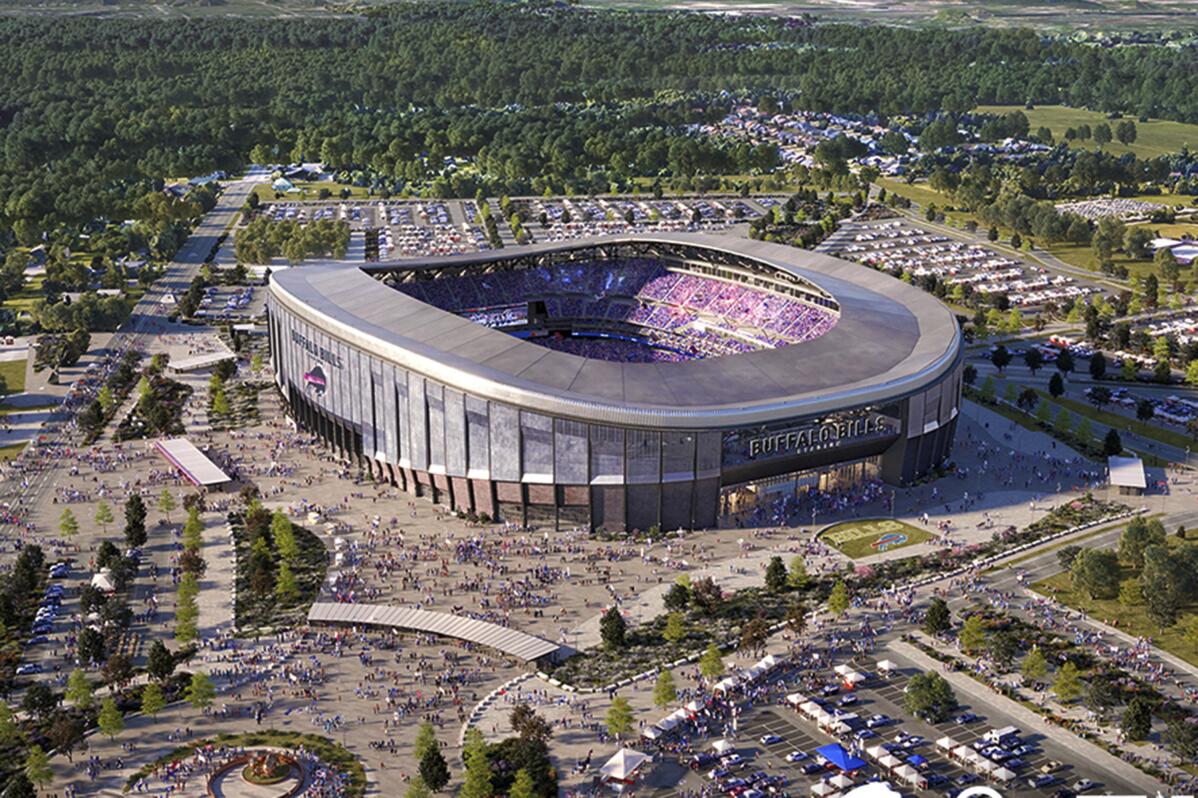 3 of 6

|
This artist rendering, provided by the National Football League Buffalo Bills, Thursday, March 2, 2023, shows the team's proposed new stadium in Orchard Park, N.Y. Kimberly Sass has traded in her goal crease for a construction hat and football. The former goalie, who won a National Women's Hockey League championship with the Metropolitan Riveters in 2018, has been hired on as project manager in overseeing the building of the Buffalo Bills new stadium. (Courtesy of Buffalo Bills via Populous, via AP)
3 of 6
This artist rendering, provided by the National Football League Buffalo Bills, Thursday, March 2, 2023, shows the team's proposed new stadium in Orchard Park, N.Y. Kimberly Sass has traded in her goal crease for a construction hat and football. The former goalie, who won a National Women's Hockey League championship with the Metropolitan Riveters in 2018, has been hired on as project manager in overseeing the building of the Buffalo Bills new stadium. (Courtesy of Buffalo Bills via Populous, via AP)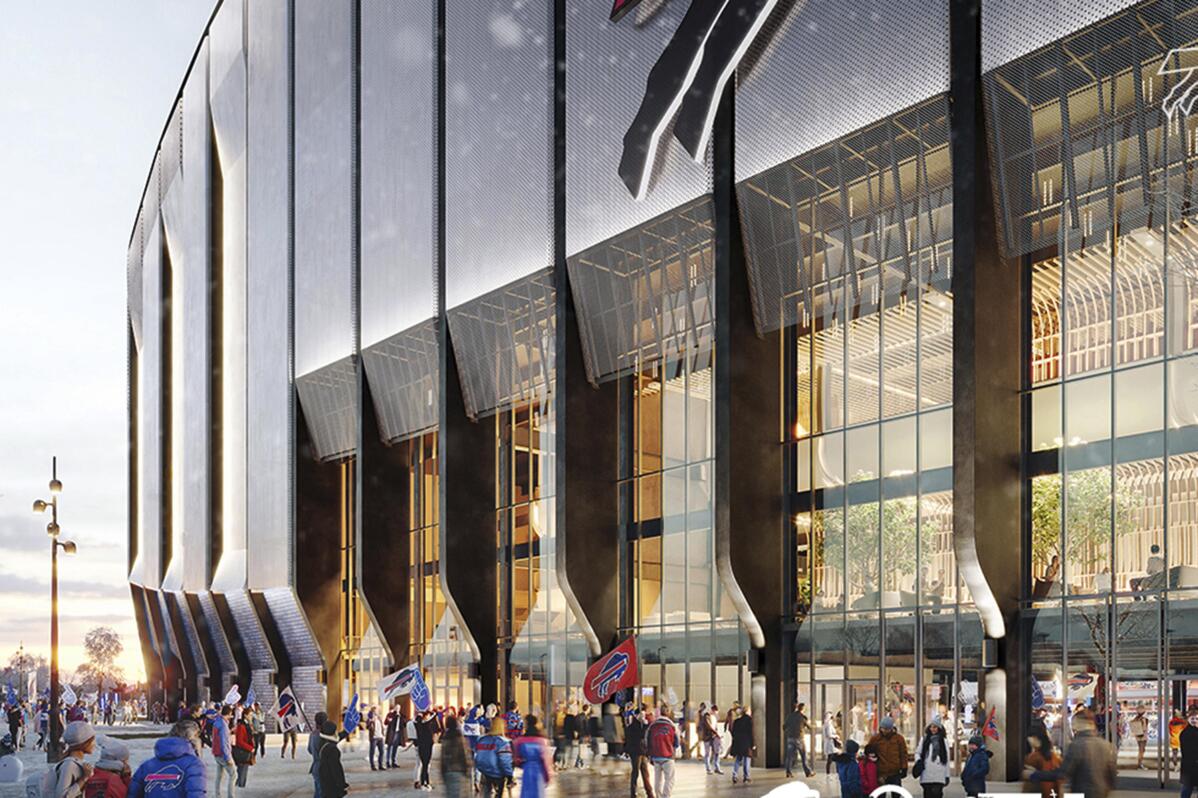 4 of 6

|
This artist rendering, provided by the National Football League Buffalo Bills, Thursday, March 2, 2023, shows the team's proposed new stadium in Orchard Park, N.Y. Kimberly Sass has traded in her goal crease for a construction hat and football. The former goalie, who won a National Women's Hockey League championship with the Metropolitan Riveters in 2018, has been hired on as project manager in overseeing the building of the Buffalo Bills new stadium. (Courtesy of Buffalo Bills via Populous, via AP)
4 of 6
This artist rendering, provided by the National Football League Buffalo Bills, Thursday, March 2, 2023, shows the team's proposed new stadium in Orchard Park, N.Y. Kimberly Sass has traded in her goal crease for a construction hat and football. The former goalie, who won a National Women's Hockey League championship with the Metropolitan Riveters in 2018, has been hired on as project manager in overseeing the building of the Buffalo Bills new stadium. (Courtesy of Buffalo Bills via Populous, via AP)
5 of 6

|
FILE -This artist rendering, provided by the National Football League Buffalo Bills, Thursday, March 2, 2023, shows the team's proposed new stadium in Orchard Park, N.Y. The Buffalo Bills moved one major step closer to breaking ground on their new stadium by next month after formally submitting the final agreements -- including a 30-year lease -- to the county on Monday, April 3, 2023. (Courtesy of Buffalo Bills via Populous, via AP, File)
5 of 6
FILE -This artist rendering, provided by the National Football League Buffalo Bills, Thursday, March 2, 2023, shows the team's proposed new stadium in Orchard Park, N.Y. The Buffalo Bills moved one major step closer to breaking ground on their new stadium by next month after formally submitting the final agreements -- including a 30-year lease -- to the county on Monday, April 3, 2023. (Courtesy of Buffalo Bills via Populous, via AP, File)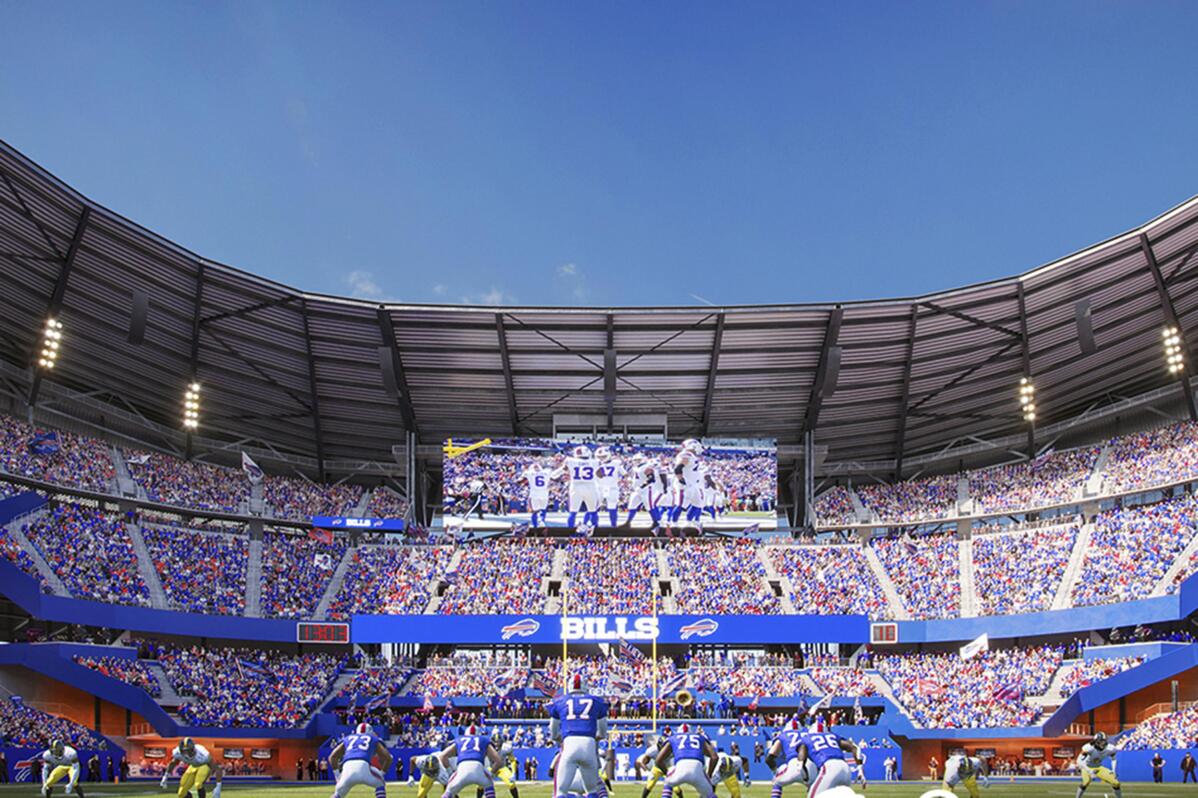 6 of 6

|
HOLD FOR STORY — This artist rendering, provided by the National Football League Buffalo Bills, Thursday, March 2, 2023, shows the teams's proposed new stadium. (Courtesy of Buffalo Bills via Populous, via AP)
6 of 6
HOLD FOR STORY — This artist rendering, provided by the National Football League Buffalo Bills, Thursday, March 2, 2023, shows the teams's proposed new stadium. (Courtesy of Buffalo Bills via Populous, via AP)
BUFFALO, N.Y. (AP) — Kimberly Sass has traded in her goal crease for a construction hat and a football.
The recently retired goalie, who won a National Women's Hockey League championship with the Metropolitan Riveters in 2018, has been hired as project manager to represent the Buffalo Bills in the building of the team's new stadium. The role not only aligns with Sass' professional career in design and architecture, it's a job that holds special meaning for someone from Buffalo.
"I'm absolutely thrilled to have this opportunity," Sass said. "As a Bills fan growing up here and just to be able to work on a project this big, this scale and this magnitude in terms of the future impact it'll have on this community is awesome."
Sass is working for Legends, a company co-owned by Dallas Cowboys owner Jerry Jones. It was hired by the Bills to oversee the construction of a new facility projected to cost $1.4 billion to be built across the street of the team's current home.
After reaching a conditional agreement a year ago, with the state and county committing $850 million toward the total cost, the Bills and various government partners are in the final stages of formally approving the project. Construction is expected to begin within months, with an eye of having the stadium built in time for the 2027 season.
Legends senior vice president of development Cameron Curtis considered Sass an ideal fit.
"We are incredibly proud to be involved in the new Bills stadium project and have Kimberly join our team," Curtis said. "Her background in interior architecture and sports will be a great benefit."
The one difference for Sass in her role as project manager is being on the other side of conversation.
She previous worked for HLW Corporate Interior Workplace Design, where her job was designing workplace projects as large as 400,000 square feet. With the architectural firm Populous handling the schematics of the new stadium, Sass' job is representing the Bills to make sure their needs are met.
The 32-year-old Sass has spent much of her life in Buffalo and upstate New York. She played collegiately at Colgate, went on to play in the NWHL before eventually joining the Professional Women's Hockey Players' Association, with whom she is a board member, and earned her masters degree in architecture at the University at Buffalo.
She's also an artist who designed a warmup jersey — inspired by Title IX — the Washington Capitals will wear for their Women in Hockey Night on March 23.
With women's professional sports on the rise, including the PWHPA seeking to launch its own league, Sass envisions one day designing stadiums taking into account female athletes' needs.
"I get asked this question multiple times, and I think I just never really thought that there was a glass ceiling, I guess," Sass said. "Maybe that's naïve of me, but I just keep shooting for what's next."
For now, she'll settle on a project helping secure the long-term future of the Bills in her hometown.
"I'm excited to create something awesome for our city," Sass said. "It's definitely going to be something to celebrate here."
___
AP NFL: https://apnews.com/hub/nfl and https://twitter.com/AP_NFL
___
AP sports: https://apnews.com/hub/apf-sports and https://twitter.com/AP_Sports