Crowdfunding sites help raise money for Jamaica ahead of the World Cup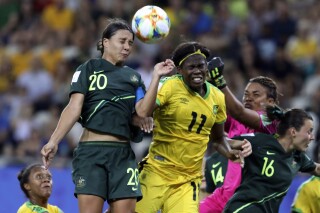 Funding for Jamaica's preparations for the Women's World Cup has seemed so uncertain that a player's mom took it upon herself to fundraise for the team.
A GoFundMe, "Reggae Girlz Rise Up," was set up by Sandra Phillips-Brower, the mother of midfielder Havana Solaun. It has raised more than $45,000.
Another crowdraising campaign set up by the Reggae Girlz Foundation also raised more than $45,000 as of Tuesday.
Both sites aim to help Jamaica's women with the costs associated with the World Cup, including a training camp, travel, food, and staff support. Even compensation. The team currently is training in Amsterdam.
"If I can somehow make this journey smoother for them — and let them focus on what they'd love to do is play soccer — they shouldn't be worried about the politics or getting a flight or getting accommodation," Phillips-Brower said. "They should be able to go there and do what we they qualified to do, just play soccer."
Cheyna Matthews and Khadija "Bunny" Shaw were among players who posted a lengthy statement last month about pay issues and other problems that they hoped would be addressed by the Jamaican Football Federation.
"On multiple occasions, we have sat down with the federation to respectfully express concerns resulting from subpar planning, transportation, accommodations, training conditions, compensation, communication, nutrition and accessibility to proper resources," the statement said. "We have also showed up repeatedly without receiving contractually agreed upon compensation."
The statement said players were told their concerns would be addressed in a timely manner but weren't. The Jamaican federation did not respond to emails from The Associated Press seeking comment.
FIFA gives all 32 teams participating in the event preparation funds and a percentage of the prize pool, with the money going to the federations.
Phillips-Brower said she is looking into the best way to distribute the money, and where it's needed most.
Jamaica, playing in just its second World Cup, opens tournament play on July 23 against France. The Reggae Girlz also have Brazil and Panama in their group at the tournament cohosted by Australia and New Zealand.
The Reggae Girlz have long struggled with funding, turning in the past to Cedella Marley, daughter of reggae legend Bob Marley, who has tirelessly fundraised and procured sponsors.
"We hope that by using our platforms to express the reality of our situation, our efforts will be reciprocated," the players' statement said. "We hope there will be immediate and systematic change within our federation and those in charge of protecting the integrity of women's football."
___
More AP soccer: https://apnews.com/hub/soccer and https://twitter.com/AP_Sports